12.4.99 Copyright © 1981-1998 Mel Copeland. All rights reserved
Etruscan Phrases
by Mel Copeland
(from a work published in 1981)
The Pyrgi Gold Tablets
In 1981, when I had finished the basic work on the Etruscan words and phrases, showing declension and conjugation patterns, etc., I was not able to use the Pyrgi Gold Tablets. The photos available to me in various books were simply unreadable. Only with the advent of a scanner, which I use daily to update my site, was I able to view the tablets with sufficient confidence to dare a rendering, wrapping the text into the rest of my Etruscan_Phrases.html. The following are my renderings of the two texts, with words assigned locater numbers, which are followed by scans of the actual photos.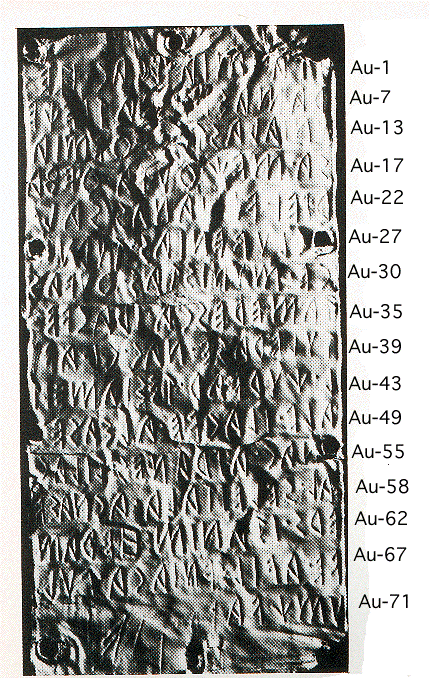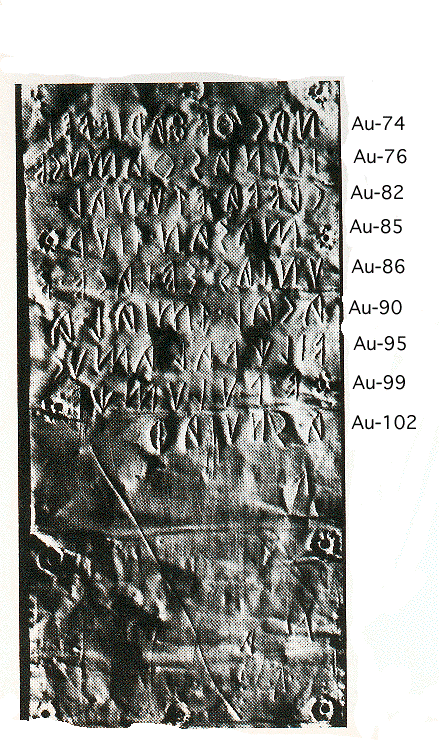 Please send me to N-1 through N405, Eugubine.html
Please send me to N406 through Q1, Eugubine.2html
Please send me to Q84-Q797ff, Eugubine3.html
Please send me to Script "R" : Eugubine4.html
Please send me over to Scripts2.html, containing Scripts F, G, H, & J
Please send me over to scripts which are primarily from tombs and tombstones: Miscellaneous_Scripts.html
---
Launched 9.6.98
Copyright © 1981-1998 Maravot. All rights reserved. Use of the information on this page is expressly forbidden without the prior written consent of the author.