News Headlines & Trends
---
12.20.09 Chernobyl Exclusion Zone radioactive longer than expected
December 20 - Radioactive Material Isn't Disappearing From the Environment as Quickly as Predicted. Chernobyl, the worst nuclear accident in history, created an inadvertent laboratory to study the impacts of radiation — and more than twenty years later, the site still holds surprises. Reinhabiting the large dead zone around the accident site may have to wait longer than expected. Radioactive cesium isn't disappearing from the environment as quickly as predicted, according to new research presented here Monday at the meeting of the American Geophysical Union. Cesium 137's half-life — the time it takes for half of a given amount of material to decay — is 30 years, but the amount of cesium in soil near Chernobyl isn't decreasing nearly that fast...but the scientists have calculated that what they call cesium's "ecological half-life" — the time for half the cesium to disappear from the local environment — is between 180 and 320 years. [More>>abcnewsgo.com]
---
12.20.09 Iranian dissident cleric Montazeri dies
TEHRAN (AP) December 20 - Iran's most senior dissident cleric, Grand Ayatollah Hossein Ali Montazeri, who emerged as the spiritual father of its reform movement, died on Sunday. He was 87. For years, Montazeri had accused the country's ruling Islamic establishment of imposing dictatorship in the name of Islam, and he persisted with his criticism following June's disputed presidential election. His stance made him a hero to the opposition, and his criticisms were even more stinging because of his status. Montazeri had once been designated to succeed Ayatollah Ruhollah Khomeini, the late founder of Iran's 1979 Islamic revolution, as the supreme leader — but the two had a falling out a few months before Khomeini died of cancer in 1989. Montazeri's grandson, Nasser Montazeri, said he died in his sleep overnight. [More>>thejakartapost.com; See also
---
12.20.09 'Egypt should fear Iran more than we do'
December 20 - At the end of an hour-long meeting Sunday evening with Egyptian intelligence chief Omar Suleiman, Foreign Minister Avigdor Lieberman stated that "Egypt has more to fear from Iran than we do." The foreign minister went on to stress that "The greatest danger in the Middle East today is Iran, which is a greater threat to moderate Arab nations than to Israel." Teheran, according to Lieberman, is "attempting to duplicate the model of Hizbullah in Egypt, Jordan, and Yemen." [More>>jpost.com]
---
12.20.09 Iraq sends forces to oil well seized by Iran
BAGHDAD, December 20 - Iraq deployed security forces Saturday near a remote oil well seized by Iran, officials said, and its government pressed Tehran to withdraw its forces from the area along their disputed southern border. US officials applauded Iraq for standing its ground against Iran — an uneasy ally that analysts said was aiming to remind its neighbor of its economic and political pull in its takeover of the oil well Thursday. The site is located in one of the largest oil fields in Iraq and has about 1.5 billion barrels in reserves...One of the Iraqi officials said Iranian soldiers came and went from the oil well throughout Saturday. They were gone by the evening, leaving behind an Iranian flag mounted at the well, the official said. [Full story>>japantoday.com]
---
12.20.09 20 suspects nabbed, arms seized in Laki Marwat
LAKI MARWAT, Pakistan, December 20 - The Laki Marwat Police on Sunday raided the Dodah Jungle area and arrested 20 suspected people besides seizure of heavy arms and ammunition from their possession. Addressing a news conference, DPO Laki Marwat Ayub Khan said the recovered arms include LMGs, 750 cartridges, explosive-filled containers and bags filled with ammunition. He said these containers are used to destroy bridges and added the seized arms were due to be used during Muharram. [>thenews.com.pk]
---
12.20.09 US transfers Guantanamo detainees
December 20 - The United States has sent home 12 detainees from its Guantanamo Bay detention facility in Cuba. Six Yemenis, four Afghans and two Somali prisoners, from the the autonomous Somaliland region, were transferred over the weekend, the US department of justice said in a statement on Sunday. "These transfers were carried out under individual arrangements between the United States and relevant foreign authorities to ensure the transfers took place under appropriate security measures," it said. "Consultations with foreign authorities regarding these individuals will continue." After the latest transfer, 198 detainees remain at the facility on the southern tip of Cuba. [More>>aljazeera.net]
---
12.20.09 UN should play lead in Middle East settlement - Arab League chief
CAIRO (RIA Novosti) December 20 - The United Nations should play the leading role in the settlement of the Israeli-Palestinian conflict, the chief of the Arab League said."Many people, including me, think that degradation in the peace process started when the UN lost its leading role," Arab League Secretary General Amr Moussa told Anbaa Mosku (Moscow news), a newspaper RIA Novosti publishes in Arabic. Earlier, Palestinian leaders, tired of fruitless efforts to see progress at talks with Israel, decided to address the UN Security Council asking it to adopt a resolution to recognize the borders of a future Palestinian state. [More>>en.rian.ru; See related story,

Maravot News Editorial note: "East Jerusalem belongs to the UN Corpus Separatum of Jerusalem," set aside when the UN established the state of Israel...
---
12.20.09 Fog discovered on Saturn's largest moon Titan
LOS ANGELES, CA, December 19 - US scientists have discovered fog moving across the south pole of Saturn's largest moon, Titan. Titan looks to be the only place in the solar system aside from Earth to have copious quantities of liquid (largely, liquid methane and ethane) sitting on its surface...The presence of fog provides the first direct evidence for the exchange of material between the surface and the atmosphere, and thus of an active hydrological cycle, which previously had only been known to exist on Earth, the researchers said in a paper published in the latest issue of Astrophysical Journal Letters. [Full story>>xinhuanet.com; See related story,

saturn.jpl.nasa.gov, December 17, "Glint of sunlight confirms liquid in Northern Lake District of Titan" : PASADENA, Calif. - NASA's Cassini Spacecraft has captured the first flash of sunlight reflected off a lake on Saturn's moon Titan, confirming the presence of liquid on the part of the moon dotted with many large, lake-shaped basins...
---
12.19.09 Squid invasions signal changes in the Pacific Ocean
December 19 - Some Fish Stock Decline as Jumbo Squid Migrate to New Waters. When large numbers of jumbo squid first showed up in California's Monterey Bay in 1997, scientists weren't sure what had brought the cephalopod that far north. An unusually strong El Niño event had warmed the eastern Pacific. But the squid, dubbed el diablo rojo — the red devil — in its native waters off the coast of Mexico, didn't typically venture farther north than Baja California. And indeed, within two years, the Humboldt squid — Dosidicus gigas — had disappeared from central California waters. But in 2002 — another El Niño year — they reappeared. This time, they took up permanent residence and pushed even farther north – past Oregon, Washington, and British Columbia, until, by 2004, fishermen near Sitka, Alaska, were hauling them in.

When scientists dug through historical records, they discovered that the squid's northward advance wasn't entirely unprecedented. There were accounts from the 1930s of the creatures in Monterey Bay. But never in numbers comparable to what scientists observed now — schools many hundreds strong. And no one had ever seen them as far north as Alaska. "This occurrence has gotten weird enough to not really make it into the realm of 'normal,' " says John Field, a fisheries biologist with the National Oceanic and Atmospheric Administration in Santa Cruz, Calif.

Fishermen worry that the squid, a voracious predator weighing up to 110 pounds and reaching more than six feet in length, will diminish valuable fish stocks. Hake, for example, a major Pacific fishery, has declined since the squid arrived. Scientists, meanwhile, ponder what the dramatic range expansion of a species usually confined to lower latitudes implies about the Pacific Ocean in general. They're gradually piecing together a story of natural cycles that, together with climate change, have altered the eastern Pacific in a way that favors jumbo squid. [More>>abcnews.go.com; See related stories,

bbc.co.uk, December 19, "Copenhagen climate deal meets qualified UN welcome" : UN Secretary General Ban Ki-moon has welcomed a US-backed climate deal in Copenhagen as an "essential beginning." But he said the accord, reached with key nations including China and Brazil, must be made legally binding next year. After intense wrangling, delegates passed a motion simply taking note of the deal, without formally adopting it. The pact did not win unanimous support, amid outrage from some developing nations who said it lacked specific targets for reducing carbon emissions.

The accord includes a recognition to limit temperature rises to less than 2C and promises to deliver $30bn (£18.5bn) of aid for developing nations over the next three years. It outlines a goal of providing $100bn a year by 2020 to help poor countries cope with the impacts of climate change. The agreement also includes a method for verifying industrialized nations' reduction of emissions. The US had insisted that China dropped its resistance to this measure. But the BBC's environment correspondent Richard Black says the Copenhagen Accord looks unlikely to contain temperature rises to within the 2C (3.6F) threshold that UN scientists say is needed to avert serious climate change...

thejakartapost.com, December 19, "Forest plan gets ax at UN climate talks" : A plan to protect the world's biologically rich tropical forests was shelved early Saturday after world leaders failed to agree on a binding deal to reduce greenhouse gas emissions. Delegates scrapped plans for a comprehensive climate agreement that would have included the deal to pay poor countries to protect their forests. The program is known as REDD for Reducing Emissions from Deforestation and Degradation...

news.sky.com, December 19 - "Eurostar has confirmed all scheduled services through the Channel Tunnel tomorrow have been cancelled"...Furious Eurostar passengers have been telling of their ordeals after they were trapped for up to 16 hours in the Channel Tunnel. Many opened emergency doors themselves to escape the "awful" and "horrendous" conditions. Some 2,000 travellers were stuck without light, air-conditioning, food or water after the trains broke down in the tunnels. Lee Godfrey, who was travelling back from Disneyland Paris with his family, said: "We were without power. We ran out of water, we ran out of food and there was very very poor communication from the staff. "We lost air-conditioning when we lost the power. We had to open the emergency doors ourselves. The evacuation procedure we followed was one that we set down ourselves. We have had children asleep on the floor, they have been sick. It has been a complete nightmare." ...Eurostar chief executive Richard Brown said the trains failed as they left the cold air in northern France and entered the warmer air inside the tunnel. Blaming the "unprecedented" situation of five trains failing, he said passengers would get a full refund, a free ticket and £150 as a "gesture apology." He said a full investigation would be launched...
---
12.19.09 Iran acknowledges fatal beatings
TEHRAN (AP) December 19 - After months of denials, Iran acknowledged Saturday that at least three people detained in the country's postelection turmoil were beaten to death by their jailers. The surprise announcement by the hard-line judiciary confirmed one of the opposition's most devastating and embarrassing claims against authorities and the elite Revolutionary Guard forces that led the crackdown after June's disputed presidential vote. There was no immediate public reaction from the opposition, but some activists asserted that authorities under pressure over abuse claims were merely seeking to punish low ranking staff while shielding senior level officials who the opposition says are most to blame.

Still, the statement offered some rare vindication for the government's critics, who had rejected earlier explanations from the police and the judiciary that the detainees' deaths were caused by illnesses like meningitis, not physical mistreatment. "The coroner's office has rejected that meningitis was the cause of the deaths and has confirmed the existence of signs of repeated beatings on the bodies and has declared that the wounds inflicted were the cause of the deaths,"' the judiciary statement said, according to the Web site of Iran's state TV. [More>>nytimes.com]
---
12.19.09 US Army: Iran cannot push Iraq around like this
December 19 - Iraq is "not going to be pushed around" by Iran, the top US diplomat in Iraq said Saturday following an Iranian takeover of an oil well along the two nations' disputed border. US officials said they approved of Iraq's speedy defense of its sovereignty amid ongoing concerns over Iran's influence on its Mideast neighbor. "It does speak to the overall view here that they are not going to be pushed around by Iran," US Ambassador to Iraq Chris Hill told reporters. Iranian forces earlier this week crossed into Iraq, seizing an oil well just over the border in the southern Maysan province. The takeover — which included planting an Iranian flag on the well — was met by protests from Baghdad.

It served as a dramatic display of the sometimes tense relations between the wary allies. Iraqi authorities on Saturday prevented media representatives from visiting the area at the al-Fakkah oil field, located about about 320 kilometers southeast of Baghdad. Top Iraqi national security officials said the well was clearly in Iraqi territory and demanded that the Iranians leave immediately. High-level diplomatic talks between Iraq and Iran are continuing, said Iraqi deputy foreign minister Labid Abbawi. "The situation this morning is the same: the Iranians have not withdrawn from the well," Abbawi told The Associated Press. "We are still sticking to our position in demanding an immediate withdrawal of Iranian forces from the oil well." [>jpost.com]
---
12.19.09 Yemen says more than 30 Qaeda suspects held
SANAA (AFP) December 19 - Yemeni security forces have arrested more than 30 al-Qaeda suspects during an offensive launched earlier this week against the terror network, the defence ministry said. The ministry, on its website, said 29 suspects were rounded up in the suburbs of Sanaa and four others were held in Aden, southern Yemen. On Thursday, at least 28 al-Qaeda militants were killed and 17 others were captured in operations backed by air strikes that foiled imminent suicide attacks, according to the ministry.

The New York Times reported on Saturday that US President Barack Obama had approved firepower, intelligence and other support requested by the Yemeni government to help it strike al-Qaeda militants. But an exiled southern leader, Ali Salem al-Baid, has accused the Yemeni authorities of having killed more than 60 civilians in an air strike that Sanaa said targeted an al-Qaeda training camp in the south's Abyan region. The authorities say Abyan has become a regrouping base for Islamist militants, but Baid rejected the charge as "totally false," and insisted that al-Qaeda had "no presence in the south." [>khaleejtimes.com]
---
12.19.09 Tensions grow for Muslims as French debate national identity
CASTRES, France, December 19 - When Muslim worshipers showed up at the Bilal Mosque early Sunday morning, they found two pig's ears and a poster of the French flag stapled to the door; a pig's snout dangled from the doorknob. "White power" and "Sieg heil" were spray-painted on one side, they recalled, and "France for the French" on the other. The desecration of the main mosque in Castres, a tranquil provincial town 50 miles east of Toulouse, was an ugly exception in generally easygoing relations between the native French population and a pocket of about 10,000 Muslims, mostly Algerian immigrants and their children, who in recent years have made Castres their home, according to Muslim as well as native French residents.

Mayor Pascal Bugis was quick to condemn the outrage, visiting the scene to express dismay, and police vowed a swift arrest of those responsible. But for Abdelmalek Bouregba, head of the Castres Islamic Association, which administers the mosque, the vandalism was a troubling sign of the times. Signals are flashing everywhere that France is increasingly uneasy with its more than 5 million Muslims, he said, and the atmosphere has soured particularly since President Nicolas Sarkozy's government last month began what it calls "a great debate on national identity."

In parallel with the government-organized debate, he noted, a parliamentary committee is holding hearings to determine whether legislation is necessary to forbid Muslim women from wearing full veils in public. Its chairman, André Gerin, said at a session Wednesday that such veils are "barbaric." Interior Minister Brice Hortefeux, a confidant of Sarkozy's, urged a ban in public buildings, such as town halls and hospitals, saying that "there is no place in France for burqas." [More>>washingtonpost.com]
---
12.18.09 Price war declared as ticket sales start for world's fastest train journey
WUHAN, China, December 18 - China's railway stations Friday began selling passenger tickets for the Wuhan-Guangzhou high-speed railway, which boasts the world's fastest train journey with a 350-km-per-hour average speed. The service between Wuhan, the largest city in central China, and Guangzhou City, a business hub in the southern Guangdong Province, was scheduled to start on Dec. 26. The journey of 1,068.6 kilometers would take three hours, compared with the previous 10 and a half hours, said an official with the Wuhan railway bureau...China's government has launched a major upgrading of the nation's overstretched railway system. It will build 42 high-speed passenger rail lines with a total length of 13,000 kilometers in the next three years...When a network of high-speed passenger rail lines traveling at 250 to 350 km per hour is finished in 2012, it will cover almost every major city with a large population. Almost 80 percent of the civil transportation market will be affected. [Full story>>xinhuanet.com]
---
12.18.09 10 killed in suicide attack in northwest Pakistan
ISLAMABAD (AP) December 18 - A suicide car bomber detonated his explosives near a mosque inside a police compound in northwestern Pakistan on Friday, killing 10 people in the latest attack by suspected Taliban militants waging war against the Pakistani government. The Taliban have stepped up their campaign of violence since the military launched a major offensive in mid-October in the militant stronghold of South Waziristan in Pakistan's lawless tribal area near the Afghan border. Friday's attack was the second in two weeks against a mosque used by Pakistan's security forces. Most of the 10 people killed in the attack in the Lower Dir region were police leaving the mosque after Friday prayers, said the area's police chief, Feroze Khan. The blast wounded another 28 people, also mostly police, said a local hospital official, Ghulam Mohammed. No group has taken responsibility for the bombing, but the Taliban has carried out similar attacks throughout the country. [More>>timesofindia.indiatimes.com; See related stories,

thenews.com.pk, December 18, "12 dead, 28 hurt in Dir mosque attack" : PESHAWAR - At least 12 people were killed and 28 other wounded when a suicide bomber blew himself up in a mosque situated in Khurshid Police Line, Temar Garah...Two children are also among the dead...Condemning the blast, NWFP Chief Minister Ameer Hyder Khan said that no Muslim could even think of killing his innocent fellow Muslims inside the mosque. He said the terrorists, bewildered by their possible defeat, were carrying out vengeful acts of terrorism.

thenews.com.pk, December 18, "Jet fighters kill 14 militants in Orakzai" : PESHAWAR - Security forces backed by fighter planes bombed suspected Taliban's hideouts in Orakzai tribal region, killing 14 extremists, and injuring several others. According to sources close to security forces, helicopter gunships shelled militants' dens in Ghajo, Dabori and Mamozai areas of Orakzai Agency, in which 14 militants were killed. On the other hand, two dead bodies have been recovered from Mamozai area. They have been identified as Hazrat Ali and Misri Khan. [end]

thenews.com.pk, December 18, "US drone strike kills 12 in NWA" : MIRAMSHAH - Four missiles fired by a US unmanned aircraft killed 12 people, including foreign militants, in North Waziristan on Friday. According to sources, a US drone plane fired four missiles at a house in Paikhel village situated some 30 kilometers off Miramshah. Sources say that foreigners are also among the dead. It may be reminded that back-to-back several missile strikes had killed 16 militants in North Waziristan the other day. [end]
---
12.18.09 Iraq reports Iranian incursion; Tehran issues denial
BAGHDAD (Reuters) December 18 - A senior Iraqi official said Iranian soldiers crossed into Iraqi territory on Friday and took up position at a southern oilfield whose ownership is disputed by Iran, but Tehran denied the report Iraqi Deputy Interior Minister Ahmed Ali al-Khafaji said the incursion was the latest in a series this week at the Fakka oilfield, around 300 km (185 miles) southeast of Baghdad, in Maysan province. "At 3:30 this afternoon, 11 Iranian (soldiers) infiltrated the Iran-Iraq border and took control of the oil well. They raised the Iranian flag, and they are still there until this moment," he told Reuters. [More>>thestar.com.my]
---
12.18.09 'Iranian cyber army' hacks Twitter
December 18 - The popular microblogging site Twitter was briefly shut down after a group apparently calling themselves the Iranian Cyber Army launched attack on the site. Visitors to the site found that Twitter's homepage had been replaced by a page showing a green flag under red text reading "This site has been hacked by Iranian Cyber Army." The website's official blog acknowledged the disruption on Friday, but gave no details as to how the site had been been hacked and who had carried out the attack. Biz Stone, the site's cofounder, wrote on the blog: "As we tweeted a bit ago, Twitter's DNS [Domain Name Service] records were temporarily compromised tonight but have now been fixed." "We will update with more information and details once we've investigated more fully," he said. Technology blogs including TechCrunch said Twitter went down around 06:00 GMT for about an hour. [More>>aljazeera.net]
---
12.18.09 EU: National priority map contradicts building moratorium
December 18 - The European Union on Friday afternoon condemned the government's decision to include West Bank settlements in the the national priority map, saying that such a move contradicted Israel's 10-month building moratorium in Judea and Samaria. "This decision runs counter to the spirit of the settlement freeze," the Swedish EU presidency was quoted as saying by Reuters. "It also prevents the creation of an atmosphere conducive to resuming negotiations on a two-state solution," the EU statement reportedly read. The Foreign Ministry blasted the EU statement, saying that criticism by the European Union was increasing the disagreement between the sides instead of promoting peace and working towards the resumption of Israeli-Palestinian peace talks. [More>>jpost.com]
---
12.18.09 Residents attack church in Bekasi
JAKARTA, December 18 - A group of residents attacked a church under construction in Harapan Indah residential complex, Bekasi, West Java, on Thursday evening, causing damage to several buildings. No one was injured in the incident. The chairwoman of the church construction committee, Kristina Maria Rantetana, said the incident happened at around 10.45pm on Thursday. "I saw around 1,000 people wearing white robes marching to the church. When they arrived, they started throwing rocks at the church," she told kompas.com on Friday. "Some of them entered the church complex and started a fire." Kristina said she immediately reported the incident to the police. Several officers had arrived shortly afterward, but could not do anything to control the crowd. The incident finally ended at around midnight when around 100 police officers from Bekasi Police arrived. One man was arrested for stealing a device in the church during the attack. [>thejakartapost.com; See related story,

alarabiya.net (AFP) December 18, "Iraq on alert over Chrisitan Christmas threats" : BAGHDAD - The Iraqi army has been put on alert because of threats against the country's Christian minority over the coming Christmas holidays, the defense ministry spokesman said on Friday. "We have put our forces on alert in Baghdad, the provinces of Kirkuk and Nineveh, including its capital Mosul, where our Christian brothers will be celebrating their holidays, because we have intelligence indicating they could be attacked during this period," General Mohammed al-Askari told AFP. Askari said the latest attacks on churches "carry the hallmarks of al-Qaeda, and we are going to take serious measures to assure the security of churches and avoid terrorist attacks."

Hundreds of Christians have been murdered since the US-led invasion that overthrew Saddam Hussein in 2003, and tens of thousands have fled the country. The community has dwindled from 800,000 to around 550,000 now. On Thursday, Christian Zeid Majid Yussef, 30, was gunned down in a drive-by shooting in the main northern city of Mosul. Two days earlier, bombers struck two churches in Mosul, killing a baby and wounding at least 40 people, among them schoolchildren, police and medics said. One bomb struck the Syrian Catholic Church of the Annunciation. The second, a car bomb, struck the Syrian Orthodox Church of the Virgin Mary and an adjacent Christian school in the city centre, police said. And on November 26, bombs hit a church and a convent in Mosul, causing severe damage but no casualties. [end]
---
12.18.09 US charges 3 in drug case with helping al-Qaeda
December 18 - Federal prosecutors in Manhattan unsealed narcotics and terrorism conspiracy charges on Friday against three West Africans they said were associates of al-Qaeda and a related terrorist group, marking the first time such charges had been brought against people said to be linked to al-Qaeda. The men, who were taken into custody on Wednesday in Ghana and flown to the United States on Thursday night, were arrested after a four-month investigation in which paid informants working with the United States Drug Enforcement Administration posed as members of a Colombian terrorist group, according to court papers. Federal authorities have long maintained that al-Qaeda has been involved in drug trafficking, in Afghanistan, Pakistan and elsewhere.

The two informants approached the defendants and sought their assistance in transporting and providing security for cocaine shipments as large as a ton from West Africa, through North Africa and on to Spain, according to the papers. One informant posed as a Lebanese radical who represented the Colombian group, the FARC, and the other as a member of the group. "Today's allegations reflect the emergence of a worrisome alliance between al-Qaeda and transnational narcotics traffickers," Preet Bharara, the United States Attorney in Manhattan said in a statement announcing the arrests. "As terrorists diversify into drugs, however, they provide us with more opportunities to incapacitate them and cut off the funding for future acts of terror." [More>>nytimes.com]
---
12.17.09 Israel blocks Jerusalem gathering
December 17 - Israeli police have detained at least six people in East Jerusalem after a clash with Palestinians gathered to mark the end of a year of cultural festivities. Dozens of Palestinians had gathered in occupied East Jerusalem on Thursday to celebrate the city's selection as the 2009 "Capital of Arab culture" by the Arab League and the UN's educational body, Unesco. The designation is a tradition that rotates among various Arab cities annually.

Israeli police arrived at the scene of the rally at the city's Damascus Gate, in an attempt to disperse the demonstrators. Al Jazeera's Ayman Mohyeldin, reporting from East Jerusalem, said minor clashes between Palestinians and Israeli police broke out in front of the gate as police prevented Palestinians from participating in the gathering.
"The situation remains tense as police maintain a very heavy presence here outside Damascus gate," he said. "This comes on the heels of a year when Palestinians in occupied East Jerusalem have been trying to celebrate Jerusalem as the capital of Arab culture. But throughout the course of the past calendar year, Israeli officials have prevented any kind of Palestinian celebrations [and] Palestinian national festivals taking place here. [More>>aljazeera.net]

---
Editorial note: "East Jerusalem belongs to the UN Corpus Separatum of Jerusalem," set aside when the UN established the state of Israel.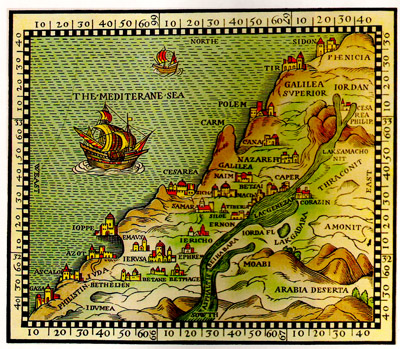 "The land of the Bible in Roman times," woodcut from "The Bible and Holy Scriptures" by Rouland Hall, 1560 (From Yaakov Aviel collection and book "Choice of Illustrations..." Yakov Aviel & Etretz Israel Collection ltd. July 1984)
Via UN resolution, two territories — of Israel and Palestine — plus a separate UN governed territory of Jerusalem and the territory of Jordan were carved out of the British Mandate territory of Palestine in 1947. (See palestinefacts.org). Before this the territories of Palestine and Syria did not exist but were divided into many separate Ottoman sanjacks and Willayats (provinces) (See article jerusalemites.org). Establishing a historical context of Palestine is quite difficult, since it has been divided and conquered by all of the empires crossing through it over time, including the Assyrians, Babylonians, Egyptians, Kingdom of David and Solomon, Persians, Greeks, Romans, Hasmonians, Arabs, Ottomans, Crusaders, etc. It seems that the only logical and legal map that can be used to determine ownership of Jerusalem would be the map established by the UN when establishing the territories of Israel, Palestine, Jerusalem and Transjordan in 1947. Short of this, a map from the Roman Empire would be no less legitimate for determining ownership of Jerusalem than the many others through the centuries.

Arabs incorrectly refer to East Jerusalem as "occupied Jerusalem," but after Israel's independence May 15, 1948 the state of Transjordan occupied the site, essentially wrenching it away from UN possession. During the 1967 "6-day war" Israel captured East Jerusalem from Transjordan, along with the West Bank territories. A good (but somewhat biased) essay on the morphing territories of Palestine is at masada2000.org. See our article on the UN Corpus Separatum of Jerusalem — Maravot News 12.10.09 Editorial note, "UN Resolution November 29, 1947 placed Jerusalem under UN jurisdiction.." to article 12.07.09 East Jerusalem not part of Israel: European MP) : Any claim to east Jerusalem will contravene the UN Resolution 181 of 1947, i.e.,

(UN Resolution 29 November 1947)
Part III. - City of Jerusalem(5)

A. SPECIAL REGIME

The City of Jerusalem shall be established as a corpus separatum under a special international regime and shall be administered by the United Nations. The Trusteeship Council shall be designated to discharge the responsibilities of the Administering Authority on behalf of the United Nations.

B. BOUNDARIES OF THE CITY

The City of Jerusalem shall include the present municipality of Jerusalem plus the surrounding villages and towns, the most eastern of which shall be Abu Dis; the most southern, Bethlehem; the most western, 'Ein Karim (including also the built-up area of Motsa); and the most northern Shu'fat, as indicated on the attached sketch-map (annex B). (UN Partition map at domino.un.org)
Mel Copeland
---
12.17.09 7 foreigners among 16 killed in US drone strikes
MIRANSHAH, Pakistan, December 17 - Sixteen people where killed, including seven foreigners when unmanned US aircrafts fired 10 missiles at a house in North Waziristan on Thursday. According to sources, the US drones targeted some houses situated in Degan and Ambor Shaga areas off 25 kilometers from Miranshah, headquarter of North Waziristan. Following the drone strikes, as people were heading toward the targeted house, 10 back-to-back missiles were fired, killing 16 people. According to reports, five to six pilotless aircrafts were still hovering over North Waziristan. Earlier in the day, two people were killed in a US drone strike, which hit the house of a tribesman in Datta Kheil Kay. [>thenews.com.pk]
---
12.17.09 Afghan troop surge to bring more drones
December 17 - More "Eyes in the Sky" Coming to Protect Troops, But Can the Enemy Easily Hack into the Video Feeds? The US military is adding more drones and expanding its video surveillance in the skies over Afghanistan to meet the needs of American forces as 30,000 more troops head into the war zone, a top Air Force general said Wednesday. The trouble is, reports CBS News correspondent Elizabeth Palmer, that some American drones transmit unencrypted video back to military analysts, which has made it possible for the enemy to see the pictures, too. Air Force Lt. Gen. David Deptula, deputy chief of staff for intelligence, surveillance and reconnaissance, told reporters the bolstered eyes in the sky will come from a mix of manned and unmanned aircraft and added technology that allows each MQ-9 Reaper drone to collect 10 video transmissions and beam them back to 10 different users on the ground.

It was first reported Thursday by the Wall Street Journal that Iraqi militants had hacked into unencrypted video feeds sent from US military Predator drones, a workhorse of the surveillance fleet, using cheap, readily available software. It's was not immediately clear how much of a role in the bolstered surveillance mission Predators will play, and a spokesperson at the main US base in Afghanistan, Bagram Air Base, could not immediately tell CBS News whether the MQ-9 Reaper or the new piloted surveillance aircraft sent encrypted or unencrypted video feeds. Military officials say they're working on encrypting all drone video feeds, and that no missions have been compromised by hacking, reports Palmer. [More>>cbsnews.com]
---
12.17.09 Yemen kills 34 al-Qaeda militants, captures 17
(AFP) December 17 - Yemeni security forces killed 34 suspected al-Qaeda militants and captured 17 in operations against the group in the south and around the capital, the defence ministry said. The operations took place in the southern town of Abyan, as well as in the capital Sanaa and the neighboring district of Arhab, the official said in a statement carried by the defence ministry-linked website 26sep.net. [>khaleejtimes.com; See more details,

bbc.co.uk, December 17, "Yemen 'foils al-Qaeda plot' killing 34" ...The militants had allegedly been planning multiple suicide attacks, with eight of them preparing explosive vests, Reuters news agency reported. The group was planning a number of suicide attacks against foreign and local targets, they say. Airforce jets and soldiers hit training camps and hideouts early on Thursday, disrupting plans for attacks on domestic and foreign interests in Yemen, including schools, according to the ministry-linked website sep26.net...

alarabiya.net, December 17, "Yemen foils al-Qaeda plot, kills 34, arrests 17" : SANAA - Yemeni security forces have killed 34 al-Qaeda militants and arrested 17 others in foiling a planned series of suicide bomb attacks, a security source said on Thursday..."The operation led to the foiling of an al-Qaeda plan aiming to hit foreign and local interests and schools, including eight suicide bombers who were preparing explosive belts to carry out the plan," the source told Reuters...
---
12.17.09 Police kill four militants, surround others in Chechnya
GROZNY, Chechnya (RIA Novosti) December 17 - Police have killed four militants in a special operation in the North Caucasus republic of Chechnya, Chechen President Ramzan Kadyrov said on Thursday. Kadyrov said law enforcers had surrounded a group of militants, which might include militant leaders, in the southern mountainous region of Chechnya. "Four militants were killed in the first hours," Kadyrov said. "Their identities are being investigated. Arms, ammunition and explosives have also been seized." According to Kadytrov, police forces involved in the special operation found a militant winter base and surrounded it. The Chechen president said that despite heavy snowfall and thick fog, the operation will continue in the region.

There are so far no reports of police fatalities in the operation which is expected to end in a few days. Russia's mainly Muslim and ethnically diverse North Caucasus republics have been swept by an upsurge of violence recently, which has also swept neighboring regions, where hundreds of people have been killed in militant attacks and skirmishes between security forces and gunmen. Moscow announced an end to its decade-long antiterrorism campaign against separatists in Chechnya in April, but has since had to step up the fight against militants as skirmishes and attacks on police and other officials have continued.[>en.rian.ru; See related story,

xinhuanet.com, December 17, "Suicide attack wounds 23 in southern Russia" : MOSCOW - A suicide car bomber attacked a police checkpoint in Russia's North Caucasus republic of Ingushetia on Thursday, killing himself and wounding at least 23 others, Russian news agencies reported. The bomber struck in Ingushetia's main city of Nazran, Interfax quoted an official with the regional investigative committee as saying. Those injured in the blast included patrol officers, servicemen and civilians. Many of them are in serious condition, according to latest reports. A criminal investigation into the incident is underway. The North Caucasus region has remained mired in violence stemming from wars between Chechen separatists and the Russian government, with attacks on troops, police and officials being reported almost daily. [end]
---
12.17.09 Mexican drug lord is killed in a raid
MEXICO CITY, December 17 - Special Forces from the Mexican military surrounded and killed one of Mexico's top drug cartel leaders, Arturo Beltrán Leyva, in a firefight that began late Wednesday as part of President Felipe Calderón's longstanding battle against drug traffickers, the Mexican military said. Mr. Beltrán Leyva, who was also wanted in the United States, was the highest-level drug lord killed since President Calderón began his offensive against the nation's cartels in December 2006. Mr. Beltrán Leyva died in his apartment in a luxury complex in the southern city of Cuernavaca after a two-hour gun battle with some 400 Special Forces troops from the Navy and the Army. Six other drug traffickers were killed, one as he jumped out the window, and one member of the Navy's Special Forces died in the shooting.

Even by the gruesome standards of Mexico's drug lords, Mr. Beltrán Leyva's capacity for violent revenge was especially brazen, the authorities said. Since September, he has carried out brutal retaliatory attacks against rivals, leaving decapitated heads and tortured bodies across two states with notes left from "el jefe de jefes," the boss of bosses. The operation against him was based on intelligence that the Navy had been gathering for some time to track his movements, the authorities said. Six days ago, Special Forces raided a party Mr. Beltrán Leyva had planned to attend, but he managed to escape. With information from that raid, they tracked him to the Altitude apartment complex, a luxury condominium development not far from the center of Cuernavaca. [More>>nytimes.com]
---
12.17.09 Scientists unlock genetic code in major cancer breathrough
LONDON, December 17 - The entire genetic codes of two common types of cancer have been cracked, according to scientists, who say the breakthrough could unlock a new era in the treatment of deadly diseases. Scientists at the UK-based Wellcome Trust Sanger Institute catalogued the genetic maps of skin and lung cancer and have pinpointed the specific mutations within DNA that can lead to dangerous tumors. Researchers predict these maps will offer patients a personalized treatment option that ranges from earlier detection to the types of medication used to treat cancer. The genetic maps will also allow cancer researchers to study cells with defective DNA and produce more powerful drugs to fight the errors, according to the the study's scientists. [More>>cnn.com; See also

independent.co.uk, December 17, "15 cigarettes: all it takes to harm genes" : One genetic mutation occurs on average for every 15 cigarettes that a typical lung-cancer patient smokes, according to a study that has identified for the first time all of the mutations acquired during the lifetime of a cancer patient. Scientists have completed a full genetic analysis of the genomes of cancer patients, and hope the information will lead to a fundamental understanding of the causes of cancer — and possibly drugs and treatments — by identifying the mutations that turn a healthy cell into a cancerous tumour cell...
---
12.16.09 Iran missile test draws Western condemnation
TEHRAN (Reuters) December 16 - Iran's hardline rulers sent uncompromising signals to foes at home and abroad on Wednesday, warning of possible legal action against opposition leaders and testing an upgraded missile that could reach Israel. The United States said the launch of a Sejil 2 missile, with a reported range that would put the Jewish state and US Gulf bases within reach, undermined Iran's insistence of peaceful intentions and would be looked upon seriously by the world. British Prime Minister Gordon Brown said it boosted the case for tougher sanctions over the oil producer's disputed nuclear programme, which the West fears is aimed at making bombs. Tehran says it only seeks to generate electricity. "This is a matter of serious concern to the international community and it does make the case for us moving further on sanctions," Brown said in Copenhagen.

A senior Iranian energy official dismissed the latest effort to tighten the screw, saying a move by US lawmakers to target the Middle Eastern state with fuel sanctions would not cause any problems because Tehran had many gasoline suppliers. Iran is the world's fifth-largest oil exporter but lacks enough refining capacity to meet domestic fuel needs, forcing it to import up to 40 percent of its gasoline consumption. This makes it vulnerable to punitive measures that target the trade although Iranian officials have repeatedly shrugged off the impact of such steps. On Tuesday, the US House of Representatives backed legislation to impose sanctions on foreign companies that help to supply fuel to Iran, a measure lawmakers hope would deter Tehran from pursuing its sensitive atomic activities. [More>>thestar.com.my]

See related stories,

en.rian.ru (RIA Novosti) December 16, "China key to additional sanctions against Iran" : Any Western sanctions against Iran could be rendered ineffective by China, a Russian analyst said on Wednesday. In an interview with RIA Novosti, Vladimir Yevseyev, a senior research associate at the Russian Academy of Sciences World Economics and International Relations Institute, opined that the United States' latest move to deter Tehran from pursuing its nuclear program would be useless without China's involvement. The US House of Representatives on Tuesday approved a bill imposing sanctions on companies supplying gasoline to Iran. "If China does not join in, that will be ineffective," Yevseyev said. He added that if the United States and other Western countries completely pulled out of Iran's market, Beijing would easily make up for the difference. "Even if the West stops gasoline supplies, I don't think that would be critical — everything depends on China, while China is now carefully weighing up and analyzing all options."...

bbc.co.uk, December 16, "Credit Suisse to pay $536m fine over Iran sanction" : Swiss banking group Credit Suisse has agreed to pay a $536m (£329m) fine for violating US sanctions against Iran. Settlement papers say Credit Suisse systematically hid the identity of its Iranian clients when moving millions of dollars on their behalf. The bank is also accused of helping Libya, Sudan and Burma evade sanctions. The bank said it took the matter seriously and was committed to the highest standards of integrity and regulatory compliance. Credit Suisse is the second bank to pay hundreds of millions of dollars for helping its clients bypass US laws. In January, British bank Lloyds-TSB paid a fine of $350m to US authorities after prosecutors accused it of faking records so clients in Iran, Libya and Sudan could do business with US institutions...
---
12.16.09 Danish police clash with protesters as climate talks heat up
(AFP) December 16 - Police battled demonstrators outside the UN climate summit on Wednesday as leaders of developing nations let rip at wealthy counterparts, exposing the mighty obstacles facing a deal to tame global warming. Police with dogs fired teargas and arrested around 260 marchers near the Bella Center, while inside the conference venue fears swelled that ministerial wrangling could wreck hopes for a deal. Around 1,500 demonstrators tried to march on the closely guarded complex, where 194 nations are seeking to forge a strategy to head off the dangers from rising oceans, droughts, plagues and storms threatened by soaring temperatures.

Inside the conference centre, a man and a woman stormed on to the main stage after a speech by Senegal's President Abdoulaye Wade, repeatedly shouting "Climate justice now!" before being taken away by security guards. Many delegates from developing countries applauded and away from the stage, world leaders arriving for Friday's grand summit of 120 chiefs, portrayed the negotiations in a sombre light...nine days of official and informal negotiations have failed to produce a breakthrough on any of the key issues. [Full story>>france24.com]
---
12.16.09 Two Qassams hit Israel, in second Gaza rocket attack this week
December 16 - Gaza militants fired two more Qassams into Israel on Wednesday, defying a moratorium announced by Hamas on cross-border rocket fire for the second time this week. The rockets struck an open area in the city of Sderot, causing no casualties. Palestinian militants also fired two Qassams at Israel on Sunday. One rocket exploded in the southern Negev, while the fell short, exploding in the Gaza Strip. The Israel Defense Forces Sunday identified a rocket fired by Gaza militants as a Russian-made S5K, the type used in battle in Iran and Afghanistan. The IDF said it was the first time this type of weapon has been fired from the territory. Hamas, the Islamist group that controls the Strip, last month announced that it has reached an agreement with other militant groups in Gaza to stop firing rockets at southern Israeli towns to prevent retaliatory attacks. [>haaretz.com]
---
12.16.09 Militant commander among 6 killed in SWA - ISPR report
WANA, Pakistan, December 16 - Security forces engaged and destroyed a vehicle at Miranshah during operation Rah-e-Nijat in South Waziristan, resultantly terrorists' commander Gulbadeen Mehsud was killed. As per ISPR details, 6 terrorists have been killed during last 24 hours, while 1 soldier embraced shahadat and 6 were injured. Terrorists fired with arms at security forces camp at Sararogha and Shuza Defile which was effectively responded, killing 2 terrorists. Moreover, forces conducted search operation at Shuza, Aghzar Khel and recovered [a] huge cache of arms and ammunition while army carried out sanitization around Khassadar Ridge. Meanwhile, security forces conducted [a] search operation in Sultano near Ladha and recovered arms and ammunition. [>thenews.com.pk; See related story,

thenews.com.pk, December 16, "Forces kill 27 militants in Kurram" : PESHAWAR - Security forces have killed 27 militants besides regaining control of their stronghold Dogar during the ongoing offensive in Kurram Agency. According to reports, security forces launched a full-scale operation in central Kurram's area of Dogar and took control of it, killing 27 militants in the process, while 18 militants were apprehended by the security forces. In addition, journalists were also taken to Badama, Tarrli, Sultani, Jani Kot and Guram Pani to see the destroyed militants' positions in central Kurram. On this occasion, Operation In-charge Brigadier Muhammad Khurshid Khan and Commanding Officer Col. Tausif Ahmed said that militants would be flushed out the other areas soon. [end]
---
12.15.09 Gulf brushes off Iraq oil threat, nears joint currency
KUWAIT CITY (AFP) December 15 - Gulf states on Tuesday brushed off mounting economic threats including Iraq's plans to massively boost oil output as they strode towards launching their own single currency. Winding up a two-day summit of the six-nation Gulf Cooperation Council, leaders also issued joint statements to back Saudi Arabia in its fight against Yemeni rebels and opposition to military action against Iran. But economic issues were at the forefront of talks at the summit held in the shadow of an alarming debt crisis in Dubai, the regional financial hub of key GCC member the United Arab Emirates. Kuwait said it offered to assist Dubai to repay huge liabilities of its conglomerate Dubai World, but the summit stressed it only dealt with the emirate's debt woes in the context of the global recession.

...At the weekend, Iraq awarded oil contracts to foreign giants at an auction it hopes will hike output to 12 million barrels a day and put it on a par with the world's top exporter Saudi Arabia, also a GCC member...GCC leaders also decided to take the bullish step of establishing a monetary council and asked its board of directors to take all the necessary measures to issue the single currency. [Full story>>khaleejtimes.com; See also,

alarabiya.net, December 15, "Gulf states launch joint military force for security" : KUWAIT - Leaders of the six Gulf Arab states wrapped up their two-day summit where they agreed to create a joint force for quick intervention to address security threats, announced they were opposed to any military action by the West against neighboring Iran and moved closer to a monetary pact...
---
12.15.09 UK ponders law change after Tzipi Livni arrest warrant
December 15 - The government is "urgently" looking into reforming the law after a UK court issued an arrest warrant for former Israeli foreign minister Tzipi Livni. The warrant was granted by a London court at the request of Palestinian plaintiffs, provoking Israeli anger. It was revoked on Monday when it was found Ms. Livni was not visiting the UK. Foreign Secretary David Miliband said Israel was a "close friend" of the UK's and stressed he was keen to "avoid this sort of situation arising again." Pro-Palestinian campaigners have tried several times to have Israeli officials arrested under the principle of universal jurisdiction, which holds that some alleged crimes are so grave that they can be tried anywhere, regardless of where the offences were committed. Ms. Livni was foreign minister during Israel's Gaza assault last winter. She said the court had been "abused" by the Palestinian plaintiffs who requested the warrant. [More>>bbc.co.uk]
---
12.15.09 Suspected terror group 'filmed London sites'
December 15 - A gang with suspected links to al-Qaeda were caught filming potential terror targets in London, police have revealed. Footage has been released which was recorded on one man's mobile phone as he travelled around the capital. It shows the man inspecting Oxford Circus, Mornington Crescent and Camden Town Tube stations, plus Liverpool Street railway station. City of London Police said they believed information was being gathered for a possible atrocity in the capital or at major regional shopping centres. Five men were arrested in July 2008, but none were ever convicted of terror offences. The footage has only now been publicized after a flood of criticism over police stop-and-search powers. Sky's crime correspondent Martin Brunt said this was police hitting back at the negative comments. [More>>news.sky.com]
---
12.15.09 Headly could be 'double agent' of US agencies, Lashkar
NEW DELHI, December 15 - Indications that US terror suspect David Headley could have been a "double agent" for American agencies and Pakistan-based outfits have become clearer for Indian investigators with mounting evidence coming their way. Top official sources said that there is a strong suspicion that US agency CIA knew about Headley's link with Lashkar-e-Taiba one year before Mumbai attack but did not convey it when he was freely travelling across India. The investigators believe that the US agencies kept away the information from India and never allowed the Pakistani- origin Headley to get "exposed." The 39-year old terror suspect, arrested by FBI for his role in Mumbai attacks, had visited India in March 2009 — four months after Mumbai attack carried out by LeT — but FBI still did not inform India that Headley is a LeT operative, apparently fearing he could be arrested in India. [More>>timesofindia.indiatimes.com]
---
12.15.09 27 dead, 90 hurt in DG Khan blast
DERA GHAZI KHAN, Pakistan, December 15 - At least 27 people were killed and many more wounded when a suicide bomber rammed his explosive-laden vehicle into the crowded Khosa market in Dera Ghazi Khan on Tuesday. The house of Sardar Zulfiqar Ali Khosa, senior adviser to Punjab's Chief Minister Shahbaz Sharif, was also destroyed in the blast. However, luckily, no member of the family was present in the house at the time of blast. Southern Punjab was once again target of the terrorists' nefarious designs. DG Khan commissioner Hasan Iqbal told Geo News the blast took place at the Khosa Market, which is the commercial center of the city. The explosion was so huge that it completely devastated at least 10 shops. While 10 to 12 more shops were slightly damaged. [More>>thenews.com.pk]
---
12.15.09 8 killed, 40 hurt in Kabul suicide bombing
KABUL (AP) December 15 - A suicide car bomber struck a heavily guarded neighborhood Tuesday near the home of a former Afghan vice president and a hotel favored by Westerners, killing at least eight people and wounding dozens, officials said. The Afghan Interior Ministry said the target of the bombing was unclear, but security officials at the scene said the bomber was going after the home of former first vice president, Ahmad Zia Massoud. He is the brother of legendary anti-Taliban hero, Ahmad Shah Massoud, who was killed by al-Qaeda two days before the attacks on Sept. 11, 2001.

"Of course we were the target," said Shah Asmat, an aide to the former vice president. "Before, the Taliban killed Massoud. Now, they tried to kill his brother." Afghan President Hamid Karzai, during a speech he was delivering at a conference on corruption, said two of Massoud's guards were among those killed in the explosion. Ministry of Interior spokesman Zemeri Bashary said four men and four women died in the midmorning blast. He said about 40 others were wounded. [More>>indianexpress.com]
---
12.15.09 Iraq bombings leave several dead
December 15 - At least four people have been killed and several others injured in a series of car bombs in central Baghdad. Three explosions went off in separate locations across the city on Tuesday, an Iraqi interior ministry official said. A police source said the first explosion occurred near the Iranian embassy and the other two near the foreign and immigration ministries...Soon afterwards, four people were killed in separate attacks in the northern city of Mosul, where bombers targeted two churches. At least 40 people were injured, among them schoolchildren, police and medics said. [Full story>>aljazeera.net]
---
12.15.09 4 decapitated bodies found in Mexican border city
TIJUANA, Mexico (AP) December 15 - Police have found the decapitated bodies of four men in the Mexican border city of Tijuana. The Baja California state prosecutor's office says police found three of the bodies inside a home early Tuesday. An hour later, they found a fourth decapitated body inside a pickup truck. The office said in a statement the heads were left near the bodies along with messages. It didn't say what the notes said. Tijuana, which is across the border from San Diego, California, has faced an upsurge in drug cartel violence in recent years. Prosecutors say 583 people have been killed so far this year in the city. [>foxnews.com]
---
12.15.09 Corruption cases in US law agencies rise
EL PASO, Texas, December 8 - The change from law enforcer to lawbreaker can begin with a bottle of liquor or a bribe of breakfast and coffee. In the worst cases, officers entrusted with protecting the border end up switching from public servants to drug smugglers' minions. Federal officials say the number of corruption investigations involving US law enforcement agencies on the border continues to rise. These include cases in the El Paso Sector, which includes the Texas counties of El Paso, Culberson and Hudspeth and all of New Mexico. Corruption cases became apparent about the time the Department of Homeland Security carried out large-scale US Border Patrol hirings in 2008.

The El Paso sector has grown to about 2,700 agents. "As the federal government has increased the number of Border Patrol agents on the ground, drug cartels are having greater difficulty smuggling drugs across the border and have had to resort to other tactics, such as bribery and infiltration," said US Rep. Silvestre Reyes, D-Texas. Reyes worked for the Border Patrol for 26 years, holding jobs from agent to sector chief. The Department of Homeland Security's Office of the Inspector General opened 72 criminal cases alleging corruption within the department's agencies between Oct. 1, 2008, and Sept. 30 of this year. OIG is the lead agency in investigating cases of fraud, abuse and mismanagement. [More>>elpasotimes.com]
---
12.14.09 China launches landmark Central Asia gas pipeline
SAMANDEPE GAS FIELD, Turkmenistan (AP) December 14 - A landmark pipeline from Central Asia to China began pumping natural gas Monday, loosening Russia's grip over the region's vast energy resources. At a midday ceremony in a field in northeastern Turkmenistan, the leaders of China, Kazakhstan, Turkmenistan and Uzbekistan together rotated a pipeline spigot to raucous applause and cheering, sending the first consignment of gas on its way to the energy-hungry Asian nation. By becoming the first major Central Asia gas export route to completely bypass Russia, the new pipeline will play a key role in wresting the former Soviet republics in the region out of Moscow's economic sphere of influence.

"The pipeline passing through our countries will revive the ancient Silk Road, once a conduit for the intensive exchange of goods between Asia and Europe," Turkmen President Gurbanguli Berdymukhamedov said in a speech before the opening. The route stretches around 1,800 kilometers (1,120 miles) from Turkmenistan through Uzbekistan up to Kazakhstan's border with China and then extends more than 4,500 kilometers (2,800 miles) into China itself...Gas carried in the pipeline will come from the Bagtyyarlyk concession near Turkmenistan's border with Uzbekistan, which has been developed by state-owned China National Petroleum Corporation since 2007. Turkmen authorities believes the field may hold up to 1.3 trillion cubic meters (1.7 trillion cubic yards) of gas. Looking ahead, China already has already trained its sights on the gargantuan South Yolotan natural gas field close to the Afghan border. An independent audit by a British company last year said the field may be one of the five largest in the world. [Full story>>thejakartapost.com; See more details xinhuanet.com, December 14, "Chinese, Turkmen, Kazakh, Uzbek presidents unveil gas pipeline"]
---
12.14.09 Obama to 'Fat Cat Bankers' : Time to start lending
WASHINGTON,December 14 - President Wants Wall Street to Do More to Help Borrowers, Homeowners. In a face-to-face meeting with the country's leading financial executives at the White House today, President Obama insisted that the nation's banks do more in "every responsible way" to increase lending to consumers and small businesses and help repair the US economy. "Given the difficulty business people are having as lending has declined and given the exceptional assistance banks received to get them through a difficult time, we expect them to explore every responsible way to help get our economy moving again," Obama said.

The 90-minute summit, involving discussions on small business lending, loan modifications, executive compensation and financial regulatory overhaul, comes as the president grapples with swirling economic discontentment, high unemployment and tight credit markets. Obama met with the banking executives earlier this year and warned them that he was the only one standing between them and "the pitchforks." [More>>abcnews.go.com]
---
12.14.09 Citigroup reaches deal to repay US bailout funds
December 14 - Citigroup reached a deal early Monday morning to be the last of the big Wall Street banks to exit the government's bailout program, after persuading regulators that it was sound enough to stand on its own. Citigroup announced a broad program that will replace the $20 billion of remaining bailout aid with money from private investors, facilitate the sale of the government's $25 billion in bank stock and allow it to wean itself off other forms of federal assistance. To help replenish its coffers, Citigroup expects to raise about $17 billion by selling stock as early as this week and issue up to $7.2 billion in other capital by the first quarter of next year. The moves will leave the bank with one of the largest capital cushions of the major banks, assuaging regulators' concerns about its ability to weather another severe downturn without returning to the government for help. The plan also should help Citigroup shed the stigma that came with accepting bailout money and remove the harsh compensation restrictions imposed on banks that received multiple bailouts. [More>>nytimes.com]
---
12.14.09 Iran president slammed for Mahdi comments
DUBAI, December 14 - Ahmadinejad advisor spreads rumors he speaks to savior. Political and religious Iranian figures slammed President Mahmoud Ahmadinejad for his repeated comments about the Mahdi, or who Muslims's believe is mankind's savior, and warned him about the consequences of rumors that he converses with the holy imam. Secretary-general of the conservative Islamic Coalition Party, Habibollah Askar-Oladi, met with the president and told him rumors that link Ahmadinejad to the Mahdi were dangerous and especially rumors that he converses with him, the pro-government Jahan News reported. Askar-Oladi, who is also head of Imam Khomeini's Committee, accused Ahmadinejad's advisor, Esfandiar Rahim Mashaei, of helping to spread the rumors.

"In what capacity does he talk about religious matters? Why does he issue controversial statements and leave you to provide explanations for the public?" Askar-Oladi reportedly told Ahmadinejad during their meeting. The Mahdi, an Arabic term for guided, is believed to be the redeemer of Islam who will come to earth before the Day of Judgment and, together with Jesus, will rid the world of all tyrants and injustice. [More>>alarabiya.net]
---
12.14.09 Source: 'Alarming' secret document details Iran's nuclear goals
LONDON, December 14 - A secret document that appears to show that Iran was working on building nuclear weapons as recently as 2007 is "alarming" and "part of a body of evidence backing up deep concerns over Iran's nuclear program," a Western diplomatic source with knowledge of the papers told CNN on Monday. The International Atomic Energy Agency, the United Nations nuclear watchdog, has a copy of the secret papers, which were also obtained by the Times of London, the source said. IAEA officials confirm they are investigating the document, but said they have not formally asked Iran for more information about it. A top international nuclear expert said it seemed to point to Iranian efforts to build a bomb.

...According to a report dated Monday on the Web site of Albright's group, a neutron initiator is a critical component of a nuclear weapon. The ISIS report said the device "would most likely be placed at the center of a fission bomb made from weapon-grade uranium" and "works by the high explosives compressing the nuclear core and the initiator" to produce a "spurt of neutrons" as a result of fusion. "The neutrons flood the core of weapon-grade uranium and initiate the chain reaction," the ISIS report said. Albright said the document described efforts to "research and test a neutron initiator," a nuclear component for which he could not see "any civil use." [Full story>>cnn.com; See also timesonline.co.uk, December 14, "US says Times report shows greater need for sanctions against Iran"]
---
12.14.09 Hardline schools lure foreigners to Pakistan
KARACHI, Pakistan (AP) December 14 - Anas bin Saleem, a 12-year-old American spends seven hours a day sitting cross-legged on the floor memorizing the Koran. He is one of thousands of foreigners who have flocked to conservative Islamic schools in Pakistan, despite a government ban. Pakistan and foreign governments consider the international students a potential security threat. The students could export extremism back to their own countries, or stay and fight in Pakistan and Afghanistan. Pakistan stopped granting student visas in 2005, but many students still arrive on travel visas and never leave when they expire. "We are concerned, but what can we do?" said an official from one Southeast Asian embassy. "We can't stop people from traveling ... It is their constitutional right."

Officials are concerned in general about foreigners coming to Pakistan for training in militancy. Most recently, five young American Muslims were arrested after meeting with representatives of an al-Qaeda linked group and asking for training. In Anas' school, Jamia Binoria, several hundred students from 29 countries live alongside 5,000 Pakistani pupils. Anas says he's not taught militant Islam at Binoria. But clerics firmly endorse suicide bombings and jihad against western troops in Afghanistan on the school website, and Anas admits he is fed up with anti-US barbs from teachers and pupils. "I get it like every second," says Anas, who left Louisiana last year with his Pakistani-born mother, barely spoke the national language when he arrived here and misses Hannah Montana. "I'm like 'shut up' and don't talk like that." [>timesofindia.indiatimes.com]
---
12.14.09 Key Taliban commander arrested in Karachi
KARACHI, December 14 - The Karachi police claimed to have arrested an important militant commander, Toti Khan, member of banned Tehrik-e-Taliban Pakistan Swat. The SSP CID Omar Shahid said that commander Toti Khan has been arrested from Ittehad Town of the city. A huge cache of arms and explosives have also been recovered from his possession. Toti Khan is alleged to have been involved in attacks on security forces and checkposts. [>thenews.com.pk; See related story,

nytimes.com, December 14, "Pakistan rebuffs US on Taliban crackdown" : ISLAMABAD - Demands by the United States for Pakistan to crack down on the strongest Taliban warrior in Afghanistan, Siraj Haqqani, whose fighters pose the biggest threat to American forces, have been rebuffed by the Pakistani military, according to Pakistani military officials and diplomats. The Obama administration wants Pakistan to turn on Mr. Haqqani, a longtime asset of Pakistan's spy agency who uses the tribal area of North Waziristan as his sanctuary. But, the officials said, Pakistan views the entreaties as contrary to its interests in Afghanistan beyond the timetable of President Obama's surge, which envisions drawing down American forces beginning in mid-2011. The demands, first made by senior American officials before President Obama's Afghanistan speech and repeated many times since, were renewed in a written demarche delivered in recent days by the United States Embassy to the head of the Pakistani military, Gen. Ashfaq Parvez Kayani, according to American officials. Gen. David Petraeus followed up on Monday during a visit to Islamabad...
---
12.14.09 Afghan policemen killed in attacks
December 14 - Sixteen policemen have been killed in two separate attacks on checkpoints in southern and northeastern Afghanistan, the ministry of interior said. Eight officers were killed in an attack in Lashkar Gah, the capital of Helmand province in the south on Monday morning. Another eight policemen were also killed in an ambush in the northeastern Baghlan province at about the same time. "Sixteen policemen lost their lives in two separate attacks by the terrorists," an interior ministry statement said. The attacks underscore the vulnerability of Afghan police, whose training, along with that of the local military, is a priority in the recently announced US strategy for Afghanistan. [More>>aljazeera.net]
---
12.14.09 Poachers kill almost 60 tigers in India in 2009
NEW DELHI (RIA Novosti) December 14 - A total of 59 tigers were killed by poachers in India in 2009, which is over twice the amount killed last year, India's environment ministry said on Monday. Despite national conservation and protection programs, 28 tigers were killed in 2008, 30 in 2007 and 22 in 2006. Several years ago, poachers killed all the tigers in India's Sariska and Panna national parks and the authorities had to repopulate the area with tigers from other parks. The total number of tigers in India varies from 1,200 to 1,700. [>en.rian.ru]
---
12.13.09 US, NK agree on need for peace treaty
December 13 - The United States and North Korea reportedly agreed in principle on the need to discuss a peace treaty in a four-nation setting with South Korea and China. The mutual understanding was reached during US special envoy Stephen Bosworth's visit to Pyongyang last week, according to Yonhap News. Bosworth and North Korean Vice Foreign Minister Kang Sok-ju agreed that the four nations should start negotiating a peace treaty to replace the 1953 armistice after the six-party talks on the North's denuclearization resume, a South Korean government official was quoted as saying. "North Korea proposed to discuss the peace regime under a four-nation negotiation framework instead of the US-DPRK bilateral format, and the United States agreed." This reconfirms the joint communique announced in October 2000 by the United States and North Korea after special envoy Jo Myong-rok met with then-US President Bill Clinton in Washington. [More>>koreaherald.co.kr]
---
12.13.09 Thailand detains plane with weapons cache from North Korea
BANGKOK (AFP) December 13 - Thai authorities have detained five people who landed in Bangkok in an east European cargo plane full of heavy weapons that originated in North Korea. The plane's pilot asked to land at Bangkok's domestic Don Mueang airport on Saturday morning, and on inspecting the aircraft Thai officials found the cache, government spokesman Panitan Wattanayakorn said. "An eastern European airline asked to land this morning at Don Mueang airport to refuel its tank. When Thai authorities examined the aircraft they found a lot of weapons and detained up to five people," Panitan said. He later said the weapons had been transferred to Takhli Air Force base in the central Thai province of Nakhon Sawan. [More>>news.com.au; See other details, en.rian.ru, December 13, "Plane with arms detained in Thailand was bound for Ukraine."]
---
12.13.09 Yemen rebels claim 70 killed in Saudi air raid
(AFP) December 13 - At least 70 people were killed in a Saudi air raid on a Yemeni village near the border with Saudi Arabia on Sunday, Yemen's Huthi rebels alleged, declaring the incident a "massacre." A spokesman for Yemen's army, Askar Zuail, confirmed air raids in the region but said they were carried out by Yemeni planes and targeted rebel positions and not civilians. An Internet rebel statement said the attack was carried out Sunday morning against the village of Bani Maan in Razeh region of northern Sadaa province, the mountainous stronghold of the rebels. [More>>khaleejtimes.com; See related story,

alaarabiya.net, December 13, "Yemen's Houthis hold secret meet with Iran" : DUBAI - Meet was to plan more attacks on Saudi border: report. Unnamed intelligence sources on the Saudi-Yemeni border detected a secret meeting between Yemen's Houthi rebels and an official from Iran's Revolutionary Guard and top Hezbollah leaders, press reports revealed Sunday. Arab and Egyptian sources, speaking on condition of anonymity, said that the meeting was held last month to plan for an escalation of the conflict between the Shiite rebels and the Yemeni and Saudi forces, London-based Asharq al-Awsat reported. According to the sources, Yemen's refusal to receive Iranian Foreign Minister Manouchehr Mottaki for the second time was motivated by knowledge of the meeting which Yemen sees as proof Tehran is backing the Houthis. The Yemeni army says it recently thwarted several attempts by Iranian ships to smuggle weapons to the rebels. The ships in question, however, did not bear any official flag...
---
12.13.09 Beilin urges US envoy Mitchell to resign after 'year of failure'
December 13 - Former justice minister and Meretz chairman Yossi Beilin has called on US special Mideast envoy George Mitchell to resign, accusing him of having "failed" in his mission to advance the peace progress. "The mission of Senator Mitchell failed," Beilin said in an interview with Palestine Note. "I think Mr. Mitchell should resign, after one year in which nothing happened but for the worse." [>haaretz.com]
---
12.13.09 Ashkelon plice nab bomb plot suspect
December 13 - Police on Sunday afternoon arrested a Palestinian construction worker who entered Israel illegally after receiving intelligence that he planned to carry out a suicide bombing. According to police, the man had spoken of his desire to detonate explosives strapped around his body within Israel. Ashkelon police forces, led by station chief Cmdr. Haim Blumenfeld, launched a large scale search for the 27-year-old suspect, backed by a police helicopter. The suspect was apprehended as he hid in a construction site. A police bomb squad searched the area but found no traces of explosives. The suspect was arrested and taken for questioning.

Later on Sunday, IDF soldiers arrested two Palestinian men at the Beit Furik checkpoint near Nablus after discovering an improvised explosive device and a stun grenade on their persons. Army sappers detonated the explosives and the grenade in a controlled explosion. No one was hurt in the incident. The detainees were transferred to security forces for interrogation. In related news, a Molotov cocktail was hurled at an Israeli car near the Yakir Junction in Samaria on Sunday evening. No one was hurt in the incident. [>jpost.com]
---
12.13.09 Burned ayatollah photo sparks new Iranian protests
TEHRAN (AP) December 13 - Police surrounded the campus of Tehran University on Sunday, trapping hundreds of students protesting what they said were fabricated government images showing the burning of a photo of the revered founder of the Islamic republic. State television has repeatedly shown images, ostensibly taken during opposition protests on Dec. 7, of unidentified hands burning the picture of Ayatollah Ruhollah Khomeini, a grave and illegal insult against a man who remains widely respected in the country. The students protesting on Sunday contend the images were fabricated by government agents and are being used to justify further crackdowns on the opposition.

...The Dec. 7 rallies, the largest protests in months, did see numerous attacks on the current supreme leader of the country, Khamenei. Students chanted slogans against him, burned and trampled his photos in unprecedented acts of defiance in a country where Khamenei has final say in all state matters...Under the law, insult to the late or current supreme leader can lead to two years of prison...The actions of the students reflect how a protest movement that began by rejecting President Mahmoud Ahmadinejad's June 12 re-election has evolved to confront the country's ruling theocracy. [Full story>>timesofindia.indiatimes.com]

---
12.11.09 Sweeping bank reform bill clears House
WASHINGTON, December 11 - Measure, aimed at preventing another big financial crisis, imposes more oversight and creates consumer protection agency. The House passed legislation Friday aimed at preventing the next big financial crisis, ushering in the most sweeping set of changes to the banking regulatory system since the New Deal. The bill, which passed 223-202, imposes more oversight and stronger capital cushions for the largest banks and Wall Street firms. It forces them to pay a total of as much as $150 billion into an emergency fund that could be tapped when a troubled firm needs to be taken over and broken up. The legislation also calls for the regulation of some derivatives and creates a new Consumer Financial Protection Agency to regulate products such as credit cards and mortgages. [More>>cnn.com]
---
12.11.09 US claims killing Abu Yahya al Libi in SWA drone strike
WASHINGTON, December 11 - US officials have claimed that Abu Yahya al Libi, a key leader of al-Qaeda, has been killed in Tuesday's airstrike in South Waziristan. Local Talibans and government officials have rejected the killing. A US drone targeted a vehicle by launching two missiles in Sipalga area, 12 kilometers from Miranshah, North Waziristan. Three people including two foreigners had been killed in the attack. The US officials have claimed that one of the dead is wanted leader of al-Qaeda Abu Yahya al Libi. Libi had fled from a US detention facility in Bagram Air Base in Afghanistan in 2005. The US had put a bounty of one million dollars for his arrest. [>thenews.com.pk; See other details,

cbsnews.com, December 11, "Pakistan media: Drone killed Qaeda's No. 3" : ...Abu Yahya al-Libi is the spiritual successor to Palestinian philosopher Abu Azzam — and the inspiration for much of Bin Laden's beliefs, according to CBS News chief foreign affairs correspondent Lara Logan. He is very powerful and believed by some to be the natural successor to Bin Laden...

Related story:

abcnews.go.com, December 11, "Al-Qaeda operations planner Saleh Al-Somali believed dead in drone strike" : The senior al-Qaeda operative killed in a drone strike in Pakistan earlier this week was Saleh al-Somali, a major operations planner for the terrorist group, ABC News has learned. "There are strong indications that senior al-Qaeda operations planner Saleh al-Somali has died," a senior US official told ABC News. Al-Somali was believed killed in a drone strike Tuesday that likely was part of the CIA's continuing program that uses armed Predator drones to target al-Qaeda terrorists operating along the lawless tribal areas of western Pakistan that border Afghanistan...According to the US official, Saleh al-Somali was responsible for al-Qaeda's operations outside of the Afghanistan-Pakistan region and formed part of al-Qaeda's senior leadership circle. He is also said to have had "connections with other Pakistan-based extremists." ...
---
12.11.09 Egypt installing metal barrier on Gaza border
RAFAH, Egypt (AFP) December 11 - Egyptian authorities are inserting metal sheets into the ground along the border town of Rafah in a bid to stem smuggling into the Hamas-ruled Gaza Strip, residents told AFP on Friday. Metal sheets are being placed 20 to 30 metres (70 to 100 feet) deep into the ground, a resident of Sarsawiya south of the border told AFP, after the Israeli newspaper Haaretz reported that an underground barrier is being built along Egypt's border with the Palestinian enclave. Another witness said metal sheets were being inserted into the ground in Dihniya town farther to the south.

Reports that Egypt is building an underground wall are "mainly true," an official stationed near the border told AFP on condition of anonymity...One smuggler told AFP that a metal sheet placed into the ground had cut into a tunnel, but that smugglers had managed to make a hole through it. "There will never be problems building tunnels, the smugglers can just keep going lower than the metal sheets," another source close to smugglers said. [Full story>>khaleejtimes.com]
---
12.11.09 Yemen rebels claim capture of Saudi border post
SANAA (AFP) December 11 - Yemen's Shia rebels said on Friday they have seized control of a Saudi military post along the border between the two countries. The claim, which could not be immediately confirmed by Yemeni and Saudi officials, came as a Saudi newspaper reported that Saudi forces had detained 1,805 people so far this month on the border with Yemen. The Zaidi rebels, in a statement posted on the Internet, said the rebels had seized "full control of the Al-Jabri Saudi military post" as well as weapons, communication material, military vehicles and surveillance equipment.

Rebel spokesman Mohammed Abdessalam, in a telephone interview with AFP, said rebels overran the Saudi post on Wednesday and forced 200 soldiers to flee. By taking over Al-Jabri post, the Zaidi rebels "have opened a fourth front in the war against the Saudi army, after Jebel al-Dukhan, 20 kilometres (12 miles) further west, Al-Ramih and Al-Dood." All these military posts are located along Yemen's northern border with Saudi Arabia, across from the mountainous Saada province which is the stronghold of the rebels. [More>>khaleejtimes.com; See also
---
12.11.09 10,000 new settlers within 10 months: Israel
JERUSALEM (AFP) December 11 - Settlers attack West Bank mosque to "avenge" freeze. An Israeli minister has predicted there will be 10,000 new settlers in the occupied West Bank over the next 10 months and insisted that a moratorium did not freeze but only limited construction. "Over the next 10 months the population of 300,000 will grow by at least 10,000 residents," said Benny Begin, a minister without portfolio from Prime Minister Benjamin Netanyahu's Likud party, in comments broadcast on public radio on Friday. "Properly speaking, this is not a freeze. We are not planning to freeze life but only to impose certain limits on construction" in Israeli settlements in the West Bank, Begin said late on Thursday in Tel Aviv.

...Some Israeli settlers have denounced Netanyahu for betraying their trust, and several thousand held a protest demonstration in Jerusalem on Wednesday. Palestinians in the West Bank village of Kufur Yasuf, near Nablus, said a gang of Jewish settlers forced their way into the local mosque on Thursday night, doused carpets and copies of the Quran with petrol, and set them ablaze. Graffiti scrawled in Hebrew at the threshold said it was "the price-tag" — an expression used by hardline settlers for systematic acts of vengeance against Palestinians. [Full story>>alarabiya.net; See also timesonline.co.uk, December 11, "Settler's attack West Bank mosque and burn holy Muslim books."]
---
12.11.09 Minister: 'No citizenship if you cover face'
December 11 - Men whose wives must wear a full Islamic veil will not be granted citizenship, France's justice minister has said. Michele Alliot-Marie said wearing the niqab or burqa — where the face is covered — affected "our ability to live together, the values of the republic and in particular human dignity." A parliamentary panel is exploring possible laws to bar women from wearing full face veils in the country, home to Europe's biggest Muslim population. Speaking in a television interview, MS Alliot-Marie said: "There are a certain number of basics on which we must stand firm. For instance, someone who would be seeking French citizenship and whose wife wears the full veil is someone who would not appear to be sharing the values of our country. Therefore in a case like that one, we would reject his request." [More>>news.sky.com]
---
12.11.09 Gaza Islamists slam West Bank beauty pageant
GAZA (RIA Novosti) December 11 - Officials of the Islamist movement Hamas in the Gaza Strip, condemned on Friday the decision by the West Bank's authorities to hold a Miss Palestine beauty pageant. The event is scheduled to take place on December 26 in the West Bank, controlled by the Fatah, the main political rival of Hamas. "The pageant shows moral degradation in the West Bank," the Ministry of Women's Affairs said in a statement. "We are set to bring to justice all who damage the reputation of our people."

The goal of the contest is show a different, non-political face of the region. There will be 58 young women participating in the region's first pageant, including 26 Arab-Israelis and 32 beauties from the West Bank... the Palestinians will not participate in a swimsuit contest due to cultural differences. [>en.rian.ru]
---
12.11.09 Hamas celebrates its 22nd birthday in Gaza
GAZA CITY (AFP) December 11 - Hamas seized power in the Gaza Strip in June 2007. The Hamas rulers of the Gaza Strip on Friday began celebrations marking the movement's 22nd anniversary with parades and the unveiling of a huge mural depicting rockets targeting Israel. Hundreds of people riding camels, horses and motorcycles took part in processions from the north and the east of the besieged Palestinian territory to converge on the house of Hamas Prime Minister Ismail Haniya. In the centre of the coastal strip, thousands of people took part in a pro-Hamas march that also featured mock rockets.[More>>alarabiya.net]
---
12.11.09 Australian PM threatens legal action against Japan over whaling
SYDNEY, December 11 - Australia's prime minister threatened legal action against Japan on Friday if it does not stop its research program that kills up to 1,000 whales a year. Prime Minister Kevin Rudd's comments came as the Australian Broadcasting Corp. quoted Japan's Foreign Minister Katsuya Okada saying in an interview that Japan has no plans to halt its whale killing expeditions in the Antarctic. "We don't accept Japan's premise for those terms of so-called scientific whaling," Rudd told Australia's Fairfax Radio Network. "If we cannot resolve this matter diplomatically, we will take international legal action. I've said that before — I'm serious about it." [More>>japantoday.com] 

---
NOTES

*Visitor statistics on maravot.com from 1&1. com. 46,153 page views in May 2007; monthly visitors in 2008 range between 40,000-45,0000; in 2009 35,000-45,000.

Privacy Policy: We do not store any personal data from you. We have no way of knowing any vital information about you — not even your name. Third-party distribution: We do not distribute information about your site usage to any third party. We are not responsible for the content of links from our site. Usage data: supplied by our Web Hosting service, 1and1.com, which consists of usage reports, such as page views / impressions and web pages visited, visitors' servers and geographical data (ISP's and country of origin).



Maravot's Homepage




Launched: 10.25.04 / 11.02.04 – | — | ♦
Updated: 12.11.09; 12.13.09; 12.14.09; 12.15.09; 12.16.09; 12.17.09; 12.18.09; 12.19.09; 12.20.09

Copyright © 1981-2009 Maravot. All rights reserved
Copyright© 1981-2009 Mel Copeland. All rights reserved
Background: tile from Cicero's villa (Marcus Tullius Cicero 106 B.C. - 43 B.C.)