News Headlines & Trends
---
2.17.11 Obama budget plan shows interest owed on national debt quadrupling in next decade
February 17 - Interest payments on the national debt will quadruple in the next decade and every man, woman and child in the United States will be paying more than $2,500 a year to cover for the nation's past profligacy, according to figures in President Obama's new budget plan. Starting in 2014, net interest payments will surpass the amount spent on education, transportation, energy and all other discretionary programs outside defense. In 2018, they will outstrip Medicare spending.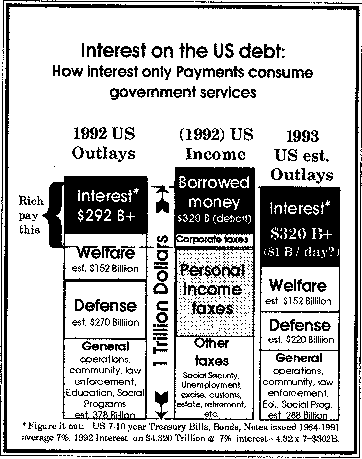 Chart from "
Against Leviathan
," (1993) part of a 2 1/2 year correspondence with Wm. F. Buckley Jr., showing how interest on the debt was exceeding other expenses. While we estimated interest for 1993 to be $320 billion, the actual amount reported by the Fed was $292.5 billion. We argued with Mr. Buckley that the rich ought to pay a larger share of the interest debt, since they had created it.
Only the amounts spent on defense and Social Security would remain bigger under the president's plan. The soaring bill for interest payments is one of the biggest obstacles to balancing the federal budget, pushing the White House and Congress to come up with cuts deeper than previously imagined. Unlike with discretionary spending or even entitlement programs, the line item for interest payments cannot be altered except through other budget cuts. The phenomenon is a bit like running up the down escalator. Without interest payments, the president's plan would balance the budget by 2017. But net interest payments that year are expected to reach $627 billion, up from $207 billion in the current fiscal year. [More>>washingtonpost.com] This is not the first time interest payments have been the largest single line item in the US budget, rivaling defense. For a table showing interest payments on the debt since Carter (1976) See maravot.com/National_Debt..html and adjacent chart from 1993.
---
2.17.11 Iranian blogs reflect young people on a high after protests this week
February 16 - Iranians who have taken to the streets in protest this week are no longer targeting just President Mahmoud Ahmadinejad — they're aiming straight for the country's "Supreme Leader" himself. "It's no more 'Where's my vote?' The stakes are much higher now," one Iranian told Fox News. "People are calling for 'Death to the Dictator.' " And they don't mean Ahmadinejad. The young people protesting in several Iranian cities were calling out Ayatollah Ali Khamenei, the country's "Supreme Leader." Khamenei's position goes to the heart of the Islamic Republic's system — the "Velayat e Faqih," or rule by a religious leader who calls the shots before the Hidden Imam, or Shi'ite messiah, returns to earth. "Mubarak, Ben Ali, Nobateh Seyed Ali," some of the demonstrators chanted. In other words, the Egyptian and Tunisian leaders are gone, it's Ali Khamenei's (Iran's Supreme Leader) turn next. It has been difficult to get credible information about the workings of the so-called "Green Movement" opposition since the severe crackdown on media in Iran and disputed presidential election in 2009. Some say as many as tens of thousands came out on Feb. 14 to demand change — chanting and burning tires to diffuse the tear gas fired on them. There were further scuffles later in the week, when one of the two protesters who were shot dead earlier in the week, was buried. [More>>foxnews.com; See related article, Maravot News 2.11.11 US slams Iranian 'hypocrisy' for arrests, blocking media]
---
2.17.11 Clashes rock Bahraini capital
February 17 - Armored vehicles seen on the streets of Manama after police storm protest site in roundabout, killing at least six. The Bahrain capital of Manama was rocked by sporadic clashes, hours after riot police attacked a makeshift encampment of pro-reform protesters in the centre of the city, killing at least six and injuring dozens of others. An Al Jazeera correspondent, who cannot be named for security reasons, said on Thursday that "clashes were no longer limited to one place...they are now spread out in different parts of the city." He said that the hospitals are full of injured people after last night's police raid on the pro-reform demonstrators. "Some of them are severely injured with gunshots. Patients include doctors and emergency personnel who were overrun by the police while trying to attend to the wounded." [More>>aljazeera.net]
---
2.17.11 20 anti-government protesters reportedly killed in Libya
CAIRO (AP) February 17 - Libyan "day of rage" protesters defy Gadhafi crackdown; internal security forces arrest at least 14 demonstrators. Libyan protesters seeking to oust longtime leader Moammar Gadhafi defied a crackdown and took to the streets in four cities Thursday on what activists have dubbed a "day of rage," amid reports at least 20 demonstrators have been killed in clashes with pro-government groups. New York-based Human Rights Watch said Libyan internal security forces also have arrested at least 14 people. Hundreds of pro-government demonstrators also rallied in the capital, Tripoli, blocking traffic in some areas, witnesses said.

An opposition website and an anti-Gadhafi activist said unrest broke out during marches in four Libyan cities Thursday. Organizers were using social networking sites like Facebook and Twitter to call for nationwide demonstrations. "Today the Libyans broke the barrier or fear, it is a new dawn," said Faiz Jibril, an opposition leader in exile. Opposition website Libya Al-Youm said four protesters were slain by snipers from the Internal Security Forces in the eastern city of Beyida, which had protests Wednesday and Thursday. It's not clear when the protesters were killed. The website also said there was a demonstration Thursday in Benghazi, Libya's second-Largest city, and that security forces had shot and killed six people with life ammunition. [More>>jpost.com]
---
2.17.11 Car bomb in Iraq kills 13, wounds 33
BAGHDAD (Reuters) February 17 - A car bomb exploded at a car showroom in the Iraqi town of Muqdadiya on Thursday, killing at least 13 people and wounding 33 others, security sources said. The blast set fire to about 30 cars at the busy showroom in the town in volatile Diyala province about 80 km (50 miles) northeast of Baghdad, the sources said. A police officer at the scene said the car had been left at the centre by a man who said he would return soon, and exploded about 30 minutes after he left. "The police and army are in the area," the officer said. "Since we have received information that there is another attack expected by a suicide bomber in a car, we have imposed a ban on cars." All entrances to the town had been closed, the officer said. [More>>khaleejtimes.com]
---
2.16.11 Clash breaks out as Libya braces for 'Day of Anger'
TRIPOLI, February 16 - Fourteen people were injured in clashes in the city of Benghazi, as the country braced for a "Day of Anger" following the revolts in neighboring Egypt and Tunisia. Libyan newspaper Quryna said 14 people were injured in the clashes between security forces and demonstrators in the eastern city of Benghazi last night, in what it branded the work of "saboteurs" among the protesters. Security forces intervened to halt a confrontation between supporters of Libyan leader Muammar Gaddafi, who has been in power for more than 40 years, and the demonstrators, it said. The veteran leader is facing rare Internet calls for protests tomorrow by activists buoyed by the ouster of veteran strongmen on its eastern and western borders, in Egypt and Tunisia. One of the Facebook groups calling for a "Day of Anger" in Libya and anti-regime protest that had 4,400 members on Monday more than doubled in number to 9,600 by this morning after the Benghazi unrest. [More>>indianexpress.com; See more details,

khaleejtimes.com, February 16, "Anti-government protests, clashes spread to Libya" : Egypt-inspired unrest spread against Libya's longtime ruler Moammar Gadhafi on Wednesday, with riot police clashing with protesters in the second-largest city of Benghazi and marchers setting fire to security headquarters and a police station in the city of Zentan, witnesses said. Gadhafi'sgovernment sought to allay further unrest by proposing the doubling of government employees' salaries and releasing 110 suspected Islamic militants who oppose him — tactics similar to those used by other Arab regimes in the recent wave of protests...

cnn.com, February 16, "Unrest in the Middle East and North Africa country by country."
---
2.16.11 Bahrain protests : Demonstrators occupy Pearl Square
February 16 - Thousands of people are occupying the centre of the Bahraini capital on a third day of anti-government protests. The numbers of those who had camped out overnight in Manama's Pearl Square were swelled by many who joined the protests throughout the day. Security forces have pulled back to ease tensions after previous days' clashes left two dead and dozens injured in the Gulf kingdom. The protesters are calling for wide-ranging political reforms. Bahrain is a key US ally, hosting the US Navy's Fifth Fleet.

The US has expressed concern at the violence and called for restraint. Wednesday saw more than 1,000 people attend the funeral in Manama of a man who was killed on Tuesday during clashes with police at the funeral of another protester. Mourners chanted slogans calling for the removal of the government. Police officers are reported to have been detained over the two deaths, with the country's interior minister describing the deaths as "regrettable" and extending condolences to the families of the deceased. The disturbances in Bahrain — where the Shia Muslim majority has been ruled by a Sunni Muslim royal family since the 18th Century — are part of a wave of anti-government unrest that has swept the Middle East.

The Bahraini demonstrators say they want:
political prisoners to be released
more jobs and housing
the creation of a more representative and empowered parliament
a new constitution written by the people
a new cabinet that does not include Prime Minister Sheikh Khalifa Bin Salman Al Khalifa, who has been in office for 40 years
Many had to return to work after Tuesday's public holiday to mark the Prophet Muhammad's birthday, but correspondents say the momentum remains with the protesters so far. [More>>bbc.co.uk]
---
2.16.11 Iran deploys two warships to Mediterranean, Israel calls move 'provocation'
TEL AVIV (RIA Novosti) February 16 - Wednesday called the fact of two Iranian warships heading to the Mediterranean Sea through the Suez Canal a "provocation." In a speech before the leaders US Jewish organizations in Jerusalem, Lieberman said that the two Iranian warships would pass through the Suez Canal overnight and then head to Syria, a country with which Israel is formally at war. Lieberman referred that the deployment of the warships was "a provocation that proves Iran's nerve and self-esteem is growing from day to day." According to IsraelNationalNews.com, Iran announced it has planned that the warships would be deployed near Israel and dock at a Syrian port for one year. Iranian news agencies in January announced the beginning of the country's year-long drills that would deploy warships from the Red Sea to the Mediterranean Sea via the Suez Canal. [>en.rian.ru]
---
2.16.11 Iran funeral triggers new clashes
Februay 16 - Government supporters and opposition activists clash at funeral procession for student killed in Tehran. Clashes have broken out between supporters of the Iranian government and apparent members of the opposition at the funeral for a student killed in recent protests, state television has reported. "Students and people participating in the funeral of martyr Sane'e Zhale in Tehran Fine Arts University are clashing with a few apparently from the sedition movement," the website of broadcaster Irib said on Wednesday. Zhaleh was shot dead during an opposition rally in Tehran, the capital, on Monday, a killing the government blamed on anti-government protesters. But opposition groups say it was carried out by security forces. The violence broke out during the funeral procession from the art faculty at Tehran's university, where Zhaleh was a student, Irib said. The broadcaster added that government backers were chanting "Death to Monafeghin," a reference to an outlawed opposition group, which "forced them [opposition supporters] out of the scene".

However, Iranian bloggers reported that loyalist forces were brought into the campus who then took over the faculty, while riot police were deployed across the city. Others have also written on social networking site Twitter that some roads in the city have been blocked and that thousands of people were out on the streets of Tehran, demonstrating both for and against the government. There are also reports that authorities have blocked foreign media from working. Government supporters have insisted that Zhaleh was a member of the Basij militia — a volunteer force connected to the elite Revolutionary Guards, while opposition groups say he came from their ranks. [More>>aljazeera.net; See related stories,

alarabiya.net, February 16, "Iran government calls for 'hatred' rally" :TEHRAN - Prosecutor warns opposition leaders. Iran's regime said it called a rally in Tehran for Friday to express "hatred" against the opposition movement, as its two key leaders launched fresh anti-government tirades despite demands they be hanged. Wednesday's call for the mass rally came as clashes erupted between regime backers and "apparent" supporters of the opposition at a funeral attended by thousands in Tehran of a student killed in anti-government protests of Monday.
"The noble people of Tehran will take to Enghelab Square after Friday prayers with their solid and informed presence," the Islamic Propagation Coordination Council, which organizes regime-backed programs, said Wednesday. It said those joining the rally will "scream out their hatred, wrath and disgust against the savage crimes and evil movements of sedition leaders, their Monafeghin (hypocrites) and their monarchist allies."

Opposition leaders Mir Hossein Mousavi and Mehdi Karroubi have been in the firing line since they called a rally on Monday in support of Arab uprisings but which quickly turned into anti-government demonstrations and ended in clashes that left two people dead and several wounded. Both are under de facto house arrest and Karroubi's son, Hossein, said Wednesday, in a statement on his father's Sahamnews.org website, that "security forces are currently occupying my house... after breaking into the building...they are searching my and my family's personal belongings." Iranian officials accuse arch-foes the United States, Britain and Israel of influencing the opposition chiefs, but supreme leader Ayatollah Ali Khamenei said Wednesday their efforts will fail. "When people are in the arena, it (US) cannot do anything against the determined will (of the people)," ...
---
2.16.11 Doctor may face death penalty for funding terrorism
JAKARTA, Indonesia, February 16 - A doctor and courier are scheduled to stand trial at South Jakarta District Court on Wednesday for their alleged involvement in terrorist activities. Syarif Usman, a doctor, is believed to have funded terrorist activities, while Abdul Haris is accused of delivering funds for these activities, tempointeraktif.com reports. Prosecutor Mayasari said Syarif had provided Rp 200 million and a Sony handycam to hardliner Muslim cleric Abu Bakar Ba'asyir (who is also being tried separately) through Haris in February last year. The money was allegedly used by Ba'asyir to finance the terrorism training activities in Aceh Besar. If found guilty, Syarif could also face the death penalty. The two men were earlier scheduled to stand trial last week, but the hearings were postponed because prosecutors said they were not ready. [>thejakartapost.com]
---
2.15.11 Obama slams Iran for harsh treatment of opposition protesters
February 15 - The US President says its ironic that Iran regime is celebrating what happened in Egypt, where the army practiced restraint, while using force against demonstrators. President Barack Obama on Tuesday slammed Iran for its harsh treatment of anti-government protesters and called on governments throughout the Middle East to avoid crackdowns on pro-democracy supporters. "The world is changing," Obama said in a message directed at autocratic rulers across the region. "You have a young, vibrant generation within the Middle East that is looking for greater opportunity. ... You've got to get out ahead of change; you can't be behind the curve." Obama was asked at a White House news conference about the mood of change sweeping the Middle East in sympathy with the opposition victory in Egypt. "It's ironic that the Iranian regime is pretending to celebrate what happened in Egypt," Obama said. "They acted in direct contrast to what happened in Egypt by using force against demonstrators." [More>>haaretz.com; See related story,

france24.com (AP) February 15, "Hardliners urge death penalty for opposition heads" : Outraged conservative lawmakers in Iran have called for opposition leaders to be put on trial and sentenced to death, a day after tens of thousands of people staged protests in cities throughout the country and clashed with security forces. Hardline Iranian lawmakers called on Tuesday for the country's opposition leaders to face trial and be put to death, a day after clashes between opposition protesters and security forces left one person dead and dozens injured. Tens of thousands of people turned out for the opposition rally Monday in solidarity with Egypt's popular revolt that toppled President Hosni Mubarak after nearly 30 years in power. The demonstration was the first major show of strength from Iran's beleaguered opposition in more than a year.

At an open session of parliament Tuesday, pro-government legislators demanded opposition leaders Mir Hossein Mousavi, Mahdi Karroubi and former reformist President Mohammad Khatami be held responsible for the protests. Pumping their fists in the air, the lawmakers chanted "death to Mousavi, Karroubi and Khatami." "We believe the people have lost their patience and demand capital punishment" for the opposition leaders, 221 lawmakers said in a statement. Hardliners have long sought to put senior opposition figures on trial, but the calls for the death penalty signaled an escalation in their demands...
---
2.15.11 Bahrain police fire at protesters
February 15 - Opposition group suspends parliamentary participation after another person is killed in firing at funeral procession. At least one person has been killed and several others injured after riot police in Bahrain opened fire at protesters holding a funeral service for a man killed during protests in the kingdom a day earlier. The victim, Fadhel Ali Almatrook, was hit with bird-shotgun in the capital, Manama, on Tuesday morning, Maryam Alkhawaja, head of foreign relations at the Bahrain Centre for Human Rights, told Al Jazeera. "This morning the protesters were walking from the hospital to the cemetery and they got attacked by the riot police," Alkhawaja said. "Thousands of people are marching in the streets, demanding the removal of the regime — police fired tear gas and bird shot, using excessive force — that is why people got hurt."...Tuesday's violence came a day after demonstrators observed a Day of Rage, apparently inspired by the recent uprisings in Egypt and Tunisia. Shias, who are thought to be in the majority, have often alleged discrimination at the hands of the kingdom's Sunni rulers. [Full story>>aljazeera.net]
---
2.15.11 Obama administration proposes $3.1 billion for Pakistan
WASHINGTON, February 15 - US President Barack Obama has proposed to Congress a $3.1 billion in financial assistance to Pakistan for the year 2012. This is part of the administration's ongoing effort towards its continued funding for operations and assistance in key regions of the world — Iraq, Afghanistan and Pakistan. Of this as many as $1.9 billion in assistance has been proposed to promote a secure, stable, democratic and prosperous Pakistan with a focus on energy, economic growth, agriculture, the delivery of health and education services, and strengthening the Government of Pakistan's capacity to govern effectively and accountably. $1.5 billion of this is part of the Kerry-Lugar-Berman Bill. Another $45 million has been proposed in operations to support infrastructure for maintaining the US government civilian and diplomatic presence and to support educational and cultural exchange programs to build bridges with civil society. [More>>timesofindia.indiatimes.com]
---
2.15.11 Pakistanis torn over release of US employee
ISLAMABAD, February 15 - Pakistan's Islamic hardliners on Tuesday threatened to forcefully block any attempt by their government to hand over Raymond Davis, a US official arrested in the city of Lahore on Jan. 27, accused of killing of two young Pakistani men. The threat came ahead of Sen. John Kerry's planned arrival in Islamabad amid expectations by Pakistani officials that the visit was aimed at discussing ways to resolve the dispute surrounding Davis - considered a bona fide diplomat by the U.S., and from Washington's perspective, armed with immunity from prosecution. But Pakistan argues Davis was not serving as a diplomat and therefore could not be considered immune from prosecution.

A Pakistani security official in the northern city of Peshawar said Taliban militants dispatched a powerfully worded message to the government, promising to seek revenge if Davis was handed over to the United States...In Islamabad, Pakistan's capital city, protesters from the Jamaat-e-Islami — the main Islamic political group — gathered in a central part of town to protest against Davis. [Full story>>cbsnews.com; See also

alarabiya.net, February 15, "Pakistan Islamists issue warning over US prisoner" : ...Jamaat-e-Islami, a religious and political party capable of organizing large protests, accused the United States of exerting "unprincipled and unlawful" pressure on Pakistan. "Why is America hell bent on trampling on Pakistani law and its judicial system? We will forcefully protest if he is released without a court order," Jamaat-e-Islami deputy chief Liaquat Baluch told Reuters. Jamaat-e-Islami and other religious parties don't win many votes in elections. But the government can't afford to ignore the groups who often seize on sensitive issues concerning the United States to promote their cause. "Of course he (Davis) should not be released. He has committed a crime and he should be punished. He doesn't have immunity," said Yahya Mujhaid, a spokesman for Jamaat-ud-Dawa, which was blacklisted by the UN over its links to the Lashkar-e-Taiba (LeT) militant group blamed for the 2008 attack on Mumbai. It denies it has links to the LeT...
---
2.15.11 Remembering the Prophet of mercy
February 15 - Prophet Muhammad's life, undoubtedly, leads to the conclusion that friend and foe equally shared his mercy. Every year, the month of Rabi-ul-Awwal brings uppermost to the mind the auspicious event of the blissful birth of Holy Prophet Muhammad (peace be upon him). Prophet Abraham has beseeched Allah: "O our Rabb (Creator and Sustainer)! And raise among them a Messenger from among themselves who may recite to them Your verse, and teach them the Book and the Wisdom, and purify them.

Surely, You are the Mighty, the Wise." — 2:129. And Prophet Jesus had proclaimed thus: "O children of Israel (Yaqoob)! Surely, I am the messenger of Allah to you confirming what was (revealed) before me of the Torah, and bearing glad tidings of a Messenger who shall come after me, whose name will be Ahmad." — 61:6. The wish of Abraham was fulfilled. The good news given by Jesus was substantiated. Allah sent Prophet Muhammad (peace be upon him) to grace and glorify the earth and to guide the mankind on to be path of truth, righteousness and peace. Prophet Muhammad (peace be upon him) is the last apostle of Allah. His legacy unto us is the Holy Quran, which is the last and ever lasting Book of Allah. He has left with us a perfect and universal faith for everybody and for all times to come. In addition, we have his Sunnah, which in fact, is the Holy Quran personified.

Allah has described Prophet Muhammad (peace be upon him) as all-embracing and all-pervading mercy. The Quran says: "And we have not sent you but as a mercy for the world."  — 21:107. The above Quranic verse says in unambiguous terms that the Holy prophet (peace be upon him) was sent as a mercy not only to the believer, but to all creatures. This can best be understood if we have a correct and full appraisal of the prophetic mission....the whole life of the Holy Prophet (peace be upon him) is full of examples of deeds of mercy. History bears witness that, despite all the provocations, the Prophet of Mercy exhibited extreme tolerance, forbearance and kindness. His whole life undoubtedly leads to the conclusion that friend and foe equally shared his mercy. We Muslims have bequeathed this mission of mercy. We are duty-bound to bring home to the world his noble traditions of mercy. In them lies the real peace. [Full article>>khaleejtimes.com]

---
Editorial note: "Many contradictions in the Koran and application of Koran" : Within the Koran are many verses that argue that the Koran was recited to confirm the Jewish Scriptures and the Gospel. There are other verses that fall into the mission of "warning of the Day of Resurrection," also described in the Bible as the Last Day and the Day of Judgment. Within the Old Testament are many prophesies (particularly those of Isaiah) that describe the Last Day as the day of the appearance of the Messiah the Branch, also described as the Light of the Gentile. He appears when Israel is redeemed to the Holy Land after having been scattered across the earth (which until 1948 was 2,000 years). It is also a day of judgment when the prophets say the dead will rise up to judgment (to which the Koran specifically refers):

The Koran (Quran), The Creator 35.25: Your only duty is to give warning. We have sent you with the truth to proclaim good news and to warn your people, for there is no nation that has not been warned bya an apostle...What we have revealed to you in the Book is the truth confirming previous scriptures.

The Koran, AL-AHQAF 46:15 Say: 'I am no prodigy among the apsostles; nor do I know what will be done with me or you. I follow only what is revealed to me, and my only duty is to give plain warning.

The Koran, The Cow 2:116 The Jews say the Christians are misguided, and the Christians say it is the Jews who are misguided. yet they both read the Scriptures. And the pagans say the same of both. Allah will judge their disputes on the Day of Resurrection.

There is a large group of verses in the Koran that refer specifically to the Torah, Book of Moses, the prophets and the Gospel of Jesus in the context of confirming the truth of those documents. Among this group is a verse that acknowledges Jesus as the Messiah (Gr. Christ):

Koran IMRANS 3:45: The angels said to Mary: 'Allah bids you rejoice in a Word from Him. His name is the Messiah, jesus the son of Mary..."

Another large group of verses in the Koran advocate violence against unbelievers. Verses and teachings that differentiate the treatment of believers versus unbelievers surely conflict with the messages claiming to confirm the Bible, particularly the Gospel of Jesus and the prophesies that deal with the Messiah of the Last Days and the redemption of Israel (and, according to the rabbis, when Israel is redeemed the world will also be redeemed). If we review the verses in the Bible that refer to the Last Days, the objective of those prophesies is to produce peace and goodwill in the world through mercy, charity, forgiveness of debts and debtors, comforting those who mourn, etc. Several descriptions of the Messiah reflect these attributes, in fact:

Pereq Shalom p101 R. Yoyse the Galilean said: "The name of the Messiah is peace, for it is said, 'Everlasting father, Prince of Peace (Isiah 9.5)..." R. Yose the Galilean said 'Great is peace, for in the hour in which King Messiah is revealed to Israel, he begins with peace, for it is said, How beautiful upon the mountains are the feet of the messenger of good tidings who announceth peace (Isiah 52.7)

Midrash Mishle, ed. Buber, p. 87: Rav Huna said: "The Messiah is called by seven names and they are: Yinnon, Tzidqenu (our Justice), Tzemah (Shoot, Branch), Menahem (Comforter), David, Shiloh and Elijah.

Many verses of the Bible refer to the Messiah as one who brings peace through his Word, not with a sword. Thus, the verses in the Koran that advocate violence and the suppression of unbelievers quite clearly argue against the overall message of charity and peace intended in the scriptures and particularly the Gospel of Jesus.

Verses and teachings of the Koran that advocate violence.

Verses and teachings of the Koran that advocate confirmation of the Old Testament scriptures and Gospel.

An interesting article with blog comments, Maravot News 2.08.11: 2.08.11 Mobs destroy 3 churches in Central Java

For those who believe that God is infinite, ineffable, the all in all, the claim that "Mohammed is the Last Prophet" would be viewed as an attempt to limit God, testing God as it were, and preventing Him from sending a messenger as He may deem appropriate. Thus, there are many problems with the Koran's claims as they relate to the scriptures of the Bible.

There has been a substantial outreach among Muslim imams and other leaders to reconcile the faiths in response to Islamaphobia. King Abdullah of Saudi Arabia launched interfaith conferences in Madrid, July 2008, then 138 Muslim leaders sent an open letter, called " Common Word," to Christian ministers with the objective of reconciling the faiths on the basis of the "Golden Rule" : "Do unto others as you would have them do unto you."

The Organization of Islamic Conference, (oic-oci.org) who has 56 member nations has also been a strong advocate for reconciliation. Professor Ekmeleddin Ihsanoglu, Secretary-General Of The Organization Of The Islamic Conference (OIC), sent their Invitation to a New Partnership, to President Obama, January 21, 2009, that included the following comment: "...Many myths about Islam, fostered by extremists in both the West and East, have proliferated in the last decade, and a new word — 'Islamophobia' — has even entered the world's lexicon to describe anti-Muslim acts of prejudice and violence. Despite these pernicious myths, you will find that Islam is a religion of peace. Tolerance is its benchmark and borne of the very nature of Islam..."

A moderate view of Islam is discussed at "The Allah Controversy," chapter 7.

Mel Copeland
---
2.15.11 World Bank report: Jump in global food prices pushes millions into poverty
February 15 - Rising food prices pushed millions of people into extreme poverty last year and is reaching "dangerous levels" in some countries, World Bank President Robert Zoellick said Tuesday as he released new data showing the cost of grain and other staples is near its historic high. A bank index of food costs rose 15 percent over the last four months and is now just 3 percent below the level reached in 2008, a historic high that eased during the economic downturn. Wheat prices have been among the fastest moving, doubling between June and January as Russia restricted exports, Australia's crop was damaged by flooding and the size of China's upcoming winter crop has been cast into doubt due to an ongoing drought. The likelihood that political turbulence in the Middle East might prompt countries like Egypt to increase their grain reserves is also pushing up the price of wheat and other grain futures on world commodity markets, the bank reported. [More>>washingtonpost.com]
---
2.15.11 South Korea to restrict Christian missionaries in Islamic nations
February 15 - South Korea is to enact laws to discourage its people from engaging in illegal activities overseas, a move seen by Christian groups here as an attempt to curb missionary work. The South Korean government has been trying to deal with the growing dangers of Christians working as missionaries in Islamic nations, especially after a young missionary was kidnapped and killed by insurgents in Iraq in 2004. The South Korean Foreign Ministry announced that new laws will forbid passports for people who have been punished or banished from a foreign state for conducting illegal activities there. Under the revision, a wrongdoer will not be issued with a passport for one-three years depending on the gravity of the offense and the penalty, the ministry said.

...Some Christians continue to ignore government warnings and enter nations designated as "unsafe" by the Foreign Ministry for missionary work, leading to cases such as the kidnapping of dozens of Koreans in Afghanistan in 2007 and the imprisonment of two Korean men in Libya last year. The issue has sparked social disputes in recent years as some side with the government saying taxpayers shouldn't have to shoulder ransoms and other costs spent to rescue the missionaries. The South Korean government adopted a policy not to pay ransoms to kidnappers after the 2007 Afghanistan incident, during which two people were executed while 21 others were released after the government paid a large sum of money to the Taliban. The exact amount has not been made public. [Full story>>koreaherald.com]
---
2.15.11 Deadly parasite warning for Swedes who smooch their pooches
February 16 - Swedish dog owners were warned today to quit smooching their pooches over fears their beloved pets could be carrying a deadly parasite. Sweden's national veterinary institute, the SVA, gave the warning after recording cases in foxes of the dwarf tapeworm, which can be carried by dogs without any visible symptoms while remaining fatal for humans. Bodil Strom Holst of the SVA said the agency was uncertain how widespread the problem was and urged the country's dog owners to deworm their pets, especially in areas where they roamed the countryside unsupervised. It was believed that dogs could become infected after eating rodents, Strom Holst added. As dogs can pass the parasite to humans without showing any outward symptoms, the SVA asked owners to refrain from kissing their mutts. They were also advised to wash their hands after petting their animal as the tapeworm's eggs can become trapped in a dog's coat and be passed on through stroking. [>news.com.au]
---
2.15.11 Columbia captures drug smuggling submarine capable of transporting 8 tons
February 15 - A drug smuggling submarine, capable of holding eight tons of drugs and able to travel to the coast of Mexico, was seized by Colombian soldiers, authorities announced on Monday. Last July, another fully submersible "narco-sub" was seized just across the border by authorities in neighboring Ecuador. Previous drug-carrying vessels found in Colombia were only semi-submersible, meaning part of the structure always remained above the surface.  [More>>foxnews.com]
---
2.15.11 Gunmen kill top police commander in Mexico
MONTEREY, Mexico (AP) February 15 - Gunmen ambushed and killed a top police commander and then set his car on fire in the northern Mexican border state of Nuevo Leon, authorities said Monday. Homero Salcido Trevino's body was found Sunday night inside a smoldering car abandoned in downtown Monterrey, the state government said in a statement. Monterrey is the capital of Nuevo Leon and Mexico's third-largest city. Salcido Trevino was the director of the state's intelligence and security center, a job he had taken in August. He was shot at least five times, said the statement, which offered no additional details. Local news media reported that Salcido Trevino, who was the nephew of former state Public Safety Secretary Luis Carlos Trevino Berchelmann, had been kidnapped hours earlier as he left his home. Authorities would not comment on the reports. [More>>japantoday.com]
---
2.14.11 Obama budget reflects a cut-and-invest agenda
WASHINGTON, February 14 - President Obama, pivoting at midterm from costly economic stimulus measures to deficit reduction, released his budget proposal for fiscal year 2012 on Monday. The budget projects an annual deficit of more than $1 trillion before government shortfalls decline to sustainable levels for the rest of the decade, and says that that is merely "a down payment" on what needs to be done to for the nation's long-term fiscal health. Annual deficits through fiscal year 2021 will add a combined $7.2 trillion to the federal debt, Mr. Obama's budget indicates — after allowing for $1.1 trillion in deficit-reducing cuts in spending and increases in taxes over 10 years that the president proposes.

After 2021, an aging population and rising medical costs will once again drive deficits to unsustainable heights unless there are further changes in spending and taxes, he acknowledges. While the federal budget would total $3.7 trillion for 2012, much of that spending is accounted for by fast-growing programs — Medicare, Medicaid and Social Security — that are essentially on autopilot unless Mr. Obama and Congress change them, as both parties say they must. It also includes a big item that cannot be cut without reining in the overall deficit: interest on the mounting federal debt. [More>>nytimes.com]
---
2.14.11 Dozens arrested in Iran as police clash with opposition protesters
February 14 - Iranian security forces fire tear gas to scatter thousands of people at a banned rally backing Egypt, Tunisia uprisings. Iranian security forces clashed with supporters of the opposition in the central c ity of Isfahan on Monday and arrested dozens of protesters at a banned rally backing uprisings in Egypt and Tunisia, a witness said. "There were clashes between security forces and protesters in Isfahan and dozens of people were arrested," the witness told Reuters by telephone. Iranian security forces fired tear gas to scatter thousands of people marching on a Tehran square. "There are thousands of people marching ... not chanting slogans ... Security forces fired tear gas to disperse them near Imam Hossein square," said the witness.

The march was a test of strength for the reformist opposition, which had not taken to the streets since Dec. 2009, when eight people were killed. But Iranian security forces are still unlikely to hesitate to use any means to stop protests. Large numbers of police and security forces wearing riot gear were stationed around the main squares of the capital and traveling in pairs on motorbikes around the city. There were minor clashes at some points across the sprawling capital city of some 12 million people, witnesses said. Mobile telephone connections were down in the area of the protests. [More>>haaretz.com; See also khaleejtimes.com, February 14, "Thousands demonstrate in Iran despite ban.":

thestar.com.my (Reuters) February 14, "Iran police arrest dozens of protesters" : ...Dozens of Iranian opposition supporters were arrested on Monday while taking part in a banned rally in Tehran to support popular uprisings in Egypt and Tunisia, an Iranian opposition website said. "Witnesses say in some parts of Tehran security forces arrested dozens of protesters," opposition leader Mirhossein Mousavi's Kaleme website reported. Security forces fired teargas to scatter thousands of opposition supporters marching toward a Tehran square, a witness said. There were also clashes between police and demonstrators, resulting in dozens of arrests, in Isfahan in central Iran, the country's third largest city, another witness told Reuters...
---
2.14.11 'Mubarak moves assets from European banks to Gulf states'
NEW YORK, February 14 - Ousted Egyptian President Hosni Mubarak has reportedly moved his family assets from European banks to institutions in Gulf region after Swiss authorities took steps to freeze his foreign accounts. "We're aware of some urgent conversations within the Mubarak family about how to save these assets," a senior intelligence was quoted as saying by the state-run Iranian channel Press TV. "We think their financial advisers have moved some of the money around... If he had real money in Zurich, it may be gone by now," he said. According to channel, former president is believed to have transferred a fortune to friendly Arab states, including the United Arab Emirates and Saudi Arabia. [More>>timesofindia.indiatimes.com]
---
2.14.11 Deadly blast at Kabul hotel
February 14 - At least two killed as suicide bomber targets hotel and shopping complex in Afghan capital. At least two people have been killed after a suicide bomber targeted a hotel and shopping complex in Afghanistan's capital, Kabul. The Taliban claimed responsibility for Monday's attack, which also left several people wounded. Al Jazeera's Zeina Khodr, reporting from Kabul, said "panic" and "chaos" followed the attack. "It took security forces hours to evacuate people trapped inside the complex, because they were worried other attackers were inside the building," she said. Monday's assault is the first bombing in Kabul since January 28 when a suicide attacker blew himself up at a supermarket, killing at least eight people. Colonel Baloch Orikhil, the director of criminal investigation for the Kabul police, told the Associated Press news agency that initial reports indicated that a suicide bomber detonated a cache of explosives inside the building known as the Safi Landmark. [More>>aljazeera.net]
---
2.12.11 Egypt army commits to power transfer, Israel peace
CAIRO (AP) February 12 - The ruling military pledged Saturday to eventually hand power to an elected civilian government and reassured allies that Egypt will abide by its peace treaty with Israel after the ouster of President Hosni Mubarak, as it outlined the first cautious steps in a promised transition to greater democracy. The military's statement Saturday had been eagerly awaited by the public and thousands of protesters still massed in Cairo's central Tahrir Square. The crowds were still riding high on jubilation over the success in removing Mubarak on Friday after 18 days of unprecedented popular protests, but they were looking for a sign of the military's plans. Appearing on state TV, a military spokesman said the Armed Forces Supreme Council asked the current government appointed by Mubarak in his final weeks to continue operating until a new one is formed. The step appeared to be a stop-gap measure to keep the state and economy functioning while a transitional administration is set up. [More>>khaleejtimes.com]
---
2.12.11 Former President Musharraf will not comply with Pakistani arrest warrant
(AFP) February 12 - Former President Pervez Musharraf (pictured) has refused to travel back to Pakistan to comply with an arrest warrant for the assassination of ex-PM Benazir Bhutto, his spokesman said. The spokesperson added that the warrant was "totally ridiculous." Former president Pervez Musharraf will not return to Pakistan to comply with an arrest warrant issued by a court over the assassination of Benazir Bhutto, his spokesman in London said Saturday. "No, he won't be going back for this hearing," Fawad Chaudhry, a spokesman for ex-military ruler Musharraf's All Pakistan Muslim League party, told AFP, adding that the warrant was "totally ridiculous."

A Pakistani anti-terrorism court earlier Saturday ordered Musharraf, who is currently in self-imposed exile in London, to appear for a hearing on February 19 over claims about the assassination of ex-premier Bhutto in December 2007. Pakistani prosecutor Chaudhry Zulfiqar Ali said Musharraf was alleged to have been part of a "broad conspiracy" to have his political rival killed before elections but the exact nature of the charges was not clear. Chaudhry said he had heard that Musharraf, who was president at the time of her death and who stepped down in 2008, was accused of failing to provide adequate security for Bhutto. "How can the president of a country be made responsible for the non-provision of security? It's totally ridiculous, you cannot pin criminal responsibility on a president for that," Chaudhry said. [More>>france24.com; See also

bbc.co.uk, February 12, "Pakistan issues arrest warrant for Pervex Musharraf" :...Prosecutors say he was aware of Taliban plans to target her but did not act to prevent her murder in Rawalpindi. They accuse him of failing to provide adequate security for the former PM...
---
2.12.11 '400 arrested during pro-democracy protest in Algeria'
ALGIERS (AP) February 12 - Human rights activist says women, foreign journalists among those arrested during demonstration involving 10,000 people. A human rights activist says more than 400 people have been arrested during a pro-democracy protest that brought thousands of people onto the streets of the Algerian capital. Ali Yahia Abdenour says women and foreign journalists were among those arrested during Saturday's demonstration, which came a day after mass protests toppled Egypt's autocratic leader. [More>>jpost.com]
---
2.12.11 South African police arrest man on terror charges
JOHANNESBURG, South Africa (AP) February 12 - South African police say they have arrested a man accused of threatening to unleash biological weapons on Britain and the United States. In a statement Saturday, police said a six-month terror investigation by South African, British and US officials culminated with the man's arrest Saturday morning in northwestern South Africa. Police spokeswoman Sally de Beer says his name will not be released until a Johannesburg court appearance Monday. While police say they took his threats sent by mail and e-mail seriously, they have not yet found evidence he was capable of carrying them out. De Beer says police are still searching the man's home and other sites. Police say the suspect threatened to carry out the threats unless he was given $4 million. [>foxnews.com]
---
2.12.11 Suicide bomber kills 30 in Iraq pilgrim attack
SAMARRA, Iraq, February 12 - A suicide bomber blew himself up inside a bus filled with Shiite pilgrims returning from mourning rituals in the Iraqi city of Samarra on Saturday, killing at least 30 people, hospital sources said. The attack was the second suicide bombing this week near Samarra, where Shiite pilgrims are commemorating the death of one of their 12 revered imams, and followed a series of recent attacks by insurgents as US troops prepare to fully withdraw. "It was a suicide bomber wearing an explosives vest. An Iraqi soldier at the south entrance of Samarra tried to stop him but he immediately blew himself up near a bus terminal filled with pilgrims," Ahmed Abdul-Jabbar, deputy governor of Salahuddin province told Reuters. "We were informed by the military leadership of Samarra that 28 people were killed and more than 20 wounded." [More>>alarabiya.net]
---
2.12.11 Iraq unearths mass grave northeast of Baghdad
BAGHDAD (AP) February 12 - A mass grave filled with dozens of bodies has been unearthed in an area northeast of Baghdad that used to be controlled by al-Qaeda in Iraq, the government said Saturday. Kamil Amin, spokesman for the Human Rights Ministry, said the grave was found Friday in an agricultural area south of the city of Baqouba, 35 miles (60 kilometers) northeast of Baghdad. He estimated the grave was likely dug between 2006 and 2008. Authorities began finding mass graves across Iraq after the US-led invasion in 2003, many filled with Shiites and Kurds who opposed former dictator Saddam Hussein. Newer graves, usually dug around 2007, that are found near former al-Qaeda strongholds like Baqouba are usually filled with security officials and Shiites.... Also Saturday, a roadside bomb killed two civilians on Baghdad's northern outskirts, police and health officials said. Five others were injured, said the officials who spoke on condition of anonymity because they were not authorized to release the information. Violence in Iraq has sharply dropped nationwide since the height of the war years ago, but deadly bombings and shootings still happen almost daily. [Full story>>khaleejtimes.com]
---
2.12.11 Many dead in raid on Afghan police
February 13 - Security officers and civilians reported to be among victims of Taliban attack in Kandahar city. At least 21 people have been killed following an attack by Taliban fighters on the police headquarters in Kandahar city, in southern Afghanistan, sources say. The attack on Saturday, which took place over several hours and left at least 45 people injured, involved several suicide bombers armed with guns and grenades, provincial officials said. The attackers fired on the main police headquarters after occupying a wedding hall opposite. Initial reports suggest a car bomb exploded outside the police compound. Immediately afterwards, two suicide bombers tried to storm the headquarters but blew themselves up outside the perimeter wall, according to NATO officials in Kandahar. Other reports said that three car bombs were detonated near the police office and a further three were defused before they could go off. The exact number of casualties was unclear. "Fifteen people were killed and 45 others suffered injuries and some of the wounded are in critical condition," Tooryalai Wesa, the Kandahar governor, said. [More>>aljazeera.net; See also xinhuanet.com, February 12, "Afghan Kandahar experiences bloody day as 15 killed, 45 injured," and related story,

thenews.com.pk, February 12, "Would-be suicide bomber held: ISPR"
---
2.11.11 Mubarak steps down, ceding power to military
CAIRO, February 11 - President Hosni Mubarak of Egypt resigned his post and turned over all power to the military on Friday, ending his nearly 30 years of autocratic rule and bowing to a historic popular uprising that has transformed politics in Egypt and around the Arab world. The streets of Cairo exploded in shouts of "God is Great" moments after Mr. Mubarak's vice president and longtime intelligence chief, Omar Suleiman, announced during evening prayers that Mr. Mubarak had passed all authority to a council of military leaders. "Taking into consideration the difficult circumstances the country is going through, President Mohammed Hosni Mubarak has decided to leave the post of president of the republic and has tasked the Supreme Council of the Armed Forces to manage the state's affairs," Mr. Suleiman, grave and ashen, said in a brief televised statement. Even before he had finished speaking, protesters began hugging and cheering, shouting "Egypt is free!" and "You're an Egyptian, lift your head." [More>>nytimes.com;See related story,

cbsnews.com, February 11, "Switzerland freezes all assets tied to Mubarak" : GENEVA - The Swiss government on Friday froze any assets belonging to former Egyptian President Hosni Mubarak or his family in Switzerland. Foreign Ministry spokesman Lars Knuchel said the order to block any bank accounts takes effect immediately but gave no details on the family's assets. He spoke as pro-democracy demonstrators in Cairo were jubilantly celebrating the announcement that Mubarak has resigned after nearly three decades of authoritarian rule and handed power over to the military...
---
2.11.11 US slams Iranian 'hypocrisy' for arrests, blocking media
WASHINGTON, February 11 - The United States slammed Iran's "hypocrisy" for arresting opposition figures and the blocking of world media outlets as TV networks focus their attention on the uprising in Egypt and the widespread unrest in other parts of the Arab world. "For all of its empty talk about Egypt, the government of Iran should allow the Iranian people the same universal right to peacefully assemble, demonstrate and communicate in Tehran that the people are exercising in Cairo," National Security Council spokesman Tommy Vietor said Friday. "Governments must respect the rights of their people and be responsive to their aspirations." Iranian leaders praised the Egyptian and Tunisian uprisings and said they were reminiscent of the 1979 Iranian revolution that toppled the shah of Iran and ushered in a hard-line and theocratic Islamic republic. [More>>cnn.com]

---
Editorial note: "Iran is ruled by a theocratic dictator Ayatollah Ali Khamenei" who is appointed by a council of clerics called "experts. " Articles of Iran's constitution that make Khamenei, the Supreme Leader, an absolute ruler, ruling as god are: 1, 2.5, 2.6a, 3.15, 5, 7.1, 11, 12, 62, 91, 105, 107, 109, 110. The articles are used by Khamenei to suppress, arrest and murder opposition. Anyone criticizing him is guilty of "mohareb" (warring against God), for which the punishment is death. Read the Iranian Constitution here and note the absolute power given to Khamenei in Article 110 http://www.servat.unibe.ch/icl/ir00000_.html. Article 110 allows Khamenei to hire and fire anyone he chooses.

Perhaps unknown to the media and many Iranians, the Iranian Constitution has articles that guarantee freedom of speech, right of assembly, the requirement to identify charges to arrested within 24 hours, and the ban against torture of any kind. (http://www.servat.unibe.ch/icl/ir00000_.html — Articles 28, 27, assembly, 32, a just arrest, 37, 38, banning torture)
While we have witnessed a movement in Egypt focused upon the removal of its dictator and change in the Egyptian Constitution that assured the dictatorship, a similar move by Iranians to change its theocracy is possibly more difficult, since their faith in Islam is used against them to suppress them by Iran's mullahs, led by Khamenei. Thus, human rights are blocked and brutishly suppressed by Khamenei using a constitution written by his predecessor, Ayatollah Khomenie and his gang of clerics. If the Iranians should be able to remove Supreme Leader Khamenei and President Ahmadinijad, the fact remains that the council of "experts" would still rule under their constitutional authority (Articles 107, 108). While in Egypt the protest was against a secular authority, in Iran protests against the government would be viewed as being against Allah (God). In a word, Islam has a stranglehold on the people of Iran.

Questions were raised on the Egyptian revolt on the role of the Muslim Brotherhood. Here is an intersting article on the Muslim Brotherhood received via twitter: #IranElection RT made_in_iran Why We Should Fear the Moslem Brotherhood http://tinyurl.com/6gtvzpb #Egypt #iranelection #jan25 #no2ir

For a background on the February 11, 2009 protests and Iran's continuing suppression of its people see: Maravot News 2.20.10 article, 02.15.10 West condemns Iran's 'bloody repression' with video condemnation of Khamenei, twitter posts and earlier links on persecutions, etc.

Mel Copeland
---
2.11.11 US tells Pakistan to release Davis or its envoy would be 'kicked out'
ISLAMABAD, February 11 - The US has threatened Pakistan that its envoy will be "kicked out" if it fails to release the American official arrested for gunning down two men in Lahore by Friday, according to a media report. National Security Advisor Tom Donilon told Pakistani envoy Hussain Haqqani that the Obama administration will "kick him out of the US," close consulates in Pakistan and cancel President Asif Ali Zardari's upcoming visit to Washington if US official Raymond Davis is not released by Friday, ABC News channel quoted two unnamed Pakistani officials as saying. Donilon reportedly conveyed the warning to Haqqani on Monday evening. [More>>indianexpress.com]
---
2.11.11 Sarkozy declares multiculturalism 'a failure'
(AFP) February 11 - French President Nicolas Sarkozy declared multiculturalism a failed concept and called for a renewed focus on France's "identity" when he appeared on TV Thursday evening to answer questions from French citizens. French President Nicolas Sarkozy on Thursday declared that multiculturalism had failed, joining a growing number of world leaders or ex-leaders who have condemned it. "We have been too concerned about the identity of the person who was arriving and not enough about the identity of the country that was receiving him," he said in a television interview in which he declared the concept a "failure. British Prime Minister David Cameron last month pronounced his country's long-standing policy of multiculturalism a failure, calling for better integration of young Muslims to combat home-grown extremism. German Chancellor Angela Merkel, Australia's former prime minister John Howard and former Spanish prime minister Jose Maria Aznar have also in recent months said multicultural policies have not successfully integrated immigrants. [>france24.com]
---
2.11.11 Sudan clashes leave 105 dead as south readies for secession
February 11 - South Sudan army and renegade general's militia in firefights after south voted for independence from north. Deadly battles between south Sudan's army and a renegade commander have killed 105 fighters and civilians, the military said, as the war-scarred region moves towards independence. The violence comes days after results of a referendum on secession confirmed south Sudan would declare independence in July, after decades of civil war that has claimed 2 million lives. The region's army said clashes at Fangak in Jonglei state on Wednesday and Thursday had killed 50 fighters from both sides and 39 civilians, adding to the 16 casualties it reported earlier from fighting in Door. "It was George Athor's men who came with machine guns, AK 47s and started firing," said south Sudan's army spokesman Philip Aguer. Athor was a former senior army officer who rebelled, accusing the south's ruling party of fraud during the April 2010 elections. He signed a ceasefire in January, after Juba declared an amnesty for all militia commanders. [More>>guardian.co.uk]
---
2.11.11 Alleged boy assassin charged with 4 homicides in Mexico
CUERNAVACA, Mexico, February 11 - Mexican prosecutors have filed homicide charges against a 14-year-old U.S. citizen who allegedly acted as an assassin for a drug cartel. Authorities say Edgar Jimenez Lugo confessed to killing four people whose beheaded bodies were hung from a bridge in Cuernavaca, a central colonial city that is popular with Mexican and international tourists alike and is known for its yearlong spring-like climate. Jimenez has been charged with the homicides and other crimes, including arms possession and transporting cocaine, prosecutors from Morelos state, where Cuernavaca is located, said in a statement late Wednesday. Because he was charged as a juvenile, he faces a maximum three years in prison.

Prosecutors identified the boy only by his first name, but his family gave his full name to journalists. Jimenez was born in San Diego, California, but grew up in Mexico, raised by his grandmother. He and his sister were arrested in December as they tried to board a plane to Tijuana, where they purportedly planned to cross the border and reunite with their mother in San Diego. The two siblings allegedly worked for Julio "El Negro" Padilla, a reputed drug trafficker who authorities say has been fighting for control of the drug trade in Morelos. Morelos was formerly under the control of the Beltran Leyva gang, which broke up after alleged leader Arturo Beltran Leyva was killed in a shootout with Mexican marines a year ago. [More>>japantoday.com]
---
2.10.11 Egypt presidential palace turned to a military base
DUBAI, February 10 - Security tightens as talk of marching continues. As rumors of marching towards the presidential palace spreads among protestors who demand the removal of the Egyptian regime, the president's residence has witnessed unprecedented security precautions that made the eastern Cairo mansion resemble a military base. Egypt's presidential palace, located in the east Cairo neighborhood of Heliopolis, is surrounded by barbed wire and army tanks are stationed around all its gates, the Saudi newspaper al-Hayat reported Wednesday. Tight security around the presidential palace is especially demonstrated in the measures taken with journalists. While in normal cases, journalists were allowed into the main building in order to listen to statements made by officials and politicians, they are now taken to the Press Center, which is a separate annex. [More>>alarabiya.net; See related story, foxnews.com. February 10, "Egyptian official: Mubarak to step down, transfer authority to armed forces."]
---
2.10.11 Iranian opposition leader under house arrest
TEHRAN, Iran (AP) February 10 - Authorities placed one of Iran's opposition leaders under house arrest Thursday, posting security officers at his door and detaining one of his aides, in response to his calls for a rally in support of anti-government demonstrations in Egypt, his website said. Iran's hard-line rulers — who have also tried to capitalize on the uprising against their regional rivals in Egypt's US-allied regime — are seeking to deprive their own opponents at home of any chance to reinvigorate a movement swept from the streets in a heavy military crackdown. The leader confined to his home, Mahdi Karroubi, had joined Iran's other top opposition figure, Mir Hossein Mousavi, in asking the government for permission to hold a Feb. 14 rally in support of the uprisings in Egypt and Tunisia. [More>>khaleejtimes.com]
---
2.10.11 Bank accused of laundering drug money for Hezbollah
February 10 - US car dealerships part of 'mind-boggling' international criminal enterprise, US charges. The Treasury Department on Thursday was blacklisting one of the largest banks in Lebanon, accusing it of being part of what one official calls a "mind-boggling" international criminal enterprise that is laundering hundreds of  millions of dollar in illegal drug money every year for the benefit of Hezbollah. The action, which was being announced Thursday by Undersecretary of Treasury Stuart Levey, is the latest development in a four-year investigation that officials say has uncovered links between one of Columbia's biggest drug traffickers, top leaders of Hezbollah and the Iranian government.

As part of the alleged scheme, proceeds from the drug empire of Colombian trafficker Ayman Saied Joumaa, generated from massive shipments of cocaine to West Africa and then on to Europe, are being laundered through the Lebanese Canadian Bank, or LCB — a Beirut-based financial institution with $5 billion in assets and 35 branches, including an office in Montreal. Some of the money was then rerouted through about 50 used car dealerships in the United States, according to US officials. The profits ultimately benefit Hezbollah, a Lebanon-based Shiite Muslim group considered a terrorist organization by the US government, which has used the revenues to rebuild its military arsenal — including long range rockets — that were damaged in its 2006 war with Israel, the officials said. [More>>msnbc.msn.com]
---
2.10.11 China activist Chen Guangcheng 'under house arrest'
February 10 - One of China's most high-profile human rights activists says he is being held under house arrest. "I've come out of a small jail and entered a bigger one," Chen Guangcheng says in the secretly shot video, released by a US-based campaign group. These are the first comments from Mr. Chen since his release from prison last September. He accused the authorities of carrying out forced abortions. China has not confirmed that the activist is under house arrest. US-based campaign group China Aid says it received the hour-long film from an "anonymous government friend inside China." In it, Mr. Chen's wife filmed what appeared to be a Chinese security agent. He is perched on a ladder, peering into the house in Shandong province, keeping watch. [More>>bbc.co.uk]
---
2.10.11 31 killed as schoolboy bomber strikes at Pakistan army center
PESHAWAR, Pakistan (AP) February 10 - In one of the deadliest strikes on the Pakistan army, a schoolboy suicide bomber sneaked into a heavily guarded Pakistani army training centre in the country's northwest area on Thursday and blew himself up in the midst of a parade, killing 31 soldiers and leaving 40 more wounded. "It was a suicide attack by a 12-year-old bomber in school uniform," top police officer Abdullah Khan said on the early morning attack on the army's elite Punjab Regimental Centre at Mardan, 60 kms northeast of Peshawar. Thirty-one army personnel were killed and 40 others injured, most of them critically in the powerful blast at 0815am, which could be heard several kms away. An army spokesman confirmed the incident. Police said the condition of some of the injured was critical and the toll could go up. The responsibility for the hit was claimed by Tehreek-e-Taliban, who threatened to carry out even "bigger strike" to avenge US drone strike and military operation in the region. [More>>indianexpress.com]
---
2.10.11 Afghan district chief killed in attack
KABUL, Afghanistan, February 10 - A suicide bomber blew himself up inside a district chief's office in Afghanistan's northern Kunduz province Thursday, killing the official and two other people. The bomber was able to enter the office of Chahar Dara district chief Abdul Wahid Omarkhail by pretending to be looking for work, said provincial government spokesman Mabobullah Sayedi. The blast killed the chief along with a bodyguard and a village elder who was visiting at the time. Five others were wounded in the explosion, said Sayedi and the district chief of police, Gulam Mohyuddin. [>thenews.com.pk]
---
2.10.11 Bombing kills Shiite pilgrims in Iraq
BAGHDAD, February 10 - A car bomb exploded near a procession of Shiite Muslim pilgrims south of the holy city of Samarra on Thursday, killing nine people, including one child, and wounding 39 people, five of them children, a police official said. The procession was headed for Samarra's gold-domed shrine, whose destruction by insurgents in 2006 help set off a sectarian war between Sunnis and Shiites in which tens of thousands of people were killed. The explosion occurred near the city of Dujail, about 40 miles south of Samarra. The pilgrims had begun the procession, which was believed to have included about 80 people, in Baghdad. The attack came nearly five years after insurgents bombed the Askariya Shrine, one of the world's holiest sites for Shiites, on Feb. 22, 2006. Though no one was injured in that bombing, the shrine was severely damaged, with its gold dome shattered. In the attack on the procession Thursday, the car exploded around 1:30pm near a tent where pilgrims had stopped for water and a meal, according to the official, who added that no one appeared to be in the car. [More>>nytimes.com]
---
2.09.11 China prepares for 'severe, long-lasting drought'
BEIJING, February 9 - Chinese officials said today they were preparing for a severe, long-lasting drought in several parched provinces, causing wheat prices to spike on the prospect of the world's largest consumer putting pressure on a global supply that's already squeezed. Premier Wen Jiabao led a State Council meeting today on increasing grain production in the country that's both the world's largest wheat grower and largely self-sufficient in supply. The UN's food agency has warned that the months long drought is driving up the country's wheat prices, and now the focus is on whether China will buy more from the global market, where prices have already risen about 35 per cent since mid-November.

The rising prices add to growing concerns in China about inflation, which the government sees as a potential source of social unrest. Average flour prices rose more than 8 percent in January from the previous two months. Wheat futures were up today at both the Chicago Board of Trade and the Zhengzhou Commodity Exchange in China, where prices for September delivery hit a new high. They were at 3,051 yuan (USD 463) a ton today night. State television broadcast images today of withered crops in cracked earth. State media have said the eastern province of Shandong faces its worst drought in 200 years and that the other affected provinces across the country's north and east are facing their worst in 60 years. Shortages of drinking water have affected 2.6 million people. [More>>indianexpress.com; See related stories,

xinhuanet.com, February 9, "Rate hike 'aims to help tame inflation'" : BEIJING - The central bank on Tuesday raised interest rates for the third time since mid-October by another 25 basis points, to help mop up liquidity and tame surging inflation. effective on Wednesday, the benchmark one-year lending rate will increase to 6.06 percent from 5.81 percent, and the one-year deposit rate will rise to 3 percent from 2.75 percent, the People's Bank of China (PBOC) said in an announcement on its website. The tightening measure was announced right at the end of the Spring Festival holidays and one day before the markets open...

nytimes.com, February 9, "In Congress, Bernanke faces questions about inflation" : WASHINGTON - The Federal Reserve chairman, Ben S. Bernanke, faced harsh questions Wednesday about the central bank's efforts to stimulate the economy, in his first hearing before the new Republican majority in the House. "My concern is that the costs of the Fed's current monetary policy — the money creation and massive balance sheet expansion — will come to outweigh the perceived short-term benefits," Representative Paul D. Ryan of Wisconsin, the new chairman of the House Budget Committee, said in his opening remarks. Mr. Ryan expressed alarm about "a sharp rise in a variety of key global commodity and basic material prices," as well as the recent rise in yields in longer-term Treasury securities.

While acknowledging that consumers in the United States were not yet experiencing higher prices, Mr. Ryan warned that "the inflation dynamic can be quick to materialize and painful to eradicate once it takes hold." And he expressed concern that central bank's plan to buy $600 billion in Treasury securities in order to spur the recovery was devaluing the dollar. "There is nothing more insidious that a country can do to its citizens than debase its currency," he said. Mr. Bernanke's statement was nearly identical to a speech he gave last week at the National Press Club, in which he played down the significance of rising food prices and defended the Fed's plan to buy Treasury securities...
---
2.09.11 Protesters reject reforms, block access to parliament
(AFP) February 9 - Hundred of Egyptian protesters tried to block access to Cairo's parliamentary buildings on Wednesday as they continued to call for the resignation of President Hosni Mubarak, rejecting the government's offers of constitutional reform. Several hundred Egyptian protesters attempted to block parliamentary buildings in Cairo on Wednesday as part of their campaign to oust President Hosni Mubarak's 30-year-old regime. The building was protected by troops backed by armored vehicles, but there was no violence, with protesters instead staging a sit-in to blockade the lower house, just as others have occupied Cairo's Tahrir Square. Parliament is dominated by Mubarak's ruling National Democratic Party (NDP), thanks to tight rules on who can stand for election, and the protesters said they saw it as part of his autocratic regime.

"We came to prevent the NDP members from entering. We will stay until our demands are met or we will die here," said 25-year-old Mohammed Abdullah, as the crowd chanted anti-Mubarak slogans and waved Egyptian flags. "The people did not elect this parliament," said 19-year-old Mohammed Sobhi, a student at Cairo's Al-Azhar university. "We want the entire regime to fall, not just the president, because everything under him is corrupt." Thousands of pro-democracy campaigners have been camped out in Cairo's Tahrir Square since January 28 to demand Mubarak step down. The government has offered constitutional reform, and Mubarak will not stand for re-election in September nor engineer his son's succession, but protesters continue to demand that he step down immediately. [>france24.com; See related stories,

khaleejtimes.com (AP) February 9, "Strikes erupt as Egypt protesters defy VP warnings" : CAIRO - Egypt's anti-government activists pushed to expand their protests and sought to drum up labor unrest as thousands launched strikes at state firms and offices around the country, in defiance of the vice president's warning that demonstrations calling for President Hosni Mubarak's ouster would not be tolerated for much longer. Efforts by Vice President Omar Suleiman to open a dialogue with protesters over reforms have broken down since the weekend, with the youth organizers of the movement deeply suspicious that he plans only superficial changes far short of real democracy. They refuse any talks unless Mubarak steps down first. Showing growing impatience with the rejection, Suleiman issued a sharp warning that raised the prospect of a renewed crackdown.

He told Egyptian newspaper editors late Tuesday that there could be a "coup" unless demonstrators agree to enter negotiations. Further deepening skepticism of his intentions, he suggested Egypt was not ready for democracy and said a government-formed panel of judges, dominated by Mubarak loyalists, would push ahead with recommending its own constitutional amendments to be put to a referendum. "He is threatening to impose martial law, which means everybody in the square will be smashed," said Abdul-Rahman Samir, a spokesman for a coalition of the five main youth groups behind protests in Cairo's Tahrir Square. "But what would he do with the rest of the 70 million Egyptians who will follow us afterward."...

jpost.com, February 9, "Muslim Brotherhood in Egypt: We won't take over government" : Representatives of the movement say they won't have a presidential candidate; 3 killed, 100 wounded in southern Egypt riots. Representatives of the Muslim Brotherhood in Egypt said they do not want to take over but merely want to be a part of government, CNN reported Wednesday. "The Muslim Brotherhood is not seeking power," an official said speaking at a press conference. "We will not have a presidential candidate, we want to participate and help, we are not seeking power," according to the report. In a move intended to distance the movement from allegations that it is an extremist group, former head of the Muslim Brotherhood's parliamentary bloc, Mohammed Katatny, said: "We reject the religious state." "We are not responsible for the speeches and statements of external forces," Katatny added...
---
2.09.11 Iran prosecutor warns opposition against rally
TEHRAN, February 9 - Arrest would make Iran opposition "saints": official. Arresting Iran's opposition leaders after the 2009 election would have turned them into "saints," Iran's judiciary chief said Wednesday, adding their fate was in the hands of the nation's supreme leader. "In the case of sedition leaders ... taking a decision is not only on me, but ... on vali e-faqhi (supreme leader) and it is beyond the judiciary's decisions," the ISNA news agency quoted Ayatollah Sadeq Larijani as saying. He added: "If we had confronted the heads of sedition, they would have become saints. The arrest of sedition leaders is not a special case but we follow the expediency of the system and we will take action at the right time." Iranian officials refer to opposition leaders Mir Hossein Mousavi and Mehdi Karroubi as "heads of sedition" after they called for mass demonstrations against President Mahmoud Ahmadinejad's re-election in 2009.

The protests turned deadly when the authorities launched a crackdown. Iran's supreme leader Ayatollah Ali Khamenei, who has the final say on all national issues, has regularly attacked Mousavi and Karroubi and accused them of being supported by Westerners. Mousavi and Karroubi have sought to hold a rally on February 14 in support of Arab revolts but observers say it could be a ploy to garner their supporters to stage fresh anti-government demonstrations. Iranian officials have expressed their support for Egyptian protesters, with Khamenei going so far as to call for the establishment of an Islamic regime in the world's most populous Arab nation. Since last year's anniversary of the Islamic revolution, no fresh protests have been called and opposition demonstrators have stayed off the streets.

On Tuesday, Mousavi and Karroubi, once seen as pillars of the Islamic regime, issued a scathing attack against the establishment on the eve of the 32nd anniversary of the revolution. In a joint statement posted on their respective websites they said the country's religious atmosphere has been "most hurt" by the "anti-religion and oppressive behavior of the regime itself." Calling their movement as a "new discourse," they said it seeks to "put an end to the rule of hooligans and instill meritocracy" in Iran...Karroubi said a successful uprising in Egypt would win democratic freedoms that are lacking in Iran. "It will show that Iran has been left behind, that it has not gone forward with the principles of the revolution that everything should be based on the vote of the people," he told The New York Times. [Full story>>alarabiya.net; See related twitter.com post:

IranRiggedElect - Facebook group for Feb 14 protests: http://sabz.cc/gcAJQv #Iran greens support #Egypt & #Tunisia protests #IranElection
Maravot News 2.20.10 article, 02.15.10 West condemns Iran's 'bloody repression' with video condemnation of Khamenei, twitter posts and earlier links regarding the February 11 2009 protests and Khamenei's subsequent persecutions.
---
Editorial note: "The stranglehold of Iran's Theocracy." One is tempted to believe that the Iranian protests and movement are dealing with similar issues to those in Egypt. While protesters in Egypt have moved Mubarak to change the constitution, allowing fairer elections and the end of his perpetual presidency (dictatorship), we must recognize that Egypt is not an Islamic state, as in the case of Iran.

Iran's Constitution also needs to be changed in order to provide the freedoms desired by Iranian protesters. For instance the constitution (See http://www.servat.unibe.ch/icl/ir00000_.html) provides for a theocracy and a de-facto dictator in the name of the Supreme Leader (Ali Khamenei) who is appointed by a panel of clergy ("experts") and who is commander-in-chief of the army, has the ability to hire and fire everyone in the government, as well as to issue decrees as he wishes. Khamenei's rule has been particularly cruel, as his government has employed religious decrees to control and persecute the people. Criticism of Khamenei is the same as blasphemy against Allah (God). Several of the thousand or so protesters arrested in the 2009 demonstrations have been hung under the charge of "Moharebeh" ("warring against God").

Thus, the Iranian government uses Islam to persecute those who oppose or criticize it. A review of the following articles in the Iranian Constitution reveals how "locked in" the mullahs are in exercising their dictatorship over the people: Articles - 1, 2.5, 2.6a, 3.15, 5, 7.1, 11, 12, 62, 91, 105, 107, 109, 110. Article 110 basically gives the Supreme Leader the power to do whatever he wishes. For those of you who are concerned about democracy in Iran, read these clauses and weep. There can be no liberty or basic human rights in Iran with those articles and clauses in effect; since the clauses give power to the clergy, it is unlikely that the clergy will be willing to change them without force.

Complicating the issue is the Iranian government's belief that it is ruling at the time of the Mahdi, who they believe will be resurrected soon and lead Iran, with the resurrected Jesus, to dominate the world. President Ahmadinejad and Khamenei both claim to have a close relationship / backing of the Mahdi. As long as the Iranian people buy into the clergy's holiness, true freedom will be thwarted. See also:

Maravot News 8.18.09 article 8.17.09 Muslims must unite for Islam's savior: Iran :" ...Saeedi said in statement posted by the Iranian Labor News Agency (ILNA). Saeedi also said that the supreme leader of Iran is the direct representative of the Mahdi and that obeying him is like obeying the "guided one," who is the prophesied savior of Islam. "Since the armed forces are commanded by the Supreme Leader, they are thus obeying the orders of the awaited Mahdi," Saeedi said, adding "the Revolutionary Guards and the armed forces in Iran hold religious authority to prepare for the appearance of the Mahdi." ..

Mel Copeland
---
2.09.11 Iranian web programmer faces execution on porn charges
February 9 - Saeed Malekpour sentenced to death after allegedly confessing under torture. A 35-year-old Iranian web programmer is facing imminent execution in connection with developing and promoting porn websites, charges that his family insist are trumped up. Saeed Malekpour, a permanent resident of Canada who was arrested in October 2008 after his arrival in Tehran, is convicted of designing and moderating adult content websites, acting against the national security, insulting and desecrating the principles of Islam, and agitating the public mind. Speaking from Toronto, Malekpour's wife, Fatemeh Eftekhari, said her husband has been informed of the verdict and has been transferred to solitary confinement for the sentence to be administered if the supreme court sanctions it. She says her husband was a web programmer who had written photo uploading software that was used in a porn website without his knowledge. Human rights groups have expressed alarm over a sharp increase in the use of capital punishment in Iran. [More>>guardian.co.uk]
---
2.09.11 Iranian authorities close Tehran Sunni mosque
DUBAI, February 9 - Iranian authorities stormed and sealed off a Sunni mosque in Tehran and arrested its imam while threatening to close other Sunni mosques in different parts of the country. Security forces raided a Sunni mosque in the district of Saadat Abad in northern Tehran during prayer time and arrested Sheikh Maulvi Obaidullah Mousa Zadeh, the imam of the mosque and leader of the Sunni community in the Iranian capital, the official website of the Sunni community in Iran SunniOnline reported Monday. Members of the Sunni community accused the Iranian authorities of ordering security forces to close the mosque as part of their ongoing discriminatory practices against the Sunni minority since the 1979 Islamic Revolution.

According to SunniOnline, Iranian authorities threatened to close down two other Sunni mosques if they do not stop holding prayers and offering religious lessons to members of the community. "The threats the Iranian regime directs against Sunnis in the country are against Islam," wrote the website in response to the last clampdown. "Sunnis want nothing except religious freedom."...Sheikh Maulvi Abdul Hamid, imam of the Sunnis in the city of Zahedan, the capital of the southeastern province of Sistan and Baluchestan, warned of a revolution similar to that which took place in Egypt and Tunisia if the discrimination against Sunnis continues. [Full story>>alarabiyya.net]

---
2.09.11 US aid to Pakistan linked to Davis' release
WASHINGTON, February 9 - US lawmakers threatened Tuesday to cut aid to Pakistan unless it freed an American detained in a murder case, as Washington intensified pressure on its uneasy war partner. The United States has already warned that high-level dialogue would be at risk unless Pakistan releases US diplomatic employee Raymond Davis, who said he was acting in self-defense when he shot dead two men in Lahore last month. Three members of the House of Representatives drove home the point on a visit to Pakistan, telling Prime Minister Yousuf Raza Gilani starkly that the US Congress was working on its budget and looking for areas to cut. "It is imperative that they release him and there is certainly the possibility that there would be repercussions if they don't," Representative John Kline, a Republican from Minnesota, told reporters on his return. [More>>thenews.com.pk]
---
2.09.11 Northern Iraq attacks kill 10
(AFP) February 9 - Violence in northern Iraq killed 10 people on Wednesday, eight of them in near-simultaneous car bombings blamed on a militant group Ansar Al-Islam. Dozens more were wounded in the triple blasts in the ethnically-divided northern oil hub of Kirkuk which is at the centre of a territorial dispute between Iraq's central government and the north's autonomous Kurdish region. "We are certain that this terrorist group, Ansar Al-Islam, is behind this attack," Kirkuk province police chief Major General Jamal Taher Bakr told AFP. "Our security forces will punish that group, because they have targeted all the people of Kirkuk. They are trying to raise sectarianism but they will fail, as they failed before." In a separate attack in Tal Afar, a town with a large Shiite Turkmen community west of the main northern city of Mosul, a roadside bomb killed two soldiers and wounded as many, an army officer said. Bakr said the three explosions in Kirkuk, which struck at 10:25am (0725 GMT), killed eight people and wounded 104. [More>>khaleejtimes.com]
---
2.09.11 Korean talks collapse
BEIJING, February 9 - Talks between North and South Korea ended in deadlock and then collapse on Wednesday as North Korean negotiators abruptly walked out of a meeting, exposing the continuing deep divisions between the two rivals. Hopes had been raised that the preliminary military-to-military contacts could pave the way for the resumption of a fuller dialogue just three months after North Korea bombarded a South Korean island, killing four people and taking the peninsula to the brink of war. But the talks foundered on South Korean demands that the North must apologize for the shelling incident last November and the torpedoing of a South Korea warship last March — an act for which the regime of Kim Jong-il denies responsibility. The North's negotiators crossed the border back to their country immediately after leaving the meeting, a South Korea government spokesman said. [More>>telegraph.co.uk]
---
2.09.11 Pirates seize Greek oil tanker
February 9 - Armed men hijack vessel carrying $200m worth of crude oil off the coast of Oman, taking 25 crew members captive. Somali pirates have seized an oil tanker carrying about $200m worth of crude oil off the coast of Oman, the vessel's Greek operator has said. The Athens-based shipping company Enesel said on Wednesday that the Mount Irene oil tanker was attacked by the group that took the 25 crew members captive. Authorities have not been able to communicate with the ship, which has seven Greek nationals, 17 Filipinos and one Georgian onboard. The vessel was on its way from the Persian Gulf to the Gulf of Mexico when it was attacked 650km south-east of Muscat, the Omani capital. Somali pirate gangs are known to operate in those waters. The incident comes a day after pirates took control of an Italian oil tanker in the Indian Ocean, some 1300km from Somalia's coast. [More>>aljazeera.net]
---
2.09.11 China ivory demand spurs Elephant slaughter
February 9 - A Sky News special investigation has shown how China is driving demand for smuggled ivory from Africa, leading to a surge in the slaughter of endangered elephants. An undercover Sky film crew made contact with a man in Beijing who revealed his family runs an international ivory trafficking operation. At a meeting set up at a five-star hotel, he showed off three pairs of recently arrived tusks with a price tag of £40,000. Asked if he could supply more, he replied: "Don't worry about that. If we can do a deal today, then next time I have some good ivory I'll call you." He explained his uncle works in West Africa and uses contacts to smuggle the tusks into China in their luggage. Despite a worldwide ban on the sale of ivory, environmental groups say there has been a surge in the slaughter of elephants in Africa. The animals are gunned down by poachers before having their tusks sawn off. There is evidence the carnage is being driven by demand from the Far East and, in particular, by China's new found wealth. An investigation carried out by the Environmental Investigation Agency in 2010 found a booming underground trade in Zambia, where African traders have learned the Chinese word for ivory — xiangya. [More>>news.sky.com]
---
NOTES

*Visitor statistics on maravot.com from 1&1. com. monthly visitors between 40,000-45,0000.
Privacy Policy: We do not store any personal data from you. We have no way of knowing any vital information about you — not even your name. Third-party distribution: We do not distribute information about your site usage to any third party. We are not responsible for the content of links from our site. Usage data: supplied by our Web Hosting service, 1and1.com, which consists of usage reports, such as page views / impressions and web pages visited, visitors' servers and geographical data (ISP's and country of origin).



Maravot's Homepage




Launched: 10.25.04 / 11.02.04 – | — | ♦
Updated: 2.09.11; 2.10.11; 2.11.11; 2.12.11; 2.14.11; 2.15.11; 2.16.11; 2.17.11