---
02.18.10 Ahmadinejad: Israel will be destroyed if it attacks Hezbollah
(AP) February 18 - Region should be delivered from Israel's 'evil ways' forever, Iranian president tells Nasrallah. Iran's president on Thursday said that if the Israelis launch a new war against Lebanon's Hezbollah, the militant group should retaliate strong enough to close their case once and for all. Mahmoud Ahmadinejad's comments, in a conversation with Hezbollah's leader, were the latest in a heated exchange of rhetoric between Israel and Lebanon and Syria this months in which all sides have been warning the other not to start a war. Speaking by phone, Ahmadinejad urged Hezbollah leader Sheik Hassan Nasrallah to prepare his fighters to be able to retaliate strongly against any Israeli attack.

"The preparations should be of the level that, if they [the Israelis] want to repeat the mistakes of the past [by attacking], then their case should be closed once and for all and the region delivered from their evil ways forever," the Iranian president said, according to the state news agency IRNA. "The people of Iran will stand by the people of Lebanon and the region in this," he said. Nasrallah dismissed any fears, saying Israeli threats "will lead to nothing." Iran is a key supporter of Hezbollah, believed to funnel it weapons and millions of dollars in funding, though Tehran denies arming the Shiite group. [More>>haaretz.com]
---
02.18.10 Obama courts Damascus in hope of ending Middle East deadlock
February 18 - Assad goes from pariah to ally as US breaks five years of diplomatic isolation for Syria. As Barack Obama moved formally to repair US relations with Syria by nominating an ambassador to serve there after a five-year hiatus, William Burns, America's top career diplomat, held talks in Damascus yesterday with the Syrian leader Bashar al-Assad on an array of security issues in the region. The sudden flurry of activity reflects a gamble by Washington that engaging more closely with Syria it can persuade it to take steps on a number of fronts that it sees as being vital to improving stability in the Middle East with regard to all its neighbors – Iran, Iraq, Lebanon as well as Israel. Emerging from his meeting with President Bashar, Mr. Burns said the nomination of Robert Ford, a top Arabist at the US State Department, confirmed "America's readiness to improve relations and to cooperate in the pursuit of [a] just, lasting and comprehensive peace between Arabs and Israelis." [More>>independent.co.uk]
---
02.18.10 Four NATO troops die in Marjah assault
MARJAH, Afghanistan, February 18 - Latest Deaths Bring NATO Casualties to 9 as Fighting Intensifies on Sixth Day of Offensive. Four NATO service members have died in the sixth day of a major military offensive to claim control of a Taliban stronghold in southern Afghanistan. NATO said Thursday night that three were killed in two different roadside bomb attacks and a fourth died as a result of small-arms fire. US and Afghan forces have taken control of the main roads, bridges and government centers of the Taliban haven of Marjah, but pockets of insurgents remain. The southern offensive in Marjah is the biggest since the 2001 US-led invasion of Afghanistan, and a test of President Barack Obama's strategy for reversing the rise of the Taliban while protecting civilians. [More>>cbsnews.com; See also

bbc.co.uk, February 18, "NATO strike 'kills Afghan police' in Kunduz" : A NATO air strike has killed seven policemen in Afghanistan's northern Kunduz province, Afghan officials say. The officers were mistakenly hit after a joint NATO-Afghan patrol was ambushed by Taliban insurgents, the officials told news agencies. The NATO-led International Security Assistance Force (ISAF) said it was investigating the reports. ISAF also said four NATO soldiers had died on Thursday in its big offensive, Operation Moshtarak, in the south. Britain's Ministry of Defence confirmed that two Britons were among them...
---
02.18.10 Missile strikes kill 4 in NWA
MIRANSHAH, Pakistan, February 18 - Two missiles fired from a US drone aircraft slammed into a militant compound in North Waziristan tribal belt on Thursday, killing at least four insurgents, officials said. The attack was the second US bombing raid in as many days in North Waziristan district, and hit a stronghold of the al-Qaeda-linked Haqqani network, known for staging attacks on US and NATO troops in Afghanistan. "Two missiles hit a house. Four militants were killed, four were wounded. It was a militant compound," said a security official in Miranshah, the main town in North Waziristan, which also borders Afghanistan. A local administration official confirmed the toll in the US drone strike in the Dandey Darpa Khel area near Miranshah, while a security official in the area said that a car was also damaged in the bombing raid. [>thenews.com.pk]
---
02.18.10 Dozens killed in two blasts in NW Pakistan
PESHAWAR, Pakistan (Xinhua) February 18 - Dozens of people were killed and many others injured in two bomb blasts in northwest Pakistan's tribal area on Thursday. At least 30 people were killed and 100 others injured in a suicide attack in Tirah valley of Khyber Agency tribal area, source told Xinhua. The blast occurred near a mosque which is said to be a center of the banned Lashkar-e-Islam, a militant group in Khyber Agency. An important militant leader of the group has reportedly been killed in the blast. Official sources said that the blast occurred when more than 150 people gathered to offer prayer in the mosque, which was damaged heavily in the blast. [The] Death toll is feared to rise. Sources said that two local militant groups Lashkar-e-Islam and Ansar-ul-Islam are actively involved in terror incidents in Khyber agency. They have also been engaged in targeting each others' members. [More w/ stories on other blasts>>xinhuanet.com]
---
02.18.10 Holbrooke hails Pakistan-US collaboration on Taliban
ISLAMABAD, Pakistan (Reuters) February 18 - Improved collaboration between the United States and Pakistan led to recent successes against the Taliban, including the capture of the group's number two man, the White House's special envoy to the region said on Thursday. Hours after envoy Richard Holbrooke arrived in Islamabad, a bomb in a village in the Khyber area on the Pakistan-Afghan border killed 30 people, underlining the fragile security environment in the region. The dead included the commander of a militant faction which is not part of Pakistan's main Taliban alliance, security officials said, adding the blast appeared to be the result of factional rivalry. Holbrooke lauded the capture of top Afghan Taliban military strategist Mullah Abdul Ghani Baradar this month, which comes as US forces spearhead one of NATO's biggest offensives against his group. "It is significant in and of itself. Very significant," he told reporters. "It represents another highwater mark for Pakistani and American collaboration." [More>>thestar.com.my]
---
02.18.10 Pakistan nabs Taliban 'shadow guvs'
KABUL, Afghanistan, February 18 - Two senior Taliban leaders have been arrested in recent days inside Pakistan, officials said on Thursday, as American and Pakistani intelligence agents continued to press their offensive against the group's leadership after the capture of the insurgency's military commander last month. Afghan officials said the Taliban's "shadow governors" for two provinces in northern Afghanistan had been detained in Pakistan by officials there. Mullah Abdul Salam, the Taliban's leader in Kunduz, was detained in the Pakistani city of Faisalabad, and Mullah Mohammed of Baghlan province was also captured in an undisclosed Pakistani city, they said.

The arrests come on the heels of the capture of Abdul Ghani Baradar, the Taliban's military commander and the deputy to Mullah Mohammed Omar, the movement's founder. Baradar was arrested in a joint operation by the CIA and the ISI, Pakistan's military intelligence agency. The arrests were made by Pakistani officials, the Afghans said, but it seemed probable that CIA officers accompanied them, as they did in the arrest of Baradar. Pakistani officials declined to comment. It was not immediately clear if the arrests of the Taliban shadow governors were made possible by intelligence taken from Baradar. But it seemed likely. [More>>timesofindia.indiatimes.com; See other details,

nytimes.com, February 18, "In blow to Taliban, 2 more senior leaders are arrested" ...The arrests were made by Pakistani officials, the Afghans said, but it seemed probable that C.I.A. officers accompanied them, as they did in the arrest of Mr. Baradar. Pakistani officials declined to comment. Together, the three arrests mark the most significant blow to the Taliban's leadership since the American-backed war began eight years ago. They also demonstrate the extent to which the Taliban's senior leaders have been able to use Pakistan as a sanctuary to plan and mount attacks in Afghanistan. A senior United States official, speaking on condition of anonymity, said that the arrest of the two shadow governors was unrelated to Mr. Baradar's capture. Even so, Muhammad Omar, the governor of Kunduz Province, said in an interview that the two Taliban shadow governors maintained a close working relationship with Mr. Baradar. "Mullah Salam and Mullah Mohammed were the most merciless individuals," said Gen. Razaq Yaqoobi, police chief of Kunduz Province. "Most of the terror, executions and other crimes committed in northern Afghanistan were on their orders."...
related story,

chinadaily.com.cn (Xinhua) February 18, "Taliban commander killed in N. Afghanistan" : KABUL - Afghanistan troops, during operation against Taliban militants in northern Kunduz province, eliminated their commander and detained three militants, a local newspaper reported Thursday. "A Taliban commander called Mullah Zabihullah was killed and three of his armed were arrested," Daily Afghanistan reported. Quoting the provincial governor Mohammad Omar, the newspaper added that security forces raided Taliban hideout in Chardara district Wednesday night as a result Mullah Zabihullah was killed and three of his men were caught. The governor, according to newspaper, also said that major cleanup operation would be launched against Taliban militants in Kunduz province. Taliban militants have yet to make comment. Kunduz, which used to be a relatively peaceful province until early last year, has been the scene of increasing militancy over the past several months. [end]
---
02.18.10 Suicide bomber kills 11 in Iraq's Anbar province
RAMADI, Iraq (Reuters) February 18 - A suicide bomber killed at least 11 people and wounded 21 others on Thursday in Iraq's increasingly turbulent western Anbar province, a senior Iraqi army official and police said. A medical source said Ramadi's main hospital had received 13 bodies, and that 26 people had been wounded. The blast comes weeks before a March 7 parliamentary vote that al-Qaeda's affiliate in Iraq has threatened to derail by military means, stoking fears of more violence to come as politicians and candidates gear up for the election. [More>>khaleejtimes.com]
---
02.18.10 President 'seized in Niger coup'
February 18 - The president of the West African nation of Niger has been taken hostage after armed soldiers stormed the presidential palace in the capital, Niamey, witnesses said. The attack on Thursday came after witnesses reported hearing machine gunfire near the palace where Mamadou Tandja, the country's president, was believed to be holding a meeting. A journalist in the capital, who asked to remain anonymous for safety reasons, said the president is currently being held by soldiers at a garrison in the city. "The rebels have taken the president to a certain place, pending he submits his resignation," he told Al Jazeera. "That's why the rebels have not announced yet on national television or radio the coup. They want the president to resign by himself from the position. Armed soldiers are now controlling the presidential palace and they also took government ministers when they took the president." [More>>aljazeera.net]
---
02.18.10 Interpol seeks arrests for Hamas chief's killing
DUBAI / PARIS, February 18 - Dubai urges Interpol to issue red notice against Mossad chief. Interpol should issue a warrant to help locate and arrest the head of Israel's spy agency Mossad if the organization was responsible for the killing of a Hamas chief in Dubai, the emirate's police chief said on Thursday, as the Interpol issued arrest notices for 11 suspects wanted by Dubai for the killing. In comments to be aired later on Dubai TV, police chief Dahi Khalfan Tamim called for Interpol to issue "a red notice against the head of Mossad ... as a killer in case Mossad if proved to be behind the crime, which is likely now."

The Interpol meanwhile issued arrest notices for 11 suspects wanted by Dubai for the killing of Hamas leader Mahmud al-Mabhuh there. The 11 have been charged by authorities in the United Arab Emirates with coordinating and committing the murder of Mabhouh, it said in a statement. Mabhouh, a commander of the Palestinian armed group Hamas which rules the Gaza Strip, was killed in a hotel room in Dubai on Jan. 19. Officials have said suspects in the killing used fake passports from Britain, France and Ireland. Announcing the issue of the so-called Red Notices Interpol said it "has reason to believe that the suspects linked to this murder have stolen the identities of real people." [More>>alarabiya.net]
---
02.17.10 Drowning in debt: What the nation's budget woes mean for you
WASHINGTON, February 17 - American political and economic leaders have sounded the alarm for years about the red ink rising in reports on the federal government's fiscal health. But now the problem of mounting national debt is worse than it ever has been before with — potentially dire consequences for taxpayers, according to a report by the nonpartisan Peterson-Pew Commission on Budget Reform. "It keeps me awake at night, looking at all that red ink," said President Obama in Nashua, N.H., on Feb. 2. "Most of it is structural and we inherited it. The only way that we are going to fix it is if both parties come together and start making some tough decisions about our long-term priorities." Obama will sign an executive order tomorrow that establishes a bipartisan National Commission on Fiscal Responsibility and Reform to make recommendations on how to reduce the country's debt.

Over the past year alone, the amount the US government owes its lenders has grown to more than half the country's entire economic output, or gross domestic product. Even more alarming, experts say, is that those figures will climb to an unprecedented 200 percent of GDP by 2038 without a dramatic shift in course. "Within 12 years…the largest item in the federal budget will be interest payments on the national debt," said former US Comptroller General David Walker. "[They are] payments for which we get nothing."...Government debt, which fuels the risk of inflation, could make everyday Americans' savings worth less. Higher interest rates would make it harder for consumers and businesses to borrow. Wages would remain stagnant and fewer jobs would be created. The government's ability to cut taxes or provide a safety net would also be weakened, economists say. [Full story>>abcnews.go.com]
Editorial note: "Harping on interest on the national debt." In a monthly correspondence between Wm. F. Buckley Jr (of National Review, Firing Line fame) this writer and Mr. Buckley agreed that borrowing on the National Debt — called "public debt" by the Fed — would sink this nation. The first portion of our argument, published in June 1993, is captured in "Against Leviathan" — Manifest against the Leviathan probably sighted by Captain Buckley. In the Preface (page iv) of this small work is a chart, "Interest on the US debt," that shows 1992 Outlays were: Interest, $292 billion; Welfare, $152 billion; Defense, est. $270 billion; General Operations: community, law enforcement, education, social programs, etc., est. $378 billion. Below the chart was the calculation that "Notes issued 1984-1991 average 7% interest; 1992 interest on $4.32 trillion [the debt at the time] would be $302 billion.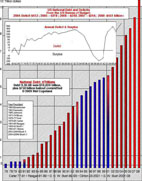 Chart showing progress of the National Debt from $620 billion in 1973 to $10.2 trillion in 2008. Click on chart for details.
Mr. Buckley and I both agreed that interest (the largest single outlay in the US debt at the time) would [financially] "sink" this nation. After the conversation ended in May 1995, Newt Gingrich, Speaker of the House, announced a "pay-as-you-go plan, "Contract with America," to stop borrowing on the debt. President Clinton afterwards signed onto the plan and became its greatest advocate, resulting in a three-year hiatus where the debt was paid down, leaving his successor, George W. Bush not only a successful plan in running a government without borrowing and a forecast of eliminating the debt within 10 years.
George W. Bush abandoned that plan and reintroduced the practice of heavy borrowing that President Reagan initiated in 1981, when he entered office. The borrowing that Reagan introduced then was called "Reagenomics." During his term of office (1981-1993) Reagan almost tripled the US debt — taking it from $907 billion to $2.6 trillion. His successor, George H. W. Bush (1989-1992) took Reagan's debt from about $2.6 trillion to $4.0 trillion. Clinton retarded the growth of the debt with three years of surplus, leaving it at $5.6 trillion.
The forecasted collapse Mr. Buckley and I had been discussing had to do with the affect interest on the debt played upon our economy, where the size of the debt and its demand for lenders would exceed that which could be supplied by lenders. The result would be an ongoing pressure for the Fed to increase interest rates to attract lenders, i.e., sell US Treasury bonds and notes. The increase in interest rates to sell bonds would cause interest rates on mortgages, car loans, credit cards, etc., to also increase. Thus, the consequences of the US public debt would involve a larger indebtedness spread across the country and the world, draining productivity and an eventual collapse.
As it happened, during this time new financial practices, including financing tied to the Fed's Prime Rate, set the stage for a greater collapse than Mr. Buckley and I ever discussed. When the Fed increased rates to sell its bonds, homeowners among many others, including major corporations, found themselves not only drowning in debt but underwater, sunk.
I have often wondered why Newt Gingrich suddenly became silent when George W. Bush renovated the old borrowing practices contrived by President Reagan. In any event, the world can thank presidents Reagan, George H, W. Bush and George W. Bush for the predicament it is in at the moment and the lesson on "the consequences of living beyond your means."
As a postscript Mr. Buckley died just before the collapse and thus was not able to witness what he and I had discussed in earnest. When George W. Bush renewed Reagan's old borrowing plan, Mr. Buckley also became silent. Over the years I have complained about the media's ignorance of the problem. When the media and their "talking heads" discuss the debt, they tend to refer to the "deficit" being passed on to our children and often confuse the deficit and the public debt. Most have no idea that the public debt is something that drains the US budget, by becoming one of the largest outlays in the budget, often exceeding the budget for national defense.
In the overall silence during the past years, however, I continued writing about the debt threat. A chart and historical data on the debt through the administrations since President Carter are in my
National_Debt.html
. If interest on the current public debt outstanding of
$12.384 trillion
were to be assessed at the 5% rate experienced during the years of the George W. Bush administration, the current (annual) interest outlays on the debt, of
$383 billion for FY 2009
, would court $620 billion in 2010-2011.
Those interested in Mr. Buckley's letters in the conversation will find that when we agreed on the threat and consequences of borrowing on the national debt, the argument turned to that of an ethical issue, as to whether Mr. Buckley had an obligation to tell the people what he and I discussed, as it was threatening this nation. He argued that it was my responsibility, since "I brought the issue up." I answered that I was not famous and someone that would be listened to, like him, that he ought to discuss the issue on his Firing Line program. He continued the discussion bringing up moral, Biblical arguments. His letters are in the work, "
Rooting out his faith
."
Mel Copeland
---
02.17.10 Obama starts push to cast stimulus bill as a success
WASHINGTON, February 17 - President Obama defended his year-old economic recovery package on Wednesday, arguing that the package, the major legislative achievement of his presidency so far, has created or saved as many as two million new jobs, lowered taxes for 95 percent of Americans and spared the country a potentially disastrous depression. One year to the day that he signed the bill into law, Mr. Obama appeared at the White House alongside small business owners who have benefited from the measure, which has become a kind of political albatross for him and for fellow Democrats seeking re-election in 2010.
"One year later, it is largely thanks to the Recovery Act that a second depression is no longer a possibility," the president said. "It's one of the main reasons the economy has gone from shrinking to by about 6 percent to growing about 6 percent." He added, "Our work is far from over, but we have rescued this economy from the worst of this crisis." [More>>nytimes.com]
---
02.17.10 Taliban using human shields says Afghan official
(AP) February 17 - Taliban insurgents are increasingly using civilians as human shields as they fight allied troops trying to take the militants' southern stronghold of Marjah, an Afghan official said Wednesday as military squads resumed painstaking house-to-house searches. About 15,000 NATO and Afghan troops are taking part in the offensive around Marjah, which has an estimated 80,000 inhabitants and was the largest town in southern Helmand province under Taliban control. NATO hopes to rush in aid and public services as soon as the town is secured to try to win the loyalty of the population. With the assault in its fifth day, insurgents are firing at Afghan troops from inside or next to compounds where women and children appear to have been ordered to stand on a roof or in a window, said Gen. Mohiudin Ghori, the brigade commander for Afghan troops in Marjah. "Especially in the south of Marjah, the enemy is fighting from compounds where soldiers can very clearly see women or children on the roof or in a second-floor or third-floor window," Ghori said. "They are trying to get us to fire on them and kill the civilians." [More>>indianexpress.com; See related story,

independent.co.uk, February 17, "NATO ill-equipped to prevent Afghan civilian deaths" : NATO is ill-equipped to probe accidental loss of life or prevent further civilian deaths during its latest offensive in Afghanistan, Amnesty International warned today. The organization claimed international forces lacked the "credible mechanism" needed to investigate recent incidents in which locals had been killed or ensure that such occurrences were not repeated. It also hit out at "inexcusable" tactics employed by the Taliban, stating that knowingly endangering Afghan life could constitute a war crime.

It called on both sides in the conflict to comply with legal obligations to protect thousands of displaced Afghans and those still trapped in areas of intense fighting. NATO responded to the comments by saying it was doing everything it could to limit civilian casualties and that any credible allegation would be fully investigated. Amnesty International issued the warning following the deaths of at least 15 civilians so far during Operation Moshtarak...
---
02.17.10 Army confirms arrest of Mullah Abdul Ghani: ISPR report
RAWALPINDE, February 17 - Taliban second-in-command Mullah Abdul Ghani Barader has been captured, Inter-Services Public Relation confirmed Wednesday. According to a brief statement released by the ISPR, the process of thorough identification has proved that the arrested person is Mullah Abdul Ghani. Taliban commander Mullah Barader was captured in a joint operation of the intelligence forces of both Pakistan and the United States. Speaking at the National Assembly, Interior Minister Rehman Malik said Abdul Ghani was the defense minister in Mullah Omar's cabinet. Malik said that investigation was still underway after which more arrests could be made. He said that security forces had raided a house in Chaman and recovered a cache of arms, including 25 suicide vests. [>thenews.com.pk]
---
02.17.10 Lebanon charges 11 Qaeda suspects with spying
BEIRUT, February 17 - Group allegedly planned to spy on army and UN peacekeepers.A Lebanese military investigative judge charged 11 suspected al-Qaeda militants on Wednesday with planning to commit crimes against Lebanese authorities and spying on the Lebanese army and UN peacekeepers. Judge Samih al-Hajj indicted the group of Lebanese, Palestinians and Syrians, six of whom have fled Lebanon and the rest have been detained, on charges that carry a death penalty. The indictment said the men had "formed an armed gang with the purpose of committing crimes against people ... undermining state authority and prestige, spying on the military and UN peacekeepers, and forging passports," Among those charged — several of them in absentia — are Abdul Rahman Awad and Abdul Ghani Jawhar, two members of the al-Qaeda inspired Fatah al-Islam accused of a deadly 2008 bus bombing in the northern city of Tripoli. Fatah al-Islam fought deadly battles against the Lebanese army in the summer of 2007 in the Palestinian refugee camp of Nahr al-Bared near Tripoli. [More>>alarabiya.net]
---
02.16.10 Foreigners reduce stakes in US Treasury
WASHINGTON (AP) February 16 - Record drop in foreign holdings in December; government might have to pay higher interest to attract investors. A record drop in foreign holdings of US Treasury bills in December sent a reminder that the government might have to pay higher interest rates on its debt to continue to attract investors. China reduced its stake and lost the position it held for more than a year as the largest foreign holder of Treasury debt. Japan retook the top spot as it boosted its Treasury holdings. The Treasury Department said foreign holdings of US Treasury bills fell by a record $53 billion in December. That topped the previous record drop of $44.5 billion in April 2009.

Private analysts, though, were split over the significance of the decline. Some doubted that the drop in foreign holdings of short-term Treasuries signified growing unease about holding US debt. They noted that net purchases of longer-term Treasury debt rose in December by $70 billion. But other economists saw the decline as a warning signal. They fear that foreigners, especially the Chinese, have begun to worry about record-high US budget deficits and are looking to diversify their holdings. A sustained drop in foreign demand for dollar-denominated assets could lead to higher US interest rates and falling stock prices. Those trends could threaten the US recovery. But economists said they see no such evidence yet. [More>>cbsnews.com]
---
02.16.10 Secret joint raid captures Taliban's top commander
WASHINGTON, February 15 - The Taliban's top military commander was captured several days ago in Karachi, Pakistan, in a secret joint operation by Pakistani and American intelligence forces, according to American government officials. The commander, Mullah Abdul Ghani Baradar, is an Afghan described by American officials as the most significant Taliban figure to be detained since the American-led war in Afghanistan started more than eight years ago. He ranks second in influence only to Mullah Muhammad Omar, the Taliban's founder and a close associate of Osama bin Laden before the Sept. 11 attacks.

Mullah Baradar has been in Pakistani custody for several days, with American and Pakistani intelligence officials both taking part in interrogations, according to the officials. It was unclear whether he was talking, but the officials said his capture had provided a window into the Taliban and could lead to other senior officials. Most immediately, they hope he will provide the whereabouts of Mullah Omar, the one-eyed cleric who is the group's spiritual leader.

...Details of the raid remain murky, but officials said that it had been carried out by Pakistan's military spy agency, the Directorate for Inter-Services Intelligence, or ISI, and that C.I.A. operatives had accompanied the Pakistanis. The New York Times learned of the operation on Thursday, but delayed reporting it at the request of White House officials, who contended that making it public would end a hugely successful intelligence-gathering effort. The officials said that the group's leaders had been unaware of Mullah Baradar's capture and that if it became public they might cover their tracks and become more careful about communicating with each other. [Full story>>nytimes.com]
---
02.16.10 Afghanistan missile that killed civilians 'hit target'
February 16 - A missile that struck an Afghan house killing 12 people hit its intended target, the commander of British forces in the country's south says. Maj. Gen. Nick Carter said the rocket had not malfunctioned, adding that the system responsible for firing the US missile was back in use. Officials have said three Taliban, as well as civilians were in the house. US forces have faced some resistance around the Taliban haven of Marjah as Operation Moshtarak continues. The progress of US troops has been hampered by sniper fire and improvised explosive devices (IEDs) in some areas. British and Afghan troops are reported to be advancing more swiftly in the nearby district of Nad Ali. A NATO spokesman said they had begun setting up joint patrol bases to provide a permanent security presence. [More>>bbc.co.uk]
---
02.16.10 Unknown Pakistan group claims responsibility for Pune attack
ISLAMABAD, February 16 - Laskhar-e-Taiba Al Alami, a hitherto unheard terror outfit, on Tuesday claimed it carried out the Pune blast because of India's "refusal" to discuss the Kashmir issue with Pakistan. The claim was made by a man who called an Islamabad-based correspondent of an Indian newspaper. The caller identified himself as Abu Jindal and described himself as the spokesman of the LeT Al Alami (International). The caller claimed his group carried out the attack in Pune that killed nine people because of what he described as India's "refusal" to discuss the Kashmir issue in forthcoming talks with Pakistan.

He also said his group had split from the Laskher-e Taiba because it "took orders" from Pakistan's Inter-Services Intelligence agency. The man said India's 'alliance' with the US was another reason for the attack. Asked if there were any other reasons, he said: "These are the only two reasons." "Joh bhi America ka ittehad hoga, hum uskey khilaf jang ladengey, chahey who India ho ya Pakistan (We will wage war against any ally of America, whether it is India or Pakistan)," the caller reportedly said. [>indianexpress.com]
---
02.16.10 Obama: New nuke plant 'only the beginning'
LANHAM, Maryland, February 16 - President announced about $8 billion in loan guarantees for new nuclear power reactors in Georgia. Promising "this is only the beginning," President Barack Obama on Tuesday announced more than $8 billion in federal loan guarantees for the construction of the first nuclear power in the United States in nearly three decades. The president cast his move as both economically essential and politically attractive as he sought to put more charge into his broad energy agenda. Obama called for comprehensive energy legislation that assigns a cost to the carbon pollution of fossil fuels, giving utility companies more incentive to turn to cleaner nuclear fuel.

"On an issue that affects our economy, our security, and the future of our planet, we can't continue to be mired in the same old stale debates between left and right, between environmentalists and entrepreneurs," Obama said in a stop at a job training center outside Washington. "Our competitors are racing to create jobs and command growing energy industries. And nuclear energy is no exception." Rising costs, safety issues and opposition from environmentalists have kept utility companies from building new nuclear power plants since the early 1980s. [More>>cbsnews.com]
---
02.16.10 Iran says ready to swap uranium with US - Ahmadinejad
MOSCOW (RIA Novosti) February 16 - Iranian President Mahmoud Ahmadinejad said on Tuesday his country is ready to swap uranium even with the United States, the ILNA news agency reported. "The case is not yet closed," Ahmadinejad said during a press conference in Tehran. "We have already announced that we are ready for a fuel exchange within a fair framework. We are still ready for an exchange, even with America." He stressed Iran is ready to pay for uranium swaps with the United States. "If the U.S. expresses a desire to participate in fuel exchanges, then we will be ready to cooperate and pay for the fuel," he said, adding that if Washington did not play fair, Tehran would "alter its approach." Ahmadinejad also said that world powers would "regret" any sanctions against Iran. [More>>en.rian.ru; See related story,

en.rian.ru, (RIA Novosti) February 16, "Russia, US, France express concerns over Iran's enrichment plan" : VIENNA - Russia, the United States and France have sent the head of the International Atomic Energy Agency a confidential letter expressing concern over Iran's move to begin enriching uranium to 20%. "If Iran goes ahead with this escalation, it would raise fresh concerns about Iran's nuclear intentions, in light of the fact that Iran cannot produce the needed nuclear fuel in time" to refuel the research reactor, said the letter, the text of which was made available to RIA Novosti...
---
02.15.10 Taliban 'forced from strongholds'
February 15 - A joint NATO and Afghan military operation is succeeding in pushing Taliban fighters from their strongholds in Helmand province, officials say. On day three of Operation Moshtarak, senior Afghan officers said areas around Marjah and Nad Ali were being cleared of insurgents. However, US troops in Marjah were being slowed down by snipers and home-made bombs, a BBC correspondent says. The campaign aims to bring the areas back under Afghan government control. However, the operation suffered a setback on Sunday when rockets fired by coalition troops killed 12 civilians. NATO commander Gen. Stanley McChrystal said that he "deeply regretted this tragic loss of life." In another blow to the coalition, NATO announced on Monday that five more civilians had been killed in an air strike outside of the operation — in Kandahar province. [More>>bbc.co.uk]
---
02.15.10 Iran moves towards military dictatorship: Clinton
RIYADH, Saudi Arabia (Reuters) February 15 - New UN sanctions on Iran would target enterprises controlled by the Revolutionary Guards which is driving the Islamic Republic toward a military dictatorship, US Secretary of State Hillary Clinton said on Monday. Speaking in Qatar before flying to Riyadh, Clinton denied the United States planned to attack Iran and said Washington wanted dialogue with Tehran but could not "stand idly by" while Iran pursued a suspected nuclear weapons programme. Asked if Washington planned to attack Iran, she replied: "No, we are planning to try to bring the world community together in applying pressure to Iran through sanctions adopted by the United Nations that will be particularly aimed at those enterprises controlled by the Revolutionary Guard, which we believe is, in effect, supplanting the government of Iran."

"That is how we see it. We see that the government of Iran, the supreme leader, the president, the parliament, is being supplanted and that Iran is moving toward a military dictatorship. That is our view," she said, speaking to students in a televised session. The United States is leading a push for the UN Security Council to impose a fourth round of sanctions on Iran, which says its nuclear program is to generate electricity so it can export more of its valuable oil and gas. [More>>khaleejtimes.com; See also:

cbsnews.com, February 15, "Iran becoming a 'dictatorship' " : ...Richard Haass, President of the Council on Foreign Relations think-tank in Washington, told "Early Show" co-anchor Maggie Rodriguez on Monday that Secretary Clinton's assessment was accurate. Iran is "no longer a theocracy, it's a thug-ocracy," quipped Haass, who then suggested the best way for the US government to try and curtail the trend was to actively support Iran's internal pro-democracy movement. "The biggest chance right now is trying to help the Iranians themselves bring about change," said Haass. Last week the US Treasury Department announced that it was freezing the assets in US jurisdictions of a Revolutionary Guard general and four subsidiaries of a previously penalized construction company he runs because of their alleged involvement in producing and spreading weapons of mass destruction...
---
02.15.10 West condemns Iran's 'bloody repression'
GENEVA, February 15 - Iran rejects human rights criticism as sanctions loom. Western powers accused Tehran of waging "bloody repression" since elections last year as they challenged Iran to open up to international scrutiny during a UN human rights meeting Monday. In a public review of Iran's record at the UN Human Rights Council, Britain, France, the United States and other Western nations expressed deep concern about reports of killings, arrests and torture in a clampdown on dissent. "The authorities are waging bloody repression against their own people, who are peacefully claiming their rights," French ambassador Jean Baptiste Mattei said.

.."With the victory of the Islamic revolution, the situation of human rights has consistently been used as a political tool to apply pressure against us and to advance certain ulterior political motives by some specific Western countries," Larijani told the UN Council. Iranian officials also highlighted steps to improve women's access to education, health and social status, and to protect children as well as the representation of religious minorities, and to combat traditions such as forced marriages. "The Iranian society is a successful model of brotherly and amicable coexistence," Larijani noted. [Full story>>alarabiya.net; See related, recent twitter.com posts:

♦ Guardian - The financial power of the Revolutionary Guards #iran #iranelection http://bit.ly/bqDYCY
♦ (February 13) Karroubi's son tortured & threatened to rape, his mom writes open letter to Khamenei: http://is.gd/8kqwK #Iran #IranElection
♦ (February 14) 6 international organizations write to Khamenei: http://is.gd/8noP7 #Iran #IranElection
♦ (February 15) Tehran prosecutor denies arrest of Karroubi's son: http://is.gd/8rPG2 #Iran #IranElection
♦ (February 15) Mousavi's wife hit on head, stomach + back on 11 Feb (IHRV 15 Feb) #iranelection http://bit.ly/akfje1
♦ (February 15) BILLIONS STOLEN BY IRANIAN REGIME #iranelection http://www.ireport.com/docs/DOC-394889
♦ (February 15) The Leaders of Islamic Republic of Iran must be tried! - http://bit.ly/8w7uMW - #iranelection #iran
♦ (February 15) Can Larijani also explain why #Humanrights activist Shiva Nazarahari is in cell so small she cant move @ all #iranelection
♦ (February 15) KHAMENEI, OUR MOTHERS & SISTERS ARE THE BACKBONE OF HUMANITY. ETERNAL SHAME ON YOU http://bit.ly/bbXMCU #iranelection
♦ (February 8) THEIR HEARTS ARE STILL BEATING! New video against the executions. http://bit.ly/1OxoFE #iranelection #humanrights

Earlier Maravot News, related entries:

Maravot News 1.11.10 (Article, 01.09.10 US shifts Iran focus to support opposition)
♦ Iran bans education for protest students -- for a lifetime http://bit.ly/7mfRc4 #iranelection
♦ Comprehensive list of those arrestted in Ashura: http://bit.ly/79znEs #iranelection
♦ #IranElection Photos of Islamic Republic thugs who murdered our brothers & sisters! #iranelection http://bit.ly/7wRaiK
♦ Lebanese Hezbullah among basij attacking ppl on #Ashura in #Iran http://bit.ly/8AghIE #IranElection
♦ Good collection of #Iran gov's key agents: http://bit.ly/7fPZ0F #IranElection
♦ House church members arrested http://is.gd/5Z14k #IranElection #HumanRights
♦ Trial of Recently Detained Baha'is to Start "this Week" in Tehran http://is.gd/5YY3A
♦ 9 Bahais have been arrested in Iran on Sunday (Fa) http://bit.ly/5vVhVG #Iranelection #iranelection
♦ 75 year old woman arrested in Laleh Park with Mourning Mothers taken to hospital (Fa) http://bit.ly/8ruTxM #IranElection
♦ Women under arrest are kept under horrifying conditions: http://bit.ly/5OCkmg #iranelection
♦ L'Iran redevient la plus grande prison du monde pour les journalistes http://bit.ly/4Myls6 (RSF) #IranElection
♦ Video - Tehran Dec 27, a woman who was ran over by police car: http://bit.ly/5gvov1 #Iran #IranElection
♦ #IranElection Reporters without borders: Iran is "largest prison for journalists" http://bit.ly/7jTWv4 #SOG

(December 27 Ashura protests, Maravot News 12.28.09)
♦ More footage from Iran.... http://tinyurl.com/yj2oeex #iranelection
♦ Video supposed to be footage Mousavi Nephew shhoting http://bit.ly/8oF7mx #iranelection
♦ IranRiggedElect Video - Tehran Dec 27 protestor crushed by truck: http://bit.ly/5gcWHb #Iran #IranElection #Ashura
♦ Jane Kokan secretly films shocking evidence of torture & murder of students http://bit.ly/HXL2l #Iran #IranElection (Watch pbs.org "Frontline" Video)
♦ (December 18) A khamenei representative calls for execution of green leaders: http://bit.ly/8SYIkW #Iran #IranElection

On Religious persecution: (February 15)
♦ Since 1979 tens of thousands Baháís in Iran deprived of jobs/pensions/businesses/education http://bit.ly/IRcvb #BahaiRights #IranElection (wikipedia.org: The Bahá'í Faith is a monotheistic religion founded by Bahá'u'lláh in nineteenth-century Persia, emphasizing the spiritual unity of all humankind.[1] There are an estimated five to six million Bahá'ís around the world in more than 200 countries and territories...)
♦ Enough is enough!!! 6 more Bahai's arrested in Tehran (IHRV 15 Feb) #iranelection http://bit.ly/aUTyy3

See also Maravot News 12.28.09 Editorial note to article 12.22.09 Cleric's funeral breathes life into Iran's protest movement: Editorial note: "Twitter postings protest Khamenei's abuse of power." The latest Twitter postings tend to be focusing on Khamenei's abuse of power through the Constitutional articles that invoke the "Valayat" and recent claims to be "The Imam," referring to the prophet Mohammed's successor. For a background on those powers see:

Maravot News 11.25.09A Editorial note "How Iran's persecutions relate to its Constitution." One of the problems with Iran's constitution is that it vests all power in the Supreme Leader who in effect speaks and decides for God and the nation on all issues...
...Article 5  [Office of Religious Leader]
During the occultation of the Wali al-'Asr **(may God hasten his reappearance), the leadership of the Ummah devolve upon the just and pious person, who is fully aware of the circumstances of his age, courageous, resourceful, and possessed of administrative ability, will assume the responsibilities of this office in accordance with Article 107.

The Velayat-e-Faqih is reflected in Iran's Constitution, "Principle 110." This principle essentially gives Khamenei the office of dictator:
Article 110  [Leadership Duties and Powers]
(1) Following are the duties and powers of the Leadership:
1. Delineation of the general policies of the Islamic Republic of Iran after consultation with the Nation's Exigency Council.
2. Supervision over the proper execution of the general policies of the system.
3. Issuing decrees for national referenda.
4. Assuming supreme command of the Armed Forces.
5. Declaration of war and peace and the mobilization of the Armed Forces.
6. Appointment, dismissal, and resignation of:
a. the religious men on the Guardian Council,
b. the supreme judicial authority of the country,
c. the head of the radio and television network of the Islamic Republic of Iran,
d. the chief of the joint staff,
e. the chief commander of the Islamic Revolution Guards Corps, and
f. the supreme commanders of the Armed Forces.
7. Resolving differences between the three wings of the Armed Forces and regulation of their relations.
8. Resolving the problems which cannot be solved by conventional methods, through the Nation's Exigency Council.
9. Signing the decree formalizing the election of the President of the Republic by the people.  The suitability of candidates for the Presidency of the Republic, with respect to the qualifications specified in the Constitution, must be confirmed before elections take place by the Guardian Council, and, in the case of the first term of a President, by the Leadership.
10. Dismissal of the President of the Republic, with due regard for the interests of the country, after the Supreme Court holds him guilty of the violation of his constitutional duties, or after a vote of the Islamic Consultative Assembly testifying to his incompetence on the basis of Article 89.
11. Pardoning or reducing the sentences of convicts, within the framework of Islamic criteria, on a recommendation from the Head of judicial power.
(2) The Leader may delegate part of his duties and powers to another person.
Khamenei seems to have taken upon himself The Wali al-'Asr who is also called the Mahdi. President Ahmadinejad has on several occasions stated that he believes that he lives in the time when the Iranian savior, the Mahdi, will reappear with Jesus. He has also been criticized by the clerics for claiming to speak to the Mahdi.Khamenei and Ahmadeinejad seem to project that they have a devine purpose and, as such, believing that Allah is directing them; they apparently feel justified in the persecutions and murders of Iranian peoples for which their regime has become notorious. The Khamenei regime point of view includes a perception that Iran will lead all nations (See Constitution) and their religious self-indulgent fervor makes them a greater danger to the world community at large if the regime develops nuclear weapons. If recent Twitter postings reflect the general mood of the Iranian people — disgusted at the apostasy of Khamenei and his supporters — throwing the Khamenei clerics out in a revolution would seem to be inevitable.

Mel Copeland

1.15.10 postscript - As the Guardian article indicated, Clinton's characterization on the military dictatorship of Iran is more like a consortium of IRG and Mullah interests. Perhaps it may be best compared to Italy's Fascist (unified, corporate) state. Iranians on twitter.com #IranElection often use the term "fascist" to describe Khamenei's regime. The regime's persecution of some religions and hatred of the Jews, recalls the Nazi / Hitler / SS consortium, where the SS held business interests in military and, as in Aushwitz, death camp operations.

For earlier twitter.com posts recorded on Maravot News scan our archives or google (search maravot.com) Iran, twitter posts, maravot

---
02.15.10 Four killed in N. Waziristan drone strike
MIRANSHAH, Pakistan, February 15 - Four people have been killed in yet another US drone strike here in North Waziristan. The US drone launched a missile targeting a spot in an area of Malik Azdar at Razmak Road in Miranshah. As a result 4 people riding a vehicle were killed, according to initial reports. Those killed have not yet been identified. [>thenews.com.pk]
---
02.15.10 Five Muslims get 23 to 28 years jail term over Australia terror plot
MELBOURNE, February 15 - Five Muslim extremists were today jailed up to 28 years by an Australian court for plotting violent attacks to protest the country's involvement in "War on Terror" in Afghanistan and Iraq. New South Wales Supreme Court Justice Anthony Whealy handed out the sentence to the five men who cannot be named and who had been found guilty in October 2008 for stockpiling arms and explosives and chemical and bomb making manuals for attacks on unspecified targets...Four of the accused of Lebanese descent and the fifth one were handed maximum jail terms...[Full story>>timesofindia.indiatimes.com]
---
02.14.10 NATO says 12 Afghan civilians dead in missile strike
MARJAH, Afghanistan (Reuters) February 14 - NATO rockets killed 12 Afghan civilians on Sunday, missing Taliban militants attacking NATO and Afghan troops as they press ahead with a major offensive that must win over the local population to succeed. It's regrettable that in the course of our joint efforts, innocent lives were lost. We extend our heartfelt sympathies and will ensure we do all we can to avoid future incidents," NATO commander US General Stanley McChrystal said in a statement. US Marines came under intense fire on Sunday after taking over a building in the heart of the last major Taliban bastion in Helmand province.

Taliban fighters unleashed automatic gunfire at NATO helicopters flying in and out of the town of Marjah, and fired on Marines during a ceremony to raise the Afghan flag over the compound to mark progress in the offensive. Captain Ryan Sparks compared the intensity of the fighting to the US-led offensive against militants in the Iraqi town of Fallujah in 2004. "In Fallujah, it was just as intense. But there, we started from the north and worked down to the south. In Marjah, we're coming in from different locations and working toward the centre, so we're taking fire from all angles," Sparks said.

NATO forces had advised civilians not to leave their homes, although they have said they do not know whether the assault will lead to heavy fighting. Heavy civilian casualties could put them under pressure from human rights groups, who say that since NATO has encouraged people to stay, it bears an additional legal and moral responsibility to avoid heavy fighting that would harm them. Most of the population of the area, estimated at up to 100,000, has stayed put. [More>>thestar.com.my; See a detailed "1st day report,"

thenews.com.pk, February 14, "Forces claim establishing control on Taliban hideout in Afghanistan" : ...In a day of intense but sporadic fighting Saturday, American, Afghan and British troops seized crucial positions across Marjah. As the troops began to fan out on house-to-house searches, fighting with Taliban insurgents grew in frequency across a wide area. The pattern suggested that the hardest fighting lies in the days to come. One American and one British Marine were reported killed by small-arms fire, but none in the Afghan army, whose soldiers make up the majority of those in the fight....Some Marines held meetings with local Afghans almost immediately to reassure them and to ask for help in finding Taliban and hidden bombs...Mohammed Dawood Ahmadi, a spokesman for Helmand province's governor, said Afghan and NATO forces had set up 11 outposts across Marjah and two in the neighboring town of Nad Ali. "We now occupy all the strategic points in the area," he said.

From those posts, Marines and soldiers began to go on patrols, searching door to door for weapons and fighters. This phase of the operation, considered the most dangerous, is expected to last at least five days. The biggest concern is bombs and booby-traps. Company K is part of what many Marines call a surge battalion, one of the units assigned to Afghanistan after President Barack Obama decided last year to increase the US troops on the ground. It arrived in Afghanistan a month ago. Its introduction to the war was a crash course. As the helicopter wheels touched soil Saturday, the aircraft filled with whoops, and the Marines stood and bolted for the tail ramp. They moved briskly. Within minutes, the first Marines of 3rd Platoon were entering compounds, checking for enemy fighters and booby traps. Sergeants and corporals urged a steady pace. "Go! Go! Go!" they said, spicing instructions with profanity. By3am, Company K had its toehold...
---
02.14.10 Rights groups urge Iran to free reporters, bloggers
GENEVA (AFP) February 14 - Media rights watchdog groups on Sunday called on Iranian supreme leader Ayatollah Ali Khamenei to free more than 60 journalists, writers and bloggers held after anti-government protests. "By our count, at least 60 writers, journalists and bloggers remain behind bars today in violation of the protection guaranteed in the Islamic republic of Iran constitution and in international law," six groups said in an open letter to Khamenei. "This list constitutes the largest number of our colleagues jailed by any country on earth at one time in over a decade," it said ahead of a hearing on Iran at the UN Human Rights council in Geneva on Monday.

The list covers those detained in the aftermath of a disputed June election which returned Iranian President Mahmoud Ahmadinejad to power and was followed by huge anti-government protests and a strong crackdown. The street protests were the worst political violence to rock Iran in the 30-year history of the Islamic republic, shaking the regime and dividing the ruling elites and powerful clerical groups. The letter to Khamenei was written by the Committee to Protect Journalists, PEN, Index on Censorship, Reporters Without Borders, Canadian Journalists for Free Expression and the International Publishers Association. "We do not ask you to act outside your laws or the ideals of the Iranian revolution," the letter said. "Rather, we entreat you to uphold the pledges of Ayatollah Khomeini (the founder of the Islamic republic) and the promises of the Iranian constitution by releasing all writers, journalists and bloggers currently behind bars for covering the news and expressing their views in Iran." [>khaleejtimes.com]
---
02.14.10 Frustration grows over Obama's Mideast policy
DOHA, Qatar (AFP) February 14 - Hopes of a new US approach to the Muslim world under President Barack Obama are giving way to frustration over the deadlock in Middle East peace efforts, participants in a US-Islam forum said on Sunday. Eight months after Obama addressed the Muslim world from Cairo, prospects for a US policy shift in the region are fading, said Shibly Talhami, a US academic of Arab origin. "There has been diminishing hope and optimism about American policy in the Middle East in the past month," he told participants at a workshop of the forum in the Qatari capital...But positions adopted since his election have been "disappointing," he said, pointing to Washington "backing down on (Israeli) settlements (in the West Bank) and saying it is up to the Palestinians to take steps," he said. The US president on Saturday reiterated his commitment to work towards ending the Israeli-Palestinian conflict based on a two-state solution, in a video address to the forum. He also named a special representative at the largest pan-Islamic body, the Organization of the Islamic Conference. [Full story>>alarabiya.net]
---
02.14.10 US drone kills five militants in northwest Pakistan
ISLAMABAD (RIA Novosti) February 14 - At least five militants were killed in Pakistan's North Waziristan region on the border with Afghanistan on Sunday during a US drone attack, Pakistani security officials said. The drone's two missiles hit a militant compound near the town of Mir Ali, some 25 kilometers (15 miles) east of North Waziristan's main town of Miranshah. The compound was used for training insurgents, the Pakistani security officials said. [More>>en.rian.ru]
---
02.13.10 At least 20 Taliban killed in major Afghan offensive
MARJAH, Afghanistan, February 13 - Thousands of US-led troops backed by helicopters Saturday stormed an Islamist stronghold in southern Afghanistan in NATO's biggest operation since the Taliban regime's overthrow in late 2001. US Marines led the charge on Marjah, a town of 80,000 in the central Helmand River valley controlled for years by militants and drug traffickers in the first major test of President Barack Obama's new surge policy. US, British and Afghan soldiers dropped into Marjah from helicopters before dawn, immediately coming under fire and claiming their first Taliban victims within hours, Afghan army and Marines officers said.

Operation Mushtarak ("together" in Dari), as the assault involving 15,000 troops is known, aims to clear the area of Taliban and re-establish Afghan sovereignty and civil services, Helmand Governor Mohammad Gulab Mangal said. British forces suffered their first casualty of the operation when a soldier was killed in an explosion while on a vehicle patrol in Helmand province's Nad-e-Ali area, Britain's Defence Ministry said in London. NATO's International Security Assistance Force (ISAF) said five foreign soldiers died on Saturday in the south of Afghanistan, three of them US troops, but did not say if they had been involved in the Marjah attack.

At least 20 Taliban fighters were killed in the first hours of the assault, said General Sher Mohammad Zazai, commander of the operation's Afghan troops. "So far, we have killed 20 armed opposition fighters. Eleven others have been detained," he said, adding they were killed in separate engagements. Afghan Defence Minister Abdul Raheem Wardak said the operation was making painstaking progress because the area had been laced with deadly improvised explosive devices (IEDs), which can be almost impossible to detect.

..The commanders were "very pleased with how it has gone," Major General Gordon Messenger told a briefing in London. "The key objective has been secured," he said, explaining that the main aims for British troops were to secure the population centres and installations such as police stations in the the Chah-e Anjir Triangle northeast of Marjah. There had been some "sporadic fighting," but the Taliban appeared to be "confused and disjointed" and "have not been able to put up a coherent response," Messenger said. [Full story>>thenews.com.pk; See other details,

haaretz.com, February 13, "NATO attack on Afghanistan Taliban going 'without a hitch' " : The major US-led assault largest offensive against Taliban strongholds underway in Afghanistan was reaching its objectives according to plan, the commander of NATO forces in the south of the country said on Saturday. Maj. Gen. Nick Carter, NATO commander of forces in southern Afghanistan, said Afghan and coalition troops, aided by 60 helicopters, made a successful insertion into Marjah in southern Helmand province, adding that the operation "was going without a hitch."..."The first phase of the operation is proceeding very successfully. The Taliban have heavily booby-trapped the area, but there has not been any fierce fighting yet," Helmand Governor Gulab Mangal told a news conference. "We have seized 11 key locations in the district and the resistance from the insurgents has been subdued." ...

independent.co.uk, February 13, "UK troops engaged in Operation Moshtarak" : ...Carter said coalition forces hoped to install an Afghan government presence within the next few days and would work to find and neutralise improvised explosive devices - home-made bombs - left by the militants. Still, the town's residents have displayed few signs of rushing to welcome the attack force. "The elders are telling people to stay behind the front doors and keep them bolted," Carter said. "Once people feel more secure and they realize there is government present on the ground, they will come out and tell us where the IEDs are." The overwhelming military edge already seen in the first hours of the offensive would be essential to maintain, Carter said. "Everybody needs to understand that it's not so much the clear phase that's decisive. It's the hold phase."...
---
02.13.10 Ash from Monserrat volcano snaps Caribbean flights
ST. JOHN'S (AFP) February 13 - Many flights around the Caribbean remained cancelled Saturday due to clouds of ash spewed into the skies by a volcanic eruption on the island of Montserrat, officials said. "The continued ash hanging in the atmosphere presents a risk to planes and to the security of passengers," the police in the nearby island of Guadeloupe said in a statement. Hundreds of tourists have been trapped on the French territory of Guadeloupe since the volcano erupted on Thursday, officials said. But the airport in Guadeloupe, which lies just 80 kilometers (50 miles) south of Montserrat, would remain closed until Sunday, it said. "The dispersion of these ashes will depend on today's weather conditions," it added in a statement, after fire engines were deployed late Friday to try clear the airport's runways of a thick layer of ash. Montserrat's Soufriere Hills volcano erupted Thursday, sending a plume of ash 10 kilometers (six miles) high into the sky, the Montserrat Volcano Observatory on the British overseas territory said.

...In Guadeloupe, some 300 people were stranded on the islands waiting to leave, the director of the islands' tourism office Thierry Gargar told AFP. He added they were all being accommodated in hotels on the islands. Flights to other Caribbean tourist hotspots including Anguilla, St. Kitts and Nevis and St. Maarten also remained disrupted. The Soufriere Hills volcano, which had lain dormant throughout recorded history, rumbled into life in July 1995, when it erupted spewing a huge plume of ash and molten lava into the sky. The island's capital city Plymouth was buried in ash and volcanic debris in a further massive eruption a month later and destroyed. Two-thirds of the island's population were forced to flee abroad. [Full story>>khaleejtimes.com]
---
02.13.10 Huge waves at Mavericks injure spectators
HALF MOON BAY, Californai, February 13 - Massive waves are rolling into the San Mateo County coast today, providing prime conditions for the 24 men riding the giants at the Mavericks Surf Contest but danger for some of the thousands of spectators who wanted to see the event in person. A series of waves crashed over a jetty and a sandy berm shortly after 9am, injuring fifteen people. The most serious injuries involved broken bones — including a man with a broken leg and a woman with a busted ankle. Three people were taken by ambulance to local hospitals, said Capt. Joe Santos of the California Department of Forestry and Fire Protection. The injuries prompted an evacuation of the beach, but at 11:45am, hundreds remained on the beach, where vendors continued to sell pizza, sausages, t-shirts and memorabilia. Some of the waves at Mavericks, off Pillar Point north of Half Moon Bay, appeared to be up to 40 feet high. They were clean and smooth — great for surfing — thanks to low wind in the area.

Surfers said they were among the biggest waves in the history of the contest. But the conditions were perilous on a beach where spectators gathered despite being warned by organizers that the view was difficult. Hundreds of them clambered up hillsides trying to get a view of the competition. But it was foggy and the waves were so big that a surfer on one wave could be obscured by the wall of water in front of him. Many people watched a big screen on the beach. A series of waves, though, knocked down scaffolding set up to hold the contest's award ceremony. County sheriff's deputies hustled people off the beach and set up barricades in some spots. [More>>sfgate.com (San Francisco Chronicle)]
---
02.13.10 Terror talk growing louder on the Web
February 13 - Exclusive: US intel officials seeing spike in al-Qaeda-linked internet chatter focused on ways to thwart airport security. CBS News has learned that US Intelligence officials are seeing a marked increase in terror-related Internet chatter with a frightening focus: Jihadists bent on finding gaps in airport security - all linked to al-Qaeda in Yemen, reports CBS News chief investigative correspondent Armen Keteyian. On one radical website, a writer invites fellow members to post information on how to bypass airport screening. Another member asks about explosive detection devices, writing: "We have that system in place in Algiers...does anyone know if it's capable of detecting [the flammable gas] butane?" On another Jihadist site, a visitor questions security involving 3D scanners at British airports asking: "Can I refuse [to pass through] for religious reasons?" Before long comes this answer: "…advise those who wish to avoid the Heathrow scanners to take the train to Paris... and then board a plane from there." Perhaps most disturbing — the recent discovery of a confidential TSA document on a Yemeni Web site discussing the rules for searching passengers. [>cbsnews.com]
---
02.13.10 8 confirmed dead, 33 injured in blast at Pune bakery
PUNE, India, February 13 - In a suspected terror attack, eight people were killed and 40 injured, including a foreigner, in a bomb explosion in a popular bakery near a Jewish prayer house here in the first major strike after the 26/11 carnage in Mumbai. The blast occurred in the German Bakery, an old business establishment in the Cantonment area of the city, at around 1930 hours when a waiter at the bakery tried to open an unattended bag. (Watch Video) The famous Osho Ashram, frequented by foreigners, is also located in the vicinity of the blast site. US terror suspect David Headley is believed to have stayed at the Ashram during his visit to the city. "It's most probably a terror attack. We are sending a forensic team of CBI and personnel of National Investigative Agency (NIA)," Union Home Secretary Gopal Krishna Pillai said in New Delhi. Official sources said an Improvised Explosive Device was used to trigger the blast. Maharashtra Minister of State for Home Ramesh Bagve, who is an MLA from the constituency, said up to 40 people were injured, three of them seriously. A team of Anti-Terrorism Squad and bomb disposal squad visited the spot to ascertain the nature of the blast. [>timesofindia.indiatimes.com; See other details,

msnbc.msn.com, February 13, "9 killed in suspected terrorist attack in India" : A powerful explosion ripped through a crowded bakery popular with foreigners in the western Indian city of Pune on Saturday, killing at least nine people and injuring 32 others, officials said. The blast, which officials said was caused by a bomb, threatened to damage new efforts to reduce tensions between India and Pakistan, with Hindu nationalist leaders already placing the blame for the explosion at India's Muslim neighbor...
---
02.13.10 Iraqi, US forces battle militia group, five killed
BASRA, Iraq (Reuters) February 13 - Forces raided a suspected Iranian-backed terrorist group. Iraqi security forces backed by US troops killed at least five people on Friday in a raid on suspected members of what Washington calls an Iranian-backed terrorist group, the US military said. While overall violence in Iraq has fallen over the last two years, attacks and fighting remain common as Iraq gears up for a March 7 election and US troops prepare to stop combat operations ahead of a withdrawal by the end of 2011. The firefight with suspected members of Kata'ib Hezbollah, a group that the US State Department says has ties to Lebanon's Hezbollah, occurred 265 km (165 miles) southeast of Baghdad in a village near the Iranian border. Twelve people were arrested. "The joint security team was fired upon by individuals dispersed in multiple residential buildings ... members of the security team returned fire, killing individuals assessed to be enemy combatants," the US military said in a statement. "While the number of casualties has not yet been confirmed, initial reports indicate five individuals were killed," it said without specifying who was killed in the raid. [More>>alarabiya.net; See related story,

alrabiya.net (AFP) February 13, "Al-Qaeda in Iraq leader threatens polls violence" : WASHINTON - Vows to prevent elections by "military means." The leader of al-Qaeda in Iraq, Abu Omar al-Baghdadi, threatened in an audio recording late on Friday to stop Iraqi parliamentary elections by "military means," the SITE monitoring service said. SITE, which monitors Islamist websites, said Baghdadi condemned the March 7 elections as a political crime plotted by Shiites. "(We) have decided to prevent the elections by all legitimate means possible, primarily by military means," the service quoted him as saying. The speech, which runs 34 minutes and 22 seconds and was produced by the group's media arm, al-Furqan, was posted on jihadist websites on Friday, SITE said....
---
02.13.10 Obama picks special envoy to world Muslim group
WASHINGTON, February 13 - President Barack Obama appointed a special envoy Saturday to the Organization of the Islamic Conference, the 57-nation organization that calls itself the "collective voice of the Muslim world." He is Rashad Hussein, an Indian-American Muslim who has been a deputy associate White House counsel, described by Obama as "an accomplished lawyer and a close and trusted member of my White House staff."
Obama made the announcement Saturday in a video message to the US-Islamic World Forum in Doha, Qatar. He said he made the move to broaden the outreach strategy toward the Muslim world he laid out last year in Cairo. "Rashad has played a key role in developing the partnerships I called for in Cairo. And as a hafiz of the Quran, he is a respected member of the American Muslim community, and I thank him for carrying forward this important work," Obama said. A hafiz is someone who has memorized the Quran, the sacred book of Islam. [More>>cnn.com]