News Headlines & Trends
---
3.16.11 Status of quake-stricken reactors at Fukushima nuclear power plants
TOKYO, March 16 - The following is the known status as of Wednesday evening of each of the six reactors at the Fukushima No. 1 nuclear power plant and the four reactors at the Fukushima No. 2 plant, both in Fukushima Prefecture, which were crippled by Friday's magnitude 9.0 earthquake and the ensuing tsunami.

Fukushima No. 1 plant

♦ Reactor No. 1 - Suspended after quake, cooling failure, partial melting of core, vapor vented, building damaged Saturday by hydrogen explosion, seawater being pumped in.
♦ Reactor No. 2 - Suspended after quake, cooling failure, seawater being pumped in, fuel rods fully exposed temporarily, vapor vented, building housing reactor damaged Monday by blast at reactor No. 3, damage to containment vessel on Tuesday, potential meltdown feared.
♦ Reactor No. 3 - Suspended after quake, cooling failure, partial melting of core feared, vapor vented, seawater being pumped in, building housing reactor damaged Monday by hydrogen explosion, high-level radiation measured nearby on Tuesday, plume of smoke observed Wednesday, damage to containment vessel likely.
♦ Reactor No. 4 - Under maintenance when quake struck, fire Tuesday possibly caused by hydrogen explosion at pool holding spent fuel rods, abnormal temperature rise in spent-fuel storage pool but water level not observed, fire observed Wednesday at building housing reactor, no water poured in to cool pool, spraying of boric acid being considered [More>>japantoday.com; See related stories,

msnbc.msn.com, March 16, "' Slow-moving nightmare' unfolds at Japan nuclear plant" : TOKYO - European Union's energy chief says nuke plant is 'effectively out of control.' Japan's nuclear crisis appeared to be spinning out of control on Wednesday after workers withdrew briefly from a stricken power plant because of surging radiation levels and a helicopter failed to drop water on the most troubled reactor. In a sign of desperation, crews planned to try to cool spent nuclear fuel at one of the facility's reactors with water cannons, normally used to quell riots.

japantimes.com, March 16, "Identification of dead taxing as toll soars."
---
3.16.11 Saif Gaddafi: Benghazi will fall in 48 hours
March 16 The Libyan rebel stronghold of Benghazi will fall to government forces within 48 hours, Saif Gaddafi has said in a television interview. Saif, the son of Libyan dictator Muammar Gaddafi, told France-based Euronews that any decision taken by the United Nations would come "too late." Pro-government forces have been attacking rebel towns, including Ajdabiyah as they sweep east. Asked about Benghazi, Saif said: "Everything will be over in 48 hours." World leaders are meeting later, at the UN in New York, to discuss imposing a no-fly zone over Libya. Saif said: "The military operations are finished. In 48 hours, everything will be over. "Our forces are close to Benghazi. Whatever decision is taken, it will be too late." [More>>news.sky.com]
---
3.16.11 Forces clear Manama Pearl Square, 3 policemen killed
MANAMA, Bahrain, March 16 -Schools, universities & bourse closed until further notice. Three protesters and three police were killed in clashes between demonstrators and the security forces in Bahrain on Wednesday, opposition and official sources said. The third policeman died of wounds Wednesday after being run down by a car driven by a protester on Tuesday, the interior ministry said. Hundreds of riot police drove pro-democracy demonstrators out of Manama's Pearl Square Wednesday, clearing the symbolic heart of the uprising. "Necessary action will be taken against anyone flouting the law," the Bahrain Defense Force said in a statement. [More>>alarabiya.net]
---
3.16.11 One dead, 200 wounded in Yemen anti-government protests
(Reuters) March 16 - Doctor says protesters attacked by security forces and plainclothes police using tear gas, rubber bullets, live fire and bats. One person was killed and 200 wounded when Yemen security forces attacked protesters in the Red Sea city of Hudaida with live and rubber bullets, tear gas, clubs and daggers, a doctor who treated victims said. The impoverished Arabian Peninsula state has been hit by weeks of protests against the 32-year rule of President Ali Abdullah Saleh. Both pro and anti-government factions appear to have increasingly resorted to violence in the struggle. [More>>haaretz.com]
---
3.16.11 Pakistan frees CIA contractor held for murder
(AFP) March 16 - Pakistan on Wednesday freed a CIA contractor held for double murder after blood money was paid to the families of the dead. Raymond Davis, remanded in jail since he shot dead two men in Lahore on January 27, claimed he acted in self-defence and has been backed by US authorities who said he was an embassy employee with full diplomatic immunity...The minister said the case had been settled with blood money, or "diyat" — a provision commonly used under Pakistani and Islamic sharia law in which compensation can be paid to relatives of those killed to secure a pardon. [Full story>>khaleejtimes.com]
---
3.16.11 US unarmed drones track drug gangs in Mexico - Report
March 16 - The US has been sending unarmed drones over Mexico since February to gather intelligence on major drug cartels, the New York Times reports. Useful information has already been turned over to Mexican authorities, US officials told the paper. The missions had been kept secret because of Mexican legal restraints and sensitivities over sovereignty. Mexico's northern border areas have seen much of the violence that has left more than 34,000 dead since late 2006. The New York Times reports that the Obama administration began sending high-altitude, unarmed drones over Mexican territory in February, aiming to collect information to turn over to Mexican law enforcement agencies. [More>>bbc.co.uk]
---
3.15.11 Radiation levels spike in Tokyo; capital still safe, Ishihara says
March 15 - Radiation reached around 20 times normal levels in the capital Tuesday morning, the Tokyo Metropolitan Government said, while offering the assurance this reading posed no immediate risk to human health and that the public should remain calm. "I received a report this morning that there was an important change of data," Gov. Shintaro Ishihara said at a news conference. "I heard that it will not immediately cause health problems." He said the metropolitan government would continue to give minute-by-minute updates. At a metropolitan facility in Setagaya Ward, "a very small amount" of iodine and cesium, substances generated by a nuclear reaction, were detected in floating dust particles between midnight and 7:12am. At a facility in Shinjuku Ward, a maximum hourly level of 0.809 microsievert was detected at around 10am, but the hourly level went down to 0.151 microsievert after 11am. These figures compare with 0.035 to 0.038 microsievert detected Monday, and 50 microsieverts absorbed when one takes a chest X-ray. [More>>japantimes.com; See related stories,

en.rian.ru, March 15, "Fukushima operator says will evacuate control room personnel" : The operator of Japan's Fukushima Nuclear Power Plant said on Tuesday that all personnel must be evacuated from the control room at the plant's reactor No.1 after radiation levels became critical, Kyodo news agency said. The agency did not report the exact radiation level reading. Tokyo Electric Power Co. said the container of a plant reactor may have been partially damaged, Jiji Press reported. The company said earlier on Tuesday the problem could develop into a critical ''meltdown'' situation after part of container vessel in reactor No. 2 was damaged following a hydrogen explosion at 6:10am (21.10, Monday GMT). The level of radiation around Fukushima No.1 is high enough to affect human health, Chief Cabinet Secretary Yukio Edano said earlier on Tuesday...

cnn.com, March 15, "Handful of 'heroes' battles to keep nuclear plant under control" : TOKYO - After three explosions and a fire in four days, the situation at Japan's earthquake-stricken Fukushima Daiichi nuclear plant grew more serious Tuesday, chasing all but a handful of workers from the site and raising fears of a far more dangerous radiation threat. The latest incidents, an explosion Tuesday at the plant's No. 2 reactor and a fire in a cooling pond used for nuclear fuel at the No. 4 reactor, briefly pushed radiation levels at the plant to about 167 times the average annual dose of radiation, according to details released by the International Atomic Energy Agency. That dose would quickly dissipate with distance from the plant, and radiation quickly fell back to levels where it posed no immediate public health threat, Chief Cabinet Secretary Yukio Edano said...

bbc.co.uk, March 15, "Japan earthquake: Radiation levels fall at Fukushima" : Radiation levels have fallen at Japan's earthquake-stricken Fukushima Daiichi nuclear plant, the government says. The levels had spiked to harmful levels after a fire and a third explosion at the site. Weather reports say winds are blowing radiation from the plant, on Japan's north-east coast, over the Pacific. Friday's 9.0-magnitude quake and tsunami devastated Japan's north-east coast, with more than 3,000 confirmed dead and thousands missing. Officials have warned people within 20-30km of the nuclear plant to either leave the area or stay indoors...

msnbc.msn.com, March 15, "Japan crisis now worse than Three Mile Island" : SOMA, Japan - The catastrophe at Japan's stricken nuclear complex is now worse than Three Mile Island, experts said Tuesday, after the two most recent blasts exposed a spent fuel pool to outside air and might have compromised a reactor shield. An explosion overnight at Unit 4 at the Fukushima Daiichi nuclear plant opened two large holes in the structure housing spent nuclear fuel rods in a large pool. Japanese officials told the International Atomic Energy Agency (IAEA) that the spent fuel storage area had caught fire and that radioactivity was "being released directly into the atmosphere." After the fire was extinguished, a Japanese official said the spent fuel pool might still be boiling, though the reported levels of radiation had dropped dramatically by evening. Experts noted that much of the leaking radiation was apparently in steam from boiling water. It had not been emitted directly by fuel rods, which would be far more virulent, they said...
---
3.15.11 Stocks slump worldwide as investors flee risk
March 15 - Investors around the world made a dash for safety on Tuesday, fearing the prospects of a nuclear catastrophe in Japan. The dollar strengthened and yields on German, French and American bonds declined as prices rallied. The benchmark 10-year Treasury bond was down to 3.29 percent from 3.36 percent late Monday. Equity markets sold off — the disaster in Japan the latest blow to prospects for global economic growth. The benchmark index in Tokyo fell more than 10 percent, its lowest close in nearly two years, placing it on track for its largest two-day drop since 1987. Other markets were down 1.5 to 3 percent...In early afternoon trading, the Dow Jones industrial average was down 215.28 points, or 1.8 percent, while the broader Standard & Poor's 500-stock index dropped 22.45 points, or 1.7 percent. The Nasdaq lost 46.61 points, or 1.73 percent. Many companies with ties to Japan were hit hard. [Full story>>nytimes.com]
---
3.15.11 Netanyahu: Arms on seized ship came from Iran via Syria
March 15 - Israel Navy seized ship which IDF said contained 'tons' of concealed weapons destined for 'use of terror organization operating in Gaza Strip.' Prime Minister Benjamin Netanyahu said Tuesday that weapons seized by the Israel Navy from a ship bound for Egypt earlier in the day had come from Iran, via Syria, and were intended for militants in Gaza. "We are currently collecting information and the one thing that is certain is that the weapons are from Iran with a relay station in Syria," Netanyahu said. "Last night, I granted permission to take over a ship for which we had the basis to think that there were weapons on it destined for Gaza," Netanyahu said. "The source of the weapons is Iran, which continues to try to arm terrorist forces against Israel." "It is our right and duty to stop the smuggling of these weapons," the prime minister said, adding that all nations connected to the ship had been updated on the situation. The Israel Defense Forces' Spokesman said that "Victoria" had set out from the Lattakia port in Syria and sailed to Mersin, Turkey. It was seized while on its way from Turkey for the El-Arish port in Egypt. Turkey is not responsible for the ship "in any aspect," the IDF said. [More>>haaretz.com]
---
3.15.11 Key town 'falls' to Gaddafi forces
March 15 - Gaddafi loyalists claim "total control" of last town on road to Benghazi as rebels' retreat continues. Gaddafi loyalists claim "total control" of last town on road to Benghazi as rebels' retreat continues. Libyan rebels are retreating from the strategic town of Ajdabiya under heavy bombardment by Muammar Gaddafi's forces, according to reports, as the international community continues to debate a possible no-fly zone to protect an anti-government uprising. The town on Libya's east coast is all that stands between the advance of Libyan government troops and the rebel stronghold of Benghazi and lies on a road junction from where Gaddafi's forces could attempt to encircle the city. [More>>aljazeera.net]
---
3.15.11 King declares state of emergency for three months
(Reuters) March 14 - Bahrain's King has declared a three-month state of emergency Tuesday, in response to weeks of anti-government protests. The order, which takes immediate effect comes one day after Saudi troops entered the country to help quell unrest. Bahrain declared martial law on Tuesday, looking to end weeks of protests by the island's Shi'ite Muslim majority, with Saudi troops on hand in the Sunni-ruled kingdom to help quell the unrest. The three-month state of emergency will hand considerable powers to Bahrain's security forces, which are dominated by the country's Sunni elite, stoking sectarian tensions in one of the Gulf's most politically volatile nations. In a sign of continued disturbances on the island, an opposition politician said a Bahraini man was killed in clashes with police in the Shi'ite Muslim area of Sitra and several others were wounded. [More>>france24.com]
---
3.15.11 Book bomb new form of terror against rights activists: Setara
JAKARTA, March 15 - Rights group Setara Institute has issued a statement condemning Tuesday's bomb attack aimed at liberal Muslim activist Ulil Abshar Abdhalla, saying the incident constituted a "new terror for rights activists." In the statement the group also blamed President Susilo Bambang Yudhoyono for doing next to nothing to ease growing social tension between different religious groups in Indonesia, saying this inaction had been used by "certain parties" to push their agendas. The attack was probably related to pressures to ban Islamic minority sect Jamaah Ahmadiyah, it said. "Setara Institute strongly suspects that the bomb was made by a trained group. Investigation is required to find the perpetrators behind the incident. The explosion occurred at about the same time as strong calls were being made by various parties to stay away from the handling of Ahmadiyah issue," the statement read. "The Utan Kayu bomb, whoever sent it, is a form of pressure intended for those groups that have all this while been promoting human rights, including freedom of religions and faith," it said. [More>>thejakartapost.com]
---
3.15.11 Government agrees to release impounded BM Bibles
PETALING JAYA, Malaysia, March 15 - The government has agreed to release the 35,000 Bahasa Malaysia Bibles, currently impounded at Port Klang and Kuching Port. In a statement Tuesday, the Performance Management and Delivery Unit (Pemandu) under the Prime Minister's Department said the release was in line with the 1982 gazette under the Internal Security Act which allows limited and controlled importation and circulation of Bibles in Bahasa Malaysia, which must be stamped "for Christians only." "After a thorough review, the Attorney-General has confirmed that the release of the Bibles do not prejudice the ongoing court case of the Kalimah Allah issue," said Pemandu in the statement. On Sunday, Home Minister Datuk Seri Hishammuddin Tun Hussein said the impoundment of Bibles at Port Klang and Kuching Port was because of the pending court appeal by The Herald, the Malaysian Catholic weekly, over the use of the word Allah in its publication. [More>>thestar.com.my]

---
Editorial note: For background on the "Kalimah Allah issue" see "The Allah Controversy." The controversy involves a fundamental failure to understand the Koran, first by the Malaysian government and its clerics and secondly by the Catholic Church. The Church has been forbidden to use the term "Allah" for "God" in its documents, newspapers and Bibles. The Koran says in many verses that it was writt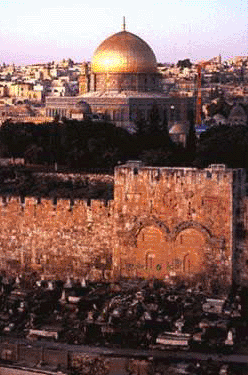 en to confirm the Jewish Scriptures, and specifically lists its confirmation of the Books of Moses, Torah and Gospel (of Christ), i.e., the Bible. A document such as the Koran that claims to confirm the Bible cannot dispute that which it claims to confirm. Thus, the God of the Koran would have to be the same God of the Bible. Furthermore, the requirement of the Malaysian government requiring the stamp "for Chrisitans only" would necessarily prevent Muslims from inquiring into the Bible which the Koran claims to confirm. As will be seen in "The Allah Controversy" the issue extends to misunderstandings involving the Messiah of the Bible. For instance, the main gate to the Temple mount in Jerusalem, the Golden Gate was sealed by the Ottoman ruler Sulieman I (1541) with the purpose of preventing the Jewish Messiah from entering the Temple Mount. Muslims believe that the Messiah will rebuild the Temple and in the process destroy the mosques on the mount, including the Dome of the Rock. However, if we accept the Koran's claim to confirm the Jewish scriptures, then one might wonder how Muslims can view the Messiah as being only of and for the Jews.

Mel Copeland

---
3.14.11 Meltdown threat rises at Japanese nuclear plant
SOMA, Japan, March 14 - The fuel rods in all three of the most troubled Japanese nuclear reactors — each of which lost its cooling system in Friday's massive earthquake and tsunami — appear to be melting, the nation's chief government spokesman said Monday. "Although we cannot directly check it, it's highly likely happening," Chief Cabinet Secretary Yukio Edano told reporters. Water levels dropped precipitously Monday inside a stricken Japanese nuclear reactor, twice leaving the uranium fuel rods completely exposed and raising the threat of a meltdown, hours after a hydrogen explosion tore through the building housing a different reactor. Water levels were restored after the first decrease but the rods remained exposed late Monday night after the second episode, increasing the risk of the spread of radiation and the potential for an eventual meltdown. The cascading troubles in the Fukushima Dai-ichi plant compounded the immense challenges faced by the Tokyo government, already struggling to send relief to hundreds of thousands of people along the country's quake-and tsunami-ravaged coast where at least 10,000 people are believed to have died. Of all these troubles, the drop in water levels at Unit 2 had officials the most worried. [More>>foxnews.com; See related stories,

telegraph.co.uk, March 14, "Japan earthquake: 2,000 bodies found in Miyagi" : About 1,000 bodies were found on beaches on Japan's Ojika peninsula, according to police officials. Another 1,000 bodies have been found in Minamisanriku, a town devastated by Friday's earthquake and the tsunami which hit the Pacific coast, NHK quoted a prefectural government official as saying. The national police agency's official death toll stood at 1,647 as of Monday afternoon. But the Miyagi police chief said Sunday the death toll was certain to exceed 10,000 in his prefecture alone...

news.sky.com, March 14, "Japan asks US to help stop reactor meltdown" : Japan has asked the US for help to stop a quake-damaged nuclear reactor plunging into uncontrollable meltdown. The plea comes after a second hydrogen explosion occurred at a nuclear plant where officials warned that three nuclear rods in a cooling-starved reactor appeared to be melting. Plumes of grey smoke billowed into the air after the blast at the Fukushima Daiichi plant's number 3 unit, injuring 11 people. Japan's chief cabinet secretary Yukio Edanoconfirmed the fear of rods melting inside all three of the site's most troubled reactors. "Although we cannot directly check it, it's highly likely happening," he said. Officials insist the inner reactor's hermetically-sealed container remains intact - but concern was raised when number 2 unit's fuel rods were left fully exposed by a falling cooling water level. The former deputy director of the International Atomic Energy Agency (IAEA) told Sky News that the status of the faulty reactor may deteriorate even more. "I think the situation is still very, very grim - we are by far not over the worst," Olli Heinonen said...
---
3.14.11 Quake moves Japan closer to US and alters earth's spin
March 13 - The magnitude-8.9 earthquake that struck northern Japan on Friday not only violently shook the ground and generated a devastating tsunami, it also moved the coastline and changed the balance of the planet. Global positioning stations closest to the epicenter jumped eastward by up to 13 feet. Japan is "wider than it was before," said Ross Stein, a geophysicist at the United States Geological Survey. Meanwhile, NASA scientists calculated that the redistribution of mass by the earthquake might have shortened the day by a couple of millionths of a second and tilted the Earth's axis slightly. Not all of Japan jumped 13 feet closer to the United States, said Kenneth W. Hudnut, a geophysicist with the United States Geological Survey. The shifts occurred mostly in the area closest to the epicenter, and stations farther away reported much less movement. [More>>nytimes.com]
---
3.14.11 Libyan jets bomb rebels; Gaddafi confident of success
AJDABIYAH, Libya (Reuters) March 14 - Government forces have pushed insurgents 160 km eastwards in counter-offensive; France presses for no-fly zone, analysts fear it may be too late. Muammar Gaddafi's jets bombed Libyan rebels on Monday, aiding a counter-offensive that has pushed insurgents 100 miles (160 km) eastwards in a week, as France pressed for a no-fly zone "as fast as possible." Gaddafi's government, at first reeling from widespread popular uprisings last month, is now confident of success. "We are certain of our victory, whatever the price," state TV said. Government troops took Brega on Sunday, but the rebels said they had moved back into the oil terminal town during the night and surrounded Gaddafi's troops. "Some of them (government troops) have been killed and some have been captured. But they are still in Brega. It is still dangerous and there is still fighting but today we will squeeze them hard," said Idriss Kadiki, a rebel fighter. Behind rebel lines, Libyan planes bombed Ajdabiyah on Monday, the only sizeable town between Brega and the rebel stronghold of Benghazi. From Ajdabiyah there are roads to Benghazi and to Tobruk to the east, which could allow Gaddafi's troops to encircle Benghazi. [More>>jpost.com; See related story,

france24.com (AFP) March 14, "France pushes for Libya no-fly zone" : France will step up its efforts to persuade world powers to impose a no-fly zone over Libya. France is hosting a G8 meeting to discuss the conflict between Gaddafi and rebel forces seeking to overthrow him. G8 powers will seek to agree action on the conflict in Libya at a meeting of their foreign ministers on Monday and Tuesday, with host France pushing to speed up plans for a no-fly zone there. Amid divisions over calls for foreign military intervention, diplomats said the Group of Eight will take stock of efforts by France and Britain for a UN Security Council resolution on a zone to block Libyan pro-regime aircraft. US Secretary of State Hillary Clinton and Russian Foreign Minister Sergei Lavrov will join counterparts from Britain, Canada, France, Germany, Italy and Japan. All the Council's permanent members except China will be represented. Britain and France have a draft resolution in hand for the Security Council to enforce a no-fly zone over Libya which received backing on Saturday from the 22-nation Arab League, considered crucial for dealing with the region. French Foreign Minister Alain Juppe said Sunday France was going to "speed up its efforts in the coming hours" along with the EU, Arab League, UN Security Council and the Libyan National Transition Council, Libya's opposition...
---
3.14.11 Forces from the Gulf Cooperation Council in Bahrain
MANAMA, Bahrain, March 14 - Forces from the GCC, a six-member regional bloc would protect strategic facilities. Forces from the Gulf Cooperation Council have arrived in Bahrain, an adviser to the royal court has said. "Forces from the Gulf Cooperation Council have arrived in Bahrain to maintain order and security," Nabeel Al Hamer, a former information minister and adviser to the royal court, said on his Twitter feed late on Sunday. Gulf Daily News, a newspaper close to Bahrain's powerful prime minister, reported on Monday that forces from the GCC, a six-member regional bloc, would protect strategic facilities. "GCC forces will arrive in Bahrain Monday to take part in maintaining law and order," it had said. "Their mission will be limited to protecting vital facilities, such as oil, electricity and water installations, and financial and banking facilities." [>gulfnews.com; See related story,

news.com.au, March 14, "Bahrain opposition slams 'occupation'" : Bahrain's opposition says it considers any foreign military intervention to be an occupation, after a Saudi official said the kingdom's troops had entered the Gulf state. "We consider the arrival of any soldier, or military vehicle, into Bahraini territory ... an overt occupation of the kingdom of Bahrain and a conspiracy against the unarmed people of Bahrain," said an opposition statement. An alliance of seven opposition groups said the intervention "violates international conventions." It called for an emergency meeting of the UN Security Council, and appealed for the international community to act to ensure the "protection of the people of Bahrain from the danger of foreign military intervention." The statement was issued shortly after a Saudi official said than more than 1000 Saudi troops, part of the Gulf countries' Peninsula Shield Force, had entered Bahrain where anti-regime protests have raged for a month...
---
3.14.11 Around 40 injured in fresh Yemen clashes
SANAA, Yemen, March 14 - Security forces in capital surround protest area. Almost 40 protesters were injured when police opened fire Monday to disperse demonstrations in Yemen, a strategic US ally in the fight against al-Qaeda, officials said. The violence came after eight people were killed in weekend clashes with security forces, sparking condemnation and calls for restraint from the United Nations and Western powers. Twenty people demanding the resignation of President Ali Abdullah Saleh, in power for 32 years, were injured when they tried to assault the government headquarters in Jawf, northeast of the capital Sanaa, an official said. [More>>alarabiya.net]
---
3.14.11 Suicide attack on Afghan army center kills 37
(Reuters) March 14 - A suicide attack on an army recruitment centre in northern Afghanistan killed 37 people on Monday, the third major assault in the area in less than a month. Taliban spokesman Zabihullah Mujahid claimed responsibility for the attack on behalf of the militant Islamist group. Dozens more were wounded, officials said. A Reuters witness heard gunfire in the area after the attack but Hamdullah Danishi, deputy governor of Kunduz province, said the casualties were all caused by a single suicide bomber. "The death toll includes new recruits, army soldiers and civilians," Danishi told Reuters. A doctor in the Kunduz provincial hospital said 33 bodies had been brought in. Violence is spreading fast in the once relatively peaceful north, with Kunduz a particular focus for insurgents. The Kunduz police chief was killed by a suicide bomber while out on patrol in the city last week. In late February, another suicide bomber killed at least 30 people in a government office while people were queueing to collect identity cards in the Emam Saheb district of Kunduz. [More>>khaleejtimes.com]
---
3.14.11 Three killed in US drone strike
MIRANSHAH, Pakistan (AFP) March 14 - At least three militants died Monday in a US missile strike on a vehicle in a tribal town in northwestern Pakistan near the Afghan border, security officials said. The drone fired two missiles on a suspect vehicle and initial reports suggest three militants were killed, according to a security official, requesting anonymity. Another official confirmed the attack and said it took place about 10 kilometres (six miles) east of Miranshah, the main town in North Waziristan, a region infested by Taliban and al-Qaeda linked militants. A security official in Peshawar city said the missile targeted a moving car and killed three militants. [>thenews.com.pk]
---
3.14.11 11 soldiers killed in suicide blast at Iraq army base
KANNAN, Iraq, March 14 - A suicide attacker rammed a truck packed with explosives into an army barracks in Iraq's restive Diyala province on Monday, killing at least 11 troops and wounding 14, a security official said. The attack took place at around 6 am at an army base at Kanaan, some 70 kilometers (43 miles) northeast of Baghdad, the official said. "At least 11 soldiers died and 14 others were wounded," he said, adding that the building was totally destroyed and that it was feared more victims could be buried under the rubble. The bomber drove the truck straight through the checkpoint at the entrance to the base and rammed the main building housing the sleeping quarters of the troops. An AFP correspondent who arrived on the scene saw a host of ambulances around the barracks and excavators clearing away the rubble. He said the blast had created a crater three metres (10 feet) deep and four metres in diameter. [More>>timesofindia.com]
---
3.14.11 Pirate threatens India after capture of 61 pirates
MOGADISHU, Somalia, March 14 - Five dozen pirates living on a hijacked ship serving as a roving pirate base jumped into the Arabian Sea on Monday after the Indian navy fired on the vessel in self-defense, the navy said Monday. The navy captured 61 pirates fleeing the battle and the fire that broke out aboard the hijacked vessel. The battle is the latest example of the piracy trade's turn toward increased violence. A pirate in Somalia threatened Indian sailors and the government with targeted attacks in retaliation for the arrests. The Indian navy said a patrol aircraft spotted the mothership Friday while responding to another vessel reporting a pirate attack. The pirates aborted the hijacking attempt and tried to escape on the mothership. When the Indian ships closed in Sunday night, the pirates fired on them.

The hijacked vessel caught fire when the Indian navy returned fire, the navy said. The pirates had hijacked the Mozambique-flagged Vega 5 in December and had used it as a mothership. Indian sailors rescued 13 crew members from the Vega 5 Sunday night about 700 miles (1,100 kilometers) off Kochi in southern India, the statement said. The pirates were carrying about 80 to 90 small arms or rifles and a few heavier weapons, likely rocket-propelled grenades, it said. The statement did not describe any casualties among the navy, the fishermen or the pirates in Sunday's clash. The pirates were being taken to Mumbai, India's financial capital, to be prosecuted for attacking the Indian ships. [More>>khaleejtimes.com]
---
3.12.11 Damage from megaquake increasing, death toll feared to top 1,700
TOKYO, March 12 - Damage caused by Friday's catastrophic earthquake in Japan expanded Saturday, with the combined number of people who have died or are unaccounted for is feared to top 1,700, while an explosion occurred at the nuclear reactor building of Tokyo Electric Power Co.'s Fukushima No. 1 nuclear plant and injured four workers. The four are conscious and their injuries are not life-threatening, according to the electricity firm, while the Fire and Disaster Management Agency dispatched a Hyper Rescue squad from Tokyo to take equipment to cool down the nuclear plant facilities.
Japan Tsunami, uploaded by
IQXS
on Mar 10, 2011
Japan Tsunami hits Santa Cruz, Calif. harbor; uploaded by
eurellable
on Mar 11, 2011. Approximately 17 boats sunk.
Radioactive materials — cesium and iodine — were also detected around the No. 1 reactor of the plant, according to the Nuclear and Industrial Safety Agency. The death toll has exceeded 600 so far, a police tally showed, while 200 to 300 bodies were transferred to Sendai, Miyagi Prefecture. It was also reported that another 200 bodies were transferred to gymnasiums in Iwanuma and Natori, both in Miyagi, while more than 650 people are missing following the 2:46pm quake with a magnitude of 8.8, the strongest ever recorded in Japan...Following the explosion at the Fukushima nuclear plant, Chief Cabinet Secretary Yukio Edano said the government instructed residents living within a 10-kilometer radius of the No. 1 and No. 2 nuclear plants to evacuate, but it later expanded the scope to a 20-km radius. [Full story>>japantoday.com; See related stories,

xinhuanet.com, March 12, "In pictures: Over 1,000 people killed after Japan earthquake"

haaretz.com, March 12, "9,500 people missing in tsunami-stricken Japan town" : Some 9,500 people are unaccounted for in one of the worst-hit areas by the 8.9-magnitude earthquake in north-eastern Japan, officials said. With many houses, cars and crops in Minamisanriku, Miyagi Prefecture washed away by [a] powerful tsunami after the deadly earthquake on Friday, many of the missing may be victims of the walls of water, prefectural officials said. The figure is more than half of the population of about 17,000 in the town on the Pacific coast. Moreover, Kyodo news agency reported Saturday that more than 1,700 people are likely dead or missing following the massive earthquake and tsunami that hit Japan...

japantimes.co.jp, March 12, "Seabed split; quake tilted Earth's axis 10 cm" : The magnitude 8.8 earthquake that jolted northeast Japan was caused by a tectonic upheaval that created offshore faults stretching for hundreds of kilometers from Iwate Prefecture to Ibaraki, seismologists said Saturday. Satoko Oki of the University of Tokyo's Earthquake Research Institute said the massive quake, estimated to be nearly 1,000 times more powerful than the 1995 Great Hanshin Earthquake that killed more than 6,000 people, was caused by a rupture near the boundary between the Pacific and North American tectonic plates. The quake was created when the Pacific plate slipped under Japan at the Japan Trench, causing tsunami as high as 10 meters to slam the east coast, she said.

Experts estimate the impact of the world's fifth-largest quake caused a displacement of about 20 meters and a fault a few hundred kilometers long. According to the US Geological Survey, the epicenter of the earthquake was 373 km northeast of Tokyo and 130 km east of Sendai. Japan's seismic risk map indicates there was a 99 percent risk of a magnitude 7.5 or larger earthquake hitting the region in the next 30 years..."Plate boundary earthquakes happen every 100 years or so, but one of this magnitude happens only once in 1,000 years," Oki said. Yuji Yagi, associate professor at Tsukuba University, said an earthquake of this scale could trigger other earthquakes at faults that are already on the brink of a tectonic upheaval...

nytimes.com (US Geological Survey) March 12, "How shifting plates caused the Japan earthquake - interactive feature" : The sudden movement of the Pacific tectonic plate under the North American plate caused a massive earthquake and a tsunami...

cbsnews.com, March 12, "Tsunami sweeps 5 to sea, rips out California docks" : 1 swept out to sea still missing, damage estimates in millions, at Calif. town where 11 had died in 1964 tsunami. CRESCENT CITY, Calif. - A tsunami swept at least five people watching the waves out to sea Friday and ripped docks out of harbors in California, spreading the destruction of a devastating Japanese earthquake to the shores of the United States. Pictures: Quake, tsunami slam Japan. Four people were rescued from the water in Oregon, but one man who was taking photos in Northern California was still missing Friday afternoon. Coast Guard helicopters searched for him near the mouth of the Klamath River in Del Norte County, Calif., after his two friends made it back to shore. About 25 miles north, four people were swept off a beach north of Brookings, Ore. Two got out of the water on their own and the others were rescued by law enforcement and fire officials...
---
3.12.11 Arab League chief calls for Libyan no-fly zone
(AFP) March 12 - Arab League chief Amr Mussa called for a no-fly zone over Libya and said he wants the group to play a role in imposing it, as the bloc prepared to hold key talks on the crisis Saturday. "I do not know how nor who will impose this zone, that remains to be seen. The Arab League can also play a role, that is what I will recommend," Mussa said in an interview with German weekly Der Spiegel. "I am talking about a humanitarian action. It consists, with a no-fly zone, of supporting the Libyan people in their fight for freedom against a regime that is more and more disdainful." Arab League foreign ministers were to meet in Cairo to discuss the crisis in Libya. The league's green light is seen as key to plans to impose a no-fly zone. In terms of which organization might be in charge of the zone, Mussa said:

"That depends on the decision of the (UN) Security Council. The United Nations, the Arab League, the African Union, the Europeans — everyone should participate." Mussa said Libyan leader Moamer Kadhafi was showing a lack of the "awareness that presidents (Zine El Abidine) Ben Ali in Tunisia and (Egypt's) Hosni Mubarak demonstrated by resigning." He said he believed in a "domino effect" in revolts in the Arab world and said he expected other autocratic regimes to fall. "This is only the beginning," he said, noting that the situation in Yemen in particular was "extremely tense." "The region is on the verge of changing radically in a very short time. What we are seeing is the discovery of true democracy by the Arab world," he said. "It's a unique chance." [>france24.com; See related story,

msnbc.msn.com, March 12, "Libyan rebels lose oil port, but vow to regroup: : AJDABIYA, Libya - Moammar Gadhafi's regime drove out pockets of rebel fighters who were keeping a tenuous hold around oil facilities in a key port city, showing growing strength Saturday after days of relentless shelling against protesters-turned-rebels. Gen. Abdel-Fattah Younis, who was the country's interior minister before he defected to the rebel side, acknowledged that Gadhafi's forces now control both the town and the oil refinery in Ras Lanouf, 380 miles southeast of Tripoli. It was the latest setback for opposition forces who just a week ago held the entire eastern half of the country and were charging toward the capital. But Younis vowed a comeback, saying "we should be back today or at the latest tomorrow."...
---
3.12.11 End operations in Afghanistan, Karzai tells NATO
ASADABAD, Afghanistan, March 12 - Emotional Afghan President Hamid Karzai on Saturday urged international troops to 'stop their operations in our land', his strongest salvo yet in a row over mistaken civilian killings. Karzai's comments came after a week in which a relative of his was killed in a raid by foreign forces and he rejected an apology by the US commander of troops General David Petraeus for the deaths of nine children in a NATO strike. "I would like to ask NATO and the US with honour and humbleness and not with arrogance to stop their operations in our land," Karzai said, visiting the dead children's relatives in Kunar province, eastern Afghanistan. "We are very tolerant people but now our tolerance has run out." Karzai also met relatives of those caught up in another incident in Kunar in which Afghan officials say 65 people died but NATO's International Security Assistance Force (ISAF) says left up to nine people injured. The president cried as he held a girl who he said had her leg amputated following the latter attack. A spokeswoman for ISAF could not immediately comment. [>thenews.com.pk]
---
3.12.11 Family slaughtered by Palestinians
March 12 - Five members of an Israeli family were killed Friday night when a suspected terrorist broke into their home in the West Bank settlement of Itamar and stabbed them all to death. The 12-year-old daughter who returned home from a friend's house discovered the bodies.  According to police, the suspect broke into the house armed with a knife and stabbed the mother, father and three children, aged 11, three and a three-month-old baby. Two infants, aged 2 and 4, survived the attack while escaping to their neighbors. One of the paramedics who arrived at the scene described the horrific sights "We could not help the first four stab victims. Following an inspection of the scene I spotted an infant of about three who still had a pulse. We engaged in lengthy resuscitation efforts but had to pronounce him dead," he said. "The murder scene was shocking. Kids' toys right next to pools of blood."

Security sources suspect that the attacker who carried out the massacre cut the fence surrounding Itamar and entered the home of the victims through the window, authorities could not immediately discount the possibility that more than one attacker was involved in the murder. The military blocked the entrance to the northern West Bank settlement of Itamar, as soldiers poured inside and a pair of ambulances departed. Prime Minister Netanyahu was updated on the killings overnight and ordered the IDF and security services to widen the scope of their activities in order to capture the killers. Netanyahu expressed deep outrage over the horrific crime. "This despicable murder of an entire family of innocents, parents, children and infants, while they were sleeping in their home on Shabbat," Netanyahu was quoted as saying. Netanyahu demanded that the Palestinian Authority and its president to help find the murderers. [More>>foxnews.com]
---
3.12.11 Hearings on Muslims leave US House deeply divided
WASHINGTON, March 12 - King vows to continue hearings on US Muslims radicalization. Highly controversial Congressional hearings on Muslim American radicalization on Thursday revealed a House committee deeply divided, not only by the day's testimonies but also by the premise of the hearings. The House Homeland Security Committee called for the hearings to address what it says is the growing threat of homegrown terrorism within the Muslim American community. At the center of the firestorm was Representative Peter King (R-NY), chair of the Committee, who has been embattled since announcing the hearings weeks ago. In opening remarks King redoubled his commitment to continue despite repeated and harsh criticisms that he was stigmatizing the Muslim community, fueling discrimination and encouraging infringement on religious freedom. King said it was his duty [to] push ahead. "To back down would be a craven surrender to political correctness and an abdication of what I believe to be the main responsibility of this committee to protect American from a terrorist attack," he said. King accuses the Muslim community of failing to cooperate with law enforcement officials during terror investigations. [More>>alarabiya.net]
---
3.12.11 Escalating Yemen violence kills 3, injures hundreds
SANAA, Yemen (Reuters) March 12 - Protests calling for ouster of President Saleh grow more violent; US warns Yemen could suffer fate of Libya unless dialogue started. Three people died and hundreds were injured on Saturday in some of the fiercest clashes between police and anti-government protesters since popular unrest started to batter faction-riven Yemen in January. Two people were killed in the capital Sanaa and a boy of 12 died in the southern city of Mukalla, with fighting reported in at least two other cities as protests against President Ali Abdullah Saleh's 32-year rule turning ever more violent. The United States said it was dismayed by the growing fatalities and called for calm, warning that Yemen could suffer the same fate as Libya unless there was dialogue. [More>>jpost.com]
---
3.09.11 At least 40 dead as Gaddafi forces take rebel town in west
TRIPOLI, Libya, March 9 - Local doctor says many dead in Zawiyah's streets, including elderly, woman, children after forces use tanks, snipers to drive rebels out of city stronghold. At least 40 people died Wednesday as forces loyal to Muammar Gaddafi regained control of the center of Zawiyah on Wednesday, after using tanks and snipers to drive rebels out of their stronghold in the western city's main square, residents said. A fighter told Reuters pro-Gaddafi forces had entered the main square of Zawiyah as rebels pulled back. A local doctor confirmed the report and said the death toll in the day's fighting was at least 40 and probably many more.

The doctor said there were many dead in the streets, including old people, women and children. Libyan state television also showed footage of Gaddafi supporters waving flags who it said were moving towards the center of Zawiyah, which had been the closest rebel-held city to the capital Tripoli. "We have pulled back and they are inside the square but we will attack them again and have it back," the fighter said by telephone. "We will do that tonight. This is not the end." Foreign reporters are prevented from entering Zawiyah, 50 km (30 miles) west of Tripoli without an official escort. With the international community still hesitant about how to respond to the crisis in Libya, a counter-offensive by Gaddafi has halted a rebel advance in the east and left others stranded in Zawiyah and another western city, Misrata. [More>>jpost.com; See also alarabiya.net, March 9, "Libya government forces pound revolutionaries east & west"]
---
3.09.11 Egypt officials: 13 killed as Muslims, Christians clash in Cairo
(AP) March 9 - Clashes began when thousands of Christians protested against last week's burning of church by Muslim mob; protesters burned tires and blocked highways before being set upon by angry crowd of Muslims. Thirteen people were killed in violence between Egyptian Christians and Muslims, the health ministry said on Wednesday, as sectarian tensions that appeared to evaporate in the country's revolution resurfaced. The health ministry said 140 people were wounded, state media reported. The violence in Cairo on Tuesday night was the worst outbreak of sectarian strife since President Hosni Mubarak was swept from power on Feb. 11 by a mass uprising characterized by solidarity between Christians and Muslims. It was not immediately clear how many of the dead were Christian or Muslim. The violence erupted following a protest by Christians over an arson attack on a church in Helwan south of Cairo. [More>>haaretz.com]
---
3.09.11 'NATO seizes Iranian arms smuggling en route to Taliban'
March 9 - Report: Intel official says 122 mm. rockets are most powerful yet to be smuggled to Afghanistan; convoy capture on Iranian, Pakistani border. NATO forces intercepted the most powerful Iranian-made rockets ever smuggled to the Taliban in Afganistian, The Associated Press sited an international intelligence official as saying Wednesday. The rockets were to be used for the Taliban's spring campaign. NATO troops captured a three-truck convoy carrying 50 122 millimeter rockets in Southern Nirmuz, near the Iranian and Pakistani borders, the official said. The Associate Press reported rockets are capable of being fired up to 13 miles away from the target, and have an 80 foot explosion, a figure double that of what was previous provided to the Taliban from Iran since 2006, the official said. In December 2010, Shin Bet reported that Iran had smuggled into the Gaza Strip about 1,000 mortar shells, hundreds of shortrange rockets and a few dozen advanced anti-tank missiles throughout the year. Iran has continued to be Hamas's chief arms provider, smuggling through Sudan and Sinai. [>jpost.com; See other details, guardian.co.uk, March 9, "British special forces seize Iranian rockets in Afghanistan."]
---
3.09.11 Saudi Arabia threatens to 'cut foreign fingers'
JEDDAH (RIA Novosti) March 9 - Saudi Arabian Foreign Minister Prince Saud al-Faisal said on Wednesday his country rejects any interference in its domestic affairs and would "cut off" any accusing finger. Shiite protesters have taken to the streets in the majority Sunni kingdom in recent days demanding more freedom and democracy, mirroring the unrest across the Middle East and North Africa. Faisal, who is the nephew of King Abdullah bin Abdul-Aziz, said Saudi Arabia "rejects any foreign interference in its internal affairs." He warned that Shiite protests would not bring reform and urged dialogue with the demonstrators. "The reform... does not come via protests and [the clerics] have forbidden protests since they violate the Koran and the way of the Prophet," the prince said. He said change would come from within. [More>>en.rian.ru]
---
3.09.11 Adezai funeral bombing kills 34
PESHAWAR, Pakistan, March 9 - A suicide bomber attacked a funeral procession in Adezai on Wednesday killing at least 34 people and injuring 45 others, Geo News reported. The suicide bomber was targeting members of an anti-Taliban militia attending funeral prayers for the wife of a militiaman in Adezai village, near Peshawar that leads to the border tribal regions, DCO Peshawar, Siraj Ahmed, said. The attacker mingled with the mourners before setting off his explosives, Ahmed said. "People had gathered and had just started praying when a boy walked in and blew himself up," survivor Mohammad Eman told Geo News. Tehrik-e-Taliban Pakistan claimed the responsibility of attack. Bloodied shoes and caps littered the ground where the attack took place, on the outskirts of the city, as stunned survivors milled around or bundled the wounded into trucks and away to hospital, television images showed. The Pashtun elder whose relative was being buried on Wednesday is involved with a pro-government militia force. It was not immediately clear if he had been killed or wounded in the explosion. [>thenews.com.pk]
---
3.09.11 Afghanistan: 2010 bloodiest year for a decade, UN says
March 9 - There has been a large increase in the number of civilians killed in the war in Afghanistan for the second year in a row, according to a UN report. More than 2,700 civilians were killed in 2010 — up 15% on the year before. The UN blamed the Taliban and other insurgents for the rise, saying 75% of all deaths were down to them. The Taliban called the report "one-sided." The numbers killed by Afghan and NATO forces fell, accounting for 16% of civilian deaths, the UN found. However the BBC's Quentin Sommerville in Kabul says that the recent accidental killing of nine boys by American forces show that the deaths of Afghans at foreign hands resonates deeply, and provokes even greater outrage than killings by the Taliban. Top NATO commander Gen. David Petraeus apologized for the incident last week. [More>>bbc.co.uk]
---
3.09.11 Yemen protests hit Saleh fiefdom, military in Sanaa
SANAA, Yemen (Reuters) March 9 - Yemeni protests demanding an end to President Ali Abdullah Saleh's 32-year rule spread to a tribal area considered his political stronghold on Tuesday, and military vehicles deployed in the capital. Around 10,000 protesters marched in the city of Dhamar, 60 km (40 miles) south of Sanaa, residents said by telephone. Dhamar is known for ties to Saleh and is the hometown of Yemen's prime minister, interior minister and head judge. "Leave! leave!" the protesters shouted in Dhamar, just two days after Saleh loyalists there held a similar-sized rally. Protesters also pelted a municipal official with rocks. Burgeoning protests fuelled by anger over poverty and corruption, and a series of defections from Saleh's political and tribal allies, have added pressure on him to step aside this year even as he pledges to stay on until his term ends in 2013. [More>>khaleejtimes.com; See related story,

news.sky.com, March 9, "Yemen protests: Army fires on protesters in Sanaa injuring 100 and killing one" : Soldiers in Yemen have opened fire on anti-government protesters in the capital Sanaa, injuring up to 100 people and killing one, according to local reports. Hospital doctors say four people are in critical condition after police fired tear gas and live rounds into the crowds to prevent them from enlarging their protest camp at the city's university. Tim Finn, a journalist based in Sanaa, told Sky News the violence broke out when tribesmen attempted to take a tent into the protest area and were stopped by the army, prompting a scuffle. The army, in "a moment of panic," according to Finn, began to fire shots and tear gas, continuing to aim into the crowd as thousands of protesters surged towards them. Opposition spokesman Muhammad Qahtan branded the clash a "massacre", but the Yemeni government has put out a statement saying the tribesmen involved had been trying to smuggle weapons into the camp...
---
3.09.11 Baghdad blast kills Iraqi army general
BAGHDAD (AFP) March 9 - A roadside bomb attack in east Baghdad killed an Iraqi army general on Wednesday while violence across the capital left 13 others wounded, security officials said. Brigadier General Taha Ahmed Samir, head of training for Iraq's nascent air force, was killed when a military convoy he was in was hit by the blast in Al-Kanat street, an interior ministry official said, speaking on condition of anonymity. Two other soldiers were wounded in the explosion. Elsewhere in Baghdad, a blast in the Karradat Mariam neighbourhood on the edge of the heavily-fortified Green Zone, left five people wounded, the official said. He added that another explosion in Baab al-Muadham, central Baghdad, wounded four. And on Palestine street, in the capital's east, a policeman and a civilian were wounded by a bomb, said a police official who did not want to be named. [More>>khaleejtimes.com]
---
3.09.11 5 killed as bomb hits vehicle in Algeria
ALGIERS (AFP) March 9 - A bomb struck a vehicle of bird hunters in Algeria and killed five of them, media reported Wednesday, in the deadliest attack in months as the country battles unrest blamed on Islamist militants. Three of the people killed in Tuesday's blast were from the same family, local media reported, blaming Islamist militants targeting security forces. There was no claim of responsibility for the attack, which struck close to Djelfa, about 270 kilometres (170 miles) south of the capital Algiers. The previous most deadly incident was in October last year when five soldiers were killed in an attack blamed on militants in the eastern Kabylie area, where Islamists fighters have established their headquarters. The makeshift bomb had been planted in a road in a forest area and was likely aimed at security forces carrying out a sweep for Islamic militants, several newspapers reported. [More>>thenews.com.pk]
---
3.08.11 'Saudi Arabia will not allow protests'
DUBAI, March 8 - As mass uprisings erupt in its neighbourhood, Saudi Arabia on Tuesday announced that it will not allow any demonstrations in the kingdom and ordered its security forces to clamp down on any dissent. The kingdom banned all demonstrations saying they contradicted Islamic laws and society values, according to a statement issued by the Interior Ministry. The new clampdown came a day after about 100 members of the Shia minority staged a protest in the western region of the kingdom. "Security forces are authorised to act against anyone violating the ban," the statement said. The restrictions come as a group of influential intellectuals urged King Abdullah to adopt far-reaching political and social reforms. They said the country's rulers should take a lesson from the uprisings in Tunisia, Egypt and Libya and listen to the voice of disillusioned young people.

The group included renowned Islamic scholars, a poet and a former diplomat. Like Egypt and Tunisia, social networking site Facebook has a page calling for a "March 11 revolution" in Saudi Arabia. The message posted on Facebook calls for the ousting of "regime of al-Saud clan." Meanwhile, the Organization of the Islamic Conference (OIC) has backed the call to the UN to enforce a no-fly zone over Libya. An emergency meeting of the 57 member OIC said, "We join our voice in the voices asking for no-fly zone over Libya and we call on the Security Council to do its duty in this regard." The statement was issued by the Secretary General of the OIC. [>indianexpress.com]
---
3.08.11 Libya stages air strikes, bombards east rebels
RAS LANUF, Libya (Reuters) March 8 - Muammar Gaddafi's forces attacked rebels on the eastern front-line with tanks, rockets and warplanes, said rebels who complained they could not match the Libyan leader's heavy fire-power. "People are dying out there. Gaddafi's forces have rockets and tanks," Abdel Salem Mohamed, 21, told Reuters, returning to the oil port of Ras Lanuf from the front. "You see this? This is no good," he said, gesturing to a light machine gun he carried. Reuters correspondent Mohammed Abbas said: "I have moved on towards the front line. I can confirm rebels are coming under heavy bombardment." Rebels are also armed with heavy machine guns, rocket propelled grenade launchers and anti-tank and aircraft weapons, often mounted on 4x4 pick-up trucks. But Gaddafi has deployed warplanes and heavy armor against his rivals. Al Jazeera earlier reported Gaddafi'sforces had launched a barrage of missiles against Ras Lanuf. This Reuters correspondent saw three wounded men in the Ras Lanuf hospital. Staff said they had come from fighting near the town of Bin Jawad, which government forces have recaptured. [More>>khaleejtimes.com; See related stories,

jpost.com (Reuters) March 8, "Libyan rebels give Gaddafi ultimatum: Leave in 72 hours" : CAIRO - Rebels announce they won't pursue Gaddafi prosecution if he agrees to quit immediately; UN says 215,000 have fled Libya, many still stuck; clashes renew in rebel-controlled Zawiyah. Rebels will not pursue Libyan leader Muammar Gaddafi over crimes they say he has committed if he steps down from his post in the next 72 hours, the head of the rebel National Libyan Council said on Tuesday. "If he leaves Libya immediately, during 72 hours, and stops the bombardment, we as Libyans will step back from pursuing him for crimes," Mustafa Abdel Jalil, an ex-justice minister, told Al Jazeera television by telephone. He said the deadline would not be extended beyond 72 hours. The council is based in the eastern Libyan city of Benghazi...

alarabiya.net, March 8, "Libyan opposition leaders invited to EU parliamnent" : LONDON ?STRASBOURG - While the conflict divides Libya along old faultlines. Two members of Libya's rebel leadership, the provisional national council, are to talk to members of the European Parliament, the head of the liberal group Guy Verhofstadt said Tuesday. Mahmud Gebril, 58, Libya's former planning minister and Ali al-Essawi, 45, former ambassador to India, have agreed to travel to Strasbourg to inform the Liberal group, one of the biggest in the assembly, of developments in Libya, he said. The French government has opened the way for the two leaders to come to France and a meeting with French Foreign Minister Alain Juppe is planned for Wednesday, Verhofstadt said...
---
3.08.11 Boost for hardlinrs as Rafsanjani loses post
(AP) March 8 - Iran's former president Akbar Hashemi Rafsanjani lost his post as chairman of a powerful clerical body Tuesday following concerns from hardliners about his proximity to the progressive opposition, local media report. State television says former President Hashemi Rafsanjani has lost his position as the head of a powerful clerical body charged with choosing or dismissing Iran's supreme leader. Rafsanjani is a bitter enemy of hardline President Mahmoud Ahmadinejad, and tacitly supported his rival in Iran's bitter dispute over the 2009 presidential elections. Hardliners and supporters of Ahmadinejad had lobbied hard in recent weeks to push Rafsanjani out of the post and supported Ayatollah Mohammad Reza Mahdavi Kani to replace him. Kani is a moderate conservative not seen as a supporter of the opposition. Rafsanjani didn't seek the chairmanship because Kani applied, and Kani got 63 votes as the sole candidate. The change is a boost for hardliners within the ruling system and another setback for moderates and reformists. [>france24.com; See other details, iranfocus.com, March 8, "Rafsanjani replaced as head of Iran's Assembly of Experts."]
---
3.08.11 Sweden bomb suspect arrested in UK
March 8 - Scottish police arrest 30-year-old foreign national in connection with a botched suicide bombing in Stockholm. Scottish police have arrested a 30-year-old man in connection with a botched suicide bombing in Stockholm, the Swedish capital, last December. The man, said to be a foreign national, was detained following a dawn raid in Glasgow, Scotland, on Tuesday. A police statement said the arrest "relates to allegations that this individual has been involved in aiding terrorism activities outside Scotland," but added there was "no evidence" to suggest he posed a risk to Scotland. Taimour Abdulwahab al Abdaly, an Iraqi-born Swedish national, blew himself up and injured two others in an apparent attempt to target Christmas shoppers in downtown Stockholm on December 11, 2010. It is believed he was intent on attacking a train station or department store, but the explosives he was wearing detonated prematurely. In January, the director of Iraq's anti-terrorism unit said al Abdaly, who lived in Sweden in the 1990s, had received explosives training in the northern Iraqi city of Mosul. [More>>aljazeera.net]
---
3.08.11 US missile strike kills five in South Waziristan
PESHAWAR (AFP) March 8 - A US missile strike targeting a compound killed five people in South Waziristan near the Afghan border on Tuesday, security officials said, updating an earlier toll of four. The strike took place in Landidog village, 20 kilometers (12 miles) west of Wana, the main town in South Waziristan tribal region. A US drone fired two missiles targeting a compound, killing five people. [>thenews.com.pk]
---
3.08.11 Car-bomb kills 20 at Faisalabad CNG station
FAISALABAD, March 8 - A car-bomb at a compressed natural gas filling station in Faisalabad on Tuesday killed 20 people and wounded more than 100, Regional Police Officer (RPO) Faisalabad, Aftab Cheema said. The blast set off gas cylinders at the station and the explosion destroyed or severely damaged nearby buildings and numerous vehicles. "An explosive-laden car was parked at the CNG station," police official told reporters. Aftab Cheema said 20 people had been killed and more than 100 wounded. [>thenews.com.pk;See also

aljazeera.net, March 8, "Man held over Pakistan car bombing" : Police in Pakistan have arrested a man over a car bombing that killed at least 25 people in the eastern Pakistani city of Faisalabad. The bomb went off on Tuesday outside a gas station in a neighbourhood full of government buildings including police offices, and it severely damaged an office of Pakistan's state-run airline as well as a local gas station...
---
3.08.11 Mafia arrests on three continents
March 8 - Dozens of suspected mobsters allegedly belonging to Italy's most powerful mafia organization, the 'Ndrangheta, have been arrested in a major police operation spanning three continents. Police swooped on dozens of people in Italy and Germany and issued arrest warrants for others in Canada and Australia, including a former mayor. The 41 suspects were all alleged members of the 'Ndrangheta, the mafia organization based in Calabria which is now considered to be more dangerous and powerful than the better known Cosa Nostra of neighboring Sicily. Police said the extent of the operation showed how the 'Ndrangheta has spread its influence far beyond its provincial roots in southern Italy to become one of the world's most effective cocaine trafficking networks. Although it operates on an increasingly global basis, its most far-flung cells remain loyal to bosses in Calabria, investigators said. "There is a perfect reproduction of the Calabrian model," said Giuseppe Pignatone, an anti-mafia prosecutor in Reggio Calabria, the regional capital of Calabria. [More>>telegraph.co.uk]
---
3.08.11 Mexico shootout leaves 18 dead in Tamaulipas state
March 8 - Gunbattles between rival gangs in a north-eastern Mexican town have left 18 people dead, police say. The Tamaulipas state government said shooting erupted in the town of Abasolo but gave few details. Gunmen in trucks and other vehicles had exchanged fire around the town, reports said. Tamaulipas has been at the centre of a turf war between the Gulf and Los Zetas cartels, which are battling to control lucrative drug smuggling routes. Mexican media say Abasolo has lacked a state police command post for several months. Reports said Tamaulipas residents exchanged Twitter messages about Monday's shootings hours before the bloodshed was confirmed by the state government. Some tweets warned people to stay indoors. The shooting, which began at about 0650 local time on Monday, lasted several hours. [More>>bbc.co.uk]
---
3.07.11 New air strikes as Libya edges to civil war
March 7 - Libyan forces trying to dislodge rebels from the country's strategically important coast have launched new air strikes. A warplane fired rockets near a checkpoint on the eastern outskirts of the rebel-held oil terminal town of Ras Lanuf, 400 miles east of the capital Tripoli. Sky correspondent Dominic Waghorn, at the scene, said: "It's a very volatile atmosphere and Gaddafi's forces are taking on the rebels head-on. "When we witnessed the air strike by a Libyan Air Force fighter jet, the rebels opened up an extraordinary array of weaponry, including rocket-propelled grenades and machine guns, and everything was being fired into the air." As the fighting continues, a British special forces team captured near Benghazi on Friday has been released and taken out of the country aboard HMS Cumberland.

Foreign Secretary William Hague confirmed to the Commons that he authorised the "dispatch of a small British diplomatic team" to "build on initial contacts and to assess the scope for closer diplomatic dialogue." He said: "They were withdrawn yesterday after a serious misunderstanding about their role, leading to their temporary detention. However, this situation is resolved and they were able to meet the council president. We intend to send further diplomats to eastern Libya in due course." He added: "Our position is that Colonel Gaddafi must put an immediate stop to the use of armed force against civilians and hand over power without delay." In Bin Jawad, 100 miles from the northern Gaddafi power base of Sirte, doctors say seven people were killed and 50 wounded when rebel forces were ambushed. A number of towns were reportedly pounded with artillery, rockets and gunfire in a dramatic escalation of violence over the weekend, as the country appears to edge towards civil war. [More>>news.sky.com; See related stories,

thestar.com.my (Reuters) March 7, "Libya plane hits town, over one million need aid" ; RAS LANUF, Libya - Government forces struck at rebels in Libya's east and were reported attacking a town near Tripoli on Monday as concern grew over civilian suffering and a growing refugee exodus. The United Nations said more than one million people fleeing Libya and inside the country needed humanitarian aid, and conditions in rebel-held Misrata town were particularly worrying following attacks on it by forces loyal to Muammar Gaddafi. Offering a potential olive branch to rebels seeking to end Gaddafi's long rule, one of his associates appealed to opposition chiefs for dialogue, in a sign the ageing autocrat may be ready to compromise with the unprecedented revolt. The offer, rapidly dismissed by rebels, coincided with warnings by Gaddafi that if he fell thousands of refugees from Libya would "invade Europe."...

nytimes.com, March 7, "New warning from Obama as Gaddafi forces attack again" : AL UQAYLAH, Libya - Government forces began a new air attack on rebels on Monday in the coastal town of Ras Lanuf, where they had withdrawn after Sunday's assaults, as President Obama again warned that the West was considering all its options in Libya, including possible military intervention. The rebel forces were seeking to regroup but needed reinforcements, Mohamad Samir, an army colonel fighting with the rebels, told The Associated Press. The rebels have said they would welcome Western help in the form of a no-fly zone, and President Obama said Monday that the United States was conferring with its NATO allies about possible military action...On Monday RIA Novosti reported that the Russian foreign minister, Sergey V. Lavrov, said Moscow was against any form of foreign intervention in Libya, casting doubt on United Nations-backed action. But Russia is not a member of NATO...
---
3.07.11 King claims common ground with White House on Islam hearings, blames CAIR for backlash
March 7 - The nation's largest Muslim advocacy group and other organizations are stoking opposition to a hearing planned later this week in Washington which will delve into the threat posed by Islamic radicalization.  But Rep. Peter King, R-N.Y., chairman of the House Homeland Security Committee hosting the hearing, said Monday that he's on the same page as the White House when it comes to addressing that threat and engaging moderates in the American Muslim community. "I'm not going to give into political correctness. I'm going ahead," King told Fox News. Ahead of Thursday's hearing, hundreds of protesters gathered Sunday in Times Square to accuse King of unfairly targeting Muslims.

The event featured celebrities like hip hop mogul Russell Simmons and was backed by a slew of religious organizations and leaders. King, though, pinned blame for the backlash on the Council on American Islamic Relations. Noting CAIR's history as an "unindicted co-conspirator" in a terrorist funding case, King said CAIR is exactly the kind of group Muslim leaders should "push aside."  CAIR spokesman Ibrahim Hooper acknowledged his organization has been organizing opposition to the hearing "from the very beginning," but said the backlash is broad-based.  "We'd like to take credit for being the sole opposition to his witch hunt, but in fact it's actually, literally hundreds of interfaith and community groups, civil liberties organizations who are opposed to these hearings in their current form," Hooper said, adding that his organization continues to be concerned about "bias" at the upcoming hearing.  [More>>foxnews.com; See also bbc.co.uk, March 7, "US Muslims protest over hearings."]
---
3.07.11 Ivory Coast rebels claim to have captured western town
March 7 - Forces loyal to UN-backed president Alassane Outtara say they have seized Toulepleu, near Liberian border, after heavy fighting. Rebels in Ivory Coast claim to have seized a town after a fierce battle in the country's volatile west near the border with Liberia, panicking tens of thousands of refugees who had already fled violence over a deepening political crisis. The New Forces rebels said in a statement on their website that they seized Toulepleu on Sunday. The statement said: "The large town of Toulepleu in the west of Ivory Coast is now in the hands of the army of the New Forces (rebels) since Sunday at noon following an intense combat." The town was the scene of heavy fighting on Sunday between forces backing the political rivals who both claim to be Ivory Coast's president. The rebels are backed by the UN-recognized president, Alassane Ouattara. Government forces are allied with former president Laurent Gbagbo, who is refusing to leave office. [More>>guardian.co.uk]
---
3.07.11 Yemen opposition vows to 'escalate' protests
SANAA, Yemen (Reuters) March 7 - Yemen's opposition coalition vowed on Monday to escalate protests that have swept the country demanding the resignation of President Ali Abdullah Saleh, after he rejected a plan that would have him step down in 2011. Tens of thousands of protesters are camped out in major Yemeni cities, staying awake through the night to hear speeches and sing national songs, as their tone against Saleh hardens. Saleh, a US ally against al-Qaeda's Yemen-based wing, rejected a plan proposed by an opposition coalition last week, which would have implemented political and electoral reforms while paving the way for his resignation within the year. "Recent events have proven that the regime is incapable of answering the demands of the people, and for that reason it needs to go," said the coalition's spokesman, Mohammed al-Sabry. [More>>khaleejtimes.com]
---
3.07.11 Protesters dig in at Bahraini financial hub
March 7 - Hundreds of anti-government protesters seem to be gearing up for a long stay outside a main financial hub in downtown Bahrain, one of three demonstrations across the capital on Monday. A small group of demonstrators travelled to the US embassy in southern Manama this morning, where they waved signs asking the US to "stop supporting dictators." A spokesman for the US embassy said his government was "listening to all sides." A second group, numbering several hundred, staged a protest outside an interior ministry office in the capital's Adliya neighbourhood. The third — and longest-running — protest centred on the Bahrain Financial Harbour (BFH), a major commercial hub in the business district of Manama, where a number of protesters have been camped out on Sunday night. About 300 protesters lined the streets outside, the financial centre on Monday afternoon, chanting the usual slogans ("Down with Hamad!," "We are brothers, Sunni and Shia, this country is not for sale") and waving Bahraini flags. [More>>aljazeera.net]
---
3.04.11 Friday prayers again lead to protests in Mideast
March 4 - In what has become something of a weekly appointment for displaying disaffection with unresponsive governments across the Arab world, thousands poured into the streets across the region after noon prayers on Friday. There were only scattered reports of violence outside of Col. Muammar el-Qaddafi's harsh crackdown on demonstrators in Libya. Some protests — in Yemen and Bahrain — stepped up pressure on leaders who have appeared increasingly vulnerable in the weeks since demonstrators toppled the governments of Tunisia and Egypt. Others, in Iraq and Egypt, were pushing their governments for change. In Iraq demonstrators are demanding better government services; in Egypt, they were pressuring the new military leaders to speed up democratic changes. There was violence at a protest in northern Yemen, where a Shiite rebel group said that the military fired artillery on peaceful protesters in the northern city of Harf Sufyan, hitting dozens of people. The protest, by Houthi rebels, attracted thousands of people and was passing near a military base when the shelling occurred, said Abu Hashem, a spokesman for the group. He said the number of dead and wounded could not be immediately determined. [More>>nytimes.com]
---
3.04.11 Reports of dozens dead, wounded in Zawiyah, west of Tripoli
CAIRO (Reuters) March 4 - Conflicting reports say between 13 and 50 people killed, up to 300 wounded; anti-Gaddafi rebels fire mortars, rockets at military base in Ras Lanuf, army returns fire with heavy artillery. Al Arabiya television reported at least 13 people were killed on Friday in violence in the Libyan city of Zawiyah, west of Tripoli. The report was sourced to a doctor. Al Jazeera quoted a witness saying more than 50 people had been killed and 300 wounded there. Earlier, rebels holding Zawiyah said they had launched counter-attacks against Gaddafi's forces massing in the area and warned supplies of medicines and baby milk were running low. Meanwhile, anti-Gaddafi rebels fired a sustained barrage of mortar bombs and rockets at a military base in the oil terminal of the eastern port of Ras Lanuf on Friday and the army returned fire with artillery.... [More>>jpost.com; See related stories,

thestar.com.my (Reuters) March 4, "Anti-Gaddafi rebels lay heavy fire on Ras Lanuf" : Heavily armed rebels clashed with forces loyal to Muammar Gaddafi on Friday on the outskirts of the key oil terminal of Ras Lanuf as the head of Libya's rebel council vowed "victory or death." The rebels were attacking a military base on the outskirts of Ras Lanuf, a major oil port on the Mediterranean Sea, which has a refinery, pipelines and a terminal, and the army responded with artillery fire and helicopters firing machine guns. Rebels said they had captured the airport and intended to push forward toward the military base after dark...

aljaeera.net, March 4, "Fighting rages in Libya's east" : At least 30 civilians killed after Gaddafi loyalists try to retake rebel-held town of Az Zawiyah, witnesses say. At least 30 civilians have been killed after security forces loyal to Muammar Gaddafi, Libyan leader, attempted to retake the rebel-held town of Az Zawiyah, near the capital Tripoli, that has for days been defying his rule, witnesses have said. The rebellion in Az Zawiyah — the closest rebel-held territory to the capital and also the site of an oil refinery — has been an embarrassment to the Libyan authorities who are trying to show they control at least the west of the country. Eastern regions of the country, around the city of Benghazi, have already fallen out of Gaddafi's control after a popular revolt against his four decades of rule...

alarabiya.net, March 4, "Protesters & Gaddafi loyalists fight in Tripoli: witness" : TRIPOLI - Libya protesters advance to capital, vow to topple Gaddafi. Protesters vowing "victory or death" clashed with Muammar Gaddafi's forces near a key oil terminal and gunfire rang out in the capital as opposition protesters gathered on Friday in the strongman's last bastion. A group of protesters came to blows with loyalists in a street near Tripoli's landmark Green Square, a witness said. Security forces kept their distance during the fighting by the small group but fired in the air, while blocking access to the area, the witness told AFP by telephone, while police fired tear gas to disperse crowds of protesters in Tripoli's eastern Tajoura neighborhood after Friday prayers, a witness said...

cnn.com, March 4, "Witness: Peaceful protesters mowed down in Libya" : TRIPOLI - "Indescribable" and deadly violence rippled through the Libyan city of Zawiya on Friday, according to a witness who said pro-government forces gunned down peaceful protesters. The eyewitness said battalions of forces loyal to Moammar Gadhafi attacked the protesters with mortars and machine guns as they were demonstrating in the city's Martyrs Square, and they assaulted an ambulance and killed people who fell wounded. "Civilians were killed but we can not say how many. We buried nine people so far," the witness said. "The attack was indescribable. Direct gunfire was opened on people." It is unclear who has control of the city...

en.rian.ru, March 4, "Pro-Gaddafi forces prevent crossings on Libyan border - UN" : MOSCOW (RIA Novosti) Forces loyal to Libyan dictator Muammar Gaddafi are preventing 12,500 refugees from crossing the heavily-armed border between Libya and Tunisia, the UN refugee agency said on Friday. Fewer than 2,000 people were able to cross the border on Thursday, compared with around 10,000 to 15,000 on previous days, said spokeswoman for the UN High Commissioner for Refugees Melissa Fleming. She said mobile phones and cameras were confiscated from those who did manage to cross. A total of 12,500 people, including over 10,000 from Bangladesh, still need evacuating, she said. Up to 2,000 people are believed to have died so far in violent suppression of uprisings in Libya. The UN has accused Gaddafi's regime of systematic violation of human rights and suspended the country from its Human Rights Council. Over 100,000 people have crossed the Libyan-Tunisian border since February 20, according to the Red Cross. [end]

alarabiya.net, March 4, "Interpol issues global alert on Gaddafi and 15 others" : LYON, France - Including members of his family & close associates. Interpol has issued a global alert known as an Orange Notice against Colonel Moammar Gaddafi and 15 other Libyan nationals, including members of his family and close associates, the international police organization said on Friday. The move is aimed at warning member states of the danger posed by the movement of these individuals and their assets and to assist member states in their efforts to enforce sanctions under United Nations Security Council Resolution 1970 (2011), and to support Interpol's assistance to the International Criminal Court investigation into alleged crimes against humanity in Libya.

With the UN Security Council referring recent events in Libya to the International Criminal Court and calling on all states and concerned international organizations to cooperate fully with the Prosecutor and the Court in this matter, Interpol Secretary General Ronald Noble said: "Interpol's constitution provides a clear mandate for the widest cooperation among law enforcement authorities in its member countries, within the spirit of the Universal Declaration of Human Rights and in the prevention of serious human rights abuses." "As a first priority, we must work to protect the civilian populations of Libya and of any country into which these Libyan individuals may travel or attempt to move their assets," said Noble...The fifteen others Libyans are:

*Abdulqader Mohammed al-Baghdadi, head of the Liaison Office of the Revolutionary Committees.
*Abu Zayd Umar Dorda, director of External Security Organization and head of external intelligence agency.
*Major General Abu Bakr Yunis Jabir, the defense minister.
*Aisha Moammar Gaddafi, daughter and one of the closest associates of Gaddafi....
---
3.04.11 UK pulls plug on United Nations spending in opposition of US
March 3 - Critics of US spending on the United Nations got a huge boost — and supporters of that spending, especially the Obama Administration, took a body blow — from an unlikely source this week: the British government, long one of the UN's staunchest supporters. In a sweeping and hard-nosed reorganization of priorities for its $10.6 billion multilateral foreign aid program, the Conservative-Liberal Democrat coalition government of Prime Minister David Cameron has pulled the financial plug entirely on four UN agencies at the end of next year, put three others judged merely "adequate" on notice that they could face the same fate unless they improve their performance "as a matter of absolute urgency," and issued pointed criticisms of almost all the rest. The major exception: UNICEF, the UN children's aid agency, which got a strong endorsement and a funding increase. [More>>foxnews.com]
---
3.04.11 Yemeni army 'fires on protesters'
March 4 - Soldiers fire rockets at anti-government demonstrators in the country's north, killing two people, rebels say. Yemeni soldiers opened fire on an anti-government protest in the country's north, killing at least two people and wounding around seven others, as demonstrations against president Ali Abdullah Saleh continued. Soldiers fired rockets and artillery at protesters in Semla, a village in the northern province of Amran on Friday, sources said. The area, about 170km from the capital Sanaa, is a Houthi stronghold. "During a peaceful protest this Friday morning ... demanding the fall of the regime, an end to corruption and political change, a military site fired rockets at a group of protesters and hit dozens of people," Houthi rebels, named after their leader Abdel Malek al-Houthi, said in a statement. Al Jazeera's Hashem Ahelbarra, reporting from Sanaa, said local security forces dismissed the Houthi's account of events, saying armed tribesmen tried to enter one of the city's security checkpoints by force, after which "clashes ensued, three tribesmen and four policemen were injured." Meanwhile, president Saleh on Friday rejected a proposal by opposition groups that offered him a smooth exit from power by the end of 2011. [More>>aljazeera.net]
---
3.04.11 US calls for religious tolerance in Indonesia
JAKARTA, Indonesia (AFP) March 4 - The United States on Friday called for religious tolerance in Indonesia after several provincial governments banned followers of a minority Islamic sect from practising in public. Some provincial administrations in the world's most populous Muslim country issued a local decree which also banned Ahmadiyah members from showing signs identifying their mosques and schools. The provincial regulations came after Islamist fanatics brutally murdered last month three Ahmadiyah adherents. Two days later another mob of enraged Muslims rampaged through the streets and set fire to churches. "Recent violence against minority communities and new local regulations restricting religious freedom are damaging Indonesia's international reputation as a democracy with a tradition of tolerance," a US embassy statement said...President Susilo Bambang Yudhoyono condemned last month's attacks but defended a 2008 law banning the Ahmadiyah sect from spreading their faith, which is used by hardliners to justify attacks on the sect. Human rights activists say the ex-general has repeatedly failed to tackle sources of intolerance in the country of 240 million people, 80 percent of whom are Muslims. Indonesia's constitution guarantees freedom of religion but rights groups say violence against minorities including Christians and Ahmadis has been escalating since 2008. [Full story>>khaleejtimes.com; For background see Maravot News 3.03.11 article 3.03.11 South Sulawest outlaws Ahmadiyah & google (ahmadiyya sect, maravot)]
---
3.04.11 Cyber activists call for 'Day of Anger' to protest arrest of Shiite cleric
(AFP) March 4 - Cyber activists on Facebook are organizing a "Day of Anger" Friday in the majority Shiite region of eastern Saudi Arabia. They are demanding the release of a Shiite cleric arrested after calling for a "constitutional monarchy." Cyber activists have created a group on Facebook calling for a "Day of Anger" on Friday in the eastern Shiite-majority Saudi region, following the arrest of a Shiite cleric. The group of more than 500 members is calling for protests after Friday prayers in Al-Hufuf, in Eastern Province's Al-Ihsaa governorate, to demand the release of Sheikh Tawfiq al-Amer. Amer was arrested after calling for a "constitutional monarchy" in the Sunni-dominated kingdom, according to the Rasid website, which specializes in Shiite Saudi news. It said that Amer has been held several times in the ultra-conservative absolute monarchy over his calls "for giving Shiites further freedom to exercise their religious rights." [More>>france24.com]
---
3.04.11 German interior minister reopens bitter row over Muslim integration
March 4 - Hans-Peter Friedrich criticized after claiming Islam 'does not belong' in Germany. Germany's new interior minister has said Islam does not "belong" in the country, reopening a bitter debate over the integration of Germany's 4 million Muslims. Hans-Peter Friedrich, who took office on Wednesday, was being asked by reporters about a gun attack at Frankfurt airport in which two US servicemen were killed and another two injured. Investigators suspect the attack, carried out by a 21-year-old Muslim immigrant from Kosovo, was an act of Islamist terrorism. A federal judge in Karlsruhe on Thursday ordered the suspect be remanded to jail on two counts of murder and three of attempted murder, pending further investigation. In his first press conference as minister, Friedrich said on Friday that Muslims should be allowed [to] live in modern Germany, but he added: "To say that Islam belongs in Germany is not a fact supported by history."...Another FDP politician, Hartfrid Wolff, said on Friday in Berlin: "Islam has been a real part of Germany for several generations … It is just as unhelpful to deny this fact as to naively romanticize multiculturalism." [Full story>>guardian.co.uk]
---
3.04.11 10 dead in Nowshera blast: police
NOWSHERA, Pakistan, March 4 - At least 10 people have been killed and several injured in a blast in a mosque inside shrine of Akhond Panjo Baba shrine soon after Friday prayers, Geo News reported quoting police sources. [>thenews.com.pk w/video]
---
3.04.11 Al-Qaeda No. 2 calls for Islamic rule in Egypt
CAIRO (AP) March 4 - Osama bin Laden's deputy is urging fellow Egyptians to establish Islamic rule after the ouster of President Hosni Mubarak. In an Internet audio message, Ayman al-Zawahri warns the "honest and free people" of Egypt and Tunisia not to allow America and others steal the fruits of their uprisings by allowing them to install puppet regimes. It's Al-Zawahri's fourth message since the uprisings in Tunisia and Egypt. The 28-minute recording was posted on a militant website today. He also urged Yemenis to continue their struggle to topple President Ali Abdullah Saleh's regime, which he said turned Yemen into an American spy base. Yemen is home to an al-Qaeda offshoot. Before becoming deputy al-Qaeda leader, the Egyptian al-Zawahri headed the Al-Jihad extremist group that battled Mubarak's regime. [>timesofindia.indiatimes.com]
---
3.04.11 53 peacekeepers killed in Somalia offensive
NAIROBI, Kenya, March 4 - More than 50 African Union peacekeepers have died in fighting in Somalia since a major offensive against Islamist militants began two weeks ago, officials told The Associated Press. The death toll is far higher than any publicly acknowledged casualty figures for the African Union, which appears to be trying to keep the extent of its losses under wraps due to political considerations in Burundi, one of two nations providing the bulk of the forces. The African Union force, known as AMISOM, has publicly confirmed only a handful of deaths since heavy fighting broke out in Somalia on February 19. An AMISOM spokesman in Nairobi did not answer calls. The Burundian government spokesman was unavailable for comment. [More>>indianexpress.com]
---
NOTES

*Visitor statistics on maravot.com from 1&1. com. monthly visitors between 40,000-45,0000.
Privacy Policy: We do not store any personal data from you. We have no way of knowing any vital information about you — not even your name. Third-party distribution: We do not distribute information about your site usage to any third party. We are not responsible for the content of links from our site. Usage data: supplied by our Web Hosting service, 1and1.com, which consists of usage reports, such as page views / impressions and web pages visited, visitors' servers and geographical data (ISP's and country of origin).



Maravot's Homepage




Launched: 10.25.04 / 11.02.04 – | — | ♦
Updated: 3.04.11; 3.07.11; 3.08.11; 3.09.11; 3.12.11; 3.14.11; 3.15.11; 3.16.11