04.23.05 Smoggy Titan from Cassini
April 22 – This false-color composite was created with images taken during the Cassini spacecraft's closest flyby of Titan on April 16, 2005.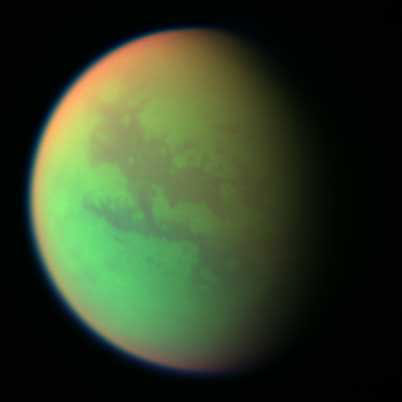 It was created by combining two infrared images (taken at 938 and 889 nanometers) with a visible light image (taken at 420 nanometers). Green represents areas where Cassini is able to see down to the surface. Red represents areas high in Titan's stratosphere where atmospheric methane is absorbing sunlight. Blue along the moon's outer edge represents visible violet wavelengths at which the upper atmosphere and detached hazes are better seen. [More>>saturn.jpl.nasa.go]
---
04.23.05 Moussaoui pleads guilty in terror plot
WASHINGTON, April 23 – Jerry Markon
Washington Post Staff Writer reports: Zacarias Moussaoui pleaded guilty yesterday to taking part in a broad al Qaeda conspiracy that resulted in the Sept. 11, 2001, attacks, saying Osama bin Laden personally instructed him to fly an airplane into the White House.

In a hushed federal courtroom in Alexandria, the French citizen launched into the kind of heated monologue that has often marked his court appearances. He vehemently denied that he was planning to be one of the Sept. 11 hijackers and said his attack on the White House was to come later. [More>>washingtonpost.com]

---
04.23.05 Turkey puts death toll from coal mine explosion at 18
ANKARA.April 22 – Officials on Friday raised to 18 the death toll from a gas explosion at a coal mine in western Turkey. They had said earlier that 17 people, 16 miners and an engineer, died in the accident Thursday at a state-run mine near Gediz, in the province of Kutahya. The victims were trapped in a gallery about 300 meters (985 feet) underground after the explosion caused a cave-in and started a fire. [More>>turkishpress.com]
---
04.23.05 Corpses keep coming from Iraq's river of death
April 23 – Guerillas and thugs made the Iraqi town of Madain their home, and the results are only now surfacing, writes James Hider in Baghdad. ABU Qaddum lays out the pictures of mutilated bodies dredged from the Tigris River like a player dealing cards. Some had their hands cut off, others were headless or burned. Another, with his tongue lolling out, was strangled. He thinks one bloated, slime-covered corpse might be that of his younger brother. The shocking images come from Iraq's new killing fields - the small town of Madain, just 32km from Baghdad.

In other times the massacre might have prompted calls for international intervention. But there are already 150,000 US and British troops in Iraq and this was done under their noses. Mr. Qaddum's pictures are a terrifying testament to the chaos of Iraq. [More>>theaustralian.news.com.au]
---
04.23.05 Iraqi war correspondent complains, "he stole my soul."
April 24 – Christina Lamb has covered many foreign wars for The Sunday Times, but she had no defences when one of the worldıs bestselling novelists decided to hijack her life. When I stepped off the Ryanair plane in the medieval town of Pau in the French Pyrenees almost two years ago to interview the multi-million-selling author Paulo Coelho, the last thing I expected was to end up as the heroine in his next book.

I had just come back from a month in Iraq — about the last time it was still reasonably safe for journalists to work there before kidnappings, executions and car bombs became regular events. A group of us had even managed to go for a picnic to Samarra on the left bank of the Tigris and climbed its famous spiral minaret, which is now a sniper post. [More>>timesonline.co.uk]
---
04.23.05 Thirteen Iraqis killed in Saturday violence
BAGHDAD, April 23 (DPA) - Eight Iraqi soldiers were killed on Saturday when their convoy struck an improvised explosive device in Abu Ghraib west of Baghdad on Saturday, Iraqi police said. Other soldiers open fire after the incident, killing a civilian who drove by the scene. The police said 20 soldiers were also wounded in the blast. In a separate attack in Yusifiya, 40 kilometres south of Baghdad, another two soldiers were killed and three injured when their convoy was hit by an improvised explosive device. Further to the south, a car bomb explosion near a Shiite Mosque in Abu Al-Khasib of Basra on Saturday killed two people and injured number of others, eyewitnesses said. In Baghdad, insurgents shot at a car carrying four passengers, causing the car to overturn, witnesses reported. There was no immediate information on possible casualties. [Khaleejtimes.com; See dailystar.com.lb, "Car bomb at Shiite mosque kills 11" and Al-Jezeera article, "Blast kills Iraqi guardsman."

---
04.23.05 Bush to host Saudi crown prince in Crawford, Texas ranch
April 23 – For some reason President Bush will be entertaining Saudi Crown Prince Abdullah at his ranch in Crawford, Texas, on Monday. According to Reuters he acknowledged this week that the energy bill he has asked Congress to pass by August would not immediately reduce gas prices. [For article, "Democrats hit Bush on gas prices, energy plan," see Reuters.com]

---
04.23.05 US forces detain 6 linked to Helicopter's downing
BAGHDAD (Reuters) april 23 – The US military said on Saturday it had detained six Iraqi men in connection with the shooting down of a commercial helicopter this week in which 11 people were killed, including six Americans. The arrests were made on Saturday following tip offs from Iraqi civilians who led US forces to where the suspected attackers lived. It was not known where the men were seized. "The Iraqi citizen told the soldiers he knew where the blue pickup truck the terrorists used during the attack was parked and led them to the site," the US military's 3rd Infantry Division said in a statement. [More>>Reuters.com]
---
04.21.05 Greenspan renews warning on budget deficits
April 21 – Nell Henderson, Washington Post Staff Writer reports: Federal Reserve Chairman Alan Greenspan said today that his support for tax cuts in early 2001 unintentionally encouraged policies that helped swing the federal budget from surplus to record deficits. In addition, he said for the first time explicitly that he expected tax increases to be part of any bipartisan agreement on deficit reduction... "The federal budget deficit is on an unsustainable path, in which large deficits result in rising interest rates and ever-growing interest payments that augment deficits in future years," Greenspan said in his prepared testimony. "But most important, deficits as a percentage of [gross domestic product] in these simulations rise without limit. Unless that trend is reversed, at some point these deficits would cause the economy to stagnate or worse." Greenspan called for "major deficit-reducing actions" and acknowledged that tax increases may be part of an agreement between the two parties. [More>>washingtonpost.com via cbs]

Editorial Note: There is much confusion among reporters ( who have any idea what is going on with regard to the US National Debt and deficits). They don't seem to know the difference between the National Debt and National Deficits. The National Debt is an accumulation of deficits, the bulk of which accrued from the Reagan-Bush era. The National Debt accumulates interest, which is an item added to the overall annual deficit of the US government. This year, according to the report in the Washington Post, the National Deficit is $412 billion, much of which is interest. This will be added to the ~$9.2 trillion National debt, which brings the total debt to $9.8 trillion. What is the annual interest on $10 trillion at 7% interest? It's nearly $2 billion per day. While we have been experiencing a lower interest rate accrued to our recent debts, 7% is not an unreasonable rate for a long-term debt (which is what the $10 trillion is).

Interest on the National Debt is now our single largest budget expenditure. Instead of spending money on infrastructure repair, education, etc., we are compelled to pay creditors, some of whom are very rich and are not known for investing such monies in job-producing ventures, and others are several central banks (China, Japan, etc.). Those who own our debt are at greater risk the higher our debt becomes, since the amount of the debt is exceeding our ability to refinance it. Click on the chart in the sidebar to get a better grasp of the seriousness of Greenspan's warning. Those who are familiar with "J" curves – exponential increases – will understand my concern that we have passed the "point of no return." We're sunk.
Mel Copeland
---
04.14.05 Straw: Troops to start leaving Iraq next year
April 14 – British Foreign Secretary Jack Straw says British and US troops will be withdrawn steadily from Iraq starting next year and are likely to be completely out of the country within five years. It is the first time a possible timetable was set out for departure of British and US forces in Iraq.

Straw said the 7,500 British troops deployed in southern Iraq are unlikely to be reduced before December, when elections for a permanent Iraqi government are due to be held. He added that the British government is likely to take decisions about the future of the British forces in the autumn. [CR online]
---
04.14.05 Turkey boosts ties with Syria in defiance of US
DAMASCUS, April 14 – Presidents Ahmet Necdet Sezer of Turkey and Syria's Bashar Assad on Wednesday agreed to boost links between their countries despite U.S. pressure for Ankara to keep its distance from Damascus. Turkey and Syria will "develop cooperation and bilateral relations in all economic and commercial domains," Sezer said after meeting Assad in Damascus.

But the political crisis in neighboring Lebanon spurred by the assassination of former Premier Rafik Hariri in mid-February also dominated the talks. Damascus and Ankara are "profoundly attached" to stability and unity in Lebanon, Assad said in a statement. Sezer expressed "satisfaction" with the ongoing Syrian troop withdrawal from Lebanon.

The two-day visit, a first to Syria for the Turkish leader, follows a visit by Assad to Turkey last year. The two presidents also discussed the situation in Iraq and the Middle East conflict, they said, issues on which they have shared views. [More>>dailystar.com.lb]

---
04.14.05 Eleven killed in twin Baghdad suicide car bambings – latest report ~22 killed
BAGHDAD, April 14 (AFP) – At least 11 people were killed and 28 wounded in a double suicide car bombing in Baghdad on Thursday against an Iraqi highway protection force convoy, local officials said. An interior ministry source said the bombers blew themselves up as a the seven-vehicle convoy drove into the busy Jadriyah neighborhood in southeastern Baghdad about 10:00 am (0600 GMT).

Yarmuk hospital said it received 28 wounded including three policemen from the powerful blasts, which sent heavy black smoke into the sky. The attackers struck as the convoy approached the popular Ali al-Lami sandwich shop on the main street, witnesses said. Baghdad University, the Australian embassy, an abandoned interior ministry building and hotels popular with Westerners are all located in the area. [More>>khaleejtimes.com; See later story of aljazeera.net, "At least 22 people have been killed.."
---
04.14.05 We ignore internet at our peril, Murdoch warns editors
April 14 – Chris Tryhorn, Guardian city correspondent, reports: Rupert Murdoch has admitted he "didn't do as much as [he] should have" to confront the digital challenges faced by his newspaper business, which owns the Sun, Times and News of the World in the UK as well as titles in the US and Australia. Describing himself as a "digital immigrant" in contrast to his young daughters, who would be "digital natives," he said the internet was "an emerging medium that is not my native language."

In a speech to American editors in Washington, Mr. Murdoch issued a stark warning to the industry, arguing that the web was "a fast-developing reality we should grasp." He said consumers wanted "control over the media, instead of being controlled by it", pointing to the proliferation of website diaries known as "blogs" and message boards...Young people's attitudes towards newspapers were "especially alarming", he said. "Only 9% describe us as trustworthy, a scant 8% find us useful, and only 4% of respondents think we're entertaining."

He described the shift in attitudes as "a revolution in the way young people are accessing news."

"They don't want to rely on the morning paper for their up-to-date information. They don't want to rely on a God-like figure from above to tell them what's important. And to carry the religion analogy a bit further, they certainly don't want news presented as gospel."

"...In fact, they want a lot of news, just faster news of a different kind and delivered in a different way." The migration of readers online was also affecting advertising revenues, Mr Murdoch said. "The threat of losing print advertising dollars to online media is very real. In fact, it's already happening, particularly in classifieds." [More>>guardian.co.uk]

---
04.14.05 Texas businessman indicted in Iraq Oil-for-Food program
April 14 – A Texas businessman, as well as a British and a Bulgarian citizen, have been indicted in New York for reportedly paying millions of dollars in secret kickbacks to Saddam Hussein's government in Iraq as part of the United Nations oil-for-food program. The Texan, David B. Chalmers, a principal of Bay Oil (U.S.A.) Inc., and an associate of the oil trading company, Ludmil Dionissiev, a Bulgarian and permanent American resident, were arrested this morning at their homes in Houston.

The United States Attorney for the Southern District of New York, David N. Kelley, said at a news briefing this morning in Manhattan that he would seek the extradition from England of a third defendant, John Irving, another associate of Bay Oil. Mr. Kelley said Mr. Chalmers and the other defendants played "a pivotal role" in efforts to fix the price of oil that was traded and sold under the oil-for-food program and "facilitated the payment of illegal surchages" on the oil to the Hussein government. [More>>nytimes.com]

---
04.14.05 US: Iran is years from nuclear arms
April 14 – The United States, responding to reported Israeli fears Iran was near a point of no return in its nuclear programme, has said Tehran is at least five years away from developing nuclear arms. US officials confirmed on Wednesday that Iran's nuclear ambitions were discussed by President George Bush and Israeli Prime Minister Ariel Sharon at their Texas summit on Monday.

The New York Times said Sharon spread out photos of Iranian nuclear sites and cited Israeli intelligence that showed Iran was near "a point of no return" in developing the know-how to produce a bomb.

State Department spokesman Richard Boucher said the international community was concerned about Iran's intentions, but US intelligence suggested Tehran still had a ways to go in developing nuclear weapons. "Our intelligence community has used in the past an estimate that said that Iran was not likely to acquire a nuclear weapon before the beginning of the next decade. That remains the case," he said. [More>>aljazeera.net]

---
04.14.05 FM: Japan's sea drilling 'a serious provocation'
April 14 (Xinhua) – Chinese Foreign Ministry Spokesman Qin Gang said in Beijing Wednesday that Japan has come up with a serious provocation to China's rights by granting Japanese firms the right to drill for gas and oil in East China Sea. In response to a question from local press, Qin said China has already lodged a protest on this issue to the Japanese side and will retain the right to make further reaction. [More.>chinadaily.com.cn]
---
04.14.05 65 Maoists killed in fresh clashes with Nepal security forces
KATHMANDU, April 14 – At least 65 Maoist rebels are believed to have been killed in fresh clash with security forces in western Nepal, the Nepal Royal Army said Thursday. Sixty Maoist rebels were killed in a fresh clash with the security forces at Dalphing in Rukum district on Wednesday, the army said in a statement. Rukum district is located about 400 kilometres (about 250 miles) west of Kathmandu. [jang.com.pk]
---
04.14.05 Temple Mount relics saved from garbage
April 14 – On the grounds of a Jerusalem national park with a view of the Temple Mount, a small group of
Israeli archaeologists and volunteers sifting through piles of rubble discarded by Islamic Wakf officials from the Temple Mount into a city garbage dump have recently uncovered a series of history-rich artifacts dating back to the First and Second Temple periods. The five-month old privately-funded project underway at the site, which is being directed by Bar Ilan University archeology professor Dr. Gabriel Barkay, is being called virtually unprecedented since archaeological excavation has never been permitted on the Temple Mount itself.

Six years ago, following the Islamic Wakf's unilateral construction of a mosque at an underground area of the Temple Mount known as Solomon's Stables, Wakf officials discarded more than 10,000 tons of rubble with history-rich artifacts, at a municipal garbage dump in the Kidron Valley and other locations outside the Old City...Starting in November, the archaeologist and a small team, led by his 32-year-old former student Zachi Zweig, transferred 68 truckloads of rubble saturated with archaeological finds from the garbage dump to the Emek Zurim National Park, on the western slopes of Mount Scopus. Using a mechanical sifter, the rubble was then separated into heaps based on size, before being hand-checked for antiquities...The first coin recovered from the rubble was from the period of the First Revolt against the Romans that preceded the destruction of the Second Temple, he added.

The coin bore the phrase "For the Freedom of Zion," and was particularly meaningful as the Temple Mount was one of the epicenters of the fight against the Romans.

Other finds include a spout of a Hasmonean lamp, an assortment of arrowheads, an ivory comb, a ceramic flask, various first temple figurines, and numerous pottery oil lamps. [More>>Jerusalem Post]
---
04.14.05 IMF urges China to rein in booming economy
April 14 – China needs to rein in runaway investment, raise borrowing costs and relax its currency to retain control over its booming economy, the International Monetary Fund said. In its latest World Economic Outlook report, the IMF also said China was set to entrench its controversial dominance of the global textiles industry following the scrapping of quotas at the start of this year.


International Monetary Fund (IMF) senior economist Raghuram Rajan. China needs to rein in runaway investment, raise borrowing costs and relax its currency to retain control over its booming economy, the International Monetary Fund said. [AFP] The Chinese authorities have been struggling to slow the economy, seeking to keep a lid on investment in key sectors such as steel, autos and construction by curbing bank lending.

Despite these measures, Asia's second-largest economy will continue to be the regional leader, the IMF said, predicting gross domestic product (GDP) growth of 8.5 percent this year and 8.0 percent in 2006. Last year Chinese GDP grew an estimated 9.5 percent, the IMF said. [More>>chinadaly.com.cn]
---
04.14.05 Seven Islamic terror suspects arrested
April 14 – German police launched raids across the country and arrested seven people, including two Arab men who investigators believe laundered money for Islamic extremist groups. Police in Brussels also searched two premises in related raids but made no arrests, police said.

Police said they searched 30 buildings in Germany and detained seven people, including the two men they believe provided financial support to extremist groups. Four of the five others arrested were being held on suspicion of being in Germany illegally. State prosecutor Martin Hofmann said Egyptian Adbel-Raouf R, 47 and Tunisian Abdellatif T, 43, were accused of money laundering and tax evasion. [More>>theaustralian.news.com.au]

---
04.14.05 White smoke and new technology in the papal conclave
VATICAN CITY, April 14 (AFP) – Technicians were at work Thursday on the roofs of the Vatican and inside the Sistine Chapel to protect the secrecy of the first papal conclave of the digital age, while preserving historical aspects of the vote. Their deadline is Monday, when 115 cardinal electors under the age of 80 -- two have had to drop out because of ill health -- are to gather in the Sistine Chapel to begin voting for the next pope. Not only the media but many world leaders are keen to learn what is happening behind the impenetrable walls of the Vatican...The Turin daily La Stampa said the Vatican has long been protected by electromagnetic interference to prevent eavesdropping with directional microphones. Another report said that experts have also installed protection against laser devices that can reconstruct conversations from the vibrations of windowpanes.

La Stampa said an American-made system has been selected to provide a scrambling system to protect the Santa Martha residence where the cardinals will stay between voting sessions, and to prevent all mobile telephone calls. [More>>inq7.net]
---
04.14.05 Clinton urges makeover of US image
UNITED NATIONS, April 14 (AP) – Former President Clinton said on Wednesday the United States should try to build a world of more friends and fewer enemies by following the principle that guided Americans after the devastating Asian tsunami: helping people because it was the right thing to do.

At his first news conference in his new job as the top UN envoy for tsunami recovery, Clinton said the quick deployment of U.S. military ships and soldiers after the Dec. 26 natural disaster, the arrival of American relief workers and the donations from millions of Americans made a positive impact on worst-hit Indonesia. A recent public opinion survey in Indonesia showed that the approval rating for the United States increased from 36 percent to 58 percent "because we did not have an ulterior motive," Clinton said. "We just went someplace and dealt with people on a human basis because it was right," he said. [More>>thejakartapost.com]
---
04.13.05 China Sea now being called "the Sea of Conflict"
April 13 (The Yomiuri Shimbun) – Countries around the world are competing for natural resources. A dispute over maritime resources in the East China Sea, for example, is one of the reasons anti-Japanese demonstrators in China have criticized Japan. Japan, which relies on other countries for most natural resources, is not thinking seriously about the changes taking place.

This group of articles in the "Planning National Strategies" series considers the situation and problems concerning natural resources and energy. The following is the first installment.

The East China Sea is now called the "sea of conflict." While China is exploring natural gas fields near the Japan-China median line in the East China Sea, Japan asked Beijing to suspend exploration on the grounds marine resources on the Japanese side could be accessed by China. On the evening of Jan. 22, tension mounted over the sea of conflict. [More>>Daily Yomiuri]
---
04.13.05 Hope fades for Bangladesh workers
April 13 – A desperate search to find 100 or more trapped factory workers dead or alive has intensified, with the Bangladesh army taking charge of the rescue operation. Rescuers and officials said they had retrieved 30 bodies from under rubble, and pulled out more than 100 people alive, after the nine-story garment factory building collapsed on Monday. A similar number or more could still be trapped, civil volunteers said on Wednesday, but the stench of death wafting up from under the debris left rescuers and relatives with fading hopes..."We are having a list of around 90 people still missing," said army Colonel Hanif Iqbal late on Tuesday. The Shahriar Fabrics factory collapsed soon after midnight on Sunday. A planning official said the factory at Palashbari, 30km from Dhaka, had been built on marshland without planning permission.

Security officer Abdul Hye said on Monday that at least 250 people had been working the night shift at the factory, which is surrounded by marshes and paddy fields. Bangladesh's garment industry employs nearly 2 million people, mostly women, and is notorious for poor safety standards. [More>>aljazeera.net]

---
04.13.05 Kuwaiti MPs oppose foreign hand in mega oil
KUWAIT CITY, April 11 (AFP) – Kuwaiti MPs are questioning the need for large-scale foreign involvement in a government-proposed multi-billion-dollar project to develop the emirate's northern oil fields, one lawmaker said on Sunday. At a meeting with the energy minister and top oil executives in Parliament late Saturday, MPs urged the government to consider other options to implement the project that would minimize participation by foreign oil majors, Nasser al-Sane said.

The controversial $8.5 billion Project Kuwait has been stalled for more than a decade by resistance from MPs who fear that the Gulf emirate's oil resources could be surrendered to international oil companies...Project Kuwait aims at increasing daily output in the four fields from the current 530,000 bpd to 900,000 bpd.

But the targeted output will only be sustained for six years during the 20-year period, setting average daily production at 680,000 bpd, or just 150,000 bpd above the current level...Kuwait, which sits atop around 10 percent of global reserves, has already prequalified some 25 operator and nonoperator foreign companies for Project Kuwait, including Shell, ExxonMobil, BP Amoco, ENI, Total and Chevron. The companies have formed three consortia which have submitted bids for the project. [More>>dailystar.com.lb]
---
04.13.05 Japan begins procedures for East China Sea test drilling
TOKYO, April 13 (Kyodo) – Japan initiated procedures Wednesday to grant Japanese companies concessions to conduct test drilling for natural gas and oil in disputed waters in the East China Sea, a step signaling its determination to secure its marine interests amid deteriorating bilateral ties following anti-Japanese protests in China. The move announced by the Ministry of Economy, Trade and Industry came after Japan had notified the Chinese side April 4 that it may initiate procedures for experimental drilling if Beijing continues to snub its repeated requests to provide details of its gas projects and stop its ongoing explorations.

''We will carry forward the procedures as planned,'' Prime Minister Junichiro Koizumi told reporters. The premier, however, denied speculation that the action is intended to signal Japan's intention of countering anti-Japanese protests in China. [More>>kyodo.co.jp]
---
04.13.05 Seoul less safe than other major cities
SEOUL, Korea, April 13 – Seoul is less safe than other cities across the globe given its steep crime rate and high number of deaths from traffic accidents, according to a survey by the Seoul metropolitan government yesterday.

Seoul came in second in terms of violent crime and murder rate among eight other cities - Tokyo, Beijing, Shanghai, Hong Kong, Singapore, London, Paris and New York. Tokyo has the highest offense rate of 0.020 per person, followed by 0.014 in Korea and 0.012 in New York, according to the 2004 Seoul Survey.

The figures were compiled from statistics given by each country.

Deaths from traffic accidents reached 504 in Seoul in 2003, higher than those of Tokyo, New York, London and Singapore. Cultural infrastructure is poorer in Seoul compared to New York as the number of libraries is only 20 percent of that of New York and for museums, one third of that of New York. The survey also said Seoul is a young city along with Singapore as the aging index recorded the lowest among other countries. [More>>koreaherald.co.kr]
---
04.13.05 Russia makes drugs of insects
MOSCOW, April 13 – (RIA Novosti) - Russian researchers are developing new antiviral and antitumoral medicines on the basis of the insect immune system. The Biological Research Institute of the St. Petersburg State University is preparing, under the guidance of Sergei Chernysh, Doctor of Biology, novel drugs containing agents generated by the immune system of insects, the Nezavisimaya Gazeta reports.

Though unlike humans, the insect immune system is as efficient. Insects promptly distinguish microbe cells with the help of receptor molecules and reciprocate with synthesizing protective peptides. Insects are an inexhaustible source of medications of the future.

St. Petersburg researchers have already come up with one such drug, an analog of the peptides of the insect immune system. They extracted the active agent of the new preparation (allopherone) from calliphora fly larvae, which has for centuries helped doctors to save the wounded. The preparation has passed clinical tests and is now used as an antiviral agent mostly for herpes.

On the basis of the insect immune system researchers are developing so-called enthovirons. This group of biologically active substances has never been under study before. Also, a new generation of drugs on the basis of allopherone-like peptides, allostatines, is being prepared. They are not only antiviral but also cut the rate of proliferation of cancer cells. [More>>rian.ru]
---
04.13.05 Chinese protesters planning more anti-Japan demonstrations
BEIJING, April 13 – Chinese protest organizers warned Wednesday that because 2005 marks the 60th anniversary of the end of World War II, Chinese will continue turning out for anti-Japan protests as they did over the weekend unless Tokyo atones for its occupation of China. Protests will go on to push Japan to apologize for its 14-year occupation of China that ended with its surrender in 1945, said members of the China Federation to Protect the Diaoyu Islands, an activist group that uses China's name for the disputed Senkaku archipelago and has organized dozens of previous protests. [More>>japantoday.com; See also article in the chinadaily.com.cn, "Japan told to face up to history" and AFP article in khaleejtimes, "UN aide says China-Japan tensions could derail UN reforms."
---
04.13.05
China to reclaim looted and stolen relics
April 13 – Cultural relic experts and NGOs have set the wheels in motion to begin reclaiming China's national treasures from abroad. The China Cultural Relics Recovery Programme, funded by the China Foundation for the Development of Folklore Culture, announced a large-scale programme on Monday to claim back Chinese cultural relics scattered around the world.

According to Zhang Yongnian, head of the programme, the group will focus on items that were stolen, excavated or looted and trafficked abroad between 1840 and 1949, before the founding of New China. Statistics from the United Nations Educational, Scientific and Cultural Organization suggest about 1.67 million Chinese cultural relics are held by more than 200 foreign museums in 47 countries.

Some estimates put the number of relics collected by private individuals at 10 times that figure. "The spiritual wealth can be shared (by the whole world), but not the ownership, just like the property rights on software," said Xie Chensheng, a senior cultural heritage preservation expert. [More>>chinadaily.com.cn; See also xinhuanet.com]
---
04.13.05 Iranian MPs slam state TV for racist remarks against country's Jews
April 13 (Reuters) – The speaker of Iran's parliament rebuked state television on Wednesday for airing serials that insulted the country's ancient but dwindling Jewish community, the official IRNA news agency reported.

Gholamali Haddadadel was responding to complaints from Jewish lawmaker Moris Motamed, who argued that anti-Semitism in television serials was spurring emigration...Motamed, the only Jew to have a seat in Iran's 290-seat parliament, told Reuters drama serials such as "Plot," The Great Escape" and "Blue Eyes" had misrepresented the Jews and their customs.

"They showed Jews as bad people, and not to be trusted."

"Insulting Jews and attributing false things to them in TV serials ... has not only hurt the feelings of the Jewish community but has also, it can be said with conviction, led to the emigration of a considerable percentage of the Jewish community," IRNA quoted Motamed telling parliament.

Jewish groups estimate their Iranian community has plunged to some 25,000 from about 85,000 at the time of the 1979 Islamic revolution. Iran's population is 67 million. The Jewess Esther, a queen of Persia who give her name to a book of the Bible, is buried in the western Iranian city of Hamadan. Iran's Jews are sometimes called "Esther's Children." [More>>haaretzdaily.com]

---
04.13.05 New York Times summary of killings in Iraq past few days
April 13 – In an article entitled, "9 Iraqi policemen killed trying to defuse a bomb," Robert F. Worth and Terence Neilan proceed to describe other killings, etc. that happened in the past few days in Iraq during Rumsfeld's surprise visit. Go to nytimes.com.
---
04.13.05 Israel says Iran just a few steps from the bomb
JERUSALEM, April 14 – Abraham Rabinovich reports: Armed with satellite photos of Iranian nuclear sites, Israeli PM Ariel Sharon has warned US President George W. Bush that Tehran is a few small steps away from achieving nuclear capability and called for urgent international action to block it. According to senior US and Israeli officials, Mr. Sharon said Israeli intelligence showed Iran was near "a point of no return" in learning how to develop a weapon, The New York Times reported.

However, Mr. Sharon gave no indication that Israel was preparing to act alone to attack Iranian nuclear facilities, a prospect that US Vice-President Dick Cheney, who was at the lunchtime meeting with the leaders at the Bush ranch in Texas, raised publicly three months ago. The Israeli leader, on a visit intended to discuss Israeli-Palestinian peace prospects, used the occasion to press the Bush administration for more forceful action in seeking international sanctions against Iran if it does not halt its nuclear program. [More>>theaustralian.news.com.au; See also nytimes.com article, "Sharon asks US to pressure Iran to give up its nuclear program."

---
04.13.05 Two more Indonesian volcanoes showing signs of activity
AIR BATUMBO, West Sumatra (AP): Scientists raised the alert level on two more Indonesian volcanoes on Wednesday, a day after a volcanic eruption on disaster-stricken Sumatra Island triggered the evacuation of some 25,000 people.

Sensors on the slopes of the two mountains - Anak Krakatoa on the southern tip of Sumatra Island and Tangkuban Prahu in Java - picked up an increase in volcanic activity and a build up of gases, said government volcanologist Syamsul Rizal. On Tuesday, Mount Talang, also on Sumatra Island, erupted, sending clouds of gas high into the air. Some 25,000 people have fled the area around the volcano and are staying in tents and public buildings, officials said. [More>>thejakartapost.com]

Editorial note: August 26, 1883 the volcano Krakatoa exploded and was one of the most catastrophic disasters in recorded history. The island Anak Krakatoa remains in the area where the mountain was located. To read more about this, view maps, etc. go to drgeorgepc.com.
---
04.13.05
Pakistan welcomes India's inclusion in TAP gas pipeline project
ISLAMABAD, April 13 – Pakistan has no objection if India wants to join the Turkmenistan, Afghanistan, Pakistan (TAP) gas pipeline project, Pakistan's petroleum and natural resources minister has said. "We have no reservation in this respect. They would be welcomed in TAP project as well as from Iran," Minister for Petroleum and Natural Resources Amanullah Khan Jadoon said Wednesday. "If they have their problem, we do not know about it but we have no objection," he added. He said the Afghan government has given assurance regarding the protection of the pipeline and a number of activities are going on in this regard in that country. [More>>jang.com.pk]
---
04.13.05 Eleven Pakistanis charged over Spanish terror plot
MADRID, April 13 – Spanish authorities have charged 11 Pakistani nationals over suspected links with Al-Qaeda sympathizers who carried out the Madrid train bombings a year ago, judicial sources said Wednesday. One of the 11, Shahzad Ali Gujar, is suspected of having transferred funds to members of Al-Qaeda, including Amjad Farooki, who Pakistani security forces killed last September and who was implicated in the murder of US journalist Daniel Pearl.

Wall Street Journal reporter Pearl was executed by Islamic extremists in the Pakistani city of Karachi in early 2002.

Farooki is widely believed to have been an Al-Qaeda recruiter. In all, investigators believe Al-Qaeda members in Pakistan received some 800,000 euros (one million dollars) in funds from Spain. Mohamed Afzaal, believed to have headed the Pakistani cell in question, is suspected of sending money last September to Rabei Ousman Sayed Ahmed, alias "Mohammed the Egyptian", who is currently in custody on suspicion of involvement in the train bombings which killed 191 people.

Two of the 11, Shahzad Ali Gujar and Adnan Aslam, are thought to have met "Mohammed the Egyptian" in Brescia, Italy, in May 2003. Shahzad Ali Gujar is suspected of meeting Othman el Gnaout, another March 11 suspect, three days before Spain's worst ever terrorist attack, while he is additionally suspected of meeting Saed el Harrak, also in Spanish detention, the day after the blasts.

The judge overseeing the case says that "a group was constituted in Barcelona with a view to supporting global jihad from Spanish territory (via) the financing of concrete terrorist acts and people recruited to carry them out." The judge considers there is hard evidence to suggest that Mohamed Afzaal travelled to Dubai in early 2004 where Al-Qaeda operatives instructed him to create terrorist cells in Spain and Norway or Denmark to finance the terrorist network's activities.

The Pakistanis are further charged with preparing an attack in Barcelona, having been found to be in possession of films and detailed maps of several major buildings in the eastern Spanish metropolis. One of the maps depicted a shopping mall in the city's port area. Spanish authorities named the 11-strong group as Mohamed Afzaal, Shahzad Ali Gujar, Nasser Ahmad Khan, Masoud Akhtar, Shafqat Ali, Mahmoud Anwar, Adnan Aslam, Farhat Iqbat, Irfan Khan, Zaman Qamar Uz and Mohamed Choudhry Aslam. [jang.com.pk]
---