News Headlines & Trends
---
07.18.10 Well cap may bottle oil until permanent plug, BP says
NEW ORLEANS (AP) July 18 - BP hopes to keep using its giant stopper to block oil from reaching the Gulf of Mexico until they plug the blown out well permanently, the company said Sunday. "No one associated with this whole activity ... wants to see any more oil flow into the Gulf of Mexico," said Doug Suttles, BP's chief operating officer. "Right now we don't have a target to return the well to flow." Retired US Coast Guard Adm. Thad Allen outlined a different plan on Saturday, saying that after the test was complete, the cap would be hooked up through nearly a mile of pipes stretching to ships on the surface that will collect the oil. But that would mean oil would have to be released back into the Gulf for three days to release pressure from the well, Suttles said. The oil giant hopes to instead keep the oil shut in until its permanent measure is completed, although Suttles said BP was taking it day by day. [More>>foxnews.com]
---
07.18.10 Feds nab alleged PR drug lord after 10-year hunt
SAN JUAN, Puerto Rico (AP) July 17 - Alleged drug kingpin arrested in Puerto Rico after decade-long hunt by federal authorities. Federal authorities arrested a fugitive alleged drug kingpin Saturday after a decade-long chase through the Caribbean marked by his narrow escapes and public taunting that he paid off police to remain free. Known as the Pablo Escobar of the Caribbean, Jose Figueroa Agosto was caught wearing a wig while driving through a working-class Dominican neighborhood of San Juan. When he realized he was being followed, he tried to run on foot as he had last September in the Dominican Republic after a pursuing vice squad shot out a tire on his Jeep. But this time US Marshals, FBI, drug enforcement agents and Puerto Rican police caught up. "We asked him his name, and he simply answered that we knew who he was," said Antonio Torres, who heads the US Marshal Service's fugitive task force in Puerto Rico...Figueroa, who was 45 in March, is suspected of shipping Colombian drugs to the U.S. mainland through Puerto Rico, where he escaped from prison in 1999 after presenting a forged release order. He had served only four years of a 209-year sentence for killing a man suspected of stealing a cocaine shipment. [Full story>>abcnews.go.com]
---
07.18.10 Twin suicide blasts kill 48 in Iraq
BAGHDAD (AFP) July 18 - Two suicide bombers targeting members of a government-backed, anti-al-Qaeda militia struck within hours of each other, killing at least 48 people and wounding dozens more. The bombings were the deadliest in a series of attacks across Iraq on Sunday that were aimed at the Sons of Iraq, a Sunni group also known as Sahwa that works with government forces to fight al-Qaeda in Iraq. The first attack Sunday morning (local time) — the deadliest against Iraq's security forces in months — killed at least 45 people and wounded more than 40. In the second attack, a suspected militant stormed a local Sahwa headquarters in the Anbar province town of Qaim, near the Syrian border, and opened fire on those inside. Sahwa fighters returned fire, wounding the attacker, who then blew himself up as they gathered around him, killing three of the fighters and wounding six others, two police officials said, also speaking on condition of anonymity. [>news.com.au]
---
07.18.10 Hamas bans women from smoking water pipes in cafes
GAZA CITY, Gaza (AP) July 18 - Gaza's Hamas rulers have banned women from smoking water pipes in cafes, calling it a practice that destroys marriages and sullies the image of the Palestinian people. The ban marks the Islamist militant group's latest effort to impose their harsh Muslim lifestyle in the seaside strip on an often resistant public. While Muslim law does not technically ban women from smoking the traditional tobacco-infused pipes, tradition frowns upon the habit. Hamas frequently mixes its strict interpretation of Islamic law with conservative Gaza tradition, and over the weekend, the two dovetailed to produce the smoking ban. "It is inappropriate for a woman to sit cross-legged and smoke in public. It harms the image of our people," Ihab Ghussein, Hamas interior ministry spokesman, said in a statement released Sunday. "Many women who smoke in public were divorced when their husbands saw them, or found out about them," said Hamas police spokesman, Ayman Batneiji, without substantiating his claim. The ban was handed down by plainclothes security officials who marched through a strip of popular cafes by Gaza's seashore over the weekend, ordering owners not to serve water pipes to female customers. [More>>thejakartapost.com]
---
07.18.10 Syria bans face-covering veils in universities
July 18 - Fearing an ever-secular Syria might turn to radical Islam, authorities has quietly banned the niqab, a face-covering veil worn by some Muslim women, in public universities — a move welcomed by most Syrians. The government, which has always kept a tight lid on Islamic movements, has also possibly forced 1,200 women teachers wearing burqa (the head-to-toe Muslim veil) out of their jobs, or reassigned them to government offices where they would not come into contact with students. "Minister of Higher Education Ghyath Barakat has given his directives that women wearing niqab would not be allowed to enter the Syrian universities," one informed source told CBS News. "The Minister has totally rejected this phenomena which contradicts with the academic values and traditional morals and ethics of the Syrian society," the source said, on condition his name would not be used. "We will not leave our daughters a prey for extremist thoughts. The Syrians have always shown through history their awareness, understanding and the ability for confronting those bad habits," the source quoted Barakat, the Syrian Minister, as telling his top assistants. The ban, which was not made public in state-run media, does not affect the hijab, or headscarf, which is favored by the vast majority of veiled Syrian women. [More>>cbsnews.com]
---
07.18.10 Spain to debate ban on public burkas
Madrid (AP) July 18 - Spanish lawmakers will debate barring burkas in public, joining other European countries considering similar moves on the grounds that the body-covering garments are degrading to women, the leading opposition party said Sunday. Top officials of the ruling Socialist Party have indicated they will support the proposal by the opposition Popular Party, making a ban likely unless the country's highest court rules it unconstitutional. A debate in Spain's lower house has been set by the Popular Party for Tuesday or Wednesday, the party said. No vote will be scheduled until after the debate, and Spain's Parliament usually goes on vacation for a month starting in late July or early August. Justice Minister Francisco Caamano said on June 15 that garments like the burka are "hardly compatible with human dignity." Head-covering veils would not be included in a ban as they form a part of traditional Spanish dress, with women often covering their heads with a garment called a mantilla, especially during church services in the south of the country. Barcelona, Spain's second-largest city, banned the use of burkas and niqabs in municipal buildings in June, joining a handful of small towns and cities nearby that have taken similar steps. [More>>jpost.com]
---
07.18.10 11 Taliban escape from Afghan jail
KABUL, Afghanistan (AP) July 18 - A smuggled bomb exploded at a western Afghan prison just as Taliban fighters staged coordinated attacks on four police checkpoints early Sunday, allowing 11 Taliban inmates — including suspected insurgents — to escape, officials said. A Taliban spokesman claimed responsibility for the brazen jailbreak in Farah province, saying it had freed insurgent comrades being held there. A guard died in the prison blast and one inmate was shot and killed while fleeing. One police officer was wounded. The blast appeared coordinated with armed insurgent attacks on four police checkpoints on the outskirts of Farah city, provincial police chief Gen. Mohammad Faqir Askir. "Of course this is the work of the Taliban," Askir said. "We think that the militants were trying to keep authorities busy with the attacks on the checkpoints while the explosion happened." He said there was no armed attack on the prison, only the explosion. [More>>japantoday.com]
---
07.18.10 One dead, 18 injured in Sargodha Imam Bargah blast
SARGODHA, Pakistan, July 18 - One person was killed and 18 others were injured in a blast that ripped through an Imam Bargah here in Sargodha block 19, Geo News reported on Sunday. The injured, some of them severely, have been shifted to District Hospital Sargodha and announcements are being made to donate blood for the wounded. Emergency has been declared in city hospitals. Rescue and relief activities have been kick-started at the site of the incident while heavy contingent of police arrived at the scene and cordoned off the area. The blast occurred when preparations were being made for Namaz-e-Maghribain in the Imam Bargah located in a bustling market place. Normally strict security is maintained at the Imam Bargah. But for reasons not known extraordinary security seemed not to have been put in place today. [More>>thenews.com.pk; See related story,

alarabiya.net, July 18, "Militants kill 18 in NW Pakistan convoy attack" : PARACHINAR, Pakistan - All the dead reportedly Shiite Muslims. Suspected militants in a Pakistani tribal region on the Afghan border ambushed a convoy of vehicles being escorted by security forces on Saturday, killing 18 people, including two women, witnesses said. Militants opened fire on civilian vehicles in the convoy as it headed to the main northwestern city of Peshawar from Parachinar, the main town of the Pashtun-dominated Kurram region where the army has killed nearly 100 militants in operations in the past few months. "Militants attacked the last two vehicles in the convoy with automatic weapons near Char Khel village, killing 18 people," said Jamshed Tori, who was also wounded in the attack. Local administrative and intelligence officials also confirmed the incident and said that all those killed were Shiite Muslims. They said that the death toll may rise and added that gunmen managed to flee the scene. Kurram tribal district has for three years been a flashpoint for violence between the minority Shiite and majority Sunni communities. Shiites account for some 20 percent of Pakistan's mostly Sunni Muslim population of 160 million. [More>>alarabiya.net]
---
07.18.10 French police come under gunfire again in riot-hit suburb
July 18 - French police said Sunday they had come under gunfire for a second successive night in a riot-hit suburb of Grenoble, only hours after French Interior Minister Brice Hortefeux (pictured) vowed to restore order "immediately." Police deployed in a suburb of the French city of Grenoble to halt a wave of rioting said Sunday they had come under gunfire for a second night running. Four men were arrested in a dawn raid in the working class neighbourhood of La Villeneuve for allegedly shooting at security forces. Police had already made at least seven arrests overnight for carrying weapons. No one was reported hurt. The riots broke out after a 27-year-old man was shot dead by police on Thursday when he allegedly robbed a casino in the south-eastern city nestled in the French Alps. Youths torched between 50 and 60 cars as well as construction equipment and two shops. [More>>france24.com]
---
07.16.10 Pamela Anderson 'Veggie' advert banned
July 16 - A vegetarian advert featuring Pamela Anderson in a string bikini has been banned in Canada for bein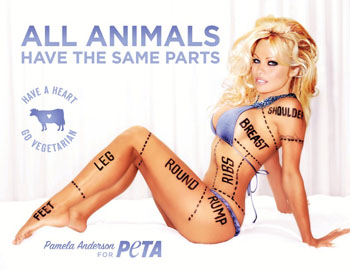 g "sexist." The former Baywatch star features in a poster for People for the Ethical Treatment of Animals (Peta) covered in butcher's labels such as "rump," "ribs" and "breast." The creators of the advert, which includes the slogan "All Animals Have The Same Parts," had been seeking approval for it to be displayed in Montreal. But Canadian officials rejected the banner, telling the animal rights group in an email it went against the "battle of equality between men and women." Anderson, who is a vegetarian and long-time Peta activist, hit out at the "puritanical" decision. The 43-year-old actress was due to unveil the poster at Montreal's Place Jaques-Cartier, but will now introduce it at a comedy festival media conference.

"In a city that is known for its exotic dancing and for being progressive and edgy, how sad that a woman would be banned from using her own body in a political protest over the suffering of cows and chickens," she said in a statement. "In some parts of the world, women are forced to cover their whole bodies with burkas — is that next? I didn't think that Canada would be so puritanical. Peta's senior vice president Dan Mathews added: "I think that city officials are confusing 'sexy' with 'sexist.' " Other celebrities who have lent their name to the group's campaigns include Sir Paul McCartney, Dave Navarro and Twiggy. [>news.sky.com ; See also peta.org article.]
---
07.16.10 US says scientist aided C.I.A. while still in Iran
July 16 - The Iranian scientist who American officials say defected to the United States, only to return to Tehran on Thursday, had been an informant for the Central Intelligence Agency inside Iran for several years, providing information about the country's nuclear program, according to United States officials. The scientist, Shahram Amiri, described to American intelligence officers details of how a university in Tehran became the covert headquarters for the country's nuclear efforts, the officials confirmed. While still in Iran, he was also one of the sources for a much-disputed National Intelligence Estimate on Iran's suspected weapons program, published in 2007, the officials said. For several years, Mr. Amiri provided what one official described as "significant, original" information about secret aspects of his country's nuclear program, according to the Americans.

This account by the Americans, some of whom are apparently trying to discredit Mr. Amiri's tale of having been kidnapped by the C.I.A., provides the latest twist in one of strangest tales of the nuclear era. It also provides the first hint of how the United States acquired intelligence from Iranian scientists, besides its previously reported penetrations of Iranian computer systems. Mr. Amiri arrived in Tehran early Thursday morning, repeating his allegation that he had been grabbed in Saudi Arabia by the C.I.A. and Saudi intelligence, and that he was tortured. After an immediate news conference, government officials led him out of the airport to an unmarked white S.U.V. His whereabouts were unclear on Friday. American officials, clearly embarrassed that he had left a program that promised him a new identity and benefits amounting to about $5 million, said his accusations that he had been kidnapped and drugged were manufactured, and an effort to survive what will almost certainly be a grilling by the Iranian authorities. [More>>nytimes.com]
---
07.16.10 2010 global temps warmest on record - scientists
MOSCOW (RIA Novosti) July 16 - Average global temperatures from January-June 2010 have been the warmest since records began in 1880, a report issued on the US Oceanic and Atmospheric Administration website said on Friday. The combined global land and ocean average surface temperature for June 2010 was the warmest on record at 16.2 degrees Celsius (61.2 degrees Farenheit), which is 0.68 Celsius degrees above the 20th century average of 15.5 degrees Celsius (59.9 degrees Farenheit). "Warmer-than-average conditions dominated the globe, with the most prominent warmth in Peru, the central and eastern contiguous US, and eastern and western Asia," the report said. The report also said that the area covered by Arctic Sea ice has reduced by 10.6% against the 1979-2000 average level. Russian meteorologists say the 2010 summer is one of the three hottest on record. Forecasters predicted record temperatures of 36 degrees Celsius (97 degrees Fahrenheit) in Moscow for Friday. [>en.rian.ru ; See related story,

bbc.co.uk, July 16, "Red Sea coral growth 'to halt by 2070' " : A species of coral in the Red Sea could stop growing by 2070 if current warming trends continue, say scientists. A team of US researchers, using 3D technology, said that the rate of growth of Diploastrea heliopara had declined by 30% since 1998. Rising sea surface temperature was already "driving dramatic changes" in the growth rate in the important reef-building organism, they observed. The findings have been published in the journal Science. Co-author Anne Cohen, a research specialist at Woods Hole Oceanographic Institution (WHOI) in the US, explained that the team were able to measure the decline in growth by examining core samples from coral skeletons. "The coral is an animal, and the colony made up of millions of tiny, little animals — and they together build this huge thing that is seven metres in diameter," she told BBC News.
"As they are growing, they are building this calcium carbonate skeleton that the animal is basically leaving behind. If you cut through a colony, only the very top layer is actually living — the rest of it is all dead. What is really cool is that everything that the colony has experienced in its life, which can be very long — these colonies can live four or five hundred years — is recorded in the skeleton," Dr. Cohen explained. "It is recorded in annual growth bands, so we know exactly the year in which certain things happened."...
---
07.16.10 Pakistan ISI paid Rs25L to LeT to buy boat for 26/11 attack: Headley
NEW DELHI, July 16 - In revelations that clearly show [the] ISI role in the 26/11 attacks, Pakistani-American terrorist David Headley has told his interrogators that the Pakistani intelligence agency had paid Rs 25 lakh to LeT to purchase a boat which terrorists used to travel from Karachi. Headley also identified through [a] voice sample test two ISI officers who handled the 10 terrorists who carried out [the] 60-hour attack in Mumbai on November 26, 2008.

Giving these bits of information on the basis of [the] interrogation of Headley carried out by an NIA team recently, official sources here said the ISI role in the attack was very clear from the revelations made by the LeT operative who is in the custody of [the] FBI. The ISI had paid Rs 25 lakh to Lashkar-e Taiba (LeT) terror outfit for purchase of a boat which was used by the 26/11 attackers to travel from Karachi to the Pakistani maritime boundary, where they hijacked an Indian fishing boat "Kuber" to reach Mumbai. Sources said Indian investigators also have information that chief of ISI Lieutenant General Ahmed Shuja Pasha had met one of the handlers of the Mumbai attack, Sajjid Mir, who is currently in a Pakistani jail. [More>>timesofindia.indiatimes.com]
---
07.16.10 Petraeus's first act is to establish militias to fight the Taliban
July 16 - General persuades a reluctant President Karzai to sign up to tactics imported from Iraq. Armed militias of the type used to fight the insurgency in Iraq are to be introduced to Afghanistan in what is seen as a controversial part of the new strategy of General David Petraeus to counter the tide of Taliban attacks. The setting up of the groups — who will provide up to 10,000 fighters — is the first major initiative by General Petraeus after taking over command of Western forces in the Afghan campaign following the sacking of his fellow American, General Stanley McChrystal. The move, has, however, faced resistance from Afghanistan's president, Hamid Karzai, who fears that the groups would become power bases for regional strongmen.

His spokesman, Waheed Omar, said: "We don't want a short-term objective to endanger a long-term objective for security." But General Petraeus, who used similar tactics in organizing the so-called Sunni Awakening groups during the "surge" in Iraq, holds that local defence forces are vital in rural areas. They will help counter the Taliban while members of Afghan army and police forces are trained, as the chorus of Western politicians clamoring for a timeline for their forces to be withdrawn grows. [More>>independent.co.uk]
---
07.16.10 Middle tennessee city divided over proposed Islamic center
July 15 - A proposed mosque and Islamic center in Murfreesboro, Tennessee, is dividing the city about 35 miles southeast of Nashville, Tennessee. Residents are battling about whether the center should exist, and if not, why not. The Islamic Center of Murfreesboro currently resides in the southwest part of town. The center purchased a new 15-acre site just a few miles to the east in November for $320,000, according to its website, with plans to build on the property. Proponents of the mosque allege the opponents are displaying religious intolerance, while people fighting the mosque say zoning concerns and worries about Islamic radicalism are their chief concerns. Several hundred opponents marching from a middle school to a courthouse faced off against roughly the same number of counter-protesters Wednesday. The rhetoric was heated. Protesters bore signs with slogans such as "MOSQUE LEADERS SUPPORT KILLING CONVERTS." "In Islam, a mosque means 'We have conquered this country,'" one man told CNN affiliate WTVF. "And where are they? They're in the center of Tennessee. They're going to say, 'We have conquered Tennessee.'" [More w/ video>>cnn.com; See related Maravot News stories article 07.14.10 Al Arabiya airs failed Times Square bomber tape ]
---
07.16.10 Islamic Burka ban: 67% of Britons agree
July 16 - More than two-thirds of people believe there should be a complete ban on wearing the burka across Britain, according to a Five News and YouGov poll. The survey was conducted after French MPs voted in favour of a ban on wearing veils over the face — a move which could make the Muslim burka illegal. In April, Belgium became the first country in Europe to outlaw the burka in public places. Amnesty International has said such moves "violate the rights to freedom of expression and religion." However, supporters of a ban, such as French president Nicolas Sarkozy, claim face veils "hurt the dignity of women." Garments like the burka and niqab are worn by many Muslim women out of choice and are not required by Islamic law. However, some critics believe women are sometimes pressured into wearing a veil. [More>>news.sky.com]
---
07.16.10 BP oil cap may have spill under control
July 16 - BP vice-president says pressure is holding inside cap, but US president Barack Obama warns against premature celebration. BP held out hope today that it had finally brought America's worst oil spill under control, when a senior executive expressed optimism about a new cap that for the first time since April has stopped oil gushing from a deepwater well. The vice-president, Kent Wells, said pressure was holding up inside the cap, indicating that oil was being successfully contained under the 75-tone device. Valves on the cap were shut late yesterday and pressure will be tested regularly over the next 36 hours. A fall in pressure would indicate another leak. [More>>guardian.co.uk]
---
07.16.10 NATO airstrike kills Taliban commander in north
KABUL, July 16 - A NATO airstrike killed a Taliban commander responsible for a suicide attack on a U.S. aid program in northern Afghanistan, police said, while a raid killed another insurgent who smuggled in foreign fighters through Iran, officials said Friday. International troops working with Afghan forces say they have killed or captured dozens of senior insurgent figures since April as they aggressively step up operations against the Taliban leadership. However, those successes haven't slowed the pace of militant attacks, which continue daily. In the northern province of Kunduz, a precision airstrike killed a local Taliban commander who uses the alias Qari Latif, the provincial police chief said. Latif died along with 12 other insurgents while they met in a field under a tree Thursday outside the provincial capital, police chief Abdul Razaq Yaqoubi said. NATO confirmed an airstrike targeted a senior insurgent commander who was at a meeting to choose a new Taliban "shadow governor" in a Kunduz district, but the alliance said in a statement it was still investigating the outcome...In western Farah province next to Iran, international and Afghan forces also raided a militant training camp Thursday, killing another Taliban commander and several more insurgents, NATO said. [Full story>>japantoday.com]
---
07.16.10 Tirah Valley blast mounts to 10
PESHAWAR, Pakistan, July 16 - A bomb blast ripped through a busy market in Khyber Agency on Friday, killing 10 civilians including children, officials said. "Ten people have been killed, there were three children among the dead. Fourteen people were wounded in the blast," Khyber district senior official Shafeerullah Khan told foreign news agency. The timed device was planted in a ditch in a crowded market where people buy and sell second-hand cars, he said. The bodies and injured rushed to hospital. [>thenews.com.pk]
---
07.16.10 At least 27 killed in Iran suicide attacks on mosque
TEHRAN, July 16 - Twin bombings killed at least 27 people outside a mosque in southeastern Iran on Thursday. The Sunni rebel group Jundallah said it carried out a double suicide bombing against a Shi'ite mosque in southeast Iran to avenge the execution of its leader, as Iranian authorities Friday said the death toll rose to 27 people, including members of the elite Revolutionary Guard. The blast was the latest by the group Jundallah, which has repeatedly succeeded in carrying out deadly strikes on the Guard, the country's most powerful military force — including an October suicide bombing that killed more than 40 people. It was a sign that the group is still able to carry out devastating attacks even after Iran hanged its leader Abdulmalik Rigi and his brother earlier this year.

Shi'ite worshippers were attending ceremonies marking the birthday of the grand son of Prophet Muhammad (PBUH), Hussein, when the first blast went off outside the mosque in the provincial capital Zahedan. As people rushed to help, the second explosion detonated. Members of the Guard were among the worshippers, particularly because the ceremonies coincided with Iran's official Revolutionary Guard Day. The deputy interior minister, Ali Abdollahi, told the Fars news agency Thursday that several Guard members were among the dead. Health Minister Marzieh Vahid Dastagerdi told the semiofficial ISNA news agency that the toll stood at 27 dead but could still rise, with another 270 injured, including 11 in serious condition.

Iran accuses the United States and Britain of supporting Jundallah in a plot to weaken Tehran clerical leadership, a claim both countries deny. On Friday, officials blamed them for the latest attack. Gen. Hossein Salami, deputy head of the Revolutionary Guard, told worshippers during Tehran Friday prayers that the victims "were martyred by hands of mercenaries of the US and UK." He was echoed by influential lawmaker Alaeddin Boroujerdi who said "America should be answerable for the terrorist incident in Zahedan." [More>>gulfnews.com]
---
07.16.10 Report: 29 al-Qaeda suspects detained in Turkey
ANKARA (AP) July 16 - Turkey's state-run news agency says police have detained 29 people suspected of links to the al-Qaeda terror network. The Anatolia news agency says the suspects were rounded up for questioning in simultaneous raids in the cities of Adana, Istanbul, Canakkale and Antalya early Friday. The agency did not cite a source for the report. It was the latest in a string of raids against al-Qaeda suspects. Police has been on alert against suspects sine homegrown Islamic militants tied to al-Qaeda carried out suicide bombings in Istanbul in 2003, killing 58 people. In 2008, an attack blamed on al-Qaeda-affiliated militants outside the US Consulate in Istanbul left three assailants and three policemen dead. In January, police rounded up 120 people. [>thejakartapost.com]
---
07.16.10 Uganda police arrests 17 suspects of multiple bomb attacks in capital
KAMPALA (Xinhua) July 16 - Ugandan police has arrested 17 suspects, including six foreigners, relating to the bomb attacks that killed 74 people last Sunday in suburbs of the capital city of Kampala, police chief said here on Friday. Kale Kayihura, the Inspector General of Ugandan Police, told reporters at a prayer ceremony at Pan African Square in downtown Kampala to mourn the victims of the attacks that the arrested suspects included four Ethiopians and two Pakistani sheikhs. Some of the foreign nationals were detained for questioning as they have links with al Shabab, a Somali armed faction believed to be responsible for the Kampala bomb attacks, while others were held for forged documents, he said. The country is currently in a week long national mourning starting from Tuesday. Three bombs went off late Sunday night at a rugby club and an Ethiopian restaurant in Kampala suburb, killing 74 people gathered to watch the World Cup final. 13 foreigners were among the victims including six Eritreans, an Ethiopian, Kenyan, American, Congolese, Sir Lankan, Indian and an Irish female. [More w/ background stories>>xinhuanet.com]
---
07.16.10 NASA spies 25,000 never-before-seen asteroids
LOS ANGELES (AP) July 16 - Newly discovered space bodies include 95 "near earth," but none pose threat. Worried about Earth-threatening asteroids? One of NASA's newest space telescopes has spotted 25,000 never-before-seen asteroids in just six months. Ninety-five of those are considered "near Earth," but in the language of astronomy that means within 30 million miles. Luckily for us, none poses any threat to Earth anytime soon. Called WISE for Wide-field Infrared Survey Explorer, the telescope completes its first full scan of the sky on Saturday and then begins another round of imaging. What's special about WISE is its ability to see through impenetrable veils of dust, picking up the heat glow of objects that are invisible to regular telescopes.

"Most telescopes focus on the hottest and brightest objects in the universe," said Richard Binzel of the Massachusetts Institute of Technology. "WISE is especially sensitive to seeing what's cool and dark, what you could call the stealth objects of the universe." Mission team members are elated with the discoveries of the $320 million project, which launched in December. By the end of the year, researchers expect to have a cosmic census of millions of newfound objects that should help answer questions about how planets, stars and galaxies form. [More>>cbsnews.com; See also article on Pleaides, jpl.nasa.gov article, "NASA's WISE mission to complete extensive sky survey." ]
---
07.15.10 Goldman Sachs agrees to pay record 550 million dollar fine
(AFP) July 15 - Embattled US bank Goldman Sachs will pay a record 550 million dollars to settle government fraud charges, the Securities and Exchange Commission said Thursday. Facing allegations of defrauding investors, the storied investment bank admitted it had made a "mistake" and given "incomplete" information to clients. The SEC had accused Goldman of allowing a prominent hedge fund — Paulson & Co. Inc — to put together a package of subprime mortgages that were sold to clients, but which Paulson was also betting against. "This settlement is a stark lesson to Wall Street firms that no product is too complex, and no investor too sophisticated, to avoid a heavy price if a firm violates the fundamental principles of honest treatment and fair dealing," said SEC prosecutor Robert Khuzami. [More>>france24.com]
---
07.15.10 Europe must up CO2 cuts to 30%: EU's big three
(AFP) July 15 - Germany, France and Britain on Thursday jointly called for the European Union to deepen its planned reductions in greenhouse-gas emissions from 20 to 30 percent by 2020. Ministers from Europe's three biggest economies made the exceptional move in a commentary published by the Financial Times, the Frankfurter Allgemeine and Le Monde. "If we stick to a 20-percent cut, Europe is likely to lose the race to compete in the low-carbon world to countries such as China, Japan or the US — all of which are looking to create a more attractive environment for low-carbon investment," they warned. [More>>france24.com]
---
07.15.10 Senate passes sweeping financial reform package
WASHINGTON, July 15 - In a victory for President Obama, comprehensive Wall Street reform bill readied for his signature. The US Senate today passed a sweeping bank regulation bill that will make major changes to the US financial system. The legislation cracks down on banks and Wall Street in the hopes of avoiding another major financial meltdown. The bill has been President Obama's top domestic priority after the passage of health care legislation, and in some ways, the bill is tougher than what he sought. House aides say they will likely do an enrollment ceremony and the send the bill to the White House today, CBS News Capitol Hill Producer Jill Jackson reports. The Republican Party is betting that the bill's ambitious goals will be lost on voters and instead feed an election-year narrative that Democrats stand for bigger, more intrusive government. But the bill bears the fingerprints of many other Republicans. Senate Banking Committee Chairman Chris Dodd, a Democrat, negotiated several provisions with key committee Republicans such as Richard Shelby and Bob Corker. [More>>cbsnews.com]
---
07.15.10 BP begins critical pressure test on new cap on oil well
NEW ORLEANS (AP) July 15 - BP started a critical pressure test on the new cap covering its blown-out well, Reuters reported, which would seal off the oil leaking into the Gulf of Mexico if successful. The test will involve closing off all three openings in the new cap on the the gushing well and closely monitoring the pressure that builds up under the cap. High pressure is good, because it shows there's only a single leak. Low pressure, below 6,000 pounds per square inch or so, could mean more leaks farther down in the well. BP expects to keep the oil trapped in the cap for 48 hours before it decides if the approach is working. Earlier Thursday engineers replaced a leaky pipe that created yet another delay for the oil company's latest uncertain fix. [More>>foxnews.com]
---
07.15.10 Iran nuke defector left behind $5 million in CIA cash
July 15 - Shahram Amiri returned to Tehran and can't access the money CIA paid for nuke info. The Iranian nuclear scientist who returned to Tehran today left behind some $5 million he was promised by the CIA as part of "benefits package" offered by the CIA's National Resettlement Operations Center, US officials tell ABC News. "Anything he got is now beyond his reach, thanks to the sanctions against Iran," one US official said. "We've got his information and the Iranians have him.' When Amiri defected, the CIA offered him $5 million for information about the Iranian nuclear weapons program. Typically, the CIA places these kinds of funds in escrow so that an informant is only paid bit by bit, at the agency's discretion. Keeping the money in escrow prevents an asset from grabbing the money all at once. [More>>abcnews.go.com]
---
07.15.10 Russia tells Iran to come clean over weapons work
YEKATERINBURG, Russia (Reuters) July 15 - Russian President Dmitry Medvedev ratcheted up the pressure on Iran on Thursday, urging it to explain the "military components" of its nuclear programme. Russia has fostered lucrative trade ties with the Islamic Republic over the past two decades but the Kremlin under Medvedev has struck a distinctly worried tone about the potential threat from a nuclear-armed Iran. "I would like to say that Iran is our rather active trading partner and has been tested by time, but that does not mean we are indifferent to the way Iran is developing its nuclear programme and we are not indifferent to how the military components of the corresponding programme look," Medvedev said. [More>>khaleejtimes.com]
---
07.15.10 Libyan aid ship docks at Egyptian port
EL-ARISH, Egypt (Reuters) July 15 - Some activists refuse entering Gaza through Egypt. A Libyan-chartered ship barred by the Israeli navy from sailing to Gaza with aid for Palestinians docked instead at Egypt's El-Arish port on Thursday and began unloading its cargo, the port chief said. The ship had anchored in the harbor area on Wednesday night before the Libyan group in charge of the mission decided to give the captain permission to dock, port chief Gamal Abdel Maqsoud said. The voyage of the ship, chartered by a charity led by the son of Libyan leader Muammar Gaddafi, had drawn attention because of concerns it might provoke a confrontation with Israeli forces enforcing a blockade of Gaza. In May, Israeli forces raided a Gaza-bound aid ship and killed nine activists, causing an international outcry. [More>>alarabiya.net]
---
07.15.10 Robotic legs an option for wheelchair users
July 15 - Wheelchair users were given hope of improved mobility today as a New Zealand company unveiled its so-called robotic legs invention. Rex the Robotic Exoskeleton was designed to support and assist people who usually use wheelchairs, enabling them to stand, walk and navigate steps and slopes - offering a range of options its makers said were not currently available anywhere else in the world. Rex Bionics, the company that developed the legs, was founded by New Zealanders Richard Little and Robert Irving, who used their personal experience to help create the wheelchair alternative. "Both of our mothers are in wheelchairs so we are aware of some of the obstacles and access issues faced by many wheelchair users," Mr. Little said. Mr. Irving was diagnosed with multiple sclerosis seven years ago, which was when the pair began engineering the product. [More>>news.com.au]
---
07.15.10 'NK surgery done without anesthesia'
July 15 - Amputations and other major operations are carried out without anesthesia in North Korea, according to a report published by Amnesty International on Thursday. Based on interviews with more than 40 North Koreans and health professionals, the report titled "The Crumbling State of Health Care in North Korea" offers the dire portrait of the North's healthcare system. Hospitals did not function properly due to a lack of medicines while malnutrition enabled epidemics to develop. Witnesses in the report described hospitals where hypodermic needles were not sterilized and sheets were not regularly washed. "North Korea has failed to provide for the most basic health and survival needs of its people. This is especially true of those who are too poor to pay for medical care," said Catherine Baber, Amnesty International's deputy director for the Asia-Pacific. Despite the North Korean government's claim that its health care system is free for all, many interviewees said that they have had to pay for all services since the 1990s, the report found. [More>>koreaherald.com]
---
07.15.10 More than 900 unexploded bombs from World War II found in Japan
TOKYO (AFP July 15 - More than 900 unexploded bombs from World War II have been found beneath a restaurant in Okinawa, police said Thursday. Construction workers on a road expansion project detected the explosives with a metal detector and notified police Wednesday morning, Kiyotaka Maedomari, a senior police official in Itoman city, said. An army bomb disposal squad discovered the total of 902 unexploded bombs, believed to have been made in the United States, he said. "It's rare to find this many unexploded bombs at once," said Maedomari. Because unexploded bombs from World War II are scattered across Okinawa, construction workers always use metal detectors before starting to dig the ground," he said. [More>>timesofindia.indiatimes.com]
---
07.15.10 Five dead in Mingora blast
MINGORA, Pakistan, July 15 - A suicide bomber blew himself up in an apparent attack at a security convoy, killing at least five people including two women and injuring 45 others, including women and children bomber hit a security convoy in Mingora, Geo News reported Thursday. The blast occurred at central bus stand, which is usually a crowded place. The bus stand was teeming with people at the time blast, causing huge number of people to be victims of the blast. Casualties are feared to rise. At the time of blast, a security cavalcade was around passing by. The blast was so powerful that at least eight vehicles and nearby 50 shops were also damaged in the blast. [More>>thenews.com.pk]
---
07.15.10 Afghan attacks kill 8 US troops in 24 hours
KABUL, July 15 - American forces suffered a deadly 24 hours in Afghanistan, with eight troops killed in attacks including an audacious Taliban raid on a police compound in the key southern city of Kandahar, officials said Wednesday. The US and its coalition allies have warned that violence and troop casualties are likely to mount this summer as thousands of new forces fan out across southern insurgent strongholds in a bid to turn around the nearly 9-year-long war. However, a top US commander in the south said Wednesday that the new operation should start reducing violence in coming months. [More>>japantoday.com]
---
07.14.10 Sweden leads the European Union on renewable energy
July 14 - Sweden leads the European Union on renewable energy, producing 44.4 percent of its energy from renewable sources but Malta, Luxembourg and the United Kingdom lag behind. Renewable energy contributed 10.3 percent of total energy consumption in the EU27 in 2008 according to a July 13 report by the statistical Office of the European Union Eurostat. The three countries which had the highest share of renewable energy compared to total energy consumption were Sweden, Finland and Latvia, with 44.4 percent, 30.5 percent and 29.9 percent of renewable energy sources in total consumption respectively.

The countries with the lowest share of renewable energy compared to total energy consumption in 2008 were Belgium (3.3 percent), the Netherlands (3.2 percent), the United Kingdom (2.2 percent), Luxembourg (2.1 percent) and finally Malta, where only 0.2 percent of  total energy consumption comes from renewable energy. Almost all member states of the European Union increased their share of renewable energy from 2006-2008. The top three countries with the largest increases in their share of renewable energy compared to total energy consumption were, Austria (24.8 percent in 2006 to 28.5 percent in 2008), Estonia (16.1 percent in 2006 to 19.1 percent in 2008) and Romania (17.5 percent in 2006 to 20.4 percent in 2008). [More>>independent.co.uk]
---
07.14.10 Russia ready to deliver fuel to Iran despite sanctions
July 14 - Russian companies were ready to supply fuel to Iran, despite unilateral U.S. and European Union sanctions targeting Tehran's oil and gas sectors, the Russian energy minister said Wednesday. "Russian companies are prepared to deliver oil products to Iran. The possibility of delivering oil products to Iran exists, if there is a commercial interest," said Russian Energy Minister Sergei Shmatko. Russia already expressed its dissatisfaction with sanction measures, agreed last month by the US and the EU, to punish Iran for its defiance in the nuclear standoff with Western countries. [More>>foxnews.com]
---
07.14.10 Row over African leaders at French parade
July 14 - Bastille Day is a national holiday in France, commemorating the events of 1789. France has staged its annual Bastille Day parade, amid criticism at the presence of some African leaders. Armies from former colonies celebrating 50 years of independence were invited to join the military parade. A human rights group has said that some of the troops and leaders should instead be facing trial for war crimes. Critics also said the move gave the false impression that France granted them independence, when many fought against French rule. The government has strenuously denied the claims. Heads of state and troops from Benin, Burkina Faso, Cameroon, Central African Republic, Congo-Brazzaville, Gabon, Mali, Mauritania, Niger, Senegal, Chad and Togo watched from the official stand. Ivory Coast was represented by a government minister, but did not take part in the march-past.

The International Federation of Human Rights Leagues (FIDH), an umbrella group for human rights organizations around the world, wrote to President Sarkozy to say it was "seriously concerned that certain countries' delegations... may contain people responsible for grave human rights violations." The letter added: "It would be no small paradox that during a celebration of the values of the Republic, these values should be flouted by the presence of torturers, dictators and other predators of human rights, and that instead of pursuing them, France honours them." Danyel Dubreuil, of campaign group Survie, said he was concerned soldiers who had been part of the Cobra militia in the civil war in Congo-Brazzaville - in which thousands of civilians were killed — were taking part in the parade. [More>>bbc.co.uk]
---
07.14.10 Al Arabiya airs failed Times Square bomber tape
DUBAI, July 14 - Faisal Shahzad made suicide video. A Pakistan-born American who has admitted to trying to set off a car bomb in Times Square said in a videotape before the failed attack it was to avenge the US war in Afghanistan, Al Arabiya television said on Wednesday. "This attack on the United State will be a revenge for all the mujahedeen (holy warriors) ... and oppressed Muslims, including ... Abu Musab al-Zarqawi," the late leader of al-Qaeda in Iraq, a man purported to be [..] Faisal Shahzad said on the video aired by the television. "Eight years have passed since the Afghanistan war and you shall see how the Muslim war has just begun and how Islam will spread across the world," the television quoted the man as saying. The man, wearing traditional tribal clothes and sitting with an assault rifle, praised as martyrs dead Pakistani Taliban leader Baitullah Mehsud and Iraq-based al-Qaeda leader Abu Musab al-Zarqawi, who was killed in 2006, in the video which resembled footage made by suicide bombers. [More>>alarabiya.net; See other details,

france24.com, July 14, "Video of Times Square bomb suspect broadcast": ...The recording, whose authenticity could not immediately be confirmed, was made in English and had an Arabic voiceover. "I will carry this attack on their behalf, and I hope that it will please Muslims," the Pakistani-American Shahzad said in the first video linking him to the abortive May 1 bomb plot and al-Qaeda. "With jihad (holy war), the basis of Islam can be enforced and the word of Allah and his religion will prevail," he said. "Abandoning jihad destroys the religion and puts Muslims in an insulting position as they get robbed of land and authority," he added...

Maravot News article 07.13.10 NY Muslims want 'Eid' on school calendar w/ alarabiya.net blog comments: ...
3 - NO, NO, NO

Dan [ Tuesday, July 13, 2010 ]

I have spent many years becoming ever-more progressive and accepting, and I never thought that I'd sound like a narrow-minded xenophobe. I simply cannot avoid the conclusion, however, that the Islamic "religion" has an agenda of expansion and domination, ultimately through violence. I wish it were true that Islam is a religion of peace, but it simply is not true. Islam has an explicit intention of insinuating itself into Western culture for the ultimate purpose of eradicating Western culture itself. Of course this sounds crazy, but I have reached these conclusions entirely as a result of listening to Islamic religious authorities, studying Islamic religious texts, and observing Islamic behavior [end].
cnn.com, July 14 "In battle to build mosque near Ground Zero, opponents ask 'why there?' [With video] - A leading opponent of a proposed mosque and community center near Ground Zero is asking a question that looms as large as the towers that stood nearby less than nine years ago: "Why there?" Pamela Geller, a conservative blogger who leads a group called Stop the Islamicization of America, posed the question on CNN's "American Morning" Wednesday. "We feel that it is a cemetery and sacred ground and the dead should be honored," Geller said. "To build a 13-story mega mosque on the cemetery, on the site of the largest attack in American history, I think, is incredibly insensitive." Those for and against the proposed mosque butted heads during a passionate three-hour hearing of New York's Landmarks Preservation Commission Tuesday night.

Officially, the hearing was a forum for testimony on whether the building at 45-47 Park Place, near Ground Zero, is worth preserving. The structure dates back to the late 1850s. Preservation Commission spokeswoman Elisabeth de Bourbon said the building housed the headquarters of the Merck pharmaceutical company in the 1920s and in more recent years served as a discount clothing store. She said she was not sure what the current owner — the Muslim outreach group the Cordoba Initiative — has been doing with the building, but people attending Tuesday night's meeting said it was being used for prayer services. The commission is expected to vote in August on whether to grant the structure landmark status, even though the Community Board of lower Manhattan said earlier this month the building wasn't architecturally significant enough to merit the designation....

Background story:

Maravot News 5.31.10 article 05.26.10 Anger as Ground Zero 'mega' mosque backed.

Maravot News document on the conflicts and reconciliation attempts between Islam and other faiths, "The Allah Controversy."
---
07.14.10 Five US soldiers die in Afghanistan
July 14 - Four American soldiers have been killed after a bomb exploded in southern Afghanistan, according to the NATO-led International Security Assistance Force (ISAF). An ISAF spokeswoman contacted by Al Jazeera would not say where the explosion occurred on Wednesday. "All we're saying now is that it happened in southern Afghanistan," the spokeswoman said. Another US soldier was killed by a "small arms" attack in southern Afghanistan, but ISAF also refused to provide any details of that incident. A total of 12 NATO troops have been killed in southern Afghanistan in the last 48 hours. Three American soldiers were killed on Tuesday, along with five civilians and an Afghan policeman, when a suicide bomber attacked an Afghan police compound in Kandahar. Three other NATO troops were killed by an Afghan soldier, reportedly a Taliban sympathizer, in Helmand province. [>aljazeera.net; See also

alarabiya.net, July 14, "Taliban kill 12 NATO troops in Afghanistan" : KABUL - Eight American troops died in attacks in southern Afghanistan, including a car bombing and gunfight outside a police compound in Kandahar, officials said Wednesday as the Taliban push back against a coalition effort to secure the volatile region. A suicide attacker slammed a car bomb into the gate of the headquarters of the elite Afghan National Civil Order Police late Tuesday in Kandahar, a NATO statement said. Minutes later, insurgents opened fire with machine guns and rocket-propelled grenades....
---
07.14.10 Al-Qaeda blamed for Yemen shootings
July 14 - At least three killed in gun attacks on national security offices in Zinjibar, less than a month after raid in Aden killed 11. Suspected al-Qaeda gunmen today attacked two south Yemen national security offices in coordinated attacks, killing at least three people and sparking heavy fighting. The headquarters of the general security agency and the office of an intelligence agency handling political security were attacked as the working day in the coastal town of Zinjibar began. Witnesses and security sources said attackers on motorbikes opened fire as officers gathered for the morning rollcall. "A large number of gunmen attacked the political security and the general security [police] offices at the beginning of the work day," a police source told Reuters. "Security guards fired on them, and there are dead and wounded on the scene. It is believed that the attackers were members of al-Qaeda." [More>>guardian.co.uk]
---
07.14.10 Gunmen kill four relatives of Iraq Sufi leader
FALLUJAH, Iraq (AFP) July 14 - Gunmen killed three daughters and the grandson of a leader in a Muslim mystic order in their home west of the Iraqi capital Baghdad on Wednesday, the local mayor told AFP. "Men with Kalashnikovs and anti-tank rockets attacked the house and adjacent tekiya (Sufi shrine) at 10:00 am (0700 GMT)," said Jassim Al Jumaili, major of Amariyah, south of the former Sunni Arab insurgent bastion of Fallujah. "Three girls and the granddaughter of Shaikh Mohammed Al Essawi were killed," Jumaili added. "The Shaikh and five others, including his wife, were wounded."

The Kaznazani Sufi order, which is popular in both Iraq and neighboring Iran, is known for rituals in which some of its followers, known as dervishes, inflict wounds on their bodies, such as piercings, chewing blades or electrocuting themselves. It is part of the Qadiri brotherhood, the largest in Iraq, and is also known for its ritual drum music. Sunni extremists, including al-Qaeda loyalists, regard the Sufis as infidels and have carried out repeated attacks against them since the US-led invasion of 2003. In 2005, a suicide bomb blew up a vehicle outside a Tekiya near Balad, north of Baghdad, killing 10 people and wounding 12. [>khaleejtimes.com]
---
07.13.10 Red ink rising: Nation's deficit soars above $1 trillion mark
July 13 - On the same day President Obama named Jack Lew to replace Peter Orszag as budget director, the nation's deficit soared above the $1 trillion mark with three months still left in the current fiscal year, according to new figures released by the Treasury Department. The $68 billion shortfall for June brought the total red ink as of the end of last month to just over $1 trillion. That is slightly less than the budget deficit at the same period last year, a year that ended with a record $1.4 trillion deficit. At the same time as the new figures were released, the top Republican on the Senate Budget Committee, Judd Gregg, said he will support Lew, but warned that he is inheriting a "disastrous financial situation." "I find him to be very thoughtful, very smart, very capable," Gregg told reporters after the Tuesday party luncheons on Capitol Hill. "He's certainly a dedicated public servant. He's taking on a job, however, where the numbers don't match up. I mean, this administration is running up massive spending and massive debt, and it's really the job of the OMB director to say the emperor has no clothes. And that's the situation today." "This country does not have a policy which is going to lead us out of what is a disastrous financial situation," Gregg said. "The failure to pass a budget — or even to bring one to the floor of the Senate — is an inexcusable act by the majority party." [More>>abcnews.com]

Editorial note: The Public Debt as of July 12, 2010 is $13.19 trillion. Interest expense on the debt (Oct. '09 - June '10) is $354.86 billion. The deficit for 2009 was $1.4 trillion; interest for 2009 was $383 billion. See Maravot News National Debt..html (or click on chart in sidebar) for debt, deficit and interest expense for prior years.

Mel Copeland
---
07.13.10 Israelis sue Al-Jazeera over reporting during second Lebanon War
July 13 - Group of Israelis wounded by rockets claims the Arab news network reported missile strike locations to help Hezbollah improve accuracy. A group of 91 Israelis wounded by Hezbollah rockets during the 2006 Second Lebanon War is suing the Arab news network Al-Jazeera for $1.2 billion in a New York court for allegedly aiding the Lebanese guerrillas, their lawyer said Tuesday. Nitzana Darshan-Leitner said the suit, which was filed Monday, claims the Qatar-based news network intentionally violated Israel's military censorship regulations and reported the precise locations of rocket strikes in Israel in live broadcasts during the month-long 2006 war. The reporting enabled Hezbollah to aim its rockets more accurately at Israeli targets, the suit alleges.

There was no immediate comment from Al-Jazeera. Hezbollah launched around 4,000 rockets into Israel during the month-long war in 2006. The fighting killed 159 Israelis and 1,200 people in Lebanon. "Al-Jazeera made itself a crucial component of the Hezbollah rocket offensive. The intent was to assist the terrorists in targeting and killing civilians," said Darshan-Leitner. "Without the assistance of Al-Jazeera's on-the-ground spotters, Hezbollah would have been unable to accurately aim its rockets into Israeli cities." [More>>haaretz.com]
---
07.13.10 French lawmakers pass bill to ban 'burqa' in public spaces
July 13 - French lawmakers have approved a controversial draft law that would ban face-covering Islamic veils from being worn in public spaces. The bill will now go to the French Senate, which is expected to approve it in September. French lawmakers have approved a bill to ban the wearing of face-covering veils in public spaces, despite abstentions from many socialist and Green Party MPs. The bill will now go to the French Senate, which is expected to approve it in September. On the right, the "yes" vote was unanimous. The main opposition Socialist Party (PS) largely abstained, as did the Communist Party, with the exception of André Gerin who was one of the bill's architects. Altogether, and despite the abstentions, the bill was approved by 335 votes, out a total of 577 MPs. Only one "no" vote was cast.

The bill is popular with voters in a country that has both a tradition of secularism as well as Europe's largest Muslim population. However, critics say the law exploits what is for all practical purposes a non-issue — only about 1,900 women among France's five to six million Muslims wear a veil — in a bid to pander to anti-immigration voters and distract attention from France's economic woes. But, despite passing comfortably through the National Assembly, issues surrounding the precise definition of "public spaces" and the constitutional consequences of a ban may yet hamper the bill's progress. [More>>france24.com]
---
07.13.10 NY Muslims want 'Eid' on school calendar
NEW YORK (Reuters) Campaign seeks institutionalization of two Bairams. Muslim students, parents, and activists are calling upon lawmakers in the state of New York to add two of their holidays to school calendars. After failing to convince New York City Mayor Michael Bloomberg of adding the two major Muslim holidays, the Lesser and Greater Bairams, to the list of official holidays in public schools, hundreds of Muslims launched a campaign hoping the state Senate and Assembly would supersede the mayor's decision. Bloomberg rejected the proposal citing the impracticality of adding more days off in schools while supporters argued that a total of five days wouldn't be a hindrance to the educational process, especially that in many cases the two Muslim Bairams fall in already existing holidays or in weekends. "Everybody would like to be recognized but the truth of the matter is we need more school days, not less," he said...Bloomberg's decision added to a series of disappointments suffered by Muslims in New York City, amongst them opposition to the construction of several mosques and the dismissal of an Arabic school principal based on neighbors' accusations that the school breeds militants. [Full story w/blog comments>>alarabiya.net; See related story,

japantoday.com, July 14, "Opponents pack hearing on mosque near ground zero" : NEW YORK - Dozens of opponents to a mosque planned near the former site of the World Trade Center have attended a raucous hearing about whether the building should become a New York City landmark. Rick Lazio — the Republican candidate for governor — was among the witnesses testifying Tuesday in support of landmark status for the building near the site of the Sept. 11, 2001 terror attacks. He said the building was "a place of deep historical significance" because it was struck by airplane debris on Sept. 11. Landmarking status could complicate plans by Muslim groups to develop a community center and mosque at the site. Nearly 100 people attended the hearing in Manhattan. The city's Landmark Preservation Commission was not expected to rule Tuesday on whether the building should become a landmark. [end]
---
07.13.10 BP tests oil well cap, but says success is not assured
July 13 - Installation has gone "incredibly well,"says vice-president, but is "just one step in a multistep process." BP began a series of critical tests on a new cap placed over its leaking oil well in the Gulf of Mexico today, expressing hope that it may finally bring the disaster under control. But the company warned that the process was "not simple stuff." Oil was still gushing from the well, as expected, as engineers prepared to gradually choke off the flow by closing three vents on a new device lowered on to the blown-out well on Monday. Once the vents are closed, pressure readings will indicate whether the oil can be successfully shut in by the cap, pending a permanent "kill" operation that could be under way by the end of this month using a relief well that has been drilled close by. If tests show that the flow is too powerful to hold back — or if the pressure falls below a level, suggesting a secondary leak — BP will reopen the well and allow the oil to gush again while the company brings a containment system online to divert it on to collection ships. It could be another 48 hours before the tests are complete. [More>>guardian.co.uk]
---
07.13.10 Italy nabs 300 mobsters, reveals new mob structure
MILAN (AP) July 13 - Anti-mafia prosecutors claimed a major victory over the powerful and growing 'ndrangheta crime syndicate, infiltrating intimate weddings, baptisms and other events to gather information that led to the arrests Tuesday of 305 people, including top bosses, and the seizure of more than euro60 million ($76 million) in cash and property. One of the most significant revelations to emerge from the investigation was that the Calabrian mob had a tight hierarchal structure like that of the Sicilian Mafia, and wasn't just an association of clans as previously believed. While expanding its economic reach into the wealthy Lombard region in northern Italy, the 'ndrangheta (en-DRAN-geh-tah) is also concentrating its power in its native Calabria, exerting tight control over all strategic decision-making, anti-mafia prosecutors said. [More>>washingtonpost.com]
---
07.13.10 At least 11 killed in Iraq attacks
BAQUBA, Iraq, July 13 - Three killed when demonstrators carry booby-trapped mock coffin explodes in protest in Khales. At least 11 people were killed in bomb and gun attacks in Iraq on Tuesday, including three by a device which blew up in a mock coffin during a demonstration, security officials said. Dozens of people took part in the protest in Khales, 65 kilometres (40 miles) north of Baghdad, to demand stiff penalties for the perpetrators of anti-Shiite attacks in the city, the local security operations command said. The demonstrators were carrying a mock coffin when a booby-trapped device exploded inside the box, killing three people and wounding seven, an official at the centre said. Sectarian tensions remain high in Khales, a city which in 2006-2007 was a battleground between Sunni insurgents of al-Qaeda and Shiite militias. At the end of May, a car bombing in a Khales marketplace killed 30 people, two months after another 42 people perished in a double bomb attack near a coffee shop and a restaurant. In Yusifiyah, 25 kilometres (15 miles) south of Baghdad, gunmen on Tuesday killed a leader of the Sahwa militia, which has sided with US forces against al-Qaeda, and four family members in their home, an interior ministry official said. [More>>middle-east-online.com]
---
07.13.10 Saudi-Iraq flights to resume after 19 years
BAGHDAD (AP) July 13 - Iraq's Transportation Ministry says it has reached an agreement with Saudi Arabia allowing the kingdom's national carrier to resume flights to Iraq for the first time since 1991. Ayad Katheer Raheem, the director general of the ministry's aviation department, says that Saudi Arabian Airlines has contracted with the privately-owned al-Wafeer Airlines to run the daily flights. Raheem said today the flights would resume "soon," with the exact date up to the Saudis. [More>>timesofindia.indiatimes.com]
---
07.12.10 BP set to test pressure on new well cap
NEW ORLEANS, July 12 - BP expected to attach a tight, new cap Monday on its blown-out oil well in the Gulf of Mexico, putting the oil giant a few tantalizing steps closer to knowing whether the fix will be enough to finally stop crude from gushing into the Gulf. The new cap, a 150,000-pound metal stack, was about 300 feet from the point where it's supposed to connect with the leaking well, said BP Chief Operating Officer Doug Suttles in a Monday morning news briefing. The BP executive was careful to keep expectations grounded, stressing that once the cap is in place, it will take days to know whether it can withstand the pressure of the erupting oil and feed it through pipes to surface ships. The cap and vessels together make up BP's plan to stop oil from spewing into the Gulf for the first time since April 20. [More>>cbsnews.com]
---
07.12.10 Taranis: The £143m Fighter Jet Of The Future
July 12 - A new fighter jet which can fly without a pilot and defend itself against enemies has been unveiled. Named after the Celtic god of thunder, the Taranis is an Unmanned Combat Air Vehicle (UCAV) which has the potential to precisely strike targets, even those on another continent. The £143m prototype was revealed by defence firm BAE Systems in Warton, Lancashire, as part of an informal partnership with the Ministry of Defence and Rolls Royce, QinetiQ and GE Aviation. "Taranis is a truly trailblazing project," minister for international security strategy Gerald Howarth said. "The first of its kind in the UK, it reflects the best of our nation's advanced design and technology skills and is a leading programme on the global stage." The plane's development started in 2006 and it is hoped that it will give the MoD experimental evidence on the potential capabilities of this type of UCAV. The trial will help the Government make decisions on using a mix of manned and unmanned fast jet aircraft in the future. [More>>news.sky.com; See also press release, baesystems.com]
---
07.12.10 Towering undersea volcano mapped off Indonesia
JAKARTA (AP) July 12 - Scientists on a deep-sea expedition off Indonesia have discovered a towering volcano: It rises 10,000 feet (3,000 meters) from the ocean floor, yet remains far from sight at the water's surface. US and Indonesian researchers, using a powerful sonar system and a robotic vehicle with high-definition video, are exploring terrain off Sulawesi island in hopes of getting a glimpse into complex and little-known marine ecosystems. They have mapped 2,400-sq.-miles (6,200 sq.-kilometers) of sea floor since setting off last month, an area equal to the size of the US state of Delaware, according to a news release from the American embassy in Jakarta. They found one undersea volcano that rises more than 10,000 feet (3,000 meters) in water 18,000-feet (5,480-meters) deep, said Jim Holden, the chief US scientist for the first leg of the joint expedition. "This is a huge undersea volcano," he said, "taller than all but three or four mountains in Indonesia." [More>>thejakartapost.com]
---
07.12.10 Germany bans IHH for Hamas links
July 12 - Berlin official: Organization supported Gaza welfare projects. Germany's government on Monday banned an organization it accuses of collecting donations that are sent to Hamas-related welfare projects. German Interior Minister Thomas de Maiziere said in a statement that the International Humanitarian Relief Organization was banned Monday because it has used donations to support projects in Gaza that are related to Hamas — while presenting their activities to donors as humanitarian help. De Maiziere said organizations that directly or indirectly work against Israel's right to exist lose their right to be active in Germany. The IHH, a Turkish charity that was one of the main planners of the Gaza flotilla, is widely considered a terrorist organization by a number of bodies — including the Israeli government — and has been accused of maintaining ties with a number of terror organizations. Operatives from the IHH organization carefully prepared a violent ambush on navy commandos on board the Mavi Marmara ship headed to Gaza in May. [More>>jpost.com; See other details,

haaretz.com, July 12, "Germany outlaws charity over alleged Hamas links" :...Despite sharing the name, the German IHH has no connection to the Turkish group that organized the flotilla to break the naval blockade of Gaza that left nine people dead.
---
07.12.10 'In Srebrenica the good men did too little'
July 12 - (By Cathrin Schaer) Sunday marked the 15th anniversary of the Srebrenica massacre, when Bosnian Serbs killed around 8,000 Muslim men and boys. German commentators point out that there are still plenty of unanswered questions, including whether blame for the genocide has been correctly attributed. On Sunday 775 coffins belonging to victims of the 1995 Srebrenica massacre were buried at the memorial cemetery in Potocari, on the 15th anniversary of the atrocity. An estimated 8,000 Bosnian Muslim men and boys were killed during the worst mass murder in Europe since World War II, after Bosnian Serb militias and Serbian paramilitaries overran a United-Nations-designated "safe area" for refugees from the Bosnian War, which started in 1992.

Bosnian Serb militias separated the men from the women and transported them away. "They stripped all the male Muslim prisoners, military and civilian," according to the International Criminal Tribunal for the former Yugoslavia (ICTY), which ruled the massacre a genocide in 2004, "and deliberately and methodically killed them solely on the basis of their identity," A contingent of Dutch peacekeepers failed to prevent the massacre. The men were first buried in mass graves, then bodies were later dispersed in smaller graves in a bid to cover up evidence of the massacre. Over the past few years, forensic experts have exhumed the remains of over 4,500 victims in order to identify them. The 775 people buried on the weekend were the latest to have their remains identified, which allowed family members to finally mourn at their gravesides.

...The center-left Süddeutsche Zeitung writes:

"Since it became clear what happened at Srebrenica that crime has become a symbol of a war that the West never really understood. The location represents the ethnic hatred unleashed at the beginning of the 1990s. But this sort of symbolism also oversimplifies the complexities behind the incident and obscures those who bear responsibility for it. On the anniversary of this crime one must remember that some initial errors of judgment by the United Nations, by NATO and by politicians opened up the door to this massacre."..."The 18th-Century philosopher Edmund Burke once said: 'All that is necessary for the triumph of evil... is for good men to do nothing.' [More>>spiegel.de]
---
07.12.10 Darfur warrant for Sudan's Bashir: ICC adds genocide
July 12 - The International Criminal Court has issued a second arrest warrant for Sudan's President Omar al-Bashir — this time for charges of genocide. He already faces charges of war crimes and crimes against humanity, which he denies. The ICC first indicted him in March 2009 but he has not been arrested. He is accused over the conflict in Sudan's western region of Darfur, where some 300,000 people are said to have died in seven years of fighting. The ICC had initially declined to add genocide to the indictment but this has been overturned on appeal, with the judges finding "there are reasonable grounds to believe him responsible for three counts of genocide." Pro-government Arab militias are accused of ethnic cleansing against civilians from the Fur, Masalit and Zaghawa communities after rebel[s] took up arms in Darfur in 2003. [More>>bbc.co.uk]
---
07.12.10 Al-Shabab claims Uganda bombings
July 12 - At least 74 people have been killed in two near simultaneous bomb explosions, apparently targeting crowds watching the World Cup final, in Uganda's capital, Kampala, police have said. One blast hit an Ethiopian restaurant in the south of the city, while the other occurred at a rugby sports club in the east of Kampala. Somalia's al-Shabab, a group which the US says has links to al-Qaeda, has claimed responsibility for the attacks. "Al-Shabab was behind the two blast in Uganda," Sheik Ali Mohamud Rage, the group's spokesperson, told reporters in Mogadishu, the Somali capital. "We thank the mujahideens that carried out the attack. We are sending a message to Uganda and Burundi, if they do not take out their AMISOM [African Union Mission in Somalia] troops from Somalia, blasts will continue and it will happen," Rage said.

Uganda and Burundi currently have peacekeepers in Somalia as part of a stabilization mission supported by the African Union. These attacks are the first time the group, which has carried out multiple suicide attacks inside Somalia, has struck outside of the country...Felix Kulaije, a Ugandan army spokesman, told the Reuters news agency that investigators had found the severed head of a Somali national at the scene of one of the attacks. [Full story>>aljazeera.net]
---
07.12.10 Eight alleged suicide bombers detained in Russia's Dagestan
MOSCOW (RIA Novosti) July 12 - A group of suspected suicide bombers was detained in Russia's North Caucasus republic of Dagestan, the national antiterrorism center said on Monday. The center said six women aged between 15 and 29, and two men (ages unspecified) were detained in the Dagestan capital of Makhachkala following a tip-off that an underground organization was plotting a series of terrorist attacks in central Russia. It added that "farewell letters" were discovered on the suspects. The center also said that four of the female detainees were the widows of former militant leaders, and the other two had previously been convicted of illegally storing weapons and were listed as missing. [>en.rian.ru]
---
07.12.10 Iran to dispatch 1,000 clerics to Tehran schools
TEHRAN, July 12 - To fight West and opposition influence: official. The Iranian government announced Sunday that hundreds of religious clerics will be sent to schools in the capital to fight the influence of both the West and the opposition. Iran's educational authorities said 1,000 will address students in Tehran schools as of the next academic year that starts September to counter the influence of external forces regarded as detrimental to the country's ideology, local newspapers reported Sunday. According to Mohammad Boniadi, deputy director of Tehran's Education Department, the clerics will be assigned the duty of introducing the students to "opposition plots" and "arrogance," in reference to the reformist movement that started in the aftermath of the June 2009 presidential elections and the attitude of Western nations towards the Islamic republic, respectively.

Boniadi was also quoted as saying that those clerics are considered "officers" in an ideological war. The Education Department, Boniadi added, had not been able to "reform" and "renovate" the thoughts and mentality of Iranian students and has now been awarded the opportunity to do so at last. "We have to take full advantage of this opportunity," he said. The Education Department has not yet specified which grades or age groups will be targeted by the plan or if all students are to be addressed by the assigned clerics.

Religious clerics have always had a sizable influence on schools since the 1979 Islamic Revolution. Immediately after the Islamic government came to power, thousands of the so-called "morality teachers" were sent to schools to promote the new ideology espoused by the revolution. At the time, this plan targeted elementary, middle, and high schools. Several decades after the initial plan was briefly implemented, the idea of sending clerics to school resurfaced in 2006, a few months after hardline president Mahmoud Ahmadinejad came to power. [More / blog comments, including "Orwellian brainwashing ala North Korea">>alarabiya.net]
---
07.12.10 Iranian website: Khamenei claims he was visited by Hidden Imam
July 11 - In a speech to the Iranian leadership and foreign ambassadors, Iranian Supreme Leader Ali Khamenei said that the present world order, led by the West and the US, contravenes God's decrees and is consequently collapsing before our eyes. He said that one of the reasons for the collapse is the awakening of the Muslim world under Iran's leadership. The Khandaniha website posted an audio address by a cleric from Ahvaz province, Mir Ahmad Reza Hajati, in which he claims that Khamenei told his associates that the Hidden Imam had appeared to him and promised to arrive during his term as Supreme Leader. Sources: Website of the Supreme Leader (Iran), July 10, 2010; www.khaandaniha.com, July 9, 2010. [>thememriblog.org via twitter.com IranRiggedElect]

---
Editorial note: The 'Hidden Imam' refers to the Mahdi, the "hidden savior of Islam" who will return in the Last Days (Day of Resurrection) with Jesus in order to fulfill their mission of bringing peace and justice to the world. Both Supreme Leader Ali Khamenei and President Ahmadinejad have been reported as saying that they believe the Mahdi to exist now, in their time. See earlier reports,

Maravot News 2.20.10 article 02.15.10 West condemns Iran's 'bloody repression' and editorial notes, twitter links: "...Khamenei seems to have taken upon himself The Wali al-'Asr who is also called the Mahdi. President Ahmadinejad has on several occasions stated that he believes that he lives in the time when the Iranian savior, the Mahdi, will reappear with Jesus. He has also been criticized by the clerics for claiming to speak to the Mahdi...

Maravot News 8.18.09 article 8.17.09 Muslims must unite for Islam's savior: Iran;

Maravot News 12.10.09 article 12.07.09 US wants to stop mankind's savior: Iran leader DUBAI, December 7 - Ahmadinejad says US planning to prevent coming of Mahdi. Iran's President Mahmoud Ahmadinejad said he has documented evidence that the United States is doing what it can to prevent the coming of the Mahdi, the Imam that Muslims believe will be ultimate savior of mankind, press reports said Monday...

Mel Copeland
---
07.12.10 334 suspects arrested in KA, Nowshesa, Charsadda search operation
PESHAWAR, July 12 - Law enforcement agencies arrested 334 suspected persons during search operation[s] in Khyber Agency, Nowshera and Charsadda.. FC sources said security forces started [a] search operation in Sipah area of tehsil Bara of Khyber Agency on Monday. This is an ancestral area of Mangal Bagh, a commander of outlawed outfit Lashkar-e-Islam. At least 334 suspected [were] arrested in the operation and shifted to FC fort for investigations. In Nowshera, law enforcement agencies imposed [a] curfew in Azakhel camp and started [a] search operation. Three suspected persons were arrested and [a] large cache of automatic weapons [was] recovered during [the] operation. Ten more suspected [were] arrested in Chirat, Sheikhi, Sateen Kanay and Lakrai areas in Nowshera. On the other hand, 14 suspected persons [were] arrested in Mandani area in North Hasht Nagar in Charsadda. [>thenews.com.pk]
---
07.12.10 Swiss reject US request to extradite Polanski
GENEVA, July 12 - Switzerland will not extradite the film director Roman Polanski to the United States to face charges of unlawful sex with a minor because of a possible fault in the American application for his extradition, Justice Minister Eveline Widmer-Schlumpf told a news conference on Monday. [More>>nytimes.com]
---
07.12.10 King Arthur's Round Table 'found' - except it's not a table, but a Roman amphitheatre in Chester
July 11 - His is among the most enduring ­legends in our island's history.  King Arthur, the gallant warrior who gathered his knights around the  Round Table at Camelot and rallied Christian Britons against the invading pagan Saxons, has always been an enigma. But now historians believe they have uncovered the precise location of Arthur's stronghold, finally solving the riddle of whether the Round Table really existed. And far from pinpointing a piece of furniture, they claim the 'table' was in fact the circular space inside a former Roman amphitheater.

The experts believe that Camelot could in fact have been Chester Amphitheater, a huge stone-and-wood structure capable of holding up to 10,000 people. They say that Arthur would have reinforced the building's 40ft walls to create an imposing and well fortified base. The king's regional noblemen would have sat in the central arena's front row, with lower-ranked subjects in the outer stone benches. Arthur has been the subject of much historical debate, but many scholars believe him to have been a 5th or 6th Century leader. The legend links him to 12 major battles fought over 40 years from the Scottish Borders to the West Country. One of the principal victories was said to have been at Chester. Rather than create a purpose-built Camelot, historian Chris Gidlow says Arthur would have logically chosen a structure left by the Romans...'In the 6th Century, a monk named Gildas, who wrote the earliest account of Arthur's life, referred both to the City of the Legions and to a martyr's shrine within it. [Full story>>dailymail.co.uk via foxnews.com]
---
07.11.10 Oil flows freely in Gulf as BP readies new cap
HOUMA, La., July 11 - Three-Day Process of Switching Caps Expected to Let as Many as 15,000 Barrels of Oil Gush into Gulf. On Saturday, the fight to contain the massive oil spill in the Gulf of Mexico took one step backward with the hope of making one huge step forward. Robotic subs removed the well cap so it can be replaced with a more complete seal, CBS News Correspondent Mark Strassmann reports. Oil will flow freely for at least two days until the tighter dome is put in place, which could potentially capture all the oil leaking into the ocean. It was high drama a mile under the sea. The leak just got worse — BP says, only temporarily — with a flurry of major weekend work ahead. "We're looking to do as much activity as we can," BP Senior Vice President Kent Wells told reporters. Just a half-mile away the rig named DD2 was drilling one of BP's two relief wells. Its workers anticipated the next major step nearby, hooking up another ship — the Helix producer — to the runaway well with a detachable riser pipe. [More>>cbsnews.com]
---
07.11.10 Libyan ship: W'ere going to Gaza
July 11 - Aid vessel organizers say they won't be deterred by Israeli demands. The aim of the Libyan backed aid ship the Amalthea remains to sail directly to Gaza, Youssef Sawani, executive director of Gaddafi International Charity and Development Foundation, which has mounted the operation, said Sunday in an interview with Army Radio. In response to these comments Foreign Minister Avigdor Lieberman told Army Radio on Sunday that "no ship of any kind will be allowed to arrive at Gaza." "I hope that common sense will prevail," said Lieberman.  "They can deliver aid for Gaza to [Egyptian port] El-Arish or Ashdod. The foreign minister added that Israel was not looking for a confrontation but that no one would be allowed to undermine the country's sovereignty. MK Ahmed Tibi (Ta'al) echoed Sawani's claims that the Amalthea activists are still intending to sail directly to Gaza. Tibi has been in contact with the organization sending the ship. "The goal is to reach Gaza," said Tibi. "There is not only a humanitarian goal, but there is also a political message." [More>>jpost.com]
---
07.11.10 Attacks kill 11 Afghan police, district chief
KABUL, July 11 - Officials say attacks in northern Afghanistan have killed at least 11 police officers and a government official whose car was hit by a remote-controlled bomb. Police official Abdul Rahman Aqtash said Sunday that militants attacked a checkpoint overnight in Kunduz province near Tajikistan, killing six border police. He said the death toll could rise. The Ministry of Interior says militants also killed a district chief in Kunduz by remotely detonating a roadside bomb as his car passed. The ministry says five more police were killed by a roadside bomb in northeastern Badakshan province. Northern Afghanistan was once relatively calm, but Taliban and other militants have become increasingly active in the past two years. [>news.com.au]
---
07.11.10 Forces kill 15 extremists in Orakzai
PESHAWAR, Pakistan, July 11 - At least 15 extremists were killed in security forces' operation in various areas of Upper Orakzai Agency, Geo News reported. According to security sources, the forces' operation is underway in different parts of Orakzai Agency. Today, various suspected hideouts in Baliana, Torask and Torsamt were pounded in the fresh action by the forces, where at least 15 extremists were killed and five others injured. Also, at least four hideouts of the extremists were destroyed. [A] Search operation is underway in the area as well and the suspected vehicles and individuals are being thoroughly searched. [>thenews.com.pk]
---
07.11.10 Yemen arrests 8 Qaeda suspects, including Saudi
SANAA (Reuters) July 11 - Yemeni authorities have arrested eight suspected al-Qaeda militants, including a Saudi fugitive, accused of plotting attacks on security installations, the defence ministry said on Sunday. The arrests of the eight came days after two suspected members of the same al-Qaeda cell were detained following a house raid in the remote Hadramout province that sparked clashes in which three soldiers were killed. "Two al-Qaeda elements were arrested during a raid on a house where cell members were hiding, and eight others were caught in the following days," the ministry said in its online newspaper. [More>>khaleejtimes.com]
NOTES

*Visitor statistics on maravot.com from 1&1. com. monthly visitors between 37,000-45,0000.
Privacy Policy: We do not store any personal data from you. We have no way of knowing any vital information about you — not even your name. Third-party distribution: We do not distribute information about your site usage to any third party. We are not responsible for the content of links from our site. Usage data: supplied by our Web Hosting service, 1and1.com, which consists of usage reports, such as page views / impressions and web pages visited, visitors' servers and geographical data (ISP's and country of origin).



Maravot's Homepage




Launched: 10.25.04 / 11.02.04 – | — | ♦
Updated: 7.11.10; 7.12.10; 7.13.10; 7.14.10; 7.15.10; 7.16.10; 7.18.10