12.13.11
Israel Education Minister: Palestinian state in West Bank 'dangerous move'

December 13 -
Gideon Sa'ar says strengthening of radical Islam in region, as well as the conduct of PA should cause Israel to question establishment of Palestinian state. Education Minister Gideon Sa'ar said Tuesday that the establishment of a Palestinian state in the West Bank is a "dangerous move" which will not "bring peace." Sa'ar, who spoke during a trip to promote student trips to
Shiloh
, a Jewish historical site located in the West Bank, stated that the strengthening of radical Islamic elements in the region, as well as the conduct of the Palestinian Authority on the world stage should cause Israel to question the establishment of a Palestinian state. Sa'ar traveled to Shiloh in order to announce a list of sites Israeli school students will visit as part of a program to get to know "the historic roots of the State of Israel in the Land of Israel."
Speaking at Shiloh, Sa'ar said the initiative was "the continuation of our line to provide the younger generation with access to our historic roots." "I am happy that already today groups of students are arriving here, but with god's help more will come." Speaking about the settlement at the site of the ancient city of Shiloh, Sa'ar added, "It is good to come to the settlement. It is good to see the settlement flourishing. Jews will always be in Shiloh," the education minister said. "We should not delude the Arabs that one day there will be no Jews here. Jews will always be here, and any other illusion will bring obstacles on the road to peace."
Referring to why he sees the visits as important, Sa'ar said, "There is no reason to hide the roots that reveal the truth. Torah and history studies have to be carried out through activity, and through seeing, and not just in the classroom." In February, the Education Ministry announced plans for a new program, which began this academic year, for Israeli students to visit the Tomb of the Patriarchs in
Hebron
. The ministry called the program "experimental" at the time, but also said that Sa'ar "sees great significance in getting to know the historic roots of the State of Israel in the Land of Israel."
[>haaretz.com]
---
12.13.11
Abbas raises flag at UNESCO, says admission is 'first recognition of Palestine'

DUBAI, December 13 - President Mahmoud Abbas symbolically hoisted the Palestinian flag at the headquarters of the United Nations cultural agency UNESCO on Tuesday to celebrate the Palestinians' admission in October as a full member of the organization. Some 50 diplomatic guests watched as Abbas lifted the flag to the Palestinian national anthem as a morning of biting wind and rain gave way to a burst of sunshine. "This admission is a first recognition of Palestine," Abbas said at the ceremony. "It is moving to see our flag raised today at a UN agency. I hope that this will be a good omen for Palestine's admission to other international organizations."

"Our admission is a source of pride. Palestine, the land where civilizations met... is having a new rebirth," Abbas said. "We hope we will have one independent state in the future that will live side by side with Israel," he added. The UNESCO vote was a diplomatic victory for Abbas, who in the absence of peace talks with the Jewish state has pushed for recognition of a Palestinian state at the United Nations, a move opposed by Israel and the United States. In a move that has split the UN Security Council, Abbas is pressing for statehood for Palestinians without waiting any longer for a breakthrough in negotiations with Israel on a peace treaty to end the 63-year-old Middle East conflict....Abbas applied on Sept. 23 for a Palestinian state in the West Bank and Gaza Strip, with East Jerusalem as its capital, to have full membership of the United Nations, which currently considers Palestine an observer "entity" only. [Full story>>alarabiya.net]

---
12.13.11
Jewish settlers vandalize Israeli army base, attack Jordan border site
December 13 - Jewish settlers broke into an Israeli army base in the occupied West Bank over night and vandalized it following rumors that soldiers were going to evacuate some illegal settlements, the military said on Tuesday. "These are criminals, Jewish terrorists who are harming the security of Israel," Israel Civil Defense Minister Matan Vilnai told Army Radio. In a separate incident, a group of hardline settlers crossed into a military zone close to the border with Jordan during the night to demonstrate against Jordanian protests over an Israeli decision to shut a footbridge at Jerusalem's holiest site, Reuters reported. They broke into the Qasr al-Yahud site, where Christian tradition holds that Jesus was baptized, inside a military zone along Israel's border with Jordan. Security forces intervened to get them out of the area.

The incidents were a sign of escalating tensions between the army and hardline nationalist settlers, who believe they have a biblical birthright to live wherever they want in the West Bank
—
land the Palestinians claim as theirs. Israeli Army Spokesman Yoav Mordechai told Army Radio there had been a string of "grave incidents" in the West Bank after rumors spread of an imminent eviction of settlement outposts. "Dozens of right wing activists threw stones at Palestinian and Israeli army vehicles," Mordechai said, after which they entered an army base, "cursed, threw paint bottles, punctured army vehicle tires and smashed a car window." The settlers had also thrown stones at a senior army commander. A police spokesman said one settler was arrested and that police hoped to find more of the attackers. Mordechai said he thought the incursion next to the Jordan border and the subsequent attack on the army base near the Palestinian city of Nablus were connected. "I don't believe in coincidences. I think that to mobilize over 100 people takes organization. ...We will not allow such disturbances with people taking the law into their own hands," he said.

[More>>

alarabiya.net]

---
12.13.11
Israel approves 40 settler homes near Bethlehem

JERUSALEM, December 13 -
Israel has approved construction of 40 homes and a farm in two new settler enclaves near the southern West Bank town of Bethlehem, Haaretz daily reported on Monday. "Israel's military establishment has approved the establishment of a new, permanent neighborhood and a farm near the West Bank settlement of Efrat," the paper said. "The projects will go beyond the community's current built-up area, constituting an effective expansion of the Etzion bloc of settlements toward the north and northeast," it added. "With their completion, Jewish settlement in the northern Etzion bloc will reach the edges of Bethlehem's southernmost suburbs." Plans for the new neighborhood called Givat HaDagan, were approved by Defense Minister Ehud Barak and a tender for construction was issued this week, the paper said, while the farm, Givat Eitam, was approved by the military. Defense ministry officials could not be reached for comment, but settlement watchdog Peace Now said the project should be seen in the light of Israel's stated intention to annex the Etzion bloc in any future agreement with the Palestinians. "The building in Efrat is especially sensitive in my opinion, because it is east of the road leading to Bethlehem," the NGO's Hagit Ofran said. "That means that if Israel wants to annex Efrat, it will cut off Bethlehem from the southern West Bank." The news was received angrily by the Palestinians who have repeatedly called on Israel to halt settlement construction, saying they will not hold peace talks while Israel builds on land they want for their future state.
[More>>middle-east-online.com]
---
12.13.11
Violence in Syrian border province leaves 28 dead

BEIRUT, Lebanon (AP) December 13 - Syrian security forces and anti-government military defectors launched attacks that left 28 people dead in a restive northwestern border region, activists and Syrian media said on Tuesday. Regime forces swept through villages and attacked infiltrators at the border, and anti-regime fighters staged a retaliatory ambush and assassinated a senior officer, the reports said. The flare-up of violence in Idlib province on Monday and Tuesday highlighted how Syria's uprising, which earlier this year involved mostly peaceful demonstrations in small towns and cities, has become a virtual insurgency in the countryside along the Turkish border. Military defectors known as the Free Syrian Army have found shelter alongside thousands of Syrian refugees on the Turkish side, making use of mountainous terrain, local smuggling networks and support among villagers on the Syrian side to stage cross-border attacks. President Bashar Assad's forces have responded with stepped-up border patrols and reprisal raids on villages where anti-regime protests have been frequent. The bloodshed in Syria, which the UN said Monday has left at least 5,000 dead, has resulted in increasing pressure on the Assad regime, including sanctions by the United States, the EU and the Arab League. [More>>khaleejtimes.com]
---
12.13.11
Violence flares across Iraq

BAGHDAD, December 13 -
Eight people died in Iraq as shootings and explosions targeted judges, security forces and liquor stores over the last 24 hours, police told CNN on Tuesday. The level of violence is about average for the troubled country, but with US troops aiming to depart Iraq by the end of the year, the incidents raise questions among Iraqis about whether their government will be able to provide proper security. Gunmen in Falluja attacked a minibus carrying Justice Ministry officials and wounded six people, including three judges, Falluja police said. When police arrived minutes later, two roadside bombs exploded and four people died. Three of them were police officers. The judges were headed to Ramadi, where they work. One of them is the chief judge of the criminal court there. Falluja and Ramadi are in Anbar province west of the capital, Baghdad. Ramadi is the provincial capital. In the northern city of Mosul,
Police Lt. Col. Ayad Mohammed was shot dead by gunmen while he was about to leave his house for work Tuesday, Mosul police said. In Baghdad, a member of a local Awakening Council was shot dead by gunmen outside his house in the Abu Ghraib district in the western outskirts of the capital, police said. His wife was critically wounded. Awakening Councils are pro-government entities frequently targeted by militants. Gunmen in Baghdad assassinated two Iraqi Interior Ministry officials in two separate incidents Monday night, Baghdad police officials said. Gunmen also opened fire on three liquor stores and wounded five people Monday night. Despite a decrease in overall violence in Iraq, shootings and roadside bombs still occur.
In November, nearly 200 Iraqis were killed in violence and more than 300 others were wounded, according to figures released by Iraq's Interior Ministry last week. Ordinary Iraqis say the violence is largely sectarian, with the once-dominant Sunni Muslims believing Shiites are responsible, and the majority Shiites saying it is the work of Sunni insurgents. Each group believes it is being targeted by the other. The United States is pulling out its troops by the end of the year under a bilateral agreement with Iraq. But Monday, President Barack Obama promised economic, diplomatic and military help to Iraqi Prime Minister Nuri al-Maliki after the last American troops leave the Middle Eastern nation.
Both Obama and al-Maliki have political reasons for ending the US military presence. Obama pledged during his 2008 campaign to bring US troops home from Iraq, while al-Maliki faces internal opposition to the foreign military presence. More than 4,400 US troops were killed and thousands more were wounded in the war that began in 2003. Iraqi casualties are estimated to exceed 100,000. American officials have insisted the drastic pullback of troops does not mean an end to the US government's presence in Iraq.
[More>>cnn.com]
---
12.13.11
US lawmakers freeze $700 million to Pakistan, ties strained

ISLAMABAD, Pakistan (Reuters) December 13 -
A US Congressional panel has frozen $700 million (450 million pounds) in aid to Pakistan until it gives assurances it is helping fight the spread of homemade bombs in the region, a move one Pakistani senator called unwise and likely to strain ties further.
Pakistan is one of the largest recipients of US foreign aid and the cutback announced is only a small proportion of the billions in civil and military assistance it gets each year. But it could presage even greater cuts. The aid freeze targets funds used to fight Taliban insurgents.

Calls are growing in the United States to penalize Islamabad for failing to act against militant groups and, at worst, helping them, after the secret US raid on a Pakistan garrison town in which al-Qaeda leader Osama bin Laden was killed in May. Salim Saifullah, chairman of Pakistan's Senate foreign relations committee, warned that relations, which are already at a low point, could worsen further following the decision by the US House-Senate panel. "I don't think this is a wise move. It could hurt ties. There should instead be efforts to increase cooperation. I don't see any good coming out of this," Saifullah told Reuters. Homemade bombs, or improvised explosive devices (IEDs), are among militants' most effective weapons against US and coalition troops in Afghanistan as they struggle to fight a resurgent Taliban insurgency. Many are made using ammonium nitrate, a common fertilizer smuggled across the border from Pakistan. [More>>thestar.com.my]
---
12.13.11
Will retaliate against all future attacks: Khar

ISLAMABAD, Pakistan, December 13 - As Pakistan brainstorms to revamp its foreign policy after last month's deadly NATO strike, Foreign Minister Hina Rabbani Khar said the country would retaliate against all future attacks but also made it clear that Islamabad was not taking its ties with the US to a point of no return. She made the remarks as she presided over a session of the two-day meeting of envoys convened to frame recommendations for a foreign policy revamp at the Foreign Office yesterday following the November 26 NATO strike that killed its 24 soldiers. Senior civil and military officials interacted with the country's envoys in 15 capitals, including New Delhi and Beijing, to discuss Pakistan's relations with the US and NATO in the wake of the air strike. Inter-Services Intelligence agency (ISI) chief Lt Gen Ahmed Shuja Pasha told the meeting that the NATO attack was "intentional and provocative," The News daily reported.
[More>>indianexpress.com]
---
12.13.11
Pakistan: Karachi police free chained students
December 13 - About 50 students have been freed from a religious school in the Pakistani port city of Karachi, where some were being kept in chains, officials say.
The male students, some as young as 12, were reportedly beaten, deprived of food and kept in what police say amounted to a torture chamber. Some parents paid for their children to attend the school known as the "jail madrassa" because their sons were addicted to drugs or involved in crime. An inquiry has already been ordered. At least two people helping run the madrassa have been arrested, but the head escaped, police said. The BBC Urdu Service's Hasan Kazmi saw the rescued people in a police station several hours after the raid. They were still in chains because police could not find the keys. Students have described the brutal regime inside the seminary - some spoke to the media while still wearing their chains. One said he was beaten 200 times, while another said they were told they would be sent to join the jihad and if they tried to escape they would get 200 lashes.
[More>>bbc.co.uk]
---
12.13.11
The end of Sharm el-Sheikh? Islamist parties call for ban on Westerners drinking, wearing bikinis and mixed bathing on Egyptian beaches
December 13 -
Bargain holidays for Westerners looking to get a bit of sunshine and a drink by the pool in the winter could be a thing of the past on Egypt's Red Sea coast. The Muslim Brotherhood, which won success in the first round of parliamentary elections last month, is set on turning Egypt into a 'sin-free' holiday resort. But the end of su

n worshipers flying to resorts like Sharm el-Sheikh could spell disaster for an economy that has already been battered by this year's political unrest. Azza al-Jarf, a candidate for the Muslim Brotherhood, told supporters: "Tourists don't need to drink alcohol when they come to Egypt; they have plenty at home. They came to see the ancient civilization, not to drink alcohol."

Since its success in the first round of elections on November 28 and 29, the Brotherhood and the even more fundamentalist party of Salafi Muslims called Al-Nour have been under pressure to define their stance on a wide range of issues
—
including Islamic law, personal freedom and tourism. Al-Nour has said it seeks to impose strict Islamic law in Egypt, while the Muslim Brotherhood says publicly it does not want to force its views on an appropriate Islamic lifestyle on Egyptians. The unrest that saw former president Hosni Mubarak ousted has hit the economy hard and shaken investor confidence. On Sunday, interim prime minister Kamal el-Ganzouri broke down in tears as he said the state of the economy was "worse than anyone imagines." Turning around the decline in tourism is key to breathing life back into the economy. The industry was also hit by two fatal shark attacks in Sharm el-Sheikh last year.

The Muslim Brotherhood came in first and Al-Nour second in the first round of voting. The Salafis, who follow the Wahhabi school of thought that predominates in Saudi Arabia, are clear in their opposition to alcohol and skimpy beachwear. They are also undecided on whether unmarried couples should be allowed to share hotel rooms, or the display of ancient Egyptian statues like fertility gods. But the Muslim Brotherhood has sent more mixed messages, reflecting it is more inclined to leave tourism alone for the sake of the economy.

Influential cleric Yasser Bourhami has called for "halal tourism"
—
which includes restrictions on Westerners. Speaking to private television network Dream TV, he said: "A five-star hotel with no alcohol, a beach for women
—
sisters
—
separated from men in a bay where the two sides can enjoy a vacation for a week without sins. The tourist doesn't have to swim with a bikini and harm our youth." Tourism accounts for roughly 10 per cent of Egypt's GDP, employs an estimated 3 million people and is one of the pillars of its economy. Huge swathes of the country, including the Red Sea coast with its stunning coral reefs and Nile Valley cities like Luxor, with its ancient temples and tombs, are solely dependent on tourism. [More>>dailymail.co.uk]

---
12.13.11
Canada bans burqa at citizenship swearing in
TORONTO, Canada, December 13 - New Canadian citizens must remove any face coverings, such as the Islamic niqab or burqa, while they take the oath of citizenship, the country's immigration minister said on Monday. Jason Kenney said most Canadians have misgivings about Islamic face coverings and said new Canadians should take the oath in view of their fellow citizens. He said he has received complaints from lawmakers and citizenship judges who say it's difficult to ensure that individuals whose faces are covered are actually reciting the oath. The Conservative minister called the issue a matter of deep principle that goes to the heart of Canada's identity and the country's values of openness and equality. He said women who feel obliged to have their faces covered in public often come from a cultural milieu that treats women as property rather than equal human beings. [>thenews.com.pk]

---
12.13.11
Iran rebuffs US appeal to return downed drone

December 13 -
Iran says US should apologize over incident it says "endangered world peace" as Obama asks for aircraft to be returned.
Iran has rebuffed a US request for the return of a surveillance drone which came down in Iranian territory last week and called on Washington to apologize over the incident instead. US President Barack Obama made the request in a press conference with Nuri al-Maliki, the Iraqi prime minister, at the White House on Monday. "We have asked for it back. We'll see how the Iranians respond," said Obama. But a spokesman for the Iranian foreign ministry on Tuesday accused the US of violating Iranian airspace, conducting a spying operation and trampling on international law. "Instead of an official apology for the offense they have committed, he is raising such a demand. America must know that the violation of Iran's air space can endanger world peace and security," said Ramin Mehmanparast.

In an interview on Venezuelan state television, Iranian President Mahmoud Ahmadinejad said Iran had control of the plane and was analyzing the aircraft's systems. "The North Americans at best have decided to give us this spy plane. Currently, we have control of this plane. Those who have been been in control of this spy plane surely will analyze the plane's system. Furthermore, the systems of Iran are so advanced also, like the system of this plane. In the unpiloted planes, we have had many advances, much progress and now we have this spy plane," he said. Iran lodged a formal complaint earlier this week to the UN over the entrance of a US drone "deep" into its eastern airspace last week, and aired footage of what it said was the high-tech US aircraft. [More>>aljazeera.net]
---
12.12.11
Arab League condemns Gingrich's remarks on Palestinians

December 12 -
The Arab League has condemned the Republican US presidential contender, Newt Gingrich, for calling Palestinians an "invented" people and "terrorists." Mohammed Sobeih, who handles Palestinian affairs for the regional organization, said the claims were racist and a cheap stunt to get votes. Mr. Gingrich made the comments in a television interview on Friday and in a candidates' debate on Saturday. Israel's government has said the claims are a matter of internal US politics. However, Prime Minister Benjamin Netanyahu, who leads a right-wing coalition government, has recognized the Palestinian people. Mr. Gingrich, the frontrunner for the Republican nomination and a former speaker of the US House of Representatives, first set out his position on the Palestinian people in an
interview with the Jewish Channel
.
"Remember there was no Palestine as a state. It was part of the Ottoman empire," he said. "I think that we've had an invented Palestinian people who are in fact Arabs and who were historically part of the Arab community. And they had a chance to go many places, and for a variety of political reasons we have sustained this war against Israel now since the 1940s, and it's tragic," he added. He also said President Barack Obama's Middle East policy was "out of touch," and the Palestinian Authority, which governs the West Bank, and Hamas, which governs Gaza, had "an enormous desire to destroy Israel." Mr. Obama has sought to broker a peace deal between Israel and the Palestinian Authority, and said there should be a Palestinian state with borders based on those prevailing before the 1967 Arab-Israeli war, adjusted to account for Jewish settlements in the West Bank. Hamas is considered a terrorist group by the US, EU and Israel.
Then
in a televised debate on Saturday
, Mr. Gingrich defended his claim that the Palestinians were an "invented" people. "Is what I said factually true? Yes," he said. "Somebody ought to have the courage to tell the truth. These people are terrorists." Mr. Gingrich later sought to clarify his position, saying he supported the creation of a Palestinian state as part of a negotiated settlement. But the Palestinian Authority Prime Minister, Salam Fayyad, said Mr. Gingrich's comments "constituted a totally unacceptable distortion of historical truth," and described them as "vulgar, hurtful and ridiculous." In Israel, Mr. Fayyad added, "even the most extremist settlers don't dare to speak in such a ridiculous manner." And on Monday, Mohammed Sobeih said the Arab League believed the claims were "irresponsible and dangerous." "If an Arab or Palestinian official said a racist comment that was one-millionth of what this US candidate said, the world would have been in continuous uproar," he said.
"If these comments were made for political gains, then this is an even bigger disaster. But it appears that this is a cheap attempt to get more votes in an election. And to get this small number of votes, this person sold America's interests by denying international law and democratic principles," Mr. Sobeih added. [>bbc.co.uk]
---
Editorial note:

"The earliest records on Palestine."

Newt Gingrich is known as a historian, having published many "history" books. His reading of Palestinian history is erroneous and misleading and not only undermines his credibility as a presidential candidate but also his credibility as a historian.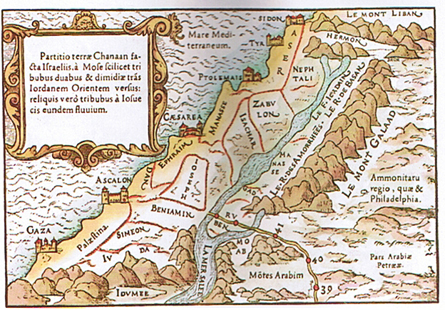 "Partition map of the land of Canaan," Lyon 1568, from the Yaakov Aviel Collection, 1981.
While Gingrich is correct in saying that Palestine did not exist under the Ottoman Empire, the fact is under regimes as far back as King David's time (1,000 B.C.) Palestine (called Philistia in the Bible) did exist. One of the Psalms of David, 60.8, says, "Philistia triumph thou because of me." The early Biblical conflict between the Children of Israel and the Philistines culminated in David's battle with Goliath. Another story, involving Samson and Delilah, (Judges 13-16) took place in a Philistine city in Gaza, culminating in Samson's overturning of the pillars of the Temple of Dagon. Earlier accounts in Egypt, of Ramesses II
(~1279-1213 B.C.)
,
recorded the names of the Hittite allies who opposed him; among them
the
Lukka and
Pulusti
(later called Philistines, now called Palestinians)
. Later Herodotus
(484-425 B.C.) made two references to Palestine in "The Persian Wars":
(
"The Persian Wars"
—
Referring to the practice of circumcision
)The Phoenicians and the Syrians of Palestine themselves confess that they learnt the custom of the Egyptians; and the Syrians...say that they have recently adopted it from the Colchians. Now these are the only nations who use circumcision, and it is plain that they all imitate herein the Egyptians. (Euterpe II.104
)
("The Persian Wars"
—
Referring to the composition of the Persian fleet)

The Phoenicians, with the Syrians of Palestine, furnished 300 vessels, the crews of which were thus accoutered: upon their heads they wore helmets made nearly in the Grecian manner...This nation, according to their own account, dwelt anciently upon the Red Sea, but crossing thence, they fixed themselves on the sea-coast of Syria, where they still inhabit. This part of Syria, and all of the region extending from hence to Egypt, is known by the name of Palestine. (Polymnia VII.89)
Later references from the Roman Empire addressed the region as Syria-Palestine and Judea: The Roman-Byzantine Codex refers to the "Province Palestina." The region at the time of the Roman Procurator
Pontus Pilate
(26-36 CE) was the Roman Province of Judea which was the "stage
of three major
rebellions
(see
Jewish-Roman wars
), including the
Great Jewish Revolt
(
66
-
70
CE) the
Kitos War
(
115
-
117
CE), and
Bar Kokhba's revolt
(
132
-
135
CE), after which
Hadrian
changed the name of the province to
Syria Palaestina
and
Jerusalem
to
Aelia Capitolina
in an attempt to erase the historical ties of the Jewish people to the region."
[wikipedia.org
]
Other views and maps of the region, as well as the UN requirements placed on Israel and Palestine in
UN Resolution 181
November 29, 1947
,
"Partition of Palestine," are listed in
"The Allah Controversy."
and "Philistia triumph thou because of me."

The first requirement in the partition agreement was for Israel and Palestine to submit their Declarations of Independence (the basic law for their lands) to the UN for approval. Israel submitted its declaration (May 14, 1948) which was approved by the UN. Palestine refused the agreement and did not submit its declaration, while the states of Transjordan, Syria and Egypt launched a war
(1948 Palestine War)
to drive the Israelis out of the region. Today's appeal by Palestine may be viewed as a first step in complying with the UN Resolution. More data on the history of Palestine can be viewed at palestinefacts.org.
Mel Copeland
---
12.12.11
News Analysis: Hamas Sinai deployment complicates Israel-Egypt ties

JERUSALEM (Xinhua) December 11 -
The Islamic Hamas movement's decision to move some of its rocket factories and training camps to the Sinai Peninsula will add another layer of complexity to the already strained relations between Israel and Egypt, analysts told Xinhua on Sunday. Hamas has set up training bases and rocket manufacturing facilities in Sinai to keep them away from Israeli air strikes, such as in Gaza over the weekend, according to local media reports. "Israel now has a very difficult problem because there is a power vacuum in the Sinai Peninsula, as the Egyptian authorities and military don't have good control over what goes on," says Prof. Uri Bar-Joseph of the University of Haifa. "The more important issue is the relations with Egypt, not with Hamas," he added, "If Hamas now has facilities to manufacture in Sinai, it's a problem
—
but it is part of a bigger issue."



When Egypt signed a peace treaty with Israel in 1979, it was decided that Sinai would become a demilitarized zone with only a limited, lightly-armed Egyptian troop presence. While the agreement allowed Israel to reduce its military presence along the border, it has affected Egyptian authorities' control over the region. Bar-Joseph argued that Sinai has become a "no man's land," and if attacks against Israel continue, the government will face a severe problem. "The last thing that Israel wants to do now is to risk the peace treaty with Egypt," he said. Moshe Marzuk, a researcher at the International Institute for Counter-Terrorism in Herzliya, said that "Hamas knows very well that Israel will never attack Egyptian territory," and therefore the Islamist group believes that their munitions works will be safe there. Marzuk argued that not only do the Egyptian authorities have limited control over Sinai, its border with Gaza is also very easy to cross
—
something presenting Israel with an additional problem: Palestinian militants are planing attacks against Israel by slipping across the Egyptian border and then doubling back into Israeli territory elsewhere.
"So the question is, if you want to stop these attacks
—
and this is Israel's dilemma
—
should we stop it in Gaza in plotting phase, or should we let them get ready and go to Egyptian territory," Marzuk pondered. He added that once the militants cross into Sinai, tracking them is almost impossible since they use local Bedouin tribes for cover. One such incident took place in August, when Gazan militants killed eight Israelis traveling on a road close to the border with Egypt. In the aftermath of the attack, Israeli forces in pursuit of the assailants, who had fled back into Sinai, accidentally shot and killed six Egyptian border guards.
The death of the border guards highlighted the drastic changes in Israeli-Egyptian ties after former president Hosni Mubarak was ousted in February by massive protests.
[More>>xinhuanet.com]
---
12.12.11
Hamas: Israel declaring war on Muslim holy sites with closure of Jerusalem bridge

December 12 - Wooden ramp leading from Western Wall Plaza to Temple Mount and Al-Aqsa mosque closed due to concerns it may collapse; Hamas condemns move as 'Zionist aggression.' A Hamas spokesman said Monday that the closure of Jerusalem's Mughrabi Bridge, which leads from the Western Wall Plaza to the Temple Mount, is an attack against Muslim holy sites, AFP reported. "This is a serious step that shows the Zionist scheme of aggression again the Al Aqsa mosque," Fawzi Barhum told AFP. "This is a violent act that amounts to a declaration of religious war on the Muslim holy places in Jerusalem." The Jerusalem Municipality ordered the closure of the wooden bridge due to fears it may collapse or catch fire. There are 15 gates leading into the Al-Aqsa mosque compound, 10 of which are in use. The Mughrabi Gate is the only access for non-Muslims to enter the site, meaning its closure will prevent both Jews and tourists from visiting until a replacement structure is built.
The wooden bridge leading to the Temple Mount and Al-Aqsa was scheduled to be demolished and replaced with a sturdier structure, but Prime Minister Benjamin Netanyahu instructed the Jerusalem municipality two weeks ago to postpone the demolition. Netanyahu's bureau had asked the Jerusalem municipality to postpone the work due to the sensitivity of the issue and warnings from Egypt and Jordan. The holy compound is in the old walled city of Jerusalem, an area Israel captured along with the West Bank in a 1967 war and annexed in a step that has not won international recognition. Palestinians want the area to be part of a state they intend to create in the West Bank and Gaza Strip. Jews revere the compound as the site of their Biblical Temple, destroyed by Roman troops in the 1st century. Surviving foundations of its Western Wall are now a focus of prayer. For Muslims, who captured Jerusalem from the Christian Byzantines in the 7th century, the Dome of the Rock marks the spot from which Mohammad made his night journey to heaven.
[>haaretz.com]
---
12.12.11
Occupy protesters disrupt West Coast ports

December 12 -
Protesters chanting, "Whose port? Our port!" protested at West Coast ports on Monday, temporarily shutting down some of the facilities in a protest against what they called corporate greed. The protesters, affiliated with the nationwide "Occupy" movement, set out in the pre-dawn hours in Oakland, California; Los Angeles and Portland, Oregon, to shut down ports in an effort to "disrupt the economic machine that benefits the wealthiest individuals and corporations," according to organizers. Long Beach police arrested two people during the demonstration there, police Chief Jim McDonnell said. Port operations were not significantly impacted beyond some traffic delays, he said. A spokesman for the port in Portland, Oregon, said the protests had partially shut down the port there.

In Oakland, the port said in a statement that operations were continuing "with sporadic disruptions for truckers trying to enter and exit marine terminal gates." About 80 protesters demonstrated outside the gate of San Diego's port, but caused no disruption because, port spokesman Ron Powell said. "They were there at a time when we really didn't have a lot of truck traffic coming in and out," he said. Four people who sat down in the road were arrested he said. San Diego police did not immediately return a telephone call seeking information on the arrests. Protesters were planning a second occupation of the Oakland port Monday afternoon. Protesters in Seattle also were preparing to protest at the port there, according to organizing websites and posts on Twitter. [More>>cnn.com]
---
12.12.11
Saudi woman beheaded for 'sorcery'

RIYADH, Saudi Arabia, December 12 - A Saudi woman was beheaded on Monday after being convicted of practicing sorcery, which is banned in the ultra-conservative kingdom, the interior ministry said. Amina bint Abdulhalim Nassar was executed in the northern province of Jawf for "practicing witchcraft and sorcery," the ministry said in a statement carried by SPA state news agency. It is not clear how many
women
have been executed in the desert-kingdom, but another woman was beheaded in October for killing her husband by setting his house on fire. The beheading took to 73 the number of executions in
Saudi Arabia
this year. [More>>timesofindia.indiatimes.com]
---
12.12.11
Syrians go to polls amid strikes, killings

DAMASCUS, Syria (AFP) December 12 - Syrians were voting Monday in municipal elections held amid a general strike called by the opposition and as security forces killed another seven people as they pursued a crackdown on dissent. The elections committee, in a statement received by AFP, said "voting is proceeding in a democratic spirit," adding that voting turnout was "good." It did not elaborate. The Syrian Observatory for Human Rights said seven people were killed in the flashpoint regions of Homs and Idlib on Monday, while strikes were observed in Daraa, cradle of nine months of anti-regime protests, and near Damascus. Opposition activists have urged citizens to intensify a civil disobedience campaign launched on Sunday in a bid to bring down the government of President Bashar al-Assad. Polling stations opened at 0600 GMT, with 42,889 candidates vying for 17,588 seats, and were due to close at 2000 GMT. Information Minister Adnan Mahmud told AFP the elections were part of a reform package pledged by the authorities to promote democracy and would be followed by legislative polls in February. "These elections are taking place on time in line with a reform programme," Mahmud told AFP. "They are taking place although some are trying, in vain, to stop them through terrorist acts carried out by armed groups who are terrorising the citizens," he said. Last week local administration minister Omar Ghalawanji said a special indelible ink would be used for the first time in the municipal elections "to prevent any fraud."

[More>>
khaleejtimes.com
; See related story,

alarabiya.net, December 12, "Syrian troops battle defectors as protest strike shuts businesses in several cities."

:
Syrian troops and army defectors have fought one of the biggest battles in Syria's nine-month uprising while a protest strike shut businesses in a new gesture of civil disobedience, residents and activists said. The general strike took place in several Syrian cities and has terrified the regime as the Hama governor threatened to seal off the stores in the city and forces threatened to set these stores on fire, Ali Hassan, spokesman for the Syrian Revolution Council, an opposition group, told Al Arabiya in an interview. In Sunday's fighting, Syrian troops mainly from the 12th Armored Brigade based in Isra, 40 km (25 miles) from the southern border with Jordan, stormed the nearby town of Busra al-Harir. A housewife in Busra, who did not want to be named, told Reuters by telephone that the town was being hit by machinegun fire from tanks. Her children were crying. The sound of explosions and heavy machineguns was heard there and in Lujah, an area of rocky hills north of the town, where defectors from the army have been hiding and attacking military supply lines, residents and activists said.
---
12.12.11
Mali forces arrest four over French kidnappings

(Reuters) December 12 -
Security forces in Mali announced Monday the arrest of four men believed to be responsible for the kidnapping of two French nationals last month. It's thought the kidnappers were acting on behalf of al-Qaeda's North African wing. Malian security forces have arrested four suspects accused of kidnapping two Frenchmen last month on behalf of al-Qaeda's North African wing, the West African state said on Monday. Mali is under growing international pressure to step up the fight against al-Qaeda in the Islamic Maghreb (AQIM), which is plying a lucrative trade in the ransom of Westerners kidnapped in the Sahel region. "We confirm the arrest of four kidnappers," a spokesman for the Malian presidency said. "They are subcontractors for AQIM, to whom they handed over the hostages," the spokeman said, adding that pictures of the kidnappers would be broadcast on television later on Monday. The two Frenchmen, described by Malian officials as an engineer and a technician who work for a local cement firm, were kidnapped on the night of Nov. 23 in the town of Hombori, about 200 km (125 miles) west of the northern city of Gao. AQIM last week claimed responsibility for the kidnapping of the two Frenchmen
—
whom it described as French spies
—
and three other Westerners in a separate incident in the north of Mali a few days later. The spokesman said the suspects are all Malian nationals from the north of the country. Mali said earlier this month it believed the hostages were alive and it was trying to free them.
[More>>france24.com]
---
12.12.11
Al-Qaeda fighters tunnel out of Yemen jail

December 12 -
Several al-Qaeda prisoners tunnel their way out of prison in Aden, in second such jailbreak of the year.
A number of inmates, including several al-Qaeda fighters, have escaped from a prison in the southern Yemeni port city of Aden after tunneling their way out in the second such spectacular jail break this year, officials have said. A prison officer said at least 10 men escaped early on Monday through an up to 40m-long tunnel, which took the inmates from under the western side of the Aden jail to near a petrol station outside the prison walls. A security official said 15 men fled in the prison break, including 12 convicted for the killing of security officials and a bank robbery. The discrepancy in the number of escaped prisoners could not be immediately reconciled. Both officials spoke on condition of anonymity because they were not authorized to speak to the media. Yemen, the Arab world's poorest nation, has been wrecked by months of political turmoil and unrest.


A popular uprising against longtime President Ali Abdullah Saleh's rule, inspired by other Arab Spring revolts that toppled autocratic rulers in Egypt and Tunisia, has been met by a fierce government crackdown. The crackdown triggered widespread defections earlier this year by soldiers and officers who joined the protest movement.
Powerful tribes and their armed fighters also turned against Saleh and waged battles against his forces. Yemen is also home to Al-Qaeda in the Arabian Peninsula (AQAP), which the US considers the network's most active and dangerous offshoot.
Fighters with links to the group have taken advantage of the country's turmoil to seize control of several towns in the south. In 2003, 11 al-Qaeda fighters convicted for the 2000 bombing of the
USS Cole
, which killed 17 US sailors and injured 39 others, escaped from the Aden prison. In 2006, 23 fighters from the same group broke out of a detention facility in Sanaa, including Nasser al-Wahishi, who went on to become AQAP's leader. In June, nearly 60 suspected al-Qaeda fighters tunneled their way out of a prison in the southern city of Mukalla. Investigations into the breakouts and subsequent trials showed that some prison security officers were involved in helping the convicts flee and several officers have been jailed. [>aljazeera.net]
---
12.09.11
How Mexico's drug cartels profit from flow of guns across the border

December 9 -
Cartels using US residents to buy guns legally and smuggle them across the border as Mexico pleads with Congress to act
.
If anyone at Academy sports shop in Houston was suspicious as John Hernandez pushed $2,600 in cash across the counter, they kept it to themselves. The 25 year-old unemployed machinist in dark glasses walked out of the gun shop clutching three powerful assault rifles modeled on the US army's M-16. A few weeks later, Hernandez bought five similar weapons at another Houston gun shop, Carter's Country. There were few questions on that occasion, either, or as he visited other weapons stores across the city in the following months until he had bought a total of 14 assault rifles and nine other weapons for nearly $25,000. With each purchase, all the law required was that Hernandez prove he lived in Texas and wait a few minutes while the store checked he had no criminal record.

Months later, one of those assault rifles was seized in neighboring
Mexico
at the scene of the "Acapulco police massacre," after one of the country's most powerful drug cartels killed five officers and two secretaries in an attack at the beach resort once regarded as a millionaires' playground. Another was recovered after the kidnap and murder of a cattle buyer. Others were found in the hands of top-level enforcers for narcotics traffickers, or abandoned after attacks on Mexican police and the military. The guns have been tied to eight killings in Mexico. In time, US federal agents discovered that Hernandez was at the heart of a ring of two dozen people who bought more than 300 weapons from Texas gun shops for one of the more notorious Mexican drug cartels, Los Zetas. Some of those guns have since been linked to the killings of at least 18 Mexican police officers and civilians, including members of the judiciary and a businessman who was abducted and murdered.

The weapons bought by Hernandez and his ring were just a fraction of the tens of thousands smuggled across the UDS's southern border to cartels fighting a bloody war with the Mexican government that has claimed about 45,000 lives in five years.
It's a war sustained by a merry-go-round. The cartels use the money paid by Americans for drugs to buy weapons at US guns stores, which are then shipped across the frontier, often using the same vehicles and routes used to smuggle more narcotics north. The weapons are used by the cartels to protect narcotics production in their battle with the Mexican police and army, and smuggle drugs north. Key to the cycle is the ease with which traffickers are able to obtain guns in the US, made possible in large part by the robust opposition of the powerful gun lobby
—
backed by much of the US Congress
—
to tighter laws against arms trafficking. "The
United States
is the easiest and the cheapest place for drug traffickers to get their firearms, and as long as we are the easiest and cheapest place for the cartels to get their firearms there'll continue to be gun trafficking," said J Dewey Webb, the special agent in charge of pursuing weapons traffickers in Texas at the US Bureau of Alcohol, Tobacco, Firearms and Explosives (ATF). [More>>guardian.co.uk]
---
12.09.11
Turkey warns Syria not to provoke regional crisis

BEIRUT, Lebanon (Reuters) December 9 - Turkey warned Syria on Friday it would act to protect itself if a Syrian government crackdown on protesters threatened regional security and unleashed a tide of refugees on its borders. At least 14 Syrians were shot dead as protesters took the streets following Friday prayers and ahead of a general strike called for Sunday, according to a network of anti-government activists reporting events to a website based in Britain. Other activist sources put the toll as high as 30 dead. Nine were killed in Homs, the hub of the nine-month-old revolt, where demonstrators against President Bashar al-Assad chanted "Syria wants freedom" and "Bashar is an enemy of humanity," Qatar based Al-Jazeera television said. Turkish Foreign Minister Ahmet Davutoglu did not say what action Ankara might take, but he made clear Turkey would not hesitate to insulate the region's security from tumult in Syria. Turkey shares a 900 km (560 mile) border with Syria. "Turkey has no desire to interfere in anyone's internal affairs. But if a risk to regional security arises, then we do not have the luxury of standing by and looking on," Davutoglu told reporters in Ankara.
"If a government that is fighting its own people and creating refugees, is putting not only their own security at risk but also that of Turkey, then we have a responsibility and the authority to say to them: 'Enough!'" he said. [More>>thestar.com.my]
---
12.09.11
Euro crisis: Eurozone deal reached without UK

December 9 -
EU members which use the euro have agreed to a tax and budget pact to tackle the eurozone's debt crisis. But a German and French attempt to get all 27 EU states to back changes to the union's treaties was dropped after objections from the UK. Prime Minister David Cameron had insisted on an exemption for the UK from some financial regulations. Instead, eurozone members and others will adopt
an accord with penalties
for breaking deficit rules. The new tougher rules on spending and budgets will now be backed not by an EU treaty but by a treaty between governments. It will be quicker to set up but it may prove less rigorous, says the BBC's Europe editor Gavin Hewitt in Brussels. But, he says, Europe has taken a big step towards closer integration, with binding rules over tax and spending, and sanctions against countries that overspend. European Council President Herman Van Rompuy said the leaders of 26 countries had indicated a desire to participate, pending consultation with their parliaments.
Mr. Cameron said he had not signed up to the deal because, he said, it was not in Britain's interests. [More>>bbc.co.uk]
---
12.09.11
France condemns 'vile' attack on Lebanon peacekeepeers; Siuleiman vows to find culprits

DUBAI / TYRE, December 9 - A powerful roadside bomb struck a UN peacekeeping patrol in the Lebanese coastal town of Tyre on Friday, wounding five French soldiers and a civilian, a security official said. The official, who requested anonymity, said the bomb was hidden under dirt on the side of the road and was detonated as the soldiers were driving by in a Jeep at an intersection in the eastern part of the southern town. The French Foreign Minister condemned the attack, saying France would not be intimidated by such "vile acts" while the Lebanese President vowed to find those responsible. Two of the wounded soldiers were taken to hospital while the three others
—
a woman and two men
—
were seen by an AFP correspondent standing by their badly damaged vehicle with bandages on their heads. The blast left a one-meter (three-foot) deep crater. Security forces cordoned off the area as hundreds of onlookers gathered nearby. Foreign Minister Alain Juppe said in a statement: "I condemn in the strongest terms the cowardly attack that was carried out against UNIFIL (UN Interim Force in Lebanon) this morning." The chief of staff in Paris said four peacekeepers were "very lightly wounded" and the fifth "a bit more seriously" but without life-threatening injuries. [More>>alarabiya.net]

---
12.09.11
Barrage of rockets strike southern Israel

December 9 -
Iron Dome successfully intercepts one rocket, hours after Qassam lands in Ashkelon following overnight IAF strikes in Gaza. 5 rockets exploded in southern Israel Friday, including one shot down by the Iron Dome missile defense system. No damage was reported. The barrage came hours after a Qassam rocket landed in an open area in Hof Ashkelon on Friday afternoon, following IAF strikes in Gaza overnight Thursday. Earlier Friday morning, a rocket also fell in the Negev area of southern Israel. There were no reports of damage, according to an Army Radio report. Violence across the Israeli-Gaza border escalated on Thursday with IAF air strikes killing at least two people and Palestinian militants firing rockets deep into southern Israel on Friday.
Since the IAF air strikes Thursday, seven rockets were fired into Israel from the Gaza Strip. All of them landed in open areas, and no damage or wounded were reported. Early on Friday, Palestinian medical officials said an Israeli air strike hit a Hamas training camp in Gaza City, sending shrapnel flying into nearby houses, killing one civilian and wounding 13 others, mostly women and children. The Israeli military confirmed the air strike early Friday had been carried out.
[More>>haaretz.com]

---
12.09.11
Suicide attack kills six in Afghanistan

ASADABAD, Afghanistan (AFP) December 9 - A suicide bomber on Friday ripped through a mosque in eastern Afghanistan, killing at least six people including a district police chief, a government official said. The attack happened as worshipers were leaving the mosque after the Friday prayers in the Qazi Abad area of the eastern province of Kunar, said provincial governor Fazullulah Wahidi.

[>

thenews.com.pk

]



---
12.07.11 Afghanistan's Karzai blames Pakistan group for attacks
KABUL, Afghanistan (Reuters) December 7 - Afghan President Hamid Karzai on Wednesday blamed a Pakistan-based group for bomb attacks in three Afghan cities that killed at least 59 people on Tuesday, an allegation that could stoke new tensions with Islamabad. The blasts were the worst sectarian attacks in Afghanistan since the fall of the Taliban government. The largest explosion, at a shrine in the heart of Kabul, killed 55. "Lashkar-e-Jhangvi which is based in Pakistan has claimed responsibility for this attack ... We will investigate the issue very carefully and will discuss it with the Pakistani government," Karzai said, after canceling meetings in London to rush home and meet the victims. "This is the first time in Afghanistan, on a very important religious day, they have acted. Without doubt it is hostile to Afghanistan, the people of Afghanistan, and Islam," Karzai said at a hospital treating victims of the Kabul blast..

Afghans have previously been spared the large-scale sectarian attacks that regularly trouble Iraq and neighboring Pakistan, but now face the grim prospect of a new type of bloodshed being added to the dangers of daily life. A caller who identified himself as a spokesman for the Pakistan-based group Lashkar-e-Jhangvi al-Alami claimed responsibility for Tuesday's suicide attack in Kabul, in a telephone call to a Reuters reporter hours after the attack. The caller, who identified himself as Abu Bakar Mansoor, said the Shi'ite community was the target. However he was not known to the Reuters reporter, former militants once linked with the group said they did not recognize his name, and the claim could not be independently verified.

Lashkar-e-Jhangvi is one of Pakistan's most violent anti-Shi'ite groups and part of an al-Qaeda-linked nexus of militants. It has also forged strong ties with militant groups operating in the tribal areas on the Afghan border. The group emerged as a sectarian force in the 1990s, targeting minority Shi'ite Muslims, but graduated to more audacious attacks, like the truck bombing of Islamabad's Marriott Hotel in 2008 in which 55 people were killed. In a separate incident on Wednesday, a roadside mine killed 19 civilians and injured another five when it exploded in the southern Afghan province of Helmand on Wednesday, the provincial government said, taking the death toll to 78 in just two days. [More>>thestar.com.my]

---
12.07.11
Syria leader denies ordering deadly crackdown

December 7 -
In rare interview, Bashar al-Assad downplays his command over security forces blamed for killing thousands in uprising
.
Syria's president has denied that he ordered the deadly crackdown on an almost nine-month-old uprising, saying that he is not in charge of the country's security forces blamed for killing more than 4,000 people. In a rare interview with the US broadcaster ABC airing on Wednesday, Bashar al-Assad maintained that he did not give a command "to kill or be brutal."





"They're not my forces," Assad responded when asked if Syrian troops had cracked down too hard on protesters. "They are military forces (who) belong to the government. I don't own them. I'm president. I don't own the country. No government in the world kills its people, unless it is led by a crazy person." However, in his role as president, Assad is officially the commander of Syria's armed forces, who have reportedly used tanks, warships, plain-clothed militias, and snipers to besiege dissidents in residential areas across the country. As a result of the brutality, up to
25,000 members of Syria's security forces
have defected to the opposition and have taken up arms to protect civilians from the crackdown.



Tens of thousands of protesters and dissenters have been imprisoned by Syrian authorities since the uprising began in March, according to rights groups. But Assad insisted he still had the support of the Syrian people and downplayed the violence against civilians by blaming it on "mistakes committed by some officials." Assad's government blames "foreign plotters" for being behind the nationwide unrest. Al Jazeera's Rula Amin, reporting from Beirut in neighboring Lebanon, said: "He (Assad) insists he is confronting not peaceful protesters, but foreign plotters who want to destroy Syria and undermine it."

[More>>aljazeera.com]

---
12.07.11
Journey into the uncharted voids of the Milky Way
December 7 - NASA's Voyager 1 spacecraft is about to become the first man-made object to leave the Solar System. Scientists at the US National Aeronautics and Space Administration (NASA) said that the Voyager 1 space probe, which has traveled about 11 billion miles since its launch in 1977, has entered the cosmic equivalent of the doldrums, where the high-speed solar winds die down at the very edge of the Solar System. Voyager 1, launched within weeks of its twin probe, Voyager 2, was originally designed to explore Jupiter and Saturn. After making a string of important observations, such as active volcanoes on Jupiter's moon Io and the intricacies of Saturn's rings, the mission was extended. Voyager 2 went on to explore the faraway planets of Uranus and Neptune. However, long after the official planetary missions ended, both spacecraft continued to plow through the farthest regions of the Solar System, while maintaining radio contact with mission control through it
s Deep Space Network.

NASA expects
that within the next few months
—
or possibly years if margins of error are taken into account
—
Voyager 1 will finally leave the Solar System for good and begin its journey through the vast void of interstellar space that comprises most of the Milky Way galaxy. Voyager 2
—
traveling not far behind
—
will follow suit. Scientists at NASA said that over the past year, Voyager 1 had entered a kind of "cosmic purgatory" where the wind of electrically charged particles streaming from the Sun has calmed. Both spacecraft are now in a region known as the "heliosheath," the outermost layer of the Solar System, where the solar wind, which can travel 16 miles per second, is being slowed down by the rising pressure of interstellar gas. NASA scientists believe this indicates the imminent entry of Voyager 1 into the interstellar region, which is dominated by another kind of magnetic wind coming from a different direction of deep space.


"Voyager tells us now that we're in a stagnation region in the outermost layer of the 'bubble' around our Solar System. Voyager is showing that what is outside is pushing back. We shouldn't have long to wait to find out what the space between the stars is really like," said Ed Stone, Voyager project scientist at the California Institute of Technology in Pasadena. NASA changed the orientation of Voyager 1 four times this year to see whether the solar wind and magnetic field lines had switched direction. Data released at the American Geophysical Union meeting in San Francisco shows the magnetic field lines have not changed, indicating that Voyager 1 is still just within the "heliosphere," the magnetic bubble of charged particles created by the Sun. "We have seen the same east-west direction of the magnetic field since we launched. That's the solar magnetic field. Once we leave the heliosphere we will enter the magnetic field of the galaxy and all the data to date suggest that this field is orientated more north-south," Dr. Stone told the meeting. [More>>independent.co.uk]
---
12.06.11
Russia's 'Arab Spring'? Clashes break out in 2 cities

December 6 - Police and protesters clashed Tuesday on a central Moscow square as people tried to hold a second day of demonstrations against alleged vote fraud in Russia's parliamentary elections. Protesters in the city of St. Petersburg also broke through police lines. So far, a total of about 310 people have been arrested in the two cities. Prime Minister Vladimir Putin's United Russia party saw a significant drop in support in Sunday's election, but it will still have a majority in parliament. Opponents say even that watered-down victory was due to massive vote fraud. Russia's beleaguered opposition has been energized by the vote, staging its biggest protests in Moscow for years. Secretary of State Hillary Clinton reiterated US suggestions that Sunday's election was neither free nor fair. Russia's Foreign Ministry later branded US criticism "unacceptable." Meanwhile, Republican Senator John McCain offered Putin a warning on Twitter: "Dear Vlad, The Arab Spring is coming to a neighborhood near you." [More>>msnbc.msn.com; See related story,

en.rian.ru, December 6, "State Duma speaker Gryzlov compares McCain with March Hare from Alice in Wonderland"

:
The Russian State Duma Speaker Boris Gryzlov compared US senator John McCain to the March Hare from "Alice in Wonderland" on Tuesday, after McCaine predicted an "Arab Spring" for Russia. "McCain more and more reminds me of the cowardly March Hare. It's December already and he is still thinking of spring," Gryzlov, one of the leaders of Russia's ruling United Russia party, said in his Twitter micro blog. Earlier, McCain, known for his staunch criticism of Russia,
tweeted a message
saying, "Dear Vlad (Vladimir Putin), The Arab Spring is coming to a neighborhood near you." The senator added a link from his Twitter comment to a Wall Street Journal article which states that "widespread evidence of voter fraud" will sour Russia's relations with Western capitals "in the coming days." Sunday's parliamentary elections were marred by widespread allegations of poll procedure being manipulated in favor of the ruling United Russia party, with dozens of amateur internet video clips appearing to show election fraud uploaded and thousands of people protesting against unfair polls. [end]

---
12.06.11
Tsunami that struck Japan in March resulted from merging waves
December 6 - The devastating wall of water that struck Japan in March was the result of at least two waves that combined to create a more powerful tsunami, US scientists said Monday. Ocean ridges and mountain ranges below the surface of the water channeled the waves created by the 9.0 magnitude earthquake off the coast of Japan, bringing them together far out at sea to form a "merging tsunami," according to researchers from NASA and Ohio State University. The earthquake and tsunami together killed 15,840 people, according to the most recent death toll, and set off a nuclear crisis at the Fukushima Daiichi plant. Satellite data have enabled the researchers to come up with an account of the formation of the tsunami and its destructive force. "Nobody had definitively observed a merging tsunami until now," Y. Tony Song, a research scientist at NASA's Jet Propulsion Laboratory in Pasadena, Calif., said in a statement. The results of the research could help predict the risks from tsunamis in the future. "We can use what we learned to make better forecasts of tsunami danger in specific coastal regions anywhere in the world," said Professor C.K. Shum of Ohio State University. [>cnn.com]
---
12.06.11
As Myanmar reaches out, old conflict flares within
YANGON, Myanmar, December 6 - Intensifying clashes between ethnic rebels and Myanmar's army have forced tens of thousands of villagers into refugee camps near the Chinese border, according to aid workers and members of the clergy. Efforts by the Myanmar government to restart talks with leaders of the Kachin ethnic group appear to have failed, leading to a crisis that is developing just as the government is trying to introduce economic and political reforms. "Now the fighting is everywhere," Naw Din, a coordinator for a Catholic-run refugee camp in the northern town of Bhamo, said by telephone on Tuesday. "We are hearing bombing, night or day." A government representative met with leaders of the Kachin Independence Organization shortly before Secretary of State Hillary Rodham Clinton visited Myanmar last week, but the talks were inconclusive. Fighting was reported on Tuesday near the headquarters of the Kachin group, which has an army of several thousand fighters.

More than 26,000 people have now been displaced by the conflict, according to a detailed tally by a Kachin aid worker who asked not to be identified in order to preserve her access to the troubled and remote region. A Catholic priest returning from the affected area on Tuesday said that some priests and nuns and clergymen were trapped by the clashes, which he said involved heavy weapons. "The fighting is intensifying now," the priest said by telephone from northern Myanmar. He said Kachin fighters had abandoned many of their bases and were now engaged in guerrilla attacks against the military. The mountainous northern reaches of Myanmar, rich in jade and timber and crisscrossed by traffickers dealing in heroin and methamphetamines, are among the most unstable areas in Southeast Asia.

The new government of President Thein Sein has reached out to the country's minority ethnic groups, which have a long history of conflict with the c entral government and make up about one-third of Myanmar's population of 55 million. Last week there were reports of a ceasefire deal with another rebel group, a faction of the Shan State Army. Myanmar's majority ethnic group, the Burman, have dominated the army and held the highest posts in government since the country, formerly known as Burma, won independence from Britain in 1948, while the non-Burman minorities have sought autonomy. [More>>nytimes.com]

---
12.06.11
'Scores dead' in Syria after kidnappings

December 6 -
Activists say at least 79 people killed in sectarian clashes in Homs, as US ambassador prepares to return to Damascus
.
Nearly 80 people have been killed in the central Syrian city of Homs following a series of kidnappings that began on Sunday, activists have said. Activists and residents of several neighborhoods said Sunni residents had been kidnapped by "shabiha," armed, mostly Alawite gangs that support the government. An Alawite human rights activists, however, told Al Jazeera's Rula Amin that there were killings and kidnappings on both sides of the divide, with people too afraid to leave their homes. "Mad gangs have taken hold of the streets," the activist, who did not want to be named, said. Al Jazeera's Nisreen El-Shamayleh, reporting from neighboring Jordan, said activists reported on Monday that at least 79 civilians representing both the Alawite and Sunni sects had been killed in Homs. "What this highlights is the fact that there are growing sectarian tensions and the emergence of an armed insurgency among civilians in Syria who are taking up arms," she said. "Representatives from the Syrian opposition are very reluctant to acknowledge that this is indeed happening. But according to residents of Homs and activists in general, they are saying there is more of this that has been happening. It's not just kidnappings and killings. There has been large displacement of families in some areas where Sunnis would kick out Alawite families and vice versa. So sectarian tensions in Syria are running very high." [More>>aljazeera.com]

---
12.06.11
Algerian parliament keeps ban on main religious party
ALGIERS, Algeria (AFP) December 6 - Algeria's national assembly on Tuesday voted to maintain a two-decade ban on the country's main religious party as lawmakers debated proposals for a new electoral law.
A month after Islamists swept to victory in neighboring Tunisia, the vote will ensure that the Islamic Salvation Front (FIS) party, which came out on top Algeria's 1991 elections, will continue to be locked out of power. The army canceled the second round of elections in early 1992, banning the FIS in the process. The outcome was a civil war that lasted a decade which claimed about 200,000 lives. President Abdelaziz Bouteflika was catapulted into power and has been in charge of the former French colony ever since, despite the recent uprisings in other parts of the Arab world. While not singling out the FIS, Tuesday's vote upheld a ban on "any person responsible for the exploitation of religion having led to the national tragedy (civil war) from founding a party or participating in its creation."
[More>>alarabiya.net]
---
12.06.11
Morocco socialist party opts out of Islamist-led coalition

RABAT, Morocco, December 6 -
Main leftwing party, Socialist Union of Popular Forces, decides not to take part in government coalition led by Islamists

.
Morocco's main leftwing party said on Sunday it had decided not to take part in a government coalition led by the country's Islamists. The Socialist Union of Popular Forces, founded by the iconic opposition leader Mehdi Ben Barka, came third in the November 25 legislative election and had been in talks to join a broad government coalition. "The USFP is now part of the opposition, following a decision made Sunday by its national council," Driss Lachgar, a member of the party's political bureau, said.

Abdelilah Benkirane, who was appointed prime minister by King Mohammed VI after his Justice and Development Party (PJD) secured the most votes in last month's poll, had asked the USFP to join his government. "By joining the opposition, our political party will contribute to developing the country's democracy," Lachgar said. The PJD, which became the latest religious party to make electoral gains in the region on the back of the Arab Spring pro-democracy revolts, still has plenty of options to form a parliamentary majority. As Tunisia and Egypt ousted their longtime dictators through popular uprisings earlier this year, Morocco's king nipped swelling protests in the bud by offering a constitutional reform that curbed his near absolute powers. [>middle-east-online.com]
---
12.06.11
Egyptian presidential hopeful asks Arab Islamists to embrace democracy

DUBAI (AFP) December 6 - Egyptian presidential hopeful Amr Moussa on Monday called on the Arab world's Islamist parties to embrace the principles of democracy and modernity. Speaking at a Dubai conference on the future challenges of state-building in the region, he added that the success of Islamists in recent polls was a natural consequence of the democratic process. "We cannot talk about democracy and then object to the results. Democracy is about what the people want," said Moussa responding to the dominance of Islamist parties in parliamentary elections in Egypt and Tunisia after uprisings in both countries overthrew entrenched dictators. "But for those elected to power, they must understand that...they need to join this era and not disengage from it," he said echoing fears among liberals in the region that newly empowered religious groups will curb freedoms and seek to enforce draconian interpretations of Islamic law.

Egypt on Tuesday wrapped up the opening round of the first parliamentary elections since autocrat Hosni Mubarak's ouster, with Islamists winning a landslide victory at the expense of weakened and divided liberals. Results showed that 65 percent of voters chose Islamist parties, with one in four opting for hard-line Salafist candidates who follow a very strict interpretation of Islam practiced in Saudi Arabia, the only country in the world where women are banned from driving. In Tunisia, the once-banned Islamist Ennahda party won 89 of 217 seats in the new assembly that will rewrite the constitution and appoint a president and caretaker government. The October polls were the first since long-time leader Zine el Abidine Ben Ali and his staunchly secular regime were ousted in a popular uprising in January. [>alarabiya.net]

---
12.06.11
Egyptian Salafi clerics issue spat of controversial fatwas
DUBAI, Decembrer 6 - The recent emergence of the hardline Salafi trend in Egypt after the January 25 revolution has given way to a series of controversial fatwas that mainly focused on women, Copts, culture and democracy. Preacher Mustafa al-Adawi issued a fatwa prohibiting Muslim women from wearing high heels because they are a source of seduction for men. "A woman can only wear high heels for her husband but she is not to do so outside her house," he said. Another cleric, Sheikh Mahmoud Amer, had issued a fatwa prohibiting Muslims from voting for Coptic candidates or their Muslim counterparts who do not pray on regular basis. "It is forbidden by Islam to vote for them and whoever does that will be committing a grave sin," he said. Amer and other Salafi clerics opposed the Egyptian revolution and declared that rebelling against the ruler is forbidden in Islam.

Other controversial statements were issued by prominent Salafi and parliamentary candidate Abdel Moneim al-Shahat who said that democracy is a form of apostasy and categorized the works of Nobel laureate Naguib Mahfouz as "atheist literature." These statements were met with a lot of resentment by Egyptian intellectuals and men of letters who warned of the dangers of such extremist ideologies on Egyptian culture and the awareness of the Egyptian people. In the same vein, Salafi cleric and potential presidential candidate Sheikh Hazem Salah Abu Ismail said he is against mingling of the sexes in public places. Despite their rejection of the idea of democracy, several Salafi clerics were quick to join the political scene after the fall of the regime and one of their parties, al-Nour, scored unexpected results in the first stage of the country's first post-Mubarak parliamentary elections. Al-Nour Party came second after the Freedom and Justice Party, the political wing of the Muslim Brotherhood. [>alarabiya.net]

---
12.06.11
The Saudi 'study' that finds all women drivers on the road to immorality
December 6 - Saudi Arabians have been shocked and embarrassed by the release of a negative and misogynistic report on women drivers. Women driving has been
a controversial issue in Saudi Arabia
since
1990
when 47 women got into 14 cars and drove on to a main street in Riyadh. They were stopped, suspended from work for two years and condemned for years in religious sermons and social circles. The last public assault was when Sheikh Mohammed Al Arefe in 2003 objected to the fact that these women were allowed to go back to teaching because he was worried that they would encourage their students to follow in their footsteps. It took more than 15 years for another group of women to gather the courage to start a public movement against the ban on female driving. Since 2006, every few months there would be a study, petition, video or campaign but to no avail. This is no surprise, because there are just as many studies, videos, petitions and campaigns calling on the government to maintain the ban.


Professor Kamal al-Subhi has written the most recent of these studies. Subhi is an American-educated retired professor who took it upon himself to prepare a scientific study on the effects of women driving on society. The study is based on unstructured direct interviews methodology, in which he visited two unnamed Arabian Gulf countries and a third unnamed North African country to ask people about the effects of women driving. Strangely, all the people he asked were unanimously against women driving and felt that one way or another it was the reason behind their societies' woes. Subhi categorized their replies into eight main comments, all of which were negative and misogynistic. One such comment: "Girls are the key to immorality. It will ensue if they are given unrestricted freedom because of their small mindedness or if they face a problem." He also makes his own observations on these neighboring societies:
"After a while, a woman got up and walked to her car in the parking lot in front of the Starbucks we were in. She shouted at the Indian cleaning her car for not doing a good job of it. She was wearing a pair of pants so tight that her innermost organs were discernible.
"Despite that, she put her hands on her knees and bowed down to point at a lower part of the car that the Indian had missed. The young men at the
café
were attentively watching through the glass this undoubtedly arousing scene. The whole place was indecent and smelt of moral disintegration."
Subhi refers to a study a fellow researcher told him about that was conducted by UNESCO that linked women driving to adultery, divorce, rape and illegitimate children. He does remark, though, that he has not seen this study for himself. Subhi wrote this 16-page study for a like-minded online group of influential intellectuals and writers. A third party felt it was worthy of a national audience and so took it to the Shura Council, a government-appointed advisory body made up of 150 members. At the Shura Council, the study was not only received but a Shura member also personally endorsed it. It was later leaked to women's rights activists who scanned a copy and posted it for the whole world to see. The overwhelming majority of Saudis online were not only offended but also embarrassed that a Saudi so-called successful intellectual would write so lowly of women from neighboring countries. There were also many remarks asking how the Shura Council members could have their time wasted by being given this type of study for consideration.


Subhi has issued a statement through the same online group in objection to the international ridicule that he and his study have been subjected to. In this statement he writes that he knows the west, and his study follows international scientific standards no one can refute. He claims that he is so greatly respected by his western counterparts that they offered him citizenship. The problem with the international press report, he says, is that it was commissioned by a Saudi hater who used a miserable reporter to write a piece that unfairly summed up his 16-page paper into half a page. [More>>guardian.co.uk]
---
12.06.11
Suicide attack on Afghan Shi'ite shrine kills up to 54

KABUL, Afghanistan, December 6 -
At least 54 people, including women and children, were killed in Tuesday's suicide attack on a Shi'ite Muslim shrine in the center of Afghan capital Kabul, according to the chief of the city's criminal investigation department Mohammad Zahir. "54 civilians (were) killed and more than 100 wounded including women and children. It's not clear yet who carried out the attack. Nobody has claimed responsibility," he said, adding that the death toll may rise. Afghanistan has a history of tension and violence between Sunnis and the Shi'ite minority, but since the fall of the Taliban, the country had been spared the largescale sectarian attacks that have troubled neighboring Pakistan. The noon bomb in a riverside shrine, in the heart of old Kabul, appears to set a grim new precedent. Shortly after, a bicycle bomb exploded near the main mosque in the northern city of Mazar-i-Sharif, killing four people and injuring 17 others. The city's streets were filled with people celebrating Ashura, but it was not immediately clear if that attack was also targeting Shi'ite worshipers. Taliban spokesmen could not immediately be reached for comment on either attack. The Shi'ite Muslim festival of Ashura marks the martyrdom of the Prophet Mohammad's grandson Hussein in the battle of Karbala in Iraq in the year 680. [More>>indianexpress.com]

---
12.06.11
Real cost of gas at Afghan bases: $400/gal.

December 6 -
Keeping American vehicles rolling in Afghanistan while avoiding the perils of hauling in fuel via ground transportation is costing the military big time.
Frosty relations between the US and Pakistan
—
which led to Pakistan closing its border to Afghanistan-bound truck traffic
—
haven't helped, either. The Pentagon is increasingly relying on parachute drops of fuel and other supplies to bases in remote parts of Afghanistan, and as
Nathan Hodge of the Wall Street Journal reports
, the military estimates such deliveries are spiking the ultimate price of a gallon of fuel to as much as $400 per gallon. [More>>cbsnews.com]
---
12.06.11
Chinese go online to vent anger over pollution
BEIJING, December 6 - Millions of Chinese went online on Tuesday to vent their anger over the thick smog that has blanketed Beijing in recent days, raising health fears and causing hundreds of flights to be cancelled. Sales of face masks were reported to have surged as residents of China's heavily polluted capital sought to protect themselves from the air, which US embassy figures ranked "very unhealthy." Beijing's main airport cancelled hundreds of flight due to the poor visibility on Sunday and Monday, angering passengers at the world's second-busiest airport. Visibility had improved by Tuesday, but 80 domestic and 10 international flights had been cancelled by midday due to light snow. Users of Sina's weibo
—
one of China's hugely popular microblogging sites
—
expressed frustration at the delays to their journeys, with one saying it had taken him 24 hours to travel to Beijing from the southern city of Shenzhen.

[More>>

timesofindia.indiatimes.com]

---
12.06.11
Whaling fleet off to Antarctica with beefed up security measures

TOKYO, December 6 - Japan's whaling fleet left port Tuesday for the country's annual hunt in Antarctica, press pictures showed, with security measures beefed up amid simmering international protests. Three ships, led by the 720-ton Yushin Maru, set sail from Shimonoseki in western Japan on a mission officially said to be for "scientific research," according to local media reports. In past years, a mother ship has joined them later. The government's fishery agency declined to confirm the reports, citing security reasons. "In consideration of safety, we cannot make public the timing of the fleet's departure and its operational plans," Shinji Hiruma, an official of the agency's international division, told AFP. He only confirmed that in "usual years" the fleet left port in November or December and returned around March. In February, Japan cut short its hunt for the 2010-2011 season by one month after bagging only one fifth of its planned catch, blaming interference from the US-based environmental group Sea Shepherd.
[More>>japantoday.com; See related story,

seashepherd.org, December 5, "Australian government attempts to sabotage Sea Shepherd's campaign to defend the whales"

:
On the eve of Sea Shepherd and its three ships' departure to defend whales in the Southern Ocean Whale Sanctuary, the government of Australia has tossed an obstruction in our path designed to delay our plans to confront the Japanese whaling fleet. Chris Aultman, who has been our helicopter pilot annually since 2005, was today denied his visa to Australia. He was not given a reason for this decision. Chris Aultman, a United States citizen, a veteran of the US Marine Corp, a professional helicopter pilot, a star of Animal Planet's
Whale Wars
series, and a man who does not have a criminal record, has been told he will not be permitted a visa to enter Australia. The Australian Embassy in Washington DC would not give him a reason. It appears that the Japanese ambassador to Australia has been making phone calls.
Australia denied visas for Captain Paul Watson and 1st officer Peter Hammarstedt two years ago. After a two-month delay, 25,000 Australian signatures on a petition, and the assistance of former Australian Environment Minister Ian Campbell and Tasmanian Senator Bob Brown, Peter and Paul were finally granted visas. No reasons were given for the denial or the delay. Now it appears that Australia is seeking to keep the Sea Shepherd helicopter grounded by denying a visa to our veteran helicopter pilot. Australia has also refused to send a government ship to the Southern Ocean to keep the peace in the Australian Antarctic territorial waters and the Southern Ocean Whale Sanctuary...
---
12.05.11
TEPCO reveals new contaminated water leak at Fukushima plant

TOKYO, Japan, December 5 -
Tokyo Electric Power Co (TEPCO) said Sunday that at least 45 tons of radioactive water have leaked from a desalination facility at the Fukushima Daiichi nuclear power plant, and some of it may have reached the Pacific Ocean. TEPCO said the trouble came in two stages, Fuji TV reported. In the morning, utility workers found that radioactive water was flooding a catchment next to a purification device. Officials said the device was then switched off, and the leak appeared to stop. But the company said it later discovered that leaked water was escaping through a crack in the catchment's concrete wall and was reaching an external drainage ditch, Fuji reported. Experts say that before the latest leak, the Fukushima accident had been responsible for the largest single release of radioactivity into the ocean, threatening wildlife and fisheries in the region. As much as 220 tons of water may now have leaked from the facility, according to a report in the Asahi Shimbun newspaper that cited TEPCO officials. The water is believed to have contained up to one million times as much radioactive strontium as the maximum safe level set by the government, and about 300 times the safe level of radioactive cesium. Both are readily absorbed by living tissue and can greatly increase the risk of developing cancer.
TEPCO said it was exploring ways to stop the water from leaking through the crack and attempting to confirm whether contaminated water had reached the ocean, Fuji reported. [>japantoday.com; See other details, cnn.com, December 5, "
Contaminated water found leaking at Japanese nuclear plant."
---
12.05.11
US military sources: Iran has missing US drone

December 5 -
Iran
is in possession of a RQ-170 Sentinel drone that went missing over the Islamic Republic, US military sources told Fox News on Monday. The Sentinel is the same kind of stealth high tech drone that was used to monitor the compound during the raid that killed
Osama bin Laden
in
Pakistan
, the sources said. The sources confirmed the Iranians have the drone, however, they did not say that the Iranians shot down the spy plane, as was reported by Iran's official IRNA news agency. "An advanced RQ-170 unmanned American spy plane was shot down by Iran's armed forces. It suffered minor damage and is now in possession of Iran's armed forces," IRNA quoted an unidentified Iranian military official saying Sunday. The official also warned of strong and crushing response to any violations of the country's airspace by American drone aircraft. Earlier, the US-led coalition in
Afghanistan
issued a statement saying the aircraft may have been a drone that operators lost contact with last week while it was flying a mission over neighboring western Afghanistan. A US official, who spoke on condition of anonymity because of the classified nature of the incident, said the US had "absolutely no indication" that the drone was shot down. [More>>foxnews.com]
---
12.05.11
Syria responds 'positively' to Arab League deal as it holds war games in show of force
DUBAI, December 5 - Syria has responded "positively" to a proposed Arab League plan aimed at ending eight months of violence and expects the agreement to be signed soon, Foreign Ministry spokesman Jihad al-Makdesi said on Monday. "The protocol is intended to be signed soon," Makdesi told journalists in Damascus, according to Reuters. Syria was given a Sunday deadline by the Arab League to agree to allow observers to monitor the situation on the ground in Syria, where security forces have brutally suppressed a popular revolt in a crackdown that has seen 4,000 people killed since mid-March. "The road has been cleared for the signing" of the Arab plan, he added. The deployment of an observer mission is part of the League's proposal to end the violence in Syria. [More>>alarabiya.net]
---
12.05.11
Report: Iran blast completely destroyed major missile-testing site

December 5 -
Israeli and US intelligence officials tell New York Times recent explosion at military base near Tehran was major setback to Iran's long-range missile program
. A recent explosion at a military base near Tehran was a major setback for Iran's long-range missile program and completely destroyed the base, according to American and Israeli intelligence officials, the New York Times reported on Monday. The officials said that surveillance photos showed that the Iranian base was a central testing center for advanced solid-fuel missiles, which are better equipped than older, liquid-fuel designs to carry warheads long distances. According to the report, satellite photos taken after the blast show that the base was almost completely destroyed, which amounts to a serious setback to Tehran's missile development, intelligence officials said. Earlier this month, Iran reiterated that the explosion at a military base near Tehran that killed 17 members of the Revolutionary Guards was an accident. Last week, a top Israeli security official said that the explosion could delay or stop further Iranian surface-to-surface missile development, but warned that it was far from halting all of Iran's military options. [More>>haaretz.com]
---
12.05.11
Bombs targeting pilgrims kill 22 in Iraq's Hilla

BAGDAD (Reuters) December 5 - Three bombs tore through crowds of Shia pilgrims celebrating a major ritual in Iraq's Hilla city on Monday, killing least 22
—
mostly women and children
—
and wounding 60 more, local police and witnesses said. The attacks, at the height of Ashura, which commemorates the death of Prophet Mohammad's grandson Imam Hussein and defines Shi'ite Islam, underscored Iraq's fragile security as the last US troops withdraw from the country by the end of the year. In the first attack, a car bomb blasted the end of one Shia procession, killing 16 mainly women and children, wounding 45 others and leaving bloody pools, shoes and tore clothes scattered across the street, police and witnesses said. "A powerful and horrible explosion went off behind us, smoke filled the area," said Hadi al-Mamouri, who was taking part in the ritual. "I could only hear the screams of women and I could only see the bodies of women and children on the street." A second attack involving two roadside bombs killed at least six more people at another procession in Hilla and wounded 15 more, police sources said. The attacks came as the last 10,000 American troops prepare to withdraw by the end of 2011, more than eight years after the invasion that ousted Sunni dictator Saddam Hussein and allowed the country's Shia majority to ascend.
[More>>Khaleejtimes.com]
---
12.01.11
Stocks slip, a day after biggest rally in 2 years
NEW YORK (AP) December 1 - Stock indexes are drifting lower in midday trading, a day after the market had its best day in two and a half years. Bank stocks and energy companies fell the most. The Labor Department said initial applications for unemployment benefits rose to 402,000 last week. The increase means that layoffs are rising slightly. The Dow Jones industrial average is down 40 points, or 0.3 percent, at 12,005 as of 11:45am. The Dow soared 490 points the day before, its biggest gain since March 2009, after central banks around the world slashed borrowing costs to shore up European banks and avert a deeper credit crisis. The S&P 500 index is down 4 points, or 0.4 percent, to 1,242. The Nasdaq composite is down less than 1 point to 2,619.
[>cbsnews.com]
---
12.01.11
UN says Syria now in civil war, death toll hits 4,000; US sanctions Assad's uncle
DUBAI, December 1 - Syria is now in a state of civil war with more than 4,000 dead and increasing numbers of defecting soldiers taking up arms against the government of President Bashar al-Assad, the top United Nations human rights official said on Thursday as US placed economic sanctions on a senior Syrian general and a financier uncle of Assad. "We are placing the figure at 4,000, but really the reliable information coming to us is that it is much more than that," UN High Commissioner for Human Rights Navi Pillay told a news conference. "I have said that as soon as there were more and more defectors threatening to take up arms, I said this in August before the Security Council, there was going to be a civil war.
At the moment that's how I am characterizing this," she said, according to Reuters. Syrian activists told Al Arabiya that as many as 20 people have been killed on Thursday by the gunfire of security forces, mostly in Hama. Washington, meanwhile, placed economic sanctions on Mohammed Makhluf, a senior Syrian general and a financier uncle of Assad, adding new pressure on the regime over its bloody political crackdown. The Treasury Department added Makhluf, Assad's maternal uncle and the father of already-sanctioned telecoms magnate Rami Makhluf, and 4th armored division General Aus Aslan, to its growing list of Syrian figures and organizations that Americans are banned from doing business with. [More>>alarabiya.net]

---
12.01.11
Report: Iran authorities behind attack on UK embassy

December 1 -
Photographs from so-called student protest show members of Basij forces taking part; attack was also filmed life, something that is not permitted without approval by Khamanei. The storming of the British embassy in Tehran earlier this week was not an improvised student protest but an attack planned and supervised by Iranian authorities, sources told the Al-Arabiya News Channel on Thursday. The attack was planned by Supreme Leader Ayatollah Ali Khamanei and supervised by the commander of the Basij paramilitary forces, Brigadier General Mohammad Reza Naqd, the sources said. Proof of their involvement was in the media coverage, according to the sources. Photographs of the attack show troops from the Basij forces taking part, as well as members of the al-Quds Brigade. In addition, two official state television channels, directly controlled by Khamenei
—
Press T.V. and al-Alam News Network - managed to broadcast the attack live. No official news channels are permitted to broadcast life without Khamenei's permission, the sources told Al-Arabiya.
[More>>haaretz.com]
---
12.01.11
Two Pakistanis 'killed by NATO' in Afghanistan

ISLAMABAD, Pakistan, December 1 - Two Pakistani nationals from Balochistan were allegedly shot dead by NATO forces in Afghanistan on Thursday, days after ties between Islamabad and Washington plunged to a new low after a cross-border air strike killed 24 Pakistani soldiers. The two Pakistani men from Chagai district of Balochistan were visiting their relatives in Bibijan area of Afghanistan, their relatives told the media. The relatives alleged NATO forces opened fire at the men and killed them instantly. Officials of the Levies militia confirmed the incident to the Pakistani media. They said the two men were shot dead this morning. The dead men were identified as Abdullah and Mohammad Usman, residents of Chagai district. People living on either side of the Pakistan-Afghanistan border often visit their relatives. People from Chagai travel to the Afghan side of the border to collect wood and to work as laborers, media reports said. On Saturday, 24 Pakistani soldiers were killed when NATO helicopters from Afghanistan targeted two military border posts. Pakistan responded angrily to the air strike by closing all NATO supply routes and asking the US to vacate Shamsi airbase, reportedly used by CIA-operated drones. [More>>timesofindia.indiatimes.com]

---
12.01.11
Amnesty International calls for Bush's arrest during trip to Africa

December 1 -
With former President George W. Bush traveling this week in Africa to promote AIDS relief efforts and to raise awareness of cervical and breast cancer, Amnesty International is urging three nations to arrest him during his visit for "crimes under international law." The world's largest human rights group said Thursday that "there is enough evidence in the public domain" to justify either
Ethiopia
,
Tanzania
and
Zambia
arresting the former president during his expected visit to the region, which started Thursday and lasts until Monday. Bush is traveling with his wife, Laura, and daughter, Barbara.
The three nations should investigate "his alleged involvement in and responsibility for
torture
," the group said. "All countries to which George W. Bush travels have an obligation to bring him to justice for his role in torture," said Matt Pollard, senior legal adviser for the American branch of AI.
[More>>foxnews.com]
---
12.01.11
Deadly car bomb kills 10 in Iraqi town of Khalis

December 1 - A car bomb has exploded in a market in the Iraqi town of Khalis, north of Baghdad, killing at least 10 people, security officials say. At least 20 others were injured in the attack in the town, about 80km (50 miles) north of the capital.
A curfew was imposed after the incident, according to reports. The attack comes amid concerns about the ability of Iraqi forces to maintain stability after remaining US troops leave at the end of the year. A medic, Dr. Firaz al-Dulaimi, told AFP news agency that two policemen were among the fatalities. Violence in Iraq has fallen since its peak in 2006 and 2007, but more than 250 people were killed in October alone, according to official figures. [>bbc.co.uk]
---
12.01.11
Fire erupts on woman's face during routine surgery

December 1 - A Florida woman was rushed by helicopter to an Alabama burn center after her
face caught fire
during routine surgery. Kim Grice, a 29-year-old mother of three, was having cysts removed from her head at an
outpatient surgery center
in Crestview, Fla., when the flash fire erupted. "A flash fire is basically a fire that flashes up and then goes out,"
Crestview Fire Department Chief

Joseph Traylor
told ABC News. "The fire was already out when our staff arrived." Grice was treated at the North Okaloosa Medical Center before being flown 90 miles to the University of South Alabama in Mobile, Ala., with burns to her face and neck. The cause of the fire is still under investigation. But surgical fires are usually sparked by heat, often from tools like lasers, and then fueled by alcohol, surgical drapes and oxygen. Grice was wearing a non-rebreathable oxygen mask, according to Traylor
. [More>>abcnews.go.com]
---
11.30.11
Britain expels Iranian diplomats and closes Tehran embassy

November 30 - William Hague says diplomats must leave UK within 48 hours, saying storming of British embassy in Iran had backing of regime. The foreign secretary, William Hague, has ordered the expulsion of Iranian diplomats from the UK and announced that the UK is closing its embassy in Tehran, saying that the storming of the mission on Tuesday had the backing of the regime. Hague said Iranian diplomats would have to leave Britain within 48 hours, and that all British embassy staff in Tehran had now left Iran. He said that the move would not mean the severance of all ties, as the two countries could continue to have a dialog at international meetings, as the US has done since the seizure and closure of its embassy in 1979, but the move marks a new low in relations, which have been growing increasingly strained. The foreign secretary said it was not possible to maintain an embassy in the current circumstances, adding that the estimated 200 protesters who invaded the embassy and the British diplomatic compound yesterday were "student basij militia." The basiji operate as a youth wing of Iran's Revolutionary Guards, one of the most powerful institutions in the country. Hague said it would be "fanciful" to think that the embassy invasion could have taken place without "without some degree of regime consent."

[More>>guardian.co.uk]

---
11.30.11
Gbagbo faces crimes against humanity charges at Hague

(

AP) November 30 -
Former Ivory Coast President Laurent Gbagbo was transferred to the International Criminal Court at The Hague Wednesday, to face four counts of crimes against humanity. Gbagbo is the first former head of state to be tried by the ICC
. The International Criminal Court charged former Ivory Coast President Laurent Gbagbo with murder, rape, persecution and inhuman acts Wednesday, crimes allegedly committed as his backers fought brutal battles to keep him in power after last year's elections. Gbagbo, 66, is the first former head of state taken into custody by the court since it was established in 2002, although prosecutors also have charged Sudanese President Omar al-Bashir with genocide and Libya's former leader, the late Moammar Gadhafi, with crimes against humanity.

"Mr. Gbagbo is brought to account for his individual responsibility in the attacks against civilians committed by forces acting on his behalf," Prosecutor Luis Moreno-Ocampo said in a statement. Moreno-Ocampo stressed that both sides of the political divide in Ivory Coast committed crimes in the post-election chaos and that his investigation was continuing. That statement appeared aimed at countering fears that Gbagbo's arrest could further stoke tension in Ivory Coast, also known by its French name Cote d'Ivoire, because it gives the appearance of victor's justice. Grave abuses were also committed by forces loyal to the country's democratically elected leader, Alassane Ouattara, who enlisted the help of a former rebel group to force Gbagbo from office. [More>>france24.com]
---
11.30.11
UK banks urged to prepare for Euro break-up

November 30 - Britain's biggest banks are being urged by the City regulator to prepare for a break-up of the eurozone. The head of the Financial Services Authority (FSA), Hector Sants, has told financial institutions to accelerate plans for a separation of the single currency area,
Sky's City editor Mark Kleinman has learned
. Senior executives from Barclays, HSBC, Lloyds Banking Group, RBS, Santander UK and Standard Chartered were given the warning at a private meeting with the FSA boss. Although the meeting was not specifically set to issue the warning, Mr. Sants said the banks should run a wide range of stress tests as part of their contingency planning. However, he stopped short of prescribing specific instructions or scenarios. People close to the FSA told Kleinman that Sants' warning was "the kind of contingency planning expected in a situation like this." The impact on different banks of a eurozone break-up would vary, depending on their exposures to sovereign debt of member countries. Whereas Barclays holds billions of pounds worth of European government bonds, Santander UK and Standard Chartered have very little direct exposure. [>news.sky.com; See related story,

cbsnews.com, November 30, "
Stocks surge on central banks' liquidity plan" : NEW YORK -
Central banks around the world took joint action Wednesday to give banks easier access to dollars, jolting stock markets and easing fears of a global credit crisis. The Dow Jones industrial average soared more than 400 points. Markets in Europe also surged. Germany's DAX index closed up 5 percent. The euro and commodities prices rose sharply. US Treasury prices fell as demand weakened for ultra-safe assets. Big US banks were among the top gainers on the stock market. JPMorgan Chase & Co. jumped 6.6 percent; Morgan Stanley 6.9 percent and Citigroup Inc. 6 percent. European banks hold large amounts of European government debt and would have the most to lose in the event of a default by a European country, something investors around the world have been increasingly fearful of. Their stocks jumped as well...
---
11.30.11
Tijuana drug tunnel linked Mexico to US

November 30 - US police have found one of the most sophisticated drug-smuggling tunnels to date on the border with Mexico. The tunnel was discovered on Tuesday and links warehouses in Tijuana, Mexico, with San Diego. "It is clearly the most sophisticated tunnel that we have found in the last five years, perhaps ever," a US police spokeswoman in San Diego said. A similar tunnel was discovered in the area two weeks ago, adding to dozens that have been found in recent years. Local media describe Otay Mesa as a busy area containing many warehouses, making it easier for smugglers.
The tunnel is 15ft (4.5m) deep and contains both lighting and transport carts, AFP news agency reports. Mexican security forces found the entrance in a Tijuana warehouse after being alerted to the discovery by the US authorities. The warehouse is near Tijuana airport, and also stands close to the local headquarters of the federal police.
Mexican security forces seized three tonnes of marijuana at the tunnel's entrance, which they suspect had only recently been put into use. The use of underground tunnels for smuggling has increased in recent years as the US authorities have clamped down on overland smuggling activity. [>bbc.co.uk]
---
11.30.11
Turkey imposes economic sanctions against Syria

ANKARA, Turkey (RIA Novosti) November 30 - Turkish Foreign Minister Ahmet Davutoglu announced on Wednesday that Ankara has imposed economic sanctions against Syria. Turkey froze strategic partnership with Syria, introduced a travel blacklist of Syrian administration officials and businessmen, froze cooperation with the Syrian Central Bank and financial assets of President Bashar al-Assad, as well as banned arms sales to the country. The sanctions also freeze all loan agreements with Syria and any cooperation between private banks. "We did our best to bring our relations with Syria to the highest possible level; however, Syrian authorities interpreted the events in the region incorrectly. They refused to pay attention to our warnings and reasons," the Turkish foreign minister said. He also said that Syria's refusal to fulfill the Arab League's demands shows that Damascus "rejected its last chance."
The Arab League
approved on Sunday economic sanctions against Syria
, agreeing to stop dealing with Syria's central bank and to freeze the assets of the Syrian government, while European Union governments agreed on Monday to impose additional financial sanctions on Assad's government. Opposition leaders maintain that Syrian authorities continue to use force against "peaceful demonstrations" and many people were killed or injured as a result. Meanwhile, Syrian authorities say that the troops and police are clashing with militants who are financed from abroad and attack administrative bodies and ordinary citizens.
[>en.rian.ru; See related story,

alarabiya.net (AFP) November 30, "Lebanon to enforce Arab League's sanctions against Syria: minister" :
BEIRUT - Lebanon will enforce Arab League sanctions imposed on neighboring Syria even though it did not back the punitive measures, Economy Minister Nicola Nahhas told AFP on Wednesday. "We are committed to implementing the Arab League sanctions," Nahhas said, pointing out that the Syrian government in any case had no trade dealings with Lebanon. "The Lebanese state has no trade dealings or financial transactions, neither with the Syrian government nor the central bank," he said. Nahhas said the Arab League sanctions were clear in that while no transactions could take place with the Syrian government, that did not apply to the private sector. He said Lebanese banks however would have no dealings with the Syrian central bank or any individuals targeted by the sanctions...
---
11.30.11
Pakistan releases video of NATO air strikes, says apology not enough

ISLAMABAD, November 30 - Pakistan on Wednesday released video footage to substantiate that the NATO (North Atlantic Treaty Organization) air strikes at two military checkposts in the country's north-western tribal region on Saturday were not an accident. The attack had left 24 Pakistani soldiers dead and 13 injured. Foreign minister Hina Rabbani on Wednesday told the senate's standing committee on foreign relations that the attack on the checkposts was not an accident and only an apology was not enough. "Pakistan cannot see its soldiers being killed by allied forces anymore. There is an established mechanism between Pakistan and allied forces working in Afghanistan regarding movement on the border but NATO authorities didn't inform us about their activity before the incident," Khar said.

She said that Pakistan's role in Afghan peace efforts had been accepted by all but not appreciated. She added that the coalition forces had crossed red lines several times. Sharing details of the incident with defense analysts and local TV anchorpersons, the director general of military operations, Major General Ishfaq Nadeem, said that all coordination procedures were violated for carrying out the attacks. "Four border communication centers had been setup to coordinate operations against militants but NATO and ISAF ( International Security Assistance Force) violated all standard operating procedures (SOPs) on that night," he said. Nadeem recalled that before this incident, three major attacks had been carried out from across the border
—
in 2008, 2010 and 2011— killing 14 Pakistani soldiers and injuring another 13. "No information regarding inquiry of these attacks was shared or provided to us despite our repeated requests and when provided, it was inaccurate and incomplete," he added.

Gen. Nadeem said after midnight on Nov 26, two or three helicopters appeared and started engaging 'Volcano' post, smashing all communication systems. In response, the 'Boulder' post engaged helicopters with anti-aircraft guns and all available weapons. The helicopter also attacked the second post. About a possible response by the Pakistan air force, he said the situation was not clear till the morning. Given the ground situation, the Pakistan Air Force (PAF) was not asked to respond. Officials said that the posts were set up in very difficult terrain on the top of 800-meter high mountains. [More>>timesofindia.indiatimes.com; See photos, msnbc.msn.com, November 30, "Pakistan releases first images of border posts attacked by NATO."]
---
11.29.11
UN funds allegedly used to 'delegitimize' Jewish people's connection to homeland, letter claims

November 29 -
United Nations
funds were used to delegitimize Jewish people's connection to their homeland, the Simon Wiesenthal Center claims in a letter to UN officials. In a Nov. 28 letter to United Nations Development Program (UNDP) Administrator
Helen Clark
, Simon Wiesenthal Center Director for International Relations Dr. Shimon Samuels noted an "apparent misuse" of UNDP resources and misrepresentation under the UNDP Legal Framework for Addressing Non-Compliance with UN Standards of Conduct in regards to the film
"
Travel Palestine, Rediscover Your Senses,"
which was posted last week on YouTube.
The film, according to Samuels, acknowledges that the production was "made possible" with support from the UNDP. Samuels' letter quoted the Program of Assistance to the Palestinian People (PAPP) as making grants "toward reducing poverty" in both the
West Bank
and Gaza in excess of $600 million, focusing on water, health care, education, social services and infrastructure. "The film, however, portrays a '
Palestine
' of wealth and luxury for the well-heeled tourist," Samuels wrote. "If the film reflects the truth, then UNDP largess paid for by the taxpayers of the international community should be reassigned to truly impoverished populations in
Africa
and Asia." Samuels' letter continued: "Travel Palestine" is even more offensive as an exercise in identity theft. In depicting the Holy Land as Islamic and, secondarily Christian, it delegitimizes its indigenous Jewish heritage, misrepresents the region's reality and demonstrates threatening intent to a UN member
—
the State of
Israel
."
[More>>foxnews.com]
---
11.29.11
Hague says Iran will face 'severe consequences' over embassy attack

November 29 - Foreign secretary says despite apology Tehran had breached Vienna convention in failing to protect a diplomatic mission. William Hague has warned
Iran
it faces "serious consequences" over the attack on the British embassy in Tehran. Hundreds of protesters surged on two compounds this afternoon, putting the safety of staff at risk and causing "extensive damage" to property, he said. Hague said all embassy staff had now been accounted for and played down suggestions of a hostage situation, saying there had been "confusing" reports coming out of the country. Earlier, Iranian protesters stormed the buildings in Tehran on Tuesday, tearing down the union flag and throwing documents from windows, and briefly taking hostage six members of staff. In scenes reminiscent of the takeover of the US mission in the same city in 1980, which led to a long hostage standoff, crowds protesting at sanctions targeting Iran's nuclear program smashed windows and burned a building at the main embassy compound, removing the British flag and replacing it with the Iranian one.
Six staff members were taken hostage at the ambassador's residence in northern Tehran, according to the semi-official Fars news agency, but were later freed by police. David Cameron chaired a meeting of the government's Cobra security committee on Tuesday afternoon, and the Iranian charge d'affaires was summoned to the FCO. Hague said Iran had "committed a grave breach" of the Vienna convention, which demands protection of diplomats and diplomatic premises under all circumstances. He added: "We hold the Iranian government responsible for its failure to take adequate measures to protect our embassy as it is required to do. I spoke to the Iranian foreign minister this afternoon to protest in the strongest terms about these events and to demand immediate steps to ensure the safety of our staff in both embassy compounds." The White House also issued a strong protest. Iran's foreign ministry later said it regretted the incidents, the ISNA news agency reported. It quoted a government statement saying: "The foreign ministry regrets the protests that led to some unacceptable behaviors. We respect and we are committed to international regulations on the immunity and safety of diplomats and diplomatic places."


...British nationals have been warned against "all but essential travel" to Iran and the small number in the country were told to stay indoors and await advice. The attack came two days after the Iranian parliament voted to expel the British ambassador, Dominick Chilcott, in retaliation for the new economic sanctions imposed by the west. On Sunday, the Iranian parliament passed a bill to cut Iran's diplomatic ties with Britain and downgrade Tehran-London relations from an ambassadorial level to that requiring chargés d'affaires. The move came in retaliation against the economic sanctions imposed by the west... During the vote on Sunday, Mehdi Kuchakzadeh, a Tehran MP, suggested Iranians could raid the British embassy, implying a possible recurrence of the 1979 US hostage crisis in Iran. "The British government should know that, if they insist on their evil stances, the Iranian people will punch them in the mouth, exactly as happened against America's den of spies, before it was approved by officials," Kuchakzadeh said. "We must lock the British embassy and ignore them until they come begging like the Americans," another MP, Mahmoud Ahmadi Bighash, said in quotes carried by the Borna news agency. [Full story>>guardian.co.uk

]



---
11.29.11
US suspects NATO forces lured into deadly raid
WASHINGTON, November 29 - NATO forces may have been lured into attacking friendly Pakistani border posts in a calculated maneuver by the Taliban, according to preliminary US military reports on the deadliest friendly fire incident with Pakistan since the war began. The NATO air strike killed 24 Pakistani soldiers over the weekend in an apparent case of mistaken identity, The Associated Press has learned. A joint US-Afghan patrol was attacked by the Taliban early Saturday morning, and while pursuing the enemy in the poorly marked border area, seem to have mistaken one of the Pakistan troop outposts for a militant encampment and called in a NATO gunship and attack helicopters to open fire. US officials say the account suggests the Taliban may have deliberately tried to provoke a cross-border firefight that would set back fragile partnerships between the US and NATO forces and Pakistani soldiers at the ill-defined border. Officials described the records on condition of anonymity to discuss classified matters.
The incident sent the perpetually difficult US-Pakistan relationship into a tailspin. Gen. James Mattis, head of US Central Command, announced Monday that he has appointed Brig. Gen. Stephen Clark, an Air Force special operations officer, to lead the probe of the incident, and said he must include input from the NATO-led forces in Afghanistan, as well as representatives from the Afghan and Pakistani governments. According to the US military records described to the AP, the joint US and Afghan patrol requested backup after being hit by mortar and small arms fire by Taliban militants. Officials described the records on condition of anonymity to discuss classified matters. Before responding, the joint US-Afghan patrol first checked with the Pakistani army, which reported it had no troops in the area, the military account said.


Some two hours later, still hunting the insurgents who had by now apparently fled in the direction of Pakistani border posts, the US commander spotted what he thought was a militant encampment, with heavy weapons mounted on tripods. Then the joint patrol called for the air strikes at around 2:21am Pakistani time, not realizing the encampment was apparently the Pakistani border post. Records show the aerial response included Apache attack helicopters and an AC-130 gunship. US officials are working on the assumption the Taliban chose the location for the first attack, to create just such confusion, and draw US and Pakistani forces into firing on each other, according to US officials briefed on the operation. [More>>indianexpress.com; See related stories,

thenews.com.pk, November 29, "NATO forces repeated attack on Pak army: officials DGMO"

:
ISLAMABAD - Director General Military Operations Maj. Gen. Ashfaq Nadeem Tuesday said that NATO forces had once again opened fire on Pak army officers who, fortunately, escaped unhurt, Geo News reported. Briefing journalists here at General Headquarters (GHQ) on NATO attack, the DG Military Operations said that Pak army officers came under armed attack by NATO forces while they were inspecting the Pakistani check posts struck earlier in Mohmad Agency. He said that investigations conducted into the NATO strike that killed 24 army officials and personnel so far confirmed that the attack was unprovoked and intentional. "NATO officials were aware of the fact that Pakistani check posts were present in the area," he added...

timesofindia.indiatimes.com, November 29, "No scaling down of military operations against Taliban, says US"

:
WASHINGTON - The US has said that there will be no scaling down in its military operations against Taliban linked militants in Afghanistan, despite Pakistan cutting of supplies to NATO-led forces after the deadly border air strikes that killed 24 soldiers. "The war effort continues," Pentagon press secretary George Little told reporters as US officials said that Shamsi air base in Pakistan was not critical to carrying out drone strikes. Asked how long US and NATO forces could operate in Afghanistan without supplies coming in through Pakistan, Little said: "It's important to focus on the war effort. Every one realizes we have an enemy to engage in Afghanistan and the US military is prepared to carry on." His remarks are significant as nearly half the NATO forces supplies run through routes in Pakistan which have been closed by the Pakistan government after last weekend's lethal air raid...

---