6.30.11
NATO says Haqqani commander killed in Afghanistan

KABUL, Afghanistan (AFP) June 30 -
The NATO force in Afghanistan said on Thursday that a senior commander in the al-Qaeda-linked Haqqani network wanted over an attack this week on a leading Kabul hotel had been killed in an air strike. The International Security Assistance Force identified Ismail Jan as deputy to the senior Haqqani commander inside Afghanistan and said he was killed in the eastern province of Paktiya on Wednesday.
[>timesofindia.indiatimes.com; See more details,

thenews.com.pk, (AFP) June 30, "NATO says Haqqani commander killed in Afghanistan" : ...
Security forces tracked his location based on intelligence reports from Afghan government officials, citizens and "disenfranchised insurgents" before calling in the air strike, ISAF said in a statement. The US-led force accused Jan of providing material support for Tuesday's attack on the Intercontinental in the Afghan capital, frequented by Westerners and Afghan government officials. Heavily armed militants stormed the hilltop hotel late Tuesday, sparking a ferocious battle involving Afghan commandos and a NATO helicopter gunship that left at least 21 dead including the nine attackers. The Taliban claimed responsibility for the attack, but NATO said it was carried out in conjunction with the Haqqani network, blamed for previous attacks in Kabul and considered the most potent US enemy in the east. NATO said Jan and "several" other Haqqani fighters were killed the following day in Paktiya, which borders Pakistan's tribal belt where the Haqqani leadership is based in the semi-autonomous district of North Waziristan.
[end]
---
6.30.11
China should have arrested Al Bashir: UN

GENEVA (AP) June 30 -
The UN's top human rights official criticized China on Thursday for failing to arrest Sudan's president so that he can be brought to trial on war crimes charges.
UN High Commissioner for Human Rights Navi Pillay told reporters in Geneva she was 'disappointed' that China welcomed Sudan's President Omar Al Bashir during a visit this week, rather than arrest him to ensure he stands trial.
Pillay said that "the whole world favors trial" for Al Bashir for his role in the civil war in Sudan that killed more than 2 million people.
China has a duty to enforce warrants by the International Criminal Court, she said, despite the fact that it's not a member of The Hague, Netherlands-based tribunal.
"There is a duty and a responsibility on the part of every government including China to assist the court in bringing to justice individuals who have been indicted by the court," Pillay said. "It's disappointing when states do not deliver on this responsibility."
Al-Bashir, who left Beijing on Wednesday for the eastern Chinese port city of Qingdao, was expected to leave China later Thursday to return to Sudan. [More>>khaleejtimes.com]

---
6.30.11
Indictments issued in Hariri death probe

June 30 -
Lebanese media says UN-backed court has charged four Hezbollah members for 2005 killing of former prime minister
. A United Nations-backed court has handed down indictments requesting the arrest of four members of the Shia movement Hezbollah in connection with the 2005 killing of former Lebanese Prime Minister Rafik al-Hariri, according to media reports. Lebanon state prosecutor Saeed Mirza has received the indictments, which are meant to remain sealed for 30 days to allow him to examine them. But local and international media, some citing judicial sources, immediately reported that the arrest warrants named four men: Mustafa Badreddine, Salim al-Ayyash, Hassan Issa and Asad Sabra. Badreddine is Hezbollah's chief operations officer, according to the
Daily Star
, an English-language newspaper based in Beirut. He replaced his former cousin and brother-in-law Imad Mugniyeh in that position after Mugniyeh was assassinated in Syria in 2008, the newspaper reported. The indictment alleges Badreddine masterminded and supervised the plot to kill Hariri, while Ayyash led the cell that actually carried out the operation, the
Star
wrote. Saad Hariri, Rafik's son and a former prime minister himself, welcomed the news of the indictments' release.
[More>>aljazeera.net]
---
6.28.11
Police clash with rioters as general strike turns violent

(Reuters) June 28 -
Police fired tear gas in clashes with protesters in Athens on Tuesday during a crippling 48-hour strike, as parliament debated a new austerity plan. The plan, unpopular with the Greek public, is a necessary step in receiving a second bailout
. Greek police clashed with groups of hooded youths in central Athens on Tuesday at the start of two days of strikes and protests against cuts demanded by international lenders as the price for more financial aid. As Greece teeters on the edge of bankruptcy, parliament is due to vote this week on a package of spending cuts, tax increases and privatizations agreed as part of a massive bailout aimed at averting the euro zone's first default. Labor unions have called a 48-hour strike to protest against the measures and more than 5,000 police were deployed to the center of the capital to deal with expected trouble as a crowd officials estimated at some 20,000 rallied in Syntagma Square, in front of the parliament building. The rally was initially peaceful but by early afternoon, smaller groups of youths numbering in the hundreds hurled rock chipped off buildings in the square at riot police who responded with tear gas. Three police officers were injured by flying stones and one person was stabbed during fights between rival groups of young demonstrators. Police also said three people were treated for breathing difficulties.
[More>>france24.com]
---
6.28.11
Interrnational Space Station crew forced to evacuate

June 28 -
The six-member crew of the International Space Station were forced to evacuate to two Russian Soyuz evacuation capsules after spotting incoming debris that threatened to flatten the fragile craft
. The space junk missed the craft by 820ft, a
Russian
space industry source told the Interfax news agency. "The space junk was detected too late for a ducking maneuver," the source told Interfax. "The six ISS crew members received instructions to transfer to the Soyuz vehicles," the Russian source said. An official at Russian space control outside Moscow said by telephone that such incidents had occurred on past occasions and did not represent an emergency. "If this is true, they would be following the normal procedure for evacuating the station if necessary," the mission control spokesman said.
[More>>telegraph.co.uk]
---
6.28.11
Afghan, NATO forces capture leader of al-Qaeda-linked group in north disguised as a woman

KABUL, Afghanistan (AP) June 28 -
A senior leader of an al-Qaeda-linked terror group has been captured in northern Afghanistan dressed up like a woman — the latest in a recent series of cases involving male militants disguised as females, the US-led military coalition said Tuesday. A joint Afghan and coalition force apprehended a leader of the Islamic Movement of Uzbekistan and two of his associates during a nighttime operation Monday in Kunduz city, NATO said. It said the militant, who also supported the Taliban network, had planned attacks against the Afghan National Police, various suicide bombings and assaults against other Afghan security forces. NATO did not release the names of the three suspects caught in Kunduz.
"The leader attempted to disguise himself as a female by wearing a burqa, which is an all-enveloping cloak worn by some Muslim women," the coalition said in a statement. "In the last two months there have been several instances of targeted males wearing burqas in attempts to disguise themselves in order not to be caught by Afghan-led forces." The coalition said there also have been a handful of recent reports of female combatants in burqas.Kunduz and surrounding provinces are known hide-outs for the Taliban, al-Qaeda and fighters from militant factions that include the Haqqani network, Hizb-i-Islami and the IMU, which aims to create an Islamic state across Central Asia.
[More>>washingtonpost.com]
---
6.28.11
Yemen says Qaeda plot foiled, six arrested

ADEN, Yemen, June 28 -
Yemen has thwarted an Al-Qaeda plot to attack vital installations in the main southern city of Aden, arresting six suspects, Saba state news agency reported Monday. "The armed forces yesterday (Sunday) foiled a plan by members linked to al-Qaeda to carry out terrorist attacks targeting vital and economic installastions in Aden," Saba quoted a military official as saying. "Six of the most dangerous members of the network specialized in the manufacture of explosives" were arrested at Al-Alam army checkpoint, about three kilometers (two miles) northeast of Aden, said the official. "Detonators and communications equipment were seized," he added. Fear has mounted of a spillover by armed extremists to the strategic port city of Aden from nearby Zinjibar, where battles have raged between alleged al-Qaeda militants and government troops. Armed militants calling themselves "Partisans of Sharia" (Islamic law) seized control of most of Zinjibar, the capital of Abyan province, on May 29. The air force launched raids against administration and military sites that are in the hands of insurgents, a military source said Sunday, adding there were "casualties in the ranks of the enemy." At least 100 soldiers have been killed since the violence erupted in Zinjibar more than three weeks ago, and 260 have been wounded, a military source said this month. [More>>thenews.com.pk]

---
6.27.11
Fears for Baltic's marine life as global warming decreases the salt in the sea

June 26 -
Changes in North Atlantic could also undermine the entire food chain, says Europe-wide study
. Climate change will turn the Baltic Sea into an increasingly freshwater sea and devastate its marine life, according to scientists. A multinational study has found that an increase in precipitation in the region would lead the water in the Baltic to become less salty. Such a decrease in salinity would change the make-up of sea life, which is already suffering from over-fishing and harmful chemicals. Professor Chris Reid, of the Marine Institute, University of Plymouth, who was involved in the study, said: "Due to global warming, it is predicted there will be an increase in precipitation in the river basins that flow into the Baltic Sea. As a result — because it's an enclosed sea with a very narrow exit — the sea will become fresher. We predict this will happen over the next 100 years." Transformations to the Baltic's ecosystem is among a number changes reported in the research project, led by Climate Change & European Marine Ecosystem Research (Clamer) which has collated more than 13 years' worth of reports, involving 17 marine institutes from 10 European countries.
Another alarming discovery is the arrival of a new species of plankton in the north Atlantic from the Pacific. The microscopic species had disappeared from the region 800,000 years ago. As the melting Arctic icecap has opened the Northwest Passage, the plant has drifted back across the pole. While the algae is a food source, experts say any changes at the base of the marine food web, could shake or even topple the pillars of existing Atlantic Ocean life. Before the Arctic froze, nearly a million years ago, Pacific water was able to enter the North Atlantic, which allowed large numbers of Pacific species to dominate its ecosystems. Some of the species found in European waters today originally arrived from the Pacific. "If the Arctic continues to melt more species can get through; then we could see huge changes taking place in the north Atlantic," said Dr Reid. "The potential effect on fisheries could be huge. There would be increased competition. For example, there are about six different species of salmon in the Pacific, but only one in the Atlantic. The present stocks of salmon in the Atlantic are in a serious situation, so anything that's going to exacerbate that is going to be a real problem."
Just last year a Pacific Grey whale was spotted in the Mediterranean, the first time it was seen in those waters for more than three centuries. Scientists believe the ice-reduced Arctic allowed the whale to cross into the North Atlantic. Marine species are tending to migrate toward the poles, but they are doing so at varying speeds. This is making it difficult to predict how they will interact. In enclosed seas, species that require cooler conditions might have nowhere to go as waters become warmer. Researchers predict that by 2060, as the Mediterranean warms, one third of its 75 fish species will be threatened and six will be extinct. In the similarly enclosed Black Sea, however, where new Mediterranean species are arriving, warming air and seawater are expected to result in increased diversity, with adverse affects limited to the decline or loss of a small number of native species. Other findings from the report reveal an influx of highly venomous jellyfish in the north east Atlantic, often forming massive blooms. A particularly dangerous warm-water species dominates in many areas and outbreaks have forced the closure of some European beaches. This particular species is also a predator of young fish, so experts consider its spread a harmful trend. Recently, the Portuguese Man-of-War, a poisonous jellyfish-like subtropical creature, has been found more regularly in Atlantic waters.
[More>>independent.co.uk]

---
6.27.11
ICC issues arrest warrant for Gaddafi, intelligence chief

(AFP) June 27 -
The International Criminal Court has issued arrest warrants for Libyan leader Muammar Gaddafi, his son Saif al-Islam and his intelligence chief for crimes against humanity committed against opponents of his regime
. Nations that adhere to the International Criminal Court's founding Rome Statute must act on a new arrest warrant against Libya's Moamer Gaddafi, the president of the treaty's Assembly of State Parties said Monday. "It is the unequivocal duty of all State Parties as well as of the Libyan Arab Jamahiriya to execute these warrants of arrest," said Christian Wenaweser, head of the assembly that oversees the international war crimes court. Judges on Monday issued three arrest warrants for the Libyan strongman, his son Seif al-Islam, Gadhafi's "de facto" prime minister, and head of Libyan intelligence Abdullah al-Senussi.
The warrants were requested by the court's prosecutor Luis Moreno-Ocampo on May 16. "The court cannot complete its mandate without the full support and co-operation from states," Wenaweser told journalists at a press conference. In existence since 2002, the ICC does not have a police force to carry out arrests and is dependent on states' goodwill to carry out its arrest warrants. Wenaweser welcomed the judges' decision saying the court worked "quickly and efficiently" delivering its decision less than three-and-a-half months since the situation was referred by the UN Security Council. The ICC's jurisdiction comes from a 26 February referral by the Security Council, but Libyan authorities then said they were "not concerned" by the court's investigation because Libya was not a state party to the Rome Statute.
[>france24.com]
---
6.27.11
Nigeria Boko Haram Islamists 'bomb Maiduguri drinkers'

June 27 -
A bomb attack in the north-eastern Nigerian town of Maiduguri has killed at least 25 people and wounded dozens, security sources say. They say they believe the attack, which occurred in a beer garden, was carried out by the Islamist sect
Boko Haram
. The group wants to establish an Islamic government in Nigeria. It has carried out a number of bombings in north-eastern Nigeria, as well as an attack on police headquarters in the capital Abuja earlier this month. Gunmen on two motorcycles attacked a packed beer garden late on Sunday, officials said. "The attackers believed to be Boko Haram members threw bombs and fired indiscriminate gun shots on a packed tavern at Dala Kabompi neighborhood, killing at least 25 people and seriously injuring around 30 others," an unnamed police officer told the AFP news agency...Gunmen believed to be from Boko Haram also staged two attacks in the town of Gamboru-Ngala, in Borno state near the border with Chad, on Sunday:
[Full story>>bbc.co.uk]

---
6.27.11
Dissidents in 'unprecedented' Damascus meet

(AFP) June 27 -
More than 100 Syrian dissidents were to hold a public meeting in Damascus they said was unprecedented in five decades of iron-fisted Baath party rule.
The opposition figures, all of them independent of any party affiliation, were to discuss "how to solve the crisis" which has gripped Syria since mid-March.
"We will talk so that we can formulate a national strategy on how to end Syria's current crisis," Abdel Karim Rihawi, president of the Syrian League for Human Rights, said, stressing that the meeting was not intended to take the place of the "protesters in the street." Anwar Bunni, a prominent human rights lawyer who has spent five years in Syrian jails, said it would be the "first meeting of its kind at a public venue announced in advance."
There was no confirmation from the Syrian authorities that they would allow the meeting to go ahead.
[More>>khaleejtimes.com]

---
6.27.11
Pakistan border shelling kills 5, injures 15 in Afghanistan

Kabul, Afghanistan (RIA Novosti) June 27 -
The Pakistani military fired early on Monday artillery shells at neighboring Afghanistan, killing five civilians and injuring at least 15, Afghan police said. Aminullah Omarkhil, border police commander in eastern Afghanistan, said several houses in the Kunar province were destroyed or set on fire by direct artillery hits. Pakistan has reportedly fired more than 500 shells and mortar rounds at the Afghan provinces of Kunar and Nangahar over the past three weeks, killing 41 and injuring at least 48 civilians. The Afghan government has strongly condemned the Pakistani attacks on its territory, but Islamabad blames the escalation of violence on Kabul, which it says "allows militants, including Pakistani Taliban commanders, to take refuge on the Afghan side." According to Pakistani military, Afghanistan-based Taliban militants have launched at least five major attacks on Pakistani security forces on the border in the past month, killing 55 security personnel and injuring at least 80. Experts believe that the recent shelling could overshadow Tuesday's talks between the two countries - with mediation by the United States - to discuss plans for peace negotiations with the Taliban.
[>en.rian.ru]

---
6.27.11
Four killed in S. Waziristan drone strike

SHAWAL, Pakistan, June 27 -
Four people have been killed as a result of a drone attack in South Waziristan, Geo News reported. According to sources, the target of the drone strike was a car in the Shawal area of South Waziristan. The drone fired two missiles at the car and four people were killed. After the strike drones were still flying over the area. [>thenews.com.pk]
---
6.26.11
Suicide car bomber kills 35 at Afghan clinic

KABUL, Afghanistan (AP) June 26 -
A suicide car bomber blasted a small clinic in eastern Afghanistan, causing the building to collapse as mostly women and children lined up for vaccinations, maternity care and other services. At least 35 people were killed in one of the deadliest attacks against civilians this year. Guards saw a sport utility vehicle charging toward the Akbarkhail Public Medical Center, a compound
that provides health care for the mountainous area in the Azra district of Logar province. But before anyone could shoot the driver or blow out the tires, the SUV smashed through a wall and exploded, local officials said. Wary of being blamed for civilian casualties, the Taliban denied it was behind Saturday's bombing. Violence has been on the rise since the Islamic movement launched its spring offensive and promised retaliation for the death of al-Qaeda leader Osama bin Laden.
"This attack was not done by our fighters." Taliban spokesman Zabiullah Mujahid told The Associated Press in a telephone interview.
[More>>timesofindia.indiatimes.com]
---
6.26.11
US, Taliban envoy meet thrice to end Afghan war: report

WASHINGTON, June 26 -
Keen to end the costly war in Afghanistan, US officials have participated in three murky meetings this year with an English-speaking Afghan who was once a personal aide to the elusive one-eyed Taliban leader Mullah Omar. Those meetings, in Germany and Qatar, appear to have accomplished little more than confirming the man's identity, and perhaps not even that, The New York Times reported on Sunday, quoting according to officials familiar with the talks. But Tayeb Agha, who was an aide to Mullah Omar during Taliban's rise to power, was arrested by Pakistani authorities last year and then released, leading American officials to assume that he is negotiating on behalf of the Taliban with the blessings of the Pakistani authorities, the report said. "We're at that stage where it's very confusing," said one senior administration official, adding that the meetings could not even be called 'talks' at this stage, let alone 'peace talks.'
[More>>indianexpress.com]
---
6.26.11
Taleban use husband, wife as suicide bombers

DER ISMAL KHAN, Pakistan (AP) June 26 -
The Pakistani Taleban said Sunday the group had sent a husband and wife suicide squad to carry out an attack on a police station in northwestern Pakistan that killed 10 people, a rare instance of militants using a woman as a bomber.

The pair entered the police station in Kolachi on Saturday and said they were there to lodge a complaint, said Imtiaz Shah, a senior police official. Once inside, the two attacked with grenades and machine guns, triggering a five-hour standoff with police.

Both attackers, including the woman wearing an all-covering robe known as a burqa, eventually blew themselves up. They killed eight police officers and two civilians, said Mohammad Hussain, another police official.

"This shows how much we hate Pakistani security institutions," Pakistani Taleban spokesman Ahsanullah Ahsan told The Associated Press by telephone from an undisclosed location.
Ahsan claimed it was the first time the militant group had used a female suicide bomber.
[More>>khaleejtimes.com]

---
6.26.11
Israel warns media over latest Gaza flotilla

June 26 -
Israel may ban journalists aboard planned aid flotilla for 10 years and also seize their equipment, official says
. Israel has warned journalists that they could be banned from entering the country for 10 years if they travel aboard an aid flotilla scheduled to set sail for the Gaza Strip. The Israeli government issued the warning on Sunday, saying the journalists could also have their equipment seized in addition to other sanctions. The threat came as pro-Palestinian activists prepared to set sail for Gaza from Greece and elsewhere in an effort to break Israel's blockade of the coastal territory. Eleven ships — nine passenger boats and two cargo ships - carrying about 1,000 activists from 20 countries are said to be taking part in the second Freedom Flotilla. Among the activists are many Israelis, including Amira Hass, a prominent journalist of the Israeli newspaper
Haaretz
. The attempt by the activists to break the Israeli siege comes a year after a similar flotilla was violently intercepted by Israeli commandos. Nine activists on board the lead ship
Mavi Marmara
were shot dead and 40 others were wounded in the Israeli assault that evoked global condemnation.
[More>>aljazeera.net]
---
6.22.11
Syria scorns EU criticism of Assad reform offer

BEIRUT (Reuters) June 22 -
Syria scorned the European Union dismissal of its president's promises of reform on Wednesday, saying it showed Europe wanted to sow chaos in the country and threatening to turn to other regions for trade and support.
Foreign Minister Walid al-Moualem also said he was confident that despite mounting international pressure on Syria, three months into an uprising against the Assad family's 40-year rule, there would be no foreign military intervention in his country, nor a no-fly zone of the kind NATO has imposed over Libya.
EU states extended sanctions against Syria on Tuesday to include four firms linked to the armed forces and to more people connected with the suppression of anti-government protests. Before the uprising, Syria had been courted by Western nations hoping to weaken its strategic alliance with Iran.
"The reactions from European Union officials to President Assad's speech — they have a plan and they want to continue with it, to sow strife and chaos in Syria," Moualem told a news conference in Damascus.
Reuters monitored the televised broadcast from outside the country, since Syria has expelled its correspondents.
Moualem added: "We will forget that Europe is on the map, and we will turn to the east, to the south and all directions that extend a hand to Syria. The world is not only Europe. Syria will remain steadfast." Russia and China, both veto-holding members, have refused to back a United Nations Security Council resolution, proposed by European powers, which would condemn Syria for its crackdown on protesters. [More>>khaleejtimes.com; See related stories,

en.rian.ru, June 22, "Syria thanks Russia for stance on mooted UN Security Council resolution."

jpost.com, June 22, "EU agrees to extend Syria curbs to include Iranians" : BRUSSELS - Total number of individuals, entities targeted by EU sanctions on Syria reaches 34; among them, 3 Iranians targeted for involvement in providing equipment, support to suppress dissent in Syria. EU states reached a political agreement on Wednesday to extend sanctions against Syria to four military-linked entities and seven individuals, including three Iranians, linked to suppression of dissent, EU diplomats said. In May, the European Union added Syrian President Bashar Assad and other senior officials to a list of Syrians banned from traveling to the EU and subject to asset freezes. "There is a political agreement on extending the list," an EU diplomat said, adding that the new sanctions would take effect on Friday, once all 27 EU states have written on Thursday to give their formal approval. The new sanctions list was drawn up by Britain and France and would bring the total number of individuals and entities targeted by EU sanctions on Syria to 34. The diplomat said the Iranians were involved in providing equipment and support to help suppression of dissent in Syria, in which rights groups say 1,300 civilians have been killed. "We welcome the inclusion of three Iranian names in the extended round of sanctions on the Syrian regime," a British government spokesman said...

---
6.22.11 'Homes now worth less than five years ago'
June 22- Some 3.5 million homes bought in the UK over the last five years are now worth less than their purchase price, according to property website Zoopla. Homeowners who bought at the peak of the market are worst affected, the research found. More than 93% of homes bought in 2007 are now worth less than their owners paid for them. And 89% of properties bought the following year are now worth less than the purchase price. However, the majority of the homes snapped up in 2009 when prices plunged, are now worth more. Nicholas Leeming, of Zoopla, said: "The most affected areas are in the North East, partly the North West and some of the East Midlands. "The least affected areas are, not surprisingly, London and the South East. And one of the most surprising things about Central London has been the demand from international buyers for residential property in the center of London that has radiated out, to an extent, to the Home Counties." [>news.sky.com]

---
6.22.11 World's wealthiest people now richer than before the credit crunch
June 22- World Wealth Report reveals soaring numbers of rich individuals in Asia Pacific region – but slower growth in Britain. The world's wealthiest people were richer last year than they were before the 2008 banking crisis. There were also more of them in 2010 — 10.9m — than there were before the recession struck, according to a new report. But in the UK these so-called high net worth individuals (HNWIs) — people who have more than $1m (£620,000) of free cash — have not enjoyed a return to pre-crisis levels of wealth as sluggish economic growth holds back their prospects. According to the annual world wealth report by Merrill Lynch and Capgemini, the wealth of HNWIs around the world reached $42.7tn in 2010, rising by 9.7% and surpassing the peak of $40.7tn reached in 2007.

The report also measures a category of ultra-high net worth individuals — essentially those with $30m to invest. This class of wealthy people rose by 10% to 103,000, while the value of their investments jumped by 11.5% to $15tn. They are included in the total figure of $42.7tn — representing 36% of the total in value but less than 1% of the number of individuals demonstrating that even among the rich, the richest get richer quicker. The performance of investments made by wealthy individuals in shares and commodities helped drive their wealth, which in turn fueled "passion" purchases of luxuries such as such as Ferraris, diamonds, Chinese art and fine wines, particularly by the growing number of wealthy individuals in the emerging markets.

North America is home to the highest number of rich people — some 3.4m — but for the first time the Asia-Pacific region, with 3.3m HNWIs, now has the second largest number, overtaking Europe. European's wealth rose 7.2% to $10.2tn while Asia Pacific gained 12.1% to $10.8tn. The wealth of the richest people in the Asia Pacific region is now up 14.1% since 2007, although individuals in North America and Europe are yet to recoup the losses they suffered during the banking crisis. The growth in the number of rich individuals in the UK was among the slowest among the top 10 nations, showing a 1.4% rise to 454,000 and remaining below the 495,000 recorded in 2007. The report said that while the UK stock market rose almost 30% and GDP grew 1.3% — after contracting 4.9% in 2009 — the fortunes of the rich were held back by falling house prices and the rise in unemployment. [More>>guardian.co.uk]

---
6.22.11 China's inflation rate to accelerate in June: economic planner
BEIJING (Xinhua) June 22 - China's top economic planner said Wednesday that the country's inflation rate will accelerate in June despite the government's efforts to stem price increases. It is estimated June's overall price levels will be higher than those of May, the National Development and Reform Commission said in a statement on its website. However, it did not give a more specific forecast. Carryover effects from last year will contribute 3.7 percentage points to June's inflation rate, the statement said. Analysts have said that the consumer price index (CPI), a main gage of inflation, will increase by 6 percent in June. According to the commission, last year's carryover effects added 3.2 percentage points to May's inflation rate. China's CPI rose 5.5 percent year-on-year in May, a 34-month high.

As the carryover effects ease in the second half of this year and the government's anti-inflation policies start to take effect, CPI growth will decline and overall price levels will be brought under control, the statement said. The extreme drought and deadly floods that have plagued the middle and lower reaches of the Yangtze River will have limited impact on the country's agricultural production, the statement said. "There is little chance that the disasters will trigger a price surge for grain," it said. The Chinese government has set a target of 4 percent for this year's CPI growth. To soak up the excessive liquidity that has helped to fuel inflation, China's central bank has raised its interest rates twice this year and hiked its reserve requirement ratio for banks six times. [>xinhuanet.com]

---
6.22.11 Fed gloomier about the economy
NEW YORK, June 22 - The Federal Reserve has grown more pessimistic about the state of the US economy. At the conclusion of a two-day policy meeting, the central bank said that while the recovery is continuing at a moderate pace, growth is somewhat slower than expected. It also said the jobs market is "weaker than anticipated." The Fed said it believed some of the headwinds would be short-lived, including supply disruptions from the Japanese earthquake, and the "effect of higher food and energy prices on consumer purchasing power." Still the central bank's statement was gloomier than the one that followed its previous meeting on April 27, when it said it believed the recovery was proceeding at a moderate pace and overall conditions in the labor market were improving gradually. Since then, there has been a significant slowdown in hiring and disappointing overall growth. The weak economic readings have led many economists to cut their growth forecasts. It has also raised fears of the economy possibly falling into a new recession, although that is still seen as a long shot.

The Fed appeared to downplay the chance of another downturn, saying that it "expects the pace of recovery to pick up over coming quarters and the unemployment rate to resume its gradual decline." It said household spending and business investment in equipment and software continue to expand, although the housing market remains "depressed." It also dismissed inflation fears voiced by some economists, saying that it believes "inflation will subside" and that "longer-term inflation expectations have remained stable." Still, while the Fed said that it would continue to monitor the situation and take action as needed, it did not signal any additional moves to pump new money into the financial system. The Fed's latest effort to help the economy was through the purchase of $600 billion in long-term Treasuries, a program that ends this month. Known as the second round of quantitative easing or QE2 for short, it was designed to keep interest rates low. [More>>cnn.com]
---
6.22.11 Underground Crusader city revealed beneath streets of Acre
(AP) June 22 - Archaeologists prepare to uncover entire compound built in medieval times and hidden for centuries under the rubble in northern Israel. Off the track beaten by most Holy Land tourists lies one of the richest archaeological sites in a country full of them: the walled port of Acre, where the busy alleys of an Ottoman-era town cover a uniquely intact Crusader city now being rediscovered. Preparing to open a new subterranean section to the public, workers cleaned stones this week in an arched passageway underground. Etched in plaster on one wall was a coat of arms — graffiti left by a medieval traveler. Nearby was a main street of cobblestones and a row of shops that once sold clay figurines and ampules for holy water, popular souvenirs for pilgrims.

All were last used by residents in 1291, the year a Muslim army from Egypt defeated Acre's Christian garrison and leveled its remains. The existing city, built by the Ottoman Turks around 1750, effectively preserved this earlier town, which had been hidden for centuries under the rubble...Acre has existed for at least 4,500 years, but reached the height of its importance with the Crusader conquest in 1104. Under Christian rule, the city became an unruly trading hub home to combative orders of soldier-monks, European factions that distrusted each other and sometimes fought in the streets, competing merchants from cities like Genoa, Venice and Pisa, and small populations of Jews and Muslims, all sharing an enclosed area that at its height was barely the size of two football fields.

A French bishop, Jacques de Vitry, reached Acre after a perilous sea journey in 1216. He was appalled. "When I entered this horrible city and found it full of countless disgraceful acts and evil deeds, I was very confused in my mind," he wrote in a letter home. Acre, he found, was "totally depraved," Murders took place constantly, the town was "filled with prostitutes," and residents — many of whom he believed to be outlaws who had fled their own lands — were "utterly devoted to pleasures of the flesh. Acre was "like a monster or a beast having nine heads, each fighting the other," the bishop wrote. Israeli excavations got under way in earnest in the 1990s, and some remnants of the city that de Vitry knew can already be visited. One is the fortress of the Hospitaller knights, with its pillared dining hall and storerooms, an orderly latrine and a dungeon whose stone walls still have holes for attaching shackles. [Full story>>haaretz.com]

---
6.22.11 President Obama to pull out 10,000 US troops from Afghanistan by end of year
June 22 - Fox News has learned that President Obama will announce Wednesday evening that he will withdraw 10,000 troops from Afghanistan by the end of this year. The president is scheduled to address the nation at 8pm, Eastern time, from the White House to lay out the details. Sources outside the White House also say that the rest of the 30,000 surge troops, approximately 23,000, will be removed by the "end of summer" 2012. It is expected, say these sources, that by September 1, 2012, all of the US surge troops that President Obama sent to Afghanistan to try to regain momentum there will be back home. The president has long said he would wind down operations in Afghanistan as quickly as the situation allowed, but that the pace and scope of that withdrawal would be conditions-based. A senior administration official tells Fox that in making his decision the president focused on key areas. "As the President deliberated on the drawdown, progress made on the core goal against Al Qaeda and the objectives outlined in the paragraph below were the key factors," the official said, referring to the president's 2009 speech at West Point in which he announced his plan for the surge forces. The plan then, as described by Mr. Obama, was this: "Our overarching goal remains the same: to disrupt, dismantle, and defeat al-Qaeda in Afghanistan and Pakistan, and to prevent its capacity to threaten America and our allies in the future. To meet that goal, we will pursue the following objectives within Afghanistan. We must deny al-Qaeda a safe haven. We must reverse the Taliban's momentum and deny it the ability to overthrow the government. And we must strengthen the capacity of Afghanistan's security forces and government, so that they can take lead responsibility for Afghanistan's future." [>foxnews.com]

---
6.22.11 Mexico captures 'major cartel boss'
June 22 - In a rare bloodless arrest, police detain Jesus Mendez, the alleged head of the cult-like La Familia cartel. Mexican police have captured the suspected leader of a cult-like drug cartel in the latest blow to a gang that was until recently one of the most notorious in the country. Federal officers detained alleged La Familia (The Family), boss Jose de Jesus Mendez, known by his nickname "El Chango," or "The Monkey," at a highway checkpoint in central Mexico. No shots were fired during Tuesday's arrest, the government and prosecutors said. In a rare bloodless capture in Mexico's escalating war on drug cartels, President Felipe Calderon's national security spokesman said Mendez's arrest was a major victory and the end of La Familia, which was infamous for beheading its enemies. "With this capture, this criminal group is destroyed," Alejandro Poire told reporters, adding that Mendez was being flown to Mexico City for questioning. Mendez's detention follows the death last December of La Familia's top boss, Nazario Moreno, known as "The Craziest One," in a dramatic series of army raids that briefly turned the western state of Michoacan, La Familia's heartland, into a war zone littered with burning cars. [More>>aljazeera.ne
---
6.22.11 'Al-Qaeda militants' break out of Yemen jail
June 22 - Dozens of al-Qaeda militants have escaped from a prison in southern Yemen following an attack, officials say. They said the inmates fought their way out of the jail in Mukalla as militants attacked the prison from the outside. At least 40 militants are said to have fled, including some convicted on terrorism charges. But one activist claimed the escape was orchestrated. Months of unrest in Yemen have led to fears of al-Qaeda's influence spreading. The country is home to al-Qaeda in the Arabian Peninsula (AQAP), which was blamed for a plot to blow up a US airliner over Detroit in 2009, and sent bombs on cargo planes bound for the US last year. Unnamed Yemeni officials said one member of the security forces was killed in Wednesday's attack. One official said as many as 62 prisoners had escaped, and that two were rearrested. [More>>bbc.co.uk]

---
6.21.11
Teenager arrested on suspicion of hacking

June 21 -
A teenager has been arrested in the UK in a joint Scotland Yard and FBI probe into the hacking of websites. The man, named locally as Ryan Cleary, 19, was arrested in Wickford, Essex. Police have not identified him. Scotland Yard said the raid followed a series of distributed denial of service attacks. It comes days after hackers from a group called Lulz Security (LulzSec) attacked a number of websites both in Britain and the United States. Scotland Yard would not say if Tuesday's raid was connected to LulzSec but said it had been a "pre-planned, intelligence-led" operation. However, BBC security correspondent Frank Gardner said the Metropolitan Police's e-crimes unit had confirmed the raid was linked to the recent intrusion attacks on the websites of the CIA and Britain's Serious Organized Crime Agency (Soca). It says the teenager's computer was being examined for data linked to Sony, which recently came under cyber attack. Mr. Cleary was arrested under the Computer Misuse Act and Fraud Act and is being questioned at a central London police station. Earlier a Scotland Yard spokesman said: "The arrest follows an investigation into network intrusions and distributed denial of service attacks against a number of international business and intelligence agencies by what is believed to be the same hacking group. Searches at a residential address in Wickford, Essex, following the arrest last night, have led to the examination of a significant amount of material. These forensic examinations remain ongoing."
[More>>bbc.co.uk]
---
6.21.11
Pakistan arrests brigadier on suspected militant ties

ISLAMABAD, Pakistan, June 21 -
Pakistan Army arrested a senior officer of brigadier rank for having close links with a banned militant organization, a military spokesman said. Brigadier Ali Khan, who was posted with the Regulation Directorate at the Pakistan Army's General Headquarters (GHQ) in Rawalpindi, had gone "missing" a month and a half back. His family was told that he would be sent home soon. "Yes, it is correct that he is under detention over his alleged links to the militant group Hizb-ul-Tahrir and an investigation is going on," Pakistan's military spokesman Maj. Gen Athar Abbas said on Tuesday. "
Any more details at this stage will be premature as it may affect our investigation process," Gen. Abbas said. Hizb-ul-Tahrir, is a London-based radical political group which had launched an active propaganda campaign against the current political and military leadership in Pakistan. Its spokesman in Pakistan, Naveed Butt, frequently issues statements condemning Pakistan's policy against militants. Abbas said efforts were also being made to arrest members of the group who were in contact with Khan. Sources inside the army's general headquarters said that they were shocked and surprised when they heard about brigadier Ali Khan's activities and secret connections with the banned outfit.
[More>>timesofindia.indiatimes.com]
---
6.21.11
Pakistan militants force young girl to wear suicide vest

ISLAMABAD, Pakistan, June 21 -
An eight-year-old Pakistani girl was kidnapped by Islamist militants who forced her to wear a suicide vest to attack security forces, police said on Monday. Police produced the girl, identified as Sohana Javaid, before a news conference broadcast on Pakistani television channels. The girl recalled how she was kidnapped in her hometown of Peshawar by two women and a man who pulled up in a car. "They put a handkerchief on my mouth and I fell unconscious. They took me to some place. They gave me some biscuits to eat and I again fell unconscious," Sohana said in a video, according to a voice-over translation on the tape. Forced to wear a suicide vest, she was transported to a security check post in a small town in the Lower Dir district in the northwest. "I moved towards the check post but I started shouting and was taken into custody," said Sohana. There was no way to independently verify the story. Pakistani authorities, who are facing a stubborn Taliban insurgency, have in the past produced would-be suicide bombers in front of television cameras. But they have been men or boys. The Taliban have been blamed for many of the suicide bombings across Pakistan.
[>alarabiya.net]

---
6.21.11
Deaths reported amid rival Syria rallies

June 21 -
Activists say seven people killed as government supporters and opponents clash in three cities
. Syrian security forces have shot dead seven people after government supporters and opponents clashed in three cities, activists say. The reported deaths on Tuesday came as tens of thousands of Syrians demonstrated in support of President Bashar al-Assad in major cities, a day after he pledged further reforms in an address to the nation. The Local Co-ordination Committees (LCC), an activist network, said a 13-year-old boy was killed when security forces opened fire on anti-government protesters in a main square in the central city of Hama. Three other people were reported killed in Homs, central Syria, and three in the Mayadeen district in the eastern city of Deir al-Zour. Activists said three people were killed in Homs and three others in the Mayadeen district in Deir al-Zour when army and security forces intervened on the side of Assad's supporters. "Security forces opened fire when pro- and anti-government demonstrators came to blows," Rami Abdel Rahman, the head of the London-based Syrian Observatory for Human Rights, said, citing witnesses. "It is difficult to say who started first, but the army's armored personnel carriers drove through the [anti-Assad] demonstration firing at people." a resident of Mayadeen said. Two residents in Homs said security forces fired at protesters who had staged a demonstration to counter a pro-Assad rally backed by secret police and Assad loyalists known as "shabiha."
[More>>aljazeera.net]
---
6.21.11
Deposed Tunisian leader Ben Ali sentenced to 35 years

(Reuters) June 21 -
A Tunisian court has sentenced ousted president Zine al-Abidine Ben Ali and his wife in absentia to 35 years in prison after finding them guilty of theft and misappropriating public funds
. A Tunisian court sentenced former president Zine al-Abidine Ben Ali in absentia on Monday to 35 years in jail, six months after his ouster in a revolution helped inspire the "Arab Spring." Ben Ali, who has been in Saudi Arabia since he was forced from office, was found guilty after just one day of deliberation of theft, illegally possessing jewelery and large sums of cash. The same sentence was handed down to his wife Leila Trabelsi, a former hairdresser whose lavish lifestyle and clique of wealthy relatives was for many Tunisians a symbol of the corruption of Ben Ali's time in office. Ben Ali flew to Saudi Arabia on Jan. 14 after mass protests against his 23-year rule. While he was in office, members of his extended family built stakes in the country's biggest businesses and accumulated vast fortunes.
[>france24.com]
---
6.21.11
Bombs kill 25 at local Iraqi governor's house

BAGHDAD, Iraq, June 21 -
Two bombs killed at least 25 people at a checkpoint outside a provincial Iraqi governor's house on Tuesday in the latest in a series of attacks against local government and security forces. A suicide bomber blew himself up and a car bomb exploded almost simultaneously outside the Diwaniya governor's house, 150 km (95 miles) south of Baghdad, just as guards changed shifts. Most of the victims were security staff, officials said. "I heard a loud blast and then another one. I opened the door and I saw white smoke and smelled the blood... I looked to the side and I saw three guards dead on the ground," said Maha al-Sagban, a resident whose house was damaged. Television footage showed the crumpled and burnt-out wreckage of a white truck lying by the remains of a guard post. Bloodied and wounded security guards filled the beds of a local Diwaniya hospital. Muayad al-Ansary, a spokesman for the provincial council in Diwaniya, said the death toll had risen to 25 killed and 35 more were wounded. Bombings and killings in Iraq have fallen sharply since the height of sectarian violence in 2006-2007, but a stubborn Sunni Islamist insurgency linked to al-Qaeda, other Sunni groups and rival Shi'ite militias still carry out daily attacks.
[More>>thestar.com.my]
---
6.19.11
In blow to Palestinian unity, Abbas-Mashaal talks canceled

June 19 -
A meeting that was supposed to take place in Cairo on Tuesday between Palestinian Authority President Mahmoud Abbas and Hamas leader Khaled Mashaal has been postponed indefinitely. The two were scheduled to meet in the Egyptian

capital

to announce the establishment of a new Palestinian unity government.
Last week, Hamas and Fatah negotiators who held talks in Cairo claimed that they had reached agreement over the make-up of the proposed unity government. They said that Abbas and Mashaal had been invited to Cairo on Tuesday to announce the new government. [More>>jpost.com]

---
6.19.11
Pigs could grow human organs in stem cell breakthrough

June 19 -
Human organs could be grown inside pigs for use in transplant operations following research using stem cells. Scientists have found they can create chimeric animals that have organs belonging to another species by injecting stem cells into the embryo of another species. The researchers injected stem cells from rats into the embryos of mice that had been genetically altered so they could not produce their own organs, creating mice that had rat organs. The researchers say the technique could allow pigs to grow human organs from patient's stem cells for use as transplants. By using a patient's own stem cells it could help to reduce the risk of the transplanted organ being rejected while also providing a plentiful supply of donor organs.
Current organ shortages mean that patients must endure long waiting lists for transplants. Professor Hiromitsu Nakauchi, director of the center for stem cell biology and regenerative medicine at the University of Tokyo in Japan and who led the research, said: "Our ultimate goal is to generate human organs from induced pluripotent stem cells. The technique, called blastocyst complementation, provides us with a novel approach for organ supply. We have successfully tried it between mice and rats. We are now rather confident in generating functional human organs using this approach." Professor Nakauchi, who presented the study at the annual conference of the European Society of Human Genetics, used a type of adult stem cell known as induced pluripotent stem cells, which can be taken from a sample of tissue such as the skin and encouraged to grow into any type of cell found in the body.
[More>>telegraph.co.uk]

---
6.19.11
Backlog of cases gives a reprieve on foreclosures

June 19 -
Millions of homeowners in distress are getting some unexpected breathing room — lots of it in some places. In New York State, it would take lenders 62 years at their current pace, the longest time frame in the nation, to repossess the 213,000 houses now in severe default or foreclosure, according to calculations by LPS Applied Analytics, a prominent real estate data firm. Clearing the pipeline in New Jersey, which like New York handles foreclosures through the courts, would take 49 years. In Florida, Massachusetts and Illinois, it would take a decade. In the 27 states where the courts play no role in foreclosures, the pace is much more brisk — three years in California, two years in Nevada and Colorado — but the dynamic is the same: the foreclosure system is bogged down by the volume of cases, borrowers are fighting to keep their houses and many lenders seem to be in no hurry to add repossessed houses to their books. "If you were in foreclosure four years ago, you were biting your nails, asking yourself, 'When is the sheriff going to show up and put me on the street?' " said Herb Blecher, an LPS senior vice president. "Now you're probably not losing any sleep."
[More>>nytimes.com]
---
6.19.11
Missing Iraq cash ' as high as $18 billion'

June 19 -
Iraq's parliament speaker tells Al Jazeera unaccounted reconstruction money is three times the reported $6.6bn
. Osama al-Nujaifi, the Iraqi parliament speaker, has told Al Jazeera that the amount of Iraqi money unaccounted for by the US is $18.7bn — three times more than the reported $6.6bn. Just before departing for a visit to the US, al-Nujaifi said that he has received a report this week based on information from US and Iraqi auditors that the amount of money withdrawn from a fund from Iraqi oil proceeds, but unaccounted for, is much more than the $6.6bn reported missing last week. "There is a lot of money missing during the first American administration of Iraqi money in the first year of occupation. Iraq's development fund has lost around $18bn of Iraqi money in these operations — their location is unknown. Also missing are the documents of expenditure. I think it will be discussed soon. There should be an answer to where has Iraqi money gone." The Bush administration flew in a total of $20bn in cash into the country in 2004. This was money that had come from Iraqi oil sales, surplus funds from the UN oil-for-food program and seized Iraqi assets. Officials in Iraq were supposed to give out the money to Iraqi ministries and US contractors, intended for the reconstruction of the country.
[More>>aljazeera.net]
---
6.19.11
'No money left to fight Gaddafi,' say Libya rebels. Why? The West isn't paying up

June 19 -
Rebels waging a drawn-out war to oust Libyan leader Muammar Gaddafi have run out of money, their oil chief said, and he accused the West of failing to keep its promises of urgent financial aid. "We are running out of everything. It's a complete failure. Either they (Western nations) don't understand or they don't care. Nothing has materialized yet. And I really mean nothing," the official, Ali Tarhouni, said in an interview with Reuters. His comments came as cracks appeared in the NATO alliance over its three-month bombing campaign against Colonel Gaddafi, with some allies showing mission fatigue and the United States accusing some European allies of failing to pull their weight. The rebels have however made several gains in the past few weeks, but remain far from seizing their ultimate prize — Colonel Gaddafi's powerbase of Tripoli and its hinterland — despite air support from the world's most powerful military alliance.
[More>>alarabiya.net] ; See related story,

france24.com, June 19, (AFP) "NATO strike on Tripoli kills civilians"

:
NATO air strikes killed nine civilians in the Arada neighborhood of Tripoli, which is a known anti-Gaddafi stronghold, the regime said Sunday. The incident occurred a day after the government accused NATO of specifically targeting civilians
. NATO said Sunday it was investigating Libyan claims that nine civilians, two of them of toddlers, were killed in an alliance air raid and would be "very sorry" if that were the case. "NATO is looking into this matter," said spokesman Wing Commander Mike Bracken. "NATO was operating in Tripoli last night, conducting air strikes against a legitimate military target." Libyan government spokesman Mussa Ibrahim told AFP that a NATO air strike on a residential district of Tripoli early on Sunday killed nine people, five of them from the same family, and wounded 18....
---
6.19.11
Pakistan jets kill 25 militants: military

PESHAWAR, Pakistan, June 19 -
Pakistani war planes pounded a militant stronghold in a tribal district on the Afghan border in an operation that left 25 insurgents dead, the military said Sunday. Pakistan army, paramilitary troops and the air force launched a joint operation "to evict terrorists' stronghold of Walidad" in the northwest district of Mohmand on Saturday, it said. "Ground operation was preceded with precise strikes by Pakistan Air Force aircraft on terrorists' bunkers and positions," it said. "After an intensive fight, troops were able to secure Walidad Top and surrounding areas of the mountain and managed to kill 25 terrorists, while remaining fled across the border," it said. Four soldiers were killed and eight wounded.
[More>>thenews.com.pk]

---
6.19.11
Half a million displaced as Khartoum moves to crush Sudan's Nuba people

June 19 -
Fierce fighting raises fears the country's 22-year civil war will be reignited as the government turns on the north's Africans, sidelined in the south's peace deal
. Fierce new fighting along
Sudan's
volatile north-south divide is raising deep concern for the safety of the Nuba people, the forgotten victims of the country's long-running civil war who are once again under attack by government forces and militias. The fighting has significantly increased the chances that the Comprehensive Peace Agreement (CPA) that ended the civil war six years ago will collapse, reigniting a north-south war and ending all hopes of peaceful partition when oil-rich South Sudan formally declares itself independent on 9 July. Many Nuba fought alongside the southern rebels of the Sudan People's Liberation Army (SPLA) in the 22-year war. As black Africans within the Arabized north of Sudan, their hope was that the "New Sudan" promised by the SPLA would end their marginalization and win respect for Nuba languages, religious observances and culture. The war that began in the 1980s in the Nuba region of South Kordofan was not just a footnote to the war in the south, it was a civil war in its own right, a deep-rooted indigenous rebellion that prompted a declaration of jihad by the Khartoum government in January 1992. Villages were burnt, livestock raided, food stores destroyed and hundreds of thousands of Nuba forced into "peace camps." But the Nuba were short-changed in the CPA. It denied them self-rule and, crucially, did not specify what would happen to the 30,000-strong Nuba rebel army enrolled in the SPLA.
[More>>guardian.co.uk]
---
6.18.11 After Shahzad murder, another journalist attacked in Pakistan
ISLAMABAD, Pakistan, June 19 - In yet another attack targeting scribes in Pakistan, a journalist was severely injured after he was assaulted in Islamabad by men wearing police uniforms, just five days after he spoke about his abduction and torture by suspected intelligence agents in 2008. Waqar Kiani, who once worked for Britain's Guardian newspaper, said he was driving towards his home on Saturday night when four men in police uniforms stopped his car in Sector G-8. The men, who told him that they wanted to check his car, pulled Kiani out of his vehicle and beat him up. He was later admitted to the Pakistan Institute of Medical Sciences with severe injuries to the back and face. "I have injuries in the back and on my face. They had come in a police van," Kiani told Dawn newspaper from his hospital bed. Interior Minister Rehman Malik directed police to probe the incident and submit a report. Acting Islamabad police chief Bin Yamin said no policemen were involved in the incident.Journalists and rights groups condemned the incident, which occurred about three weeks after journalist Syed Saleem Shahzad was abducted and killed while driving from his home to a TV station in Islamabad on May 29. Shahzad was murdered just two days after he alleged in an article that al-Qaeda had infiltrated the Pakistan navy. [More>>indianexpress.com]

---
6.19.11 Explosion strikes German convoy in Afghanistan
KUNDUZ, Afghanistan (AP) June 19 - A suicide attacker blew up his explosives-laden car next to a German military convoy in northern Afghanistan on Sunday, killing three Afghan civilians, officials and witnesses said. Taleban spokesman Zabiullah Mujahid claimed responsibility for the attack. The bomber detonated his vehicle shortly before 10 a.m. local time on a busy road on the edge of Kunduz city, near the airport, the Afghan Interior Ministry said in a statement. An Associated Press reporter at the scene saw at least one overturned armored vehicle and what appeared to be a civilian car that was mangled in the blast. Three civilians were killed and 11 were wounded in the attack, the ministry said. Germany's military said two German soldiers were lightly wounded and treated at a nearby base. Two vehicles were damaged, according to a German military spokesman, who declined to be named in line with department policy. The spokesman said the military could not immediately confirm whether the attack was a suicide assault or a roadside bomb...On Saturday, insurgents targeted a police station in a suicide attack in Kabul, killing nine people, including five civilians, before they were eventually gunned down. Eight NATO service members were killed in Afghanistan the same day. Four died in fighting in the south and east, while another four died in a vehicle accident in the south. The violence continues despite assertions by Afghan President Hamid Karzai that fledgling peace talks have started between the US and Afghan government and Taleban emissaries. [Full story>>khaleejtimes.com]
---
6.17.11 Sarkozy and Merkel urge rapid solution to Greek crisis
(Reuters) June 17 - German Chancellor Angela Merkel and French President Nicolas Sarkozy said at a joint press conference on Friday that they are "determined" to find a solution to the Greek debt crisis "as soon as possible." The leaders of Germany and France said on Friday that they were united behind a new aid package for Greece that would include voluntary private sector participation on the basis of the so-called "Vienna Initiative." German Chancellor Angela Merkel said this approach, based on the 2009 agreement by banks to maintain their exposures in central Europe at the height of the financial crisis, was a "good foundation" for a Greek deal. After reports on Thursday that Germany wanted to wait until September to seal a new aid deal for Athens given disagreements over the role of the private sector, Merkel said: "The quicker we get a solution the better." "The Vienna Initiative ... is a good foundation and I believe that we can move forward on this basis," she told reporters at a joint news conference with French President Nicolas Sarkozy. [More>>france24.com; See related stories,

bbc.co.uk, June 17, "IMF warns of increased risks to the world economy" : The International Monetary Fund has warned that the risks facing the world economy have increased. The fund said it was concerned about the continuing Greek debt crisis, the arguments over US deficit plans and the need to curb growth in Asia. But it said it expected global growth to remain on track, though it lowered its forecasts for the US and UK. The IMF predicted that the world economy would grow at a rate of 4.3% in 2011 and 4.5% in 2012. The fund called for greater political leadership in dealing with the eurozone debt crisis and the budget crisis in the US. "You cannot afford to have a world economy where these important decisions are postponed, because you're really playing with fire," said Jose Vinals, director of the IMF monetary and capital markets department. The IMF's latest forecasts came as it updated its assessments of financial stability, country finances and the global economy. Its last review was in April...

nytimes.com, June 17, "Germany says creditors can be shielded in Greek bailout" : BERLIN - Germany backed away Friday from a confrontation with the European Central Bank over a new bailout package for Greece, agreeing under pressure from France not to force private investors to shoulder some of the burden. The German government's previous insistence on what the finance minister called "fair burden sharing" had renewed market jitters by threatening to derail negotiations on a second rescue of Greece, which will be needed to avert another financing crisis next year. The German compromise was one of several fresh moves in the long-running saga over Greece's finances that could restore confidence among both taxpayers and investors. Prime Minister George Papandreou on Friday named a new finance minister and other cabinet members at the end of a week of political instability and angry street protests...

---
6.17.11 China won't pay European price for Russian gas
ST. Petersburg (RIA Novosti) June 17 - China does not want to pay Russia a price that is tied to the European gas price formula, Energy Minister Sergei Shmatko said on Friday following Moscow's failure to sign a long-awaited 30-year gas deal with Beijing. "We are in a good and confidential dialog with our Chinese colleagues. They are protecting their national interests and tell us in detail why they consider gas supplies at a European formula slightly unfair," Shmatko told Rossiya 24 TV channel at the St Petersburg International Economic Forum. Alexander Medvedev, head of the export arm of Russia's gas giant Gazprom, said earlier on Friday that Gazprom and China's oil and gas corporation CNPC would not sign a gas supply contract, which could be worth up to $1 trillion. Under the contract, Gazprom would deliver up to 68 billion cubic meters of gas to China. It sells about 150 bcm a year to Europe. "There has been no signing because the partners have not come to a final agreement on price. I see nothing terrible here. The contract will be signed for 30 years and if someone feels circumvented now, it will be felt in business sooner or later, believe me," Shmatko said. "The parties need to check documents carefully, get political support at the highest political level and after that I think we will witness a unique energy deal." [>en.rian.ru]

---
6.17.11 Plug finally pulled on old German reactors
FRANKFURT, Germany (Reuters) June 17 - Friday marked the point of no return for the permanent shutdown of a major slice of Germany's nuclear energy, leaving a range of unresolved problems caused by the politically-driven reaction to the Fukushima crisis. Germany's biggest utility RWE, the last to fall in line, left it until the day before Friday's deadline to pass on any chance to reopen its Biblis B reactor. Avoiding a potentially image-damaging clash with government, RWE joined competitors E.ON, EnBW and Vattenfall Europe which already have said their old reactors will stay shut. The aging nuclear capacity was shut in March following the Japan crisis, for an initial three months, now expired. In theory, RWE could have tried to restart Biblis B for at least three weeks to cash in on earnings that analysts agree can be up to 500,000 euros ($708,100) a day at written-off plants. [More>>thestar.com.my]

---
6.17.11 Lieberman: Israel will renounce past agreements if Palestinians seek unilateral statehood
June 17 - In Jerusalem, EU foreign affairs chief Catherine Ashton says "it is more urgent than ever" for Israel-Palestinian peace talks to take place. Foreign Minister Avigdor Lieberman threatened on Friday that Israel will renounce past agreements, including the Oslo Accords, with the Palestinians if they continue their unilateral pursuit of statehood recognition from the United Nations in September. Lieberman's statement came during a meeting in Jerusalem with European foreign affairs chief Catherin"e Ashton. The unilateral move at the UN is the end of the Oslo Accords and would be a violation of all agreements that we have signed until now," Lieberman said. "Israel would not be obligated to the agreements that it has signed with the Palestinians over the past 18 years." Lieberman added that there is zero chance that negotiations with the Palestinians will resume, due to the position of Palestinian President Mahmoud Abbas. "Abbas does not want an agreement, but rather confrontation with Israel," Lieberman said. "This is his personal interest, even though it is contrary to Palestinian interests and many in the Palestinian Authority oppose him." Lieberman said that Israel is ready to renew negotiations and that the ball is in the court of the Palestinians. [More>>haaretz.com; See related stories,

haaretz.com, June 17, "Netanyahu and the Mystics of Safed" (Editorial by Carlo Strenger) : The government's disconnection from the world has much in common with the psychology of religious sects that, having become so convinced of their own truth, no longer care about the world at large. Future historians looking back at Israel in 2011 will shake their heads with disbelief. They will note that there were voices of reason who called for constructive engagement with the Arab world; that these voices included some of the great luminaries of Israel's defense establishment like former Shin Bet chiefs Yaakov Peri and Ami Ayalon, former Mossad chief Danny Yatom, former IDF chief Amnon Lipkin-Shahak and General (Res) Amram Mitzna. They will write about their Israeli Peace Initiative of 2011 that basically endorsed the Arab League Initiative.
...Our future historians will have to try to understand why Israel's government and lawmakers preferred to huddle together in Safed singing against fear instead of engaging with the outside world in constructive attempts to safeguard Israel's existence for the future; why they didn't listen to President Shimon Peres' warning that without a peace agreement with the Palestinians, Israel will cease being a Jewish and democratic country. Peres, the historians will write, had good reasons to be worried: the one thing you couldn't get out of Netanyahu, Lieberman, Yaalon and the rest of Israel's government was an intelligible vision for Israel's future. They went into [a] trance-like state; much closer, indeed, to the mystics of Safed who wrote great works of Kabbala in the 16th century. Some of those are of haunting beauty — but the mystics of Safed didn't have to run a country.
The current government's disconnection from the world indeed has much in common with the psychology of religious sects that become so convinced of their own truth, that they no longer care about the world at large. Theirs is a state of mind that prefers mystical vision and misguided pseudo-heroism of staring down the whole world to pragmatic politics. Hence the Cabinet is now about to revoke Ehud Barak's veto right on construction in the West Bank: intoxicated with their dream of the Greater Israel, they no longer want any impediments to their messianic vision...The country seems to buy into their mythology that the world is out there to get us, and that, as Netanyahu has finally said clearly, the Israel-Palestine conflict is insoluble... Netanyahu and Lieberman have been quite successful in frightening most Israelis out of their wits: a recent poll commissioned by the right-leaning Jerusalem Center for Public Affairs showed that 77 % of Israelis are against returning to pre-1967 lines even if this would lead to a peace agreement and declarations by Arab states of an end to their conflict with Israel...

---
Editorial note: "Confusion on the pre-1967 lines." The United Nations established the state of Israel in UN Resolution 181 of 1947, including a separate UN governed entity, "The Corpus Separatum of Jerusalem." UN Resolution 181 of 1947 details the partition of the British-ruled Palestine Mandate (consisting of Palestine and Transjordan) into a Jewish state and an Arab, Palestinian state. Both Israelis and Palestinians claim that the land (known generally as the Holy Land) is their homeland, and Palestinians and Arabs claim that Israel is an "occupying nation," in illegal possession of Palestine. Many Arab states don't acknowledge the legitimacy of the UN resolution.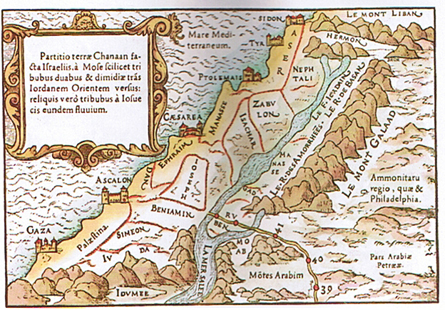 Shortly after Israel submitted its Declaration of Independence in May 1948 in accordance with the resolution, a coalition of Arab states (including Syria, Transjordan and Egypt) attacked Israel, with the result being their occupation of the West Bank territory and Jerusalem. In response, culminating with the 1967 "Six-day War," Israel became in possession of the Syrian territory of the Golan Heights, Sinai, the West Bank territory and East Jerusalem. [Map from Yakov Ariel Collection, "Partition map of the land of Canaan," Lyon 1568]

Recognizing that the original Palestine Mandate and UN Resolution 181, "Partition of Palestine," were violated through acts of war initiated by Arab states, it seems that "a return to the pre-1967 borders" would award Arab interests with the lands they conquered in defiance of UN Resolution 181.

When we examine the history of the Holy Land in the context of "rights of possession" for Palestinians and Israelis, there seems to be no singular point in time that can be found that would attribute a true inheritance for the land. Israelis claim their right to the land through UN Resolution 181 which inherently recognized Israel's inheritance promised in the Bible, given to Abraham, consisting of the lands from the River of Egypt (modern Israel-Egypt border) to the Euphrates. We discuss the various Biblical and international agreements involving the Holy Land — with maps — in "The Allah Controversy...Palestinians, Syria's President Assad, et. al. require that Israel withdraw back to the 1967 border. What is the true border of Palestine?"

Mel Copeland

---
6.17.11 Syrian security forces shoot dead 8 protesters
(AP) June 17 - Syrian security forces killed at least eight people Friday as thousands of people poured into the streets across the country calling for the downfall of Assad's regime. The protests came hours after Syrian troops backed by tanks and helicopter gunships seized control early Friday of another northwestern town in the latest military operation to quell the dissent. Since the protests erupted in mid-March, Assad has unleashed the military to crush street demonstrations. Human rights activists say more than 1,400 Syrians have been killed and 10,000 detained. "What is our guilt? We just demanded freedom and democracy nothing else," said Mohamed, who spoke to The Associated Press from a refugee camp in neighboring Turkey and asked to be identified only by his first name. "I saw people who were beheaded with machine-gun fire from helicopters," and a man tortured to death when security forces "poured acid on to his body," he said. Mohamed is among some 9,600 people are seeking shelter in Turkish refugee camps. He fled with his family as the military besieged Jisr al-Shughour, a rebellious town the government recaptured last Sunday. [More>>khaleejtimes.com; See related story,

alarabiya.net, June 17, "More deaths as Assad's forces open fire on unarmed protesters" : Security forces shot dead 16 protesters at several demonstrations across Syria on Friday demanding the removal of President Bashar Al Assad, a main activists' group coordinating protests said. The deaths included the first protester to be killed in Syria's second city, the commercial hub of Aleppo, the Local Coordination Committees said in a statement, according to Reuters. Aleppo, a mostly Sunni city with significant minorities and a rich merchant class with close links to the Alawite ruling hierarchy, had been largely free of protests, except at its university campus and on the outskirts, during the three month uprising. Security forces opened fire on protesters in the west, east and north of Syria earlier on Friday, a rights activist said, as thousands demonstrated across the country. "There was intense firing to disperse the demonstrations in Banias (west) and there were casualties" Rami Abdel Rahman, head of the London-based Syrian Observatory of Human Rights, told AFP by telephone. "Security forces pursued protesters into alleyways to disperse them," he said, adding that some people were arrested while residents were "ordered not to go out on their balconies." Abdel Rahman said that demonstrations also took place after weekly Muslim prayers in the central city of Homs — where 5,000 protesters rallied — Deraa province in the south, Jableh in the west and Deir Al Zor in the east...
---
6.17.11 Saudi women defy ban to take driver's seat
June 17 - Several women drive around in kingdom in open defiance of rule that prohibits them from driving. A number of Saudi women have defied a ban on driving by getting behind the wheel in the conservative kingdom. Friday's show of defiance came in response to calls on social networking sites to defy the ban that prohibits women from driving in the kingdom. "We've just returned from the supermarket. My wife decided to start the day by driving to the store and back," said columnist Tawfiq Alsaif on his Twitter page on Friday. "I took King Fahd Road [Riyadh artery] and then Olaya Street, along with my husband, I decided that the car for today is mine," local resident Maha al-Qahtani tweeted. She also told the AFP news agency that driving is "a right for women that no law or religion bans ... I went out to get my right, so that it would be up to me to drive or not." Her husband Mohammed al-Qahtani tweeted that she carried her necessary belongings "ready to go to prison without fear." The en masse action was the first since November 1990, when a group of 47 Saudi women stunned men by driving around Riyadh in 15 cars before being arrested.
'Mutiny against male-only rules'

Activists had not appealed for mass protests in any specific sites, but had urged Saudi women to begin a mutiny against the male-only driving rules. Women who had driving licenses obtained abroad were urged to run their errands themselves without relying on male drivers. "We want women from today to begin exercising their rights," Waukesha al-Harridan, a Saudi women's rights activist, said. She had posted internet clips of herself driving in 2008. "Today on the roads is just the opening in a long campaign," she said. "We will not go back." Friday is the climax of a two-month on line campaign riding the winds of the so-called Arab spring, which has spread mass revolts across the region and toppled two regimes. The main Facebook page campaign, dubbed Women2Drive, says the action will keep going "until a royal decree allowing women to drive is issued." Women in Saudi Arabia face an array of constraints, ranging from having to cover from head to toe in public and needing authorization from a male guardian to travel, to having restricted access to jobs due to strict rules of segregation. [More>>aljazeera.net]

---
6.17.11 Harkat commander lives openly near Islamabad
ISLAMABAD (AP)June 17 - On the outskirts of the Pakistani capital lives a militant considered so powerful that Osama bin Laden consulted with him before issuing a fatwa to attack American interests. Fazle-ur-Rahman Khalil heads Harakat-ul-Mujahideen, a terrorist group closely aligned with al-Qaeda and a signatory to bin Laden's anti-US fatwa in 1998. Khalil has also dispatched fighters to India, Afghanistan, Somalia, Chechnya and Bosnia, was a confidante of bin Laden and hung out with 9/11 mastermind Khalid Sheikh Mohammad. Pakistani authorities are clearly aware of Khalil's whereabouts. But they leave him alone, just as they tolerate other Kashmiri militant groups nurtured by the military and its intelligence agency to use against India. Khalil is also useful to the authorities because of his unusually wide contacts among Pakistan's many militant groups, said a senior government official who is familiar with the security agencies and who spoke on condition he not be identified fearing repercussions.

Khalil's presence in an Islamabad suburb, confirmed to The Associated Press by Western officials in the region, underscores accusations that Pakistan is still playing a double game — fighting some militant groups while tolerating or supporting others — even after the solo US raid that killed bin Laden on May 2. Khalil's Harakat-ul-Mujahedeen, blamed for a deadly attack on the American Consulate in Karachi in 2002, has links to the Haqqanis and is considered a terrorist organization by the US. Hundreds of militants are thought to belong to his organization, though the strength of these groups are the links they share with each other, say analysts. Khalil himself is not on any US wanted list. In the Islamabad suburb of Golra Sharif, he lives in a nondescript two-story compound that includes a seminary or religious school, hidden behind a traditional high wall protected by barbed wire. Reached by the AP on his cellphone last month, Khalil dismissed suggestions that he may have been in touch with bin Laden. "It is 100% wrong, it's rubbish," Khalil said.

"Osama did not have contact with anybody." The Pakistani senior government official who spoke with AP said Khalil has been arrested twice but each time was released on orders from Pakistan's intelligence agency. "He was significant for Osama bin Laden," the official said. "He has connections with all these groups in Waziristan but he is living here and we don't go after him. He is the one you go to when you need to get to these groups," tracking kidnap victims for example. Like most of the militant groups that get a wink and a nod from Pakistan's security agencies, HuM's primary focus is Kashmir. AP learned from the same official that seven training camps are operating in Pakistan-occupied Kashmir and most of them are run by Jamaat-ud-Dawwa, the name LeT took after being banned. "There are seven jihadi camps working in Kashmir right now, giving them explosives training," the official said. He said military and intelligence agencies say the camps provide Pakistan with "strategic depth." "They say we need them, otherwise India will treat us like the rest of South Asia, like they can dictate," he said. "It is only the military and intelligence. The government has no say." [>timesofindia.indiatimes.com]

---
6.16.11 Pakistan's chief of army fights to keep his job
ISLAMABAD, Pakistan, June 16 - Pakistan's army chief, the most powerful man in the country, is fighting to save his position in the face of seething anger from top generals and junior officers since the American raid that killed Osama bin Laden, according to Pakistani officials and people who have met the chief in recent weeks. Gen. Ashfaq Parvez Kayani, who has led the army since 2007, faces such intense discontent over what is seen as his cozy relationship with the United States that a colonels' coup, while unlikely, was not out of the question, said a well-informed Pakistani who has seen the general in recent weeks, as well as an American military official involved with Pakistan for many years. The Pakistani Army is essentially run by consensus among 11 top commanders, known as the Corps Commanders, and almost all of them, if not all, were demanding that General Kayani get much tougher with the Americans, even edging toward a break, Pakistanis who follow the army closely said. Washington, with its own hard line against Pakistan, had pushed General Kayani into a defensive crouch, along with his troops, and if the general was pushed out, the United States would face a more uncompromising anti-American army chief, the Pakistani said. To repair the reputation of the army, and to ensure his own survival, General Kayani made an extraordinary tour of more than a dozen garrisons, mess halls and other institutions in the six weeks since the May 2 raid that killed Bin Laden. His goal was to rally support among his rank-and-file troops, who are almost uniformly anti-American, according to participants and people briefed on the sessions. [More>>nytimes.com]
---
6.16.11 Olive oil 'helps prevent stroke'
June 16 - Olive oil can help prevent strokes in people over 65, a study suggests. Researchers followed around 7,000 people aged 65 and over living in three French cities, for at least five years. They found those who used a lot of olive oil in cooking or as a dressing or dip had a lower risk of stroke than those who never used it. The researchers say older people should be given new dietary advice regarding olive oil, based on the findings, which are published in the journal Neurology. Lead author, Dr. Cecilia Samieri, of the University of Bordeaux, said: "Our research suggests that a new set of dietary recommendations should be issued to prevent stroke in people 65 and older. Stroke is so common in older people, and olive oil would be an inexpensive and easy way to help prevent it." The researchers studied the medical records of 7,625 people aged 65 and older living in Bordeaux, Dijon and Montpelier. They were asked whether they used olive oil in cooking, on salads or with bread intensively, moderately or never. Most used extra virgin olive oil, which is common in France. After around five years, 148 of the men and women had had a stroke. The study found the stroke risk was 41% lower in those who regularly used olive oil compared with those who abstained, once other factors such as diet, exercise and weight were taken into account. [More>>bbc.co.uk]

---
6.16.11 NATO pre-dawn raids pound area near Gaddafi base
(AP) June 16 - NATO air strikes pounded the area surrounding Muammar Gaddafi's compound on Thursday. As yet there is no indication of what has been hit, or the number of casualties, but NATO has repeatedly targeted the area in the three-month air campaign. NATO pounded the area near Libyan leader Moammar Gadhafi's compound again before dawn Thursday, rattling windows in the heart of the capital with thunderous booms as smoke rose from the vicinity. It was not clear what was hit, and there was no word on casualties. Government officials did not immediately comment on the strike. NATO warplanes have repeatedly targeted the area in and around the Bab al-Aziziya compound. NATO launched its air campaign nearly three months ago under a United Nations resolution to protect civilians. What started as a peaceful uprising inside the country against Gaddafi and his more than four-decade rule has become a civil war. Poorly equipped and trained rebel fighters have taken control of the eastern third of Libya and pockets of the west. The fighting had reached a stalemate until last week when NATO launched the heaviest bombardment of Gaddafi forces since the alliance took control of the skies over Libya. NATO has been pounding Gaddafi's military and government positions with increasing vigor and the rebels are again on the move. Tunisian army official Mokhtar Ben Nasr said the number of Libyans fleeing has mounted in recent days, with 6,330 Libyan refugees crossing into Tunisia earlier this week. Dozens of Libyan soldiers also have defected to Tunisia by boat, the state news agency there reported Wednesday. [More>france24.com; See related story,

en.rian.ru, June 16 (RIA Novosti) "Libya ready to hold elections, adopt new constitution - Gaddafi's son" : ROME - Libyan authorities are ready to hold free elections within three months and draft a new constitution as a compromise with the insurgents who are demanding Muammar Gaddafi's resignation, Gaddafi's son, Saif al-Islam, said on Thursday. In an interview with Italy's Corriere della Sera, al-Islam said the transparency of the elections would be guaranteed by the presence of international observers. "We are ready to host representatives of the EU, the African Union, the UN and NATO," he said. If Gaddafi's opponents win the election, Gaddafi will never leave Libya "because he was born here and this is where he will die," his son said. Ahead of the elections, a new constitution needs to be worked out, he said. "I believe that in the future Libya will be comprised of strong local autonomies and a weak federal government in Tripoli," al-Islam said. Tripoli would like to see a joint AU-UN mission to monitor the disarmament process of both sides, Russian presidential envoy to Africa Mikhail Margelov said citing Libyan Foreign Minister Abdelati Obeidi. Obeidi said security control functions across the country should go to civilian police, Margelov said. The Libyan authorities are calling for an immediate ceasefire, after which a broad dialog about the country's future could begin, the foreign minister said. [end]

---
6.16.11 Radical Indonesian cleric Abu Bakar Bashir found guilty on terror charges
June 16 - Hardline Indonesian cleric Abu Bakar Bashir has been found guilty of terrorism charges and sentenced to 15 Years in jail. Hundreds of Bashir's supporters chanted "Alahu Akbar" at South Jakarta District Court as the verdict was announced. The five judges took almost five hours to read out the long-awaited judgment against the man many consider to be the aging father of terrorism in Indonesia. It was the third time in a decade that authorities have bought terror charges against the 72-year-old and unlike previous attempts, this time they have stuck. The judges said Bashir was legally and convincingly guilty of planning and motivating others to commit terrorism and of using violence or the threat of violence to create fear. He had funded and set up a terror training camp in Aceh province. "As well, he persuaded them to commit violence, which led to the deaths of policemen, and which created an atmosphere of terror... especially for the people of Aceh in general." Bashir, the former spiritual leader of Jemaah Islamiah (JI), the group responsible for the 2002 Bali bombings, has denied the charges throughout the trial, which began in February. He has not denied knowing about the Aceh camp but has previously said the activities happening there were merely a type of training called idad, which all Muslims must undertake. A large cache of ammunition and weapons, including AK-47 rifles, was found when the paramilitary camp was raided by police in February last year. Thousands of police were on hand, including balaclava-clad snipers on the rooftops of buildings around the court as they waited for the verdict to be handed out. [More>>news.com.au]

---
6.16.11 Korea grapples with over-education
June 16 - This is the first installment of a three-part series looking into problems in Korea's tertiary education system. ― Ed. After nearly a year of job hunting, Lee decided to lower her expectations. The 27-year-old graduate of a university in Seongnam, Gyeonggi Province, now goes to a vocational training institute in Seoul to learn how to make coffee. Hopefully, after completing this four-month course, she will be able to find a job at one of the coffee shops which seem to be at almost every corner of the city. "I had tried to find an office job but had no luck," Lee said, declining to give her first name. Her B.A. degree in French literature will be of little use for a barista job, she admitted. A starting barista earns about 1.3 million won ($1,200) a month. A cup of coffee-based drink from famous coffee chains like Starbucks costs around 5,000 won. From an economic point of view, Lee's four-year university education, which cost her parents about 30 million won in tuition alone, was a terrible investment. Still, most parents in Korea strongly believe that higher education is the best way to prepare their children for fiercely competitive Korean society. According to a survey conducted by Statistics Korea last year, 93 percent of parents polled expected their children to finish a four-year university degree at least. "Everybody goes to university in Korea. So if you don't, you will be discriminated against and will find it hard to join mainstream society," said Ahn Jin-gull, a director at Seoul-based civic group People's Solidarity for Participatory Democracy. Koreans proudly say that the well-educated labor force was the main driver of the country's miraculous rise from the ashes of the Korean War. [More>>koreaherald.com]

---
6.16.11 Bin Laden deputy Zawahri takes over as Qaeda leader
DUBAI (Reuters) June 16 - Veteran militant Ayman al-Zawahri has taken command of al-Qaeda after the killing of Osama bin Laden, an Islamist website said on Thursday, a move widely expected following his long years as second-in-command. Bin Laden's lieutenant and the brains behind much of al-Qaeda's strategy, Zawahri vowed this month to press ahead with al-Qaeda's campaign against the United States and its allies. "The general leadership of al-Qaeda group, after the completion of consultation, announces that Sheikh Dr. Ayman Zawahri, may God give him success, has assumed responsibility for command of the group," the Islamist website Ansar al-Mujahideen (Followers of the Holy Warriors) said. The bespectacled Zawahri had been seen as bin Laden's most likely successor after the man held responsible for the Sept. 11, 2001 attacks in New York and Washington was shot dead by US commandos in Pakistan 45 days ago. Zawahri's whereabouts are unknown, although he has long been thought to be hiding along the border between Afghanistan and Pakistan. The United States is offering a $25 million reward for any information leading to his capture or conviction. In Washington, a senior US official said Zawahri would have a hard time leading the Islamist group "while focusing on his own survival." "He hasn't demonstrated strong leadership or organizational skills during his time in AQ," the official said. "Unlike many of AQ's top members, Zawahiri has not had actual combat experience, instead opting to be an armchair general with a 'soft' image." Sajjan Gohel of Asia-Pacific Foundation security consultants said Zawahri had been in practical charge of al-Qaeda for many years, but lacked bin Laden's presence and his "ability to unite the different Arab factions within the group."[More>>thestar.com.my ; See related stories,

jpost.com, June 16, "Al-Qaeda publishes hit-list of influential Americans" : Al-Qaeda affiliated website lists names of specific Americans; calls on jihadists world-wide to target and kill them. An al-Qaeda website has posted a hit-list of American businessmen, diplomats, think tank executives, and military officials, according to a report by NBC New York. Along with the hit-list is an invitation for jihadists worldwide to take matters into their own hands and target the named individuals. The FBI has notified those individuals listed as well as law enforcement agencies. According to the NBC New York report, the hit-list names 40 individuals, 26 with photographs, and a request to add home addresses in order to send parcel bombs. While the FBI acknowledges that al-Qaeda posts threats on its websites often which are not often actualized, "What's scary about this is how specific the individual information is," said former New York State Homeland Security Director Michael Balboni in the NBC New York report. "What you don't know is, when does aspirational become operational in cases like this, involving a possible lone actor here inspired by a website... Part of this is a necessary precaution. You don't want to scare people," Balboni said. "But there is much more specific, individual targeting than we've seen before." [end]

news.sky.com, June 16, "Al-Qaeda names new boss as UK plots emerge" : Ayman al Zawahiri has been appointed the new leader of al-Qaeda as reports emerged the terror group was planning to bomb London's Ritz hotel and Eton College. In an online statement, al-Qaeda said that under Zawahiri it would pursue its holy war against the United States and Israel "until all invading armies leave the land of Islam."...

cbsnews.com, June 16, "For al-Zawahiri, anti-US fight is personal" : Al-Qaeda's new leader is known mostly for his organizational and tactical cunning, but he's fueled by a deep hatred for the United States and the West, an anger made more personal by the deaths of his wife and two children in a US airstrike following the 2001 U.S. invasion of Afghanistan after the 9/11 attacks. Ayman al-Zawahiri, who was officially announced as the successor to Osama bin Laden, is the son of an upper middle class Egyptian family of doctors and scholars. A surgeon by training, his father was a pharmacology professor at Cairo University's medical school and his grandfather was the grand imam of Al-Azhar University, Sunni Islam's formal seat of learning. At the age of 15, he founded his first underground cell of high school students to oppose the Egyptian government. He continued his militant activities while earning his medical degree, later merging his cell with other militants to form Islamic Jihad.

Al-Zawahiri, who turns 60 on Sunday and has a $25 million bounty on his head, served three years in an Egyptian prison before heading to Afghanistan in 1984 to fight the Soviets, where he linked up with bin Laden. Al-Zawahiri later followed bin Laden to Sudan and then back to Afghanistan, where they found a safe haven under the radical Taliban regime. Soon after came the 1998 bombings of the US embassies in Africa, followed by the 2000 suicide bombing of the USS Cole off the coast of Yemen, an attack al-Zawahiri is believed to have helped organize. In a 2001 treatise, he set down the long-term strategy for the jihadi movement — to inflict "as many casualties as possible" on the Americans. "Pursuing the Americans and Jews is not an impossible task," he wrote. "Killing them is not impossible, whether by a bullet, a knife stab, a bomb or a strike with an iron bar."..

---