News Headlines & Trends
---

12.28.09 30 killed in suicide attack on Shia procession in Karachi
KARACHI, December 28 - At least 30 people were killed and over 70 others injured today when a suicide bomber targeted the main Muharram procession of Shia Muslims in this Pakistani port city, the third terrorist attack in as many days on the minority community here. The attack sparked angry protests across Karachi, which has often witnessed sectarian and political violence, and mobs set on fire several buildings, 50 shops, two police stations and dozens of cars. Television footage showed the powerful blast occurred as hundreds of people participating in the Ashura procession observed on the 10th day of the holy month of Muharram were making their way through M A Jinnah Road, a key thoroughfare in the heart of Karachi.

Sagheer Ahmed, the Health Minister of Sindh province, said 30 bodies were received at three hospitals. Provincial police chief Babar Khattak told reporters that over 70 people were injured. An emergency was declared in all hospitals and doctors recalled were from leave, officials said. Hospitals appealed to people to donate blood for the injured. Karachi police chief Waseem Ahmed confirmed the attack was carried out by a suicide bomber. "We have got a head, which confirms it was a suicide attack," he said. The procession was headed towards an imambargah or Shia prayer hall when the bomber detonated his explosives near a court complex at 4.20pm. Dense smoke rose from the site of the blast as people ran in panic. Witnesses and reporters said police fired in the air immediately after the explosion. [>indianexpress.com; See other details, thenews.com.pk, December 28, "Death toll at Karachi Ashura procession blast hits 40."]
---
12.28.09 Body of Mousavi's nephew disappears
(AP) December 28 - The body of the nephew of Iran's opposition leader — slain in the deadliest day of anti-government protests in months — disappeared from a hospital Monday, and security forces detained at least seven prominent activists, opposition reports said. Iranian state television reported that eight people had died in the street violence Sunday, but independent confirmation of the casualty toll was virtually impossible because of curbs on media coverage. Teheran residents say restrictions on Internet access were intensified, and Iranians were unable to see opposition Web sites.

Cell phone and text messaging services were sporadic. Reza Mousavi said Monday that the body of his brother, Ali Mousavi, was taken overnight from a Teheran hospital and that nobody had accepted "responsibility" for removing the corpse. Authorities were possibly seeking to deter mourners from organizing more protests around the funeral. The slain man was the nephew of opposition leader Mir Hossein Mousavi, a presidential contender in a disputed election in June. The bloodshed Sunday drew harsh condemnation from one opposition leader, who compared the government to the dictatorship that was ousted by the Islamic Revolution three decades ago. [More>>jpost.com; See also,

timesonline.co.uk, December 28, "Seven opposition leaders arrested as Mousavi nephew's body is seized" : Iran's beleaguered regime struck back at the resurgent opposition today, arresting several leading activists and confiscating the corpse of Mir Hossein Mousavi's nephew to prevent his funeral becoming another massive anti-government demonstration. The regime moved to shore up its position the day after its security forces killed at least eight protestors and wounded scores more in the most violent clashes since the immediate aftermath of June's disputed presidential election. The opposition claimed that 550 of its supporters were arrested, though the official figure was 300.

The brutality of the security forces on the Shia religious holiday of Ashura was condemned around the world. David Miliband, the Foreign Secretary, praised the courage of the protesters and called on Iran to respect the rights of its citizens. Even Russia, one of Iran's main trading partners, called for restraint. Those killed yesterday included Seyed Ali Mousavi, nephew of the opposition leader, who was shot in the chest. Tehran was rife with speculation that he had been assassinated in order to send a message to his uncle, and the Government moved rapidly to prevent his death becoming another rallying point for the opposition...
---
12.28.09 Two more Iranian men nabbed at airport with drugs
JAKARTA, Indonesia, December 28 - The Interdiction Task Force at Soekarno-Hatta International Airport has arrested two Iranian men smuggling crystal methamphetamine worth Rp 2.1 billion (US$ 210,000) into the country. Bahaduri Wijayanta, chief of the airport customs office identified the two men as Muhamad Reza Ashabi, 25, who was working as a shoe vendor and Abdullah Haidar, 34, a taxi driver from Tehran. Both Abdullah and Muhammad Reza were promised US$3000 if they delivered the drug to a contact in Jakarta. "As of today, we have arrested 28 Iranians for smuggling drugs into the country through the airport this year," Bahaduri said in a press conference on Monday.

The Interdiction Task Force is a joint effort established at the airport to curb drugs being smuggled into the country. The task force consists of customs and excise officers, the police, the National Narcotic Body (BNN), immigration and quarantine. The officers found a total 101 capsules in the men's stomachs, which contained 948 grams of crystal meth. On December 13, seven Iranian men were also arrested in two separate cases under similar circumstances. Three men in the first case were identified as Taheri Shahram, 27, Mahdi Moghaddamkouhi Rezaali, 25, and Abbaspour Morteza, 26.    On the same day, officers also detained four other Iranian men identified as Mirzaein Rasoul, 25, Alimoradi Mohsen, 25, Hajebi Shahab, 40 and Goodarzi Ghola Hassan at terminal II E. [>thejakartapost.com]
---
12.28.09 Qaeda claims kidnapping of Italians in Africa: TV
ROME, December 28 - Italian couple kidnapped from minibus on Dec.18. Al-Qaeda's North African wing claimed responsibility on Monday for this month's kidnapping of an Italian couple in Mauritania, Al Arabiya reported. In an audiotape recorded on Dec. 27, Salah Abu Mohamed, spokesman for al-Qaeda in the Islamic Maghreb, said the kidnapping was linked to the "crimes of the Italian government in Afghanistan and Iraq." The couple, Sergio Cicala, 65, and his 39-year-old wife Philomene Kabouree, went missing in the country's southeast on Dec. 18. Security sources reported the couple's minibus was found empty and bullet-ridden on Dec. 19. Reports from witnesses claimed the kidnappers appeared out of nowhere in the middle of the night shooting at the bus and specifically its tires. They took the Italian couple with them leaving the bus behind. [More>>alarabiya.net]
---
12.28.09 10 civilians killed in military operations: Karzai
KABUL, December 28 - Ten civilians, mostly school children, have been killed during Western military operations in eastern Afghanistan, President Hamid Karzai's office said Monday, citing "initial reports." Karzai condemned the killings, which his statement said took place in Kunar province, which borders Pakistan, on Saturday. "Initial reports indicate that in a series of operations by international forces in Kunar province. 10 civilians, eight of them school students, have been killed," the statement said. "President Karzai strongly condemns the operation which caused civilian deaths and has appointed a delegation to investigate the incident," it said. A senior official in the Afghan government, speaking on condition anonymity, said the death toll could change because investigations are ongoing. When contacted Sunday, NATO's International Security Assistance Force (ISAF) had no information on any operations or casualties in Kunar. [>thenews.com.pk]
---
12.27.09 Mir Hossein Mousavi's nephew 'killed' in Tehran clashes
December 27 - At least eight Iranian protesters were reported to have been shot dead in Tehran today — including a nephew of the opposition leader Mir Hossein Mousavi — during the fiercest protests in the capital since the immediate aftermath of June's hotly disputed presidential election. The shootings mean that the confrontation between the so-called Green movement and the regime has entered a dangerous and volatile new stage, with the security forces prepared to use lethal force in an increasingly desperate effort to crush a resurgent and emboldened opposition.

A close aide to Mr. Mousavi, the former Prime Minister defeated by Mahmoud Ahmadinejad in the June election, said that his 35-year-old nephew, Ali Mousavi, died in a Tehran hospital after being shot in the chest near Enghelab Square. A reliable opposition website, Parlemannews, also reported his death. Details of the shootings were sparse, but one of the dead was said to be an elderly man and another a young woman, both killed when the security forces opened fire on the huge crowds of protesters that had gathered in central Tehran for the emotionally charged Shia festival of Ashura.

The Iranian state broadcaster said that about 300 people had been arrested during the protests. A photograph posted on the internet showed a man with blood pouring from head wounds being dragged away by opposition supporters. Two other demonstrators were reportedly wounded. The shootings of the protesters were the first since June 20. Another opposition website, Rahesabz, said that the security forces opened fire after failing to disperse the crowds with tear gas, charges by baton-wielding officers and warning shots fired into the air. [More>>timesonline.co.uk; See other details,

haaretz.com, December 27, "Mousavi's nephew said among at least 8 killed at Iran rallies" : At least eight Iranian demonstrators, including the nephew of opposition leader Mir Hossein Mousavi, were killed on Sunday in dissident clashes with security forces across Iran, according to a pro-reformist Web site. "Ali Mousavi, 20, was killed in clashes on Sunday noon and his body was still kept in a Tehran hospital," said parlemannews. An Iranian opposition website said at least four protesters were killed in the northwestern city of Tabriz. Earlier in the day, the Web site said four protesters were killed in a rally in central Tehran...

alarabiya.net, December 27, "Mousavi's nephew shot dead during Iran protests" : TEHRAN - Police denied however that anyone had died in the clashes, which witnesses said came as tens of thousands of opposition supporters took to the streets of Tehran for a second straight day to use rituals of the Shiite Ashura ceremony to stage protests. Police, according to witnesses, had first used batons and tear gas in the crackdown, which followed stern warnings by the authorities that they would crush attempts to use the Ashura processions as a launch pad for protests. When this failed to disperse the crowds, they opened fire, websites said.

Earlier today an Iranian opposition website said police forces were refusing orders to shoot at opposition protesters during clashes in central Tehran. "Police forces are refusing their commanders' orders to shoot at demonstrators in central Tehran ... some of them try to shoot into air when pressured by their commanders," the Jaras website said...Parlemannews said Seyed Ali Mousavi, the 35-year-old nephew of Mousavi, was shot near his heart during clashes at Enghelab square "and was martyred after he was taken to Ebnesina hospital."

...The opposition Jaras website said another four protesters were killed in the northwestern city of Tabriz...Witnesses said that enraged protesters fought back at the security forces, pelting them with stones and chanting, "We fight and we die to get back Iran."...Many protesters were chanting "Death to the dictator" and "It is the bloody month and the basiji will fall," referring to the Islamist militia which plays a key role in suppressing protests...

khaleejtimes.com (Reuters) December 27, "Mousavi nephew killed in clashes: Iran website" : ...The Parlemannews website said Ali Mousavi, 20, was killed in clashes on Sunday and his body had been taken to a hospital. Jaras said unrest also spread to other parts of Iran, including the holy city of Qom, in reports that could not be independently verified...

(Twitter postings, #iranelection, December 27)

December 27, National Iranian Armed Resistance Forces (NIRU) declares their existance in Iran - Statement" - ...The coordination center for National Iranian Armed Resistance Forces (NIRU) hereby declares its existence & accuses the current government and the leader of the Islamic Revolution, Mr. Sayyed Ali Khamenei of legal transgressions and high treason of nation and homeland.

We, a number of Officers, Soldiers and personnel of the Armed Forces of the Islamic Republic of Iran, hereby declare our readiness for rise to the armed defense of our nation against the forces of the criminal, illegitimate, transgressing and occupying current Government of Iran, and hereby inform our brothers and sisters serving with the armed security forces of Iran, invite them to join us, request their support and ask them to provide cover for us in this moral & national act. A special request for support & cooperation goes to our brothers of the Military Police.

Our action has no political or revolting aspects. We'd rather see our actions as the carrying out of the moral & national duties of all soldiers & Iranians. Our intention is the defense of the oppressed against oppressors, and avoidance of further crimes committed by the illegitimate Government, as well as the return of freedom, peace, order & justice to our land.

Now, after 6 months of crisis, oppression, crimes, repeated violent transgressions of our nation's rights, as well as the trampling of Constitutional & moral laws, the Leader and other main agents of the Government have stripped themselves of their qualification and legitimacy by committing these acts or failing to carry out their legal & moral duties and therefore are considered an occupying and forced regime. In accordance with the regulations of the Army of the Islamic Republic of Iran, we are commissioned to protect the lives, properties and honor of our nation, and defend our sacred soil, as well as combat all occupying forces within the borders of the land. Any failure in carrying out this duty is considered a betrayal of nation and oath. According to the constitution, the defense of the rights of the nation of Iran, and avoidance of the collapse of the country takes precedence over protection of the ruling regime. Such (defensive) action is "promotion of the good & rejection of wrong" which one is of the two main principles of our constitution, the other being democracy...
---
12.27.09 10 killed, 81 hurt in Muzzaffarabad blast
MUSAFFARABAD, Pakistan, December 27 - At least 10 people were killed and 81 injured on Sunday after a suicide bomber blew himself up at the gate of the CMH in Muzaffarabad. Meanwhile, Prime Minister of Azad Kashmir has announced financial support of Rs200,000 for the victims. Sources said a suicide bomber blew himself up near Combined Military Hospital (CMH) in Muzaffarabad. Pak Army reached the scene after the incident and initiated rescue work.
Injured were shifted to the CMH.

Hospital sources confirmed that six dead bodies were brought in who were identified as Police Constable Asmatullah, Special Branch'sKhursheed and Ibrar while three others include Mohsin Shabbir, Imam Ali and Mehmud-ul-Hasan Naqvi. Sources further said 23 injured are under treatment in the hospital while the rest were discharged after giving first aid. Prime Minister of Pakistan Yousuf Raza Gilani, President Azad Kashmir Raja Zulqarnain, Prime Minister of Azad Kashmir Raja Farooq Haider and others have strongly condemned the blast. [>thenews.com.pk; See other details,

nytimes.com (AP) December 27, "Bomber kills 5 at Shiite gathering in Pakistan" : ISLAMABAD - A suicide bomber targeted a large gathering of Shiite Muslims in the capital of Pakistan-controlled Kashmir on Sunday, killing five people and wounding 80 — a rare sectarian attack in an area police said has little history of militant violence. Muslim militants have fought for decades to free Kashmir, which is split between India and Pakistan and claimed by both, from New Delhi's rule. But while Muzaffarabad has served as a base for anti-India insurgents to train and launch attacks, the capital — and most of the Pakistani side — has largely been spared any violence, as militants have focused their firepower across the frontier in the Indian-controlled portion, police officer Sardar Ilyas said...

Related stories:

thenews.com.pk, December 27, "Blast reported near Kasba Morr in Karachi, several injured" : A blast has occurred near Kasba turning in Karachi, the Police reported Sunday. According to the Chippa sources, several injured, including a girl and rangers personnel, have been rushed to a nearby hospital. Fire has broken out at the site of the blast. Police said it was a low intensity blast. Hospital sources said two policemen are among the wounded. [end]

thenews.com.pk, December 27, "SWA operation: Forces destroyed terrorists's hideouts" : WANA - Security forces conducted [a] search and clearance operation in Mandech area of Razmak sector and 2 terrorist hideouts were destroyed. According to the ISPR, forces recovered terrorist [a] medical facility, X-Ray machine, Oxygen cylinders, surgical equipment and miscellaneous medical equipment along with [a] large number of ammunitions and IEDs. During operation Rah-e-Nijat, armed forces carried out [a] search and clearance operation near Tank in Shakai sector and recovered [a] cache of arms and ammunition.

Separately, terrorists opened fire at security forces check post in Pungai within Jandola sector, which was effectively responded by the forces. Meanwhile, during operation Rah-e-Rast in Malakand, [the] army carried out [a] search and clearance operation in Saidu Heights area near Mingora and recovered suicide jackets, IEDs and ammunitions. Moreover, nine terrorists voluntarily surrendered to security forces at Waliabad, Charbagh, Devolai, Jowar, Maniari, Swari, Swawai and Lal Qila. [end]

cnn.com, December 27, "Report: US missiles kill militants in Pakistan." : ISLAMABAD - Two missiles believed to be fired by a US unmanned aircraft killed 13 militants in Pakistan's tribal region, a local intelligence official said Sunday. The casualties Saturday included Taliban commander Abdur Rehman, who is part of a network that operates in Afghanistan. The incident took place in the Saidgi village in North Waziristan, according to the official, who asked to remain anonymous because he was not authorized to speak to the media. The official said the drone strike target was a house.

...Elsewhere in Pakistan, at least 21 people were injured Saturday night when a roadside bomb exploded in southern Karachi, authorities said. The incident occurred as a Shiite Muslim procession ahead of the holy day of Ashura on Sunday was expected to pass through that area, police said. A government official and five of his children were killed Sunday by a bomb blast in Pakistan's troubled northwest, authorities said. The device was planted outside the home of Sarfaraz Khan, an official who helped administer the Sadda area in Kurram.

...At least five people were killed and dozens were injured in a suicide bombing and separate gas line explosion in Pakistan Sunday, officials said. A suicide bomber blew himself up at a checkpoint at the entrance to a mosque in Muzaffarabad, in northeast Pakistan, Muzaffarabad Deputy Commissioner Chaudhry Impiaz Ahmed told CNN. Three policemen and two others were killed and 81 were injured in the blast, 10 of those in critical condition, he said...
---
12.27.09 Blast targeting Shiite pilgrims kills five in Iraq
BAGHDAD, December 27 - It was the latest in a string of attacks targeting Shiites during the 10 days of religious ceremonies. A blast in north-eastern Iraq killed five people Sunday in a crowd of pilgrims who had gathered for the most important Shiite religious observance of the year, authorities said. It was the latest in a string of attacks targeting Shiites during the 10 days of religious ceremonies that reached their high point Sunday. The blast in the town of Tuz Khormato wounded 15 people, police and medical officials said, speaking on condition of anonymity because they were not authorized to release information.

Sunday's commemorations marked the climax of Ashoura, the yearly mourning period in which Shiite Muslims remember the 7th Century death of the Prophet Muhammad's grandson, Imam Hussein, in a battle in the central city of Karbala. Pilgrims among the hundreds of thousands travelling to the holy city and others preparing for commemorations elsewhere in Iraq over the past week have come under repeated attack by insurgents seeking to re-ignite sectarian violence that brought the country to the brink of civil war two years ago. Dozens have been killed and more than 150 injured. [More>>gulfnews.com]
---
12.26.09 Investigators: Northwest bomb plot planned by al-Qaeda in Yemen
December 26 - Officials Say Bomb Materials Sewn Into Suspect's Underwear by Top Terror Bomb Maker. The plot to blow up an American passenger jet over Detroit was organized and launched by al-Qaeda leaders in Yemen who apparently sewed bomb materials into the suspect's underwear before sending him on his mission, federal authorities tell ABC News. Investigators say the suspect had more than 80 grams of PETN, a compound related to nitro-glycerin used by the military. The so-called shoe bomber, Richard Reid, had only about 50 grams in his failed attempt in 2001 to blow up a US-bound jet. Yesterday's bomb failed because the detonator may have been too small or was not in "proper contact" with the explosive material, investigators told ABC News.

Investigators say the suspect, Abdul Farouk Umar Abdulmutallab, a 23-year old Nigerian student whose birthday was last Tuesday, has provided detailed information about his recruitment and training for what was supposed to be a Christmas Day suicide attack. According to the authorities, Abdulmutallab says he made contact via the internet with a radical imam in Yemen who then connected him with al-Qaeda leaders in a village north of the country's capital, Sana...The suspect in the Northwest Airlines attack told FBI agents he lived with the al-Qaeda leader in Yemen for about a month and was not allowed to leave as he was trained in what to do and how to do it, authorities said. At some point, according to the account, Abdulmutallab said he was joined by a Saudi citizen whom he described as an al-Qaeda bomb maker. [Full story>>abcnews.go.com; See related story,

cbsnews.com, December 26, "Official: US knew of suspect for 2 years" : Umar Farouk Abdulmutallab Was on Government List for Possible Ties to Terrorist Groups, Official Says. An official briefed on the attack on a Detroit airliner said Saturday the US has known for at least two years that the suspect in the attack could have terrorist ties. The official told The Associated Press that the suspect, Umar Farouk Abdulmutallab, has been on a list that includes people with known or suspected contact or ties to a terrorist or terrorist organization. The official spoke on condition of anonymity because the investigation is ongoing.

The Terrorist Identities Datamart Environment list is maintained by the US National Counterterrorism Center. It includes about 550,000 names. People on that list are not necessarily on the no-fly list. US Rep. Peter King said Abdulmutallab was not on the no-fly list. Authorities may have had further warnings of Abdulmutallab. According to a report from the Nigerian newspaper This Day, Abdulmutallab's father took his concerns about his son's increasingly extremist religious views to the United States embassy and local authorities six months ago...
---
12.26.09 World's fastest train link starts in China
BEIJING, December 26 - China launched the world's fastest rail link with a high-speed train connecting the cities of Guangzhou and Wuhan at an average speed of 350 kilometers an hour,substantially cutting down the travel time. The super-high-speed train reduces the 1,069 KM journey linking Guangzhou, a business hub in southern China near Hong Kong, with Wuhan, a metropolis in central China, to a three hour ride and cuts the previous journey time by more than seven-and-a-half hours, Xinhua news agency said. Test runs for the rail link began earlier in December during which it recorded a maximum speed of 394.2 km per hour and the operations officially began today, said Xu Fangliang, general engineer in charge of designing the link, according to Xinhua. [>indianexpress.com; See more details, xinhuanet.com, December 26, "World's fastes rail journey starts operation."]
---
12.26.09 Clashes erupt in Tehran on Shi'ite holy day
TEHRAN (Reuters) December 26 - Baton-wielding riot police clashed with opposition backers in Tehran who used a Shi'ite religious festival to stage new anti-government demonstrations on Saturday, an opposition website and witnesses said. The reformist Jaras website also said security forces fired tear gas and warning shots to disperse protesters and also attacked a building housing an Iranian news agency, ISNA, where it said some demonstrators had sought shelter during the unrest. At least two people were injured as police chased after demonstrators into the downtown building, a witness said. In a sign the protests were spreading, another Tehran resident later said supporters of opposition leader Mirhossein Mousavi, chanting "Death to the dictator", clashed with police near a mosque in northern Tehran where reformist former president Mohammad Khatami had been due to speak. [More>>thestar.com.my; See other details,

thejakartapost.com (AP) "Report: Iranaian forces, demonstrators clash" : ...The Rah-e-Sabz site said forces, including the elite Revolutionary Guard and the paramilitary Basijis, used tear gas and pepper spray in an attempt to disperse demonstrators, and broke the windows of cars that were honking horns in protest. It said protests occurred in at least three areas: Imam Hossein Square, Pol-e-Choobi and Ferdowsi Square...
---
12.26.09 Six Palestinians shot dead in Israeli raids
December 26 - Six Palestinians have been killed during two Israeli military operations a day before the anniversary of the three-week war in Gaza. Israeli soldiers stormed into the West Bank town of Nablus and shot dead three suspected militants accused of gunning down a Jewish settler on Thursday. A military spokeswoman described the operation as a "pinpointed raid to capture the perpetrators of the shooting attack." One of the victims was a member of the al Aqsa Martyrs Brigades, a militant group of Palestinian President Mahmoud Abbas's Fatah movement, but had been granted amnesty by Israel. The two other men were Fatah party activists, according to a Palestinian security official. In a separate operation, three Palestinians were killed by an Israeli air strike in the Hamas-ruled Gaza Strip near the border. The Israeli military claimed the three were approaching the security fence to carry out an attack. [More>>news.sky.com]
---
12.26.09 'US drone' hits Pakistan home
December 26 - At least four people have been killed and several more injured in a suspected US drone attack on a house in Pakistan's northwest. Pakistani intelligence officials said the missile strike targeted a hideout of anti-government fighters in the Babar Raghazi area of North Waziristan on Saturday. But local security officials told Al Jazeera that those killed in the attack were all civilians. Unmanned drones are often the weapon of choice for the United States as it targets the Taliban and al-Qaeda fighters in remote, rugged areas along Pakistan's border with Afghanistan. But the US military has rarely confirmed the attacks.

The use of so-called Unmanned Aerial Vehicles (UAVs), which allow the military to operate in highly dangerous areas, is expected to grow in the coming years with the US defence department expected to buy 700 drones next year alone. But the long-distance, remote-controlled warfare that inflicts heavy civilian casualties has sparked public anger in Pakistan. The US government has called on Islamabad to step up its efforts against Taliban- and al-Qaeda-linked fighters who cross over into Afghanistan. The Pakistani army recently completed an offensive against the Taliban in South Waziristan, which borders North Waziristan. But Pakistani authorities say the military may soon pursue similar operations in other parts of the lawless tribal belt along the Afghan border. [>aljazeera.net; See other details,

khaleejtimes.com, December 26, "US drone strike kills vive in NW Pakistan: officials :MIRANSHAH - ...The missiles struck a house in Saidgi village of North Waziristan tribal district, which borders Afghanistan, officials said...the house belonged to a local tribesman named Asmatullah, who, he said, had links with Taliban militants.

thenews.com.pk, December 26, "US drone strike in N. Waziristan kills 4" : ...the US spy plane targeted a militants' hideout situated in Saidgai, killing four extremists and injuring two others...
---
12.26.09 Bomb in Iraqi pilgrims' tent kills 3, wounds 16
BAGHDAD (AP) December 26 - An Iraqi police official says a roadside bomb has killed three Shiite pilgrims in eastern Baghdad in the latest round of violence to strike worshippers during a revered Shiite observance. The official says Saturday's bomb was planted near a tent that offered drinks and food to pilgrims. He says 16 people were injured. The officials spoke on condition of anonymity because they were not authorized to release the information. Hundreds of thousands of Shiite pilgrims are making their way to the southern holy city of Karbala for Ashoura. The observance marks the anniversary of the death of the Prophet Muhammad's grandson, Imam Hussein. [>khaleejtimes.com]
---
12.26.09 19 injured in Karachi car blast
KARACHI, Pakistan, December 26 - At least 19 people have been wounded in a car blast at Khilafat Chowk in Paposh Nagar Karachi. SSP Javed Baloch confirmed that it was a car blast, which went off when a Muharram procession was passing through Paposh Nagar. The injured have been shifted to the Abbasi Shaheed Hospital for emergency care. Police and rangers reached the blast site where rescue services have kick started. MS Abbasi Shaheed Hospital said that 19 injured, including rangers personnel, women and children, have been brought to the facility. [>thenews.com.pk]
---
12.24.09 US debt ceiling raised to $12.4 trillion
WASHINGTON (AP) December 24 - Senate OKs Bill to Raise Debt Ceiling by $280B; Treasury Would Issue Bonds to Fund Government Operations. The Senate voted Thursday to raise the ceiling on the government debt to $12.4 trillion, a massive increase over the current limit and a political problem that President Barack Obama has promised to address next year. The Senate's rare Christmas Eve vote, 60-39, follows House passage last week and raises the debt ceiling by $290 billion. The vote split mainly down party lines, with Democrats voting to raise the limit and Republicans voting against doing so.

The bill permits the Treasury Department to issue enough bonds to fund the government's operations and programs until mid-February. The Senate will vote again on the issue Jan. 20. Obama must sign the measure into law to prevent a market-rattling, first-ever default on US obligations. The government piled up a record $1.4 trillion deficit in 2009 to counter a meltdown in financial markets and help bring the nation out of its worst recession in seven decades. [More>>cbsnews.com]
---
12.24.09 Health care bill passes Senate, faces new hurdles in 2010
December 24 - Senate Bill Approved by 60-39 Party Line Vote, Republicans Vow to Fight. The US Senate passed the $871 billion overhaul of America's health care system after 24 consecutive days of often-bitter debate and deep partisanship, but even as senators and President Obama hailed this as a historic vote, they will face major obstacles when they return to their desks in January. [More>>abcnews.go.com]
---
12.24.09 Iran jails leading reformer for six years
TEHRAN, December 24 - Jailed reformer held post under Khatami presidency. The former spokesman and secretary of the government of Iran during the presidency of reformist Muhammad Khatami was sentenced to six years in jail following his detention after the disputed election in June, Fars News Agency reported Thursday. Abdullah Ramezanzadeh, who backed opposition leader Mirhossein Mousavi in the vote, was sentenced by a Revolutionary court on charges including acting against national security and propaganda against the Islamic system, the semi-official news agency reported. Ramezanzadeh, who held his post during the 1997-2005 presidency of Mohammad Khatami, was among scores of senior pro-reform figures and activists detained after the poll on accusations of fomenting post-election unrest.

...Last month, Iranian media said reformist former vice president Mohammad Ali Abtahi was also sentenced to six years in jail. He was later released on bail of $700,000 pending an appeal of the sentence. Abtahi, one of dozens of leading moderates... detained ..Meanwhile, the United States accused Iran of increasingly behaving like a "police state" after Iranian security forces clashed anew with protesters. "Iran is increasingly showing itself to be a police state," US State Department spokesman Philip Crowley told reporters. [Full story>>alarabiya.net; See related story,

khaleejtimes.com, December 24, "Iran bans services for dissident cleric" : TEHRAN - Iranian authorities have banned memorial gatherings for a leading dissident cleric, with the exception of those in his birthplace and the holy city of Qom, opposition websites reported on Thursday. The reports on the Kaleme and Parlemannews websites came a day after they and other pro-reform websites said security forces had clashed with supporters of late Grand Ayatollah Hossein Ali Montazeri who were gathering for such a service in the city of Isfahan. Montazeri, a government critic who was born in the central town of Najafabad, died on Saturday in the holy Shi'ite Muslim city of Qom, where vast crowds attended his funeral procession on Monday, some chanting anti-government slogans.

The semi-official Fars news agency reported a reformist former government spokesman detained after Iran's disputed June election had been sentenced to six years in jail. It said Abdullah Ramezanzadeh, who backed opposition leader Mirhossein Mousavi in the vote, was sentenced by a court on charges including acting against national security, propaganda against the Islamic system and possessing classified documents... Thousands of people were arrested after the poll, which the opposition says was rigged in President Mahmoud Ahmadinejad's favour. Most of them have since been freed, but more than 80 have received jail sentences of up to 15 years in connection with protests and violence after the vote, the judiciary says...
---
12.24.09 Russia test fires ICBM missile
MOSCOW, December 24 - Russia successfully test fired a heavy missile capable of carrying 10 warheads on Thursday morning, a defence ministry spokesman said. "The Strategic Missile Forces launched an intercontinental ballistic missile RS-20V (Voyevoda) from a site in the Orenburg region (southern Urals)," Col. Vadim Koval said. Koval said the missile hit the targets on Kamchatka, Far East. He said the launch was designed to test the missile's performance with the aim of extending its service life to 25 years. Introduced almost 21 years ago, the missile will remain in service until 2019, the Strategic Missile Forces (SMF) commander said earlier this year. Col. Gen. Nikolai Solovtsov said Russia is developing a new ICBM comparable to the SS-18, and would gradually decommission older versions of the missile "in order to ensure nuclear safety".

The missile is armed with a warhead fitting 10 multiple independently targetable re-entry vehicles (MIRVs) with a yield of 550 to 750 kilotons each. It has a maximum range of 11,000 km with a launch mass of over 210 tons and a payload of 8.8 tons. According to publicly available information, Russia currently has 88 SS-18 missile silo launchers, most of them deployed at the Dombarovsky missile base in the Orenburg region. [>timesofindia.indiatimes.com]

---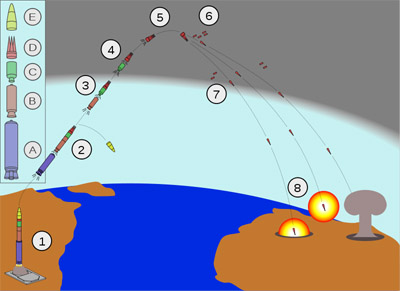 Example of a MIRV:
Minuteman III
MIRV launch sequence. The Peacekeeper MIRV bus (retired and no longer in service,
wikipedia.org)
on a minuteman could carry 8-10 warheads, each having a 300KT capability. For a description of the MIRV see
wikipedia.org
. A city struck by a 300kt weapon could be rendered uninhabitable for hundreds of years, as in the example of Chernobyl. The devastation caused by one 475kt bomb from a Trident MIRV is difficult to fathom. At about 36x the Hiroshima blast we could calculate an area of 158 sq. miles destroyed by each of the 8-10 bombs from one missile. While we may not know the capabilities of modern thermonuclear devices, we can be warned by the 15 megaton
Bravo blast of Bikini atoll
in 1954, the largest US nuclear test ever recorded.
Editorial note: "Compare the yield of 550-750 kilotons of each SS-18 bomb to the Hiroshima blast:"
(wikipedia.org) Hiroshima Blast: "...It created a blast equivalent to about 13 kilotons of TNT (54 TJ). (The U-235 weapon was considered very inefficient, with only 1.38% of its material fissioning.)[26] The radius of total destruction was about one mile (1.6 km), with resulting fires across 4.4 square miles (11 km2).[27] Americans estimated that 4.7 square miles (12 km2) of the city were destroyed. Japanese officials determined that 69% of Hiroshima's buildings were destroyed and another 6–7% damaged.[5] 70,000–80,000 people, or some 30%[28] of the population of Hiroshima were killed immediately, and another 70,000 injured.[29] Over 90% of the doctors and 93% of the nurses in Hiroshima were killed or injured — most had been in the downtown area which received the greatest damage.[30]..."

One may also compare these Russian cababilities to the firepower of one nuclear submarine, such as the US and British Trident submarine. The US Trident submarine, such as the USS Alabama, carries 24 × Trident II D-5 Ballistic Missiles:
(wikipedia.org,):"...carries SLBM's: with "...Warhead (in USA usage only): nuclear MIRV. Up to eight W88 (475 kt) warheads (Mark 5) or eight W76 (100 kt) warheads (Mark 4). The Trident II can carry 12 MIRV warheads but START I reduces this to 8 and SORT reduces this yet further to 4 or 5.).."


See also: article, Los Angeles Times, March 2, 2007, via commondreams.org, "US to develop new Hydrogen bomb" : ...The weapon is known as the reliable replacement warhead and is intended to replace aging warheads now deployed on missiles aboard Trident submarines...
The French navy:
(wikipedia.org): "...The M51 SLBM is the French Navy's future submarine launched ballistic missile, designed to replace the M45 SLBM (In French terminology the MSBS - Mer-Sol-Balistique-Stratégique "Sea-ground-Strategic ballistic"). Each missile carries six to ten independently targetable TN 75 thermonuclear warheads. The three-stage engine of the M51 is directly derived from the solid propellant boosters of Ariane 5. The missiles are a compromise over the M5 SLBM design, which is to have a range of 11,000 km (6,200 miles) and carry 10 TNO MIRV of the new generation (Tête Nucléaire Océanique, "Oceanic nuclear warhead"). The M51 will enter service in 2010...Warhead: M51.1 = 6 to 10 TN 75 MIRV using the 100 kt of TNT (420 TJ), with penetration aids. M51.2 (2015) = using the new Tête Nucléaire Océanique..."
The nuclear standoff between Iran and the West, regarding the development of nuclear weapons, tends to overlook the capabilities of the US, Russia, Britain and France, who have deployed ICBM MIRV missiles in land-based silos as well as nuclear submarines. Also, one tends to forget that the Hiroshima A-bomb was not a thermonuclear (Hydrogen) bomb whose devastation is marked by a larger fireball. The conversation on missiles with nuclear bomb capabilities should entertain the probable targets of the missiles held by Russia and the West, considering that each missile with MIRVs can take out 8-10 cities and more. Iran should calculate the number of missiles that would be directed against it if it were to deploy a nuclear-armed missile.

In the early 60's I had the responsibility of reviewing target reports on nuclear weapons (now obsolete). The targets were like those of a dartboard, with each band carrying a kill ratio, where the center of the target represented 100% kill; the next band ~80% kill, etc. Back then every weapon so targeted covered all of the major cities in the Soviet Union; so too, I assume, would the Soviet, British and French missiles be fit with targets. We can speculate that in these modern times the missiles still have targets, most of which we should anticipate to be areas possessing nuclear weapons capability.

A wise man might conclude, therefore, that the safest place to be in the event of a nuclear war would be in a country that would not likely be targeted, who do not possess nuclear weapons. A nuclear-armed Iran might entertain this scenario: A nuclear bomb explodes somewhere, setting off a retaliatory surge of nuclear missiles from those nations that possess them. British, French, US and Russian missiles rain down upon a nuclear-armed Iran in a first overkill volley, just to get them out of the picture...

No nation should want to be identified as holding nuclear weapons, one should think. Nuclear bombs carry the specter of making large areas of the planet totally uninhabitable. Consider the small nuclear melt-down at Chernobyl that now carries the prospect that the area will now be uninhabitable far longer than anticipated, for several hundered years. See Maravot News 12.20.09 article 12.20.09 Chernobyl Exclusion Zone radioactive longer than expected: "...the time for half the cesium to disappear from the local environment — is between 180 and 320 years..."

Peace
Mel Copeland
---
12.24.09 Scores killed in Iraq blasts
December 24 - Three bomb blasts in Iraq have killed more than 30 people and injured 75 others. Officials said that a double explosion struck near a bus station in Babil province on Thursday, killing 14 policemen and a provincial councillor. The first bomb, in a car, was said to have exploded at about 2pm (1100GMT) in Hilla, the provincial capital about 95km south of the capital Baghdad. Another blast came about 15 minutes later when police arrived. The authorities said that the attacks targeted Shia pilgrims who gathered near the bus station to mark Ashura, a commemoration of the death of the Prophet Muhammad's grandson, Hussein. In northeastern Shia area of Sadr City in Baghdad, a bomb planted near a funeral tent killed eight people and wounded another 33. [More>>aljazeera.net]
---
12.24.09 Yemen says kills 34 Qaeda members in airstrike
SANAA, December 24 - Two top al-Qaeda militants among the dead: official. Thirty-four suspected al-Qaeda members, and a Muslim preacher linked to a gunman who went on a shooting spree at a US army base, were killed in an air raid launched at dawn Thursday by the Yemeni army against a meeting place of the terror group in Shabwa province east of Sanaa, a security official said. "The raid was carried out as dozens of members of al-Qaeda were meeting in Wadi Rafadh," a remote mountainous region some 650 kilometers (400 miles) east of the Yemeni capital, said the official who asked not to be identified. The head of al-Qaeda in the Arabic Peninsula, Nasser al-Whaychi, was present at the meeting, the official said, adding that "members of the group including Saad al-Fathani and Mohammad Ahmed Saleh al-Oumir were among those killed."

Anwar al-Awlaki, a US-born cleric who had links to US army psychiatrist Nidal Malik Hasan, who killed 13 people at the Fort Hood army base in Texas on Nov. 5, was also believed to be among the dead. The source was unable to say what had happened to Whaychi, but he indicated that Oumir was the person who had recently made a public appearance at a meeting in Abyane threatening in a video to launch more attacks against government interests...Thursday's strike brings the Yemeni government's tally of al-Qaeda members killed over the last eight days to 68. More than 30 al-Qaeda members have been arrested since the Dec. 17 strike, the Yemeni defense ministry said. [Full story>>alarabiya.net]
---
12.24.09 Lethal bombing in Kandahar
December 24 - A suicide bomber on a horse and cart has detonated himself in the southern Afghan city of Kandahar, killing eight people and wounding five others, police have said. The blast on Thursday evening ripped through a guesthouse sometimes used by foreigners near the provincial health ministry directorate, according to Sazel Ahmad Shairzad, the  deputy provincial police chief. "Five of the dead were killed while sitting in a car nearby," Shairzad said, the other three dead were passers-by. The suicide bomber detonated explosives on his body and in his cart after being ordered to stop by police. [More>>aljazeera.net]
---
12.24.09 Suicide bombing kills five near security checkpoint in Pakistan
PESHAWAR, Pakistan, December 24 - A suicide bombing on Thursday killed five people near a security checkpoint in this restive city that has borne the brunt of Pakistan's rising Islamist insurgency, police and government officials said. It was the latest in a deadly string of attacks in Peshawar, a northwestern city near the Afghan border and a rugged tribal region where the military has been battling the Pakistani Taliban. Authorities said they were not sure of the target of Thursday's blast, which killed a police officer and civilians, but many recent attacks have targeted security forces in apparent retaliation for the military operation. [More>>washingtonpost.com]
---
12.24.09 Large number of suspects held in Dl Khan: ISPR report
WANA, Pakistan, December 24 - Security forces have arrested a large number of suspected persons near Gomal University in Dera Ismail Khan during ongoing Operation Rah-e-Nijat, the Inter-Services Public Relation said Thursday. According to the ISPR, security forces conducted [a] search operation in Lower Ponga area and cleared areas up to 50 kilometers. In addition, troops arrested two suspected people near Razmak and seized a cache of arms from their possession. The ISPR further said that 18 militants have been arrested from different parts of scenic Swat valley during Operation Rah-e-Nijat, while five militants have laid down their arms voluntarily, it said. [>thenews.com.pk]
---
12.23.09 AIG executives' promises to return bonuses have gone largely unfulfilled
December 23 - When word spread earlier this year that American International Group had paid more than $165 million in retention bonuses at the division that had precipitated the company's downfall, outrage erupted, with employees getting death threats and President Obama urging that every legal avenue be pursued to block the payments. New York Attorney General Andrew M. Cuomo threatened to publicize the recipients' names, prompting executives at AIG Financial Products to hastily agree to return about $45 million in bonuses by the end of the year. But as the final days of 2009 tick away, a majority of that money remains unpaid. Only about $19 million has been given back, according to a report by the special inspector general for the government's bailout program.

Some of the employees who had offered to return their bonuses have instead left the company, taking their cash with them. Others remain at Financial Products but are also holding on to their money until they see what Kenneth R. Feinberg, the Obama administration's "compensation czar," decides about whether they should get future bonus payments they have also been promised. Feinberg, AIG and government officials have been involved in ongoing negotiations over the status of past and future bonuses at the insurance giant. [More>>washingtonpost.com]
---
12.23.09 Clashes at Montazeri ceremony, Iran opposition says
December 23 - Iranian security forces have clashed with opposition supporters in the city of Isfahan, opposition websites say. Activists said police used tear gas and batons to disperse people gathering to commemorate Grand Ayatollah Hoseyn Ali Montazeri, who died at the weekend. Security forces reportedly surrounded the home of an ayatollah who organized the memorial service. On Monday, tens of thousands of mourners attended Montazeri's funeral in the holy city of Qom. Many of them shouted anti-government slogans...BBC Tehran correspondent Jon Leyne says the confrontations are all part of a build-up to a big series of demonstrations expected at the weekend. He says that Isfahan and Najafabad are known as quite religiously conservative cities, which shows the breadth of the opposition to the government. [Full story>>bbc.co.uk; See related Twitter postings:

♦IRGC comander: We will pursue those who are against us anywhere in the world: http://bit.ly/6W0AQ9 #Iran #iranElection
♦Religious scholar Masoud Adib arrested today in Isfahan: http://bit.ly/6LOmEC #Iran #IranElection
♦Clashes in Isfahan: http://bit.ly/8dpSZo & http://bit.ly/6T1NxU #Iran #iranElection
♦Forces surround Ayatollah Taheri's house, 50 arrested, basij clashed with ppl: http://bit.ly/53nQOt #Iran #IranElection
♦Hamed Roohinejad in Critical Condition at Section 350 of Evin Prison #Iranelection http://bit.ly/8E2tHm
♦Iran protests intensify, prompting state of emergncy in Isfahan-CSM http://bit.ly/5iHJKK #iran #iranelection - Christian Science Monitor: Iran security forces and opposition protesters stepped up clashes on Wednesday in the city of Isfahan, the birthplace of Iran's top dissident cleric, Grand Ayatollah Hossein Ali Montazeri. Montazeri's death this past weekend, and the rituals marking his passing, coincide with a new push by regime opponents during a 10-day religious commemoration.
The government has responded by harassing two reformist clerics who could replace Montazeri, as well as stripping the opposition's top political figure — Mir Hossein Mousavi — of his sole official post. In Isfahan, pro-regime basiji militiamen used batons, chains, and stones to beat mourners who gathered at the city's main mosque to remember Montazeri, the spiritual mentor of the Iranian opposition, whose websites reported the clashes.
"While people were reciting the Quran [in the mosque], plainclothed forces attacked them and threw tear gas into the mosque yard and sprayed those inside with pepper spray after they closed the doors," reported the reformist Parlemannews. "They severely beat the people inside," then doused the clerical speaker with pepper spray and arrested him.
"Tens of thousands gathered outside for the memorial but were savagely attacked by security forces and the basijis," witness Farid Salavati told the Associated Press. He said that dozens were injured as riot police and vigilantes clubbed and kicked men and women alike – some in the face – and arrested 50 people who had gathered to mourn the grand ayatollah...
♦Press freedom violations recounted in real time http://is.gd/5z3ZP #iranelection #humanrights #journalists
♦Ayatoolah Taheri's house was surrounded by sec fcs in Esfahan #iranelection #iran 23Dec
♦persia.org: faces of the killed and arrested
---
12.23.09 Abducted Columbian state governor Luis Francisco Cuellar found dead
BOGATA, Columbia (AP) December 23 - The governor of a southern Columbian state was found dead on Tuesday less than 24 hours after being abducted by leftist rebels, a top state security official and the victim's wife said. It was the first kidnapping of a major Columbian politician since 2002. (Watch Video) The body of Gov. Luis Francisco Cuellar of Caqueta state was found not far from Florencia, the state capital where the 69-year-old was kidnapped late Monday, security official Edilberto Ramon Endo said. Cuellar's wife, Himeldo Galindo, also confirmed the death, but was too distraught to offer details. Endo refused to say more pending news conferences by senior government officials.

Cuellar's death was confirmed hours after a dragnet of at least 2,000 police and soldiers spread into southern jungle highlands outside Florencia. The governor was abducted by eight to 10 men in military uniforms who arrived at his home late Monday in a pickup, killed a police guard and blasted open the door with explosives, Gen. Orlando Paez, operations chief for the national police, said. Two other police guards suffered shrapnel wounds that were not life-threatening. Cuellar was driven into the mountains that border Florencia, where the pickup was abandoned and found in flames, Paez said. [More>>timesofindia.indiatimes.com]
---
12.23.09 Bombs target Iraqi Christians, Shiites
BAGHDAD, Iraq (AP) December 23 - Bombs targeted Iraqi Christians and Shiite Muslims Wednesday, killing at least seven people and wounding about three dozen before coinciding religious observances that will take place under heavy guard. Insurgents have routinely targeted Shiites and Christians in an attempt to undermine the country's security gains and its Shiite-dominated government. Security forces in recent days have been concerned that the Shiite holy observances known as Ashoura and Christmas gatherings would be targeted by large-scale attacks. Ashoura marks the seventh-century death of the Prophet Muhammad's grandson Hussein.

In the first of Wednesday's attacks, a bomb targeted a historic church in the northern city of Mosul a day before Christmas Eve services, killing two people and wounding five. "Instead of performing Christmas Mass in this church, we will be busy removing rubble and debris," Hazim Ragheed, a priest at the church, said in a telephone interview with The Associated Press. The bomb was hidden under sacks of baking flour in a handcart left 15 yards (meters) from the Mar Toma Church, or the Church of St. Thomas, a police officer said. The officer said the two men killed were Muslims and that five other people were injured. A hospital official confirmed the casualties.

...The blast occurred in an area where streets have been closed to cars and trucks to protect Mosul's dwindling Christian population...Later Wednesday, a blast struck a group of Shiite pilgrims preparing for Ashoura in Baghdad. The bomb, hidden in a bag, killed four pilgrims and wounded 31 others in eastern Baghdad, a police officer said. Among the wounded were women and children, he said, speaking on condition of anonymity because he is not permitted to give information to reporters. A second blast struck Shiite worshippers gathering in central Baghdad. [Full story>>khaleejtimes.com]
---
12.23.09 Fighters 'sent to Afghan Taliban'
December 23 - A senior Pakistani Taliban commander has said he has sent thousands of fighters into neighboring Afghanistan to counter the rising level of US troops. Waliur Rehman's comments, made to the Associated Press, came in a report released on Wednesday. "Since [Barack] Obama [the US president] is also sending additional forces to Afghanistan, we sent thousands of our men there to fight NATO and American forces," Rehman said. Rehman is a deputy to Hakimullah Mehsud, the leader of the Pakistani Taliban, and the man in charge of the group's operations in South Waziristan. The Afghan Taliban told Al Jazeera.. they had no need for the help of Pakistani fighters and do not recognise their leadership.

The Pakistani army has been conducting a campaign against the Taliban in that region for several months and the offensive is believed to have pushed many of Taliban fighters in the area to flee...There are thought to be as many as 10,000 fighters in South Waziristan, including hundreds of Uzbek fighters...The Associated Press interview with Rehman was conducted at a mud-brick compound in the Shaktoi area of South Waziristan on Monday. The news agency also quoted Colonel Wayne Shanks, a US military spokesman in Afghanistan, as dismissing Rehman's comments as simply "rhetoric." "We have not noticed any significant movement of insurgents in the border area," he said. [Full story>>aljazeera.net; See related story,

thenews.com.pk, December 23, "5 suspects held, arms seized in DL Khan" : DERA ISMAIL KHAN - The police on Wednesday arrested five suspects from Dat bridge area of Dera Ismail Khan and seized arms from their possession. According to the police, the suspected persons have been arrested on a tip-off. The police claimed the suspects belong to South Waziristan. However, it said that investigations are under way to find out whether or not they have any direct connection with the militants.
---
12.22.09 Cleric's funeral breathes life into Iran's protest movement
December 22 - Clashes with security forces as huge crowds turn out to mourn religious leader who supported reform. The funeral of Grand Ayatollah Hossein Ali Montazeri, the eminent cleric and champion of reform, turned into a mass protest in Iran yesterday as the vast crowd chanted slogans against the government and clashed on the streets with security forces. The mourners, who reportedly numbered up to a million, had come out to observe a "national day of sorrow." They were on the streets of Qom at the urging of defeated presidential candidates Mirhossein Mousavi and Mehdi Karroubi, who lost to Mahmoud Ahmadinejad in highly contentious elections earlier this year. Despite the authorities' efforts to limit attendance, reformist website Jaras reported mourners beating their chests and shouting: "Innocent Montazeri, your path will be continued even if the dictator should rain bullets on our heads." Reuters reported that tear gas had been released and shots fired near the city's main shrine. The death of the 87-year-old Grand Ayatollah, who had become a trenchant critic of the ruling hardliners, has put the Iranian regime in a difficult position, caught between acknowledging his status as a patriarch of the 1979 Islamic Revolution and minimizing his more recent criticism of the current leadership. State-controlled television carried only brief reports on the funeral, leaving out his official title of Grand Ayatollah, and a number of liberal publications, including the newspaper Parlemannews, were banned from attending.

Meanwhile, the ministry of culture and islamic guidance instructed news outlets to stress Mr. Montazeri's discord with the late Grand Ayatollah Khomeini. Foreign news organizations were barred from visiting Qom. A number of political activists claimed they had been contacted by the secret service and warned against making the journey. Nevertheless, streams of people, including entire families, were reported to have flocked to attend from across the country and the main road from the capital Tehran to Qom was blocked for hours due to heavy traffic, with a large crowd gathering outside the Ayatollah's home, where his body lay in a glass coffin. A large contingent of riot police were deployed in adjoining roads which were blocked off. The protests still have the potential to swell as next Sunday — the seventh day of the traditional mourning period for the Grand Ayatollah — coincides with the ceremony to commemorate the martyrdom of Imam Hossein at Karbala,a highly emotive day in Shia Islam. [More>>independent.co.uk. The ceremony is known as the "Day of Ashura."; See related Twitter postings:

♦December 22 - Green will use all avenues,particularly in Moharam, a month of rebellion against oppression #iranelection
♦5000 PPL showed up to protest the hangings in Sirjan. Police were ordered to shoot people #iranelection
♦RZ: Iran Intelligence Minster "identifies" 80 dissident groups http://bit.ly/4BRsHY
♦The two prisoners were not executed & taken back to prison #iranelection
♦Sirjan riots: 3 were killed at the scene, 7 critically injured, 20 less serious injuries in hospital #iranelection
♦WORLD shld know 2day Iranians stood up 2 stop a public execution & regime killed & injured >30 of them! #IranElection
♦Regime's heresy of referring to Khamenei as IMAM is going to backfire in an unimaginable way #iranelection #sistani
♦Excellent explanation of Imams & how/why Supreme Leech isn't 1 http://en.wikipedia.org/wiki/Imamah_(Shi'a_doctrine) #IranElection
♦#IranElection Humor: Sl's official website photo after self promotion to Imam http://bit.ly/4O2GLV
♦Khamenei crowns himself the new Imam http://bit.ly/62vtrL /@dadashiii #IranElection
♦December 20 - Thus said #Montazeri: Even the prophet did not have absolute guardianship (Velayat) http://is.gd/5vLp1 #iranelection
♦Jane Kokan secretly films shocking evidence of torture & murder of students http://bit.ly/HXL2l #Iran #IranElection (Watch pbs.org "Frontline" Video)
♦December 18 - A khamenei representative calls for execution of green leaders: http://bit.ly/8SYIkW #Iran #IranElection

---
Editorial note: "Twitter postings protest Khamenei's abuse of power." The latest Twitter postings tend to be focusing on Khamenei's abuse of power through the Constitutional articles that invoke the "Valayat" and recent claims to be "The Imam," referring to the prophet Mohammed's successor. For a background on those powers see:

Maravot News 11.25.09A Editorial note "How Iran's persecutions relate to its Constitution." One of the problems with Iran's constitution is that it vests all power in the Supreme Leader who in effect speaks and decides for God and the nation on all issues...
...Article 5  [Office of Religious Leader]
During the occultation of the Wali al-'Asr **(may God hasten his reappearance), the leadership of the Ummah devolve upon the just and pious person, who is fully aware of the circumstances of his age, courageous, resourceful, and possessed of administrative ability, will assume the responsibilities of this office in accordance with Article 107.

The Velayat-e-Faqih is reflected in Iran's Constitution, "Principle 110." This principle essentially gives Khamenei the office of dictator:
Article 110  [Leadership Duties and Powers]
(1) Following are the duties and powers of the Leadership:
1. Delineation of the general policies of the Islamic Republic of Iran after consultation with the Nation's Exigency Council.
2. Supervision over the proper execution of the general policies of the system.
3. Issuing decrees for national referenda.
4. Assuming supreme command of the Armed Forces.
5. Declaration of war and peace and the mobilization of the Armed Forces.
6. Appointment, dismissal, and resignation of:
a. the religious men on the Guardian Council,
b. the supreme judicial authority of the country,
c. the head of the radio and television network of the Islamic Republic of Iran,
d. the chief of the joint staff,
e. the chief commander of the Islamic Revolution Guards Corps, and
f. the supreme commanders of the Armed Forces.
7. Resolving differences between the three wings of the Armed Forces and regulation of their relations.
8. Resolving the problems which cannot be solved by conventional methods, through the Nation's Exigency Council.
9. Signing the decree formalizing the election of the President of the Republic by the people.  The suitability of candidates for the Presidency of the Republic, with respect to the qualifications specified in the Constitution, must be confirmed before elections take place by the Guardian Council, and, in the case of the first term of a President, by the Leadership.
10. Dismissal of the President of the Republic, with due regard for the interests of the country, after the Supreme Court holds him guilty of the violation of his constitutional duties, or after a vote of the Islamic Consultative Assembly testifying to his incompetence on the basis of Article 89.
11. Pardoning or reducing the sentences of convicts, within the framework of Islamic criteria, on a recommendation from the Head of judicial power.
(2) The Leader may delegate part of his duties and powers to another person.
Khamenei seems to have taken upon himself The Wali al-'Asr who is also called the Mahdi. President Ahmadinejad has on several occasions stated that he believes that he lives in the time when the Iranian savior, the Mahdi, will reappear with Jesus. He has also been criticized by the clerics for claiming to speak to the Mahdi. Khamenei and Ahmadeinejad seem to project that they have a devine purpose and, as such, believing that Allah is directing them; they apparently feel justified in the persecutions and murders of Iranian peoples for which their regime has become notorious. The Khamenei regime point of view includes a perception that Iran will lead all nations (See Constitution) and their religious self-indulgent fervor makes them a greater danger to the world community at large if the regime develops nuclear weapons.

If recent Twitter postings reflect the general mood of the Iranian people — disgusted at the apostasy of Khamenei and his supporters — throwing the Khamenei clerics out in a revolution would seem to be inevitable.

Mel Copeland
---
12.22.09 White House warns Iran to take deadline over Nuclear Program seriously
December 22 - The White House on Tuesday warned Iran to take seriously a year-end deadline over its nuclear program, saying the international community is prepared to take the "next steps" if Iran does not accept a UN-drafted deal. The White House on Tuesday warned Iran to take seriously a year-end deadline over its nuclear program, saying the international community is prepared to take the "next steps" if Iran does not accept a UN-drafted deal.  White House Press Secretary Robert Gibbs called it a "very real deadline," after President Mahmoud Ahmadinejad on Tuesday dismissed the ultimatum, set by President Obama and international allies, for the country to agree to swap enriched uranium for nuclear fuel. 

"We don't care" about deadlines, Ahmadinejad said in a defiant speech to supporters in the southern city of Shiraz. "We are not afraid of sanctions against us and we are not intimidated," he said, addressing the West. He said Iran would be "brave enough" to tell the West if it were making a bomb, but gloated that his country is "10 times stronger than last year" and will not allow the United States to "dominate" the Middle East. [More>>foxnews.com]
---
12.22.09 Second British soldier dies from friendly fire in 48 hours
December 22 - British forces in Afghanistan have suffered two "friendly-fire" fatal shootings in 48 hours, both soldiers killed in the dark in the same area of Helmand province. A soldier from the 3rd Battalion The Rifles who had been caught up in a large-scale Taleban ambush in Sangin in northern Helmand, died during a fierce exchange of fire. Initial investigations showed he had been killed by rounds fired by another British soldier. A soldier, named today as Lance Corporal Michael Pritchard of the 4th Regiment Royal Military Police, also died from a blue-on-blue incident in Sangin on Sunday night. Special Investigations Branch officers from the Royal Military Police had already been inquiring into his death when they were told of the second fatal incident. The soldier from 3 Rifles died of his wounds today after the firefight on Monday night in the vicinity of Patrol Base Almas, near Sangin.

Friendly-fire incidents involving British soldiers have been relatively rare in Afghanistan which is partly accounted for by advances in night-vision equipment. However, two deaths from friendly fire in such a short period will be a blow to morale for the British units out in Helmand. There have been three other friendly-fire incidents in Helmand since 2006. A spokesman for the Ministry of Defence said: "Initial reports suggest that this death may have resulted from a friendly-fire incident. The incident is now subject to a Royal Military Police investigation but no firm conclusion will be reached until after the coroner's inquest. The MoD will not release any further information until the coroner's inquest concludes in due course." [More>>timesonline.co.uk]
---
12.22.09 Al-Qaeda leaders make Yemen speech
December 22 - Suspected al-Qaeda commanders have appeared at an anti-government rally in southern Yemen, held at the site of an air raid, reportedly backed by the US, that killed dozens of civilians. Al Jazeera broadcast footage of an unmasked man and his armed compatriot telling the crowd that al-Qaeda's fight was with the US rather than the Yemeni military. "We carry bombs for God's enemies," the man said at the rally, which took place on Monday. "Soldiers, you should know that we do not want to fight you. There is no problem between you and us. Our problem is with America and its allies. Beware taking the side of America." Yemen's government has been battling al-Qaeda in the country at the same time as dealing with a Shia uprising in the north and rising secessionist sentiment in the south.
'Collateral damage'
The rally took place in the southern Abyan province in an area that was bombed in an air raid last week. The government said at the time that the raid had foiled a planned series of suicide bombings by attacking targets that included an al-Qaeda training centre. But dozens of civilians, including children, are thought to have been killed in the bombing. Abbas al-Assal, a local human rights activist, said at the time that 64 people were killed, including 23 children and 17 women. Abdul-Ghani al-Iryani, a political analyst based in Yemen, said that the air raids meant civilian casualties were unavoidable, but that the government could take steps to lessen public anger. "Unfortunately collateral damage cannot be avoided in operations like this [as] al-Qaeda live with their families in their bases and training camps, so there's no way of avoiding it," he told Al Jazeera. [More>>aljazeera.net; See related stories,

alarabiya.net, December 22, "Saudi says 73 soldiers killed in Houthi clashes" : AL-KHOBA, Saudi Arabia - Seventy-three Saudi soldiers have been killed, 470 wounded and 26 are missing since fighting broke out in November between Saudi forces and Yemeni rebels, a Saudi minister said Tuesday. "The confrontation on the southern border" has resulted in "73 martyrs and 26 missing" soldiers, said Saudi Deputy Defense Minister Prince Khaled bin Sultan in comments broadcast on television from a media conference in Al-Khoba in the southern Jizan province. "We believe that 12 of (the missing soldiers) were killed, while we do not know about the fate of the other 14," Prince Khaled said. "The number of wounded has reached 470, the majority of whom have been treated and released, while 60 remain in hospitals," he added.

This is the first time Saudi Arabia has given a death toll for the fighting between Saudi forces and Yemeni Shiite rebels, also known as Houthis, which began more than a month and a half ago. On November 3, rebels killed a Saudi border guard and occupied two villages inside the kingdom's territory. Saudi jets began bombing Houthi positions the following day. Prince Khaled said that the bulk of operations were now over, but noted that a small border village called Al-Jabiriyah was still under Houthi control. "They have 24 hours to surrender, or we will destroy them," he said, referring to the rebels occupying the village...

khaleejtimes.com, December 21, "Weeks of fighting Yemen rebels killed 73 Saudis" : RIYADH, Saudi Arabia — Saudi Arabia said Tuesday that 73 Saudis have been killed and 26 have gone missing since the kingdom launched an offensive against Yemeni Shiite rebels along the border last month. The announcement was the first indication that the US ally had suffered such heavy losses in the remote area, where it is difficult to independently confirm details of the fighting. The rebels, known as Hawthis, have alleged dozens of civilian deaths in Saudi air assaults. Prince Khaled bin Sultan, the Saudi assistant defense minister, also said during a border tour that Yemeni rebels who seized the border village of al-Jabiri have 48 hours to vacate it or surrender. Saudi forces have tried to retake al-Jabiri, a tiny outpost surrounded by Yemeni territory on three sides...
---
12.22.09 Troops kill 11 militants in Orakzai, Swat
ORAKZAI, Pakistan, December 22 - Security forces backed by jet aircraft and artillery carried out bombings on militants' positions, killing seven extremists and injuring four others in Orakzai Agency on Tuesday. According to sources, security forces targeted militants' hideouts in Mamozai, Ghaljo, Dabori and Malazia areas in Upper Orakzai Agency. On the other hand, according to Swat Media Center, four militants were killed in an armed clash with security forces in border area of Buner. [>thenews.com.pk; See related story,

aljazeera.net, December 22, "Deaths in Peshawar press club blast" : Three people have been killed and several others injured after a suicide bomber attacked a club for journalists in Pakistan's northwestern city of Peshawar. The attacker blew himself up on Tuesday when stopped by police, an official said. "It was a suicide attack. The bomber wanted to get into the Press club and when our police guard stopped him he blew himself up," Liaqat Ali Khan, a city police chief, was quoted by the Reuters news agency as saying. The city's main Lady Reading Hospital said the victims included a policeman and a press club employee...
---
NOTES

*Visitor statistics on maravot.com from 1&1. com. 46,153 page views in May 2007; monthly visitors in 2008 range between 40,000-45,0000; in 2009 35,000-45,000.

Privacy Policy: We do not store any personal data from you. We have no way of knowing any vital information about you — not even your name. Third-party distribution: We do not distribute information about your site usage to any third party. We are not responsible for the content of links from our site. Usage data: supplied by our Web Hosting service, 1and1.com, which consists of usage reports, such as page views / impressions and web pages visited, visitors' servers and geographical data (ISP's and country of origin).



Maravot's Homepage




Launched: 10.25.04 / 11.02.04 – | — | ♦
Updated: 12.22.09; 12.23.09; 12.24.09; 12.26.09; 12.27.09; 12.28.09

Copyright © 1981-2009 Maravot. All rights reserved
Copyright© 1981-2009 Mel Copeland. All rights reserved
Background: tile from Cicero's villa (Marcus Tullius Cicero 106 B.C. - 43 B.C.)