News Headlines & Trends
---
01.21.12 Occupy S.F. protesters block banks


SAN FRANCISCO, CA, January 21 -
Hundreds of protesters clad in rain gear marched through downtown Friday evening
—
one of several events in a day of action organized by Occupy San Francisco and other allied groups on the second anniversary of the US Supreme Court's decision in Citizens United, which removed limits on how much money corporations could spend on political campaigns.
Multiple blocks of California Street and Montgomery Street were blocked for hours Friday by the demonstrations at two banks and the ensuing response by police in riot gear. In the city's financial district police arrested 18 people for trespassing, including a group that refused to move their human chain blocking an entrance to the headquarters of Wells Fargo. Another was arrested for allegedly grabbing a police officer's baton. A spokesman for Wells Fargo said that the bank is doing its part to help those facing financial hardships, and that in the past year less than 2 percent of homeowner-occupied loans in the bank's servicing portfolio have proceeded to foreclosure sale. On Friday afternoon more than 100 people gathered outside a federal courthouse to call for an amendment to the US Constitution to overturn the legal doctrine of corporate personhood.
[More>>cbsnews.com]
---
01.21.12 Protesters occupy building in city of London


January 21 -
Occupy London protesters say they have taken over a fifth site in the City
—
an abandoned office block in the Barbican area. Around 50 anti-capitalist demonstrators went into the nine-story building and have vowed to remain there until the City of London Corporation publishes full details of its City cash accounts. They also plan to open the block, which previously housed financial service companies, to the public. The Corporation does not publish the £50m-a-year accounts because some of the assets involved are commercially sensitive, it is understood. A private endowment, the accounts fund several places and events in the capital each year, including open spaces (£16m), food markets (£6m), City of London schools (£5m) and ceremonial events such as state visits (£5m). The protesters at Roman House are calling for the Corporation to "become a more transparent public body like every other public body in the country." On Monday, it is set to be be opened to the public for a lecture on the City's "secret finances and lobbying activities." Supporter Bryn Phillips, 28, said: "The Corporation has undermined our democracy through the power of its lobbyists and must submit to public scrutiny.
If the City agrees to publish its City cash accounts, future and historic, we will leave the building immediately. If does not, we will take appropriate action until such time as it does." [More>>news.sky.com]
---
01.21.12 Afghan Taliban say recruited soldier who killed French troops

(Reuters) January 21 - The Afghan Taliban said on Saturday they had recruited an Afghan soldier who shot dead four French soldiers in the country's east a day earlier, prompting France to threaten an early pullout from the NATO-led war. The claim of responsibility raises serious concerns about handing control of security over to the Afghan army and police, which NATO-led forces are currently in the process of doing before all foreign combat troops leave by the end of 2014. Using another name the Islamist group call themselves, Taliban spokesman Zabihullah Mujahid told Reuters by telephone: "The Islamic Emirate of Afghanistan has recruited people in important positions. Some of them have already accomplished their missions," he said adding that the four died on the spot. The killings in Kapisa province were the latest in a string of such attacks in which Afghan troops turn on their Western allies and mentors. While NATO has blamed Taliban infiltration in the past, it has also said stress, indiscipline and divided loyalties within the hastily traded ranks played a role.
[More>>alarabiya.net]
---
01.21.12 Islamists demand Sharia-based laws in Libya

CAIRO, Egypt (RIA Novosti) January 21 - Over 3,000 Libyans in Benghazi rallied on Saturday to demand that Sharia law be the main source of the country's legislation, Al Arabiya reported. "The protesters are calling for the Sharia law as the source to be clearly stated in the constitution, Ghaith al-Fakhri, a Libyan Islamist told the AFP. The Islamists gathered on the central square in Benghazi, a stronghold city of Libya's revolution, waved copies of the Koran and chanted Islamic slogans. Apart from Benghazi, hundreds of people staged a rally on the Tripoli's main Algeria Square in a protest against secular laws, Al Arabiya said. They burned copies of the "Green Book," a handbook on politics, economics and everyday life, written by the late Libyan leader, Muammar Gaddafi who was killed in October near his hometown of Sirte after being captured by then opposition forces. "We want to run our life according to Islamic principles, be it the economy, politics or our relations with other countries," Abdul Basit Ghuwaila, a preacher at a Tripoli mosque told Al Arabiya. "Most people think Islam is just about harsh penalties." The Islamists were opposed by a group of protesters who participate in a month-long sit-in for a secular state. "We all want Sharia, but not the one they're talking about, the one that rejects women," said Nour al-Zintani, a female participant of the sit-in. "We want a moderate Islam that gives women their rights."
[More>>en.rian.ru]
---
01.21.12 Egypt's Islamist parties win elections to parliament

January 21 - The final results in Egypt's first post-Mubarak parliamentary elections confirm an overwhelming victory for Islamist parties. The Muslim Brotherhood's Freedom and Justice Party (FJP) won the largest number of seats under Egypt's complex electoral system. The hardline Salafist Nour party came second. The liberal New Wafd and the secular Egyptian Bloc coalition are some way behind them.
Egyptians voted in three phases over a six-week period to elect the 498 members of the People's Assembly. Ten further members are appointed by the ruling military. Under the country's system, two-thirds of the seats are allocated to party list candidates, and the remaining third are voted for directly. The overall results mean that Islamist parties control around two-thirds of the seats in the assembly, though the final share out of seats is not yet known. [More>>bbc.co.uk]
---
01.21.12 Muslim fanatics who called for execution of gays face up to seven years in jail

J
anuary 21 - Muslim extremists who handed out leaflets calling for homosexuals to be hanged, stoned and burned to death were facing up to seven years in prison last night. The group handed out the material in the street as well as posting it through letterboxes in a hate-filled campaign calling for the execution of gay people who they claimed were at the root of society's problems. Ihjaz Ali, Kabir Ahmed and Razwan Javed are the first to be prosecuted under new laws against inciting hatred on the grounds of sexual orientation. Yesterday as they were found guilty at Derby Crown Court, residents spoke of how the three fundamentalists wanted to transform their small area of Derby into a "medieval state" under Sharia law. Anyone who dared to question their extreme agenda was branded an "M15 agent" or a "sell-out," they said. [More>>dailymail.co.uk]
---
01.21.12 At least 120 dead in blasts in Nigeria's Kano

January 21 -
Death toll continues to rise in northern city after a series of coordinated attacks targeting police and state offices

.
A series of bombings and attacks claimed by the radical Islamist group Boko Haram has left at least 120 dead and many more injured in northern Nigeria's largest city, witnesses and the Red Cross have said. "Many agencies are involved in the evacuation of corpses from the streets," a Nigerian Red Cross spokesman said on Saturday, under condition of anonymity because he was not authorized to speak publicly, following Friday night's attacks. "From our tally, we have 121 so far," he said. Other death tolls are higher. Maude Gwadabe, a journalist in Kano, told Al Jazeera by phone that he had seen at least 140 dead bodies. Gwadabe said the disparity was due to confusion in the aftermath of Friday's attacks and that victims had been taken to different hospitals, homes and treatment clinics. "At least 140 people died. The Red Cross and Nigerian emergency services have collected the victims and brought them to one hospital [Murtala Central Hospital], and indeed, hospital officials say 140 people were killed," Gwadabe said. In a statement released on Friday, Boko Haram claimed responsibility for the attacks and said the blasts were revenge for the recent arrests of its members in Kano. [More>>aljazeera.com]
---
01.21.12 Syria police truck ambush kills 14

BEIRUT, Lebanon (AP) January 21 -
At least 14 people were killed when multiple explosive devices struck a police truck transporting prisoners in a tense area of northwestern Syria on Saturday, the state-run news agency and an opposition group said. The state news agency SANA blamed the attack on 'terrorists' and said it occurred on the Idlib-Ariha highway, an area near the Turkish border that has witnessed intense fighting with army defectors recently. Four bombs that went off in 'two phases' hit the truck, and then attackers targeted an ambulance that arrived to assist the wounded, SANA reported. Six policemen who were accompanying the prisoners were also wounded, some of them in critical condition, it said. The British-based opposition activist group, the Syrian Observatory for Human Rights, confirmed the incident Saturday and put the toll at 11 dead prisoners.
Rami Abdul-Rahman, director of the group, said the truck was hit by several roadside bombs, but it was not clear who was behind the attack. [More>>khaleejtimes.com]
---
01.20.12 Key al-Qaeda member killed in US drone strike


January 20 -
A militant affiliated with al-Qaeda was killed in one of two US drone attacks in Pakistan last week, according to a US official,
Reuters
reported.
American and Pakistani sources told Reuters that Aslam Awan, a Pakistani national, was the target and that the strike took place on Jan. 10. Awan was reportedly killed in a compound near by Miranshah. Awan
—
who hailed from Abbottabad, where Osama bin Laden was killed in a covert US raid in May
—
was described as a major person in the remaining leadership of al-Qaeda. One source characterized Awan as a chief of external operations. [More>>cbsnews.com]

---
01.20.12 Monkey 'extinct for years' found in jungle

January 20 - A monkey thought to have been extinct for years has been "rediscovered" in the dense jungles of Indonesia. The large, grey species, called the Miller's grizzled langur was found in an area far from its previously recorded home range. The monkey has distinctive markings with its black face framed by a fluffy, Dracula-esque white collar. Scientists found the animal by setting up camera traps in the Wehea Forest on the eastern tip of Borneo in June. They were hoping to capture clouded leopards, orangutans and other wildlife known to congregate at mineral salt licks. But the footage that came back took them all by surprise when it showed monkeys they had never seen before. With virtually no photographs of the grizzled langurs in existence, it was a challenge to confirm their suspicions at first, said Brent Loken, a PhD student at Simon Fraser University in Canada, and one of the lead researchers. The only images they had access to were museum sketches.
[More>>news.sky.com]
---
01.20.12 France suspends Afghan mission after attack on troops

(AFP) January 20 -
France will temporarily suspend all training and combat operations in Afghanistan following a fatal attack on its troops, President Nicolas Sarkozy announced after four French soldiers died Friday in an attack by an Afghan army soldier
. President Nicolas Sarkozy warned Friday he may accelerate the French withdrawal from Afghanistan after an Afghan soldier shot dead four unarmed French troops during a sports session inside a base. Sarkozy suspended French military training and joint combat operations with Afghan troops, and sent Defence Minister Gerard Longuet to probe an attack in which at least 15 French soldiers were also wounded, eight seriously. The French role in the NATO-led mission in Afghanistan was already deeply unpopular at home and
—
less than 100 days before presidential elections
—
Sarkozy appeared to be preparing the ground for a rapid withdrawal. Sarkozy's Socialist opponent and
—
according to opinion polls
—
the most likely victor in the poll, Francois Hollande, said that if he is elected he would order the 3,600-strong contingent home by the end of the year.
[More>>france24.com; See related story,

guardian.co.uk, January 20, "NATO's Afghan alliance unhinged by growing mutual mistrust"

:
US military report reveals how issues such as arrogance and cleanliness are leading Afghan soldiers to shoot NATO trainers

. Mutual mistrust and contempt between local and foreign forces in Afghanistan
that often borders on hatred is one of the main reasons why Afghan troops increasingly turn their guns on their
NATO
comrades, a damning report has found. The research, commissioned by the
US military
, said American soldiers enrage their Afghan colleagues with what the report describes as extreme arrogance, bullying and "crude behavior." It also heavily criticized as "profoundly intellectually dishonest" the NATO claims that the killing of alliance troops by Afghan soldiers is extremely rare.

The data suggests incidents such as the killing on Friday of four French soldiers "reflect a rapidly growing systemic homicide threat (a magnitude of which may be unprecedented between 'allies' in modern military history)." It warned that the problem is now so serious that it is "provoking a crisis of confidence and trust among westerners training and working with Afghan National Security Forces" (ANSFs). According to behavioral scientist Jeffrey Bordin's report, the number of attacks have been growing, with 26 incidents of killings or attempted killings since early 2007. Those attacks led to the deaths of 58 foreign personnel. While some of these incidents involved Taliban infiltrators, Bordin believes many resulted from "deep-seated animosity, often stimulated by social and personal conflicts." Based on interviews with 613 Afghan security forces, the document paints an extremely bleak picture of mutual contempt and misunderstanding between the two sides...
---
01.20.12 Chief of Iran's Quds Force claims Iraq, south Lebanon under his control

January 20 - Commander of Iran's Quds Force, Brig. Gen. Qasem Soleimani has said that the Islamic Republic controls "one way or another" over Iraq and south Lebanon and that Tehran is capable of influencing the advent of Islamist governments in order to fight "arrogant" powers, ISNA student agency reported on Thursday. "The enemies are trying to besiege the Islamic Republic of Iran, but this symposium is an opportunity for thousands of youth who play an influential role in the Islamic awareness to travel Iran and shed sensitivities of Iran-phobia by observing the an Islamic government founded on religious principles in Iran," Gen. Soleimani, who reports directly to Supreme Leader Ali Khamenei, said. Speaking about Iran and Lebanon, Gen. Soleimani said: "These regions are one way or another subject to the control of the Islamic Republic of Iran and its ideas." Gen. Soleimani was speaking during a student symposium titled "The Youth and Islamic Awareness."
The Quds Force, established during the Iran-Iraq war, is in charge of external security operations aimed at exporting the Islamic Revolution.
In July 2012, UK's The Guardian reported that the head of Iran's Quds force had conveyed a message to US CIA director David Petraeus telling him that he was in charge of Iran's policy in the region.
[More.>alarabiya.net]
---
01.20.12 Atheist civil servant arrested for blasphemy

PADANG, Indonesia, January 20 - A 30 year-old civil servant in the Dharmasraya regency of West Sumatra, identified as Alexander, was arrested Friday for blasphemy after creating a Facebook fan page titled Ateis Minang (Minang Atheist), which was labeled 'liked' by some 1,238 Facebook users. Dharmasraya Police chief Adj. Sr. Comr. Chairul Azis said that the man was arrested because of his writings on the fan page and his direct statements saying that he did not believe in God. "He has triggered unrest among local residents," Chairul told
The Jakarta Post
on Friday. Alexander is facing a maximum sentence of five years in jail if proven guilty. On the fan page, Alexander, who acknowledges Islam as his religion on his identity card, says that he is an atheist of Minang descent from Padang, West Sumatra, which is a Muslim stronghold. Alexander also declared that he did not believe in angels, devils, heaven and hell, as well as other 'myths.' "He said he realized what he had said and was prepared to lose his job to defend his beliefs," Chairul said. A number of residents came to Alexander's office in Pulau Punjung, Dharmasraya, on Wednesday, and attacked him before he was taken to the Dharmasraya Police office. He is now in police custody.
[More>>thejakartapost.com]
---
01.20.12 Damascus rally urges Assad to crush 'terrorists'


DAMASCUS (Reuters) January 20 -
Dozens of demonstrators in Damascus chanted slogans in support of Syrian President Bashar al-Assad on Friday and some urged him to crush armed insurgents who have joined a 10-month-old uprising against his rule. "We are your men Bashar!" shouted some in the crowd of mostly young men. "Shabbiha forever, for your eyes Bashar," they said, using the popular term for militias that work alongside the government's security forces. The government says it is fighting foreign-backed militants who it says have killed 2,000 members of the security forces. The United Nations says more than 5,000 people have been killed since the revolt against 41 years of Assad family rule began in March...
Gathered outside the walls of Damascus's famous Omayyed mosque, Assad loyalists waved Syrian flags, as well as the yellow banner of the Lebanese guerrilla group Hezbollah, which is backed by Damascus and its staunch ally Tehran. [Full story>>khaleejtimes.com; See related story,

ajazeera.com, January 20, "Huge rallies staged across many Syrian cities"

:
Syria says it is open to extension of Arab League mission ahead of Sunday meeting of monitors and bloc's FMs in Cairo
.
Protesters have rallied against the government in huge numbers across many Syrian cities, in a day dubbed the "Friday for revolutionary detainees." The demonstrations comes as Arab League peace monitors are set to meet with the bloc's foreign ministers in Cairo on Sunday to decide their future course of action after the culmination of their one-month mission in the country. Syria said that the league's mission could be extended if both sides agree to it but acknowledged that at this point it is not up to Damascus to decide this. There were reports of scattered violence in areas following Friday's Muslim prayers. Security forces prevented worshipers attending the Omari mosque in the southern town of Deraa, cradle of a 10-month-old revolt against President Bashar al-Assad, activists said. The forces were out in full force as protests began in Aleppo, Latakia and Idlib, the British-based Syrian Observatory for Human Rights (SOHR) said. A security officer, who had defected, was assassinated in Deraa, the SOHR said. Activists say at least twelve people were killed on Friday, including seven in Idlib...
---
01.19.12 Jobless claims lowest since April 2008


January 19 -
Weekly unemployment claims fell to a seasonally adjusted 352,000 last week, the lowest level since April 2008, a sign that the country's job situation could be improving. Stephen Bronars, chief economist with Welch Consulting, called it a "good number," although weekly jobless claims are volatile this time of year because of post-holiday layoffs and the Martin Luther King Jr. holiday. The Department of Labor relies on reports from state agencies, and because many field offices were closed Monday, Thursday's report is an estimate. Until a few more weeks of data continue to signal improvement, "we should not overreact to one week of good news," Bronars said. "After years of downsizing and job losses, there were fewer layoffs in 2011 than any year in the past decade," he said. "So its actually surprising that jobless claims are as high as they have been."
[More>>abcnews.go.com]
---
01.19.12 Virus infections stop as Facebook names suspects

(Reuters) January 19 - One of the most common sources of computer intrusions has stopped infecting new machines after security researchers working with Facebook released the names of five suspected ringleaders. After more than two years of work, a pair of researchers on Tuesday published the names, aliases and photographs of a gang they accused of running a criminal enterprise known as Koobface that had primarily targeted Facebook after it cropped up in 2008. German security researchers Jan Droemer and Dirk Kollberg said that servers that ran the Koobface operation stopped responding on Tuesday morning after they released an in-depth report via Kollberg's employer, the UK anti-virus software maker Sophos. Some computers used to control Koobface had previously been disabled and it had not spread through Facebook connections since early last year.
But until the new disclosures, the Koobface gang had continued to target other social networks as a long-running FBI probe failed to result in arrests in Russia. Koobface spread primarily through captured social networking accounts that prompted friends to install software to view a video. Initially content with small-scale advertising fraud, the group had also begun to distribute more pernicious software, including the Zeus trojans for bank-account theft, according to another researcher collaborating with Facebook, Gary Warner of the University of Alabama-Birmingham. Kaspersky Lab, a large security software company, said its database showed that the Koobface virus had afflicted between 400,000 and 800,000 computers during its heyday in 2010.
"The thing that we are most excited about is that the botnet is down," said Facebook security official Ryan McGeehan. "Our decision to become transparent about this has had a 24-hour impact. Only time will tell if it's permanent but it was certainly effective." Droemer and Kollberg said that they had planned to hold off on publishing their data until law enforcement had captured the suspects. They released it earlier, with Facebook's blessing, after one of those suspects, who goes by the alias "Krotreal," was named last week by another researcher.
[More>>thestar.com.my]
---
01.19.12 Battle for control of Asia's seas goes underwater

YOKOSUKA, Japan (AP) January 19 - It's getting a bit more crowded under the sea in Asia, where Andrew Peterson commands one of the world's mightiest weapons: a $2 billion nuclear submarine with unrivaled stealth and missiles that can devastate targets hundreds of miles (kilometers) away. Super high-tech submarines like Cmdr. Peterson's USS Oklahoma City have long been the envy of navies all over the globe
—
and a key component of US military strategy. "We really have no peer," Peterson told the Associated Press during a recent port call in Japan. But America's submarine dominance in the Pacific is facing its biggest challenge since the Cold War. Nearly every Asian country with a coastline is fortifying its submarine fleet amid territorial disputes stirred up by an increasingly assertive China and the promise of bountiful natural resources.
Submarines are difficult to find and hard to destroy. Even fairly crude submarine forces can attack surface ships or other targets with a great deal of stealth, making them perfect for countries with limited resources. The threat of such an attack is a powerful deterrent in Asia, where coastal defenses are vital. "This is shaping up as an intense arms race," said Lyle Goldstein, an associate professor at the China Maritime Studies Institute of the US Naval War College. "This arms race is not simply China versus the rest
—
though that explains much of it
—
because there are other rivalries here as well." China is pouring money into enlarging and modernizing its fleet, and India is planning to get a nuclear-powered attack submarine
—
the INS Chakra
—
on a 10-year lease from Russia as early as this month. Australia is debating its most-expensive defense project ever
—
a submarine upgrade that could cost more than 36 billion dollars.
Japan is adding another eight to its 16-boat fleet. South Korea is selling them to Indonesia. Malaysia, Pakistan, the Philippines, Vietnam, Thailand, Singapore, Taiwan and even Bangladesh either now have or are planning to acquire subs. North Korea, which has a large fleet of mini-subs, allegedly put them to deadly use in 2010
—
killing 46 South Korean sailors in the worst clash since their war ended in 1953.
[More>>koreaherald.com]
---
01.19.12 Bomb attacks kill 19 in southern Afghanistan


KABUL, Afghanistan, January 19 -
Two attacks in southern Afghanistan have left at least 19 people dead over the past two days, Afghan officials reported. The attacks come at a critical moment in peace talks between the United States and the Taliban. Thursday morning, a suicide bomber killed six civilians near the entrance to a NATO airfield in Kandahar, according to Almai Ayoubi, a provincial spokesman. Two of the dead were children. The Taliban promptly asserted responsibility for the attack. On Wednesday, 13 people were killed and 20 wounded when a suicide bomber attacked a popular bazaar in the Kajaki district of Helmand province, according to Daud Ahmadi. An official said the attack targeted a joint patrol of Afghan and international troops. Gen. John R. Allen, commander of the US forces in Afghanistan, condemned the suicide bombings. "Mullah Omar has lost all control over Taliban insurgents," he said in a statement, referring to Mohammad Omar, the Taliban leader. "Otherwise he would immediately denounce these attacks and order his 'forces' to stop attacking innocent Afghan civilians."
[More>>washingtonpost.com; See also

thenews.com.pk, January 19, "Suicide attack kills six at Afghan airport: police"

:
...
The Taliban, the militia leading a 10-year insurgency against the Afghan government and tens of thousands of NATO troops, claimed responsibility. Spokesman Qari Yousuf Ahmadi said the target was "the bullet-proof vehicles of foreign forces."...

---
01.19.12 IDF exposes Syria-funded Islamic Jihad terror cell in West Bank

January 19 -
Israeli security forces arrest 10 militants near Jenin, who were allegedly planning attacks on IDF soldiers and received money from Islamic Jihad in Syria
. Israeli security forces have recently discovered an Islamic Jihad terror cell which was planning attacks against Israeli soldiers, the Israel Defense Forces said Thursday, after a gag order was lifted in the case. In a joint operation between the IDF and the Shin Bet, 10 Islamic Jihad militants were arrested near Jenin in recent months. According to the investigation, the military headquarters of the cell was communicating with the Islamic Jihad in Syria, who transferred the cell large sums of money to purchase weapons and to fund other operations. Moreover, the terror cell also had ties with Islamic Jihad in Gaza and with the non-governmental organization "Soul of Jerusalem," which is sponsored by the Islamic Jihad and is outlawed by Israel. According to the Shin Bet, the terror cell was planning attacks on IDF soldiers, shooting attacks in the settlements, and abducting Israelis.
[More>>haaretz.com]
---
01.18.12 'Pillars of Creation' reloaded


January 18 -
The Hubble Space Telescope's
"Pillars of Creation"
picture is arguably the best-known astronomical image of the 20th century, but can you spot the pillars in
the 21st-century version
? Those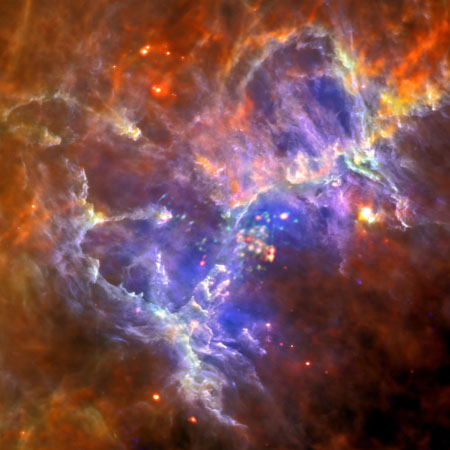 well-known towers of gas and dust are dwarfed by the full majesty of the Eagle Nebula in a view that's based on far-infrared observations from the European Space Agency's Herschel Space Observatory, plus X-ray readings from the XMM-Newton probe...The Eagle Nebula, 6,500 light-years away in the constellation Serpens, is one of the closest cradles of starbirth. Radiation from a young star cluster known as NGC 6611 is blasting away at the surrounding pillars of gas and dust
—
and sparking new star systems inside clumps known as evaporating gaseous globules, or EGGs. Hubble's visible-light image, captured in 1995, showed the pillars in detail. It also provided an iconic image of cosmic structure for ages to come. But it couldn't reveal exactly what was inside the EGGs' dusty sheaths. In 2001, a near-infrared image from the
ISAAC instrument
, at the European Southern Observatory's Very Large Telescope facility in Chile,
cut through the dust
and revealed some of the infant stars within their EGGs. Researchers determined that 11 of the 73 EGGs in the Hubble image clearly had stars associated with them. Only one of these stars had been previously been seen in the Hubble images, and another five EGGs were noted as possibly containing stars. [Full story>>msnbc.msn.com]
---
01.18.12 Missing cruise ship passengers are named

January 18 - The names of 26 passengers and crew still missing after the cruise ship disaster off Italy's coast have been released by authorities. Twelve people are confirmed to have died after the vast liner was holed on rocks near the island of Giglio off the Tuscan coast last Friday. The death toll almost doubled on Tuesday after
five more bodies were pulled from the stricken Costa Concordia.
Authorities have now released details of the people still missing. Some 12 Germans among the 23 passengers still missing are named as: Elisabeth Bauer, Horst Galle, Christina Mathi Ganz, Norbert Josef Ganz, Gabriele Grube, Egon Hoer, Margarethe Neth, Inge Schall, Siglinde Stumpf, Brunhild Werp, Josef Werp and Margrit Schroeter. Gertrud Goergens, a German passenger who was listed among the missing, has been located safe and well in Germany. Five of the missing are Italian and have been named as Dayana Arlotti, William M Arlotti, Maria Dintrono, Maria Grazia Trecarichi, and Luisa Antonia Virzi. Another four are French - Michael M Blemand, Jeanne Gannard, Pierre Gregoire, and Mylene Litzler - and the remaining two, Barbara Heil and Gerald Heil, are from the US. There are still three crew members who have not been found, who have been identified as Italian Girolamo Giuseppe, Russel Terence Rebello from India and Erika Fani Soriamolina of Peru.
[More>>news.sky.com]
---
01.18.12 Ethiopia terrorist attack leaves 5 tourists dead

ADDIS ABABA, Ethiopia (AP) January 18 - Gunmen in Ethiopia's arid north attacked a group of European tourists traveling in one of the world's lowest and hottest regions, killing five, wounding two and kidnapping two, an Ethiopian official said Wednesday. Ethiopia called the attack "an act of open terrorism" and said the gunmen came from neighboring Eritrea and attacked the tourist group before dawn on Tuesday. Three Ethiopians were also taken hostage. Eritrea denied it was involved. Austrian, Belgian, German, Hungarian and Italian nationals were among those in the tourist group, Ethiopian Communications Minister Bereket Simon said. Two Germans, two Hungarians and an Austrian were among the five killed, according to an Interpol report cited by the spokesman for Hungary's prime minister. Two Belgians were seriously hurt and two Italians escaped unharmed, the report said. Two Germans were kidnapped.
[More>>cbsnews.com]
---
01.18.12 Group blasts Gingrich for limiting hires to Muslims who renounce Shariah law

January 18 - The largest Muslim civil liberties group in the
United States
on Wednesday condemned
Newt Gingrich
for saying he would only hire Muslims to his administration if they renounced the use of Islam's Shariah law as a tool for US government. Calling Gingrich "one of the nation's worst promoters of anti-Muslim bigotry," the Council of American Islamic Relations suggested the Republican presidential candidate is a segregationist. "Newt Gingrich's vision of America segregates our citizens by faith. His outdated political ideas look backward to a time when Catholics and Jews were vilified and their faiths called a threat," said CAIR Legislative Director Corey Sayolor in a statement. "The time for bias in American politics has passed and Newt Gingrich looks like a relic of an ugly era," Sayolor said.
CAIR said the release was prompted by the candidate's remarks Tuesday in Columbia when, asked if he would ever endorse a Muslim running for president. "It would depend entirely on whether they would commit in public to give up Shariah," Gingrich said. "A truly modern person who happened to worship Allah would not be a threat, a person who belonged to any kind of belief in Shariah, any effort to impose it on the rest of us, would be a mortal threat," Gingrich told the crowd, adding that he's "totally opposed" to Shariah law being applied in American courts and favors a federal law that "preempts" its use. This month, the 10th Circuit Court of Appeals struck down an Oklahoma ban on the application of "Sharia law" and "international law" in courts.
[More>>foxnews.com]
---
01.18.12 Seven charged in US insider trading probe

(AFP) January 18 - US authorities announced charges against seven people Wednesday in a hedge fund insider trading sweep that netted financiers across the country. Four people were arrested and charged and three more have already entered guilty pleas and are cooperating with investigators, according to a criminal complaint filed by the chief federal New York prosecutor, US Attorney Preet Bharara. Companies in New York, Boston, Connecticut and California were targeted in the sweep. The seven
—
financial analysts and money managers
—
were charged with securities fraud and conspiracy. They allegedly made almost $62 million dollars in profits on trades made after illegally sharing non-public information about Dell computer giant in 2008-2009.
[More>>france24.com; See also washingtonpost..com, January 18, "Seven charged in insider trading probe."]
---
01.17.12 British Airways flight mistakenly tells passengers plane will crash


LONDON, January 17 -
Passengers flying over the Atlantic were terrified when it was announced twice that their plane could be about to crash. British Airways (BA) Flight 206 was at 35,000 feet (10,668 meters), halfway from Miami to London's
Heathrow
Airport, when the taped message was played by accident. Screams rang out as it was repeated straightaway. An Edinburgh man said, "It was about 3:00am. An alarm sounded, and we were told we were about to land in the sea. I thought we were going to die. My wife was crying, and passengers were screaming. Then they played an announcement telling us to just ignore the warnings." [More>>foxnews.com]
---
01.17.12 Costa Concordia: coast guard to captain: 'Get back on board the ship!'

January 17 -
The moment Captain Francesco Schettino, commander of the stricken Costa Concordia cruise ship, refused to return to his vessel was recorded in their radio exchange
. Mr. Schettino is in jail, accused of multiple manslaughter, causing a shipwreck and abandoning ship. He denies all wrongdoing and was questioned by magistrates on Tuesday. The audio recording, on Corriere della Sera's website, reflected the chaos and confusion in the minutes after the Costa Concordia, carrying more than 4,000 passengers and crew, hit a rock off the Tuscany coast on Friday night and keeled over. Eleven people were killed and 24 are still missing. The recording is full of background noises such as radio static, beeps and background noise of people and confusion. Some of the exchanges went as follows:
Coast guard to captain (who has already left the ship): "Hello. This is De Falco from Livorno, am I speaking with the captain?"
Captain to Coast Guard: "Yes, good evening Captain De Falco."

Coast Guard: "This is De Falco from Livorno, am I speaking with the captain? Please tell me your name."
Captain: "This is captain Schettino."
Coast Guard: "Schettino? Listen Schettino, there are people trapped on board. Now you need to go on your life boat, under the bow of the ship on the side. There is a ladder. You need to climb up the ladder and board the ship. Get on board and report to me how many people there are. Is that clear? I am recording this conversation, captain Schettino."
Captain: "Captain, let me tell you one thing..."
Coast Guard: "Speak up!"
Captain: "The ship, at this moment..."
Coast Guard: "Captain, speak up! Shield the microphone with your hand and speak louder, clear?"

Captain: "At this moment the ship is tilted."
Coast Guard: "I understand. Listen, there are people who are coming down the ladder on the bow. Go back in the opposite direction, get back on the ship, and tell me how many people there are and what they have on board. Clear? Tell me if there are children, women and what kind of help they need. And you tell me the number of each of these categories. Is that clear? Look, Schettino, perhaps you have saved yourself from the sea but I will make you look very bad. I will make you pay for this. Dammit!"
Captain: "Captain, please..."
Coast Guard: "There is no please about it. Go back on board. Assure me you are going back on board!" [More>>telegraph.co.uk; See related story: france24.com, January 17, "Five more bodies found in tragic cruise wreck."]

---
01.17.12 Israel says cyber war did not harm vital systems; Saudi hacker vows 'stronger' attacks
January 17 - None of Israel's vital online systems were compromised in the recent series of cyber-attacks on Israeli websites, Israel's Shin Bet sources told Ynet news website on Monday as the Saudi hacker vowed "stronger" attacks. The statements came after hackers disrupted online access to the Tel Aviv Stock Exchange, El Al Airlines and three banks on Monday in what the government described as a cyber-offensive against Israel. The attacks came just days after an unidentified hacker, proclaiming Palestinian sympathies, posted the details of thousands of Israeli credit card holders and other personal information on the Internet in a mass theft. Stock trading and El Al flights operated normally despite the disruption, which occurred as Israeli media reported that pro-Palestinian hackers had threatened at the weekend to shut down the TASE stock exchange and airline Web sites. The hackers, calling themselves 'Nightmare', have not been able to penetrate any of Israel's strategic infrastructure systems, such as the Water Authority, Israel Electric Co. and communication bodies, according to the Ynet report.
[More>>alarabiya.net]
---
01.17.12 Israeli hackers bring down Saudi, UAE stock exchange websites


January 17 -
In fresh round of cyber warfare, Israel hackers, who go by the name IDF-TEAM, retaliate against Saudi attack on Tel Aviv Stock Exchange, El Al websites
. Israeli hackers brought down the websites of both the Saudi Stock Exchange (Tadawul) and the Abu Dhabi Securities Exchange (ADX) Monday, in the latest episode of a continuing cyber war between hackers in the two countries. The Israeli hackers, who go by the name IDF-Team, were able to paralyze the Tadawul website, while causing significant delays to the ADX exchange site. The hackers wrote that the attack came in response to the "pathetic"
hacking
of Israeli sites on Monday. The hackers warned that if the attacks continue, they will "move to the next stage and paralyze websites for a period of two weeks to a month." Earlier Tuesday, a pro-Israel hacker published a list of 30,000 e-mail addresses and Facebook passwords of "helpless Arabs" on a popular hacking site. The hacker, who goes by Hannibal, wrote that his actions
—
which began Friday
—
are a "counter-attack" following the publication of Israeli credit card details on the Internet by a reportedly Saudi hacker.
[More>>haaretz.com]
---
01.17.12 PT KAI to use concrete balls to scare passengers off train roofs

JAKARTA, Indonesia, January 17 - In a heightened effort to ward passengers off riding on train roofs, state railway firm PT Kereta Api Indonesia (KAI) says it will install barricades in the form of hanging concrete balls that will knock off anyone sitting on top of an accelerating train. "We moved the equipment from its factory in Cipinang Muara at 9am We plan to have it installed by 11:15am," PT KAI operation area 1 order manager Akhmad Suyadi said on Tuesday, as quoted by
kompas.com
. The device, called the Goal Bola-bola (Goal Balls), consists of concrete balls that are hung on a goal-like frame installed at certain points on the railway. The balls, which will be hung to the height of the train, will serve as an obstruction against anything that happens to be on top of the train. The Goal Bola-bola is the railway firm's latest initiative after its previous move of carrying out raids on rooftop passengers proved ineffective. Akhmad said that the concrete balls would only be put up in the railway between Bekasi and Tambun, West Java. "We are unable to install them on the Bogor-Jakarta track because there are electricity cables on top [of the train]," he said.He said that the move was intended to provide safety and comfort to passengers and not to cause harm.
[>thejakartapost.com]
---
01.17.12 Chinese growth slows to near three-year low

January 17 -
Quarterly growth slips to 8.9 per cent but analysts predict "Soft landing" for world's second largest economy
. China has announced its slowest rate of quarterly growth in two-and-a-half years as efforts to tame high inflation and global turbulence affected the world's second largest economy. The government said on Tuesday that economy achieved 8.9 per cent growth in the fourth quarter of 2011, the slowest expansion since the second quarter of 2009, when the economy grew 7.9 percent. China's economy grew 9.2 per cent overall in 2011, down from 10.4 per cent in 2010, but analysts said the economy, which is heavily dependent on exports, appeared on track to avoid the "hard landing" of an abrupt slowdown despite reduced demand from the US and Europe. "It's slowing, even though it's not particularly aggressive. The economy seems to be surprisingly resilient so far," said Stephen Green, a researcher with for Standard Chartered Bank in Hong Kong. Output from the country's millions of factories and workshops rose 13.9 per cent for all of 2011, a slower pace than in 2010. Year-on-year growth has slowed for four straight quarters as Beijing, anxious about soaring costs, has restricted lending and pushed up interest rates. Nonetheless the growth beat a forecast of 8.6 per cent by analysts polled by Dow Jones Newswires.
[More>>aljazeera.com; See related story, xinhuanet.com, January 17, "China Voice: China slows, but still engine of world growth."]
---
01.16.12 New cyber attack hits Israeli stock exchange and airline


January 16 -
The websites of Israel's national airline, El Al, and the Tel Aviv stock exchange have been disrupted just hours after they were reportedly threatened by a Saudi computer hacker. Flights and trading on the stock exchange have not been affected. There has been a series of hacking attacks affecting Israeli businesses in the past two weeks. The most serious saw details of tens of thousands of Israeli credit cards posted online. A message was posted on the home page for the Tel Aviv stock exchange saying that the site has been taken down for "maintenance". It also came up as "too busy." It appears to have been overloaded with requests in what is known as a denial of service attack. "The website is working as normal. What the hacker did is he put a lot of traffic on the entrance to the website," says stock exchange spokeswoman, Orna Goren. [More>>bbc.co.uk]
---
01.16.12 Syrian legislator joins anti-Assad uprising


January 16 -
Imad Ghalioun, who left Syria for Cairo, says Homs, the city he represented, is "disaster stricken
." A member of Syria's parliament has left the country and says he is joining the opposition movement against President Bashar al-Assad, as the crackdown on anti-government protests continues. Imad Ghalioun, who represented the central city of Homs, told the Dubai-based
al-Arabiya
TV on Sunday night that the city is "disaster stricken" and has been subjected to sweeping human rights violations. Ghalioun said he was able to leave Syria before a travel ban was imposed on officials. He said there are many legislators who support the uprising but have not said so publicly. Homs has been one of the most volatile regions in Syria since the uprising against Assad began in March. The United Nations has said that more than 5,000 people have been killed since March, not including an estimated 400 people the organization thinks have been killed in the past three weeks, despite the presence of observers dispatched by the Arab League. On Monday, activists said Syrian security forces fired on a town that observers were visiting. The monitors were in Ariha, in Idlib province, as part of their mission to monitor an end to the violence. Despite their presence, activists reported the deaths of at least 21 people across the country on Monday.
[More>>aljazeera.com]
---
01.16.12 Brigadier general assassinated in Syria


DAMASCUS, Syria (Xinhua) January 16 -
A Syrian army officer was killed Monday by an armed terrorist group in the Damascus Countryside governorate, the official SANA news agency reported. Mohammed Abdul-Hamid al-Awwad, a brigadier general, was assassinated after gunmen opened fire on his car in the Gotta area on Monday morning, according to SANA. Al-Awwad was believed to be heading for his office at one of the military units in Gotta when the fatal shootings, which also wounded his driver, took place. Army and law-enforcement members, as well as policemen have been the targets of "terrorist" groups in Syria as the country enters the tenth month of the widespread unrest. On Thursday, at least eight law-enforcement members were killed in northern Idlib province after armed groups showered their bus by bullets in Khan Sheikhoun area. On Jan. 6, a suicide bomber blew himself up near a police station in al-Midan area in the capital city of Damascus, killing at least 25 people and wounded dozens, among them many were policemen who were changing shifts when the attack occurred. The Syrian government has said that the turmoil in Syria is plotted by terrorists and foreign-backed armed gangs, and that more than 2,000 army and security personnel were killed during the unrest. Meanwhile, the United Nations put the death toll in the country at more than 5,000.
[>xinhuanet.com]
---
01.16.12 India reports new TB strain resistant to all drugs

January 16 - Indian doctors have reported the country's first cases of "totally drug-resistant tuberculosis," a long-feared and virtually untreatable form of the killer lung disease. It's not the first time highly resistant cases like this have been seen. Since 2003, patients have been documented in Italy and Iran. It has mostly been limited to impoverished areas, and has not spread widely. But experts believe there could be many undocumented cases. No one expects the Indian TB strains to rapidly spread elsewhere. The airborne disease is mainly transmitted through close personal contact and isn't nearly as contagious as the flu. Indeed, most of the cases of this kind of TB were not from person-to-person infection but were mutations that occurred in poorly treated patients. What's more, there's a debate within the public health community about whether to even label TB infections as totally drug resistant. The World Health Organization hasn't accepted the term and still considers the cases to be what's now called extensively drug-resistant TB, or XDR. However, Dr. Paul Nunn, a coordinator at the WHO's Stop TB Department in Geneva, said there is ample proof that these virtually untreatable cases do exist. The Indian hospital that saw the initial cases tested a dozen medicines and none of them worked, a pretty comprehensive assessment. A TB expert at the US Centers for Disease Control and Prevention said they do appear to be totally resistant to available drugs.
[More>>koreaherald.com]
---
01.16.12 Car bombs targeting Shiites kill at least 11 in northern Iraq

BAGHDAD (AP) January 16 - Car bombs ripped through two Iraqi cities on Monday, killing at least 11 people, Iraq officials said, in the latest attacks targeting the country's Shiites a month after the US military withdrawal. Violence has surged across Iraq since the last American troops left the country. A string of bombings has left at least 150 people dead since the beginning of the year. Most of the attacks appear aimed at Iraq's Shiite majority, suggesting Sunni insurgents are seeking to undermine the Shiite-dominated government. Iraq is also facing a sectarian political crisis after the Shiite-dominated government charged Sunni Vice President Tareq al-Hashemi with running death squads, issuing an arrest warrant against him just as the last US soldiers crossed into neighboring Kuwait last month.
The first blast on Monday morning struck a Shiite district outside of Mosul, a predominantly Sunni city some 225 miles northwest of Baghdad, police and health officials at Mosul's Al-Jomhouri hospital said. Six people were wounded. Both officials spoke on condition of anonymity because they were not authorized to brief reporters. A few hours later, an explosives-laden car detonated inside an industrial zone of the predominantly Shiite town of Hillah, about 60 miles south of Baghdad , killing three people and wounding 15, according to a local police spokesman, Muthana Khalid. A member of the Mosul local council, Qusai Abbas, said the car bomb blew up near a group of houses where members of the Shabak minority have settled since being driven out of Mosul by Sunni militants during fierce sectarian fighting a few years ago.
The Shabaks are ethnic Turkomen and Shiite Muslims. Most of them live in villages east of Mosul, the provincial capital of the ethnically mixed Ninevah province that is predominantly Sunni Muslim. Mosul has been a hub for Al Qaeda in Iraq in past years. Other Sunni insurgent groups have battled Kurdish militias for control over the city, Iraq's third largest, killing thousands of civilians in suicide bombings and shootings.
[More>>foxnews.com]
---
01.14.12 N. Korea vows to make S. Korea pay 'dearest price' for hurting leaders'

January 14 - North Korea warned Saturday it will make South Korea "pay the dearest price" for hurting the dignity of its supreme leadership. North Korea accused South Korean media of spreading misinformation about the death of leader Kim Jong-il and his funeral, saying it can no longer tolerate what it called Seoul's smear campaign. The Daily NK, an Internet news outlet specializing in North Korean affairs, has reported that North Korea sent those who did not shed tears during the mourning period for Kim to labor camps for at least six months, citing an unidentified source in the North. The outlet also reported that the North has ordered its troops to kill those who try to defect during the mourning period and exterminate their family members. Tens of thousands of North Koreans wept and wailed in streets across Pyongyang during the televised funeral procession of their leader last month, but South Korean media reported tears could have been staged.

"The Lee group, hell-bent on slinging mud with collections of the world's worst invectives, deserves the severest punishment by justice and truth," the North's official Korean Central News Agency said in a commentary, referring to South Korean President Lee Myung-bak. The commentary also said North Koreans will "force the puppet group to pay the dearest price generation after generation for decrying their single-minded unity, while hurting even the dignity of the supreme leadership." The latest warning comes as North Korea is stepping up propaganda campaigns to ensure Kim's youngest son, Kim Jong-un, will consolidate power. [>koreaherald.com]
---
01.14.12 Violence against pilgrims continues in Iraq as suicide bomber kills 50 in Basra


January 14 -
A suicide bomber disguised as a policeman killed at least 50 people in an attack that targeted Shiite Muslim pilgrims passing through a checkpoint in Iraq's southern city of Basra on Saturday, police said.

"A terrorist wearing a police uniform and carrying fake police I.D. managed to reach a police checkpoint and blew himself up among police and pilgrims," said a police official at the scene of the bombing. Riyadh Abdulamir, head of the health department in Basra province, said 50 people were killed and 100 wounded in the 9:00am (0600 GMT) attack just west of Basra city. Women and children were among the casualties, he said, but did not give further details. The attacker, who had been distributing food to pilgrims walking to the Khutwa Imam Ali, a site on the outskirts of Basra venerated by believers for its associations with one of the key figures of their faith, blew himself up near a police checkpoint.
[More>>alarabiya.net]
---
01.14.12 Qatar's emir suggests sending troops to Syria

January 14 -
Sheikh Hamad says "some troops should go to stop killing" amid reports by activists of more deaths across the country

.
The emir of Qatar, Sheikh Hamad bin Khalifa Al Thani, has said Arab troops should be sent to Syria to end the political unrest in the country that the UN says has left more than 5.000 people dead. In an interview on Friday with US broadcaster CBS for the news program 60 Minutes, Sheikh Hamad was asked if he was in favor of Arab nations intervening, to which he replied: "For such a situation to stop the killing ... some troops should go to stop the killing." Sheikh Hamad is the first Arab leader to publicly suggest foreign intervention in Syria, where the uprising against President Bashar al-Assad is now in its tenth month. Speaking about his own influence on the uprisings in the Arab world, he said: "We are supporting the people of those countries ... [who are] asking for justice and dignity. If this [is] influence, I think this is a healthy influence. I think all the world should support this." Sheikh Hamad's remarks came as Syrian activists said that at least 26 people were killed across the country during
protests supporting the armed opposition
group, the Free Syrian Army, on Friday. Amateur video posted on YouTube by Ugarit News, an opposition news outlet, purported to show an armored personnel carrier engulfed in flames in the flashpoint city of Homs on Friday after allegedly being targeted by the group. [More>>aljazeera.com]
---
01.14.12 Iraq suicide bomb kills 50 in Basra pilgrims attack

January 14 - At least 50 people have been killed in a suicide bomb attack on Shia pilgrims in the southern Iraqi city of Basra, Iraqi police and security sources say.
The attack was aimed at pilgrims marking the festival of Arbain, one of the main holy days of the Shia calendar, reports say. Security had been tight amid fears of insurgent attacks during the festival. Scores of people have been killed in attacks on pilgrims in the last few weeks, reports say. Medical sources in Basra say they have also treated 91 people injured in the attack. The attacker targeted Muslim Shia pilgrims at a checkpoint they use on their way to a major Shia mosque in the Zubeir district, some 20km (12 miles) south-west of Basra. The area is frequented at this time of the Muslim calendar by Shia Muslims in southern Iraq who are unable to reach the shrines of the main holy city of Karbala further north, says the BBC's Nahed Abouzeid in Baghdad. "A terrorist wearing a police uniform and carrying fake police ID managed to reach a police checkpoint and blew himself up among police and pilgrims," a police official at the scene of the bombing is quoted as saying by Reuters news agency. Victims are said to include several policemen. [More>>bbc.co.uk]
---
01.14.12 Authorities question Italian captain of cruise ship that ran aground, killing 3


ROME, January 14 -
Italian authorities were questioning Saturday the captain of a cruise ship that ran aground, knocking the vessel on its side and killing at least three people, with dozens more missing, officials said. The Italian captain, Francesco Schettino, was being interviewed by investigators in Porto Santo Stefano on what happened when the 4,200-passenger Costa Concordia, owned by Genoa-based Costa Cruises, struck shallow water off Italy's western coast, said officer Emilio Del Santo of the Coastal Authorities of Livorno. Authorities are looking at why the ship didn't hail a mayday during the accident near the Italian island of Giglio on Friday night, officials said. "At the moment we can't exclude that the ship had some kind of technical problem, and for this reason moved towards the coast in order to save the passengers, the crew and the ship. But they didn't send a mayday.
The ship got in contact with us once the evacuation procedures were already ongoing," Del Santo said. "Fear and panic are comprehensible in a ship long over 300 meters with over 4000 passengers," Del Santo said. "We can confirm that the ship has a breach on the hull of about 90 meters, and that the right side of it is completely under water." The three persons dead were two French tourists and a crew member from Peru, Port authorities in Livorno said. Giuseppe Orsina, a spokesman with the local civil protection agency, said 43 to 51 persons were missing, though authorities are reviewing passenger lists to confirm the exact figure. "These people could be still on the island of Giglio, in private houses or in hospitals," Orsina said. The coast guard said 50 to 70 people could be missing.
[More>>cnn.com]
---
01.14.12 Four militants killed in D I Khan attack
DERA ISMAIL KHAN, Pakistan, January 14 -
Four militants were killed and a policeman was martyred when unidentified armed men attacked [the] office of District Police Officer (DPO) in district Kacheri of D I Khan on Saturday. Three civilians were also killed while seven policemen and two civilians also sustained injuries. Khyber Pakhtunkhwa Information Minister Iftikhar Hussain told media men that two suicide bombers were gunned down by the police while another one blew himself up. He said the militants entered the office through [the] main gate in the garb of police officials. The minister said DPO Khalid Sohail remained unhurt and was taken out of the office by security forces.
According to the sources, seven to eight attackers assaulted [the] DPO office with hand grenades and heavy firing. Residents of the area said that seven bomb explosions were heard.
[>thenews.com.pk]
---
01.14.12 UK Navy captures 13 suspected Somali pirates
LONDON (Reuters) January 14 - Britain's Royal Navy has captured 13 suspected Somali pirates after ships from a NATO-led counter-piracy force intercepted their boat in the Indian Ocean, the Navy said. A Royal Navy auxiliary ship, RFA Fort Victoria, and a US Navy destroyer, the USS Carney, were sent to investigate a suspected pirate dhow off the Somali coast on Friday, the Navy said in a statement. British Royal Marines using speedboats boarded the dhow after it ignored warnings to stop, and found 13 suspected Somali pirates and a 'selection of weapons' on board, the statement said. A spokeswoman for the Royal Navy in Bahrain, Lieutenant-Commander Heather Lane, said on Saturday that the suspected pirates were still on board their vessel, which she said was in a poor condition. "We are investigating the evidence on board. They will be transferred some time later in the day to RFA Fort Victoria," she said. She did not say where they would ultimately be taken. Pirates operating from the Somali coast have raked in hundreds of millions of dollars in ransoms from hijacking ships, and continue to pose a threat to shipping despite international efforts to stop them. Britain will host an international conference on Feb. 23 to try to agree on measures to tackle instability and piracy in the east African country. [>khaleejtimes.com]
---
01.13.12 Markets fall on rumors of S&P eurozone downgrage


(Reuters) January 13 -
European stocks fell and the euro dropped to a 16-month low against the dollar Friday on rumors that the Standard & Poor's ratings agency is planning to downgrade several eurozone nations, including France
.
The euro and world stocks dropped on Friday after news reports of possible credit downgrades of euro zone countries and a lackluster sale of Italian debt. US bond prices and the dollar rose as investors sought safe haven, a day after the euro hit its highest in a week on strong demand at auctions for Italian and Spanish government debt. A senior euro zone government source said credit rating agency Standard & Poor's is set to downgrade several euro zone countries, not including Germany.
French television channels, citing a government source, said Standard & Poor's downgraded France's credit rating. S&P declined to comment on the reports.
Underpinned by a flood of three-year loans to banks from the European Central Bank, Italy's three-year debt costs fell below 5 percent for the first time since September, spurring hopes it would be able to make it through a looming refinancing hump. But the tender raised less than half the 10 billion euros secured the previous day at far lower yields by Spain, the other major euro zone economy on the front line of the debt crisis.
[More>>france24.com]
---
01.13.12 US restores full ties to Myanmar after rapid reforms

WASHINGTON, January 13 - The United States restored full diplomatic relations with Myanmar on Friday, responding to the new civilian government's rapid campaign of political and economic changes that most recently included a cease-fire with ethnic Karen rebels and the release of prominent political prisoners. T
he announcement is the latest in a series of cautiously choreographed steps that have eased tensions between the United States and Myanmar and that could remake American diplomacy in Asia, where the Obama administration has sought to refocus its foreign policy.
President Obama, in
a statement
, welcomed the pardon and release on Friday of 651 prisoners, including prominent leaders of student protests against the country's military rulers in 1988, a signal uprising. It was the most significant release of political prisoners by the newly elected government, and Mr. Obama called it "a substantial step forward for democratic reform."
Hillary Rodham Clinton
, who in December became the first secretary of state to visit Myanmar since 1955, later announced that the United States would send an American ambassador back to the country for the first time in more than two decades. The administration is also considering a series of additional steps to reward the reforms already announced and to encourage more. The United States withdrew its ambassador from Myanmar following the elections of 1990, which Ms.
Aung San Suu Kyi
's party won, though the military government never recognized the results. It never severed relations fully, as with countries like Iran, Cuba or North Korea, but downgraded the diplomatic status of its embassy.
[More>>nytimes.com]
---
01.13.12 Student to face US trial over TVShack website


January 13 -
A student who created a website which helped people watch films and
TV shows for free today vowed to fight a court ruling which found he can be extradited to the US to face copyright infringement allegations. Sheffield Hallam University undergraduate Richard O'Dwyer, 23, allegedly earned thousands of pounds through advertising on the TVShack website before it was closed down by the US authorities. He faces jail if convicted of the allegations, which were brought following a crackdown by the US Immigration and Customs Enforcement agency. His lawyer Ben Cooper has argued that the site did not store copyright material itself and merely pointed users to other sites, in the same way that Google and Yahoo operate. Mr. Cooper also said his client would be the first British citizen to be extradited for such an offense and would effectively become a "guinea pig" for copyright law in the US...The US authorities allege that he had received more than 230,000 US dollars (around £147,000) in advertising revenue since January 2008, until the site was shut down in 2010. District Judge Purdy said in his ruling that when O'Dwyer was arrested by City of London Police in November 2010 he accepted earning approximately £15,000 per month from online advertisements.
[Full story>>independent.co.uk]

---
01.13.12 Iran embargo gathers support in Asia, Europe


TEHRAN, January 13 -
US allies in Asia and Europe voiced support for Washington's drive to cut Iran's oil exports, although fear of self-inflicted pain is curbing enthusiasm for an embargo that Tehran says will not halt its nuclear program.
The speaker of Iran's parliament, Ali Larijani, said on Thursday that the nuclear program was also too strong to be derailed by assassinations of nuclear scientists, a day after the fourth such killing.
As a newspaper close to the clerical establishment called for retaliatory assassinations of Israeli officials, a former UN inspector said a new, almost bomb-proof plant could provide Iran enough enriched uranium for an atom bomb in just a year.
Such timetables, while Iran denies all Western charges that it even wants nuclear weapons, have added to speculation that Israel and the United States could resort to a military attack on the Islamic Republic
—
something an aide to Russian leader Vladimir Putin said was growing more likely. After a motorcycle hitman blew up the 32-year-old engineer during the Tehran rush hour, many Iranians directed anger over the violence, and over painful economic sanctions, at the Western powers, which have hoped to turn popular sentiment against an increasingly divided ruling elite.
Supreme Leader Ayatollah Ali Khamenei said that those behind Wednesday's mystery killing would be punished. [More>>timesofindia.indiatimes.com]
---
01.13.12 Briton faces jail in UAE for insulting Islam

LONDON, January 13 -
A
British engineer
is facing jail in Abu Dhabi in the
United Arab Emirates
(UAE) for allegedly
insulting Islam
with an angry comment during a meeting, a media report said here.

The engineer
—
who has not been named
—
told colleagues: "When will we finish with the damn mosques?"

He has now told an appeals court that he did not mean to insult the religion, the Daily Mail reported.

The engineer works at the parks and recreation section of the Abu Dhabi municipality. He was in charge of a project to create gardens around a mosque, The National daily reported.

The Briton told the court he lost his temper at a meeting because the project was progressing slowly. He was reported to police by his colleagues for asking the offending question.

He told the judge he did not mean to insult the mosque and that he respected Islam as well as the
UAE
.

"I said it out of concern for the project because I wanted it to be ready as soon as possible," he said, following which the judge asked him: "So your keenness on completion drove you to curse?"

A decision on his appeal will be announced Feb 7.
[>timesofindia.indiatimes.com]
---
01.12.12 2011's foreclosure activity is the lowest since 2007, before the recession began


NEW YORK (AP) January 12 -
About 1.9 million homes entered the foreclosure process in 2011, the lowest level since 2007 when the recession began, according to a report Thursday by the foreclosure listing firm RealtyTrac Inc. The firm cautioned that the decline does not necessarily indicate that the housing market is getting better, as many foreclosures have been delayed due to confusion over documentation and legal issues involved in the process. There have also been problems with the way some lenders were handling foreclosures. Specifically, signing off on home foreclosures without first verifying documents
—
a practice referred to as "robo-signing." Many of the nation's largest banks reacted by temporarily ceasing all foreclosures, re-filing previously filed foreclosure cases and revisiting pending cases to prevent errors.

"Foreclosures were in full delay mode in 2011, resulting in a dramatic drop in foreclosure activity for the year." RealtyTrac CEO Brandon Moore said in a statement. The listing firm anticipates that 2012's foreclosure rate will be higher than last year's, but will remain below the peak of 2010. High unemployment, a sluggish housing market and falling home values remain major factors in homeowners falling behind on their mortgage payments. Many borrowers also have simply stopped paying their mortgage because they owe more on the mortgage than the home is worth.RealtyTrac said that 2011's foreclosure activity is 34 percent lower than 2010 and the lowest since 2007. [More>>washingtonpost.com]
---
01.12.12 Court upholds law banning Palestinian spouses from living in Israel

January 12 -
Ruling denounced as racist but one judge said: "Human rights are not a prescription for national suicide
." The supreme court has narrowly voted to uphold a law which bans thousands of Palestinians who are married to Israelis from living in
Israel
. The ruling was denounced as racist by human rights organizations. Following a five-year legal battle, the court ruled the Palestinians could pose a security threat. "Human rights are not a prescription for national suicide," wrote Asher Grunis, one of the judges in the 6-5 majority ruling. The law, which was introduced in 2003 as emergency legislation during the second intifada (Palestinian uprising), has prevented thousands from the West Bank and
Gaza
from living with their spouses who are generally Israeli Arabs. Many families are forced to move out of Israel, live apart, or live together illegally in Israel. Exemptions can be granted for Palestinian men over the age of 35, or women over 25. However, according to Adalah, a legal rights group representing Israeli-Arabs, only 33 out of 3,000 applications for exemptions were granted last year.
[More>>guardian.co.uk]
---
01.12.12 Turkey stops 'Freedom convoy' entering Syria


January 12 -
Police prevent 150 Syrian expatriate activists from crossing border to deliver aid to people affected by uprising
. Turkish police have stopped an aid convoy of Syrian expatriates from crossing into Syria to deliver blankets, medicine and food to people affected by the government's crackdown on protests. The "Freedom Convoy to Syria," including activists from Europe, North America and the Arab world, was stopped outside the town of Kilis, about 15km from the Oncupinar border crossing. The provincial governor offered to take a small group of activists to the border to see if they could pass. Up to 150 activists, brought together by a campaign on the social networking website Facebook, had left the southeastern city of Gaziantep in buses and cars earlier on Thursday. Speaking to Al Jazeera, Muhyedin Lazikani, a Syrian writer taking part in the convoy, said: "We come with food, medicine, blankets, to give to the people under siege in Syria. "We are ready to put our tents up and stay here as long as it takes." The UN estimates more than 5,000 people have been killed during a crackdown by the Syrian authorities on an uprising against the rule of President Bashar al-Assad. Syria says it is fighting foreign-backed "terrorists" and that 2,000 soldiers and police have been killed.
[More>>aljazeera.com]
---
01.12.12 Russian weapons ship arrives in Syria - paper


MOSCOW (RIA Novosti) January 12 -
A Russian-owned ship reportedly carrying weapons to Syria docked in Tartus on Thursday despite assurances it would change destination, Turkey's Hurriyet Daily News reported. "The Turkish navy has learned that the Russian ship MV Chariot docked at the Syrian port today," the paper said, citing Turkish Foreign Ministry official Selcuk Unal. Russia maintains a Soviet-era naval maintenance site near Tartus, which is the country's only military foothold on the Mediterranean. The cargo ship MV Chariot, flying the St. Vincent and Grenadines flag, was en route from St. Petersburg to the Syrian port of Latakia carrying from 35 to 60 tons of ammunition and explosives meant for the Syrian Defense Ministry. The Russian Foreign Ministry said the ship carried a "dangerous cargo," but did not elaborate. According to the documents, the cargo sender was the Russian state arms trader Rosoboronexport.
The ship's initial route lay in the waters of Turkey, not an EU member, so there was no violation of the relevant EU restrictions on Syria. The ship, however, was forced to dock for refueling at the Cypriot port of Limassol on Tuesday. Cypriot authorities boarded the ship for a document check. They also tried to examine the cargo, but could not open four containers it was stored in because of "confined space," the Greek Cypriot Foreign Ministry said in a statement. They, however, ruled that the ship carried "dangerous cargo." In about an hour, it was allowed to leave "after the ship decided to change its destination and not go to Syria," Cypriot government spokesman Stefanos Stefanou said.
[>en.rian.ru]
---
01.12.12 Suicide bomber kills district governor in Afghan south


KANDAHAR, Afghanistan (Reuters) January 12 -
A suicide car bomber killed a district governor, his two young sons and two bodyguards in Afghanistan's southern Kandahar province on Thursday, officials said, an area where NATO-led forces have claimed security improvements over the past year. The blast targeted the governor of Panjwai district, Sayed Fazluddin Agha, as he was traveling home from Kandahar city. He was on a road recently paved by Canadian forces, a route seen as important to undermining insurgent control of the area. Nine policemen and a civilian were also wounded, said Zalmai Ayobi, spokesman for the Kandahar governor. President Hamid Karzai, condemning the attack in a statement, said the district governor's sons were aged four and 16. "Such actions will not stop the people of Afghanistan from (seeking) peace and reconstruction," the statement added. The attack came a day after a teenage suicide bomber managed to slip through tight security into Kandahar's police headquarters in an attempt to assassinate the police chief. He blew himself up without killing anyone else. Both incidents raise serious concerns about security in an area that was the birthplace of the Taliban and saw fierce fighting during a surge of US troops over recent years.
[More>>thestar.com.my]
---
01.11.12 IRS tight budget is hurting taxpayers, watchdog says


January 11 -
The
Internal Revenue Service
's workload has intensified as Congress has cut its budget, resulting in slower refunds and service to taxpayers, an in-house watchdog said Wednesday. The tax agency is resorting to shortcuts, relying excessively on automation that either fails to identify fraudulent claims or flags taxpayers for making mistakes when they haven't,
National Taxpayer Advocate
Nina E. Olson concluded in her annual report to Congress. "The imbalance between [the agency's] workload and its resources is becoming unmanageable," Olson wrote in a 900-page report that takes on the consequences of budget cuts on the agency that collects most of the government's revenue. The IRS "cannot keep pace with its workload in a declining budget environment without seriously eroding the service that taxpayers deserve," she wrote. Among the hurdles created by the agency's more complex responsibilities is a worsening response time. At the end of fiscal 2011, nearly half of the taxpayers who corresponded with the IRS by mail waited more than
6 1/2 weeks for a response. [More>>washingtonpost.com]
---
01.11.12 Detroit unsure over the future of green cars

(AFP) January 11 - The US auto industry remains unsold over the future of "green cars" such as electrics and hybrids, as car makers struggle with the first steps in a market most agree shows promise over the long term. Automakers wheeled out a variety of new hybrids and plug-in electrics at the annual Detroit auto show this week, touting their great energy savings along with new, freshened designs. But despite that apparent commitment, behind the scenes, the manufacturers remain split between doubts and optimism over their potential. Ten years after the Toyota Prius hybrid swept into the market, only about three percent of all cars sold in the United States are electric or gas-electric hybrids, said David Cole, director of the Center for Automotive Research.
"Initially there was probably some excessive exuberance about the green auto," he told AFP. "But the economics are not attractive yet for the average consumer." Nissan has sold only 9,700 of its all-electric Leaf in the US market, and General Motors has sold just 8,000 of its rechargeable hybrid the Volt since its launch at the end of 2010, below the targeted 10,000. The Volt became the object of scrutiny in recent weeks after tests by US authorities saw batteries in three cars catch fire. Detroit's investment in hybrids and electrics have picked up pace in recent years under prodding and support by the government, said Cole.
[More>>france24.com]
---
01.11.12 French journalist killed, other reporters wounded in Syria rocket blast

January 11 - A Western journalist was killed and a number of other reporters were wounded on Wednesday when a rocket exploded in the Syrian city of Homs, according to witnesses on the scene. France 2 television confirmed the death of their French journalist, Gilles Jacquier, and the government has demanded a probe into killing of the TV reporter in Syria, according to AFP news agency. The journalists were in Homs, one of the major hot spots of the 10-month-old uprising against President Bashar al-Assad, on a visit organized by the authorities to cover news reports. Jacquier was among eight other people killed by the rocket attack and 25 others wounded. Rami Abdulrahman of the Syrian Observatory for Human Rights told Reuters the journalists were near the Akrama neighborhood of Homs. Activists in the city said the journalists were hit by grenades or rocket fire, he said.
Foreign Minister Alain Juppe called for a probe into the death of the French journalist. "We vigorously condemn this odious act," he said in a statement that also called for the circumstances of the death to be clarified and for Syrian authorities to protect foreign journalists. Separately, state news agency SANA said an army colonel and two soldiers were killed and two others wounded by a "terrorist group" as they were traveling to join their units outside Damascus. And another colonel was captured by an "armed terrorist group" as he headed to a military airport in Homs province.
[More>>alarabiya.net]
---
01.11.12 Iran nuclear scientist 'killed' by car bomb

January 11 -
State media reports that magnetic bomb placed on vehicle has killed uranium enrichment supervisor in Tehran
. A nuclear scientist who supervised a department at the Natanz uranium enrichment facility has been killed by a magnetic bomb placed on his car by two assailants in northern Tehran, Iranian media reported. The attack strongly resembles earlier killings of scientists working on the country's controversial nuclear program. The bomb explosion killed Mostafa Ahmadi Roshan, a chemistry expert and a director of the Natanz facility in central Iran, the semi-official Fars news agency reported. Vice President Mohammad Reza Rahimi said Israeli agents were behind the attack, but said they cannot "prevent progress'" in what Iran claims are peaceful nuclear efforts.
Safar Ali Baratloo, a senior security official, was also quoted by Fars as saying the attack was the work of Israelis. "The magnetic bomb is of the same types already used to assassinate our scientists," he said. Roshan, 32, was inside the Iranian-assembled Peugeot 405 with two others when the bomb exploded near Gol Nabi Street, Fars reported. Fars described the explosion as a "terrorist attack" targeting Roshan, a graduate of the prestigious Sharif University of Technology in Tehran. "The deputy governor of Tehran is blaming [the attack] on Israel, saying it wants to destabilize the country ahead of presidential elections in March," Al Jazeera's Dorsa Jabbari said.
[More>>aljazeera.net]
---
01.11.12 US aided Pakistan group which supported extremists


ISLAMABAD, Pakistan (AP) January 11 -
The US gave money to a Pakistani Muslim group that organized anti-Taliban rallies, but which later demonstrated in support of an extremist who killed a leading liberal politician, the US Embassy in Pakistan said Wednesday. The grant highlights the difficulties facing Washington as it seeks partners to support religious moderation in Pakistan. Last month, The Associated Press reported that the US Embassy had created a counter-extremism unit to perform that mission.
US government website Usaspending.gov shows that the group, the Sunni Ittehad Council, received $36,607 from Washington in 2009. A US diplomat said that the embassy had given money to the group to organize the rallies, but that it had since changed direction and leadership. He said it was a one-off grant, and wouldn't be repeated. He didn't give his name because he wasn't authorized to speak about the issue on the record.

The grant was first reported by the Council of Foreign Relations on its website. The Ittehad council was formed in 2009 to counter extremism. It groups politicians and clerics from Pakistan's traditionalist Barelvi Muslim movement, often referred to as theological moderates in the Pakistani context. The American money was used to organize nationwide rallies against militants and suicide bombings, the embassy official said. The demonstrations received widespread media coverage, and were some of the first against extremism in the country.
The rhetoric at the rallies was mostly focused on opposing militant attacks on shrines, which Barelvis frequent but are opposed by Deobandi Muslims, Pakistan's other main Muslim sect. Deobandis dominate the ranks of the Taliban and other extremists. Some view Barelvis as heretics.

In 2011 and also this month, however, the council led demonstrations in support of the killer of Salman Taseer, a governor who was killed a year ago for his criticism of anti-blasphemy laws used to persecute religious minorities. The displays have appalled Pakistani liberals and stoked international fears that the country is buckling under the weight of extremism. Taseer's assassin, Mumtaz Qadri, is a Barelvi. He claimed he acted to defend the honor of the prophet Mohammed, a cause that is especially dear to Barelvis. At its rallies, the group maintains its criticism of the Taliban even as it supports Qadri
—
a seemingly contradictory stance that suggests its leaders may be more interested in harnessing the political support and street power of Barelvis than in genuinely countering militancy. [More>>timesofindia.indiatimes.com]

---
01.11.12 'Bomb school' head on terrorism charges

January 11 - The head of an Indonesian Islamic school that was suspected of being a bomb factory went on trial on terrorism charges today. Prosecutor Bambang Suhardi told the Tangerang district court outside Jakarta that Abrory M Ali was charged with possessing explosives and inciting terrorism
—
offenses that carry the death penalty. Abrory was the principal of the Umar bin Khatab boarding school in West Nusa Tenggara province where an apparently accidental explosion in July killed a school employee, Suhardi said. The explosion followed an earlier fatal knife attack in June on a policeman by one of his students, he added. "A raid at the school after the explosion uncovered 27 homemade bombs which were believed to be targeted at police," Suhardi said.
Police and troops last year raided the school after a three-day stand-off with radical students and teachers armed with swords, machetes and sticks. "He (Abrory) had planned to recruit five students every month to become bombers," Suhardi added. Besides Abrory, six others
—
all students
—
went on trial for "activities which create an atmosphere of terror," a charge which also carries the death penalty. One of them, Syakban A Rahman, was charged with killing a police officer with a sword. Police said last year the school was linked to radical cleric Abu Bakar Bashir, who is serving a nine-year jail for funding a terrorist group that was planning attacks against Westerners and political leaders. Most of Indonesia's 200 million Muslims are moderates but the country has struggled to deal with a radical fringe of extremists who have carried out numerous attacks including the 2002 Bali bombings that killed 202 people.
[>news.com.au]
---
01.10.12 Bottom line - Companies that pay no federal income tax on the rise


January 10 -
(By Marisa Taylor)

An increasing number of US companies don't pay a dime in income taxes
to the federal government because of a special structure that passes profits along to investors who then pay the taxes, according to
a story in Tuesday's Wall Street Journal
. These companies are called pass-throughs, and rather than taking advantage of tax loopholes by hiring a brigade of accounts, they instead are structured to shuttle company profits along to investors, who subsequently pay taxes on their individual tax returns, according to the WSJ. The story said pass-throughs, which have been around for decades, are legal and have been encouraged by Congress and state governments, but have been broadened recently to spur entrepreneurship. The Wall Street Journal reported that 69 percent of US corporations were organized as nontaxable businesses in 2008, up from 24 percent in 1986, and that the percentage is actually higher when including partnerships and sole proprietors. Large companies are often structured as pass-throughs, with an estimated 60 percent of US businesses with profits of $1 million comprising this category, the largest such percentage in any developed country. The US corporate tax rate is 35 percent, but pass-throughs are a major reason why federal corporate tax collections made up only 1.3 percent of US GDP in 2010, down from 2.7 percent in 2006, according to the story. [>msnbc.msn.com]
blog comment:
And then the stockholders in these companies pay taxes on their income at the capital gains rate of 15% — and they argue that the capital gains rate shouldn't be raised because that income "has already been taxed once>" Why do we have the rich on welfare again?

---
01.10.12 Syria's Assad vows "iron fist," mocks Arab League


BEIRUT, Lebanon (Reuters) January 10 -
Syrian President Bashar al-Assad vowed on Tuesday to strike "terrorists" with an iron fist and derided Arab League efforts to halt violence in a 10-month-old revolt against his rule. The president's 100-minute speech, his first public address since June, contained some promises of reform, but no sweeping concessions that might placate an opposition now determined to end more than four decades of domination by the Assad family. Assad, 46, offered a referendum on a new constitution in March before a multi-party parliamentary election that has been much postponed. Under the present constitution, Assad's Baath party is designated as "the leader of the state and society." But the Syrian leader gave no sign that he was willing to relinquish the power he inherited on his father's death in 2000. "I am not someone who abandons responsibility," he declared. In the latest bloodshed, Syrian forces shot dead 10 people, most of them anti-Assad protesters, in the eastern city of Deir al-Zor, the opposition Syrian Observatory for Human Rights said. Gunfire from a checkpoint also killed a man in Homs, it added.
....
"The Arab League has failed for six decades to take a position in the Arab interest," he said. The League condemned an attack on Monday in which 11 of its monitors were hurt by demonstrators in the port city of Latakia, saying Syria had breached its obligation to protect them. The League said in a statement that the mission was attacked by pro-Assad demonstrators in Latakia and Deir el-Zor cities and by opposition protesters in other areas.
[Full story>>thestar.com.my]
---
01.10.12 Turkey stops Iranian trucks carrying arms to Syria, report says

January 10 -
Dogan news agency cites Turkish official as saying that vehicles detected at the Oncupinar border crossing into Syria following a tip police received by police
. Turkish customs officials intercepted four trucks on Tuesday suspected of carrying military equipment from Iran to Syria, a Turkish provincial governor said. The governor of Kilis province said the trucks were confiscated at the Oncupinar border crossing into Syria after police received information about their cargo, according to Dogan news agency. "The four trucks were confiscated by customs. They are alleged to be carrying military equipment," Governor Yusuf Odabas said. He said experts were being sent from Ankara to examine the cargo. Turkey imposed economic sanctions on President Bashar Assad's government in November, having earlier implemented an arms embargo in protest at Assad's violent crackdown on pro-democracy protesters who took to the streets in March. Turkey abandoned its past friendship with Assad to side with protesters, and has set up camps on its southeast border to host thousands of refugees who have fled the violence in their homeland. Syria has also been suspended from the Arab League, leaving Damascus with few friends outside of Tehran.
[More>>haaretz.com]
---
01.10.12 Pakistani fertilizer kills American troops in Afghanistan


January 10 -
For four years, American forces in Afghanistan have been throwing technology at the deadliest military challenge of this generation. As the Taliban buried more and more improvised explosive devices (IEDS), which kill more US troops than any other weapon, the military built multi-million dollar trucks that deflect the impact of an explosion. The Taliban built bigger, more effective bombs. The military built sophisticated equipment to jam cell phones that triggered the bombs. The Taliban started using detonation cords or pressure plates instead of wireless signals. Now, the US has decided to go to the source of the problem, and that has led the US out of Afghanistan
—
to Pakistan.
"We're not going to solve the IED problem inside Afghanistan," says a senior US military official who spoke on condition of anonymity. "If we don't go after the supply, we're playing defense." The supplier is not a bombmaker, but one of the largest companies in Pakistan. Pakarab is the nation's major producer of the fertilizer calcium ammonium nitrate
—
the raw ingredient for as many as 75 percent of the IEDs in Afghanistan, according to a US military official. The fertilizer is completely legal in Pakistan, where a quarter of the GDP, and half of the workforce, depends on agriculture. But CAN, as the fertilizer is commonly known, is illegal in Afghanistan, and enough of it is crossing the porous border between the two countries to help create some 16,000 bombs this year, a 200 percent increase since 2008. "We are capturing hundreds of thousands of pounds of CAN, much of it in original bags, with detonation cord, with plastic caps, with time fuses from Pakistan," says a senior US military intelligence official. "You get a complete system, including CAN, to make hundreds if not thousands of IEDs. There's no doubt it's all coming from Pakistan."
[More w/video>>abcnews.go.com]
---
01.10.12 Suicide bombers storm Afghan government building, kill 2

KABUL, Afghanistan, January 10 -
At least two policemen were killed and one was wounded on Tuesday when a group of suicide bombers stormed a government building in southeastern Afghanistan, the ministry of interior said. The group of four suicide bombers attacked the directorate of communication building in Sharana, the capital city of Paktika province, a statement said. [>thenews.com.pk]

---
01.10.12 Russia 'worried' over Iran's new nuclear plant

MOSCOW (AFP) January 10 -
Russia voiced its concern on Tuesday at the announcement that Iran had begun uranium enrichment at a new nuclear plant, a move that has triggered alarm in the West. "Moscow has with regret and worry received the news of the start of work on enriching uranium at the Iranian plant," the foreign ministry said in a statement published on its website. The International Atomic Energy Agency confirmed Monday that Iran had begun enriching uranium at the Fordo underground bunker southwest of Tehran, a move Western powers have branded a violation of UN Security Council resolutions. "We have to note that Iran continues to ignore the demands of the international community on removing the anxiety over its nuclear program," the Russian foreign ministry said. It called for all sides in the long-running dispute to "refrain from premature, hasty steps," that could prevent the revival of talks between Iran and the group of six world powers, including Russia.

Russia also urged Tehran it needed "close cooperation" with the IAEA and called for "the soonest possible start of talks on the Iranian nuclear program with the six without any preliminary conditions". Russia has relatively close ties with Iran and has built its first nuclear power station in the southern city of Bushehr. Moscow has also delivered the nuclear fuel for the reactor.
Moscow has echoed Western concerns about the nature of Iran's nuclear drive but has stopped short of publicly accusing Tehran of seeking atomic weapons and has always said that the standoff should be solved by diplomacy. [>khaleejtimes.com]
---
01.10.12 Terrorist sympathizers take over Athens radio station


January 10 -
Greek police arrested 20 people after they took over a radio station in Athens on Tuesday to broadcast messages of support for a domestic terrorist group
. The group took temporary control of a studio of Flash Radio and broadcast an hour of messages praising Revolutionary Struggle, an extremist group best known for firing a rocket-propelled grenade into the American embassy in Athens in 2007. They also called for "armed battle and revolution" against capitalism. They condemned the trial of eight suspected members of Revolutionary Struggle, including the group's alleged leader, who they said they were victims of a "capitalist justice system." Police arrested the group and said they would be charged with praising terrorism. "The youths did not resort to violence; we accepted their demand (to enter the station)," Argyris Kostakis, a radio journalist, told AFP.
Revolutionary Struggle has claimed responsibility for more than a dozen attacks against banks and government buildings since 2003, although no one has been killed. Tensions in
Greece
are high as the government of Lucas Papademos, the prime minister, tries to dig the country out of its massive debt and dismal growth. This year is expected to be the fifth in a row in which the economy will contract. Athens and Thessaloniki were shaken last year by violent protests, with angry unionists, pensioners and workers battling riot police amid tear gas and stun grenades.
[>telegraph.co.uk]

---
01.10.12 Dozens dead in Pakistan blast

January 10 -
Explosion near fuel station in northwestern tribal region kills at least 29 people, officials say
. A suspected bomb blast near a fuel station in the Jamrud area of Pakistan's northwestern Khyber tribal region has killed at least 29 people and wounded at least 44 others, regional government officials say. Media reports suggested the attack targeted the Zaka Khel tribe, which has aided the Pakistani government in fighting the armed opposition, and was a retaliation for the killing of a Taliban leader in a recent government raid. "It was a huge blast and caused damage to a number of vehicles at the bus terminal," Khan Zaman, a Khyber tribesman from the Jamrud bazaar, said on Tuesday. The Jamrud area is about 25km west of Peshawar, the capital of Khyber-Pakhtunkhwa province. The region serves as the main supply route for NATO forces in Afghanistan and is a stronghold of the Taliban in Pakistan, al-Qaeda-affiliated fighters, and other armed groups opposed to the government.
Al Jazeera's Kamal Hyder, reporting from the Pakistani capital Islamabad, said it was not yet clear who was behind the bombing. "We were told the explosives were packed in a vehicle that was parked in the busy bazaar area of Jamrud. After the explosion there were heavy casualties," he said. On January 6, the Pakistani Taliban beheaded
15 kidnapped paramilitary soldiers
. A spokesman for Tahrike-e-Taliban Pakistan said the move was in retaliation for Qari Kamran's death, who was killed in a raid by Paksitani forces, and promised further revenge. Pakistan has for years battled armed groups in the northwest and the tribal belt, with more than 3,000 soldiers killed in the battle against them. Pakistani authorities recovered on Monday the bodies of 10 soldiers in an exchange of bodies with Taliban fighters following a clash two weeks ago in the tribal belt. An official of the military's media wing said the 10 soldiers had been missing in Orakzai district since December 21 when fighters attacked a checkpoint.
[>aljazeera.com]
---
01.09.12 Syrian defectors 'buying weapons from army'


January 9 -
In exclusive footage obtained by Al Jazeera, Free Syrian Army say their former comrades are selling them arms

.
Al Jazeera has gained exclusive footage from inside Syria of the army defectors fighting to topple President Bashar al-Assad's government. The Free Syrian Army is claiming that a steadily increasing number of defected soldiers are joining its ranks.
The group is believed to number anywhere between 1,000 and 25,000 troops, divided over 22 battalions spread across the country. The soldiers say their former comrades are selling them weapons.
[More>>aljazeera.com]
---
01.09.12 Erdogan warns of 'civil war' in Syria as daily bloodshed continues

January 9 - Turkish Prime Minister Recep Tayyip Erdogan warned on Monday of a "civil war" in neighboring Syria, where forces loyal to President Bashar al-Assad's regime persist with deadly crackdown on opponents.

"The situation that has emerged there is right now heading towards a religious, sectarian and racial civil war. This must be stopped," Erdogan said at a televised press conference. "Turkey must play a leading role here. A civil war which could emerge would put us in difficulty... and pose a threat to us," he said. Turkey which shares a 910-kilometre (570 mile) border with Syria, has stepped up criticism of Assad's crackdown on opposition protests, which has claimed more than 5,000 lives since mid-March, according to UN estimates. Erdogan has previously openly called on his one-time ally Assad to step down. "Syria right now has an administration which mercilessly murders its own citizens. Nobody can expect us to applaud...authoritarian regimes," said Erdogan. [More>>alarabiya.net]
---
01.09.12 Syria protesters fired on as observers visit
BEIRUT, Lebanon (AP) January 9 - Syrian troops fired on protesters Monday in the restive city of Homs as Arab League observers toured the area to see whether President Bashar Assad's regime is abiding by its pledge to halt the 10-month-old crackdown on dissent, activists said. In the capital Damascus, thousands held prayers for those killed since the uprising began in March. Christian and Muslim religious leawidth: 0px; background-color: rgb(254, 254, 254); display: inline !important; float: none; "> In the capital Damascus, thousands held prayers for those killed since the uprising began in March. Christian and Muslim religious leaders attended the service, and throngs packed the city's Holy Cross church, its yards and a nearby street. "Enough killings in our beloved Syria," the country's top Sunni clergyman, Grand Mufti Ahmad Badreddine Hassoun, told the crowd at the prayer service. His son was shot dead in October. The 165 foreign monitors are supposed to be ensuring that Syria complies with the Arab League plan stipulating the regime stop killing protesters, remove heavy weaponry, such as tanks, from all cities, free all political prisoners and allow in human rights organizations and foreign journalists. Syria agreed to the plan on Dec. 19. However, the crackdown has not stopped and opposition activists say around 450 people have killed by the regime since observers began work on Dec. 21. On Monday, the British-based Syrian Observatory for Human Rights said security forces shot dead four people around the country and returned the bodies of 10 other people to their families in several Homs neighborhoods.
[More>>cbsnews.com]
---
01.09.12

Suspected Islamic extremist arrested in alleged Florida bomb plot



January 9 - A 25-year-old man described as an Islamic extremist was arrested in an alleged plot to attack crowded areas in the Tampa, Fla., area with a car bomb, assault rifle and other explosives, authorities said Monday. The US
Department of Justice
said Sami Osmakac, a naturalized US citizen who was born in the former Yugoslavia, was arrested Saturday night.
Osmakac, from Pinellas County, allegedly told an undercover agent that "We all have to die, so why not die the Islamic way?" according to a federal complaint. FBI agents arrested Osmakac on Saturday after he allegedly bought explosive devices and firearms from an undercover agent. The firearms and explosives were rendered inoperable by law enforcement. The federal complaint says that shortly before his arrest,

Osmakac made a video of himself explaining his motives for carrying out the planned violent attack. He has been charged with one count of attempted use of a weapon of mass destruction. His first appearance in federal court is scheduled for Monday at 2pm ET. Sources close to the investigation told Fox News that Osmakac was being "closely monitored by law enforcement" for months in what authorities have described as a "sting operation."
Federal officials said a confidential source told them in Sept. 2011 that Osmakac wanted al-Qaeda flags. Two months later, the federal complaint said, Osmakac and the confidential source "discussed and identified potential targets in Tampa" that Osmakac wanted to attack. Osmakac allegedly asked the source for help getting the firearms and explosives for the attacks, and the source put him in touch with an undercover FBI employee. On Dec. 21, Osmakac met with the undercover agent and allegedly told the agent that he wanted to buy an AK-47-style machine gun, Uzi submachine guns, high capacity magazines, grenades and explosive belt. During a later meeting, Osmakac gave the agent a $500 down payment for the items.
[More>>foxnews.com]
---
01.09.12 Pope Benedict XVI appeals for end to discrimination against Christians

January 9 -
Pontiff uses Vatican reception for diplomats to highlight attacks on Christians, citing recent killings in Nigeria and Pakistan.
Pope Benedict XVI
has made a fervent appeal for religious tolerance and an end to discrimination against Christians, two weeks after the lethal Christmas Day bombing of a church in
Nigeria
. He told an annual reception for diplomats in the
Vatican
on Monday: "In many countries, Christians are deprived of fundamental rights and sidelined from public life; in other countries they endure violent attacks against their churches and their homes." In an apparent reference to the exodus of Catholics from Muslim countries in the Middle East, Benedict said: "At times [Christians] are forced to leave the countries they have helped to build because of persistent tensions and policies which frequently relegate them to being second-class spectators of national life."

At least 15 people were killed on 25 December when a bomb exploded outside a church in Madala, a satellite town of the Nigerian capital, Abuja. An Islamist sect that aims to impose sharia law claimed responsibility for the attack. The Boko Haram group was also blamed for two other blasts in the north. Benedict singled out the Christmas bloodshed for special mention, along with the assassination last March of Shahbaz Bhatti,
Pakistan's
only Christian cabinet minister. The pope said Bhatti, a Roman Catholic, had waged "an untiring battle for the rights of minorities." Repeating an appeal he made last year at an inter-religious meeting at Assisi in central Italy, Benedict said religious leaders needed to make clear "firmly and forcefully" that religiously motivated terrorism was "not the true nature of
religion
. It is the antithesis of religion and contributes to its destruction." [More>>guardian.co.uk]
---
01.09.12 Egyptian Coptic billionaire, Naguib Sawiris, to face trial for contempt of religion
January 9 - Egyptian billionaire and telecom mogul Naguib Sawiris will face trial on charges of contempt of religion after tweeting a caricature of Mickey Mouse and Minnie Mouse in Islamic garb, a lawyer who filed a legal complaint against him said Monday. "This is the first fair decision of the prosecution to send Naguib Sawiris to trial, and there are two other cases on which Sawiris has not been sent to trial yet," lawyer Mamduh Ismail, a member of the ultra-conservative al-Gamaa al-Islamiya group, told Al Arabiya. "The decision to send Sawiris to court affirms that we have begun the implementation of the rule of law and the achievement of justice in the true sense of the word and that no one is above the law anymore," Ismail added.


"
The chief prosecutor summoned Sawiris to hear his explanation about the charges he faces ─ defamation of religion ─ and after that a decision was issued to refer the case to court." The court will hear the case against the billionaire Coptic Christian who founded the liberal Free Egyptians party on Jan. 14, Ismail said.
Sawiris sparked a firestorm of criticism after tweeting a cartoon of Mickey Mouse with a beard and Minnie Mouse in a face veil in June 2011, joking that the cartoon characters would be forced to dress conservatively if Islamists took power. He apologized for the caricature after Islamists called for a boycott of his cell phone service provider Mobinil. [More>>alarabiya.net]
---
01.09.12 Iran enriching uranium at Fordo plant near Qom

January 9 - Iran has begun uranium enrichment at a heavily fortified site near the holy city of Qom, the UN has confirmed. The International Atomic Energy Agency (IAEA) - the UN's nuclear watchdog - said the process had begun at the underground Fordo plant. Iran says it plans to carry out medium-level uranium enrichment - which, say analysts, is an important step towards making it weapons-grade. Tehran insists its nuclear program is for peaceful energy purposes. The existence of Fordo in the north of the country only came to light after it was identified by Western intelligence agencies in September 2009. Tehran said it began the project in 2007, but the IAEA believes design work started there in 2006. BBC Iran correspondent James Reynolds says the facility has attracted plenty of attention and suspicion. It is underground, heavily-fortified and protected by the armed forces - making it a very difficult target for air strikes. The US and Israel have refused to rule out attacks on Iranian facilities. On Monday IAEA spokesperson Gill Tudor said in a statement that the agency could "confirm that Iran has started the production of uranium enriched up to 20%."
[More>>bbc.co.uk]
---
01.09.12 Afghan soldier kills NATO colleague: security sources


KABUL, Afghanistan (AFP) January 9 -
An Afghan soldier shot dead a NATO colleague and was himself killed when a dispute ended in a shoot-out on Sunday, an Afghan security source and the NATO force said. "At an ISAF base near the governor's office at Zabul (in the south), six ISAF soldiers and three ANA (Afghan National Army) soldiers had a dispute which ended in an exchange of fire," a source of NATO's Afghan security force told AFP. "An ANA soldier killed a soldier from ISAF. He himself was killed when ISAF opened fire on him," the source added. Others soldiers were wounded in the shoot-out. An ISAF statement said: "An International Security Assistance Force service member was killed today in southern Afghanistan, apparently by a member of the Afghan National Army." This is the latest in a string of deadly clashes between ISAF and Afghan soldiers.

On December 24, an Afghan soldier was killed in a gunfight with US troops in southwest Farah province after he opened fire during an argument, Afghan army and police officials said. Five days later, a man dressed in Afghan army fatigues shot dead two members of France's Foreign Legion serving with ISAF. On this occasion, the Taliban claimed responsibility, saying the soldier had joined the army in order to carry out his attack in Kapisa province, in the volatile east of the country.
NATO-led ISAF soldiers are in the process of handing over security to local forces before the scheduled withdrawal of all international combat troops by the end of 2014. Coalition troops often carry out joint operations with Afghan army and police against the Taliban-led insurgency. For the first time in eight years, the number of Western soldiers killed in Afghanistan dropped in 2011. It still remains high at 566 killed, but is down from the 2010 toll of 711. [>thenews.com.pk]
---
01.09.12 Many deaths in series of Iraq attacks


January 9 -
Shia Muslim worshippers en route to Karbala primarily targeted, as violence continues to wrack war-torn country

.
A series of attacks across Iraq have killed at least 19 people and left more than 60 wounded. Monday's attacks include bombings targeting Shia Muslim worshippers en route to a shrine in the city of Karbala, south of Baghdad. The worshippers were en route to the city from the Iraqi capital to take part in the Arbaeen rituals later this week. At least seven people were killed when a car parked near a market exploded in the northern al-Shaab district of Baghdad. Three police officers were among those killed, authorities said. Another car bomb exploded inside the parking lot of a Shia mosque in the al-Mowasalat district of south Baghdad, killing five and injuring at least 32 others.
In Owairij, a town just south of Baghdad, a roadside bomb targeting devotees walking in the direction of Karbala killed one and wounded another nine, according to defence and ministry officials. On the outskirts of the central city of Hilla, a car bomb wounded 15 Afghan pilgrims, three of them seriously, police and medics said. The festival of Arbaeen later this month marks 40 days after the Ashoura anniversary commemorating the killing of Imam Hussein, one of Shiite Islam's most revered figures, by the armies of the Caliph Yazid in 680 AD. [More>>aljazeera.com]
---
01.09.12 Dinosaur footprints discovered in Beijing


BEIJING (Xinhua) January 9 -
Paleontologists say several hundred fossilized footprints in a Beijing suburb are those of dinosaurs. The footprints, unearthed in a geological park in Yanqing county, are the first dinosaur traces the city has found, according to Zhang Jianping, researcher at the China University of Geosciences. They were left by dinosaurs that lived some 140 to 150 million years ago in the late Jurassic period, said Zhang. A group of scientists from Zhang's university first discovered the footprints in July 2011 in the Guihuamu Geological Park, which is known for its concentration of petrified ancient woods. In one spot where most of the footprints are concentrated, the paleontologists counted several hundred footprints as well as seven to eight lines formed by consecutive steps. Thyreophoras, theropods, ornithopods, and probably sauropods are believed to have left the footprints. The discovery will benefit the study of China's dinosaur categories at late Jurassic and early Cretaceous periods, Zhang said. "It's the first time China has found thyreophora, ornithopod, and sauropod footprints of that period, which provides us with more knowledge on how such species spread across China," said Zhang. [>xinhuanet.com

]
---
01.07.12 Kenyan air strikes kill at least 60, wound 50 al-Shebab insurgents in Somalia


January 7 -
Kenyan fighter jets killed at least 60 Islamist al-Shebab insurgents in southern Somalia in the latest air strike on insurgent positions, officials said on Saturday. "Provisional casualties are that al-Shebab lost 60 or more fighters, and more than 50 were injured," Kenyan army spokesman Colonel Cyrus Oguna told reporters. On Thursday, the African Union asked the United Nations to authorize an increase of its peacekeeping force in war-torn Somalia by 5,700 to 17,700 amid mounting attacks by Islamist rebels. [More>>alarabiya.net]
---
01.07.12 Scores more soldiers defect from Syrian army

January 7 -
Colonel and 50 of his men say they have taken on new mission to keep protesters in Hama safe during demonstrations
. A senior military officer in the Syrian city of Hama has defected along with up to 50 of his soldiers,
in protest against the government's ten-month crackdown on peaceful demonstrations that has claimed thousands of lives across the country.
Colonel Afeef Mahmoud Suleiman, who is from the air force logistics division, announced his defection live on Al Jazeera's Arabic news channel on Saturday. Suleiman said he and his men had taken on a new mission to keep protesters in Hama safe during demonstrations.

"We are from the army and we have defected because the government is killing civilian protesters. The Syrian army attacked Hama with heavy weapons, air raids and heavy fire from tanks," Suleiman said. "We ask the Arab League observers to come visit areas affected by air raids and attacks so you can see the damage with your own eyes. "And we ask you to send someone to uncover the three cemeteries in Hama filled with more than 460 corpses."

...Meanwhile, activists in Syria say that at least 32 people were killed by government security forces following protests on Friday. On the same day, Syrian authorities said an
explosion
ripped through a busy intersection in the capital, hitting a police bus and killing at least 26 people. The incident, in which state television showed pools of blood in the streets, marked the second deadly attack in the capital in as many weeks. Opposition groups have accused the government of staging the bombings and have called for an independent investigation into the blast in the central al-Maidan neighborhood. In response to the explosion, the Syrian government vowed to strike back with an "iron fist" against what it called "terrorists." [Full story>>aljazeera.com]

---
01.07.12 Britain sends new warship to Gulf amid Iran tensions


LONDON (AFP) January 7 -
Britain's newest warship is heading to the Gulf for its first mission at a time of tensions over Iran's threat to close the strategic Strait of Hormuz, a key transport route for oil.
The Royal Navy's Type 45 destroyer HMS Daring, which has a 'stealth' design to help avoid detection by radar, is to join other British ships in the region, the Ministry of Defense confirmed Saturday.
Although its deployment has been planned for more than a year, it comes as Britain and its allies have expressed deep concern about Iran's threat to close the shipping lane through which 20 percent of the world's oil flows.
Iran has threatened to take the move if it is hit with fresh sanctions over its disputed nuclear program. [More>>khaleejtimes.com]
---
01.07.12 Iran welcomes US rescue of sailors

TEHRAN (AP) January 7 - Iran's government on Saturday welcomed the US Navy's rescue of 13 Iranian fishermen held by pirates, calling it a positive humanitarian gesture. US officials announced Friday that the fishermen had been rescued by a US Navy destroyer on Thursday, more than 40 days after their boat was commandeered by suspected Somali pirates in the northern Arabian Sea. The rescue came just days after Tehran warned the US to keep the same group of warships out of the Persian Gulf in a reflection of Iran's fear that American warships could try to enforce an embargo against Iranian oil exports. "The rescue of Iranian sailors by American forces is considered a humanitarian gesture and we welcome this behavior," Foreign Ministry spokesman Ramin Mehmanparast was quoted as saying by state TV's Al-Alam Arabic channel. Iran's hard-line Fars news agency had a different take, calling the rescue operation a Hollywood dramatization of a routine event.
[More>>cbsnews.com]
---
01.07.12 More casualties reported in ongoing attacks on Nigerian churches

MOSCOW (RIA Novosti) January 7 - At least eight people were shot dead by unknown assailants on Friday night in a Christian church in the northeastern Nigerian state of Adamawa, international media reported. A group of militants burst into a church in the city of Yola and opened gunfire on worshipers during a Friday service killing at least eight Christians. The assault is the latest in a string of attacks targeting Nigerian churches, which have raised fears of sectarian conflict in Africa's most populous nation. On Thursday night, six people were killed and 10 more wounded also during a service in a church in the northeastern city of Gombe. Radical Islamic sect Boko Haram claimed responsibility for the attack on Thursday. The group has been seeking to impose Sharia law across Nigeria with its predominantly Christian south and largely Muslim north.
[More>>en.rian.ru]

---
01.07.12 Thais at risk as birdflu breaks out in Vietnam


January 7 -
The situation in Thailand is being closely monitored after a report confirmed an H5N1 outbreak in Vietnam and the subsequent culling of 2,500 chicken in a province near Mekong delta, the Thai Public Health Ministry said Friday. Thailand is now facing two risks: a seasonal migration of birds and cool temperatures, which helps the virus multiply. The ministry is also urging members of the public to report poultry deaths and not touch the carcasses, while those involved in disposing the bodies should wear full protective gears.The ministry said that between 2004 and 2006, there were several confirmed H5N1 cases in Thailand, of which 17 had turned fatal, though there were none afterwards. All government hospitals have been told to closely survey every case of flu, lung infection and pneumonia, which have similar manifestations to H5N1.
[>thejakartapost.com]

---
01.07.12

UN launches major aid effort in S. Sudan




(AP) January 7 -
The United Nations launched an urgent humanitarian effort Friday in the violence-torn new nation of South Sudan, where inter-tribal warfare has forced tens of thousands to flee to the countryside and may have killed as many as 3,000 people
. The United Nations launched an emergency humanitarian effort Friday following last month's inter-tribal clashes in South Sudan, responding to a wave of violence that might have left thousands dead and some 50,000 people in urgent need of aid. South Sudan became independent last July following a 2005 peace deal with now-northern neighbor Sudan, and there have been sporadic cross-border attacks since. But internal violence between the Lou Nuer and the Murle tribes is a reminder of the challenges the world's newest country faces inside its own borders. Last month's clashes took place in and around the town of Pibor, sending tens of thousands of residents into the countryside. Media reports have put the death toll in the clashes as high as 3,000, but Martin Nesirky, spokesman for UN Secretary-General Ban Ki-moon, said the UN could not confirm that number. On Tuesday, Lise Grande, the top UN official in the region, said the death toll could be anywhere from dozens to hundreds.
[More>>france24.com]

---
01.07.12 Two pilgrims killed in Iraq blast


January 7 -
A roadside bomb has killed two Shiite pilgrims and wounded eight south of Baghdad, Iraqi officials said. Police and health officials say the blast targeted pilgrims walking to the holy Shiite city of Karbala to commemorate the end of 40 days of mourning following the anniversary of the death of Imam Hussein, a revered Shiite figure The attack took place in Mahmoudiya, about 20 miles south of Baghdad. Bombings targeting members of Iraq's Shiite Muslim majority have claimed the lives of at least 80 people in the past two days. This was the third day in a row in which bombers presumed to be Sunni insurgents have struck at members of the country's Shiite majority. More than 80 people have been killed in a wave of violence which Iraqis fear will rekindle the large-scale sectarian bloodshed that brought the country to the edge of civil war several years ago. A series of bombings targeting Shiites claimed the lives of at least 78 people on Thursday, marking the second large-scale attack by militants since US forces pulled out last month. Two more Shiite pilgrims were killed on Friday.
[More>>independent.co.uk]
---
01.05.12 Euro drops to 16-month low over bank concerns


January 5 -
The euro has dropped to its lowest rate against the dollar in 16 months as concerns continue over the health of Europe's banks. The euro fell as low as $1.2780 against the dollar and was at an 11-year low versus the yen. Markets were unsettled after France's cost of borrowing rose and a Spanish minister suggested its banks may face a higher bad loan bill. Bank stocks dropped, with shares in Italy's UniCredit at a 19-year low. Luis de Guindos, Spain's economy minister,
told the Financial Times that its banks may face up to 50bn euros ($64.2bn, £41.3bn) in new bad loans
—
higher than previous public estimates by the government.
On Thursday, Spain also unveiled more austerity measures
—
after outlining 8.9bn euros in new spending cuts and tax rises last week. Spain said its social security deficit was worse than expected in 2011 and aims to recover 8.2bn euros that has been lost to tax fraud this year. This is the latest in a wave of austerity measures, with a total of 16.5bn euros to be cut in 2012. French bank stocks closed lower, with Societe Generale down 5.4% and BNP Paribas down 5.3%. Germany's Deutsche Bank fell almost 6%, with Commerzbank down 4.5%. Spain's Santander dropped 4.5%. Italy's UniCredit fell 17% before its shares were suspended for the second day in a row. Italy and Spain
—
both passing painful spending cuts
—
will have to sell billions of debt in the coming months. [More>>bbc.co.uk]
---
01.05.12 Panetta: Smaller military means more risk

WASHINGTON, January 5 - The Pentagon chief says the US will have to make some tradeoffs and take some extra risks under the new military strategy laid out to absorb federal budget cuts. Defense Secretary Leon Panetta
unveiled the strategy
Thursday in a news conference with President Barack Obama and the top ranking US military chief, Gen. Martin Dempsey. Panetta said future budgets will mean smaller US armed forces and some greater risk. But he said the country does not have to choose between national security and fiscal responsibility. Panetta said at this point in history, in a changing world, the Pentagon would have been forced to make a strategy shift anyway. He says the money crisis merely forced the government to face the shift that is taking place now. The new national defense strategy addresses two issues at once. It streamlines the military in an era of tighter budgets and reassesses defense priorities in light of China's rise and other global changes.
[More>>cbsnews.com]
---
01.05.12 UK says any Iranian attempt to close Straith would fail

LONDON (Reuters) January 5 - Any attempt by Iran to close the Strait of Hormuz would be illegal and would not succeed, British Defense Secretary Philip Hammond said on Thursday, adding that British naval forces would continue to play a part in maintaining security in the Gulf. "Disruption to the flow of oil through the Straits of Hormuz would threaten regional and global economic growth," Hammond said in a speech to the Atlantic Council, a US think-tank, during a visit to Washington. "Any attempt by Iran to close the Straits would be illegal and would be unsuccessful," he said, according to a text of his remarks released in London. Hammond said Britain's Royal Navy would continue to play a substantial role as part of the Combined Maritime Forces, a US-led, Bahrain-based naval force drawn from 25 nations whose missions include counter-piracy, counter-terrorism and security in the Gulf. Britain has mine counter-measure vessels maintaining freedom of navigation in the Gulf, he said. Iran threatened last week to stop the flow of oil through the Strait of Hormuz if foreign sanctions were imposed on its crude exports over its nuclear ambitions, a move that could trigger military conflict with economies dependent on Gulf oil.
[>alarabiya.net]
---
01.05.12 Wave of bombings leaves scores dead in Iraq


January 5 -
At least 70 killed and more than 100 wounded in the latest attacks in mainly Shia areas across the country
. A suicide bomber targeting Shia pilgrims has killed at least 46 people and wounded at least 80 others in southern Iraq, Qusay al-Abadi, head of the provincial council in Nassiriya, told Reuters news agency. Local security sources said on Thursday the attack occurred at a police checkpoint in al-Badha area west of Nassiriya, 300km southeast of Baghdad, as pilgrims were walking to the shrine city of Karbala for Arbaeen commemorations. This came hours after explosions in several mainly Shia Muslim neighborhoods of eastern Baghdad killed at least 24 people and wounded a further 66, according to Iraqi officials.
Major General Qassim al-Moussawi, Baghdad military spokesman, said the aim of the attacks is "to create sedition among the Iraqi people." He said it was too early to say who was behind the bombings. Thursday's attacks were the worst since a series of explosions across the Iraqi capital on December 22 killed 60 people. Three bombs, one planted on a parked motorcycle and another two, also roadside devices, killed at least nine people and wounded 35 others in the impoverished Sadr City district in northeastern Baghdad, sources said. "There was a group of day laborers gathered, waiting to be hired for work. Someone brought his small motorcycle and parked it nearby.
A few minutes later it blew up, killed some people, wounded others and burned some cars," a police officer at the scene, declining to be named, said." "Political leaders fight each other for power, and we pay the price," Ahmed Khalaf, a laborer near the site of attacks, said, alluding to the political tension between Sunni and Shia leaders. Two bomb attacks in Kadhimiyah, another predominantly Shia district in Baghdad's north, killed another 15 people and wounded 31, an interior ministry official said.
[More>>aljazeera.com]
---
01.05.12 10 dead as Yemen troops, Qaeda suspects clash


ADEN, Yemen (AFP) January 5 -
Yemeni troops backed by warplanes clashed Thursday with suspected al-Qaeda militants in the restive south in fighting that killed 10 people, military and civilian administration sources said.
Four soldiers were killed and 10 wounded in the fighting on the eastern and northern outskirts of the city of Zinjibar, controlled by al-Qaeda-linked Partisans of Sharia militants, a military source said.
The troops were backed by warplanes, and heavy artillery was also used in the fighting, the source said. Six Islamists were also killed and eight wounded, a civilian administration source said, adding that three vehicles were used to evacuate the casualties to a hospital in nearby Jaar. Residents in the region said the fighting erupted in the afternoon and that blasts and gunfire could still be heard in the early evening. Zinjibar is the capital of the southern Abyan province, a stronghold of al-Qaeda, and has been the scene of frequent fighting between troops and Islamist militants since May. [>khaleejtimes.com]

---
01.05.12 Taliban dump 15 naked bodies of Pakistan security men

DERA ISMAIL KHAN, Pakistan, January 5 - The Taliban today dumped 15 naked bodies of Pakistani paramilitary frontier constabulary personnel kidnapped two weeks ago in a north western town, signalling that some militant factions may have spurned peace talks with the government. "The naked bodies were found in a field near the mountains," senior police and Army officers were quoted as saying by the TV channels. The Tehreek-i-Taliban Pakistan claimed responsibility for the brutal murders and a spokesman Ehsanullah Ehsan told the Pashto-language Khyber Television channel that the bodies of the slain Frontier Constabulary personnel had been dumped at Spin Tul, an area near North Waziristan Agency. Heavily armed Taliban fighters had kidnapped 15 security personnel when they launched a predawn attack on the Frontier Constabulary's Mullazai Fort in Tank district, located near South Waziristan Agency, on December 23.
The Taliban had subsequently demanded the release of some militants in exchange for the paramilitary personnel. The Taliban apparently killed the security personnel in retaliation for an operation by security forces against militants in Khyber Agency a few days ago. Taliban spokesman Ehsan warned that the militants would carry out more "revenge attacks" in the coming days. He said Taliban would also take revenge for an operation by security forces in Zhob district of Balochistan province that killed several militants on Wednesday. Reporters in the tribal belt said the Taliban were angry at the arrest of several female relatives of militants after the operation in Tirah valley of Khyber Agency. The attacks come even as media reports said that Taliban militants in Afghanistan and Pakistan had formed a new grouping and pledged to stop targeting Pakistani security forces.
[>indianexpress.com]
---
01.03.12 Iran threatens US Navy as sanctions hit economy


TEHRAN, Iran (Reuters) January 3 -
Iran threatened on Tuesday to take action if the US Navy moves an aircraft carrier into the Gulf, Tehran's most aggressive statement yet after weeks of sabre-rattling as new US and EU financial sanctions take a toll on its economy. The prospect of sanctions targeting the oil sector in a serious way for the first time has hit Iran's rial currency, which reached a record low on Tuesday and has fallen by 40 percent against the dollar in the past month. Queues formed at Tehran banks and some currency exchange offices shut their doors as Iranians scrambled to buy dollars to protect their savings. On world markets, oil prices soared.
Army chief Ataollah Salehi said the United States had moved an aircraft carrier out of the Gulf because of Iran's naval exercises, and Iran would take action if the ship returned. "Iran will not repeat its warning...the enemy's carrier has been moved to the Sea of Oman because of our drill. I recommend and emphasise to the American carrier not to return to the Persian Gulf," he said. "I advise, recommend and warn them over the return of this carrier to the Persian Gulf because we are not in the habit of warning more than once."
The US military brushed off the threat: "The deployment of US military assets in the Persian Gulf region will continue as it has for decades," said spokesman Commander Bill Speaks.
"The US Navy operates under international maritime conventions to maintain a constant state of high vigilance in order to ensure the continued, safe flow of maritime traffic in waterways critical to global commerce." The aircraft carrier USS John C Stennis leads a US Navy task force in the region. It is now outside the Gulf in the Arabian Sea, providing air support for the war in Afghanistan, said Lieutenant Rebecca Rebarich, spokeswoman for the 5th Fleet. The carrier left the Gulf on December 27 on a planned routine transit through the Strait of Hormuz, she said. Forty percent of the world's traded oil flows through that narrow straight
—
which Iran threatened last month to shut if sanctions halted its oil exports. Brent crude futures were up more than $4 in late Tuesday afternoon trade in London, pushing above $111 a barrel.
[More>>thestar.com.my]
---
01.03.12 Iran jails former President Rafsanjani's daughter

January 3 - The daughter of the former Iranian President Akbar Hashemi Rafsanjani has been sentenced to six months in prison for "making propaganda against the ruling system." Faezeh Hashemi Rafsanjani's trial took place behind closed doors last month. According to the conservative website Mashregh News, she has been banned from taking part in political, cultural and media activities for five years. She has 20 days to appeal against the sentence. Correspondents say that her punishment may be turned into a suspended jail term on appeal, as often happens with opponents of the Iranian authorities. Faezah Rafsanjani has given interviews in recent months in which she defended her father's position
—
and this appears to be her offence.
Akbar Rafsanjani has refused to condemn Iran's two most prominent pro-reform leaders. Faezah Rafsanjani is a former MP and the most politically active of Mr. Rafsanjani's children. She was briefly detained in February 2011 after taking part in a banned protest march. The former president's political influence has decreased in recent years, and his website was recently shut down. In 2009, during the protests that followed President Mahmoud Ahmadinejad's controversial re-election, Mr. Rafsanjani angered hard-liners by calling for the release of detained opposition members. In March 2011 he lost his position as head of Iran's highest clerical body, the Assembly of Experts. He now retains only one political position, as head of the Expediency Council, but his term there ends in April and it is unclear whether he will keep that role.
[>bbc.co.uk]
---
01.03.12

Ignoring Mullah Omar, TTP to continue attacks on Pakistan forces




January 3 -
The Tehrik-e-Taliban Pakistan has said it will continue carrying out suicide attacks and targeting Pakistani security forces despite joining other militant groups in a pledge not to kill innocent people or to resort to kidnappings for ransom.
"Yes, we signed an accord with three other major Taliban groups of Maulvi Nazeer, Hafiz Gul Bahadur
and an Afghan Taliban faction to avoid killing of innocent people and kidnapping for ransom, but we did not agree with them to stop suicide attacks and our fight against Pakistani security forces," said TTP spokesman Ehsanullah Ehsan. The TTP led by Hakimullah Mehsud had not announced any ceasefire and had no plans to do so in the near future, Ehsan told The News daily on phone from an undisclosed location in the tribal areas. He warned that TTP fighters would continue their operations in Pakistan. [More>>indianexpess.com]

---
01.03.12 Lashkar raising 21 female terrorists against India: Army


NEW DELHI, India, January 3 -
The Lashkar-e-Taiba is raising a group of 21 female terrorists at its training camps in Pakistan-occupied Kashmir for carrying out sabotage activities in India, Army sources said on Tuesday. "We have confirmed reports that LeT is imparting training to 21 selected female terrorists at its training facilities in Muzaffarabad in PoK for carrying out terrorist activities in India," an Army official said here. They said the new group, named as Dukhtareen-e-Taiba, is planned to be made active in the Kashmir Valley by the LeT.
In the recent past also, reports have suggested presence of female terrorists operatives in the 42 active terror training camps in PoK. The women terrorists are planned to be infiltrated into India through routes in Uri sector or using the aerial route through some other country. Sources said the raising of the female terror group was brainchild of LeT senior functionary and mastermind of Mumbai terror attacks Zakiur Rehman Lakhvi. They said the terror group has suffered serious setbacks in Jammu and Kashmir with the elimination of their top leadership by the security forces. They are also working on recruiting local youth in certain areas of the state, including Pulwama, to expand terror network and the task has been assigned to a person, Usman Bhai alias Chhota Rehman, they said. [>timesofindia.indiatimes.com]
---
01.03.12 Militant groups in Pakistan form united front


ISLAMABAD, Pakistan, January 3 -
At the urging of the Afghan Taliban, four major Pakistani insurgent factions have joined the Afghan guerrilla group known as the Haqqani network in a council aimed at resolving infighting and ending militant violence against civilians in Pakistan. The council's formation was announced in a leaflet distributed in recent days in North Waziristan, a remote Pakistani tribal area that is the base of the Haqqani network, a cross-border group that NATO forces in next-door Afghanistan call their most lethal foe. In the pamphlet, the Shura-i-Muraqba said it had formed in consultation with the Afghan Taliban and called on "all holy warriors" to avoid criminal activities or face punishment under Islamic law.
The new coalition could indicate a unified effort to strike harder against US-led troops as they begin their withdrawal from Afghanistan, or it could signal a recognition that splintering has weakened the insurgency inside Pakistan, where the incidence of terrorist attacks fell 7 percent over the past year, according to data released Tuesday. Those divisions remained on display even as participants in the council confirmed the agreement. In a telephone interview, one militant member of a group led by Pakistani commander Maulvi Nazir said the factions had agreed to direct all their attacks against coalition forces in Afghanistan. But Ensaullah Ehsan, a spokesman for the Pakistani Taliban, said his wing had made no such pledge.
[More>>washingtonpost.com]
---
01.03.12 Afghan suicide attack kills five: Police


KANDAHAR, Afghanistan, January 3 -
A suicide bomber detonated a bomb-laden vehicle in a crowded bazaar in the southern Afghan city of Kandahar on Tuesday, killing four children and a policeman, a police commander said. The bomber set off his explosive-laden motorbike near a mobile police post as the officers ordered him to stop, Abdul Raziq, the Kandahar police chief said, adding that four children and a policeman were killed.
[>thenews.com.pk; See also foxnews.com, January 3, "3 blasts kill 13 in Afghan city of Kandahar."]
---
01.02.12 Scientists grow sperm in laboratory dish


January 1 -
Scientists have made a major breakthrough that could soon see human sperm grown in the laboratory.
The development opens up the possibility of infertile men being able to father their own children rather than using donor sperm. Researchers in Germany and Israel were able to grow mouse sperm from a few cells in a laboratory dish. In a world first a team headed by Professor Stefan Schlatt, at Muenster University in Germany, were able to grow sperm by using germ cells. These are the cells in testicles that are responsible for sperm production. Scientists grew the sperm by surrounding the germ cells in a special compound called agar jelly to create an environment similar to that found in testicles. Prof. Mahmoud Huleihel, who also grew the sperm at Israel's Ben Gurion University in Beersheba, said: "I believe it will eventually be possible to routinely grow human male sperm to order by extracting tissue containing germ cells from a man's testicle and stimulating sperm production in the laboratory." [More>>telegraph.co.uk]

---
01.02.12 Iran currency plunges 10% as US strengthens sanctions


TEHRAN, Iran, January 2 -
Riyal falls to record low after Obama administration blacklists Tehran's central bank
.
Iran
's currency value has fallen more than 10% in less than a week to record lows, after a US move to tighten financial sanctions against the Islamic republic. The riyal lurched to as low as 16,800 to the dollar, down from 15,200 at the end of last week. It was valued at 10,500 just a year ago. The slump was blamed on US sanctions which target the Iranian central bank. The White House move to blacklist any company or institution that trades with the Central Bank of Iran aims to make it harder for Iran to sell its
oil
. Iran has threatened to close the Straits of Hormuz, through which one-sixth of the world's oil supply passes, if the west takes aim at its oil industry.
The Iranian navy on Monday fired a second missile test in as many days in the Gulf, firing a long-range rocket that they claim could hit targets "hundreds of miles away." "We have successfully test-fired long-range shore-to-sea and surface-to-surface missiles, called
Qader
(Capable) and
Nour
(Light) today," Deputy Navy Commander Mahmoud Mousavi told state television. Despite his use of the term "long-range," the semi-official Fars news agency said the Qader's range was only 125 miles. No figure was given for the Nour. Iran is about 140 miles at its nearest point from Bahrain, where the US Fifth Fleet is based, and about 625 miles from Israel. Its longest-range missile, the Sajjil-2, has a range of up to 1,500 miles.
...Reflecting possible fears about liquidity and the flight of hard currency, Iran over the past few months has restricted cash withdrawals and only allows those traveling abroad to take $2,000 a year.US sanctions already forbid imports of Iranian oil. France is pressing the EU to follow suit. Iran sells large volumes to China, India, South Korea and Japan but Italy, Spain and Greece are also big importers and an EU embargo would pile further pressure on the Iranian economy.
[Full story>>guardian.co.uk]
---
01.02.12 Arab League says 'killings continue' in Syria
January 2 -
Head of Arab bloc calls for "complete ceasefire," but says government has withdrawn heavy weapons from cities
. Syria's military has withdrawn from residential areas and is on the outskirts of the country's cities, but gunfire continues and snipers are still a threat, according to the secretary-general of the Arab League. Nabil El-Araby said on Monday that security forces have not stopped shooting at protesters in Syria, despite the presence of an Arab League observer mission in the country. "Yes, killings continue. The objective is for us to wake up in the morning and hear that no one is killed. The mission's philosophy is to protect civilians, so if one is killed, then our mission is incomplete." "There must be a complete ceasefire," he added. El-Araby also said tanks and artillery have been pulled out from cities and residential neighborhood. He added that food supplies had reached residents and bodies of dead protesters had been recovered. At least 150 people have been killed since the observers began their mission last Tuesday to verify the compliance of President Bashar al-Assad's government with an Arab League peace plan aimed at ending the nine-month-old crackdown on anti-government protesters.
[More>>aljazeera.com]

---
01.02.12 Rebels capture Syrian troops in north - opposition
BEIRUT, Lebanon (Reuters) January 2 -
Armed Syrian rebels captured dozens of members of the security forces by seizing two military checkpoints Monday, the opposition said, even as the Arab League chief reported cautious progress in a peace monitoring mission. The opposition said army deserters also clashed with security forces at a third checkpoint, killing and wounding an unspecified number of troops loyal to President Bashar al-Assad. Assad is struggling to defeat a popular uprising and avoid becoming the latest president to be toppled by "Arab Spring" revolutions, after the leaders of Tunisia, Egypt, Libya and Yemen. After nearly 10 months of violence in which the United Nations says more than 5,000 people have been killed, an Arab monitoring mission has spent the past week assessing Assad's compliance with a peace plan. In partially upbeat comments, Arab League Secretary General Nabil Elaraby said Syria's military had withdrawn from residential areas and was on the outskirts of the country's cities, but gunfire continued and snipers were still a threat.
[More>>thestar.com.my]
---
01.02.12 Death toll in Pakistan car bomb rises to 15: Police
QUETTA, Pakistan (AFP) January 2 -
The death toll in a car bomb blast in the southwestern Pakistani city of Quetta rose to 15 on Saturday as rescuers found seven more bodies in the rubble, police said. A car bomb exploded in front of the house of the son of a former federal minister, Naseer Mengal, on Friday and officials gave a death toll of eight. "The death toll is 15 now. Three more bodies were found in the rubble today and rest were dug out overnight," Nazir Ahmad Kurd, a senior police official told AFP.
Some 40 others were wounded and 10 have been released from hospital after treatment, he added. Investigators defused an eight-kilogram local made bomb and found seven hand grenades from the site, Kurd said.

It was still unclear who had carried out the attack and whether the driver died in the blast as there were yet no witnesses, Hamid Shakil, another senior police official told AFP. But a spokesman for rebel group Baluchistan Liberation Army Meerak Baluch called reporters in Quetta and claimed that they carried out the "suicide attack to teach a lesson to traitors." Officials did not comment on the authenticity of the claim. Quetta is the capital of the troubled Baluchistan province which neighbors both Afghanistan and Iran and is gripped by a regional insurgency for self-determination. It is also a flashpoint for Taliban and sectarian violence.
[>timesofindia.indiatimes.com]
---
01.02.12 Al-Qaeda, Taliban call on Pakistani militants to join clashes in Afghanistan

DERA ISMAIL KHAN, Pakistan (AP) January 2 - Prominent
Al Qaeda
and Afghan
Taliban
fighters asked Pakistani militants in a pair of rare meetings to set aside their differences and step up support for the battle against U.S.-led forces in
Afghanistan
, militant commanders said Monday. The meetings were held in Pakistan's tribal region in November and December at the request of the Afghan Taliban's leadership council. They could indicate the militants are struggling in Afghanistan, or conversely, that they want to make sure they hit US forces hard as the Americans accelerate their withdrawal this year. That could give the Taliban additional leverage in any peace negotiations. "For God's sake, forget all your differences and give us fighters to boost the battle against America in Afghanistan," senior al-Qaeda commander Abu Yahya al-Libi told Pakistani fighters at a meeting on Dec. 11, according to a militant who attended. Pakistani militants have long been split over where they should focus their fighting.
The Pakistani Taliban have concentrated on toppling their own government, although they have sent some fighters to Afghanistan. Other Pakistani groups based in the tribal region have almost exclusively directed their attacks against foreign forces in Afghanistan. The Pakistani Taliban, an umbrella organization set up in 2007 to represent roughly 40 insurgent groups, has also been split by infighting over turf and leadership positions after commanders were killed by the Pakistani military and US drone strikes. The group has fractured into more than 100 smaller factions, a process that some analysts have suggested would take a toll on militants fighting in Afghanistan by making it increasingly difficult for them to find recruits, as well as restricting territory in
Pakistan
available to them.
Pakistani Taliban chief Hakimullah Mehsud attended the two meetings on Nov. 27 in Wana, the main town in
South Waziristan
, and Dec. 11 in the Datta Khel area of North Waziristan, Pakistani Taliban spokesman Ehsanullah Ehsan told The Associated Press. Other prominent Pakistani militant leaders who attended included Mehsud's deputy, Waliur Rehman, and two commanders who have focused on fighting in Afghanistan, Maulvi Nazir and Gul Bahadur, Ehsan said. Also there was
Sirajuddin Haqqani
, an Afghan militant based in North Waziristan who leads one of the most feared groups fighting in Afghanistan. The Afghan Taliban fighters at the meetings included Zabiullah Mujahid, a well-known spokesman, and Maulvi Sangin, who claims to have custody of US Army Pvt. Bowe R. Bergdahl, captured in Afghanistan in 2009.
[More>>foxnews.com]
---
01.02.12

Nigeria's Boko Haram issues ultimatum to Christians, threatens to confront troops




MAIDUGURI, Nigeria (AFP) January 2 -
A purported spokesman for Nigerian Islamist group Boko Haram has issued an ultimatum to Christians in the country's north and threatened to confront troops after the president declared a state of emergency in hard hit areas. Abul Qaqa, who has spoken on behalf of the group blamed for scores of attacks in Africa's most populous nation numerous times in the past, said he was giving southerners living in the north a three-day ultimatum to leave. "We find it pertinent to state that soldiers will only kill innocent Muslims in the local government areas where the state of emergency was declared," he told journalists in a phone conference late Sunday. "We would confront them squarely to protect our brothers."
Speaking in the Hausa language common throughout the north, Qaqa said "we also wish to call on our fellow Muslims to come back to the north because we have evidence that they would be attacked." "We are also giving a three-day ultimatum to the southerners living in the northern part of Nigeria to move away." Boko Haram is believed to include different factions with varying aims, its structure remains unclear and other people have claimed to speak on its behalf...The declaration came in response to scores of attacks attributed to Boko Haram, particularly the bombings on Christmas that killed 49 people, most of them in a gruesome blast at a Catholic church as services were ending.
[Full story>>alarabiya.net]
---
01.02.12 Leading Sunni official in Iraq hit by roadside bomb

BAGHDAD, January 2 - A convoy carrying a leading Sunni government official was hit with a roadside bomb Sunday night, injuring his body guards, according to the official and a police colonel from the heavily Sunni area where the blast was reported. Finance Minister Rafe al-Essawi survived the blast, which occurred at 9:15pm in the Salahuddin province north of Baghdad. Responding to inquiries via text message, Essawi would not say whether he thought his convoy was targeted or the attack was random.
[More>>washingtonpost.com]
---
01.02.12 Flushing can spead diarrhea disease

January 2 - Flushing the toilet with the lid up can spray
diarrhea-causing bacteria
into the air, according to a
new study of hospital toilets
. Researchers from Leeds Teaching Hospitals in the U.K. detected C. difficile — a germ that can cause diarrhea and even life-threatening inflammation of the colon — nearly 10 inches above the toilet seat after flushing lidless hospital toilets. C. difficile is frequently found in hospitals and long-term care facilities were
antibiotics are common
. "The highest numbers of C. difficile were recovered from air sampled immediately following flushing, and then declined 8-fold after 60 [minutes] and a further 3-fold after 90 [minutes]," the researchers reported in the January issue of the
Journal of Hospital Infection
. C. difficile was spotted on surrounding surfaces 90 minutes after flushing, with an average of 15 to 47 contaminated toilet water droplets landing in the nearby environment, according to the study.
"Lidless conventional toilets increase the risk of C. difficile environmental contamination, and we suggest that their use is discouraged, particularly in settings where [C. difficile infection] is common," the authors wrote. Although the study focused on hospital toilets, experts say the findings extend to public restrooms and households. "Almost everywhere we go, except in some public spaces, we have lids on our commodes. But not everyone puts them down when they flush," said
Dr. William Schaffner
, chair of preventive medicine at Vanderbilt University Medical Center. "Doing so will reduce this type of environmental contamination very substantially."
A
2004 episode of Myth Busters
found lidless toilets do indeed spray water onto surrounding surfaces — including toothbrushes — but concluded the health risk was negligible. In fact "control" toothbrushes removed from the restroom during the flush were also speckled with fecal bacteria. In recent years, C. difficile infections have
increased in number and severity
— a trend Schaffner said might wane if more people opt to drop the lid. "We don't know this, but it is intriguing," Schaffner said. "Just remember: put the lid down before you flush and always wash your hands."
[>abcnews.go.com]
---