News Headlines & Trends
---
05.02.05 Many killed in deadly Baghdad blasts
May 2 – Many Iraqis, several of them policemen, have been killed and injured in three separate explosions in the capital Baghdad. Aljazeera learned that in the latest attack on Monday, a car bomb targeted an Iraqi patrol in Zayyuna neighborhood east of Baghdad. Iraqi journalist Walid Khalid told Aljazeera that a bomber drove an explosive-laden car through a checkpoint in the Zayyuna area north of the Iraqi capital. Khalid said he was told by Iraqi police that the suspect was chased by two police vehicles when he blew up the car, killing and injuring at least six policemen and burning the two vehicles. Earlier on Monday, two separate bombs exploded in Baghdad, including one targeting a US military patrol and a senior Interior Ministry official. The two explosions killed nine people. [More>>aljazeera.net; See also another story, aljazeera.net, "Attack on Kurdish funeral kills many," and nytimes.com, "New round of car bombs kills at least 11 in Baghdad."
---
05.02.05 Afghan ammunition blast kills 28, wounds 70
KABUL, May 2 – A blast at an ammunition dump in a northern Afghan village killed 28 people and wounded 70 on Monday, a government spokesman said. "The whole neighborhood around the ammunition dump has been destroyed," said Interior Ministry spokesman Lutfullah Mashal. The cause of the blast in Pajga village in Baghlan province, 120 km (80 miles) north of the capital, Kabul, was being investigated, he said. [jang.com.pk]; See more at khaleejtimes.com]
---
05.02.05 Same old sad story: Dams violating Iran's cultural heritage
TEHRAN (MNA) May 2 – ...A total of 42 ancient and historical sites from the Elamite, Parthian, Achaemenid, Sassanid, and Islamic eras will be submerged by the Salman-e Farsi, Mulla Sadra, and Marvast dams in Iranıs southern province of Fars, an expert of the Cultural Heritage and Tourism Organization said on Monday...The Fars Regional Water Authority is also working on 20 more dam projects in the province.

One of the projects is the Sivand Dam at the ancient site of Tang-e Bolaghi, which is located only four kilometers away from Pasargadae, the first capital of the Achaemenids (550-330 BC) and the residence of Cyrus the Great. The dam is scheduled to become operational in March 2006. Several teams of Italian, Japanese, Polish, French, German, and Australian archaeologists have been assigned to save 129 ancient sites from the Neolithic and Paleolithic periods, the early, middle, and late Elamite era (2700-645 BC), and the Sassanid era (224-651 CE) in Tang-e Bolaghi. [More>>mhrnews.ir]

---
05.02.05 'No link between North Korean missile test, nukes'
May 2 – Seoul, Tokyo play down significance, saying short-range weapon involved. The South Korean and Japanese governments yesterday played down the significance of North Korea's latest missile test, saying it involved a short-range weapon unable to reach as far as Japan and had no link with the communist North's nuclear program. The top U.S. military commander in South Korea said North Korea is believed to have one or two nuclear warheads and the ability to produce more, a South Korean lawmaker reported.

Gen. Leon J. LaPorte also said the North's conventional weapons as well as its biological and chemical weapons also pose serious threats to South Korea, according to Song Young-sun from the main opposition Grand National Party. Song was among about two dozen South Korean lawmakers who held a security forum with LaPorte at the National Assembly. [More>>koreaherald.co.kr]
---
05.01.05 Egypt forces arrest 200 after attacks
May 1 – Egyptian security forces have arrested at least 200 people in the Shubra al-Khaima neighborhood of Cairo. Aljazeera's reporter in Cairo said the arrests followed Saturday's attacks in Abd al-Munaim Riyad square in central Cairo and the gunfight in the al-Sayyida Aisha area that killed three Egyptians and wounded 10 people including foreign tourists.

According to Egyptian sources, security forces arrested at least 200 people in an industrial area in Shubra al-Khaima where the suspects of Saturday's operations as well as the perpetrator of the al-Azhar bomb attack came from. "Around 200 people were arrested, some briefly, during police operations in the slums of Ezbet al-Gabalawi, Al-Amar and Ezbet Rushdi, where the families of the perpetrators and people implicated in the three attacks ... live," said a police source. [More>>aljazeera.net]
---
05.01.05 Veiled women in Cairo attacks
May 1 – Two veiled women opened fire on a bus carrying foreign tourists and the fiance of one of the woman blew himself up when he leaped off a bridge during a police chase in the Egyptian capital, Cairo, yesterday. Seven people were hurt by the explosion, three Egyptians, an Israeli couple, a Swedish man and an Italian woman. The blast, a nail bomb, went off in a crowded square between an exclusive hotel on the banks of the Nile and the Egyptian museum.

Two Egyptians were hurt in the shooting when the woman targeted a tour bus headed towards one of Cairo's most prominent historic Islamic sites. The two woman followed the bus by car and fired through the back window. They then shot themselves, although witnesses said police had opened fire. One died at once, the other in hospital. [More>>observer.guardian.co.uk]
---
05.01.05 Raids in Iraq yield suspects in British aid worker's death
BAGHDAD (Reuters) – US and Iraqi forces raided homes on the outskirts of Baghdad Sunday and detained several men believed to be linked to the death of British aid worker Margaret Hassan, who was kidnapped and killed late last year. Iraqi police said the morning raids happened not far from Madaen, a town just south of Baghdad where insurgents have been active in recent weeks. They said 11 people were seized, at least five of whom had admitted complicity in Hassan's murder.

The arrests, which may mark a small breakthrough in the effort to bring insurgents to justice in Iraq, came amid a surge in guerrilla activity in the past three days – ever since Iraq formed its first democratically elected government in 50 years. Some of the violence has been focused in Madaen, where three car bombs exploded Friday. At least nine people were killed in car bombings and shootings in Baghdad Sunday. Hassan, a British national who headed CARE International in Iraq, was kidnapped last October. She was killed about a month later after appealing on video tapes made by her abductors for British forces to withdraw from Iraq. Her body was never found. [More>>nytimes.com]
---
05.01.05 One policeman killed, four injured in Turkish resort bomb blast
ANKARA, Turkey (AFP) April 30 – One police officer was killed and four others were injured when a parcel bomb exploded in the hands of a bomb disposal expert in a seaside resort town in western Turkey, a local official said. The blast Saturday occurred as a chief superintendent mistook the parcel, left in a public toilet in Kusadasi town in Aydin province, to be harmless and was carrying it back to his vehicle without wearing any protective gear, the province's governor Mustafa Malay said...Malay said there was as yet no information on who had left the package but added that police were conducting a thorough investigation to catch the perpetrators. Underground left-wing organizations have in the past carried out similar bomb attacks in major Turkish cities. [More>>turkishpress.com]

---
05.01.05 Sony's Qrio robot attending nursery school in California
TOKYO (Kyodo News) May 1 – Qrio, a humanoid robot developed by a Sony Intelligence Dynamics Laboratories Inc. has been att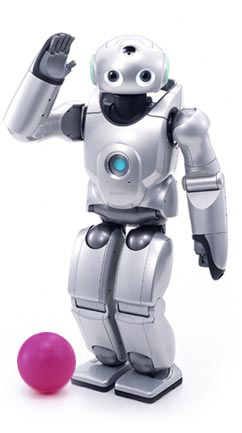 ending a nursery school in California since March to play with children up to 2 years of age in an experiment to help develop a robot that can "live in harmony with humans in the future."

Qrio spends time each day with more than 10 toddlers at the nursery school located in San Diego. Qrio is always accompanied by a researcher, who is in charge of making sure everything goes smoothly. While the children were at first apprehensive about Qrio, they now dance with it and help it get up when it falls. "The children think of Qrio as a feeble younger brother," researcher Fumihide Tanaka said. [japantoday.com; See sony.net/Sonyinfor/QRIO/ for more information on Qrio. Says Sony, "The robot embodies Sony's dreams and most advanced technologies in recognition, motion control, communications, IT and AI."
---
05.01.05 China's Lenovo completes acquisition of IBM's personal computing division
BEIJING (AFP) May 1 – China's largest computer maker Lenovo and IBM of the United States have said they had completed a deal to create the third-largest computing company in the world. Under the 1.75-billion-dollar deal, which shocked the world when first announced late last year, Lenovo has acquired IBM's Personal Computing Division.

Observers have characterized it as the most dramatic example yet of Chinese companies' expansion abroad, a herald of what the world can expect from a revitalized China in the years and decades ahead. [More>>turkishpress.com]
---
05.01.05 Transplant baby turns 18
The first baby in Britain to survive a heart transplant celebrated her 18th birthday yesterday. Kaylee Davidson was five months old when she received a new heart during a pioneering operation at the Freeman Hospital, Newcastle upon Tyne, in 1987.

Now fit and healthy, she studies performing arts at a college in Sunderland and is in training to represent Britain at the World Transplant Games in Canada this summer.

"I am living proof that people can make a difference by becoming an organ donor," she said. "I was only five months old when I had my transplant, just a tiny baby. I wasn't given much chance, but the surgeons were amazing and I was lucky enough to grow stronger and stronger."
[More>>chinadaily.com.cn]
---
05.01.05 US confirms North Korea missile
May 2 – North Korea apparently fired a short-range missile into the Sea of Japan, White House Chief of Staff Andrew Card told CNN television, saying Washington was closely monitoring developments. "It appears that there was a test of a short-range missile by the North Koreans and it landed in the Sea of Japan," Card said in an interview with CNN's Late Edition. "We're not surprised by this. The North Koreans have tested their missiles before. They've had some failures," he told the network. [theaustralian.news.com.au; See also japantoday.com, "North Korea may have launched missile toward Sea of Japan."
---
05.01.05 Islamic extremism on rise in Bangladesh
NEW DELHI (PTI) May 1 – Rising attacks against scribes, Left and secular elements in the recent past have shown that Islamic extremism is gaining ground in Bangladesh, with the militants seeking formation of a greater Islamic nation covering some areas in India, according to leading strategic journal Jane's Intelligence and Insight. "Victims of their activity are non-mu slims, Leftists and liberal intellectuals, who are conceived as standing in the way of the establishment of a 'greater Islamic nation', one that also includes parts of some adjacent Indian states," the prestigious strategic journal said in its latest issue. [More>>expressindia.com]
---
05.01.05 UK document leak shows early plan to topple Saddam
LONDON, May 1 – US President George W. Bush and British Prime Minister Tony Blair were determined to topple Saddam Hussein at least nine months before they launched the war in Iraq, British documents leaked in a Sunday newspaper say.

The secret documents could have a late impact in Britainıs election next Thursday, in which Iraq – and whether the prime minister told the truth when making his case for war – has resurfaced as an issue in the final week of campaigning. Blair has always maintained that he did not commit Britain to attacking Iraq until Saddam had been given a final chance to abandon banned weapons, and that ³regime change² – overthrowing Saddam – was never his aim. Despite hostility to Blair over his Iraq policy, polls show he is likely to win a third term in the election, though his huge parliamentary majority is expected to shrink. [More>>khaleejtimes.com; See also separate article, observer.guardian.co.uk, "British military chief reveals new legal fears over Iraq war: "The man who led Britain's armed forces into Iraq has said that Tony Blair and the Attorney General, Lord Goldsmith, will join British soldiers in the dock if the military are ever prosecuted for war crimes in Iraq. In a remarkably frank interview that goes to the heart of the political row over the Attorney General's legal advice, Admiral Sir Michael Boyce, the former Chief of the Defence Staff, said he did not have full legal cover from prosecution at the International Criminal Court (ICC). 'If my soldiers went to jail and I did, some other people would go with me,' said Boyce...Pressed by The Observer on whether he meant the Prime Minister and the Attorney General, Boyce replied: 'Too bloody right.'"

---
05.01.05 Syria signals change in policy toward Iraq
ISTANBUL, Turkey (AP) May 1 – Syria announced plans to restore diplomatic relations with Iraq more than two decades after ties were severed, boosting regional hopes for securing borders and signaling a willingness to change its policy toward the violence-torn country. With Iraqıs neighbors concerned that violence and ethnic instability in Iraq could spread throughout the region, they pledged on Saturday to cooperate with Iraqıs newly elected government on ³overall border security.²

The neighbors - which include Syria and Iran, two countries accused by US officials of failing to prevent insurgents from crossing their borders - also planned an upcoming meeting of their interior ministers to discuss how to better monitor their borders. The announcements were made during a two-day meeting of the foreign ministers of Jordan, Syria, Kuwait, Iran, Turkey and Egypt. Saudi Arabiaıs deputy foreign minister also attended the meeting, held at a former Ottoman palace overlooking the Bosporus. [More>>khaleejtimes.com; See also turkishpress.com, "Eighth meeting of countries neighboring Iraq."
---
05.01.05 Over 500 people reconverted in Orissa
SAMBALPUR (PTI) May 1 – In a reconversion ceremony, 567 Christians returned to Hinduism at Bijepur, a block headquarter town in neighboring Bargarh district on Sunday, VHP sources said. The ceremony was organized by the VHP and an elaborate arrangement was made at a local school premises where the people, mostly belonging to SC, had assembled.

A 'yagna' was held to mark the occasion and the people reconverted were provided with new clothes. VHP sources said that activists of the organisation had been in touch with these persons for a long time counselling them to return to Hinduism. Members of 169 families from seven nearby villages were expected to attend the ceremony but all had not turned up, the sources said. [More>>expressindia.com]
---
05.01.05 Lebanon weekly magazine: Russia returns to Middle East
BEIRUT (RIA Novosti) May 1 – The Lebanese weekly magazine Al- Kifah Al-Arabi calls the recent visit of Russian President Vladimir Putin to the Middle East "historic." "The purpose of the Middle East tour conducted by Vladimir Putin," the editorial named 'The Return of Russians to the Middle East' says, "was to demonstrate that the political and economic situation in Russia has stabilized and it is becoming a serious player on the global arena."

"After a long break, Russia intends to reestablish its positions in the Middle East," the Lebanese magazine concludes. According to the magazine, with his visit Putin also strengthened his positions on the eve of the May summit with US President George Bush in Moscow. In the framework of his Middle East tour, which lasted from April 26 till April 29, the Russian president visited Egypt, Israel and Palestine Autonomy. [rian.ru]
---
05.01.05 Latin America is a promising weapons market for Russia
RIO DE JANEIRO (RIANovosti, Andrei Kurguzov) May 1 – An International Aero & Defense Show (LAAD-2005), which recently took place in Rio de Janeiro, is an important tool for promoting Russian military equipment not only in Brazil, but also in other Latin American countries, announced in an interview with RIA Novosti deputy head of the Russian Federal Service for Military Technical Cooperation (FSMTC) Alexander Fomin, who led the Russian delegation at the show. "The level of organization of the show has been improving year after year, and Russia continues to increase its presence there," Alexander Fomin said. "We believe LAAD is becoming one of the most important exhibitions of aircraft and weaponry in Latin America." Alexander Fomin said Russia presented the most advanced models of aircraft and weaponry at the LAAD show. [More>>rian.ru]
---
05.01.05 Syria welcomes Putin's proposal for Middle East peace conference
DAMASCUS (AP) May 1 – Syria on Sunday welcomed Russian President Vladimir Putin's proposal for a Middle East peace meeting in the fall and said the cool American and Israeli reception of the offer exposed their rejection of peace. The government-run Al-Thawra newspaper said the Russian proposal was an opportunity to distinguish between "those who are in the peace trench and those facing the opposite direction."

"The idea was a practical test of the U.S. and Israeli polices and of their credibility," it said, adding that it unmasked their desire to alone decide whether to accept or reject peace. During a visit to Egypt, Putin proposed Wednesday that Russia host an autumn Middle East peace conference, timing it for after Israel withdraws from the Gaza strip. Palestinians embraced the idea, but Israel and the United States brushed it aside. [More>>haaretzdaily.com]

---
04.29.05 Cassini photographs swiss cheese on Titan moon
April 27 – An image of Saturn's small moon, Epimetheus (epp-ee-MEE-thee-uss), was captured by the Cassini spacecraft in the closest view ever taken of the pockmarked body.

Ep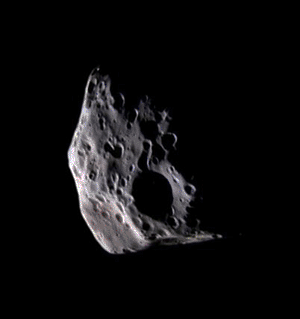 imetheus is irregularly shaped and dotted with soft-edged craters. The many large, softened craters on Epimetheus indicate a surface that is several billion years old. The moon shares an orbit with another of Saturn's small moons, Janus. The two dance in a planetary tango as they move in almost identical orbits, exchanging orbits every four years, instead of colliding. Both play a role in creating intricate waves in Saturn¿s rings; both have densities significantly lower than that of solid ice, suggesting they may be "rubble piles" held together by gravity. At 116 kilometers (72 miles) across, Epimetheus is slightly smaller than Janus at 181 kilometers (113 miles) across. Spectra of Epimetheus from the Cassini visual infrared mapping spectrometer indicate that the moon is mostly water ice.

The new Epimetheus image is available at http://saturn.jpl.nasa.gov, http://www.nasa.gov/cassini and http://ciclops.org.

The images for this false color composite were obtained with the Cassini spacecraft narrow- angle camera on March 30, 2005, at a distance of approximately 74,600 kilometers (46,350 miles) from Epimetheus. [More>>http://saturn.jpl.nasa.gov]
---
04.29.05 At least 23 killed, 90 hurt in wave of car bombings around Baghdad
BAGHDAD (AFP) April 29 – At least 23 people were killed and some 90 others wounded in a string of nine car bomb attacks targeting security forces in and around Baghdad early Friday, an interior ministry official said. Deadly explosions also struck the Kurdish northern city of Arbil and the southern Shiite city of Basra. The attacks came a day after parliament voted in the new government of Prime Minister Ibrahim Jaafari, with several seats left vacant.

Thirteen people died, including seven soldiers and two policemen, and 50 were wounded, including 13 soldiers and two policemen, in four apparently coordinated car bomb attacks in two districts of the capital at about 8:00 am (0400 GMT), the official told AFP. At least some of the cars were believed to have been driven by suicide drivers.

An AFP photographer saw the remains of one hand, believed to belong to a bomber, chained to the steering wheel of a burned out car. [More>>khaleejtimes.com; See also aljazeera.net article and recent Reuters.com article, "Bomb blasts kill 29 in Iraq"; also nytimes.com, "11 bombs acrossw Iraq kill at least 24 and wound scores."
---
04.29.05 Israel plans wall to divide Hebron
April 28 – The Israeli occupation army is contemplating the construction of a huge barrier in the heart of the southern West Bank town of Hebron. An Israeli newspaper on Thursday quoted unnamed security sources as saying that the army was proposing a wall to divide Hebron into two parts - the Israeli-controlled side and the Palestinian Authority-administered side.
As many as 500 Jewish settlers, many of them religious students studying at a local Talmudic school, or Yeshiva, live in the city under constant army protection amid the estimated 170,000 Palestinians, making up the population of Hebron. According to security officials, interviewed by the Haaretz newspaper, the Israeli army has already presented a plan for the construction of the wall to Israeli attorney-general Menachem Mazus for a ruling. [More>>
aljazeera.net
]
Editorial note: To view this complex wall whose impact can only be compared to the Berlin Wall, click here,
image in our sidebar
.
---
04.29.05 Life 'worse' for Iraqi women
BAGHDAD, April 29 – Adrian Blomfield, London Daily Telegraph, reports: ...The most fashionable color in the capital these days is black, as the desire for anonymity and the resurgence of conservative Islam combine to force women into conformity. "Life has changed for the worse," said Bushra Mahmoud, 40, a mother of three who was sitting in the waiting area. "There is a creeping zealousness among men and women that is really frightening. You sit on the bus and have abuse heaped on you by the fanatics because you are not wearing the hijab [Islamic head covering]. These things never used to happen."

Intimidation of women for religious reasons has become more common in the past year, and those who do not cover themselves are often the targets of kidnappers. Salons have been bombed and the Princess Salon's chief stylist, Nazar Zadayan, says he has been threatened several times. The elections in January that the White House welcomed as the start of an era of democracy in the Middle East have helped to entrench the strictures imposed on women. The winning coalition has close ties to conservative clerics, many of whom believe in the subservient role of women. [More>>washingtontimes.com via yemendaily.com]
---
04.29.05 Bush's Social Security plan cuts benefits
WASHINGTON (AP) April 29 – After nearly 60 days on the road pitching Social Security changes, President Bush is offering a new plan to fix its finances by cutting benefits of more prosperous future retirees. Democrats still aren't buying it.

In a prime-time news conference, Bush refused to back off his desire to carve private retirement accounts out of Social Security. Democrats say those personal accounts are a deal-breaker that would keep most of them from supporting Bush's revisions. But for the first time he proposed changes under which Social Security checks for low-income workers retiring in the future would grow faster than those for people who are better off. "By providing more generous benefits for low-income retirees, we'll make this commitment: If you work hard and pay into Social Security your entire life, you will not retire in poverty," Bush said. [More>>washingtontimes.com]
---
04.29.05 Blair releases memo on Iraq war legality
April 29 – Publication of a secret 2003 memo from Britain's top government lawyer questioning the Iraq war's legality buffeted British Prime Minister Tony Blair on Thursday, just a week before the May 5 election. Blair had hoped to focus on the economy, health care and education before the vote. But the document thrusts the ferocious debate about the U.S.-led invasion and Blair's integrity to the forefront of the campaign. "Whatever I say, I will never, ever convince some people who have been opposed to this war," said Blair. "I cannot apologize for that decision because I still think the world is a better place with Saddam in prison rather than in power."

The dispute hinges on advice given to Blair by his top legal adviser Lord Goldsmith on March 7, 2003. The confidential note has been subject to intense press speculation in recent months and, finally, a detailed leak to Channel 4 News on Wednesday. The memo, released in full Thursday by Blair's office, confirms reports that Goldsmith warned it would be safer to go to war with a second UN resolution specifically authorizing military action. It also warned that British troops taking part in the conflict could be open to legal action. [More>>dailystar.com.lb]
---
04.29.05 Key Taleban commander killed, other arrested in Afghanistan
KABUL (AFP) April 29 – Afghan military forces have killed a key commander of the ousted Taleban militia and captured another important militant in south central Afghanistan, the military said on Friday. Mullah Besmillah, a key Taleban leader in troubled south-central Uruzgan province, was killed in fighting with Afghan soldiers late Thursday when another militant, Mullah Abdul Manan, was captured, the official said. ³They were both the Talebanıs key commanders in the region -- their capture will have a major impact on security,² General Muslim Hamed, the military commander in southern Afghanistan, told AFP. [More>>khaleejtimes.com]
---
04.29.05 Panic as intense earthquake hits Nias island, Indonesia
GUNUNG SITOLI, Nias (AFP) April 29 – A strong quake measuring at least 6.0 on the Richter scale has hit Indonesia, causing panic on Nias island, which was hit by a giant earthquake last month, seismologists said on Friday.

The quake struck at 21:07 p.m. (1407 GMT) Thursday, prompting people to seek higher ground on Nias as they feared a repeat of last yearıs tsunami or the carnage caused the March 28 earthquake that killed more than 900.

But there were no reports of casualties or damage from the undersea tremor, centred northwest of the island, about 212 kilometres (131 miles) from the coastal Sumatra town of Meulaboh, said Suhardi of Jakartaıs meteorology agency...According to an AFP correspondent in Niası capital, Gunung Sitoli, which bore the brunt last monthıs magnitude 8.7 quake, there was brief pandemonium as residents feared the worst. [More>>thejakartapost.com]
---
04.29.05 Putin says he will help rebuild Gaza infrastructure
April 29 – Russian President Vladimir Putin said Friday his country would help rebuild Palestinian infrastructure in the Gaza Strip. Putin appeared to be offering the Palestinians help in maintaining order and provide services after Israel pulls out of Gaza this summer. Putin was speaking at a joint news conference in Ramallah with Palestinian Authority Chairman Mahmoud Abbas after the two men met for several hours Friday, at the end of Putin's three-day visit to the region.

Putin is also determined to arm the Palestinians, despite Israel's objections, Palestinian Deputy Prime Minister and Information Minister Nabil Sha'ath told Saudi newspaper Al Watan. [More>>haaretzdaily.com via thestar.com.my]
---
04.29.05 Al Qaeda connects J&K militants globally
SRINIGAR (PTI) April 29 – The recovery of a global communication set used by al-Qaeda in Rajouri district of Jammu and Kashmir has once again brought to the fore the nexus between Kashmiri ultras and the international terrorist outfit, a police spokesman said here today. The recovery, first of its kind in Jammu and Kashmir, was made by a police party at Chicka Kheit under police station Kandi yesterday, the spokesman said.

He said besides the communication set, the search party also recovered 30 kgs of RDX, one AK rifle, a sniper rifle, one M-16 Rifle with its six magazines, a rocket projectile gun, two hand wireless sets, 13 RPG rounds, a claymore mine, 8 anti-personnel mines, 18 hand-grenades, 10 AK magazines, 132 Pika rounds, five IED (improvised explosive devices) sticks and 970 AK rounds from the hideout. [More>>expressindia.com]

---
04.29.05 Wal-Mart and other foreign companies ignoring labor laws in China
April 29 – Nearly one out of three foreign-invested ventures in China have set up trade unions to protect legal rights of employees, a senior unionist has announced. While naming Wal-Mart again for its refusal to organize unions, the official criticized some foreign enterprises for not abiding by China's Trade Union Law.

"Some (foreign) enterprises, with Wal-Mart being representative, turned a blind eye to China's Trade Union Law and set very negative examples during the country's unionizing effort," Guo Wencai, organization department director of All-China Federation of Trade Unions, was quoted by the People's Daily yesterday. Guo said the majority of the foreign enterprises have shown respect to the country's labour laws and rendered support for employees to join trade unions.

However, statistics indicated that employees in only about 160,000 foreign firms have been unionized. There are 480,000 such enterprises registered in China. Of the 500 multinational companies, more than 300 have set up branches in China. [More>>chinadaily.com.cn]

---
04.29.05 Chinese president, Taiwanese opposition leader hold historic meeting
BEIJING (AP) April 29 – Taiwan's opposition leader and Chinese President Hu Jintao promised Friday to work together to end hostilities between Taipei and Beijing, during the highest-level meeting between the two sides since they split amid civil war nearly six decades ago. The Taiwanese government criticized the talks, saying they would do nothing to improve frosty relations.

In a ceremony televised live in both China and Taiwan, Hu and Nationalist Party Chairman Lien Chan smiled and shook hands in the Great Hall of the People, the seat of China's legislature in central Beijing. Beijing and Taipei should focus on "peace, stability and development for the future,'' Hu told Lien, who responded: "We absolutely should avoid confrontation and collisions. What we want is conciliation. We want dialogue.''

Lien's visit is the first by a Nationalist leader since the party, which once ruled all of China, fled the mainland following its defeat by the communists in 1949. [More>>thestar.com.my; See also chinadaily.com.cn]
---
04.29.05Train crash toll rises to 106 – body of train driver found in lead car
April 29 – The death toll from Monday's train derailment on the JR Fukuchiyama Line in Amagasaki, Hyogo Prefecture, rose to 106 Thursday, with the end of rescue operations. Nine bodies, including the remains of the train's 23-year-old driver, Ryujiro Takami, were recovered from the mangled lead car that crashed into an apartment building along the line.

Rescue workers finished their efforts at about 7:20 p.m., with the identification of the remains of all 106 victims. The train accident is the sixth since World War II in which more than 100 passengers have been killed, and is the worst since 161 people died when a commuter train collided with a derailed freight train on the Yokosuka Line in Tsurumi Ward, Yokohama, in 1963.. [More>>yomiuri.co.jp; See separate article, japantoday.com, "Train drivers routinely speed to cover delays, one says."
---
04.29.05Congress approves $2.6 trillion budget
WASHINGTON (Reuters) April 29 – The U.S. Congress on Thursday approved a $2.6 trillion budget plan for next year that calls for new tax cuts and spending reductions over the next five years. Republicans in the House of Representatives and Senate pushed through the budget blueprint without the support of a single Democrat.

Before final votes, Republicans and Democrats squabbled over whether this budget outline for the fiscal year beginning on Oct. 1 would set America on a path toward cutting U.S. budget deficits in half, as President Bush has promised, or whether it would add billions of dollars to already record budget deficits.

Bush praised Congress' work, calling the product "a responsible budget that reins in spending to limits not seen in years."

Among the key components are proposals for up to $106 billion in additional tax cuts over five years coupled with $35 billion in spending cuts over the same period. [More>>Reuters.com]
---
04.21.05 Greenspan renews warning on budget deficits
April 21 – Nell Henderson, Washington Post Staff Writer reports: Federal Reserve Chairman Alan Greenspan said today that his support for tax cuts in early 2001 unintentionally encouraged policies that helped swing the federal budget from surplus to record deficits. In addition, he said for the first time explicitly that he expected tax increases to be part of any bipartisan agreement on deficit reduction... "The federal budget deficit is on an unsustainable path, in which large deficits result in rising interest rates and ever-growing interest payments that augment deficits in future years," Greenspan said in his prepared testimony. "But most important, deficits as a percentage of [gross domestic product] in these simulations rise without limit. Unless that trend is reversed, at some point these deficits would cause the economy to stagnate or worse." Greenspan called for "major deficit-reducing actions" and acknowledged that tax increases may be part of an agreement between the two parties. [More>>washingtonpost.com via cbs]

Editorial Note: There is much confusion among reporters ( who have any idea what is going on with regard to the US National Debt and deficits). They don't seem to know the difference between the National Debt and National Deficits. The National Debt is an accumulation of deficits, the bulk of which accrued from the Reagan-Bush era. The National Debt accumulates interest, which is an item added to the overall annual deficit of the US government. This year, according to the report in the Washington Post, the National Deficit is $412 billion, much of which is interest. This will be added to the ~$9.2 trillion National debt, which brings the total debt to $9.8 trillion. What is the annual interest on $10 trillion at 7% interest? It's nearly $2 billion per day. While we have been experiencing a lower interest rate accrued to our recent debts, 7% is not an unreasonable rate for a long-term debt (which is what the $10 trillion is).

Interest on the National Debt is now our single largest budget expenditure. Instead of spending money on infrastructure repair, education, etc., we are compelled to pay creditors, some of whom are very rich and are not known for investing such monies in job-producing ventures, and others are several central banks (China, Japan, etc.). Those who own our debt are at greater risk the higher our debt becomes, since the amount of the debt is exceeding our ability to refinance it. Click on the chart in the sidebar to get a better grasp of the seriousness of Greenspan's warning. Those who are familiar with "J" curves – exponential increases – will understand my concern that we have passed the "point of no return." We're sunk.
Mel Copeland
04.14.05 We ignore internet at our peril, Murdoch warns editors
April 14 – Chris Tryhorn, Guardian city correspondent, reports: Rupert Murdoch has admitted he "didn't do as much as [he] should have" to confront the digital challenges faced by his newspaper business, which owns the Sun, Times and News of the World in the UK as well as titles in the US and Australia. Describing himself as a "digital immigrant" in contrast to his young daughters, who would be "digital natives," he said the internet was "an emerging medium that is not my native language."

In a speech to American editors in Washington, Mr. Murdoch issued a stark warning to the industry, arguing that the web was "a fast-developing reality we should grasp." He said consumers wanted "control over the media, instead of being controlled by it", pointing to the proliferation of website diaries known as "blogs" and message boards...Young people's attitudes towards newspapers were "especially alarming", he said. "Only 9% describe us as trustworthy, a scant 8% find us useful, and only 4% of respondents think we're entertaining."

He described the shift in attitudes as "a revolution in the way young people are accessing news."

"They don't want to rely on the morning paper for their up-to-date information. They don't want to rely on a God-like figure from above to tell them what's important. And to carry the religion analogy a bit further, they certainly don't want news presented as gospel."

"...In fact, they want a lot of news, just faster news of a different kind and delivered in a different way." The migration of readers online was also affecting advertising revenues, Mr Murdoch said. "The threat of losing print advertising dollars to online media is very real. In fact, it's already happening, particularly in classifieds." [More>>guardian.co.uk]

03.23.05 Federal Reserve raised new worries about inflation
WASHINGTON, March 22 – The Federal Reserve raised new worries about inflation on Tuesday, setting off alarms in the stock and bond markets that the central bank might drive up interest rates faster than investors had been expecting. The Fed nudged up short-term interest rates for the seventh time in the last year, raising the federal funds rate on overnight loans between banks to 2.75 percent from 2.5 percent. It restated its intention to keep raising them at a "measured" pace in the months ahead.

But in a departure from previous declarations, the central bank said there were rising inflationary pressures beyond those tied directly to the recent jumps in oil prices. [More>>nytimes.com]

Editorial note: What is not being reported is the fact that interest rates are tied to the US National Debt. As the debt increases (this year the deficit is expected to exceed $420 billion, and interest on the debt which exceeds $8.2 trillion, is about $1 billion per day. Because the annual deficits are financed via the bond market, and because the amount of the bonds being sold exceeds demand, it is necessary to raise interest rates to attract investors in the US bonds financing the US debt. This routine of increasing debt on an exponential scale was experienced under the administration of George H. W. Bush. I predicted increasing interest rates "to sell bonds" in my conversation with Wm. F. Buckley Jr. at that time, in 1993, and I have repeated the prediction with regard to the current Bush administration's excesses and need to sell more bonds to finance the extraordinary deficits. The rate increases will continue in order to sell the overabundant US bonds. In a few words, George Bush's debt is causing your mortgage rates to increase, and they will continue to increase until the US assumes fiscal responsibility. Click here for details on this trend.

Postscript: If the EU adopts the practice of allowing large budget deficits, the consequence places a strain on the world bond market, since that market is already flooded with US bonds to the tune of some $9 trillion. Those who are allowing budget deficits also own some of the US debt. It's not a good situation, heralding a world economic collapse. That Greenspan has not reigned in the Bush administration on the US debt is a travesty.
Mel Copeland
---
(2) The name, Allah, in Arabic is an expression of surprise. It is not unusual for the God of the Bible to be known by many names. Jewish Midrash quotes passages in the Old Testament (Torah) that cite as many as seventy names of God (and more). But they can all be reduced down to one name.
(3) Ronald L. Conte Jr., biblicalchronology.com. has an interesting analyses of comets and eclipses as they relate to Roman times and Biblical Chronology. His estimate of 54 A.D. for the destruction of Jerusalem by Titus, rather than 70 A.D., is controversial, to say the least.
(4) In comparing the Hogenberg, Adrichem and Josephus maps, it appears that the structure noted as "Solomon's Temple" is, in fact, Pilate's palace, and the Antonia fortress and Strotion Tower. This leaves the adjacent "squared complex" in all three maps as the Temple of Herod. This leaves to be explained the mountain peak underneath the Dome of the Rock, whether the height of the Temple Mount was above that point, since no mountain peak is indicated in the area of the "squared complex." King Solomon's palace and stables were adjacent to the Temple Mount, and there may be confusion here with the "squared complex" on the maps. The image of "Solomon's Temple" on the Josephus map does match the description of the actual temple. The thesis that the Temple did not sit atop the peak underneath the Dome of the Rock still must be answered, since both those who advocate restoration of the Temple and those who resist it (Palestinians, who oversee the Temple Mount) have presumed that in order to restore the Temple the Dome of the Rock would have to be torn down.

---
Launched: 10.25.04 / 11.02.04
Updated: 4.06.05; 4.07.05; 4.08.05; 4.21.05; 4.23.05; 4.24.05
Visitors since 4.19.05; 5,000 from 11.02. 04 to 4.19.05

Copyright © 1981-2005 Maravot. All rights reserved
Copyright © 1981-2005 Mel Copeland. All rights reserved
Painting of Apple by Mel Copeland, early 70's
Background: tile from Cicero's villa (Marcus Tullius Cicero 106 B.C. - 43 B.C.)