News Headlines & Trends
---
05.13.07 Taliban commander Dadullah killed in Afghan clash
KANDAHAR, Afghanistan(Reuters) May 13 - Mullah Dadullah, the Taliban's top operational commander in southern Afghanistan, was killed during a clash with Afghan and western forces in Helmand province, Afghan officials said on Sunday. The death of Dadullah represents the biggest setback to the Taliban command since the insurgency began, after its Islamic militia government was toppled by US backed forces in 2001. "He was killed last night and right now I have his body before me," Assadullah Khalid, governor of neighboring Kandahar province, told Reuters. 
An Interior Ministry statement said Dadullah was killed in fighting with security forces in Helmand's Girishk district on Saturday night. Officials from NATO and the US-led coalition could not confirm it. The one-legged Dadullah has been reported to have been captured or killed several times in the past, but this time the authorities appeared sure he was dead. A Reuters reporter who had seen Dadullah in the past recognized the body brought to Kandahar. [More>>thestar.com.my]
---
05.13.07 Iran will hold talks with US on Iraq
TEHRAN (Reuters) May 13 - Iran and the United States will hold talks in Baghdad aimed at establishing security in Iraq, Iran's Foreign Ministry said on Sunday. The timing of the talks was unclear, with the official IRNA news agency at first saying they would be next week but later reporting the date would become clear by Friday. Talks between Iran and the United States, which accuses Teheran of supplying and training Shia militia in Iraq, are rare. The two countries have not had diplomatic ties for more than a quarter century.
"With the aim of easing the pain of the Iraqi people, supporting the Iraqi government and strengthening security in Iraq ... Iran will talk with the American side in Baghdad," IRNA quoted Foreign Ministry spokesman Mohammad Ali Hosseini as saying. [More>>khaleejimes.com]
---
05.13.07 Dozens of rabbis ascend Temple Mount in unprecedented visit
May 13 - Dozens of rabbis from the national Zionist camp visited the Temple Mount on Sunday in order to increase awareness and emphasize Jewish linkage to the site. A few days ago, the rabbis had released an announcement permitting Jews to enter the Temple Mount. Sunday's visit marks the first time such a large group of rabbis, including the head rabbi of the Yesha Council Rabbi Dov Lior, Ma'ale Adumim Yeshiva head Rabbi Nahum Rabinowitz, and Rabbi Daniel Shaleh, have visited Temple Mount together. Last weekend, the religious media published a notice signed by Bnei Akiva Yehiva head Rabbi Chaim Druckman, his colleague Rabbi Avraham Zuckerman, and Kiryat Shmona Chief Rabbi Tzfania Drori. The rabbis called on "the entire holy public to ascend the Temple Mount in purity ... to arrive in coming days to the allowed sites near the entrance to the Temple Mount."

By publishing the announcement, rabbis Druckman, Zuckerman, and Drori joined dozens of other rabbis from the national Zionist camp who have recently decided to permit Jewish entry into the Temple Mount, subject to halakhic (Jewish law) restrictions. Allowing the entry is a clear deviation from the general halakhic rabbinical consensus, including both from the ultra-Orthodox camp and the national Zionist camp, which maintains that Jewish ent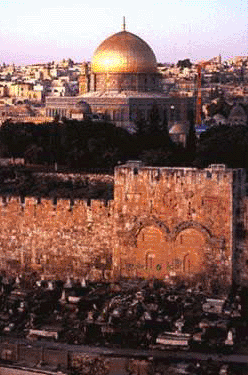 ry to the site is forbidden. The accepted explanation for the entrance ban throughout the years was that the exact location of the temples and the Holy of Holies is unknown, meaning Jews could unknowingly set foot in forbidden areas. [More>>haaretz.com]

Editorial note: When I was in Jerusalem in 1985 I inquired of several people why Jews could not enter the Temple Mount. Several Jews, including Orthodox Jews, said, "We can enter the Temple Mount but our rabbis ask us not to do so, pending the coming of the Messiah. When the Messiah comes we will enter the mount with him." On the other side of the coin Moslems do not forbid anyone from entering the Temple Mount except the Jewish Messiah. Sulliman the II sealed up the main entrance to the Temple Mount, the Golden Gate, in 1541 A.D. Before the Golden Gate's sealed wall a moslem cemetery was placed and iron bars were put in front of the gate. The reason for this extraordinary seal on the Golden Gate was to prevent the Jewish Messiah from entering the gate and going up to the Temple Mount where, it was believed, he would rebuild the Temple. Arabs and Jews believe that to build the Temple the Dome of the Mount must be pulled down to make room for it.

Mel Copeland


---
05.13.07 Bird flu death reported in Medan, Indonesia
MEDAN, Indonesia, May 13 - A 26-year-old woman who tested positive for bird flu died at a hospital in Medan, North Sumatra, on Saturday night, pushing the country's human avian influenza death toll to 76. The victim, identified only as NS, was four months pregnant. She died three days after being admitted to Adam Malik hospital. The resident of Deli Serdang regency was the second bird flu fatality at the hospital. Last week, a woman from Riau province who tested positive for the virus died at the hospital.[More>>thejakartapost.com]
---
05.13.07 Five killed in Thai south
YALA, Thailand, May 13 - Suspected separatist rebels have killed five people in Thailand's troubled south, police said Sunday, as the Thai premier arrived on another peace-building mission. Three Muslim rubber-tappers were shot dead in Yala province on Sunday afternoon, a local police officer said, just a few hours after Prime Minister Surayud Chulanont's plane landed in neighboring Pattani province. On Saturday night, a Muslim village chief was shot dead at a wedding party in Yala, while a Buddhist man was killed in a drive-by shooting in Narathiwat province, local police said. [More>>thenews.com.pk]
---
05.12.07 Bill Moyers talks with Marilyn B. Young - Rice mixing up Vietnam & Iraq Wars?
May 12 - BILL MOYERS: My friend and colleague Charlie Rose conducted a remarkable interview this week with Condoleeza Rice. It was mesmerizing because as Charlie pressed her with questions about an endgame in Iraq, Secretary Rice's language seemed as removed from reality, as it was four years ago before all the blood and chaos that has followed America's invasion.

Here are just a few excerpts from what she said:

[EXCERPT FROM CHARLIE ROSE]

SECRETARY RICE: America's credibility remains, I think, strong. Yes, people are concerned. For instance, the issues about the intelligence in Iraq, that's been somewhat difficult to overcome. I'll be very, very straightforward with you on that.

CHARLIE ROSE: On weapons of mass destruction?

SECRETARY RICE: Yeah, yeah, because people now say when you give them a brief, "Are you sure?" And yes, that's an issue and you say, well, it wasn't just America's intelligence services, of course, that thought that he had weapons of mass destruction; this was a worldwide intelligence problem, because the UN thought he had weapons of mass destruction.

SECRETARY RICE: The United States is in Iraq because the Iraqi Government asked us to be there and they asked us (inaudible) a UN Security Council mandate. Now, everybody understands the Iraqis are not yet able to secure themselves. And no one -- I can tell you, when you go into the region and you talk to people, the first thing they say to you is: You're not leaving, are you? Because they are concerned that if the United States withdraws precipitously and leaves a vacuum there, that it's going to filled by al-Qaeda, it's going to be filled by extremists from Iraq and it's going to be filled by neighbors playing games against one another.

SECRETARY RICE: our friends in the neighborhood need to know and the Iraqis need to know that we are not looking to leave Iraq. That's not why this President went into Iraq and it's not how --

CHARLIE ROSE: Ever?

SECRETARY RICE: Charlie, we are not going to leave an Iraq that is not capable of defending itself and with a foundation for future reconciliation.

CHARLIE ROSE: Do you believe you'll have the support of the American people to do that?

SECRETARY RICE: I think that.

[END EXCERPT FROM CHARLIE ROSE]
BILL MOYERS: With me now is the historian Marilyn Young. Winner of many awards for her research and teaching. She is a professor At New York University and has published many books and essays on foreign policy, including THE VIETNAM WARS, 1945-1990. Now, with Lloyd Gardner, she has edited this collection of essays, IRAQ AND THE LESSONS OF VIETNAM: OR, HOW NOT TO LEARN FROM THE PAST. You will not read a more timely or essential book.
Marilyn Young, thanks for joining me.
MARILYN B. YOUNG: It's a pleasure, Bill.
BILL MOYERS: What do you think, watching Secretary Rice?
MARILYN B. YOUNG: Smooth and slick and full of deception.
BILL MOYERS: Deception?
MARILYN B. YOUNG: Oh, yeah. There are a number of places where the deception is really quite extraordinary. But it's deception always with a half truth, which is the best kind of lie, the most persuasive lie. So she says, "It wasn't just our intelligence service that talked about weapons of mass destruction." That's true. The Germans looked into it and said, you know what? Your information is wrong, it's useless. So there were other intelligence services involved, but they disagreed with ours, which she didn't say.
Then she said the U.N. thought there were WMD's. But that's for people with really bad short term memory loss. Because Hans Blix, who was in the U.N. as inspector, was quite persuaded that in fact, there were no weapons of mass destruction. The most extraordinary one, though, the really one that just takes my breath away, is where she says we're in Iraq because the Iraqi government invited us there. And we're there under a U.N. mandate. Saddam Hussein certainly didn't invite us in. And the UN mandate that she refers to, it's a resolution, it's not a mandate-- it says, after all, we're all agreed that everyone should help in the reconstruction of Iraq. That's all. It's not a mandate for occupation, at all.
BILL MOYERS: The words seem detached from reality.
MARILYN B. YOUNG: Well, I wonder if she wasn't thinking of other wars. For example, it was always said that Ngo Dinh Diem invited the United States.
BILL MOYERS: Into Vietnam?
MARILYN B. YOUNG: Into Vietnam. So perhaps she got a little mixed up.
BILL MOYERS: Vietnam seems to be in the heads of all these people. [More>>pbs.org/moyers]
---
05.12.07 Call for Opec to increase output as US petrol stocks hit 16-year low
May 12 - A plunge in American petrol stocks to a 16-year low has prompted the International Energy Agency (IEA) to call on Opec to open its taps and bring more crude oil to the market before the summer. The IEA's warning and continued disruption to Nigerian oil exports pushed the price of Brent crude up almost a dollar to $66.67. Continued strong petrol demand in America is confounding the oil market and yesterday the Paris-based agency pointed to 930,000 barrel per day (bpd) oil and product stock draw in the first quarter of this year. That followed an 890,000 bpd stock draw in the fourth quarter of last year.

The agency is predicting a 1.6 million bpd seasonal jump in oil product demand next month, requiring a significant increase in supplies that the IEA states "looks unlikely to happen." Meanwhile, the agency points to the continuing supply threats to Nigerian exports, a high petrol-yielding crude that in May suffered a further 220,000 bpd cut, on top of the continuing 600,000 bpd loss of capacity over last year. [More>>timesonline.co.uk]
---
05.12.07 Billions in oil missing in Iraq, US study says
May 12 - Between 100,000 and 300,000 barrels a day of Iraq's declared oil production over the past four years is unaccounted for and could have been siphoned off through corruption or smuggling, according to a draft American government report. Using an average of $50 a barrel, the report said the discrepancy was valued at $5 million to $15 million daily.
The report does not give a final conclusion on what happened to the missing fraction of the roughly two million barrels pumped by Iraq each day, but the findings are sure to reinforce long-standing suspicions that smugglers, insurgents and corrupt officials control significant parts of the country's oil industry. The report also covered alternative explanations for the billions of dollars worth of discrepancies, including the possibility that Iraq has been consistently overstating its oil production. [More>>nytimes.com]
---
05.12.07 Nine killed in preelection violence in Algeria
ALGIeRS - Seven Islamic extremists and two members of Algeria's security forces have been killed in the violent run-up to parliamentary elections, newspapers reported Saturday. Three armed Islamists and one soldier were killed Thursday when fighting broke out during a military operation in the Tizi Ouzou region of Kabylie, 110 kilometers (70 miles) east of Algiers, the Liberte newspaper said.

Another three extremists were killed on the same day in another military sweep, in Saida, 430 kilometers southwest of the capital, it added, as Algerians anticipated the May 17 legislative polls. All six Islamists were said to be members of the Salafist Group for Preaching and Combat (GSPC), which styles itself as the North African wing of Osama Bin Laden's Al Qaeda network. On Friday, meanwhile, a village guard was killed and two other people injured when a bomb went off in an abandoned house in Beni Mehboub, in the El Milia region, 400 kilometers east of Algiers, newspapers said. [More>>metimes.com]
---
05.12.07 5 killed, 3 missing in US patrol
BAGHDAD (Reuters) May 12 - A team of seven U.S. soldiers and an Iraqi army interpreter were attacked south of Baghdad on Saturday and five soldiers were killed while three others went missing, the U.S. military said. The attack took place near the town of Mahmudiya, a rural area south of the capital that is a stronghold of al Qaeda militants. 
"This morning at 4:44 a.m. (0044 GMT) in Iraq, a coalition force team of eight soldiers (seven Americans and an Iraqi army interpreter), were attacked 12 miles west of Mahmudiya. As a result of this attack, five soldiers were killed in action and three are currently missing," a US military statement said. [More>>thestar.com.my]
---
05.12.07 Leading Iraqi Shia party rebrands
May 12 - Iraq's largest Shia party has pledged its allegiance to the country's most senior cleric, Grand Ayatollah Ali al-Sistani, distancing itself from Iran where it was formed. The Supreme Council for Islamic Revolution in Iraq (SCIRI) also changed its name to the Supreme Islamic Iraqi Council (SIIC), dropping the word Revolution on Saturday. Party officials said they had introduced significant policy changes. They said the changes were aimed at giving the party more of an Iraqi flavour and to reflect the changing situation in the country since the US-led invasion overthrew Saddam Hussein, then president, in 2003. They said the party had been close to al-Sistani for some time, but a two-day conference on Baghdad that ended on Friday had formalized relations with the influential cleric. [More>>aljazeera.net]

---
05.12.07 Hamas TV defies government request, airs anti-Israel children's show
May 12 - Hamas's television station defied the Palestinian government on Friday by airing a show featuring a Mickey Mouse look-alike that urges children to support armed resistance against Israel. Called "Tomorrow's Pioneers," the show that airs weekly on Hamas's Al-Aqsa Television features a character named "Farfur," an actor dressed in a full body-suit that resembles Walt Disney's famous cartoon character. Following complaints by Israeli watchdog groups that triggered international scrutiny, Palestinian Information Minister Mustafa Barghouthi said he asked Al-Aqsa to stop the broadcasts so the content could be reviewed. [More>>haaretz.com]
---
05.12.07 Yemen recalls ambassadors from Iran, Libya
SANAA (Reuters) May 12 - Yemen said on Saturday it was recalling its ambassadors to Iran and Libya over what it sees as their support for Shia Muslim rebels involved in bloody clashes with government forces. Yemeni officials have accused Iran and Libya of backing rebels led by Abdul-Malik al-Houthi in the northern province of Saada. The two countries have denied the allegation.
"The government will consult with the two ambassadors on the developments in Saada," Yemeni Foreign Minister Abubakr al-Qirbi told Reuters. The rebels deny receiving Iranian or Libyan support. Meanwhile, a rebel leader welcomed remarks by Qirbi in an interview with Reuters on Tuesday that the government would consider talks with the rebels if they lay down their guns. [More>>khaleejtimes.com]
---
05.12.07 Russia, Kazakshstan, Turkmenistan agree on Caspian gas pipe - 2
TURKMENBASHI (RIA Novosti) May 12 - Russia, Kazakhstan and Turkmenistan agreed to build a gas pipeline along the Caspian coast and will sign the deal by September 1, a joint declaration of the three presidents said Saturday. The pipeline will run from Turkmenistan along the Caspian coast of Kazakhstan and on to Russia, the sole re-exporter of the Turkmen gas. It is a rival project to a US-sponsored Trans-Caspian pipeline across the Caspian Sea to carry Turkmen gas to southern Europe bypassing Russia.
Following their summit meeting in Turkmenistan, Vladimir Putin, Nursultan Nazarbayev and Gurbanguly Berdymukhammedov instructed their governments to start the construction of the pipeline from the second half of 2008. Putin also said the restoration of Soviet-era Central Asia-Center pipelines going to Russia via Uzbekistan and Kazakhstan would make it possible to increase transportation by at least 12 billion cubic meters by 2012.
Russia's energy minister, Viktor Khristenko, said the 1974 pipeline system was capable of transporting more than 90 billion cu. m. a year after repair. "Two declarations that were signed today basically outline the future development of the largest infrastructure projects in the entire Central Asia," he said. [More>>rian.ru]
---
05.12.07 Karachi violence death toll rises to 20, President calls emergency meeting
KARACHI, May 12 - At least 20 people were killed, several injured and dozens of vehicles were torched as a result of violence erupted on the occasion of visit of Chief Justice of Pakistan Justice Iftikhar Chaudhry to the metropolis on Saturday. President General Pervez Musharraf has called an emergency meeting with the Prime Minister Shaukat Aziz over Karachi killings. Important decisions would be taken in a high level meeting, the sources said.

The incidents of exchange of firing among the activists of rival parties were reported in Shahra-e-Faisal near Drig Road, Kala Board, Banaras, Malir, PIA Colony, SITE area and other areas. The firing was also reported at Baloch Colony and Guru Mandar. [More>>thenews.com.pk]
---
05.11.07 Four Islamists killed near Syria-Iraq border
NAHRBARED, Lebanon (AFP) May 11 - Syrian forces have killed four members of Palestinian militant group Fatah Al Islam trying to sneak across the border to join the insurgency in Iraq, the group said Friday. A spokesman for Fatah Al Islam, who gave his name as Abu Salim, said that the incident occurred on the Syrian border with Iraq almost a week ago, and that five Syrian soldiers were killed in the clash.

"The Syrian forces killed two military chiefs of Fatah Al Islam, Abu Laith Al Shami and Abu Abdel Rahman Al Shami, as well as two combatants," said the spokesman, who is based in the Nahr Bared Palestinian refugee camp in north Lebanon. They were killed, he added, "while trying to get into Iraq to support their Islamic brothers." Syria has not immediately reported the deaths nor confirmed the claimed clash. [More>>metimes.com]
---
05.11.07 16 dead in Afghan violence
KANDAHAR, May 11 - Four policemen and a dozen Taliban were killed in fresh violence in southern Afghanistan, officials said Friday. Ten militants were killed when warplanes bombed a village in the southern province of Helmand, a district governor said. The air strike was in Sangin district, where provincial authorities said 21 civilians were killed in coalition bombing raids targeting the Taliban late Tuesday.

Afghan and coalition forces estimate a "significant number of Taliban fighters" were killed, the US-led coalition said in a statement Friday. It said there were civilian casualties but the number was being investigated. In a separate incident, four policemen and two more insurgents were killed when fighting erupted late Thursday after a group of the extremist militants attacked a police post, provincial police chief Ali Shah Ahmadi told French news agency. Four suspects were arrested in a follow-up operation on Friday, he said. Taliban spokesman Yousuf Ahmadi said his group was responsible. [More>>thenews.com.pk ; See related story, aljazeera.net, May 11, "US admits to Afghan civilian deaths."]
---
05.10.07 G.O.P. moderates warn Bush Iraq must show gains
WASHINGTON, May 10 - Moderate Republicans gave President Bush a blunt warning on his Iraq policy at a private White House meeting this week, telling the president that conditions needed to improve markedly by fall or more Republicans would desert him on the war. The White House session demonstrated the grave unease many Republicans are feeling about the war, even as they continue to stand with the president against Democratic efforts to force a withdrawal of forces through a spending measure that has been a flash point for weeks.
Participants in the Tuesday meeting between Mr. Bush, senior administration officials and 11 members of a moderate bloc of House Republicans said the lawmakers were unusually candid with the president, telling him that public support for the war was crumbling in their swing districts. One told Mr. Bush that voters back home favored a withdrawal even if it meant the war was judged a loss. Representative Tom Davis told Mr. Bush that the president's approval rating was at 5 percent in one section of his northern Virginia district. [More>>nytimes.com]
---
05.10.07 Iraqi lawmakers call for US withdrawal timetable
BAGHDAD (AP) May 10 - A majority of Iraqi lawmakers have signed onto draft legislation calling for a timetable for the withdrawal of foreign troops from Iraq and demanding a freeze on the number of such troops already in the country, lawmakers said on Thursday. The legislation was being discussed even as US lawmakers were locked in a dispute with the White House over their call to start reducing the size of the US force here in the coming months.
The proposed Iraqi legislation, drafted by the parliamentary bloc loyal to anti-American Shiite cleric Muqtada Al Sadr, was signed by 144 members of the 275-member house, according to Nassar al-Rubaie, the leader of the Sadrist bloc. The Sadrist bloc, which holds 30 parliamentary seats and sees the U.S.-led forces as an occupying army, has pushed similar bills before, but this would be the first time it had garnered the support of a majority of lawmakers. The bill would require the Iraqi government to seek approval from parliament before it requests an extension of the UN mandate for foreign forces to be in Iraq, al-Rubaie said. It also calls for a timetable for the troop withdrawal and a freeze on the size of the foreign forces. [More>>
khaleejtimes.com
]
---
05.10.07 Iraqi Kurds send 1,000 troops to Iran border
SULAIMANIYAH, Iraq, May 10 - Iraq's autonomous Kurdish region has sent 1,000 peshmerga troops to its border with Iran to prevent attacks by the Islamist insurgent group Ansar al-Islam, a spokesman said on Thursday. Major General Jabbar Yawir said an Ansar-allied group calling itself the "Kurdistan Brigades of Al-Qaeda" has repeatedly attacked Iraqi Kurdish forces in the region around the border town of Penjwin. "The forces sent shall be in two brigades," he said in the Kurdish city of Sulaimaniyah. "Some will reinforce army units and border checkpoints and some will mount patrols in the region to ambush the enemy." The peshmerga are former Kurdish separatist guerrillas that have been incorporated into the Iraqi and Kurdish armed forces in the four years since a US-led invasion toppled the dictator Saddam Hussein.

The Kurdish autonomous region is regarded as relatively peaceful compared to central and southern Iraq, where attacks by Islamists and Saddam loyalists have provoked a civil war between Sunni and Shiite factions. But the Kurdish Islamist group Ansar al-Islam continues to operate in the region, and US commanders have accused neighboring Iran of sponsoring both Sunni and Shiite armed groups in a bid to foment unrest. On Wednesday, a powerful truck bomb exploded in front of the Kurdish interior ministry in Arbil, killing at least 14 people. That attack was claimed by the "Islamic State of Iraq," an Al-Qaeda front organization. [>thenews.com.pk]
---
05.10.07 FSB, security agencies prevent terrorist attack on Moscow
MOSCOW (RIA Novosti) May 10 - Russia's Federal Security Service (FSB) and territorial security agencies have stopped a terrorist group that was preparing to carry out a large-scale terrorist attack on Moscow, the FSB said Thursday. "In the terrorist attack on Moscow, the group members planned to use a car full of explosives, and had bought a second-hand VAZ-2107 for the purpose," the FSB said. "On May 8, FSB officers discovered the car near a residential building in Profsoyuznaya Street."
The security agencies said the group that consisted mainly of North Caucasus nationals is suspected of committing a number of other terrorist acts, and that several suspects have been detained. The residents of nearby houses were evacuated, and the district surrounded by police. "Due to the difficulty and huge power of the explosive devices discovered in the car, their defusing by FSB bomb disposal experts lasted until May 9 afternoon," the FSB said. An investigation is underway. [>rian.ru]
---
05.10.07 Blair quits: 'I did what I thought was right'
May 10 - Tony Blair returned to where his political career first began today to announce his immediate resignation as Labour leader and mount a passionate, personal defence of his record during a decade in Downing Street. In an emotional speech to activists at the Trimdon Labour Club in his Sedgefield constituency - where he launched his own Labour leadership campaign 13 years ago and celebrated his three general election victories - Mr. Blair said that he would formally tender his resignation as Prime Minister to the Queen on June 27.
That timetable sets in motion a six-week contest for the Labour leadership - although few believe that it will be anything other than a coronation for Gordon Brown, Mr. Blair's long-time partner in the 'new Labour project' and his Chancellor since 1997. Mr. Blair is expected to endorse Mr. Brown tomorrow as he sets of a seven-week farewell tour. Today, in front of his own family and a crowd of adoring supporters, he concentrated on his own record, claiming to have changed the face of modern Britain. [More>>timesonline.co.uk]
---
05.10.07 British homeowners hit by interest rate rise
May 10 - Homeowners were dealt more mortgage pain today after the Bank of England raised interest rates to their highest point in six years. The Bank's Monetary Policy Committee (MPC) hiked its base rate from 5.25% to 5.5%, the fourth quarter-point rise since August. The move had been widely expected after inflation hit 3.1% in March, forcing the Bank's Governor to write an explanatory letter to the Chancellor for the first time. The increase is likely to add an estimated £16 a month to the average mortgage bill for households with a typical £100,000 mortgage. [More>>independent.co.uk]
---
05.10.07 The terrorists next door?
CHERRY HILL, N.J., May 10 - From the front porch of her two-story home on Mimosa Drive, Susan DeFrancesco looked out on the neighborhood she calls "a little United Nations." Pointing from one house to the next, she said: "They're Asian; that family's from Poland. They're from Canada. She's from India. Living among those varied families for the past seven years were the Dukas, a three-generational clan of ethnic Albanians. Their Muslim religious garb, repeated minor run-ins with the law, and a brood of up to 20 children, grandchildren and other relatives made them unusual, but hardly unwelcome. "You don't want to single out a family because of where they're from or what they believe," DeFrancesco said.
On Tuesday morning, it suddenly looked different when three of the Duka brothers -- young, bearded men in their 20s who had spent most of their lives in New Jersey - were among the six men indicted in an alleged terrorist plot to attack nearby Fort Dix with assault weapons. For this bedroom community in the shadow of the Philadelphia skyline, they would become the accused jihadists next door - their arrest immediately shattering assumptions both here and beyond about who Islamic militants are.
Experts have warned that the next big terrorist threat will come from homegrown extremists, unaffiliated with al Qaeda but harboring resentments fostered by materials easily available from the Internet. In fact, the few who have shown themselves thus far prove that there is no stereotype. Most of the men arrested Tuesday were European rather than Middle Eastern. They hail from one of the most pro-American and secular parts of the Muslim world - the ethnic Albanian regions of Macedonia, where gratitude for U.S. assistance in Kosovo during the 1990s still runs high. [More>>washingtonpost.com]
---
05.10.07 Syria jails dissident for 12 years
May 10 - A Syrian dissident has been jailed for 12 years in the harshest sentence against an opposition activist since Bashar al-Assad became president of Syria in 2000. Kamal Labwani, founder of the opposition Democratic Liberal Gathering in Syria, was convicted on Thursday of having contact with a foreign state "to encourage it to attack Syria." Labwani was arrested in November 2005 after holding talks with White House officials on a tour of the US and Europe. The verdict on Thursday was the latest development in a crackdown by the regime against rights activists in Syria.
Ammar Qorabi, head of the National Organization for Human Rights in Syria, said: "This is the harshest judgment against a prisoner of conscience since President Bashar al-Assad came to power" after his father Hafez al-Assad died. "Kamal Labwani was sentenced to life, commuted to 12 years in  prison, for having contacts with a foreign country aimed at encouraging it to attack Syria." He said the sentence was all the more surprising because it came amid expectations of an amnesty for prisoners of conscience to mark a planned referendum on the Syrian presidency...A Syrian dissident has been jailed for 12 years in the harshest sentence against an opposition activist since Bashar al-Assad became president of Syria in 2000. Kamal Labwani, founder of the opposition Democratic Liberal Gathering in
Syria
, was convicted on Thursday of having contact with a foreign state "to encourage it to attack Syria."
Labwani was arrested in November 2005 after holding talks with White House officials on a tour of the US and Europe. The verdict on Thursday was the latest development in a crackdown by the regime against rights activists in Syria. Ammar Qorabi, head of the National Organization for Human Rights in Syria, said: "This is the harshest judgment against a prisoner of conscience since President Bashar al-Assad came to power" after his father Hafez al-Assad died. "Kamal Labwani was sentenced to life, commuted to 12 years in prison, for having contacts with a foreign country aimed at encouraging it to attack Syria." He said the sentence was all the more surprising because it came amid expectations of an amnesty for prisoners of conscience to mark a planned referendum on the Syrian presidency...Six leading opposition figures being detained in
Syria
, including Bunni and Labwani, warned earlier this month that the "repressive climate" in the country was worsening and called for the release of all political prisoners. [Full story>>
aljazeera.net
]
---
05.09.07 Four journalists shot dead
KANDAHAR (Reuters) May 9 - A NATO air strike killed 21 civilians, including women and children, in southern Afghanistan, a provincial governor said on Wednesday, the latest in a string of civilian casualties that have riled Afghans. The air strike late on Tuesday night hit houses in a village in the Sangin district on Helmand province, where Western forces have been hunting Taliban militants in recent weeks, Helmand governor Assadullah Wafa told Reuters. [More>>thestar.com.my]
---
05.09.07 '7/7 bomber's widow held in anti-terror raid'
May 9 - Police have arrested the widow of the leader of the London suicide bombers in an anti-terror operation early today, it is understood. Hasina Patel, whose husband, Mohammad Siddique Khan, led the terror ring that detonated bombs on public transport on July 7 2005, is believed to be among four people held this morning in connection with the 7/7 attacks.
Scotland Yard refused to confirm her identity, however, sources indicated that she was the 29-year-old woman arrested in West Yorkshire today, along with two men aged 30 and 34, while another man, aged 22, was arrested in the Selly Oak area of Birmingham. They were held on suspicion of the commission, preparation, or instigation of acts of terrorism under the Terrorism Act 2000. Armed officers were not involved in the comparatively low key arrests. [More>>timesonline.co.uk]
---
05.09.07 Six men arrested in a terror plot against Fort Dix
CAMDEN, N.J., May 9 - Six Muslim men from New Jersey and Philadelphia were charged Tuesday with plotting to attack Fort Dix with automatic weapons and possibly even rocket-propelled grenades, vowing in taped conversations "to kill as many soldiers as possible," federal authorities said. The arrests came after a 15-month investigation during which the F.B.I. and two informers who had infiltrated the group taped them training with automatic weapons in rural Pennsylvania, conducting surveillance of military bases in the Northeast, watching videos of Osama bin Laden and the 9/11 hijackers and trying to buy AK-47 assault rifles.
The authorities described the suspects as Islamic extremists and said they represented the newest breed of threat: loosely organized domestic militants unconnected to - but inspired by - Al Qaeda or other international terror groups. But the criminal complaint that details the plot describes an effort that was alternately ambitious and clumsy, with the men at turns declaring themselves eager to sacrifice their lives in the name of Allah and worrying about getting arrested or deported for buying weapons or possessing a map of a military base. [More>>nytimes.com]
---
05.09.07 Al Qaeda chief in North Africa drums up followers
DUBAI. May 9 - The purported chief of the Al Qaeda branch in North Africa urged his followers to join the "war between infidels and believers," in a videotape broadcast Wednesday on Al Jazeera news channel. The tape showed testimonies from the three suicide bombers in April 11 attacks in Algiers that killed 30 people and wounded more than 220 others, and also the preparation of the car bombs purportedly used in the bombings.

"It is a crusade against Islam and a decisive war between the infidels and the believers," said Abu Mussab Abdel Wadud in the videotape whose authenticity could not be verified. "Who would miss [taking part in] this war will be missing the best chance in his life and will be deprived of [Allah's] reward," added the militant with a long black beard and wearing military fatigues. [More>>metimes.com]
---
05.09.07 Four journalists shot dead
KIRKUK, Iraq, May 9 - Journalists were killed when gunmen opened fire on their car near the northern city of Kirkuk today, police said. They said one of the journalists was the well-known director of a local media organization which publishes several newspapers. The attack took place southwest of Kirkuk near the small town of Rashad. It was unclear if the shooting was random or because the four were journalists.
Iraq is the most dangerous country in the world for reporters. The Vienna-based International Press Institute said in April that 46 journalists were killed last year in the country, of whom 44 were Iraqis. On Sunday, a Russian freelance photographer was killed in a roadside bomb attack north of Baghdad while on patrol with US forces. Six soldiers were also killed in that attack. [>theaustralian.news.com.au ; See related story, khaleejtimes.com (AP) May 9 - "Truck bomb in northern town of Irbil kills 19."]
---
05.09.07 Malaysia 'vigilantes' condemned
May 9 - Human Rights Watch has urged the Malaysian government to disband an armed volunteer force, saying it has become a "vigilante force" responsible for numerous cases of violence against foreigners and other abuses. It accused RELA, which has extensive powers, of extortion, aggression and repeated violations of the rights of migrant workers. HRW said the government set up RELA, or the People's Volunteer Corps, to target foreign workers recording a string of abuse cases.
RELA has almost half a million uniformed and armed volunteer members empowered to make arrests or enter and search any premises without a search or arrest warrant. They also have the right to bear and use firearms with legal immunity from prosecution, Human Rights Watch said. [More>>
aljazeera.net
]
---
05.09.07 The miracle of Belfast
May 9 - After 40 years of hatred, the veteran Protestant demagogue and the ex-IRA commander pledge to share power in Northern Ireland. It is the closest thing to a miracle that Belfast has seen: the sight of the two veterans, Protestant patriarch and iconic republican, standing shoulder-to-shoulder to vow that they will leave the past behind. It flew in the face of all history, all experience and all intuition to think of Ian Paisley and Martin McGuinness promising to run Northern Ireland together for the benefit of all its people.
Reporting in Belfast for many years, I had watched the pair at close quarters, but until recently never dreamt they could get together: they seemed to occupy different political planets. Yet it happened. Two warriors of the Troubles, whose natural habitat seemed to be conflict, stood side-by-side in Stormont and affirmed to the world that the war is over and that a new era of cooperation is at hand.
Another minor miracle was that they did so with every appearance of enthusiasm and mutual respect. Far from any hint of reluctance, they projected that they are looking forward to a new era with great relish. For a Belfast journalist this is all very confusing and disorienting. They were so far apart that they only rarely bothered to attack each other: they simply were hardly on each other's radar screens. [More>>independent.co.uk]
---
05.09.07 US citizen gets prison terms for exporting aircraft parts to Iran
LOS ANGELES (Xinhua) May 8 - A US citizen living in California was sentenced to two years in prison for exporting military aircraft parts to Iran, authorities said Tuesday. Reza Tabib, 52, an Iranian-born US citizen, pleaded guilty last June to violating the International Emergency Economic Powers Act, which prohibits the export and re-export to Iran of certain items of US origin. In January 2006, agents intercepted and seized maintenance kits specifically designed for the F-14 "Tomcat" aircraft that Tabib, along with his wife, Terri Repic-Tabib, had sent to Iran via Germany. The couple was arrested at their California home a month later.
Security agents seized another 13,000 aircraft parts worth an estimated 540,000 dollars after a search of the Tabibs' home. Those seized parts included military-grade hardware for different aircraft, including the F-14, said Virginia Kice of US Immigration and Customs Enforcement. The search also turned up numerous aircraft parts lists that were provided to the couple by an Iranian military officer, said Kice. [More>>xinhuanet.com]
---
05.09.07 States offer consumers new tool to thwart identity theft
May 9 - George Fitzgerald never imagined he would take on the nation's largest financial services industry and win. But his upstart coalition of consumer and business groups did just that when they took up the cause of identity theft victims in Delaware, winning passage last September of a state law enabling residents to opt out of America's instant-credit economy.
Delaware became the seventh state to enact a law enabling consumers to "freeze" their credit reports as a means of preventing identity thieves from establishing new, fraudulent lines of credit. Altogether, 26 other states and the District of Columbia have secured such rights for their citizens, and more states are considering similar measures. Credit freezes can be an effective, if blunt, tool to fight identity theft. A freeze directs the three major credit reporting bureaus to block access to a consumer's credit report and credit score. While a freeze does little to stop abuse with existing accounts that have been compromised by criminals, it can limit victims' total exposure, saving them the time and expense of clearing new, fraudulent accounts from their records. [More>>washingtonpost.com]
---
05.07.07 Two suicide car bombs kill 25 near Iraq's Ramadi
BAGHDAD (Reuters) May 7- Two suicide car bombers killed 25 people and wounded dozens more near Iraq's city of Ramadi on Monday in separate attacks that police blamed on al Qaeda. The attacks were the latest in a succession of big car bombings across Iraq in recent weeks that have killed hundreds despite a major US -backed security crackdown in Baghdad and its outlying areas, including Ramadi.
Monday's first bomb went off in a packed market at Albu-Thiyab, a town northeast of Ramadi, said Tareq al-Thiyabi, a police colonel and government security adviser in Anbar province. Ramadi is the provincial capital. He said 13 people were killed at the market, including women and children. Nearly 20 people were wounded. The second car bomb exploded soon after at a police checkpoint in a town called al-Jazeera, where 12 people including five policemen were killed, he added. More than 25 were wounded. "They are terrorists. They are from al Qaeda," Thiyabi said, when asked who he thought was behind the twin blasts.
The town of al-Jazeera is home to many Sunni Arab tribal leaders who formed an alliance against Sunni Islamist al Qaeda last year, opening up a fierce power struggle for Anbar. The tribal chiefs oppose al Qaeda's campaign of indiscriminate attacks on civilians and the imposition of an austere form of Islam in the areas where the group holds sway in the vast desert region that stretches to Syria. The violence in Anbar came a day after eight US soldiers were killed in Iraq, including six who died along with a freelance Russian photographer in a roadside bomb attack north of Baghdad. [More>>thestar.com.my]
---
05.07.07 100 police killed in two months in Aghanistan
KABUL, May 7 - More than 100 policemen have been killed in Taliban-related unrest in Afghanistan in the past two months, with the rebels stepping up attacks across the country, the interior ministry said Monday. Most of the killings were in southern and eastern Afghanistan where Taliban rebels are most active despite internationally aided efforts to hunt them down, ministry spokesman Zemarai Bashary said.

"Police have had some good achievements but unfortunately they suffered lots of casualties, too. In the past two months, 102 policemen have been martyred while providing security for their people," he told reporters. He said that attacks, especially suicide and roadside bombings, had increased in the first two months of the Afghan year, which starts March 21. [More>>metimes.com]
---
05.07.07 US forces detain 15 suspected militant in raids across Iraq
BAGHDAD, May 7 - US-led forces detained 15 suspected militants on Monday in a series of raids targeting al-Qaeda in Iraq leaders, the military said. Troops on a raid in Hillah, about 95 kilometers (60 miles) south of Baghdad, captured nine suspects, including one person believed to be a leader in al-Qaeda, the military said.

In two raids near Taji, about 20 kilometers (12 miles) north of Baghdad, troops detained three people with suspected links to senior leaders in the group, the military said. Two more suspected were captured east of Balad, 80 kilometers (50 miles) north of Baghdad, and another one was detained north of Fallujah, 65 kilometers (40 miles) west of Baghdad, the military said. [>thenews.com.pk]
---
05.07.07 Hundreds arrested in violence after Sarkozy win
PARIS, May 7 - More than 700 cars were set alight and nearly 600 people arrested in violence that followed the French presidential election victory of right-winger Nicolas Sarkozy, police said Monday. Seventy-eight police officers were injured in the incidents after his triumph in Sunday's vote. A total of 730 cars were burned in the high-immigrant suburbs in the hours that followed the triumph of the former interior minister over Socialist Segolene Royal in the presidential election.
Royal had warned in the run-up to Sunday's election that a Sarkozy victory could see the country slide into violence and unrest, similar to the three weeks of rioting that rocked French suburbs in late 2005. A total of 592 people were arrested, police said. Thousands of police reinforcements were deployed round the capital to head off the risk of unrest in the suburbs where Sarkozy is a hated figure for his tough stance on immigration and law and order.[More>>turkishpress.com ; See also independent.co.uk, May 7, "The two faces of Sarkozy." and lefigaro.fr, May 7, Ambiance "sereine et apaisee" au PS, assure Royal]
---
05.07.07 Palestinian leader Abbas praises US security plan
GAZA (Reuters) May 7 - Palestinian President Mahmoud Abbas praised on Monday a US plan that aims to bolster prospects for renewed peace talks with Israel by setting dates for both sides to take confidence-building steps. "The American document, which the Palestinian leadership has received, included important steps to achieve security in the Palestinian territories," Abbas was quoted as saying by the Palestinian official news agency WAFA. The plan, Abbas said, was a first step towards "easing the suffering of the Palestinian people," WAFA reported. The proposal calls for a "timeline" for so-called "benchmark" moves including a crackdown by Palestinian security forces on rocket attacks on Israel from Gaza and an easing of Israeli restrictions on Palestinians. In new violence, an Israeli aircraft attacked a car carrying an Islamic Jihad rocket-firing squad in the northern Gaza Strip, wounding one of the militants, the group said. Israel has said it would step up military operations to halt rocket launchings. [More>>khaleejtimes.com]
---
05.07.07 NSC: Syrian call for dialoge with Israel is 'authentic'
May 7 - National Security Council (NSC) Chairman Ilan Mizrahi said Monday that "Syria's call for dialogue with Israel is authentic." Speaking to the Knesset Foreign Affairs and Defense Committee, Mizrahi added that it is difficult to determine whether Syria is interested in peace, or just a peace process. Mizrahi said Syrian President Bashar Assad believes that the strengthening of ties with Iran and Hezbollah has borne fruit, and that Syria is "being sought after by the international community and has emerged from the isolation." [More>>haaretz.com]
---
05.07.07 Flavoring suspected in illness
SOUTH GATE, California, May 7 - She was once in constant motion; her co-workers compared her to a roadrunner because of the way she darted around the workplace. But now Irma Ortiz sits at the edge of her couch, too winded to sweep her patio or walk her son to school without resting. She is slowly suffocating.
Ortiz, 44, is among a group of California food-flavoring workers recently diagnosed with bronchiolitis obliterans, a rare and life-threatening form of fixed obstructive lung disease. Also known as popcorn workers lung, because it has turned up in workers at microwave-popcorn factories, the disease destroys the lungs. A transplant is the only cure. Since 2001, academic studies have shown links between the disease and a chemical used in artificial butter flavor called diacetyl. Flavoring manufacturers have paid out more than $100 million as a result of lawsuits by people sick with popcorn workers lung over the past five years. One death from the disease has been confirmed. [More>>washingtonpost.com]
---
05.07.07 Pakistanis smash cars for Islam
May 7 - Around 200 armed men have forcibly halted dozens of cars and smashed their cassette players in northwestern Pakistan in a bid to impose Taliban-style values. The men took up positions beside a road near Khar, the main town in the tribal region of Bajaur, where they stopped and searched passing vehicles, witnesses said. "They smashed cassette players running music and mobile phones fitted with cameras," a driver, whose vehicle was searched, said. A government official confirmed Saturday's incident but did not say if authorities planned any action against the men who also smashed mobile phones and ordered men to grow beards. [More>>aljazeera.net]
---
---
NOTES

*Visitor statistics on maravot.com from 1&1.com. 43,173 page views in April 2007.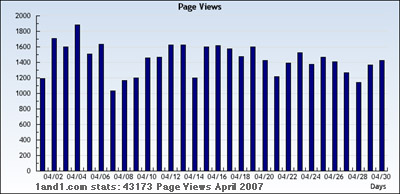 Privacy Policy: We do not store any personal data from you. We have no way of knowing any vital information about you – not even your name. Third-party distribution: We do not distribute information about your site usage to any third party. We are not responsible for the content of links from our site. Usage data: supplied by our Web Hosting service, 1and1.com, which consists of usage reports, such as page views / impressions and web pages visited, visitors' servers and geographical data (ISP's and country of origin).

---
Launched: 10.25.04 / 11.02.04
Updated: 5.15.07; 5.09.07; 5.10.07; 5.11.07; 5.12.07; 5.13.07
Copyright © 1981-2007 Maravot. All rights reserved
Copyright © 1981-2007 Mel Copeland. All rights reserved
Background: tile from Cicero's villa (Marcus Tullius Cicero 106 B.C. - 43 B.C.)