---
Historical trend on the New Orleans debacle
09.13.05 New FEMA head says focus shifting to finding homes
(AP) September 13 – The new acting director of the Federal Emergency Management Agency pledged Tuesday to intensify efforts to finding more permanent housing for the tens of thousands of Hurricane Katrina survivors now in shelters. "We're going to get people out of the shelters, we're going to move on and get them the help they need," R. David Paulison said in his first public comments since taking the job.

Homeland Security Secretary Michael Chertoff introduced Paulison as the Bush administration tried to deflect criticism for the sluggish initial federal response to the hurricane and its disastrous aftermath. President Bush planned to address the nation Thursday evening from Louisiana, where he will be monitoring recovery efforts, the White House announced Tuesday. Chertoff said that while cleanup, relief and reconstruction from Katrina is now the government's top priority, the administration would not let down its guard on other potential dangers. "The world is not going to stop moving because we are very focused on Katrina," Chertoff said.

Paulison, named to the post on Monday, said he was busy "getting brought up to speed." He replaced Michael Brown, who resigned on Monday, three days after being removed from being the top onsite federal official in charge of the government's response. [More>>wwltv.com]
---
09.13.05 Syria rejects US charges on Iraq
September 13 – Syria has rejected US accusations that it allows fighters to sneak into Iraq, describing what it called Washington's threat of using force as part of its relentless pressure on Damascus. "It is regrettable that such language should come from the ambassador of a great power who is supposed to show more commitment to the norms of international relations," Syrian Information Minister Mahdi Dakhlallah said on Monday.

The US ambassador to Iraq, Zalmay Khalilzad, fired a strong warning to Syria earlier during the day over help that Washington accuses the Damascus government of giving to radical groups in Iraq. "Our patience is running out with Syria," Khalilzad said in Washington. When asked how the US could respond, he said "all options are on the table," including military. [More>>aljazeera.net]
---
09.13.05 Abbas says will impose order in Gaza Strip immediately
September 13 – Palestinian Authority Chairman Mahmoud Abbas told his people in a televised speech Tuesday that he would take immediate steps to impose order in chaotic Gaza. Abbas spoke a day after Israel Defense Forces troops forces pulled out of Gaza. Since the withdrawal, Palestinian security forces have tried to prevent scavenging and looting in abandoned settlements, but have failed in most cases. Security commanders have said they don't have the manpower to do the job. Abbas also said that Israel's withdrawal from the Strip was not an end to occupation and that Israel must also withdraw from the West Bank and East Jerusalem. [Full story>>haaretzdaily.com]
---
09.13.05 Iraqi army kills 14, sees Tal Afar assault ending
TAL AFAR, Iraq (Reuters) September 13 – The Iraqi army said it killed 14 insurgents and captured 35 on Tuesday as troops chased militants down the narrow streets of the rebel northern town of Tal Afar, on the fourth day of a major military assault. The attack, led by Iraqi forces backed up by US troops, came as Iraq¹s President Jalal Talabani said Washington could withdraw as many as 50,000 troops by the end of this year as the Iraqi army became a credible fighting force in its own right. [More>>khaleejtimes.com]
---
09.13.05 Pakistan holds 'important' militants in tribal area
PESHAWAR, Pakistan (Reuters) September 13 – Pakistani forces have arrested 21 militants in a major search operation in a tribal region close to the Afghan border where Al Qaeda-linked militants hide out, a Pakistani general said on Tuesday...³The operation is still continuing. It is probably the biggest operation to date in North Waziristan,² Lieutenant-General Safdar Hussain, the army¹s top commander in northern Pakistan, told a news conference in Peshawar, the provincial capital of North West Frontier Province.

He said 21 suspects had been seized in raids that began on Saturday, along with a large quantity of weapons, a suicide bomb jacket, and a remote-controlled drone with a wingspan of less than a metre. ³There are some important people among those arrested...² [Full story>>khaleejtimes.com]
---
09.11.05 Yushchenko assures US over Ukraine's reform path
KIEV (Reuters), September 11 – Ukrainian President Viktor Yushchenko has assured Washington, a key backer of his pro-Western Orange Revolution, that the ex-Soviet state will stick to its reform path despite political upheaval. Yushchenko on Thursday fired the government of Prime Minister Yulia Tymoshenko – a crucial ally during last year's street protests that helped him to defeat a pro-Moscow rival and win power -- to end infighting and allegations of mass graft.

"The changes are aimed at strengthening democracy and building efficient government and will in no way change Ukraine's strategic course – integration into Euroatlantic structures and a strategic partnership with the United States," his press service quoted him as telling U.S. President George W. Bush by telephone.

The White House said Bush called Yushchenko on Saturday and urged him to adhere to the principles of the movement that brought him to power. Yushchenko, who is scheduled to visit the United States on Tuesday, said he looked to Washington for support in Ukraine's entry talks with the World Trade Organisation.

Yushchenko has proposed Yury Yekhanurov, a liberal economist and regional governor, as prime minister to replace Tymoshenko who has said she will fight against Yushchenko's camp in a parliamentary election next March. [thestar.com.my]
---
09.11.05 Breakdowns marked path from hurricane to anarchy
September 11 – The governor of Louisiana was "blistering mad." It was the third night after Hurricane Katrina drowned New Orleans, and Gov. Kathleen Babineaux Blanco needed buses to rescue thousands of people from the fetid Superdome and convention center. But only a fraction of the 500 vehicles promised by federal authorities had arrived. Ms. Blanco burst into the state's emergency center in Baton Rouge. "Does anybody in this building know anything about buses?" she recalled crying out.

They were an obvious linchpin for evacuating a city where nearly 100,000 people had no cars. Yet the federal, state and local officials who had failed to round up buses in advance were now in a frantic hunt. It would be two more days before they found enough to empty the shelters.

The official autopsies of the flawed response to the catastrophic storm have already begun in Washington, and may offer lessons for dealing with a terrorist attack or even another hurricane this season. But an initial examination of Hurricane Katrina's aftermath demonstrates the extent to which the federal government failed to fulfill the pledge it made after the Sept. 11, 2001, attacks to face domestic threats as a unified, seamless force.

Instead, the crisis in New Orleans deepened because of a virtual standoff between hesitant federal officials and besieged authorities in Louisiana, interviews with dozens of officials show. [More (6 pages)>>nytimes.com]
---
09.11.05 US envisions using nukes on terrorists
(AP) September 11 – A US Pentagon planning document being updated to reflect the doctrine of pre-emption declared by President George W. Bush in 2002 envisions the use of nuclear weapons to deter terrorists from using weapons of mass destruction against the United States or its allies, AP reported.

The "Doctrine for Joint Nuclear Operations," which was last updated 10 years ago, makes clear that "the decision to employ nuclear weapons at any level requires explicit orders from the president." But it says that in a changing environment "terrorists or regional states armed with WMD will likely test US security commitments to its allies and friends."

"In response, the US needs a range of capabilities to assure friend and foe alike of its resolve," says the 69-page document dated March 15 and posted on a Pentagon web site. The draft is still being circulated among the various services, field commanders, Pentagon lawyers and Defense Secretary Donald H. Rumsfeld's office. Its existence was initially reported by The Washington Post in Sunday editions.

"A broader array of capability is needed to dissuade states from undertaking ... courses of action that would threaten U.S. and allied security," the draft says. "US forces must pose a credible deterrent to potential adversaries who have access to modern military technology, including WMD and the means to deliver them." It says "deterrence of potential adversary WMD use requires the potential adversary leadership to believe the United States has both the ability and will to pre-empt or retaliate promptly with responses that are credible and effective." It says "this will be particularly difficult with nonstate (non-government) actors who employ or attempt to gain use of WMD. Here, deterrence may be directed at states that support their efforts as well as the terrorist organization itself.

"However, the continuing proliferation of WMD along with the means to deliver them increases the probability that someday a state/nonstate actor nation/terrorist may, through miscaluation or by deliberate choice, use those weapons. In such cases, deterrence, even based on the threat of massive destruction, may fail and the United States must be prepared to use nuclear weapons if necessary."

It notes that US policy has always been purposely vague with regard to when the United States would use nuclear weapons and that it has never vowed not to be the first to use them in a conflict.

One scenario for a possible nuclear pre-emptive strike in the draft would be in the case of an "imminent attack from adversary biological weapons that only effects from nuclear weapons can safely destroy." The Bush administration is continuing to push for development of an earth-penetrating nuclear warhead, but has yet to obtain congressional approval. [More>>chinadaily.com.cn]

Editorial note: The report and others are available on the internet, including Cryptome.org report, the Defense Doctrine web site goes dark" : "A large portion of a major Department of Defense web site was taken offline overnight after unclassified documents on the site became the subject of news stories and public controversy."

Links to the documents are available through Cryptome.org. Why the government placed sensitive documents on a web site is confusing to say the least. That China's official newspaper is running the story gives one who is concerned about American Security great cause to wonder about the Bush administration's compromise – from foreign and acts of God – of the security of this nation. We remember September 11, 2001 this day, how Bush's response was to launch a war against Saddam Hussein, with a parallel action in Afghanistan. Four years later the perpetrator of the attack on New York's World Trade Center, Osama bin Laden, is still on the loose and his organization has spread around the world wreaking devastation upon Madrid and recently London. Today a terrorist claiming to be Al-Qaeda in Los Angeles announced its next targets as Los Angeles and Melbourne.

Security begins at the top of a government. When a nation lacks a competent leader it invites disaster.

An example is in the Persian king of kings, Darius, who rested on his predecessors' Laurels and, as the ruins of Persepolis demonstrate, was not prepared to turn back the assault of Alexander the Great. It may be that George W. Bush has envisioned himself as another Alexander the Great but his works reflect those of leaders through history, such as Darius, who were not competent enough to defend their realm. We could list many other king of kings and Caesars who would control their world and lost it, but Darius is a good one to look at. Plutarch tells the story of Alexander and Darius as well as those of many other leaders (Plutarch: "Lives") before and of his time. Of the leaders who thought they were Caesars, I believe the best fit to George W. Bush is Domitian. A consistent problem with incompetent leaders is that the nations around them abandon them as their world burns or drowns. We may recall that Babylon itself was conquered and destroyed in a clever device. The city was protected by the Euphrates river winding around it. Alexander had his engineers divert the river, leaving dry land where the river formed a protective moat around the once impregnable walls.

Protecting a city or a nation comes down to strategic planning and execution. Often the enemy strikes areas where the planners either had an oversight or had not adequately funded. Every attack, whether an act of God or a foreign army, drains the treasury in any event. The first sign of trouble, in fact, is when a government cannot raise money to "provide for its common welfare."

George W. Bush and his regime (including his father, George H. W. Bush and Ronald Reagan) have courted disaster by following a doctrine that essentially assumes that the government can fund all of its expenses without actually paying for them. The concept was called "Deficit Borrowing, Deficit Funding or Deficit Spending" then under Reagan called "Reaganomics." President Hoover espoused the doctrine which was founded on a "trickle down" theory, assuming that by providing money to the rich the money would trickle down to the impoverished masses and through this trickling of money out of the pockets of the rich the masses would earn more and spend more, causing the economy to grow (and the rich to get richer). So far history has shown that the rich are stingy and once the government lines their pockets they want more. This process of trickle down eventually leads to the consolidation of the wealth of a nation in fewer and fewer hands. For the average person in the street this means fewer jobs and fewer options in purchasing goods and services. In San Francisco many department stores, drug stores, grocery stores, etc. disappeared. In my local shopping area, just finding basic provisions is a trial. I have near my home only two grocery store options left, Safeway and Albertsons, where before there were many. Because of the lack of competition in this category in my area, products that were once in abundance are no longer available. Some of the manufacturers / brands that have gone into oblivion – taking jobs into oblivion as well – fell through Safeway and Albertson practices of "branding." These two companies selected best selling products, found manufacturer's to produce them with the Safeway or Albertson brand, and replaced the knocked off product on their shelves with their own. This process of merchandising involves elimination of marginal products, eliminating products previously available, and focusing more wealth into their greedy hands.

This is only one aspect of the consolidation of wealth. The consolidation and disappearance of department stores reduced the number of manufacturers – and the jobs they provided – supplying the US and world market. Another well publicized effect of the Consolidation of Wealth is the "outsourcing" of products and services from the US. This trend of Consolidation of Wealth vigourously opportuned by Bush and his cronies is an illusionary boon to those who stand in line for Bush's handouts, since the Consolidation of Wealth eventually drowns everyone.

Behind such enterprises that consolidate the wealth of this nation into fewer and fewer hands is a field of devastation – of bankrupt companies and lost jobs – every bit as horrifying as a Hurricane Katrina or "the worst imaginable weapon," using the words of George W. Bush in describing the effects of Katrina.

Before all is said and done, George W. Bush and his cronies may be the worst disaster that has ever hit the United States. He and his cronies have been running a government that has run up the National Debt to the point that interest on the debt alone exceeds the cost of both the war in Iraq (~$200 billion) and estimates on the damage of Katrina (~$200 billion). Unlike the war or the hurricane interest on the National Debt is a recurring expense, exceeding $1 billion per day and growing for as long as we can see in the future. The first people to collect disbursements from the US Government – as in the case of all debts, until bankruptcy – are the rich and foreign governments, such as China. The greater our national debt the fewer clients the government will find who are willing to loan us more money. With doubts come lack of confidence in US currency (a trend that has seen peaks and valleys in 2005). When the dollar plunges, as it has several times in 2005, those who own investments, including US bonds on the debt, lose money. A weakening dollar is the same as inflation and inflationary trends cause Americans themselves to purchase less, as they watch their savings erode. When Americans purchase less, other countries are affected, since they – Europe and Asia – depend upon sales of their products to the US. The faltering of the US economy can thus result in a world-wide recession or depression.

One may not assume that just because the stock market looks good all is well. The stock market is based on foundations no stronger than those of children throwing dice or coins against the walls of their city streets. They stop playing when the flood races down their street. The market crashes.

The US National Debt is such a flood approaching our streets. Under optimistic circumstances the Office of Management and Budget (OMB) estimated that the US National Debt would be $10 trillion. That was before Hurricane Katrina. No doubt the Bush administration will be explaining a higher debt (a higher debt means higher interest payments) owing to the unforseen costs of Hurricane Katrina. And this anticipated forcast – which will no doubt be necessitated in explanation of future budget reductions – will only confirm what we all know to be true: that it is necessary to set aside a savings for a rainy day.

The National Debt has many short and long term consequences. As debt rises the pressure to reduce spending increases. The first places to receive cuts are those allocations from the Federal Budget to state and local communities. The ballooning debt under the Reagan-Bush estates resulted in state and local governments courting bankruptcy. Their credit rating plunged, they laid of government workers and cut back on local projects, such as items critical to the infrastructure. They cut back critical services such as education, welfare, and police and fire protection.

This process is again being experienced in California under the present governor who won his office to take California out of debt by pledging to stop "running the California government using a credit card – "I'm tearing up the credit card!" he exclaimed. He followed through by betraying his promise, by refinancing the California state debt (borrowed more money), and he moved $2 billion in funds reserved for California state teachers to other allocations, to fill the pockets of his patrons who are as rich as he. Today, firemen, police, teachers and nurses – all essential to the fabric of local government – are protesting Governor Schwartzeneger's cutbacks.

Had the Federal Government been run in a responsible manner and continued its obligations to state and local governments there should have been no financial crisis in state and local governments. Financial difficulties in state and local governments that are traced to a decline in Federal funding can ultimately be traced to our rising public debt and the pressure to reduce spending because of the debt. Because these difficulties flow into state and local businesses that derive a livelihood from state and local funding, companies caught in the wake of a Federal deficit can cease to exist or, at the least, cut back on their labor forces owing to a decline in sales revenues. Although these concerns involve fundamental economics, most elected officials in the US government have no idea what the difference is between the National Debt and the deficit. The National Deficit is the annual deficit run up by President George W. Bush; the National Debt is the cumulative deficits run up by Presidents Reagan, G. H. W. Bush and George W. Bush.

The National Debt Chart (click on the chart for a larger view) in our sidebar easily depicts this problem. In the far left of the chart are blue bars depicting deficits of the Carter administration. The red bars ascending to the right of Carter are the deficits accumulated by the Reagan and Bush administrations; the blue bars to their right are of the Clinton administration who attempted to recede the annual deficits. To his right the red bars of the present Bush administration rocket straight up. The green bars are projections from the OMB for the balance of George W. Bush's term of office, reaching $10 trillion by 2008. Before Reagan entered office (1980) the Federal Deficit was about $750 billion per year. Reagan tripled the debt during his term, George H. W. Bush doubled Reagan's debt in his short four-year term; Clinton mitigated the debt, and by the time George W. Bush ends his term of office he will have doubled the National Debt of $5.5 trillion left by the Clinton administration. For those of you who help your children with their math problems at school it should be easy for you to calculate, using 7% interest, the annual interest accrued on the $5 trillion + debt inherited by George W. Bush. A clue: multiply 5 x 7 and add the appropriate zeros. Generally – particularly under the Reagan-Bush estate – interest on the debt has been equal to the annual deficit. Federal income was sufficient to fund everything except interest on the debt. The Reagan-Bush estates borrowed the equivalent of the interest to pay back those who earned interest on the US debt each year. If the US defaults on its interest payments, the world would be in a tizzy.

George W. Bush has not only run up a debt, purchasing pork and funding an overstuffed government he had no intention of paying for, he launched a war in Iraq that drained US resources while failing to track down the terrorists who attacked us. He, in fact, ended up encouraging the terrorists to grow and prosper, making their base and common cause against the US in Iraq. In 2005 they used the internet to recruit more to their cause around the world, against George W. Bush's "Crusade against Islam."

Meanwhile acts of God (also called natural disasters) have been on the increase around the world: drought and fires hit Southwestern Europe, massive flooding in Mubai, India and typhoons hitting China and Japan. The Caspian Sea has been rising over the years, Alaska's areas of permafrost are melting, as is the case in Siberia, glaciers are melting and the polar caps are melting. Yesterday a news report claimed that the ozone layer over the South Pole is the smallest ever recorded. And in the middle of the hurricane season Hurricane Katrina, forming as a category 5 storm, hits New Orleans, a city that was prepared only for a category 3 storm. In light of these increasingly harmful environmental events we have experienced an administration led by George W. Bush that has favored the rich at the expense of the poor (as a matter of doctrine) and avoided signing up to the international plan of greater environmental protection, called the Kyoto Protocol. Bush refused to sign on the foundation that he had no evidence of global warming. His patrons in the oil industry – including the Saudis and about 24 members of the bin Laden family (who he flew out of the US the day after 9/11) – no doubt agree with him that global warming does not exist or warrant any restraints upon them; others of his patrons no doubt are continuing to remind him to ignore any affects they have on the world's environment. Even industrial magnets whose factories are drowned and polluted in the Gulf Coast area may continue patronizing Bush's borrow and spend programs and Bush's environmental attack on the world's environment, Bush's "go it alone attitude" and aggression towards any nation in his path; all following an old teaching practiced in Hell and core to Bush doctrine: "It's every man for himself."

This attitude of the Bush administration was recently reflected by the president's own mother, whose comment in a Houston shelter rang around the world. Visiting Katrina's victims, she declared the operation a success for evacuees who "were underprivileged anyway," saying on Monday that many of the poor people she had seen while touring a Houston relocation site were faring better than before the storm hit. [More>>nytimes.com] This comes down to our final comment : Often the rich who tend to be stingy in nature believe that they are being charitable by handing out food and water to the masses during perilous times, but after they hand out the food and water they go back to their offices to set in motion more ways to disenfranchise – to make money off of – the wretched masses.
Mel Copeland
---
09.10.05 Firms with Bush-Cheney ties clinching Katrina deals
WASHINGTON (Reuters) September 10 – Companies with ties to the Bush White House and the former head of FEMA are clinching some of the administration's first disaster relief and reconstruction contracts in the aftermath of Hurricane Katrina. At least two major corporate clients of lobbyist Joe Allbaugh, President George W. Bush's former campaign manager and a former head of the Federal Emergency Management Agency, have already been tapped to start recovery work along the battered Gulf Coast.

One is Shaw Group Inc. and the other is Halliburton Co. subsidiary Kellogg Brown and Root. Vice President Dick Cheney is a former head of Halliburton.

Bechtel National Inc., a unit of San Francisco-based Bechtel Corp., has also been selected by FEMA to provide short-term housing for people displaced by the hurricane. Bush named Bechtel's CEO to his Export Council and put the former CEO of Bechtel Energy in charge of the Overseas Private Investment Corporation.

Experts say it has been common practice in both Republican and Democratic administrations for policy makers to take lobbying jobs once they leave office, and many of the same companies seeking contracts in the wake of Hurricane Katrina have already received billions of dollars for work in Iraq.

Halliburton alone has earned more than $9 billion. Pentagon audits released by Democrats in June showed $1.03 billion in "questioned" costs and $422 million in "unsupported" costs for Halliburton's work in Iraq.

...On Friday, Kellogg Brown & Root received $29.8 million in Pentagon contracts to begin rebuilding Navy bases in Louisiana and Mississippi. Norcross said the work was covered under a contract that the company negotiated before Allbaugh was hired.

Halliburton continues to be a source of income for Cheney, who served as its chief executive officer from 1995 until 2000 when he joined the Republican ticket for the White House. According to tax filings released in April, Cheney's income included $194,852 in deferred pay from the company, which has also won billion-dollar government contracts in Iraq.

...Allbaugh's other major client, Baton Rouge-based Shaw Group, has updated its Web site to say: "Hurricane Recovery Projects -- Apply Here!" Shaw said on Thursday it has received a $100 million emergency FEMA contract for housing management and construction. Shaw also clinched a $100 million order on Friday from the U.S. Army Corps of Engineers. [Full story>>thestar.com.my]
---
09.10.05 Coast Guard admiral to lead relief effort – Beleaguered FEMA chief Michael Brown sent home
BATON ROUGE, Louisiana, September 10 – Federal Emergency Management Agency chief Michael Brown is no longer the man in charge of the Hurricane Katrina federal relief effort. Homeland Security Secretary Michael Chertoff on Friday named Coast Guard Vice Adm. Thad Allen to replace Brown. He said Brown would report back to Washington. Allen had been directing efforts in New Orleans as Brown's acting assistant. Chertoff said he informed Allen on Friday morning that he would take over the entire FEMA mission in the region. Brown, under fire over his qualifications and what critics call a bungled response to Katrina, will return to his duties in Washington as overall FEMA chief, Chertoff said...Brown's reassignment came amid questions raised in Time magazine Friday about whether his resume was padded to overstate his experience in emergency management. A FEMA official quoted in the report said Brown believes the article is inaccurate. [More>>cnn.com]
---
09.10.05 National Guard stretched thin
WASHINGTON (AP) September 10 – The National Guard is stretched so thin by simultaneous assignments in Iraq and the hurricane-ravaged Gulf Coast that leaders in statehouses and Congress say it is time to reconsider how the force is used.

Republicans and Democrats alike worry about the service's ability to balance its federal and state missions of fighting wars and responding to domestic crises.

"We need to look at what is going to be the long-term future of our Guard when states need to rely on these soldiers for emergencies and the nation continues to rely on them for overseas deployment," said Virginia Gov. Mark Warner, a Democrat.

About 41,000 Guard members are scattered across Alabama, Mississippi and Louisiana, along with 17,000 active-duty troops. About 30,000 Guard members are serving in Iraq, with smaller numbers in Afghanistan, Kosovo and elsewhere overseas...Sen. John Warner, R-Va., chairman of the Senate Armed Services Committee, intends to review the Guard's hurricane relief performance this fall.

The head of the National Guard Bureau said Friday the assignment of thousands of Guard troops from Mississippi and Louisiana to Iraq delayed those states' initial hurricane response by about a day. [Full story>>cbsnews.com]
---
09.10.05 Iraqi forces launch attack on Tal Afar
TAL AFAR, Iraq (Reuters) September 10 – Thousands of Iraqi and US troops launched an assault on the northern city of Tal Afar on Saturday to rid it of insurgents and Iraq¹s government said it planned attacks on rebels in four other towns. ³At 2 a.m. today (2200 GMT), acting on my orders, Iraqi forces commenced an operation to remove all remaining terrorist elements from the city of Tal Afar,² Prime Minister Ibrahim Jaafari said in a statement, adding that US forces, which bombed the town from the air overnight, were acting in support. During the day, however, a dust storm hindered the offensive, officers in Tal Afar said.

Jaafari said the troops were responding to appeals for help from ³all the different religious and ethnic elements in Tal Afar.² The town, west of the northern city of Mosul and near the Syrian border, is mostly populated by ethnic Turkmen.

Hospital sources in Tal Afar said the assault started with US air strikes on the centre, adding that there were US tanks surrounding the area and gunfire was heard overnight. Civilians have been taken out of the town in recent days as military operations were stepped up, officials said. US and Iraqi forces have long said Tal Afar was being used as a conduit for equipment and foreign Sunni Arab fighters smuggled in from Syria to fight the Shia and Kurdish-led Iraqi government and occupying US forces across the country. [More>>khaleejtimes.com; See also aljazeera.net, "US, Iraq forces push into Tal Afar" : Iraqi and US forces have killed 141 armed men and arrested 197 others in the past two days in the northern city of Tal Afar, an Iraqi minister said. Saadoun al-Dulaimi, the Iraqi defence minister, on Saturday said five members of the Iraqi security forces were also killed and three others wounded.

US and Iraqi troops swept into Tal Afar early on Saturday, conducting house-to-house searches and battering down walls with armored vehicles in an effort to clean the city of fighters. Al-Dulaimi predicted the operation would end in three days but said military operations will be launched in the cities of Ramadi, Qaem, Rawa and Samara. In Tal Afar, US-led forces initially faced several hundred lightly armed insurgents in the largely deserted city, 420km northwest of Baghdad and about 100km east of the Syrian border. There was heavy gunfire in the Sarai district, the oldest part of the city and the major insurgent headquarters...]
---
09.10.05 Kyoto University researchers find stem cells in human heart
OSAKA (Kyodo News) Stem cells have been discovered in human heart tissue and separated off, a finding which may pave the way for treating patients whose heart muscle has been damaged due to heart ailment, a Kyoto University research team said Friday. The stem cells, when cultivated, developed into several different types of cells including heart muscle cells, endothelium cells, and fat cells. The researchers also found stem cells in skeletal muscles when they looked into human leg muscles. [japantoday.com]
---
09.10.05 Ukraine politics in turmoil; Russia and Poland watch from sidelines
KIEV, Ukraine September 8 – Russia and Poland have been carefully watching resolution of a sharp political crisis in Ukraine that culminated Thursday with the dismissal of the government and key decision makers, officials said. Russian President Vladimir Putin and Polish President Alexander Kwasniewski were on the phone with President Viktor Yushchenko hours after he had dismissed Prime Minister Yulia Tymoshenko and top security advisor Petro Poroshenko.

Ukraine's foreign policy tilted sharply away from Russia and towards the European Union early this year after Yushchenko, a pro-Western leader, was sworn in to the presidency. Russia and Poland have been differently assessing activity of Tymoshenko as prime minister. Russian officials were long critical of Tymoshenko, while Polish officials had apparently seen her as an ally in dismantling the authoritarian regime in Belarus. Tymoshenko was Thursday named the Person of the Year by an international business forum in Poland, which she had been supposed to attend. Tymoshenko cancelled the trip due to the crisis.

Yushchenko assured both Putin and Kwasniewski that Ukraine's foreign policy will remain unchanged, with the country's two biggest neighbors, Russia and Poland, to remain as strategic partners.

Putin, who plans a visit to Ukraine in the fall, told Yushchenko that the dismissal of the government is "an understandable process of forming an effective cooperation between branches of power in Ukraine," according to Yushchenko's press service. [More>>ukrainianjournal.com; See related story, kyivpost.com, "Tymoshenko signals she is joining opposition to Yushchenko" : (AP), September 10 – Former Prime Minister Yulia Tymoshenko no longer considers herself part of President Viktor Yushchenko's team, a breakdown in the political partnership that launched the Orange Revolution.

She said that now she would lead a separate political force from her former comrade in arms, who dismissed her from her post on Sept. 8 following a growing crisis in his seven-month old government. "Today we are two different teams," Tymoshenko said Sept. 9. "I think these two teams will go their own way." But with Ukraine increasingly now looking toward March's parliamentary elections, Tymoshenko promised "it does not mean it will be a war."

"Viktor Yushchenko and I will go to the elections on parallel paths," she said, adding, however, "I won't go into an election with people who have so discredited Ukraine." She was careful, however, to avoid ever mentioning the word opposition, which in Ukraine is how the deeply unpopular former allies of ex-President Leonid Kuchma are known.]
---
09.10.05 Yushchenco's break from corruption in the Ukraine – can it succeed?

Ken Keisler, contributor

SAN FRANCISCO, September 10 – San Francisco businessman Ken Keisler imports products from the Ukraine and is married to a public prosecutor in the Ukraine. He reflects upon the corruption in the Ukraine and Russia: If you ask the Russian people about the Ukrainian Revolution they will say it was not a real revolution and nothing will change.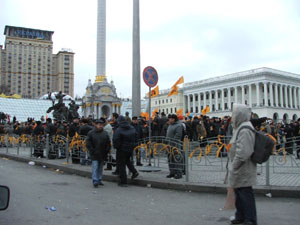 Day of the Ukraine's Orange Revolution. Photo: Ken Keisler
However, this last week, with the firing of Prime minister Yulila Tymoshenko and her cabinet by the newly elected president Yushchenco, it seems to me a start of some real change. It is long overdue in a country where politicians make and change laws to line their own pockets and those of their business partners.
Yuliya Tymoshenko says it will be a real face off between her and Yushchenko's government. The people according to their will choose the nation's course. She says she was made part of a clean up of corruption. She took the fall with other cabinet leaders.
She is seen in the Ukraine as a very dynamic, intelligent politician and a smart business woman. She is a hero to many, including my own Ukrainian wife, who is lawyer much involved in the politics of the Ukraine.
Politicians have unusual business connections that sometimes have no apparent relevance to their offices. For instance, one public official's real business is Russian oil, but the Ukraine has little oil. So why is that person in the oil business?
The answer has to do with living and working in the Ukraine. The politicians' only purpose is to line their and their business partners' pockets. This activity is well known and almost expected.
Corrupt politicians are avoided by the masses, however. Ukrainians and Russians have a long history of giving a wide birth to politicians. They see politicians only when they come around with their hand out.
In these countries, Mob-like alliances rule and they are the politicians and their business alliances. The Mob-like alliances have suppressed the free market system by controlling every enterprise, while ninety percent of the people are kept as their slaves. And they send millions of the Ukraine's dollars to offshore banks. This activity robs the public of useful capitol for their own expansion.
Did Yushchenko do the right thing by firing a corrupt government? I can say only yes; its about time.
He is also negotiating an agreement with Victor Pinchulk the son-in-law of the former president. Yushchenko has long been trying to clean up the stranglehold such industry tyrants have had on the Ukraine's markets. The politicians have sold out the country to people like Pinchulk. They have only gotten elected so they can change the laws for their own benefit, to create monopolies. It is time to eradicate them and create a true free market system for the Ukraine.
City States with little understanding of democracy
Far from unified, Russia is in the true sense a group of city states outside of Moscow. Neither is the Ukraine unified. Corruption controls whole regions of the Ukraine and often Kiev, the capital of the Ukraine, is ignored.

The Ukrainian people hold some responsibility for what has taken place in their country. They have little idea of a true and free democracy. They just know it is something that is a dream and hope for them. They see a good leader as someone who does not outright rob them, giving back nothing. For example, the new mayor of the Lugansk region is paving all the roads. Although this is long overdue, the people are happy about it. They are now seeing the government finally give something back to the people. But the mayor owns the road construction company, and I ask the locals about this and they shrug their shoulders: "We at least get something, usually it is nothing," they say.

My lovely Ukrainian wife comments about a magazine article on Prime minister Yuliya. She exclaims how wise and smart Yuliya is and what a good and successful businesswoman she is. My wife criticizes me for my view that Yuliya should take some time out of her busy schedule to work on the Ukraine's overall good, rather than lining her own pockets and those of her cronies.

I hope and pray the Ukrainian people see the wisdom of Yushchenko. I pray they are not swayed by the powerful, corrupt people that wish to continue to enslave the Ukrainian people. Some may question the morality of the nation as a whole, whether the nation can escape from the corruption. While I question whether the nation can escape, I have hope.

I am so thankful I live in the United States, where everyone from the world wants to come. Here we are guaranteed rights. In the Ukraine, for example, writing a simple article like this and publishing it in the Ukraine's newspapers would be a death sentence, as it has been for many.
---
09.10.05 Stripped of havens, Al-Qaeda turns to 'media jihad'
DUBAI, September 10 – Stripped of its Afghan haven and chased across the globe, the Al-Qaeda terror network is increasingly resorting to "media jihad" four years after the September 11 attacks on the United States for which it took credit. The Global Islamic Media Front (GIMF), heir to the "Global Front for Fighting Jews and Christians" set up by Osama bin Laden in Afghanis-tan in 1998, presents itself as the hub for Al-Qaeda propaganda on the Internet.

Its emergence is testament to the weight now being placed by Islamist militants on winning over minds to their cause through new media in the absence of any physical command headquarters, terror experts say.

"Unite, O Muslims of the world, behind the Global Islamic Media Front. Set up squadrons of media jihad to break Zionist control over the media and terrorize the enemies," the GIMF's "emir," who goes by the nom de guerre of "Salaheddin II," exhorts Al-Qaeda followers on the Internet.

The GIMF, is "a new base of Islamic information on the Internet. Our goal is to denounce the Zionist enemy," echoes his deputy, "Ahmad al-Watheq Billah."

"The Front does not belong to anyone. It is the property of all Muslims and knows no geographical boundaries. All IT and communication experts, producers and photographers ... are welcome to join," he writes. [More>>dailystar.com.lb]
---
09.10.05 Iraq's Talabani warns against 'hasty' US withdrawal
September 10 – Iraqi President Jalal Talabani urged the United States not to withdraw hastily from Iraq and said US forces should be reduced gradually over the next two years. On the ground, Iraqi and US forces stepped up their offensive against rebels in the northern town of Tal Afar, while tightening security on the nearby Syrian border, Prime Minister Ibrahim Jaafari said.

In a speech at the Washington hotel, Talabani said: "For those who call for an immediate pull-out of American troops, we say ... a withdrawal of American and multinational forces in the near future could lead to the victory of the terrorists in Iraq and create grave threats to the region." Asked how long he would like US and other forces to stay in Iraq, Talabani said the plan was to gradually reduce US forces over the next two years. "Not only would we need American forces to fight against terrorism, we need some of them to frighten our neighbors and prevent them from interfering in our internal affairs," he said. [More>>dailystar.com.lb; See related story, haaretzdaily.com, "Iraqi president: Palestinian state is a prerequisite for ties."]