---
As we look forward, I believe the parliamentary election on Dec. 15 represents a significant turning point. For the first time in history, the Iraqi people will have democratically elected their permanent leaders to serve full four-year terms. Their constitution, problematic as it may be, has been adopted, and it is time for Iraqis to take greater control.

But the stark reality is that the violent insurgency will most likely continue unabated. This new constitution will not diminish the pervasive fear that exists today walking the streets in Baghdad, conducting business in Mosul, and driving the highway to Tikrit.

Sectarian causes – Slaughter of the innocents

The fact is that a disaffected Sunni minority is the driving force behind an insurgency that kills innocent civilians daily for absolutely no good reason. This is not an insurgency single-mindedly propelling itself against US forces, rather, at its core it is driven by visceral Sunni fear and objections to Shiite rule over the near and long term.

A growing perception is that US military forces buttress the Shiites. As a result, we pay a high cost, in lives lost and casualties. We need to change course to remove ourselves from being the literal and figurative target of Sunni enmity.

These elections, once completed, should signal a major re-evaluation of US policy and the American mission in Iraq.

We are in the middle of two factions, Shiite and Sunni, attempting to settle their differences by mostly violent means. Sunni extremists have killed over 8,000 Iraqis so far this year and estimates indicate 25,000 to 30,000 Iraqis have lost their lives since the war began.

I believe this is a matter for Sunnis, Shiites and Kurds to address through political negotiation. This battle cannot be won militarily. Drawing down our troop strength will not only take our service men and women out of harm's way, but it will also force Iraq's religious and political leaders to confront the insurgency and find a balance of power acceptable to Shiites, Sunnis, and Kurds. The alternative – a continuation of this slaughter of innocents – will only continue to grow with the inevitable result: a drift into a civil war.

It has become increasingly clear that the continued American presence in Iraq is a lightning rod for violence. It does nothing to diminish the Shiite-Sunni hatred. Rather, it makes reconciliation less likely. It gives the insurgents an enemy to rally against – they are waging jihad against an occupying force when they are in fact waging war against their fellow Muslims.

Ultimately, the Iraqis will have to defend themselves and confront the insurgency, both militarily and politically. The question is when.

As long as the United States is perceived as the bulwark for the Shiite majority, this coming to terms is hindered, not helped.

Training Iraqi forces

In the interim period ahead, US forces will have a significant role to play, especially in the areas of training and rebuilding infrastructure.

The Pentagon estimates that an additional 125,000 Iraqi security personnel will be needed to bring total strength to 325,000. The United States must do everything it can to continue to train soldiers and prepare them to assume the security obligations of the nation. For starters, we need to increase the number of US military personnel providing initial training to the Iraqi forces from the current 1,200.

This does not necessarily mean that all Iraqi forces will be trained to the level of US forces – that is unlikely – but the real benchmark is for Iraqi units to have a basic level of training and equipment to safeguard their towns, cities and communities.

If Shiites and Sunni can reconcile, Iraq can be a place of peace and prosperity where Iraqis can walk the street and engage in business, and democracy can thrive.

America needs to change course, reassess its mission in light of this escalating insurgency, place more responsibility on Iraq for a negotiated settlement, and begin a structured drawdown of American forces. [End]

---
02.05.06 Captain and crew abandon ferry; confiscate lifejackets before leaving

(Maravot News November 25, 2004) – Without rehashing the history of Western Civilization in one paragraph, we can ascribe Christian and Jewish sentiments to defend Israel and to view America as the anointed of God (Allah, (2) in the Koran) to perceptions of pastors who spend more time feeding on the flock than feeding them. If the flock were fed properly it would not believe that it is just to kill on behalf of God. The Christian and Jewish scriptures all agree that vengeance belongs to God (i.e., as in Psalm 94.1), that the Warrior of God is a man of peace, just and charitable. I have always believed (and I know Jesus adhered to this old teaching) that if God wants to kill someone let Him kill them himself. You don't need to be his agent, in my opinion. But you can assist in bringing peace to the world.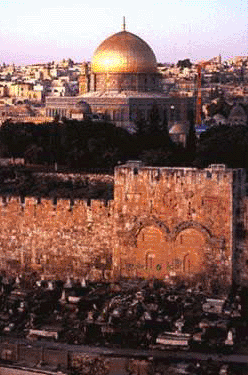 Sealed Golden Gate with the Dome of the Rock behind and a Muslim cemetery in the foreground may be the gateway to Peace in Jerusalem. It was where the priests and prophets of Israel gathered; called the Gate of Righteousness by the Prophets.
There is no doubt that during the Axis Age (600 B.C.) the great sages, Lao Tzu, Confucius, Buddha and Jeremiah – later followed by Socrates – agreed that doing good and avoiding evil towards your fellow man was the answer. They all believed in the Golden Rule: Don't do to others that which you would not want done to you. Upon this one teaching all the teachings of the Bible rest.
Good news! The Koran says that everything in the Jewish Scriptures (Old Testament) and Gospel (New Testament) are true! As I pointed out many years ago in a conversation with Wm. F. Buckley Jr. in a series of books, including Philistia triumph thou because of me, there are points in the Koran upon which the Jews, Christians and Moslems can reconcile their disagreements, such as:

Koran, The Cow: And now that a Book confirming their own book has come to them from Allah, they deny it, although they know it to be the truth and have long prayed for help against the unbelievers...when it is said to them, 'Believe in what Allah has revealed,' they reply, 'We believe in what was revealed to us.' But they deny what has since been revealed, although it is the truth, corroborating their own scriptures.

Koran, The creator 36.24: Your only duty is to give warning...What we have revealed to you in the Book is the truth confirming previous scriptures.

Koran, Kneeling 45.16 We gave the Scriptures to the Israelites and bestowed on them wisdom and prophethood.

Koran, AL-AHQAF 46.12 Yet, before it the Book of Moses (Torah) was revealed, a guide and a blessing to all men. This Book confirms it.

Koran, Women 4.47 You, to whom the Scriptures were given! Believe in that which we have revealed, confirming your own scriptures...

Koran, The Cow 2:116 The Jews say the Christians are misguuided, and the Christians say it is the Jews who are misguided. Yet they both read the Scriptures. And the pagans say the same of both. Allah (5) will judge their disputes on the Day of Resurrection.

We can see, therefore, that Moslems are taught via the Koran to honor the scriptures and teachings Christians and Jews honor. Also, with respect to the Koran's teachings on Moslem behavior, it is clear that a Moslem cannot wage war against another Moslem, as is currently going on in Iraq and has been so throughout history:

Koran, Women 4.92 It is unlawful for a believer to kill another believer except by accident.

To dispel any confusion on the Koran's view of people who do not believe in the Koran (notwithstanding the verses cited above) Mohammed went a bit too far, in my opinion, when he listed the following which confute the Bible (I know on the Day of Resurrection noted above my reading will be upheld).

Koran Repentance 9.20 Those that have embraced the faith and fled their homeland and fought for Allah's cause with their wealth and their persons are held in higher regard by Allah. It is they who shall triumph. Their Lord has promised them joy and mercy, and gardens of eternal bliss where they shall dwell forever. Allah's reward is great indeed.
9.116 ...Allah has purchased of the faithful their lives and worldly goods and in return has promised them the Garden. They will fight for His cause, slay, and be slain. Such is the true pledge which he has made them in the Torah, the Gospel, and the Koran. And who is more true to his promise than Allah? Rejoice then in the bargain you have made. That is the supreme triumph.

Koran, Women 4.91 Others you will find who seek security from you as well as from their own people. Whenever they are called back to idol-worship they plunge into it headlong. If these do not keep their distance from you, if they neither offer you peace nor cease their hostilities against you, lay hold of them and kill them wherever you find them. Over such men We give you absolute authority.
4.92 It is unlawful for a believer to kill another believer except by accident.
4.98 He that flies his homeland for the cause of Allah shall find numerous places of refuge in the land and great abundance. He that leaves his dwelling to fight for Allah and His apostle and is then overtaken by death, shall be rewarded by Allah.
4.104 Seek out your enemies relentlessly.

There are several verses that endorse Jesus – some calling him a prophet of God (as they would have to once they accept the Gospels as truth). But the following verse is the gem of the lot, since it acknowledges Jesus as the Messiah. The Messiah means "anointed one" and the term was created and applied only in the Bible. Christians know the term as Christ, which is the Greek translation of the word. The fact is, based upon what we have seen in the Koran above, all Moslems must honor the teachings of Jesus the Messiah. If there is any confusion on those teachings it can be simply resolved by opening the Gospels and reading them. They all reduce down to the Golden Rule. And it is not important that you be a Christian, Jew or Moslem to practice the Golden Rule. If you practice the Golden Rule you satisfy the teachings. For if you know those teachings you know God and if you do them you are one with God. The scripture asks, "Can two walk together except they agree?" Jesus pointed out his point of view when answering a lawyer who asked, "Master, which is the great commandment in the law?" Jesus' answer boiled down to "loving thy neighbor as thyself," i.e., the Golden Rule. (Matthew 22.35-40)

Behold, the gem in the Koran of Jesus the Messiah, beyond the other verses endorsing the teachings of Jesus, which is a good foundation for some kind of reconciliation:

The Imrans, 3.45, 47 The angels said to Mary: 'Allah bids you rejoice in a Word from Him. His name is the Messiah, Jesus the son of Mary. He shall be noble in this world and in the next, and shall be favoured by Allah. He shall preach to men in his cradle and in the prime of manhood, and shall lead a righteous life."
The term Messiah first appeared in the Bible. It means Anointed One and in Greek the term is Christ. Knowing this, then, we should endeavor to find a place of agreement and learn to walk together. A good part of the Old Testament has to do with the Messiah and what is expected of him.

One cannot walk blindly through scriptures and take them for granted however. Applying them for good becomes an art. It takes practice. One cannot apply scripture, for instance, through a rush to judgment. After all is said and done, when understanding has ruled over boiling sentiments, we can point to our results: charity, justice and mercy. Unfortunately, we are a long way from achieving those things in this current age. It may be, in order to achieve a higher level, to at least remove ourselves from a state of chaos, that we need to take account of our leaders. Then we must ask ourselves how it is that we let them lead us into this chaos. This is called, "confronting your own failures." Until both sides come to grips with the goodness that is in them, and do some good in order to gain in goodness, the Jihad will probably continue.

Now President George W. Bush would lead us to believe that we can kill off the Jihadists. I don't subscribe to his program and know that an invitation to reasoning together should bear more fruit. Who in the world would ever refuse this offer:

Isa. 1:18 "Come now, let us reason together," says the LORD. Though your sins are like scarlet, they shall be as white as snow; though they are red as crimson, they shall be like wool.

Mel Copeland
10.28.04

For more scriptural references on the subject, see 12.23.04 "US is losing war of ideas."
---
---