---

07.20.07 White House preparing to stage new September 11 - Reagan official
WASHINGTON (RIA Novosti) July 20 - A former Reagan official has issued a public warning that the Bush administration is preparing to orchestrate a staged terrorist attack in the United States, transform the country into a dictatorship and launch a war with Iran within a year.
Paul Craig Roberts, a former Assistant Secretary of the Treasury, blasted Thursday a new Executive Order, released July 17, allowing the White House to seize the assets of anyone who interferes with its Iraq policies and giving the government expanded police powers to exercise control in the country.
Roberts, who spoke on the Thom Hartmann radio program, said: "When Bush exercises this authority [under the new Executive Order], there's no check to it. So it really is a form of total, absolute, one-man rule."

"The American people don't really understand the danger that they face," Roberts said, adding that the so-called neoconservatives intended to use a renewal of the fight against terrorism to rally the American people around the fading Republican Party...The radio interview was a follow-up to Robert's latest column, in which he warned that "unless Congress immediately impeaches Bush and Cheney, a year from now the US could be a dictatorial police state at war with Iran." [Full story>>rian.ru]
---
07.20.07 Broader privilege claimed in firings
July 20 - Bush administration officials unveiled a bold new assertion of executive authority yesterday in the dispute over the firing of nine US attorneys, saying that the Justice Department will never be allowed to pursue contempt charges initiated by Congress against White House officials once the president has invoked executive privilege. The position presents serious legal and political obstacles for congressional Democrats, who have begun laying the groundwork for contempt proceedings against current and former White House officials in order to pry loose information about the dismissals.
Under federal law, a statutory contempt citation by the House or Senate must be submitted to the U.S. attorney for the District of Columbia, "whose duty it shall be to bring the matter before the grand jury for its action. But administration officials argued yesterday that Congress has no power to force a U.S. attorney to pursue contempt charges in cases, such as the prosecutor firings, in which the president has declared that testimony or documents are protected from release by executive privilege. Officials pointed to a Justice Department legal opinion during the Reagan administration, which made the same argument in a case that was never resolved by the courts. [More>>washingtonpost.com]
---
07.20.07 US backs call for expanded UN role in Iraq
UNITED NATIONS, July 20 - The United States backs UN chief Ban Ki-moon's call for an expanded role for the world body in Iraq to help the strife-torn country become a "force for moderation in the region," its envoy to the UN said Friday. "The United States endorses Mr. Ban's call for an expanded United Nations role in Iraq to help Iraq become a peaceful, stable country - one that will be a peaceful, stable partner in the international community and a force for moderation in the region," Zalmay Khalilzad wrote in Friday's New York Times. [More>>turkishpress.com]
---
07.20.07 "We fear Pakistan could become like Iraq"
ISLAMABAD, July 20 - After dinner at the Islamabad Club, a private hangout for the capital's elite, a Pakistani intelligence officer leaned across to confide a nightmare haunting the country's security agencies."We fear that Pakistan could become like Iraq, with all these suicide bombings," the officer said with a lowered voice. That was in March, after a spate of attacks killed close to 45 people. Four months on, following a commando assault on a militant stronghold at a mosque in the capital, the security situation has become so bad that the officer's bad dream appears all too real.
On Thursday alone, there were three suicide attacks, killing 52 people. They targeted police, the army, and engineers from China, Pakistan's most reliable and cherished regional ally. Although the Chinese escaped unhurt their police escorts died. Officials say militant soulmates of al-Qaeda and the Taliban, encouraged by US failings in Iraq, believe they can destabilise Pakistan, and bring down US ally President Pervez Musharraf by using the same tactics as the Iraqi insurgents. [More>>expressindia.com]
---
07.20.07 Iran accused of training Afghans to fight US
HERAT, Afghanistan, July 20 - Erstwhile enemies who once stood on the brink of war, Iran and the Taleban now appear linked by conflicts against the US, as officials and political analysts accuse Teheran of training and arming the Afghan insurgents. Colonel Rahmatullah Safi, border police commander in the three western provinces of Farah, Badghis and Herat, claimed that his forces seized and intercepted weapons including anti-tank mines on the Afghan-Iranian border that were intended for the Taleban. "Since Americans are in a difficult situation in Iraq, Iran wants to turn Afghanistan into a second Iraq for them and their international allies," Safi said in his headquarters 15 kilometres outside Herat city. [More>>khaleejtimes.com]
---
07.20.07 20 Koreans kidnapped in Afghanistan
July 20 - About 20 South Koreans traveling in a bus in southern Afghanistan have been abducted by "terrorists," a local governor said Friday, in the latest kidnapping of foreigners in the insurgency-hit country. Confirmation of the kidnapping in Ghazni province came after the South Korean Foreign Ministry told journalists in Seoul that it was "highly likely" the South Koreans, including women, had been snatched.
Some 120 South Koreans are engaged in evangelical activities in Afghanistan. A Taliban spokesman could not immediately confirm the abduction of the South Koreans. The group has also not confirmed or denied the kidnapping of the two German nationals and their Afghan colleagues on Wednesday. [More>>koreaherald.co.kr]
---
07.19.07 Germans kidnapped, suicide bombings in Afghanistan
KABUL, July 19 - Taliban insurgents in Afghanistan have abducted two Germans and their five Afghan colleagues, provincial officials said Thursday, in the latest kidnappings of foreigners in the war-torn country. The abductions on a highway Wednesday were reported as more violence shook the country, with a suicide bomber killing at least one civilian and wounding 27 outside a police post in northern Badakhshan province.

A veteran militant commander, Gulbuddin Hekmatyar, meanwhile appeared to declare a cease-fire with President Hamid Karzai's government - although a person claiming to be a Hekmatyar spokesman later said that the statement was fake. The Germans and Afghans were abducted Wednesday on the highway linking Kabul with Kandahar in the insurgency-hit south, when militants stopped their car in central Wardak province, police said. [More>>metimes.com]
---
07.19.07 Two suicide attacks kill 37 in Pakistan
ISLAMABAD (Reuters) July 19 - Two suicide bomb attacks killed at least 37 people in Pakistan on Thursday, as a militant backlash intensified following the army's storming of radical mosque in Islamabad earlier this month. A wave of bomb attacks since a siege and assault on the Lal Masjid or Red Mosque complex, a militant stronghold in the capital, has swept across Pakistan, killing more than 160. At least 30 people were killed on Thursday when a car bomber apparently targeting a vehicle carrying Chinese workers involved in mining activities rammed into a police van escorting them in the southern town of Hub.
The Chinese workers escaped unhurt but all seven policemen in the van and 23 bystanders were killed. Twenty-eight people were wounded. Another seven people, including policemen, were killed in a car bomb attack in the far northwestern city of Hangu early on Thursday. The attack in Hub, which lies at the border of Baluchistan and Sindh provinces, was the biggest -- and the first in southern Pakistan -- during the recent wave of violence. [More>>khaleejtimes.com]
---
07.18.07 US: Top al-Qaeda in Iraq figure captured
BAGHDAD (AP) July 18 - The US command said Wednesday the highest-ranking Iraqi in the leadership of al-Qaeda in Iraq has been arrested, adding that information from him indicates the group's foreign-based leadership wields considerable influence over the Iraqi chapter.
Khaled Abdul-Fattah Dawoud Mahmoud al-Mashhadani, also known as Abu Shahid, was captured in Mosul on July 4, said Brig. Gen. Kevin Bergner, a military spokesman. "Al-Mashhadani is believed to be the most senior Iraqi in the al-Qaeda in Iraq network," Bergner said. He said al-Mashhadani was a close associate of Abu Ayub al-Masri, the Egyptian-born head of al-Qaeda in Iraq. Bergner said al-Mashhadani served as an intermediary between al-Masri and Osama bin Laden and al-Qaeda No. 2 Ayman al-Zawahri. [More>>ap.org. via expressindia.com ; See related story, khaleejtimes.com, July 18, "Twelve killed in attacks across Iraq."]
---
07.18.07 Mediterranean drowning in a hidden sea of plastic rubbish
July 18 - The Mediterranean suffers more pollution from discarded plastics than any other sea, especially the north-west sector that washes up on holiday resorts in Spain, France and Italy, an ecological study has found. Around 6.5million tons of rubbish lie below the surface of the world's oceans.
The highest concentration by far - including almost 2,000 pieces of plastic per square kilometre - is in the Mediterranean, according to the study. It was carried out by Greenpeace, the environmental group, for the University of Exeter.
A separate Spanish study also predicts global warming will bring hurricanes to the Mediterranean, whipping usually tranquil waters into cyclones. This means the garbage may not remain on the sea bed for long. Most of the human rubbish in the seas consists of plastic containers and bags. "These present a serious environmental problem if you bear in mind that their average life, before they disintegrate, is around 450 years," said Sebastian Losada. [More>>independent.co.uk]
---
07.18.07 North Korea offers nuclear concessions
SEOUL, July 18 - North Korea today offered to declare all of its nuclear weapons programs and disable them by the end of the year in return for energy aid, the South Korean nuclear envoy said, raising hopes for quick progress in international efforts to stop the Communist state's nuclear armament.
The North Korean offer came only hours after the United Nations' nuclear monitoring agency today confirmed that the Pyongyang government had shut down all five of its declared nuclear facilities, as it had promised to do in a February agreement. [More>>nytimes.com]
---
07.18.07 Insurgents kill 9 Afghan police, 2 road workers
KABUL, July 18 - Insurgent attacks in Afghanistan killed at least nine police and two road workers Wednesday, and a suicide bomber targeting NATO forces wounded a civilian in the capital, police said. A suicide bomber in police uniform blew himself up at a provincial police headquarters in southeastern Afghanistan, killing three people and wounding eight others, police said.

The incident involved two attackers, disguised as police officers, who approached the gates of the main police office in Khost, the capital of the province of the same name, and one of them opened fire at police guards. Officers returned fire, killing one attacker, and the second blew himself up, a policeman at the scene said. "We have received three killed and eight wounded at our hospital from the suicide blast today," provincial health director Gul Mohammaddin Mohammadi said, saying that two of the dead were police and one was a civilian.

Separately, a police convoy on the Kandahar-Kabul road was hit by gunfire and rocket propelled grenades from an unknown number of insurgents in the Shahr-e-Safa district of southern Zabul province, the provincial police chief said. "Six police were martyred in the ambush," General Mohammad Yaqub said. [More>>metimes.com]
---
07.18.07 17 security men martyred, 17 miscreants killed in N. Waziristan convoy attack
MIRAN SHAH, July 18 - Seventeen security men were martyred and 13 injured when miscreants attacked a convoy of security forces in Madakhel area of North Waziristan tribal region on Wednesday. In retaliatory action of the security forces 17 miscreants were also killed. Armed men exploded a remote-controlled bomb and opened fire with automatic weapons on a security forces convoy in Madakhel area, killing 17 and wounding 13 security men. Several miscreants were killed in retaliatory firing by the security forces and others fled to hide in nearby hilly terrain. [More>>thenews.com.pk]
---
07.18.07 Bernake hits out at 'abusive' mortgage lending
July 18 - Two European insurers face $8 billion of sub-prime mortgage exposure as Bear Stearns funds are wiped out. Ben Bernanke, the Chairman of the US Federal Reserve, hit out today at the "abusive lending practices and outright fraud" that had accompanied an expansion of mortgage lending to borrowers with poor credit ratings in the sub-prime market. Giving testimony to Congress, he suggested that the Federal Reserve would act to rein in such activity.
"Rising delinquencies are creating personal, economic and social distress for many homeowners and communities — problems that likely will get worse before they get better," he said. He added that the US economy had emerged from its anaemic spell, but overall growth for the year will be lower than expected. [More>>timesonline.co.uk]
---
07.17.07 Blast on stage for CJ's address, 12 killed
ISLAMABAD, July 17 - Twelve persons were killed and a number of people wounded in a suicide bomb explosion on the stage prepared for the address of the Chief Justice to the Islamabad Bar. In hospitals, 12 dead bodies have been brought, most of them badly burnt. The killed people included three women. Ten dead bodies have been brought to the PIMS Hospital while two have reached the Poly Clinic.

The police has cordoned the affected area just after the explosion. Ambulances were seen taking the wounded people to hospitals. Blood and human organs were spread at the place of explosion while the blast has broken the glasses of vehicles. The Chief Justice was due here to address the Islamabad Bar and now he has entered the Supreme Court whereas the lawyers are allowed to enter only the main building. [>thenews.com.pk ; See more details, cnn.com, July 17, "12 die in Islamabad suicide attack," and related story, thenews.com.pk, July 17, "N. Waziristan suicide attack kills two troops, injures four."]
---
07.17.07 Report cites continued Qaeda threat
WASHINGTON, July 17 - The United States will face "a persistent and evolving terrorist threat" over the next three years, as Al Qaeda continues to plot attacks comparable in scale to those of Sept. 11, 2001, the nation's intelligence agencies said today.
The worldwide campaign against terrorism since those attacks has "constrained" the ability of Al Qaeda to attack the American homeland again, but it has not lessened the terrorist group's desire to do so, the agencies said in a new formal assessment, known as a National Intelligence Estimate.
Despite efforts to root out Al Qaeda terrorists from their strongholds in the tribal areas of northwest Pakistan since 2001, the group has been able to protect or rebuild a cadre of "operational lieutenants" and its top leadership, the estimate declared. And while Al Qaeda remains the greatest single terrorist threat to the United States, its leadership will continue to prod other terrorists in "extremist Sunni communities" to "mimic its efforts and to supplement its capabilities," the 16 intelligence agencies agreed. [More>>nytimes.com]
---
07.17.07 Gunmen in military uniforms kill 29 in Iraqi village
BAGHDAD, July 17 - Insurgents wearing military uniforms killed 29 people in an attack early Tuesday on a village near Baquba, while a suicide car bomber struck an army patrol east of Baghdad, killing 11, the Iraqi Interior Ministry said. Four people also were wounded in the attack on the village, Duwailiya, a Shiite community northeast of Baghdad in Diyala province. A spokesman for the military command in Diyala province confirmed that the gunmen "were wearing military uniforms but they were in civilian vehicles." The spokesman said that 10 of the victims were treated so brutally they can't be identified. [More>>cnn.com]
---
07.17.07 Haneef: I'm no radical
July 18 - Terror suspect Mohamed Haneef describes jihad as a life struggle rather than a violent revolution and reveals he feared being "framed" over a mobile phone SIM card that he gave to a second cousin. In his first taped interview with Australian Federal Police officers, a 142-page transcript of which was leaked to The Australian yesterday, Dr. Haneef, 27, who is at the centre of a growing international furore, insists he is a Muslim with moderate views.
He told AFP agent Adam Simms that he had never had firearms, explosives or terrorist training, and that he knew nothing about the failed bombings, linked to his second cousins, in London and Glasgow. He also denied he had ever been asked "to take part in jihad or anything that could be considered similar to jihad."

"Every drop of blood is human. And I feel for every human being," he said.

...The record of a subsequent interview has not been obtained by The Australian, but in the July 2-3 questioning session Dr. Haneef was asked about his family ties, his knowledge of terrorism, his reasons for trying to leave Brisbane abruptly to travel to his family in India, the transfers of modest sums of money between Australia, India and Britain, his communications with terror suspects, and his SIM card. He denied he had undertaken "any religious training," adding:"When you are growing up you get up with the, ah, things - how to read a Koran, how to perform a salaam. I haven't had any formal teaching of that. Jihad, to my understanding, it's a struggle. Just life itself is a struggle. The proper meaning of jihad is just struggle. I would say that's a basic sort of understanding I have. Yes it is often misquoted and misinterpreted in different context."

...Dr. Haneef told police how after failing his medical exams and feeling "a bit low" he visited Kafeel Ahmed when he was studying at Cambridge in 2004, and stayed for a day in his room. "I just went around the university and he showed me the campus." He said his mobile telephone contract went from August 2005 until August 2006, but as he was leaving Britain in July "there was still one month left on the thing so (Sabeel Ahmed, the brother of Kafeel) asked me to leave that, because ... there were some free minutes left.''
Simms:"What information do you have in relation to the attempted bombing in London?"
Haneef:"Sorry."
Simms:"On June 29?"
Haneef:"I, I really don't know anything about that." ...[Full story>>theaustralian.news.com.au]
---
07.17.07 Japanese nuclear reactor suffered serious damage in quake - company
TOKYO (RIA Novosti) July 17 - Japan's largest nuclear power plant suffered significant damage in Monday's earthquake, the plant's operator said Tuesday. After initially reporting that the quake - which measured 6.8 on the Richter scale and killed at least nine in the coastal Niigata area of central Japan - had not seriously damaged the Kashiwazaki Kariwa plant, the Tokyo Electric Power Co. (TEPCO) eventually admitted that multiple radioactive leaks had occurred.
TEPCO reported late Monday that about 1,200 liters of radioactive water had escaped from a reactor building. And on Tuesday it acknowledged that a damaged exhaust stack had accidentally discharged cobalt-60 and chromium-51, while barrels containing low-level radioactive waste had tipped over.
In all, the company said the plant suffered damage at 50 separate points, raising general questions regarding the safety of nuclear power plants in the earthquake-prone nation, and prompting a government order forbidding the plant from restarting until appropriate checks had been conducted. [More>>rian.ru]
---
07.16.07 Bombs kill at at least 80 in Kirkuk: Iraq police
BAGHDAD (Reuters) July 16 - At least 80 people were killed on Monday in the northern Iraqi city of Kirkuk in a coordinated attack by a suicide truck bomber in a crowded market and a separate car bomb parked on a busy street, police said. South of Baghdad, thousands of US troops swooped on a suspected al Qaeda in Iraq safe haven used to reinforce militants fighting in the capital, the military said.
Iraqi police said 136 people were wounded in the Kirkuk blasts and warned that the death toll could rise further. A Reuters cameraman on the scene described carnage after the truck bomb in the market, near an office of the Patriotic Union of Kurdistan, the party of Iraqi President Jalal Talabani. [More>>khaleejtimes.com ; See related story, khaleejtimes.com, July 16, "US launches big operation south of Baghdad."]
---
07.16.07 World's largest nuclear plant leaks radioactive water
TOKYO (Reuters) July 16 - Tokyo Electric Power Co.'s Kashiwazaki-Kariwa nuclear power plant -- the world's largest -- leaked water containing radioactive materials from a reactor after a strong quake struck northwest Japan on Monday, a company spokesman said. No further details on damage to people or the environment were immediately available. [>abcnews.go.com ; See more details, rian.ru, July 16, "Quake causes radioactive leak in Japan" : The earthquake that killed at least seven in western Japan Monday morning has caused a radioactive leak from the country's largest nuclear power plant, the operator company said. Tokyo Denryoku said the incident occurred at the sixth reactor of the Kashiwazaki-Kariwa nuclear power plant hit by the first of three waves of the earthquake measuring 6.8 on Richter scale, which also left over 800 people injured. The discovery was made during regular maintenance checks of the reactor. The company suggested the water could have leaked from a special storage facility for used uranium rods.
---
07.16.07 Thirty Islamist militant cells plotting attacks: UK
LONDON, July 16 - Britain's security services believe up to 30 Islamist militant cells are plotting attacks and they are monitoring 2,000 suspects and another 2,000 sympathizers, the new security minister said on Monday. Alan West told BBC radio that the scale of the security operation was "quite dramatic" as he backed extending the 28-day limit on the time suspects can be held without charge.
He issued the warning following three botched car bombings in London and Glasgow at the end of June -- attempts that came just days after Gordon Brown succeeded Tony Blair as prime minister. "I have come back to this after about 16 months away from it and I have to say I was quite concerned when I saw what the level of threat is," said Lord West, the former chief of defence intelligence and now the security and counter-terrorism minister. [More>>expressindia.com]
---
07.16.07 US criticizes Turkey-Iran pipeline
ANKARA, July 16 - The United States on Monday spoke out against a preliminary agreement between Turkey and its eastern neighbor Iran to carry natural gas from Iran and Turkmenistan to Europe, the Anatolia news agency reported.
"It does not seem wise to put increasing trust in Iran as a source and transit country of natural gas" when it is under sanctions over its controversial nuclear programme, the agency quoted Kathryn Schalow, the spokeswoman for the US embassy here as saying.
The memorandum of understanding was signed away from public eye last week in Ankara after talks between Turkey's Energy Minister Hilmi Guler and Iranian Oil Minister Kazem Vaziri Hamaneh. Officials from the two countries need to complete technical work for the agreement to be finalized. [More>>turkishpress.com]
---
07.16.07 Boy, 14, describes how religious teachers gave him suicide mission
July 16 - Fourteen-year-old Rafiqullah said the men at the Pakistani madrassa showed him and two classmates videos of suicide attackers. They taught the boys to drive a car and let them ride motorcycles. Then they gave Rafiqullah his mission: kill an Afghan governor. The teenager crossed the border to the Afghan city of Khost, where a man named Abdul Aziz tried to pump up his courage, Rafiqullah said. Aziz gave him an explosives-laden vest, and the teenager confessed his fears. "I said I was afraid to carry out the suicide attack, and Abdul Aziz pointed a gun at me and said 'I'll kill you if you don't'," said Rafiqullah, who was taken into custody. Declaring the boy an innocent pawn, President Hamid Karzai freed Rafiqullah yesterday. He appears to be at least the third child co-opted by Taliban fighters to carry out attacks since April. [More>>independent.co.uk]
---
07.16.07 S.O.S.: Pacific islanders battle to save what is left of their country from rising seas
TUVALU, July 16 - Veu Lesa, a 73-year-old villager in Tuvalu, does not need scientific reports to tell him that the sea is rising. The evidence is all around him. The beaches of his childhood are vanishing. The crops that used to feed his family have been poisoned by salt water. In April, he had to leave his home when a "king tide" flooded it, showering it with rocks and debris.
For Tuvalu, a string of nine picturesque atolls and coral islands, global warming is not an abstract danger; it is a daily reality. The tiny South Pacific nation, only four metres above sea level at its highest point, may not exist in a few decades. Its people are already in flight; more than 4,000 live in New Zealand, and many of the remaining 10,500 are planning to join the exodus. Others, though, are determined to stay and try to fight the advancing waves.
The outlook is bleak. A tidal gauge on the main atoll, Funafuti, suggests the sea level is climbing by 5.6mm a year, twice the average global rate predicted by the UN's International Panel on Climate Change (IPCC). [More>>independent.co.uk]
---
07.16.07 Lebanese army death toll rises to 100 in camp battle
NAHR AL BARED, Lebanon, July 16 - The number of Lebanese soldiers killed in an eight-week-old battle with Islamists at a seaside camp rose to 100 after another three were killed in fighting Monday. "We lost a soldier on Monday," an army spokesman said after previously announcing the deaths of two other soldiers at the Nahr Al Bared refugee camp in northern Lebanon.

The latest deaths take to 189 the overall reported death toll since the clashes began May 20 between the Lebanese army and Fatah Al Islam militants. Soldiers exchanged machine-gun fire with fighters from the Al Qaeda-inspired group holed up in the camp as troops also unleashed artillery fire, a witness said. "We are continuing to make advances on the ground, and we continue to tighten the noose on the gunmen," said the army spokesman.

The Islamists, who are now believed to number a few dozen, have responded by firing back rockets, five of which crashed into fields north of the camp without causing any casualties, according to police. [More>>metimes.com]
---
07.14.07 Miranshah suicide attack death toll rises to 25
MIRANSHAH, Pakistan, July 14 - At least 25 Pakistani security men were killed and 29 others were injured Saturday when a suicide bomber rammed his explosives-packed car into their convoy in a remote tribal region near the Afghan border, the ISPR sources said. The convoy was heading to Miranshah, the main town of the North Waziristan tribal district, when the bomber attacked it at around 11:30 am (0630 GMT), Director General ISPR Major General Waheed Arshad said.

"The number of soldiers martyred in the attack has risen to 24," Arshad said, updating earlier reports. "Twenty-nine soldiers were wounded. More bodies were recovered from the badly mangled wreckage of the vehicles which were hit in the suicide attack." The soldiers who were martyred in the attack belong to FC, he said.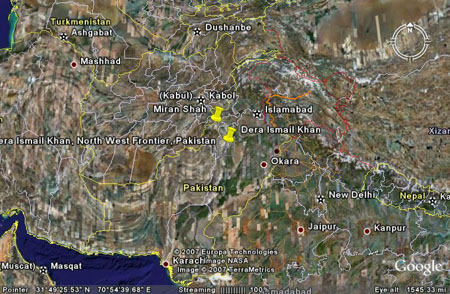 Alleged Taliban and al-Qaeda hideouts in Pakistan. Note proximity to Kabul, Afghanistsan. The "base" is near the Khyer Pass which is the main route from Afghanistan to Pakistan. The viewer will note (using google earth to study the area) that there are not very many ways to get between Afghanistan and Pakistan (i.e., through major river valleys). Google earth's image resolution is good enough to check out individual buildings and cars along the roads in some areas. Of interest is the fact that if one follows the river valley east from Miran Shah one will arrive at a major river valley running north and south that leads to Dera Ismail Khan. Since the leaders of al-Qaeda claim to have internet connections, Dera Ismail Khan and towns like it may be likely places where they are hiding. A google search for Dera Ismail Khan produced a service provider yalwa.com, demonstrating easy access; wireless providers could also be studied. [Mel Copeland; image:google earth]
The injured soldiers have been shifted to CMH Bannu. Security forces have started investigations of the incident. [>thenews.com.pk ; See other details at: thejakartapost.com, July 14, "At least 18 soldiers killed in suicide attack in northwest Pakistan" : ..The attack happened on a road near Daznaray, a village about 50 kilometers (30 miles) north of Miran Shah, the main town in North Waziristan, said Maj. Gen. Waheed Arshad...The incident was one of the most lethal suicide attacks in recent months. The turbulent tribal region is a haven for local and foreign militants, and has been the scene of scores of military operations against remnants of the Taliban and al-Qaeda after Pakistan became a key ally of Washington in its war on terror...

aljazeera.net, July 14, "Deadly blast hits Pakistani troops" :Major General Waheed Arshad said the death toll could rise since troops were searching for one of four vehicles attacked that rolled off the road...Two suicide blasts killed eight people on Thursday, and police on Friday said they seized three men and a car packed with seven suicide vests, 100 mortar shells and other explosives in northwestern Dera Ismail Khan town.
Pervez Musharraf, the Pakistani president, has provoked anger in the region after this week's army assault on the pro-Taliban mosque complex in Islamabad that left 86 people dead. Musharraf however has warned he would root out what he calls extremists and has deployed extra troops to the border areas with Afghanistan, remote and lawless regions that are believed to have become hideouts for the Taliban and al-Qaeda...
---
07.14.07 US finds Iranian rockets aimed at Iraq base
BAGHDAD (AFP) July 14 - US soldiers discovered a field of rocket launchers near a US army base south of Baghdad armed with 34 Iranian-made missiles, the military said on Saturday. "After several rockets hit FOB (Forward Operating Base) Hammer on July 11, the 3rd Heavy Brigade Combat Team manoeuvred to find the source of the attack,' a statement said. The next morning an "unmanned aerial vehicle located 46 rocket launchers in the northern section of Besmaya Range Complex aimed at FOB Hammer. Thirty-four of the launchers were armed with Iranian 107mm rockets," it added. [More>>khaleejtimes.com ; see related story, khaleejtimes.com, July 14, "21 Iraqis deadin a fresh wave of violence."]
---
07.14.07 Arabs pile into Darfur to take land 'cleansed' by janjaweed
July 14 - Arabs from Chad and Niger are crossing into Darfur in "unprecedented" numbers, prompting claims that the Sudanese government is trying systematically to repopulate the war- ravaged region. An internal UN report, obtained by The Independent, shows that up to 30,000 Arabs have crossed the border in the past two months. Most arrived with all their belongings and large flocks. They were greeted by Sudanese Arabs who took them to empty villages cleared by government and janjaweed forces. One UN official said the process "appeared to have been well planned." The official continued: "This movement is very large. We have not seen such numbers come into west Darfur before." [More>>independent.co.uk]
---
07.14.07 Russia suspends arms pact, citing US missile plan
MOSCOW, July 14 - President Vladimir V. Putin formally notified NATO governments on Saturday that Russia will suspend its obligations under the Conventional Forces in Europe Treaty, a key Cold War-era arms limitation agreement, in response to American plans to deploy a missile shield in Eastern Europe. The decision ratcheted up tensions over United States plans for a missile shield, which Russia opposes, but also reflected an escalating trend of anti-Americanism and deep suspicion toward the West in Russia's domestic politics ahead of presidential elections here next March.
Russia's suspension will take effect in 150 days, according to a copy of the president's decree posted on a Kremlin Web site. That delay leaves open the possibility of further negotiation on the 1990 treaty, which resulted in a huge wave of disarmament along the former East-West divide in Europe. [More>>nytimes.com;
---
07.14.07 Two GOP senators defy Bush on Iraq
July 14 - The Republican revolt against President Bush's war strategy accelerated yesterday as two of the party's most respected voices on national security proposed legislation envisioning a major realignment of U.S. troops in Iraq starting as early as Jan. 1. Defying Bush even as his team fanned out to press Congress for more time, Sens. John W. Warner (Va.) and Richard G. Lugar (Ind.) unveiled a measure requiring the White House to begin drawing up plans to redeploy U.S. forces from frontline combat to border security and counterterrorism. But the legislation would not force Bush to implement the plans at this point. [More>>washingtonpost.com]
---
07.13.07 Pyongyang proposes military talks with US
July 13 - North Korea yesterday proposed holding bilateral military talks with the United States and the attendance of a United Nations representative to discuss a safety guarantee, signaling trouble ahead for the six-party talks. In a statement issued by the chief of the Panmunjom Mission of the (North) Korean People's Army (KPA), the North said, "We propose holding military talks between (North Korea) and the United States with the participation of the UN representative at any convenient venue and time to discuss a peace and security guarantee for the Joseon (Korea) peninsula."

Panmunjeom, one of the last vestiges of the Cold War, is a village on the de facto border between the two Koreas and where the 1953 armistice that halted the three-year-long Korean War was signed. North Korea's demand was a clear challenge to the current progress of the six-party talks, which aims to address security issues related to North Korea multilaterally. The six-party talks, in fact, in 2005 produced an agreement to negotiate a permanent peace regime on the Korean Peninsula at an appropriate separate forum. [More>>koreaherald.co.kr]
---
07.13.07 Three would-be suicide bombers arrested in D.I Khan
D.I KHAN, Pakistan, July 13 - The police Friday seized three suspected suicide bombers and a car filled with explosives, officials said, amid fears of reprisals for a deadly army raid on Islamabad's Red Mosque. Police made the arrests after raiding a house under construction on the outskirts of the militancy-hit northwestern town of Dera Ismail Khan, following a tip-off, district police chief Gul Afzal Afridi said. "Police arrested three suspected suicide bombers and recovered a car full of explosive materials," he said.

The car contained seven so-called suicide vests, 100 mortar shells, two rockets and one landmine, security officials said. The arrests came as troops began deploying this week in the neighboring towns of Tank and Lakki Marwat under a government drive to check rising militancy by pro-Taliban rebels. Dera Ismail Khan borders the troubled tribal area of South Waziristan, where Pakistan has launched several deadly military operations to drive out al-Qaeda and Taliban militants who fled Afghanistan in late 2001. [>thenews.com.pk ; See related story, metimes.com, July 13, "Pakistan Islamists call for Musharraf's destruction."]
---
07.13.07 225 'killed in Turkey unrest' in six months
DIYARBAKIR, Turkey, July 13 - A total of 225 people died in Turkey in escalating violence between Turkish forces and armed Kurdish rebels in the first half of 2007, the country's main human rights watchdog said Friday. The announcement came as officials said that two Turkish troops and two rebels from the outlawed Kurdistan Workers' Party (PKK) were killed in fresh fighting.

"We see a serious increase in the number of daily clashes," Mihdi Perinçek, the Human Rights Association (IHD) representative for the mainly Kurdish east and southeast of Turkey, told a press conference in Turkey. "We are also concerned that clashes are spreading across the region," he said. A tally compiled by the IHD from officials and independent sources said that 111 members of the security forces, 109 PKK rebels, and five civilians were killed in the region from January to June. This compared with 190 people killed in the corresponding period of 2006, the IHD said. [More>>metimes.com]
---
07.13.07 Iran demands Japan's oil payments in yen
July 13 - The dollar was driven down against the Japanese yen this afternoon, hit by the news that Iran had asked Japan to pay for its oil purchases in the Japanese currency and not in dollars. Iran has sent a letter to Japanese refiners, signed by Ali A Arshi general manager of crude marketing and exports for Iran's national Iranian Oil Company, according to a report by Bloomberg.
The letter asks for yen payments "for any/all of your forthcoming Iranian crude oil liftings." The request is for all shipments "effective immediately." Japan's oil payments to Iran rose 12 percent last year to 1.24 trillion yen (£5 billion). [More>>timesonline.co.uk]
---
07.13.07 Mme Sarkozy urges Gaddafi to pardon Aids nurses facing death
July 13 - Cécilia Sarkozy, the first lady of France, made an unprecedented foray into international affairs yesterday by visiting the five Bulgarian nurses condemned to death in Libya. Mme Sarkozy also had two meetings with the Libyan leader, Colonel Muammar Gaddafi, in Tripoli and visited some of the Libyan children allegedly infected with the Aids virus by the nurses eight years ago. It is believed that she urged President Gaddafi to heed international pressure for the nurses to be pardoned.
On Wednesday, the Libyan Supreme Court upheld the death sentences on the Bulgarian nurses and a Palestinian doctor convicted of deliberately infecting more than 400 children with the Aids virus in 1999. The doctor and the nurses deny the allegations and insist that they were tortured into making confessions. Western governments believe that poor hospital conditions in Libya are probably to blame for the infection of the 426 children. There are hopes that the convictions will be overturned next week by Libya's supreme judicial council after an agreement on international compensation payments to the sick children. [More>>independent.co.uk]
---
07.13.07 Bush distorts Qaeda links, critics assert
BAGHDAD, July 13 - In rebuffing calls to bring troops home from Iraq, President Bush on Thursday employed a stark and ominous defense. "The same folks that are bombing innocent people in Iraq," he said, "were the ones who attacked us in America on September the 11th, and that's why what happens in Iraq matters to the security here at home." It is an argument Mr. Bush has been making with frequency in the past few months, as the challenges to the continuation of the war have grown. On Thursday alone, he referred at least 30 times to Al Qaeda or its presence in Iraq.
But his references to Al Qaeda in Mesopotamia, and his assertions that it is the same group that attacked the United States in 2001, have greatly oversimplified the nature of the insurgency in Iraq and its relationship with the Qaeda leadership. But his references to Al Qaeda in Mesopotamia, and his assertions that it is the same group that attacked the United States in 2001, have greatly oversimplified the nature of the insurgency in Iraq and its relationship with the Qaeda leadership.
There is no question that the group is one of the most dangerous in Iraq. But Mr. Bush's critics argue that he has overstated the Qaeda connection in an attempt to exploit the same kinds of post-Sept. 11 emotions that helped him win support for the invasion in the first place. Al Qaeda in Mesopotamia did not exist before the Sept. 11 attacks. The Sunni group thrived as a magnet for recruiting and a force for violence largely because of the American invasion of Iraq in 2003, which brought an American occupying force of more than 100,000 troops to the heart of the Middle East, and led to a Shiite-dominated government in Baghdad. [More>>nytimes.com ; See related story, theaustralian.news.com.au, July 13, "US doubles bounty on bin Laden to $58 million."]
---
07.13.07 Ten Taliban killed in Afghan clash
KABUL, July 13 - NATO-led and Afghan troops clashed with Taliban militants in southern Afghanistan on Friday, leaving 10 suspected militants dead, an Afghan army officer said. A NATO and Afghan army soldier were wounded in a second straight day of clashes in the Gereshk district of Helmand province. On Thursday, 20 other suspected militants were killed in fighting with NATO and Afghan forces, said Maj. Gen. Muhiddin Ghori of the Afghan National Army. He did not release the nationality of the wounded NATO soldier. [>thenews.com.pk]
---
07.13.07 New York Times journalist killed in Baghdad
July 13 - Khalid W. Hassan, 23, an interpreter and reporter in the Baghdad bureau of The New York Times, was shot and killed today, the bureau chief, John F. Burns, reported. He was the second Iraqi employee of the Times to be killed during the current conflict. Mr. Hassan was shot in the Saidiya district of south central Baghdad while driving to work under circumstances that remain unclear, Mr. Burns said. He had called the bureau earlier and said his normal route to the office had been blocked by a security checkpoint. [More>>nytimes.com]
---
07.13.07 In Zimbabwe, fewer affairs and less HIV
CHITUNGWIZA, Zimbabwe, July 13 - It's not only the prices of bread and eggs that are out of control in Zimbabwe, land of 4,000 percent inflation. For the man inclined to cheat on his wife, these are trying times. Keeping a mistress, visiting a prostitute or even taking a girlfriend out for beers is simply becoming too expensive, men say.
But their strain is Zimbabwe's gain in its fight against AIDS. Alone among southern African countries, Zimbabwe has shown a significant drop in its HIV rate in recent years. A major reason, researchers say, is the changing sexual habits of men forced to abandon costly multiple relationships. [More>>washingtonpost.com ; See related story, timesonline.co.uk, July 13, "Panic buying in zimbabwe as edicts hit business."]