---

09.16.07 Alan Greenspan claims Iraq war was really for oil
September 16 - America's elder statesman of finance, Alan Greenspan, has shaken the White House by declaring that the prime motive for the war in Iraq was oil. In his long-awaited memoir, to be published tomorrow, Greenspan, a Republican whose 18-year tenure as head of the US Federal Reserve was widely admired, will also deliver a stinging critique of President George W. Bush's economic policies.
However, it is his view on the motive for the 2003 Iraq invasion that is likely to provoke the most controversy. "I am saddened that it is politically inconvenient to acknowledge what everyone knows: the Iraq war is largely about oil," he says.
Greenspan, 81, is understood to believe that Saddam Hussein posed a threat to the security of oil supplies in the Middle East. Britain and America have always insisted the war had nothing to do with oil. Bush said the aim was to disarm Iraq of weapons of mass destruction and end Saddam's support for terrorism. [>timesonline.co.uk]
---
09.16.07 Militants step up Iraq attacks, kill 30, al-Qaeda suspect captured
BAGHDAD (Reuters) September 16 - Militants stepped up attacks across Iraq on Sunday, killing at least 30 people in a spate of bombings and shootings that followed a threat by al-Qaeda to launch a new phase of violence. The US military announced it had caught a suspected al-Qaeda militant believed to be responsible for the killing last week of a key Sunni Arab tribal leader in Anbar province.
Shaikh Abdul Sattar Abu Risha, who met US President George W. Bush two weeks ago in Anbar, was killed in a bomb attack on Thursday near his home. He led an alliance of tribes that helped US troops push al-Qaeda out of much of the vast western area.
Suspected al-Qaeda militants shot dead 14 people in the predominantly Sunni Arab town of Muqdadiya north of Baghdad and torched at least 12 shops in the town, Iraqi police said. [More>>khaleejtimes.com ; See related story, cnn.com, September 16, "Iraqi police colonel assassinated near home."]
---
09.16.07 Al-Qaeda 'co-opts' new affiliates
WASHINGTON, September 16 - Secure in its haven in northwestern Pakistan, a resurgent al-Qaeda is trying to expand its network, in some cases by executing corporate-style takeovers of regional Islamic extremist groups, according to US intelligence officials and counter-terrorism experts. Though not always successful, these moves indicate a shift in strategy by the terrorist network as it seeks to broaden its reach and renew its ability to strike Western targets, including the United States, officials and experts say.

"Certainly we do see al-Qaeda trying to influence the broader movement and to control some of these affiliates in a more direct way," said a senior counter-terrorism official in the Bush administration. "The word I would use is 'co-opt' . . . as opposed to simply associating with or encouraging. By that I mean target selection, types of attacks, methodology, funding, all of the things that would make an affiliate suddenly a subsidiary."

The senior official spoke on condition of anonymity, citing the sensitive nature of the subject matter. That person's assessment coincided with those offered by a variety of current and former government authorities and private-sector experts.

Bruce Riedel, a senior CIA counter-terrorism official until late last year, said al-Qaeda "central" stands to gain hundreds or even thousands of foot soldiers, many of whom already have been radicalized, carry European passports and don't require a visa to travel to the United States. "I think what we are seeing is the reconstitution of their capabilities to strike targets in Western Europe and ultimately North America on a scale identical or bigger than Sept. 11," said Riedel, a senior fellow at the Brookings Institution. [More>>latimes.com, via thenews.com.pk and metimes.com (AFP) ; See related story, expressindia.com, September 16, "Osama bin Laden 'sidelined' within al-Qaeda."]
---
09.16.07 14 rebels killed in Afghan clashes
KABUL, September 16 - Afghan and US-led forces backed by air power clashed with Taliban insurgents Sunday in Afghanistan, killing more than a dozen rebels, and officials said. About 10 insurgents were killed early Sunday when US-led warplanes pounded militant positions in the southern province of Helmand, the US military said. [More>>thenews.com.pk]
---
09.14.07 Bush tells nation he will begin to roll back 'surge'
September 14 - President Bush tried to turn a corner in the fractious debate over Iraq last night by ordering the first limited troop withdrawals since voters elected an antiwar Congress last year. But the move did little to appease Democratic leaders, who dismissed it as a token gesture masking an open-ended commitment of US troops. [More>>washingtonpost.com]
---
09.14.07 British mortgage lender is offered emergency loan
LONDON, September 14 - British financial authorities said today that they had extended an emergency loan to rescue a big mortgage bank, as the effects of a global credit crunch stemming from the crisis in the American subprime lending business spread to one of the world's most buoyant housing markets. The British government said it had authorized the Bank of England to provide a "liquidity support facility" of unspecified size to Northern Rock, a mortgage lender based in Newcastle, England, that has expanded aggressively in recent years.
The news prompted a sell-off in the shares of Northern Rock and other British bank stocks as investors worried about the possibility of similar problems at other institutions, as well as threats to the broader economy. The FTSE 100 share index had fallen by more than 130 points by around noon in London today. [More>>nytimes.com ; See also bbc.co.uk, September 14, "UK market hit by bank worries."]
---
09.14.07 Islamaphobia on rise, especially in Europe
GENEVA (Reuters) September 14 - The United Nations investigator on racism on Friday condemned a rising trend of Islamaphobia, especially in Europe, where he said it was being exploited by some right-wing political parties. Doudou Diene, UN special rapporteur on racism, racial discrimination, xenophobia and related forms of intolerance, also accused Switzerland's most popular party, the right-wing Swiss People's Party (SVP/UDC), of inciting hatred.
He urged the withdrawal of the party's controversial campaign poster calling for expulsion of foreigners who commit serous crimes, depicting three white sheep booting out a black sheep under the headline "For the Security of All."
"In the current context, Islamaphobia constitutes the most serious form of religious defamation," Diene said in a speech and report to the UN Human Rights Council, whose 47 member states were holding a debate on religious defamation. More and more political leaders and influential media and intellectuals were "equating Islam with violence and terrorism," and some were seeking to "silence religious practices by banning the construction of mosques," Diene said. [More>>khaleejtimes.com]
---
09.14.07 Ten Taliban killed in Afghan firefights: US military
KABUL, September 14 - Afghan and US-led coalition troops killed 10 Islamist Taliban guerrillas in firefights in the south on Friday, the US military said, while two policemen died in a roadside bomb blast in the east. Five Taliban fighters were killed in a raid on a suspected insurgent compound in the province of Helmand, and five more in a raid on a guerrilla hideout in the province of Ghazni. "They were killed in firefights," a US military spokesman said.

In the Helmand raid, troops also recovered caches of opium and weapons including rocket-propelled grenades. There was no independent confirmation of who was shot, and the resurgent Islamist Taliban, who are resorting increasingly to suicide bombings against Afghan and Western troops, were not immediately available for comment. [>thenews.com.pk]
---
09.13.07 Saturn's moon Iapetus is the Yin-and-Yang of the Solar System
PASADENA, Calif., September 12 - Scientists on the Cassini mission to Saturn are poring through hundreds of images returned from the Sept. 10 flyby of Saturn's two-toned moon Iapetus.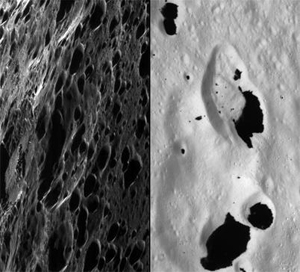 Pictures returned late Tuesday and early Wednesday show the moon's yin and yang - a white hemisphere resembling snow, and the other as black as tar.

Images show a surface that is heavily cratered, along with the mountain ridge that runs along the moon's equator. Many of the close-up observations focused on studying the strange 20-kilometer high (12 mile) mountain ridge that gives the moon a walnut-shaped appearance. [More>>saturn.jpl.nasa.gov ; The composite photo, image on right,shows snowy landscape with blotches of black material on top of the snow. To the left of the image is the dark material. Another photo from the Cassini mission shows a close-ups of the 12 -mile high mountain ridge that runs around the equator. Cassini passed about 1,000 miles away from the moon.]
---
09.13.07 US develops 14-ton super bomb, bigger than Russian vacuum bomb
WASHINGTON (RIA Novosti) September 13 - The US has a 14-ton super bomb more destructive than the vacuum bomb just tested by Russia, a US general said Wednesday. The statement was made by retired Lt. General McInerney, chairman of the Iran Policy Committee, and former Assistant Vice Chief of Staff of the Air Force. McInerney said the US has "a new massive ordnance penetrator that's 30,000 pounds, that really penetrates ... Ahmadinejad has nothing in Iran that we can't penetrate." He also said the new Russian bomb was not a "penetrator."
On Tuesday, the Fox News television channel said: "A recent decision by German officials to withhold support for any new sanctions against Iran has pushed a broad spectrum of officials in Washington to develop potential scenarios for a military attack on the Islamic regime." Commenting on the report, McInerney said: "Since Germany has backed out of helping economically, we do not have any other choice. ... They've forced us into the military option."
McInerney described some possible military campaign scenarios and said: "The one I favor the most, of course, is an air campaign," he continued. He said that bombing would be launched by 65-70 stealth bombers and 400 bombers of other types.
"Forty-eight hours duration, hitting 2500 aimed points to take out their [Iranian] nuclear facilities, their air defense facilities, their air force, their navy, their Shahab-3 retaliatory missiles, and finally their command and control. And then let the Iranian people take their country back," the general said describing the campaign, adding it would be "easy."
McInerney is well-known among the US conservatives. He is the chairman of the Iran Policy Committee cochaired by James Woolsey, former CIA director, William A. Nitze, former Deputy Assistant Secretary of State and Richard Schifter, former Assistant Secretary of State, and Professor Raymond Tanter, former Personal Representative of the Secretary of Defense to arms control talks in Europe.
The McInerney statement was made following a Fox News report that US "officials are making plans to attack Iran as early as next summer," since Washington believes diplomatic efforts have failed. [>rian.ru ; See also xinhuanet.com, September 12, "Report: US develops war plan against Iran."]
---
09.13.07 Up to 30 militants killed in fresh Pakistan clash
MIRANSHAH, Pakistan (AFP) September 13 - Up to 30 Islamic militants were killed and nine Pakistani troops wounded after insurgents attacked a checkpost in a troubled tribal region bordering Afghanistan, the army said Thursday. The fighting in North Waziristan, where US officials say the Al-Qaeda network and the Taliban have regrouped since 9/11, came a day after the military said it had killed another 40 rebels in a nearby area.
Pakistan has been rocked by violence since troops stormed the radical Red Mosque in Islamabad in July, with suicide attacks killing nearly 250 people since then and scores of militants dying in clashes with the military. [More>>turkishpress.com ; See also metimes.com and thenews.com.pk, September 13, Blast kills 15 in Tarbela Ghazi."]
---
09.13.07 Now, it's Gen. Petraeus's war
September 13 (Analysis by Peter Baker and Thomas E. Ricks) - He sat absolutely still as members of Congress discussed his credibility and patriotism. His face did not twitch. He did not nod or frown or smile. Not a single muscle moved. He was as impassive as a boot-camp recruit resisting a drill sergeant's provocations.
For Army Gen. David H. Petraeus, navigating the political shoals of Washington this week has been a challenge unlike any he has faced. When he testified before the Senate for his confirmation hearing in January, Petraeus was widely regarded as the quintessential military professional, a credible, independent voice who stood above the political fray.
But when he returned to Capitol Hill this week for marathon hearings and a media blitz, the general labored to retain that image. Partisans sought to portray him either as a politicized officer carrying water for the White House or as the only possible savior of an increasingly unpopular war.
The war in Iraq has diminished the reputations of many of its generals. As Petraeus returns to Baghdad to continue carrying out President Bush's strategy, his image has changed as well. Like it or not, he has become a political player, and more than ever before, the US venture in Iraq has become his own. [More>>washingtonpost.com ; See related story, independent.co.uk, September 13, "President Petraeus? Iraqi official recalls the day US general revealed ambition."]
---
09.13.07 Bomb kills Sunni sheik working with US in Iraq
BAGHDAD, September 13 - The leader of a group of local Sunni tribes cooperating with American and Iraqi forces in fighting extremist Sunni militants in Anbar Province was killed by a bomb today, Iraqi police officials said, in a blow to an effort President Bush has held up as a model of progress. The Sunni leader, Abdul Sattar Buzaigh al-Rishawi, who met and shook hands with Mr. Bush during his visit to a military base in the province last week, led the Anbar Salvation Council, an alliance of clans supporting the Iraqi government and American forces.

Initial reports suggested he was killed either by a bomb in his car or by a roadside bomb close to his car near his home in Ramadi in Anbar Province, the sprawling region west of Baghdad. Sheik Abdul Sattar, 35, as he was known to Iraqis and American commanders, had become the public face of the Sunni tribes in lawless Anbar that turned against the Sunni jihadists of Al Qaeda in Mesopotamia and began to fight on the side of the Shiite-led Iraqi government and the American military. [More>>nytimes.com]
---
09.13.07 More earthquakes strike in Indonesia
PADANG, Indonesia, September 13 - Two more strong earthquakes shook the coast of the Indonesian island of Sumatra today, following the major quake that hit Wednesday, but the area escaped a major tsunami like the one that devastated the region nearly three years ago. Just over a dozen people were reported to have died in the earthquakes, although hundreds of buildings were damaged in the coastal cities of Padang and Bengkulu in western Sumatra.
The shaking continued through the day today, keeping residents on edge. Some fled to higher ground away from the coastline; many more camped outdoors in the streets and parks. The first and biggest of the shocks, with a magnitude of 8.4 on Wednesday evening, was the third in a cluster of earthquakes that measured greater than 8.0 in the area in the past three years. That cluster could be a signal that the 1,100-mile-long western coast of Sumatra could face still more danger, scientists say. [More>>nytimes.com ; See also rian.ru, September 13, "Indonesia hit by more than 40 earthquakes in 24 hours."]
---
09.13.07 Al-Jazeera man 'close to death' at Guantanamo Bay
September 13 - An al-Jazeera journalist captured in Afghanistan six years ago and sent to Guantanamo Bay is close to becoming the fifth detainee at the US naval base to take his own life, according to a medical report written by a team of British and American psychiatrists
Sami al-Haj, a Sudanese national, is 250 days into a hunger strike which he began in protest over his detention without charge or trial in January 2002. But British and American doctors, who have been given exclusive access to his interview notes, say there is very strong evidence that he has given up his fight for life, experiencing what doctors recognise as "passive suicide", a condition suffered by female victims of Darfur.

...Mr. Haj, 38, was sent on assignment by al-Jazeera television station to cover the war in Afghanistan in October 2001. The following month, after the fall of Kabul, Mr. Haj left Afghanistan for Pakistan with the rest of his crew. In early December, the crew were given visas to return to Afghanistan. But when Mr. Haj tried to re-enter Afghanistan with his colleagues, he was arrested by the Pakistani authorities – apparently at the request of the US military. [Full Story>>independent.co.uk]
---
09.13.07 'Texts do not prove Hindu gods are real'
NEW DELHI (Reuters) September 13 - India's government is being accused of blasphemy by its political opponents for saying some of Hinduism's most important texts are not proof of the existence of Hindu gods. The government made the claim in a statement on Tuesday to the Supreme Court, which is hearing a dispute over India's plan to bore a shipping lane through a ridge of rock and sand between India and Sri Lanka which some Hindus think was built by a god.
The Ramayana and Ramcharitmanas, two religious texts, recount the life of Lord Ram, a Hindu god said to have commanded his army of monkeys to build a bridge to Sri Lanka thousands of years ago so he could rescue his kidnapped wife, Sita.
But the government of mainly Hindu but officially secular India says the ridge was moulded by the ocean tides. "The contents of the Valmiki Ramayana, the Ramcharitmanas by Tulsidas and other mythological texts ... cannot be said to be historical record to incontrovertibly prove the existence of the characters or the occurrence of the events depicted therein," the government's affidavit said. [More>>khaleejtimes.com]
---
09.13.07 Mystery of the nearly men: New thinking on an old conundrum
September 13 - Much has been unearthed about Neanderthal Man since a skull and bones were famously dug out of the Neander Valley near Düsseldorf in 1856. But not since that date has there been such excitement about this archaic form of humanity. He was a thick-set, muscular sort with a tough jaw, but diminutive chin. Not very tall, but with more intelligence than originally given credit, the Neanderthal occupied much of Europe for about 200,000 years prior to the arrival of anatomically modern humans – our own species, Homo sapiens.
Yet there is one enduring puzzle about this early cousin of ours that is now engaging scientists in frenzied debate. If the Neanderthal managed to survive for so long and lived through an ice age, what caused them to disappear? Was it, as some have suggested, a period of intense climate change that even they could not adapt to?
Or did it have something to do with the arrival of a taller, less bulky but more intelligent rival?
This debate over the demise of the Neanderthal has sparked unprecedented levels of interest in them – and us. It raises issues about human nature and what sort of ancestors we came from. Could the disappearance of a closely related human being perhaps tell us something about the brutish nature of our own species? [More>>independent.co.uk]
---
09.13.07 Diesel fumes trigger heart attacks and strokes, researchers find
September 13 - Scientists have discovered how air pollution triggers heart attacks, which cause thousands of deaths each year. Diesel exhaust fumes increase the stress on the heart during exercise and may account for the rise in heart deaths on days when pollution from traffic fumes is high, they say.
The World Health Organization estimates that air pollution causes 800,000 premature deaths worldwide and a recent US study suggested long-term exposure to traffic fumes increases the risk of death from heart disease and stroke by 76 percent. Researchers from the University of Edinburgh found that inhaling diesel fumes caused a threefold increase in stress on the heart by altering its electrical activity. The risk of blood clots was also increased. [More>>independent.co.uk]
---
09.12.07 Toxic chemicals blamed for the disappearance of Arctic boys
September 12 - Twice as many girls as boys are being born in remote communities north of the Arctic Circle. Across much of the northern hemisphere, particularly in the US and Japan, the gender ratio has skewed towards girls for the first time.
Now scientists working with Inuit villages in Arctic Russia and Greenland have found the first direct evidence that this trend is linked to widespread chemical pollutants. Despite the Arctic's pristine environment, the area functions as a pollution sink for much of the industrialized world. Winds and rivers deliver a toxic tide from the northern hemisphere into the polar food chain.
Scientists have traced flame-retardant chemicals used in everything from industrial products to furniture, phones and laptops to the food chain, finding high levels of these pollutants in seabirds, seals and polar bears. The Inuit have traditionally relied on a hunter- gatherer's diet almost exclusively made up of marine animals, making them especially vulnerable to toxic pollutants. [More>>independent.co.uk]
---
09.12.07 Attack on giant Pakistan Buddha
September 12 - Suspected pro-Taleban militants have tried to blow up an ancient carving of Buddha in north-west Pakistan. The statue, thought to date from the second century BC, sustained only minimal damage in the attack near Manglore in remote Swat district. The area has seen a rise in attacks on "un-Islamic" targets in recent months. This is the first such attack in Pakistan and is reminiscent of the Taleban's 2001 destruction of the giant Buddhas at Bamiyan in Afghanistan. [More>>bbc.co.uk]
---
09.12.07 Austria arrests three suspected Al-Qaeda activists
VIENNA (AFP) September 12 - Three suspected Al Qaeda activists have been arrested in Austria, in connection with a videotape threatening reprisals against Vienna and Berlin for their role in Afghanistan, the interior ministry said Wednesday. "Three suspects have been arrested in Vienna, whose close links with Al Qaeda's ideology cannot be ruled out," ministry spokesman Rudolf Gollia said. Minister Guenther Platter would give more details at 4pm (1400 GMT), Gollia added.

Islamist militants threatened to attack Germany and Austria if they do not pull their troops out of Afghanistan, in a statement read out March 11, this year, by a masked man on a Web site linked to Al Qaeda. At the time, the two governments sought to play down the threat, with Austrian Chancellor Alfred Gusenbauer saying: ""The people have no reason to worry."

"In standing by the United States ... you have provoked those whom you call terrorists to target you," the man said in Arabic, with a German translation appearing on the screen as the flags of Germany and Austria appeared in front of a burning background.[More>>metimes.com]
---
09.12.07 Pakistanis say killed 40 militants in attack
ISLAMABAD (Reuters) September 12 - Pakistani troops attacked militants in the North Waziristan region on the Afghan border with helicopters and artillery on Wednesday, killing up to 40, a military spokesman said. The attack came as US Deputy Secretary of State John Negroponte was visiting the capital, Islamabad, where he noted 'the important role' Pakistan was playing in fighting terrorism.
Violence has intensified sharply in Waziristan and other parts of northwest Pakistan since July when a controversial peace deal with militants broke down. Several hundred people have been killed in clashes and suicide bomb attacks. The violence is adding to a sense of crisis as President Pervez Musharraf, who is also army chief and an important US ally, attempts to secure another term in office in the face of sliding popularity and legal challenges.
While the vast majority of Pakistanis abhor militant violence, many also object to Musharraf's support for the U.S.-led war on terrorism. Military spokesman Major-General Waheed Arshad said the militants were attacked in a area 40 km (28 miles) southwest of the main town of Miranshah. [More>>khaleejtimes.com]
---
09.11.07 The 'proxy war': UK troops are sent to Iranian border
September 12 - British forces have been sent from Basra to the volatile border with Iran amid warnings from the senior US commander in Iraq that Tehran is fomenting a "proxy war." In signs of a fast-developing confrontation, the Iranians have threatened military action in response to attacks launched from Iraqi territory while the Pentagon has announced the building of a US base and fortified checkpoints at the frontier.
The UK operation, in which up to 350 troops are involved, has come at the request of the Americans, who say that elements close to the Iranian regime have stepped up supplies of weapons to Shia militias in recent weeks in preparation for attacks inside Iraq.
The deployment came within a week of British forces leaving Basra Palace, their last remaining base inside Basra city, and withdrawing to the airport for a widely expected final departure from Iraq. Brigadier James Bashall, commander of 1 Mechanized Brigade, based at Basra said: "We have been asked to help at the Iranian border to stop the flow of weapons and I am willing to do so. We know the points of entry and I am sure we can do what needs to be done. The US forces are, as we know, engaged in the 'surge' and the border is of particular concern to them." [More>>independent.co.uk]
---
09.11.07 Cassini's closest visit of Iapetus
September 11 - On September 10, the Cassini spacecraft performs its closest flyby during the entire mission of the odd moon Iapetus, passing by about 1,640 kilometers (1,000 miles).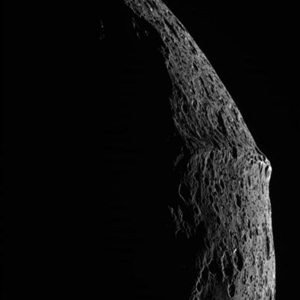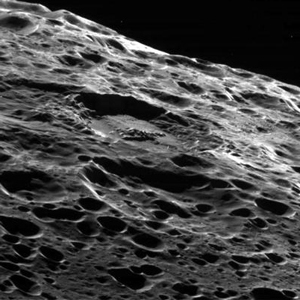 Close up of Saturn's bizzare moon Iapetus, from Cassini's September 10 flyby, saturn.jpl.nasa.gov
Iapetus is a world of sharp contrasts. The leading hemisphere is as dark as a freshly-tarred street, and the white, trailing hemisphere resembles freshly-fallen snow. Scientists want to know more about the composition of the dark material that coats Iapetus. They also want to learn more about Iapetus' distinctive walnut shape and the chain of mountains along its equator.

According to a previous report of September 5 "Cassini will make its only close flyby of Saturn's odd, two-toned, walnut-shaped moon..at about 1,640 kilometers (1,000 miles) from the surface. This flyby will be 100 times closer than Cassini's 2004 encounter, and will be the last time the spacecraft will aim its instruments at this moon. Iapetus (pronounced eye-APP-eh-tuss) has a ridge of surprisingly large mountains - the so-called "belly-band" - that lies directly on top of the equator. [More>>saturn.jpl.nasa.gov]
---
09.11.07 9/11 attack victims honored six years later
NEW YORK (AP) September 11 - Relatives of September 11 victims bowed their heads in silence Tuesday to mark the moments exactly six years earlier when hijacked planes crashed into the World Trade Center, the Pentagon and a Pennsylvania field. The dreary skies created a grim backdrop, and a sharp contrast to the clear blue of that morning in 2001. "That day we felt isolated, but not for long and not from each other," Mayor Michael Bloomberg said as the ceremony began in New York. "Six years have passed, and our place is still by your side."
Construction equipment now fills the vast city block where the World Trade Center once stood. Work under way for four new towers forced the ceremony to be moved away from the twin towers' footprints and into a nearby park for the first time. [More>>cnn.com]
---
09.11.07 CNN: Israeli government 'very happy with success' of IAF strike on Syria
September 11 - The CNN television network reported Tuesday that Israel is happy with the success of an alleged Israel Air Force strike last week in Syrian territory. Quoting sources in the United States and the region, CNN said, "The Israeli government is very happy with the success of the operation." European diplomats quoted Syrian Foreign Minister Walid Moallem as saying Monday that the IAF warplanes that violated Syria's airspace fired missiles at targets on the ground, but did not cause any damage. According to CNN, the sources have told the network that the IAF indeed carried out a strike on a target in Syria, adding that the operation "may have also involved Israeli ground forces who directed the air strike." [More>>haaretz.com ; See also jpost.com, September 11, "IAF and ground troops attacked Iranian targets in Syria." and related story, jpost.com, September 11, "Kassam on IDF base 'a victory from God' "]
---
09.11.07 Democrats attack Iraq testimony
September 11 - The two leading US figures in Iraq are facing criticism at a hearing in Congress from Democratic presidential candidates opposed to the war. Senators Joe Biden and Barack Obama told military commander David Petraeus and Ambassador Ryan Crocker the troop build-up had failed to achieve peace. Gen. Petraeus and Mr. Crocker have been testifying for a second day.
Both repeated their contention that the military "surge" in Iraq was working, and warned against a rapid withdrawal. Sen. Biden said the build-up, which began in February, had failed to promote reconciliation between Iraq's Sunni and Shia communities and was at best "a stopgap that will not prevent chaos." He concluded: "We should stop the surge and start bringing our troops home." [More>>
bbc.co.uk
; See also
washingtonpost.com, September 11, "Petraeus, Crocker face skepticism on drawdown."
and
turkishpress.com, September 11, "Nine US soldiers killed in Iraq as general testifies."
]
---
09.11.07 FC Poliice, officials among 18 killed DJ Khan suicide last
DERA ISMAIL KHAN, September 11 - A suicide bomber blew himself up near a bus stand in northwest Pakistan Tuesday, killing at least 18 people including some police officers and injuring several others, police said. The blast happened near an Octry Post in Dera Ismail Khan, a town bordering Pakistan's troubled tribal areas where there have been several attacks blamed on pro-Taliban militants.

"The bomber was traveling on a bus when he realized he was being followed by police. He got off the bus and soon afterwards blew himself up at the bus stand," said DIG Dera Ismail Khan Haji Habib-u-Rehman. The suicide bomber clad in white cloths was a young boy of 14 to 15 years of age, he said. Haji Habib-u-Rehman confirmed that two policemen and one FC soldier was killed in the blast.

Some 18 injured people have been shifted to District Headquarter hospital D.I Khan. Four of the injured were stated in a critical condition. The police have cordoned off the site of the blast and have initiated investigation into the incident. [>thenews.com.pk ; See also khaleejtimes.com, September 11, "Child suicide bomber kills 19 in Pakistan."]
---
09.11.07 Bomber hits convoy in Afghanistan
September 11 - Three people have been killed after a suicide car bomb exploded near a convoy of lorries supplying NATO military bases in southern Afghanistan, police have said. The attack in Helmand province on Tuesday came a day after a suicide blast had killed at least 27 people in one of the deadliest attacks in the country in recent months. [More>>aljazeera.net]
---