---

08.08.07 Dutch MP calls for ban on Quran
August 8 - A Dutch member of parliament has called for the Quran to be banned in the Netherlands, describing it as a "fascist book" which calls on people to kill non-believers and rape women. Geert Wilders, leader of the far-right Freedom Party, called for the ban in a letter published in De Volkskrant newspaper. In his letter, Wilders compares the Muslim holy book to Mein Kampf, Adolf Hitler's autobiography, and said the Quran has "no place in our constitutional state."

"I have been saying this for years: there is no such thing as a moderate Islam," Wilders wrote...Wilders also said several chapters in the Quran "call on Muslims to oppress, persecute or kill Christians, Jews, dissidents and non-believers, to beat and rape women and to establish an Islamic state by force." [Full story>>aljazeera.net ; See related story, khaleejtimes.com, August 8, "New website aims to counter Islamic extremism."]
---
08.08.07 US military says Baghdad air strikes kill 30
BAGHDAD (Reuters) August 8 - US air strikes on Wednesday killed what the US military said were 30 militants suspected of involvement in transporting deadly roadside bombs from Iran. Hospital officials put the death toll from strikes by US helicopters and fixed-wing aircraft in Baghdad's mainly Shia Sadr City at 13. Police said 11 people had died, including women and children.
Baghdad's streets began to clear as a vehicle curfew was imposed hours early with security forces clamping down before a major Shia festival, which two years ago saw the deadliest single incident in Iraq's four-year conflict. A US military spokesman said there were no civilian casualties. [More>>khaleejtimes.com]
---
08.08.07 Iraq PM in Tehran for security talks
TEHRAN (AFP) August 8 - Iraqi Prime Minister Nuri al-Maliki arrived in Iran Wednesday for a visit aimed at winning Tehran's full support for restoring security to his war-torn country and continuing talks with the United States. The Shiite prime minister has also been a strong backer of the landmark talks between arch-foes Iran and the United States in Baghdad aimed at halting the violence in Iraq and is expected to press for the discussions to continue. [More>>turkishpress.com]
---
08.08.07 Yemen kills militant behind Spanish tourists' deaths
SANAA, August 8 - Yemeni security forces said Wednesday that they had killed four wanted Al Qaeda militants, including the alleged mastermind of a suicide bombing that killed eight Spanish tourists last month. The militants were killed near the city of Marib, in an area around 150 kilometers (95 miles) east of the capital Sanaa, local security officials said. Officials said that one of the dead was Kassem Al Raimi, whom the interior ministry had accused of planning the July 2 suicide bombing in Marib that killed the Spanish tourists and two local drivers.

An eyewitness said that one member of the security forces was killed during the morning raid, which also involved helicopters. The other slain men were named as Ali Jardan, Ali Doha, and Omar Al Wailee. Al Qaeda has been blamed for a series of attacks in Yemen, the ancestral homeland of its leader, Osama Bin Laden. Some of them predated the September 11, 2001 attacks in the United States. [More>>metimes.com ; See related story, thenews.com.pk, August 8, "Algerian army kills nine rebels" : Algeria's army has killed nine militants in the troubled Kabylie region as part of an offensive against al Qaeda's North Africa affiliate, a newspaper reported on Wednesday. A local daily said the army also found an ammunition cache during the operation, which took place over the past three days in Bouira province, some 110 km (68 miles) east of the capital Algiers.]
---
08.07.07 Ancient organisms brought to life
August 7 - Microorganisms locked in Antarctic ice for more than 100,000 years could return to life as glaciers melt, according to scientists.
Researchers in the United States melted ice samples ranging from 100,000-years old to eight million and were able to grow bacteria from the younger samples. The findings were significant because scientists did not know until now whether such ancient, frozen organisms and their DNA could be revived at all or for how long cells are viable after they have been frozen. Kay Bidle, assistant professor of marine and coastal sciences at Rutgers University, said: "The young stuff grew really fast. We recovered them easily... They doubled every couple of days."
By contrast, microbes from the oldest samples grew slowly, doubling only every 70 days. The findings were reported in the online edition of the
Proceedings of the National Academy of Sciences
journal. The research found that the DNA in bacteria deteriorates sharply after about 1.1 million years. Bidle said that after 1.1 million years the size of the DNA gets cut in half. [More>>
aljazeera.net
]
---
08.07.07 Security forces kill 10 miscreants in fresh Miranshah opration
MIRANSHAH, Pakistan, August 7 - Security forces backed by artillery and helicopter gunships killed at least 10 miscreants in a fresh operation in a militant stronghold near the Afghan border Tuesday, the military said.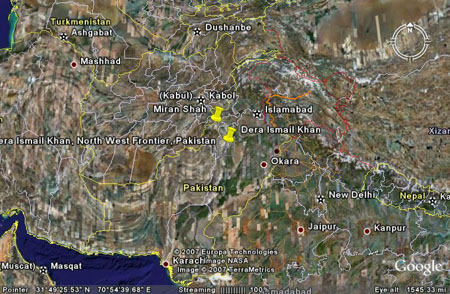 Google Earth image from Maravot News August 14, 2007 article, "Miranshah suicide attack death toll rises to 25." Google Earth provides the ability to zoom in on the area to see details of buildings, roads and vehicles. While news media tend to present this territory of Pakistan as remote and backward, the fact is Miranshah has internet and cellular services - which probably account for its importance to the Taliban and al-Qaeda.
Eight others were injured in the operation. The government forces targeted an area near Miranshah, the main town in tribal North Waziristan, chief military spokesman Major General Waheed Arshad said. The three-hour operation was launched "after reports that some militants were hiding there," he said.

In a separate incident, troops shot dead a local tribesman after a bomb exploded near their post in Banda, four kilometers (2.4 miles) south of Miranshah, killing a soldier, security officials said. "One soldier was killed in the blast," a security official said, adding that two helicopter gunships had fired on suspected militant hideouts after the incident. Banda was the scene of intense fighting last week when the troops backed by helicopter gunships killed 18 pro-Taliban militants...A security official speaking on condition of anonymity said Tuesday's target was Daigan village, west of Miranshah. [Full story>>thenews.com.pk]

Editorial note: It would not be surprising to Maravot News if al-Qaeda's production studio, as-Sahab, is discovered in Miranshah. One can follow the river valley west from Miranshah to Afghanistan. It is common knowledge that the Taliban and al-Qaeda use vehicles and thus need roads. Anyone can see, using Google Earth, which roads they must use to pass between Afghanistan and Pakistan. Al-Qaeda's number 2 leader, al-Zawahiri, bragged in a Spring 2007 as-Sahab broadcast that he had high-speed internet access. August 23, 2006 Stratfor.com, Fred Burton, published an analyses of al-Qaeda's internet production capabilities. Although the article is a year old, the information is revealing, particularly these comments:

[stratfor.com, August 23, 2006] ...There are other notable differences between the messages of bin Laden and those of al-Zawahiri, including time lags between dates of recording and release. Three weeks generally appear to elapse between the recording and distribution of bin Laden's audio tapes, whereas al-Zawahiri's videos take only two. This too indicates that bin Laden is further removed from society than is al-Zawahiri, or that the path taken from bin Laden to as-Sahab is more convoluted for security reasons. Or, again, perhaps a combination of both.

Extending this line of thinking, common-sense security measures would dictate not only separation between bin Laden and al-Zawahiri, but also between the two men and as-Sahab's production facility. Al-Zawahiri seems to be able to link up with the as-Sahab video crews more readily than bin Laden -- and as-Sahab appears to be based in a location where technicians have access to a professional video studio. Even if it is hidden in a large home or warehouse, it still would require a reliable power supply and supplies of other staples -- such as replacement bulbs for studio lights, modern materials for the stylish sets featured in videos and access to a photo studio capable of producing the very large, professional-looking images like those in the backdrop of al-Zawahiri's July 27 video. The quality of the video messages speaks to something else as well. When posted to the Internet, the files are very large -- so clearly, whoever is doing so has a high-speed Internet connection. The general principle is that the longer an upload takes, the greater the exposure of, and risk to, the person doing the uploading. Also, because these files often are encoded in a number of formats, with varying file sizes and quality, as-Sahab technicians clearly are uploading numerous files with each video release. The risks incurred increase every time they do so.

The obvious conclusion is that al Qaeda not only has high-speed Internet connections, but competent, clandestine information technology support as well. Given the large number of statements released this year, it is clear that as-Sahab personnel are confident in the security of their channels -- and, indeed, there has been no major breach of their distribution system since the possible compromise in January at Damadola.

We wonder whether US / Pakistani authorities have checked out the users of professional studio production equipment and supplies particularly in the Miranshah area. Which people in Miranshah need studio lights?

Mel Copeland
---
08.07.07 35 Taliban, six Afghan police killed in battles
KABUL, August 7 - Fresh battles in insurgency-plagued Afghanistan Tuesday left 35 Taliban fighters and six policemen dead, officials said. US-led coalition forces killed more than 20 militants when they repelled a rare frontal attack on a US military base, the coalition said in a statement. Afghan army and coalition forces beat back the morning attack on US Firebase Anaconda, in Uruzgan province, in which the rebels used small arms, rocket-propelled grenades, and 107mm rockets, the statement said.

It said that as 75 fighters attacked the base, air support was called in. "Almost two-dozen insurgents were confirmed killed in the attack," it said, adding that two Afghan soldiers sustained minor injuries and were evacuated for treatment. Four civilians, including two girls aged under 12, were also injured when they were hit by rocket-propelled grenades fired by the militants. [More>>metimes.com]

---
08.07.07 Outrage over betrayal of Iraqi interpreters
August 7 - Outraged reaction erupted from serving military officers, retired generals and politicians today after the revelation in The Times that nearly 100 Iraqi interpreters who have risked their lives working for the British in Basra may be abandoned to their fate when the troops are withdrawn.
One Territorial Army officer who served in Basra in 2003/2004 told The Times that his interpreter was visited by militia who held a gun to the head of his wife and children. They threatened to kill him and his family if he did not leave the country in three days. "Yet when I took up his case with the Home Office, he was immediately turned down for refugee status," Major Andrew Alderson of the TA's Queen's Own Yeomanry said. [More>>timesonline.co.uk]
---
08.07.07 Four US soldiers killed in explosion
August 7 - At least 45 civilians and four US soldiers died during another bloody day in Iraq. The Americans were killed in a combat explosion in Diyala province north of Baghdad. Twelve others had minor injuries and returned to duty. A military statement announcing the deaths gave no other details and said identities of the victims would be withheld until family could be notified. Earlier yesterday the military said one soldier was killed during fighting in eastern Baghdad on Monday. Two soldiers were wounded in the fighting.
The incidents mean that at least 3,674 members of the US military have died since the Iraq war started in March 2003, according to an Associated Press count. The figure includes seven military civilians. Meanwhile, in a village in the north of Iraq, a suicide bomber blew up a truck packed with explosives, unleashing a huge blast that killed 30 people and destroyed a number of homes. The bomber delivered the deadly attack after driving across farmland to Al-Quba. Five women were among the dead and 14 people were in a critical condition in hospital. The police said that 50 people were wounded. [More>>independent.co.uk ; See related story, washingtonpost.com, August 7, "As British leave, Basra deteriorates."]
---
08.07.07 Bird flu kills Vietnamese student
HANOI, August 7 - A 22-year-old Vietnamese student died from the H5N1 strain of bird flu, the country's fourth human fatality of avian influenza this year, state television reported Tuesday. "According to health ministry sources, a 22-year-old university student studying in Hanoi and originally from Thanh Hoa province has died today in Hanoi from bird flu," said a news reader on the state television. "He was the fourth victim of bird flu in Vietnam this year." [>thenews.com.pk]
---
08.07.07 Four killed as Thailand steps up crackdown in Muslim south
YALA, Thailand, August 7 - Thai authorities arrested 45 suspected insurgents Tuesday as they stepped up a six-week crackdown on separatists in Muslim-majority provinces, while four people were killed in fresh attacks. Thai authorities launched the major crackdown in late June. It has seen hundreds of people detained, often without charge, at army bases in the southern region along the Malaysian border. [More>>thenews.com.pk]
---
08.06.07 Qaeda vows attacks against India, US
DUBAI, August 6 - The al-Qaeda warned in a new video on Sunday that India and US diplomatic missions were the terror network's "legitimate targets." In the footage compiled by al-Qaeda's production arm As-Sahab, an unnamed narrator said that "the targeting of Tel Aviv, Moscow and Delhi" is also "our legitimate right" and accused India of "killing more than 100,000 Muslims in Kashmir with US blessing." It also singled out US missions in oil-rich Gulf Arab states as potential targets. [More>>expressindia.com]
---
08.06.07 Philippines security forces arrest Islamic bomb expert, foil shopping mall bombings
MANILA (AP) August 6 - Security forces in the Philippines have captured an alleged bomb maker trained by the Jemaah Islmiyah terror network, thwarting a plot to bomb shopping malls and other targets in the capital, officials said Monday. Police Chief Superintendent Roberto Rosales said Filipino Kaharudin Usman Talib was arrested Friday in a shopping mall in Taguig city, a suburban district of Manila.

Follow-up operations on Saturday in a rented house in Taguig's Muslim enclave, Maharlika Village, resulted in the seizure of a bomb fashioned from a 60 mm mortar filled with suspected C-4 plastic explosives and other material, he added. "This powerful improvised explosive had complete components but was still unarmed when found by our agents," said Rosales, director of the police district covering southern metropolitan Manila. [More>>thejakartapost.com]
---
08.06.07 Taiwan hopes to use fast-flowing ocean current to generate power
TAIPEI (AP) August 6 - Taiwan hopes to build a power plant that will use a strong current flowing off its east coast to generate electricity, an official said on Tuesday. The plant is still in the planning stage, but once built, it would be the first plant in Asia to make use of the Kuroshio current - also known as the Black stream - that flows along the Pacific Ocean to the east of the island, said Chen Chin-teh, an Economics Ministry official in charge of energy development...
"You could consider it as a nuclear power plant that does not need plutonium to run," he said. The Kuroshio is the world's second-largest warm current after the Gulf stream in the Atlantic Ocean. The Kuroshio is known for its strong, fast flow as it passes seas near the Philippines and Taiwan before running northeast toward Japan. The stream, up to 150 kilometers (90 miles) wide, could be a powerful source of energy as it flows steadily at a rate of 1 meter (3.3 feet) a second, officials say. [Full story>>thestar.com.my]
---
08.06.07 No Al Qaeda, Taleban safe havens in Pakistan
ISLAMABAD (AP) August 6 - Pakistan on Monday denied Al Qaeda or the Taleban have safe havens in its territory, and said new laws tying US aid to Islamabad's performance in fighting militants threatens to harm security cooperation between the two countries. Pakistani officials have grown increasingly annoyed at a wave of recent criticism from Washington and US presidential candidates that has centered around the assertion that Al Qaeda has regrouped in the tribal regions along Pakistan's border with Afghanistan.
"There is no Al Qaeda or Taleban safe haven in Pakistan," Foreign Ministry spokeswoman Tasnim Aslam said at a weekly briefing. Aslam also reiterated Pakistan's criticism of a bill signed by US President George W. Bush on Friday that requires the president to confirm that Pakistan is making progress in combatting Al Qaeda and Taleban inside its territory before the United States provides aid to the Muslim nation. Putting such conditions on aid "is in no way conducive to the promotion of a healthy relationship" between Pakistan and the United States, Aslam said. [More>>khaleejtimes.com]
---
08.06.07 Bush committed to tracking al-Qaeda
CAMP DAVID, Md. (AP) August 6 - President Bush said Monday that with the right intelligence US and Pakistan governments can take out al-Qaeda leaders, and he wouldn't say whether he would consult first with Pakistan before ordering U.S. forces to act on their own. "With real actionable intelligence, we will get the job done," Bush said. [More>>washingtonpost.com]
---
08.06.07 PM: Israel, PA to expand talks on establishing Palestininian state as soon as possible
August 6 - In their first meeting on Palestinian soil, Prime Minister Ehud Olmert told Palestinian Authority Chairman Mahmoud Abbas on Monday he hopes to launch expanded negotiations as soon as possible on establishing a Palestinian state, his clearest promise yet to tackle a final peace deal.

Following the two leaders' closed-door meeting at the InterContinental Hotel in Jericho Olmert said "We discussed the fundamental issues which are the basis for the establishment of a Palestinian state. We have decided to expand the scope of the negotiations between us in order to advance the understanding between us and to formulate the framework that will allow us to move forward toward establishing a Palestinian state." [More>>haaretz.com]
---
08.06.07 Half of US arms to Iraq 'missing'
August 6 - The US government cannot account for large amounts of weapons and armour given to Iraqi security forces in 2004 and 2005, a report by the Government Accountability Office (GAO), the investigative arm of the US congress, said. At least 110,000 AK-47 rifles, 80,000 pistols, 135,000 items of body armour and 115,000 helmets are missing. According to the GAO, the Pentagon has agreed with the findings and begun a review to ensure full accountability for the programme that aims to train and equip Iraqi forces. [More>>aljazeera.net]
---
08.06.07 Bomber kills at least 28 in Iraq
BAGHDAD (AP) August 6 - A suicide bomber slammed his truck into a densely populated residential area in the northern Iraqi city of Tal Afar on Monday, killing at least 28 people, including 19 children, local authorities said. The attack occurred in a crowded Shiite neighborhood of the religiously mixed city, about 250 miles northwest of Baghdad. The powerful blast caused houses to collapse in the morning as many families were getting ready for the day, and officials said the death toll could rise. [More>>nytimes.com ; See related story, thenews.com.pk, August 6,"US air strikes kill eight in Iraq."]
---
08.06.07 Foot-and-mouth: Inquiry ordered as questions raised over lab security
August 6 - Gordon Brown has ordered an independent inquiry into growing suspicions that a virus may have escaped from a private science laboratory that led to the foot-and-mouth outbreak. Scientists from the Health and Safety Executive (HSE) went into a laboratory operated by an American company, Merial Animal Health, at Pirbright, three miles from the Surrey farm where the outbreak was discovered.
They were investigating whether the virus had escaped from the private laboratory, which is licensed by the Department for Environment, Food and Rural Affairs (Defra) or a publicly-run laboratory of the world-renowned Institute for Animal Health (IAH). Both laboratories denied any breaches of biosecurity. [More>>independent.co.uk]
---
08.05.07 US kills mastermind of Iraq shrine bombs
BAGHDAD (AFP) August 5 - US forces killed the mastermind of two attacks on a revered Shiite mosque at the heart of Iraq's bitter sectarian conflict during a crackdown on Al Qaeda's Iraqi affiliate, the military said on Sunday. But despite the announcement of the high-profile killing and wider operations to flush out Sunni extremists, 15 Iraqis were killed in a string of attacks in the war-torn capital Baghdad and sectarian flashpoints to the south. Haitham al-Badri, whom the US military linked to a string of lethal bombings and described as the Al-Qaeda in Iraq "emir" in Salaheddin province, was killed in an air attack east of the northern city of Samarra last Thursday.
Close air support was scrambled after surveillance spotted a group of fighters apparently preparing an ambush, US military spokesman Rear Admiral Mark Fox told a news conference. Helicopter straffing killed Badri, who was positively identified by close associates and family members, the spokesman said...
Fox said Badri was also involved in a bomb attack in the northern city of Kirkuk in June 2006 that killed 20 Iraqis and an attack on an Iraqi Army checkpoint two months later in which 29 local security forces died. The Iraqi authorities have also accused Badri of killing an Iraqi television journalist, Atwar Bahjat, who worked for Dubai's Al-Arabiya network, after she went to Samarra to cover the February shrine bombing. [Full story>>khaleejtimes.com]
---
08.05.07 10 cops among 20 killed in fresh Aghan attacks
KABUL, August 5 - At least 20 people, including six civilians and 10 police officers, were killed in a weekend of violence across insurgency-hit Afghanistan, police said Sunday. In an attack blamed on Taliban insurgents, three policemen were killed when a remotely detonated mine tore through their vehicle in the eastern province of Kunar on Sunday, provincial police commander Abdul Jalal Jalal said. [More>>thenews.com.pk]
---
08.05.07 Drivers to face £25 a day tax
August 5 - Britain is to be hit by its first "pollution charge" with owners of large cars taxed £25 a day to drive into city centres. Up to a fifth of vehicles, including people carriers, 4x4s and luxury saloons, will be targeted by an emissions-based charge designed to penalise the highest-polluting vehicles. Smaller cars, such as diesel hatchbacks and hybrid vehicles that emit 120 grams or less of carbon dioxide per kilometre, will be exempt. Those emitting up to 225g/km would be charged £8.
Details of the new charge will be outlined this week by Ken Livingstone, the London mayor. It is set to be introduced in February. The charge will be watched closely by at least 10 other cities considering their own levies, including Cardiff, Birmingham, Manchester and Cambridge. Under current plans, drivers going into Manchester are likely to pay at least £5 a day from 2012. Three borough councils in London have already introduced higher parking charges for fuel-inefficient vehicles. [More>>timesonline.co.uk]
---
08.04.07 Iran president tells Israel to find a new home
ALGIERS (AFP) August 4 - Iran's outspoken President Mahmoud Ahmadinejad called on Israel to "go find somewhere else" for its state and leave its territory for the creation of a Palestinian state, according to an interview published on Saturday.Our support (for the Palestinian people) is unconditional. As for the Israelis, let them go find somewhere else," Ahmadinejad told several Algerian newspapers ahead of an visit to Algiers that starts Monday.
Iran consistently refuses to recognise Israel's right to exist in the Middle East, and Ahmadinejad sparked outrage abroad by stating after coming to power in 2005 that Israel should be "wiped from the map."He also provoked a storm in June by saying a "countdown" had begun that would end with Lebanese and Palestinian militants destroying Israel, and his government last year hosted a conference on the Holocaust questioning the German Nazis genocide of the Jews during World War II. [More>>khaleejtimes.com]
---
08.04.07 100 Taliban militants killed in airstrike
KABUL, August 4 - About 100 Taliban rebels including five senior commanders were killed during an air strike in southern Afghanistan, Defense Ministry spokesman Zahir Azimi told reporters Saturday. Foreign troops carried out an air strike in remote Baghran district of Helmand province on Thursday when many Taliban militants were gathering to watch the execution of several persons accused of cooperating with the government, Azimi said.

About 100 insurgents were killed in the bombardment, he said, adding five senior Taliban commanders including Mullah Rahim, top Taliban commander in Helmand, were among the killed. Azimi said Mansor Dadullah, top Taliban military commander, was found at the site before the bombing, and Afghan troops were still confirming whether he was killed. Referring to the incident, the US-led coalition forces said, "During a sizable meeting of senior Taliban commanders, coalition forces employed precision guided munitions on their location after ensuring there were no innocent Afghans in the surrounding area." [More>>xinhuanet.com]
---
08.04.07 22 killed in bomb blast, militant attack in Pakistan
ISLAMABAD, August 4 - Twenty two people, including four Pakistan Army soldiers, were killed and 35 injured in separate incidents of a bomb blast and a militant attack in Pakistan's troubled tribal areas. At least seven persons were killed and 31 others were injured when a suicide bomber rammed his car, laden with explosives, into another in Parachinar, the headquarters of Kurrum tribal agency in North West Frontier Province...The taxi which was hit by the suicide bomber was parked in a car parking area of Eidgah market. Five shops and several vehicles were also destroyed in the incident. [Full story>>expressindia.com ; See also aljazeera.net]
---
08.04.07 Foot and mouth disease returns
August 4 - Government vets were battling last night to contain an outbreak of foot-and-mouth disease in an attempt to avert a repeat of the crisis that crippled the British countryside in 2001. They began the cull of 64 cattle at a small farm near Guildford, in Surrey, after the animals tested positive for the disease. The movement of all cattle, pigs, sheep and goats anywhere in Britain was suspended as part of the contingency plans drawn up after the last outbreak. All livestock within 3km (1.8 miles) of the farm were being tested and a 10km surveillance zone was in place last night.
Gordon Brown, the Prime Minister, and Hilary Benn, the Environment Secretary, abandoned their summer holidays to travel back to London to deal with the emergency. Officials are desperate to avoid a recurrence of the outbreak in 2001, when more than 6.5 million animals were killed at a cost to the economy of £8 billion. [More>>timesonline.co.uk]
---
08.04.07 Coral bleaching as record cold hits reef
August 4 - A record cold snap across southern Queensland has triggered coral bleaching normally associated with the extremes of hot weather linked to climate change. Scientists say the bleaching has been caused by a combination of cold waters, winds and air temperatures hitting exposed reefs around the Capricorn-Bunker group of islands at the southern end of the reef.
While other sections of the reef appear to have been spared by being fully submerged or far enough north to avoid the worst of the cold snaps in June and July, bleaching has been recorded by University of Queensland researchers on Heron Island, near Rockhampton. The area is regarded as having some of the most pristine sections of accessible reef. Coral expert Ove Hoegh-Guldberg, from the University of Queensland's Centre for Marine Studies, warned researchers along the reef to look for bleaching after Townsville experienced one of its coldest days on record, on June 20...Professor Hoegh-Guldberg said the comfort zone for coral was between 19C and 27C but temperatures had fallen to 8C. [Full story>>theaustralian.news.com.au]
---
08.04.07 Pakistanis behind hostage crisis: Afghan government
GHAZNI, Afghanistan (Reuters) August 4 - The governor of the Afghan province where Taleban militants took 23 South Koreans hostage accused Pakistani Taleban working with Pakistani intelligence agents of holding them captive. "In the beginning it was the local Taleban, but after a few days, Pakistani Taleban and ISI officers disguised as Taleban arrived in the region and they took control of the situation," Ghazni Governor Merajuddin Pattan told Reuters in an interview on Saturday. Afghan officials often accuse neighboring Pakistan's Inter Service Intelligence (ISI) of secretly supporting and harbouring Taleban insurgents. Pakistan strongly denies the charge. [More>>khaleejtimes.com]
---
08.04.07 NASA launches mission to Mars Pole
CAPE CANAVERAL (AP) August 4 - A robotic dirt and ice digger rocketed toward Mars on Saturday, beginning a 422 million-mile journey that NASA hopes will culminate next spring in the first ever landing within the red planet's Arctic Circle.
The Phoenix Mars Lander blasted off before dawn, precisely on time, hurtling through the clear moonlit sky aboard an unmanned Delta rocket. The rocket was easily visible for five minutes, a bright orange speck in a spray of stars...If all goes as planned -- a big if considering only five of the world's 15 attempts to land on Mars have succeeded -- the spacecraft will set down on the Martian Arctic plains on May 25, 2008, and spend three months scooping up soil and ice, and analyzing the samples in minuscule ovens and mixing bowls.[Full stor>>nytimes.com]
---
08.04.07 Senate votes to expand warrantless surveillance
August 4 -The Senate bowed to White House pressure last night and passed a Republican plan for overhauling the federal government's terrorist surveillance laws, approving changes that would temporarily give U.S. spy agencies expanded power to eavesdrop on foreign suspects without a court order.
The 60 to 28 vote, which was quickly denounced by civil rights and privacy advocates, came after Democrats in the House failed to win support for more modest changes that would have required closer court supervision of government surveillance. Earlier in the day, President Bush threatened to hold Congress in session into its scheduled summer recess if it did not approve the changes he wanted. [More>>washingtonpost.com]
---
08.03.07 Russia deployed over 30 new types of weaponry in Jan.-June 2007
MOSCOW (RIA Novosti) August 3 - The Russian Armed Forces commissioned more than 30 new types of advanced weapon systems in the first half of 2007, the defense minister said Friday. "Thirty-six types of modern weaponry were deployed with the Armed Forces in the first half of 2007," Anatoly Serdyukov said. The minister said these weapon systems included the submarine-launched R-29RM Sineva ballistic missiles, the S-400 Triumf air defense complex, and the 120-mm Nona SM-1 towed mortar for Ground Forces.
The R-29RM Sineva (NATO code name SS-N-23) was designed for use by the Russian Delta IV class submarines, each of which is capable of carrying 16 missiles. It carries four nuclear warheads and has a range of about 8,500 kilometers. Serdyukov also said Russia has successfully conducted test launches of the Yarts land-based ballistic missile, the Bulava sea-launched ballistic missile and the X-102 airborne missile.
"We have entered the final testing stage for the entire missile triad," he said. In addition, Russia successfully tested a new version of the Iskander-M ballistic missile capable of carrying multiple warheads and launched two military reconnaissance and communication satellites, the defense minister said. [>rian.ru ; See also rian.ru, August 3,"Russia's navy must restore presence in Mediterranean - commander."]
---
08.03.07 Four US soldiers killed in Iraq; brothers buried
BAGHDAD (Reuters) August 3 - Four US soldiers were killed in Baghdad, the US military said on Friday, underlining US President George W. Bush's grim prediction of "a very difficult August" for US troops in Iraq. The military said a roadside bomb killed three soldiers on patrol in eastern Baghdad on Thursday during operations targeting Shia and Sunni militants. Eleven others were wounded. A fourth soldier died in combat in a western district. [More>>khaleejtimes.com]
---
08.02.07 Russian submarine reaches North Pole seabed
MOSCOW, August 2 - A Russian mini-submarine reached the bottom of the Arctic Ocean under the North Pole on Thursday in a mission to back up Moscow's claims to the region's mineral riches. "The Mir-1 submarine has successfully reached the bottom of the Arctic Ocean at a depth of 4,261 meters (13,980 feet)," the local television channel reported from the Akademik Fyodorov research ship leading the expedition. The dive, which organizers say is the first to reach the ocean floor under the North Pole, aims to establish that a section of seabed passing through the pole, known as the Lomonosov Ridge, is in fact an extension of Russia's landmass. [>thenews.com.pk ; See more details rian.ru, August 2, "Russian Arctic mission aims to scientifically prove shelf claim."]
---
08.02.07 Suicide car bomb kills 13 at Iraq police station
BAGHDAD (Reuters) August 2 - A suicide bomber drove a car bomb into a police station on Thursday, killing 13 people and wounding 15 in the town of Hibhib, north of Baghdad near Baquba, police said. A police source said the attacker struck a queue of recruits lined up to join the police force in the town. The dead included six police and seven civilians. The attack followed a day of major strikes in Baghdad, in which suicide bombers killed more than 70 people. Hibhib is in Diyala province, the area north of the capital which has been a focus of a US offensive over the past two months after Washington dispatched extra troops to Iraq and spread them out in neighbourhoods within Baghdad itself. [>Khaleejtimes.com]
---
08.02.07 South Asia strugles with floods
August 2 - Almost 250 people have died and over 17 million people have been displaced or marooned in severe flooding across India, Bangladesh and Nepal. The floods are being described as the worst in living memory, according to BBC correspondents in the region. Vast stretches of fertile countryside are under water, damaging farmland and flooding thousands of villages. The relief operation is a massive challenge. Aid agencies say that stocks of food and water are running very low. It has been raining heavily in the region for 20 days and more rain is forecast. [More>>bbc.co.uk]
---
08.01.07 Asian markets slide as problems in US subprime lending market spread
BANGKOK (AP) August 1 - Asian markets tumbled Wednesday – with several falling more than 3 percent - after Wall Street resumed its slide from last week amid mounting problems in the US subprime lending market. Japanese stocks sank 2.2 percent to a four-and-half-month low, Hong Kong's market fell 3.2 percent, and South Korean shares plunged 4 percent. Chinese stocks, which had shrugged off the global market turmoil until now, retreated from record highs. The benchmark Shanghai Composite Index sank 3.8 percent. [More>>thejakartapost.com]
---
08.01.07 Topple Musharraf, says al-Qaeda
DUBAI (Reuters) August 1 - A leader of al-Qaeda called on Pakistanis to overthrow President Pervez Musharraf accusing his regime of helping Washington kill Muslims in Afghanistan, where the militant said he was in a video posted on Tuesday. "O' jihad people of Pakistan ... rise as one to remove this apostate and corrupt tyrant and remove his secular rule and destroy the bastions of his frail army," said Abu Yahya al-Libi.
"Pakistan was not created to be an ally and supporter of America, the guardian of the cross, and its lackeys ... whose weapons are killing thousands here in Afghanistan," he said. Musharraf has been under increasing pressure from the United States, an important ally and aid source, to step up action against Afghanistan's Taliban insurgents and their al-Qaeda allies in the border areas. [More>>expressindia.com ; See related stories, khaleejtimes.com (Reuters) August 1, "Hostage rescue bid begins in Afghanistan," and thenews.com.pk, August 1, "Obama says he might send troops to Pakistan."]
---
08.01.07 Sunni bloc quits Iraq govt, 73 dead in bombings
BAGHDAD (Reuters) August 1 - The main Sunni Arab political bloc quit the Iraqi government on Wednesday in a blow to Prime Minister Nuri al-Maliki's shaky coalition as suicide bombers killed more than 70 people in three attacks across Baghdad. The resignation move pushed the government into a new crisis undermining its efforts to reconcile Iraqis and end sectarian strife.
Fifty of Wednesday's dead were killed when a suicide bomber in a fuel truck packed with explosives targeted motorists at a petrol station. The Sunni Accordance Front left Maliki's Shi'ite-led coalition over his failure to meet a list of about a dozen demands, including a greater say in security matters.
"The government was still ... closing the door on reforms which are needed to save Iraq," Accordance Front spokesman Rafei Issawi told a news conference, adding the government should have met its demands or "at least admit its failure." Issawi said Deputy Prime Minister Salam al-Zobaie and five ministers would resign on Wednesday. [More>>khaleejtimes.com]
---
08.01.07 Saudis 'ready to sit' with Israel
August 1 - Saudi Arabia has said it could attend a Middle East peace conference proposed by the US president which would bring it to the same table as Israel. But Prince Saud al-Faisal, Saudi's foreign minister, said his country would only consider attending the meeting if it tackled "substantive matters of peace." Saudi Arabia was the main proponent of an Arab peace proposal made at an Arab summit earlier this year which offers Israel full diplomatic ties with 22 Arab countries in return for withdrawal from territories occupied in 1967. [More>>aljazeera.net]
---
08.01.07 US arms package will not destabilize Middle East: Rice
SHANNON, Ireland (AFP) August 1 - A multi-billion dollar US arms package for Middle East allies aimed at containing Iran's influence will not destabilise the region, US Secretary of State Condoleezza Rice said Tuesday. The weapons packages bound for Egypt, Saudi Arabia and other Gulf states and Israel would not tilt the fragile military and strategic balance in the oil-rich region, said Rice. She dismissed Iran's charges that the arms package would create fear and dampen relations between countries in the Middle East, turning the accusation back on Tehran. [More>>turkishpress.com]
---
08.01.07 Justice at last for 'Comrade Duch'
August 1 - After 1.7 million deaths and nearly 30 years, the first of Pol Pot's henchmen is charged with crimes against humanity. He was a math teacher turned torturer, a one-time college principal who oversaw the Khmer Rouge regime's interrogation and abuse of many thousands of innocent people. When the regime was ousted from power, having perpetrated one of the most brutal genocides in history, he converted to Christianity and returned to teaching. For decades it seemed Kaing Guek Eav would escape justice.
But yesterday, in a historic move, the 64-year-old also known as "Comrade Duch" was charged with crimes against humanity by a UN-backed tribunal in Cambodia - the first of the "Killing Fields" regime's leaders to be brought before a court. The tribunal made up of international and Cambodian judges spent the day interviewing Duch, who headed the notorious Tuol Sleng prison in Phnom Penh, and then issued a statement that said: "The Co-investigating Judges of the Extraordinary Chambers in the Courts of Cambodia have charged Kaing Guek Eav, alias Duch, for crimes against humanity and have placed him in provisional detention."
The decision to finally charge Duch is a vital milestone in the efforts to bring the surviving Khmer Rouge leadership to justice. The reaction in Cambodia that Duch had alone been finally brought before the judges was telling. Chum Mey, one of just seven people from an estimated 20,000 known to have survived incarceration at the prison, said: "I want to confront him to ask who gave him the orders to kill the Cambodian people." Mr. Mey, 77, said he was delighted the judicial process finally appeared to be working. But he said he also feared Duch may seek to shift responsibility to other senior Khmer Rouge leaders, now dead. [More>>independent.co.uk]
---
08.01.07 NSA spying part of broader effort
August 1 - The Bush administration's chief intelligence official said yesterday that President Bush authorized a series of secret surveillance activities under a single executive order in late 2001. The disclosure makes clear that a controversial National Security Agency program was part of a much broader operation than the president previously described. The disclosure by Mike McConnell, the director of national intelligence, appears to be the first time that the administration has publicly acknowledged that Bush's order included undisclosed activities beyond the warrantless surveillance of e-mails and phone calls that Bush confirmed in December 2005. [More>>washingtonpost.com]