---
6.07.05 Assad reaffirms role of Baath Party
DAMASCUS, June 7 – Syrian President Bashar Assad reaffirmed the dominant role of the Baath Party in his opening speech of the 10th Baath Party Congress and failed to offer any details on what reforms would be addressed at the conference, which many here had hoped could be a possible turning point toward long-awaited changes.

"As long as our national existence is part of the reality of this society, the role of the Baath will remain essential, because it is the mouthpiece for the most progressive forces," Assad said.

Speaking before a lethargic crowd of 1,231 congress members, Assad's speech, which lasted only some 10 minutes, lauded the role of the Baath Party in Syrian society and focused on the need for economic reforms and combating corruption. The Baath Party Congress, which will run for three days, is expected to deal with economic reforms, internal policies and the reform of the Baath Party itself. In an address to Parliament in March, Assad said the congress would mark a turning point for internal affairs.

"The economic situation is a priority for us all to improve its performance and improve the life of our citizens. So is corruption," Assad said. He also told the congress to ignore foreign pressures when dealing with internal reforms, essentially prioritizing Syrian interests on the party's agenda.

Syria, which has been under intense international pressure, withdrew hastily from Lebanon in late April. Without the Lebanon card, many now believe that Syria has lost its strategic role in the region. Assad also defended the role of Arab nationalism, which he said has come under threat from outside forces. Syrian Expatriates Minister and congress spokesperson Buthaina Shaaban accused the U.S. of seeking to undermine Arab identity by fostering religious and ethnic divisions.

"If we are not Arabs what could we be? Do we want to be Sunnis and Shiites and Christians? Or do we want to be Arabs? I think I can speak in the name of million of Arabs that we want to be Arabs," she said. "If the Baath Party was not there I think we would have to invent it." Baath Party ideology, formulated in the 1940s, holds that there is an Arab "nation" which should be united. [More>>dailystar.com.lb]
---
6.07.05 Kirkuk emerges as faultline for civil conflict in Iraq
June 7 – As Iraqi officials prepare to draft the country's new constitution, fierce debate is expected over the status of Kirkuk, the center of northern Iraq's oil industry. Formerly known for its ethnic harmony, Saddam Hussein's policy of forced population shifts, called Arabization, has torn the fabric of the province. Now the Kurds want it back.

Ismael Yassin and his wife, Amira Mohammed, are building a simple, one-story house made of cinder blocks. About a year ago, the Kurdish couple and their eight children returned to their village of Turkolan, outside the city of Kirkuk.

Like thousands of other Kurds, they were driven from their homes in 1987 in a sweep by the former Saddam Hussein regime. It was part of Saddam's policy of "Arabization," designed, in part, to move Kurds out of strategic areas like Kirkuk, and to shift the ethnic balance by bringing Arabs into the city, the northern headquarters of Iraq's oil industry.

Mr. Yassin says his family returned, because Turkolan is their home. They wanted to come back as soon as Saddam Hussein was gone. The group, Human Rights Watch, estimates that more than a quarter-million Kurds and non-Arabs were forcefully expelled from their homes in Kirkuk. [More>>turkishpress.com]
---
6.07.05 Coordinated bombs kill at least 18, wound dozens in Iraq
BAGHDAD (AP) June 7 – A coordinated string of four bomb attacks within seven minutes killed at least 18 people and wounded 39 in northern Iraq on Tuesday, while a Baghdad car bomb injured 28, officials said, ending a relative lull in violence that had fallen over the country in recent days. Hundreds of US and Iraqi soldiers descended on the remote northern city of Tal Afar near the Syrian border on Tuesday, launching a major operation against insurgents following weeks of attacks against Iraqi security services there, military officials said.

Two US Marines died Monday after separate roadside bombings near Fallujah, 65 kilometers (40 miles) west of Baghdad, the military said Tuesday. Tuesday¹s attacks in northern Iraq appeared coordinated and aimed at checkpoints manned by members of Iraq¹s fledgling army, which has been a constant target of insurgents opposed to the country¹s new US-backed government. The first explosion, caused by a roadside bomb, rocked Hawija, about 65 kilometers (40 miles) southwest of Kirkuk, at around 9:30 a.m. Soon after, three suicide bombers waiting in lines of cars at army checkpoints to the west and north of Hawija struck in quick succession.

In the deadliest attack, 10 civilians and one soldier were killed at a checkpoint in Dibis, three kilometers (two miles) west of Hawija, army Lt. Faleh Ahmed said. Three soldiers and two civilians were killed at a checkpoint in Bagara, five kilometers (three miles) west of Hawija. Two soldiers died in a suicide attack on the Aziziya checkpoint at the northern entrance to Hawija. [More>>khaleejtimes.com]
---
6.07.05 US military destroys insurgent bunkers in Iraq
BAGHDAD (AFP) June 6 – The US military said it had destroyed two bunkers suspected of being used by insurgents to store weapons and plan attacks as seven members of Iraq's security forces were wounded in two separate bombings. US forces destroyed a former Republican Guard bunker system in the Yusifiyah area southwest of the capital on Thursday following a tip-off by local residents and surveillance of the site, said a military statement. It said the bunker, located in an area that housed a major part of ousted dictator Saddam Hussein's former military-industrial complex, was being used by insurgents to store ammunition. "Coalition Forces engaged the complex with five high-precision smart-bombs," it said. "Secondary detonations emanating from inside the complex" continued for about six hours after the strike, the statement added.

On Sunday, US troops destroyed a bunker system built in an abandoned rock quarry in Karmah, near the former rebel bastion of Fallujah west of Baghdad, which had been found four days earlier. About 300 pounds (150 kilograms) of plastic explosives were used to destroy the network and the weapons stored inside, the military said, adding that 12 weapons caches were also found within an eight kilometre (five mile) radius of the bunker. The whole complex was 170 metres (yards) wide and 275 metres long or bigger than four football pitches and fresh food inside showed the hideout had been recently inhabited. Fully furnished living spaces were found in the warren, along with a kitchen, showers and an air conditioner, hi-tech combat equipment such as night vision goggles and a large haul of weapons and ammunition. [More>>turkishpress.com]

---
6.07.05 Iran denies Al Qaeda presence
KUWAIT CITY, June 7 – The chief of Iran¹s National Supreme Council Hassan Rowhani said Iran has been the pointed of campaign against al-Qaeda so far and I do not think any other country can present a record as active as the Islamic Republic of Iran in that respect." Talking to media here, he added, "During the past four years the Iranian disciplinary forces have arrested some 500 al-Qaeda members of various ranks and repatriated them to their native governments." The National Security Council Secretary added, "The Islamic Republic of Iran has also presented the related list to the United Nations." He reiterated, "Some al-Qaeda agents are kept in Iranian prisons for the crimes they have committed in Iran, whose court trials would be held upon completion of their files."

In response to a question whether Iran has any conditions for resumption of ties with the United States, he said, "We expect the US officials to abandon the language of force, annul the laws it has passed against the Islamic Republic, and stop creating obstacles in certain regions against our national interests." Rowhani further elaborated, "If the Americans succeed in changing their mood in their approach toward us and adopt a unified, solid policy in dealing with Iran, I suppose we could witness the emergence of a new era." [jang.com.pk]

---
6.07.05 Zarqawi, the tattooed criminal
June 6 – John Elliott and Nick Fielding report: Abu Musab al-Zarqawi, the leader of al-Qa'ida in Iraq, disobeyed the teachings of Islam as a young man by tattooing his body and drinking "like a fish", according to the first biography in English of the Jordanian-born terrorist. His delinquent behavior – knife-wielding, shoplifting, drug-dealing – triggered an intervention by his mother that turned his life around, the author explains. The book includes pictures of Zarqawi with his Jordanian bedouin parents, both of whom are dead.

The biography, Zarqawi: The New Face of Terrorism, claims that Zarqawi, as part of an attempt to build a Europe-wide network of sympathizers, has developed close links with an Islamic cleric under house arrest in Britain.

"With Osama bin Laden out of circulation or incapacitated, Zarqawi ... is probably the most important figure within the radical Islamists," said Jean-Charles Brisard, the book's author and a French terrorism investigator.

Brisard recounts how Zarqawi, now 37, was expelled from school. He worked in a paper plant and then as a maintenance worker before drifting into crime. According to the book: "Those who knew him in those years say that he drank like a fish and covered his body with tattoos, two practices condemned by Islam. They called him 'the green man' on account of his many tattoos." Zarqawi was later convicted for wounding with a knife. He was also arrested for shoplifting, drug dealing and a rape allegation. [More>>theaustralian.news.com.au]
---
6.07.05 Israel completes evacuation of its nationals from Bolivia
(Haaretz Staff and The Associated Press) June 7 – Israel successfully airlifted all its remaining citizens out of Bolivia's capital, La Paz, as local indigenous protests reached a boil. Israel chartered an aircraft to evacuate some 150 Israelis - mainly young backpackers - from La Paz, where rowdy anti-government demonstrators paralyzed the downtown district Monday in the biggest march yet in weeks of protest...Tens of thousands of Indians, miners and labor protesters marched through downtown La Paz on Monday as embattled President Carlos Mesa struggled to defuse a political crisis amid calls for early elections.

Bolivia's indigenous population, who make up over 50 percent of the population, have been demanding a stake in the country's recently discovered gas wealth, said to be the largest gas reserve in Latin America only after Venezuela.

Riot police firing volleys of tear gas canisters fought scattered clashes in the capital against groups of rowdier demonstrators on the fringes of an otherwise peaceful demonstration. More than 500 protesters were turned away by acrid tear gas as they tried to reach Mesa's seat of power at the Government Palace. [More>>haaretz.com; See also aljazeera.net article, "Bolivian president offers to quit."
---
6.07.05 US, North Korean officials meet in New York
June 7 – The United States met Monday with North Korea on halting its nuclear weapons program and withdrew a threat to try to punish the North Koreans soon with UN sanctions. The meeting was requested by North Korea and held in New York, where the two sides had last met May 13, State Department spokesman Sean McCormack said.

The US aim is to resume six-nation negotiations after a nearly yearlong impasse. McCormack and other Bush administration officials did not say if the talks in New York made progress in that direction. But in Tokyo, Japanese Prime Minister Junichiro Koizumi said he believed North Korea wanted to return to the negotiations and resolve an international standoff over its nuclear weapons program. "I believe that North Korea really does want somehow to hold six-party talks and resolve the matter," the Kyodo news agency quoted Koizumi as telling reporters during a visit to the 2005 World Expo in Aichi. [More>>chinadaily.com.cn]
---
6.07.05 China orders all web sites, blogos to register with government
SHANGHAI, China (AP) June 7 – Authorities have ordered all China-based Web sites and blogs to register or be closed down, in the latest effort by the communist government to police the unruly world of cyberspace. Commercial publishers and advertisers can face fines of up to 1 million yuan (US$120,000; euro95,000) for failing to register, according to documents posted on the Web site of the Ministry of Information Industry.

Private, noncommercial bloggers or Web sites must register the complete identity of the person responsible for the site, it said. The ministry, which has set a June 30 deadline for compliance, said 74 percent of all sites had already registered. "The Internet has profited many people but it also has brought many problems, such as sex, violence and feudal superstitions and other harmful information that has seriously poisoned people's spirits,'' the MII Web site said in explaining the rules, which were quietly introduced in March. All public media in China is controlled by the state, though limits on the Internet have tended to lag behind as advances in technology and the Webs rapid spread outstripped Beijing's ability to keep tabs on users and service providers. China has more than 87 million Internet users, the world's second largest online population after the United States. [More>>thestar.com.my]
---
6.07.05 WWF warns that Borneo's forests could be destroyed within a decade
GENEVA (AFP) June 7 – The island of Borneo in Southeast Asia could lose most of its forests in less than ten years, with the destruction driven by rampant logging, fires and the encroachment of plantations, the World Wildlife Fund (WWF) warned on Tuesday. In a report entitled "Treasure Island at Risk," the WWF said deforestation on the world's third-largest island would seriously jeopardize the long-term survival of orangutans and pygmy elephants, as well as Borneo's future economic potential.

By 2020, the remaining populations of orangoutans may be too small to be genetically viable due to fragmentation of their habitat into unconnected patches of forest, the WWF said. The environmental organization said its findings tallied with a 2001 World Bank study warning that all lowland rainforests in Kalimantan – the Indonesian part of Borneo – would disappear by 2010, and predicted an uncertain future for the island's remaining forests, which are shared by Malaysia and Brunei. Today, only half of Borneo's forest cover remains, down from 75 percent in the mid 1980s. Around 1.3 million hectares of forest are destroyed every year. [More>>thejakartapost.com]

---
6.04.05 How toxins travel the seas / scientists identify key vectors of toxicity in marine mammals
June 4 – Masaharu Asaba posted a very educational article explaining how toxins are ending up in the Arctic Ocean where nursing mammals congregate, then transferred through mother's milk to their nursing offspring, and why the offspring are increasingly being found beached. The question we all have is how far the toxins can be transferred from our oceans, back to our own offspring. (The Bush administration, as we all know, favors continued pollution of the seas.) This article is well worth reading.
Mel Copeland
A gray whale that strayed into Tokyo Bay during the Golden Week holiday period early last month found its sudden fame cut short when it was strangled by a fixed shore net.

The whale, which was only 1 or 2 years old, was on its way to the Arctic Ocean to join other whales who head there at that time of the year for the rich feeding grounds. However, it might not have fared better if it had reached the Arctic Ocean, as the ocean is becoming increasingly polluted with toxic chemicals. Marine biologists are finding high concentrations of DDT, polychlorinated biphenyls (PCBs) and dioxins in the carcasses of whales, seals and polar bears. These chemicals affect the immunity and reproductive powers of these creatures to the extent of threatening the continuity of some species, experts warn.

Prof. Shinsuke Tanabe of Ehime University's Center for Marine Environmental Studies says agrochemicals, which are used widely across developing countries in Asia, are mainly to blame for the pollution of the Arctic Ocean. Many of the agrochemicals banned in developed countries are still legal in developing countries. They are highly volatile and about 90 percent of chemicals used on agricultural land end up in the air, Tanabe said.

In a landmark study, Tanabe identified four key methods by which sea mammals become affected by toxic materials.

In the first, toxic chemicals that have dissolved in cold water become vaporous once the temperature rises and return to a liquid state when the temperature falls. Alternating their physical states in this way, the toxins travel 10,000 kilometers from South Asia to the Arctic Circle and end up in the food chain. Once ingested, the chemicals become trapped in the thick layers of fatty tissues in sea mammals such as dolphins and whales. In the third method, chemicals are transmitted from mother to child during breast-feeding. Last, sea mammals, unlike land mammals, lack mechanisms to break down enzymes. [More>>yomiuri.co.jp]
---
6.04.05 Al Jazeera encouraging Islamic militants: US
SINGAPORE (Reuters) June 4 – US Defense Secretary Donald Rumsfeld said on Saturday that Arab news channel Al Jazeera was encouraging Islamic militant groups by broadcasting beheadings of foreign hostages in Iraq. Al Jazeera, repeatedly accused by Washington of biased reporting over Iraq, has often shown video of hostages pleading at gunpoint for their government to withdraw its troops. But killings, posted on Internet Web Sites by militants, are not broadcast by the company.

"If anyone lived in the Middle East and watched a network like the Al Jazeera day after day after day, even if he was an American, he would start waking up and asking what's wrong. But America is not wrong. It's the people who are going on television chopping off people's heads, that is wrong," he said. "And television networks that carry it and promote it and jump on the spark every time there is a terrorist act are promoting the acts," he told a security conference in Singapore. [More>>expressindia.com]

Editorial note: It is one thing to report the news but quite another to assist murderers and kidnappers in carrying out deeds that are considered by all nations to be against the laws of civil society. There is a point where news media can become an accessory to the crime, as in the case of Julius Streicher, who through his newspaper, Der Stuermer, participated in "Jew Baiting" from 1922-1933, to the extent that the Nuremberg Trials had him hung. In simple terms he aided Hitler in carrying out the destruction of 6 million Jews and many other peoples. "Baiting" often called, propaganda, aiding and abetting terrorists, should be a subject taken up again by the UN.
Mel Copeland
---
6.04.05 Rumsfeld says North Korean proliferation a threat to world
SINGAPORE (AFP Jim Mannion) June 4 – US Defense Secretary Donald Rumsfeld conceded Saturday he had no idea how North Korea might be persuaded to resume negotiations on its nuclear weapons program as allies debated the next steps if Pyongyang continues to shun six-party talks.

"I have no way of knowing what might conceivably finally persuade the people in the North to behave in a way that is more consistent with the behavior of other countries in the world," Rumsfeld told an international conference on Asia security. "My hope is that the countries in the six-party talks will continue to be persuasive, try to be more persuasive with them and that they will see it is in their interest to enter those discussions," he said.

Rumsfeld made the comment in response to questions following a speech in which he warned that Pyongyang's nuclear ambitions threaten the security not just of the region, but of the world. Given North Korea's record in selling ballistic missile technologies, as well as trafficking in illegal drugs and counterfeit currency, he said "one has to assume that they will sell anything and they would be willing to sell nuclear technologies." North Korea has boycotted the talks with the United States, South Korea, Japan, China, and Russia for the past year to protest what it regards as a hostile US policy. [More>>inq7.net]

Editorial note: Click here for China Daily assessment of the situation.
---
6.04.05 Singapore PM: Containing China is short-sighted
June 4 – Singaporean Prime Minister Lee Hsien Loong cautioned at an annual international security conference on Friday the effort by some countries to contain a growing China is short-sighted and will fail in the end. However, US Defense Secretary Donald Rumsfeld said at the forum held in Singapore that Beijing spends too much on its military buildup, risking a military balance in the Asia-Pacific region, which is now dominated by the Pentagon and its allies.

Lee, in an opening speech late Friday, said that "a strategy of confronting China will incur its enmity without seriously blocking its growth, while any attempt to contain China will have few takers in the (Asian) region". China's government earlier this year announced a 12.6 percent increase in military spending to 244.7 billion yuan, or roughly 30 billion US dollars. The United States by comparison spent 430 billion on defense in 2004. Though China's military expenditure is about one fifteenth of the Pentagon's, Rumsfeld deemed it was too much. [More>>chinadaily.com.cn]
---
6.04.05 Japan discovers suspected 20th case of mad cow disease
TOKYO (AP) June 4 – A cow suspected of having mad cow disease has been found in northern Japan in what may be the nation's 20th case of the illness, an official said Saturday. Preliminary tests on the animal at a slaughterhouse in the northern prefecture (state) of Hokkaido were positive, and dairy officials sent samples to two local university laboratories for more precise tests, said prefectural official Hitoshi Watanabe. Further details, such as the animal's age and whether it was a dairy or beef cow, were not immediately available, Watanabe said. Final test results could be announced in the next several days.

Japan has found 19 animals infected with the fatal illness -- formally known as bovine spongiform encephalopathy, or BSE – since the country's first case was detected in 2001. Tokyo has since checked every slaughtered cow before it enters the food supply. Eating meat from a BSE-infected infected animal is thought to cause the fatal, brain-wasting variant Creutzfeldt-Jakob disease in humans. [More>>thestar.com.my]
---
6.04.05 Najib: We'll not allow US bases in Malaysia
PUTRAJAYA, Malaysia, June 4 – Malaysia is willing to co-operate with the United States, but will never allow the superpower to set up base in the country, Deputy Prime Minister Datuk Seri Najib Tun Razak said. Najib, who is also Defence Minister, was responding to a statement by former Philippine National Security Council director-general Gen (Rtd) Jose Almonte that Asia needed the United States to mitigate the possibility of an armed conflict based on developments in North Korea and Japan.

Almonte, who is now a consultant, said this in his paper at the Asia Pacific Roundtable Conference on Thursday. ³What is important is for conflict to be resolved through peaceful means,² said Najib. [thestar.com.my]

Editorial note: I think Najib has a point here. It may be that the insecurity and unrest in the world begins with an empirical desire on the part of the Bush administration that is somewhat outdated and reflective of ignorance more in tune with the Roman Caesar, Domitian's, estate, who had no idea there were other courses of action besides bloodletting.
Mel Copeland
---
6.04.05 Two US soldiers killed in blast
KABUL, June 4 – Two US soldiers were killed in a bomb blast in Afghanistan, the military said today, capping a bloody week. More than 60 people have died in a wave of violence, including a mosque bombing that was the country's worst attack in two years. The two soldiers were killed and a third wounded in insurgency-wracked south-eastern Paktika province when an improvised bomb exploded as their vehicle was passing, the US military said in a statement. An Afghan interpreter was wounded. In a separate attack in southern Zabul province, two Taliban were killed and four wounded during an hour-long gun battle after they ambushed a police convoy.

Nearly 150 US troops have been killed in Afghanistan since the operation launched in late 2001 that toppled the former Taliban regime after it failed to hand over al-Qaeda chief Osama bin Laden, wanted for the September 11, 2001 attacks in Washington and New York. [More>>theaustralian.news.com.au]
---
6.04.05 1 killed in hunt for militants behind Afghan mosque blast
KANDAHAR, Afghanistan (AFP) June 4 – Afghan security forces have killed a man and arrested five as they step up a hunt for militants behind the Kandahar mosque bombing that left 21 dead this week, officials said Saturday. Police shot dead one man who refused to stop his motorcycle at a checkpoint Friday night, as security forces combed the southern city for the suspected al-Qaeda perpetrators behind the country's worst bomb attack in two years.

"We've arrested five people in connection with the bombing," Niaz Mohammed Sarhadi, district chief of Panjwayi, told AFP. One of the captured men was wounded as he attempted to escape through a police checkpoint, he added. Wednesday's bomb blast killed 21 people and wounded more than 50 as mourners gathered for the funeral of a Muslim cleric who was gunned down after speaking out against the former Taliban regime. The visiting Kabul police chief, General Akram Khakriazwall, was among those killed in the attack, blamed by security security officials on al-Qaeda militants. [More>>inq7.net]
---
6.04.05 US details Guantanamo 'mishandling' of Quaran
WASHINGTON (Reuters) June 4 – The US military for the first time on Friday detailed how jailers at Guantanamo mishandled the Quran, including a case in which a guard¹s urine splashed through a vent onto the Islamic holy book and others in which it was kicked, stepped on and soaked in water.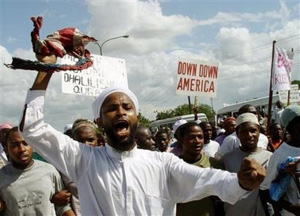 Tanzanian Muslim protesters chant anti US slogans while holding placards ' Down With America' during a demonstration in Dar es Salaam, Tanzania Friday June 3, 2005, protesting against US soldiers who were alleged to have desecrated copies of the islamic holy Quran at Guantanamo Bay in Cuba, a news story later retracted by its source. [(AP) via
chinadaily.com.cn
]
US Southern Command, responsible for the prison for foreign terrorism suspects at the US naval base at Guantanamo Bay, Cuba, described five cases of ³mishandling² of a Quran by US personnel confirmed by a newly completed military inquiry, officials said in a statement.
In the incident involving urine, which took place this past March, Southern Command said a guard left his observation post, went outside and urinated near an air vent, and ³the wind blew his urine through the vent² and into a cell block. It said a detainee told guards the urine ³splashed on him and his Quran.² The statement said the detainee was given a new prison uniform and Quran, and that the guard was reprimanded and given duty in which he had no contact with prisoners. Army Capt. John Adams, a spokesman at Guantanamo, said the inquiry deemed the incident ³accidental.²
Southern Command said a civilian contractor interrogator apologized in July 2003 to a detainee for stepping on his Quran. The interrogator ³was later terminated for a pattern of unacceptable behavior, an inability to follow direct guidance and poor leadership,² the statement said.
In August 2003, prisoners¹ Qurans became wet when night-shift guards threw water balloons in a cell block, the statement said. In February 2002, guards kicked a prisoner¹s Quran, it added.
In the fifth confirmed incident of mishandling a Quran, Southern Command said a prisoner in August 2003 complained that ²a two-word obscenity² had been written in English in his Quran. Southern Command said it was ³possible² a guard had written the words but ³equally possible² the prisoner himself had done it. It did not offer an explanation of the detainee¹s possible motive. [More>>
khaleejtimes.com
; See also
chinadaily report
, "US confirms Gitmo soldier kicked Quaran,"
Editorial note: When President George W. Bush announced his war against terrorism, couching it with the term, "crusade," shortly thereafter declaring war on Iraq, he created a problem that can only be compared to grabbing a tiger by the tail. It appears that objections against Bush's abuse may be spreading in unabated fury. I suspect a way to appease the rage may be to ask for Bush and his cohorts to resign. We can compare this blunder to that which caused the Nixon administration to resign from office. Nixon resigned over a simple robbery of campaign files. Bush has robbed peoples of their dignity, homes, livelihood and lives, claiming that he is bringing them freedom. And he has compromised the American people and their heritage to the extent that their lives and common welfare have been in more jeopardy.
One of many records of Bush's declaration of a "crusade":
(
CNN article, By Manuel Perez-Rivas, September 16, 2001
):
It will take a broad, sustained effort that will have to use our diplomatic, our political, our economic, our financial strength, as well as our military strength," said Defense Secretary Donald Rumsfeld, speaking with reporters. "It will take time. It's not a matter of days or weeks. It's years. It's going to take the support of the American people and I have every confidence it'll be there."

Vice President Dick Cheney, speaking on NBC's Meet the Press, echoed Rumsfeld's comments about the length of the effort at hand. "I think this is going to be a struggle that the United States is going to be involved in for the foreseeable future," he said. "There's not going to be an end date when we're going to say, 'There, it's all over with.' It's going to require constant vigilance on our part to avoid problems in the future, but it's also going to require a major effort and obviously quite possibly the use of military force," he said.

Bush made the same point during his remarks at the White House. "This crusade, this war on terrorism is gonna take awhile. And the American people must be patient. I'm gonna be patient," Bush said."
Peter Ford, staff writer at the Christian Science Monitor, in his article September 19, 2001, "Europe cringes at Bush 'crusade' against terrorists, " said: "As Europeans wait to see how the United States is planning to retaliate for last week's attacks on Washington and New York, there is growing anxiety here about the tone of American war rhetoric.

President Bush's reference to a "crusade" against terrorism, which passed almost unnoticed by Americans, rang alarm bells in Europe. It raised fears that the terrorist attacks could spark a 'clash of civilizations' between Christians and Muslims, sowing fresh winds of hatred and mistrust.

"We have to avoid a clash of civilizations at all costs," French foreign minister Hubert Vedrine said on Sunday. "One has to avoid falling into this huge trap, this monstrous trap" which he said had been "conceived by the instigators of the assault."

On Sunday, Bush warned Americans that "this crusade, this war on terrorism, is going to take awhile." He and other US officials have said that renegade Islamic fundamentalist Osama bin Laden is the most likely suspect in the attacks..."
Another interesting record of the Bush administration's statements leading up to the Iraq war is at: http://www.epinions.com/content_4056391812
Mel Copeland
---
6.04.05 Iran mulls trilateral meet on gas pipeline
ISLAMABAD (ANI) June 3 – Iran is reportedly contemplating to hold a trilateral meeting with India and Pakistan to discuss the proposed multi-billion-dollar gas pipeline project. According to the Online News, Iran has invited Pakistan Minister of Petroleum Amanullah Khan Jadoon to attend the meeting that Indian Oil Minister Mani Shankar Aiyar would be holding with Iranian authorities to define strategies for the gas pipeline. Aiyar is scheduled to visit Iran next month. The issue of price of gas might come up for discussion during the meeting, the report said quoting the Tehran Times.

"It is still premature to talk about the prices of gas, and we will discuss this issue in the next meeting," Managing Director of the National Iranian Gas Exports Company, Roknoddin Javadi, reportedly said.

The 2600-km overland pipeline project with an estimated cost of about 4.5 billion dollars has been strongly opposed by the US because of its concern about Tehran's nuclear programme. The pipeline negotiations began in 1994 but made little headway because of tensions between Pakistan and India. [hindustantimes.com]
---