---
6.23.05 Super-fast ships, totally wired environment by 2010
SEOUL, South Korea, June 23 – A ship skimming across ocean surfaces at 250 kilometers per hour and a ubiquitous computing network that has people wired anytime and anywhere will become realities as early as 2010.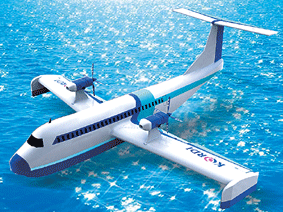 An artist`s conception of a wing-in-ground ship that travels above the water surface at high speed. [South Korean Maritime Ministry via koreaherald.co.kr]
Those two visions were in a four-part agenda set by the government for the year 2010 at the 8th Science and Technology-related Ministerial Meeting in Seoul yesterday. Wing-in-ground effect ships will be built for commercial use. With a speed of 250 kilometers per hour, the vessels are expected to help transport and passengers more quickly and efficiently than air travel.
...The government and related industries are expected to invest 170 billion won to begin building 100-ton-capacity WIG ships in 2010. Officials say the WIG ships, designed to float above the surface by a few meters, will bring new opportunities to the shipbuilding, materials and logistics industries. Another merit of the flying ship is that it can carry large volumes over great distances and consume less fuel than airplanes. Experts say the ships could account for up to 10 percent of all freight and passenger traffic starting in 2010. [Full story>>
koreaherald.co.kr
]
---
6.23.05 Nepotism threatens safety at coal mines
Jne 23 – Corruption among local officials and even the industry's safety watchdog must be tackled if the country is to improve its grim coal mine safety record, a cabinet minister has said. "Corruption is one major reason why accidents happen again and again," said Li Yizhong, minister of the State Administration of Work Safety. "Nepotism has allowed lax safety supervision." Li demanded his administration take iron-handed measures to stop corruption and misconduct among safety inspectors and local officials...One recent example took place in Central China's Hunan Province. On May 27, Li's administration ordered the Zijiang Coal Mine in Loudi city to stop mining because of poor safety conditions. With backing from the local officials, the mine refused to stop production. Just 10 days later, a sudden release of gas killed 22 miners. "If an explosion had taken place, the death toll would have been even higher," said Li. The coal mine used to be State-owned but was later transferred to a private owner, who has been detained partly because he did not have a safety certificate. [More>>chinadaily.com.cn]
---
6.23.05 India vows to tighten protection of foreign firms' data security
NEW DELHI, June 23 – India's top software body said on Thursday it would help the authorities crack down on call centre workers indulging in "criminal acts" of selling customer-related banking information. Kiran Karnik, chief of the National Association of Software and Service Companies (NASSCOM), said India was a "trustworthy" outsourcing destination and would not let call centre workers get away with data theft as reported in a top-selling British tabloid.

"We have noted the report in the Sun resulting from an investigation by their reporter about the illegal sale of customer data and are seeking further details," said Karnik. "We believe that any theft or breach of a customer's confidentiality must be treated extremely seriously. India, with its strong legal system and its independent judiciary, is a country that takes this responsibility extremely seriously," he added. The Sun newspaper said its journalist had paid a computer expert in New Delhi 5,000 dollars to obtain account numbers, bank card details, secret passwords and other personal details of 1,000 British bank customers. [More>>hindustantimes.com; See also expressindia.com]
---
6.23.05 Over 30 dead in Baghdad bombs after Brussels talks
BAGHDAD (Reuters) June 23 – Four car bombs shook Baghdad after dawn on Thursday, killing at least 17 people and wounding dozens in the second wave of attacks within hours, police said. After dark on Wednesday a triple car bombing claimed by al Qaeda hit a mainly Shi'ite district of the city, killing 18, following meetings in Brussels between the new Shi'ite-led government, its U.S. sponsors and other foreign powers. Police said a suicide car bomber killed three policemen and seven civilians when he drove at their patrol in the central commercial district of Karrada around 7 a.m. (0300 GMT). A second, similar attack killed seven civilians, they added.

Two other cars exploded in the same area, each several minutes apart, one near a Shi'ite mosque. Police and medical sources put the number of wounded at between 23 and 50. Insurgents who have killed some 1,200 people, including over 120 U.S. soldiers, since the Shi'ite-led government was formed two months ago draw much of their strength from the Sunni Arab minority that dominated Iraq under Saddam Hussein. [More>>thestar.com.my; See also aljazeera.net, "Multiple Baghdad blasts claim dozens."
---
6.23.05 Underground Islamic groups exposed in Moscow region
MOSCOW (RIA Novosti) June 23 – In 2003-2004, the Federal Security Service (FSB) exposed groups from the Hizb-ut-Tahrir extremist organization operating in the Moscow Region, a senior security official said. Members of the terrorist organizations Muslim Brothers, Hizb-ut-Tahrir and the Islamic movement of Uzbekistan have been penetrating Russia since 2000. The Federal Security Service has exposed grass-roots structures of these organizations in 50 regions of the country. "Experts say these organizations will continue to act most actively in Central Asia as they have considerable social support while the economic and political situation in the region continues to be unstable," said Yuri Sapunov, head of the FSB's Anti-terrorism Department. Because these organizations are very active in the CIS, the FSB has made a proposition to the CIS that envisions coordinated efforts to expose terrorist leaders and activists, find their hideouts and training camps and the channels of their financing.

These organizations stepped up their activities in Central Asia after the United States and allied nations launched their military operation in Afghanistan, Sapunov said. The extremist movement Hizb-ut-Tahrir was established in the middle of the last century. The organization spread its influence first to Uzbekistan and then to Tajikistan and Kyrgyzstan. [rian.ru]
---
6.23.05 UN experts say they have reliable accounts of Guantanamo torture
GENEVA (AP) June 23 – UN human rights experts seeking to visit the US base at Guantanamo Bay said on Thursday they have reliable accounts of torture of suspected terror detainees being held there. The four experts said the United States had not responded to their numerous requests to check on the conditions of terror suspects at the US Naval base in Cuba.

They said their request for a visit was ³based on information, from reliable sources, of serious allegations of torture, cruel, inhuman and degrading treatment of detainees, arbitrary detention, violations of their right to health and their due process rights.²

³Many of these allegations have come to light through declassified (US) government documents,² they said. [More>>khaleejtimes.com]
---
6.23.05 Update, 6.22.05 Fifty-nine killed in Afghan clashes
KANDAHAR, June 22 – Fifty-nine people including 14 suspect Taliban and 40 insurgents were killed during fighting with US and Afghan forces. The officials said five members of the Afghan security forces were killed and five U.S. soldiers wounded in the operation. US army spokesman said the area of the fighting was southwest of Zabul province's mountainous Dai Chopan district, which borders Kandahar. US jets and attack helicopters pounded insurgent positions on Wednesday. "Forty Taliban were killed and we have their dead bodies with us," he said, adding that 23 guerrillas had been captured. [More>>jang.com.pk; See khaleejtimes.com, (Reuters) "Afghans say over 60 Taleban dead in fierce fighting." 6.23.05 Update: jang.com.pk, "US, Afghan forces killed 100 Taliban¨; See also khaleejtimes.com, "Afghans say closing in on senior Taleban commanders" : KANDAHAR, Afghanistan, June 23 – Afghan and US forces surrounded an area in Afghanistan on Thursday where senior commanders of elusive Taleban leader Mullah Mohammad Omar were thought to be hiding, Afghan security officials said. The operation, backed by US helicopter gunships, followed a big US-backed offensive that killed more than 100 militants in the same region of the border between Kandahar, Uruzgan and Zabul provinces in the past three days, the officials said. Those holed up in the Dai Chopan area included Mullah Dadullah, a member of the Talebanıs 10-man leadership council headed by Omar, and Mullah Brother, another commander thought close to the Taleban leader, the Defence Ministry said.]
---
6.22.05 Pyongyang pledges to give up nukes if US is more friendly
June 22 – North Korea reiterated yesterday that it will dismantle its nuclear weapons program once the United States discards its hostile policy toward the communist state.

At the 15th Inter-Korean ministerial talks, the first in 13 months, South Korea sought to stabilize shaky ties with the North and ease military tensions, proposing quarterly Cabinet-level talks and regular military meetings between defense ministers and general-level officers.

"A nuclear-free Korean Peninsula is among the teachings of the late Kim Il-sung and the North will not possess a single nuclear bomb if the United States treats us favorably," South Korean negotiator Kim Cheon-shik quoted North Korea's lead delegate, Kwon Ho-ung, as saying in a keynote speech at the ministerial meeting's main session. Kim Il-sung, the late founder of the isolationist communist North, was the father of current leader Kim Jong-il. [More>>koreaherald.co.kr]
---
6.22.05 Annan presses for more action to help Iraq
BRUSSELS (AFP) June 22 – UN chief Kofi Annan called on world leaders on Wednesday to match their words with action to help rebuild Iraq, saying they must reassure ordinary Iraqis that they "will not let them down." Addressing an international conference on Iraq, he saluted the "courage and resilience" of the violence-scarred country's leaders and people, who he said must set aside their differences to build a common future. The people of Iraq "look to this conference for a clear sign that the international community will be their determined and dedicated companions on the tough road ahead," he said. "By our words and more importantly by our deeds we must reassure them that we will not let them down," he said. [More>>hindustantimes.com]

---
6.22.05 US House lawmakers press for China action on yuan
June 22 – US lawmakers unveiled legislation Tuesday giving China 90 days to revalue its currency or face an across-the-board tariff on its exports to the United States. Treasury Secretary John Snow quickly denounced the bill and others like it that threaten China with sanctions if it does not move to a more flexible exchange rate.

"I think anything that points in the way of closing down trade, interfering with trade, isolationism and protectionism, those are all the wrong way to go," Snow said in an interview on Bloomberg television.

Representative Phil English of Pennsylvania, who introduced the bill, named Currency Harmonization Initiative through Neutralizing Action (China Act), with three other Republicans in the House of Representatives, said the measure reflected their growing frustration over China's practice of pegging its currency at 8.28 yuan to the dollar. "One of the biggest burdens facing American manufacturers is the blatant mercantilism out of China," English said. "We feel the time has come to draw a line in the sand."

English and other lawmakers contend the currency peg keeps the value of China's yuan at an unfairly low level, giving that country's manufacturers a price advantage over their American competitors. [More>>chinadaily.com.cn]
---
6.22.05 Spain arrests eminent code cracker
June 22 – Spanish police have arrested 'P. Power', one of the most renowned code-crackers on the internet, following a nine-month inquiry. Armed with a simple modem connection, a decrepit computer and standard software P. Power had broken security codes and hacked his way into costly professional computer programs, the interior ministry said. Spanish authorities have not released the identity of P. Power, known only by his Internet pseudonym, but they did say he was a 26-year-old engineer.

After meticulously unassembling programs, analysing their weak points and then stripping them of their protection, the hacker broadcast messages to the internet saying he was the unique code-cracker and was sending out the codes for free, according to the interior ministry.

The ministry added it was impossible to put a price on the damage caused to firms using the programs pirated, or to say how many internet users had downloaded the codes for free. [More>>theaustralian.news.com.au]
---
6.22.05 Russia: Solar sail suffered engine failure
June 22 – The Russian space agency on Wednesday said the attempt to launch a solar sail space vehicle was not successful because the booster rocket's engine failed soon after it blasted into space. The booster failed 83 seconds after its launch from a Russian nuclear submarine in the Barents Sea, the space agency said. Its spokesman, Vyacheslav Davidenko, said that "the booster's failure means that the solar sail vehicle was lost." The launch late Tuesday was part of a joint Russian-US project attempting the first controlled flight of a solar sail. Solar sails are envisioned as a potential means for achieving interstellar flight in the future, allowing such spacecraft to gradually build up great velocity and cover large distances. [More>>chinadaily.com.cn]
---
6.22.05 Man's earliest ancestors face extinction in India
ANDAMAN (Reuters) June 22 – 'Jarawa turn hostile' screamed the headline from the local paper. Indignantly, it reported how primitive tribesmen came out of the jungle armed with bows, arrows and spears, raided a village in Andaman island and looted tools, food, clothes, cash and Jewelry. It was the first such attack in seven years. An indication that the Jarawa hunter-gatherers remain untamed primitives – or a cry for help from man's earliest ancestors, their forests and their lifestyle, their existence under threat as never before?

"It is usual that poachers enter into Jarawa reserve areas to hunt wild animals," a tribal welfare officer blithely notes in an internal report on April's attack. Some of the poachers, he said, had stolen honey buried by the Jarawa and destroyed the carved containers used to store it. Honey is the only food the Jarawa store, one of the most precious things they have. Enraged, they had retaliated.

"It is really frightening," said author and activist Madhusree Mukherjee. "The surest way to kill hunter-gatherers is to take away their territory," he said.

The Jarawa are one of four ancient 'Negroid' tribes barely surviving on the Andamans. Last month, Indian scientists said DNA evidence suggested they were direct descendents of man's earliest ancestors, who migrated from Africa 65,000 to 70,000 years ago, only to be stranded on the islands by rising seawater. Until just a few years ago, the Jarawa lived in isolation, preserving a simple lifestyle in their own Garden of Eden. Then the government built a road through their forest. [More>>expressindia.com]
---
6.22.05 New breed of tourists in Thailand
June 22 – Jarunee Taesamran writes: Tourists can return home with not just good memories but with a better health as well.
Gillian de Marchi flew all the way from Sydney, Australia, stopped overnight in Bangkok for a dental check-up at Bangkok Dental Spa Clinic, before continuing her journey the next day.

"I came here because the clinic and Thai dentists are famous in Sydney. People back home are talking a lot about coming to Thailand for dental treatment," she said..."More than that I can get everything at half the price I would be required to pay in Sydney. The service and expertise of doctors are of the same standard. I can't be happier," she said. Mrs. Marchi is one of the several thousand Australians who come to Thailand for medical treatment every year.

Not only Australians, in recent years, people from around the world have been coming to Thailand for medical treatment and surgery. It is estimated that more than 300,000 people from 145 countries have travelled to Thailand for surgical procedures... Dentistry, lasik, plastic surgery, breast enhancement, sex transplant, facial and beauty treatment are particularly popular among foreigners. And the other reason they come to Thailand is that they can keep it private and remain anonymous... [Full story>>bangkokpost.net]

---
6.22.05 Two more killed, new bomb in southern Thailand
BANGKOK, June 22 – Suspected militants have shot dead two men while a bomb targeted Buddhist monks but caused no injuries in the latest unrest in southern Thailand, police and military officials said on Wednesday. Three masked gunmen stormed the house late Tuesday of a deputy village headman from Yala province, 52-year-old Asan Kaji, and shot him dead, a military official said. Four suspected militants, meanwhile shot dead defence volunteer Chamnarn Thepsuwan, 48, in Pattani province, the official said. The small bomb exploded Wednesday morning in Narathiwat province as security forces escorted Buddhist monks on their daily round to collect alms. No one was a injured, military official said. [jang.com.pk]
---
6.22.05 Update, 6.21.05 Bomb kills anti-Syrian politician in Beirut
BEIRUT (Reuters) June 21 – An anti-Syrian politician in Lebanon was killed on Tuesday when a bomb ripped through his car, two days after parliamentary elections brought victory for an alliance opposed to Damascusıs role in the country. George Hawi, a former leader of the Lebanese Communist Party, died instantly in the blast in the Wata Musaitbi neighborhood of Beirut, witnesses and security sources.

³The car kept going and then I saw the driver screaming and he jumped out of the window. We rushed to the car and saw Hawi in the passenger seat with his guts out,² Rami Abu Dargham, who owns a sandwich shop nearby, told Reuters.

The bomb was placed under the passenger seat of Hawiıs Mercedes and detonated by remote-control, security sources said. The driver apparently escaped serious injuries. It was the second killing of an anti-Syrian figure in Beirut this month. Newspaper columnist Samir Kassir was killed on June 2 when a similar explosion destroyed his car outside his home. The United States said after Kassirıs killing it had information about a Syrian hit-list targeting Lebanese leaders. [More>>khaleejtimes.com; See also aljazeera.net; See update, aljazeera.net, 6.22.05 "Arrests follow Beirut assassination" : A number of Syrian workers have been arraigned for questioning in connection with the assassination of the former secretary-general of the Lebanese Communist Party, George Hawi.]
---
6.21.05 Inter-Korean Cabinet talks resume in Seoul
6.21.05 – A North Korean Cabinet-level delegation arrived in Seoul yesterday, kicking off the first inter-Korean ministerial-level talks in 13 months amid increasing pressure for Pyongyang to end its boycott of the six-party talks on its nuclear weapons program.

The delegation, led by Senior Cabinet Councilor Kwon Ho-ung, was greeted by the South Korean team headed by Unification Minister Chung Dong-young at the Sheraton Walkerhill Hotel, the venue where the 15th Cabinet-level talks between the Koreas will be held until Friday.

The crucial high-level meeting will pivot around encouraging North Korea to return to the six-party talks and on following up verbal agreements between North Korean leader Kim Jong-il and Minister Chung in Pyongyang last week. The Cabinet-level talks come at a critical time, with patience wearing out over North Korea's indefinite boycott that has stalled the six-party talks with South Korea, the United tates, Japan, China and Russia for a year.

...A North Korean diplomat was reported as saying in New York that his country will be able to return to the negotiation table as early as next month if the United States stops using words like "outpost of tyranny" about the North.

Kim Jong-il had said in his meeting with Chung that his country would return to the talks in July if the United States showed respect towards the North. The phrase "outpost of tyranny" was first used by U.S. President George W. Bush and later mimicked by other high Washington officials. But Bush showed a slight change of attitude, referring to the North Korean leader as "Mr. Kim Jong-il" several times in his public speeches this month. [Full story>>koreaherald.co.kr; See related story, khaleejtimes.com, "South Korea upset about US criticism of North Korea" : South Korean Foreign Minister Ban Ki-Moon expressed regret on Tuesday at recurring US criticism of North Korea, saying the comments are unhelpful in the current reconciliatory mood...]
---
6.21.05 Latest Al-Qaeda attacks kill 36 in Iraq
June 21 – At least eight car bombs exploded across Iraq killing 29 people as insurgents defied a widespread U.S.-Iraqi security clamp down. In the Kurdish city of Irbil, a suicide bomber drove his car into a crowd of police recruits, killing at least 12 and wounding about 100 on a soccer field, officials said. A second such attack in the normally more tranquil Kurdish region killed the security chief of the town of Halabja while another on an Iraqi Army checkpoint in the disputed oil city of Kirkuk, just outside Kurdistan, killed four soldiers. Five car bombs blew up in Baghdad, targeting mostly Iraqi police and soldiers. One struck the notorious airport road.

The Irbil bombing was the second time in six weeks that such a big bomb has shattered the relative peace of the north. A crowd of around 200 traffic police recruits had gathered for roll call in a dusty field behind the police headquarters when the suicide bomber raced his red vehicle toward them and blew up among them as they scattered. "Some people were running away but others couldn't move and the car blew up," said Raeder Mohammad, one of the trainees.

The security chief of Halabja was killed along with three bodyguards when a suicide bomber drove at their vehicle, local security officials said. They died near a memorial to the civilian victims of the 1988 poison gas attack that made Halabja a byword for Saddam Hussein's oppressive rule.

In Kirkuk, four soldiers were killed when a suicide car bomber rammed their checkpoint.

Those attacks followed a major pre-dawn raid by insurgents on a police station in southwest Baghdad, where they detonated two car bombs and then ambushed Iraqi police and troops who came to help a U.S. unit that also came under fire. The US military said five police and soldiers were killed and 20 wounded in the complex attack, which only subsided after U.S. air and ground support was called in. Iraqi police at the scene told Reuters 18 insurgents were killed and 14 captured. [More>>dailystar.com.lb]
---
6.21.05 UK arrest over Iraq suicide attacks
June 21 – An alleged house mate of a man who travelled from the UK to Iraq to carry out a suicide bomb attack was today arrested by armed police in a dawn raid. The 40-year-old suspect was detained in Manchester under the Terrorism Act in connection with suicide bomb attacks on US-led forces. His house mate had travelled to Iraq on a suicide bombing mission earlier this year, Greater Manchester police said. Around 30 officers raided the terraced house, in the Moss Side area of the city, at 5am today. "This operation involved two suspects - one who used to live at the address in Great Southern Street before he travelled to Iraq to take part in a suicide bomb attack, and the other who was still living at the address until his arrest this morning," a police spokesman said. [More>>guardian.co.uk]

---
6.21.05 British bombing raids were illegal, says Foreign Office
June 19 – Michael Smith reports: A sharp increase in British and American bombing raids on Iraq in the run-up to war ³to put pressure on the regime² was illegal under international law, according to leaked Foreign Office legal advice. The advice was first provided to senior ministers in March 2002. Two months later RAF and USAF jets began ³spikes of activity² designed to goad Saddam Hussein into retaliating and giving the allies a pretext for war. The Foreign Office advice shows military action to pressurise the regime was ³not consistent with² UN law, despite American claims that it was.

The decision to provoke the Iraqis emerged in leaked minutes of a meeting between Tony Blair and his most senior advisers — the so-called Downing Street memo published by The Sunday Times shortly before the general election. Democratic congressmen claimed last week the evidence it contains is grounds for impeaching President George Bush. [More>>timesonline.co.uk; See more information in the bbc.co.uk story and British lawmaker: Iraq war was for oil and related links.]
---
6.21.05 Saudis brush Rice's comments aside
June 21 – Saudi officials have criticized US Secretary of State Condoleezza Rice's comments on the kingdom's reform as "meaningless." Rice flew into Riyadh late on Monday on the fourth leg of a regional tour after delivering a major speech in Cairo calling for sweeping democratic change and naming Saudi Arabia as one of the states still lagging behind. "The row is really meaningless," Saudi Foreign Minister Prince Saud al-Faisal told a post-midnight news conference after Rice conferred with him and the country's de facto ruler, Crown Prince Abdullah bin Abdul Aziz. "The assessment that is important for any country in the development of its political reform is the judgment of its own people," he said. "And that is, in the final analysis, the criteria that we follow." When speaking in Egypt, Rice praised the "brave citizens" in Saudi Arabia who are "demanding accountable government." [More>>aljazeera.net; See also turkishpress.com article, " Rice criticizes Saudis on rights; gets firm rebuff."
---
6.21.05 State Prosecution concedes political aim for Jerusalem fence
June 21 – Yuval Yoaz, Haaretz Correspondent reports: The State Prosecution argued for the first time on Tuesday that the government's decision to construct the separation fence in the Jerusalem area stemmed from political considerations as well as security purposes. The statement was made in a document the State Prosecution handed an extended panel of 11 High Court justices who convened on Tuesday to discuss several petition against the construction of the separation fence in the northern Jerusalem area. When dealing with the construction of the fence within the municipal boundaries of Jerusalem, which is a sovereign part of Israel, the route of the fence has political implication and ramifications, the statement said.

Chief justice Aharon Barak said that the state had the right to erect a security fence along Jerusalem's municipal border, and the question whether its construction in the capital is security or politically motivated was therefore irrelevant.

Barak asked the petitioners on what grounds did the residents of the A-Ram neighborhood, which is situated outside Jerusalem's municipal boundaries, have a right to argue against the state's right to build a fence inside its borders. With regard to the construction of the fence in the West Bank, Barak said, however, that the motives behind its construction had great importance. If the fence was all constructed along the Green Line route, no legal argument could be used against the state, Barak added. [haaretzdaily.com]

Editorial note: For background on the barrier wall, see Rally staged against Israeli Barrier.
---
6.21.05 Afghanistan urges Pakistan to contain militants after US envoy plot
KABUL (AFP) June 21 – Afghanistan urged neighboring Pakistan on Tuesday to clamp down on militants hiding on its side of the border, a day after Kabul said it had arrested three Pakistanis for plotting to assassinate the US ambassador. ³There are elements on Pakistani soil who train terrorist elements, equip them and send them to Afghanistan. They should be prevented at any cost. As long as they exist, terrorism and insecurity will continue,² said President Hamid Karzaiıs spokesman Jawed Ludin.

Ludin said key leaders of the Taleban militia, which has waged an insurgency against Afghanistanıs current rulers since it was ousted from Kabul, were sheltering in Pakistan. He questioned how Pakistanıs private GEO television had broadcast an interview with a Taleban leader last week, alleging that Osama bin Laden was alive, without the knowledge of the government. ³The leaders of the Taleban regime, especially those who are notorious for manslaughter and terrorism, they are now in Pakistan,² Ludin added. The spokesman said progress had been made in the fight against ²terror² between Afghanistan and Pakistan but more needed to be done. [More>>khaleejtimes.com]
---
6.21.05 Three killed in Thai south
BANGKOK, June 21 – Suspected separatists shot dead three Muslim men, including one found clutching a Koran, in the latest killings in violence-plagued southern Thailand, police said on Tuesday. Five suspected militants stormed a house in Pattani province where the three men had been praying on Monday and shot them in the head, police said. Two of the bodies where found inside the house and the third was outside. [jang.com.pk]
---
6.21.05 Who are Russia's enemies?
MOSCOW (RIA Novosti political commentator Vladimir Simonov) June 21 – "Tell me who your enemy is and I will tell you who you are." This phrase could be easily applied to the results of the recent Levada Center poll of which states are seen as Russia's enemies and which as friends.

The results of the poll of 1,600 Russian adults were given wide coverage in Russian media, but it will take some time to analyze them because the new list of enemies is a bombshell. Respondents named Latvia (49%), Lithuania (42%), Georgia (38%) and Estonia (32%) as Russia's greatest enemies, while the list of friends includes Belarus (46%), Germany (23%), Kazakhstan (20%), India (16%), and France (13%).

The first striking thing is the absence of the United States, the archenemy of yesteryear. Compared to the recent past, public hostility to the US has plummeted. Most Russian analysts of the poll's results have not even noticed this: America does not interest them either, although just a few years ago most Russian and American political scientists predicted a rapid growth of anti-American sentiments in Russia.

This has not happened, for two main reasons.

The first was a radical change in international situation and public sentiments. In the 1990s, the Russia-US relationship was largely determined by conflicts such as the NATO bombing of Yugoslavia and "unscrupulous" US diplomatic maneuvers around Kosovo. Today there are no disagreements of this scale between the two countries. On the contrary, after 9/11 Moscow quickly became an ally of Washington in the global war on terror.

The second reason was the influence of President Vladimir Putin's personal stand on public opinion in Russia. Russians generally trust the president, especially his foreign policy pronouncements. Every Russian citizen who watches television knows about Putin's close relations with US President George Bush. Recent official foreign-policy documents invariably mention America as "a strategic partner." The list of enemies of the Soviet Union changed throughout the 20th century... [More>>rian.ru]
---
6.21.05 China looking west for energy supply
June 21 – A State Council leader has called for a wider exploration of the potentially oil-rich Xinjiang to make the region the country's strategic oil and gas base.

During a recent visit to the Xinjiang Uygur Autonomous Region, Vice-Premier Zeng Peiyan said efforts will be focused on the Tarim, Junggar, and Turpan-Hami basins. Zeng also said oil companies and local governments should look into price reforms in the energy sector, the levying of a fuel tax and an increase in the resources tax.

The basins, equivalent in size to France and Britain, sit on 30 per cent of China's total oil and 34 per cent of its natural gas reserves. But more than 80 per cent of the areas remains untapped. "Exploration in Xinjiang is still in an embryonic stage," said Zeng at an oil and gas exploration meeting in Tarim on Sunday. "We should strive to find large oil and gas fields, and make Xinjiang the country's strategic oil and gas base."

Zeng visited major oil and gas fields in the Tarim Basin late last week after completing a tour of Russia, Oman, the United Arab Emirates, and Qatar - all major oil producers. Xinjiang pumped 22 million tons of oil last year, or 12 per cent of the nation's total. [More>>chinadaily.com.cn]
---
6.21.05 Twenty-two Pakistani children smuggled to Middle East as camel riders return home
LAHORE, Pakistan (AP) June 21 – Twenty-two Pakistani boys aged between 3 and 12 who had been smuggled to the United Arab Emirates to work as camel race riders returned home Tuesday, and authorities were trying to trace their parents. South Asian boys, mostly from Pakistan, are illegally trafficked to the Gulf to take part in the hazardous sport. They are favored as riders as they are light, but risk serious injury if they fall during a race. Rights groups say the riders are often kept as virtual slaves.

...Provincial chief Chaudhry Pervez Elahi promised to help the boys' rehabilitation and give them free education. He said the government would try and repatriate other Pakistani children still working as camel riders in the Middle East. "We know that 2,500 such children are still living there, and out of them 70 percent are Pakistanis,'' he said. Other riders are believed to be smuggled from India and Bangladesh. In 2002, Pakistan made smuggling children abroad for use as camel riders an offense punishable by up to 10 years in prison, but the law is often flouted. [Full story>>thestar.com.my]
---