---
6.11.05 Dichter: Temple Mount attack will threaten world Jewry
June 11 – (This article, written by Amos Harel, is about the threat of Jewish extremists attacking the mosques atop the Temple Mount in Jerusalem): The concern in the Shin Bet about an attack on the Temple Mount mosques is increasing as zero hour for the disengagement approaches, the recently retired head of the Shin Bet security service Avi Dichter told Haaretz this week. Such an attack, he warned, would spark attacks on Jews around the world.

When troubling information accumulated about an intention to hit the mosques, Dichter went to a group of influential rabbis from the mountain ridge in Samaria. "I told them that the security officer of the project (the Temple Mount) had done the maximum in face of the current threats... But the mount is not defended from an anti-tank missile or a drone. I explained that I was less worried about what would happen here in Zion if one irresponsible extremist tries to carry out a terror attack at the mount.

"In Israel we have already learned to defend ourselves from waves of terror. We'll know how to deal with it. But this person does not know how much he is endangering the Jewish diaspora abroad. The defense authorities in other countries haven't got the means to protect these communities, and by the time they realize the significance of the event on the mount, it will be too late. Abroad we'll be subjected to a horrible wave of terror attacks, along the lines of the attack on the Jewish community building in Argentina. This is an almost certain scenario, and not one of the rabbis would be able to claim that his hands are clean." [More>>haaretzdaily.com; to understand more about the controversy of the Temple Mount click here.]
---
6.11.05 Italian hostage released, identifies captor
June 11 – Freed Italian hostage Clementina Cantoni has identified a picture of her main kidnapper and told Italian authorities that she was never hurt nor threatened during her three weeks in captivity, Italian newspapers reported today. MS Cantoni, who was released yesterday, said her hostage takers numbered between four and six and their leader introduced himself immediately as Timur Shah...Italian newspapers reported that MS Cantoni was freed in exchange for the release of Shah's mother. An Afghan official in Kabul confirmed that Shah's mother was released from custody, but said that the authorities wanted to release her anyway as there was no grounds to charge her. They had originally suspected her of participating in a previous kidnapping attributed to Shah's gang. [More>>theaustralian.news.com.au; See also khaleejtimes.com article, "Afghan government announces kidnap arrests, denies deal with kidnappers."
---
6.11.05 Suicide bombers, gunmen kill more than 20 in Iraq
BAGHDAD (AP) June 11 – A suicide bomber dressed as a policeman blew himself up on Saturday during a morning roll call at the heavily guarded Baghdad headquarters of a feared commando unit, killing at least three people, officials said. Eyewitnesses reported at least five died. Another suicide car bomber later blew himself up in front of the Slovakian Embassy in southeast Baghdad, injuring four people. Attacks by suicide bombers and gunmen in Baghdad and south of the capital left at least 23 dead.

Just south of Baghdad, gunmen killed at least 11 Iraqi construction workers and injured another three when they riddled their minibus with bullets as it drove in the so-called Triangle of Death, police said. The attack occurred in Diyara, 50 kilometers (30 miles) south of Baghdad, and the men worked on construction projects on Iraq and American bases, police added. [More>>khaleejtimes.com]
---
6.11.05 PetroChina invests in overseas venture
June 11 – To boost stagnant domestic reserves and forge a platform for overseas expansion, PetroChina, China's largest oil and gas company, has agreed to pay 20.7 billion yuan (US$2.5 billion) for overseas assets in its State-owned parent. PetroChina will buy a 50-per-cent stake in its parent China National Petroleum Corp's (CNPC) venture which sits on oil and gas assets in 10 foreign countries, including Kazakhstan, Venezuela, Algeria, Peru, Oman, Azerbaijan, Canada, Ecuador, Niger and Chad.

CNPC's assets in Sudan – which make up more than half its overseas portfolio – were excluded from the venture. Sudan is currently subject to sanctions from the United States. PetroChina will also inject its Indonesian oil and gas assets, worth 579.4 million yuan (US$70 million), into the venture.

The transactions are expected to boost the company's international reserves by 879 per cent to 866 million barrels of oil equivalent. The deal will also increase the company's total oil and gas reserves by 4.31 per cent and lift output by 5.41 per cent, the statement said. PetroChina has seen its oil output growth flat-line in recent years as most of its older oilfields are depleting. Its crude oil output grew by just 0.5 per cent to 778.4 million barrels in 2004. [More>>chinadaily.com.cn]
---
6.11.05 Pakistan government confiscates unauthorized Quran
ISLAMABAD, June 11 – Parliamentary Affairs Minister Dr. Sher Afgan Khan on Saturday informed the National Assembly that the government will take action against publication of translation of the Holy Quran without its Arabic text by a Pakistani in Canada. Speaking on a Calling Attention Notice, about the publication of a book "True Furqan" containing interpolation and misinterpretation of Quranic verses, he said all the copies in Pakistan have already been confiscated by the authorities. He said it is a serious attempt to create anarchy in the society, and the laws exist which forbid the translation of Quran without original Arabic text. [More>>jang.com.pk]

---
6.10.05 NASA space probe to slam into comet July 4
NASA, June 9 – After a voyage of 173 days and 431 million kilometers (268 million miles), NASA's Deep Impact spacecraft will get up-close and personal with comet Tempel 1 on July 4 (EDT). The first of its kind, hyper-speed impact between space-borne iceberg and copper-fortified probe is scheduled for approximately 1:52 a.m. EDT on Independence Day (10:52 p.m. PDT on July 3).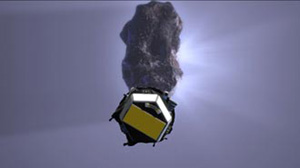 Artist's concept showing Deep Impact just before impact with comet Tempel 1. Image credit: Maas Digital.
The potentially spectacular collision will be observed by the Deep Impact spacecraft, and ground and space-based observatories. "We are really threading the needle with this one," said Rick Grammier, Deep Impact project manager at NASA¹s Jet Propulsion Laboratory, Pasadena, Calif. "In our quest of a great scientific payoff, we are attempting something never done before at speeds and distances that are truly out of this world."
During the early morning hours of July 3 (EDT), the Deep Impact spacecraft will deploy a 1-meter-wide (39-inch-wide) impactor into the path of the comet, which is about half the size of Manhattan Island, N.Y. Over the next 22 hours, Deep Impact navigators and mission members located more than 133 million kilometers (83 million miles) away at JPL, will steer both spacecraft and impactor toward the comet. The impactor will head into the comet and the flyby craft will pass approximately 500 kilometers (310 miles) below.
Tempel 1 is hurtling through space at approximately 37,100 kilometers per hour (23,000 miles per hour or 6.3 miles per second). At that speed you could travel from New York to Los Angeles in less than 6.5 minutes. Two hours before impact, when mission events will be happening so fast and so far away, the impactor will kick into autonomous navigation mode. It must perform its own navigational solutions and thruster firings to make contact with the comet.
...The crater produced by the impact could range in size from a large house up to a football stadium, and from two to 14 stories deep. Ice and dust debris will be ejected from the crater, revealing the material beneath. The flyby spacecraft has approximately 13 minutes to take images and spectra of the collision and its result before it must endure a potential blizzard of particles from the nucleus of the comet.
..."In the world of science, this is the astronomical equivalent of a 767 airliner running into a mosquito," said Dr. Don Yeomans, a Deep Impact mission scientist at JPL. "The impact simply will not appreciably modify the comet's orbital path. Comet Tempel 1 poses no threat to the Earth now or in the foreseeable future." [More>>http://www.
nasa.gov/deepimpact
]
Those with the best chance to view the collision are in the western United States and possibly New Zealand.
---
6.10.05 US trade deficit increases by 12 percent in April
WASHINGTON, June 10 – The US trade deficit shot up 12 percent in April to $56.96 billion (euro46.54 billion), reflecting a surge in oil imports to the second highest level on record, the government reported Friday. The Commerce Department said the new trade imbalance increased from a $53.56 billion (euro43.76 billion) deficit in March as imports rose 4.1 percent to a new record, swamping a 3 percent increase in U.S. export sales, which also set a record.

So far this year, the trade deficit is running at an annual rate of $686 billion (euro560.5 billion), 11 percent higher than the record $617.58 billion deficit set for all of 2004. Total imports rose to an all-time high of $163.38 billion (euro133.49 billion) in April, led by a 4.3 percent jump in petroleum imports to $19.4 billion (euro15.85 billion), just below last November's record. The average price for a barrel of crude oil imported during April hit a record high of $44.76 as global prices surged during the month. Exports also rose to a record level of $106.42 billion (euro86.95 billion) in April, with sales of commercial aircraft, computer chips and industrial engines all posting big increases.

The soaring trade deficits have translated into a major political headache for President George W. Bush as critics contend his trade policies have failed to protect American workers from unfair foreign competition, resulting in a string of record deficits and the loss of more than 3 million manufacturing jobs since mid-2000. [More>>thestar.com.my]
---
6.10.05 China to have strategic oil reserve soon
SINGAPORE (Agencies) June 10 – China is on track to complete building its first strategic oil reserve storage tanks by August, but Beijing has not indicated when it may start filling them in the face of high oil prices, an industry official said on Friday. The world's second-largest oil consumer after the United States will finish the crude oil tank farm in Zhenhai, located in the port city of Ningbo in the booming east coast province of Zhejiang, on schedule with plans announced last year, he said.

The 5.2 million-cubic-meter (33 million-barrel) facility will hold about one-third of China's initial planned emergency reserves, the foundation of state efforts to bolster energy security as consumption soars and domestic output plateaued. "The entire infrastructure in Zhenhai will be completed by August. But prices are so high right now and it is not clear when Beijing will kick off emergency stockpiling activities," the Chinese official told Reuters. [More>>chinadaily.com.cn]
---
6.10.05 Gazprom to invite more partners to build North European Gas Pipeline
MOSCOW (RIA Novosti) June 10 – Gazprom, Russia's natural gas monopoly, can invite more partners to build the North European Gas Pipeline (NEGP), the project that is currently involving Gazprom and Germany's BASF chemical concern. "I believe the project can be implemented by two or three partners. We have a few options, and we will determine the final participants in the project shortly," Alexander Medvedev, a Gazprom Deputy Board Chairman, told a news briefing on Friday. Medvedev recalled Gazprom intended to adopt an investment decision on the project in September 2005.

"The investment decision will be adopted in September. Among other things, it will contain natural gas sales figures. The volume of sales will be announced shortly," Medvedev said. The NEGP is a special project for Gazprom, i.e. unlike other pipelines, it will not run via transit countries.

The pipeline will be laid down on the Baltic Sea's floor, from the seaport of Vyborg, on the inlet of the Gulf of Finland not far from St. Petersburg, as far as Germany's coast. A few branches will be built to deliver natural gas to consumers in Finland, Sweden, Britain, and other countries. The pipeline will be about 3,000 km long. Construction costs are estimated at about $5.7 billion. [More>>rian.ru]
---
6.10.05 Toyota preparing to hike prices in US to help competitors
NAGOYA (Kyodo News) June 10 – Toyota Motor Corp. will hike prices for its vehicles in the U.S. around October when its model year in production changes, company officials said Friday. The move is seen as part of its efforts to cooperate with struggling U.S. competitors such as General Motors to prevent a reemergence of the trade friction seen between the United States and Japan in the 1980s. A Toyota official told reporters that the company will explain the price hikes as a result of rises in material costs, because "it is difficult to say to dealers that the hikes are to help US auto makers." Japanese auto makers have grabbed about a 30% share of the U.S. auto market this year, stirring concerns about trade friction. [japantoday.com]

---
6.10.05 At least 17 bodies found in Iraqi desert town near Syrian border
QAIM, Iraq (AP) June 10 – At least 17 bodies have been found scattered in separate locations near a town close to the Syrian border that is considered an insurgent hotbed, with one group of 11 shot in the head and another beheaded. Eyewitnesses, including an Associated Press reporter, said Friday that the 11 bodies had their hands tied behind their backs and were wearing civilian clothes. They were found near a small hamlet called Jabab, about 30 kilometers (19 miles) east of Qaim. It was unclear when they were killed.

The Interior Ministry also confirmed that another six bodies were found near Qaim outside the village of Fosfat. Interior ministry Maj. Falah al-Mahamdawi said the six men were found Thursday. They were also in civilian clothes and had civilian identification cards. It was unclear if the bodies had any relation to a group of about 20 Iraqi soldiers that have been missing from the Qaim area since late Tuesday. Qaim, an insurgent hotbed 322 kilometers (200 miles) west of Baghdad, has been the scene of numerous US military and Iraqi army operations. US Marines carried out two major operation in the area last month. A total of 11 Marines were killed in the campaigns.

Al Qaeda in Iraq, the terror group led by Jordanian-born Abu-Musab al-Zarqawi, claimed in an Internet posting that it had abducted a total of 36 Iraqi soldiers in western Iraq on Wednesday. The posting carried on a web site known to carry militant statement could not be independently verified. [More>>khaleejtimes.com]
---
6.10.05 Terror probe moves to San Francisco Bay Peninsula
SAN FRANCISCO, June 10 – Federal officials investigating possible terrorism links in a Lodi case involving five men are questioning members of a Northern California Islamic group, apparently with an eye to linking it with possible extremist activities. FBI agents interviewed an official of the Farooqia Islamic Center in his East Palo Alto home this week and suggested that other leaders of the group had made inflammatory speeches about terrorism to audiences at the center, the official said Thursday. In Lodi, agents went door to door conducting more interviews of Pakistani Americans in the investigation.

Federal authorities already have detained Muhammad Adil Khan, 47, of the Farooqia Islamic Center in Lodi, and his 19-year-old son, Muhammad Hassan Adil, as well as Shabbir Ahmed, 38, on alleged violations of immigration law. The FBI also arrested Hamid Hayat, 22, and his father, Umer Hayat, 47, on charges of lying to FBI agents while being questioned. The FBI said in a court affidavit that Hamid Hayat admitted to having attended a "jihadist training camp in Pakistan for approximately six months" more than a year ago. Hamid told the FBI "that he and others at the camp were being trained on how to kill Americans," the affidavit said. [More>>sfgate.com]
---
6.10.05 Pakistan detains two over Islamabad suicide bombing
ISLAMABAD (Reuters) June 10 – Pakistani police have detained two men in connection with a suicide attack on a Muslim festival in Islamabad last month that killed 19 people, mostly minority Shi¹ites, the interior minister said on Friday. The minister, Aftab Ahmed Khan Sherpao, said investigators had found ³proof² about who carried out the attack in the capital, but declined to give more details. ³We are interrogating these men and we hope we will resolve this case in a few days,² he told Reuters.Investigators suspect that Lashkar-e-Jhangvi, an underground Sunni Muslim militant group with ties with Afghanistan¹s former Taleban regime and Al Qaeda, was behind the Islamabad bombing as well as another attack, three days later, on a Shi¹ite mosque in the southern city of Karachi, that killed five people.

Lashkar-e-Jhangvi, one of Pakistan¹s most feared militant groups, has been blamed by the police for much of the sectarian bloodletting in Pakistan in the past decade and a half. On Thursday, officials said security forces had arrested two sisters from the women¹s wing of the group for plotting to carry out more suicide attacks on Shi¹ites.

More than 100 people have been killed in tit-for-tat attacks by Sunni and Shi¹ite militants in the past year alone. Lashkar-e-Jhangvi has also been implicated in attacks on Western targets in Karachi, including the murder of US reporter Daniel Pearl in 2002, and in two attempts to kill President Pervez Musharraf. [khaleejtimes.com]
---
6.10.05 Protesting the Separation Fence, Palistinians are trying Ghandi's way of nonviolence
June 10 – Meron Rapaport reports that when Israeli's show up in protests against the Israeli Separation Fence, there are fewer rubber bullets shot at the crowd. Nevertheless, the fence is taking its toll, as did the Berlin Wall of eons past. Rapaport writes:
..."How can you talk about nonviolent demonstrations if a soldier loses an eye in a demonstration like this?" Yarom Tamim, the deputy battalion commander of Schwarzman's unit, asked on a Tel Aviv radio program at the beginning of the week.

The truth is more complex. It is difficult to obtain precise data about the number of Palestinians who are hurt in demonstrations against the fence, because many of the wounded are treated on the spot and not taken to a hospital. However, in Bilin alone, with a population of a little more than 1,500, about 150 residents have been wounded in demonstrations during the past three months. According to partial figures from the human rights organization B'Tselem, seven Palestinians were killed in events along the fence in the Jerusalem and Modi'in areas last year. Another 180 Palestinians sustained wounds of varying degrees of severity, including at least 16 who were hit by live bullets.

Just a month ago, at the beginning of May, IDF soldiers killed two youths in Beit Lakia more than a kilometer away from the route of the fence. Attorney Shlomo Laker has the names of at least 30 Palestinians who sustained wounds in recent months severe enough to enable claims for damages to be filed. It is difficult to escape the impression that the IDF is using an iron fist in these demonstrations. [More>>haaretz.com]
The Separation Fence was raised to stop Palestinian bombers. As one can see in the link on the Separation Fence, the fence itself creates a barrier to any reconciliation between Israelis and Palestinians. The fence separates Palestinians from their fields and traditional lands. The fence, like the Berlin Wall, produces casualties.
Mel Copeland
---
6.09.05 One view, multiple worlds
June 9 – Three very different worlds crowd the frame in this unique view from the Cassini spacecraft, which although partly overexposed, provides a splendid look at several major targets of interest for the mission.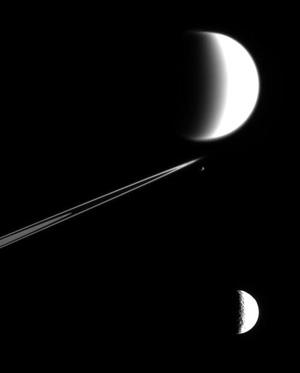 Mosaic of two images taken in visible light with the Cassini spacecraft narrow-angle camera on Feb. 19, 2005. (NASA/JPL/Space Science Institute)
Titan (at the top) has a thick, hazy atmosphere. Cassini has observed it to be a world where complex geological and atmospheric processes are occurring. At 5,150 kilometers (3,200 miles) across, it is Saturn's largest moon, and is the second largest moon in the solar system, after Jupiter's moon Ganymede (5,262 kilometers, or 3,270 miles across).
Tethys (at the bottom) has been battered by impacts over the eons, and some of its many craters are visible in this image. Tethys (1,071 kilometers, or 665 miles across) is one of Saturn's major icy moons, having a density close to that of water. This moon shows evidence that icy tectonic processes have occurred on its frozen surface, such as the immense canyon system called Ithaca Chasma.
Epimetheus (center) is one of Saturn's "ring moons": small, porous bodies that orbit within or just beyond the rings. Cassini acquired the closest-ever view of cratered Epimetheus (116 kilometers, or 72 miles across) in March, 2005.
Also near center are Saturn's F ring and the outer edge of the A ring to the left. In addition to the F ring's usually bright core, several other ringlets are resolved here, giving the ring a soft, wispy character that shows contrast with the more sharply defined A ring.
Appearances can be deceiving in two dimensional images like this one where it is difficult to tell which objects are in the foreground and which are farther away. In this scene, Tethys is the closest object to Cassini, at 1.2 million kilometers (700,000 miles) away. Epimetheus is on the near side of the rings and is 1.4 million kilometers (900,000 miles) distant. The giant moon Titan is 2.7 million kilometers (1.7 million miles) away, more than twice as far from Cassini as Tethys. [More>>
saturn.jpl.nasa.gov
; See also
saturn.jpl.nasa.gov
article, June 8, 2005, "Scientists discover possible Titan volcano."
---
6.09.05 North Korea has a stockpile of nuclear bombs
June 9 – North Korea has a stockpile of nuclear bombs and is building more such weapons, the country's vice foreign minister Kim Gye Gwan said in a US television interview. "I should say that we have enough nuclear bombs to defend against a US attack," the North Korean official told ABC News when asked how many nuclear bombs it possessed. Asked whether Pyongyang was building more nuclear bombs, Kim said: "Yes."

His open admission about North Korea's nuclear weapon ambitions further clouds efforts to bring a diplomatic resolution to the nuclear crisis gripping the Korean peninsula. Washington believes North Korea possesses one or two crude bombs and may have reprocessed enough plutonium for half-a-dozen more, from spent fuel rods at its Yongbyon nuclear complex. North Korea also has an arsenal of missiles. It fired a long-range missile over Japan and into the Pacific Ocean in 1998. Kim, North Korea's chief negotiator in the six-party talks designed to wean the hard line communist state from its nuclear weapons program, would neither confirm or deny that North Korea had a missile capable of hitting the mainland United States. He was also noncommittal when asked about North Korea's ability to put a nuclear warhead on its long-range missiles. [More>>chinadaily.com.cn; See also koreaherald.co.kr article.]
---
6.09.05 China to join G8+4 finace minister meeting
June 9 (Xinhua) – Chinese Finance Minister Jin Renqing will fly to London for a meeting between finance ministers of the Group Eight industrialized nations and of China, India, Brazil and South Africa, scheduled for next week. According to a one-sentence statement released by the Ministry of Finance on Wednesday, Jin will attend the meeting at the invitation of his British counterpart Gordon Brown. The ministers are reportedly scheduled to discuss global economy and development.

Britain is currently holding the rotating presidency of the G8 and will play host to a summit of the G8 next month. China is serving as the president of both the meeting of Group 20 finance ministers and central bank governors, and the meeting of Asia and Europe finance ministers. [More>>chinadaily.com.cn]
---
6.09.05 Maoists abduct 1,000 students
KATHMANDU (PTI) June 9 – Armed groups of Maoists have abducted some 1,000 students and teachers from different schools in western Nepal for forceful indoctrination on rebel ideology, state-run media reported today. The rebels abducted students mainly from class 9 and 10 and two teachers from each school in Jajarkot district, The Rising Nepal daily said. Maoists forcefully took away 150 students and two teachers from Shankar secondary school at Bahun Thana of Jajarkot district yesterday, the daily said quoting a teacher of the school. They have taken other 850 students and teachers from 11 schools of the district towards unknown destination. The students and teachers have been taken by the Maoists to indoctrinate them into the Maoist ideology and to forcefully make them attend their programme, the daily said. [More>>expressindia.com]
---
6.09.05 Twenty-two Iraqi soldiers kidnapped near Syria
BAGHDAD (AFP) June 9 – Twenty-two Iraqi soldiers were kidnapped near the Syrian border, an Iraqi military source said, as four US soldiers were killed in less than 24 hours in attacks north of the capital. With no let-up in strikes against Iraq¹s fledgling security forces, senior Shiite leader Abdul Aziz al-Hakim demanded Wednesday that the armed wing of his party play a greater role in hunting down insurgents, who have also singled out the country¹s majority Shiite community for attacks.

The soldiers, all Shiites, were nabbed by armed men in Rawa, about 250 kilometres (160 miles) west of Baghdad, after they had left their base, said the military source, adding that nothing had been heard from them since. The defence and interior ministries could not confirm the report. Rawa is in the predominantly Sunni Arab Al-Anbar province that has seen several incidents of kidnapping and mass killing of Iraqi soldiers in the past. [More>>khaleejtimes.com]
---
6.09.05 Bush hails Turkey as democratic example
June 9 – President George W. Bush held up Turkey's democracy as an important example for other Mideast nations during talks in Washington with Prime Minister Recep Tayyep Erdogan. "We're happy that we were able to confirm that our strategic relationship will move and take place in the future as it has been done in the past," Erdogan said. Bush thanked Erdogan for Turkey's support in building democracy in Afghanistan and working with the Palestinians to build an independent state.

"Turkey and the United States have an important strategic relationship," Bush said. "I told the prime minister how grateful I was that he is a strong supporter of the Broader Middle Eastern Initiative." Bush said the visit was extensive and that they focused on "foreign policy and shared interests between our countries."

"Turkey's democracy is an important example for the people in the broader Middle East, and I want to thank you for your leadership," Bush said to Erdogan in front of the cameras. Erdogan said they discussed plans to reunify Cyprus, which has been divided since 1974. [More>>dailystar.com.lb; See turkishpress.com article, "Bush, Erdogan aim to get US-Turklsh relations back on track" : US President George W. Bush and Turkish Prime Minister Recep Tayyip Erdogan highlighted their desire to overcome differences over the Iraq war that created tensions, as they met here..."

---