News Headlines & Trends
---
08.31.10 Petraeus: Afghan concern about Pakistan is legitimate
August 31 - President Hamid Karzai's recent complaints that international forces should focus on militant leaders hiding in neighboring Pakistan instead of Afghan villages doesn't mean the government no longer supports the US war strategy, the top NATO commander said today. General David Petraeus said he shared Karzai's concern about threats across the border in Pakistan but said the Pakistanis deserve credit for waging what he described as an "impressive counterinsurgency campaign" during the past 18 months..."Given the very clear linkage between attacks on Afghan soil by individuals who have come from Pakistan and are commanded and controlled from Pakistan, I think President Karzai and Dr. Spanta have very legitimate concerns," Petraeus said. Still, he added, the Pakistani government has continued to "squeeze the locations in which these individuals have safe sanctuary, recognizing that more work needs to be done." [Full story>>indianexpress.com; See related story,

cnn.com, August 31, "5 Americans die in bloody day in Afghanistan" : KABUL - Insurgents and security forces in Afghanistan have cranked up their fight in recent days, with militants ambushing coalition and government targets and an air assault pounding enemy fighters, coalition authorities said on Tuesday. Five American service members were killed Tuesday in Afghanistan -- four of them in a roadside bomb attack in eastern Afghanistan, the International Security Assistance Force said...
---
08.31.10 Palestinian state must be 'demilitarized': Israel
JERUSALEM (AFP) August 31 - As Israel's prime minister flew to Washington for new Middle East peace talks, President Shimon Peres insisted on Tuesday that any future Palestinian state must be demilitarized. Prime Minister Benjamin Netanyahu headed to the United States "determined to represent his people to implement a widely agreed solution here, namely to have a two-state solution, a Palestinian demilitarized, united, democratic country on the side of Israel," Peres said. "All other solutions are dangerous," he told participants at a World Jewish Congress gathering in Jerusalem. Israel has also insisted it would retain control of the borders of a future Palestinian state, while the Palestinians are demanding full sovereignty. [More>>khaleejtimes.com; See related story,

foxnews.com, August 31, "Palestinian kills 4 Israelis on eve of peace talks" : JERUSALEM - A Palestinian gunman killed four Israelis — including a pregnant woman — in an attack Tuesday in the West Bank, the Israeli military said. The shooting comes just a day ahead of a White House summit relaunching Mideast peace talks...
---
08.31.10 Dutch detain two Yemeni passengers on terror suspicion
(Reuters) August 31 - Two Yemeni men arrested on Monday at Amsterdam's Schiphol Airport on a flight from the US are being held on suspicion of conspiracy to commit acts of terror, the Dutch prosecution service said on Tuesday. Dutch authorities detained two Yemeni men at Amsterdam's Schiphol airport on suspicion of terrorist conspiracy after a tip-off from the United States, prosecutors said on Tuesday. The pair, en route from Chicago to Yemen, were detained on Monday and a decision on bringing charges would be made in the next few days, the Dutch prosecution service said. "The men are being held in custody on suspicion of conspiracy to commit a terrorist criminal act," the prosecution service said in a statement.

The Yemenis arrived in Amsterdam from Chicago O'Hare on United flight 908 early on Monday and were detained on the plane after the US Department of Homeland Security alerted Dutch authorities to suspicious items found in their luggage in the United States. These included mobile phones found taped together, and one phone taped to a plastic bottle. The phones were seized in the United States. ABC News cited officials as saying three large knives were found in the men's luggage and that one of them was carrying $7,000 in cash. "As far as we know security has not been jeopardized," a spokeswoman with the Dutch counter-terrorism agency NCTb said. She said Dutch authorities were in contact with the United States and that the matter was being taken "very seriously." A lot of details still needed to be clarified, she said. [>france24.com]
---
08.31.10 Eight die as bar is 'petrol-bombed' in Cancun, Mexico
August 31 - At least eight people died when petrol bombs were reportedly thrown into a bar in the Mexican resort of Cancun. The bar was set on fire early on Tuesday by unidentified assailants, prosecutor Francisco Alor Quesada told local media. Among the dead were several women working in the bar and two customers, he was quoted as saying in the Diario de Yucatan. The bar had reportedly been subject to several attempts at extortion. Six of those who died were killed on site, while two others died from their injuries after being taken to hospital, the prosecutor said. The suspected attackers arrived at the bar in a black car and a truck, he added. Cancun is a popular destination for US tourists. It was not immediately clear if the attack in Cancun was connected to the drug-related violence that has increasingly plagued Mexico in recent years. An investigation is under way. [>bbc.co.uk]
---
08.31.10 Mexico captures reported drug lord 'the Barbie'
MEXICO CITY (AP) August 31 - A Texas-born fugitive known as "the Barbie" grinned Tuesday as police paraded him in handcuffs and described his alleged life of luxury and savagery — cut short when he became the third suspected drug lord to fall in Mexico in the past 10 months in a coup for President Felipe Calderon's war on cartels. Edgar Valdez Villarreal, is a former Texas high school football player who allegedly jumped into the world of Mexican drug cartels and gradually rose through the ranks. He who got his improbable nickname for his green eyes and fair complexion, is wanted in the US for allegedly smuggling tons of cocaine. In Mexico, he is blamed for a brutal turf war that has included bodies hung from bridges, decapitations and shootouts as he and a rival fought for control of the divided Beltran Leyva cartel. [More>>abcnews.go.com]
---
08.30.10 Vodafone joins queue of firms to leave China
August 30 - The British mobile group holds a fifth of the free float of China Mobile, the world's biggest operator with 554m customers. It is weighing options for an open sale of shares on the Hong Kong stockmarket, or through a direct deal with a strategic player. Few company chiefs speak out against China for fear of hurting their prospects, but their numbers have been swelling recently. Peter Loescher from Siemens and Jürgen Hambrecht from Germany's chemical group BASF told premier Wen Jiabao last month that the playing field in China is increasingly tilted against foreigners. Jeff Immelt, the head of GE, vented his frustrations in Rome, complaining that the company's efforts to gain a foothold in China were failing to pay off. "It's getting harder for foreign companies to do business there. I am not sure that in the end they want any of us to win, or to be successful," he said. GE is moving production of its hybrid water heaters to Kentucky, saying rising Chinese labour costs and shipping costs make it more competitive to produce locally for the US market. [More>>telegraph.co.uk]
---
08.30.10 US imam says Islamic center dispute politicised
DUBAI (Reuters) August 30 - US election-year politics are interfering with the plan to build an Islamic centre near the site of the Sept. 11 attacks, the Muslim cleric leading the project said in comments published on Monday. Kuwait-born Imam Feisal Abdul Rauf has been tight-lipped on the planned cultural center as he tours Gulf Arab countries to speak about religious radicalism, but said he felt the uproar was linked to the US congressional elections in November. "There is no doubt that the election season has had a major impact upon the nature of the discourse," Abdul Rauf said in an interview with Abu Dhabi's The National newspaper. The imam said the issue was "not between Muslims and non-Muslims, but between moderates of all the faith traditions and the radicals of all the faith traditions." [More>>thestar.com.my]
---
08.30.10 Ahmadiyah must be disbanded: Minister
JAKARTA, August 30 - The government must dissolve Ahmadiyah because its teachings are against a joint ministerial decree, Religious Affairs Minister Suryadharma Ali said. "Ahmadiyah must be dispersed because its existence may grow more troublesome," Suryadharma said Tuesday after attending a meeting at the House of Representatives, as quoted by tempointeraktif.com. The decree clearly states that Ahmadiyah must not be widely spread because it deviates from Islamic teaching — it does not even believe the Koran is the last Holy Book, among other things, he said. "The sect does not believe that Muhammad SAW was the last Prophet, which is against Islam. If such understanding is considered religious freedom, then I call it excessive freedom," Suryadharma said. The government will make preparations to disband Ahmadiyah after Idul Fitri, he said. [>thejakartapost.com; See background stories,

Maravot News 5.03.08 article 4.28.08 Indonesia protesters torch mosque of 'heretical' Muslim sect and
Maravot News 7.08.08 article with links 7.07.08 Indonesia facing fresh religious unrest ;

---
Editorial note: "Basic misunderstandings": Maravot News "The Allah Controversy" addresses the conflicts in Islam: from basic misunderstandings, i.e., Malaysia's decrees that Catholic documents cannot use the term "Allah" for God to the Koran's claim to confirm the Jewish Scriptures and Gospel of Jesus, particularly that Jesus is the Messiah (Gr. Christ), where such claims would contradict the Koran's advocacy of violence against unbelievers. The conflict with the Ahmadiyah sect really revolves around the Koran's confirmation of the Last Day, aka Judgment Day or Day of Resurrection, mentioned in the Bible. The Koran claims its primary mission of warning of the Last Day, and correspondingly suggests that Muhammed is the last Prophet and that the Koran is the last Holy Book. This restriction of the Koran is in conflict with the precept in the Bible that God is infinite, capable of all things, ineffable and eternal.

The Amadiyah sect is not out of line with the Bible in the sense that they acknowledge that God is capable of all things. God can change his mind, as in God's repentance in not destroying Nineveh, though he sent Jonah to the city to warn it of its impending destruction due to its wickedness. Jonah was angry at the Lord (Jonah 3.2- 4.11). Nineveh heeded the warning, so God did not destroy Nineveh as Jonah prophesied. An earlier precedent of this type is witnessed in the story of Noah and the flood (The warning is in Gen. 6.13; See the Rainbow Covenant, Gen. 9.11- 9.17, where God afterwards repented and stated that he would not destroy the world again with water.)

The Biblical warning of the Last Day / Day of Judgment / Great and Dreadful Day (See Malachi chapters 3,4) is in the same context. Muhammed's argument in the Koran, in justifying his mission as the apostle to the Arabs, is that God can send a messenger (prophet, or apostle) to any people he wishes. It thus becomes a presumption upon God (aka Allah) to impose a limitation, preventing him from sending more books or messengers.

One of the most controversial of messengers listed by the prophets involves the Messiah (Gr. Christ). There are strong indications in the Gospels that the missions of Jesus and John the Baptist were confusing to the followers of Jesus and in particular King Herod. Herod thought Jesus was John the Baptist raised up, though Herod had beheaded the Baptist only a few years earlier. (See Matthew 14.1 ff.) Also the disciples thought that Jesus was Elijah; but St. Peter acknowledges that he believes that Jesus is the Messiah (Gr. Christ; Matthew 16.16). Jesus, being asked the question regarding Elijah (Elias) (meaning also that the Last Day was at hand) said (Matthew 11.13.14) "For all the prophets and the law prophesied until John. And if ye will receive it, this is Elias, which was for to come."

The comment acknowledged that the day of Jesus was the Last Day, as viewed by the disciples. Luke 1.13-1.17 sets the vision of the disciples, where the angel Gabriel (the lead angel involved in reciting the Koran to Muhammed) tells Zacharias that his wife will bear a son, John — Jesus's cousin — who "...shall go before him [the Lord] in the spirit and power of Elias, to turn the hearts of the fathers to the children, and the disobedient to the wisdom of the just, to make ready a people prepared for the Lord their God." The Dead Sea Scrolls carry testimonies also that confirm that the Essenes also believed that the Last Day was at hand, expecting two Messiahs, a King Messiah and a Priest Messiah, in their time. (~70 A.D.)

Mel Copeland
---
08.30.10 Seven US troops killed in south Afghan bombings
KABUL, August 30 - NATO casualties have reached record levels this year. Seven US troops were killed in two Taliban-style bomb attacks Monday in southern Afghanistan, the area hardest hit by the insurgency nearing the end of its ninth and most deadly year, NATO said. Violence in Afghanistan is at its worst since the Taliban were overthrown by US-backed forces in late 2001, with soaring casualty rates among foreign and Afghan troops as well as among civilians who are caught up in the conflict. Foreign military casualties have reached record levels this year, with more than 470 troops killed so far compared with 521 for all of 2009, according to website www.iCasualties.org and figures compiled by Reuters. [More>>alarabiya.net]
---
08.30.10 Putin inaugurates Russian section of pipeline to China
(AFP) August 30 - Russian Prime Minister Vladimir Putin announced on Sunday the opening of the Russian section of a pipeline that will carry oil from Siberia to China in a move designed to diversify Russian oil exports and minimise reliance on European markets. Prime Minister Vladimir Putin on Sunday opened the Russian section of a long-awaited oil pipeline that will carry Russian crude to China in a bid to diversify its oil exports away from Europe. "The Russian part of the project is completed," Putin said at an opening ceremony in Skovorodino in the Far Eastern Amur region in comments published on his official web site. The branch pipeline will ultimately transport crude oil from Siberia to refineries in the northeastern Chinese city of Daqing. "For us this is an important project because we are beginning to diversify the supply of our energy resources," Putin said at the ceremony, attended by the head of China's National Energy Administration, Zhang Guobao.

"Up to now, the main supplies have been delivered to our European partners. And still today our European partners get around 120-130 million tones of Russian oil." The pipeline will initially carry 30 million tones of oil a year to the energy-hungry Asia-Pacific region and will later build up to 50 million tones, Putin said. "This is already noticeable competition with the European route," Putin said. The Chinese side still needs to build 930 kilometers on its territory to link up the pipeline, he said, but added that Russia is "absolutely sure that Russian oil will run to China this year." Last year, the Russian oil pipeline monopoly Transneft completed the construction of the first 2,694-kilometre (1,600-mile) section of the oil pipeline, which originates in Taishet in eastern Siberia. Transneft in October 2008 signed an agreement with the Chinese oil group CNPC on the construction of a 67-kilometre branch line to China. [>france 24.com]
---
08.30.10 US to impose new North Korea sanctions - official
August 30 - US President Barack Obama will sign an executive order on Monday mandating new financial sanctions on North Korea, senior administration officials say. The sanctions will hit three North Korea state owned entities and one individual, targeting the trade in arms, luxury goods and narcotics. The new sanctions come after the sinking of a South Korean warship in March, in which 46 sailors died. North Korea has denied responsibility for the sinking. [>bbc.co.uk; See more details,

washingtonpost.com, August 30, "Obama expands sanctions against North Korea" : WASHINGTON - The Obama administration on Monday expanded sanctions against North Korea by freezing the assets of individuals, companies and organizations allegedly linked to support for Pyongyang's nuclear program. Targeted entities included one variously known as Office 39 or Bureau 39, believed to direct a range of illicit activities in support of the North Korean nuclear program. In a report earlier this year, the US Army War College's Strategic Studies Institute said Office 39 is involved in the manufacture and distribution of illegal drugs, the counterfeiting of US currency, and the manufacture and distribution of counterfeit cigarettes. "The crimes organized by Office 39 are committed beyond the borders of North Korea by the regime itself, not solely for the personal enrichment of the leadership, but to prop up its armed forces and to fund its military programs," the institute's report said...
---
08.30.10 Russian skinheads attack concertgoers
MOSCOW (AP) August 30 - Scores of bare-chested skinheads have attacked a crowd of about 3000 people at a rock concert in central Russia, beating them with clubs, media reports say. Dozens of people were left bloodied and dazed in today's attack, television and news agencies reported, and state news channel Rossiya-24 said a 14-year-old girl was killed at the concert in Miass, 1400km east of Moscow.
...Many of Russia's top rock acts were attending the "Tornado" rock festival, the agency said.

Attacks on dark-skinned foreigners in Moscow and St. Petersburg by Russia's neo-Nazi skinhead movement have been relatively common in recent years. The January 2009 murder of lawyer Stanislav Markelov and journalist Anastasiya Baburova prompted a Kremlin crackdown on ultra-nationalists, who were blamed for the killings. In April, a Moscow court banned the far-right Slavic Union, whose Russian acronym SS intentionally mimicked that used by the Nazis' infamous paramilitary. The group was declared extremist and shut down...

Anti-racist groups regularly spearhead attacks on ultra-nationalists, sparking revenge assaults in an intensifying clash of ideologies. Neo-Nazi and other ultra-nationalist groups mushroomed in Russia after the 1991 Soviet collapse. The influx of immigrant workers and two wars with Chechen separatists triggered xenophobia and a surge in hate crimes. Racially motivated attacks, often targeting people from Caucasus and Central Asia, peaked in 2008, when 110 were killed and 487 wounded, an independent watchdog, Sova, said. The Moscow Bureau for Human Rights estimates that about 70,000 neo-Nazis are active in Russia — compared with a just few thousand in the early 1990s. [Full story>>news.com.au]
---
08.30.10 US slams Israeli rabbi remarks on Palestinians
WASHINGTON, August 30 - Abbas, Palestinians should vanish from world: Israeli rabbi. The United States early Monday condemned as "deeply offensive" remarks by an influential Israeli rabbi who said he hoped Palestinian leader Mahmoud Abbas would "vanish from our world." "We regret and condemn the inflammatory statements by Rabbi Ovadia Youssef," State Department spokesman Philip Crowley said in a statement. "These remarks are not only deeply offensive, but incitement such as this hurts the cause of peace." [More>>alarabiya.net]
---
08.30.10 Mortar hits Somalia presidential palace, kills 4 Ugandans
August 30 - A mortar fired by al-Qaeda-linked insurgents slammed into Somalia's presidential palace today, killing four Ugandan peacekeepers as clashes between militants and pro-government forces entered a second week. The mortar, which also wounded eight people, did not land near the president's house, said a spokesman for the African Union, Maj. Barigye Bahoku, who confirmed the deaths of the four Ugandans. "The presidential palace is a huge compound and the mortar landed near our soldiers' base," he said. "It did not affect any other place." The strike against the palace comes a week after al-Shabab militants stormed a hotel near the presidential palace and killed 32 people, including four parliamentarians.

Mogadishu has seen eight straight days of battles, fighting that started after al-Shabab's spokesman threatened a new "massive" war against Somalia and African Union troops. Al-Shabab, which controls much of central and southern Somalia, is trying to overthrow the weak, UN-backed Somali government and install a harsh brand of Islam across the country. Today's fighting also killed six civilians, including three women who died when a mortar crashed into the women's section of the busy Bakara market, said Ali Muse, the head of the city's ambulance service. More than 70 civilians have been killed and at least 230 others wounded since the latest fighting began Aug. 23, said Muse. [>indianexpress.com]
---
08.29.10 Virus-built wearable batteries could power military
August 29 -Virus-powered batteries could be sprayed on to uniforms. Batteries, built by viruses, could someday be sprayed onto military uniforms as wearable power sources. Teams of researchers, one from MIT, one from the University of Maryland, have used two different viruses to create the cathode and anode for a lithium ion battery. If the Maryland research pans out, the parts for lithium ion batteries could be grown in and harvested from tobacco plants. The MIT research, meanwhile, could produce lithium ion batteries that could be woven into clothing to power a wide range of electronic devices, from unmanned aerial vehicles to cell phones.

"Typical soldiers have to carry several pounds of batteries. But if you could turn their clothing into a battery pack, they could drop a lot of weight," said Mark Allen, a postdoc in Angela Belcher's lab at MIT. "The same could be true for frequent business travelers, the road warriors." As anyone with a bad case of the flu knows, viruses are amazingly efficient at breaking into cells, hijacking their machinery, and then using that machinery to make new copies of themselves. [More>>abcnews.go.com; See also,

mit.edu, April 2, 2009, "New virus-built battery could power cars, electronic devices" : For the first time, MIT researchers have shown they can genetically engineer viruses to build both the positively and negatively charged ends of a lithium-ion battery. The new virus-produced batteries have the same energy capacity and power performance as state-of-the-art rechargeable batteries being considered to power plug-in hybrid cars, and they could also be used to power a range of personal electronic devices, said Angela Belcher, the MIT materials scientist who led the research team. The new batteries, described in the April 2 online edition of Science, could be manufactured with a cheap and environmentally benign process: The synthesis takes place at and below room temperature and requires no harmful organic solvents, and the materials that go into the battery are non-toxic...
---
08.29.10 Netanyahu spells out confitions for peace deal
(AFP) August 29 - Days ahead of a new round of peace talks, Israeli Prime Minister Benjamin Netanyahu laid out conditions he viewed as key to any agreement with the Palestinians, starting with the recognition of Israel as "the national state of the Jewish people." Just ahead of renewed talks with the Palestinians, Israeli Prime Minister Benjamin Netanyahu on Sunday restated what he said were essential components of a peace agreement, chief among them recognition of Israel as the Jewish homeland. Netanyahu is to meet Palestinian president Mahmud Abbas in Washington on Thursday for the first direct negotiations since the Palestinians broke off talks in December 2008, when Israel staged a bloody offensive into the Gaza Strip.

Speaking to reporters at the start of the weekly cabinet meeting, Netanyahu said an agreement would have to be based "first of all on recognition of Israel as the national state of the Jewish people, an end to the conflict and an end to further demands on Israel." The Palestinians object to endorsing Israel as essentially Jewish, as that would imply they were dropping their claim that refugees who fled or were expelled when Israel was created in 1948, and their descendants, should be able to reclaim former homes now within Israel. Netanyahu said he would also be seeking "real security arrangements on the ground" that would prevent a recurrence in the West Bank of events that took place in the Gaza Strip after Israel pulled out in 2005 and in south Lebanon after the Israeli withdrawal in 2000. [More>>france24.com]
---
08.29.10 Six US soldiers killed in Afghanistan
August 29 - Six American soldiers were killed in a wave of Taliban attacks and bomb explosions this weekend in some of Afghanistan's most volatile regions, NATO said today. Three soldiers were killed fighting insurgents in two separate battles in eastern parts of the country yesterday the alliance's International Security Assistance Force (ISAF) said in a statement. Two other troopers lost their lives in an improvised bomb attack in the country's south on the same day, the force said. And a sixth American died in another battle in the south today, it said. The statements did not reveal the nationalities of the casualties but a military spokesman said that "all were Americans." [More>>news.com.au]
---
08.29.10 Spanish police arrest man for jihad recruitment
MADRID (AP) August 29 - Spanish police arrested a Moroccan man in the southeast of the country on suspicion of having links to Islamic terror groups and of recruiting jihad fighters, officials said Sunday. The Interior Ministry said in a statement that 26-year-old Faical Errai was arrested Friday in the small town of Poble Nou de Benitachell in the coastal province of Alicante. Town mayor Maria Josefa Ronda said Errai had been a registered local resident for seven years and had "integrated very well into the local community." Ronda said Errai had been a Civil Protection volunteer and "whenever a local service had to be done he was always favorably disposed to do it." The ministry said Errai is suspected of being responsible for a pro-jihad website, of recruiting fighters for insurgency in Afghanistan, Chechnya and Pakistan, and of raising money. It said the arrest followed a high-tech investigation and collaboration with police forces in the United States, Belgium, France, Jordan and Morocco. Police searched three properties and seized computer and electronic information storage equipment, the ministry said. [>thejakartapost.com]
---
08.29.10 Norway 'bomb plot' underscores al-Qaeda pitfalls
OSLO, Norway (AP) August 29 - Police find suspected bomb lab in Oslo flat by intercepting e-mails; says plot "doomed to fail." When police arrested a suspected al-Qaeda cell in Norway last month they turned up the makings of a bomb lab tucked away in a nondescript Oslo apartment building. An Associated Press investigation shows that authorities learned early on about the alleged cell by intercepting e-mails from an al-Qaeda operative in Pakistan and — thanks to those early warnings — were able to secretly replace a key bomb-making ingredient with a harmless liquid when one of the suspects ordered it at an Oslo pharmacy.

Officials say the suspected plot against this quiet Nordic country was one of three planned attacks on the West hatched in the rugged mountains of northwest Pakistan by some of al-Qaeda's most senior leaders. The other plots targeted the bustling New York subway and a shopping mall in Manchester, England. Interviews with US and European intelligence officials and documents reviewed by the AP paint the picture of a loosely organized cell that was doomed to fail long before Norwegian police raided its basement lab in suburban Oslo in July. The officials spoke on the condition of anonymity because they were not authorized to discuss the cases publicly.

The Norwegian plot's undoing, and that of its sibling plots in the US and Britain, casts light on the potential pitfalls of al-Qaeda's changing tactics in the decade since the massive, highly organized Sept. 11 attacks. In recent years, al-Qaeda has grown increasingly decentralized and nimble, relying on amateurs to recruit local cells and carry out smaller-level attacks without extensive planning and hands-on training. While such plots are harder to detect, they are also harder to manage — and the slack remote control they often require leaves greater room for operational error and sloppy tradecraft. All three plots were thwarted after suspected operatives exchanged e-mails — sometimes poorly coded ones — in and out of Pakistan. [More>>cbsnews.com]
---
08.29.10 19 dead in shootout in Russia's Caucasus
ROSTOV-ON-DON, Russia (AP) August 29 - A shootout between the Chechen president's personal protection detail and suspected separatist insurgents has left 19 people dead, including five civilians, officials and media reports said. At least 12 suspected insurgents and two security officers were killed when the rebels entered Tsentoroi, Ramzan Kadyrov's home village, early Sunday, his spokesman Alvi Karimov told The Associated Press. TV reports said five civilians were killed in the crossfire. Kadyrov, who is thought to regularly supervise security operations in the field, was in the village at the time and directed the counter-offensive, Karimov said. "We let them into the village so they couldn't escape," Kadyrov told Channel One television, which showed him examining the bodies of the suspected militants strewn across a road. "We forced them into a place where they could be eliminated," he said. [More>>khaleejtimes.com]
---
08.29.10 Mardan police arrest 17 wanted terrorists
PESHAWAR, August 29 - Mardan police arrested 17 wanted terrorists in raids along with explosives, DIG Mardan Akhtar Ali Shah told Geo News Sunday. The DIG said that police commandoes in a successful action held 17 terrorists wanted in various acts of terrorism including attacks with rockets on Punjab Regiment. He said 65 kilograms of explosive material, 10 detonators, 6 dynamites, 5 rocket launcher shells and 15 hand grenades were recovered from the arrested terrorists. [>thenews.com.pk]
---
08.29.10 Kidnapped Afghan vote campaigners found dead
KABUL, Afghanistan, August 29 - More violence in Afghanistan as gunmen kill 3 US troops. Armed men have killed five campaigners working for a female candidate in next month's parliamentary election in Afghanistan, an official said on Sunday, the latest attack amid growing security fears. The election is being seen as a key test of stability in Afghanistan, where violence is at its worst since the Taliban were ousted in 2001, before US President Barack Obama conducts a review of his Afghan war strategy in December. Poor security, particularly in Taliban strongholds in the south and east, already looms as the biggest challenge to the ballot, along with corruption and fraud. Four candidates have already been killed. On Saturday, unidentified gunmen killed candidate Haji Abdul Manan as he walked from his home to a mosque in western Herat province. The Taliban later claimed the attack. Last Thursday, up to 10 campaign workers for outspoken female candidate Fawzia Gilani went missing in Herat's Adraskan district. [More>>alarabiya.net]
---
08.29.10 Palestinians should perish from this world: Ovadia Yosef
JERUSALEM, August 29 - Just ahead of renewed peace talks between Israel and the Palestine, an influential Israeli spiritual leader has denounced the move, dubbing the Palestinians and their leader "an evil and bitter enemies of Israel" who should "perish from this world." Israeli Prime Minister Benjamin Netanyahu called the upcoming launch of peace talks an opportunity to secure endurable peace, lasting generations. But, Ovadia Yosef, spiritual head of the religious Shas party in the government, denounced the talks, scheduled to kickstart on September 2, and said, "Abu Mazen (nom de guerre for Abbas) and all these evil people should perish from this world, God should strike them with a plague, them and these Palestinians," Rabbi Ovadia was quoted as saying during his weekly sermon at a synagogue near his Jerusalem home.

The Shas party mentor also called the Palestinians "evil, bitter enemies of Israel" during his speech, which is not the Rabbi's first sermon that has sparked controversy. Meanwhile, Netanyahu today said he is optimistic that a that a deal will be reached during the talks. "I am convinced that if the Palestinian leadership takes the negotiations as seriously as we do, we can reach a stable agreement, not just a deal for a tactical ceasefire between wars, We can reach a peace based on stability for us and for our children and that is my goal," he said. Earlier, in 2001, the spiritual leader of the ultra-Orthodox faction had called for "Arabs' annihilation." "It is forbidden to be merciful to them. You must send missiles to them and annihilate them. They are evil and damnable," he was then quoted as saying. [More>>timesofindia.indiatimes.com]
---
08.28.10 Egypt intercepts shipment of 190 anti-aircraft missiles
August 28 - Authorities uncover large weapons cache hidden in Sinai, reportedly destined for smuggling into Gaza; more ammunition and explosives seized in Rafah. Egyptian authorities intercepted a shipment of at least 190 anti-aircraft missiles in Sinai probably destined for Gaza on Saturday, Palestinian news Agency Maan reported. According to the report, the Egyptian police raided several storage areas in the area and discovered the secret cache hidden in a remote region in the center of the peninsula. In addition to the anti-aircraft missiles, rockets and other ammunition were seized, as well as a large supply of illegal drugs. Reports also stated that authorities raided several locations in Rafah, where they found more stores of explosives and weapons. Earlier on Saturday Kuwaiti newspaper Alrai reported that Syria's military is on high alert for an Israeli attack on Hizbullah weapons depots located in the country. [More>>jpost.com]
---
08.28.10 Report: Palestinians reject bid for bi-weekly Netanyahu-Abbas meetings
August 28 - Chief Palestinian negotiator Saeb Erekat tells BBC in Arabic that it is too early to decide nature of Israeli-Palestinian peace talks meetings. Chief Palestinian negotiator Saeb Erekat rejected Prime Minister Benjamin Netanyahu's proposal to hold a face-to-face meeting with Palestinian Authority President Mahmoud Abbas every two weeks, Israel Radio reported on Saturday, citing an interview Erekat gave to the BBC in Arabic. Erekat reportedly said that it was too early to determine who would meet with who[m], when the talks would take place and the location of the meetings. [More>>haaretz.com]
---
08.28.10 Insurgents attack two NATO bases in Afghanistan
KABUL, August 28 - NATO kills at least 10 insurgents and capture others. Taliban insurgents launched pre-dawn attacks on a pair of NATO bases in eastern Afghanistan on Saturday, but were beaten back after inflicting little damage, the coalition and Afghan police said. There was no word of casualties among coalition or Afghan security forces, but NATO said at least 10 insurgents were killed and several were captured. The assaults on the sprawling Forward Operating Base Salerno in Khost province and nearby Camp Chapman, came around 3:00 a.m. (2230 GMT), just as area residents were rising for early morning prayers. Chapman was the scene of a major attack in December, when a suicide bomber entered the base and killed seven CIA employees. Maj. Wazir Pacha of the provincial police headquarters said insurgents used rifles, heavy machine guns, rocket propelled grenades, and other heavy weapons, but had been repelled. [More>>alarabiya.net]
---
08.28.10 'Ground Zero Mosque' developer Sharif El-Gamal: No money from Iran, Hamas
August 27 - Sharif El-Gamal, the developer behind the so-called "Ground Zero Mosque," told CBS News in an interview last night that the backers of the project will not take money from "organizations that have un-American values." "We will not take money from Iran. We will not take money from Hamas," said El-Gamal of the funding for the project, a proposed Islamic cultural center two blocks from the former site of the World Trade Center called Park51. "The money is going to be coming from people that want to get involved in the project," he told CBS News' Scott Pelley. "And I think it's gonna come from people from all walks of life." [More>>cbsnews.com]
---
08.28.10 Beck talks faith in rally coinciding with anniversary of King's speech
WASHINGTON, August 28 - Conservative talk show host Glenn Beck opened his controversial "Restoring Honor" rally Saturday by urging Americans to "turn back to God" and return the nation to the values on which it was founded. "Something beyond imagination is happening," he told the large crowds gathered at the National Mall in Washington. "America today begins to turn back to God. For too long, this country has wandered in darkness." The rally drew fire for its timing and location. People filled the park by the Lincoln Memorial's reflecting pool, in the shadows and echoes of the most pivotal civil rights address in America's history — the Rev. Martin Luther King, Jr.'s famous "I Have a Dream" speech, which he delivered there 47 years ago.

Some of those who marched with King said Beck had usurped the day for his own political gain. The Rev. Jesse Jackson told CNN that Beck was mimicking King and "humiliating the tradition." Other civil rights activists gathered nearby with the Rev. Al Sharpton and his National Action Network in a "Reclaim the Dream" rally. Participants planned to march to the site of the future Martin Luther King, Jr. National Memorial, just a few blocks from the Lincoln Memorial. It's possible participants in both events could cross paths.

Beck, a hero to many conservative voters across the country, said, however, that his rally is nonpolitical and its mission is to honor American troops. He struck a spiritual tone in his opening remarks, which followed the event's 10 a.m. start and the national anthem, and immediately took a jab at his critics. "I have just gotten word from the media that there are over 1,000 people here today," Beck said. "We are humbled that you are here," he said. "The reflecting pool holds about 200,000 people. This field back here holds about 250- to 300,000 people. They are not only full here, they're full in that field, they're full behind me, and they are now across the street approaching the Washington Monument."

...Tea Party activists from across the country are attending the event. Speakers included former Alaska Gov. Sarah Palin, a Fox News contributor, who said she came to speak not about politics but as "something more" — as the mother of a soldier. She said America's men and women in uniform exemplified the virtues and values of America. "Say what you want to say about me, but I raised a combat vet and you can't take that away from me," she said to a crowd that broke out in chants of "U.S.A! U.S.A!" [Full story>>cnn.com]
---
08.28.10 14 militants, 2 policemen killed in Russia
NALCHIK, Russia (AP) August 28 - At least 14 suspected militants and two police officers were killed during security raids in Russia's volatile North Caucasus, police said Saturday. Nine suspected militants were killed in two separate shootouts with police in the Kabardino-Balkariya republic late Friday, a police spokesman Roman Golubev told The Associated Press. Two of those killed were suspected of organizing a bombing in May that killed one man and wounded dozens, Russia's Investigative Committee, the country's main investigative body, said in a statement. Separately, five suspected militants and two police officers were killed in another shootout Friday in the nearby republic of Dagestan, local police spokesman Magomed Tagirov said. Those militants allegedly had ties to warlord Magomedali Vagabov, who was behind the Moscow metro bombings in April that 40 killed people and left scores wounded, the investigative agency statement said. Vagabov himself was killed in a shootout with security forces in Dagestan last week, authorities said. [More>>msnbc.msn.com]
---
08.27.10 Hamas: PA can't give up Jerusalem in direct Mideast peace talks
August 27 - Speaking at fast-breaking meal in Gaza, Hamas PM Haniyeh says Palestinians worldwide do not support '"absurd talks with Israel." Palestinian negotiators are not mandated to surrender Jerusalem or any part of Palestine, the Palestinian Ma'an news agency quoted Gaza's Hamas Prime Minister Ismail Haniyeh as saying on Friday, with the Hamas strongman dubbing upcoming direct peace talks as the latest in a string of Israeli crimes against the Palestinian people. On Tuesday, Hamas politburo chief Khaled Meshal said that the upcoming US-backed direct peace talks between Israel and the Palestinian Authority were illegitimate and the result of coercion by Washington.

Talks between the two sides..were shelved two years ago, but the administration of US President Barack Obama is hoping for a breakthrough during the new rounds of negotiations set to begin September 2. Speaking in Ramadan fast-breaking meal in the Gaza town of Khan Younis late Thursday, Haniyeh claimed that "no negotiator who would give up Jerusalem has a national mandate," adding that "Palestinians across the globe will not support any movement holding absurd talks with Israel." [More>>haaretz.com]
---
08.27.10 Israel bars Palestinians access to al-Aqsa mosque
JERUSALEM, August 27 - Israel has imposed tough restrictions on entry to al-Quds (Jerusalem), preventing many Palestinians from attending Friday prayers at the al-Aqsa Mosque. Hundreds of Israeli troops were deployed and further checkpoints were installed in and around al-Aqsa Mosque on Friday to restrict the entry of Palestinian worshipers for the third Friday prayers of holy month of Ramadan. Women under the age of 45 and men under 50 are barred from entering the holy city. The move has angered many Palestinians, who believe Israel is illegally restricting access to the mosque. Palestinians say Israel, which occupied east al-Quds during the 1967 Six-Day War and annexed it in a move not recognized by the international community, has no right to deny them access to the mosque. Restricting access to al-Quds is only one of various limitations imposed by the Israeli army on Palestinians living in the occupied West Bank. The mosque compound, which is called Haram al-Sharif (Noble Sanctuary), contains the Dome of the Rock and the al-Aqsa Mosque. It is the third holiest site in Islam after Saudi Arabia's Mecca and Medina. [>thenews.com.pk]
---
Editorial note: Actually, when the state of Israel was created by the United Nations through UN Resolution No. 181, November 29, 1947 Jerusalem — including a territory stretching to Bethlehem — was set aside as a "Corpus Separatum" governed by the United Nations. (See "mfa.gov, "Un Partition Plan") The formation of the states of Israel and Palestine involved a long series of steps by the British and French governments that also included the formation of new states in the Middle East that were carved out of the defeated, Turkish Ottoman Empire which were Mandate territories administered by the British and French. These included TransJordan (now Jordan), Egypt, Iraq, Saudi Arabia, Syria and Lebanon. We quote from "Philistia Triumph thou because of me" (1993) a short summary of the background leading to the UN 1947 Resolution:
While the British negotiated through the United Nations the foundation of Israel in 1946-1948, they also created the nations of the Middle East as we see them today, whose power centers are Iran, Iraq, Saudi Arabia and Jordan (originally TransJordan ) and Egypt. Central to the stability of the area, they believed at that time, was the reestablishment of the Caliphates of Mohammed. To do this they had to redraw some lines of inheritance which trace back to the World War I era, when certain Arab factions assisted the British and the French in throwing out the Ottoman Turks — who were allied with the Axis Powers of Nazi Germany — from Africa and the Middle East. On the one side were the forces of King Saud, whose people in the main occupied the center of what is now Saudi Arabia. King Saud was awarded Saudi Arabia for his efforts in helping the British, and his family has ruled that land ever since the end of World War I. Included in the Saudi domain is Mecca and its Hashimite Kingdom. The Hashimite princes, sons of the Qoarish, called the Sherifs of Mecca, were thrown out of their domain when the Saudis occupied Mecca. These were the sons of King Hussain, ruler of Mecca, who were Ali, Abdulla, and Faisal .

Faisal, being a principal Arabic leader active in the revolt against the Ottomans, was awarded the Caliphate of Damascus, Syria in October 1918 but was thrown out by the French two years later. He moved to Baghdad and set up his throne there under British protection. His regency lasted until his grandson, King Faisal, was thrown out of Iraq in 1958, after which in 1968 a rival socialist party, called the Baath, led by Saddam Hussein (no relative to the Hashimites ) took over and rules until now.

Faisal's brother, Abdulla,  was set upon a throne ruling at Amman, Jordan. Ibn Saud, who had gotten sovereignty over what is now Saudi Arabia, would have nothing to do with the Hashimite sons of King Hussain (because of their claim to Mecca and its lands along the North Arabian Peninsula, called the Hijaz). King Ali, the last Sherif of Mecca, left his succession to Emir Abdulillah, Regent and Heir apparent [in exile] of Iraq. The other brother, King Abdulla, had two sons, Emir Talal and Emir Naif. As Israel's map was being drawn, the British government offered King Abdulla the Kingdom of TransJordan, which included Jordan and the West Bank territory in Palestine; and King Faisal, as mentioned, was first offered the Kingdom of Iraq. Emir Talal inherited the throne of Jordan from King Abdulla, but died prematurely and left the throne to the present King, Abdulla ibn Hussain of Jordan. The name, Hussain, shows this last of the reigning Hashimite king's lineage all the way back to the grandson of Mohammed, whose name is Hussain.

Shortly after Israel's independence, Jordan annexed the West Bank Territory and Jerusalem but lost the West Bank Territory and the Old City of Jerusalem in 1967, during the six day war of Israel against the allied forces of Egypt, Jordan, Syria, Lebanon, Saudi Arabia, and Iraq. The Territory of Jerusalem belonged officially to the United Nations under the UN Resolution of 1947 and is still legally a UN Mandate (until the UN formally releases the Mandate).

It was not Israel that violated the UN covenants that established the independent, Middle East Arab countries, but rather the Arabs during the Arab-Israeli war of 1948 — the beginning of many hostitlities that led to the 1967 Six-day war. When the government of Jordan took possession of Jerusalem the territory was a UN mandate territory. Before UN Resolution 181 the "Palestine Mandate of 1922" applied, whose covenant opined :
The Council of the League of Nations:

Whereas the Principal Allied Powers have agreed, for the purpose of giving effect to the provisions of Article 22 of the Covenant of the League of Nations, to entrust to a Mandatory selected by the said Powers the administration of the territory of Palestine, which formerly belonged to the Turkish Empire, within such boundaries as may be fixed by them; and

Whereas the Principal Allied Powers have also agreed that the Mandatory should be responsible for putting into effect the declaration originally made on November 2nd, 1917, by the Government of His Britannic Majesty, and adopted by the said Powers, in favor of the establishment in Palestine of a national home for the Jewish people, it being clearly understood that nothing should be done which might prejudice the civil and religious rights of existing non­Jewish communities in Palestine, or the rights and political status enjoyed by Jews in any other country; and

Whereas recognition has thereby been given to the historical connection of the Jewish people with Palestine and to the grounds for reconstituting their national home in that country; and

Whereas the Principal Allied Powers have selected His Britannic Majesty as the Mandatory for Palestine; and

Whereas the mandate in respect of Palestine has been formulated in the following terms and submitted to the Council of the League for approval; and

Whereas His Britannic Majesty has accepted the mandate in respect of Palestine and undertaken to exercise it on behalf of the League of Nations in conformity with the following provisions; and

Whereas by the afore­mentioned Article 22 (paragraph 8), it is provided that the degree of authority, control or administration to be exercised by the Mandatory, not having been previously agreed upon by the Members of the League, shall be explicitly defined by the Council of the League Of Nations; confirming the said Mandate, defines its terms as follows:

ARTICLE 1. The Mandatory shall have full powers of legislation and of administration, save as they may be limited by the terms of this mandate.

ARTICLE 2. The Mandatory shall be responsible for placing the country under such political, administrative and economic conditions as will secure the establishment of the Jewish national home, as laid down in the preamble, and the development of self­governing institutions, and also for safeguarding the civil and religious rights of all the inhabitants of Palestine, irrespective of race and religion...

The terms expressed in the "Palestine Mandate of 1922" were carried into the UN Resolution 181.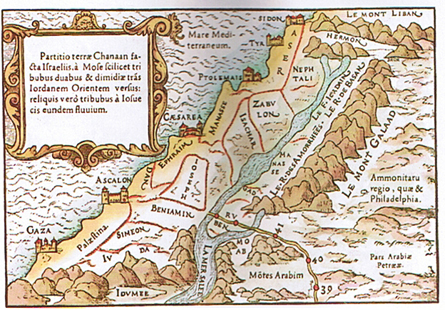 "Partition map of the land of Canaan," Lyon 1568, from the Yaakov Aviel Collection, 1981. It's caption reads: "Partitio terrae Chanaan..." Chanaan refers to a Biblical term for the Canaanites, people who occupied the land before the Israeli patriarch Abraham entered the land about 1900 B.C. In the Koran Muhammed identifies Ishmael, the son of Abraham, as Islam's patriarch and counts a temple founded by Abraham, the "ka'aba" meaning "cube," as its holiest site.
Before the Palestine Mandate, the territory of "Palestine" was part of the province or Eyalet of Egypt, including Egypt, Israel, Jordan and Saudi Arabia. Jerusalem was further administered by the semi-autonomous Sanjack of Jerusalem. (wikipedia.org): Sanjaks were governed by sanjak beyis, military governors who received a flag or standard — a "sanjak" (the literal meaning) — from the sultan.

Prior to the Turkish Ottoman Empire, Arabs, Greeks, Persians, Romans, Assyrians, Babylonians, Egyptians, etc. carved out the territories of the Middle East and many of these regimes, such as the Assyrians, many of whom carried Israelis / Jews into captivity. The antiquity of Jews / Israelis ruling the territories between Mt. Hermon in the north and the River of Egypt (present boundary of Israel) is well documented. Syrians, Aramaeans, Philistines (Palestinians) also lived on the land, with the Philistines primarily located in the Gaza Strip. For historic maps, such as the British Mandate of Palestine see palestinefacts.org. Syria and other Arab states have requested that Israel pull back to its pre-1967 borders. In "The Allah Controversy" we asked, "What is the true border of Palestine?"

Mel Copeland
---
08.27.10 Bomb 'targets' Mexico TV channel
August 27 - A car bomb has exploded outside the local affiliate of Televisa TV network in the northeastern city of Ciudad Victoria. Friday's blast damaged equipment and the station was unable to broadcast locally, AFP news agency reported. "Fortunately none of our colleagues were wounded," Carlos Loret de Mola, the host of the Televisa morning news show, said. Two witnesses saw the charred remains of a parked vehicle outside the TV studio in the city in Tamaulipas state and Televisa's main morning news anchorman said nearby buildings were damaged, causing a power outage. Televisa, Mexico's most watched TV network, has had affiliates attacked twice this year, most recently in the northern industrial city of Monterrey two weeks ago. A van packed with explosives blew up outside a police station on August 5 also in Ciudad Victoria, causing some damage but no injuries. [More>>aljazeera.net]
---
08.27.10 UN panel urges Iran to counter racism, hatred
GENEVA, August 27 - Iran ethnic minorities seem to be disadvantaged: UN. Iran should do more to protect its ethnic minorities such as Arabs, Kurds and Baluch, a United Nations human rights body said on Friday. The Committee on the Elimination of Racial Discrimination (CERD), a group of 18 independent rights experts, said Iran lacked data on the numbers of ethnic minorities despite a census in 2007, but the participation of such people in public life appeared to be lower than could be expected. Several armed groups opposed to the government are active in Iran, mostly made up of ethnic Kurds in the northwest, Baluch in the southeast and Arabs in the southwest.

"The Committee expresses concern at the limited enjoyment of political, economic, social and cultural rights by... Arab, Azeri, Balochi, Kurdish communities and some communities of non-citizens," it said in a report on a regular review of Iran's compliance with a 1969 international treaty banning racism. The Committee also found discrimination is "rampant" against Baha'is — a minority whose faith the Shiite government considers a heretical offshoot of Islam — committee member Dilip Lahiri said. It also urged Iran to continue its efforts to empower women and promote their rights, paying particular attention to women belonging to ethnic minorities. Some tenets of sharia (Islamic law) disadvantage Iranian women, Indian committee member Dilip Lahiri said. "On the other hand, in terms of their education and access to jobs, very remarkable progress has been made in Iran," he told a briefing. [More>>alarabiya.net]
---
08.27.10 UN racism watchdog rebukes France for mistreating Roma
August 27 - The UN's racism and discrimination watchdog has criticized France's controversial deportation of Roma migrants, urging the French government to integrate members of ethnic minorities rather than expel them. France faced renewed criticism Friday when the UN's discrimination watchdog published a much-anticipated list of recommendations in response to the country's policies towards minorities. The UN's Committee on the Elimination of Racial Discrimination (CERD) criticized France for its harsh crackdown on Roma.

The 18 experts of the UN committee urged France to "avoid in particular the collective repatriation" and instead to "strive for lasting solutions." Preliminary conclusions were made public on August 12, when CERD highlighted a "resurgence" in racism and xenophobia in France. French President Nicolas Sarkozy last month announced draconian security measures on traveller communities following a spate of urban violence. He also threatened to strip foreign-born nationals of French citizenship if they committed serious crimes. In August, the country closed illegal gypsy camps and deported hundreds of Roma to Romania in a highly-publicised crackdown against illegal immigration and crime. [More>>france24.com]
---
08.27.10 Pakistan generals should be denied visas: Afghan official
WASHINGTON, August 27 - Telling US to take a tougher stance against Pakistan, a top Afghan official has demanded sanctions against Islamabad, including denial of visas to its top Generals. Accusing Pakistan of providing sanctuary and support to Taliban, al-Qaeda and other terrorist networks, Afghan National Security Adviser and former Foreign Minister Rangin Dadfar Spanta said US should redirect its focus on militants in that country. He called for sanctions against Islamabad and denial of visas to "Pakistani Generals and others that we know definitely are involved in supporting terrorist activities."

Writing in 'The Washington Post,' Spanta suggested that international forces, as part of their anti-terror strategy should "confront state" that still sees terrorism as a strategic asset and foreign policy tool. Spanta said the focus of international forces had been eroded by "mistaken embrace for strategic partners", who have, in fact, been nurturing terrorism, an apparent reference to moves by Washington to cultivate Islamabad as a partner in the fight to combat terrorism. He said, the "central issue is international jihadis" who take refuge in Pakistan and enjoy support and training from Pakistani military and intelligence agency. "It is my firm belief, we cannot win if we continue business as usual," he said. "We have lost the reality. We've lost the focus."

Acknowledging the importance of protecting the civilians in Afghanistan, fighting corruption and institutionalizing the rule of law in the campaign against Taliban, the Afghan official said no domestic major will fully address the threat of international terrorism. He said this problem could only be confronted by getting the terrorist infrastructure dismantled. Spanta said Afghanistan was not only the sole sufferer of terrorism and added its tentacles had hit even Britain, Spain, Turkey, China, Germany and India. [More>>indianexpress.com]
---
08.27.10 Terror: Britain faces increasing threat from home-grown terrorists warn Rusi experts
August 27 - The UK faces a threat from lone, home-grown jihadists as a potential "new wave" of terrorists focus their activity away from large, coordinated attacks, experts have warned. A report by the Royal United Services Institute (Rusi) found an increasing number of Muslims in British prisons are becoming radicalized behind bars. And it says coordinated attacks are being replaced by highly-motivated but poorly trained individuals operating with the expectation that eventually one will succeed. The report for the defence and security think tank added that the UK has more to fear than any other Western country from home-grown terrorists. It added that the conditions are all there for a series of attacks to begin at any time. Estimates showed one in 10 of the 8,000 Muslim prisoners in high-security institutions in England and Wales has been "successfully targeted" by radical jihadists, the report authors, Rusi director Michael Clarke and research fellow Valentina Soria, said. "Perhaps some 800 potentially violent radicals, not previously guilty of terrorism charges, will be back in society over the coming five to 10 years," they wrote. [More>>news.sky.com]
---
08.27.10 UN: Flooding displaces 1 million more in Pakistan
ISLAMABAD, August 27 - Flooding has displaced an additional 1 million people in Pakistan's Sindh province in the past two days, according to new UN estimates released Friday. "We have more people on the move, to whom we need to provide relief. An already colossal disaster is getting worse and requiring an even more colossal response," said Maurizio Giuliano, a spokesman for the UN's Office for the Coordination of Humanitarian Affairs. Giuliano said rains have forced the evacuation of an estimated 1 million people in southern Sindh in the past 48 hours...On Thursday, authorities issued an evacuation warning after a breach in one of the embankments caused by rising water levels in the Indus River, said Ali Gul Sanjrani, a senior government official in Thatha district. Sirens blared Thursday from mosques in Indus River delta cities and towns like Shahdadkot where remaining berms and levees holding back water were about to burst. Floodwaters have started to recede across Pakistan, but in the Indus delta, the potential for more flooding remained high, especially given high tides in the Arabian Sea, where the Indus spills out. Already, more than 17 million Pakistanis — from the Chinese border in the north to the mouth of the Indus in the south — have been affected by the monsoon floods that began a month ago. [More>>cnn.com]
---
08.27.10 NATO strikes kill six children in east Afghanistan
KABUL, Afghanistan (RIA Novosti) August 27 - NATO air forces on Thursday killed six Afghan children during an air attack on Taliban positions in the troubled eastern province of Kunar, a local police chief said on Friday. In the evening preceding the air raid, Taliban fighters had attacked a nearby police station in a mountainous district of the Kunar province. NATO aircraft subsequently headed for the scene to disperse the militants. However, the NATO bombs killed a group of six children, aged 6 to 12, while they were collecting scrap metal, Khalilullah Ziayee said. NATO's International Security Assistance Force (ISAF) said NATO commanders were aware of the claims, which were being investigated. One of the most troubled Afghan provinces, Kunar, rocky and impenetrable region, is considered to be a Taliban stronghold. The region has seen numerous US-led military operations. [>en.rian.ru]
---
08.27.10 Quarter of US Iraq deaths due to Iran groups
(Reuters) August 27 - The new US ambassador to Iraq said on Thursday he believed groups backed by Iran were responsible for a quarter of US casualties in the Iraq war. More than 4,400 US soldiers have been killed since the 2003 US-led invasion, battling Shia militia the US military has long said were armed, funded and trained by Iran, and Sunni Islamist insurgents. The US military will formally end its combat operations in Iraq on Aug. 31 as President Barack Obama seeks to fulfil a promise to US voters to end the war, despite continuing insecurity and political instability in Iraq. [More>>khaleejtimes.com]
---
08.26.10 Palestinians riot in east Jerusalem neighborhood
JERUSALEM, August 26 - Clashes over E. Jerusalem pathway claimed by Jews & Arabs. Palestinian residents in east Jerusalem threw rocks at police and settlers and set cars on fire in an ongoing dispute over a contested neighborhood Thursday. Police spokesman Micky Rosenfeld said the early morning clashes in Silwan neighborhood erupted due to a disagreement over a pathway claimed by both Jewish and Arab families. He said an Israeli court ruled in 2000 that the pathway belongs to a Jewish family. Palestinian residents, however, say the clash erupted after settlers were seen trying to break into a local mosque. About 50,000 Palestinians and 70 Jewish families live in Silwan and tensions are high in the neighborhood over a municipal plan that includes the slated demolition of Palestinian homes. There have been recent clashes. The pathway leads to an ancient underground spring that some Jews use as a ritual bath to cleanse themselves before morning prayers. There is a mosque near the spring's entrance. [More>>alarabiya.net]
---
08.26.10 Saudi cleric slammed over fatwa on women cashiers
RIYADH (AP) August 26 - A conservative Saudi cleric was told to stop giving unauthorized edicts after he called for a boycott of a supermarket chain that employs women as cashiers, the office of the kingdom's most senior religious leader said Thursday. The move is the first public reprimand of a prominent cleric following a royal decree that limits the issuance of fatwas to the country's most senior group of clerics. Fatwas are religious edicts that provide guidance in matters of everyday life to pious Muslims. Sheik Youssef al-Ahmed had urged people not to shop at Panda Supermarket because women there work in jobs that allow for the mingling of the sexes, which the cleric said was a violation of Islamic law. Saudi media reported that al-Ahmed's fatwa forced the supermarket management to reassign 11 of its women employees to other positions on Wednesday.

The chain could not be reached for comment. Grand Mufti Sheik Abdul-Aziz Al Sheik's office said Thursday he had summoned al-Ahmed and ordered the cleric to refrain from issuing unauthorized fatwas. The office said it "received a pledge from al-Ahmed not to issue any fatwas" without approval. Saudi Arabia follows a strict interpretation of Islam and religious leaders have strong influence over policy making and social mores. Sexes are segregated in schools and public places. Women are not allowed to drive or vote, and physical education classes are banned in state-run girls' schools. Saudi King Abdullah has been trying to clamp down on ultraconservative ideology, including allowing women to take up commercial jobs. [>thejakartapost.com]
---
08.26.10 Militants kill eight policeman in Northern Afghanistan
(AP) August 26 - Insurgents killed eight Afghan policemen in a raid this morning on a checkpoint outside the northern city of Kunduz, the provincial chief of police said. Abdul Raziq Yaqoubi said police suspected the raid was carried out by militants from Russia's restive Chechnya region who are active in the surrounding province, also called Kunduz. More than 10 militants took part in the attack, two or three of whom were believed to have been wounded when the police fought back, Yaqoubi said. The militants apparently hoped to steal the policemen's weapons, but were beaten back before they could do so, he said. Kunduz has seen an increasing number of attacks on Afghan and foreign coalition forces who rely on a supply line running south through the province from neighboring Tajikistan. Foreign fighters from Chechnya, Pakistan and the Persian Gulf are smuggled into the area over the rugged mountainous border with Pakistan to the east. [More>>independent.co.uk]
---
08.26.10 Afghan candidate's campaign workers abducted
KABUL, August 26 - Ten campaign workers for a female parliamentary candidate in western Afghanistan were abducted by gunmen Thursday and the Taliban claimed responsibility for two deadly attacks, one that killed eight Afghan police officers and another that killed two Spanish police trainers and a Spanish-Afghan translator a day earlier. The campaign workers, all men, were in southern Herat Province traveling between remote districts when they were stopped by gunmen, said Fawzia Gilani, a current member of Parliament who is running for re-election. [More>>nytimes.com]
---
08.26.10 Suspects in Canadian terror bust linked to Afghanistan
August 26 - Police in Canada say they had to move in on three suspected terror plotters, including one who appeared on Canada's version of "American Idol," after they learned of the group's plans to send money to terror groups in Afghanistan. Ottawa residents Hiva Alizadeh and Misbahuddin Ahmed  were picked up Wednesday. Additionally, Royal Canadian Police Sgt. Marc LaPorte said police arrested Khuram Sher in London, Ontario, on Thursday. Canadian authorities said their investigation into the trio began in September 2009. According to documents filed in provincial court in Ottawa, all three conspired with an additional three named individuals to "knowingly facilitate terrorist activities" in Canada and abroad. The investigation led to the recovery of videos, drawings, books, schematics and electronic equipment to create an IED. [More>>foxnews.com]
---
08.25.10 New home sales drop 12.4% to record low
NEW YORK, August 25 - New home sales unexpectedly fell in July to the lowest level on record as the housing market continued to suffer from the end of the homebuyer tax credit boost. New home sales dropped 12.4% to a seasonally adjusted annual rate of 276,000 last month, down from a downwardly revised 315,000 in June, the Commerce Department reported Wednesday. Sales year-over-year fell 32.4%. Commerce started tracking new home sales in 1963. Sales were forecast to tick higher to an annual rate of 334,000 in July, according to a consensus estimate of economists surveyed by Briefing.com. "The report shows the housing industry is still nursing a bad hangover," said Mitchell Hochberg of Madden Real Estate Ventures in New York. "With shadow inventory, rising foreclosures, little job growth and more stringent access to credit, weak sales will persist and the industry's headache will linger." [More>>cnn.com]
---
08.25.10 Microbe eating spilled oil in Gulf of Mexico
August 25 - A newly discovered species of microbe is breaking down oil from the BP spill in the Gulf of Mexico much faster than scientists thought possible. The leaking well was plugged on July 15 and two weeks later government scientists said that half of the oil had gone. The new microbe was found to be breaking down oil about twice as fast as expected. Researchers discovered the new oil-eating microbe while studying the underwater dispersion of millions of gallons which escaped after the explosion of the Deepwater Horizon drilling rig in April. It thrives in cold water in the deep sea where temperatures are around 5C (41F) and scientists said it may have adapted over time, through a process of natural selection, due to periodic leaks and natural seeps of oil in the Gulf. When the bacteria were found to have acted on oil they consumed half of it in 1.2 to 6.1 days, giving an average of about three days. By comparison at the site of the Exxon Valdez spill in Alaska in 1989 the average "half life" was seven days. Around 95 percent of the bacteria in the oil plume were the new type, while outside only five percent were. The microbe was discovered by a team led by Terry Hazen, of Lawrence Berkeley National Laboratory in Berkeley, California. The study was reported in the journal Science. [More>>telegraph.co.uk]
---
08.25.10 Coordinated attacks strike 13 towns and cities in Iraq
BAGHDAD, August 25 - In one of the broadest assaults on Iraq's security forces, insurgents unleashed a wave of roadside mines and a more than a dozen car bombings across Iraq on Wednesday, killing dozens, toppling a police station in the capital and sowing chaos and confusion among the soldiers and police officers who responded. The withering two-hour assault in 13 towns and cities, from southernmost Basra to restive Mosul in the north, was as symbolic as it was deadly, coming a week before the United States declares the end of combat operations here. Wednesday was seemingly the insurgents' reply: Despite suggestions otherwise, they proved their ability to launch coordinated attacks virtually anywhere in Iraq, capitalizing on the government's dysfunction and perceptions of American vulnerability.

For weeks, there had been sense of inevitability to the assaults, which killed at least 51 people, many of them police officers. From the American military to residents here, virtually everyone seemed to expect insurgents to seek to demonstrate their prowess as the United States brings its number of troops below 50,000 here. But the anticipation did little to prepare security forces for the breadth of the assault. Iraqi soldiers and police officers brawled at the site of the biggest bombing in Baghdad, and residents heckled them for their impotence in stopping a blast that cut like a scythe through the neighborhood. [More>>nytimes.com; See also

khaleejtimes.com, August 25, "Devastating series of attacks across Iraq kill 53" : BAGHDAD - Bombers killed 53 Iraqis in nearly two dozen attacks spanning the country Wednesday, mostly targeting security forces in seemingly coordinated strikes the day after the number of US troops fell below 50,000 for the first time since the start of the war. Insurgents have been stepping up their attacks on Iraq's security forces in recent months as the US has trimmed its military presence in the country. At least half of those killed — 30 — were Iraqi soldiers and policemen. There were no claims of responsibility for the spate of attacks. But their scale and reach, from one end of the country to the other, underscored insurgent efforts to prove their might against security forces and political leaders who are charged with the day-to-day running and stability of Iraq. The deadliest attack came in Kut, 100 miles (160 kilometers) southeast of Baghdad, where a suicide bomber blew up a car inside a security barrier between a police station and the provincial government's headquarters. Police and hospital officials said 19 people were killed, 15 of them policemen. An estimated 90 people were wounded...
---
08.25.10 Withdrawal timeline 'invigorates' Taliban, Afghan officials say
KABUL, August 25 - 'This is giving more reason ... for the anti-government elements to prolong the fight.' The Obama administration's plan to start withdrawing troops from Afghanistan in the summer of 2011 is giving a morale boost to the Taliban, Afghan officials said Wednesday, echoing remarks made by a top US military official a day earlier. "This is giving more reason and propaganda for the anti-government elements to prolong the fight," Afghan Defense Ministry spokesman Zahir Azimy said of President Barack Obama's timetable on Wednesday, according to Reuters. "Such assertions could be used in favor of insurgents for ... empowering their forces and giving reasons to fight," he said. "The withdrawal should be based on the capability of the Afghan security forces." US Marine Corps General James Conway said on Tuesday that plan to start withdrawing American troops in July 2011 had likely energized the Taliban. [More>>msnbc.msn.com]
---
08.25.10 Tajik leader wants children out of madrasssas
DUSHANBE, Tajikistan, August 25 - Decries Islamic schools abroad, says students return "terrorists." The president of mostly Muslim Tajikistan urged parents to withdraw their children from religious schools abroad, an appeal reflecting fears of radical Islam gaining ground in the Central Asian nation. President Imomali Rakhmon, a former Soviet collective farm boss who has ruled the mountainous ex-Soviet state for nearly two decades, blasted Islamic religious schools for allegedly fostering terrorism. "Many parents think that by sending their children to study in madrassas in Muslim countries they will be giving them a good financial position in the future," he said in remarks carried on state television. "Unfortunately, most of them do not learn from mullahs, but from terrorists and extremists...Twenty-five militants whom the government alleges are members of the al-Qaeda-linked Islamic Movement of Uzbekistan (IMU) escaped from prison late Sunday, killing six guards and seizing weapons in a nighttime jaibreak. Government officials said the militants were likely headed for the remote Rasht Valley region near the Afghan border, where many of them were arrested last year during a government clampdown on the restive area. [Full story>>alarabiya.net]
---
08.25.10 Planned NY mosque brings Islam's sharia law into debate
August 25 - Protesters of the proposed Islamic center near Ground Zero waved signs there Sunday with a single word: sharia. Their reference to Islam's guiding principles has become a rallying cry for those critical of Islam, who use it to conjure images of public stonings and other extreme forms of punishment in countries like Saudi Arabia or Afghanistan and argue that those tenets are somehow gaining a foothold in the United States. Blogs are proliferating with names like Creeping Sharia and Stop Sharia Now. A pamphlet for a "tea party" rally last weekend in Fort Walton Beach, Fla., asked: "Why do Muslims want to take over the world and place us under Shariah law?" Former House speaker Newt Gingrich (R) amplified that point in a much-publicized speech a few weeks ago exploring what he calls "the problem of creeping sharia." The fact that the word has become akin to a slur in some camps is an alarming development to many religious and political leaders.

"We are deeply saddened by those who denigrate a religion which in so many ways is a religion of compassion," Peg Chemberlin, president of the National Council of Churches, said in a statement earlier this month signed by 40 national religious leaders...Daisy Khan, Rauf's wife, said the couple believes the word "sharia" primarily refers to several broad principles called "maqasid shariah," which include the protection of life, property and religion, among others. These principles are believed to be the foundation of the faith. Others say "sharia" refers to the specific words of the Koran (Muslims' holy book of God's revelation passed orally to the prophet Muhammad) as well as all the hadith, which are the actions and statements attributed to Muhammad that have been passed down, analyzed and interpreted (with some tossed out) over the centuries. Many of the harshest, most controversial writings are in the hadith, such as those giving a lower status to non-Muslims and mandates to stone adulterers (including a much-publicized stoning this month in Afghanistan meted out by the Taliban). There has been debate for centuries among Muslims over how accurate and how fixed hadith are.

...Geoff Ross, a Navy veteran who organized the tea party event in Florida last weekend, said the word means "the law that practicing Muslims follow to lead their daily lives." He became involved with anti-sharia events last year. "I study the Koran, I study the Internet. I look at sources on the Internet and try to vet that information," he said. "I'm not anti-Islam. I'm anti-terrorist. But if you take quotes from the Bible and compare them to the Koran, the Bible might say, ''Turn the other cheek,' while the Koran would say, 'Strike your enemies down and kill them.' " [Full story>>washingtonpost.com; See related stories,

abcnews.go.com, August 25, "Cab driver stabbed: 'Are you Muslim?' Question leads to hate crime charge" : A New York City cab driver was attacked Tuesday evening just after 6 p.m. by a passenger who asked him if he was Muslim, says the NYPD. According to police, passenger Michael Enright, a 21-year-old from Brewster, New York, hailed a taxi at 24th Street and Second Avenue in Manhattan driven by Ahmed Sharif, a resident of Queens. As the cab headed north on Third Avenue, Enright allegedly asked Sharif, who is of South Asian origin, "Are you Muslim?" When Sharif confirmed that he was Muslim, police say, Enright stabbed him multiple times...

foxnews.com, August 25, "Mosque developer clams up" : He was asked if he will meet with family members of those who were killed on 9/11. Sharif El-Gamal, the developer of the so called "Ground Zero Mosque," would not answer. In fact, when reporters asked him that question, he turned around and walked out of the room. He was a guest of New York City Mayor Michael Bloomberg at a dinner marking the Muslim holiday Ramadan at the Mayor's official residence, Gracie Mansion, though Bloomberg lives in his private home. Daisy Khan, the wife of Imam Feisal Abdul Rauf, who is behind the project, also attended the dinner. Reporters tried to ask them questions about the project but they refused to comment in detail beyond the brief statements they gave after the dinner supporting the project and Bloomberg. El-Gamal said he is honored and blessed to be an American and a New Yorker...

Maravot News 8.23.10 article 08.22.10 NYC mosque imam: US rights in line with true Islam and related background stories.

Maravot News 8.23.10 Koran & hadith references advocating violence against unbelievers
---
08.25.10 Dozens of bodies found at Mexico ranch
August 25 - Mexican troops say they have discovered 72 bodies at a ranch in the north of the country. The bodies were found after a shoot-out with suspected drug cartel gunmen in which three gunmen and one marine were killed, the military said. Unconfirmed reports say the 58 men and 14 women, found in Tamaulipas state, were migrants trying to reach the US. More than 28,000 people have died in drug-related violence in Mexico over the last four years. The shoot-out, near San Fernando, happened after an injured man turned up at a navy checkpoint saying he had been attacked by cartel gunmen, Mexican media reported. Troops raided the ranch, launching an aerial assault. They arrested one underage suspect, military said. They found the bodies during a search of the site, also discovering a cache of weapons, ammunition and uniforms. It appears to be among the biggest mass graves linked to drug-related violence to be uncovered in Mexico.

...The man who escaped the shooting said he and the victims had been trying to reach the US illegally when they were kidnapped by a criminal gang, an unidentified federal official told Mexico's Universal newspaper...Tamaulipas is one of the states worst affected by the violence, and has been the scene of fierce fighting between the Zetas and Gulf cartels. The gang offered them work but opened fire when they refused. The unnamed man said he was from Ecuador while the victims were from various countries, including Brazil. [Full story & analysis>>bbc.co.uk]
---
08.25.10 Afghan recruit kills NATO trainers
August 25 - Two Spanish police trainers and their interpreter have died in Afghanistan after being shot by their driver. The driver opened fire while the trainers were teaching a class in Badghis province in western Afghanistan. Other officers then killed the driver. Spanish authorities said the driver had been working with their trainers for around five months. "I can't say if the Taliban were behind this or not. But what is clear is that it was a premeditated attack," said Alfredo Perez Rubalcaba, the Spanish interior minister. "The person who opened fire knew exactly what he was doing."

The dead trainers were identified as Jose Maria Galera Cordoba and Abraham Leoncio Bravo Picallo, both 33 years old. Authorities have not released the name of the translator, reportedly an Iranian-born man with Spanish citizenship. The trainers were working with a group of 47 Afghan policemen. The shooting sparked a large protest outside the camp, with hundreds of people chanting slogans, throwing stones and attempting to storm the Spanish-run base in the provincial capital of Qala-e-Now. Protesters told the Reuters news agency that the crowd had set fire to one part of the base. One demonstrator, who identified himself as Abdullah, told Reuters that troops inside the base had fired on the protesters.

Mohammad Sadiq, a surgeon at the town's government hospital, said at least 18 wounded people had been brought in for treatment, many suffering from bullet wounds. Al Jazeera's Hoda Abdel-Hamid, reporting from Kabul, said the shooting "goes to the heart" of the problem confronting coalition forces attempting to rebuild and bring stability to Afghanistan: a huge lack of trust between NATO and Afghans. "Any kind of little fight could immediately flare up, as we saw today," she said. The two Spanish policemen were members of their country's Civil Guard, a paramilitary police force similar to Italy's Carabinieri and France's Gendarmerie. Up to 33 Civil Guard officers are deployed in Afghanistan, and the two who were killed Wednesday were scheduled to return home on Friday. [>aljazeera.net]
---
08.25.10 Tourist jailed for taking sunrise photo
August 25 - A British tourist has been locked up for 58 days in an Iranian jail for taking a photo. Andrew Barber, 43, was accused of spying because the image — meant to be of a sunrise — showed pylons near a power plant, The Sun reported. Cops then searched his laptop and found photos Mr. Barber had taken of buildings in Iraq, where he worked for delivery firm DHL. They thought he had taken them in Iran, and accused him of espionage. A judge then ordered him into Tehran's notorious Evin prison, which houses political detainees — some awaiting execution. "When the judge called me a spy, I went weak at the knees and started staggering with the shock," Mr. Barber said. The prisoner was refused access to the British embassy, blindfolded in interrogation then put in a cell. He was subjected to psychological torment, dubbed "white torture."

He said: "I had no furniture, and almost no natural light, only a bright fluorescent tube that stayed on 24/7, even when you were trying to sleep. I was allowed out of my cell ten minutes a day to use the toilet. I started to lose my mind after about seven days. It was hard to keep sane because I had no information about how long I was going to be there for." Mr. Barber, of South London, said he survived by making playing cards from cardboard cups and playing solitaire. He was eventually moved to share a cell with an Iranian prisoner before being handed over to the British embassy. He had been in Iran for three weeks when held on June 21 in Ahwaz, in the south. [>news.com.au]
---
08.25.10 Al-Qaeda shifting base from tribal belt to urban areas in Pakistan
ISLAMABAD, August 25 - Al-Qaeda is gradually shifting its base from the unsafe and spy-infested tribal belt of Pakistan to "more secure urban areas of the country" like the port city of Karachi that cannot be targeted by US drones, according to a media report on Wednesday. Al-Qaeda had operated in the volatile tribal areas bordering Afghanistan with "near impunity" during 2001-08 "but they are on the move, communicating via couriers and moving stealthily in small groups to urban areas," a former Western intelligence official was quoted as saying by the Daily Times newspaper. The daily quoted its sources as saying that al-Qaeda operatives were now mostly migrating to Karachi, which has a large Pashtun population. Many Pashtuns have migrated to Karachi following the launch of anti-militancy operations in the northwest and the recent floods and experts have said al-Qaeda and Taliban elements often find shelter among the Pashtuns.

The daily said its in-depth investigations had confirmed the presence of senior al-Qaeda members and the top leadership of the Afghan Taliban — including members of the Quetta-based "shura" or council — at safe houses located on the outskirts of Karachi. Jandullah, a faction of the banned Laskhkar-e-Jhangvi that has struck a strong relationship with al-Qaeda and the Tehrik-e-Taliban Pakistan, is responsible for the security of al-Qaeda members in urban areas. The daily quoted an unnamed former Western spy-master as saying, "We understand that the Quetta shura is actually the Karachi shura and is given safe houses by Pakistanis, but there's no doubt in (Washington) that the Pakistanis will go after al-Qaeda, common enemies you see." [>indianexpress.com]
---
08.25.10 US freezes assets of Osama's son-in-law
WASHINGTON, August 25 - In a continuing campaign to target al-Qaeda's sources of funds, the United States has frozen the assets of Muhammad Abdallah Hasan Abu-al-Khayr, a son-in-law of Osama bin Laden. The assets of al-Khayr, who is considered a possible replacement for the terror group's chief financial officer, would be frozen in US jurisdictions under new sanctions imposed by the Treasury Department Tuesday. Mustafa al-Yazid, the former No. 3 al-Qaeda leader and financier, was killed in a drone strike in Pakistan earlier this year. The assets of al-Khayr, who is considered a possible replacement for the terror group's chief financial officer, would be frozen in US jurisdictions under new sanctions imposed by the Treasury Department Tuesday. Mustafa al-Yazid, the former No. 3 al-Qaeda leader and financier, was killed in a drone strike in Pakistan earlier this year. The Treasury's designation also prohibits Americans from engaging in any transactions with him. The UN took a similar action, which extends the sanctions against him to all member nations.

The Treasury Department says al-Khayr has helped raise hundreds of thousands of dollars for a specific terrorist attack against US interests. He appears on a 2009 list of 85 persons wanted by the government of Saudi Arabia, in part because of his role as an al-Qaeda financial facilitator. Al-Khayr also acts for al-Qaeda in a leadership role on the media committee, and has on at least one occasion recruited a member for al-Qaeda, it said. His relationship with al-Qaeda began with military training the terrorist group provided him in the mid-1990s. Al-Khayr has also provided services to bin Laden as a bodyguard. "After the death in May of Mustafa Abu al-Yazid, who essentially served as al-Qaeda's chief financial officer, we will continue to work with our allies to target those like al-Khayr who could step into al-Yazid's shoes," said Under Secretary for Terrorism and Financial Intelligence Stuart Levey. "Today's designation of al-Khayr by the United States and the United Nations will help to ensure that that al-Qaeda remains in severe financial straits." [>timesofindia.indiatimes.com]
---
08.25.10 Three Germans charged with 'terror' links
BERLIN, August 25 - Germany's federal prosecutor said Wednesday it had charged three German citizens with supporting groups linked to al-Qaeda, including the wife of a man convicted in March of a thwarted car bomb plot. The trio, identified only as 21-year-old Alican T., 28-year-old Filiz G. and 31-year-old Fatih K., allegedly supplied cash for the organizations and campaigned for Jihad, or holy war, on the Internet. They were charged with "supporting the foreign terrorist groups German Taliban Mujahideen and the Islamic Jihad Union (IJU)," an extremist organization linked to al-Qaeda, prosecutors said in a statement. Two of them are in custody, while authorities are searching for the 31-year-old. The 28-year-old suspect is the wife of a German convert to Islam, Fritz Gelowicz, who was sentenced to 12 years in jail for what was described the biggest terror plot in German post-war history. Gelowicz was a member of a four-man IJU cell that planned to murder US soldiers and citizens in Germany with a series of car bombings. Authorities caught the men red-handed, as they were mixing chemicals to make some 410 kilograms (900 pounds) of explosives, 100 times the amount used in the 2005 London bombings that killed more than 50 people. [>thenews.com.pk]
NOTES

*Visitor statistics on maravot.com from 1&1. com. monthly visitors between 37,000-45,0000.
Privacy Policy: We do not store any personal data from you. We have no way of knowing any vital information about you — not even your name. Third-party distribution: We do not distribute information about your site usage to any third party. We are not responsible for the content of links from our site. Usage data: supplied by our Web Hosting service, 1and1.com, which consists of usage reports, such as page views / impressions and web pages visited, visitors' servers and geographical data (ISP's and country of origin).



Maravot's Homepage




Launched: 10.25.04 / 11.02.04 – | — | ♦
Updated: 8.25.10; 8.26.10; 8.27.10; 8.28.10; 8.29.10; 8.30.10; 8.31.10