News Headlines & Trends
---
07.24.10 Seven out of 91 European banks fail stress tests
(Reuters) July 24 - Seven out of 91 European banks failed to pass tests measuring their ability to withstand an economic downturn, the Committee of European Bank Supervisors said on Friday, with banks in Germany and Spain being noted as weak spots. Seven European banks would not be strong enough to withstand another recession and would face a capital shortfall of 3.5 billion euros ($4.5 billion), tests run in an attempt to revive investor confidence showed on Friday. Five of Spain's smaller regional lenders, known as cajas, failed the test and their recapitalization is likely to speed a restructuring of the troubled sector. Banks in Germany and Greece were also seen as weak spots and in need of restructuring, but state-owned Hypo Real Estate was the only German lender to flunk and state-controlled ATEbank was the only Greek bank to fail. Analysts had expected five to 10 banks to fail the test. As expected, no big banks failed the health check. German government bond futures hit one-month lows and the euro briefly pared its losses against the dollar after the results were released. [More>>france24.com]
---
07.24.10 Iran says it has 100 vessels for each US warship
TEHRAN (AP) July 24 - The former naval chief for Iran's Revolutionary Guard said the country has set aside 100 military vessels to confront each warship from the US or any other foreign power that might pose a threat, an Iranian newspaper reported Saturday. Such a military confrontation in the vital oil lanes of the Persian Gulf would be of major global concern. The warning builds on earlier threats by Iran to seal off the Gulf's strategic Strait of Hormuz — through which 40 percent of the world's oil passes — in response to any military attack...The US Navy's 5th Fleet headquarters is based just across the Gulf from Iran in Bahrain. Saffari said more than 100 foreign warships were currently in the Persian Gulf and the Sea of Oman, adding that their sailors were "morsels" for Iran's military to target, the newspaper reported. "Any moment the exalted supreme leader (Ayatollah Ali Khamenei) orders — or should the enemy carry out the smallest threat against (Iran's ruling) Islamic system — the Guard ... is ready for quick reaction," he was quoted as saying. [Full story>>timesofindia.indiatimes.com]
---
07.24.10 Medvedev 'mouthpiece' of Iran enemies
TEHRAN (AFP) July 24 - President Mahmoud Ahmadinejad has dubbed his Russian counterpart Dmitry Medvedev the "mouthpiece" of Iran's enemies, in the latest tirade born of rising differences between Teheran and Moscow. "In a meeting with his ambassadors, he (Medvedev) said we have knowledge that Iran is moving towards the bomb," Ahmadinejad was shown saying in footage broadcast by state television on Saturday. "We regret that Medvedev has become the mouthpiece for the plans of Iran's enemies," the hardline president said in the footage filmed at a gathering in Teheran on Friday. On July 12, Medvedev made his toughest remarks to date about the Iranian nuclear programme, which Teheran has always insisted is entirely peaceful in aim. "Iran is nearing the possession of the potential which, in principle, could be used for the creation of a nuclear weapon," he told Russian diplomats. Three days later, Medvedev warned Iranian leaders that they did not "live in space" and accused them of exploiting the nuclear standoff with the international community for political ends. [More>>khaleejtimes.com]
---
07.24.10 North Korea warns of nuclear response to naval exercises
July 24 - North Korea said it would counter US and South Korean joint naval exercises with "nuclear deterrence" after the Obama administration said the government in Pyongyang shouldn't take any provocative steps. North Korea will "legitimately counter with their powerful nuclear deterrence the largest-ever nuclear war exercises to be staged by the US and the South Korean puppet forces," the National Defense Commission said, according to the Korean Central News Agency. The maneuvers, which involve 20 vessels and 200 aircraft from the US and South Korea, pose a threat to the country's sovereignty and security, Ri Tong-il, an official with North Korea's delegation to the Asean Security Forum, told reporters in Hanoi on Friday. [More>>koreaherald.com; See also

xinhuanet.com, July 24, "DPRK says prepared for both dialogue and war" : PYONGYANG (Xinhua) - The Democratic People's Republic of Korea (DPRK) said Saturday that the country is prepared for dialogue and for war in face of joint U.S. and South Korean war games, the official news agency KCNA reported. Washington's recent declaration of holding large-scale military exercises with South Korea and imposing new sanctions against the DPRK indicates that it has not discarded its Cold War way of thinking and has pursued confrontation, a Foreign Ministry spokesman told the KCNA. The United States has rejected talks with the DPRK — bilateral or six-party talks, reneging on its commitments before the international community, he said.

"The US provocations amount to trespassing on the off-limits fixed by the DPRK and it, therefore, feels no need to remain bounded to the off-limits drawn by the United States," said the spokesman. "The DPRK will bolster its nuclear deterrent in a more diversified manner and take strong physical measures as it had already clarified, now that the US opted for military provocations, sanctions and pressure, defying the demand of the international community including the UN Security Council," he said. The United States will be held wholly accountable for all ensuing consequences, the spokesman warned...
---
07.24.10 Hamas slams UN for denouncing flotillas
July 24 - Int'l body accused of "collaboration with the Israeli occupier." Hamas harshly criticized the UN on Saturday for an announcement made Friday which denounced the use of flotillas to break the Israeli blockade of the Gaza Strip, Al Jazeera reported. On Friday, UN spokesman Martin Nesirky responded to reports that a flotilla of two Lebanese ships was set to sail for Gaza, stating that those who wish to deliver humanitarian aid to Gaza should do so by land and not attempt to break Israel's sea blockade of the territory.  Hamas called these statements tantamount to "collaboration with the Israeli occupier." [More>>jpost.com]
---
07.24.10 Pakistan drone attack 'kills 16 militants'
July 24 - Missiles fired by a US drone aircraft have killed at least 16 militants in north-west Pakistan, officials say. At least five missiles hit a compound used by insurgents in South Waziristan near the Afghan border, the Pakistani security officials said. Pakistani media said scores of others were injured in the attack and the death toll was expected to rise. South Waziristan is a sanctuary for al-Qaeda and Taliban militants blamed for attacks in Afghanistan. A senior Pakistani security official told AFP news agency the compound, a suspected militant hideout, was in Dwasarak village, about 40km (25 miles) west of Wana, the main town in South Waziristan. There were conflicting reports over the nationalities of those killed. Some reports said they were all Pakistanis, while others said foreign fighters were among the dead. [More>>bbc.co.uk; See more details,

thenews.com.pk, July 24, "US drone strikes kill 18 in S. Waziristan" : ..."At least 18 militants have been killed in this attack," he said adding that two US drones fired four missiles. Two intelligence officials, one in Wana and one based in Peshawar, also confirmed the attack and the death toll. South Waziristan, considered a militant stronghold, was the scene of a major Pakistani offensive last year. Dwasarak is close to the Afghan border in the Angoor Adda area of South Waziristan. Officials said militants belonging to local commander Maulana Halimullah were killed in the attack, the second time that US drones have targeted his men. A security official in Miranshah, the main town of the neighboring North Waziristan tribal district said militants were also using the compound as a training camp. Soon after the attack, militants surrounded the village and forced residents to stay in their houses, another security official in Wana told media...
---
07.24.10 Taliban capture two US soldiers
July 24 - The Taliban have captured two US soldiers in Logar province in eastern Afghanistan. The NATO-led International Security Assistance Force (ISAF) confirmed on Saturday that two of its soldiers were captured. "Two International Security Assistance Force service members departed their compound in Kabul City in a vehicle on Friday afternoon and did not return," ISAF said in a statement. ISAF did not specify the nationality of the captured soldiers, but US officials told the Associated Press that the soldiers are Americans. A Taliban spokesman who earlier announced the capture also described the soldiers as American. He told the Reuters news agency that three US soldiers were initially captured, but that one of them has died...Samer Gul, the administrative head of Charkh district in Logar, said the Taliban noticed the soldiers when their vehicle passed through a market. "They stopped in the main bazaar of Charkh district. The Taliban saw them in the bazaar," Gul said. "They didn't touch them in the bazaar, but notified other Taliban that a four-wheel vehicle was coming their way." Gul said the soldiers were captured following a shootout with the Taliban. [Full story>>aljazeera.net; See related story,

france24.com (AFP) July 24, "Four US soldiers killed in bomb attack" : Four US soldiers were killed Saturday in a Taliban-style bomb attack, NATO said, as the death toll of foreign soldiers in the Afghan war climbed closer to the 2,000 mark. NATO's International Security Assistance Force (ISAF) said the four died following an attack involving an improvised explosive device, or IED, the main weapon deployed by the Taliban in their insurgency. An ISAF spokeswomen confirmed the four were Americans. The incident took place in southern Afghanistan, where the war is at its fiercest, an ISAF statement said. The deaths bring to 396 the toll of foreign soldiers killed in the war so far this year, compared to 520 for all of 2009...
---
07.24.10 Mexican authorities find 38 bodies hidden in mass graves
July 24 - Authorities in the Mexican border state of Nuevo Leon are investigating after finding at least 38 bodies in nine hidden mass graves, the state's attorney general said. Investigators believe some of the bodies had been dumped within the past 15 days, said Alejandro Garza y Garza, Nuevo Leon attorney general. State-run news agency Notimex reported that investigators found charred remains, incinerated bone fragments and stains of fire on the ground where bodies were presumably burned in steel drums. Garza said Friday that the bodies were in an area spanning 3 hectares (about 7 acres) in the municipality of Juarez outside the state capital of Monterrey. Investigators were still searching for additional graves Friday, he said, according to Notimex. The bodies were mostly males between ages 20 and 50, Notimex said, and many of them had tattoos. [More>>cnn.com]
---
07.24.10 Indonesia risks losing 117 bird species
JAKARTA, July 24 - Environmental degradation will cause 117 bird species in Indonesia to vanish, a non-governmental organization predicts. Fahrul Paja Amama of Burung Indonesia said on Saturday that 17 species were in a critical condition, 30 species were endangered and 70 others were vulnerable to extinction. Conversion of green areas as habitat of the birds into buildings has been blamed for the disappearance of the species, other than uncontrolled hunting. Indonesia is home to 1,599 bird species, including 353 endemic birds, joining the ranks of the world's mega bird diversity. There are approximately 10,000 bird species all over the world. [More>>thejakartapost.com]
---
07.24.10 NASA telescope finds elusive buckyballs in space for first time
WASHINGTON (Xinhua) July 23 - Astronomers using NASA's Spitzer Space Telescope have discovered carbon molecules, known as "buckyballs," in space for the first time, NASA said Friday. Buckyballs are soccer-ball-shaped molecules that were first observed in a laboratory 25 years ago. They are named for their resemblance to architect Buckminster Fuller's geodesic domes, which have interlocking circles on the surface of a partial sphere. Buckyballs were thought to float around in space, but had escaped detection until now. "We found what are now the largest molecules known to exist in space," said astronomer Jan Cami of the University of Western Ontario, Canada, and the SETI Institute in Mountain View, Calif. "We are particularly excited because they have unique properties that make them important players for all sorts of physical and chemical processes going on in space." Cami authored a paper about the discovery that appeared Friday in the journal Science.

Buckyballs are made of 60 carbon atoms arranged in three- dimensional, spherical structures. Their alternating patterns of hexagons and pentagons match a typical black-and-white soccer ball. The research team also found the more elongated relative of buckyballs, known as C70, for the first time in space. These molecules consist of 70 carbon atoms and are shaped more like an oval rugby ball. Both types of molecules belong to a class known officially as buckminsterfullerenes, or fullerenes. The Cami team unexpectedly found the carbon balls in a planetary nebula named Tc 1. Planetary nebulas are the remains of stars, like the sun, that shed their outer layers of gas and dust as they age. [More>>xinhuanet.com]
---
07.24.10 Discovered: Stone Age man's morning after the night before
July 24 - Archaeologists in Wiltshire have discovered remarkable evidence of a spectacular party – enjoyed by Neolithic tribesmen 4,500 years ago. Excavations at Britain's biggest "henge" site – a prehistoric religious complex 16 times the size of Stonehenge — have yielded the remains of dozens of pigs slaughtered for an ancient ceremonial feast. The archaeologists, from English Heritage, also discovered the remains of a temporary Neolithic ritual building which they believe was constructed specially for the event — probably for staging religious feasts and rituals. The 25sq m timber structure was surrounded by hundreds of discarded pig bones. It's one of the very few Neolithic buildings ever discovered in Britain. [More>>independent.co.uk]
---
07.23.10 Pay Czar: 17 bailed-out banks overpaid execs
WASHINGTON, July 23 - Kenneth Feinberg says banks gave top execs $1.6B in lavish bonuses - but he has no authority to ask firms to repay money. The Treasury Department's pay czar said Friday that 17 banks gave their top executives $1.6 billion in lavish payments while they were receiving billions of dollars in taxpayer-funded bailouts. Kenneth Feinberg said he did not have the authority to ask the firms to repay the money that was handed out during the financial crisis. But he said they should develop new rules on compensation that would allow them to slash compensation payments in future crises. "If the company's board of directors has identified that the firm is in a crisis situation, the compensation committee would have the authority to restructure, reduce or cancel pending payments to executives," according to a fact sheet Feinberg released.

Feinberg reviewed 419 companies that received bailout money before pay curbs were enacted by Congress in February 2009. The review covered the period from October 2008 to February 2009. The starting point was when banks began receiving bailout money from the $700 billion Troubled Asset Relief Program. The ending point was when Congress enacted pay curbs on institutions receiving government support. He determined that a total of $1.7 billion in payments were made during that period that would have violated the guidelines adopted later. And $1.6 billion of that amount was paid out by 17 of the country's largest financial institutions. According to a New York Times report, the list of 17 banks includes JPMorgan Chase & Co., Goldman Sachs, American International Group and small lenders like Boston Private Financial Holdings. Citigroup was expected to be singled out as one of the biggest offenders, according to the report. [More>>cbsnews.com]
---
07.23.10 Goldman Sachs' 'Fabulous Fab' Tourre Hung out to dry?
July 23 - SEC vows to pursue case against trader at center of case; sending a strong message — or calling a bluff? Soon after the Securities and Exchange Commission announced July 15 that it had reached a $550 million fraud charge settlement with Goldman Sachs, shares of the bank soared. Analysts immediately scored it a victory for CEO Lloyd Blankfein. Meanwhile, back at the SEC's Washington, D.C. headquarters, as a press conference was winding down, Lorin Reisner, the agency's deputy director of enforcement, made it clear the bombshell case was not entirely closed. Fabrice Tourre, a Goldman vice president and the firm's only employee singled out in the SEC's civil securities fraud complaint, was still on the hook. "There is no settlement with Mr. Tourre," Reisner said. "We are proceeding with that case." What's more, he added, Goldman has agreed to cooperate in the case against Tourre, who is better known on Wall Street as "Fabulous Fab," a moniker he gave himself in a now infamous email obtained by regulators. [More>>abcnews.go.com]
---
07.23.10 Calif. city officials resign in salary scandal
BELL, Calif., July 23 - Three administrators whose huge salaries sparked outrage in this small blue-collar suburb of Los Angeles have agreed to resign, the City Council said Friday. Council members emerged from an hours-long closed session at midnight Friday and announced that they'd accepted the resignations of Chief Administrative Officer Robert Rizzo, Assistant City Manager Angela Spaccia and Police Chief Randy Adams. Rizzo was the highest paid at $787,637 a year — nearly twice the pay of President Barack Obama — for overseeing one of the poorest towns in Los Angeles County. Spaccia makes $376,288 a year and Adams earns $457,000, 50 percent more than Los Angeles Police Chief Charlie Beck. The three will not receive severance packages, the Los Angeles Times reported Friday.

Rizzo will step down at the end of August and Spaccia will leave at the end of September. Adams will also leave at the end of August, after completing an evaluation of the police department, the Times said. "I'm happy that they resigned but I'm disappointed at the pension that they're going to receive," said Ali Saleh, a member of the Bell Association to Stop the Abuse or BASTA. Rizzo would be entitled to a state pension of more than $650,000 a year for life, according to calculations made by the Times. That would make Rizzo, 56, the highest-paid retiree in the state pension system. Adams could get more than $411,000 a year. Spaccia, 51, could be eligible for as much as $250,000 a year when she reaches 55, though the figure is less precise than for the other two officials, the Times said. [More>>foxnews.com]
---
07.23.10 Trafigura fined €1m for exporting toxic waste to Africa
July 23 - Dutch court convicts oil trader of illegally exporting waste to Ivory Coast and concealing its hazardous nature in Amsterdam. The controversial oil trader Trafigura was today fined €1m (£840,000) for illegally exporting tones of hazardous waste to west Africa. A court in the Netherlands also ruled that the London-based firm had concealed the dangerous nature of the waste when it was initially unloaded from a ship in Amsterdam. It is the first time that Trafigura has been convicted of criminal charges over the environmental scandal in which 30,000 Africans were made ill when the toxic waste was dumped in Ivory Coast. The fine was half the amount requested by Dutch prosecutors. The Amsterdam district court judge, Frans Bauduin, also convicted a Trafigura employee for his role in the 2006 scandal, and the Ukranian captain of the ship that carried the waste. Bauduin said Trafigura was fined because it had done what European regulations on toxic waste aimed to prevent, "namely the export of waste to the third world and harming the environment." [More>>guardian.co.uk]
---
07.23.10 UK economy grows at the fastest pace in four years
July 23 - The UK economy soared by an unexpected 1.1pc between April and June, official figures showed today. The quarterly leap in gross domestic product (GDP) was almost double the 0.6pc expected by the City and the highest since the first quarter of 2006, the Office for National Statistics (ONS) said. The stellar advance, driven by huge growth in business services, finance and construction, comes amid a global debate over the impact of austerity measures on the economy and could be taken to vindicate Chancellor George Osborne's decision to push ahead with his planned fiscal squeeze. Overall the UK posted its strongest annual growth — 1.6pc — since before the recession at the beginning of 2008 and much better than the 1.2pc growth forecast for the year produced by the the Office for Budget Responsibility. Within the services sector, business and finance posted its strongest rise in almost three years — advancing 1.3pc over the quarter, as the City emerged from the aftermath of the banking crisis. [More>>telegraph.co.uk]
---
07.23.10 Israel urges Lebanon and world: Stop new Gaza flotilla or we will
July 23 - In letter to Security Council, UN envoy Gabriela Shalev says activists are trying to inflame Mideast, calls on international community to halt planned aid convoy in order to prevent 'any escalation.' Israel is urging Lebanon and the international community to prevent two ships from sailing to the Gaza Strip from a Lebanese port, warning that efforts to break the blockade of the Hamas-ruled Palestinian territory would be stopped. Israel's ambassador to the United Nations, Gabriela Shalev, accused organizers of the aid ships Junia and Julia of "seeking to incite a confrontation and raise tensions in our region."...In letters to Secretary-General Ban Ki-moon and the Security Council obtained Thursday by The Associated Press, Shalev said, "Israel reserves its right under international law to use all necessary means to prevent these ships from violating the ... naval blockade." She called on Lebanon's government to "demonstrate responsibility and prevent the two ships, Junia and Julia, from departing." [Full story>>haaretz.com]
---
07.23.10 Escaped Iraq detainees are Qaeda suspects
BAGHDAD (AFP) July 23 - Four prisoners who escaped from a jail on the outskirts of Baghdad are suspected al-Qaeda members, two of them believed to be leaders of the group's Iraq front organization, a police source said on Friday. The four who escaped from the Cropper detention facility were the Islamic State of Iraq's self-styled minister of justice and minister of finance, along with a "judge" and another al-Qaeda member, the source said. Justice Minister Dara Nurredin Dara said on Thursday that the four had escaped from the facility two days before...Dara told AFP that the warden of the Cropper detention facility had also gone missing but declined to say whether he had been involved in the escape. [Full story>>khaleejtimes.com]
---
07.23.10 Video shows fugitive Swat leader
July 23 - A new video has surfaced that purportedly shows Fazlullah, the fugitive former leader of the Pakistani Taliban in the Swat valley, firing gunshots and addressing a group of aspiring suicide bombers. In the video obtained by local media, Fazlullah is shown talking to a group of people, whom he addresses as suicide bombers, telling them to target Pakistan's government and the military. "The government and the military are against us and you should target them," Fazlullah, who apparently looked quite healthy in the 40-minute video, told his followers. Fazlullah, who was thought to have been killed near the Afghan-Pakistan border in May, is shown embracing at least 10 suicide bombers, who were said to be ready to "accomplish their mission."

In the tape released on Thursday, he ridiculed the government's claim that it had restored peace in Swat, saying, "the army committed worst terrorism by killing innocent people in Swat." "We do not concede defeat ... it was our tactical retreat and part of our strategy," he said. "We are still active." Fazlullah mounted a violent two-year campaign to enforce a stricter interpretation of sharia [Islamic law] in the northwest Pakistan district of Swat valley, until Pakistani troops launched a major offensive to drive out Taliban fighters from the region. [More>>aljazeera.net; See other details and related links,

xinhuanet.com, July 23, " 'Mullah Radio' out of grave, releases video threatening suicide attacks in Pakistan" : ISLAMABAD - Pakistani Taliban leader Moulvi Fazlullah, infamous as "Mullah Radio", who had reportedly been killed in May is still alive and kicking, local media reported Friday...Fazlullah, 31, leads Tehrik Nifaz Shariat-e-Muhammadi (TNSM) chief in restive Swat area, an ally of Tehrik Taliban Pakistan ( TTP). He had reportedly been killed along with six other Taliban commanders in Nuristan province of Afghanistan on May 27. Afghan border police then made the claim which was denied by Pakistani Taliban leader Moulvi Fakir Muhammad, declaring it unfounded and baseless.

Fazlullah who is reported not to be an active fighter and handicapped with imputed legs is also son-in-law of Sufi Muhammad, chief of the national network of the disbanded TNSM in the troubled tribal areas of Pakistan bordering Afghanistan. In a latest development, official sources said the army have arrested Haji Muslim Khan, a Tehrik-e-Taliban Pakistan spokesman, while another important Taliban commander Moulvi Shah Dauran was killed in a clash with troops...some 1,100 terrorists have reportedly infiltrated into Pakistan from Afghanistan...
---
07.23.10 29 militants killed in Orakzai operations
HANGU, Pakistan, July 23 - At least 29 militants including two important commanders were killed during military operations in Orakzai agency, Geo News reported Friday. According to sources, commanders Zahidullah and Suleman Mehsud were killed in operations. [>thenews.com.pk]
---
07.22.10 EU pressures Chad to arrest Bashir on genocide charges
(AFP) July 22 - The EU has urged Chad to arrest Sudanese President Omar al-Bashir Thursday, after he ignored a genocide warrant on a visit to the country. The International Criminal Court has issued two warrants against Bashir for crimes committed in west Darfur. EU foreign affairs chief Catherine Ashton urged Chad on Thursday to arrest Sudan's visiting President Omar al-Beshir and hand him over to an international court to face genocide charges. Ashton "urges Chad to respect its obligations under international law to arrest and surrender those indicted by the ICC (International Criminal Court)," her press office said in a statement.

She said Chad was a signatory of the Rome Statute, the founding document of the ICC, obliging it to arrest any person on its territory wanted by the court. Ashton's office did not indicate whether the EU could act against Chad if it did not meet her request. Beshir was greeted by President Idriss Deby Itno when he arrived in Chad on Wednesday. Chadian Foreign Minister Moussa Faki Mahamat said Beshir had "nothing to worry about" as he attended a meeting Thursday of the Community of Sahel-Saharan States.

The ICC has issued two arrest warrants for Beshir, both relating to atrocities committed in Sudan's western Darfur region, but with no police force the court depends on member states to enforce its orders. The first warrant was issued in March 2009 on charges of war crimes and crimes against humanity. Those charges were extended to genocide in a second warrant issued by the ICC earlier this month. [>france24.com]
---
07.22.10 Pope to be protected from arrest on UK visit
July 22 - The Government has moved to prevent the possibility of an arrest warrant being issued against the Pope during his state visit this autumn. Sky News understands that Whitehall officials have been "seriously concerned" that campaigners would use international criminal rules to try to detain the Pontiff while he is in the UK. Richard Dawkins, Christopher Hitchens and human rights lawyer Geoffrey Robertson QC were among those campaigners reported to be looking at the options for bringing a private prosecution in relation to the Pope's alleged cover-up of sexual abuse in the Catholic Church. Now Justice Secretary Ken Clarke has proposed changes to the rules on universal jurisdiction, a law that allows individuals to be prosecuted in the UK for serious offences such as war crimes, crimes against humanity and torture even if they were carried out abroad.

The plans would mean the Director of Public Prosecutions would need to give his consent to any arrest warrant issued under universal jurisdiction. This would effectively mean taking that power out of the hands of the courts. Ministers say the current rules are open to abuse because the evidence required to get a warrant is far below the threshold that would be needed to bring a prosecution. This has meant the rules are often used by those who wish to make a political statement or to cause embarrassment. The most recent attempt to obtain an arrest warrant for a foreign dignitary was ahead of the visit by former Israeli defence minister Tzipi Livni who cancelled her trip at the last minute to avoid embarrassment. [More>>news.sky.com; See related story,

jpost.com, July 22, "Livni backs UK war crimes law change" : Amendment would protect Israeli leaders from arrest in Britain. Tzipi Livni on Thursday welcomed a legislative amendment to Britain's laws on war crimes, specifically a universal jurisdiction clause which allowed Palestinians in Gaza to apply for a British arrest warrant for Livni over her role in authorizing Operation Cast Lead. Livni welcomed the effort and said, "this amendment will bring an end to the horrible and twisted [law] that allows individual political activists to cynically take advantage of the legal system to fight the international struggle against terror." Livni said British ambassador Israel Tom Philips updated her on the details Thursday. "The free world must differentiate between real war criminals who must be brought to justice and those who fight terrorism against civilians," she added, "including the officers and soldiers of the IDF. This is an important step in the right direction." The British coalition government will work towards changing the law on universal jurisdiction for war crimes "at the first opportunity," UK Justice Secretary Ken Clarke announced Thursday...
---
07.22.10 US admits ISI-Taliban links, assures India role in Afghanistan not diminished
NEW DELHI, July 22 - Days after India-Pakistan talks broke down on the issue of terror, the US pointed out links between the Taliban and Pakistani spy agency ISI and assured India that its role in Afghanistan was "not being diminished" to the advantage of Islamabad. Lauding New Delhi's role in the reconstruction of Afghanistan, US Special Representative for Afghanistan and Pakistan Richard Holbrooke also pitched for better relations between India and Pakistan and stressed that improving relations of the US with Islamabad were in New Delhi's interests. Although Holbrooke did not spell out what gave Pakistan leverage over the evolving power equations in Afghanistan, he spoke about the links between Pakistan's Inter-Services Intelligence (ISI) and the Taliban, a nexus highlighted by New Delhi many a time. "The links between the ISI and the Taliban are a problem. US has spoken to the Pakistan government and the military on ISI links with the Taliban," he told reporters in an interaction here.

He spoke about a growing coordination among terror groups in the region, a point also made by National Security Adviser Shivshankar Menon at a seminar on terrorism in South Asia when he highlighted the links between the intelligence agencies and terror groups in the region. "Their long-term objective is to destroy..Western civilization and to create crisis between New Delhi and Islamabad," Holbrooke said when asked about the Pakistan-backed Haqqani network and Lashkar-e-Taiba, the Pakistan-based militant group that allegedly plotted and executed the 2008 Mumbai carnage. "LeT is co-equal threat along with al-Qaeda. The LeT, al-Qaeda and Taliban are all working closer together than ever before," he said, ruling out any reconciliation with the terrorist groups. [More>>timesofindia.indiatimes.com]
---
07.22.10 More than 100 Earth-like planets found in just past few weeks
July 22 - More than 100 planets that are a similar size to Earth have been discovered in just the past few weeks, it has been announced. The discovery was made by the space telescope Kepler which has been scanning the skies for planets that are orbiting stars since it was launched in January last year. The breakthrough raises the tantalizing prospect that we may not be alone in the Universe. Scientists now believe that there are likely to be around 100 million planets in the Milky Way that harbour exactly the right conditions for life. And they expect to be able to identify around 60 of these habitable Earth-like planets within the next two years.

Astronomer Dimitar Sasselov told a conference that a space telescope has uncovered 140 different planets which are around the same size as Earth. He described the remarkable breakthrough as "fulfilling the dreams of Copernicus." Kepler finds planets by detecting almost imperceptible "winks" — the tiny amount of dimming that occurs each time a planet moves across the face of a star. "Transits," as they are known, by terrestrial planets produce a small change in a star's brightness of about 100 parts per million, lasting for 2 to 16 hours. Information such as a planet's size and the extent of its orbit can be calculated from the amount of dimming, the length of time between 'winks' and the star's mass. [More>>dailymail.co.uk]
---
07.22.10 Fighting in Yemen kills 20 & threatens truce
SANAA, Yemen, July 22 - Gunmen killed at least five Yemeni soldiers on Thursday in a suspected al-Qaeda ambush of a military convoy in the south, the third assault on state targets in five weeks blamed on the group's resurgent regional arm. Al-Qaeda in Yemen previously focused on high-impact strikes against Western and Saudi targets, but appears to now be targeting government forces in response to enhanced Yemen-US security coordination and a government crackdown. "There was an ambush targeting the soldiers' vehicle and five were killed and a sixth was wounded. There is suspicion that al-Qaeda was behind the operation," an official in the southern province of Shabwa told Reuters. [More>>alarabiya.net]
---
07.22.10 Three killed in rocket attack on Baghdad's Green Zone
BAGHDAD (AFP) July 22 - Three security contractors working for the US government were killed and 15 wounded in a rocket attack on the Iraqi capital's heavily fortified Green Zone on Thursday, the American embassy said. "Two Ugandans and one Peruvian were killed and 15 people injured" by "a rocket fired into the International Zone," the embassy said, using another name for the Green Zone in central Baghdad. "Two of the injured were American citizens," it said. "All the dead and injured worked for a US government security contractor which protects US government facilities in Iraq." The Green Zone, which houses the US and several other major embassies as well as Iraqi government buildings, is still the target of frequent rocket and mortar attacks. US forces handed full responsibility for entering and exiting the area over to Iraqi authorities on June 1, 2010. [>khaleejtimes.com]
---
07.22.10 Flight attendant Rodney Lorenzo 'threatened jihad' on American Airlines
NEW YORK, July 22 - A flight attendant with a short fuse threatened to unleash jihad on American Airlines after it fired him for hurling a coffee pot at a fellow cabin crew member. Rodney Lorenzo, 45, sent letters to the airline's executives with "Boom!!" written on the envelopes, a court in New York was told. The letters, posted 2008, contained pages from an employee handbook showing how to access an airplane cockpit. Mr. Lorenzo, who faces charges of making terrorist threats, allegedly said he would forward the information to Islamic groups in the hope they would use it against the airline and its passengers. [More>>news.com.au]
---
07.21.10 Obama on new law: 'No more taxpayer bailouts'
NEW YORK, July 21 - After more than a year of effort by its advocates, President Obama signed the Wall Street reform bill into law Wednesday, promising that the measure will put an end to taxpayer-funded bailouts of failed banks. "Because of this law, the American people will never again be asked to foot the bill for Wall Street's mistakes," Obama said in a ceremony at the Ronald Reagan Building in Washington. "There will be no more taxpayer-funded bailouts. Period." Considered the most sweeping overhaul of the financial system since the New Deal, the law immediately gives regulators stronger powers to break up financial companies that have grown too big. Among its many provisions, the law also attempts to shine a light on complex financial products called derivatives and creates a new consumer protection agency that will set rules to curb unfair practices in consumer loans and credit cards. "These reforms represent the strongest consumer financial protections in history," Obama said. "And these protections will be enforced by a new consumer watchdog with just one job: looking out for people — not big banks, not lenders, not investment houses — in the financial system." [More>>cnn.com; See also msnbc.com, July 21, "The new consumer agency: What's in it for you?"]
---
07.21.10 We're pigs in space, but Aussie technology set to clean up orbiting mess
July 21 - Space is meant to be the final frontier but it's starting to look more like a cosmic rubbish dump. An estimated 500,000 pieces of man-made garbage, from tiny specks of metal to jettisoned fuel tanks the size of a bus, hurtle through space at more than 30,000km/h, creating a serious traffic hazard for satellites. Now pioneering Australian technology could help not only track the detritus but zap it with lasers to push it out of the way. EOS Space Systems boss Craig Smith explained yesterday that even the tiniest pieces of garbage posed a serious threat to satellites, spacecraft and astronauts because the debris travelled at such speed. The EOS system involves special cameras peering into the night sky to locate the debris. Lasers are then fired at the debris from a station on Mt. Stromlo in the ACT. The aim is to eventually establish a network of lasers across the globe. Work is also under way to develop a much more powerful laser capable of punching debris out of orbit so it no longer poses a threat. [>news.com.au]
---
07.21.10 Forty-ton whale wrecks couple's yacht
July 21 - Two sailing instructors have told of the shocking moment a 40-ton whale came crashing down onto their yacht off the South African coast. Ralth Mothes, 59, and his partner Paloma Werner, 50, were watching the beast at a distance, near Cape Town, when it moved towards their 32ft-vessel Intrepid. "I thought, 'Surely, it can't be on a collision course with us,'" Mr. Mothes said. But the young Southern Right whale slipped out of view before suddenly flipping into the air and smashing the Intrepid's mast. The massive mammal thrashed around on the vessel before rolling back into Table Bay. [More>>news.sky.com]
---
07.21.10 Israel shelling kills Palestinian 'militant' at Gaza border
July 21 - Islamic Jihad claims one of its fighters was killed in attack that injured seven others including a young girl, according to Gazans. A Palestinian militant was killed today when the Israeli military fired a shell at what it described as a group of suspects approaching the border between Gaza and Israel. Seven more people were injured, several seriously. According to Palestinian medical workers, the injured included a 10-year-old girl. The dead man was reported to be an Islamic Jihad militant, named Mohammad Al-Kafarneh, 22. The group claimed he was one of their fighters, as hundreds of mourners with Islamic Jihad flags were photographed at his funeral by several international news agencies. According to Palestinian sources, an Israeli soldier was shot by a militant sniper in the incident. [More>>guardian.co.uk]
---
07.21.10 'Iran won battle with the CIA'
July 21 - An Iranian nuclear scientist who returned home last week from the United States provided valuable information about the CIA, a semi-official news agency reported Wednesday, adding that his spy's tale would be made into a TV movie. American authorities have claimed Shahram Amiri willingly defected to the US but changed his mind and decided to return home without the $5 million he had been paid for what a US official described as "significant" information about his country's disputed nuclear program. The Fars news agency quoted an unidentified source as saying that Iran's intelligence agents were in touch with Amiri while he was in the US and that they won an intelligence battle against the CIA. Iran has portrayed the return of Amiri as a blow to American intelligence services that it says were desperate for inside information on Iran's nuclear program. Iran has sought to make maximum propaganda gains from the affair, allowing journalists to cover Amiri's return, sending a senior Foreign Ministry official to greet him and preparing to make a movie about the story. [More>>jpost.com]
---
07.21.10 New sanctions crimp Iran's shipping business as insurers withhold coverage
TEHRAN, July 21 - (Washington Post) Just weeks after the United States and the United Nations imposed new rounds of sanctions on Iran, Tehran's ability to ship vital goods has been significantly curtailed as some of the world's most powerful Western insurance companies cut off Iranian shippers out of fear that they could run afoul of US laws, the insurers say. The new measures pose a serious test for Iran. In particular, the US sanctions, which threaten to penalize foreign companies that sell fuel and other refined petroleum products to Iran, have forced ports and freighting companies across the globe to reevaluate their Iranian business. Dozens of Iranian vessels that transport crude oil, industrial equipment and other goods and supplies in and out of the Islamic Republic have been denied insurance coverage for weeks, insurance company representatives said. [More>>iranfocus.com]
---
07.21.10 US to impose more sanctions against North Korea
SEOUL, South Korea, July 21 - The Obama administration announced Wednesday that it would impose further economic sanctions against North Korea, throwing legal weight behind a choreographed show of pressure on the North that included an unusual joint visit to the demilitarized zone by Secretary of State Hillary Rodham Clinton and Defense Secretary Robert M. Gates. The measures, announced here by Mrs. Clinton after high-level talks with South Korean officials, take aim at counterfeiting, money laundering and other dealings that she said the North Korean government used to generate hard currency to pay off cronies and cling to power. While the United States already places heavy sanctions on North Korea, American officials insisted the new measures would further tighten the financial vise around the secretive and isolated North Korean leader, Kim Jong-il, who, according to regional intelligence, is in declining health. [More>>nytimes.com]
---
07.21.10 Astronomers detect 'monster star'
July 21 - They are among the true monsters of space - colossal stars whose size and brightness go well beyond what many scientists thought was even possible. One of the objects, known simply as R136a1, is the most massive ever found. The star is seen to have a mass about 265 times that of our own Sun; but the latest modelling work suggests at birth it could have been bigger, still. Perhaps as much as 320 times that of the Sun, says Professor Paul Crowther from Sheffield University, UK. "If it replaced the Sun in our Solar System, it would outshine [it] by as much as the Sun currently outshines the full Moon," the astronomer told BBC News. [More>>bbc.co.uk; See other details, independent.co.uk, July 21, "Astronomers discover 'monster' stars."]
---
07.21.10 Six Afghan police officers beheaded
KABUL (AP) July 21 - NATO forces said Wednesday that six Afghan police officers have been beheaded by insurgents in northern Afghanistan. The military coalition said in a statement the militants attacked a number of government buildings, including a police checkpoint, in Baghlan province's Dahanah-ye Ghori district. The insurgents overran the checkpoint Tuesday and killed the officers inside by cutting off their heads. Violence and casualties have surged in recent months in Afghanistan. June was the deadliest month for US and international forces with the deaths of 103 service members, including 60 Americans. [>japantoday.com; See more details,

aljazeera.net, July 21, "Taliban 'beheads' Afghan police" : Six Afghan police officers have been beheaded by Taliban  fighters in northern Baghlan province, the NATO-led international security assistance force (ISAF) has said. The officers were killed after Taliban fighters attacked a number of government buildings, including a police checkpoint. A spokesman for the Taliban confirmed the attack on Wednesday, but denied the ISAF claims about the decapitations. Abdul Majid, the governor of Baghlan, also he was unaware of reports that the victims had been beheaded. The military alliance said police "successfully repelled" an attack on a school, clinic and the district governor's building in Dahanah-ye Ghori on Tuesday, killing several fighters, but that the police checkpoint had been overrun...
---
07.21.10 30 militants killed in Orakzai Agency
PESHAWAR, July 21 - One security man [was] martyred and thirty militants were killed in [a] security offensive in upper Orakzai Agency..security forces [were] advancing in [the] Dabori area in upper Orakzai Agency. Militants targeted [the] forces with automatic weapons and rockets. One security official [was] martyred and 30 militants were killed in the action. Four security men sustained injuries. Key militants [were] also included among those killed in the offensive. [>thenews.com.pk]
---
07.21.10 Suspected Kurd rebels blow up Iran-Turkey gas pipeline
ANKARA (AFP) July 21 - Suspected Kurdish rebels blew up a pipeline carrying natural gas from Iran to Turkey, forcing the shutdown of the conduit, officials said Wednesday. The powerful blast occurred overnight at a section of the pipeline near the eastern Turkish town of Dogubayazit, in Agri province, several kilometres (miles) from the Iranian border, a local official said over telephone, without giving other details. "The explosion is believed to have been carried out by members of the separatist terrorist organization," Agri Governor Ali Yerlikaya said in a statement, using officialese for the outlawed Kurdistan Workers' Party (PKK). Security forces are looking for the perpetrators, said the statement, carried by Anatolia news agency. Television footage showed a large blaze raging over the pipeline after the blast, which, Anatolia said, shattered the windows of nearby buildings. [More>>timesofindia.indiatimes.com]
---
07.21.10 Four killed by Iraq car bomb
(AFP) July 21 - A car bomb near a mosque in the central Iraqi city of Baquba killed at least four people and wounded 10 others on Wednesday, security officials said. The explosion near the Husseiniyah mosque in the predominantly Shiite district of Abu Sayeeda in east Baquba, north of Baghdad, occurred at around 6:00pm (1500 GMT), an official from Baquba Operations Command said. US and Iraqi officials have warned of the dangers of an upsurge of violence if negotiations on forming a new governing coalition continue to drag on, giving insurgent groups an opportunity to further destabilise the country. More than four months after a March 7 general election, which gave no single bloc an overall parliamentary majority, the two lists which won most seats are still bickering over who should be the next prime minister. [>france24.com]
---
07.21.10 Mauritania jails Qaeda mercenary kidnapper
NOUAKCHOTT, Mauritania, July 21 - Sentenced to 12 years in prison for kidnapping Spaniards. A Mauritanian court on Wednesday sentenced a Malian national to 12 years in prison for his role in kidnapping three Spanish aid workers and handing them over to al-Qaeda. Omar Sid'Ahmed Ould Hamma, who was arrested in February by Mauritanian security forces, was the ringleader of a gang of kidnappers who abducted the Spaniards the previous November. [More>>alarabiya.net]
---
07.21.10 Devout Muslim Indonesian provice expels US family
BANDA ACEH, Indonesia (AP) July 21 - Three Americans were expelled from Indonesia's devoutly Islamic province of Aceh on Wednesday after locals accused them of trying to convert Muslims to Christianity, a local government spokesman said. Immigration officials, however, said no decision has been made on whether Robin Kay Jordan, his wife Kelly and their daughter Claire would be deported. Proselytizing is illegal in Indonesia, the world's most populous Muslim nation. The Jordans, charity workers from California, were forced from their rented house in West Aceh district and transferred to the immigration office in the neighboring province of North Sumatra, said Mulyagus, district spokesman. [More>>khaleejtimes.com]
---
07.21.10 Spain parliament rejects burqa ban proposal
MADRID, July 21 - Ban violates personal freedoms: MPs. Spain's Parliament rejected Tuesday a proposal to ban women wearing the face veil in public places, citing protection of personal freedoms. The proposal to ban women from wearing a veil that only reveals the eyes was presented by the leading opposition Popular Party on the grounds that the outfit, also called burqa, violates the rights of women and undermines their dignity. Following a debate that took place in the parliament's lower chamber, 162 MPs voted for the ban, 183 opposed it, and two abstained. According to the Popular Party, the proposal was put forward "in defense of the dignity and equality of all women" and to make sure Muslim women are not being forced by their husbands to become fully veiled..."The only woman I knew who regularly wore a burqa had lived in the southern city of Cordoba and died about a decade ago." None of the opposition spokesmen had been able to cite a place in Spain where women routinely wear face-covering veils. [Full story>>alarabiya.net]
---
07.20.10 Newt Gingrich: Obama like a 'teenager with a credit card'
July 20 - Former Republican House Speaker Newt Gingrich criticized President Obama this morning on NBC's "Today," likening the president's approach to the economy and unemployment to that of a "teenager with a credit card." Gingrich issued the barb in response to Mr. Obama's comments yesterday criticizing Republicans for opposing a bill extending benefits for the unemployed. Gingrich said the bill would do little for job creation and complained its $33 billion price tag would simply add to an already inflated deficit. "The second biggest concern of the American people after jobs is deficit spending," Gingrich said. [More>>cbsnews.com]

---
E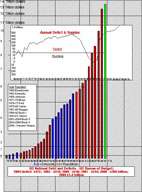 ditorial note: The father of deficit spending in the modern US economy was President Ronald Reagan. In his day the practice was called "Reaganomics." During his eight years his annual deficits tripled the US Public Debt. The public debt he inherited from President Jimmy Carter in 1980 was $907.7 billion. Reagan left office in 1988 with a public Debt of $2.6 trillion. His successor, President George W. H. Bush (Bush I), continued the deficit spending practice of Reagan, raising the public debt to $4.06 trillion. The Reagan-Bush I years quadrupled the public debt.

After Democrat President Bill Clinton assumed office in 1993, Newt Gingrich, as Speaker of the House, announced a plan called "Contract with America," to force a "pay as you go plan," eliminating the deficit spending of the Regan-Bush I era. Clinton agreed to the plan and during his years in office the public debt was paid down, through surpluses, and in November 2000 he left his successor, President George W. Bush (Bush II), a surplus of $232 billion.

President Bush II doubled the public debt during his eight years in office, leaving the current President in November 2009 a public debt of $13 trillion. During his administration Wall Street suffered the greatest collapse of the financial market since the Great Depression, from which the economy still has not recovered. Curiously, during the height of the Bush II deficits, Newt Gingrich was silent. It is amazing that he was not asked about his silence on deficits during the Republican eras. Click on chart to review tables of deficits experienced by presidential administrations since Jimmy Carter. Blue bars are Democrat administrations; red bars are Republican. The green bar (2010) is the current administration, the total for the 2010 public yet to be determined.

Mel Copeland
---
07.20.10 N. Carolina man appears to be top editor of al-Qaeda magazine, US officials say
July 19 - A young North Carolina man who has moved to Yemen appears to be the editor-in-chief of a flashy new al-Qaeda magazine that features bomb-making instructions and an article by Usama bin Laden, US officials said Monday. Samir Khan, a 24-year-old American citizen who left the country last October, is believed to be the top editor of Inspire, a newly launched online magazine that seeks to recruit members of al-Qaeda in the Arabian Peninsula — the notorious terror group's Yemeni branch that is linked to the attempted bombing of a Detroit-bound US flight last Christmas. The 67-page online publication, written in colloquial English and launched last month, features flashy graphics and punchy headlines like "Make a Bomb in the Kitchen of Your Mom," as well an article on global warming said to be written by Bin Laden. Anwar Al-Awlaki, an America-born cleric linked to several attacks on the US, including the Foot Hood massacre and the failed Times Square car bomb plot, has held a prominent role with the site and was thought to be its key proponent.

Al-Awlaki, designated by the US Treasury Department on Friday as a key leader in al-Qaeda in the Arabian Peninsula, recently posted an article on the site titled "May Our Souls be Sacrificed for You," in which he called for the Seattle cartoonist who launched "Everybody Draw Muhammad Day" to be executed. But intelligence sources told Fox News on Monday that they believe Khan, a web-savvy Charlotte, N.C., man who reportedly moved to Yemen to study Arabic, may be the mastermind behind the site — which some in the intelligence community are calling al-Qaeda's most ambitious terrorist recruitment tool to date. Intelligence analysts say Khan represents a new generation of computer-savvy radicals whose online tactics have become increasingly influential in recruiting violent jihadists abroad and promoting acts of terrorism within the US. [More>>foxnews.com ; See related articles,

internet-haganah.com, July 18, "US Treasury links to Awlaki's site" : Not that the site is active, but it was kind of them to post a link to it when listing him as a Specially Designated Global Terrorist...Now how about recognizing the domain name for what it is — an asset — and seizing it. Then use your imagination in redirecting requests for the site...

internet-haganah.com, July 19, "Top ten jihadi forums, July 19, 2010" : Because you asked, I'll try and keep up with the Top Ten lists...

01 Tahadi: http://202.75.53.220/~atahadi0/vb/
02. Faloja http://110.4.44.55/~faaall3s/vb/
03. Shmukh http://202.75.56.237/~shamikh/vb/ [dead link]
04. Ansar-ar http://www.as-ansar.com/vb/
05. Majahden http://www.majahden.com/vb/
....[For other articles on tracking terrorists see internet-haganah.com]
---
07.20.10 Pakistan knows where Osama is hiding: Clinton
WASHINGTON, July 20 - Elements in the Pakistan Government, in particular its intelligence establishment, know where Osama bin Laden, the al-Qaeda leader, is hiding inside the country, the US Secretary of State Hillary Clinton has said, declaring America will not be satisfied till it gets the most wanted fugitive of the world. "I don't want to put a proximity or timeline on it (getting bin Laden). As I've said, we have gotten closer because we have been able to kill a number of their trainers, their operational people, their financiers," Clinton said in an interview to the Fox News channel in Islamabad. She said the US and international forces were getting closer to the fugitive. "But I won't be satisfied until we get it done," she said.

The Secretary of State said she believes that some elements in the Pakistan Government know where Osama is hiding. "I think elements in the government do (know the whereabouts of bin Laden). I've said that before. But I think it is also important to know we have been getting with Pakistani cooperation a lot of the top leadership of al-Qaeda," she said. "We haven't gotten bin Laden or Zawahiri, but we've consistently been able to track and kill a lot of their principal leadership. So there is a story to be told here. It's not yet what I want it to be, because as having been a senator from New York on 9/11, I want those guys. I will not be satisfied until we get them," she said. [>indianexpress.com]
---
07.20.10 Al-Zawahiri slams Arab leaders
July 20 - Ayman al-Zawahiri, al-Qaeda's number two, has branded Arab leaders "Zionists" for helping Israel's siege of the Gaza Strip. In an audiotape posted online on Monday, al-Zawahiri said Arab government leaders allied to the West were more harmful to the Palestinians than Israel. "These Arab Zionists with whom we live and exchange smiles ... are more dangerous than the Jewish Zionists," al-Zawahiri said in the audiotape posted on an Islamist website that stated the message was produced by al-Qaeda's Al-Fajr media arm. Al-Qaeda's number two also slammed Arab leaders collectively for backing the Saudi-drafted peace initiative, which was first presented in 2002, offering Israel full recognition in return for its withdrawal from the occupied territories and a just settlement for refugees..."Obama, whether you admit it or not, Muslims have defeated you in Iraq and Afghanistan and will defeat you in Palestine, Somalia and the Islamic Maghreb," he added. [Full story>>aljazeera.net]
---
07.20.10 Likud lawmaker: Jews should be allowed free access to Temple Mount
July 20 - Deputy parliament speaker says it is 'distorted' : Israeli police makes it easier for Muslims to visit the holy compound than for Jews. A senior lawmaker of Prime Minister Benjamin Netanyahu's right-wing party on Tuesday visited a flashpoint religious site in Jerusalem revered by Jews and Muslims, a move that has sparked violence in the past. Under armed police escort, Danny Danon, a deputy parliament speaker, toured the site of an ancient Jewish temple, a plaza home to the al-Aqsa mosque, one of Islam's holiest sites, and said he thought Jews should be permitted freer access there. A group of Muslim protesters shouted "Allahu Akhbar," or God is Greatest, as Danon, trailed by armed police and dozens of Israeli and Western tourists, strolled around the area known to Muslims as al-Haram al-Sharif, and to Jews as the Temple Mount. But despite the tense atmosphere there was no violence or confrontations during the lawmaker's hour-long visit.

Danon told reporters at the nearby Western Wall, Judaism's holiest prayer site, before climbing up to the Temple Mount, that his visit was to mark Tisha B'Av, a day of fasting marking the day the Roman-era Jewish temple was destroyed. Past visits by senior Israeli officials to the site at the core of the Israeli-Palestinian dispute have sparked violence, notably in 2000 when a visit by Ariel Sharon, then an opposition leader, set off a Palestinian uprising and years of bloodshed. Disputes over the city have played a key role in hindering progress in US-backed efforts to resume direct peace talks between Israel and the Palestinians. Palestinians are angry at Israeli plans published in the past few months to expand housing construction in East Jerusalem, and destroy dozens of Palestinian homes Israel says were built illegally. "I don't see any provocation here,"

Danon, a Likud party lawmaker, replied when asked by reporters whether his tour of the holy site in the old walled city may ratchet up tensions. Danon said he wanted a firsthand look at security procedures and to press the case for permitting Jews to pray at the site. "There is full religious freedom for Jews and Muslims on the Temple Mount," Danon said. "But it is more difficult for the Jew than the Muslim to go and pray on the Temple Mount. This is a distortion that must be corrected." "If Jews want to go and pray on the Temple Mount then they should be allowed to do it," he added. Israeli police often permit tourist visits to the holy compound but discourage Jews from worshipping there, diverting them to the nearby Western Wall to try and prevent violence. No Jewish worship took place at the site during Danon's tour on Tuesday, and all were under strict orders to avoid entering al-Aqsa. Afterwards, a small group of Jewish settlers said some prayers outside the compound's gate, where they intoned a Hebrew psalm that calls for the holy temple to someday be rebuilt. [>haaretz.com; See background articles and editorial note,

Maravot News 5.14.07 05.13.07 Dozens of rabbis ascend Temple Mount in unprecedented visit

Maravot News 10.11.09 10.08.09 Elyashiv: Jews mustn't visit Temple Mt. (jpost.com) Rabbi Yosef Shalom Elyashiv, considered to be one of the greatest living Jewish law experts, has reiterated his previously expressed opinion that it is halachically forbidden for Jews to ascend to the Temple Mount. Elyashiv told this to President Shimon Peres on Thursday when the latter visited him in his succa in Jerusalem's Mea She'arim neighborhood. Peres, who makes it a practice to pay Succot visits to the Chief Rabbis of Israel as well as to Shas spiritual leader Rabbi Ovadia Yosef, had not previously called on Eliashiv. Peres raised the Temple Mount issue in light of renewed hostilities between Muslim religious authorities and small groups of Jews who choose to ignore the halachic prohibitions, thereby provoking Muslim antagonism, such as the call by Muslim leaders to safeguard the Temple Mount area...

(haaretz.com)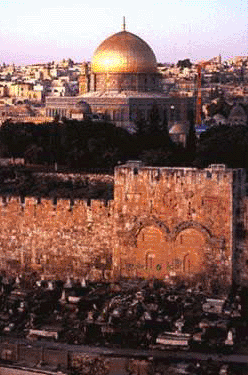 ...Since Israel captured East Jerusalem and the holy sites in the Old City during the Six-Day War in 1967, Haredi rabbinical scholars have decreed that religious law bans Jews from entering any part of the Temple Mount for fear of desecrating the Holy of Holies, whose exact location is unknown but is believed to be situated somewhere in the Temple courtyard..
---
(Maravot News 10.11.09 editorial note) Pictured here is a view of the Temple Mount looking upon the main gate, the Golden Gate, to the mount. The gate was sealed by the Ottoman's to prevent the Jewish Messiah from entering the mount. It is believed by Muslims and Jews that the Messiah will rebuild the Temple. When I was in Jerusalem in 1985 I was told by an orthodox Jew that Jews were permitted to go up to the mount, but requested by the rabbis to refrain from going up there until the Messiah comes. Until he comes the Jews were requested to mourn and pray for the Peace of Jerusalem at the Wailing Wall, the western wall of the mount.

To prevent the Messiah from entering the mount, the Ottomans sealed the gate and then planted Moslem graves in front of it. Also, there is a rot iron fence against the gate (I was able to touch the wall through the fence in 1985). I understood from my Muslim acquaintances in Jerusalem that it was believed that the Messiah would not dare walk through a Muslim cemetery.

There is much confusion among Muslims, however, as to the Koran's relationship to the Bible and its Messiah. The Koran recognizes Jesus as the Messiah and many verses of the Koran declare that it was recited to Mohammed to confirm that the Jewish Scriptures and Gospel [sic. the Bible] are true. In essence the Messiah of the Bible would have to be everyone's Messiah, not just for the Jews. For details on this see Maravot News 4.09.09, Editorial note, "Confusion over the teachings of the Koran."

See "The Allah Controversy" for a more complete discussion on the Temple Mount and the problems affecting peace in Jerusalem.

Mel Copeland
---
07.20.10 Iran PMs call on government to respond to sanctions
TEHRAN, July 20 - Bill allows retaliation if Iran's ships, planes are searched. Iran's parliament approved a law on Tuesday calling on the government to retaliate against any countries that inspect the Islamic state's ships and aircraft or refuse to provide fuel to its aircraft as part of foreign sanctions, the semi-official Fars news agency reported. The lawmakers adopted the bill in response to the latest round of sanctions imposed on Iran over its nuclear program by the United Nations Security Council, the United States and the European Union. The legislation also made the government responsible for supplying adequate amounts of 20 percent enriched uranium for Iran's nuclear research reactors for medical, industrial and scientific use, Fars said.

The UN Security Council imposed a fourth round of sanctions on Iran on June 9 over its disputed nuclear program, and the United States and the European Union have imposed additional sanctions of their own. Major powers suspect Iran is using its nuclear program to develop atomic weapons, but Tehran says it is enriching uranium only for electricity generation. Ali Larijani, the speaker of the Iranian parliament, told reporters in Geneva "If they want to act illegally and inspect Iran's ships, then we will retaliate." Larijani, formerly Iran's chief nuclear negotiator, did not say how Iran would retaliate for searches of its ships for suspected nuclear-linked material. [>alarabiya.net]
---
07.20.10 Three killed by Iraq car bomb
(AFP) July 20 - Three people, including a child, were killed and 18 wounded by a car bomb in Qara Teba in Iraq's Diyala province on Tuesday, security officials said. The bomb exploded in the centre of the town's market at about 1:00pm (1000 GMT). The town, populated predominantly by Turkoman-Shiites, is northeast of the capital. In another attack, six Iranians and two Iraqis were wounded by a car bomb targeting a bus in Jadidat al-Shat to the west of Baquba, security officials in Baquba said. US and Iraqi officials have warned of the dangers of an upsurge of violence if negotiations on forming a new governing coalition continue to drag on, giving insurgent groups an opportunity to further destabilise the country. More than four months after a March 7 general election, which gave no single bloc an overall parliamentary majority, the two lists which won most seats are still bickering over who should be the next prime minister. [>france24.com]
---
07.20.10 Two US civilians shot dead by Afghan soldier
July 20 - Two US civilians were shot dead by an Afghan soldier in northern Afghanistan today as a major international conference agreed a strategy for the withdrawal of foreign troops. The shooting underlined the difficulty facing NATO forces as they prepare to hand over control over security. At a major summit in Kabul, ministers from more than 70 nations endorsed a strategy for the withdrawal of NATO-led foreign troops — including about 10,000 from the UK. The international conference agreed Afghan forces should start taking responsibility for security in areas of their country this year and be in charge of all provinces by the end of 2014. [More>>independent.co.uk]
---
07.19.10 Pakistan Navy frogmen trained Kasab, other terrorists
NEW DELHI, July 19 - American terrorist David Coleman Headley has nailed the Pakistan Navy as well for its role in the 26/11 Mumbai terror attacks, in yet another confirmation of the involvement of Pakistan's state actors in the carnage. Confirming what the lone surviving attacker Ajmal Kasab confessed in Mumbai, Headley had told National Investigation Agency (NIA) interrogators in Chicago last month that all the 10 attackers had got intensive training from Pakistan Navy frogmen. Kasab had confessed that the 10 terrorists, including himself, who attacked Mumbai received training in swimming and underwater diving from Pakistan Navy frogmen. A frogman is someone who is trained to dive, swim and combat. "The role of frogmen was confirmed by Headley when the Indian investigators interrogated him in the US last month," a senior official said.

This is being seen as another clear indication of the Pakistani establishment's involvement in the planning and execution of the Mumbai terror attack, which claimed 166 lives. The Pakistani origin terrorist Headley, who is currently in Chicago jail, also told the NIA team that Pakistan's intelligence agency ISI had been involved in planning and execution of the Mumbai terror attacks. Referring to Headley's interrogation report, home secretary G K Pillai had recently said that the ISI was "literally controlling and coordinating the (Mumbai) attack from beginning to end." Sources said that the Indian investigators so far have no plan to interrogate Headley's accomplice Tahawwur Hussain Rana, a Pakistani origin Canadian citizen, as his involvement in the Mumbai attack conspiracy was limited to providing finance. "If necessary, we may interrogate Rana also, though we have no immediate plan to do so," the official said. [>timesofindia.indiatimes.com]
---
07.19.10 Clinton seeks more from Pakistan in terror fight
(AFP) July 19 - Hillary Clinton announced major aid projects for Pakistan as she sought tougher action from Islamabad to combat militants ahead of a key conference in Afghanistan. Clinton is bidding to build on a shaky alliance with Pakistan, whose mountainous western border shields Taliban militants fighting the insurgency next door, as well as groups responsible for attacks in the United States. The aid, focused on water and energy needs, is part of US efforts to deepen engagement with the Asian nuclear power and overcome rife anti-Americanism after years of perceived neglect of bilateral relations. Washington believes Pakistan is integral to any result in the Afghan war and has long voiced concern that Pakistan's powerbrokers were supporting Taliban insurgents, despite crackdowns by the military in some border areas. Clinton met Pakistan's prime minister and president on Sunday and in a media interview acknowledged greater joint efforts on terrorism, but called for "additional measures" from Islamabad to combat militants on its soil. "There are still additional steps that we are asking and expecting the Pakistanis to take," she told the BBC. "... there is no doubt in anyone's mind that should an attack against the United States be traced to be Pakistani it would have a very devastating impact on our relationship," she added. [More>khaleejtimes.com]
---
07.19.10 Pakistan's elite pay few taxes, widening gap
ISLAMABAD, Pakistan, July 18 - Much of Pakistan's capital city looks like a rich Los Angeles suburb. Shiny sport utility vehicles purr down gated driveways. Elegant multistory homes are tended by servants. Laundry is never hung out to dry. But behind the opulence lurks a troubling fact. Very few of these households pay income tax. That is mostly because the politicians who make the rules are also the country's richest citizens, and are skilled at finding ways to exempt themselves. That would be a problem in any country. But in Pakistan, the lack of a workable tax system feeds something more menacing: a festering inequality in Pakistani society, where the wealth of its most powerful members is never redistributed or put to use for public good.

That is creating conditions that have helped spread an insurgency that is tormenting the country and complicating American policy in the region. It is also a sorry performance for a country that is among the largest recipients of American aid, payments of billions of dollars that prop up the country's finances and are meant to help its leaders fight the insurgency. Though the authorities have tried to expand the net in recent years, taxing profits from the stock market and real estate, entire swaths of the economy, like agriculture, a major moneymaker for the elite, remain untaxed. "This is a system of the elite, by the elite and for the elite," said Riyaz Hussain Naqvi, a retired government official who worked in tax collection for 38 years. [More>>nytimes.com]
---
07.19.10 Two accused of blasphemy gunned down in Faisalabad
FAISALABAD, Pakistan, July 19 - Unknown armed-assailants shot and killed two persons accused of blasphemy in District Kutchehry in Faislabad on Monday. The deceased, Rashid and Sajid, were Christain brothers who were arrested a few days back on charges of blasphemy against Hazrat Muhammad (SAW), police said. They were ambushed and gunned down by unknown men at a local court when they were brought here for seeking their physical remand. The two brothers and a policeman were seriously injured in the incident and rushed to a nearby hospital where the accused were pronounced dead. The policeman is said to be in a critical condition. [>thenews.com.pk]
---
07.19.10 36 militants killed in Orakzai, Kurram
HANGU, Pakistan, July 19 - Thirty-six militants were killed and several others wounded when security forces pounded suspected militants positions with the help fighter jets in Orakzai and Kurram Agency. The security forces targeted militants hideouts in Zarondklay, Ganditaal, Taangadara and adjacent areas here Orakzai Agency, killing 20 militants and injuring 15 more while four of their hideouts also demolished. In another action of the security forces in Daubar area of Central Kurram, 16 militants were killed and 11 wounded. Five hideouts of the militants were also destroyed. [>thenews.com.pk]
---
07.19.10 Top Secret America - A hidden world, growing beyond control
July 19 - The top-secret world the government created in response to the terrorist attacks of Sept. 11, 2001, has become so large, so unwieldy and so secretive that no one knows how much money it costs, how many people it employs, how many programs exist within it or exactly how many agencies do the same work. These are some of the findings of a two-year investigation by The Washington Post that discovered what amounts to an alternative geography of the United States, a Top Secret America hidden from public view and lacking in thorough oversight. After nine years of unprecedented spending and growth, the result is that the system put in place to keep the United States safe is so massive that its effectiveness is impossible to determine.
The investigation's other findings include:
* Some 1,271 government organizations and 1,931 private companies work on programs related to counterterrorism, homeland security and intelligence in about 10,000 locations across the United States....[More>>washingtonpost.com]
---
07.19.10 Attack on British security firm in Iraq kills 4
BAGHDAD, July 19 - Briton killed in north Iraq attack: embassy. A suicide car bomber ploughed into a convoy carrying employees of a British company in northern Iraq on Monday, killing four of them and wounding five Iraqi civilians, Iraqi security officials said. The suicide bomber targeted the last vehicle of the convoy in restive Mosul, a dangerous city where al-Qaeda remains active, and the force of the blast threw the armored vehicle 40 meters into a ravine, killing everyone inside, police said. "I saw the other members of the convoy bring out four dead foreign civilians from the smashed car. One of them was beheaded,"  an Iraqi military officer, asking not to be named, said by telephone from the site of the attack in northern Mosul. Iraqi officials said the firm was a British construction company but its name was not immediately known. The UK embassy in Baghdad said a British national was among the dead. [More>>alarabiya.net]
---
07.19.10 Morning briefing: China becomes world's No. 1 energy consumer, US stock-index futures climb
July 19 - *China has surpassed the United States to become the world's biggest energy consumer, according to new data from the International Energy Agency. China used 2,252 million tons of oil equivalent last year, or about 4 percent more than the 2,170 million tons of oil equivalent the US consumed. The US had held the top spot for more than a century. The oil-equivalent encompasses all forms of energy, including crude oil, nuclear, coal, natural gas and hydroelectric power. The US remains the top user of energy per capita. [More>>washingtonpost.com]
---
07.19.10 Anti-aircraft laser unveiled at Farnborough Airshow
July 19 - UAV shot down by anti-aircraft energy laser. US firm Raytheon has unveiled its anti-aircraft laser at the Farnborough Airshow in Hampshire. The Laser Close-In Weapon System (CIWS) can either be used on its own or alongside a gunnery system. In May, the laser was used to shoot down unmanned aerial vehicles (UAVs) in a series of tests. Raytheon said the solid state fibre laser produces a 50 kilowatt beam and can be used against UAV, mortar, rockets and small surface ships. The idea of using lasers as weapons has been around almost as long as the laser itself, invented in 1960. Initially, the systems were chemical lasers, which get their power from a chemical reaction. They are very large pieces of equipment and are very fuel hungry, requiring a significant quantity of chemicals to drive them. The fuel is frequently toxic, requiring operators to don protective clothing. Solid state lasers, in contrast, consist of a glass or ceramic material to generate a laser beam. They are smaller, more compact and only require an energy input to generate the beam, although the energy required is still significant. However, until recently, solid state lasers were not able to reach the same power levels as chemical lasers and so were not deemed suitable for military use. [More>>bbc.co.uk]
---
07.19.10 Sudan's 'brutal' war on dissent
July 19 - The Sudanese government has been accused by human rights campaigners of running a brutal campaign of torture and intimidation against dissenting voices in the country. In a report released on Monday, entitled "Agents of Fear," Amnesty International said that Sudan's National Intelligence and Security Service (NISS) was responsible for an "extensive, multi-pronged assault" on the Sudanese people. "The Sudanese authorities are brutally silencing political opposition and human rights defenders in Sudan through violence and intimidation. NISS agents benefit from total impunity for the human rights violations they continue to commit," said Erwin van ber Borght, the organization's Africa programme director. The report details the arrest of at least 34 people in the first half of 2010, including journalists, human rights activists and students. Researchers found that NISS agents perpetrated a range of human rights violations, including torture, arbitrary arrests and violent assault on opponents of the government of Omar al-Bashir, whose ruling National Congress Party won an election marred by claims of fraud in April. [More>>aljazeera.net]
---
07.19.10 US soldiers, six Afghan police killed in attacks
KABUL, Afghanistan, July 19 - Two US soldiers and six Afghan policemen were killed Monday in a string of Taliban-style bomb attacks in volatile southern Afghanistan on the eve of a major international conference, officials said. The US soldiers operating under NATO's International Security Assistance Force were killed in separate bomb attacks, ISAF said. It did not give details of the attacks. The deaths bring to 380 the number of foreign soldiers to die in the Afghan war so far this year, according to a tally. Six Afghan police officers were killed and four wounded when another roadside bomb ripped through their vehicle in the Khakraiz district of Kandahar province, the Taliban's southern heartland, an official said. The officers had been on patrol, said Abdul Qayoum, the district governor. Taliban spokesman Yousuf Ahmadi claimed responsibility for the attack in a telephone call from an undisclosed location. [>thenews.com.pk]
---
07.19.10 Curry spices for cows and sheep could cut methane emissions
July 19 - Curry spices could hold the key to reducing the enormous greenhouse gas emissions given off by grazing animals such as sheep, cows and goats, scientists have claimed. Research carried out at Newcastle University has found that coriander and turmeric — spices traditionally used to flavour curries — can reduce by up to 40 percent the amount of methane that is produced by bacteria in a sheep's stomach and then emitted into the atmosphere when the animal burps. Working rather like an anti-biotic, the spices were found to kill the methane-producing "bad" bacteria in the animal's gut while allowing the "good" bacteria to flourish. The findings are part of an ongoing study led by Dr. Abdul Shakoor Chaudhry at Newcastle University. There are around 30m sheep in the UK, each producing around 20 liters of methane a day, emitted by burping. Methane (CH4) is more than 20 times as powerful in terms of causing global warming as the main greenhouse gas, carbon dioxide (CO2).

As well as the environmental implications, the sheep itself also loses an estimated 12 percent of its food energy to methane production, resulting in a lower milk and meat yield. "Methane is a major contributor to global warming, and the slow digestive system of ruminant animals such as cows and sheep makes them a key producer of the gas," Mr. Hasan explained. "What my research found was that certain spices contain properties which make this digestive process more efficient so producing less waste — in this case, methane. Spices have long been used safely by humans to kill bacteria and treat a variety of ailments," he added.

The study looked at five curry spices — cumin, coriander, clove, turmeric and cinnamon. Each was "ground up" — as if chewed by the sheep — and added to an in-vitro solution mimicking that found in the rumen of the animal. The level of methane released by each was measured against a control. The most effective was found to be coriander, which reduced methane production from 14 milliliters per gram of food to eight — a drop of 40 percent. Turmeric produced a 30 percent reduction and cumin 22 percent. [More>>independent.co.uk; See other details, Newcastle University press release, ncl.ac.ak, July 6, "Spice leaves sheep smelling sweeter."]
---
07.19.10 Iranian prosecutor urges Islamic dress checks
TEHRAN (Reuters) July 19 - Says public chastity violators can be jailed or lashed. Iran's prosecutor called on Sunday for tighter checks on women who fail to observe Islamic dress code in public, the semi-official Mehr news agency reported. Under Iran's Sharia law, imposed after the 1979 Islamic revolution, women are obliged to cover their hair and wear long, loose-fitting clothes. Violators can receive lashes, fines or imprisonment. "Unfortunately the law ... which considers violation of the Islamic dress code as a punishable crime, has not been implemented in the country in the past 15 years," said general prosecutor Gholamhossein Mohseni-Ejei. "Under the law, violators of public chastity should be punished by being sentenced to up to two months in jail or 74 lashes." Strict dress codes were enforced in the years after the revolution but in recent years clamp downs have tended to last just weeks or months in summer, when women wear lighter clothing such as calf-length trousers and colored scarves. [More>>alarabiya.net]
NOTES

*Visitor statistics on maravot.com from 1&1. com. monthly visitors between 37,000-45,0000.
Privacy Policy: We do not store any personal data from you. We have no way of knowing any vital information about you — not even your name. Third-party distribution: We do not distribute information about your site usage to any third party. We are not responsible for the content of links from our site. Usage data: supplied by our Web Hosting service, 1and1.com, which consists of usage reports, such as page views / impressions and web pages visited, visitors' servers and geographical data (ISP's and country of origin).



Maravot's Homepage




Launched: 10.25.04 / 11.02.04 – | — | ♦
Updated: 7.19.10; 7.20.10; 7.21.10; 7.22.10; 7.23.10; 7.24.10