News Headlines & Trends
---
5.03.08
Security forces say kill 14 gunmen in Baghdad
BAGHDAD (Reuters) May 3 - US and Iraqi forces killed 14 gunmen in battles in eastern Baghdad overnight, the U.S. military said on Saturday as several weeks of fighting with Shi'ite militiamen showed no sign of easing. Hospital officials said they had received 14 bodies and treated 25 wounded following clashes in the eastern Baghdad stronghold of anti-American Shi'ite cleric Moqtada al-Sadr, but it was not immediately clear if they were gunmen or civilians. Two rockets landed near the al-Sadr hospital in the densely populated slum on Saturday, wounding 20 people, including women and children, and damaging a number of ambulances, a senior official at the hospital said. It was unclear who fired the rockets. [More>>khaleejtimes.com]
---
5.03.08 'Extreme Atkins' diet can treat epilepsy in children
May 3 - Doctors have confirmed that a special high-fat diet can help children seriously afflicted with epilepsy. Among children given the diet, seizures dropped by more than a third over a three-month period. At the same time, children not given the diet experienced a more than 33 per cent rise in seizures. The ketogenic diet has been successfully used to treat children with drug-resistant epilepsy since the 1920s. However, this was the first time it had been tested in a randomized trial.
The diet consists of large amounts of fat, little carbohydrate and controlled amounts of protein. It is thought to mimic the biochemical response to starvation, when ketone bodies fuel the brain rather than sugar. Ketone bodies, used as an energy source for the heart and brain, are compounds produced when fatty acids are broken down in the liver and kidneys. They provide a vital energy lifeline when fasting.
The trial, based at the Institute of Child Health at Great Ormond Street Hospital in London, involved 145 children aged two to 16, who suffered epilepsy fits at least one a day or more than seven times a week. Around half the children were assigned a ketogenic diet immediately. The other half were given the diet after a delay of three months. In the diet group, the number of seizures dropped by more than a third. Children who had to wait before having a ketogenic diet saw the number of seizures they suffered rise by about the same amount. [More>>independent.co.uk]
---
5.03.08 Lebanese MP: Expel Iranian ambassador
BEIRUT (AP) May 3 - A pro-government Lebanese politician called Saturday for the expulsion of Iran's ambassador and the ending of Iranian flights to Beirut because they might be carrying weapons and money to Hizbullah. Walid Jumblatt, a member of the US-backed parliamentary majority, also warned in a press conference from his family home of Mukhtara, southeast of the capital, that he and parliament majority leader Saad Hariri could be targets of assassination. "Iranian flights to Beirut should be stopped because Iranian planes might be bringing in money and military equipment," said Jumblatt, a strong critic of the Iranian-backed Hizbullah. "The Iranian ambassador should be expelled from Lebanon." His comments come as Arab League Secretary-General Amr Moussa ended a three-day visit to Beirut Saturday without reaching a breakthrough in the months-old political deadlock between the government and opposition. [More>>jpost.com]
---
5.02.08 Rice raises new doubts about Iran's nuclear program
LONDON (AP) May 2 - Secretary of State Condoleezza Rice raised fresh doubts Thursday about the nature of Iran's nuclear program, saying if the clerical state really wanted only an avenue to peaceful atomic energy it could quickly have it. Instead, Iran is stonewalling on an attractive deal to trade away only the part of the program that could result in a nuclear weapon, Rice said ahead of a gathering of the UN nations that have presented a carrot-or-stick package to Iran.
"I continue to suspect this is not at all about a civil nuclear program," Rice told reporters traveling with her. Iran's insistence that it be able to enrich uranium on its terms seems at cross-purposes with that goal, Rice said. "One has to wonder what is going on here." [More>>indianexpress.com: hosted.ap.org; See related story, alarabiya.net, May 2, "Iraq PM sends team to Iran to discuss militias."]
---
5.02.08 Where terrorists hide
May 2 - The just released Country Report on Terrorism 2007 by the US State Department outlines a number of areas that serve as safe havens for terrorists. But first it would be useful to delineate what qualifies as a safe haven. According to the State Department, terrorist safe havens are defined "as ungoverned, under-governed, or ill-governed areas of a country and non-physical areas where terrorists that constitute a threat to US national security interests are able to organize, plan, raise funds, communicate, recruit, train, and operate in relative security because of inadequate governance capacity, political will, or both. Physical safe havens provide security for terrorist leaders, allowing them to plan acts of terrorism around the world."

The Internet plays a major role in facilitating communication between terrorist organizations. It also helps them disseminate propaganda and misinformation without having the need of a physical safe haven, allowing terrorist groups to operate in virtual havens which are highly mobile, difficult to track or to control, as they are not based in any particular physical entity. The physical safe havens used by terrorists today include Somalia...And of course is the ever porous border between Afghanistan and Pakistan, where despite efforts of both countries' security forces, "instability along the Pakistan-Afghanistan frontier appeared to have provided al-Qaeda leadership greater mobility and ability to conduct training and operational planning, particularly that targeting Western Europe and the United States."[Full story>>metimes.com]
---
5.02.08 US plan to protect right whale from shipping blocked by Cheney
May 2 - Efforts to protect the critically endangered North Atlantic right whale from being killed by ships are being blocked by Vice President Dick Cheney according to leaked documents. A behind the scenes struggle is raging between the White House and US government scientists who want to force ships to slow down near the calving grounds of the almost extinct right whale.
The right whale controversy is the latest example of the Bush Administration sidestepping the advice of its on scientists which are aimed at protecting endangered species or threats to the environment. On Monday, a judge had to order the administration to release its much-delayed decision aimed at protecting the polar bear under the Endangered Species Act. [More>>independent.co.uk ; See related story, independent.co.uk, May 1, "Rockefeller's decendants tell Exxon to face the reality of climate change.": Descendants of John D Rockefeller, America's first and biggest oil industry magnate, say that ExxonMobil, a company spawned from his 19th-century monopoly Standard Oil, faces becoming obsolete if it does not step up the search for alternative fuels. Fifteen family members yesterday went public in an attempt to get Exxon to face up to the realities of climate change, and they promised to join a shareholder rebellion to shake up the board to alter [the] company's strategy...
---
5.02.08 Turkey carries out large-scale air strikes on north Iraq
ANKARA (RIA Novosti) May 2 - Turkey's Air Force carried out intensive air strikes on Kurdish rebel bases in northern Iraq in the early hours of Friday, Turkey's NTV television said citing military sources. NTV said at least 30 F-16 Fighting Falcon multirole fighters had hit the Qandil Mountains, believed to harbor the main bases of the separatist Kurdistan Workers Party (PKK), for more than an hour. Other media reports said the strikes lasted three hours. Turkey's General Staff has not confirmed the bombings. No casualties have been reported. [More>>en.rian.ru]
---
5.02.08 Eighteen killed in mosque blast in Yemen
SANAA (AFP) May 2 - Eighteen people, mostly soldiers, were killed in Yemen on Friday when a blast blamed by authorities on Shiite insurgents exploded at the entrance to a mosque in the rebels' stronghold. A booby-trapped motorcycle exploded as hundreds of Muslim faithful were leaving the Bin Salman mosque in the northwestern town of Saada after Friday prayers, according to military sources at the site. Forty-five people were wounded.
The attack on the mosque, located near an army barracks, raised fears of an escalation in violence between the government and Shiite rebels whose insurgency in the mountainous province of Saada has claimed thousands of lives since 2004. There was no immediate claim of responsibility, but a local official told AFP the attack bears the hallmarks of the "Huthis." as the rebels are known. "Terrorist criminal followers of the terrorist Abdul Malak al-Huthi are behind this ugly crime," an interior ministry official told the Saba state news agency, referring to the rebels' field commander. [More>>khaleejtimes.com]
---
5.01.08 Car bomb kills 9 in Baghdad
BAGHDAD, May 1 - A parked car bomb aimed at a US patrol Thursday in Baghdad killed at least nine Iraqi civilians and wounded 26, police said. American troops killed 17 militants amid escalating fighting in Sadr City, and another US soldier was killed as the military death toll increased to a seven-month high of 50. The explosion occurred in a crowded commercial area in eastern Baghdad, police officials said, adding the nine killed included three women and a child.

The US military said no American soldiers were killed, although three were wounded in the attack. Health officials also said clashes in Sadr City killed eight people, including two women and a child, and wounded 18 others, including women and children. Convoys of minibuses carried several coffins on rooftops to the cemetery for burial on Thursday as their grieving relatives hugged each other in pain. [>thenews.com.pk]
---
5.01.08 Official: DNA is that of czar's children, ending mystery
MOSCOW (AP) May 1 - For nine decades after Bolshevik executioners gunned down Czar Nicholas II and his family, there were no traces of the remains of Crown Prince Alexei, the hemophiliac heir to Russia's throne. Some said the delicate 13-year-old had somehow survived and escaped; others believed his bones were lost in Russia's vastness, buried in secret amid fear and chaos as the country lurched into civil war.
Now an official says DNA tests have solved the mystery by identifying bone shards found in a forest as those of Alexei and his sister, Grand Duchess Maria. The remains of their parents — Nicholas II and Empress Alexandra — and three siblings, including the czar's youngest daughter, Anastasia, were unearthed in 1991 and reburied in the imperial resting place in St. Petersburg. The Russian Orthodox Church made all seven of them saints in 2000.

Despite the earlier discoveries and ceremonies, the absence of Alexei's and Maria's remains gnawed at descendants of the Romanov dynasty, history buffs and royalists. Even if Wednesday's announcement is confirmed and widely accepted, many descendants of the royal family are unlikely to be fully assuaged; they seek formal "rehabilitation" by the government. "The tragedy of the czar's family will only end when the family is declared victims of political repression," said German Lukyanov, a lawyer for royal descendants.
Nicholas abdicated in 1917 as revolutionary fervor swept Russia, and he and his family were detained. They were shot by a firing squad on July 17, 1918, in the basement of the Yekaterinburg house where they were being held. Rumors persisted that some of the family had survived and escaped. Claims by women to be Anastasia were particularly prominent, although there were also pretenders to Alexei's and Maria's identities. [More>>indianexpress.com: hosted.ap.org]
---
5.01.08 Lesbos islanders sue Lesbian group
May 1 - A Greek court has been asked to draw the line between gay women and the natives of the Aegean Sea island of Lesbos. Three islanders from Lesbos — home of the ancient poet Sappho, who praised love between women — have taken a gay rights group to court for using the word "lesbian" in its name. On Wednesday, one of the plaintiffs said that the name of the association, the Homosexual and Lesbian Community of Greece, "insults the identity" of the people of Lesbos, who are also known as Lesbians. "My sister can't say she is a Lesbian," Dimitris Lambrou said. "Our geographical designation has been usurped by certain ladies who have no connection whatsoever with Lesbos," he said. [More>>aljazeera.net]
---
5.01.08 Danish party rejects Islam's 'symbol of tyranny'
COPENHAGEN (AFP) May 1 - Denmark's far-right People's Party was to launch Thursday a newspaper campaign against judges wearing Muslim headscarves in court, a spokesman said. "There is no way we will accept this symbol of tyranny," party spokesman Soeren Espersen told AFP. Three DDP party ads printed in Thursday's newspapers were to show Muslim women dressed as judges and wearing various veils, along with the words: "The country will be built on Sharia (Islamic) law." [More>>alarabiya.net]
---
5.01.08 Ex-Gitmo inmate became suicide bomber in Iraq
DUBAI (Reuters) May 1 - A Kuwaiti man released from the US prison in Guantanamo Bay in 2005 has carried out a suicide bombing in Iraq, his cousin told Al-Arabiya television on Thursday. A friend of Abdullah Saleh al-Ajmi in Iraq informed his family that Abdullah carried out the attack in Mosul, his cousin Salem told the Dubai-based television channel. [More>>alarabiya.net]
---
5.01.08 German Islamist appears in new jihad video
April 29 - Two short films have appeared on the Internet featuring the German Islamist Eric B. in which he calls his "brothers" to join the jihad. The authorities have been hunting him for weeks, fearful that he could be preparing a terrorist attack in Kabul. The video messages are fanning those fears. The news spread like wildfire through the offices of Germany's intelligence agencies. Two new terrorist videos had turned up on the Turkish-language Web site "Time for Martyrdom," which has become an important mouthpiece for Islamist propaganda. And once again there were was a clear connection to Germany.
German terrorist investigators are alarmed at the new videos. After an initial assessment, it was clear that the two short films feature the German Islamist Eric B. from Neuenkirchen in Saarland. For the past few weeks, a publicity campaign in Kabul (more...) has focused on finding him and his presumed accomplice Houssain al-M.
The new images are militaristic. The 20-year-old German convert is seen in the first film standing in front of a mountain, with a machine gun thrown over his shoulder and wearing an ammunition belt. Abdul al-Gaffar, B.'s nom de guerre, addresses his audience in barely audible and unusually halting German. First of all he praises the suicide attack carried out by Cüneyt Ciftci (more...), the 28-year-old German-born Turk who blew himself up in the Afghan province of Khost at the beginning of March. B. describes this as a "good deed" which sent many infidels "to hell." [More>>spiegel.de]
---
5.01.08 Turkish ambassador denies news reports on decision to behead Turkish barber
ANKARA, May 1 - Turkish Ambassador to Riyadh Naci Koru on Thursday denied news reports that a Saudi Arabian court ratified the conviction of Turkish barber Sabri Bogday, who was sentenced to beheading in Saudi Arabia on charges of "cursing the name of God."
Koru told A.A. correspondent that the court process was concluded during Wednesday's hearing, noting that appeal process would take start from now on. Koru said, "we will appeal against the verdict within a month," noting, "we are very hopeful." Bogday has been in jail for 13 months in Saudi Arabia after a quarrel with a neighbor. Bogday was accused of cursing the name of God. [>turkishpress.com]
---
5.01.08 US air strike kills al-Qaeda boss in Somalia
May 1- US war planes killed an Islamist rebel said to be al-Qaeda's leader in Somalia and at least a dozen other people today in Washington's biggest success in efforts to contain an insurgency raging since 2007. The rebels said Aden Hashi Ayro — who led al Shabaab militants blamed for attacks on government troops and their Ethiopian allies — died in the first big hit for a string of US air-strikes on Somali insurgents in the last year.

"Infidel planes bombed Dusamareb," Shabaab spokesman Mukhtar Ali Robow told Reuters by phone, referring to a town in central Somalia, where body parts lay strewn round a wrecked house. "Two of our important people, including Ayro, were killed." The death of the Afghanistan-trained militant is likely to bolster the Western-backed Somali government's efforts to stem the insurgency that has been gaining ground in recent months. But it is sure to enrage Ayro's fellow militants, who say they are fighting a jihad to eject Ethiopian troops.[More>>independent.co.uk]
---
4.30.08 Siphoning off corn to fuel our cars
CHARLES CITY, Iowa, April 30 - As farmers feed ethanol plants, a costly link is forged between food and oil....Across the country, ethanol plants are swallowing more and more of the nation's corn crop. This year, about a quarter of US corn will go to feeding ethanol plants instead of poultry or livestock. That has helped farmers like Johnson, but it has boosted demand — and prices — for corn at the same time global grain demand is growing.[Full story>>washingtonpost.com]
---
4.30.08 US deaths in Iraq at seven-month high in April
BAGHDAD (Reuters) April 30 - The death toll for US troops in Iraq reached a seven month high in April, with the reported deaths of three more soldiers on Wednesday bringing the monthly toll to 47, the highest since last September. US and Iraqi forces have been engaged in intense fighting over the past month with Shi'ite militia fighters in Baghdad's tightly-packed Sadr City slum.
The death toll for US troops in Iraq reached a seven month high in April, with the reported deaths of three more soldiers on Wednesday bringing the monthly toll to 47, the highest since last September. US and Iraqi forces have been engaged in intense fighting over the past month with Shi'ite militia fighters in Baghdad's tightly-packed Sadr City slum.
Two hospitals in Sadr City, the Shi'ite slum that has been the focus of fighting in the capital, said they had received the bodies of 421 Iraqis killed and treated more than 2,400 wounded there since late March. Government spokesman Tahseen al-Sheikhly said the toll there was higher, with more than 900 killed. Many of the dead and wounded have been civilians, caught in the crossfire in the crowded slum. [More>>thestar.com.my ; See related story, thenews.com.pk, April 30, "US forces kill 13 militants in Baghdad."]
---
4.30.08 Child labor cases uncovered in China
SHANGHAI, April 30 - China said Wednesday that it was investigating whether hundreds or perhaps thousands of children from poor areas in the southwest part of the country had been sold to work as slave laborers in booming coastal factory cities. Authorities in southern Guangdong Province, near Hong Kong, said they had already rescued more than 100 children from factories in Dongguan, a huge manufacturing city known for producing and exporting toys, textiles and electronics.
The children, mostly 13 to 15 years old, were often tricked or kidnapped by employment agencies working in an impoverished part of western Sichuan Province, and then sent to factory towns in Guangdong, where they were often forced to work as much as 300 hours a month for little money, according to government officials and accounts from the state-owned media. [More>>nytimes.com]
---
4.30.08 Iran tops state-sponsored terrorism
WASHINGTON (AFP) April 30 - Iran remained the world's "most active" state sponsor of terrorism as it tries to build regional influence and drive the United States from the Middle East, according to a US government report. The US State Department annual report for 2007 also called Iran the "most significant" state sponsor. The report also listed Syria, North Korea, Cuba and Sudan as state sponsors of terrorism, which was unchanged from the previous year. [>news.com.au; See related story, khaleejtimes.com, April 30, "2nd carrier in Gulf is 'reminder' to Iran: Gates."]
---
4.30.08 Is al-Qaeda now targeting Iran?
April 30 (Editorial by Mark N. Katz, Middle East Times) Is al-Qaeda now targeting Iran? As is well known, al-Qaeda is a radical Sunni organization while the Islamic Republic of Iran is a revolutionary Shiite regime. Sunnis and Shiites have been fighting each other in Iraq, and animosity between the two communities has been growing in Lebanon. The recent denunciation of Iran by bin Laden deputy, Ayman al-Zawahiri, raises the possibility of direct confrontation between al-Qaeda and Tehran inside Iran.

In an audiotape posted on an Islamist Web site on April 22, Zawahiri denounced Tehran and its Lebanese ally, Hezbollah. According to him, claims made by Hezbollah and Iranian media that Israel was responsible for the Sept. 11, 2001 attacks are an attempt to deprive Sunnis of the "credit" for them. He also denounced Iran for expansionism and praised al-Qaeda in Iraq, and the "Islamic State of Iraq" it claims to lead, as the primary force opposing Iranian ambitions there.

This tape appeared only 10 days after an explosion in the Iranian city of Shiraz at a mosque led by a Shiite cleric who is a particularly strident critic of Sunni fundamentalism. The Iranian authorities first suggested that the explosion was caused by a bomb, but then claimed it was due to an accident. However, several of those present – including the cleric heading the mosque – insisted that the explosion was due to a bomb. [More>>metimes.com]
---
4.30.08 Gaza factions agree to cease-fire
April 30 - A dozen small Palestinian factions agreed in principle to a cease-fire with Israel on Wednesday, said two Palestinian officials involved in the negotiations in Cairo, confirming the previous day's report in the Jerusalem Post. However, the officials expressed reservations about the details of the Egyptian-brokered deal. [More>>jpost.com]
---
4.30.08 Iran dumps US dollars in oil transactions
TEHRAN, April 30 - Iran has totally removed US dollars in the country's oil transactions, an Oil Ministry official said on Wednesday. "The dollar has completely been removed from our oil trade....Crude oil customers have agreed with us to use other currencies (in the trade)," Oil Ministry official Hojjatollah Ghanimifard was quoted as saying by the state television. "We make our transactions with euros in Europe, but yen in Asia," he added.

Due to the tensions with Washington in the past years over the nuclear disputes and the latest depreciation of dollars, Iran has vowed to decrease the greenback in its foreign trade. Iran central bank also has reduced dollars in the country's foreign reserves. In last November's summit of the Organization of Petroleum Exporting Countries (OPEC) in Saudi Arabia, Iran proposed that it was necessary to replace the US dollar with other major hard currencies in oil trading. [More>>xinhuanet.com]
---
4.30.08 Iran slams ejection from Malaysian arms fair
KUALA LUMPUR (AFP) April 30 - Iran on Wednesday expressed regret it had been thrown out of an international arms fair last week, even after removing items deemed to break United Nations resolutions. Iran's display at the fair in Kuala Lumpur was shut down when Malaysian deputy premier Najib Razak said that the host nation would not allow "lethal and offensive equipment in violation of the UN resolutions" to be put on show. On Wednesday Iran complained that organizers of the Defense Services Asia exhibition had refused to let its display re-open despite the controversial items being removed. [More>>alarabiya.net]
---
4.30.08 Seven killed during raid on militant hideout in Afghan capital
KABUL (AP) April 30 - Afghan security forces raided a Kabul hide-out Wednesday where militants with suspected links to the attack on President Hamid Karzai were holed up, a top official said. Seven people died in the pre-dawn raid, including a child. Militants hiding in a mud-brick house and security forces traded rocket-propelled grenade and automatic gunfire for several hours in western Kabul. Families evacuated the area as explosions reverberated and gunfire pierced the air.
Afghan Intelligence chief Amrullah Saleh said the government troops destroyed the two-story house with heavy weapons fire when it was clear the militants would not surrender. Two militants, a woman and a child were among those killed, Saleh said. Three intelligence agents also died, Saleh said. One of the dead militants had supplied weapons used in the attack on Karzai, Saleh said. Saleh also said Wednesday that the plot to kill Karzai over the weekend was hatched in lawless tribal areas of neighboring Pakistan. [More>>indianexpress.com: hosted.ap.org]
---
4.30.08 Bird flu kills 3-year-old boy in Indonesia, world hotspot for the virus
April 30 - A 3-year-old boy has died from bird flu in Indonesia, raising the death toll from the disease there to 108, the country's Health Ministry said Wednesday. Indonesia's human bird flu deaths account for nearly half of the 240 recorded fatalities worldwide. The latest victim first showed flu-like symptoms — high fever and breathing difficulties — on April 17 and died in a hospital five days later, said ministry spokeswoman Lily Sulistyowati. The child had "a history of contact with dead poultry," she said.
Two laboratory tests showed that he had been infected by the feared H5N1 virus. Indonesia has regularly recorded human deaths from bird flu since the virus began ravaging poultry stocks across Asia in 2003. So far most human cases have been linked to contact with infected birds, but experts worry the virus could mutate into a more dangerous form that passes easily between humans. [More>>thejakartapost.com]
---
4.29.08 Tibet issue is not about religion
BEIJING, April 29 - The People's Daily newspaper on Tuesday posted a commentary saying the Tibet issue was not a religious issue. The Dalai clique called for the international community's concern for the Tibet issue, claiming Tibetans lacked religious freedom, the commentary said. However, the Dalai clique's accusation against China contradicts the facts, the commentary quoted Narasimhan Ram, editor-in-chief of the Hindu Newspaper Group, as saying.

It said the living Buddha reincarnation, various ritual ceremonies and resumption of academic degrees of monks showed that religious activities in Tibet were normal. Currently, Tibet has over 1,700 monasteries of Tibetan Buddhism,46,000 monks and nuns, four mosques and one Catholic church, the commentary said, stressing all religious activities go on smoothly in Tibet. On average, there was one religious venue for every 1,600 Tibetans, but only one church for every 3,125 people in England, it said. In recent years, many learned monks won Gexe Lharampa, the highest academic degree of the four ranks in the Gexe system, from the yellow sect, or the Gelugba school of Tibetan Buddhism, annually. [More>>xinhuanet.com]
---
4.29.08 UAE ministry signs latest food price-fixing deal
ABU DHABI (Reuters) April 29 - The United Arab Emirates said on Tuesday a supermarket chain had agreed to fix the price of 56 basic food items at 2007 levels, the latest in a string of similar deals with retailers designed to curb inflation. The Ministry of Economy of the second-largest Arab economy has been trying to control the price of food after inflation surged to a 19-year peak of 9.3 percent in 2006, the latest available figure.

Inflation in the world's fifth-largest oil exporter probably hit 10.9 percent last year, according to an estimate from the National Bank of Abu Dhabi. So far this year, the UAE's Union Cooperative Society, which operates about 16 stories, French supermarket retailer Carrefour, and Abu Dhabi-based Lulu Hypermarket Group have agreed to fix prices of some food items to curb inflation. [More>>alarabiya.net]

Editorial note: It seems unfair that the UAE would place emphasis upon capping retail prices when the cause of the inflation seen in retail food costs appears to be in the exorbitant increases in the price of oil. It would be nice if OPEC were to match the retailer's by returning the price of crude oil back to 2007 levels. It might even stop the growing world recession that is being fueled by OPEC's outrageous price of fuel.
Mel Copeland

See related stories,
timesonline.co.uk, April 29, "Pump prices lift Shell and BP to record £7.2bn."
nytimes.com, April 29, "Consumer confidence slips as home prices drop."
washingtonpost.com, April 29, "Emptying the breadbasket."
---
4.29.08 More than 30 killed in street battles in Baghdad's Sadr City
BAGHDAD (AP) April 29 - Shiite militants ambushed a US patrol in Baghdad's embattled Sadr City district on Tuesday and more than two dozen people were killed in the fighting, a US military spokesman and Iraqi officials said. Six American soldiers were wounded. The clashes broke out at 9:30am after US troops were attacked with rocket-propelled grenades and machine guns, spokesman Lt. Col. Steve Stover said. As the troops were leaving the area, a vehicle was hit with two roadside bombs, Stover said.
Officials at the Imam Ali and al-Sadr general hospitals said about 25 people had died, with several dozen wounded. The officials who spoke on condition of anonymity because they are not authorized to release the information, said most of the victims were civilians. [More>>indianexpress.com: hosted.ap.org]
---
4.29.08 Three policemen killed in grenade attack
ISLAMABAD, April 29 - Militants threw a hand grenade and opened fire at a police van Tuesday in a northwestern Pakistan city, killing three policemen and seriously injuring a SHO. A team of Lachi Police Station police was following a snatched vehicle being ridden by the accused. The riders attacked the police with gun fire and hand grenades near Samari, killing on the spot police driver, Ghufran and constable, Shah Noon besides Sartaj. The SHO, Zafarullah Khan sustained severe injuries. They were immediately taken to Fauji Foundation Hospital, Lachi. Police launched a grand operation in the area after the incident to hunt down the militants. [>thenews.com.pk]
---
4.29.08 Suicide attack kills 19 anti-drugs Afghan team
JALALABAD, Afghanistan (AFP) April 29 - A suicide bomb tore through a team preparing to eradicate opium poppy fields in eastern Afghanistan on Tuesday, killing 19 people, most of them policemen, the government said. The hardline Taliban movement said one of its men carried out the attack in the small town of Khogyani in Nangarhar province, near the insurgency-hit border with Pakistan. The bomb struck as a counter-narcotics team was preparing to travel to opium fields to destroy illegal poppy crops, the interior ministry said in a statement.
'Nineteen people including 12 police and seven civilians lost their lives and 41 others were wounded,' it said. The dead included an Afghan working on a United Nations counter-narcotics programme and a child, Nangarhar governor Gul Agha Sherzai told reporters in the city of Jalalabad 25 kilometers (15 miles) from Khogyani. The wounded included two foreign journalists — a French national and an Australian — reporting on the poppy eradication mission, he said.
"Most of the civilians wounded were people who were hired to carry out the eradication," the governor added. Afghanistan produces more than 90 percent of the world's opium and officials say the lucrative trade is in part funding an insurgency led by the Taliban and involving a range of militants. [More>>khaleejtimes.com; See related story, independent.co.uk, April 29, "Drugs for guns: How the Afghan heroin trade is fueling the Taliban insurgency."]
---
4.29.08 In France, prisons filled with Muslims
SEQUEDIN, France, April 29 - Samia El Alaoui Talibi walks her beat in a cream-colored head scarf and an ink-black robe with sunset-orange piping, an outfit she picked up at a yard sale. After passing a bulletproof window, El Alaoui Talibi trudges through half a dozen heavy, locked doors to reach the Muslim faithful to whom she ministers in the women's cellblock of the Lille-Sequedin Detention Center in far northern France. It took her years to earn this access, said El Alaoui Talibi, one of only four Muslim holy women allowed to work in French prisons. "Everyone has the same prejudices and negative image of Muslims and Islam," said Moroccan-born El Alaoui Talibi, 47, the mother of seven children. "When some guards see you, they see an Arab; they see you the same as if you were a prisoner."
This prison is majority Muslim — as is virtually every house of incarceration in France. About 60 to 70 percent of all inmates in the country's prison system are Muslim, according to Muslim leaders, sociologists and researchers, though Muslims make up only about 12 percent of the country's population. On a continent where immigrants and the children of immigrants are disproportionately represented in almost every prison system, the French figures are the most marked, according to researchers, criminologists and Muslim leaders.
"The high percentage of Muslims in prisons is a direct consequence of the failure of the integration of minorities in France," said Moussa Khedimellah, a sociologist who has spent several years conducting research on Muslims in the French penal system. In Britain, 11 percent of prisoners are Muslim in contrast to about 3 percent of all inhabitants, according to the Justice Ministry. Research by the Open Society Institute, an advocacy organization, shows that in the Netherlands 20 percent of adult prisoners and 26 percent of all juvenile offenders are Muslim; the country is about 5.5 percent Muslim. In Belgium, Muslims from Morocco and Turkey make up at least 16 percent of the prison population, compared with 2 percent of the general populace, the research found. [More>>washingtonpost.com]
---
4.28.08 Opec chief warns of $200 a barrel oil price
April 28 - The president of Opec, the cartel of oil-producing countries, has given warning that the price of crude could hit $200 a barrel, sparking fears that rising fuel costs will force more businesses into bankruptcy. Chakib Khelil, the Algerian Energy Minister and president of Opec, said that the falling value of the US dollar would continue to drive up oil prices as investors sought to store their wealth in other assets. Lehman Brothers, the bank, has said that high prices are being sustained by an influx of money into the oil market from investment funds.
It estimates that "hot money" accounts for between $20 to $30 of the recent increase in oil prices and about $40 billion (£20 billion) has been invested in the sector so far this year — equal to all the money pumped into oil last year. The price of oil hit an all-time high of nearly $120 a barrel today after North Sea production was shut down yesterday because of a strike at the Grangemouth refinery in Scotland. [More>>timesonline.co.uk]
---
4.28.08 US soldiers kill 38 fighters in Baghdad
BAGHDAD (Reuters) April 28 - The US military today said it had killed 38 fighters in a day of battles in northeastern Baghdad as militants took advantage of dust storms to launch apparently coordinated assaults. The attacks, which appeared to be some of the biggest clashes in weeks, showed that some fighters had defied an order by anti-American Shi'ite cleric Moqtada al-Sadr to observe a ceasefire.

US troops opened fire with tanks, killing 22 fighters in one assault on a joint US-Iraqi checkpoint after dark yesterday. In another battle at almost the same time, they killed seven fighters who ambushed a patrol. Nine were killed in engagements earlier in the day. At about the same time as the two big evening attacks, a barrage of rockets struck the Green Zone, the fortified government and diplomatic compound in the centre of the capital. The dust storms grounded US helicopters, the main weapon American troops use to hunt rocket crews. [More>>news.com.au]
---
4.28.08 Islamophobic articles anger Canadian Muslims
OTTAWA (AFP) April 28 - A complaint by Canadian Muslims against a leading local news magazine has sparked a national debate on the limits of press freedoms in the country, often cited as a beacon of multiculturalism. "Protest while you still can," shouted this week's edition of Maclean's, a publication similar to US magazines Time or Newsweek, saying in an editorial that human rights boards are undermining free speech in Canada. The controversy dates back to October 2006, when Maclean's ran an article excerpted from noted author and journalist Mark Steyn's book "America Alone," entitled "Why the Future Belongs to Islam."

...For four Toronto law students, Maclean's had crossed the line by proposing that "Muslims are part of a global conspiracy to take over Western society and impose an oppressive form of Islamic law," Khurrum Awan, one of the students, told AFP. "We did some research and realized that Maclean's had published 19 articles with such a tone," he said, adding that his group asked for but was denied the opportunity to publish a response when they met with the magazine's editors. Maclean's, which is defending itself against accusations at a human rights tribunal that its articles incited hate, said the students' demands for a 5,000-word rebuttal and to direct the magazine cover art were unacceptable. [Full story>>alarabiya.net; See related stories, Maravot News, April 2, 2008, beginning with "Egypt bans German mag for 'insulting Islam' "]
---
4.28.08 Barbaric 'honour killings' become the weapon to subjugate women in Iraq
April 28 - Murder of a girl who became infatuated with a British soldier highlights a disturbing new trend. At first glance Shawbo Ali Rauf appears to be slumbering on the grass, her pale brown curls framing her face, her summer skirt spread about her. But the awkward position of her limbs and the splattered blood reveal the true horror of the scene.
The 19-year-old Iraqi was, according to her father, murdered by her own in-laws, who took her to a picnic area in Dokan and shot her seven times. Her crime was to have an unknown number on her mobile phone. Her "honour killing" is just one in a grotesque series emerging from Iraq, where activists speak of a "genocide" against women in the name of religion.
In the latest such case, it was reported yesterday that a 17-year-old girl, Rand Abdel-Qader, was stabbed to death last month by her father for becoming infatuated with a British soldier serving in southern Iraq. In Basra alone, police acknowledge that 15 women a month are murdered for breaching Islamic dress codes. Campaigners insist it is a conservative figure.
Violence against women is rampant, rising every day with the power of the militias. Beheadings, rapes, beatings, suicides through self-immolation, genital mutilation, trafficking and child abuse masquerading as marriage of girls as young as nine are all on the increase. [More>>independent.co.uk]
---
4.28.08 Critics cost Muslim educator her dream school
April 28 - Debbie Almontaser dreamed of starting a public school like no other in New York City. Children of Arab descent would join students of other ethnicities, learning Arabic together. By graduation, they would be fluent in the language and groomed for the country's elite colleges. They would be ready, in Ms. Almontaser's words, to become "ambassadors of peace and hope."
Things have not gone according to plan. Only one-fifth of the 60 students at the Khalil Gibran International Academy are Arab-American. Since the school opened in Brooklyn last fall, children have been suspended for carrying weapons, repeatedly gotten into fights and taunted an Arabic teacher by calling her a "terrorist," staff members and students said in interviews.
The academy's troubles reach well beyond its cramped corridors in Boerum Hill. The school's creation provoked a controversy so incendiary that Ms. Almontaser stepped down as the founding principal just weeks before classes began last September. Ms. Almontaser, a teacher by training and an activist who had carefully built ties with Christians and Jews, said she was forced to resign by the mayor's office following a campaign that pitted her against a chorus of critics who claimed she had a militant Islamic agenda.

.."It's a battle that's really just begun," said Daniel Pipes, who directs a conservative research group, the Middle East Forum, and helped lead the charge against Ms. Almontaser and the school. In the aftermath of Sept. 11, critics of radical Islam focused largely on terrorism, scrutinizing Muslim-American charities or asserting links between Muslim organizations and violent groups like Hamas. But as the authorities have stepped up the war on terror, those critics have shifted their gaze to a new frontier, what they describe as law-abiding Muslim-Americans who are imposing their religious values in the public domain.
Mr. Pipes and others reel off a list of examples: Muslim cabdrivers in Minneapolis who have refused to take passengers carrying liquor; municipal pools and a gym at Harvard that have adopted female-only hours to accommodate Muslim women; candidates for office who are suspected of supporting political Islam; and banks that are offering financial products compliant with sharia, the Islamic code of law. [Full story>>nytimes.com]
---
4.28.08 Indonesia protesters torch mosque of 'heretical' Muslim sect
(AP) April 28 - Hundreds of protesters chanting "kill, kill" set fire to a mosque belonging to a Muslim sect that they claim is heretical, while alls mounted for the group to be formally banned. No one was injured in Monday's early morning blaze, said national police spokesman Maj. Gen. Abubakar Nataprawira. Several suspects were taken in for questioning. The attack was the latest targeting the Ahmadiyah sect in Indonesia, the world's most poplous Muslim nation. Hard-liners claim the sect, founded at the end of the 19th century in Pakistan, was devised by British colonialists to divide Muslims.
Last week, a team of prosecutors, religious scholars and government officials said the sect "had deviated from Islamic principles" and recommended ite outlawed. There have been several acts of vandalism targeting Ahmadiyah since then. [More>>thejakartapost.com]
---
4.28.08 What if an illegal is raped?
KUALA LUMPUR, April 28 - If a "non-documented" foreign woman is raped here, what should she do? While most Malaysian women would have no qualms about lodging a police report, it might not be so simple for a refugee or asylum seeker in Malaysia. "They can lodge a police report, but because they know that the police can arrest non-documented migrants, they are afraid to turn to the police for fear they might get arrested instead," said Migration Working Group (MWG) co-coordinator Alice Nah.
She said victims were also often afraid of repercussions if the rapist was their employer. "It is extremely difficult to get redress for wrongs as a non-documented migrant, as their status is not officially recognized in Malaysia," Nah told the Forum on The Right to Redress for Migrant Workers and Refugees, organized by MWG on Saturday.
...There are an estimated 100,000 asylum seekers, refugees and stateless persons who seek protection in peninsular Malaysia alone, but as Malaysia has not enacted national legislation with regards to asylum and statelessness, most are treated as non-documented migrants. Women's Aid Organization executive director Ivy Josiah, who chaired the event, highlighted that the right to redress for non-citizens was only possible if they had the right to be heard, stay and work. [Full story>>thestar.com.my]

Editorial note: This appears to be a problem that is common to all countries that are being flooded with refugees; i.e., people seeking a better life or security for a number of reasons. The US has its problem with illegal immigrants from Central and South America, the EU has its problem with immigrants from Eastern Europe and Africa.
Mel Copeland
---
4.28.08 The blind man who was given the gift of sight by gene therapy
April 28 - A pioneering gene therapy trial has helped a blind man to see in a breakthrough that brings hope to millions affected by eye diseases. British scientists have claimed a world first for the revolutionary treatment, which involved a single injection into the retina at the back of the eye.
Steven Howarth, 18, from Bolton, who has a rare inherited eye disorder which has left him with extremely poor vision and completely unable to see in the dark, improved sufficiently after the treatment to be able to navigate a "maze" in conditions similar to street lighting at night. Experts hailed the research, supported by £1m from the Department of Health, as a major advance in the treatment of blindness and predicted it would lead to new developments in gene therapy for other conditions. [More>>independent.co.uk]
---
4.28.08 Bird flu virus found in 3 dead swans in Akita
AKITA, Japan, April 28 - The avian influenza virus has been detected in three dead swans and one weakening one along Lake Towada in Kosaka, Akita Prefecture, the Akita prefectural government said Monday. The Akita government said it has asked the state to determine whether the virus belongs to the deadly H5N1 strain. Local officials said they have yet to find a link between the virus and the deaths of the swans. The officials said they see a low possibility of the virus damaging human health as there have been no reports of many birds or animals dying in the northeastern Japan prefecture. [>japantoday.com]
---
4.28.08 12 insurgents killed in eastern Afghanistan clash
KABUL, April 28 - The US military says a dozen insurgents were killed during a clash in eastern Afghanistan. The fighting erupted after coordinated militant attacks on five US and Afghan military outposts. The military said Monday another12 insurgents were wounded. No US or Afghan soldiers were hurt. The clash happened Sunday in Korengal Valley of volatile eastern Kunar province. [>thenews.com.pk]
---
4.27.08 Mass graves in Iraq yield 100 bodies
BAGHDAD, April 28 - Iraqi security forces have found more than 100 bodies in two mass graves, military officials said. Fifty bodies were found in a mass grave in central Iraq today, a military source in the area said, and another team said it had discovered more than 50 bodies in a grave south of Baghdad on April 17. The grave found today was in the village of al-Guba, 80km north of Baghdad, in the troubled Diyala province, where al-Qaeda Sunni Arab militants have regrouped after being driven out of other parts of the country. Most of the bodies had their hands bound and gunshot wounds in the head. A senior security spokesman in Baghdad, Major-General Qassim Moussawi, said police and the Iraqi military had uncovered 51 bodies in a grave on April 17 in Mahmudiya, a town 30 km south of Baghdad. [More>>news.com.au; See related stories, thestar.com.my, April 27, "Baghdad Green Zone blasted under cover of dust storm." and indianexpress.com: hosted.ap.org, April 27, "Iraqi leaders discuss unity government: 5 die in Baghdad violence."]
---
4.27.08 Afghan president escapes deadly parade attack, 3 killed
KABUL (AFP) April 27 - Afghan President Hamid Karzai escaped unharmed on Sunday after militants attacked a high-profile military parade with rockets and gunfire, killing three people including an MP and wounding a dozen. The extremist Taleban movement claimed responsibility for the daring attack, denying however that it was an assassination attempt on Karzai.
Bullets struck into the back of a stage where the president, Afghan dignitaries and senior international representatives were seated to review the country's most important annual military parade. There were also several large explosions, with one -- likely from a rocket-propelled grenade -- landing just in front of the platform, Health Minister Mohammad Amin Fatimie told AFP. [More>>khaleejtimes.com]
---
4.27.08 Infants thrown off roofs to thank God in India
NEW DELHI, April 27 - Religious traditions are diverse and sometimes as bizarre as they can get. A village in Solapur, Maharashtra, has a dangerous tradition of throwing newborns from a height of 50 feet onto a sheet, which is held by devotees. The infants are thrown off the roof of the Baba Sheikh Umar Saheb Dargah in Musti village in Solapur. This is an age-old tradition practiced by couples who are blessed with a child after taking a vow at the dargah. The devotees also believe that this ritual is good for the health of the child.

"People have been following this tradition for almost 500 years now. They believe that if they throw the child from the roof then it does good to him or her," deputy sarpanch of Musti village said. While the practice may seem dangerous and superstitious to others, the devotees strongly believe that the fall will not harm the infants. The reason given is that there has been no recorded evidence of any physical disability to the infants [People on the ground catch the infants in sheets.>thenews.com.pk; See video, ibnlive.com : http://www.ibnlive.com/videos/64068/incredible-india-infants-thrown-off-roofs-to-thank-god.html]
---
4.27.08 Administration says particulars may trump Geneva protections
April 27 - The Geneva Conventions' ban on "outrages against personal dignity" does not automatically apply to terrorism suspects in the custody of US intelligence agencies, the Justice Department has suggested to Congress in recent letters that lay out the Bush administration's interpretation of the international treaty. Lawyers for the department, offering insight into the legal basis for the CIA's controversial interrogation program, reasserted in the letters the Bush administration's long-held view that it has considerable leeway in deciding how the conventions' rules apply to the harsh questioning of combatants in the war on terrorism. [More>>washingtonpost.com See also nytimes.com]
---
4.25.08 China's central government department to meet with Dalai's private representative
BEIJING, April 25 - China's central government department will meet with Dalai's private representative in the coming days, Xinhua learned from official sources on Friday. "In view of the requests repeatedly made by the Dalai side for resuming talks, the relevant department of the central government will have contact and consultation with Dalai's private representative in the coming days," an official said. "The policy of the central government towards Dalai has been consistent and the door of dialogue has remained open," he said. "It is hoped that through contact and consultation, the Dalai side will take credible moves to stop activities aimed at splitting China, stop plotting and inciting violence and stop disrupting and sabotaging the Beijing Olympic Games so as to create conditions for talks." [>xinhuanet.com; See also nytimes.com, April 25, "In shift, China offersto meet with Dalai Lama envoys."]
---
4.25.08 Al-Qaeda suspect given Canadian visa
OTTAWA, April 25 - A Pakistan-born man implicated in Al-Qaeda's weapons of mass destruction program was granted a Canadian visa, and then was arrested upon his arrival at Canada's largest airport, media said Friday. A public broadcaster, citing a secret document sent by border authorities to Public Safety Minister Stockwell Day last July, said the man had obtained a visa from Canada's high commissioner in London to live temporarily in Canada. But he was arrested by border guards at Toronto's international airport after arriving on a flight from Newcastle, England. While verifying his passport, they determined he had been flagged as a threat to national security. He was arrested on July 12, 2007, interrogated and then was deported to the United Kingdom the next day. [>thenews.com.pk]
---
4.25.08 Iraqi children recruited for suicide attacks
AMMAN (AFP) April 25 - Iraqi children are being recruited as suicide bombers by various militias and insurgent groups, a UN official said on Friday after a fact-finding visit to the country. "Since 2004, an increasing number of children have been recruited into various militias and insurgent groups, including as suicide bombers," Radhika Coomaraswamy told a news conference in the Jordanian capital. "It is an intolerable situation," said Coomaraswamy, special representative of the secretary general for children and armed conflict. Winding up a week-long visit to Iraq, she said children there are the silent victims of the ongoing violence in the country, with approximately 1,500 "known to be held in detention facilities." [More>>khaleejtimes.com]
---
4.25.08 Deadly bomb blast in Pakistan
April 25 - At least five people have been killed and up to 30 wounded after a car bombing outside a police station in Pakistan's North West Frontier Province (NWFP), police say. The blast in the town of Mardan on Friday came the day after the leader of a group of anti-government fighters in the tribal regions bordering Afghanistan announced a ceasefire. It was the first bombing since a new government, which has said it will seek negotiations with such groups, was sworn in at the end of March. [More>>aljazeera.net; See also indianexpress.com:hosted.ap.org]
---
4.25.08 Turkey relayed Israel offer to swap Golan for peace: Assad
DOHA (AFP) April 24 - Syrian President Bashar al-Assad confirmed in remarks published on Thursday that Turkey has relayed a message from Israel expressing a readiness to swap the Golan Heights for peace. Turkish Prime Minister Recep Tayyip Erdogan "informed me of Israel's readiness to withdraw from the Golan in return for peace with Syria," Assad was quoted by the Qatari daily Al-Watan as saying.
In excerpts from an interview to be published in full on Sunday, the paper quoted Assad as saying that Ankara has been mediating between Israel and Syria since April last year. Israeli Prime Minister Ehud Olmert assured Erdogan of his readiness to return the Golan, and this was relayed to Syria a week ago, Assad said, confirming reports of Turkish mediation that emerged on Wednesday. [More>>turkishpress.com; See related story, alarabiya.net, April 25, "Most Isaelis oppose Golan return for peace: poll."]
---
4.25.08 Al-Sadr calls for end to Iraqi bloodshed
BAGHDAD (AP) April 25 - Shiite cleric Muqtada al-Sadr called for an end to clashes between his militia fighters and Iraqi troops, saying Friday that his threat of an "open war" applied only to US-led foreign forces. In a sermon read by an aide during Friday prayers in Baghdad's militia stronghold of Sadr City, the cleric also urged Iraqi soldiers and policemen "not to support the occupiers in combating your brothers."
Al-Sadr issued a "final warning" to the government Saturday to halt its crackdown against the Mahdi Army or face an "open war until liberation." The statement on al-Sadr's Web site singled out the Iraqi government led by fellow Shiite Nouri al-Maliki, accusing him of selling out to the Americans. Friday's sermon appeared to be an attempt to ease tensions. [More>>indianexpress.com:hosted.ap.org]
---
EDITORIALS
09.11.05 When a nation lacks a competent leader it invites disaster – the legacy of Bush
08.13.05 "Using force the George W. Bush way – Bush's crusade"
11.25.04 Why the Crusade & Jihad?
---
*Visitor statistics on maravot.com from 1&1. com. 46,153 page views in May 2007; 45,000 in Feb. 2008.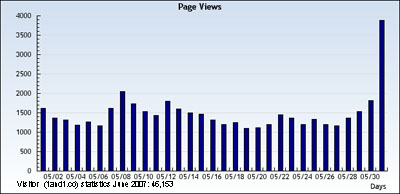 Privacy Policy: We do not store any personal data from you. We have no way of knowing any vital information about you – not even your name. Third-party distribution: We do not distribute information about your site usage to any third party. We are not responsible for the content of links from our site. Usage data: supplied by our Web Hosting service, 1and1.com, which consists of usage reports, such as page views / impressions and web pages visited, visitors' servers and geographical data (ISP's and country of origin).

---
Launched: 10.25.04 / 11.02.04 – —
Updated: 4.25.08; 4.27.08; 4.28.08; 4.29.08; 4.30.08; 5.01.08; 5.02.08; 5.03.08
Copyright © 1981-2008 Maravot. All rights reserved
Copyright © 1981-2008 Mel Copeland. All rights reserved
Background: tile from Cicero's villa (Marcus Tullius Cicero 106 B.C. - 43 B.C.)