News Headlines & Trends
---

10.06.07 Double US air strike kills 25
BAGHDAD (AFP) October 6 - A double US air strike on an Iraqi village killed about 25 suspected Iranian-linked insurgents today, the military said, as Iraqi officials claimed women and children were among the dead. The strikes on Jayzani Al-Imam, 50km north of the capital, came after a ground operation ran into trouble against insurgents firing rocket-propelled grenades, the US military said.
The operation was launched to capture an insurgent commander linked to Iranian intelligence agents and believed to be smuggling weapons from Iran, accused by the US of fuelling sectarian conflict in Iraq, it said. "There were two air strikes; one helicopter, one fixed-wing. There was continued fighting between the two air strikes," US Major Winfield Danielson later said.
Iraqi police spokesman Khudhayir al-Timimi said women and children were among the dead and wounded in the raid, but the Americans said they had no knowledge of civilian casualties. [More>>news.com.au]
---
10.06.07 Iraqis protest against 'US wall'
October 6 - More than 1,000 Iraqis have marched in west Baghdad in a rare public demonstration to protest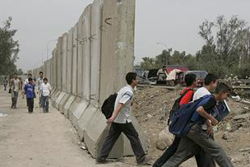 against a wall they say the US military is planning to erect around their district. Carrying an Iraqi flag and banners condemning the wall the marchers in the mainly Shia area of al-Washash chanted: "No, no to the wall. No, no to America."

Earlier this year, the US began erecting a concrete wall separating Sunnis in Adhamiya in east Baghdad from neighbouring Shia communities. Abu Jalal al-Saraji, an al-Washash tribal leader, said: "Today we are saying no to the occupiers, no to the wall and no to all these disgraceful actions."

While tens of thousands of Iraqis often mass for religious festivals, a pervasive fear of violence means public protests against US or Iraqi government policy are seldom seen. The US military, which had no immediate comment, has previously said it is erecting concrete walls in at least five areas of Baghdad. [More>>aljazeera.net; image from aljazeera.net (EPA)]
---
10.06.07 Musharraf sweeps vote, victory hangs on court
ISLAMABAD (Reuters) October 6 - Pakistani military ruler Pervez Musharraf swept the most votes in a presidential election on Saturday but he has to wait for the Supreme Court to confirm the legality of his bid before he can be declared winner. Doubts over whether the election result will stand have fuelled uncertainty as the nuclear-armed Muslim country enters a transition from military to civilian rule that will culminate in national polls due by mid-January.
Members of the two-chamber parliament and four provincial assemblies voted for president in an election largely boycotted by the opposition. In the two houses of parliament, Musharraf won 252 of 257 votes cast. His closest rival, Wajihuddin Ahmed, won two votes, while three votes were rejected, Chief Election Commissioner Qazi Muhammad Farooq told the National Assembly. Musharraf had also won most votes cast in three of the four provincial assemblies, officials said. Counting was still going on in the fourth.[More>>khaleejtimes.com]
---
10.06.07 I am creating artificial life, declares US gene pioneer
NEW YORK,October 6 - Craig Venter, the controversial DNA researcher involved in the race to decipher the human genetic code, has built a synthetic chromosome out of laboratory chemicals and is poised to announce the creation of the first new artificial life form on Earth.
The announcement, which is expected within weeks and could come as early as Monday at the annual meeting of his scientific institute in San Diego, California, will herald a giant leap forward in the development of designer genomes. It is certain to provoke heated debate about the ethics of creating new species and could unlock the door to new energy sources and techniques to combat global warming.
Mr. Venter told the Guardian he thought this landmark would be "a very important philosophical step in the history of our species. We are going from reading our genetic code to the ability to write it. That gives us the hypothetical ability to do things never contemplated before." [More>>guardian.co.uk]
---
10.05.07 US forces kill 25 in Iraq
BAGHDAD, October 5 - US forces killed 25 suspected insurgents in Iraq during an operation on Friday targeting a militant commander, the US military said. US aircraft killed the insurgents and destroyed two houses after a heavy firefight near Baquba, 60 kilometers (35 miles) north of Baghdad, during which rebels fired rocket-propelled grenades, a military statement said. [>thenews.com.pk ; See also aljazeera.net slant, October 5, "US raid in Iraq kills 'civilians.' " and


nytimes.com, October 5, "Accounts differ on US attack that killed 25 Iraqis"
: American troops backed by aircraft support attacked a Shiite town north of Baghdad at dawn today killing at least 25 Iraqis the military described as criminals who were involved in the transport of weapons. But Iraqis at the scene said the dead were innocent, though armed, civilians.
The military said it was searching for an insurgent leader believed to be associated with the elite Iranian Quds Force, which American intelligence sources believe is working in Iraq to foment violent activity by some Shiite militias.
Iraqis at the scene gave a sharply divergent account, saying the Iraqis killed had been trying to defend their town from Al Qaeda in Mesopotamia, the homegrown Sunni militant group that American intelligence believes has foreign leadership. Al Qaeda in Mesopotamia has been active in the Diyala Province, but so have militias associated with the anti-American Shiite cleric Moktada al-Sadr.
Related story, turkishpress.com, October 4, "Car bombs kill at least 7 in Baghdad."]
---
10.05.07 Ahmadinejad vows to abolish Israel
TEHRAN, October 5 - Iranian President Mahmoud Ahmadinejad launched a new tirade against Israel today amid growing tensions with the West, vowing to work to abolish the Jewish state and questioning the scale of the Holocaust. Mr. Ahmadinejad said Iran would strive to liberate "all of Palestine" from Israeli hands, in a speech to mark the Quds day, where Iran holds its annual mass protest marches in solidarity with the Palestinians.
Tens of thousands of Iranians turned out for the march in central Tehran, carrying anti-Zionist banners, chanting "Death to Israel" and burning Israeli and American flags. "The Palestinian people are standing firm. The Iranian people and other peoples will not stop until all of Palestinian territory is liberated," Mr. Ahmadinejad told the faithful at Tehran University. [More>>news.com.au ; See metimes.com (Reuters) slant, October 5, "Iran accuses Israel of 'genocide' of Palestinians."]
---
10.05.07 CCTV footage suggests Henri Paul tipped off paparazzi about Diana's movements
October 5 - The driver of the Mercedes in which Diana, Princess of Wales, and Dodi Fayed, were killed in a Paris road tunnel 10 years ago met the French paparazzi five times in the hours before the fatal car crash, the inquest into the couple's deaths was told yesterday.
Previously unseen CCTV footage shown to the jury also shows Henri Paul signalling to two French photographers minutes before he leads Diana and Dodi out of the back entrance of The Ritz hotel in Paris and into a waiting vehicle. The pictures cast doubt on the long-held belief that the hordes of paparazzi waiting outside the hotel had been acting without any help from inside the hotel. [More>>independent.co.uk ; See CCTV footage, sky.com, October 5,"Diana's tender last moments." and earlier report, sky.com, October 1, "Diana,the key questions" :....[including]...The explanation for the money in Henri Paul's possession on 30 August 1997 and in his bank account..
---
10.04.07 Iraq MP found at Al-Qaeda meeting: US military
BAGHDAD (Reuters) October 4 - A member of Iraq's parliament is in US custody and being questioned after an Iraqi special forces raid on a suspected al-Qaeda meeting, the US military said on Thursday. A spokesman for the Iraqi parliament said the lawmaker was from the assembly's main Sunni Arab bloc. The man was held after a raid in the Sunni Arab town of Sharqat, 260 km (160 miles) northwest of Baghdad, in volatile Salahuddin province on Sept. 29, the US military said in an email in response to queries from Reuters.
"The man being held is one of the 275 members of the Iraqi Council of Representatives," the military said. "Officially, he is not considered a 'detainee' at this time. He is being held for questioning after being found at a suspected al-Qaeda in Iraq meeting during a combined Iraqi Security Forces/Coalition operation," it said.
The military said it would not release the man's name. It is believed to be the first time a member of Iraq's parliament has been detained by Iraqi or US forces.
The Iraqi parliament spokesman said Accordance Front member Naif Mohammed Jasim had been taken into custody while he was attending a funeral in Sharqat on Wednesday. The Accordance front, parliament's main Sunni Arab bloc, pulled out of Prime Minister Nuri Al Maliki's fractured Shia-led coalition government last month, protesting at what it said was his failure to address their demands for a greater say in government.
Sunni Arabs, politically dominant under Saddam Hussein, accuse Maliki's government of marginalizing them and want faster progress on reconciliation legislation, including a law to allow former members of Saddam's Baath party back into public life. [>khaleejtimes.com ; See related story, washingtonpost.com, October 4, "Investigator: Corruption is 'rampant' in Iraqi government."]
---
10.04.07 '$100m al-Qaeda financier' caught in Iraq
BAGHDAD (AFP) October 4 - Iraqi and US forces have detained a man they believe received $US100 million ($113 million) from al-Qaeda sympathizers to hand out for "terrorist" operations in Iraq. "The $100 million was what our intelligence reports indicate he has received spanning several months this year," said US military spokesman Sam Hymas. "That is all the unclassified information I can give you."
A statement from the military said the man, who was detained in the central Baghdad neighbourhood of Al-Kindi, was suspected of handing over $50,000 a month to al-Qaeda using his leather merchant business as a front. "He is believed to have received $100 million this summer from terrorist supporters who cross the border illegally or fly into Iraq from Italy, Syria and Egypt," the military said.
He is suspected of travelling abroad himself to seek money for al-Qaeda and of employing up to 50 extremists to help deliver bomb-making materials to insurgents attacking the US-led coalition. The US military also accused the unnamed man of involvement in two attacks on a revered Shiite mosque at the heart of Iraq's bitter sectarian conflict. [More>>
news.com.au
]
---
10.04.07 After nuclear deal, Koreas seek formal end to war
SEOUL (Reuters) - Leaders of the two Koreas agreed on Thursday to try to bring peace to the Cold War's last frontier, just a day after the North signed up to an international deal to disable its nuclear facilities. But some analysts said the pledges at only the second summit between North and South Korea were limited, with the hermit North clearly reluctant to break much new ground. 
"North and South Korea shared the view they must end the current armistice and build a permanent peace regime," President Roh Moo-hyun and North Korean leader Kim Jong-il said in a joint statement at the end of their three-day meeting in Pyongyang. 
They will push for talks next month with China and the United States to formally end the 1950-53 Korean War, which technically is still going on because a peace treaty has yet to be signed. [More>>thestar.com.my ; See also koreaherald.co.kr, October 4, "Full text of the agreement"]
---
10.04.07 Indonesian government plans to plant 79 million trees by year-end
JAKARTA, October 5 - The government is embarking on a massive tree-planting campaign ahead of what will be the largest-ever global climate change conference in Bali in December. Indonesia's reforestation efforts have a national and international component. "The Bali conference is about strategic momentum for us and showing the international community that Indonesia is willing to revive its forests," Soetino Wibowo, a senior adviser to the Forestry Ministry, told reporters Wednesday.

...President Susilo Bambang Yudhoyono will officially inaugurate the campaign, planting 1,000 trees in Cibadak village, Bogor, on Nov. 28. The program is scheduled to begin in mid October and continue through the end of November...the tree seedlings would be supplied by forestry offices, state-owned forestry companies Perhutani and Inhutani, and non-governmental organizations. [Full story>>thejakartapost.com]
---
10.04.07 Afghan, NATO forces kill 20 Taliban, Ajristan district retaken
KABUL, October 4 - Afghan and NATO forces killed 20 Taliban attackers overnight while authorities separately retook a remote district captured by rebels a day earlier, police said Thursday. Afghan officials also said that Taliban militants involved in a growing insurgency fired rockets at the airport in the western city of Herat, causing no damage, and separately blew up a police vehicle, killing a policeman.

The deaths happened in the southern province of Kandahar late Wednesday when troops responded to an attack by rebel fighters, provincial police chief Sayed Aqa Saqib said...About 300 Afghan and US security forces meanwhile took back Ajristan district in the province of Ghazni, about 200 kilometres (124 miles) southwest of Kabul, after it was captured when hundreds of Taliban stormed it with artillery and rocket fire on Wednesday.[Full story>>thenews.com.pk]
---
10.04.07 International probe called for Lebanese 'missing' in Syria
BEIRUT (AFP) October 4 - Human rights activists Wednesday called for an international probe of hundreds of Lebanese whose disappearance they blame on Syria, whose forces were dominant in Lebanon between 1976 and 2005. "The question of the Lebanese prisoners held in Syria will only be resolved by an international commission of inquiry," said Ghazi Aad who heads SOLIDE, a non-governmental organization for the 640 people listed as missing.

Aad, at a sit-in organized outside UN offices in Beirut, charged Lebanese authorities had failed to act on the issue since the April 2005 withdrawal of Syrian troops, first deployed in Beirut a year after the outbreak of civil war. [More>>metimes.com]
---
10.04.07 US wants to bring Columbia tactics to Afghan drugs war
LASHKAR GAR, Afthanistan, October 4 - The Afghan President, Hamid Karzai, is resisting American pressure to authorise a major programme of crop spraying to eradicate the country's massive opium crop amid warnings that it would lead to a rise in support for the Taliban. The plan has been strongly opposed by the British, who hold that it will make the task of the military in Helmand, the province which produces 50 per cent of the opium crop, much harder. Spraying from the air, critics say, carries with it the danger of destroying other crops, causing long-term ecological damage, and affecting the health of livestock.
But according to senior Western and Afghan officials, the American position has been significantly strengthened following the latest poppy harvest, which shows a jump of 34 per cent from last year, which was already a world record. America's determination has also been sharpened with the evidence that Afghan opium, which now accounts for 93 per cent of the world's supply, has started reaching markets in the United States.
The recent appointment of a former US ambassador to Colombia as envoy to Kabul is seen as the most overt move by Washington to ensure that spraying takes place in Afghanistan. William Wood, who has acquired the nickname "Chemical Bill" among British and other NATO officials for his fervent belief in chemical spraying, was in the team which implemented "Plan Colombia," which involved aerial spraying in the Latin American state in an attempt to eliminate cocaine production. [More>>independent.co.uk]
---
10.04.07 House bill would allow prosecution of contractors
WASHINGTON, October 4 - Amid the fallout over the shooting of Iraqis by private American security guards, the House today overwhelmingly passed a bill to make all private contractors working in Iraq subject to prosecution in United States civilian courts. The vote was 389 to 30, with all of the "no" votes cast by Republicans. Voting for the bill were 225 Democrats and 164 Republicans.
Senate Democratic leaders are expected to introduce similar legislation soon, and if the support in that chamber is similar to that in the House, President Bush would have no hope of killing the legislation with a veto. [More>>nytimes.com]
---
10.03.07 US finds list of Qaeda fighters in Iraq
BAGHDAD, October 3 - The US military said on Wednesday it had seized a list of some 500 al-Qaeda members recruited to fight in Iraq from the Middle East and Europe during a raid in northwest Iraq that killed eight militants. Major General Kevin Bergner said the September 11 raid near Sinjar targeted a senior al-Qaeda in Iraq leader, known as Muthanna, who was killed along with seven colleagues.

"Muthanna was the emir of Iraq and Syrian border area and he was a key facilitator of the movement of foreign terrorists once they crossed into Iraq from Syria," Bergner told a news conference in Baghdad. "He worked closely with Syrian-based al-Qaeda foreign terrorist facilitators," he added. "During the operation, we captured multiple documents and electronic files that gave an insight into al-Qaeda's foreign terrorist operations not only in Iraq but throughout the region," he said.

The files revealed "a list of some 500 foreign terrorists being recruited by al-Qaeda, biographies on 143 foreign terrorists en route to Iraq or who have already arrived, including personal data, photographs, recruiters' names, route and date of entry into Iraq," Bergner said they came from a range of countries including Libya, Morocco, Syria, Algeria, Oman, Yemen, Tunisia, Egypt, Jordan, Saudi Arabia, Belgium, France and the United Kingdom.

The Iraqi and US governments have accused neighboring countries such as Syria and Iran of not doing enough to check the flow of foreign fighters across their borders into Iraq. Among the documents were pledges by foreign recruits who were committed to suicide operations, Bergner added. [>thenews.com.pk]
---
10.03.07 Ambassador hurt in roadside bombings
BAGHDAD, October 3 - Poland's ambassador to Iraq was wounded in a triple-bomb attack in central Baghdad today which also killed a civilian and wounded three others, Iraqi and Polish officials said. Iraqi defence ministry officials confirmed that three roadside bombs targeted ambassador Edward Pietrzyk's convoy as it drove through Al-Arasat neighbourhood in the centre of the Iraqi capital.
"The ambassador was injured, but was able to leave the scene himself," Polish foreign ministry spokesman Robert Szaniawski said in Warsaw. "Three cars in the Polish convoy were destroyed in the attack, which occurred around 0700 GMT (5pm AEST)," Szaniawski said, adding that at least one of the ambassador's bodyguards was injured.
Witnesses said that after the attack a helicopter of private US security firm Blackwater landed near the scene and loaded up some of the wounded before taking off again. It was not clear if the ambassador was among them. Poland has become on the most loyal allies of the US since the collapse of its communist regime in 1989, and joined NATO in 1999. [More>>news.com.au]
---
10.03.07 From errand to fatal shot to hail of fire to 17 deaths
BAGHDAD, October 3 - It started out as a family errand: Ahmed Haithem Ahmed was driving his mother, Mohassin, to pick up his father from the hospital where he worked as a pathologist. As they approached Nisour Square at midday on Sept. 16, they did not know that a bomb had gone off nearby or that a convoy of four armored vehicles carrying Blackwater guards armed with automatic rifles was approaching.
Moments later a bullet tore through Mr. Ahmed's head, he slumped, and the car rolled forward. Then Blackwater guards responded with a barrage of gunfire and explosive weapons, leaving 17 dead and 24 wounded — a higher toll than previously thought, according to Iraqi investigators.
Interviews with 12 Iraqi witnesses, several Iraqi investigators and an American official familiar with an American investigation of the shootings offer new insights into the gravity of the episode in Nisour Square. And they are difficult to square with the explanation offered initially by Blackwater officials that their guards were responding proportionately to an attack on the streets around the square.
The new details include these:
¶A deadly cascade of events began when a single bullet apparently fired by a Blackwater guard killed an Iraqi man whose weight probably remained on the accelerator and propelled the car forward as the passenger, the man's mother, clutched him and screamed.
¶The car continued to roll toward the convoy, which responded with an intense barrage of gunfire in several directions, striking Iraqis who were desperately trying to flee. [More>>nytimes.com]
---
10.02.07 Summit heightens peace hopes
October 2 - As the world watched, leaders from the two Koreas met face-to-face for the first time in seven years yesterday, elevating the hype over the three-day inter-Korean summit talks slated to end this Thursday. President Roh Moo-hyun also became the first South Korean head to cross the densely guarded Military Demarcation Line on foot en route to Pyongyang. It was a symbolic gesture highlighting the significance of the summit talks, which take place amid hopes of bringing peace to the Korean Peninsula.
In a surprise appearance, North Korean leader Kim Jong-il, wearing his signature khaki suit, welcomed Roh upon his arrival at the April 24 Hall of Culture building in Pyongyang at around 11:40 a.m. The meeting between Roh and Kim was reminiscent of the first summit talks in 2000, when Kim Jong-il arrived unannounced to greet then-President Kim Dae-jung as he arrived at Pyongyang's Sunan Airport. This time, however, Kim looked subdued, barely smiling. Thousands of North Korean citizens, including women in colorful hanbok, cheered in the background, waving pink and red bouquets and chanting "manse (hooray)." The hall, named for the day the North Korean People's Army was founded, is the North's largest art facility and is often used for large-scale gatherings. [More>>koreaherald.co.kr]
---
10.02.07 Aboriginal victims of Argentia's 'silent genocide'
VILLA RIO BERMEJITO, October 2 - ...Apolinario belongs to the Toba tribe and his plight is repeated among the 30,000-strong aboriginal population all over this densely forested area of Chaco province, otherwise known as El Impenetrable. Their suffering has burst into the national consciousness, after the deaths of 14 Toba in recent weeks from a combination of malnourishment, tuberculosis, and the Chagas virus, carried by the local vinchucas bugs.
Key to the tribe's decline, according to a human rights group that monitors the area, is the indiscriminate and sometimes illegal deforestation that is paving the way for more commercial and profitable plantations, in the process destroying the Toba's natural habitat. Apolínario, for example, used to be a bracero, picking cotton. But now it is soya that is taking over. Argentina is already one of the world's largest exporters, feeding the exploding global market for biofuels.
While much of Argentina is enjoying a strong rebound from the financial crash earlier this decade, its aboriginal populations continue to live on the margins with little or no political voice and a standard of living worlds apart from the middle classes of cities such as Buenos Aires.
The Toba have always been reliant on algarrobo trees, but many of have been felled to make way for the soya plantations, depriving the people of the highly nutritious algarroba bean, and driving out the prey they used to hunt with bows and arrows... [Full story>>independent.co.uk]
---
10.02.07 Pakistani opposition quits Parliament
ISLAMABAD (AP) October 2 - President Gen. Pervez Musharraf pushed ahead Tuesday with plans for an expected re-election victory, naming a trusted ally to lead the military in his place and agreeing to amnesty for a former prime minister who could become a key ally against terrorism.
Musharraf has enraged opponents by simultaneously serving as head of the army and president, and has promised to doff his uniform if he wins Saturday's vote by national and provincial lawmakers. A bloc of opposition lawmakers resigned from parliament on Tuesday, hoping their departure would rob the election of legitimacy.
Musharraf will grant former Prime Minister Benazir Bhutto and others amnesty as early as Wednesday in corruption cases up to 1999 in which politicians had not been convicted, said Deputy Information Minister Tariq Azim. The amnesty was one of Bhutto's key demands during power-sharing negotiations, which Azim said had resumed Tuesday. Bhutto plans to return to Pakistan from London on Oct. 18, eight years after she went into self-imposed exile to escape prosecution. [More>>washingtonpost.com]
---
10.02.07 Two blasts in Turkish city kill one, injure four
ANKARA (AFP) October 2 - Two blasts several hours apart killed one person and injured four others in the western Turkish city of Izmir, media reports said Tuesday. The second blast, which left one dead and two wounded, was caused by a bomb hurled onto the pavement by a motorcyclist, the NTV news channel quoted witnesses as saying.
Television footage showed a covered body lying on a street littered with pieces of glass. The explosion occurred outside a carpet shop that caught fire, the Anatolia news agency reported. Hours earlier, a bomb hidden inside a bag exploded outside a shopping mall in the same neighborhood of Sirinyer, injuring two street cleaners. [More>>turkishpress.com]
---
10.02.07 Suicide bus blast in Kabul kills 13
KABUL (AFP) October 2 - A suicide bomber blew up a police bus in Kabul on Tuesday, killing 13 people including a mother and her two children in a new Taleban attack just days after another claimed 30 lives in the Afghan capital. The rush-hour suicide blast in the west of the city ripped off the sides and roof of the bus, which was smeared in blood and flesh. Parts of seats were flung into the trees.
Taleban spokesman Zabihullah Mujahed said the militia was responsible for the carnage. It also claimed Friday's attack on a defence ministry bus that killed 30 - one of the bloodiest bombings of the insurgency. The attacker, strapped with explosives, had tried to board the bus but a policeman on the vehicle became suspicious and shot him, interior ministry spokesman Zemarai Bashary said. Wounded, the bomber still managed to detonate his explosives, Bashary said. [More>>khaleejtimes.com]
---
10.01.07 Diana: The key questions
October 1 - The coroner in charge of the inquest into the deaths of Princess Diana and Dodi Al Fayed has issued a list of 20 likely issues to be considered during the hearing. Lord Justice Scott Baker has published the information online ahead of the hearing, which is likely to last six months.
The key issues are:
:: Whether driver error on the part of Henri Paul caused or contributed to the cause of the collision
:: Whether Henri Paul's ability to drive was impaired through drink or drugs
:: Whether a Fiat Uno or any other vehicle caused or contributed to the collision
:: Whether the actions of the Paparazzi caused or contributed to the cause of the collision :: Whether the road/tunnel layout and construction were inherently dangerous and if so whether this contributed to the collision 
:: Whether any bright/flashing lights contributed to or caused the collision and, if so, their source 
:: Whose decision it was that the Princess of Wales and Dodi Al Fayed should leave from the rear entrance to the Ritz and that Henri Paul should drive the vehicle
...:: The explanation for the money in Henri Paul's possession on 30 August 1997 and in his bank account

[Full story>>sky.com]

---
10.01.07 Vienna: Bomber caught near US embassy
VIENNA (AP) October 1 - Police arrested a Bosnian man Monday after he tried to enter the US Embassy in Vienna with a backpack containing explosives, nails and Islamic literature, authorities said. The suspect was taken into police custody after he was seen dropping the bag and fleeing on foot, Vienna police spokeswoman Michaela Raz said. No one was injured, but police sealed off the neighborhood as a precaution and shut down or rerouted nearby bus and tramway lines. Officers patrolled the area with bomb-sniffing dogs.
The suspect was described only as a 42-year-old native of Bosnia-Herzegovina who now lives in the province of Lower Austria, which encircles most of the capital. Police said they made the arrest a short distance from the embassy building in a neighborhood where security is tight. Raz said explosives experts were still examining the contents of the backpack. [More>>jpost.com]
---
10.01.07 Bombings kill 18, injure 43 in Pakistan
ISLAMABAD (DPA) October 1 - Eighteen people died and 43 were injured Monday in two bombings by suspected pro-Taleban militants in north-west Pakistan near the border with Afghanistan. Sixteen were killed and 31 were injured when a burka-clad suicide attacker detonated a bomb during a security check in the town of Bannu in the morning, officials said.
Another device planted in a pickup truck in the Kurram Agency located 100 kilometres to the north-west killed two more people and injured 12 in the late afternoon, the Dawn news channel reported. The first blast occurred around 8:30 am when police stopped a motorized rickshaw at a checkpoint and a passenger in a head-to-toe veil triggered the bomb, Bannu district police chief Dar Ali Khattak said...The garrison town of Bannu is located near the Afghan border on the edge of the North Waziristan tribal region, where pro-Taleban militants have stepped up attacks on security forces in recent weeks. [Full story>>
khaleejtimes.com
; See related story,
metimes.com, October 1, "Pakistan judge urges arrest of police chief after protests."
]
---
10.01.07 US planning a 'wanted' poster campaign against Taliban, Al-Qaeda
KABUL, October 1 - The US military is planning a "wanted" poster campaign in the hope of reeling in key figures behind deteriorating security in Afghanistan which has claimed dozens more lives, officials said Monday. Three of the dead were children, one a 15-year-old whom an Afghan official said was hanged by Taliban after a five-dollar note was found on him. Five Afghans working with the international community were meanwhile kidnapped.

The posters and billboards, offering between 20,000 and 200,000 dollars for the capture of a dozen "wanted" Taliban and al-Qaeda fighters, will be put up in eastern Afghanistan, US Sergeant Dean Welch said. "It is a campaign to put some people in the public view in the hope that maybe we can break up some mid-level Taliban cells," said Welch from the media office of the US-led coalition at Bagram, north of Kabul. The east, along with the south, sees the worst of an insurgency led by the extremist Taliban movement which was in government between 1996 and 2001.

With insurgency violence at its highest, Afghanistan and its international allies are debating talks with the rebels to end the killing which has already left 5,000 people dead this year, most of them rebels. [More>>thenews.com.pk]
---
10.01.07 Maldives President says opposition parties to blame for bomb attack
October 1 (AP) - Maldives police arrested seven men allegedly involved in a bomb blast that wounded 12 foreign tourists, a government spokesman said yesterday, adding that police were pursuing other suspects. The nail-packed, homemade bomb was detonated outside the crowded Sultan Park in the capital Male on Saturday — the first such attack ever reported on this Indian Ocean archipelago renowned for its exclusive tourist resorts.
"Police have arrested seven men based on forensic evidence and now they have been named suspects. Some of them were trying to flee the country and were apprehended at the airport," government spokesman Mohamed Shareef said. Shareef said the seven local men would be prosecuted over the attack. He said police would not yet release their names because authorities were still searching for other suspects. "I spoke to the assistant police commissioner and he said they are very, very close to cracking this case."
The injured included two Britons, eight Chinese and two Japanese, all of whom suffered burn injuries, said Shareef. All except the British couple — who sustained burns over 40 percent of their bodies — were discharged from hospital and had left the country, he said. [More>>independent.co.uk]
---
10.01.07 Volcano erupts off Yemen, 8 soldiers killed
SANAA (Reuters) October 1 - At least eight Yemeni soldiers were killed in a volcanic eruption on an island off the country's Red Sea Coast, the government said on Monday. The volcano erupted late on Sunday, spewing lava hundreds of metres into the air. Officials said earlier nine soldiers were missing. 
"At least eight are regarded as dead now," a government official told Reuters. 
The eruption occurred on Jabal al-Tair, an island about 80 miles (130 km.) from Yemen. Yemen has had a military base on the island since its 1996 conflict with Eritrea over the nearby islands of Hanish and Jabal Zuqar. Al-Arabiya television quoted witnesses as saying the island was engulfed in fire then disappeared. [More>>thestar.com.my]
---
10.01.07 Asteroid could hit Earth in 2029 - Russian astronomer
MOSCOW (RIA Novosti) October 1 - An asteroid, discovered in 2004, could pose a threat to Earth in 2029, the director of the Institute of Astronomy said Monday. Boris Shustov said at an international space forum in Moscow that the Apophis asteroid, which is due to cross earth's orbit in 2029 at a height of 27,000 km. (17,000 miles), could under certain conditions hit Earth in 2029.
The explosion could surpass the famous Tunguska explosion of June 30, 1908, which affected a 2,150 square kilometer (830 sq. miles) area of Russia felling over 80 million trees in the Krasnoyarsk Territory in Siberia. [More>>rian.ru ; See related story, msnbc.msn.com, October 31, 2005, "NASA sets schedule for handling asteroid threat."]
---
10.01.07 Citigroup warns of 60% earnings drop in third quarter
October 1 - Citigroup issued a profit warning today, estimating a 60 percent drop in third-quarter earnings because of write-downs for securities backed by subprime mortgages and loans tied to corporate takeovers. Separately, UBS, Europe's biggest bank, predicted an unexpected loss in the third quarter because of a $3.42 billion write-down for the value of mortgage-backed securities and announced a management shake-up. [More>>nytimes.com]
---
09.30.07 Some genes turned on by smoking
WASHINGTON, September 30 - Smoking may turn on some genes in the body in a permanent and harmful way, scientists said today in a study that may help explain why the risk of cancer remains high even after smokers quit. They found many genetic changes that stop when a smoker quits, but found several genes that stay turned on for years, including several not previously linked with tobacco use.
"These irreversible changes may account for the persistent lung cancer risk despite smoking cessation," the researchers wrote in their report, published in BioMed Central journal BMC Genomics. In any cell, only about one-fifth of the genes are switched on at any given time.
...They found some DNA repair genes were turned off in smokers and stayed off in the former smokers. Damage to the DNA is one of the main causes of cancer. One gene that was switched on in smokers and former smokers was CABYR, a gene involved in helping sperm to swim. It may also help other types of cells move. For instance, cells in the airways may be helped to move their tail-like cilia to push mucus along. And it has been associated with brain tumors, the researchers said.
Another gene that was switched on in smokers, but not in people who had never smoked, was called ENTPD8. It appears to play a role in damaging DNA. [Full story>>news.com.au]
---
09.30.07 Iranian-made missiles found in Iraq: US
BAGHDAD (AFP) September 30 - The US military in Iraq said Sunday it had seized sophisticated Iranian-made surface-to-air missiles that were being used by insurgents in the war-torn country.
Several Misagh-1s have been found in different locations, the military said, although it stopped short of saying the use of the weapons represented an escalation of Iranian activity in Iraq.
"We've said that we've found these things, we've seen them employed. That's significant in it's own right," US military spokesman Rear Admiral Mark Fox told reporters in Baghdad.
The remarks came amid heightened tension between Teheran and Washington after US forces detained Iranian national Mahmudi Farhadi in northern Iraq last week, prompting Iran to close it border with the Kurdish autonomous region. The US military charges that Farhadi is an officer in the covert operations arm of Iran's elite Revolutionary Guards, accused by American commanders of helping Shia militias involved in Iraq's bloody sectarian conflict. [More>>khaleejtimes.com]
---
09.30.07 Darfur attack kills 10 AU troops, 50 missing
KHARTOUM (Reuters) September 30 - Ten African Union soldiers were killed and 50 were missing after armed men launched an assault on an AU base in Darfur, the worst attack on AU troops since they deployed in Sudan's violent west in 2004. The AU called it a "deliberate and sustained" assault by some 30 vehicles, which overran and looted the peacekeepers' camp on Saturday night.
Sudan's army and Darfur rebel movements initially blamed each other for the strike on the Haskanita base in southeastern Darfur. But one rebel source said the attack was carried out by breakaway rebel forces who wanted a seat at peace talks due to begin on Oct. 27 in Libya. [More>>khaleejtimes.com]
---
09.30.07 Turkey searches for bus attackers
September 30 - Turkish authorities have launched a manhunt for assailants who killed at least 13 people in an attack on a bus in the southeast of the country. The incident, which took place on Saturday near the town of Beytussebab in Sirnak, a province close to the Iraqi border, has been blamed on members of the outlawed Kurdistan Workers' Party (PKK). "Terrorists from the Kurdistan Workers' Party used machine-gun fire on a minibus carrying 14 people, killing 13," Selahattin Apari, a local governor, said. The attack came a day after Turkey signed a deal with Iraq which aims to end Kurdish separatist raids on Turkey launched from Iraq. The victims of the bus attack included a local village chief and his four sons who were all members of the Village Guards. [More>>aljazeera.net ; See also thenews.com.pk]
---
---
*Visitor statistics on maravot.com from 1&1. com. 46,153 page views in May 2007.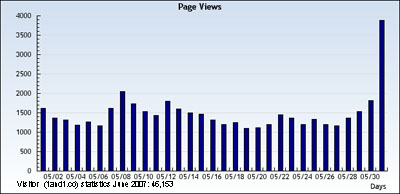 Privacy Policy: We do not store any personal data from you. We have no way of knowing any vital information about you – not even your name. Third-party distribution: We do not distribute information about your site usage to any third party. We are not responsible for the content of links from our site. Usage data: supplied by our Web Hosting service, 1and1.com, which consists of usage reports, such as page views / impressions and web pages visited, visitors' servers and geographical data (ISP's and country of origin).

---
Launched: 10.25.04 / 11.02.04
Updated: 9.30.07; 10.01.07; 10.02.07; 10.03.07; 10.04.07; 10.05.07; 10.06.07
Copyright © 1981-2007 Maravot. All rights reserved
Copyright © 1981-2007 Mel Copeland. All rights reserved
Background: tile from Cicero's villa (Marcus Tullius Cicero 106 B.C. - 43 B.C.)