News Headlines & Trends
---

09.29.07 Suicide bomb on Afghan army bus kills 30 in Kabul
KABUL (Reuters) September 29 - A suicide bomber killed 28 Afghan troops and two civilians on Saturday in an attack on an army bus in Kabul, the Afghan president said. The Taleban claimed responsibility for the attack, the deadliest in the Afghan capital since the hardline Islamist movement was ousted from power for harbouring al-Qaeda leaders following the Sept. 11, 2001 attacks on the United States. A suicide bomber dressed in army uniform got on the bus carrying Afghan National Army personnel to work, the Defence Ministry said. The blast split the bus into two and shattered shop windows in a central district of the capital.
Police and soldiers piled bodies onto army vehicles. Residents also helped pick up pieces of flesh and put them into plastic bags. A boy stood crying next to a police cordon saying he was looking for his father who sold cigarettes from a hand-cart next to the site of the bomb. [More>>khaleejtimes.com ; See related stories, thenews.com.pk, September 29, "Karzai offers Taliban a place in government for peace deal." and news.com.au, September 29, "Taliban free Red Cross hostages."]
---
09.29.07 Tokyo hospital to close, citing lack of doctors
TOKYO, September 29 - Higashijujyo Hospital, a general hospital in Tokyo's Kita Ward, is suspending operations at the end of October as it is unable to secure enough doctors, hospital officials said Saturday. The 350-bed hospital has 30 full-time doctors to run its 16 medical departments. Of them, 28 have been dispatched by Nihon University. In June, the university..told Higashijujyo Hospital that it wanted to pull some dispatched doctors back because its affiliated hospitals are facing staff shortages..[Full story>>japantoday.com]
---
09.29.07 Satellites show Karen villages burnt in Myanmar
WASHINGTON, September 29 - Satellite pictures show ethnic minority Karen villages burnt to the ground in Myanmar, US researchers said Friday, unveiling images taken months before the military regime's latest dramatic crackdown on dissent. Patches of scorched earth corresponding to settlements reportedly destroyed are visible in the high-definition photographs taken by satellites zooming in on the secretive state in late April and analyzed by the Washington-based American Association for the Advancement of Science (AAAS). [More>>turkishpress.com ; See related story, timesonline.co.uk, September 29, "Burma junta blocks UN meeting."]
---
09.29.07 Bomb blast wounds 12 tourists in Maldives capital
MALE (Reuters) September 29 - A homemade bomb exploded near a mosque in the Maldives' capital, Male, on Saturday, wounding 12 foreign tourists, the islands' government said. The blast occurred at the entrance to the capital's Sultan Park, a popular stop-off for tour groups.
There was no immediate claim of responsibility for the rare attack on tourists in the remote Indian Ocean island chain, best known for luxury honeymoons and Hollywood star visitors. "Twelve were injured - two British nationals, two Japanese and eight Chinese,"Tourism Minister Mahmood Shaugee told Reuters. [More>>thestar.com.my]
---
09.28.07 Burmese troops trap monks
RANGOON, September 29 - Burmese troops have occupied key Buddhist monasteries to confine monks who spearheaded protests against 45 years of military rule, raising concerns they may be preparing to intensify a crackdown that has killed at least 10 people. Security forces fired warning shots and launched baton charges against 10,000 demonstrators in Rangoon yesterday, in the third day of a crackdown on anti-government rallies.
Several warning shots were fired, but there were no immediate signs of injuries among the cheering, chanting crowd of mostly young people and students in the centre of Burma's main city, witnesses said. A second protest also broke out near a city park, with up to 500 people marching in the street, singing the national anthem, and thousands more clapping from the pavements as they walked by.
At the downtown protest, security forces used loudspeakers to order the crowd to disperse from its position on a road leading to the city's Sule Pagoda, a key rallying point in nearly two weeks of protests. Monks have led nearly two weeks of mass demonstrations against the ruling junta, but after a series of raids on monasteries and arrests of dozens of monks, there were few, if any, in the crowd yesterday. [More>>news.com.au ; See related story, timesonline.co.uk, September 28, "Video shows Japanese journalist 'being shot deliberately.' "]
---
09.28.07 Turkey, Iraq sign deal to combat Kurdish rebels
ANKARA (AFP) September 28 - Turkey and Iraq have signed an agreement aimed at combatting Turkish Kurd rebels taking refuge in northern Iraq, the Turkish interior minister said Friday. Under the agreement, the two countries pledged to "prevent the activities of terrorist organizations and primarily the PKK," Turkish Interior Minister Besir Atalay said after he and his Iraqi counterpart, Jawad Al-Bolani, inked the accord.
The separatist Kurdistan Workers' Party (PKK), listed as a terrorist organization by Turkey, the United States and much of the international community, has been accused of using bases in northern Iraq to mount attacks across the border against Turkish targets. [More>>turkishpress.com]
---
09.28.07 US accused of killing Iraqi women, children in raid
BAGHDAD (AFP) September 28 - UPDATED: US forces were accused of killing 10 people, including women and children, in a Baghdad raid Friday, one day after launching a probe into a similar incident in Babahan village that killed nine civilians. Iraqi officials said that the early-morning air raid targeted a building in the Saha neighborhood in southwestern Baghdad where families were sleeping. Bodies were pulled out of the rubble of the building, which was destroyed.

"Ten people were killed and seven wounded when American helicopters attacked Building No 139 at 2.00 am. We have no idea of the reason for the attack," said an interior ministry official. An official at Baghdad's Yarmuk hospital said that 13 people - seven men, two women, and four children - were killed and 10 men and a woman were wounded. He said that all the casualties were civilians. [More>>metimes.com]
---
09.28.07 Vatican urges dialogue with Muslims
September 28 - The Vatican has called on Muslims to reject violence and work with Christians for peace. In a message on Friday prior to the end of the holy month of Ramadan, Cardinal Jean-Louis Tauran, head of the Vatican's Inter-religious Dialogue council, also appealed to Islamic leaders to educate their young in a way that "honours all human creatures." The address comes after a speech last year by Pope Benedict XVI that linked Islam to violence, which was widely opposed by Muslims. [More>>aljazeera.net]
---
09.28.07 Bomb kills five in Afghanistan
KABUL, September 28 - A bomb exploded in a bazaar in a town in southern Afghanistan Friday, killing two children, two policemen and older man, a district official said. The bomb was hidden in a ditch outside a shop in the Gereshk bazaar where policemen had gathered, Gereshk district governor Abdul Manaf said.

Two policemen were also wounded, Manaf said. There was no immediate claim of responsibility but militants linked to the hardline Taliban movement are believed to be behind a rash of bombings in southern Afghanistan this year. One of the deadliest was in Gereshk bazaar on September 10, which killed 29 people, about half policemen and half civilians. It was one of the deadliest attacks in an insurgency launched by the Taliban movement after it regrouped following its ouster from government in a US-led invasion that began in October 2001. [Full story>>thenews.com.pk ; See related story, metimes.com, September 28, "Red Cross kidnappers 'surrounded,' say officials."]
---
09.27.07 Increase in war funding sought
September 27 - Defense Secretary Robert M. Gates asked Congress yesterday to approve an additional $42.3 billion for the wars in Iraq and Afghanistan, bringing the Bush administration's 2008 war funding request to nearly $190 billion -- the largest single-year total for the wars so far.
The move came as Gen. George W. Casey Jr., the Army chief of staff and former top US commander in Iraq, warned lawmakers that the Army is stretched dangerously thin because of current war operations and would probably have trouble responding to a major conflict elsewhere. "The current demand for our forces exceeds the sustainable supply," Casey said yesterday. "We are consumed with meeting the demands of the current fight and are unable to provide ready forces as rapidly as necessary for other potential contingencies." [More>>washingtonpost.com]
---
09.27.07 'Iran building new nuclear facility'
PARIS (AP) September 27 - An Iranian resistance group claimed on Thursday that Iran is constructing a secret, new underground military nuclear facility near its Natanz uranium enrichment plant. The claim, made by the National Council of Resistance of Iran at a Paris news conference, could not be independently verified. The group said it has passed its information, which it said came from sources inside Iran, to the International Atomic Energy Agency in Vienna, Austria, but has so far not received a response. Officials at the IAEA said they would have no comment on the claims.
The opposition group claimed that the site is 5 kilometers (3 miles) south of the Natanz plant, under a mountain called Siah Kooh, which it said would help protect it from any air strike. It said the site includes two tunnels with entrances 6 meters (20 feet) in diameter and that a third tunnel links the alleged facility to Natanz. The group said the site has been under construction since late 2006 and that it believed it would be completed within six months...The group is the political arm of the People's Mujahadeen Organization of Iran, a group that Washington and the European Union list as a terrorist organization. It has a mixed record of accuracy. [Full story>>jpost.com ; See also news.com.au]
---
09.27.07 Taleban spokesman arrested in Afghanistan
KABUL (AFP) September 27 - The main spokesman for the extremist Taleban movement, Yousuf Ahmadi, has been arrested in southern Afghanistan, the interior ministry said on Thursday. Ahmadi was seized with his brother on Wednesday in volatile Helmand province, where the Taleban are in control of several districts, the ministry said in a statement.
Ahmadi regularly contacted the international and Afghan media from secret locations about Taleban engagements in southern Afghanistan, saying he was speaking on behalf of the extremist movement. He was the main port of call for the media during the recent crisis over the Taleban's abduction of 21 South Korean evangelical workers in southern Afghanistan in July. [More>>khaleejtimes.com ; See related story, aljazeera.net, September 27, "Taliban 'seize Red Cross' workers"]
---
09.26.07 Wall Street faces credit crunch fraud allegations
NEW YORK, September 26 - Wall Street faces allegations that it fraudulently contributed to the credit crunch as America's financial watchdog announced a probe into whether underwriters of mortgage-backed bonds "unduly influenced" the ratings agencies to ignore their risks.
The Securities and Exchange Commission's investigation into whether the issuers and underwriters of securities backed by high-risk subprime bonds lent on the ratings agencies emerged as the agencies began a two-day congressional hearing into their role in America's mortgage meltdown. The hearing forms part of an ever-widening probe into the cause of the surge in defaults in the spring, which has escalated into a widespread credit crunch.
The SEC is investigating whether ratings agencies such as Moody's and Standard & Poor's turned a blind eye to the risks attached to pools of subprime-backed bonds, known as collatorised [collateralized?} debt obligations, and other mortgage securities.[More>>timesonline.co.uk]
---
09.26.07 70 killed in surge of violence in Iraq
BAGHDAD(AFP) September 26 - Iraq was on Wednesday rocked by powerful car and suicide bombings that killed 28 people, bringing the toll in a three-day surge of bloodletting across the country to about 70, officials said. "There was an increase in violence in the past few days," US military spokesman Major General Kevin Bergner told reporters in Baghdad. "We had been expecting it."
In one of Wednesday's attacks, a suicide bomber smashed his car into the house of a tribal sheikh who had been supporting police in the fight against al-Qaeda and detonated his explosives, killing eight people and wounding 10, an official said. The sheikh was among those wounded.
The attack in the town of Sinjar, west of the main northern city of Mosul, targeted the home of Sheikh Kanan Al Juhaimur, a Sunni tribal leader, according to the mayor of the town, Dakheel Qasim Hassu. Hassu said Juhaimur had recently thrown his support behind police in their fight against al-Qaeda in the volatile district. [More>>khaleejtimes.com ; See also thestar.com.my (Reuters)]
---
09.26.07 Two clashes kill 126 suspected Taliban
KABUL, September 26 - NATO and US-led troops backed up by warplanes killed more than 120 Taliban insurgents in two major battles in southern Afghanistan, officials said. One soldier was killed, a trooper with the 15,000-strong US-led coalition during a day-long gun battle in the restive province of Helmand yesterday. Around 60 rebels were killed in that battle, the coalition said, adding that air power was also used.
The fighting erupted during an Afghan and coalition patrol aimed at clearing an area near the Taliban-controlled district centre of Musa Qala in Helmand...More than 65 rebels were killed yesterday in a similar battle in the south-central province of Uruzgan, another hotbed for the Taliban insurgents, said a separate NATO-led force which has around 40,000 troops. [Full story>>
news.com.au
]
---
09.26.07 At UN, Iranian leader is defiant on nuclear efforts
UNITED NATIONS, September 26 - Iranian President Mahmoud Ahmadinejad vowed Tuesday not to give in to pressure by "arrogant powers" trying to force him to abandon his nation's uranium-enrichment program and unilaterally declared that as far as he is concerned, "the nuclear issue of Iran is now closed." [More>>washingtonpost.com]
---
09.25.07 Islamist 'leader' wants revolution
September 27 - The mysterious sheik behind the Australian chapter of Islamist group Hizb ut-Tahrir has revealed the organization's support for military coups and revolutions to overthrow non-Muslim governments worldwide. Ismail Al Wahwah, who was little known until last month when he was banned from a Hizb ut-Tahrir conference in Indonesia, spoke out on an Arabic radio program that revealed him as the "active member" of the group in Australia.
In an interview on SBS radio last month, he attacked the West's lack of values and backed the use of suicide bombings in Iraq and Palestine, even if they killed Australians. "I say any occupied people have the responsibility to defend their country," he told SBS's Arabic radio program. "The victim should not be asked how he is defending himself." Sheik Wahwah is understood to be the unofficial leader of Hizb ut-Tahrir in Australia. The Australian has obtained the first pictures of the man widely known in the Muslim community as Abu Anas. [More>>news.com.au]
---
09.24.07 Burmese military threatens monks
September 24 - Burma's ruling military junta has warned it is ready to "take action" against Buddhist monks leading mounting protests, state media have reported. Brig. Gen. Thura Myint Maung, minister for religion, warned them not to break Buddhist "rules and regulations" as Rangoon saw the largest march yet. He blamed the protests on "destructive elements" opposed to peace in Burma.
Monks are highly revered in Burma and any move by the junta to crush their demonstrations would spark an outcry. The military government has so far showed restraint against the protests but there are fears of a repeat of 1988, correspondents say, when the last democracy uprising was crushed by the military and some 3,000 people were killed. Some monks' representatives had called for the entire country to join them in their campaign to overthrow the government, which began eight days ago. [More>>bbc.co.uk ; See also aljazeera.net]
---
09.24.07 Dwindling farm water threatens Turkish disaster
September 24 - An environmental catastrophe is threatening central Turkey, once the country's breadbasket, where farmers are depleting the water table after the hottest summer in living memory. A shepherd since his childhood, 60-year-old Kamil Gurel reckoned he knew the terrain on the southern edge of Turkey's vast Konya plain as well as anyone. Until one moonless night recently, when walking his flocks back home, he fell at least 40 metres down a sink-hole that hadn't been there the week before.
Luckily, he survived. But like the dozens of other sink-holes to have formed in recent decades, the chasm Mr. Gurel fell into is "a warning sign of an impending catastrophe", according to Tahir Nalbantcilar, the head of the Chamber of Geological Engineers in the regional capital of Konya.
..."We used to pull water by hand out of wells five metres deep," said Tahsin Ata, a farmer in the small village of Cirali, up the road from Mr. Gurel's sink-hole. "Now you have to go 80 metres down." The drop in water table levels – averaging 27 metres across the plateau in the last 25 years – has had disastrous effects. Dozens of lakes have disappeared, taking their wildfowl with them. Others, including the 1,500sq km salt lake that lies in the centre of the plain, are shrinking fast. [Full story>>independent.co.uk]
---
09.24.07 Several kidnappers killed in Afghanistan raid: report
ROME, September 24 - A NATO raid on Monday that freed two Italian soldiers kidnapped in Afghanistan killed at least five of the abductors, a local news agency reported. The Italian defence ministry had earlier announced that both the kidnapped soldiers were hurt in the operation, with one seriously injured.

Italian soldiers led the NATO raid to free them, supported by British troops, Italian Defence Minister Arturo Parisi said on public television. Asked who was responsible for the kidnapping, the minister said it looked to involve "an independent group", though the information was still being verified. [>thenews.com.pk ; See more details, khaleejtimes.com, September 24, "2 abducted Italian soldiers freed in Afghanistan."]
---
09.22.07 Qaeda-led group executes five Iraqi officers
DUBAI, September 22 - An Iraqi al Qaeda-led group, the Islamic State in Iraq, has shot dead five abducted Iraqi army officers and posted a video of the execution-style killings on the Internet on Saturday. The footage, posted on a Web site used by insurgents in Iraq, showed a masked gunman shooting the blindfolded officers in the head with a pistol at what seemed to be a secluded area.

The officers said they were captured by the "fighters" of the Islamic State in Iraq in the town of Baquba, capital of Diyala province, where US forces had recently carried out an operation against al-Qaeda and other Sunni militants. "I advise the police and army to quit this job," one of the officers said while seated in front of a camera. The group said the execution showed that the US government and Iraqi Prime Minister Nouri al-Maliki were losing the battle in Iraq. [>thenews.com.pk]


---
09.22.07 France on al-Qaeda alert after attack in Algeria
September 22 - Al-Qaeda's branch in North Africa has claimed responsibility for a suicide bombing in Algeria that wounded two French people and one Italian, hours after it had threatened French targets in the region. In an "audio statement" posted on the Internet and received by Al-Arabiya television's office in Algiers, Al-Qaeda in the Islamic Maghreb said one of its militants carried out the attack with a car laden with "more than 250 kilos of explosives."
Friday's bombing in Lakhdaria, about 75 kilometres (50 miles) southeast of Algiers, "killed three foreigners" and wounded others, Al-Arabiya quoted the group as claiming. But the Algerian interior ministry said in a statement that no-one was killed while nine people suffered injuries which were not life-threatening. [More>>news.com.au]
---
09.22.07 US report on Iraq corruption made public
BAGHDAD (AFP) September 21 - A damning report by the US embassy detailing corruption in the Iraqi government was made public Friday, days ahead of a meeting between Prime Minister Nuri Al Maliki and US President George W. Bush. The draft report, posted on the IraqSlogger.com Web site, paints a grim picture of graft in all government departments, many of which, it says, are controlled by criminal gangs and militia.

Maliki's office, it says, has shown an "open hostility" to allowing independent investigators to probe corruption cases. Government corruption is expected to be on the agenda when Maliki and Bush, who has frequently urged the Iraqi government to do more to effect political reconciliation and rein in graft, meet in New York, next week, at the United Nations General Assembly. [More>>metimes.com]

---
09.22.07 Aceh losing 20,000 hectares of forest a year
BANDA ACEH, September 22 - Illegal logging destroys around 20,769 hectares (51,320 acres) of Acehnese rain forest every year, the Indonesian Environmental Forum (Walhi) says. Walhi's executive director Bambang Antariksa said Saturday the burst in illegal logging had been triggered by reconstruction efforts after the 2004 Boxing Day tsunami that devastated the province. Bambang said a total of 374,327 hectares of Aceh's rain forests had been destroyed as of 2006, with some being cleared for infrastructure such as roads. [>thejakartapost.com]
---
09.22.07 Arctic sea ice melts to its lowest level ever
September 22 - The sea ice of the Arctic shrank to its lowest-ever level this week, shattering the previous record, set two years ago, by an enormous amount, American scientists have confirmed. In what will be widely seen as one of the most alarming signs yet of accelerating global warming, the summer melt-back exceeded the September 2005 low point by 22 per cent – an area of 1.2 million square kilometres – more than 385,000 square miles. This represents an area five times the size of the UK.
The colossal shrinkage is immediately and dramatically visible on satellite images of the two low points. Furthermore, the difference between 2005 and this year is more than double the difference between 2005 and 2002, the previous lowest year. [More>>independent.co.uk]
---
09.22.07 The dollar in decline
September 16 - Oh, the amazing shrinking dollar.
The US currency tumbled last week to a record low after the Federal Reserve cut interest rates, continuing the dollar's six-year slide. Behind the latest drop is the expectation of weaker US growth and stronger overseas economies. The slump took the dollar below $1.40 for each euro and put it at parity with the Canadian dollar for the first time in more than 30 years. [More>>washingtonpost.com]
---
09.19.07 Iran hits back in war of words about war
TEHRAN (Reuters) September 19 - Iran, responding to Western debate about the possibility of war over its nuclear plans, said on Wednesday it would use any means to defend itself if attacked and could bomb Israel if the Jewish state launched a strike. Its latest swipes came despite French efforts to row back from a comment by its foreign minister that publicly raised the spectre of war over Tehran's disputed nuclear activities.
The semi-official Fars News Agency quoted an air force commander as saying Iran had drawn up a plan to bomb Israel if the Jewish state attacked it first. Some analysts have speculated that Israel could seek to stage a pre-emptive strike against Iran's nuclear facilities, where Israel and Western nations believe Tehran is developing technology to build bombs. Iran denies the charge. 
"We have drawn up a plan so that, in the event of foolishness by this (Israeli) regime, Iran's bombers can retaliate by attacking Israel's soil," Mohammad Alavi, deputy commander for air force operations, was quoted as saying. [More>>thestar.com.my ; See also jpost.com, September 19, "Iran promises 'response' to Zionism's supporters on Oct. 12." and related story:

metimes.com, September 19, "Syria blast said 'linked to chemical arms,' included Iranians." : Iranian engineers were among those killed in a blast at a secret Syrian military installation two months ago, defense group Jane's said, claiming the base was being used to develop chemical weapons. The July 26 explosion in Aleppo, northern Syria, was reported at the time. The official Sana news agency said 15 Syrian military personnel were killed and 50 people were injured, most of them slightly from flying glass...
---
09.19.07 Anti-Syrian MP killed in Lebanon car bombing
BEIRUT (DPA) September 19 - At least nine people including an anti Syrian MP, latest in a long line, were killed on Wednesday when an explosion ripped through an area in east Beirut, fomenting fear and chaos. A security official confirmed that the dead deputy was Christian Phalangist party MP Antoine Ghanem. The deputy came back to Lebanon two days ago, said MP Nayla Mouwad.
The bomb attack came amid continued differences between the parliamentary majority ahead of presidential elections, which are due to begin next Tuesday. The term of the incumbent, Emile Lahoud, was extended for three years in 2004, in a move backed by Syria. Anti-Syrian MP Antoine Zahra said: "This is a clear assassination, to reduce the number of anti-Syrian deputies in the parliament and to block the presidential elections." [More>>khaleejtimes.com]
---
09.18.07 Villagers fall ill after meteorite crash
September 18 - Villagers in southern Peru have been struck by a mysterious illness after a meteorite made a fiery crash to Earth in their area. Around midday Saturday, villagers were startled by an explosion and a fireball that many were convinced was a plane crashing near their remote village, in the high Andes department of Puno in the Desaguadero region, near the border with Bolivia.
Residents complained of headaches and vomiting brought on by a "strange odor," local health department official Jorge Lopez told Peruvian radio RPP.
Seven policemen who went to check on the reports also became ill and had to be given oxygen before being taken to hospital, Mr. Lopez said. Rescue teams and experts were dispatched to the scene where the meteorite had left a crater 30m wide and 6m deep, said local official Marco Limache. "Boiling water started coming out of the crater and particles of rock and cinders were found nearby. Residents are very concerned," he said. [>news.com.au]
---
09.18.07 Russia, China worried by Iran attack talk
MOSCOW (Reuters) September 18 - Russia and China expressed alarm on Tuesday over comments by France's foreign minister that Paris should prepare for the prospect of war with Iran, which the West accuses of secretly developing nuclear weapons. Minister Bernard Kouchner sought, however, to play down his weekend remarks, saying they were meant as a "message of peace".

"I do not want it to be said that I am a warmonger!" he told Le Monde newspaper, days before the five UN Security Council permanent members, including Russia and China, and Germany were due to meet to discuss possible new sanctions against Tehran. "My message was a message of peace, of seriousness and of determination," the paper quoted Kouchner as saying on his plane as he headed to Moscow for talks with his Russian counterpart. 
Russian Foreign Minister Sergei Lavrov made it clear at a joint news briefing with Kouchner that his remarks had disturbed a Kremlin, like China, less inclined to sanctions than the West. "We are worried by reports that there is serious consideration being given to military action in Iran," Lavrov said. "That is a threat to a region where there are already grave problems in Iraq and Afghanistan." [More>>thestar.com.my ; See also:

rian.ru, September 18, "Russia concerned by media reports of Iran military action - Lavrov" : ...American media recently carried reports saying the Bush administration is preparing to make a preemptive strike on Iran and that aerial bombing of Iranian facilities could start in the spring or summer of 2008...

khaleejtimes.com, September 18, "Romney urges UN to bar Iranian president" : ...US Republican candidate Mitt Romney urged the United Nations on Monday to revoke an invitation for Iranian President Mahmoud Ahmadinejad to speak next week, and said the Iranian leader should be indicted for war crimes...
---
09.18.07 US air strike kills dozen Taliban in Afghanistan
KABUL, September 18 - US air strikes targeting a meeting of Taliban leaders killed a commander who orchestrated the kidnappings of 23 South Koreans, Afghan officials said Tuesday. Mullah Abdullah Jan, the Taliban commander of Qara Bagh district in Ghazni province, was among the 12 killed in the strike on a mud-brick housing compound overnight, said Ghazni provincial police chief Gen. Ali Shah Ahmadzai. [>thenews.com.pk ; See more details, news.com.au, September 18, "Top Taliban kidnapper reported killed."]
---
09.18.07 Bodies of Pakistani troops found
September 18 - Tribal armed men have killed at least 16 Pakistani soldiers in North Waziristan province, intelligence sources said. Al Jazeera's correspondent in Islamabad quoted Pakistani security sources as saying the bodies discovered on Tuesday had been decapitated. The soldiers, including commandos, were believed to have been killed on Sunday night.

An intelligence official told Reuters news agency: "Villagers found the bodies of the slain soldiers and reported it to army. Most of them were shot dead. Some of them had their throats cut." The soldiers were killed in the Shawal area, 70km southwest of Miranshah, North Waziristan's main town. [More>>aljazeera.net]
---
09.17.07 World should brace for possible war over Iran: France
PARIS (AFP) September 16 - The world should brace for a possible war over the Iranian nuclear crisis but seeking a solution through talks should take priority, French Foreign Minister Bernard Kouchner said on Sunday. "We have to prepare for the worst, and the worst is war," he said in an interview broadcast on French television and radio.
"We must negotiate right to the end," with Iran, he said, but underlined that if Tehran possessed an atomic weapon, it would represent "a real danger for the whole world." Calling the nuclear standoff "the greatest crisis" of present times, the minister said: "We will not accept that the bomb is manufactured," and hinted that military plans were on the way. [More>>turkishpress.com ; See also bbc.co.uk, September 17, "Iran scorns French warning of war."and lefigaro.fr, September 17, "Iran: le chef de L'AIEA appelle au calme."]
---
09.17.07 Iraqi government revokes Blackwater license
BAGHDAD, September 17 - The Iraqi government said today it had revoked the license of Blackwater USA, a private security company that guards US Embassy personnel in Iraq, following a shootout in downtown Baghdad on Sunday that left at least nine people dead.
Iraqi Interior Ministry spokesman Abdul Kareem Khalaf called the episode the "last and the biggest mistake" committed by Blackwater, whose black sports utility vehicles and agile "Little Bird" helicopters escort diplomatic convoys throughout Baghdad.
He said the decision of the Iraqi government meant that Blackwater "cannot work in Iraq any longer, it will be illegal for them to work here. Security contracts do not allow them to shoot people randomly," Khalaf said. "They are here to protect personnel, not shoot people without reason."

...The shooting on Sunday started when a car bomb exploded near a State Department motorcade in the Mansour district of western Baghdad. In response to the explosion, Blackwater employees opened fire, US Embassy officials said. The shooting killed at least nine people and wounded 14 others, according to police and hospital officials. Khalaf put the death toll at 11 people. [Full story>>washingtonpost.com]
---
09.17.07 Pakistani forces kill 16 militants in clash
ISLAMABAD (Reuters) September 17 - Pakistani security forces have killed 16 pro-Taleban militants after they attacked a paramilitary checkpost near the Afghan border, intelligence officials and residents said on Monday. The fighting broke out late on Sunday in the Shawal area, 70 km (45 miles) southwest of Miranshah, the main town of the North Waziristan region, a hotbed of support for al-Qaeda and the Taleban. A Reuters reporter in the area said a mosque later appealed for funds for the burial of 16 militants. [More>>khaleejtimes.com]
---
09.17.07 Student found guilty in terrorism
LONDON, September 18 - A Scottish student was found guilty of possessing terrorism-related materials including bomb-making instructions, despite arguing he was only conducting research. Mohammed Atif Siddique, 21, described by the prosecution as a "wannabe suicide bomber," was found guilty of possessing and distributing terrorist material via websites. He will be sentenced next month.
The defence had said he was merely researching Islamist terrorism to find out "why young Muslim men like him act the way they do." Siddique's lawyer, Aamer Anwar, said his client had been "found guilty of doing what millions of young people do every day - looking for answers on the internet." He said Siddique might appeal.
Siddique, born in Scotland to Pakistani immigrants, was detained and questioned by police at Glasgow airport in April last year when about to fly to Pakistan with his uncle. His passport, tickets and laptop were confiscated. Eight days later, he was arrested in a dawn raid at his home.
Evidence found in his possession and produced at his four-week trial included footage of Osama bin Laden urging holy war against the West, a video for recruiting suicide bombers, and computer materials on using weapons and explosives. [More>>news.com.au]
---
09.17.07 World's first major wave farm is set to get green light off Cornwall
September 17 - The world's first large-scale wave farm will be given planning approval today. Wave Hub, a £28m project off the Cornish coast, is expected to be in place and producing renewable energy by 2009. Funding for the scheme – described as a giant electrical socket on the seabed – has already been approved by the South West of England Regional Development Agency (RDA).
The wave farm, which has been on the cards for four years, will boost the industry worldwide and become a centre of research. Generators attached to Wave Hub's infrastructure by other developers will produce enough electricity for 7,500 homes, directly saving 300,000 tons of carbon dioxide emissions over 25 years. This will support the South-west's target of generating 15 per cent of its power from renewable sources by 2010.
Wave Hub could create 1,800 jobs and contribute £560m to the British economy over 25 years, according to an independent economic impact assessment, commissioned by the RDA. It will include an onshore substation connected to electrical equipment on the seabed 10 miles off Hayle via an under-sea cable. [More>>independent.co.uk]
---
---
*Visitor statistics on maravot.com from 1&1. com. 46,153 page views in May 2007.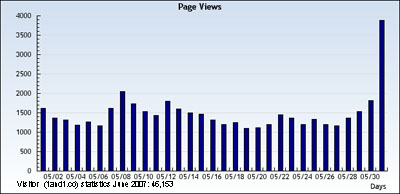 Privacy Policy: We do not store any personal data from you. We have no way of knowing any vital information about you – not even your name. Third-party distribution: We do not distribute information about your site usage to any third party. We are not responsible for the content of links from our site. Usage data: supplied by our Web Hosting service, 1and1.com, which consists of usage reports, such as page views / impressions and web pages visited, visitors' servers and geographical data (ISP's and country of origin).

---
Launched: 10.25.04 / 11.02.04
Updated: 9.17.07; 9.18.07; 9.19.07; 9.22.07; 9.24.07; 9.25.07; 9.26.07; 9.27.07; 9.28.07; 9.29.07
Copyright © 1981-2007 Maravot. All rights reserved
Copyright © 1981-2007 Mel Copeland. All rights reserved
Background: tile from Cicero's villa (Marcus Tullius Cicero 106 B.C. - 43 B.C.)