News Headlines & Trends
---
05.22.07
Six dead, dozens injured in Turkey bombing
ANKARA (AFP) May 22 - A powerful bomb ripped through a commercial district in the Turkish capital during evening rush hour Tuesday, killing six people, including four Pakistani nationals, and injuring more than 70. Prime Minister Recep Tayyip Erdogan described the blast as a "treacherous and brutal terrorist attack," but brushed aside a question on whether initial findings pointed to any particular group.
Police would issue a statement in due course, Erdoyan said, as he surveyed the carnage around the bombsite in the heart of the busy downtown district of Ulus. He said there had been no initial arrests in connection with the bomb, which a policeman at the scene told AFP had been "placed at the bus stops" on busy Anafartalar Avenue, packed with people during the evening rush hour.
Sections of a four-storey shopping mall's entrance had collapsed from the force of the blast, timed at 6:45pm (1545 GMT) by the Anatolia news agency, and the windows of nearby buildings were shattered. Gruesome footage broadcast on the CNN-Turk channel showed police removing mutilated body parts and a bloodied man being carried into an ambulance.[More>>turkishpress.com]
---
05.22.07 Over 43 killed, scores wounded in Baghdad
BAGHDAD, May 22 - Violence raged in several areas around Baghdad on Tuesday, claiming the lives of at least 43 Iraqis and wounding scores others, local authorities said. Two car bombs ripped through the suburbs of southern Baghdad killing 30 people and wounding 75 others, according to local police sources. One of the bombings happened on the intersection of albae and al-Ammel districts, and another in al-Ammel, which reportedly witnessed the greater damage as the explosion occurred near a crowded marketplace.
Police had earlier reported around seven people killed and tens more wounded in Baghdad by a car bomb in the al-Ammel incident. In Zaytouna, eastern Baghdad, an explosive device killed one civilian and wounded three others. Five more people were wounded in a similar explosion in western Baghdad's al-Mansour district. In the Adhamiya district, mortar shells fell on a university campus, killing three students and wounding three others, Iraqi TV said. Pan-Arab al-Arabiya also said that eight more students were killed when their bus was struck by an explosive. In eastern Baghdad, a police officer was killed and three others wounded in another bombing incident. [More>>khaleejtimes.com; See also aljazeera.net, May 22, "Bomb kills 25 in Baghdad market."]
---
05.21.07 Lebanon refugee camps breeding ground for extremism
NAHR-AL-BARED May 21 - Nahr al-Bared outside Lebanon's second city of Tripoli, where fighting raged for a second day Monday, is one of a dozen Palestinian refugee camps around the country that have become breeding grounds for extremism. Home to nearly six decades of heartbreak and misery, the squalid camps, which house well over half of Lebanon's nearly 400,000 Palestinian refugees, have seen ever more hardline groups win influence as their impoverished residents despair of ever seeing an end to their plight.
The UN Relief and Works Agency, which runs education, health and social services in the camps, says all 12 "suffer from serious problems - no proper infrastructure, overcrowding, poverty and unemployment. "Lebanon's camps also have the region's "highest percentage of Palestine refugees who are living in abject poverty." [More>>turkishpress.com]
---
05.21.07 Taliban attacks kill 14 Afghan police
KABUL, May 21 - New Taliban attacks killed 14 Afghan policemen, police announced Monday, as the US-led coalition said that its warplanes had bombed rebel compounds in hours of intense fighting that left 25 militants dead. Most of the deaths were part of a weekend of bloodshed, with two Taliban suicide blasts killing nearly 20 people, including three German soldiers, and military strikes in the east said to have killed more than 100 insurgents. The bodies of 11 of the policemen were recovered Sunday, a day after they were killed by Taliban fighters in the southern province of Helmand, a police commander said on condition of anonymity. [More>>metimes.com]
---
05.21.07 Report: Iran to buy Russian air defense system via Syria
(Reuters) May 21 - Syria has agreed to supply Iran with at least 10 out of 50 air defense systems that Damascus is in the process of buying from Russia, Jane's Defense Weekly reported in this week's edition. The weekly publication quoted a source close to the deal as saying that while most of the Pantsyr-S1E systems were earmarked for Syrian Air Defense Command, "the end user for 10 of the systems is Tehran."

The source said Moscow had not been officially notified of the reported Syrian arrangement with Tehran, which flowed from a November 2005 strategic accord between the two countries on military and technological cooperation. [More>>haaretz.com]
---
05.21.07 US forces rescue five hostages in Iraq
BAGHDAD (AFP) May 21 - US forces freed five Iraqi hostages showing signs of torture in a raid in western Baghdad on Monday, the military said. US forces discovered the hostages when they opened a padlocked room in a building they were searching in Karmah, a restive town north of Fallujah in the western Al Anbar province, the military said in a statement. [More>>khaleejtimes.com]
---
05.20.07 Suicide attack, air raids kill 40 in Afghanistan
KABUL, May 20 - Ten civilians were killed and 30 wounded in a suicide attack in eastern Afghanistan on Sunday, while over 30 Taleban, including several rebel leaders were reported killed in separate airstrikes in the southern region earlier. The suicide attack in which a bomber detonated his explosives- laden vest in the centre of Gardez city, the capital of Paktia province occurred Sunday morning, the Interior Ministry said in a statement.
Provincial police chief Abdual Rahman Sarjang said the wounded, including seven in critical condition, were evacuated to hospitals in the province. Only the bomber's head and feet remained intact following the blast, Sarjang said, adding: "From his face we can see that he looks like an Arab and is around 18 years old." [More>>khaleejtimes.com ; See also thenews.com.pk]
---
05.20.07 At least 38 dead as Lebanese army battles Al-Qaida in north
May 20 - Lebanese troops battled al Qaida-linked militants based in a Palestinian refugee camp on Sunday and 38 people were killed in Lebanon's bloodiest internal fighting since the 1975-90 civil war. Thirteen soldiers and 19 militants died in the clashes, which erupted before dawn at the Nahr al-Bared camp and spread into the nearby Sunni Muslim city of Tripoli in north Lebanon. A cabinet minister said the fighting with Fatah al-Islam, which the government says is backed by Syria, seemed timed to try to derail UN moves to set up an international court to try those suspected of carrying out political killings in Lebanon. [More>>haaretz.com]
---
05.19.07 Victims counting losses as authority warns further waves
JAKARTA (JP) May 19 - Victims of massive high waves, which swept coastal areas across the country, are counting losses, while the Meteorology and Geophysics Agency, or BMG, warned Saturday that the waves may still occur within the next three days. In Garut regency, West Java, residents of Cibalong and Cibaluk beaches said that the waves had damaged dozens of houses, fishing boats and other fishing equipment.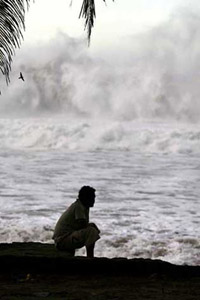 WALL OF WATER: A man watches the waves roll ashore at Pelabuhan Ratu beach in West Java's Sukabumi regency. Hundreds of houses and buildings were damaged Friday by powerful waves that pounded Java's southern coast. The high waves are thought to have been triggered by unusual weather patterns, not by an underwater earthquake. thejakartapost.com: JP/J. Adiguna
Secretary to Cibalong district head Opin Herdiatna said that the total losses suffered by the residents reached at least Rp 966,000 million (US$109,772)...High waves, which had occurred since Thursday, hit coastal areas across Indonesia, devastating houses, expelling tourists from beaches, preventing fishermen from going down to the sea, and causing at least one person missing. [Full story>>
thejakartapost.com
; See also
khaleejtimes.com, May 19, "Huge waves continue to hit Indonesian coasts"
: JAKARTA - Massive waves that have damaged hundreds of homes and displaced thousands of people pounded Indonesia's coastlines for a third day on Saturday, forcing fishermen to stay on land and keeping tourists from the beaches. One person was killed by the huge waves that began hitting coasts across the sprawling archipelago on Thursday and dozens of fishing boats were destroyed by the rushing waters that rose as high as 7 metres (20 feet) in some areas. Weather officials say the waves are a result of the accumulation of winds in one spot and are not linked with annual weather patterns...
---
05.19.07 US loses eight troops in a day
BAGHDAD (AFP) May 20 - Eight more American troops were killed on a single day in Iraq, the US military said, amid raging violence and a desperate search for three captured soldiers. Three US soldiers were killed yesterday when their vehicle was bit by a bomb northeast of Baghdad, and two more in an ambush inside the city in which a gunmen opened fire on a patrol already hit by a roadside booby-trap
Another soldier died in combat in western Iraq, one was shot dead while on foot patrol in Baghdad and the eighth was killed by a roadside bomb south of the capital that wounded two US and two Iraqi troops. The deaths brought total US casualties since the March 2003 invasion to 3412 and the total deaths in May to 69, keeping it on course to be one of the bloodiest months of the war for American forces so far. [>theaustralian.news.com.au ; See related stories:

thestar.com.my, May 19, "9 held as Iraq search for missing soldiers widens." ;
thenews.com.pk, May 19, "Gunmen massacre 15 villagers."] ;
nytimes.com, May 19, "Contractor deaths in Iraq soar to record." ;
thenews.com.pk, May 19, "Blair's 'blnd' support of Iraq war 'major tragedy for the world,' says Carter."
---
05.19.07 21 killed in Iraq, Sadr leader arrested, raids on
BAGHDAD, May 19 - Violence continued in parts of Iraq on Saturday, with the killing of 18 civilians and at least three Iraqi soldiers, the arrest of 152 militants and the arrest of a leading Sadr movement figure. Unidentified gunmen in Iraqi army uniforms shot dead 13 civilians in a village near the town of Mindli in Diyala province on Saturday morning, the independent Voices of Iraq news agency reported quoting a police source. The town is located 80 kilometres south of the provincial capital Baquba, 60 kilometres north of Baghdad.
In a second attack in Diyala on Saturday, gunmen opened fire on a civilian vehicle in the Khalis district of Baquba, killing at least four people and wounding two others before escaping, an Iraqi security source said. Iraqi security forces on Saturday announced they had killed four gunmen and arrested 152 suspected militants in several areas during a combat mission in various parts of Baghdad. [More>>khaleejtimes.com]
---
05.19.07 'Scores of Taliban' die in ambush
May 19 - Nearly 70 Taliban fighters are believed to have died in an ambush by US-led forces and Afghan soldiers in eastern Afghanistan while some 20 others were killed in a battle northeast of Kabul. Sami-Ul Haq Badar, an Afghan army general, said on Saturday that 67 fighters were killed late on Friday in Paktia province near the border with Pakistan. "We set an ambush, attacked them and killed 67 Taliban. Their bodies were lying on the ground," he said.

The general said the soldiers had been tipped off that there were Taliban in the area. No Afghan or foreign soldiers were hurt in the fighting, which lasted several hours, he said. Paktia is one of the regions in Afghanistan where the Taliban are at their most active, launching regular attacks on Afghan and foreign troops. [More>>aljazeera.net ; See also turkishpress.com, May 19, "Three German soldiers killed in Afghan blast." and related story, timesonline.co.uk, May 19, "Afghan soldiers mass on border, ready and willing to take on old foe."]
---
05.19.07 No, Blair! America's parting gift to Britain's PM
May 19 - NO to CO2 emissions targets. NO to a successor to Kyoto. NO to a carbon trading market. As Blair leaves Washington, US hardens stance on climate change. As Tony Blair left Washington yesterday for his last visit as Prime Minister, the Bush administration was acting to scupper international efforts to combat climate change.
Less than 24 hours earlier, Mr. Blair had basked in the apparent support of President George Bush for his stated aim of avoiding catastrophic global warming. But it seems his appeals have fallen on deaf ears. While Mr. Bush was eulogizing his friend in the White House rose garden, the President's delegation at a United Nations meeting in Bonn was working to stop any progress on setting up a carbon trading scheme and emissions caps. Harlan Watson, President Bush's chief climate negotiator, rejected any caps on US emissions or participation in carbon trading. "That's not our agenda," he said.
Leading scientists and policy makers have been meeting in Germany over the past two weeks to lay the foundations for a new international agreement - a "son of Kyoto," the landmark protocol designed to reduce harmful emissions of greenhouse gases. The negotiations came after economists from the Intergovernmental Panel on Climate Change (IPCC) reported earlier this month that greenhouse gas emissions, which are causing the atmosphere to warm, can be brought under control - but only if governments act decisively. [More>>independent.co.uk]
---
05.19.07 Probe leads to Samjauta accused
HYDERABAD, May 19 - Harkat-ul-Jehad-i-Islami (HuJI) activist Mohammed Abdul Sahed alias Bilal, wanted for the blasts on the Samjhauta Express, has emerged as a key suspect in the bomb attack at the Mecca Masjid in Hyderabad. A SIM card believed to have been used to trigger the explosive device at the mosque on Friday was purchased from Kolkata and its trail had led to a link with Bilal, sources in the team probing the attack said.
They said that indications had emerged that Bilal could have masterminded the attack with some cadres of the banned SIMI and sleeper cells of Jaish-e-Mohammed. Both HuJI and Jaish follow the Deobandi sect of Islam. Eleven people died in the bomb attack at the mosque while five more died when police fired on protestors who attacked shops in the Charminar area of Hyderabad. [More>>expressindia.com]
---
05.19.07 Outbreak of H5N1 in central Chinakills 11,172 poultry
BEIJING, May 19 - Bird flu has killed 11,172 poultry in central China, the official news agency said Saturday, the country's first reported outbreak in three months. The poultry in Shijiping, a village in Hunan province, died of the H5N1 strain of bird flu, agency said, citing the Ministry of Agriculture. Another 52,874 were slaughtered, said the report, which did not give any other details or say when the outbreak occurred. [>thenews.com.pk]
---
05.18.07 India mosque blast, 12 dead
HYDERABAD, India, May 18 - A suspected terror attack at the historic Mecca mosque in Hyderabad claimed 12 lives and injured 50 after a powerful remote-controlled bomb ripped through a gathering of thousands offering Friday prayers. Nine persons were believed to have been killed due to the blast, while there was confusion whether the other three succumbed to injuries or in subsequent police firing on people protesting in the aftermath of the explosion.
Three live bombs were detected at the mosque in the communally sensitive Charminar area and defused - two immediately after the blast at 1:30 pm in an area where ablutions are performed and the third later in the evening near the gate. Chief Minister Y S Rajasekhara Reddy confirmed five deaths in the blast but police and official sources put the toll at 12. Union Home Secretary Madhukar Gupta said in Delhi the blast appeared to have a terror link while the Chief Minister said it was an act of "intentional sabotage" by anti-social elements opposed to communal amity. No group claimed responsibility for the blast which state police chief S A Basith said was remotely triggered with a mobile phone. [>expressindia.com ; See more details at thenews.com.pk]
---
05.18.07 Sarkozy launches French version of Cool Britannia
May 18 - The French President, Nicolas Sarkozy, and his Prime Minister, François Fillon, hit the ground running yesterday. A couple of hours after President Sarkozy had confirmed that M. Fillon, 53, was his choice as Prime Minister, the two men went jogging together in the Bois de Boulogne.
After a period of 26 years in which France has been governed by elderly presidents, the appearance of the President and Prime Minister in running shorts and shoes was a clear message to the French. M. Sarkozy, 52, and M. Fillon were flaunting themselves as youthful and vigorous men of action. The stunt also suggests that the Sarkozy administration will be driven by "spin" and photo opportunities far more than its predecessors. President Sarkozy wants to reform the French economy, but also to create a new, more "can-do" mood in the minds of the French people. For Tony Blair's "Cool Britannia," read M. Sarkozy's - and M. Fillon's - "Nouvelle France."

...M. Fillon comes from a wealthy family at Sablé-sur-Sarthe, near Le Mans, in western France, where he is the mayor and senator. He is married to a Welsh woman, Penny Fillon (née Clarke), from Llanover near Abergavenny in the Welsh borders. They have five children. Mme Fillon is the first British woman to be married to a French prime minister. This is said to have caused some consternation, and jealousy, among other centre-right politicians and their wives. [Full story>>independent.co.uk]
---
05.18.07 Shipwreck yields estimated $500 million haul
TAMPA, Florida (AP) May 18 - Deep-sea explorers said Friday they have mined what could be the richest shipwreck treasure in history, bringing home 17 tons of colonial-era silver and gold coins from an undisclosed site in the Atlantic Ocean. Estimated value: $500 million.
A jet chartered by Tampa-based Odyssey Marine Exploration landed in the United States recently with hundreds of plastic containers brimming with coins raised from the ocean floor, Odyssey co-chairman Greg Stemm said. The more than 500,000 pieces are expected to fetch an average of $1,000 each from collectors and investors.
''For this colonial era, I think (the find) is unprecedented,'' said rare coin expert Nick Bruyer, who examined a batch of coins from the wreck. ''I don't know of anything equal or comparable to it.''
Citing security concerns, the company declined to release any details about the ship or the wreck site Friday. Stemm said a formal announcement will come later, but court records indicate the coins might come from a 400-year-old ship found off England. [More>>nytimes.com]
---
05.18.07 NATO air strike kills 14 Taliban in Afghanistan
KABUL, May 18 - A NATO air strike killed 14 Taliban insurgents and injured 10 others in Farah province of western Afghanistan, provincial police chief said on Friday. The attack occurred in Bakwa district in the afternoon on Thursday, Sayed Aqa Saqib said. NATO forces in Afghanistan are not immediately available for comment.

Also on Thursday, a suicide bombing killed two civilians and injured the Afghan minister for information and culture and three others in the southern Kandahar province. Due to rising Taliban-linked insurgency, over 1,400 persons, mostly Taliban militants, have been killed in Afghanistan this year. [>thenews.com.pk]
---
05.18.07 Two Iraqi journalists working for ABC killed
BAGHDAD (AFP) May 18 - Two Iraqi journalists working for the US network ABC were ambushed and killed as they returned home from work at their Baghdad office, their employer announced on Friday. A statement from ABC News' president David Westin on the channel's website said cameraman Alaa Uldeen Aziz, 33, and soundman Saif Laith Yousuf, 26, were killed on Thursday afternoon when their car was attacked...At least 170 journalists and media professionals have been killed in the fighting that has gripped Iraq since the March 2003 US-led invasion, according to the watchdog Reporters without Borders. The vast majority of the victims have been Iraqi journalists killed by death squads and insurgent factions angered by their coverage or ideologically opposed to their employers, whether Iraq or foreign.. [Full story>>khaleejtimes.com]
---
05.16.07 NASA finds vast regions of West Antarctica melted in recent past
May 15 - A team of NASA and university scientists has found clear evidence that extensive areas of s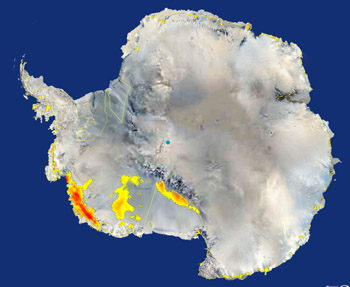 now melted in west Antarctica in January 2005 in response to warm temperatures. This was the first widespread Antarctic melting ever detected with NASA's QuikScat satellite and the most significant melt observed using satellites during the past three decades. Combined, the affected regions encompassed an area as big as California.

Son Nghiem of NASA's Jet Propulsion Laboratory, Pasadena, Calif., and Konrad Steffen, director of the Cooperative Institute for Research in Environmental Sciences at the University of Colorado, Boulder, led the team. Using data from QuikScat, they measured snowfall accumulation and melt in Antarctica and Greenland from July 1999 through July 2005.

The observed melting occurred in multiple distinct regions, including far inland, at high latitudes and at high elevations, where melt had been considered unlikely. Evidence of melting was found up to 900 kilometers (560 miles) inland from the open ocean, farther than 85 degrees south (about 500 kilometers, or 310 miles, from the South Pole) and higher than 2,000 meters (6,600 feet) above sea level. Maximum air temperatures at the time of the melting were unusually high, reaching more than five degrees Celsius (41 degrees Fahrenheit) in one of the affected areas. They remained above melting for approximately a week.

"Antarctica has shown little to no warming in the recent past with the exception of the Antarctic Peninsula, but now large regions are showing the first signs of the impacts of warming as interpreted by this satellite analysis," said Steffen. "Increases in snowmelt, such as this in 2005, definitely could have an impact on larger-scale melting of Antarctica's ice sheets if they were severe or sustained over time." [More>>jpl.nasa.gov via khallejtimes.com]
---
05.16.07 400 million people live in minefields: Report
GENEVA, May 16 - Some 400 million people around the world live and work in what are effectively minefields, at daily risk of death or maiming by cluster bombs, according to a report issued on Wednesday. The report, from the campaign group Handicap International, said over 13,000 civilians are known to have been killed or injured in recent years by the bombs, but that the real figure was probably many times higher.
In the wake of armed conflicts 'unexploded cluster submunitions turn homes, livelihoods and social areas of 400 million people living in affected countries into de facto minefields', the report said. Nearly 50 states meet in Lima, Peru, on May 23-25, to discuss a draft of a treaty to ban the weapons, which have been used widely in Iraq, Afghanistan, Lebanon and the Russian region of Chechnya. [More>>expressindia.com]
---
05.16.07 Bomb kills 32 Iraqis as US huntes for troops
BAGHDAD (AFP) May 16 - Insurgent bombers detonated a van bomb in a crowded Iraqi market, police said on Wednesday, as violence continued to rage around the country and the US military hunted for three kidnapped comrades. The latest sectarian attack ripped through a Shiite enclave of Diyala province, northeast of the capital, late Tuesday, killing at least 32 civilians and wounding 65 more, according to local security and municipal officials.
Iraqi officials said the bomb had been packed with tanks of toxic chlorine gas, but the US military said a team sent to the scene could not confirm this. Meanwhile, the Pentagon released details of seven soldiers killed or kidnapped in Iraq when Al Qaeda wiped out their patrol on Saturday, as thousands more American troops searched for their missing comrades. [More>>khaleejtimes.com]
---
05.16.07 Senate rejects Iraq funding cutoff
WASHINGTON, May 16 - Democrats who are highly critical of President Bush's Iraq war strategy suffered a stinging defeat today when the Senate overwhelmingly rejected a measure to cut off money for the military campaign by March 31, 2008. The measure, in the form of an amendment to an unrelated water-projects bill, was effectively rejected, 67 to 29, with 19 Democrats voting against it in a procedural vote.
Though the vote was largely symbolic, the outcome was nevertheless significant, in that it underscored the divisions among Democrats over how to oppose the administration's Iraq policy, as well as widespread fear of being seen as undercutting American troops.
This morning's vote was preceded by an emotional debate. "Too many blank checks have been given to this president," said Senator Harry Reid of Nevada, the Democratic majority leader, who was a sponsor of the cutoff measure along with Senator Russell D. Feingold, Democrat of Wisconsin. [More>>nytimes.com]
---
05.16.07 Sarkozy sworn in as French president
PARIS, May 16 - Nicolas Sarkozy didn't even wait until the end of a 21-cannon salute to plunge into his inaugural address Wednesday as France's 23rd president. Sarkozy's impatience to take over the job he has coveted for most of his political career epitomized the theme he set for his presidency: to rescue France from its national malaise and reverse its decline as an international heavyweight and economic force.
Never have the risks of inertia been so great for France as they are now," Sarkozy said in a nationally televised speech from the Elysee Palace, where he will live and work while in office. "We need to take risks - we need to take the initiative."
At the start of his speech, the final booms of the cannons from across the river Seine near Napoleon's tomb were clearly audible. The palace room was strikingly opulent, awash in gold gilt, antique tapestries and massive crystal chandeliers. Sarkozy, 52, is France's former chief law enforcement officer, and the son of a Hungarian immigrant. He replaces Jacques Chirac, 74, whose leaves office after 12 years with a legacy of failed domestic policies and approval ratings that over the past year have plunged as low as 1 percent. [More>>washingtonpost.com]
---
05.16.07 At least 13 dead as Hamas-Fatah clashes rage in the Gaza Strip
May 16 - Hamas-Fatah violence raged for a fourth day in the Gaza Strip on Wednesday, with the death toll in the internal clashes soaring to at least 37, 13 on Wednesday alone. The fighting left a cease-fire between the sides in tatters and residents of the Strip afraid to leave their homes. Dozens of Gaza residents turned out for a rally on Wednesday to demand an end to factional fighting, only to be caught in crossfire that left eight wounded.

"Just as we used to protect you from the occupation by acting as human shields, we have come to protect you from yourselves," one protester shouted at gunmen, referring to instances when Palestinian civilians positioned themselves between militants and Israeli forces. Placing themselves between warring factions deployed on opposite ends of a Gaza City street, the protesters were forced to run for their lives when a gun battle erupted, witnesses said. A local hospital said eight people were wounded in the crossfire, one critically. [More>>haaretz.com]

---
05.16.07 Railway test-runs on track for today
May 16 - No amount of rain this morning will be able to stop trains from crossing the heavily fortified border on the east and west side of the Korean peninsula for the first time in over half a century. The two Koreas yesterday touched up last-minute preparations for the test-run of the two cross border railways. A South Korean train will be traveling to the North Korean side on the Gyeongui Line and a North Korean train to the South Korean side on the Donghae Line, each train carrying a delegation of 150 people from both Koreas.
It marks the first time in 56 years that a train will cross the Military Demarcation border using the Gyeongui Line, and 57 years for the Donghae Line. The railways have been out of use since the Korean War (1950-1953). [More>>koreaherald.co.kr]
---
05.16.07 Bali bomber escapes blockade
May 16 - The suspected mastermind of the deadly 2002 Bali bombings has likely given thousands of Philippine troops the slip, forcing them to shift their hunt to another island in the remote south of the country. Lieutenant Colonel Bartolome Bacarro said there were strong indications Dulmatin, a leader of regional Islamic terror group Jemaah Islamiah, had escaped Jolo island and moved to a smaller nearby isle despite a naval blockade.

"I cannot disclose his exact location but there had been sightings of Dulmatin somewhere in the western Mindanao area," Lieutenant Colonel Bacarro told reporters, four days after the militant's four children were found on an island in the southernmost tip of the archipelago. [More>>theaustralian.news.com.au]
---
05.15.07 Al-Qaeda group 'threatens France'
May 15 - An Al-Qaeda front group in Europe has apparently threatened to launch bloody attacks in France in response to the election of "crusader and Zionist" Nicolas Sarkozy as president. A statement posted on the internet on Tuesday purporting to be from the Abu Hafs al-Masri Brigades claimed the group would soon carry out attacks in Paris.
"As you have chosen the crusader and Zionist Sarkozy as a leader... we in the Abu Hafs al-Masri Brigades warn you that the coming days will see a bloody jihadist campaign ... in the heart of Sarkozy's capital," the group's "Europe division" said in a statement addressed to the French people...The group previously claimed responsibility for the July 2005 terror attacks in
London
, as well those in
Madrid
in March 2004 and in
Istanbul
in November 2003. [Full story>>
aljazeera.net
]
---
05.15.07 60 Taleban killed in air strikes: Afghan police
KANDAHAR, Afghanistan (Reuters) May 15 - Sixty Taleban fighters including three commanders were killed in overnight air strikes on two rebel bases in the southern Afghan province of Kandahar, a provincial police chief said on Tuesday. The joint operation involving foreign and Afghan security forces took place in the Zharai district of Kandahar, police chief Esmatullah Alizai told Reuters. He said there were no casualties among the foreign or Afghan forces. A US military spokesman said he was aware of the reports and would check. NATO said it did not have any information.
Violence has surged in Afghanistan in recent weeks after the traditional winter lull. Hundreds have been killed already this year after more than 4,000 people died last year. In the latest attack, a roadside bomb killed seven Afghan soldiers in the eastern province of Nuristan on Monday, the defence ministry said. Four soldiers were missing after the blast. [More>>khaleejtimes.com]
---
05.15.07 Suicide bomber kills 25 in Pakistan
PESHAWAR, Pakistan (AFP) May 15 - A suicide bomber blew himself up inside a hotel in the Pakistani city of Peshawar on Tuesday, killing at least 25 people and deepening a sense of instability in the strife-torn nation. Provincial law minister Malik Zafar Azam said investigators found a message written in Pashto language on one of the bomber's severed legs saying, "This will be fate of those who are American spies."
Dozens more people were wounded in the powerful blast which badly damaged the three-storey Marhaba Hotel, a popular haunt for Afghan refugees in this northwestern city near the border with Afghanistan, officials said. "It is now confirmed that it was a suicide attack," Azam said.
Attacks on people suspected of spying for US forces across the frontier in Afghanistan have escalated in this region of Pakistan over recent months, with several beheadings in its lawless ethnic Pashtun tribal areas. Interior Ministry spokesman Brigadier Javed Cheema told AFP that 25 people were killed and nearly 30 wounded in the attack, most of them Afghans. Hotel employees said the dead included its owner, an Afghan refugee named Sadruddin and originally from northern Afghanistan's Mazar-i-Sharif city, and his three sons. [More>>turkishpress.com]

---
05.15.07 US health system ranks last: Studies
WASHINGTON, May 15 - The US health care system ranks last among other major rich countries for quality, access and efficiency, according to two studies released by a health care think tank. The studies by the Commonwealth Fund found that the United States, which has the most expensive health system in the world, underperforms consistently relative to other countries and differs most notably in the fact that Americans have no universal health insurance coverage.
"The United States stands out as the only nation in these studies that does not ensure access to health care through universal coverage and promotion of a 'medical home' for patients," said Commonwealth Fund President Karen Davis. "Our failure to ensure health insurance for all and encourage stable, long-term ties between physicians and patients shows in our poor performance on measures of quality, access, efficiency, equity, and health outcomes." [More>>expressindia.com]
---
05.15.07 Thompson and Reuters agree on merger
LONDON (AP) May 15 - Reuters agreed on Tuesday to a $17.2 billion takeover by Thomson that would vault the combined entity ahead of Bloomberg to become the world's largest financial data and news provider. The combined company will be headed by Tom Glocer, 47, who is now chief executive of Reuters, and he will be responsible for finding the $500 million in savings the companies are promising to deliver by the third year.
Reuters trustees, who could have vetoed any takeover, endorsed the deal, which is still subject to approval by shareholders and regulators.
"We believe that the formation of Thomson-Reuters marks a watershed in the global information business, and will underpin the strength, integrity and sustainability of Reuters as a global leader in news and financial information for many years to come," said Pehr Gyllenhammar, chairman of the trustees. Holders of each Reuters Group PLC share traded in London will be paid the equivalent of about $7 in cash and 0.16 shares of Thomson Corp.'s Toronto-listed stock. [More>>nytimes.com]
---
05.15.07 Justice Dept.'s no. 2 to resign
May 15 - Deputy Attorney General Paul J. McNulty announced his resignation yesterday after 18 months on the job, becoming the fourth senior Justice Department official to quit amid the controversy surrounding the dismissal of nine U.S. attorneys last year. In a one-page letter to Attorney General Alberto R. Gonzales, McNulty said he will leave his post in late summer because of the "financial realities" brought on by "college-age children and two decades of public service."
McNulty, 49, said in an interview that the political tumult over the prosecutor dismissals - including his role in providing inaccurate information to Congress - did not play a part in his decision. He said he has not lined up a job but is considering his options. "It's been a big issue for the past few months, but the timing of this is really about other things," McNulty said. He said he timed the announcement to coincide with a prosecutor conference in San Antonio, which he attended, and sought to leave enough time for an orderly transition before his departure. [More>>washingtonpost.com]
---
---
NOTES

*Visitor statistics on maravot.com from 1&1.com. 43,173 page views in April 2007.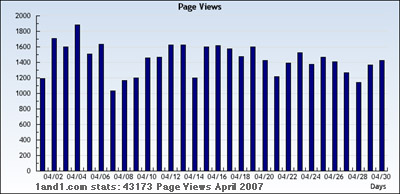 Privacy Policy: We do not store any personal data from you. We have no way of knowing any vital information about you – not even your name. Third-party distribution: We do not distribute information about your site usage to any third party. We are not responsible for the content of links from our site. Usage data: supplied by our Web Hosting service, 1and1.com, which consists of usage reports, such as page views / impressions and web pages visited, visitors' servers and geographical data (ISP's and country of origin).

---
Launched: 10.25.04 / 11.02.04
Updated: 5.15.07; 5.16.07; 5.18.07; 5.19.07; 5.20.07; 5.21.07; 5.22.07
Copyright © 1981-2007 Maravot. All rights reserved
Copyright © 1981-2007 Mel Copeland. All rights reserved
Background: tile from Cicero's villa (Marcus Tullius Cicero 106 B.C. - 43 B.C.)