01.29.07 Bush directive increases sway on regulation
WASHINGTON, January 29 – President Bush has signed a directive that gives the White House much greater control over the rules and policy statements that the government develops to protect public health, safety, the environment, civil rights and privacy. In an executive order published last week in the Federal Register, Mr. Bush said that each agency must have a regulatory policy office run by a political appointee, to supervise the development of rules and documents providing guidance to regulated industries. The White House will thus have a gatekeeper in each agency to analyze the costs and the benefits of new rules and to make sure the agencies carry out the presidentıs priorities.

This strengthens the hand of the White House in shaping rules that have, in the past, often been generated by civil servants and scientific experts. It suggests that the administration still has ways to exert its power after the takeover of Congress by the Democrats. The White House said the executive order was not meant to rein in any one agency. But business executives and consumer advocates said the administration was particularly concerned about rules and guidance issued by the Environmental Protection Agency and the Occupational Safety and Health Administration. [More>>nytimes.com]
---
01.29.07 Turkish police detain 46 suspected Al-Qaeda links
ISTANBUL, January 29 – Turkish police on Monday detained 46 people with alleged Al-Qaeda links in simultaneous operations in five provinces, the Anatolia news agency reported. Twenty-five people were taken into custody in the central province of Konya, while the others were detained in Istanbul, neighboring Kocaeli, the western province of Izmir and Mardin, in the southeast, the agency said. Special forces participated in the early morning operation, the NTV news channel reported. No other details were immediately available.

The operation follows the indictment last week of three people, one of them an Izmir lawyer who presented himself as the Al-Qaeda commander in Turkey and was allegedly planning bomb attacks. A Turkish cell of the network is blamed for four suicide bombings in Istanbul – at two synagogues, the British consulate and a British-owned bank – in November 2003, which claimed 63 lives, left hundreds injured and caused massive destruction. Seventy-three people, among them two Syrians, are currently on trial for the attacks. [>turkishpress.com]
---
01.29.07 IAF strikes smuggling tunnel near Karni Crossing
January 30 – IAF aircraft bombed a tunnel in the northern Gaza Strip, near Karni Crossing early Tuesday, in what appeared to be the first response to Monday's suicide bombing in Eilat, which killed three Israelis. No casualties were reported. The IDF said Palestinian terrorists intended to use the tunnel to carry out attacks against Israel. Security officials said secondary explosions were seen after the airstrike, indicating that there were explosives in the tunnel. Defense officials believe the suicide bomber came from Gaza through Egypt, and reports emerged Monday that he entered Gaza using a smuggling tunnel under the Gaza-Egypt border. [More>>Jerusalem Post]
---
01.29.07 Bird flu registered in Russia's south
MOSCOW (RIA Novosti) January 29 – Bird flu has been registered in Russia's southern Krasnodar Territory, Rosselkhoznadzor, the agricultural watchdog, said Monday. "Deaths of domestic fowl were registered at three farmsteads. Lab analysis revealed the H5N1 bird flu virus strain," press secretary Alexei Alekseyenko said. Russia banned Hungarian poultry imports Friday following the discovery of bird flu in the Central European country. [More>>rian.ru]
---
01.29.07 Tunnel linking Europe and Africa inches closer
January 30 – The dream of a tunnel between Africa and Europe is coming closer to reality, but it may be another 20 years before you can hop on the fast train at Seville and disembark in Tangier 90 minutes later. After decades of plans and geological tests, the governments of both Spain and Morocco are now keen to push ahead with a twin-track rail tunnel linking the two countries. Madrid and Rabat gave the project a boost late last year when they contracted a French, Spanish, Moroccan and Swiss consortium to draw up fresh blueprints for the under-sea tunnel. Preliminary work could begin this year, following a report on the complex geology of the Strait of Gibraltar. [More>>independent.co.uk]
---
01.28.07 In Iowa, Clinton calls Bush reckless
DAVENPORT, Iowa, January 28 – Sen. Hillary Rodham Clinton (D-N.Y.), toughening her tone during a second day of campaigning in Iowa, accused President Bush of trying to pass the problems in Iraq on to the next president and described his actions as "the height of irresponsibility. The president has said this is going to be left to his successor. He has said that on more than one occasion," Clinton said during a town hall meeting here Sunday morning.
January 28 demonstration in Washington D.C. from YouTube &
afterdowningstreet.com
. This message seems to be a voice of the people that can be heard everywhere – even around the world . But Bush has not heard it, according to the messages & the White House spokesman who complained about "sending the wrong message." Bush heard Hillary speak out but not this?
Mel Copeland
"I really resent it. This was his decision to go to war." Her comment quickly reverberated at the White House, where a spokesman issued a statement denouncing Clinton for a "partisan attack that sends the wrong message to our troops, our enemies and the Iraqi people." [More>>
washingtonpost.com
See also
nytimes.com, January 28, "Clinton calls on Bush to 'extricate' US from Iraq"
: Senator Hillary Rodham Clinton called today for President Bush to "extricate our country" from Iraq by the time he leaves office in 2009, and she also said she knew enough about "evil and bad men" to protect the country from its enemies.
Editorial note: It appears from these reports that presidential candidate H. Clinton has established a time-table for "extricating the US from Iraq." If the president is impeached would the war end sooner?
Mel Copeland
---
01.28.07 Heavy fighting reported near Najaf
BAGHDAD (AP) January 28 – US-backed Iraqi troops on Sunday attacked insurgents allegedly plotting to kill pilgrims at a major Shiite Muslim religious festival, and Iraqi officials estimated some 250 militants died in the daylong battle near Najaf. A US helicopter crashed during the fight, killing two American soldiers. Mortar shells, meanwhile, hit the courtyard of a girlsı school in a mostly Sunni Arab neighborhood of Baghdad, killing five pupils and wounding 20. UN officials deplored the attack, calling the apparent targeting of children "an unforgivable crime."

Two car bombs exploded within a half hour in the northern city of Kirkuk, killing 11 people and wounding 34, police Brig. Gen. Sarhad Qader said. Three ethnic groups — Arabs, Kurds and Turkomen — are in a bitter struggle for control of that oil-rich area. In addition to confirming the two Americans killed in the helicopter crash near Najaf, the US command announced three combat deaths from Saturday — one Marine in the Sunni insurgent stronghold of Anbar province and two Army soldiers in the Baghdad area. Authorities said Iraqi soldiers supported by US aircraft fought all day with a large group of insurgents in the Zaraq area, about 12 miles northeast of the Shiite holy city of Najaf. [More>>msnbc.msn.com]
---
01.27.07 US warns Iran against installing more centrifuges
WASHINGTON (Xinhua) January 26 – A senior US official said here on Friday that it would be "major miscalculation" by the government of Iran if it insists to install 3,000 centrifuges for the production of uranium enrichment. "If Iran takes this step, it is going to confront universal international opposition," Undersecretary of State Nicholas Burns said at a news briefing. "If they think they can get away with 3,000 centrifuges without another Security Council resolution and additional international pressure, then they are very badly mistaken." [More>>xinhuanet.com ; See related articles:
haaretz.com, January 27, "North Korea denies allegations of nuclear cooperation with Iran." and

(via afterdowningstreet.org) kucinich.house.gov, January 26, "The White House is..preparing the United States for an attack on Iran – President's actions could lead to impeachment" : WASHINGTON, D.C. — Congressman Dennis Kucinich (D-OH) accused the White House of mounting a media blitz to prepare the US public for an eventual attack on Iran. Today The Washington Post reported the Bush administration has authorized the U.S. military to kill or capture Iranian operatives inside Iraq as part of an aggressive new strategy to weaken Tehranıs influence across the Middle East.

"The White House is up to its old tricks again: Providing information by anonymous sources and portraying Iran as an aggressor in Iraq," Kucinich said.

"The President is mischaracterizing US action vis à vis Iran. In fact, the US is already engaged in offensive and provocative acts against Iran. The Presidentıs strategy, by portraying our involvement as only being on the defensive, is laying out the groundwork for him to attack Iran and bypass authorization by Congress," Kucinich said.

The Washington Post article stated:

"A senior intelligence officer was more wary of the ambitions of the strategy. 'This has little to do with Iraq. Itıs all about pushing Iranıs buttons. It is purely political.' The official expressed similar views about other new efforts aimed at Iran, suggesting that the United States is escalating toward an unnecessary conflict to shift attention away from Iraq and to blame Iran for the United Statesı increasing inability to stanch the violence there."

Kucinich said, "The White House spin machine is at it again: this time providing justification for a new war — a war against Iran." Kucinich pointed out that while the term 'officials' is mentioned 21 times in the Post article — not once are the officials identified by name...


cbsnews.com (CBS/AP) January 27, "Kerry: US a 'Pariah' nation under Bush" Senator blasts administration for failing to properly address foreign policy issues: Massachusetts Sen. John Kerry slammed the foreign policy of the Bush administration on Saturday, saying it has caused the United States to become "a sort of international pariah." The statement came as the 2004 Democratic presidential nominee responded to a question today at the World Economic Forum's annual meeting in Davos, Switzerland, where the tumult in Iraq and the Middle East took center stage. Kerry was asked about whether the US government had failed to adequately engage Iran's government before the election of hard-liner Mahmoud Ahmadinejad in 2005...
---
01.27.07 Fonda, Sarandon among Iraq war protesters
WASHINGTON (AP) January 27 – Protesters energized by fresh congressional skepticism about the Iraq war demanded a withdrawal of U.S. troops in a demonstration Saturday that drew tens of thousands and brought Jane Fonda back to the streets. A sampling of celebrities and busloads of demonstrators from distant states joined in a spirited rally under a sunny sky, seeing opportunity to press their cause in a country that has turned against the war. Standing on her toes to reach the microphone, 12-year-old Moriah Arnold told the crowd: "Now we know our leaders either lied to us or hid the truth. Because of our actions, the rest of the world sees us as a bully and a liar." [More>>cnn.com]
---
01.27.07 Russia awaits US explanation on military buildup in Mideast – FM
MOSCOW (RIA Novosti) January 27 – Moscow expects the United States to explain its growing military presence in the Middle East, Russia's foreign minister said Saturday. "I have not seen any change in Washington's rather assertive tone," Sergei Lavrov said. "It continues, as [the US] continues to build its military presence in the region." Lavrov will travel to Washington early next month to attend a ministerial meeting of four international mediators in the Arab-Israeli conflict. [More>>rian.ru]
---
01.27.07 Turkey mulls 'invading' Iraq
January 27 – Turkey's parliament went into secret session this week to debate sending troops to invade and occupy northern Iraq for security purposes. More than 30,000 people have been killed in the confrontation between the Kurdish Workers Party (PKK) and the Turkish army – about 400 last year alone, according to Turkey's Human Rights Association. Onur Oymen, the deputy chairman of the Opposition Republican Peopleıs Party (CHP), said: "Northern Iraq is the only place in the world where a terrorist group can operate without being pursued." [More>>aljazeera.net]
---
01.27.07 Saudi king says Iran putting region in danger
RIYADH, Saudi Arabia (Reuters) January 27 – Saudi Arabia told an Iranian envoy this month that Shia power Iran was putting the Gulf region in danger, in a reference to Iranıs conflict with Washington over Iraq and nuclear policy, a newspaper said. In the interview in Kuwaitıs Al Seyassah on Saturday, King Abdullah also issued a veiled warning to Iran to quit what he said were efforts to spread Shiıism in the Sunni-dominated Arab world.

The United States and its key ally Saudi Arabia accuse Iran of "interferenceı" in Iraq, through backing Shia militias and parties, and suspect Teheran is developing a covert nuclear weapons programme – a charge Iran denies. "Saudi leaders and the Saudi state have always known their limits in dealing with nations, east and west. I explained this to Ali Larijani and advised him to pass it on to his government and its followers, with regard to foreign dealings," he said. "The dangers it (Iranian government) could fall into will fall upon all of us."

...King Abdullah also appeared to accuse Iran of exploiting the Israeli-Palestinian conflict for its own ends. "The Arabs alone should solve the issue of Palestine ... We donıt want anyone to trade in our issues and become stronger through them,ı" he said.

Iran is backing Palestinian Sunni Islamist group Hamas, which is conflict with Western countries because it refuses to recognize Israel before entering into peace negotiations. It also backs Lebanese Shia group Hezbollah, which is leading a popular campaign to bring down the Western-backed government. [Full story>>khaleejtimes.com ; See also middle-east-online.com, January 27, "Saudi king: no immediate risk of sectarian conflict," and:

arabtimesonline.com, January 27, "Kingdom embraces moderate teachings of Islam – 'Won't assist anyone against Iran'" : KUWAIT CITY: "The genuine teachings of Islam have been misunderstood and are being wrongly interpreted," says the Custodian of the Two Holy Mosques King Abdullah bin Abdul Aziz. "Terrorism is not a call for reform. It is a call for devastation, killing and corruption," he added in an interview with the Arab Times recently. The Custodian of Two Holy Mosques also said "the people of Saudi Arabia have positively responded to our call for abiding by the moderate teachings of Islam, which are the core of the message of the Prophet Mohammad (PBUH). We want to keep our society away from terrorism and other misguided ideologies."

Talking about Iran, the King said that the Saudis had no interest in interfering in its internal affairs or assisting anyone against Iran. On the economic integration of GCC countries, he said "in the end we will succeed in creating a unified commercial market, providing freedom of travel and establishing strategic economic ties between members of the GCC, which will act and move forward as one economic bloc."

When the strings of sectarianism are pulled the Custodian of the Two Holy Mosques [and] King Abdullah bin Abdul Azizıs words are final. The Saudi Monarchıs wise words differentiate between the true and false and the right and wrong.They also differentiate between the minorities who anger the majority and try their best to rewrite history...
---
01.27.07 Ten die in blast in Qissa Khawni Bazar
PESHAWAR, Pakistan, January 27 – A blast occurred Saturday evening in Qissa Khawni Bazar near Qasim Ali Khan Mosque here killing at least six people and injuring many others. There are reports of various wounded persons. More than ten ambulances have been sent to the scene of incident. Some police officials also have been reported to be injured as a result of the blast. According to some reports, CCPO Malik Mohammed Saad and DSP Raziq Khan died on the spot. A union council nazim Mohammed Ali Safi and Naib Nazim Mian Iftikhar are also included among the casualties. [More>>thenews.com.pk]
---
01.27.07 US bans luxury exports to North Korea in effort to target leader Kim Jong il
WASHINGTON (AP) January 27 – The Bush administration has made it tougher for North Korea to receive the luxury goods said to be coveted by leader Kim Jong Il, banning exports of fast cars, yachts, designer clothes and fine wine to the country currently locked in a nuclear standoff with the United States. The US Commerce Department's rule was announced in November but did not go into effect until now.

The Treasury Department also announced Friday that American officials will hold talks with North Korea next week in Beijing on US financial restrictions on the North that have become a major sticking point in restarting international disarmament talks meant to persuade the North to abandon its nuclear weapons program.

The US actions came as reports surfaced that the nuclear talks could resume early next month. A series of rare meetings in Germany last week between the top US envoy to the nuclear talks, Christopher Hill, and the North Korean negotiator, Kim Kye Gwan, has fueled hope that a breakthrough is possible. [More>>thestar.com.my]
---
01.27.07 2nd bird flu case in Miyazaki confirmed as highly virulent H5N1
MIYAZAKI, Japan, January 27 – The agriculture ministry confirmed Saturday the virus detected in chickens from the second bird flu case in Miyazaki Prefecture is the highly virulent H5N1 variety of avian influenza. The latest outbreak was confirmed at the Sato Broiler Farm, which had a total of 52,500 chickens, with a large number of deaths first reported there Monday. [More>>japantoday.com]
---
01.27.07 Intel says chips will run faster, using less power
January 27 – Intel, the worldıs largest chip maker, has overhauled the basic building block of the information age, paving the way for a new generation of faster and more energy-efficient processors. Company researchers said the advance represented the most significant change in the materials used to manufacture silicon chips since Intel pioneered the modern integrated-circuit transistor more than four decades ago.

The microprocessor chips, which Intel plans to begin making in the second half of this year, are designed for computers but they could also have applications in consumer devices. Their combination of processing power and energy efficiency could make it possible, for example, for cell phones to play video at length — a demanding digital task — with less battery drain.

The work by Intel overcomes a potentially crippling technical obstacle that has arisen as a transistorıs tiny switches are made ever smaller: their tendency to leak current as the insulating material gets thinner. The Intel advance uses new metallic alloys in the insulation itself and in adjacent components. [More>>nytimes.com]
---
01.26.07 Massive antiwar protest planned in Washington Mall
January 26 – Mars rover Opportunity began its fourth year photographing and exploring Mars. This is a photo of the setting sun taken by Mars rov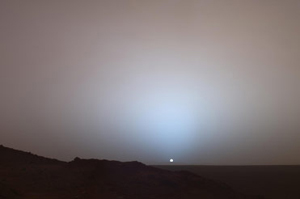 er Spirit. The photo was taken on May 19, 2005 as the sun sank beneath the rim of Gusev Crater. Opportunity's views of Dazzling Dunes and Cape Verde are the next top favorites of the photos taken by the two rovers in the past four year exploration. Though not identified as a favorite photo the Mars dustdevil photographed at Gusev Crater by Spirit reminds us of earthlike features found on Mars. [More photos>>marsrovers.jpl.nasa.gov]
---
01.26.07 Massive antiwar protest planned in Washington Mall
WASHINGTON, January 26 – On Saturday, January 27th, people from every corner of the country will gather in massive numbers in Washington, DC, to protest the war in Iraq. Organized by United for Peace and Justice (UFPJ), the rally and march will call on Congress to listen to the voters, not Bush, and use its power to end the war now. The last three national marches organized by UFPJ each attracted between 300,000 and 500,000 people. Speakers include: Susan Sarandon, Tim Robbins, Danny Glover, Jane Fonda, Rev. Jesse Jackson, Reps. Dennis Kucinich, Maxine Waters, and Lynn Woolsey, Bob Watada, and many more. They also have set up a "virtual" march: Their press release says, "If you can't make it to Washington DC, you can still show your opposition to the Iraq War! Join over 19,000 activists in our Virtual March on Washington: http://democrats.com/outofiraq. This Revolution will be Blogged and YouTubed!" [ See also washingtonpost.com, January 25, "Large rally planned Saturday on mall."]
---
01.26.07 Algerian radicals change name to 'Al-Qaeda'
DUBAI, January 27 – Algeria's main Islamist militant group has changed its name to al Qaeda after getting the approval of Osama bin Laden, according to a statement posted on the Internet overnight. The move by the Salafist Group for Preaching and Combat (GSPC) marked the latest attempt by militants to exploit al Qaeda's international "brand," following the establishment of regional branches in Saudi Arabia and Iraq.

The GSPC, which has led an insurgency against Algeria's secular government, said it was adopting the name Al-Qaeda Organisation in the Islamic Maghreb. "We had wished to do this from the first day we joined (al Qaeda) but we wanted the permission of Sheikh Osama, may God protect him. This obstacle has now been removed," said the statement, signed by the GSPC and dated Jan. 24. The authenticity of the statement could not be verified, but it was posted on a main Web site used by Islamists. [More>>news.com.au]
---
01.26.07 IDF destroys 2 Hezbollah bunkers on Israeli side of Lebanon border
January 26 – Israel Defense Forces troops on Friday destroyed two Hezbollah bunkers discovered during searches in the area around the Lebanese border fence. The IDF was combing the Katamon valley in the western part of the area surrounding the Lebanese border with Israel. One bunker had already been discovered during this summer's war, and the other was discovered on Wednesday.

The bunkers were both within Israel's territory, somewhere between the international border and the border fence. The bunkers housed supplies, food and tools that would enable a long stay underground. In a statement released on Friday, the IDF spokesman's office said that the aim of the operation was to prevent Hezbollah from reclaiming the bunkers and represents a shift in IDF methods around the border with Lebanon that are meant to strengthen the army's "defensive operational effectiveness."

Two weeks ago, the IDF unearthed a cache near the border of supplies that had been used in the abduction of IDF soldiers Eldad Regev and Ehud Golwasser, which sparked the summer's war with Hezbollah. [>haaretz.com]
---
01.26.07 NATO says might have killed senior Taliban leader
KABUL (Reuters) January 26 – A senior Taliban leader might have been killed along with his deputies by a NATO air strike in Afghanistan, the alliance said. The incident occurred on Thursday in an area of southern Helmand province, part of the main bastion of the resurgent Taliban, NATO said in a statement. "The precision-guided munitions impacted on target, completely destroying the compound ...," the statement, issued late on Thursday, said. "A senior Taliban leader and his deputies are believed to have been killed in this strike," it added. NATO did not identify the men, and Taliban members could not be reached immediately for comment. [More>>thestar.com.my]
---
01.26.07 19 killed in Iraq attacks
BAGHDAD, January 26 – Iraqi insurgents killed 19 people and wounded scores more on Friday, security officials said. Among the dead were 15 killed when a famous pet market in the capital Baghdad was bombed. The device, hidden in a pigeon carrier box, exploded in central Baghdad's well known Al-Ghazil (Spinning) pet market, killing 15 people and wounding 35, a security source said. The bomb ripped through the market where animal lovers gather every Friday to admire and buy birds, dogs, cats, reptiles and tropical fish...In another suicide bomb attack on Friday, a bomber blew up his car as an Iraqi army patrol passed in the capital's mixed Allawi district, killing two people and wounding four more. [Full story>>thenews.com.pk ; See also aljazeera.net, January 26, "Bomb kills 15 in Baghdad pet market."]
---
01.26.07 Bush clears all measures against Iranians in Iraq
WASHINGTON (AP) January 26 – President Bush has authorized U.S. forces in Iraq to take whatever actions are necessary to counter Iranian agents deemed a threat to American troops or the public at large, the White House said Friday. "It makes sense that if somebody's trying to harm our troops, or stop us from achieving our goal, or killing innocent citizens in Iraq, that we will stop them," Bush said. "It's an obligation we all have ... to protect our folks and achieve our goal." The aggressive new policy came in response to intelligence that Iran is supporting terrorists inside Iraq and is providing bombs – known as improvised explosive devices – and other equipment to anti-US insurgents. [More>>nytimes.com]
---
01.26.07 Bush: 'I'm the decision-maker' on Iraq
January 26 – President Bush today rebuffed congressional opponents who want to stop his plan to increase US troop strength in Iraq, declaring that "I'm the decision-maker" on the war effort and challenging skeptics to produce their own plan for success. Bush also vowed forceful action to prevent Iranian operatives in Iraq from harming US troops, but he denied that he wants to expand military action beyond Iraq's borders, and he said his administration would continue working to resolve issues with Iran diplomatically. [More>>washingtonpost.com]
---
01.26.07 Made in Britain, dumped in China
BEIJING, January 26 – How our [Britain's] waste causes death and disease 6,000 miles from home. Mounds of foul-smelling waste stand rotting in the cold air. The dark, smog-choked sky lowers menacingly and the river runs slowly, a black tide of toxic sludge. Sandwich boxes carrying the labels of British supermarket chains poke through the dumps; crumpled pizza wrappers and plastic bags blanket the streets. Working in the middle of it all are children, some as young as four, sifting though the waste with their bare hands.

Lianjiao, a remote Chinese village in the booming southern province of Guangdong, is a long way for a plastic bag to travel; but it is where almost all British supermarket carrier bags end up. And the foil-lined crisp packets. And the triangular hard plastic packaging for your bacon, lettuce and tomato sandwiches from a top high-street chain. Because China is rapidly becoming Britain's biggest rubbish dump...A huge amount of it arrives in 10-ton shipments in Lianjiao, a village which has become a centre for processing plastic waste - much of it from Britain. The high levels of pollution in the nearby river and the poisoned sky are the price of waste disposal in the developing world.

So too are the many and varied health complaints suffered by the local population, who risk multiple skin ailments and exposure to potent carcinogens as they touch the contaminated materials. Poisonous chemical effluents stream into their water supply, turning it black or lurid red, and studies by Greenpeace show that acid rain is the norm in this region. Children are prone to fevers and coughs. Their skin is often disfigured by the toxic plastic waste they have to process. They are victims of Britain's addiction to excessive packaging, highlighted in this newspaper's Campaign Against Waste. [Full story>>independent.co.uk]
---
01.26.07 Drought in Turkey worries weathermen, farmers
ISTANBUL (AFP) January 26 – With its reservoirs drying up and its harvest threatened, Turkey is in the throes of a three-month drought blamed on global warming that has weathermen worried and farmers fearing for their crops. "We haven't had any real rain in the Istanbul area since late October," Meteorology Professor Selahattin Incecik of ITU, the Istanbul Technical University, said. "Normally, December and January are the rainiest months in the region."

"Fresh water reservoirs around Istanbul are only half-full and if it doesn't rain by February, the city will face huge problems," he said. "The authorities should have already begun to warn the population." Save for a narrow strip of Alpine ranges in the far east of the country and the ever-humid eastern shores of the Black Sea, nearly the whole of Turkey has been experiencing one of its driest spells in memory, courtesy of a huge anti-cyclone that just will not go away. [More.>metimes.com]

Editorial note: San Francisco, CA area communities are reporting that January 2007 is becoming the driest year on record.
---
01.26.07 Iran set to try space launch
January 26 – Iran has converted one of its most powerful ballistic missile into a satellite launch vehicle. The 30-ton rocket could also be a wolf in sheep's clothing for testing longer-range missile strike technologies, Aviation Week & Space Technology magazine reports in its Jan. 29 issue. The Iranian space launcher has recently been assembled and "will lift off soon" with an Iranian satellite, according to Alaoddin Boroujerdi, the chairman of the Iranian parliament's National Security and Foreign Policy Commission.

The move toward an independent space launch capacity is likely to ratchet up concern in the US and Europe about Iran's strategic capabilities and intents. Orbiting its own satellite would send a powerful message throughout the Muslim world about the Shiite regime in Tehran. US agencies believe the launcher to be a derivation of either of two vehicles – the liquid-propellant, 800-1,000-mi. range Shahab 3 missile, or the 1,800-mi. range, solid propellant Ghadar-110. A Shahab 3 or a Ghadar-110 fired from central Iran could strike anywhere in Israel, Saudi Arabia, the entire Persian Gulf region and as far west as southern Turkey. [More>>aviationweek.com via khaleejtimes.com]
---
01.26.07 Iraq PM says bombers have nowhere to hide
BAGHDAD (Reuters) January 27 – At least 34 people were killed in bomb attacks in Baghdad on Thursday but the prime minister said a security crackdown in the capital would leave militants nowhere to hide. In a speech to parliament, Nuri al-Maliki urged politicians on all sides to support his security plan, backed by 17,000 U.S. military reinforcements and seen by many as a last chance to halt sectarian violence in the capital.

"There will be no safe haven – no school, no home, no (Sunni) mosque or Shi'ite mosque. They will all be raided if they are turned into a launch pad for terrorism, even the headquarters of political parties," he said. Maliki said his determination had already borne fruit. "I know that senior criminals have left Baghdad, others have fled the country. This is good, this shows that our message is being taken seriously," he said. [More>>thestar.com.my]
---
01.25.07 Middle East dominates Davos
DAVOS, Switzerland (AFP) January 25 – Middle East politics dominated Davos as an Iraqi vice president branded the US-led occupation of Iraq an "idiot decision" amid high-level talks on the Israeli-Palestinian conflict. His comments and the presence of Palestinian President Mahmud Abbas overshadowed talks about business and economics, traditionally the heart of the agenda at the World Economic Forum.

Taking part in a discussion on Iraq, Shiite Vice President Adel Abdel Mahdi backed more troops to win a "war" in Baghdad but fiercely criticized the US decision to occupy the country in 2003. "Iraqis and Iraq had been put under occupation, which was an idiot decision," he said, while cataloguing mistakes made by both sides – US and Iraqi – over the past four years. [More>>turkishpress.com]
---
01.25.07 Inside Baghdad: Iraq paralyzed by fear
January 25 – (Report by Patrick Cockburn) Baghdad is paralyzed by fear. Iraqi drivers are terrified of running into impromptu checkpoints where heavily armed men in civilian clothes may drag them out of their cars and kill them for being the wrong religion. Some districts exchange mortar fire every night. This is mayhem beyond the comprehension of George Bush and Tony Blair. Black smoke was rising over the city centre yesterday as American and Iraqi army troops tried to fight their way into the insurgent district of Haifa Street only a mile north of the Green Zone, home to the government and the US and British embassies. Helicopters flew fast and low past tower blocks, hunting snipers, and armored vehicles manoeuvred in the streets below.

Many Iraqis who watched the State of the Union address shrugged it off as an irrelevance. "An extra 16,000 US soldiers are not going to be enough to restore order to Baghdad," said Ismail, a Sunni who fled his house in the west of the city, fearing he would be arrested and tortured by the much-feared Shia police commandos. It is extraordinary that, almost four years after US forces captured Baghdad, they control so little of it. The outlook for Mr. Bush's strategy of driving out insurgents from strongholds and preventing them coming back does not look good.

On Monday, a helicopter belonging to the US security company Blackwater was shot down as it flew over the Sunni neighborhood of al-Fadhil, close to the central markets of Baghdad. Several of the five American crew members may have survived the crash but they were later found with gunshot wounds to their heads, as if they had been executed on the ground. Baghdad has broken up into hostile townships, Sunni and Shia, where strangers are treated with suspicion and shot if they cannot explain what they are doing. [More>>independent.co.uk ; See related story, washingtonpost.com, January 25, "Defending Iraq War, defiant Cheney cities 'enormous successes.'" and cnn.com, January 25, "Cheney: Talk of blunders in Iraq is 'hogwash.'"]
---
01.25.07 US bomb-jammers, radio talk at odds
WASHINGTON (UPI) January 25 – The US Department of Defense is on notice to create battlefield radios that will operate alongside increasingly necessary roadside bomb-jamming equipment. The once-basic construction of bomb booby-traps used in Iraq, and now also Afghanistan, have become more sophisticated. Last year, the Pentagon spent $3.5 billion to counter roadside bombs; $1.4 billion of that on jammers. However, the jammers also knock out nearby troops' voice and data radio transmissions, USA Today reported.

The iCasualties.org Web site says Pentagon data indicate roadside bombs have killed at least 1,168 US troops in Iraq since the March 2003 invasion, making them the leading cause of US deaths there. The toll this month is 20 so far, the report said. Christine DeVries, a spokeswoman for the Pentagon's Joint Improvised Explosive Device Defeat Organization, refused to discuss steps being taken to make radios and jammers compatible, the report said. [>metimes.com]

Editorial note: Since the Vietnam War the US has developed a stealth science – called "Electronic Warfare" – that ranged from jamming enemy radar (SAMs) to other measures essential to protecting and hiding American military equipment, culminating in the Stealth Bomber. Having been in the field of "Electronic Warfare" in those times, I now wonder how it is that the IED's have continued to be the dominant threat in Iraq. I was astonished to read this story, that after four years in Iraq American troops are not operating on different frequencies than the common devices the insurgents use to explode bombs. Also, I can't understand why the US military has not developed electronic means to remotely detect, locate and destroy these devices.

Mel Copeland
---
01.25.07 Suicide car bomber hits Shiite area of Baghdad
BAGHDAD (AP) January 25 – A suicide car bomber struck a mostly Shiite neighborhood Thursday in central Baghdad, killing 26 people, hours after the prime minister promised the coming US-Iraq security sweep in the capital would pursue militants wherever they were hiding. The blast occurred shortly after two rockets slammed into the heavily fortified Green Zone. Two hours later, a second huge explosion rocked the area. Police said they had blown up a second car bomb that had been disabled before its second suicide bomber could detonate it. [More>>msnbc.msn.com]
---
01.25.07 Bomb grade uranium seized in sting
WASHINGTON (AP) January 25 – It was one of the most serious cases of smuggling of nuclear material in recent years: A Russian man, authorities allege, tried to sell a small amount of nuclear-bomb grade uranium in a plastic bag in his jacket pocket. The buy that took place last summer, it turned out, was a setup by Republic of Georgia authorities, with the help of the CIA. Their quiet sting operation — neither U.S. nor Georgian officials have publicized it — is an unsettling reminder about the possibility of terrorists acquiring nuclear bomb-making material on the black market. No evidence suggests this particular case was terrorist-related. [More.>cbsnews.com]
---
01.25.07 At least two killed in student clashes at a Beirut university
January 25 – At least two people were killed during clashes between students for and against the Lebanese government that erupted on a Beirut university campus on Thursday. Hezbollah owned Al-Manar television in Lebanon reported that four of the militant group's supporters had been killed during the clashes, but Lebanese security officials were unable to confirm the report. Security officials said at least 35 people were injured. The violence coincided with reports coming from the French capital that an international donors' conference pledged more than $7.6 billion in aid to bolster the Western-backed government and help the country's ailing economy. [More>>haaretz.com]
---
01.24.07 Senate panel denounces troop increase in Iraq, 12-9
WASHINGTON, January 24 – The Senate Foreign Relations Committee voted 12-9 today to approve a non-binding resolution opposing President Bushıs plan to send additional forces Iraq, despite Mr. Bushıs plea for support in his State of the Union speech. "We need to change course in Iraq," said Senator Joseph Biden, the Delaware Democrat who is chairman of the committee. "We should be drawing down forces."

At the request of some members, Mr. Biden agreed to change the word "escalation" in the resolution to the more neutral term "increase." But the committee rejected all amendments to the resolution, both those that would strengthen and weaken it. Senator Biden said the panel would soon hold hearings and consider measures that would more strictly limit the presidentıs flexibility to act in Iraq. [More>>nytimes.com and text and audio of the president's "State of the Union" speech.]
---
01.24.07 EU confirms Hungary bird flu case
BRUSSELS (Reuters) January 25 – The first outbreak of bird flu in the European Union this year was confirmed today after the EU Commission said the highly pathogenic H5N1 strain had been found in dead geese in Hungary. "The European Commission has been informed by the Hungarian authorities today of an outbreak of highly pathogenic avian influenza in Csongrad County, southeast Hungary," the EU executive said. Tests were carried out for bird flu after an abnormally high mortality rate was reported in a flock of over 3000 geese. All of the remaining flock were culled, the Commission said. [More>>news.com.au ; See related bird flu stories, japantoday.com, January 24, "Miyazaki governor convenes bird flu task force after new outbreak confirmed" and jakartapost.com, January 24, "Age-old duck farming practice spreads bird flu" : VIN THUAN, Vietnam (AP): alerted to its cargo – a chorus of raucous quacking mixed with an unmistakable stench. About 1,400 Pekin ducks waddle inside four long cages within the vessel that serves as a taxi for thousands of waterfowl ferried to feed on leftover grains in newly harvested rice fields across Vietnam's southern Mekong Delta. It's an age-old practice that has always benefited the area's duck farmers and crops. Now, it's been outlawed for helping fan bird flu across eight provinces in one month. The government last week banned the movement of all ducks after the H5N1 virus resurfaced last month following a year-long lull. Any birds caught in transit can be seized and destroyed, whether they're vaccinated or not...
---
01.24.07 Women ask High Court to stop gender division on public buses
(Reuters) January 24 – A group of women petitioned the High Court of Justice on Wednesday to order public bus companies to stop telling women to sit in the back of buses running through some ultra-Orthodox Jewish neighborhoods. Many ultra-Orthodox Jews follow teachings that bar any public contact between men and women, and government-subsidized transport companies have recently granted demands to run gender-divided buses along some routes.

The petition was filed by US-born novelist Naomi Ragen, an Orthodox Jew, and five other women, including a representative of the Reform Judaism movement. Ragen said she was seeking to prevent Israel from "turning into a Taliban country," referring to the former hardline Islamic regime in Afghanistan that barred women from public life. [More>>haaretz.com]
---
01.24.07 Second US air strike in Somalia
WASHINGTON (AFP) January 24 – A heavily armed US AC-130 gunship has struck at suspected Al-Qaeda operatives in southern Somalia, the Washington Post reported Wednesday, citing unnamed US officials. It would be the second US attack in January in southern Somalia using an AC-130 – a fixed-wing aircraft with rapid firing guns – following a January 8 strike on a site where senior Al-Qaeda operatives were believed to be hiding. A Pentagon spokesman, Lieutenant Commander Joe Carpenter, said early Wednesday that he had no information on a second attack. [More>>turkishpress.com]
---
01.23.07 Iraq, US forces capture more than 600 Sadr fighters
BAGHDAD (AFP) January 23 – More than 600 fighters loyal to radical Shiite cleric Moqtada al-Sadr and 16 of their leaders have been captured by security forces in a crackdown on the cleric's militia, the US military said. "There are currently over 600 illegal Jaish al-Mahdi (JAM) militia in detention awaiting prosecution from the government of Iraq," a military statement said. It said Iraqi and US forces had also detained "16 high-level JAM militiamen and killed one JAM commander" in a series of operations. The military added that five of the high-level individuals detained are from Sadr City, Baghdad's impoverished Shiite bastion loyal to Sadr. [More>>turkishpress.com]
---
01.23.07 2 dead, 100 hurt in Lebanon clashes
January 23 – Two people were killed and over 100 wounded in clashes between government supporters and pro-Hizbullah demonstrators throughout Lebanon on Tuesday. Opposition protesters paralyzed Lebanon by burning tires and cars at major thoroughfares in the capital and its approaches to enforce a general strike that aims to topple the government. Clustering in small groups to man the blazing roadblocks, opposition supporters escalated their nearly two-month protest. Commuters were stranded and an eery silence hung over many commercial districts. As a result, at least seven international flights to Beirut have been cancelled. [More>>Jerusalem Post ; See also aljazeera.net, January 23, "Three dead in Lebanon clashes."]
---
01.23.07 Musharraf, Bashar stress urgent resolution of Palestinian issue
DAMASCUS, January 23 – President General Pervez Musharraf and President Bashar al-Assad of Syria on Tuesday held in-depth discussions on the Palestinian issue and called for its early resolution to end conflicts and tension in the region. President Musharraf flew into the Syrian capital to discuss the deteriorating situation in the Middle East, particularly the issue of Palestine, following talks with King Abdullah bin Abdul Aziz of Saudi Arabia, President Hosni Mubarak of Egypt and King Abdullah II of Jordan. The President embarked on the tour of five Arab countries on Saturday to discuss a strategy and strong new initiative with the leaders of key Muslim countries to avert the dangers confronting the Ummah. [More>>thenews.com.pk]
---
01.23.07 Suicide attack kills 10 Aghans near NATO base
KHOST, Afghanistan (AFP) January 23 – A suicide attacker blew himself up among a crowd of Afghan labourers queuing to enter a NATO base in eastern Afghanistan early Tuesday, killing 10 and wounding 14, an official said. The attack, similar to scores carried out by the extremist Taleban movement that is waging a vicious insurgency back by the Al Qaeda terror network, was the deadliest of a handful of suicide blasts this year. The bomber, who appeared to have been on foot, detonated his load of explosives outside a gate of an International Security Assistance Force (ISAF) base near the eastern city of Khost. [More>>khaleejtimes.com]
---
01.22.07 100 killed in Iraq bombings
BAGHDAD, January 22 – Bombs ripped through markets killing at least 100 people in and around Baghdad on Monday as US and Iraqi forces prepared for a large-scale assault on insurgents and militias in the violent capital. Two car bombs exploded at a busy second-hand market in the heart of Baghdad, killing 88 Iraqis, security officials said. The bombs exploded seconds apart in the Haraj market shortly after midday (0900 GMT), sending twin columns of thick smoke billowing above the Bab al-Sharki district on the east bank of the Tigris river.

It was the deadliest attack in the capital this year and came less than a week after twin bombs killed 70 people, mostly students, outside a Baghdad university. Hospital and security sources put the casualty toll at 88 dead and 160 wounded in Haraj market, which is usually filled with traders selling used electronic goods, watches, clothing and medicines. "There were so many victims they were piled up on wooden market carts, the wounded on top of the dead, and hauled to ambulances and police vehicles," an AFP photographer at the site said. "Improvised rescue workers made their way through the carnage amid the cries of those wounded."

At the nearby Al-Kindi hospital, some of the victims' relatives squatted on the ground, holding their heads in grief, while others cried before bodies lined up on the ground and covered with light blue and black plastic sheets. But the deadly mayhem did not stop there.

A few hours later, a combination of mortar fire and a roadside bomb killed another 12 people at a popular market in the town of Khalis, 80 kilometres (60 miles) northeast of Baghdad. The bomb was placed in a vegetable cart and ripped through a crowd of people as they shopped late in the day in the town, which is located in the volatile Diyala province, Lieutenant Ahmad Mohammed said. [More>>turkishpress.com]
---
01.22.07 Senator Clinton calls for Federal help for sick 9/11 workers
January 22 – Targeting President Bush for the first time in her new role as presidential candidate, Senator Hillary Rodham Clinton attended a news conference at Ground Zero this morning and called on the White House to seek funding to cover the health needs of ill first responders who worked at the Twin Towers during 9/11. Mrs. Clinton, who can be fiery in her attacks on Mr. Bush, was relatively measured in her remarks this morning. She said that the sick workers needed immediate help and urged the Bush administration to devote money to them in its forthcoming federal budget request to Congress...The senator listened and nodded as several relatives excoriated the Bush administration and other government officials for ³lying² about the environmental effects of the 9/11 attacks and about promises of assistance to the ill. [Full story>>nytimes.com]
---
01.22.07 Confidence in Bush leadership at all-time low, poll finds
January 22 – President Bush will deliver his State of the Union address on Tuesday at the weakest point of his presidency, facing deep public dissatisfaction over his Iraq war policies and eroding confidence in his leadership, according to a new Washington Post-ABC News poll.

With a major confrontation between Congress and the president brewing over Iraq, Americans overwhelmingly oppose Bush's plan to send an additional 21,500 troops to the conflict. By wide margins, they prefer that congressional Democrats, who now hold majorities in both chambers, rather than the president, take the lead in setting the direction for the country.

Iraq dominates the national agenda, with 48 percent of Americans calling the war the single most important issue they want Bush and the Congress to deal with this year. No other issue rises out of single digits. The poll also found that the public trusts congressional Democrats over Bush to deal with the conflict by a margin of 60 percent to 33 percent. [More>>washingtonpost.com]
---
01.22.07 Aid groups pull out of Darfur refugee camp after rape
January 22 – Aid groups have suspended operations in Darfur and may pull out of the Sudanese province after a French relief worker was raped, another sexually assaulted and an Oxfam employee was severely beaten at the world's largest refugee camp. Details of the attack, which took place on 18 December at Gereida refugee camp, South Darfur, are only beginning to emerge. It marks the first time a Western aid worker has been the target of rape – a weapon of war in Darfur, where 3.5 million people depend on aid.

"We have suspended our operations and we may not go back," said Thomas Gonnet, the director of operations for Action Contre La Faim (ACF), whose colleague was raped and another was molested. "The attack lasted about half an hour and was well planned and violent. Up to 40 armed men broke into the compound. Apart from the rape, our team was forced at gunpoint to lie on the floor. One person was rifle-butted, many shots were fired and there was a mock execution," he said. Thirteen United Nations agencies said last week in a statement that in the face of growing danger, they had been reduced to "holding the line" in Darfur, adding that recent deadly cholera outbreaks reflected deteriorating hygiene conditions in understaffed camps. [More>>independent.co.uk]
---
01.22.07 Blast kills four Pakistani soldiers in tribal area
MIRANSHAH, Pakistan (AFP) January 22 – Four Pakistani soldiers were killed and 16 wounded Monday when a roadside bomb targeting a military convoy exploded in a tribal zone bordering Afghanistan, security officials said. The convoy was travelling to Miranshah, the main town in the troubled North Waziristan region, from the nearby town of Bannu when the blast hit its lead vehicle, a security official said. "It was a remote-controlled bomb planted by miscreants," said the official, using the Pakistani term for Islamic rebels operating in the semi-autonomous area. One military vehicle was destroyed and four soldiers were killed in the incident near the Khajoori check post, some 40 kilometers (25 miles) east of Miranshah, the official said on condition of anonymity. Another security official said at least 16 soldiers were wounded. [More>>khaleejtimes.com]
---
01.22.07 Top Somali Islamist surrenders in Kenya
NAIROBI, January 22 – A top leader in Somalia's now-vanquished Islamist movement was in the hands of authorities in neighboring Kenya on Monday as more deadly clashes erupted on the streets of Mogadishu. Diplomatic sources said Sheikh Sharif Sheikh Ahmed, head of the executive arm of the Supreme Islamic Council of Somalia, was in custody under the protection of Kenyan security forces at an upscale hotel in Nairobi. "Sheikh Sharif is in Kenya," one diplomatic source was quoted as saying on condition of anonymity. "He is in a secure place, according to the Kenyan authorities." A senior Kenyan police official said Ahmed and three other Somalis had been detained early Sunday at a small border crossing point while two diplomatic sources confirmed Ahmed was in Kenyan custody. [More>>thenews.com.pk]
---
01.22.07 Ten killed in gunbattle in Poso, report says
POSO, Central Sulawesi, January 23 – An anti-terror squad Monday raided an Islamic militant stronghold in Central Sulawesi's town of Poso, touching off a gun battle that killed nine civilians and one officer, a police officer said. The clash took place in Poso, the scene of bloody fighting between Muslim and Christian gangs six years ago and sporadic bombings and shootings by Islamic extremists since then, said Central Sulawesi Police chief Brig. Gen. Badrodin Haiti. Security forces arrested 18 other alleged militants and seized a large haul of bombs and weapons in the three-hour exchange, a sharp escalation in the fight against terrorism in the world's most populous Muslim nation. [More>>thejakartapost.com]
---
01.22.07 Sea still spitting oil six months after Lebanon war
BEIRUT (AFP) January 22 – Six months after thousands of tons of fuel oil spilled into the Mediterranean when Israel bombed a Lebanese power plant, the waters are still spitting out black poison despite efforts to clean up the mess. "The rain and the low tide have created new pollution zones," Ahmed Kojok of the Sea of Lebanon association said. On Beirut's sun-splashed Ramlet Al Bayda beach, a human chain passed buckets filled with large black chunks – mixtures of fuel oil, sand, and debris – which were emptied by a volunteer into large white watertight bags.

"It's sad," muttered a fisherman who works for the association, running his fingers over dozens of seashells mucked together in a sticky glob. The coast was polluted by around 15,000 tons of fuel oil after the Israeli military bombed Lebanon's southern Jiyeh power plant in mid-July during its 34-day offensive against the Shiite militia Hezbollah. Since then, local and international civic groups and the Lebanese environment ministry have been waging a long battle against the black sludge that seeped into the sea. [More>>metimes.com]
---
01.22.07 Russian plane maker MiG hopes to win Indian fighter tender
BANGALORE, India (RIA Novosti) January 22 – Russian aircraft manufacturer MiG hopes to win a tender to supply fighters for the Indian Air Force, the company's general director said Monday. India earlier announced a tender for the acquisition of 126 light fighters for its Air Force worth about $4 billion. "We are ready to supply more than a hundred MiG-35 fighters to India," said Alexei Fedorov, who is visiting India as part of the Russian delegation led by Defense Minister Sergei Ivanov. [More>>rian.ru]
---
01.22.07 Three dead birds test positive for H5N1 strain of bird flu in Hong Kong
HONG KONG (AP) January 22 – Three dead birds found earlier in Hong Kong have tested positive for the deadly H5N1 strain of bird flu, the government said Monday. The three birds were a Japanese white-eye, a house crow and a white-backed munia, the government said in a statement. All there found in Hong Kong's Kowloon peninsula, which adjoins the Chinese mainland. Bird flu has killed or prompted the culling of millions of birds across Asia since 2003. [More>>thestar.com.my See related story, thejakartapost.com, January 23, "City begins mass culling." : Following its ban on backyard poultry, the Jakarta city administration culled thousands of chicken, ducks, quails and birds over the weekend to halt the spread of the deadly H5N1 avian flu virus. Locals handed over more than 1,000 birds to be slaughtered Friday in Pisangan Timur, East Jakarta, as Governor Sutiyoso officially led the first of a series of mass culls in five of the city's municipalities. Health Minister Siti Fadilah Supari and East Jakarta mayor Koesnan Abdul Halim also attended. "We have set the target of being free of bird flu by the end of 2007," mayor Koesnan said as quoted by Antara...
---
01.21.07 Duck woke up in freezer
January 21 – A hunter and his wife, who were planning to eat a wild duck, had a nasty shock when they discovered the bird was still alive. The female ring-neck not only survived being shot, but also spent two days in the refrigerator before anyone realized it was still breathing. The hunter's wife opened her fridge in Tallahassee in Florida to find the duck looking up at her. The bird, which weighs 1lb, is now recovering from its ordeal at a local wildlife sanctuary after the family took it in for treatment.

Wildlife park spokeswoman Noni Beck said of the discovery: "I'm sure she kind of freaked." The duck is now recovering at the Goose Creek Wildlife Sanctuary, where it has been treated since Tuesday for wounds to its wing and leg. Sanctuary veterinarian David Hale said the duck had about a 75% chance of survival. However, he said it would probably not be well enough to be released back into the wild. [>sky.com]
---
01.21.07 Costly day in Iraq
BAGHDAD (Reuters) January 21 – US forces suffered one of their costliest days in Iraq on Saturday when 20 troops were killed, including 13 on a helicopter and five in a clash in a Shi'ite holy city that the US military blamed on militiamen. Two bombs kept up the pressure on Sunday. One killed six people on a bus in the centre of Baghdad and the other, a car bomb, killed one in the capital. The past week has seen a spike in bombings as the government prepares a crackdown in Baghdad.

The battle at a government building in Kerbala was the bloodiest for US troops in the Shi'ite south in two years and occurred as President George W. Bush presses leaders of the Shi'ite majority to crack down on militias from their community. Hours after the loss of all 13 passengers and crew aboard a Blackhawk transport helicopter, the US military said five soldiers were killed and three wounded in the Kerbala clash. Two other soldiers were killed elsewhere, and the deaths of two killed on Friday were also announced. [More>>thestar.com.my ; See also aljazeera.net, January 21, "Bus bomb hits Baghdad." and recent article, cnn.com, January 21, "25 US troops die on one of deadliest days in Iraq."]
---
01.21.07 US toxic gases push British pollution over safety limit
January 21 – Toxic gases blown across the Atlantic from America are pushing British cities over the legal limit for air pollution and damaging peopleıs health, an official study shows. The study, by the Natural Environment Research Council (Nerc), suggests that up to 2,000 tons of ozone, originating in cities such as Chicago, Detroit and New York, are hitting Britain each day. The American ozone usually boosts British levels by 20%-30%, sometimes rising to 40%, often pushing them beyond the safe limit of 50 parts per billion (ppb) set by the World Health Organisation. Ozone is one of the most toxic of air pollutants, with even tiny concentrations causing asthma, bronchitis and other respiratory problems. [More>>timesonline.co.uk]
---
01.21.07 North Korea changes position on nuclear talks
January 21 – North Korea has agreed to discuss the disarmament of its nuclear weapons when international negotiations resume, Seoul sources said yesterday. The communist state agreed to directly address moves to disarm when its nuclear negotiator, Vice Foreign Minister Kim Kye-gwan, met his US counterpart, Assistant Secretary of State Christopher Hill, in Berlin last week, a South Korean official said on condition of anonymity. The agreement would mark a shift in North Korea's stance. Previously, Pyongyang said it would not discuss nuclear disarmament unless the United States first lifted financial restrictions imposed on a Macau bank involved in the North's alleged counterfeiting and money laundering. [More>>koreaherald.co.kr]
Copyright © 1981-2007 Maravot. All rights reserved
Copyright © 1981-2007 Mel Copeland. All rights reserved
Background: tile from Cicero's villa (Marcus Tullius Cicero 106 B.C. - 43 B.C.)