01.03.07 Titan has liquid lakes, scientists report in Nature
January 3 – Scientists report definitive evidence of the presence of lakes filled with liquid methane on Saturn's moon Titan in this week's journal Nature cover story. Radar imaging data from a July 22, 2006, flyby provide convincing evidence for large bodies of liquid on Titan today. A new fals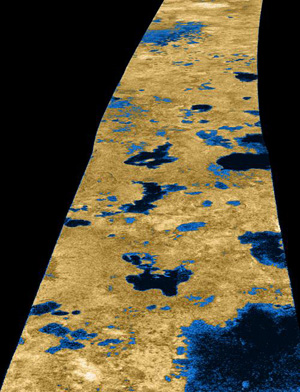 e-color radar view gives a taste of what Cassini saw. Some highlights of the article follow below.

Lake Characteristics:

• Radar-dark patches are interpreted as lakes based on their very low radar reflectivity and morphological similarities to lakes, including associated channels and location in topographic depressions.
• Radar-dark surfaces are smooth and most likely liquid, rock, ice or organics. More than 75 radar-dark patches or lakes were seen, ranging from 3 kilometers (1.8 miles) to more than 70 kilometers (43 miles) across.
• Some lakes appear partly dry, while others seem liquid-filled. Some of the partly filled lakes may never have filled fully, or may have partly evaporated at some point in the past. The dry lakes have margins or rims and a radar brightness similar to the rest of the surrounding terrain, making them appear devoid of liquid.
The varying states of how full the lakes are suggest that lakes in this region of Titan might be temporary on some unknown timescale.
• Approximately 15 of the dark patches seem filled and show no clear evidence of erosion. These dark patches resemble terrestrial lakes confined within impact basins (for example, Clearwater Lakes in Canada) or within volcanic calderas (for example, Crater Lake, Oregon). The nest-like nature of these lakes and their limited range of sizes make it unlikely that they originated from an impact. A volcanic origin for the depressions is possible, given their appearance.
• Some lakes have steep margins and very distinct edges, suggesting a topographic rim. These lakes are consistent with seepage or groundwater drainage lakes.
• Other lakes have diffuse, more scalloped edges, with a gradual decrease in radar brightness towards the center of the lake. These lakes are more likely to be associated with channels, and may be either drainage lakes or groundwater drainage lakes.
• Yet other lakes have curvy channel-like extensions, similar in appearance to terrestrial flooded river valleys (for example Lake Powell).
• Bright patches near the lake edges could be small islands peeking through the surface. Floating "icebergs" are unlikely because most materials would not float in liquid hydrocarbons.

[More>>saturn.jpl.nasa.gov ; See also Maravot News 8.02.06 for earlier reports. Image: JPL/NASA]
---
01.03.07 White House dismisses outcry over Saddam execution
WASHINGTON (AFP) January 3 – The White House Wednesday bluntly dismissed the international outcry over the way Saddam Hussein was executed as elevating his "last two minutes" above his brutal, bloody decades in power. "He got justice," spokesman Tony Snow said, amid criticisms of widely seen footage showing Saddam's Shiite captors mocking him during his last minutes alive and hailing an Iraqi Shiite cleric who leads a major militia. "There seems to be a lot of concern about the last two minutes of Saddam Hussein's life and less about the first 69 [years], in which he murdered hundreds of thousands of people. That's why he was executed," said Snow. [More>>metimes.com]
---
01.03.07 Foreigners advised to leave Gaza
January 3 – Palestinian security officials have advised foreign nationals to leave Gaza due to kidnap threats two days after Jaime Razuri, a photographer, was snatched by unknown armed men. Security officials said they have advised American and European nationals to leave because of a threat of further abductions. "We've had warnings of kidnapping operations and have asked American and European nationals to leave Gaza," a security source said. Razuri, a Peruvian national working for AFP, was abducted from the centre of Gaza City by unknown men as he returned from an assignment on Monday...Foreigner abductions have been fairly common in the impoverished territory, with 20 foreign nationals abducted over the past year...[Full story>>aljazeera.net ; See also Jerusalem Post]
---
01.03.07 Twenty insurgents killed in Afghanistan: officials
KANDAHAR, January 3 – Afghan and foreign troops killed 20 rebels, including two commanders, in operations against militants in southern Afghanistan, officials said Wednesday. Seventeen, including the commanders, were killed in the southern province of Helmand in a three-day operation that wrapped up Monday and involved Afghan and NATO-led troops, interior ministry spokesman Zemarai Bashary was quoted as saying. About 4,500 British troops are in Helmand serving with NATO's International Security Assistance Force (ISAF). An ISAF spokesman in the capital, Kabul, confirmed there had been "sporadic incidents" in the area, but could not confirm the interior ministry's death toll. [More>>thenews.com.pk]
---
01.02.07 Nation remembers former President Ford
January 2 – Political leaders and Washington luminaries paid tribute to former president Gerald R. Ford today at an elaborate state funeral service at the Washington National Cathedral, hailing the nation's 38th president as a decent man who helped heal the country's wounds during a troubled time. In a eulogy, President Bush called Ford a "rock of stability" amid the turmoil of the Watergate scandal and the debacle of America's ignominious exit from Vietnam during the 1975 fall of Saigon to communist forces. "In President Ford, the world saw the best of America, and America found a man whose character and leadership would bring calm and healing to one of the most divisive moments in our nation's history," Bush said.

Bush also praised Ford's decision upon assuming the presidency to pardon former president Richard M. Nixon, who had resigned from office in disgrace over Watergate in August 1974. "When he thought that the nation needed to put Watergate behind us, he made the tough and decent decision to pardon President Nixon, even though that decision probably cost him the presidential election," Bush said. [More>>washingtonpost.com]

Editorial note: Keeping Article II, Section 4 in historical context. Bush's comments in the Ford Eulogies regarding President Ford's decision to prevent an impeachment of Richard M. Nixon need to be kept in historical context. President William Jefferson Clinton was impeached by Congress December 19, 1988 with "high crimes and misdemeanors" for lying under oath and obstructing justice to cover up an Oval Office affair with a young intern (See washingtonpost.com). He was the second US President to be impeached, after Andrew Johnson. One can argue that the case for impeachment of Clinton is overshadowed by the several high crimes and misdemeanors expressed against President George W. Bush, over his false claims and invasion of Iraq. In reality, since we have an ongoing complaint – to impeach Bush – attempts to block that impeachment process under the guise of "saving the nation from the turmoil of impeachment" may be more self-serving on behalf of Bush than serving the nation's– or its Constitution's – interests. If it was in the interest of the US Congress to impeach President Clinton for having sex with an intern while in office and lying about it, the deception of the Bush administration involving Iraq – and its subsequent costs and human carnage – would appear to be more significant crimes.

President Ford disagreed with Bush on invading Iraq. We cannot now ask him what his position would be on the impeachment of President George W. Bush,* but we nevertheless must ask ourselves whether his precedent of pardoning President Nixon should be a continuing constraint against the implementation of our Constitution's Article of Impeachment, with specific regard to a case of the people of the US against President George W. Bush. Article II says: Section 4. The President, Vice President and all civil officers of the United States, shall be removed from office on impeachment for, and conviction of, treason, bribery, or other high crimes and misdemeanors.

*Presidents Ford and Carter published an OP-ED in the New York Times December 21, 1998, arguing against the impeachment of Clinton, favoring a rebuke: "President Clinton would have to accept rebuke while acknowledging his wrongdoing and the very real harm he has caused..." ). In truth this statement by Ford and Carter in 1998 convicted Clinton – in their own minds – without a trial, and this position is markedly in contrast to what actually happened: "The Senate acquitted President Bill Clinton of both articles of impeachment. The perjury charge was defeated with 55 'not guilty' votes and 45 'guilty' votes. On the obstruction-of-justice article, the chamber was evenly split, 50-50..." (See cnn.com, February 12, 1999). Clinton was acquitted in spite of Ford's and Carter's attempt to convict him without a trial. Their understanding of Constitutional and other laws was sorely deficient according to the December 21OP-ED, for they did not seem to understand the rights of the people vs the defendant and the possibility that there could be another consequence of an impeachment hearing besides "guilty."

If this important guarantee (Article II, Section 4) of the US Constitution has been removed in spirit, Congress should delete it, so that the people of the US may know the reality of the situation: that our trend is to raise up power mongers and liars who would dictate their will upon the people of this nation, and, for those liars to succeed, they must eliminate the balance of power favoring the people's interests. Remedies for the people have been eroded over the years by the buying and selling of Presidential and Congressional offices – from practices raising the cost of campaigns to the rigging of electoral districts to favor incumbents, i.e, gerrymandering; and the infamous Supreme Court decision denying a recount of the Florida 2000 Bush-Gore Presidential election results. Speaker Pelosi's vow to not impeach George W. Bush, for instance, (See washingtonpost.com, May 12, 2006) does not favor the guarantee provided in Article II. She should think about her decision in the context of the rights and remedies of the people and not in terms of political necessities.

Mel Copeland
---
01.02.07 Central Banks tiptoeing away from the dollar
January 2 – Countries with large holdings of dollars in their foreign-exchange reserves are showing a new willingness to dump the dollar in favor of the rising euro. The latest to make a major move is the United Arab Emirates, which joined Russia, Switzerland, Venezuela and others late last month when it shifted a chunk of its reserves into euros. There have also been ambiguous signals from China about a possible pullback from the dollar, and recent word from Iran, the world¹s fourth largest oil producer, that it would prefer to be paid in euros rather than the usual dollars for its oil shipments. Still, currency experts say these moves are not likely to do any long-term damage to the dollar, for a number of reasons.

...News of the United Arab Emirates decision contributed to the dollar¹s fall against the euro, the British pound and the Japanese yen last week. For all of 2006, the euro appreciated more than 11 percent against the dollar and the British pound rose nearly 14 percent. But those trends seem to be driven by other forces, including varying prospects for growth around the world and changes in interest rates in the United States and elsewhere.

One reason that dollars are not likely to start pouring rapidly out of central bank vaults is that foreign countries risk devaluing their dollar-denominated investments, at least for a while, if they dump the currency. Even a slight suggestion that a central bank is thinking about swapping dollars for euros can push the dollar down in the spot markets, and in turn hurt all foreign investors in American securities.

China, which holds more Treasury securities than any other foreign nation except Japan, offers an example. In October, the most recent month for which figures are available from the Treasury Department, China held $345 billion in Treasury securities. That was up from $301 billion a year earlier. Its currency reserves total $1 trillion, about $700 billion of it in dollars, economists estimate. So in many ways, it is in China¹s best interest not to let the dollar¹s value slip. [More>>nytimes.com]
---
01.02.07 Iran to West and US: You are nobody, we will humiliate you
January 2 – Iranian President Mahmoud Ahmadinejad scorned the UN Security Council's imposing sanctions on Iran, telling a crowd Tuesday that Iran had humiliated the United States in the past and would do so again. Speaking in the southwestern provincial capital of Ahvaz, Ahmadinejad said the Security Council's resolution of December 23 was invalid and had left the world body's reputation in tatters. His speech made no reference to series of bombings that have occurred in Ahvaz, believed to stem from tension between the city's Arabic-speaking community and the Farsi-speaking authorities. Nor did Ahmadinejad refer to the results of Iran's local elections of December 15, in which his political allies were heavily defeated.

The Security Council voted unanimously to bar all countries from selling materials and technology to Iran that could contribute to its nuclear and missile programs. It also froze the assets of 10 Iranian companies and 12 individuals related to those programs. "Let the world know that from the Iranian nation's point of view, this resolution has no validity," Ahmadinejad said. He said the United States was the main power behind the resolution, and warned Washington: "I want you to know that the Iranian nation has humiliated you many times, and it will humiliate you in future." [More>>haaretz.com ; See related story, Jerusalem Post, January 2, "Only military action will stop Iran."]
---
01.02.07 Fresh violence in Iraq claims 22 lives
BAGHDAD, January 2 – Continued violence angered by the execution of Saddam Hussain in Iraq on Tuesday claimed 22 lives wounding several others. A roadside bomb killed three civilians and wounded seven others in eastern Baghdad, police said. Three of those injured were policemen. The bomb was hidden in a pile of garbage in the Camp Sarah neighborhood, a mixed area, police said.

On the other hand, US troops killed a suspected al-Qaeda weapons dealer and two other people in Baghdad today...Also on Tuesday, a roadside bomb killed a US soldier south of Baghdad, making him the first casualty of 2007, the military reported Tuesday. Police officials in Baghdad said 15 bodies were discovered in the mainly industrial Sheikh Omar district of northern Baghdad. [Full story>>thenews.com.pk]
---
01.01.07 Six Al-Qaeda members killed in Iraq: US claims
BAGHDAD, January 1 – US troops claimed to have killed six "terrorists" when they came under attack early Monday from a building owned by a senior Sunni lawmaker in Iraq. The soldiers came under fire as they approached a suspected hideout of the Al-Qaeda in Iraq insurgent group, the US military said in a statement. "Coalition forces received heavy automatic fire and hand grenades from the top of several nearby buildings," it said, adding that six "terrorists" were killed. One of the buildings belonged to Saleh al-Mutlaq, head of the National Dialogue Front, a Sunni political party, the military reported. Mutlaq, currently in Jordan, was not available for comment.

An Iraqi security official gave a different version, saying four civilians were killed in a firefight late Sunday as a result of clashes between Mutlaq's guards and those of Shiite lawmaker Salama al-Khafaji. He said the two groups clashed in the Al-Jamel neighborhood of western Baghdad, after which US troops, including military helicopters, arrived to quell the fight. Four members of a family were killed and two of Khafaji's guards wounded, he added. [>thenews.com.pk ; See other details, washingtonpost.com, January 1, "US troops kill 6 in raid in Iraq."]
---
01.01.07 Somalian conflict nearing the end
January 1 – Somali government troops backed by Ethiopian forces have reportedly captured the last major stronghold of a militant Islamic movement. Militant fighters, many of them Arabs and South Asians, were fleeing in heavily armed trucks toward the Kenyan border, 100 miles to the south. It followed a 13-day onslaught led by the Ethiopian army, which has left hundreds dead. Somalia's Prime Minister Ali Mohamed Gedi said: "I can confirm to you that our forces have captured (the city of) Kismayo." The government has offered an amnesty to any fighters who hand over their weapons, but has not offered the same to the leaders of the militant group.

Among those wanted are three al Qaeda suspects allegedly connected to the 1998 bombings of US embassies, who were being sheltered by the Islamic group. The government hopes to catch them before they slip out of the country. "The Islamists have disappeared but still our forces are chasing them," spokesman Abdirahman Dinari said. He said the government had asked the US to provide air and sea surveillance to prevent suspected extremists escaping. Ethiopian troops were busy clearing the mines to the city, Somalia's third largest. [>sky.com ; See more details, washtimes.com, January 1, "Islamists quit last bastion in Somalia."]
---
12.31.06 US sustains 3,000th fatality in Iraq
BAGHDAD (AP) December 31 – The Pentagon announced the death of a Texas soldier on Sunday, raising the number of U.S. military deaths in Iraq to at least 3,000 since the war began, according to an Associated Press count. The milestone was crossed on the final day of 2006 and at the end of the deadliest month for the American military in Iraq in the past 12 months. At least 111 US service members were reported to have died in December.

Spc. Dustin R. Donica, 22, of Spring, Texas, was killed Thursday by small arms fire in Baghdad, the Defense Department said. American deaths in the war reached the sobering milestone even as the Bush administration sought to overhaul its strategy for an unpopular conflict that shows little sign of abating. [More>>msnbc.msn.com]
---
12.31.06 Seven bombs rock Bangkok, kill two
BANGKOK (The Nation/ANN) December 31 – Seven explosives went off almost simultaneously in Bangkok on Sunday, injuring at least 20 people as the revelers were about to start celebrating the New Year's eve. Two people were killed and 20 injured at the Victory Monument when a powerful bomb went off near a bus station at about 6:30 p.m. One person was dead near the Big C supermarket, Sapan Kwai branch, where witness saw a man dropped a grenade from a pedestrian bridge just over the police box.

At the Klong Toei area near the Na Ranong intersection, around the same time, a bomb hidden in a trash can near a Chinese spirit shrine exploded and injured two by passers. The explosion caused a secondary explosion to a number of cooking gas cylinders that were situated nearby. At the Seacon Square Shopping Mall, a loud explosion went off at the parking space, creating a panic but no injury.

Authorities ordered all shoppers to evacuate the mall, one of Bangkok largest, and all shops to close down for business. Deputy Governor of Bangkok, Wallop Suwandee, announced that all the events designated for the New Year's even countdown celebration have been cancelled. [More>>thejakartapost.com ; See also nationmultimedia.com, December 31, "Two more bombs explode at Central World, Pratunam."]
---
12.31.06 How Washington and London helped to create the monster they went to war to destroy
December 31 – When they hanged him, he was America's vanquished foe, likened to Hitler and Stalin for the murderous evil of his ways. What is forgotten is that once, for more than a decade, Saddam Hussein was staunchly supported by the US. Indeed, it was Washington that supplied him with many of the weapons of mass destruction the dictator used against his foes - weapons that one day would serve as a pretext for the US-led invasion that toppled him. The dealings between the US and Saddam's Iraq over the quarter of a century before 2003 are a story of deceit, miscalculation and strategic blunders by both sides. And they began, as they would end, in the shadow of a common enemy: Iran.

Saddam seized complete power in 1978. Two years later he attacked Iran, in what he called an "Arab war against the Persians," to overthrow the Islamic revolutionary regime. Washington was under no illusions about the brutality of Saddam's regime. But as Tehran gained the upper hand in the fighting, he came to be seen as the lesser of two evils – a vital bulwark against domination by a radical, anti-Western Iran of the strategically vital Gulf region, with its colossal oil reserves.

Quietly, the US delivered the technology, weapons and logistical support to prevent Iraq's defeat. Its policy was symbolized by the cordial meeting in Baghdad in December 1983 between Saddam and a certain Donald Rumsfeld, then President Reagan's special envoy to the Middle East. Two decades later, as Secretary of Defence, he would plan the invasion that toppled Saddam. [More>>independent.co.uk]
---
12.31.06 Iraq oil prospects in '2007, bleak as '06'
WASHINGTON (UPI) December 29 – Iraq has a lot of oil, more than any other country in the world except two. But its oil sector has suffered decades of misuse by Saddam Hussein, leaving it badly in need of repair. UN sanctions after Saddam invaded Kuwait in 1990 further hampered development. Then came the US-led invasion and occupation, going on four years next March, and the reverberations of militia and insurgent attacks.

Various factions are fighting over control of the country, as well as its oil, and there is a struggle between the central and regional governments over which side will oversee future development of Iraq's 115 billion barrels of crude reserves. The security situation in the country is bad and getting worse, keeping investors from putting any people or resources on the ground that may not survive. And even if oil companies or investors in Iraq's oil sector did decide to move in, there is no law telling what they can and cannot do, and what benefit they will or will not receive.

This is the state of Iraq's oil and, with 96 percent of its budget funded by oil revenues...Behind closed doors, Shiite, Kurdish, and Sunni political leaders - among others, including officials of McLean, VA-based BearingPoint, contracted by the United States - are negotiating a federal oil law. Beyond those doors, beyond the walls of what is known as the Green Zone, a protected area in Baghdad and the only safe location aside from the semi-autonomous Kurdistan region in the north, about 1.9 million barrels of Iraqi oil is pumped daily. This is below the 2.6 million barrels before the war; it is a tally only steady in that it can never be gauged or predicted...Iraq exports about 1.6 million barrels a day, and an estimated smuggling ring is so entrenched the Iraq oil ministry says $700 million a month is taken from its rightful coffers. [Full story>>metimes.com]
---
12.31.06 Ford's Vietnam: 'No point in being bitter'
December 31 (Article by Bob Woodward and Christine Parthemore) – Upon becoming president in August 1974, Gerald R. Ford faced the task of ending a war – a war not of his own making. In two wide-ranging interviews with Ford conducted in 2004 and 2005 by The Washington Post's Bob Woodward and Christine Parthemore, the former president revealed the depths of his disillusionment and frustration during the final years and months of the Vietnam War. The interviews, excerpted below, were granted on the condition that they not be made public until Ford's death.

Bob Woodward : [Vietnam] is the big master problem you got handed.

Gerald R. Ford: My approach was, we inherited the problem with the job. It's my obligation on behalf of the country to try and solve the damn thing...The point is, we were on the wrong side of the locals. We made the same mistake that the French did, except we got deeper and deeper in the war. We could have avoided the whole darn Vietnam War if somebody in the Department of Defense or State had said, "Look here. Do we want to inherit the French mess?"

Bob Woodward : What do you think about Vietnam in retrospect? Digging very deeply, what was the mistake? I don't know that you ever looked at [Defense Secretary Robert S.] McNamara's book "In Retrospect," but he says we were wrong, terribly wrong.

Gerald R. Ford: I know, and that used to bother me, because if we were wrong, why did he participate? I used to sit in the Congress and hear him testify to support the [Lyndon B.] Johnson commitment of 250,000, or whatever it was, US personnel, and he never backed off until he got out.

Bob Woodward : How do you feel about it now? Ten years later, you were the president of the United States who had to eat that national humiliation...Did you ever, as president, during that period, particularly April '75 during the evacuation, wake up in the morning and say, "What happened here? How did I get dealt this mess?"

Gerald R. Ford: I couldn't help but wonder that, but we had a plan, or at least it was on paper a plan. . . . In retrospect, you wonder how unwise you were. In retrospect, if you could sit there and see in reality, I would hope you would do it differently, but we went along. And we finally had to concede that the South Vietnamese were inadequate to solve the problem. [Full article>>washingtonpost.com]
---
12.31.06 New Year rings in EU membership for Bulgaria, Romania
BUCHAREST, Romania (AFP) December 31 – Bulgaria and Romania have geared up for a special double New Year's celebration as the two former Soviet bloc states become the newest members of the European Union as midnight strikes. French President Jacques Chirac made a televised address to Bulgaria and Romania in which he welcomed their nationals as "dear fellow European citizens."

"This for you, and for us, is a historic moment," he said, according to a transcript provided by his office, about the newcomers accession on January 1. But with enlargement fatigue gripping large parts of the bloc, the EU's latest and poorest members are likely to be greeted more with a shrug than open arms. And in Brussels, EU headquarters will be keeping a close eye on whether the two nations abide by their pledges to crack down on corruption and organized crime. [More>>turkishpress.com]
---
12.31.06 Saddam buried in home village, Web shows him hang
AWJA, Iraq (Reuters) December 31 – Saddam Hussein was buried in the dead of night in his native village on Sunday, prompting an outpouring of grief and anger from fellow Sunni Arabs who flocked to his grave and held symbolic funerals elsewhere. Sectarian passions that have pushed Iraq toward civil war since US troops overthrew Saddam in 2003 could be further inflamed by a new video posted on the Internet showing Shi'ite officials taunting him as he stood on the gallows on Saturday. "Go to hell!" one yelled at the former president.

Saddam's body, shown swinging on the rope in the video, was flown overnight by US military helicopter to his home city of Tikrit in northern Iraq and, in agreement with US and Iraqi officials, buried in haste at nearby Awja at 3 a.m. (0000 GMT). The jerky Web footage, apparently shot on a mobile phone by a guard or one of about 20 official observers at the dawn hanging, showed people in the execution chamber chanting the name of Shi'ite cleric and militia leader Moqtada al-Sadr and Saddam smiling back, saying: "Is this what you call manhood?"

After he falls through the trap, abruptly cut off in his recitation of the Muslim profession of faith, someone in the room cries "The tyrant has fallen!" and the film shows the 69-year-old former strongman swinging on the rope, his eyes open and his neck twisted at a 90-degree angle to his right. Seemingly accusing his captors of misrule, he replied to the taunt of "Go to hell" by asking: "The hell that is Iraq?" [More>>thestar.com.my ; See also a large catalogue of stories relating to Saddam at xinhuanet.com, December 31, "Execution of Saddam Hussein."]
---
12.30.06 World leaders welcome, condemn Saddam's execution
LONDON (AP) December 30 – World political and religious leaders were divided over whether Saddam Hussein's execution Saturday would serve as a milestone toward peace -- or motivation for further conflict in the Middle East. In Washington, U.S. President George W. Bush said Saddam was executed "after receiving a fair trial – the kind of justice he denied the victims of his brutal regime.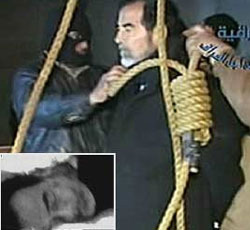 Iraqi TV footage shows ousted Iraqi President Saddam Hussein is executed by hanging early Saturday, Dec 30, 2006. (Xinhua/AFP Photo) See
xinhuanet.com
for more images.
Bringing Saddam Hussein to justice will not end the violence in Iraq, but it is an important milestone on Iraq's course to becoming a democracy that can govern, sustain and defend itself, and be an ally in the war on terror," Bush said in a statement.
In Britain, a key US ally in the war in Iraq, Foreign Secretary Margaret Beckett said Saddam has been "held to account for at least some of the appalling crimes he committed against the Iraqi people." But at the same time, she condemned the death penalty – a position taken by many European leaders and human rights organizations.
"The European Union has a very consistent stand ... on opposing the death penalty and it should not have been applied in this case either – even though there is no doubt about Saddam Hussein's guilt over serious violations against human rights," Foreign Minister Erkki Tuomioja of Finland, which holds the rotating EU presidency, said in Helsinki.
...The government in the world's largest Muslim nation, Indonesia, said it hoped Saddam's execution "will not further separate conflicting parties in the effort toward a national reconciliation, which is a precondition in recovering Iraqi sovereignty." Fauzan Al Anshori, from the militant group of Majelis Mujahidin Indonesia, said Bush, too, should stand trial. "Given the crime blamed on Saddam, it is unfair if George Bush is not also put on an international tribunal," he said. "Saddam was executed for killings 148 people, Shiite Muslims, while Bush is responsible for the killing of about 600,000 Iraqis since the March 2003 invasion." [Full story>>
thestar.com.my
; See also
khaleejtimes.com (Reuters) December 30, "Saddam's enemies rejoice, many Arabs angry."
: ...While many Arab governments refrained from comment, a senior aide to Arab League Secretary-General Amr Moussa called the execution "a tragic end to a sad phase in Iraq¹s history. We hope that the Iraqi people would focus on the future to be able to pass this stage, stop the violence and achieve reconciliation," Hesham Youssef told Reuters in Cairo. The government of Iraqi neighbor Jordan said it hoped the execution would not have "any negative repercussions."
Abdel-Bari Atwan, editor of the London-based Al-Quds al-Arabi newspaper, said Arabs wondered who most deserved to face trial: "Saddam Hussein, who preserved the unity of Iraq, ... or those who engulfed the country in this bloody civil war?"
No street unrest was reported in Arab capitals, where Muslims were preoccupied with the Eid al-Adha holiday, but thousands of Indians, mostly Muslims, staged anti-US protests. Tajeddine El Husseini, a Moroccan international economic law professor, said Saddam¹s "symbolic sacrifice" on a religious day when Muslims slaughter animals would make things worse. In Afghanistan, the first target before Iraq in the US-declared "war on terror," a Taleban commander said Saddam¹s demise would galvanize Muslim opposition to the United States...
haaretz.com, December 30, "At least 72 Iraqis killed in wake of Saddam Hussein execution"
: Hours after the execution by hanging of former Iraqi dictator Saddam Hussei, some 72 Iraqis were killed in two bombings. In northwest Baghdad, two parked cars exploded killing 36 civilians and wounding 76. Another 36 people died and 58 were hurt south of the capital. Earlier on Saturday, the death of the dictator who ruled Iraq with a remorseless brutality for a quarter-century and was driven from power by a US-led war that left his country in shambles was announced. He was taken to the gallows and executed as dawn broke Saturday.
It was a grim end for the 69-year-old former leader. Despite his ouster, Washington, its allies and the new Iraqi leaders remain mired in a fight to quell a stubborn insurgency by Saddam loyalists and a vicious sectarian conflict. Saddam was executed at a former military intelligence headquarters in Baghdad's Shiite neighborhood of Kazimiyah, said Sami al-Askari, a prominent Shi'ite politician close to Iraqi Prime Minister Nuri al-Maliki. The neighborhood is home to the Iraqi capital's most important Shiite shine, the Imam Kazim shrine.
Askari witnessed the event and said the process of Saddam's execution lasted about 25 minutes, but once he was dropped through a trap door his death was very quick. "One of the guards pulled a lever and he dropped half a meter into a trap door. We heard his neck snap instantly and we even saw a small amount of blood around the rope," Askari said. "They left him hanging for around 10 minutes before a doctor confirmed his death and they untied him and placed him in a white bodybag," he added. State-funded television channel Iraqiya showed the final moments of Saddam's life but stopped short of broadcasting the actual hanging or his body...
turkishpress.com, December 30, "OIC urges calm after Saddam hanging"
: JEDDAH - The Organization of the Islamic Conference (OIC) called for calm in Iraq on Saturday after the hanging of Saddam Hussein, and urged Muslim clerics to implement a pact banning the shedding of Muslim blood. In a statement issued at its headquarters in Jeddah, the 57-member OIC said its secretary general Ekmeleddin Ihsanoglu "appealed to the Iraqi people to stay calm" following the execution of the former president. He also called on prominent Iraqi clerics to "implement the Mecca Document ... by urging the Iraqi people to remain united," the statement said.
That document, hammered out by 29 Iraqi Shiite and Sunni clerics at an OIC-sponsored meeting in the Muslim holy city of Mecca in October, called for a halt to sectarian bloodletting in Iraq. Though it stipulated that "spilling Muslim blood is forbidden," the Mecca Document went unheeded in Iraq, where Shiite-Sunni killings continued unabated...
nytimes.com, December 30, "Iraq mainly calm, riveted by video of Hussein death."

cnn.com, December 30, "Hussein's body handed over."
---
12.30.06 Madrid blast 'ends Eta ceasefire'
December 30 – The Spanish government has suspended dialogue with the Basque separatist group Eta after a car bombing at Madrid's international airport. The Eta had earlier claimed responsibility for the blast at Madrid's international airport on Saturday morning that injured four people. "I have decided to suspend all initiatives for dialogue with Eta," Jose Luis Rodriguez Zapatero, the prime minister, told a news conference.

Alfredo Perez Rubalcaba, the interior minister, earlier said the blast has "broken the ceasefire the Eta called on March 22." The Eta claimed responsibility for the blast in a telephone call to the Spanish state radio. [More>>aljazeera.net]
---
12.30.06 Ship sinks off Central Java with hundreds of passengers on board
JAKARTA, Indonesia, December 31 – An Indonesian ferry carrying hundreds of passengers sank in a storm off Central Java, and efforts to find survivors were hampered by strong winds and high waves, officials said Saturday. Slamet Bustam, an official at the Semarang port, said waves of up five meters (16 feet) had crashed over the ship's deck around midnight Friday. The Transport Minister Hatta Radjasa put the number at 542, citing the passengers manifest, but ships in Indonesia often carry far more passengers than reported, making it hard for authorities to say with accuracy how many people are on board. [More>>thejakartapost.com]
---
12.29.06 Saddam Hussein dead
December 29 – His father died before he was born and his mother is said to have been suicidal when she was carrying him, trying to abort the pregnancy. His stepfather allegedly beat him, and in high school, he was a tough guy, immersed in revolutionary politics. At 22, he was tapped by the leaders of the Socialist Ba'ath party to assassinate the then-prime minister. The coup failed and Saddam Hussein fled to Cairo. When he returned, some years later, he returned to rule. By 1979 he was president, prime minister and commander in chief. He quickly purged any would-be competitors, arresting scores of cabinet ministers, bureaucrats and high ranking members of the Ba'ath party. Twenty-one were executed on a single day in August of 1979.

A year later, Saddam Hussein went to war against his neighbor, Iran. He used chemical weapons against his own people, the Kurds in the north, as well as on the Iranians. Hundreds of thousands of people died in a devastating eight-year war that cost each country deeply. By the end of the war, Saddam Hussein had built the fourth largest army in the world...Saddam Hussein, who ruled Iraq with an iron fist for 24 years, has been hanged, a senior US official in Baghdad said. Saddam was 68 and had been in US captivity since his apprehension by US forces in December 2003, eight months after his regime was toppled. [Full story>>abcnews.go.com ; See also Jerusalem Post, December 30, "Iraqi state TV: Saddam Hussein has been executed" : Two Iraqi television stations reported that former Iraqi dictator Saddam Hussein was hanged at 6am Saturday for crimes against humanity. There was no officials announcement that Hussein had in fact been executed. A US judge refused to stop Saddam Hussein's execution an hour earlier, rejecting a last-minute court challenge by the former Iraqi president...
---
12.29.06 Saddam 'could be executed within hours'
December 29 – The execution of Saddam Hussein appeared to be imminent tonight after American forces handed over the former dictator into Iraqi custody. An official close to Nouri al-Maliki, the Iraqi Prime Minister, told The Times that the deposed president could be hanged "within hours" and a judge who served on the appeals panel which upheld his death sentence said that he would be executed by tomorrow at the latest. "Saddam will be executed today or tomorrow," said the judge, Munir Haddad. "All the measures have been done." [More>>timesonline.co.uk ; See also haaretz.com, December 29, "Iraqi judge: Saddam will be executed by Saturday at the latest."]
---
12.28.06 Saddam sends messages to his supporters as he prepares to die
December 28 – Saddam Hussein appeared yesterday to have lost his last chance of avoiding execution when the Iraqi presidency announced that the court decision upholding the death penalty was final. Saddam's supporters issued threats of wide scale retaliation, and international legal and human rights groups called for the sentence to be rescinded. At the same time, two letters purporting to be from Saddam were posted on the internet bearing conflicting messages. One asks Iraqis not to hate the Western forces who have occupied their country, while the other urges them to rise up against the same forces.

Earlier a spokesman for President Jalal Talabani, who personally opposes the death penalty, had stated that Saddam's execution was not likely to require presidential approval. [More>>independent.co.uk ; See related story, aljazeera.net, December 28, "Us urged not to hand over Saddam" : Saddam Hussein's chief lawyer has urged the US not to hand over the ousted leader to Iraqi authorities for execution because he is a "war prisoner." On Thursday Khalil al-Dulaimi called on international and legal organizations, including the Arab League and the UN, to "rapidly prevent" the Americans from handing Saddam to the Iraqis. "According to the international conventions it is forbidden to hand a prisoner of war to his adversary," he said on Thursday. Saddam is being held at Camp Cropper, an American military prison close to Baghdad's airport...

Update, 12.28.06 Saddam may face hanging as soon as Saturday: White House

TEXAS December 28 – The White House expects ousted Iraqi dictator Saddam Hussein to be executed perhaps as early as Saturday, a senior official told a French news agency Thursday on condition of anonymity. The official cited information from US authorities in Baghdad that "it's not going to be tonight our time, or tomorrow their time, it's going to be maybe another day." [More>>thenews.com.pk ; See also aljazeera.net, December 28, "Saddam hanging date unclear." and

msnbc.msn.com, December 28, "Saddam to be hanged by Sunday.": According to a US military officer who spoke on condition of anonymity, Saddam will be hanged before the start of the Eid religious holiday, which begins this Sunday. The hanging could take place as early as Friday, NBC¹s Richard Engel reported...

foxnews.com, December 28, " Saddam likely to be hanged before New Year, US military officials say" : The Iraqi government is "anxious to get Saddam's execution done" and that it is likely to be carried out before the New Year — perhaps even within the next 24 hours, a US military official told FOX News. This official said American forces are now in the process of finalizing the former Iraqi dictator's transfer to Iraqi custody and to the location where he would be executed.

Editorial observation: A common thread among the reports – said "a military official" – suggests that the White House has intentionally leaked news. This story could not come about through a casual conversation between one reporter and a military official, since each reporter appears to be exclusively informed. Someone in the White House appears to have picked up the phone and called a bunch of reporters, one of whom was with the French press, another with Fox News, another with NBC, etc.
Mel Copeland

---
12.28.06 Thirty-one including 4 US soldiers killed in Iraq
BAGHDAD, December 28 – At least 31 people were killed Thursday in a string of gun and bomb attacks across the war-torn country, amid gathering tension in anticipation of ousted dictator Saddam Hussein's execution. Ten people were killed and 35 wounded in east Baghdad near the Shaab stadium when a bomb exploded among a crowd queuing for heating fuel, according to a security official and medics at the Ibn-Nafis hospital.

Another seven people were killed and 25 wounded when two bombs exploded in a popular Baghdad market during the busy morning shopping rush, military officials and medics at the Al-Kindi hospital said. The devices exploded in the Baab al-Sharki neighborhood in the centre of the Iraqi capital, they said. Two more Iraqis died when a suicide bomber blew up his car outside a local headquarters of the Kurdistan Democratic Party (KDP), run by Kurdish regional president Massud Barzani, in the northern city of Mosul, police said.

Another 19 people were wounded in the blast in the centre of the city outside the KDP office, said Colonel Abdul Karim al-Juburi. To the south, two Iraqi soldiers were killed when a bomb exploded on the highway between the oil refinery depot of Baiji and Saddam's hometown Tikrit, said the local Iraqi-US coordination centre. Another three soldiers were wounded in the explosion, which destroyed an Iraqi military vehicle, the source said. At dusk, two soldiers were killed and a third wounded when an armed group opened fire on a checkpoint with light weapons and rocket-propelled grenades south of the Shiite village of Dujail, police in Tikrit said. [More>>thenews.com.pk]
---
12.28.06 Mogadishu retaken as Somali Islamists flee
December 28 – Somali government forces, supported by Ethiopian soldiers, entered Mogadishu unopposed today after the leaders of Islamist militias that have controlled the city since June fled last night. "We are in Mogadishu," said Mohamed Ali Gedi, the Prime Minister of Somalia's interim Government, after talks with the clan elders who are the ultimate powerbrokers in the ravaged capital. "We are coordinating our forces to take control of Mogadishu."

A spokesman for the interim Government said that Somali soldiers backed by Ethiopian tanks and aircraft started moving into the outskirts of the city after seizing the main roads in Mogadishu early today. The official, who spoke on condition of anonymity, said that the Government had abandoned its plan for a siege and decided to take Mogadishu after being told that the leaders of the Union of Islamic Courts (UIC) had left their base and that armed clans were beginning to loot the city, which has around 2 million inhabitants. [More>>timesonline.co.uk]
---
12.28.06 Abu Sayyaf leader's body 'found'
December 28 – Soldiers in the southern Philippines have uncovered the remains of a man thought to be the head of Abu Sayyaf, military sources have said. The remains, found on Wednesday buried in a remote area on Jolo island, are thought to be those of Khaddafy Janjalani, a man who was the target of a US-backed manhunt and who had a $5m bounty on his head. Lieutenant Colonel Ariel Caculitan, a Philippine marines spokesman, said DNA tests would be needed for confirmation.

...US-backed Philippine troops launched an offensive on southern Jolo island in August, searching for Janjalani and two Indonesian men wanted in connection with the 2002 Bali nightclub bombings that killed over 200 people. Janjalani and other Abu Sayyaf leaders had been charged with several deadly attacks in the Philippines, including a 2004 ferry bombing that killed 116 people. In May 2001, the Abu Sayyaf abducted three Americans and 17 Filipinos from a resort, starting a yearlong kidnapping spree that eventually involved 102 hostages. Eighteen of the hostages, including one American, were beheaded or hacked to death. [Full story>>aljazeera.net ; See more details, inq7.net, December 28, "DNA test key to Janjalani ID – But brother reportedly refuses to give samples."]
---
12.27.06 Ford disagreed with Bush on invading Iraq
December 27 – Former president Gerald R. Ford said in an embargoed interview in July 2004 that the Iraq war was not justified. "I don't think I would have gone to war," he said a little more than a year after President Bush had launched the invasion advocated and carried out by prominent veterans of Ford's own administration. In a four-hour conversation at his house in Beaver Creek, Colo., Ford "very strongly" disagreed with the current president's justifications for invading Iraq and said he would have pushed alternatives, such as sanctions, much more vigorously. In the tape-recorded interview, Ford was critical not only of Bush but also of Vice President Cheney — Ford's White House chief of staff — and then-Defense Secretary Donald H. Rumsfeld, who served as Ford's chief of staff and then his Pentagon chief.

"Rumsfeld and Cheney and the president made a big mistake in justifying going into the war in Iraq. They put the emphasis on weapons of mass destruction," Ford said. "And now, I've never publicly said I thought they made a mistake, but I felt very strongly it was an error in how they should justify what they were going to do." In a conversation that veered between the current realities of a war in the Middle East and the old complexities of the war in Vietnam whose bitter end he presided over as president, Ford took issue with the notion of the United States entering a conflict in service of the idea of spreading democracy.

"Well, I can understand the theory of wanting to free people," Ford said, referring to Bush's assertion that the United States has a "duty to free people." But the former president said he was skeptical "whether you can detach that from the obligation number one, of what's in our national interest." He added: "And I just don't think we should go hellfire damnation around the globe freeing people, unless it is directly related to our own national security." [More>>msnbc.com]
---
12.27.06 Gerald Ford, 38th President, dies at 93
December 27 – Former President Gerald R. Ford, who was thrust into the presidency in 1974 in the wake of the Watergate scandal but who lost his own bid for election after pardoning President Richard M. Nixon, has died, according to a statement issued late last night by his wife, Betty Ford. He was 93, making him the oldest former president, surpassing Ronald Reagan, who died in 2004, by just over a month.

The statement did not give a cause, place or time of death, but Mr. Ford, the 38th president, had been in and out of the hospital since January 2006 when he suffered pneumonia, most recently in October at the Eisenhower Medical Center in Rancho Mirage, Calif., for medical tests. He returned to his home in Rancho Mirage after five days of hospitalization. [More>>nytimes.com]
---
12.27.06 Belarus-Russia gas dispute threatens Poland, Europe: officials
WARSAW, December 27 – The dispute between Belarus and Moscow over natural gas prices threatens the energy security of Poland and the rest of Europe, an official at the Polish foreign ministry said on Wednesday. "This problem poses a threat to us and this is why we have had heated debate in the past few months about Polish-Russian relations and relations between Europe and Russia," Deputy Foreign Minister Pawel Kowal said. "Energy security today is a fundamental issue for Poland and we want to convince the rest of the world that it is also fundamental to Europe. This example is yet another illustration," he said. Russian natural gas monopoly Gazprom wants Belarus to pay more than double the current price it pays for natural gas from 2007 and has threatened to cut supplies from Monday if no deal is reached. [More>>thenews.com.pk]
---
12.27.06 Pakistan border mines worry UN
December 27 – UN officials have criticized Pakistan's plan to mine parts of its border with Afghanistan, saying it would add to civilian casualties in a region already littered with ordnance. Pakistan on Tuesday said it would plant landmines and build a fence on parts of its 2,430km frontier with Afghanistan. The measure is seen as a bid by Islamabad to fend off criticism it does too little to stop infiltration by Taliban and al-Qaeda fighters. Richard Bennett, the UN's chief human rights officer in Afghanistan, said: "From a human rights perspective, we would be concerned about any mining. Human rights advocates are solidly opposed globally to the use of landmines. The UN is opposed to the use of mines." [More>>aljazeera.net]
---
12.26.06 For some survivors the misery goes on
December 25 – Thousands of houses, built with millions of pounds of donors' money, stand empty along the coast of Aceh. Two years after the Boxing Day tsunami unleashed destruction on the island of Sumatra, an unprecedented global outpouring of generosity and the biggest reconstruction effort in history have left the economy of the Indonesian province of Banda Aceh booming on aid money. From the air, or driving along the coast where entire villages were washed from the face of the earth, the rebuilding appears a stunning success, even though much more needs to be done. But talking to the survivors, as many as 70,000 of whom remain homeless and living in barracks or transitional shelters, a different picture emerges.

Time and again developments are only partly occupied, or even empty, most because of a lack of services such as running water and power. The quality of houses built by different organizations varies dramatically. Agencies say that in some cases survivors are reluctant to leave the barracks because there they receive food hand-outs and other support. According to the annual report of BRR, the Indonesian government agency supervising the reconstruction, 57,000 permanent homes have been built. But a survey showed that the average house does not meet the standards of Indonesia's building code, and some rank as unsafe.

...For miles up and down the coast, everyone agrees that the best houses are those built by the Turkish Red Crescent Society, which has put up a development of 701 homes at Lampuuk, a village outside Banda Aceh where only the mosque was left standing. They are spacious, solid and well-built, complete with kitchens and indoor lavatories. But the vast majority have stood empty for seven months, waiting for a water supply offered by Oxfam...Oxfam, the British agency — which earlier this month issued a statement saying 25,000 families still needed land and homes – was one of the first to start putting up houses, when tens of thousands of people were in tents. But it opted for semi-permanent structures that could be quickly erected, and they have since begun to deteriorate, in some cases quite badly. [Full story>>telegraph.co.uk ; See related story, thejakartapost.com, December 26, "Schools in Aceh still lack students" : Two years after the Dec. 26 tsunami devastated Aceh, dozens of schools have been rebuilt, but they are still missing a key component: students. The newly repaired SMP 12 junior high in Banda Aceh's Kampung Jawa has less than 60 students in three classrooms. The school boasts a total of 18 academic rooms, including a laboratory and a library. "We used to have 600 students but many became tsunami victims, and there were some who moved out to other places," principal Muktar Husain told The Jakarta Post...
---
12.26.06 Up to 500 killed in Lagos fuel blast
LAGOS, Nigeria (Reuters) December 26 – Up to 500 people were burned alive on Tuesday when fuel from a vandalized pipeline exploded in Nigeria's largest city, Lagos, emergency workers said. Hundreds of residents of the Abule Egba district went to scoop fuel using plastic containers after thieves punctured the underground pipeline overnight to siphon fuel into a road tanker, locals said. Abiodun Orebiyi, secretary-general of the Nigerian Red Cross, said there was no official death toll but estimated that between 200 and 500 people could have been killed.

"We know it is over 200 (dead). We are talking hundreds. We don't know if it is 300, 400 or 500," he said, adding that 60 people had been evacuated to hospital with serious burns. This Reuters witness saw the remains of hundreds of bodies, most burned beyond recognition, lying at the scene of the explosion as emergency workers tried to put out the fire...Industry experts estimate that about five percent of the country's crude oil production is stolen for export by big syndicates with contacts in the military and government. But small-scale theft of gasoline and diesel, for private use or sale by the road-side, is much more deadly because of the highly flammable nature of the fuel. [Full story>>thestar.com.my]
---
12.26.06 Pakistan plans border minefield
December 26 – Pakistan plans to fence and plant land mines along sections of its border with Afghanistan to stop militants, a foreign office official has said. Speaking at a press conference, Foreign Secretary Riaz Mohammad Khan said the move would stop "militant activity from Pakistan inside Afghanistan." Afghanistan rejected the plan saying both countries need to tackle "terrorists in a real manner." [More>>bbc.co.uk ; See also thenews.com.pk, December 26, "Afghanistan says Pakistan's mining of border not enough."]
---
12.26.06 Russia remains leader in spacecraft launches – space agency
MOSCOW (RIA Novosti) December 26 – Russia conducted 45% of the world's spacecraft launches in 2006, maintaining its leading position, the head of the Federal Space Agency said Tuesday. "Russia's current share in the spacecraft launch market is about 40%, and counting joint Russian-Ukrainian launches from the Sea Launch platform it totals about 45% of all launches conducted in the world," Anatoly Perminov said at a year-end news conference. In 2006, Russia already conducted 24 launches, and plans to launch a Soyuz-2-1B carrier rocket with a Fregat booster and a French Corot satellite December 27, Perminov said, adding that in 2007 the number of launches will be reduced to about 20.

...The head of the space agency also said the United States was in second place in spacecraft launches, with 18 launches conducted in 2006, while Japan and China shared third place with six launches each. The US will use Russian spacecraft to fly its astronauts to the International Space Station after 2010, he said. "Until 2010, the US will use its space shuttles [to bring astronauts to the ISS], but after 2010 and until 2015-2020 they [the Americans] will fly to the station on board the Russian spacecraft," Perminov said, adding that Russia will start building its own space shuttles, the Clipper, in 2012. In 2007, Russia will send two piloted spacecraft and four cargo ships to the ISS, he said. [Full story>>rian.ru; See related story, timesonline.co.uk, December 26, "Probe sets off to search for signs of life on other worlds."]
---
12.26.06 Up to 1,000 Islamists dead in Ethiopia offensive
ADDIS ABABA (Reuters) December 26 – Somalia¹s Islamists are in full retreat after Ethiopian airstrikes and a ground offensive that have killed up to 1,000 of the religious movement¹s fighters, Ethiopian Prime Minister Meles Zenawi said on Tuesday. "A joint Somali government and Ethiopian force has broken the back of the international terrorist forces...These forces are in full retreat," Meles told reporters in Addis Ababa, adding that up to 1,000 Islamist fighters had been killed. "A few are Somali but the majority are foreigners," he said of the dead. [More>>khaleejtimes.com]
---
12.26.06 US fatalities in Iraq top 9/11 toll
BAGHDAD (AFP) December 26 – The number of American fatalities in Iraq Tuesday surpassed the death toll for the September 11, 2001 attacks in the United States, shining the spotlight on US policy in the war-wracked country. Another 20 Iraqis were killed in attacks hammering Baghdad Tuesday, 15 of them in a triple car bombing, amid unprecedented levels of violence in a conflict that has claimed the lives of tens of thousands. The macabre US milestone was marked by the deaths of three soldiers in a bomb attack northwest of Baghdad Tuesday, 24 hours after another four troops were killed on Christmas Day.

Following the latest deaths, the AFP count was 18 higher than the Defense Department's tally, last updated at 1500 GMT Friday. At least seven civilians are included in the toll, according to the military's numbers. "An improvised explosive device detonated near a Multi-National Division – Baghdad patrol, killing three soldiers northwest of the Iraqi capital December 26," said the US military, announcing its latest deaths in Iraq. [More>>metimes.com ; See also aljazeera.net, December 26, "Car bombings kill many in Baghdad." ; See also metimes.com, December 27, "Fifty slain in Iraq; appeal court ok's Saddam hanging."]
---
12.26.06 Court upholds death penalty for Hussein
December 26 – An Iraqi appeals court today upheld a death sentence for Saddam Hussein in a decision that clears the way for his execution within 30 days, Iraqi officials said today. The announcement came as at least 20 people were killed and dozens were injured in bomb and mortar attacks in the capital. The court was reviewing a Nov. 5 verdict in which Mr. Hussein and two of his top associates, Barzan Ibrahim al-Tikriti and Awad al-Bandar, were sentenced to ³death by hanging² for their involvement in the arrest and killing of 148 Shiite men and boys in the town of Dujail in 1982. It was not immediately clear when the execution would be carried out. The tribunal¹s chief judge, Aref Shahin, announced the decision in a news conference and indicated that the judgment would be carried out within the 30 days, as specified under Iraqi law. [More>>nytimes.com]
---
12.26.06 Disappearing world: Global warming claims tropical island
December 24 – Rising seas, caused by global warming, have for the first time washed an inhabited island off the face of the Earth. The obliteration of Lohachara island, in India's part of the Sundarbans where the Ganges and the Brahmaputra rivers empty into the Bay of Bengal, marks the moment when one of the most apocalyptic predictions of environmentalists and climate scientists has started coming true. As the seas continue to swell, they will swallow whole island nations, from the Maldives to the Marshall Islands, inundate vast areas of countries from Bangladesh to Egypt, and submerge parts of scores of coastal cities.

Eight years ago, as exclusively reported in The Independent on Sunday, the first uninhabited islands – in the Pacific atoll nation of Kiribati – vanished beneath the waves. The people of low-lying islands in Vanuatu, also in the Pacific, have been evacuated as a precaution, but the land still juts above the sea. The disappearance of Lohachara, once home to 10,000 people, is unprecedented.

It has been officially recorded in a six-year study of the Sunderbans by researchers at Calcutta's Jadavpur University. So remote is the island that the researchers first learned of its submergence, and that of an uninhabited neighboring island, Suparibhanga, when they saw they had vanished from satellite pictures. Two-thirds of nearby populated island Ghoramara has also been permanently inundated. Dr. Sugata Hazra, director of the university's School of Oceanographic Studies, says "it is only a matter of some years" before it is swallowed up too. Dr. Hazra says there are now a dozen "vanishing islands" in India's part of the delta. The area's 400 tigers are also in danger. [More>>independent.co.uk]
---
12.26.06 Iranian oil revenues plunging, report says
(AP) December 26 – Iran is experiencing a staggering decline in revenue from its oil exports and, if the trend continues, income could virtually disappear by 2015, according to an analysis released yesterday by the National Academy of Sciences. Iran's economic woes could make the country unstable and vulnerable with its oil industry crippled, Roger Stern, an economic geographer at Johns Hopkins University, said in the report and in an interview. Iran earns about $50 billion a year in oil exports. The decline is estimated at 10 percent to 12 percent annually. In less than five years, exports could be halved and then disappear by 2015, Mr. Stern predicted. [More>>washtimes.com]
---
12.26.06 Timor PM wiishes 'brother' bin Laden on Xmas
DILL, E. Timor, December 26 – East Timor Prime Minister Jose Ramos-Horta on Tuesday said he hoped Osama bin Laden had tuned in from his mountain hideout to hear his Christmas message of peace directed at the feared terrorist leader. Ramos-Horta's message to the elusive September 11 mastermind was broadcast on the BBC.

"It occurred to me that a man who is one of the most feared and detested on earth by some and admired by others, might tune into the BBC and hear my message," he said. The BBC had asked a variety of world leaders and personalities to send a seasonal greeting to the person of their choosing..."On this occasion when we are celebrating the birth of Jesus Christ, my words, words of peace, are sent to my brother somewhere in the mountains, in the caves, of Afghanistan and Pakistan, Osama bin Laden. Yes, I consider you to be a brother," he said. Ramos-Horta said he failed to understand why bin Laden directed his resentment over the harm done to Muslims against innocent civilians. [Full story>>expressindia.com]
---
Copyright © 1981-2007 Maravot. All rights reserved
Copyright © 1981-2007 Mel Copeland. All rights reserved
Background: tile from Cicero's villa (Marcus Tullius Cicero 106 B.C. - 43 B.C.)