---
12.14.06 Israel high court: International law does not forbid targeted killings
December 14 – The High Court of Justice ruled Thursday that the Israel Defense Forces policy of targeted killings of militants does not categorically violate international law, and the legality of each targeted killing must be evaluated on an individual basis. The three-justice panel unanimously ruled that "it cannot be determined in advance that every targeted killing is prohibited according to customary international law." The decision is former Supreme Court president Aharon Barak's final ruling, and is expected to serve as a legal precedent in international law and war crime law. The ruling was issued by Barak along with current Supreme Court President Dorit Beinisch and Justice Eliezer Rivlin.

The court ruled that the conflict between Israel and the Palestinian terrorist organizations has the characteristics of armed international conflict, and therefore is subject to international law. "In its fight against international terrorism, Israel must act according to the rules of international law," the court said. "We must balance security needs and human rights. Not every efficient means is also legal. The ends do not justify the means." According to the ruling, terrorist operatives are not legally defined as combatants and therefore must be considered civilians. [More>>haaretz.com]
---
12.14.06 Iraqi gunmen kidnap scores of Baghdad businessmen
BAGHDAD (AFP) December 14 – Central Baghdad was gripped by panic Thursday as a heavily armed gang in police uniforms kidnapped four-dozen businessmen in a brazen daylight raid on a busy commercial street. Gunshots rang out as workers ran for cover and motorists made rapid U-turns to escape the unofficial dragnet – the latest violent incident demonstrating the near complete breakdown of law and order in the war-torn Iraqi capital. The attack on the Sinak area came as some of Washington's most influential senators called for the United States to send between 15,000 and 30,000 extra troops to Iraq.[More>>metimes.com ; See also khaleejtimes.com (Reuters) December 14, "Gunmen stage mass kidnap in Baghdad."]
---
12.14.06 Iraq violence kills 33, undermines peace talks
BAGHDAD (AFP) December 13 – A series of vehicle bombs and shootings killed at least 33 people and wounded scores more across Iraq on Wednesday, stoking sectarian anger in the run-up to a national unity conference. A car bomb exploded in a busy market near the Al Kamaliyah mosque in a mainly Shia district of east Baghdad, killing at least 10 civilians and wounding another 26, a security official said.

Bodies of the victims lay scattered around the street amid pools of blood and the burning wreckage of at least two cars and a row of market stalls set up by a nearby bus station. Two more car bombs were set off later near the nearby Sunni Al-Samuri mosque in Baghdad Jadida, a mainly Shia neighborhood, killing five day labourers waiting for work and wounding 10. The Samuri mosque is not far from the Kamaliyah mosque where the earlier car bomb was detonated. [More>>khaleejtimes.com]
---
12.14.06 Government Indonesia awards contracts to explore new oil blocks
December 14 – In a bid to increase the country's declining oil production, the government awarded exploration rights over new oil blocks to 18 companies Wednesday. Among the winners are a consortium made up of the third-biggest US oil company, ConocoPhillips, and Norway's Statoil ASA, and China's largest offshore oil producer, CNOOC. ConocoPhillips and its partner Statoil won the rights to explore for oil and gas in the Kuma block in western Sulawesi, while CNOOC and its local partner PT Gregori Gas Perkasa won the right to prospect in the Batanghari block in central Sumatra.

The other winners are mostly made up of local companies, such as a consortium consisting of PT Mosesa Petroleum, PT Kencana Surya Perkasa and PT Petross, which secured the rights to explore for oil and gas in the Tonga block in North Sumatra, and Ranhill Jambi Inc. which has won the right to prospect in the Batu Gajah block in central Sumatra. Meanwhile, the consortium of PT Hexindo Gemilang Jaya and PT Indelberg secured the right to prospect for oil and gas in the Lemang block in central Sumatra.

...The government is targeting the production of 1.3 million barrels of oil per day (bpd) by 2009, compared to the current 1.04 million bpd. Indonesia, once a major oil producer in the Organization of Petroleum Exporting Countries (OPEC), has suffered a major decline in its oil production over the past several years due to the lack of new finds, turning it into a net oil importer today. The country's oil production amounted to over 1.5 million bpd in the early 1980s...[Full story>>thejakartapost.com]
---
12.14.06 Ban Ki-moon sworn in as UN secretary-general
UNITED NATIONS (AP) December 14 – South Korea's Ban Ki-moon was sworn in Thursday as the eighth secretary-general of the United Nations, promising to make his top priority the restoration of trust in the world body that has been tarnished by corruption scandals. Ban, 62, will take the reins of the United Nations on January 1 when Kofi Annan steps down after 10 years at the helm. He will be the first Asian to lead the organization in 35 years Ban will oversee an organization with some 92,000 peacekeepers around the world and a $5 billion annual budget. Its reputation has been battered by scandals in the oil-for-food program in Iraq and in peacekeeping procurement, and critics say its outdated practices need reform to meet the challenges of the 21st century. [More>>cnn.com]
---
12.14.06 Suriname turtle swims 7,000 miles to Cornwall – and back
December 14 – They are renowned as the world's greatest ocean wanderers, spending a lifetime exploring the most obscure waters. So when a World Wildlife Federation team from Britain tagged a giant leatherback turtle with a satellite-tracking device in South America last year, they hardly expected the critically endangered creature to turn up a few miles off the Cornish coast more than a year later. But the transmitter revealed that Aikanti, a 1.5m-long female turtle, made a 7,000-mile journey from Suriname to Britain. After swimming in British waters for the past few days, she has now begun the homeward journey to the South American beach of her birth, to lay eggs. [More>>independent.co.uk]
---
12.13.06 Saudis say they might back Sunnis if US leaves Iraq
WASHINGTON, December 13 (a story spreading through international media) – Saudi Arabia has told the Bush administration that it might provide financial backing to Iraqi Sunnis in any war against Iraqıs Shiites if the United States pulls its troops out of Iraq, according to American and Arab diplomats. King Abdullah of Saudi Arabia conveyed that message to Vice President Dick Cheney two weeks ago during Mr. Cheneyıs whirlwind visit to Riyadh, the officials said. During the visit, King Abdullah also expressed strong opposition to diplomatic talks between the United States and Iran, and pushed for Washington to encourage the resumption of peace talks between Israel and the Palestinians, senior Bush administration officials said. [More>>nytimes.com ; Other details, cnn.com, December 13, "Saudis to back Sunnis if US leaves Iraq" : Saudi Arabia's King Abdullah has warned Vice President Dick Cheney that Saudi Arabia would back the Sunnis if the United States pulls out of Iraq, according to a senior American official. The official said the king "read the riot act" to the vice president when the two met last month in the Saudi capital, Riyadh.

The New York Times first reported the conversation Wednesday, saying Saudi support would include financial backing for minority Sunnis in the event of a civil war between them and Iraq's Shiite majority. Violence between the two sects has exploded in waves of revenge killings since February's bombing of a revered Shiite mosque in Samarra, north of Baghdad. The White House dismissed the report. "That's not Saudi government policy," press secretary Tony Snow said in Washington, according to The Associated Press...
---
12.13.06 Analysis: Experts divided on Iraq proposal
Originally aired December 12 – Following up on a series of conversations about US Iraq policy, six guests debate the Iraq Study Group and President Bush's response to the different options offered.

RAY SUAREZ: Several weeks ago, the NewsHour ran a series of discussions on ideas for Iraq. Now that the Baker-Hamilton Iraq Study Group has issued its recommendations, we've brought back our discussion participants for their thoughts. They are: Phyllis Bennis, who advocated an immediate U.S. withdrawal; Peter Galbraith, who proposed decentralizing Iraq; Michael Vickers, on training the Iraqi army; Eric Davis on bolstering reconstruction; Frederick Kagan on sending more American troops; and James Dobbins on the use of diplomacy.

...FREDERICK KAGAN, American Enterprise Institute: We've done a good job of putting together a panel where every one of us has a different elephant in the room. For me, the elephant in the room is security. The fact of the matter is that it's never been the primary mission of the US military presence in Iraq to establish security for the people of Iraq, and that's a fundamental failure. When you go back to Counterinsurgency 101, establishing security for the population is key.

...MICHAEL VICKERS: And for that matter, the security situation is inextricably linked to politics. If you can solve some of the Iraqi political problems, the security situation becomes manageable. If you can't, as the ISG report quotes a senior American general, all the forces in the world aren't going to change that.

PHYLLIS BENNIS: I think the identification, though, of what the problem is, is crucial here. The occupation itself is fomenting an enormous level of violent resistance to that occupation. It's within that protective environment that terrorist forces are operating. The terrorist forces are those – I define as those who are killing civilians, who are committing crimes against the Iraqi civilian population. They are operating within an environment in which 61 percent of Iraqis say they support military attacks against US troops. They don't support the attacks against Iraqis, but that gives them the ability to move; it makes it impossible to identify them and eliminate them as a fighting force.

...PETER GALBRAITH: Look, the facts on the ground are that the country is broken up, and what we're doing is largely irrelevant. We're not going to put it back together again. We're not going to build Iraqi army units, unless you can explain – and perhaps in your time you might answer this – how do you get them to behave like Iraqis, when in fact they consider themselves to be Sunnis, Shiites and Kurds? So the reality is that the country is broken up. [Full debate>>pbs.org]
---
12.13.06 Guerrillas kill 4 in central India
NEW DELHI, December 13 – Guerrillas killed four people, including a constable and three civilians designated as special police officers (SPOs) early Wednesday in central Indian state Chhattisgarh. About 250 armed militants tried to storm into a relief camp in Bijapur of the state at around 2:00am Wednesday and exchanged fire with the police and SPOs, said R.K. Vij, the inspector general of Bastar. The gun battle lasted for 15 minutes resulting in the deaths of three SPOs and a constable, he said. Chhattisgarh is one of the 13 states affected by violence of local guerrillas. According to the police, about 400 people, including 321 civilians, have been killed in the violence since January in the state. [>thenews.com.pk]
---
12.13.06 Pakistan 'equipping the Taliban'
December 13 – A governnment-controlled newspaper in Afghanistan has accused Pakistan's government of equipping the Taliban and sending them into the country. The editorial came as Hamid Karzai, the Afghan president, said that Pakistan was trying to turn his people into "slaves." Pakistan has responded that the roots of the problem are in Aghanistan.

"For a long time, our country has been exposed to invasions and threats," Anis said in the editorial. "The country's current crisis of military challenge is the result of direct and indirect interference of Pakistan." Fighting in Afghanistan has been the worst this year since the Taliban's overthrow in 2001, with about 4,000 people killed, a quarter of them civilians. "Pakistan still hasn't given up the hope of making us slaves. But they cannot," Karzai said in a speech at a boys' high school in the southern city of Kandahar, the birthplace of the Taliban. [More>>aljazeera.net]
---
12.13.06 Serbia, Russia condemn Iran for Holocaust deniers' conference
(AP) December 13 – Serbia and Russia on Wednesday join international calls condemning an gathering of Holocaust deniers hosted and sponsored by the Iranian government in Tehran. Serbia called the conference a "damaging and pseudo-scientific" event. The Balkan country's Foreign Ministry said in a statement that the two-day conference that began Tuesday in Tehran is an "attempt to deny undeniable facts about the tragedy of the Jewish people during World War II." Participants at the gathering, supported by Iran's President Mahmoud
Ahmadinejad, have questioned the Holocaust's death toll of 6 million or if it took place at all.

Serbia's government considers the gathering a "damaging and pseudo-scientific manifestation that cannot contribute to dialogue between cultures and religions," it said. During the Nazi occupation of Serbia and other parts of the then Yugoslav Kingdom, tens of thousands of Jews died. Less than half of Serbia's 30,000-strong Jewish community before World War II survived the Holocaust. Many later moved to Israel or to the West. Meanwhile, Russia's Foreign Ministry on Wednesday criticized Iran for hosting a conference of Holocaust deniers, saying Moscow opposed "the
concealment of the truth about the monstrous crimes of the Nazis." ...Some scholars estimate that as many as 2 million Jews from the Soviet Union died in the Holocaust following the Nazi invasion of the country in World War II. [Full story>>haaretz.com ; See also rian.ru, December 13, "Russia against distortion of Holocaust history at Iran conference."]
---
12.12.06 Massive mountain range imaged on Saturn's moon Titan
December 12 – The tallest mountains ever seen on Titan – coated with layers of organic material and blanketed by clouds – have been imaged on Saturn's moon Titan by NASA's Cassini spacecraft. "We see a massive mountain range that kind of reminds me of the Sierra Nevada m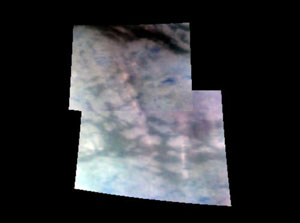 ountains in the western United States. This mountain range is continuous and is nearly 100 miles long," said Dr. Bob Brown, team leader of the Cassini visual and infrared mapping spectrometer at the University of Arizona, Tucson.

During an Oct. 25 flyby designed to obtain the highest resolution infrared views of Titan yet, Cassini resolved surface features as small as 400 meters (1,300 feet). The images reveal a large mountain range, dunes, and a deposit of material that resembles a volcanic flow. These data, together with radar data from previous flybys, provide new information on the height and composition of geologic features on Titan. If Titan were Earth, these mountains would lie south of the equator, somewhere in New Zealand. The range is about 150 kilometers long (93 miles) and 30 kilometers (19 miles) wide and about 1.5 kilometers (nearly a mile) high. Deposits of bright, white material, which may be methane "snow" or exposures of some other organic material, lie at the top of the mountain ridges.

"These mountains are probably as hard as rock, made of icy materials, and are coated with different layers of organics," said Dr. Larry Soderblom, Cassini interdisciplinary scientist at the U.S. Geological Survey, Flagstaff, Ariz. He added, "There seem to be layers and layers of various coats of organic 'paint' on top of each other on these mountain tops, almost like a painter laying the background on a canvas. Some of this organic gunk falls out of the atmosphere as rain, dust, or smog onto the valley floors and mountain tops, which are coated with dark spots that appear to be brushed, washed, scoured and moved around the surface." [More>>saturn.jpl.nasa.gov]
---
12.12.06 Siixty killed in Baghdad suicide truck bomb
BAGHDAD, December 12 – A suicide bomber targeting laborers killed 60 people Tuesday in Baghdad and wounded 220 others, Iraqi officials said. A pickup truck, loaded with about 440 pounds (200 kilograms) of explosives, pulled into central Baghdad's Tayaran Square as hundreds of unemployed Iraqis holding picks and shovels gathered seeking a day's work. The truck driver signaled to the would-be workers that he had jobs -- prompting people to crowd around the pickup before he detonated his bomb, said an Iraqi Interior Ministry official. [More>>cnn.com]
---
12.12.06 Poll: 7 of 10 Americans disapprove of handling of Iraq War
December 12 – Negative assessments of the war in Iraq – the central issue in last month's midterm election – continue to hold down President Bush's job approval ratings and could cast a pall on the final two years of his presidency. In a new Post-ABC News poll, seven in ten Americans disapprove of the way the president is handling the situation in Iraq -- the highest percentage since the March 2003 invasion. Six in ten say the war was not worth fighting. [More>>washingtonpost.com]
---
12.12.06 Sons of Hamas opponent shot dead in Gaza
December 12 – The three young children of a senior Palestinian intelligence officer were shot dead in cold blood yesterday as they were being driven to school, in the most savage murder yet during a wave of internal violence. The three sons, under the age of 10, of Bahaa Balousha, 34, a past opponent of Hamas, along with a bodyguard who was accompanying them, were all killed when masked gunmen drove across their path and sprayed their white Skoda car with dozens of bullets in a busy Gaza City street shortly after 7am. There was no immediate claim of responsibility for the attack, which provoked angry calls from local activists in the opposition Fatah faction for the resignation of the Hamas-elected Palestinian Authority for failing to stem a rising tide of violence in the Gaza Strip. [More>>independent.co.uk]
---
12.12.06 Six killed in Afghan suicide attack
KANDAHAR, Afghanistan (AFP) December 12 – At least four police and two civilians were killed in a suicide attack Tuesday at the governor's house in Afghanistan's southern Helmand province, police said. The attack came as President Hamid Karzai attended a high-level security conference in Kandahar, which borders on Helmand. The bomber sneaked into the heavily-guarded compound in Lashkargah during working hours at the governor's house, which also hosts police and government offices, provincial police spokesman Mohammad Nabi Mullahkhil said. "It was a suicide attack which left four policemen and two civilians dead as well as injuries to eight other people," the spokesman said. "He blew himself up causing casualties and panic." [More>>metimes.com]
---
12.12.06 'Saddam faces quick execution, no monument'
BAGHDAD (AFP) December 12 – Saddam Hussein and two top aides convicted with him will be executed immediately after an appeals court confirms their sentences and may be buried in secret, an official said on Tuesday. A senior Iraqi government official said he fully expected the judicial panel studying the ousted dictatorıs appeal to confirm death sentences on Saddam, his half brother Barzan Al Tikriti and a former judge, Awad Al Bandar. "We are considering the possibility of executing the three, Saddam, Barzan and Bandar at one time on the same day," the official told AFP, speaking on condition of anonymity because the court is supposed to be independent. "We may bury Saddam at a secret location," he said. [More>>khaleejtimes.com]
---
12.12.06 Join the British Army and become a martyr, say Muslims
December 10 – A Government-backed Islamic organization is teaching young Muslims that dying while fighting for the British armed forces is an act of martyrdom. The British Muslim Forum (BMF) explains to young people that even if a Muslim soldier dies in combat while fighting in an Islamic country such as Afghanistan, he will still be regarded as a martyr and a hero for this country. The BMF is holding talks across Britain to persuade young people not to follow the teachings of Muslim extremists who instruct their followers that joining the British military is a "traitorous act." Its aim is to counter radicalsı misuse of the term "martyr," which has become associated with terrorist suicide operations. The BMF was a leading member in a task force set up by Tony Blair after the July 7 bombings to combat extremism among Muslims. [More>>timesonline.co.uk]
---
12.12.06 Philippine court freezes account of Muslim charity
MANILA (AP) December 12 – A court in the Philippines has frozen the local bank account of a Saudi-based charitable organization because of suspicions it has been used to bankroll terror activities, the court said Tuesday. The Court of Appeals said in a written ruling it found "probable cause" that an account of the International Islamic Relief Organization's local office may have been used for illegal purposes. The court granted a request by the Anti-Money Laundering Council to freeze the account for at least 20 days. The order, which could be extended, prevents any withdrawals from the account. It also paves the way for an investigation of the account, the court said. [More>>thejakartapost.com]
---
12.12.06 Japanese follow Shell on Sakhalin
December 12 – The Japanese partners in the Sakhalin-2 gas project have said they will follow the lead of Shell after reports that the oil group may hand control of the project to the state-run Russian company, Gazprom. A report in the Financial Times newspaper on Tuesday said that Shell, had "succumbed to pressure" and offered majority control to Gazprom...Russia suspended all work on the project in September on the grounds of environmental concerns, but some foreign investors accuse Moscow of attempting to reassert control of its energy resources. [Full story>>aljazeera.net ; See also rian.ru, December 12, "Requirements for Gazprom in Sakhalin-II same as for other investors."]
---
12.12.06 Nissan to launch hybrid cars in 2010
TOKYO, December 12 – Nissan Motor Co. said Monday it will try to launch a gasoline-electric hybrid car using its own technologies in fiscal 2010 for the Japanese and North American markets. Under its new mid-term environmental action plan, Nissan said it will also try to sell a gas-fueled car that will run 100 kilometers on three liters of fuel, starting from Japan in fiscal 2010. [>japantoday.com]
---
12.11.06 Pakistan terms International Crisis Group report as 'baseless'
ISLAMABAD, December 11 – A report by International Crises Group said that Pakistani pacts with pro-Taliban militants on the Afghan border have facilitated attacks on foreign troops in Afghanistan and allowed the militants to expand influence in Pakistan. Instead of appeasing militants, Pakistan must impose the rule of law in its semi-autonomous tribal lands on the border, where Taliban and al Qaeda sympathizers have sheltered since2001, disarm the militants and shut their training camps, the International Crisis Group said.

"Despite Pakistani denials, the tribal belt, particularly agencies such as the Waziristans, remains a Taliban sanctuary and a hub for attacks on the US-led coalition and NATO ...forces and the Afghan government," the Brussels-based group said in a report to be released on Monday. Foreign Ministry spokeswoman Tasnim Aslam termed the International Crisis Group report as 'baseless,' but referred reporters to a recent UN report, which she said had more credibility. [More>>thenews.com.pk]
---
12.11.06 New avian flu case confirmed at Gimje, South Korea farm
December 11 – The government yesterday confirmed a new case of highly pathogenic bird flu at a poultry farm in southwestern Korea. The Ministry of Agriculture and Forestry said the latest case of avian influenza is suspected of having killed over a thousand quail at a farm in Gimje, North Jeolla Province. "An examination of the dead quail showed that the deaths were caused by a highly pathogenic strain of avian influenza," said Lee Sang-kil, director of the ministry's livestock bureau. The highly pathogenic strain of the H5N1 virus is deadly to humans. The discovery was the third of its kind since the first case was discovered at a farm in Iksan, 18 kilometers north of Gimje three years ago. The second case was also discovered in Iksan on Nov. 25 this year. [More>>koreaherald.co.kr]
---
12.11.06 Kovtun's ex-wife in hospital with suspected polonium-210 poisoning
BERLIN (RIA Novosti) December 11 – The ex-wife of a witness in the case of a former Russian security officer, her two children and boyfriend have been hospitalized in Germany with suspected polonium-210 poisoning, the head of the investigation team in Hamburg said Monday. He said a medical examination will show if their organisms contain a dangerous concentration of the radioactive element. Authorities did not identify them by name.

Businessman Dmitry Kovtun met with defector Alexander Litvinenko around the time of his poisoning at the beginning of November. Litvinenko, an outspoken critic of President Vladimir Putin's administration and a close associate of fugitive oligarch Boris Berezovsky, died in a London hospital after four days in a critical condition. His body was found to contain a lethal dose of radioactive polonium-210. Kovtun is now reported to have been hospitalized with similar symptoms. [More>>rian.ru ; See also independent.co.uk, December 11, "Russian businessman named as radiation source in murder case."]
---
12.11.06 France to bring Pinochet allies to trial
PARIS (AFP) December 12 – French judges still intend to bring 17 allies of Augusto Pinochet to trial over the disappearance of four French citizens in the 1970s despite the Chilean dictator's death, a legal official said today. The trial, which could get underway in early 2008, would be the first time members of Pinochet's regime, which is blamed for the deaths of some 3000 people between 1973 and 1990, are made to face justice.

Nineteen people – Pinochet and top figures from his military dictatorship – have been targeted by international arrest warrants issued by a French judge over the disappearance of four Frenchmen in Chile between 1973 and 1975. The warrants, issued in 2001 and renewed in 2005, said they were wanted for illegal "arrests, abduction and detention accompanied by acts of torture" or complicity in those crimes.

Pinochet's death formally closes the chapter of the inquiry against him, while a second figure, former Chilean general Javier Palacios Ruhmann, died in June before he could be brought to trial. But 17 top figures including Manuel Contreras, founder of the secret police under Pinochet, and Paul Schaefer, who founded Colonia Dignidad, a sect and camp for political prisoners in the Andes mountains, still stand to face trial. [More>>theaustralian.news.com.au]
---
12.11.06 Annan criticizes US in farewell speech
INDEPENDENCE, Mo. (AP) December 11 – UN Secretary-General Kofi Annan, in his farewell address, criticized the Bush administration, warning that America must not sacrifice its democratic ideals while waging war against terrorism. In remarks prepared for delivery Monday at the Truman Presidential Museum and Library, Annan also said the Security Council should be expanded. "Human rights and the rule of law are vital to global security and prosperity," Annan's text said. When the US "appears to abandon its own ideals and objectives, its friends abroad are naturally troubled and confused," he said. [More.>washingtonpost.com]
---
12.11.06 Iran students heckle Ahmadinejad
December 11 – Iranian students disrupted a speech by Mahmoud Ahmadinejad, the Iranian president, at a prestigious Tehran university, setting fire to his picture and heckling him. The Fars news agency, which is close to Ahmadinejad, said on Monday: "Some students chanted radical slogans and inflamed the atmosphere of the meeting" at the Amir Kabir University. "A small number of students shouted 'death to the dictator' and smashed cameras of state television but they were confronted by a bigger group of students in the hall chanting: 'We support Ahmadinejad,'" it said. Ahmadinejad responded by calling the rebellious students an "oppressive" minority. [More>>aljazeera.net ; See related metimes.com, December 11, "Iran in first election test since Ahmadinejad win."]
---
12.11.06 Somalia warns of "grave danger" of regional war
MOGADISHU (AFP) December 11 – Somaliaıs government on Monday said its stand-off with the countryıs powerful Islamic movement posed a "grave danger" to the region and urged the world to step in and avert a looming all-out conflict. As Islamic and government forces faced off in southern Somalia after two days of deadly clashes that claimed dozens of lives, the government said a full-scale war in the lawless country would spill across borders. [More>>khaleejtimes.com]
---
12.10.06 Neo Culpa
December 10 (Article by David Rose) – Please don't call them "architects of the war" : Richard (Prince of Darkness) Perle, David (Axis of Evil) Frum, Kenneth (Cakewalk) Adelman, and other elite neoconservatives who pushed for the invasion of Iraq are beside themselves at the result.

I: About That Cakewalk ...

I remember sitting with Richard Perle in his suite at London's Grosvenor House hotel and receiving a private lecture on the importance of securing victory in Iraq. "Iraq is a very good candidate for democratic reform," he said...Perle seemed to exude the scent of liberation – not only for Iraqis, but for all the Middle East. After the fall of Saddam Hussein, Perle suggested, Iranian reformers would feel emboldened to change their own regime, while Syria would take seriously American demands to cease its support for terrorists

...According to Perle, who left the Defense Policy Board in 2004, this unfolding catastrophe has a central cause: devastating dysfunction within the Bush administration. The policy process has been nothing short of "disastrous," he says. "The decisions did not get made that should have been. They didn't get made in a timely fashion, and the differences were argued out endlessly. At the end of the day, you have to hold the president responsible."

...David Frum, the former White House speechwriter who co-wrote Bush's 2002 State of the Union address, accusing Iraq of being part of an "axis of evil," says it now looks as if defeat may be inescapable, because "the insurgency has proven it can kill anyone who cooperates, and the United States and its friends have failed to prove that it can protect them." [Full story>>vanityfair.com, January 2007]
---
12.10.06 Civilians killed in Darfur attack
December 10 – About 30 civilians have been killed in an attack by gunmen on a convoy carrying medical and relief supplies in the Darfur region of western Sudan. "Some people were shot, others were burned to death," said United Nations spokeswoman Radhia Achouri. The attack appears to be the work of the pro-government Janjaweed militia, the BBC's Jonah Fisher in Sudan says. About 200,000 people have been killed in Darfur since 2003, when rebels took up arms against the government. Since then, an estimated two million people, mostly black Africans whose villages have been attacked by the Arab Janjaweed, have fled their homes. The Sudanese government has rejected a UN Security Council resolution authorising the deployment of UN troops and police to Darfur. [More>>bbc.co.uk]
---
12.10.06 Gunmen kill Shi'ite families in Baghdad after raid
BAGHDAD (Reuters) December 10 – Gunmen killed nine members of two Shi'ite families in Baghdad Sunday a day after militias raided a mixed neighborhood and forced dozens of Sunni families to flee in a serious escalation of sectarian violence. Officials and relatives of the victims said about 30 gunmen stormed a home in a mostly Sunni area in southwestern Baghdad and killed five brothers from one family after separating them from the women. A father and three sons from another family, all of them policemen, were also killed. [More>>thestar.com.my ; See also turkishpress.com, December 10, "At least 26 killed in Iraq attacks."]
---
12.10.06 Talabani rejects "dangerous" US report on Iraq
BAGHDAD (AFP) December 10 – Iraqıs President Jalal Talabani on Sunday angrily rejected the ³dangerous² recommendations of a high-level US report that pushed for a change of American strategy in the war-torn country. Talabani told journalists that the Iraq Study Groupıs call for the United States to pressure Baghdad into speeding up its process of national reconciliation was an insult to Iraqıs national sovereignty.

"If you read this report one would think that it is written for a young, small colony that they are imposing conditions on, neglecting the fact that we are a sovereign country, and respected," he said. The president was angered by the recommendation that more US troops be directly assigned to Iraqi army units, demanding instead that Prime Minister Nuri Al Maliki be given full command of all Iraqi forces. "Our Iraqi people are able to run the country, we've proven that," he insisted, noting that the country has held two elections and a referendum. "Perhaps many people are surprised that we haven't been able to achieve security? Itıs because our hands are tied. The prime minister cannot move 10 soldiers from a place to another place. How can we provide security?" he asked. [More>>khaleejtimes.com]

Editorial note: Defending Babylon. There seems to be a big disconnect between the Iraqi leadership and the US leadership. Media coverage also seems to be disconnected from the reality of the situation. Everyone involved seems to be talking over the heads of others. Iran offered to help in bringing peace to Iraq if the US commits to pulling its troops out of Iraq; US "talking heads" say that Iran and Syria are welcome in the talks if they stop supporting terrorism and support the cause of bringing peace to Iraq. President Bush has declared – and will continue to declare, until the US leaves or is thrown out of Iraq – that "We will not leave Iraq without victory." Commentators from all sides theorize on what Bush really means by "victory." Not long ago (February 2005) a conference of Arab states had a similar problem attempting to define what a terrorist is. Freedom fighters were not viewed as terrorists, for instance.

There is another disconnect on the issue of terrorism. President Bush sent troops to Iraq in the war against terrorism and maintains that position as a criteria in achieving victory in Iraq. In the mean time terrorists are actively conducting acts of war against civilians. This, of course, is a characteristic of the war in Iraq: militants murdering civilians, Sunni against Shia, Shia against Sunni, etc. Pundits argue against the chaos in Iraq spilling over into adjacent states, ignoring the reality that Kurds have been murdering civilians in southern Turkey whilst being given refuge in the Kurdistan region of northern Iraq. Iran has also been fighting the Kurds in northern Iraq who have been supporting Kurdish insurgents in Iran. Refugees from the chaos have been spilling into Syria and Jordan. The reality is that the chaos characterized by the murder of civilians has been a regional conflict and in 2001 spread to American shores.

In essence the terrorists who have been murdering civilians – in the Holy Land (2,500 years ago Herodotus called the place Palestine), Afghanistan, Sinai, Lebanon, India, Sri Lanka, Turkey, Spain, the UK and the US, etc., – think they are freedom fighters. Host countries who have supplied militants, or given refuge to them, such as Saudi Arabia, Syria and Iran, seem to agree, that they are supporting freedom fighters.

We lament that there is no international accord descrying the murder of civilians. One might think that at least the accord would begin with those who believe in God, but those are the ones who are in the front ranks of the murderers. I asked God the other day why he is supporting terrorists. He didn't answer. But I did hear a lot of babel – noise coming from disparate interests and nations on the merits of freedom fighting and God – and it was centered around Babyon of all places.

Mel Copeland
---
12.10.06 Bomb kills six militiamen in eastern Afghanistan
KABUL, December 10 – A remote-controlled bomb killed six militiamen fighting Taliban rebels in southeast Afghanistan, while two NATO soldiers were injured in the south, officials said Sunday. "A remote control bomb struck their vehicle and killed all six people on board," police chief of Paktia province said, adding the bomb was detonated in Waja Mangal late Saturday. Separately at least two NATO-led troops were injured and vehicles were damaged Sunday when armed rebels attacked in southern Afghanistan. [More>>thenews.com.pk]
---
12.10.06 Israel, Jordan, Palestinians, launch study on topping up Dead Sea
(Reuters)December 10 – Israel, Jordan, and the Palestinians on Sunday agreed to proceed with a feasibility study of a $2-4 billion project to top up the Dead Sea with water from the Red Sea, officials said on Sunday. The official said the tripartite meeting, attended by World Bank officials, agreed to tender out soon the World Bank-sponsored feasibility study of the project to reverse a 25 meter fall in the level of the Dead Sea in the past century. Officials said Israel, Jordan and the Palestinian Authority were committed to the 180 km "Two Seas Canal" plan despite stalled peace talks between Israelis and Palestinians.

"This project will help ease the shortage of water for all of us. A peace agreement is a piece of paper that can be cemented only though economic projects," Israeli National Infrastructure Minister Benjamin Ben Eliezer told reporters. The Dead Sea, the lowest point on the earth's surface, has been shrinking because of increased use of water upstream from the Jordan River, the Dead Sea's main source. [More>>haaretz.com]
---
12.10.06 Discovery takes off on a complex mission
CAPE CANAVERAL, Fla., December 10 – Night became day on Saturday as the shuttle Discovery muscled its way off of the launching pad with a shuddering roar on a mission to rewire the International Space Station... The 12-day mission promises to be one of the most complex in the history of the shuttle program. The astronauts are to install a stubby extension to the stationıs structure and reconfigure its electrical system to receive power from new solar arrays.

The mission also includes a tricky effort to coax a solar array that has been standing atop the station for six years to fold itself into a more compact form, out of the way so that the new array can rotate to face the sun continuously. The work will prepare the station to generate the power it will need for the next rounds of construction and expansion, and to meet the needs of a crew that will eventually double to six from three. Spacewalkers will unplug and reattach 112 power connectors in the process. [Full story>>nytimes.com]
---
12.10.06 Life thrives at searing sea vent
OSLO, Norway (Reuters) December 10 – Marine creatures are thriving by a record hot volcanic vent in the Atlantic and in dark waters under thick Antarctic ice, boosting theories that planets other than earth are suitable for life, scientists said today. About 150 new types of fish were among 500 new marine species, including furry crabs and a lobster off Madagascar, found in the seas this year, according to researchers in the 70-nation Census of Marine Life. Many species were found in places long thought too hostile for life - including by a vent spewing liquids at 407 degrees celsius and other habitats that were dark, cold or deep. Some places seemed as inhospitable as planets such as Mars or Venus.

...Among discoveries this year were shrimps, clams and bacteria living by the searing 407-degree vent on the floor of the Atlantic Ocean north of Ascension Island, the hottest sea vent ever documented and more than hot enough to melt lead... discoveries could be encouraging for the search for life elsewhere in the universe. Some experts speculate that Jupiter's moon, Europa, could hide an ocean beneath its frozen surface and Ausubel noted life has been found on Earth beside subsea methane seeps – Saturn's moon, Titan, also has methane. And NASA said last week it had found signs of liquid water on Mars. [Full story>>theaustralian.news.com]
---
12.09.06 Court weighs Rumsfeld torture claim
December 9 – The American Civil Liberties Union and Human Rights First have argued before a US federal court that Donald Rumsfeld, the outgoing secretary for defence, should be held accountable for torture and abuse. The hearing marked the first time a court has considered whether top US officials can be held accountable for torture in Iraq and Afghanistan. "There must be legal accountability in a court of law for high-ranking government officials who order or allow torture in violation of the most fundamental legal norms that govern our society," said Lucas Guttentag, an ACLU lawyer and lead counsel in the case.

The ACLU, Human Rights First, retired military leaders, and the law firm of Lieff Cabraser Heimann and Bernstein filed the case in March 2005 on behalf of nine civilians who were detained by the US military in Iraq and Afghanistan. "Torture is universally prohibited but Secretary Rumsfeld and the other defendants have not been held responsible for the orders they gave and the abuse they permitted," said Guttentag. [More>>aljazeera.net]
---
12.09.06 Congresswoman McKinney introduces articles of impeachment against Bush
December 9 – David Swanson of afterdowningstreet.org reports: Congresswoman Cynthia McKinney has introduced articles of impeachment against George Bush, Dick Cheney, and Condoleezza Rice. In doing so, she has spoken for the 51 percent of Americans who Newsweek says want Bush impeached. Read McKinney's remarks. McKinney charges that Bush, Cheney, and Rumsfeld manipulated intelligence and lied to justify war, and that Bush has engaged in illegal domestic spying. The former charge has been extremely well documented (See afterdowningstreet.org "key documents." The former charge was central to the concern of those who included impeachment in the US Constitution. The latter charge is one of openly violating a law that was established in response to President Richard Nixon's impeachable offenses.

Sunday, December 10th, is Human Rights Day, the 58th anniversary of the adoption of the Universal Declaration of Human Rights, a document that lays out, in 30 short articles, rights that every human should have protected. Eleven out of the 30 have clearly been violated in the United States by President Bush and his administration, rights including:

Article 5: No one shall be subjected to torture or to cruel, inhuman or degrading treatment or punishment.
Article 6: Everyone has the right to recognition everywhere as a person before the law.
Article 9: No one shall be subjected to arbitrary arrest, detention or exile.
Article 12: No one shall be subjected to arbitrary interference with his privacy, family, home or correspondenceŠ.

This Human Rights Day, many rallies for impeachment will be held all over the country. [End article]
---
Editorial note: The Iraq Study Group Report of December 6 carried an unusual charge that may perhaps be added to the other Constitutional violations by George W. Bush: Recommendation # 72, "Costs for the war in Iraq should be included in the President's annual budget request, starting in FY 2008: the war is in its fourth year, and the normal budget process should not be circumvented. Funding requests for the war in Iraq should be presented clearly to Congress and the American people. Congress must carry out its constitutional responsibility to review budget requests for the war in Iraq carefully and to conduct oversight."

This appears to be a charge that Bush circumvented constitutional provisions that provide for Congressional budget authority and review. We wonder whether Bush has also falsified the Federal Budget "Balance Sheet" with regard to accurately reporting deficits.

Mel Copeland
---
12.09.06 Taliban gunmen kill 5 family members
GHWANDO, Afghanistan (AP) December 9 – Following up on a death threat, Taliban militants broke into a house and fatally shot two teachers and three other family members, bringing to 20 the number of educators slain in attacks this year, officials and a relative said Saturday. A NATO spokesman, meanwhile, said an investigation had begun into allegations that British troops fired at civilians, killing one and wounding six, after a suicide bombing attack on their convoy last weekend. [More>>washingtonpost.com]
---
12.09.06 Hundreds of UK troops seize Iraqi militants
December 9 – More than 1,000 British and Danish troops , backed by tanks, helicopters and boats, arrested five supporters of Muqtada al-Sadr yesterday in the biggest attack mounted by Allied forces in Basra since the Iraq invasion three years ago. Forces using 14 main battle tanks, Warrior armored vehicles, and amphibious craft mounted a night raid on houses in five areas near the Shatt al-Arab waterway where four British troops were killed last month on a river patrol. As amphibious landings took place, about 800 British troops and 200 Danish troops fought Iraqis who were using small arms fire, rocket-propelled grenades and a roadside bomb.

...An arms cache was found in one of the houses which included Katyusha rockets, roadside bombs, rifles and rocket-propelled grenades. The soldiers also found plastic explosive and fuses, as well as photographs of the militia they were seeking. They took away computers and will scour them for information. The five Iraqis who were detained were described by army commanders as members of "a rogue, breakaway element" of one of the many Shia militias operating in the area. [Full story>>independent.co.uk] ; See related story, nytimes.com, December 9, "Black-market weapon prices surge in Iraq chaos." : SULAIMANIYA, Iraq, December 10 — The Kurdish security contractor placed the black plastic box on the table. Inside was a new Glock 19, one of the 9-millimeter pistols that the United States issued by the tens of thousands to the Iraqi Army and police...
---
12.09.06 Report: Police seize Turkey's al-Qaida leader
(AP) December 9 – Police detained 10 suspected al-Qaida militants, including a lawyer who identified himself as the groupıs leader in Turkey, the state-run Anatolia news agency reported Saturday. The 10 were detained in simultaneous raids in Istanbul, Ankara and Izmir, the agency reported. It did not say when the operations took place. The group was under surveillance for more than a year and the raids were ordered after authorities determined the group had obtained materials to make bombs, the report said. [More>>msnbc.msn.com]
---
12.09.06 Israeli PM calls for action against Iran
BERLIN (Reuters) December 9 – Israeli Prime Minister Ehud Olmert has called for more dramatic measures to be taken against Iran and declined to rule out a military attack against Tehran in an interview with Germany's Spiegel magazine. Mr Olmert criticised the international community's hesitation in dealing with President Mahmoud Ahmadinejad. The West fears Iran's nuclear program is aimed at developing nuclear weapons but Tehran denies this.

"I am anything but happy," Mr Olmert was quoted as saying in an interview released ahead of publication tomorrow. "I expect significantly more dramatic steps to be taken. Here is a leader who says openly that it is his aim to wipe Israel off the map. Israel is a member of the United Nations. That someone says such a thing these days is absolutely criminal." [More>>theaustralian.news.com ; See related story, metimes.com (AFP) December 9, "Iran ready to help US withdrawal from Iraq." : MANAMA – Iran is ready under certain circumstances to help the United States withdraw its troops from neighboring Iraq, foreign minister Manouchehr Mouttaki said Saturday. "If the United States changes its attitude, the Islamic Republic of Iran is ready to help this administration" to withdraw its troops from Iraq, Mouttaki told a Gulf security conference in Bahrain, the home base of the US Fifth Fleet. "The key to solve Iraq's problems is the withdrawal of foreign forces from Iraq," he said, adding that "the United States should help themselves before anybody else"...
---
12.08.06 Dueling views pit Baker against Rice
WASHINGTON, December 8 (News analysis by David E Sanger) – Many of the blistering critiques of the Bush administration contained in the Iraq Study Groupıs report boil down to this: the differing world views of Baker versus Rice. Former Secretary of State James A. Baker III was the architect of the "new diplomatic offensive" in the Middle East that the commission recommended Wednesday as one of its main prescriptions for extracting the country from the mess in Iraq. Ever since, he has been talking on television, to Congress and to Iraqis and foreign diplomats about how he would conduct American foreign policy differently. Very differently.

... "They start from completely different places," said Dennis Ross, the Middle East negotiator who worked for Mr. Baker years ago and left the State Department early in the Bush administration. "Baker approaches everything with a negotiatorıs mindset. That doesnıt mean every negotiation leads to a deal, but you engage your adversaries and use your leverage to change their behavior. This administration has never had a negotiatorıs mind-set. It divides the world into friends and foes, and the foes are incorrigible and not redeemable. There has been more of an instinct toward regime change than to changing regime behavior." [Full story>>nytimes.com]
---
12.08.06 Israelies piqued by Gates nuclear "confirmation"
JERUSALEM (Reuters) December 8 – Robert Gates, the incoming US secretary of defence, won plaudits in Washington this week for his candour on the Iraq war. Some Israelis were less pleased, however, to hear Gates mention with equal frankness what US administrations have long avoided uttering in public — that the Jewish state has the Middle Eastıs only nuclear arsenal.

To be fair, it was pretty oblique. During his Senate confirmation hearing on Tuesday, Gates speculated on why Iran might be seeking the means to build an atomic bomb. "They are surrounded by powers with nuclear weapons: Pakistan to their east, the Russians to the north, the Israelis to the west and us in the Persian Gulf," he said. [More>>khaleejtimes.com]
---
12.08.06 Controversy over US air strike
BAGHDAD (AFP) December 9 – Controversy broke out overnight over a US air strike that killed around 20 Iraqis, with the US military claiming the victims were "Al-Qaeda terrorists" while locals displayed the corpses of children. The US military said coalition forces called in an air strike after coming under heavy fire during a raid on two buildings housing suspected militants in Salaheddin province, 80 kilometres north of Baghdad. In all, 20 Al-Qaeda militants were killed by air and ground fire during the raid shortly after midnight on Thursday, it said. But journalists who visited the village of Taima in the aftermath of the strike found and photographed relatives weeping over several mangled bodies, including those of at least two children, near the ruined homes. [More>>theaustralian.news.com.au ; See also aljazeera.net, December 8, "'Childeren killed' in US Iraq raid." : Six children and eight women are among at least 32 people killed in a US air raid northwest of Baghdad, according to Iraqi police and local officials. Khedr Hussein, an Iraqi police major, said 32 people were killed at Ishaqi, 90km north of Baghdad. Mayor Amer Alwan told Reuters news agency that US aircraft bombed two homes in the early hours of Friday. He said 32 civilians were believed to be inside and that of 25 bodies pulled so far from the rubble, eight were women and six children...

Related story: metimes.com, December 8, "British conduct massive raid in Iraq."]
---
12.08.06 Indonesia proposes Muslim-led intervention forces for chaotic Iraq
December 9 – Indonesia says a military force from predominantly Muslim countries should be deployed in Iraq before the United States withdraws. The recommendation is part of a larger proposal to resolve the conflict in the war-torn country. Foreign Minister Hassan Wirayuda said like-minded moderate Islamic countries acceptable to the Iraqis should contribute to the "intervening force," whose deployment should not be seen as an extension of the US-led coalition troops or Iraqi security forces. "This force would not be perceived as enemies by the Iraqis because we're going in there as brothers who are there to help," he said in an interview here Wednesday. The force's capacity should not be measured by its firepower, he added. [More>>thejakartapost.com]
---
12.08.06 Musharraf's proposal gets thumbs-up from US
WASHINGTON (PTI) December 8 – The US has welcomed the reported suggestion by Pakistan President Pervez Musharraf that his country would give up its claim on Kashmir if India accepts his four-point solution, which includes demilitarization and 'self-governance with joint supervision mechanism.' "These are welcome comments and certainly we have encouraged both sides to come together to resolve what has been a thorn in the side of their relationship for many, many decades," State Department spokesman Sean McCormack said yesterday when asked to comment on Musharraf's remarks during an interview to NDTV on Monday. [More>>expressindia.com]
---
12.08.06 Another Litvinenko witness hit by radiation – ifax
MOSCOW (Reuters) December 8 – Andrei Lugovoy, a contact of poisoned Russian ex-spy Alexander Litvinenko, is suffering from radiation poisoning, Interfax news agency said on Friday, quoting medical sources. "Disruption in the functioning of some organs affected by radiation nuclides has been found," the agency quoted a source as saying. It said it had more than one source for the information, which came from Lugovoy's medical notes. Businessmen Lugovoy and Dmitry Kovtun were among the last who saw Litvinenko in London on Nov. 1, the day he fell ill. Litvinenko died on Nov. 23 poisoned by the highly radioactive substance polonium 210. Interfax earlier quoted medical sources as saying that Kovtun, who is being treated in the same Moscow hospital as Lugovoy, was suffering from acute radiation poisoning and was in serious condition. "Lugovoy's condition is considerably better than that of Kovtun, but he also has symptoms of contamination," the sources told Interfax. [>thestar.com.my]
---
12.08.06 Thirsty camels go on rampage in Outback
December 8 – Wild camels are invading remote communities in the Australian deserts, demolishing buildings in a desperate attempt to find water amid the countryıs worst drought. More than 200 camels invaded an Aboriginal town on the edge of the Gibson Desert in Western Australia. The rampaging animals tore at air conditioning units, and smashed taps and toilets to drink from fractured water pipes. [More>>timesonline.co.uk]
---
12.08.06 Nearly 100 ill after manure found in Taco Bell onions
LOS ANGELES, December 8 – The Mexican fast-food chain Taco Bell is at the centre of America's latest food scare, after nearly 100 people were reported to have fallen sick with an acute bacterial infection after eating contaminated green onions at Taco Bell restaurants. The chain immediately dropped the onions at all 5,800 of its North American outlets, and closed dozens of branches along the eastern seaboard. Government investigators working on similar cases are trying to find out how vegetables apparently infected by animal faeces entered the food chain...Michael Pollan, a journalism professor who has written extensively about food safety, said all the recent problems stemmed from the intensive, industrial-style agriculture increasingly practised in the United States.

...The 0157:H7 strain of E.coli was unknown until cattle were taken from their traditional grazing grounds, pushed into industrial feedlots and fed grain and corn instead. Faeces from those animals, in turn, can sometimes enter the water supply on big farms and find its way into irrigation canals in vegetable fields. Professor Pollan recently likened many US farms to giant "petri dishes" in which all sorts of bacterial cultures could grow and thrive. Fast-food chains have taken steps to safeguard their ground beef - which can easily get mixed with faeces - but vegetables represent a new front in the fight for public health. [Full story>>independent.co.uk]
---
Copyright © 1981-2006 Maravot. All rights reserved
Copyright © 1981-2006 Mel Copeland. All rights reserved
Painting of Apple by Mel Copeland, early 70's
Background: tile from Cicero's villa (Marcus Tullius Cicero 106 B.C. - 43 B.C.)