---
6.27.05 Car bomb kills four, wounds 33 in crowded Baghdad market
BAGHDAD (AFP) June 27 – Four people were killed and at least 33 wounded when a car bomb ripped into a crowded market in southeastern Baghdad on Monday, interior ministry and medical sources said. The blast occurred in the capital¹s Baghdad Jadida district, a predominantly Shiite area that hosts the multi-ethnic market, an interior ministry source said. [More>>khaleejtimes.com]
---
6.27.05 Iraqi PM plans for security in two years
June 28 – Iraqi Prime Minister Ibrahim al-Jaafari said security in his country could be established within two years, a task which U.S. Defense Secretary Donald Rumsfeld believes may take up to 12 years. Back in Iraq, dozens of Iraqis were killed or wounded by attacks across the country. Following talks with British Prime Minister Tony Blair, Jaafari said factors such as building up Iraq's own security forces, controlling its porous borders and pushing ahead with the political process would all play a part. "I think two years will be enough, and more than enough, to establish security in our country," he told a news conference. [More>>dailystar.com.lb]

---
6.27.05 'Woman's marriage dissolves if raped by husband's blood relative' – Islamic Court
LUCKNOW, India June 26 – The All India Muslim Personal Law Board (AIMPLB) on Monday ordered a woman raped by a relative to separate from her husband and marry the rapist. The victim, Imrana, 28, wife of Noor Ilahi, was allegedly raped by her father-in-law, Ali Muhammad in Muzaffarnagar district of Uttar Pradesh. AIMPLB, set up in 1972 to protect the rights of Muslim women in the country, said the marriage would have to come to an end. Member AIMPLB Begum Naseem Iqtedar Ali said, "According to the rulings of the Qur¹aan, Imrana¹s conjugal relationship with her husband stood dissolved since she has been raped by the latter¹s blood relative." Speaking to reporters, she said, "Here a sacred relationship had been violated, the consequences of which have to be borne by Imrana and her husband," she said. The ruling are binding on all Muslims in the country, but it was a ruling by a group of local Muslim clerics that Imrana, should marry her rapist and treat her husband as her son. [jang.com.pk]
---
6.26.05 Mars rover "Spirit" climbs to the top – spectacular view of valley below
April 28 – Spirit has been getting a workout trying to climb the most difficult terrain encountered so far by the two rovers that landed on Mars in 2004. Like a hiker walking on loose scree, the rover's wheels began to slip near the top of the "Columbia Hills."

This panoramic image shows the edges of thin rock layers stacked upon each other and tilted from left to right and from back to front toward the viewer.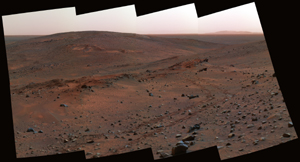 Mars Rover "Spirit" rests atop a ridge while mission drivers plot the road ahead. Click on image for a larger image. The view of the valley below is spectacular, resembling a river valley in the western US. [[image credit:
NASA/JPL
.]
The top of the tilted rocks makes up part of a slope that falls away from view on the left side of the image mosaic. In the foreground is a rock-strewn, sandy slope and in the background is the rounded peak of 'Clark Hill.' Beyond that hill are the flat, sandy plains of Gusev Crater and on the horizon is another range of hills.
Spirit Approaches "Methuselah" Outcrop on Mars
Normally, a rocky slope tilted 12 degrees to 15 degrees would pose little difficulty. The rovers usually perform well on rocky terrain. In this case, however, the rocks were 25 to 30 centimeters (10 to 12 inches) tall and interspersed with loose sand. When a more direct ascent failed, rover drivers told Spirit to zigzag up the hill, much the way trailbuilders traverse from side to side to get up a slope. "Even though we weren't trying to drive directly up the slope, the wheels were digging in," said rover driver Chris Leger, at NASA's Jet Propulsion Laboratory. "We could see potato-size rocks that could get stuck in the wheels so we decided to look for another route."
As the rover backed down the slope, scientists discovered an interesting rock outcrop and decided to stop and take a closer look. For now, Spirit is camped on more level terrain. Scientists nicknamed the outcrop "Methuselah." [More>>
marsrovers.jpl.nasa.gov
]
---
6.26.05 Mars rover looks back at 'Purgatory Dune'
June 21 – The wheels of NASA's Mars Exploration Rover Opportunity dug more than 10 centimeters (4 inches) deep into the soft, sandy material of a wind-shaped ripple in Mars' Meridiani Planum region during the rover's 446th martian day, or sol (April 26, 2005).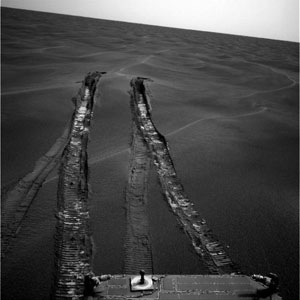 Mars Rover "Opportunity" looks back at sand dune where it was trapped for five weeks. [image credit:
NASA/JPL
. Click on image for larger view.]
Getting the rover out of the ripple, dubbed "Purgatory Dune," required more than five weeks of planning, testing, and carefully monitored driving. Opportunity used its navigation camera to capture this look back at the ripple during sol 491 (June 11, 2005), a week after the rover drove safely onto firmer ground. The ripple that became a sand trap is about one-third meter (one foot) tall and 2.5 meters (8 feet) wide. [More>>
marsrovers.jpl.nasa.gov
]
---
6.26.05 Multiple suicide bombers hit Iraq police, army
MOSUL, Iraq (Reuters) June 26 – Three suicide bomb attacks around the northern city of Mosul killed more than two dozen people on Sunday, many of them from the Iraqi security forces, as insurgents kept up pressure on the US-backed government. In the space of a few hours a suicide car bomber wrecked a police headquarters, an attack on an Iraqi army base killed at least 15 people and four police were killed when a bomber walked into Mosul¹s General Hospital and blew himself up. The third attack, on a police post inside the hospital, damaged the emergency ward where casualties had been brought from the previous incidents. Six policemen and nine civilians were wounded, police told a Reuters reporter at the scene. There was no immediate claim of responsibility for the assault on the hospital but the earlier two bombings were claimed by Al Qaeda¹s Iraq wing, led by Abu Musab al-Zarqawi. [More>>khaleejtimes.com; See also aljazeera.net, "Many killed in Mosul blasts."
---
6.26.05 'Iran can promulgate Islamic civilization worldwide' - Ahmadinejad
June 26 – In a statement published by the Iran Daily (IRNA), the new president of Iran, Mahmoud Ahmadinejad, spoke of spreading Islamic civilization worldwide: "Iran has high capacities and can promulgate Islamic civilization worldwide," he said, noting that the interaction between the Majlis and his future government will fulfill the ideals of the late Imam Khomeini and the leader as well as the demands of the people. He said his government will consider the parliament as its best supporter and advisor, and believes the parliamentarians are sympathizers and assets of the Islamic Revolution. Ahmadinejad expressed hope that the executive branch can manage to utilize the potentials of the Majlis effectively and that the Majlis and the government would be at the service of the people. "Today all the people are happy, not because they selected a particular individual but because they once again created an epic," he said.

Foreign Ministry Spokesman Hamid Reza Asefi said on Saturday the US administration, which claims to be an advocate of democracy, should respect the Iranian nation's choice and stop interfering in Iran's internal affairs. Asefi said the Iranian nation's massive participation in two rounds of presidential election proved their interest in determining their own destiny. He said Iranians' votes also demonstrated their strong opposition to US policies.

The spokesman said the US policies toward Iran are 'incorrect." Though the Americans had already referred to Iranian presidential elections as having 'predetermined' results, he said, now the US State Department spokesman describes the result as being quite "unpredictable and accidental." [Full story>>iran-daily.com; See also khaleejtimes.com, "Iran's Ahmadinejad pledges 'moderation,' more nuclear talks."and turkishpress.com, "Ahmadinejad says Iran will go on with nuclear talks, does not need US."
---
6.26.05 New, advanced weapons for India?
NEW DELHI (PTI) June 26 – Ahead of Prime Minister Manmohan Singh's visit to Washington, the US has indicated its interest for cooperation with India in advanced weaponry and missile defence. This was reinforced during talks visiting US Under Secretary of State for Political Affairs Nicholas Burns had with Foreign Secretary Shyam Saran and senior officials here this week. Bilateral security cooperation is expected to be one of the key areas for discussions Defence Minister Pranab Mukherjee will have with his American counterpart Donald Rumsfeld during his ongoing visit to the US.

He is also meeting Vice President Dick Cheney and National Security Adviser Stephen Hadley. Before leaving for Washington, Mukherjee has made it clear that he was not carrying any shopping list of defence hardware and his visit, the first by an Indian Defence Minister to the US after a long gap, was exploratory in nature. [More>>hindustantimes.com]
---
6.26.05 Rice tells Israel to stop expanding West Bank settlements
JERUSALEM (AP) June 26 – US Secretary of State Condoleezza Rice has turned up the pressure on Israel to stop expanding West Bank settlements, cautioning in her recent visit that Washington wouldn¹t accept new construction, Israeli officials said on Sunday. The US Embassy and Israeli Foreign Ministry refused to comment. But the scolding meshes with US President George W. Bush¹s criticism of settlement expansion after meeting with Palestinian leader Mahmoud Abbas last month. Israeli officials present at a meeting where Rice leveled the criticism said she did not threaten any particular penalty for settlement expansion. But they said she was displeased by construction she saw when traveling from Jerusalem to the West Bank town of Ramallah for meetings with Palestinian leaders a week ago. The officials spoke on condition of anonymity because of the sensitivity of their positions.

Friction between the US and Israel has surfaced over different readings of Bush¹s April 2004 statement that a peace settlement would have to take Israel¹s main settlement blocs into account. Israel continues to build in its largest settlement, Maaleh Adumim, and other established West Bank communities, and to expropriate Palestinian land in annexed east Jerusalem, which the Palestinians claim as capital of a future state. [Full story>>khaleejtimes.com]
---
6.26.05 Bowing to US pressure, Israel to curb arms deals
June 26 – Ze'ev Schiff, reports: Israel has decided to comply with all of Washington's demands in a bid to end the crisis with the United States over arms exports. Prime Minister Ariel Sharon and Defense Minister Shaul Mofaz last week agreed to comply with the Americans' demands regarding the unmanned aerial vehicles (UAV) deal with China and changes in the supervision of Israel's arms exports. On Friday, Sharon instructed an Israeli delegation leaving Sunday for Washington to agree to American demands. The delegation is expected to draft a memorandum of understanding (MOU) on weapons exports with the United States.

Israel hopes this move will end the US sanctions against it, which have been in place for half a year and have caused grave damage to Israel's defense industries and the work relations between the Defense Ministry and the Pentagon. Among other things, the Americans severed their work relations with Defense Ministry Director General Major General Amos Yaron. Yaron said he intends to retire within the next few months.

The export crisis with the US erupted at the end of last year following Washington's demand that Israel not return to China spare parts of Harpy UAVs. The Israeli-manufactured UAVs had been sold to China and were sent here for repairs. This conflict is one of the gravest ever to erupt between the two countries in recent years. The decision to accept all of the US's demands means that once again Israel will have to violate an agreement to supply defense equipment to China, five years after it canceled the Falcon airplane deal. [More>>haaretzdaily.com via rian.ru, Ratmir Orestov's article, "Israel folding military deals with China under US pressure" : ...Israel sold to China some modern weapons and military technology, which, the US said, had been done behind the Pentagon's back. Harpy unmanned aerial vehicles capable of detecting and destroying enemy radars were among them.

Since the 1980s, Israel has sold to China weapons and military equipment worth several billion dollars. Demanding from Tel Aviv explanations on most deals, Washington removed Israel from work to develop the new generation aircraft, F-35 Joint Strike Fighter, froze cooperation in producing the Hunter II UAV, and stopped delivery of parts for night vision devices for Israeli Armed Forces. The US also demanded that some top officials in the Israeli Defense Ministry resign.]
---
6.26.05 'One World, One Dream' slogan for Olympics
June 26 – With the dream of uniting the world around the Rings in 2008, the Beijing Olympic Games has a new slogan -- One World, One Dream. The slogan, presented at a grand ceremony Sunday held at the Workers' Gymnasium in the Chinese capital, replaces the previous one "New Beijing, Great Olympics", which had been used during the city's bid for the 2008 Games.

"One World, One Dream" was selected from more than 210,000 entries received from around the world. "There was no single winner. The slogan embodies the wisdom of hundreds of thousands of people," said Liu Qi, President of the Beijing Organizing Committee for the 2008 Olympic Games (BOCOG). [More>>chinadaily.com.cn]
---
6.26.05 Rurgas to join Gazprom-BASF north European gas pipeline project
ST. PETERSBURG (RIA Novosti) June 26 – German gas company Ruhrgas intends to join Gazprom and BASF in the project to build a north European gas pipeline, Russian President Vladimir Putin said today at a meeting with German businessmen.

Putin said there were plans to build two threads of the gas pipeline and make the pumping volume of the system reach 55 billion cubic meters of gas annually. He added gas would be delivered to Europe in 2010 using one of the threads in the volume of 27 billion cubic meters a year. "Specialists in economics know what it means for the continent's energy sector," the Russian president said. [rian.ru]
---
6.26.05 Wood 'heard two executions'
June 26 – A blindfolded Douglas Wood heard two Iraqi hostages being executed - one at his feet - during his 47 day ordeal at the hands of his captors in Iraq. The freed Australian hostage has told how he heard the two executions at the second house in which he was held. "Over a period of about five days three Iraqis turned up, the first of which was the only one that got out alive," he told the Channel 10. "He came out with me and the other two were shot while I was there."

Mr. Wood said his captors came into his room one night, tapped one of the Iraqi men on the shoulder, and gave him a karate chop. "He collapsed to the ground his head was maybe two inches from my foot and bang, bang, bang - even a silenced gun is very consciously a gun shot in an enclosed space," he said.

The 63-year-old engineer, who was freed two weeks ago by Iraqi troops backed by US forces, said the second Iraqi was shot the next night. "The next night they came in and there was a television set. They turned up the volume ... and then bang and a minute later another bang," he said. "And a few minutes later this water (was) being washed in the alley outside the door in front of my foot which got wet and they broomed it up. "I'm assuming that the last dead man had blood or urine or something that had dropped and they were mopping it up." [theaustralian.news.com.au; See also theaustralian.news.com.au related story, "Ex-hostage hires bounty hunters."]
---
6.25.05 US in talks with Iraq rebels
June 26 – Hala Jaber provided an interesting report that you ought to read. The story has two important dynamics: 1) the fact that several groups of insurgents met with US officials on several occasions, with an apparent motive of the insurgents being to obtain 'a statement from the Bush administration on a timetable for pullout' and 2) "After a discussion about Al-Qaeda activities, the Americans bluntly advised the Iraqis to ³cease all support, logistics and cover for Zarqawi¹s group. 'Only if links to Al-Qaeda were severed would the Americans be ready to discuss Iraqi demands. Our response was that we will never abandon any Muslim who has come to our country to help us defend it,' the commander said..." [Full story> >timesonline.co.uk]
---
6.25.05 New Iranian president-elect vows 'Islamic society'
TEHRAN (AFP) June 25 – Hard line Teheran mayor Mahmood Ahmadinejad swept to a shock landslide victory in Iran¹s presidential election on Saturday, spelling an end to years of hard-fought social reform and setting the Islamic republic on a collision course with the West. Iran¹s all-powerful supreme leader boasted the United States had been ³humiliated deep inside² by the election, which saw moderate cleric Akbar Hashemi Rafsanjan – in favour of resuming dialogue with Washington – trounced by Ahmadinejad.

A self-proclaimed fundamentalist seeking a return to the moral ²purity² of the early years of the Islamic revolution, Ahmadinejad vowed he would ³build up an exemplary, developed and powerful Islamic society.²

³I am highly proud because I received people¹s kindness and trust,² the 49-year-old president-elect told state media. ³Today, all competition should turn into friendship. We are part of a big family that should go hand in hand to build our proud Iran.²
Final results gave Ahmadinejad 61.69 percent against Rafsanjani¹s 35.92 percent. Turnout of the 46.8 million eligible voters was reported at 59.72 percent, slightly lower than last week¹s first round of the vote. Ahmadinejad¹s controversial victory leaves anti-Western ultra-conservatives in complete control of every elected and unelected institution in Iran and effectively slams the door on any chance of reconciliation with the United States. [More>>
khaleejtimes.com
;
See also
haaretzdaily.com
for the Reuters story: "I vote for Ahmadinejad beca
use he wants to cut the hands of those who are stealing the national wealth and he wants to fight poverty ... and discrimination," said Rahmatollah Izadpanah, 41. In wealthier north Tehran, Rafsanjani voters said they feared Ahmadinejad would reverse modest reforms made under Khatami that allow women to dress in brighter, skimpier clothes and couples to fraternise in public without fear of arrest.
"[Rafsanjani][ will prevent society from going backwards and he will give us some freedom," said businessman Morteza, 46...;
Another story,
dw-world.de
, "Iran-EU talks enter Last Chance Saloon" : Germany, Britain and France will attempt once more to persuade Iran to halt uranium enrichment at a meeting in Brussels next week. However, the Islamic state is calling the summit "Europe's last chance". The European Union will try to coax Iran back from the nuclear brink this week, warning Tehran it could be hauled before the UN Security Council if it carries out a threat to resume key atomic activities. The Islamic state – suspected by the United States of wanting to build atomic weapons – is calling the meeting "the last chance for the Europeans" to come up with something worth bargaining for.
Editorial note: The photo of Iranian voters walking to the polls over an American flag illustrates the extent to which the Bush administration has compromised the hope for more moderate governments in the Middle East. The belligerence and bellicose behavior of George W. Bush has only driven the hopes of reconciliation with Iran into the pit. It may be that Bush has been hoping for a rise in the conflict with Iran so that he can launch another invasion into the Middle East to secure his interests in oil. After stabilizing Iraq, in theory – with Aghanistan under his control to the east of Iran – Bush could move his forces into Iran. To do that he would have to neutralize Syria.
Mel Copeland
---
6.25.05 Eight policemen, five Shiite vendors killed in Iraq; other violence
BAGHDAD (AFP) June 25 – The bodies of eight Iraqi policemen, five Shiite poultry vendors and a Shiite Baghdad municipal official were found in three separate areas in and around the capital on Saturday, said security sources and relatives. The policemen, who had been manning a checkpoint on the road between the restive city of Ramadi and the Syrian border to the west, were found at 8:00 am (0400 GMT) after they had been kidnapped by armed men the day before, Lieutenant Colonel Ziad Khalaf said.

In the capital, the body of Fadel Awda al-Luaibi, a member of the municipal council in Baghdad¹s poor Shiite district Sadr City, was found after he had been kidnapped by gunmen overnight from his home in the area, said a source at the interior ministry. And five Iraqi Shiites buying poultry from farms south of Baghdad for resale in the capital were found dead near a river in the Triangle of Death area, a relative of two of them said...The kidnapping and killing of Shiites and Iraqi security force members is an almost daily occurrence in the perilous area dubbed by Iraqis as the Triangle of Death.

Iraqi and coalition forces have detained 51 suspects during raids in the area and further south around Mahawil and Hilla since Thursday as part of the recent expansion of the anti-insurgency offensive dubbed Operation Lightning, a defense ministry statement said...And in the Zankura area of Ramadi, Iraqi soldiers backed by US forces arrested Jubair al-Jilbawi, an alleged partisan of Iraq¹s most wanted man Abu Musab al-Zarqawi during a raid on his home, said the same statement.

It identified the man as the commander of ³The Brigades of God¹s Wrath." In other violence...[More>>khaleejtimes.com]
---
6.25.05 More deaths in fierce Afghan fighting
June 25 – Afghan forces scouring mountains in the country's south have found the bodies of another 76 suspected rebels, bringing to 178 their death toll in some of the deadliest fighting since the fall of the Taliban in 2001. "Our forces have collected the bodies of 76 more rebels from the battlefield," ministry spokesman Zahir Marad said, adding that the corpses had been scattered across a wide mountainous area in and around the Miana Shien district of Kandahar province. Fifty-six suspected rebels have also been captured since Tuesday in a blistering barrage by Afghan and US forces against rebel camps, Marad said. [More>>aljazeera.net; See also turkishpress.com story, "Afghans say Taliban commanders sealed off in military offensive."

---
6.25.05 Italy orders arrests over CIA-linked abduction of Egyptian imam
ROME, June 25 – An Italian judge has ordered the arrests of 13 people in the purported CIA abduction from Milan of an imam who was sent to Egypt, the Milan prosecutor's office said. The imam was believed to have been taken as part of U.S. anti-terrorism efforts. The 13 are suspected of seizing Osama Moustafa Hassan Nasr, known as Abu Omar, from a Milan street on February 17, 2003, and sending him to Egypt where he was reportedly tortured, said Milan prosecutor Manlio Claudio Minale. The US Embassy in Rome and the CIA in Washington declined to comment.

The statement didn't name any of the suspects or mention the CIA by name. But reports in newspapers Corriere della Sera and Il Giorno said prosecutors believe the agents seized Omar as part of the CIA's "extraordinary rendition" program through which terror suspects are transferred to third countries without court approval.

Minale said the suspects remained at large and that Italian authorities would ask U.S. and Egyptian authorities for judicial assistance in the case. Judge Nobile ordered the arrests after investigators traced the agents through check-in details at Milan hotels and their use of Italian cell phones during the operation, the reports said. All the agents are American and three are women, Il Giorno said. The reports said that six more agents are under investigation for helping prepare the operation. [More>>dailystar.com.lb]
---
6.25.05 Chance of bird flu between humans increases – Vietnam
HANOI (Reuters) June 25 – Vietnam's agriculture ministry was quoted as saying on Saturday that the mutation of a bird flu virus was increasing the infection possibility between humans. State-run media cited a ministry report as saying laboratory test results overseas and at home showed the antigen structure of virus is changing.

"The ministry warned in the report that the mutation of the H5N1 virus is raising the possibility of infections on humans, because the test results of international and domestic laboratories showed the virus's antigen structure contained a change," the Saigon Giai Phong (Liberation Saigon) daily said. The mutation of the virus explains why Vietnam did not detect major outbreaks in poultry in recent months but people still fell sick of avian influenza, it said. Officials could not be reached for comment on Saturday.

Bird flu has killed 38 people in Vietnam since it arrived in Asia in late 2003 along with 12 Thais and four Cambodians. Eighteen of the Vietnamese victims have died since December in the latest wave of infections by the virus, which seems to thrive best in the cool of winter. [More>>thestar.com.my]
---
6.25.05 Second BSE case in US 'nosurprise' to Japanese scientists
TOKYO, June 25 – Japanese scientists expressed no surprise Saturday at news of a second case of mad cow disease being confirmed in the United States, and probably the first case involving an American-born cow, saying they already knew about the danger of contamination in the country. "When the United States was saying there is no BSE contamination in a U.S.-born cow, all experts knew there is," said Yasuhiro Yoshikawa, a professor at the University of Tokyo and the head of the prion research panel, a part of Japan's Food Safety Commission. BSE, or bovine spongiform encephalopathy, is the scientific name of the disease.

His panel is currently debating safety risks involved in a government plan to resume imports of American and Canadian beef at the request of the farm ministry and health ministry. Prion is a type of protein that is believed to cause BSE...U.S. Agriculture Secretary Mike Johanns said Friday the United States has confirmed its second case of mad cow disease, dealing a blow to its bid to press Japan to lift its 18-month-old import ban on U.S. beef, which was imposed following the discovery of the first case in December 2003. [Full story>>japantoday.com]
---
6.25.05 US using India to counter Chinese power in Asia
WASHINGTON (PTI) June 25 – (This article illustrates the contradictory foreign policy – or lack of a foreign policy – by the Bush administration with regard to the need for energy to fuel the Indian and Chinese economies, whether it be oil from Iran or nuclear power plants: Maravot News) The proposed gas pipeline involving Iran, India and Pakistan is posing a major foreign policy challenge for the US as it tries to balance its interests in South Asia with its objective to contain Tehran, a major US daily said here.

The proposed Iran pipeline is complicating US South Asia policy and efforts to isolate Tehran. "In a classic foreign policy squeeze, George W. Bush administration is scrambling to show it can support increasing warmth between India and Pakistan while opposing a pipeline that would link the two," The Wall Street Journal said.

The wild card, it says, is Iran, and Washington's long-held desire to tamp down investments there and isolate Tehran's government. Top US officials see the proposed USD four billion pipeline, which would deliver natural gas from Iran to India across Pakistan, as another sign that Tehran is using its natural resources to gain leverage in South Asia." This comes as Washington is trying to avoid tangles with New Delhi while it launches an unprecedented campaign – complete with promises of jet sales – to cement diplomatic ties and "lift India as a democratic counterweight in Asia to China." The US, it notes, faces another contradiction in its opposition to the pipeline. The main energy alternative the US is suggesting for India – more nuclear power – bumps up against another US foreign policy goal – stemming the flow of nuclear materials. [More>>expressindia.com]
---
6.25.05 Russia hopes to annually export 50 million tons of oil to US – Putin
St. PETERSBURG (RIA Novosti) June 25 – Russia will hopefully export 50 million tons of oil to the U.S. annually, President Vladimir Putin said Saturday. Russia intends to promote oil and natural gas production and increase exports of energy carriers, particularly, to the United States, Putin said at the meeting with U.S. businessmen. "By late June, Russian Industry and Energy Minister Khristenko, Economic Development and Trade Minister Gref, U.S. Secretary of Energy Bodman and Secretary of Commerce Gutierrez should submit a report on practical projects of Russian LNG supplies to the U.S. and increase of Russian oil exports by means of developing new fields and infrastructure," Putin said. "As a result, the U.S. could annually import 50 million tons of Russian oil without extra investments," the president added. He said that it would contribute to the world and U.S. economic stability. [rian.ru]
---
6.25.05 Russia ready to hit terrorist bases
MOSCOW, June 25 – Russia is prepared to use warplanes to destroy terrorist bases abroad, Air Force commander Vladimir Mikhailov was quoted as saying today. "As for terrorists and our fighter jets, if we have high-precision weapons and know the whereabouts of a terrorist gang, why not smash it, even if it's outside Russia?" Interfax news agency quoted him as saying. Russia, which strongly opposed US-led attacks on Iraq in 2003, has battled rebels in the Muslim province of Chechnya for over a decade. Moscow says Chechen rebels receive support and funding from international extremist organizations. Mikhailov, on a visit to the Volga region town of Engels, said Russia's need to strike terrorist bases abroad was linked to aspects of US foreign policy, but he did not go into details. [More>>theaustralian.news.com.au]
---
6.25.05 'China trade war must be avoided – Greenspan
WASHINGTON (Agencies) June 25 – Federal Reserve Chairman Alan Greenspan urged Congress on Thursday to find a ³less destructive² outlet for its frustration over China¹s trade and exchange-rate policies, saying a proposal to slap tariffs on Chinese imports would have ³extraordinarily negative² consequences for the world economy. Greenspan and Treasury Secretary John Snow sought to head off legislation that would impose tariffs of as much as 27.5 per cent on Chinese imports if China fails to change its fixed exchange-rate system within two years.

³If that ever gets implemented the consequences, in my judgment, are extraordinarily negative,¹¹ Greenspan told the Senate Finance Committee, referring to a bipartisan bill known as the China Free Trade Act. Greenspan and Snow counselled Congress to be patient a little longer for China to move to a more flexible currency system. [More>>chinadaily.com.cn]
---
6.25.05 Landslides, floods kill 567, leave 165 missing in China
June 25 – The death toll from this year's floods has continued to rise with 567 people now confirmed dead and a further 165 missing. In total, more than 2.45 million people have been evacuated to safety from floods, landslides and mud slides, the result of torrential rains, the Ministry of Civil Affairs said on Friday. Direct damage caused by the calamities was estimated at up to 22.9 billion yuan (US$2.7 billion). "So far this year, the loss is worse than average, but still below the figures in 1991 and 1998" when devastating floods wreaked havoc across eastern and central China, a source with the ministry, said. [More>>Chinadaily.com.cn]
---
6.25.05 Why China CNOOC wishes to acquire Unocal
June 24 – ...In a letter sent to the Chairman of Unocal, CNOOC Limited Chairman and Chief Executive Officer, Mr. Fu Chengyu stressed that the approach is friendly and the company is seeking a consensual transaction with Unocal. This proposal is being submitted in accordance with the sale process initiated by Unocal.

CNOOC Limited believes that the combined company would have a leading position in the Asian energy market and an expanded role in the development of China's liquefied natural gas (LNG) market. The combination is expected to more than double CNOOC Limited's oil and gas production and increase its reserves by nearly 80% to approximately four billion barrels of oil equivalent. Approximately 70% of Unocal's current proved oil and gas reserves are in Asia and the Caspian region. It is expected that the merged company would also have an improved oil and gas balance, with total reserves of approximately 53% oil and 47%(1) natural gas... [Full story>>oilonline.com]
---