News Headlines & Trends
---
10.11.09 US envoy leaves Mideast with no sign of peace
JERUSALEM (Reuters) October 11 - Mitchell ends talks with Abbas and Netanyahu with no outcome. A United States presidential envoy ended a Middle East shuttle mission on Sunday with no sign of any imminent resumption of Israeli-Palestinian peace talks despite President Barack Obama's pledge to broker a peace deal. The envoy, George Mitchell, met Israeli Prime Minister Benjamin Netanyahu for a second time after talks on Friday and a visit to Cairo, where the former US senator held discussions with Egypt's intelligence chief and its foreign minister. A statement issued by Netanyahu's office after his latest meeting with Mitchell said two Israeli negotiators would make another trip to Washington in the coming week to continue talks on moving peace efforts forward. Obama, who won the Nobel Peace Prize on Friday, has said Secretary of State Hillary Clinton would report to him by mid-October on Mitchell's attempts to revive Israeli-Palestinian peace talks suspended since December.

Palestinian President Mahmoud Abbas has demanded that Israel abide by a 2003 peace "road map" and freeze settlement activity on occupied land where Palestinians hope to build a state. Abbas and Mitchell held talks in the occupied West Bank on Friday. "It has been and remains an important objective of American policy and of President Obama and the secretary of state personally to achieve comprehensive peace in the Middle East," Mitchell told reporters in Cairo, before travelling to Jerusalem for his second meeting with Netanyahu. "We understand that there are many difficulties, that there are many obstacles. But we are determined and committed to continue our efforts until that objective is reached," he said. Resisting US pressure, Netanyahu has pledged to continue some construction in settlements in the West Bank and for Jews in Arab East Jerusalem, areas captured in a 1967 war, saying he must meet the needs of growing settler families.

Obama, who had demanded a "freeze," asked Israel only for "restraint" on settlement when he met Netanyahu and Abbas in New York last month for talks that did not amount to a formal resumption of peace negotiations. Israel and the Palestinians also differ over where to pick up negotiations conducted over the course of a year between Abbas and Israel's previous prime minister, Ehud Olmert, after a peace conference in Annapolis, Maryland, in November 2007. Netanyahu has said he is not bound by any territorial proposals his centrist predecessor made in those talks.

Netanyahu's right-leaning coalition government includes some nationalists for whom the very idea of Palestinian independence in the West Bank, territory which Israel captured from Jordan in a 1967 war, is anathema. Abbas has credibility problems, as his armed Islamist Hamas rivals control the Gaza Strip and rule out any permanent peace accord with the Jewish state. Since his appointment in January, Mitchell, 76, has visited Israel and the West Bank nine times. The missions have been stymied by Netanyahu's refusal to halt construction in settlements and by Arab states' reluctance to make peace overtures. [>alarabiya.net]
---
10.11.09 Taliban influence in N. Afghanistan to cripple NATO mission
KABUL, October 11 - While NATO has been endeavoring to sweep Taliban insurgents out from their hotbed in southern Afghanistan, the militants by influencing the northern provinces have opened a new front against the western military alliance. The militants have stretched their activities in the relatively peaceful Faryab, Balkh, Kunduz and Baghlan provinces which link the Afghan capital Kabul to the former Soviet Republics of central Asia. Militants on Thursday night attacked and injured three soldiers of the NATO-led International Security Assistance Force (ISAF) in Balkh province while Kunduz and Baghlan have been turned to [be] the hub of insurgents.

Parts of Baghlan province, particularly Baghlan-e-Markazi district, have been the scene of almost continued skirmishes over the past couple of months. In addition to Taliban fighters, militants loyal to dissident warlord and former Prime Minister Gulbudin Hekmatyar-led outlawed Islamic Party, the Hizb-e-Islami, are active in the strategically important Baghlan province. An individual Al-Hadid who claims to speak for the outfit, in talks with media from undisclosed location, said Saturday that Hizb's men clashed with Afghan and NATO-led International Security Assistance Force (ISAF) troops in Kokchinar village Friday, killing two Afghan soldiers and four international troops but authorities rejected the claim as groundless. [More>>xinhuanet.com; See related stories,

japantoday.com, October 11, "US, Afghan forces attack al-Qaaeda compound" : KABUL - American and Afghan forces stormed a mountainside compound in eastern Afghanistan that had been used by an al-Qaeda commander, killing more than a dozen militants in a gunbattle, the US military said Sunday...Al-Qaeda's leadership is widely assumed to be hiding in Pakistan, though Afghan officials have said they believe foreign fighters are increasingly crossing into their country to bolster the Taliban insurgency...

cbsnews.com (AP) October 11, "Official: Foreign fighters helping Taliban" : Defense Minister Requests More International Troops, Says Thousands Bolstering Taliban Insurgency. Thousands of foreign fighters have poured into Afghanistan to bolster the Taliban insurgency, the country's defense minister said Saturday as he called for more international troops. The remarks come as the US debates whether to substantially increase its forces in Afghanistan or to conduct a more limited campaign focused on targeting al-Qaeda figures - most of whom are believed to be in neighboring Pakistan.

The minister's comments hit on a key worry of the United States - that not sending enough troops to Afghanistan will open the door back up to al-Qaeda. They also suggest that the Afghan government is nervous about the US commitment amid talk of changing the strategy and a surge in violence in recent months. An American and two Polish troops were killed by bombs in the latest violence reported by NATO forces. "The enemy has changed. Their number has increased," Defense Minister Gen. Abdul Rahim Wardak told lawmakers in a speech. He said about 4,000 fighters, mostly from Chechnya, North Africa and Pakistan "have joined with them and they are involved in the fighting in Afghanistan."...
---
Editorial note: A consistent feature of reports recorded by Maravot News includes the capture or killing of foreign fighters, both in Afghanistan and Pakistan — and recently Yemen. For instance:

Maravot News 6.22.09 report 6.22.09 Al-Qaeda commander threatens US ...Mustafa Abul-Yazeed, al-Qaeda's leader in Afghanistan, said in an exclusive interview that aired on Sunday. He said al-Qaeda assists the mujahidin fighters in Afghanistan, maintains strong relations with the leaders of Taliban and expects that Pakistan's government will be defeated in the Swat conflict...

Maravot News 6.28.09 report 6.24.09 Mehsud has a brush with death in US drone attacks ...Though the Pakistan Army put the death toll at up to 30 militants in the drone attack, close aide of Mehsud, Wali ur Rehman said 65-70 militants had been killed when drones rained seven missiles on a funeral procession which was attended by 150 top Taliban and foreign fighters on Tuesday...

Maravot News 7.08.09 report 7.07.09 Eight Afghan police, 21 rebels killed in border clash with related aljazeera.net report, "Deaths in Pakistan missile strike" ...Five foreigners were among the dead in the attack on Tuesday, which were believed to be carried by unmanned US aircraft, the officials said. Top Arab leaders of the al-Qaeda network are believed to be hiding in the region, as well as scores of fighters from nearby countries, especially Afghanistan and Uzbekistan...

Maravot News 11.15.04 report 11.12.04 Al-Qaeda terrorist cell eliminated in Kazakhstan During two years of operation they recruited about 50 Uzbekistan citizens and 20 Kazakhstanis. They sent new recruits for training in al-Qaeda and Taliban camps, where they were made into bombers, document counterfeiting specialists, or recruiters.

Mel Copeland
---
10.11.09 35 suspected militants nabbed in Hangu
HANGU, Pakistan, October 11 - At least 35 extremists have been arrested during the search operation in southern district of NWFP, Hangu's areas Tal and Duaba, Geo News reported Sunday. According to police sources, at least 11 suspected militants have been arrested from Hangu's area of Tal and 18 others from Duaba. Police also recovered huge cache of arms and automatic weaponry during the operation. There are some important Taliban commanders among the arrested. [>thenews.com.pk; See related story,

thenews.com.pk, October 11, "121 Afghan refugees nabbed in Peshawar" : PESHAWAR: Police have found the engine of the vehicle used in [the] suicide blast at Soekarno Square in Khyber Bazaar of Peshawar, Geo News reported Sunday. Talking to Geo News, SSP Operations Peshawar Karim Khan said the engine of 2.0D white car used in the blast of Khyber Bazaar has been found, adding the search for the car owner has been started. Karim Khan said the operation against the Afghan refugees is underway in various areas of [the] city and 121 refugees including 13 "paish imam" have been arrested. The SSP Operations said the cases against these arrested refugees would be filed under Article-14 of the Foreign Act and they would be deported. The police officer said the search operation was conducted at various hotels in the city, where 108 suspected people have been arrested. [end]
---
10.11.09 Militant nabbed in Pakistan Army HQ siege behind Lanka team attack
ISLAMABAD, October 11 - The lone surviving militant of the Pakistan Army Headquarters siege was linked to the attack on the Sri Lankan cricket team in Lahore and has close links to banned terrorist groups like Jaish-e-Mohammed and harkut-ul-Ansar, Pakistani military officials said on Sunday. Aqeel alias 'Dr. Usman', described by military spokesman Maj. Gen. Athar Abbas as the leader of the terrorists involved in the attack at the army headquarters, was captured this morning when commandos stormed the building, where the attackers were holed up with dozens of hostages. Four of Aqeel's accomplices were gunned down by the commandos, who freed 42 hostages. Aqeel was injured when he attempted to set off a large quantity of explosives, Abbas said.

Military officials said Aqeel was linked to the terrorist attack on the Sri Lankan cricket team in Lahore earlier this year in which eight people and 20 others, including players, were injured. A Pakistani police team is currently in Sri Lankan capital Colombo to investigate whether there were any local links, including the possibility of the involvement of LTTE, to the attack on cricketers. The officials were quoted by TV news channels as saying that Aqeel, who belongs to Kahuta near Rawalpindi, had close links with outlawed militant groups like Jaish-e-Mohammed, which was responsible for the attack on Indian Parliament in 2001, and the Qari Saifullah Akhtar faction of the Harkat-ul-Ansar. Aqeel, who once served in the Army Medical Stores, also had close links with the Punjab chapter of Tehrik-e-Taliban Pakistan and slain Taliban chief Baitullah Mehsud, who was killed in a US drone attack in August. [More>>timesofindia.indiatimes.com; See related stories,

news.com.au (AFP) October 11, "Nineteen dead after Pakistani army raid" : ISLAMABAD - Pakistani troops have stormed a besieged army headquarters, ending a militant hostage siege that left 19 people dead. The mission freed 25 hostages after suspected Taliban gunmen stormed the military nerve centre near Islamabad. Three hostages, two soldiers and four militants were killed in the rescue operation. Six soldiers and four other militants had already been killed in the siege, which began Saturday in the garrison city of Rawalpindi, the third dramatic militant strike to hit nuclear-armed nation in a week. Gunfire and explosions were still ringing out near the compound Sunday...

indianexpress.com, October 11, "LeT serious threat, Pakistan needs to act against Saeed: EU" : NEW DELHI, India - Viewing Lashkar-e-Taiba as a "very serious threat" to India and rest of the world, European Union has made it clear that Pakistan should act against the terror group, its frontal outfit JuD and its chief Hafiz Saeed as a "consequence" of ban imposed by the UN Security Council. EU Counter-Terrorism Coordinator Gilles de Kerchove said the civilian democratic government and army of Pakistan will have to get their "act together" to eliminate such threats emanating from that country. "27 member states (of EU) fully understand and share the assessment that LeT is a very serious threat," he said in an interview here.

Noting that LeT shares "global agenda" with al-Qaeda, the top EU official said LeT was "obvious threat for India and we are worried by that. It is a threat to us too." Kerchove, who discussed with top Indian officials here the threats emerging from the Pakistan in the backdrop of 26/11 strikes, said he had visited Islamabad in the recent past "to convey our wish to see Pakistan prosecuting, convicting authors of Mumbai attack." He made it clear that the Pakistani government will have to act against Jamaat-ud Dawa, the front organization of LeT, as "it has been put on UN list (of banned organizations), including Saeed himself. Not only JuD, the person himself has been listed by the sanctions committee." [More>>indianexpress.com]
---
10.11.09 Death sentences for Iran protesters
October 11 - Three people arrested after Iran's disputed presidential election have been sentenced to death, the Iranian ISNA news agency said. "Three people who were accused in the post-election incidents have been sentenced to death," ISNA quoted Zahed Bashiri Rad, media officer at the justice ministry, as saying on Saturday. Bashiri Rad, giving only the initials of the convicts, said that "MZ and AP were convicted for ties with the Kingdom Assembly of Iran and NA for ties with the Monafeghin (exiled opposition group commonly known as People's Mujahideen). Prosecutors said the accused admitted to spying but human rights groups say torture is used to obtain so-called confessions. [More>>aljazeera.net]
---
10.11.09 Triple attacks kill 19 in western Iraqi city
(AFP) October 11 - Twin car bombs near government buildings and an apparently coordinated suicide attack at a hospital killed 19 people and wounded 80 in western Iraq on Sunday. The two car bombs exploded in quick succession in Ramadi, the capital of Anbar province, near the offices of the provincial governor while a meeting was in progress, a police official said. "The attacks killed 19 people, including nine police," an interior ministry official told AFP. "Eighty-one other people are wounded and 30 cars are completely burned." The official said 80 percent of the wounded were police, and 10 percent of the injured were in critical condition.

...Shortly afterwards at Ramadi General Hospital, where victims had been rushed for treatment, a suicide bomber killed at least two people and wounded four others. The meeting in the government offices was between provincial officials, including directors for services such as health care and water, and tribal leaders. [Full story>>khaleejtimes.com; See also nytimes.com, October 11, "Bombings in Iraq aim at reconciliation meeting" : BAGHDAD - A series of apparently coordinated bombings aimed at a meeting for national reconciliation killed 23 people and wounded 65 others in western Iraq on Sunday, but they did not injure the officials who were at the gathering, the authorities said...
---
10.11.09 2nd largest asteroid in Solar System identified as protoplanet
LOS ANGELES, Calif. October 10 - The second largest asteroid in the Solar System is actually a protoplanet, a building block to the actual, larger planets, a new study suggests. Researchers at the University of California in Los Angeles (UCLA) drew the conclusion after using the Hubble Space telescope to view Pallas, the second largest asteroid in the Solar System, according to the study appearing in the October issue of Science. Pallas, which is named for the Greek goddess Pallas Athena, lies in the main asteroid belt between the orbits of Jupiter and Mars.

According to the planet formation theory, protoplanets are a cloud of gas, rocks and dust particles that are in the process of forming into a planet. Protoplanets get in the way of each other's orbits slightly, collide with the impacts gradually forming a real planet. "It was incredibly exciting to have this new perspective on an object that is really interesting and hadn't been observed by Hubble at high resolution," said UCLA doctoral student Britney E. Schmidt, the study's lead author. [More>>xinhuanet.com; See UCLA report with image, newsroom.ucla.edu, October 9]
---
10.09.09 In test of water on moon, craft hits bull's eye
MOUNTAIN VIEW, Calif., October 9 - More than 230,000 miles from Earth, a NASA spacecraft hit a bull's-eye on the Moon on Friday morning. Actually, two bull's-eyes. But at least the early images failed to show the expected plumes of debris rising out of the impacts. At 4:31am Pacific time (7:31am Eastern time), one piece of the Lunar Crater Observation and Sensing Satellite — LCROSS, for short — slammed into the bottom of a crater at 5,600 miles per hour, excavating about 350 metric tons of the moon and leaving behind a hole about 65 feet wide, 13 feet deep. Trailing four minutes behind, a second piece sent its observations back to Earth before it also slammed into the same crater. Disappointingly, the live images sent back by the trailing spacecraft did not show the plume. [More>>nytimes.com]

---
Editorial note: The event was televised live on the NASA TV channel. From what we all saw one might conjecture that the reason why a plume was not visible is because the projectile was sent into the dark shadow of a crater. NASA believed that ice would be most likely found in the dark shadows. I would guess also that the blast of the impact was not seen because of the lack of oxygen on the moon which was required to ignite the components of the blast.

Mel Copeland
---
10.09.09 World reacts to Obama's Nobel Peace prize
October 9 - President's Surprise Selection for Creating a New Climate in International Politics Is Praised, Questioned, Dismissed. Calling the United States' president "the world's leading spokesman" for using diplomacy and cooperation to meet global challenges, the Norwegian Nobel Committee this morning conferred the Nobel Peace Prize to President Barack Obama. For an announcement about a peace prize, this one was a bombshell. CBS News correspondent Mark Phillips said one could almost hear the gasps when the committee made its announcement.

The committee doesn't release a short list of candidates (there were 205 nominations this year), and so the award to Mr. Obama came out of the blue - even to the White House. CBS News correspondent Larry Miller reports that world reaction has been largely favorable. French President Nicolas Sarkozy says the awarding of the Nobel Peace Prize to Barack Obama embodies the "return of America into the hearts of the people of the world." [More>>cbsnews.com]
---
10.09.09 Nuclear lab worker arrested for alleged al-Qaeda link
(AFP) October 9 - French agents have arrested an engineer working at the CERN nuclear research lab on suspicion of being in contact with the al-Qaeda militant network and planning attacks, officials said Friday. "Perhaps we have avoided the worst," Interior Minister Brice Hortefeux told journalists, adding that investigators were trying to establish which targets in "France or elsewhere" the suspect was hoping to strike. Security sources in Paris said the suspected Islamist, one of a pair of brothers detained on Thursday, worked at the European Organization for Nuclear Research on the Franco-Swiss border just outside Geneva.

The pair were arrested in Vienne, a town on the Rhone river some 100 kilometers (65 miles) southwest of the Alpine lab, by officers from France's security service acting on a warrant from an anti-terrorist magistrate. According to officials, the engineer had made contact over the Internet with al-Qaeda in the Islamic Maghreb, a North African offshoot of Osama bin Laden's loosely organized global Islamist militant movement. He had expressed a desire to carry out attacks, but had "not got to the stage of carrying out material acts of preparation", one said. CERN confirmed a physicist working at the site had been arrested "under suspicion of links to terrorist organizations", and said it was helping the French police with their investigation.

"He was not a CERN employee and performed his research under a contract with an outside institute. His work did not bring him into contact with anything that could be used for terrorism," it added in a statement. According to a report on the newspaper Le Figaro's website, the suspects are a 32-year-old Frenchman of Algerian origin who has been the subject of a police inquiry for a year-and-a-half and his 25-year-old brother. The report, citing sources close to the inquiry, said the elder brother had had several Internet exchanges with figures considered close to al-Qaeda and had provided a list of suggested French targets for attack. [More>>france24.com]
---
10.09.09 FBI team in Pakistan to probe recent terror attacks
ISLAMABAD, October 9 - A two-member FBI team is in Pakistan to investigate several recent terrorist attacks in Islamabad and nearby garrison city of Rawalpindi, including strikes in which US nationals were killed or injured. The FBI team visited a police station in Rawalpindi yesterday and collected samples from a cache of arms and explosives seized in a raid on a terrorist hideout in January. [More>>timesofindia.indiatimes.com]
---
10.09.09 Louvre to return Egyptian frescos
October 9 - The Louvre museum in Paris will return five ancient fresco fragments to Egypt within weeks, France's government says. The announcement comes two days after the head of antiquities in Cairo said he would cease all cooperation with the museum until they were sent back. The Egyptians say the Louvre bought the Pharaonic steles in 2000 even though it knew they had been stolen in the 1980s. They are believed to be from a 3,200-year-old tomb of the cleric, Tetaki, in the Valley of the Kings, near Luxor. The steles, which are each only 15cm (5.9in) wide and 30cm (11.8in) high, are currently part of the Louvre's reserve collection. [More>>bbc.co.uk]
---
10.09.09 Another Jakarta hotel bomber may be dead
(AAP) October 9 - Indonesian police believe they have killed another top terrorist who helped plan July's attacks on two Jakarta hotels that killed seven people, including three Australians. Police from Indonesia's elite Detachment 88 anti-terror squad killed two men during a raid on a suspected militant hideout in Ciputat, on Jakarta's outskirts, yesterday morning. But police last night refused to confirm whether the dead men were Saifuddin Jaelani, a senior acolyte of slain terrorist leader Noordin Mohammed Top, and his brother Mohamed Syahrir. "That is still only our suspicion," National Police spokesman Nanan Sukarna said.

"We expect on Monday we will be able convey the identities of those two suspects, after forensic examination." Police found seven small bombs inside the house, which police raided after arresting another suspected militant earlier yesterday, Sukarna said. Authorities believe Jaelani, also known as Saifuddin Zuhri bin Jaelani Irsyad, recruited Nana Ikhwan Maulana and Dani Dwi Permana, the men who blew themselves up inside the JW Marriott and Ritz-Carlton hotels on July 17. It was Jaelani, a Yemeni-trained preacher, who could be heard calling for the destruction of Australia, the US and Indonesia in a video released by police last week. The video was recovered from a laptop seized in a police raid last month that killed Noordin, who had been on the run for seven years.

Police had feared Jaelani, little known before the hotel bombings, was set to become the new leader of Noordin's hardline Jemaah Islamiah splinter cell. His death, if confirmed, would therefore be a major blow for Islamic militancy in the region. Syahrir has also been linked to Noordin's group and once worked as a technician for Indonesia's national airline, Garuda. Two of the pair's sisters have also been linked to the hotel attacks. One was married to the hotel florist who helped stage the attacks, while the other was married to the man who booked the hotel room used by the bombers, according to the International Crisis Group. [>news.com.au; See other details,
thejakartapost.com, October 9, "Terrorist suspects siblings" : Police said Friday the two terror suspects shot dead in a raid earlier in the day and one captured are siblings from the same family. Police arrested Fajar in Bekasi, West Java, prior to the raid on a boarding house in Ciputat, South Tangerang, where two suspects were shot dead after throwing three pipe bombs at officers. Police believe the two terrorist suspects killed were M. Syahrir and his younger brother Syaifuddin Zuhri. Fajar is the youngest of the three. Their brother-in-law, Ibrohim, was a terror suspect killed in a raid in Temanggung, Central Java, in August. Residents living near the boarding house said Fajar rented a room at the house last month, while Zuhri and Syahrir joined him about a week ago. [end]
---
10.09.09 Suicide car bombing in Peshawar kills 50, injures 120
PESHAWAR, Pakistan, October 9 - At least 50 people were killed and 120 injured when a suspected Taliban suicide bomber detonated his explosives-laden car in a busy Peshawar market, the deadliest attack in six months that pushed Pakistan to vow that army would march into militants' den to flush them out. The blast, in which the bomber used 50 kg of artillery shells and machine gun bullets, ripped through the Khyber Bazar market around noon when a packed bus was passing the suicide bomber's vehicle. The explosion left blood-soaked bodies strewn on the road in the famous market of the provincial capital of North West Frontier Province and the bus reduced to a mass of charred and twisted metal. "The car was moving when the blast occurred, which indicates the presence of a suicide bomber," said Assistant IGP Shafqat Malik of the bomb disposal squad.

Fifty people were killed and 120 wounded in the blast, said Shahib Gul, the deputy medical superintendent at Lady Reading Hospital. A woman and nine children were among the dead. Gul said the death toll could rise as 22 of the injured are in a critical condition. Interior Minister Rehman Malik told reporters outside parliament in Islamabad that suicide attacks and bombings by militants are forcing the government to order a crackdown in Waziristan, the main stronghold of the Taliban. "I believe we have no option except to take action in South Waziristan and North Waziristan," Malik said. No group claimed responsibility for the blast, but Taliban had recently said they would avenge the slaying of their leader Baitullah Mehsud by carrying out suicide attacks. Today's blast was the deadliest attack in Pakistan since a suicide bomber targeted a packed mosque near northwestern town of Jamrud in March, killing about 50...Today's attack was the second suicide car bombing in Peshawar in less than two weeks. Twelve people were killed when a suicide attacker struck in a commercial hub in the city on September 26. [Full story>>indianexpress.com]
---
10.09.09 Russia opposes expansion of nuclear club: Medvedev
MOSCOW (RIA Novosti) October 9 - Russian President Dmitry Medvedev has said he strongly opposes the appearance of new members of the so-called nuclear club. "We are against the extension of the nuclear club. Otherwise the situation will get out of control," Medvedev said in an interview with Russia's Channel 1 to be broadcast on Sunday. Medvedev also reiterated the necessity to build a nuclear-free world. "The world without nuclear weapons is an ideal which should be on our agenda," he said. Russia, the United States, France, China and the United Kingdom are considered to be nuclear weapons states (NWS), an internationally recognized status conferred by the Nuclear Non-Proliferation Treaty (NPT), which came into force in 1970.

While India and Pakistan both possess nuclear arsenals, they are non-signatories to the Nuclear Non-Proliferation Treaty. Israel is also widely believed to possess nuclear weapons. North Korea conducted a second nuclear test in May 2009. The US and some Western powers accuse Iran of attempting to build nuclear weapons, but Tehran says its nuclear program is aimed at generating nuclear energy for civilian purposes. [>en.rian.ru]
---
10.09.09 Iran to 'blow up heart' of Israel if attacked
(Reuters) October 9 - Iran would "blow up the heart" of Israel if it was attacked by Israel or the United States, a Revolutionary Guards official was quoted on Friday as saying. "Even if one American or Zionist missile hits our country, before the dust settles, Iranian missiles will blow up the heart of Israel," the IRNA news agency quoted Mojtaba Zolnour as saying. Zolnour is a deputy representative of Supreme Leader Ayatollah Ali Khamenei in the elite Guards force. Iranian officials have previously said Tehran would retaliate in event of an Israeli or US attack. Earlier this year, a senior commander said Iranian missiles could reach Israeli nuclear sites. Israel is believed to be the only nuclear-armed Middle East state. [More>>khaleejtimes.com]

---
Editorial note: The heart of Israel is Jerusalem and its Temple Mount and its sacred mosques, the al-Aksa and the Dome of the Rock. Bombing the heart of Israel would seem to be offensive to Moslems and comparable to blowing up the kaaba in Mecca. One could wonder whether the kings of Jordan (and the Waqf that administers the Temple Mount) and Saudi Arabia are concerned by the Iranian threat.

Mel Copeland
---
10.09.09 Police clash with rioters in east Jerusalem
October 9 - While Friday prayers ended without incident at the al-Aksa Mosque on the Temple Mount, Palestinian rioters clashed with police in the Jerusalem neighborhoods of Issawiya, Ras el-Amud and Sur Baher on Friday afternoon. One policeman was lightly wounded by rocks as dozens of Arab youths blocked entrance to the northern neighborhood of Issawiya after similar clashes came to an end in other neighborhoods in the eastern part of the city. The stone-thrower was arrested. 11 policemen were lightly wounded in the earlier riots. Seven were treated at the scene and four were evacuated to hospital. Two men suspected of throwing rocks at security forces were arrested and were expected to be interrogated.

Between 100 and 200 policemen used riot gear, including stun grenades to try and disperse the crowds in Ras el-Amud, pushing the rioters back into the alleyways of the neighborhood. At one point, women standing on a rooftop joined the rioters in the street and hurled rocks, potted plants and paint down onto police. In Sur Baher, near Kibbutz Ramat Rahel, Palestinians hurled rocks at security forces. No one was wounded in the clashes. Meanwhile, thousands of Palestinians in the Gaza Strip and in refugee camps in Syria held mass demonstrations, protesting Israel's decision to restrict entry into the al-Aksa Mosque compound.

In Jerusalem, many Muslims held prayers in their neighborhoods, as men under 50 were not permitted to enter the Temple Mount compound on Friday for security reasons. Earlier, at least 500 Palestinians held Friday prayers near a police checkpoint at the entrance to east Jerusalem's Wadi Joz neighborhood. The prayers at Wadi Joz were held under heavy police presence, with some 100 policemen deployed in the area. After the prayers ended, worshipers stood in front of the police checkpoint chanting slogans. [>jpost.com; See also,

aljazeera.net, October 9, "Palestinians barred from Old City" : Israeli police have barred Palestinians protesting in defence of the al-Aqsa mosque compound from gaining access to Jerusalem's Old City. Friday's increased restrictions on the mosque compound in occupied East Jerusalem follow a series of clashes that started late last month. Men under the age of 50 have been prevented from accessing the mosque for the past six days. Several hundred Palestinians, denied entry to the mosque, performed Friday prayers just outside the gates of the Old City as the heavily armed Israeli police deployed extra troops. Palestinian leaders called on Friday for a one-day strike, as some suggested that the Israeli actions could spark a third uprising, or intifada, against the occupation...
---
10.08.09 Elyashiv: Jews mustn't visit Temple Mt.
October 8 - Rabbi Yosef Shalom Elyashiv, considered to be one of the greatest living Jewish law experts, has reiterated his previously expressed opinion that it is halachically forbidden for Jews to ascend to the Temple Mount. Elyashiv told this to President Shimon Peres on Thursday when the latter visited him in hi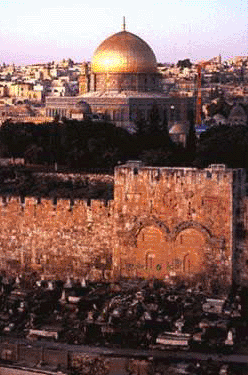 s succa in Jerusalem's Mea She'arim neighborhood. Peres, who makes it a practice to pay Succot visits to the Chief Rabbis of Israel as well as to Shas spiritual leader Rabbi Ovadia Yosef, had not previously called on Eliashiv. Peres raised the Temple Mount issue in light of renewed hostilities between Muslim religious authorities and small groups of Jews who choose to ignore the halachic prohibitions, thereby provoking Muslim antagonism, such as the call by Muslim leaders to safeguard the Temple Mount area.

...Aside from halachic prohibitions, said Elyashiv, it was important to consider that any provocations on the part of Jews who are determined to reach the Temple Mount could lead to needless bloodshed and further condemnation of Israel by the nations of the world. Nonetheless, there are those in the religious camp who disagree with Eliashiv. Yehuda Glick, director of the Temple Institute has been arrested several times this year for encouraging Jews to ascend the Temple Mount. The Temple Institute is dedicated to the construction of a Third Temple on the Temple Mount "to serve as a royal house of prayer." [Full story>>jpost.com; See other details,

haaretz.com, October 8, "Prominent rabbit to Peres: Jews forbidden on Temple Mount" : As tensions flare once again over a Jerusalem holy site claimed by Israel and Palestinians as their own, one of the most influential leaders of Israel's religious community told the president on Thursday that Jews should not make pilgrimages to the Temple Mount so as not to evoke global outrage. "According to halacha (Jewish religious law), it is forbidden to ascend to Temple Mount," Rabbi Yosef Sholom Elyashiv is quoted by Israel Radio as telling President Shimon Peres. "I've said this in the past, and I am once again repeating this statement that Jews are forbidden to go up to the site."

Elyashiv, the nonagenarian leader of the Lithuanian sect of the ultra-Orthodox Ashkenazi community, hosted the president at his sukkah hut in the Mea Shearim neighborhood of Jerusalem. Since Israel captured East Jerusalem and the holy sites in the Old City during the Six-Day War in 1967, Haredi rabbinical scholars have decreed that religious law bans Jews from entering any part of the Temple Mount for fear of desecrating the Holy of Holies, whose exact location is unknown but is believed to be situated somewhere in the Temple courtyard...

---
Editorial note: Pictured above is a view of the Temple Mount looking upon the main gate, the Golden Gate, to the mount. The gate was sealed by the Ottoman's to prevent the Jewish Messiah from entering the mount. It is believed by Moslems and Jews that the Messiah will rebuild the Temple. When I was in Jerusalem in 1985 I was told by an orthodox Jew that Jews were permitted to go up to the mount, but requested by the rabbis to refrain from going up there until the Messiah comes. Until he comes the Jews were requested to mourn and pray for the Peace of Jerusalem at the Wailing Wall, the western wall of the mount.

To prevent the Messiah from entering the mount, the Ottomans sealed the gate and then planted Moslem graves in front of it. Also, there is a rot iron fence against the gate (I was able to touch the wall through the fence in 1985). I understood from my Moslem acquaintances in Jerusalem that it was believed that the Messiah would not dare walk through a Moslem cemetery.

There is much confusion among Moslems, however, as to the Koran's relationship to the Bible and its Messiah. The Koran recognizes Jesus as the Messiah and many verses of the Koran declare that it was recited to Mohammed to confirm that the Jewish Scriptures and Gospel [sic. the Bible] are true. In essence the Messiah of the Bible would have to be everyone's Messiah, not just for the Jews. For details on this see Maravot News 4.09.09, Editorial note, "Confusion over the teachings of the Koran."

Mel Copeland
---
10.08.09 Iran protester gets death sentence: reformist site
TEHRAN (Reuters) October 8 - No immediate comment from authorities on case. An Iranian court has handed down the death penalty against a man who took part in opposition protests over a disputed election in June, a reformist website reported on Thursday. Mowjcamp.com, which gave no source for the report, said a judge informed Mohammad-Reza Ali-Zamani about the verdict on Monday. It said Ali-Zamani is a member of a pro-monarchist group, but did not give details about the charges against him. There was no immediate comment from the authorities on the case. There have been no other reports of death sentences issued against people involved in huge opposition protests that erupted after the presidential poll on June 12. Under Iranian law, such sentences can be appealed to a higher court. [More>>alarabiya.net]
---
10.08.09 Suicide bomb rocks Afghanistan's capital
KABUL (AP) October 8 - Taliban Suicide Car Bomber Kills At Least 17 on Busy Road Between Indian Embassy, Afghan Interior Ministry. A suicide car bomber detonated his vehicle outside the Indian Embassy in the bustling center of the Afghan capital Thursday, killing 17 people in the second major attack in the city in less than a month. The Afghan Foreign Ministry hinted at Pakistani involvement — a charge Pakistan denied. The blast occurred a day after the war entered its ninth year and as President Barack Obama was deliberating a request by the top commander Gen. Stanley McChrystal for up to 40,000 more troops. Opponents of a troop increase want to shift focus to missile strikes and special operations against al-Qaeda-linked groups in Pakistan.

The Taliban claimed responsibility for the attack in a statement posted online, reports CBS News' Khaled Wassef. "The martyrdom attack was carried out by Mujahid Khaled, from Paghman district, at 8:40am at the gate of the Indian Embassy in the heart of Kabul," read the statement. It was the Taliban's second attack against the Indian Embassy in the past two years and the statement specified that the Indians were the target...the Afghan Foreign Ministry said the Thursday attack "was planned and implemented from outside of Afghan borders" by the same groups responsible for the July 2008 suicide bombing at the Indian Embassy that killed more than 60 people. [More>>cbsnews.com]
---
10.08.09 Jordanian indicted in Dallas bomb plot
DALLAS (AP) October 8 - A federal grand jury has indicted a Jordanian teen accused of trying to blow up a Dallas skyscraper with what he thought was a car bomb, federal prosecutors said Thursday. Hosam Maher Smadi, 19, was indicted Wednesday on one count of attempting to use of a weapon of mass destruction and one count of bombing a public place, but the charges were not made public until Thursday. Each count carries a maximum sentence of life in prison, the US Attorney's Office said.

Smadi was arrested on Sept. 24 after he allegedly parked a truck in a garage beneath the 60-story Fountain Place office building in downtown Dallas, authorities said. Once he was at a safe distance, Smadi dialed a cell phone he thought would ignite a bomb in the vehicle — but the device was actually a decoy provided by FBI agents posing as al-Qaeda operatives, according to the FBI. The FBI says it had been keeping tabs on Smadi after discovering him on an extremist Web site earlier this year. Investigators have said the teenager acted alone and was not affiliated with any terrorist organizations. [More>>cbsnews.com]
---
10.08.09 France arrests two men suspected of al-Qaeda link
PARIS, October 8 - French police arrested two Algerians suspected of being linked to al-Qaeda on Thursday, a judicial source said. The two brothers, who are suspected of being close to the al-Qaeda in the Islamic Maghreb (AQIM) network, were arrested by counter-terrorism units in the southeastern town of Vienne, the source said. AQIM, al-Qaeda's north African wing, has claimed responsibility for a suicide bombing at the French embassy in Mauritania that wounded three people in August. [>thenews.com.pk]
---
10.08.09 Al-Qaeda leader orders reprisals against Chinese targets for Urumqi riots
BEIJING, October 8 - China's fears about international Islamic militants getting excited over the Xinjiang problem came true with a prominent al-Qaeda leader threatening to attack Chinese targets in "reprisal" for the July 5 riots in Urumqi, capital of the Xinjiang. Abu Yahya al-Libi, the al-Qaeda leader, has urged the Muslim Uygur population in Xinjiang to make "serious preparation for jihad in the path of God the Almighty." He said in a video posted on an Islamist website that Uyghur should carry weapons and opt for "a true return to their religion." China has gone to great lengths and even enlisted Pakistan's assistance to get Muslim nations and organizations accept its version of the July 5 riots in Urumqi. It seemed to have earned a measure of success when neighboring Turkey came out in support of Beijing after initially protesting against the treatment of Uygurs. [More>>timesofindia.indiatimes.com]
---
10.08.09 Roadside bomb kills three in Baghdad
BAGHDAD (AP) October 8 - A roadside bomb struck a police patrol northeast of the Iraqi capital, killing three officers, a police official said Thursday. US and Iraqi forces continued to be targeted by insurgents with regularity, raising concerns about the ability of Iraqis to keep the lid on violence once US combat troops leave by Aug. 31, 2010. The bomb targeted the patrol late Wednesday on the outskirts of the town of Jalula in the Diyala province, according to Maj. Ghalib al-Kharki, a police spokesman. Among the dead was a police colonel, he said. Four officers were wounded in the blast. [More>>khaleejtimes.com]
---
10.08.09 India: Naxals gun down 18 policemen, one police informer beheaded
GADCHIROLI, Maharashtra, India, October 8 - Naxals on Thursday struck with impunity killing 18 policemen when they ambushed a police patrol in dense forests in this district, ignoring stern warnings by Union Home Minister P Chidambaram asking them to give up violence or face action. In a rerun of the beheading of a Jharkhand police intelligence officer by the Maoists near Ranchi in a Taliban-type action early this week, a police informer identified as Suresh Alami met a similar fate in Gadchiroli just before the third major naxal strike in this district... The encounter came barely hours after the Maoists set on fire a gram panchayat office in Gadchiroli district. [Full story>>timesofindia.indiatimes.com]
---
10.08.09 Dagestan customs officers seize 435 lbs of heroin
ROSTOV-ON-DON, Russia (RIA Novosti) October 8 - Customs officers in south Russia's Dagestan have seized 197 kg (about 435 lbs) of heroin from a citizen of Belarus attempting to smuggle the drugs into Russia in his car, a customs service spokesman said on Thursday. He said a Renault car was detained at the Kazmalyar border checkpoint between Azerbaijan and Russia. "There were 378 plastic packages containing high-quality heroin in a semitrailer of the car. The total weight [of heroin] was 197 kg," he said. He said the drugs were smuggled from Iran to Russia via Azerbaijan. [More>>en.rian.ru]
---
10.08.09 Nigerian nationals involved in drug smuggling in Pakistan
ISLAMABAD, October 8 - [The] Foreign Ministry Thursday told the senate Nigerian nationals have been found in drug smuggling into Pakistan; at least 441 people have been arrested from 2005 to date, of them, only 50 visited Pakistan on visa and the remaining had fake documents. The senate was told in written form from Foreign Minister Makhdoom Shah Mehmood Qureshi that there are at least 2533 Pakistanis jailed in Saudi Arabia, Iran, Bahrain, Kuwait, Oman, Qatar and United Arab Emirates (UAE), of them, the maximum number of 1152 Pakistanis are in Saudi Arabia, adding they are being provided consulate access. [More>>thenews.com.pk; the rest of the report deals with other matters]
---
10.08.09 17 extremists killed, 13 nabbed: ISPR report
RAWALPINDI, October 8 - The security forces continued search and clearance operations in Swat and Malakand during the last 24 hours. According to a press released issued here by Inter Services Public Relations (ISPR) on Thursday, the security forces conducted search operation in Tilligram, Benjot, Seer, Mangaltan and killed 12 terrorists. At least seven terrorists surrendered themselves to security forces in Derai. Security forces conducted search operation at Kasona and killed 5 terrorists. Security forces conducted search operation[s] at Goratai Kandar, Banjot and Garai Killa and apprehended 5 suspects. Search and clearance operation conducted by security forces in Baz Darra Bala and Palai and apprehended 8 terrorists. Terrorists fired 8 rockets at Razmak Camp. Resultantly 4 soldiers were injured. The forces also continued relief activities. 310,022 cash cards have been distributed amongst the IDPs of Malakand [>thenews.com.pk]
---
10.07.09 Taliban say they control area after battle with US
KABUL, Afghanistan (Reuters) October 7 - The Taliban said on Wednesday they had hoisted their flag in a remote district of Afghanistan where days earlier the militants had inflicted the deadliest battlefield casualties on US troops in over a year. In a statement put out on their website, www.shahamat.org, the hardline Islamists said they had raised their flag in Kamdesh district of eastern Nuristan province near the Pakistan border at a function attended by elders. US forces denied they had left the area, although they said they will leave eventually under plans announced before the attack.

In a separate statement marking the eighth anniversary of the US-led invasion of Afghanistan that led to their overthrow, the militants said they posed no threat to the West but would continue their fight against foreign forces as long as they remained in the country. The Taliban statements come at a time when Western officials warn that deserting Afghanistan could mean a return to power for the Taliban and the country could once again become a safe haven for al-Qaeda militants, who could use it as a base to plan future attacks on Western countries. [More>>thestar.com.my; See related story,

thenews.com.pk, October 7, "Spanish soldier killed, 5 hurt in Afghanistan" : MADRID: One Spanish soldier was killed and five others wounded Wednesday in a landmine explosion in Afghanistan, the Spanish defence ministry said. "A soldier was killed and five others were injured," a ministry spokesman said. According to Spanish media, they were all travelling in one armored troop carrier when it hit a mine in the western province of Herat. [end]
---
10.07.09 Senior Taliban commander killed in Pakistan's Swat valley
ISLAMABAD, Pakistan, October 7 - Pakistan's security forces on Wednesday killed a senior militant commander in Swat valley, as troops swooped for the holed-up Taliban leaders, the military said. Nisar Ahmed, alias Ghazi Lala, was a close aide of Swat's Taliban chief Maulana Fazlullah and served as his local commander in the Matta area. "Nisar was killed in a gunfight early on Wednesday," said an army spokesman in Mingora, the main town of the valley in the north-west of Pakistan that used to have a thriving tourism industry two years ago. The government had announced a reward of 10 million rupees ($120,000) for his capture, dead or alive. Ahmed, in his early 40s and an expert in making remote-controlled bombs, was on the most wanted list of militants in Swat. The spokesman said Ahmed's son was arrested during the clash. He did not give any further details. [More>>timesofindia.indiatimes.com]
---
10.07.09 Israel committed to safeguarding holy places
JERUSALEM (DPA) October 7 - Israel is committed to safeguarding Islamic holy places in its jurisdiction, President Shimon Peres said Wednesday, in response to days of tension and rioting in Jerusalem centering around the flashpoint Temple Mount/Holy Sanctuary compound. Police remained on high alert Wednesday and were limiting the entry of Muslims to the compound for the fourth day in a row, permitting only men over 50 and women of any age to pray there. Jewish visitors and tourists were to allowed to enter. The compound houses the al-Aqsa mosque and is the third holiest site in Islam, marking according to tradition the spot from where the Prophet Mohammed ascended to heaven. But it also contains the ruins of the Jewish biblical temple and as such is the most sacred site in Judaism.

The latest tensions erupted Sunday last week, when according to Israel a group of Christian tourists made a pre-arranged organized tour of the compound under Israeli police escort. Rumors soon spread that they were Israeli settlers seeking to symbolically re-inaugurate the ruined biblical temple at the site, on the eve of the Jewish Day of Atonement. On Wednesday a delegation from the Higher Arab Monitoring Committee, and Arab-Israeli legislators, toured the compound. They accused Israel of carrying out archaeological excavations under the compound. Peres, speaking at the start of a Jewish-Arab bicycle tour in northern Israel, said Jewish law forbade digging under holy sites and contravened Israeli law as well. "We will all guard the holy sites, so that all can pray and also cycle along the path of a shared life," he said. [>khaleejtimes.com; See related story,

jpost.com, October 7, " ' Israel trying to change status quo' " : In the wake of the recent clashes between Arabs and security forces in Jerusalem and the restricted access to the Temple Mount, Balad leader Dr. Jamal Zahalka said Wednesday that Israel was "trying to change the status quo in the capital by creating new facts on the ground." Speaking to Army Radio, Zahalka asserted that recent conspiracy theories may not be unfounded, speculating that Israel was possibly "planning to build a synagogue" on the Temple Mount. He explained that while Al Aksa Mosque had stood on the Temple Mount for 1,400 years, Israeli excavations underneath it could endanger several Old City mosques "in the event of an earthquake." Zahalka requested international supervision of Israeli excavations in the area, adding that he was alarmed by what he termed the "transition" of right-wing extremism "from the margins of Israeli society to its political mainstream." President Shimon Peres stressed that Israel was committed to the preservation of all Islamic holy sites and that digging under them was against the law...

---
Editorial note: "Israel's obligation to preserve holy sites" : When the United Nations created Israel with the Resolution of November 29, 1947, it required both Israel and Palestine to produce a declaration of independence, for approval, that would apply the requirements addressed in the resolution. In May 14, 1948 Israel's Declaration of Independence — the basic law of the land — was produced and the declaration begins with this affirmation:
...THE STATE OF ISRAEL will be open for Jewish immigration and for the Ingathering of the Exiles; it will foster the development of the country for the benefit of all its inhabitants; it will be based on freedom, justice and peace as envisaged by the prophets of Israel; it will ensure complete equality of social and political rights to all its inhabitants irrespective of religion, race or sex; it will guarantee freedom of religion, conscience, language, education and culture; it will safeguard the Holy Places of all religions; and it will be faithful to the principles of the Charter of the United Nations...
Mel Copeland
---
10.07.09 Italian MPs to consider ban on full Islamic dress for women
MOSCOW (RIA Novosti) October 7 - Italian lawmakers are set to consider a ban on the public wearing of Islamic burqas — clothing covering the entire face and body — by women, local media said. Members of Italy's second-largest Northern League party have drafted a bill amending the 1975 law that prohibits people from wearing clothing that makes their identification impossible. Italian parliamentarians aim to extend the ban to garments "worn for reasons of religious affiliation." Roberto Cota of the Northern League has dismissed accusations that the lawmakers' proposal is "racist," and urged for the law to be made "equal for everyone."

Opposition parliamentarians have denounced the proposal as "unconstitutional" saying it infringes on religious freedom. Italy, which has over a million Muslims, has become the second European nation to consider such a ban, after France announced earlier this month that it was also considering banning burqas. In Egypt, parliament has rejected a request from two opposition lawmakers to seek the dismissal of the country's top Islamic cleric over his planned ban on women's veils at a top university, Al Jazeera reported on Wednesday. [>en.rian.ru; See related stories,

alarabiya.net, October 7, "Anti-Islam poster threatens peace: Swiss group" : GENEVA (AFP) - Switzerland's Commission Against Racism said Wednesday that an anti-minaret poster campaign by a far-right party defamed the country's Muslim minority and could threaten public peace. "The commission believes that this could threaten social cohesion and public peace," the government commission said in a statement. The Swiss People's Party has unveiled a campaign poster depicting a woman wearing a burqa against a background of a Swiss flag upon which several minarets resembling missiles were erected. It is aimed at getting the population to vote for a ban on minarets in Switzerland in a referendum on the issue in November. The commission said it found that the posters "feed prejudices, are over-simplistic and presents Islam overall in an unfavorable manner."...

alarabiya.net, October 7, "Egypt female students slam burqa ban on campus" : A group of Egyptian female students threatened to sue the minister of higher education and the president of Cairo University over a ban on wearing the face veil, or burqa, on campus, local press reported Tuesday. Students wearing the niqab, an Arabic term for face veil, have been trying to meet Cairo University President Dr. Hossam Kamel for the past two days in order to protest the ban. After failing to do so, they threatened to sue him and the Minister of Higher Education Dr. Hani Helal, the Egyptian daily independent al-Masry al-Youm reported Tuesday.

Students affiliated with the Islamist Labor Party supported the disgruntled girls and organized a rally in front of the university hostel where the girls were denied admission because of the face veil. The Labor Party, originally socialist but now turned Islamist, has been suspended since 2000 by the Egyptian Committee for Political Parties. The stance taken by Cairo University is not shared by other universities in the Egyptian capital who have no plans to ban the niqab...
---
10.07.09 'Terror cell' found in cradle of 9/11
October 7 - Members of Hamburg group 'had attended military training camps.' German intelligence services were yesterday reported to have discovered a new Islamic terrorist cell operating from the port of Hamburg — the same city from which the devastating 9/11 attacks on the United States were secretly conceived and planned eight years ago. The existence of the new militant group in the city was revealed in a secret report prepared by Hamburg-based intelligence agents which was leaked to German television's investigative documentary programme Report Mainz and Die Welt newspaper.

It said the cell, which had ten members, was headed by a German of Syrian extraction, identified only as Rami M. All ten were said to have left Hamburg earlier this year to attend paramilitary training camps in the Hindu Kush. However two of the cell's members were reported to have recently returned. All of them were said to have used Hamburg's Taiba Mosque as a meeting place, the same location frequented by the 9/11 leader Mohammed Atta and his accomplices before they carried out the attacks on New York's World Trade Centre and Washington.

"It is to be assumed that these persons are absolutely prepared to carry out suicide or other attacks at home or abroad," the report was cited as saying. "The members of the group have a basic commitment to jihad and belong to Hamburg's potentially violent pro-jihad scene." The disclosures came amid heightened post-general election nervousness in Germany about the possibility of terrorist attacks and the release of some eight al-Qaeda internet videos in German threatening violence in response to the continued deployment of 4,200 Bundeswehr troops in northern Afghanistan. [More>>independent.co.uk; See related stories,

sw-world.de, October 7, "Berlin police launch raids on suspected extremists" : Police have searched over two dozen buildings in Berlin as part of an investigation into alleged Islamic extremists. Authorities suspect a group in the city is plotting attacks in Russia. Police launched the raids early on Wednesday morning and searched over 20 buildings in the German capital. No one has been arrested in connection with the raids, but police confiscated several items, such as computers and data carriers. Police say they believe an organization with at least 15 members, and headed by an Islamist of Arab descent living in Berlin, has been planning terrorist attacks in Russia. Several members of the group are also believed to have travelled to Pakistan to train in terror camps there. The public prosecutor's office says the investigation is focusing on three men, aged 28, 30 and 36, but it did not provide any other details...

en.rian.ru, October 7, "Russia put 750 militants out of action in 2009 - Interior Ministry" : KHANKALA, Chechnya, (RIA Novosti) October 7 - Russian police and interior troops have killed or detained some 750 militants in the North Caucasus region, including Chechnya, in 2009, a spokesman for the Interior Ministry said on Wednesday. "This year we have prevented 64 terrorist attacks on the territory of the Southern Federal District. At least 289 militants were killed, including 25 leaders of armed groups and 11 foreign mercenaries. 457 militants were also detained, including 3 leaders of armed groups," the official said. The Southern Federal District is one of the seven federal districts of Russia, which includes the North Caucasus....
---
10.07.09 Pirates choose wrong target - French warship
October 7 - In the darkness of the Indian Ocean, a bulky French re-fuelling vessel looked like easy pickings for two boatloads of Somali pirates as they drew alongside early today. The men started their usual pre-boarding drill, letting loose with Kalashnikov assault rifles, when they noticed the 40 millimeter cannon and missiles on the deck above them. Their fat merchant ship was in reality La Somme, the 18,000 tonne flagship of the French navy's operations against Somali pirates. "They understood their mistake too late," said Admiral Christophe Prazuck a navy spokesman, who recounted the second misguided assault on a French warship by bungling pirates in six months. The attackers turned tail and the Somme, a refuelling ship and command vessel, steamed after them at its maximum 20 knots. She caught up with one of the two boats after an hour and the five were captured without a struggle. The other boat got away.

The French seamen found no weapons, water or food as the pirates had thrown all of their boat's contents overboard, said Admiral Prazuck. With a crew of 170 and under the orders of an admiral, the Somme commands French air, sea and land forces in Operation Enduring Freedom, the combined US and European campaign against piracy and terrorism in the region. The vessel supplies combat ships and aircraft and has been the base for French commando operations to free hostages in the hands of Somali pirates over the past two years.

France has captured some three dozen pirates in aggressive operations that have involved special forces flown from France. It has handed over at least 22 to Kenya and brought 15 suspects to France to stand trial for seizing French boats and taking their occupants hostage. Last May, pirates mistook a French frigate for a cargo ship and were immediately captured. At least 163 attacks have been staged by Somali pirates since the start of 2009, 47 of them successful hijackings, according to monitoring agencies. [More>>timesonline.co.uk]
---
10.07.09 Civilian killed in bomb explosion in Baghdad
BAGHDAD, October 7 - An Iraqi civilian was killed and five others were injured in a bomb blast in western Baghdad Wednesday, a well-informed police source said. The incident took place after midday when a roadside bomb struck a minibus carrying passengers in a main street in the once Sunni insurgent neighborhood of Amriyah, the source told Xinhua on condition of anonymity. The blast badly damaged the minibus and caused damages to several nearby civilian cars, the source said. Sporadic attacks continue in Iraq as part of recent deterioration in security which shaped a setback to the efforts of the Iraqi government to restore normalcy in the country after more than three months of US troops pullout of Iraqi cities and towns. [>xinhuanet.com; See also chinaview.cn for links to several Mideast stories reported 9.24.09 thru 10.07.09.]
---
10.07.09 Feds net dozens in Phishing ring bust
(AP) October 7 - Arrests in Egypt, Three US States in ID Theft Scheme that Has Victimized Thousands. US and Egyptian authorities are arresting dozens of people to crack an identity theft ring that victimized thousands. Laura Eimiller, an FBI spokeswoman in Los Angeles, says agents are making arrests Wednesday morning in Southern California, Nevada and North Carolina. She says about 100 arrests are expected in the United States and Egypt, many in the Los Angeles area. An indictment accuses the ring of running a "phishing" scheme, using computer intrusion and fraud to obtain personal information allowing them to withdraw money from bank accounts. In "phishing," people answering an e-mail are directed to a bogus Web site and asked to update information such as passwords and account numbers. Eimiller says victims may have lost a combined couple million dollars. [>cbsnews.com; See related story,

bbc.co.uk, October 7, "Web mail scam propagates itself" : The industry-wide phishing scam that has affected popular web mail services such as Hotmail and GMail, is spreading, according to experts. Security firm Websense says it has noticed a sharp rise in spam emails from Yahoo, Gmail and Hotmail accounts. This is because infected accounts are sending personalized e-mails to contacts suggesting shopping sites, which are in fact fakes. Security expert Carl Leonard warned people to be on their guard. He advised people to check with friends that they had indeed sent the recommendation before visiting any new shopping sites. He also advised people to check web addresses: they should read https, with the 's' standing for secure. The news reflects e-mails the BBC has received from victims.

Peter Griffin found his Hotmail account had been compromised on Tuesday. He is currently unemployed and is worried that he has been sending spam to prospective employers. "I checked my account yesterday and found more than ten e-mails with links [that] were sent from my Hotmail [account] to people from my contacts," he told the BBC. Despite changing his password, he "found an hour later they had sent another six e-mails."

Key-logging

One security expert thinks victims of the scam could have been part of a so-called key-logging attack. Amichai Shulman from security firm Imperva said the high numbers of victims suggested this type of attack. Unlike a traditional phishing scam, which lures people into revealing their details on fake websites, key-logging records individual key strokes. In some cases the malware could have been downloaded automatically. The scam was highlighted when several lists, detailing more than 30,000 names and passwords from Hotmail, Google and Yahoo web mail accounts were posted online...
---
10.06.09 Pakistan readies for new assault on Bin Laden lair
October 6 - Suicide bombers show their resilience with daring attack on UN offices in Islamabad as 28,000 troops mass for imminent strike in the mountains of South Waziristan. In what is likely to be its sternest challenge yet, Pakistan's military is poised to launch a major offensive in the coming days against militants in the remote mountainous terrain of South Waziristan, long rumored to be the hiding place of Osama bin Laden. After months of preparation that has involved massing 28,000 troops near the tribal area on the Afghan border, and after weeks of air strikes designed to soften up militant positions, senior military sources in Islamabad told The Independent that the long-awaited operation was imminent. The US has also increased drone strikes in the region to target key figures. The operation to take on the 10,000-strong Mehsud network, formerly headed by Baitullah Mehsud, comes amid heavy pressure on Pakistan from Washington to continue its fight against militants, many of whom are involved in cross-border attacks on Western troops in Afghanistan.

...The UN said last week that 80,000 people had already left the South Waziristan area since June and estimated that up to 170,000 could follow if the operation goes ahead. Confronted by a faltering operation in Afghanistan and amid mounting doubt about its ability to achieve a military victory there, the assault on South Waziristan is considered critically important by the US administration of President Barack Obama. Washington wishes to see Islamabad take on militants responsible for cross-border attacks on US and NATO troops and prevent Pakistan from being a safe haven for such fighters. For a long time, the US has complained that while Pakistan — which has received billions of dollars in military aid since 11 September 2001 — was prepared to target militants responsible for attacks inside the country, it was less willing to pursue those whose primary battlefields were inside Afghanistan.

Indeed, it is an open secret that elements within Pakistan still consider such militants to be strategic assets. Such concerns will not have been eased by the news that the Pakistan army has renewed a non-aggression pact with Maulvi Nazir, a Taliban leader who earlier this year said he was joining forces with Baitullah Mehsud and Hafiz Gul Bahadur to target Western forces across the border and support the Afghan Taliban leader, Mullah Omar. [Full story>>independent.co.uk; See related stories,

thenews.com.pk, October 6, "Over 100 Taliban killed in weekend clash: NATO" : KABUL: A weekend clash that left eight US soldiers dead also killed more than 100 Taliban fighters, NATO's International Security Assistance Force (ISAF) said Tuesday. "A more detailed battlefield assessment following the October 3 attack in Nuristan has determined that enemy forces suffered more than 100 dead during the well-coordinated defence — significantly higher losses than originally thought," a statement said. [end]

thenews.com.pk, October 6, "10 extremists nabbed in last 24 hours: ISPR report" : RAWALPINDI - The security forces continued search and clearance operations in Swat and Malakand during the last 24 hours. According to a press release issued here by Inter Services Public Relations (ISPR) on Tuesday, the security forces conducted [a] search operation in Taghan and Maira and apprehended 10 suspected terrorists. At least 8 terrorists voluntarily surrendered to security forces in Barshaur, Biha and Chuprial. During [a] search and clearance operation at Banjir Banda, security forces recovered 21 communication sets. A local commander of TNSM Badshah Zeb Alias Gorkai Mullah voluntarily surrendered to security forces in Ushari Darra area of Dir. Terrorists fired 3 mortar rounds and 4 rockets in Kabutar Check Post;.. 2 soldiers got injured. [end]
---
10.06.09 Uganda arrests genocide suspect
October 6 - Uganda has arrested a former intelligence officer suspected of playing a major role in the 1994 Rwanda genocide, police sources have said. Idelphonse Nizeyimana was arrested on Monday at a guest house in the Ugandan capital after a tip-off, according to Interpol. Nizeyimana is wanted for genocide, complicity to commit genocide and direct and public incitement to commit genocide. Elly Womanya, the deputy director of Interpol, said that Interpol, the Ugandan authorities and the International Criminal Tribunal for Rwanda (ICTR) worked together to find Nizeyimana. Lieutenant-Colonel Felix Kulayigye, a spokesman for the Ugandan army, and a diplomat at the Rwandan embassy in Kampala confirmed the capture. [More>>aljazeera.net]
---
10.06.09 'We'll pay any price to defend Al Aksa'
October 6 - After Israeli ministers called for his indictment on Tuesday morning, a defiant Sheikh Raed Salah, the leader of the Islamic Movement's northern branch, said that he and his supporters "would pay any price to defend the Aksa [Mosque]" in Jerusalem, Israel Radio reported. Salah called on all Israeli Arabs and residents of east Jerusalem to immediately make their way to the Old City and "shield the mosque with their bodies." In response to accusations of inciting Arab violence in Jerusalem in recent days, Salah stated that if forced by the Israeli government to choose between imprisonment and defending the mosque "and occupied Jerusalem," he would choose the former without hesitation.

...Earlier Tuesday, in the wake of the Arab riots in Jerusalem, Vice Premier Silvan Shalom and National Infrastructures Minister Uzi Landau called for the Islamic Movement to be outlawed for allegedly inciting the violence, while Interior Minister Eli Yishai stressed that Israel was the sovereign "in the eternal, united capital of the Jewish people."...The Palestinian Authority contributes to the situation by trying to assert its authority over east Jerusalem, Shalom said, but Israel needs to assert its sovereignty on the Temple Mount. [Full story>>jpost.com]
---
10.06.09 Iran closes leading newspapers
October 6 - Iran has shut down three daily newspapers critical of Mahmoud Ahmadinejad, the president, according to reports by state-run news agencies. While no reason was given, the newspapers had been considered sympathetic towards those protesting over Ahmadinejad's disputed re-election in June. The papers closed on Tuesday were Tahlil Rooz (Day's Analysis) in the southern city of Shiraz, and two of the most influential reformist newspapers Farhang Ashdi (Culture of Reconciliation) and Arman (Ideals) published in the capital, Tehran. [More>>aljazeera.net]
---
10.06.09 Israeli scientists use car traffic to generate electricity
October 6 - An Israeli company has developed a method of generating electricity from road traffic, and Israeli may look to implement the system on the nation's highways. The system works by using generators implanted in the asphalt that create energy when cars drive over them. Each generator produces 2,000 watts per hour, which is stored in batteries along the side of the road. The technology was developed by the Israeli firm Innowattech, with the cooperation of the Technion University. A trial of the system was performed on Tuesday morning, along a 10 meter stretch of asphalt on Highway 4. The experiment was viewed as a success, with passing cars providing the power for street lights set up next to the 10 meter strip.

The manager of the project, Dr. Lucy Edri-Azoulay, said that the generators on Highway 4 were planted 2 inches below the top level of asphalt, and use the weight of cars driving on top of them to generate electricity. Edri-Azoulay explained that the technology driving the system is based on Piezoelectric materials, which generate electricity in response to applied mechanical stress. Edri-Azoulay stated that installing the program on a single traffic lane stretching one kilometer would produce 200 kilowatts of electricity per hour and a four lane highway with the system implemented would produce a megawatt of electricity every hour, enough to power 2,500 households. [More>>haaretz.com; See also innowattech.co.il video of collecting electricity from auto, train, plane and pedestrian traffic.]
---
10.06.09 Gold price rises to all-time high
October 6 - The price of gold has hit a new all-time high of $1,043.77 an ounce after a decline in the dollar boosted the attractiveness of metals to investors. Copper prices also rose above $6,000 a tonne, as the weaker dollar made metals cheaper for non-US investors. The dollar fell after a newspaper report - later denied - said that Gulf nations wished to replace the greenback as the main oil currency. The rise in metal prices lifted shares in mining firms. In afternoon trading on the UK's main FTSE 100 share index, mining stocks were among the biggest risers, with both Kazakhmys and Vedanta up 7.2%, and Fresnillo adding 6.3%. [More>>bbc.co.uk]
---
10.05.09 Tehran's top nuclear official says Iran has mastered fuel cycle
MOSCOW (RIA Novosti) October 5 - Iran's top nuclear energy official said in a television interview on Monday that the Islamic Republic has now mastered the full nuclear fuel cycle. "We can enrich uranium, we can process uranium, we can produce fuel rods, we can mine uranium, we can deal with spent fuel, which proves we have a full fuel cycle," Ali Akbar Salehi, head of the Atomic Energy Organization and the country's vice president, told IRI channel. Iran has been in the center of a protracted international dispute over its nuclear program. It has the right to the full nuclear fuel cycle if used for civilian purposes, but Western nations fear the program could lead to the production of weapons-grade material.

Salehi said Iran is able to enrich uranium to a 20% concentration of uranium-235 for its research reactor near Tehran if no deal to buy low-enriched uranium is reached with its partners. UN nuclear watchdog chief Mohamed ElBaradei was reported to have said that experts would meet in Vienna on October 19 to discuss a deal for Russia to take Iran's processed uranium and enrich it. Iran and six world powers involved in the nuclear dispute met in Switzerland last week. The meeting took place after news of Iran's second uranium enrichment facility led to calls for tougher sanctions against Tehran. Iran is under three rounds of UN sanctions for refusal to halt uranium enrichment. Tehran insists it needs nuclear technology for power generation. [>en.rian.ru]
---
10.05.09 Government watchdog says Treasury and Fed knew bailed-out banks were not healthy
October 5 - Senior Officials Had Financial Concerns About Nine Bank Institutions Receiving TARP Funds. The Treasury Department and the Federal Reserve lied to the American public last fall when they said that the first nine banks to receive government bailout funds were healthy, a government watchdog states in a new report released today. Neil Barofsky, the special inspector general for the Troubled Asset Relief Program (SIGTARP), says that despite multiple statements on Oct. 14 of last year that these nine banks were healthy and only receiving government funds for the good of the country's economy, federal officials knew otherwise. "Contemporaneous reports and officials' statements to SIGTARP during this audit indicate that there were concerns about the health of several of the nine institutions at that time and, as detailed in this report, that their overall selection was far more a result of the officials' belief in their importance to a system that was viewed as being vulnerable to collapse than concerns about their individual health and viability," Barofsky says. [More>>abcnews.go.com]
---
10.05.09 Hotmail hack: Passwords 'posted online'
October 5 - Microsoft is investigating claims that thousands of Hotmail passwords have been hacked and posted online. The company confirmed it was looking into a report on technology blog neowin.net which said the details of "over 10,000" accounts had appeared on another website. A Microsoft spokesperson said: "Microsoft has been made aware of the claims that Windows Live IDs and passwords have been made available on the web. We're actively investigating the situation and will take appropriate steps as rapidly as possible. Microsoft is committed to protecting the privacy of our customers and believe they deserve to have their personal data used only in ways they have agreed to, and in ways that provide value to them."

Neowin suggested the accounts had been hacked into or targeted by a phishing scheme, where fake websites are used to trick people into revealing personal details. The information on more than 10,000 accounts was posted on pastebin.com, a site used by developers to share code, the blog said. Neowin administrator Tom Warren wrote: "The details have since been removed but Neowin has seen part of the list posted and can confirm the accounts are genuine and most appear to be based in Europe. The list details over 10,000 accounts starting from A through to B, suggesting there could be additional lists. Currently it appears only accounts used to access Microsoft's Windows Live Hotmail have been posted, this includes @hotmail.com, @msn.com and @live.com accounts." Neowin recommended Windows Live Hotmail users "change your password and security question immediately." [>news.sky.com]
---
10.05.09 Glow-in-the-dark mushrooms discovered
October 5 - Freaky findings shed light on evolution of luminescence in nature. A newly identified luminescent fungus called Mycena luxaeterna was discovered in a forest in Sao Paulo, Brazil. The mushroom caps are tiny, under a half inch (8 mm) in diameter and the stems have a jelly-like structure. The glow is easier to observe at night. As if teensy night-lights were dangling from tree trunks and branches, glow-in-the-dark mushrooms illuminate the forests across the globe. Now, scientists have discovered several species of such radiant 'shrooms.

The freaky findings, reported today in the journal Mycologia, increases the number of aglow mushroom species from 64 to 71, shedding light on the evolution of luminescence in nature. The newly identified mushrooms, which emit a bright, yellowish-green light 24 hours a day, were found in Belize, Brazil, Dominican Republic, Jamaica, Japan, Malaysia and Puerto Rico. They include four species new to science and three new reports of luminescence in known species. "If daylight was not so bright you could see them during the day, but the greenish-yellow light does not stand out against daylight so we cannot visualize them," lead researcher Dennis Desjardin of San Francisco State University told LiveScience. "But take them into a dark room at any time of day, and wait until your eyes adjust to the darkness, and you'll see them glow very nicely." [More>>msnbc.msn.com]
---
10.05.09 Suicide bomber kills 5 at UN office in Pakistan
ISLAMABAD (AP) October 5 - A suicide bomber disguised as a security officer struck the lobby of the UN food agency's Pakistan headquarters on Monday, killing five people a day after the new leader of the Pakistani Taliban vowed fresh assaults, authorities and witnesses said. The blast raises questions as to how the bomber managed to evade tight security at the heavily fortified World Food Program compound in the capital, Islamabad. It could also hamper the work of WFP and other aid agencies assisting Pakistanis displaced by army offensives against al-Qaeda and the Taliban in their strongholds close to the Afghan border. Hours after the attack, the world body said it was closing its offices in Pakistan temporarily.

"This is a heinous crime committed against those who have been working tirelessly to assist the poor and vulnerable on the front lines of hunger and other human suffering in Pakistan," UN secretary-general Ban Ki-moon told reporters in Geneva. Ban said the UN would continue providing humanitarian assistance to the Pakistani people. WFP spokesman Amjad Jamal said the food agency would not halt its aid to refugees fleeing fighting between militants and the army even while its offices were shut. "I want to repeat it again that our operations have not been halted." There was no immediate claim of responsibility for the bombing. Militants have carried out scores of suicide attacks in Pakistan over the last 2 years, several of them targeting foreigners and their interests. Under US pressure, Pakistani security forces have recently had some success combating the extremists. [More>>timesofindia.indiatimes.com]
---
10.05.09 Pakistan's Taliban chief alive, meets reporters
ISLAMABAD (Reuters) October 5 - The new chief of Pakistani Taliban militants who US and Pakistani officials said might be dead has surfaced to meet journalists in his stronghold of South Waziristan. Hakimullah Mehsud, who became Pakistani Taliban chief after his predecessor, Baitullah Mehsud, was killed in a US missile strike in early August, looked healthy in pictures broadcast by Pakistan's Dawn Television on Monday. Sailab Mehsud, one of the journalists who met the militant chief on Sunday, said Hakimullah had vowed revenge for Baitullah's killing.

...Hakimullah met a small group of journalists with Rehman in Sararogha, a militant base in South Waziristan, and denied differences over the Taliban leadership. "Wali-ur-Rehman is sitting beside me and the only difference between us was that he was asking me to become Taliban leader and he was insisting on me taking charge," Hakimullah said. Security agents say Hakimullah is even more aggressive than Baitullah...The reporter said Hakimullah introduced another man with him as Qari Zafar, who has a $5 million US reward on his head for his suspected involvement in a bomb attack on the US consulate in the southern Pakistani city of Karachi. The Taliban leadership's appearance before the media came as the Pakistani army is preparing to launch an offensive against the militants in their South Waziristan heartland. [Full story>>thestar.com.my; For background information see an interesting story on the Sararogha Fort,
usatoday.com (AP) January 17, 2008, "Islamic militants seize Pakistani fort" : DERA ISMAIL KHAN, Pakistan - In an embarrassing battlefield defeat for Pakistan's army, Islamic extremists attacked and seized a small fort near the Afghan border, leaving at least 22 soldiers dead or missing. The insurgents later abandoned the fort and melted away into the hills, said military spokesman Maj. Gen. Athar Abbas. "There is no occupation of the Sararogha Fort. Militants have gone from there," he said. The militants did not gain significant ground, but they did further erode confidence in the US-allied government's ability to control the frontier area where the Taliban and al-Qaeda flourish...
---
10.05.09 Funeral bomber kills 6 in Iraq
BAGHDAD, October 5 - A suicide bomber detonated himself among mourners at a funeral in western Iraq on Monday, killing six people and wounding 16 in a region that has grown increasingly violent during the past few months. The bomber, a man in his 20s who wore a belt packed with explosives, walked into a crowd that had gathered inside a tent for a woman's funeral in the Anbar Province town of Haditha before blowing himself up, an Iraqi security official said on the condition of anonymity because he was not authorized to speak to the media.

The funeral's mourners included Iraqi police officers, tribal sheiks and members of Awakening Councils, the Sunni militias that fight insurgents. The funeral was for the mother of Khairi Obaid al-Gughaifi, a minor official in Saddam Hussein's government, the security source said. It is not immediately clear whether Mr. Gughaifi was among the victims. One of Mr. Gughaifi's brothers, a police officer, was killed in the bombing, the source said. In the Anbar Province city of Falluja on Monday three bombs were detonated, killing one person and wounding five others. [More>>nytimes.com]
---
10.05.09 Azerbaijan jails Lebanese for embassy bomb plot
BAKU, Azerbaijan, October 5 - Convicted of preparing attacks on Israeli and US embassies. An Azerbaijani court on Monday found two Lebanese men guilty of plotting attacks on the Israeli and US embassies in the capital Baku, jailing them for 15 years each, a court spokesman said. "Lebanese citizens Ali Karaki and Ali Najmeddin were sentenced to 15 years each," a court spokesman told AFP. He said they were convicted of preparing attacks on the Israeli and US embassies, as well as the strategic Gabala missile-detection radar station in the north of the country. Four Azerbaijani citizens were sentenced for between 15 and 12 years in prison.

The group was linked to Lebanese Shiite militant group Hezbollah, the al-Qaeda network, and Iran's powerful ideological army the Revolutionary Guards, the court spokesman added, without giving further details. The Los Angeles Times reported last May that the group had planned to set off three or four car bombs simultaneously around the Israeli embassy, which is in a business tower that houses other embassies and the offices of top foreign companies. [More>>alarabiya.net]
---
10.05.09 Yemeni cleric blames Iran for war
October 5 - A leading Yemeni religious leader has accused Iran of inciting violence in the north of the country, where a predominantly Shia Muslim group is waging a war against the government. Sheikh Abdul Majid al-Zandani, the head of Yemen's Imam University, told supporters that Tehran was trying to promote the Shia ideology in the country by backing the Houthi fighters. "The way events are moving in this country latest indicates to us that Iran wants to export the Shia ideology by force, which we utterly reject," al-Zandani said. Fighters from the Houthi group, named after its leader, have been battling the predominantly government forces in Saada province since 2004. The military launched a major offensive — dubbed Operation Scorched Earth — in the north on August 11 in an attempt to crush the group. [More>>aljazeera.net]
---
10.05.09 One killed, 11 injured by bomb in Thai south
PATTANI, Thailand, October 5 - Suspected separatist militants injured 11 people in a bomb attack and shot dead a Muslim man in Thailand's troubled south on Monday, local police said. The explosive, hidden in a motorcycle by a bank, went off late in the evening in Pattani province, close to where Buddhists were attending a festival. Earlier in the day, four gunmen on two motorcycles opened fire on a 34-year-old Muslim rubber taper as he travelled to work in Narathiwat province. Officers said he died at the scene. Shadowy insurgents have killed more than 3,900 people in the past five years in the southernmost Thai provinces bordering Malaysia. They target Buddhists and Muslims, with victims ranging from teachers and security forces to rubber plantation workers. The insurgency erupted in January 2004, but tensions have simmered in the region, formerly an autonomous Malay Muslim sultanate, since it was annexed by predominantly Buddhist Thailand in 1902. [>thenews.com.pk]
---
10.05.09 Al-Qaeda number two vows to kill westerners
(AFP) October 5 - Al-Qaeda's second-ranking leader has vowed in a new video message to kill more Westerners to avenge "crimes" against Muslims, a US al-Qaeda monitor said on Monday. Ayman al-Zawahiri dedicated his new video message, released Sunday, to al-Qaeda operative Sheikh Ibn al-Sheikh al-Libi, who died in a Libyan prison earlier this year, according to Alexandria, Virginia-based IntelCenter.[More>>khaleejtimes.com]
---
EDITORIALS

09.11.05 When a nation lacks a competent leader it invites disaster – the legacy of Bush
08.13.05 "Using force the George W. Bush way – Bush's crusade"
11.25.04 Why the Crusade & Jihad?
---
NOTES

*Visitor statistics on maravot.com from 1&1. com. 46,153 page views in May 2007; monthly visitors in 2008 range between 40,000-45,0000; in 2009 35,000-45,000.

Privacy Policy: We do not store any personal data from you. We have no way of knowing any vital information about you — not even your name. Third-party distribution: We do not distribute information about your site usage to any third party. We are not responsible for the content of links from our site. Usage data: supplied by our Web Hosting service, 1and1.com, which consists of usage reports, such as page views / impressions and web pages visited, visitors' servers and geographical data (ISP's and country of origin).



Maravot's Homepage





Launched: 10.25.04 / 11.02.04 – | — | ♦
Updated: 10.05.09; 10.06.09; 10.07.09; 10.08.09; 10.09.09; 10.11.09
Copyright © 1981-2009 Maravot. All rights reserved
Copyright© 1981-2009 Mel Copeland. All rights reserved
Background: tile from Cicero's villa (Marcus Tullius Cicero 106 B.C. - 43 B.C.)