News Headlines & Trends
---
4.09.09 Wells Fargo profits drive Wall St. surge
NEW YORK (AP) April 9 - Stocks bounded higher early Thursday after banking giant Wells Fargo & Co. issued a surprise profit announcement that was far above analysts' estimates. The Wells Fargo news offered investors some of the best evidence to date that the credit and lending markets are improving. Wells Fargo shares surged 25 percent and bank stocks led the market's climb. Bank of America Corp. rose 20 percent, while JPMorgan Chase & Co. jumped 12 percent. Citigroup rose 9.3 percent. In midmorning trading, the Dow Jones industrial average rose 205.57, or 2.6 percent, to 8,042.68. It was the Dow's first trade above the 8,000 mark since Monday. Broader stock indicators also jumped. The Standard & Poor's 500 index rose 25.64, or 3.1 percent, to 850.80, while the Nasdaq composite index rose 51.70, or 3.3 percent, to 1,642.36. [More.>cbsnews.com]
---
4.09.09 Iran inaugurates first nuclear production plant
April 9 - Iranian President Mahmoud Ahmadinejad on Thursday inaugurated the country's first nuclear fuel manufacturing plant (FMP) located near the central Iranian city of Isfahan. Ahmadinejad has announced the plant's opening during a ceremony in the central city of Isfahan on Iran's so-called Nuclear Day. He also said that Tehran would be ready for talks with the West if they are based on respect and justice. "The Iranian nation has from the beginning been after logic and negotiations, but negotiations based on justice and complete respect for rights and regulations," Ahmadinejad said in a televised speech. The nuclear fuel manufacturing plant will produce pellets of uranium oxide to fuel the heavy-water research reactor, which is scheduled to be completed in 2009 or 2010.

The process is distinct from uranium enrichment, which produces fuel for a light-water reactor. Highly enriched uranium can be used to build a warhead as well. Iran's enrichment program presents more immediate concerns to the West than the hard-water reactor, because it is far more advanced. Iran denies any intention to build a nuclear weapon. The US and its allies have expressed concerns Iran could reprocess spent fuel from the heavy-water reactor into plutonium for building a warhead. [More>>haaretz.com]
---
4.09.09 Police hunting for bombs after alarm raised over Pakistan's link to terror raids
April 9 - Police are attempting to track down bomb-making material and Gordon Brown has called on Pakistan's leader for help after the arrest of 12 al-Qaeda terrorist suspects. The results of Operation Pathway, the coordinated raids rushed into action last night after a security breach by Scotland Yard's counter-terrorism chief, had raised considerable alarm because 10 of those arrested were Pakistanis who have been staying in Britain on student visas. There are fears they had come to the country as genuine students before plotting to mount a terrorist attack, or even that they arrived under that guise with the intention of forming a terrorist sleeper cell.

The information prompted the Prime Minister, who said the police were dealing with "a very big terrorist plot," to highlight the connection with Pakistan. Contact has also been made with Pakistani authorities to try and trace any direct link with known al-Qaeda figures living in the tribal areas of the country. Mr. Brown said: "We know that there are links between terrorists in Britain and terrorists in Pakistan. That is an important issue for us to follow through and that's why I will be talking to President Zardari about what Pakistan can do to help us in the future." [More>>timesonline.co.uk]
---
4.09.09 Turkey detains 28 over suspected al-Qaeda ties
ANKARA, Turkey (AFP) April 9 - Suspects rounded up simultaneously in several districts. Turkish counter- terrorism police Thursday detained 28 people on suspicion that they had links to the al-Qaeda network, the Anatolia news agency reported, quoting the local governor. The suspects were rounded up in simultaneous operations in several districts in the western city of Eskisehir, Governor Mehmet Kiliclar told Anatolia, refusing to elaborate for the sake of the investigation. Last month, a Turkish newspaper reported that Ankara had received US intelligence that al-Qaeda militants could be plotting attacks on foreign targets in Turkey. A Turkish cell of al-Qaeda was held responsible for truck bombs against two synagogues, the British consulate and a British bank in Istanbul in 2003, which killed 63 people and left hundreds injured. [More>>alarabiya.net]
---
4.09.09 Pakistan cleric slams Zardari over sharia delay
PESHAWAR, Pakistan (AFP) April 9 - A pro-Taliban cleric lashed out at Pakistan President Asif Ali Zardari Thursday for not ratifying a deal imposing Islamic law in Swat valley, holding him accountable for any return to violence. February's agreement between cleric Soofi Mohammad and Pakistan's government to implement sharia law in the northwest Swat valley triggered alarm around the world, raising fears it would embolden Taliban and al-Qaeda extremism. Sharia courts were reported last month to have started work in Swat valley, but Zardari had not yet signed the agreement into law, as had been agreed in terms of the peace deal, Mohammad said.

"I am ending my peace camp in Swat and if any bloodshed occurs, President Zardari and the federal government will be responsible,"  Mohammad told a news conference in Mingora, the main town in the former ski resort of Swat. Thousands of Taliban followers spent nearly two years waging a terrifying campaign to enforce sharia law in Swat — beheading opponents, bombing girls' schools, outlawing entertainment and fighting government forces. [More>>khaleejtimes.com; See related story,
timesofindia.indiatimes.com, April 9, "Taliban website used US host: Washington Post" : WASHINGTON - A Taliban website used a US-based host for over a year to boast of attacks on coalition forces in Afghanistan before the deception was uncovered and the account was pulled out, the Washington Post reported on Thursday. The Houston-based web-hosting outfit said it simply rented cyberspace to the account holder and had no clue about its Taliban connections. For more than a year, the militant group used the site, claiming to be the voice of the "Islamic Emirate of Afghanistan", to rally its followers and keep a running tally of suicide bombings, rocket attacks and raids against the US and allied troops. The cost of the service: roughly $70 a month, payable by credit card, the newspaper said. The Taliban's account was pulled last week when a blogger noticed the connection and called attention to it, the Post said.

However, the odd pairing of violently anti-American extremists and US technology companies continues elsewhere and appears to be growing, it added. Intelligence officials and private experts cite dozens of instances in which Islamist militants sought out US internet firms — known for their reliable service and easy terms that allow virtual anonymity — and used these to incite attacks on Americans. In some cases, the complaints come from governments.

Pakistan has been complaining to US officials about militants' use of North American internet services since late last year, when investigations into the 26/11 Mumbai carnage, which involved Pakistanis, revealed that the attackers had communicated using Internet phone calls routed through another server based in Houston...The official said Pakistani intelligence experts are convinced that Washington prefers to keep the sites running for intelligence purposes...[See original story, washingtonpost.com, April 9, "Extremist websites are using US hosts."]

---
Editorial note: See Maravot News 11.14.08 article 11.14.08 US missile strike kills 12 in Pakistan's tribal area and editorial note relating to the Taliban and al-Qaeda's probable use of internet and cellphone facilities in Miranshah, Pakistan. Another probable resource for terrorists appeared to be facilities or routers through Malaysia. Note that the first al-Qaeda summit before 9/11 was in Malaysia.

Many sites reporting on terrorist use of the internet have complained about the apparent ease terrorists have in using the internet to recruit, raise money and communicate their plans. One might think that the best offense against terrorist use of the internet would be to make it hard for them to access the internet. The harder it is for them to obtain access the more vulnerable they become.

Most internet host services (who issue Domain names) require credit-card payment and details on the purchaser of the service. A "Who is?" search on the internet relative to any domain name will reveal the name of the owner, billing address and phone number. Domain owners can pay for privacy protection, but one might think that such protection would not extend to search warrants.

This is our comment about the probable Pakistan-based internet and cellphone link:
"...To communicate among their ranks using cell phones or the internet the Taliban and al-Qaeda probably access them through Miranshah facilities. A Google search on Internet Service Providers (ISP's) for the area produced link.net. Earlier searches of ISP's for the area are also recorded in Maravot News. As Sahab's / al-Qaeda's (continuously changing) internet sites in 2006 are listed in Maravot News 5.27.06 article 5. 24.06 update, 5.23.06 'Bin Laden' denies Moussaoui role.

See also a later article, Maravot News, 8.27.07, Security forces kill 10 miscreants in fresh Miranshah operation. Our Editorial note relating to this article said: "...It would not be surprising to Maravot News if al-Qaeda's production studio, as-Sahab, is discovered in Miranshah. [Using Google Earth] One can follow the river valley west from Miranshah to Afghanistan. It is common knowledge that the Taliban and al-Qaeda use vehicles and thus need roads. Anyone can see, using Google Earth, which roads they must use to pass between Afghanistan and Pakistan. Al-Qaeda's number 2 leader, al-Zawahiri, bragged in a Spring 2007 as-Sahab broadcast that he had high-speed internet access. August 23, 2006 Stratfor.com, Fred Burton, published an analyses of al-Qaeda's internet production capabilities..We wonder whether US / Pakistani authorities have checked out the users of professional studio production equipment and supplies particularly in the Miranshah area. Which people in Miranshah need studio lights?"

Mel Copeland
---
4.09.09 Suicide bomber kills 5, wounds 17 in Afghanistan
KANDAHAR, Afghanistan (AP) April 9 - A suicide bomber attacked a police drug eradication unit in southern Afghanistan on Thursday, killing five people and wounding 17 others, an official said. The Taliban claimed responsibility. The attacker struck the patrol in Lashkar Gah, the capital of Helmand province, a major drug-producing area, said Kamal Uddin, the deputy provincial police chief. The members of the force were traveling in a convoy of vehicles headed for nearby districts to eradicate poppies at the time of the blast, Uddin said. Five people — two police officers and three civilians — were killed in the blast, said Daud Ahmadi, the spokesman for the provincial governor. The blast also wounded four policemen and 13 civilians, Ahmadi said.

...Afghanistan is the world's largest producer of opium, the main ingredient in heroin. The Afghan opium trade accounts for 90 percent of worldwide production. The UN estimated last year that up to $500 million from the illegal drug trade flows to Taliban fighters and criminal groups. The top US and NATO commander in Afghanistan, Gen. David McKiernan, said his troops have increased their targeting of drug operations by eight- or 10-fold in the past four months, specifically for drug lords or operations that could be tied to insurgents and insurgent funding. [Full story>>khaleejtimes.com]
---
4.09.09 Corruption undercuts hopes for Afghan police
GHAZNI, Afghanistan, April 9 - As part of his new strategy for Afghanistan, President Obama has announced plans to send 4,000 more American troops this spring to train the Afghan National Police and Army. But a shortage of American trainers is only one factor hampering the Afghan police. If the experience of the American troops already training police officers in Ghazni Province is any indication, better policing may be impossible for Afghanistan unless government officials at all levels stop cannibalizing their civil administration and police force for a quick profit. In two weeks of interviews in this mountainous region of poor farmers and shepherds, exasperated American soldiers said it was hard to determine which was their more daunting opponent — the few thousand Taliban who ruled villages through a shadow government of mullahs, or corruption so rife that it had deeply undercut efforts to improve the police and had destroyed many Afghans' faith in government.

That lack of trust, coupled with the absence of security forces in almost all villages, further strengthens the hand of the Taliban as the only real power here. Ghazni's experience shows the challenge that corruption presents to efforts to establish better policing throughout the country.

The list of schemes that undermine law enforcement is long and bewildering, according to American and Afghan officers who cite some examples: police officials who steal truckloads of gasoline; judges and prosecutors who make decisions based on bribes; high-ranking government officials who reap payoffs from hashish and chromite smuggling; and midlevel security and political jobs that are sold, sometimes for more than $50,000, money the buyers then recoup through still more bribes and theft.

...That culture of corruption affects everything: promotions, assignments, the resolution of cases. As one example, Major Schmeling pointed to a police officer who a year ago was a lowly patrolman and gate guard. Then, he said, the policeman scraped together the money for a new job: a top noncommissioned officer on the provincial police force. "As long as people are buying themselves into positions like that, the people will never trust the system," the major said. To those buying jobs, the payments are an investment they intend to recover, along with a profit. Jobs that bring more money, like posts near the Kabul-Kandahar highway that allow opportunities for extorting truckers and smugglers, sell for a premium, soldiers here say. [Full story>>nytimes.com]
---
4.09.09 Two rebels executed on China-Pakistan border
BEIJING, April 9 - Two persons were executed in Kashi (also called Kashgar), which is close to the Chinese borders with Pakistan and Afghanistan, on Thursday. The executions took place after the country's Supreme Court approved the death penalty given by a lower court...They were charged of killing 17 persons and injuring 15 others in an attack on border police last August. The Kashi court also said they were causing unrest in order to disrupt the Olympic Games in Beijing.

China has been desperately a battling separatists' movement in Xinjiang seeking to create an independent nation of East Turkmenistan. The prosecution said Azat drove an explosive laden truck over 70 policemen engaged in morning exercises killing 15 of them. He later detonated the truck killing one more person. At the same time, Hemit threw explosives at the gate of the police station and wielded a knife killing one policeman and injuring two others. [Full story>>timesofindia.indiatimes.com]
---
4.09.09 Georgians rally against president
April 9 - Thousands of Georgians have gathered outside parliament saying they will not disperse until the president resigns. Protesters, numbering up to 60,000, blamed President Mikhail Saakashvili for defeat against Russia in August's war and said he had stifled democracy. The opposition alleged that dozens of members were arrested before the rally — a claim denied by the government. President Saakashvili urged Georgians to show unity and "work day and night... to finally liberate Georgia." He was speaking at a ceremony in the capital, Tbilisi, to commemorate the day, 20 years ago, when 20 people died as Soviet Red Army troops crushed a popular protest in the same place. [More>>bbc.co.uk]
---
4.08.09 Syria says willing to renew peace talks with Israel
(AP) April 8 - Syria says it's willing to resume indirect peace talks with Israel's new government as long as the talks focus on an Israeli withdrawal from the entire Golan Heights to lines that preceded the June 1967 Mideast war. Foreign Minister Walid al-Moallem made the statements Wednesday during a news conference with Italy's foreign minister. Indirect talks through Turkish mediation broke off after Israel's Gaza offensive started in December. The extent of withdrawal is a major issue. Israel has not confirmed it would pull back to the pre-war lines, which Syria insists on. [More>>haaretz.com]
---
4.08.09 Ayatollah sees Obama sincere in Muslim message
BEIRUT, Lebanon (Reuters) April 8 - One of Shi'ite Islam's highest religious authorities praised on Wednesday the "sincerity" of US President Barack Obama's message to the Muslim world and predicted a positive outcome for his approach to Iran. Grand Ayatollah Sayyed Mohammed Hussein Fadlallah said Obama appeared to be a man of "human values" but would be judged on his actions. The ayatollah urged Obama to rethink policy on the Israeli-Palestinian conflict. Trying to repair America's damaged image abroad, Obama said on a visit to predominantly Muslim Turkey this week that the United States was not at war with Islam.

..Asked about the prospects of a breakthrough in US-Iranian relations, Fadlallah said: "I believe the matter will end with positive results." The growth of Iranian influence has alarmed conservative Arab states close to the United States, but Fadlallah said Arab concerns about Iran would ebb if US ties improve with Tehran. [Full story>>thestar.com.my]
---
4.08.09 Deaths in bombing near Iraqi shrine
April 8 - At least seven people have been killed in a bomb blast near the most important Shia shrine in Baghdad, the Iraqi capital. Another 23 people were injured in the explosion in the northern Kazimiyah district on Wednesday, which is believed to be part of an organized campaign against Shia targets, police said. The blast occurred about 100 metres from the tomb of Imam Mousa al-Kazim, one of the 12 Shia imams. The attack comes a day after a baby was rescued from a car hit by an explosion that killed his mother on Tuesday. A series of bombings has hit the country in recent weeks and the interior ministry has said that further attacks are likely. [>aljazeera.net]
---
4.08.09 Pirates overboard as US crew seizes ship back in Indian Ocean
April 8 - An American crew has seized back control of a container ship that was commandeered by pirates in the Indian Ocean today, according to the Pentagon. The military official said the crew was holding one pirate in custody while the others were reported to "be in the water." The official, speaking on condition of anonymity, would not confirm how the Somalis found their way into the ocean. Somali pirates hijacked the US-flagged container ship off the Horn of Africa, the first such attack on American interests. John Reinhart, the CEO of Maersk, which owned the vessel, said the company was working to contact families of the crew. "Speculation is a dangerous thing when you're in a fluid environment. I will not confirm that the crew has overtaken this ship," he said.
All 20 American crew members aboard the Maersk Alabama were believed to be unharmed, according to Andrew Mwangura, who monitors piracy for the East African Seafarers' Assistance Programme. The ship was travelling to the Kenyan port of Mombasa and her cargo includes 232 containers of relief food destined for United Nations feeding programmes in Somalia and Uganda. [More>>timesonline.co.uk]
---
4.08.09 Italian quake death toll climbs to 260
L'AQUILA, Italy, April 8 - More Than 28,000 Left Homeless As Aftershocks Plague Country's Mountainous Central Region. Italian Premier Silvio Berlusconi said Wednesday that the death toll in Italy's earthquake had risen to 260. Speaking at a news conference Wednesday in the devastated mountain town of L'Aquila, Berlusconi said the dead included 16 children, while nine bodies still had to be identified. Berlusconi said that L'Aquila Bishop Giuseppe Molinari would hold a funeral service for the victims on Friday.

The premier said some 17,700 people left homeless by the quake that struck Monday had found shelter in tent camps set up by authorities. Another 10,000 people were housed in hotels along the coast, bringing the overall number of homeless to almost 28,000. In his weekly public audience at the Vatican on Wednesday, Pope Benedict XVI praised the relief operations as an example of how solidarity can help overcome "even the most painful trials." [More>>cbsnews.com]
---
4.08.09 Cyberspies penetrate electrical grid: Report
WSHINGTON (Reuters) April 8 - Chinese and Russian Spies May Have Planted Software Bugs to Disrupt Power. Cyberspies have penetrated the US electrical grid and left behind software programs that could be used to disrupt the system, the Wall Street Journal reported on Wednesday. The spies came from China, Russia and other countries, and were believed to be on a mission to navigate the US electrical system and its controls, the newspaper said, citing current and former US national security officials. The intruders have not sought to damage the power grid or other key infrastructure but officials said they could try during a crisis or war, the paper said in a report on its website. [More>>abcnews.go.com; See original story, wsj.com]
---
4.08.09 China signs deal with NWFP to track down rebels
BEIJING, April 8 - Terrorist-hit Xinjiang Uighur Autonomous Region has signed a deal for developing friendly relations across the border with the politically volatile North Western Frontier Province of Pakistan. The deal is expected to help China obtain the support from local leaders in NWFP, most of whom are independent of the Zardari regime in Islamabad, to cut off the links between separatists in Xi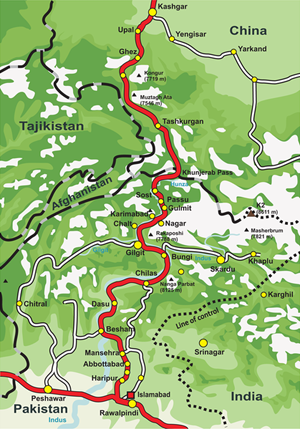 njiang and terrorists across the border in Pakistan. Beijing also wants help to track down Xinjiang rebels hiding in Pakistan. sources said. It comes soon after the atheist Communist Party of China signed an agreement with the Jamat-e-Islami in Pakistan. Both agreements suggest that China has lost hope in the Zardari government's ability to help it in the area of tracking terrorists. Beijing is now dealing with Pakistan at the level of its domestic politics.

The agreement comes in the wake of intense crack down on Islamic rebels in Xinjiang, who are known for getting arms and training support from terrorists' bases in Pakistan. The Chinese ministry of public security had earlier released details of several Xinjiang terrorists while suggesting that most of them had been trained in Pakistan. The Muslim dominated Xinjiang region is a hotbed of a separatist movement for creation of an independent East Turkmenistan nation of Uighur.

...China is engaged in broadening the Karakoram highway, which passes through the Khunjerab Pass at an altitude of 4,693 meters connecting Xinjing with NWFP. Islamabad has been trying to persuade China to use this highway as a major international route to bring imported goods from the Gudwar port further up in Pakistan. This is what makes the agreement between Xinjiang and NWFP particularly significant. The deal is also the result of a realization that the Zardari regime cannot help China control terror. [Full story>>timesofindia.indiatimes.com]
---
4.08.09 US drone strikes kill 4 in South Waziristan
WANA, Pakistan, April 8 - At least four people were killed when a US drone fired two missiles at their vehicle in the South Waziristan region on the Afghan border on Wednesday. "Drones initially flew over mountains around Gangi Khel area. There was some ground fire towards one of the drones and they left the area," said one security official, on condition of anonymity.

Gangi Khel is a village around five kilometres (three miles) west of Wana, the main town in the semi-autonomous South Waziristan district. "Drones returned after some time and targeted a vehicle, which was parked near some shops. Four people were killed in the attack. Four others were wounded they were either shopkeepers or local residents," the official said. It was not immediately clear whether any high-value targets were killed. Another security official had earlier said it was not known whether the target was a vehicle or a house. [>thenews.com.pk]
---
4.08.09 Zardari: 'Give us the drones and we will take out the militants ourselves'
April 8 - Pakistan's embattled leader tells Andrew Buncombe what the US should be doing to help him tackle the extremist menace. Pakistan's president has called on America to provide his country with an arsenal of drones and missiles to target militants blamed for a wave of violence rather than carrying out independent operations that violate the nation's sovereignty. In an interview with The Independent, Asif Ali Zardari said Pakistan had made it clear that it was willing to "take out high-value targets on our own, and we welcome the technology and intelligence assistance that will give us the ability to succeed." He added: "I cannot condone violations of our sovereignty even when they are done by allies and friends. We would much prefer that the US share its intelligence and give us the drones and missiles that will allow us to take care of this problem on our own." [More>>independent.co.uk]
---
4.08.09 Will new military budget prolong recession?
April 8 - Many Cities and Towns Rely on Government Spending to Keep Their Economies Strong. Many cities and towns across this country rise and fall with military spending. And with Defense Secretary Robert Gates' announcement earlier this week of new defense spending priorities, many communities are bracing for drastic cuts or a windfall. From Seattle to St. Louis to Fort Worth, communities are closely watching how the $534 billion spending plan for the 2010 fiscal year plays out in Congress. The key to the whole process is that Gates and President Obama have to look out for the nation as a whole while individual congressmen are concerned about jobs in their districts. If Gates' budget stands as is, some of the hardest hit communities would be:

Marietta, Ga. where Boeing and Lockheed Martin assemble the F-22. About 2,000 workers there could lose their jobs.
Seattle could lose 1,200 because the F-22's wings and aft fuselage are build there.
Middletown, Conn. is home to United Technologies' Pratt & Whitney unit, the sole provider of the F-22 engine. The town could lose 2,000 to 3,000 jobs from the discontinuation of the plane.
St. Louis could suffer from the end of Boeing C-17 transport plane production. About 1,800 people in the area work on the C-17 and another 4,000 work on the F/A-18s.
Long Beach, Calif. would also suffer big losses because of the elimination of the C-17. About 5,000 people in the area have jobs working on the plane.
[More>>abcnews.go.com]
---
4.08.09 Business failures up 12.39% in FY 2008
TOKYO, April 8 - The number of corporate bankruptcies in Japan in fiscal 2008 ended March 31 rose 12.39% from the previous year to a six-year high of 16,146, with debts left expanding 2.5-fold to 14.02 trillion yen, a private credit research firm said Wednesday. The number of bankruptcies increased for the third consecutive year, Tokyo Shoko Research said in a survey covering failures with debts of 10 million yen or more. [>japantoday.com]
---
4.08.09 Taliban kidnap JUI, PPP men for women aid measures
ISLAMABAD, April 8 - More than a dozen members of the Jamiat Ulema-e-Islam (JUI) party and some activists of the ruling PPP have been taken hostage by the Taliban in Pakistan's restive tribal region for supporting a programme providing financial aid to women. The people taken hostage on Tuesday in Bajaur tribal agency are being held in private jails run by the Taliban in the militancy-plagued region bordering Afghanistan, "The News" daily reported on Wednesday.
A senior Taliban commander from Bajaur told the paper on phone that the militants had "arrested" over a dozen clerics belonging to the JUI, including a nephew of a former parliamentarian, and some PPP workers for backing the Benazir Income Support Programme (BISP). The Taliban commander said the JUI and PPP activists continued supporting the programme and distributed cheques among women despite "repeated warnings."
The Taliban "Shura" or council in Bajaur issued "arrest warrants" for the political activists after they defied the militants' orders and "violated tribal customs and traditions by inviting women to government offices for distributing the financial assistance," he said. The commander said the Taliban had also warned two PPP parliamentarians — Engineer Shaukat Khan and Akhunzada Chattan — not to initiate the programme and its projects in their areas but the lawmakers had not heeded the warnings. The commander, who did not want to be named, argued there was no room for women to work or attend functions or meetings in the presence of men. Therefore, the Taliban had banned the women's aid programme in Bajaur and termed its activities as being against Shariah or Islamic law, he said. [>indianexpress.com]
---
4.08.09 Egypt man kills daughter after boyfriend's call
CAIRO (AFP) April 8 - An Egyptian man beat his 17-year-old daughter to death after she received a phone call from her boyfriend, a police official told AFP on Wednesday. The 45-year-old farmer identified as Mursi A. from the Nile Delta province of Kafr el-Sheikh, caught his daughter Nur talking to her boyfriend on the phone and "beat her with a large stick before electrocuting her," the official said. Relations between unmarried men and women are deemed improper in Egyptian conservative society, particularly in rural areas. The police were alerted to the crime after the girl's body was taken to a nearby hospital, the official said, adding that Mursi was later arrested. Last May, a farmer from the conservative south of Egypt decapitated his daughter after discovering she had a boyfriend. [>khaleejtimes.com]
---
4.08.09 Men get 12 years each for terrorism
JAKARTA, April 8 - A Jakarta district court convicted three Islamic militants of terror acts and sentenced them to 12 years each in prison Tuesday. The three terrorists — Sugiarto alias Sugicheng, Agustiawarman alias Bukhori, and Heri Purwanto alias Abu Hurairoh — were "legally and convincingly" proven guilty of conspiring to carry out acts of terror in Indonesia. "The defendants had assembled bombs and planned to attack Bedudal Café in Bukittinggi, West Sumatra,," presiding judge Aswan Nurcahyo said to tempointeraktif news portal during their final trial at the South Jakarta District Court.

..The convicts were part of an alleged 10-member cell of the Jamaah Islamiyah terror network who were rounded up in Palembang, South Sumatra, in July last year by a special police anti-terror detachment. However, the judges said the trial revealed that the ring leader of this group was Mohammad Hassan bin Saynudin, alias Fajar Taslim, a Singaporean citizen who is facing the same charges in a separate trial. [Full story>>thejakartapost.com]
---
4.08.09 Egypt accuses Hezbollah of plotting attacks
CAIRO, April 9 - Arrests several on suspicion of helping Hamas. Egypt's state prosecutor on Wednesday accused the Lebanese Shiite movement Hezbollah of plotting to carry out attacks inside the country . "The state prosecutor has received a statement from state security which shows that leaders from the Lebanese Hezbollah have called on its cadres to recruit members to its movement," according to a statement from the prosecutor obtained by AFP.

It charged that the campaign was launched with "the aim of carrying out acts of aggression inside the country," while Hezbollah leader Hassan Nasrallah had appointed members to carry out such actions. Egyptian police have arrested 43 people in connection with the case, the prosecutor said, although it was not immediately clear when the arrests were carried out. The men are suspected of having bought or rented homes in Rafah on the border with Gaza to smuggle weapons and contraband into the Palestinian enclave which is ruled by Hamas, a judicial source told AFP. [More>>alarabiya.net]
---
4.07.09 Indictment says banned materials sold to Iran
April 7 - Prosecutors in New York have charged a Chinese businessman and his company with recently selling tons of sensitive materials to Iran, clandestine sales that prosecutors say violate United Nations bans aimed at restraining Tehran's rocket and nuclear ambitions. According to an indictment unsealed in Manhattan on Tuesday, the Chinese company sold tungsten, high-strength steels and exotic metals to the Defense Industries Organization, an arm of the Iranian military, from 2006 to 2008, often using shell companies to hide the transactions. Both Defense Industries and the Chinese parent company, Limmt Economic and Trade Company, are banned by the Treasury Department from doing business in the United States.

The materials have many uses in long-range missiles and nuclear arms, everything from engine nozzles that can withstand fiery temperatures to centrifuges that can enrich uranium into atomic fuel. The materials can be used for weapons as well as civilian purposes. Many of the raw materials are specifically banned by the United Nations for sale to Iran, and the Iranian recipient is a recognized leader of the military's efforts to make advanced arms. The diversity and quantity of the sales are seen as significant, involving thousands of tons of some of the world's most sensitive raw materials.

Iran's missile and nuclear programs are a central global worry. Tehran is speeding ahead to enrich uranium in defiance of the U.N. Security Council and recently launched a satellite in what analysts see as an important step toward a long-range missile that can hurl warheads. President Obama is walking a middle path. He has struck a conciliatory tone toward Iran while asking the Russian president, Dmitri A. Medvedev, for help in halting Iran's efforts to unlock the atom and build long-range missiles. [More>>nytimes.com]
---
4.07.09 China says North Korea has right to peaceful use of space
BEIJING (AFP) April 7 - China said Tuesday that North Korea had the right to peaceful use of space as it refused to condemn its ally's weekend rocket launch. In its clearest comments yet since the blast off, China's foreign ministry said the United Nations should not overreact and that the most pressing concern was to restart stalled nuclear disarmament talks. "We hope relevant parties can maintain restraint and stay calm to safeguard overall peace and stability," foreign ministry spokeswoman Jiang Yu told reporters. "This issue also involves a country's right to peaceful use of space. We believe the (UN) Security Council should respond in a prudent way."

North Korea maintains Sunday's launch put a satellite into orbit, but the United States and its allies say nothing made it into space and the real purpose was to test the delivery vehicle, a long-range Taepodong-2 missile. Washington and Tokyo are pushing for the Security Council to react strongly to the launch, saying it violated UN resolutions passed after Pyongyang's 2006 nuclear and missile tests, but China and Russia are aiming for a more muted response. [More>>timesofindia.indiatimes.com]
---
4.07.09 UK manufacturing falls 13.8% in February
April 7 - British manufacturing output fell by a record amount year-on-year in February as it suffered its twelfth straight month of declines, the longest stretch of losses since the recession of 1980. For some, there was a glimmer of hope as the pace of decline from January of 0.9 per cent was slower than expected, less than the 1.5 percent drop analysts had forecast. Car production and metal products were particularly hard hit in February as manufacturers slowed production in response to slowing demand. The broader measure of industrial production, which makes up nearly a fifth of the economy, fell by 12.5 per cent over the year, its biggest drop since records began in 1968. Its monthly decline of 1 per cent was also less than expected. [More>>timesonline.co.uk]
---
4.07.09 France tightens visa policy as unemployment rises
PARIS (Reurters) April 7 - France is tightening conditions for foreign workers to obtain visas because unemployment is rising and the priority is to get people already in the country back to work, a policy document signed by the president shows. In a letter to Immigration Minister Eric Besson, President Nicolas Sarkozy acknowledged for the first time that the dire labour situation has an impact on his immigration policy. "The absolute priority must be for people in France who are deprived of work to get back into jobs," said the letter, dated March 31 and released on Tuesday. The instruction will apply mainly to visa applicants from outside the European Union. [More>>khaleejtimes.com]
---
4.07.09 35 Taliban sneaked into Kashmir: report
NEW DELHI, April 7 - Around 35 Taliban militants have entered the country through Gurez sector, near the Line of Control in Jammu and Kashmir, Indian media reported Monday. The infiltration attempt began around March 26. According to the reports, intelligence sources have said that around 28 of the 35 terrorists belong to Taliban and nine to Laskar outfit. One terrorist has been reportedly killed in the encounter by the Indian troops who have engaged the rest near Gurez, reports said. Hijbul Mujahideen is believed to be helping the terrorists to enter the country. As a response, the Home Ministry has said that they will neutralise all the threat. [>thenews.com.pk]
---
4.07.09 Obama lands in Iraq for first visit as president
BAGHDAD (AP) April 7 - On a trip shrouded in secrecy, President Barack Obama flew into Iraq on Tuesday for a brief inspection of a war he opposed as a candidate and now vows to end as commander in chief. His gleaming white and blue Air Force One touched down hours after a car bomb exploded in a Shiite neighborhood of the capital city, a deadly reminder of the violence that has claimed the lives at least 4,266 members of the US military and thousands more Iraqis since March 2003. Obama's visit came at the conclusion of a long overseas trip that included economic and NATO summits in Europe and two days in Turkey.

Shortly before leaving Turkey, the president held out Iraq as an example of the change he seeks in policies inherited from former President George W. Bush. "Moving the ship of state takes time," he told a group of students in Istanbul. He noted his long-standing opposition to the war, yet said, "Now that we're there," the US troop withdrawal has to be done "in a careful enough way that we don't see a collapse into violence."...While US casualties are own sharply from the war's height, there were constant reminders of violence. A half-dozen bombs rocked Shiite neighborhoods on Monday, killing 37 people. There was no immediate death toll available from the car bomb incident that occurred a few hours before the president arrived on Tuesday. [Full story>>thejakartapost.com]
---
4.07.09 US Muslims urge Obama to focus on civil rights
CAIRO, April 7 - American Muslim Taskforce meets in Washington to lobby Obama. As President Barack Obama was in Turkey on his first outreach visit to a Muslim country, America's own Muslims urged him Monday to focus on the civil liberties concerns of its citizens and consider Muslim-Americans as a "bridge" between the United States and the Islamic world. American Muslims called on Obama to address domestic civil rights issues, like the spread of Islamophobia and racial profiling, that prevent them from integrating into American society at a press conference at Washington's National Press Club.

"While it is vitally important for President Obama to reach out to the Muslim world, it is equally important that he addresses serious concerns American Muslims have about domestic policies that negatively impact civil liberties and seem to reflect the growth of Islamophobic attitudes in our nation," Dr. Agha Saeed, chairman of American Muslim Taskforce (AMT), told AlArabiya.net. With the change in administration, many American Muslims hoped to address the many civil rights hurdles created during the previous eight years of George W. Bush, whose 'war on terror' policies eroded their liberties, according to several civil rights organizations.

.. The taskforce's call for domestic outreach came on the heels of an ABC news/Washington Post poll that found most Americans backed Obama's outreach to Muslim nations but nonetheless remained wary of Muslims and Islam. The poll showed 48 percent of Americans held negative opinions of Islam and 29 percent believed it preached violence towards non-Muslims. Unfamiliarity with Islam and Muslims was the main factor behind these unfavorable views, which were the highest since 2001 and have doubled since 2002. [Full story>>alarabiya.net; See related story,

cnn.com, April 7, "Commentary: Muslim world 'likes' Obama's words" : President Obama was in Turkey today. It was the last leg of his five-nation European tour and his first trip to a Muslim country since taking office. During the stop he sent a message to the world that the US will never be at war with Islam. "I am personally committed to a new chapter of American engagement. We can't afford to talk past one another, to focus only on our differences or to let the walls of mistrust go up around us." So how is the Muslim community reacting to the president's visit? Hisham Melhem, Washington Bureau Chief for global Arab language network Al-Arabiya, spoke to Kiran Chetry Tuesday on CNN's "American Morning."

Kiran Chetry: In all, how was our president received in the Muslim world?

Hisham Melhem: Well, judging by the positive headlines, by the live coverage that my network and others gave his speech yesterday in front of the Turkish parliament, the Muslim world likes what the president has been saying. Not only in Turkey, but since he was elected. And I think his words and, more importantly, his actions, have resonated positively throughout the Arab world and the Muslim world. People realize that there is a new tone, that there is a new content, that there is a new language. Gone are the combustible words that President Bush used to use like Islamo [sic] Fascism. Now the new president talks about engagement, he talks about partnership, he talks about respect, mutual interests. President Bush seemed to many Arabs and Muslims every time he talks to them as if he is talking down to them, as if he is lecturing them. This new president is trying to engage them as potential partners in the fight against the real enemy of the United States and the real enemy of these governments which is al-Qaeda. The president doesn't talk about the war on terror in general because the war on terror is a war on a tactic. He has a well-defined enemy called al-Qaeda. He doesn't clump like, President Bush, all Islamic groups. He focuses only on al-Qaeda. All of these things, they are nuances and people recognizes nuances and they appreciate that.

Chetry: I want to ask you about that, because there are some who criticized exactly what you are saying is a good thing, saying he gave a pass perhaps to groups like Hamas, Hezbollah, the Muslim Brotherhood and other groups that have used terror and are considered terrorist groups by our government.

Melhem: Look. President Bush, the way he framed the issue, the war on terrorism created a conceptual muddle and he confused a lot of people. When you fight an enemy, you have to define your enemy very well and President Obama is trying to do that. It doesn't do any service to the United States' effort to defeat al-Qaeda, to keep al-Qaeda in a defensive posture, when you lump together all of these groups. Yes, it is true, the United States labels Hamas as a terrorist group and Hezbollah and others, but the United States is not engaging in the battlefields against Hamas...

---
Editorial note: "Confusion over the teachings of the Koran." (reprinted from Maravot News 12.04.08)
Islamic teachers around the world are faced with a dilemna of reconciling the teachings of the Koran and Mohammed and denouncing terrorism. There have been many Islamic conferences, mainly conducted under the auspices of the Saudis, that have sought a reconciliation of the faiths and ways in dealing with terrorism. The problem with the conferences is the fact that Islamic leaders have not been able to define the word "terrorist." They have not been able to separate an action of a freedom fighter — or a defender of Islam — from the acts of terrorism. The problem appears to begin with the Koran itself whose verses advocate the following:

Koran's Confirmation of the Bible
(The Torah, Prophets and Gospel; Jesus as the Messiah):

The Book of Jonah: This Koran could not have been composed by any but Allah. It confirms what was revealed before it and fully explains the scriptures. It is beyond doubt from the Lord of the Creation.
This is no invented tale, but a confirmation of precious scriptures...

The Cow: And now that a book confirming their own [the Jewish scriptures] has come to them from Allah, they deny it, although they know it to be the truth and have long prayed for help against the unbelievers. May Allah's curse be on the infidels! ..When it is said to them: "Believe in what Allah has revealed," they reply, "We believe in what was revealed to us.' But they deny what has since been revealed, although it is the truth, corroborating their own scriptures.

Adoration 13.21 We gave the scriptures to Moses (Never doubt that you will meet him!) and made it a guide for the Israelites...We appointed leaders from among them who gave guidance at our bidding...

The Creator 35:25...What we have revealed to you in the Book is the truth confirming previous scriptures..

Counsel 42.13 He has ordained for men the faith He has revealed to you and formerly enjoined on Noah and Abraham, on Moses and Jesus, saying: "Observe this faith and be united in it."

Kneeling 45: 16 We have the Scriptures to the Israelites and bestowed on them wisdom and prophethood.

AL-AHQAF 46:12 Yet, before it the Book of Moses was revealed, a guide and a blessing to all men. This book confirms it.

Women 4:47 You to whom the Scriptures were given! Believe in that which we have revealed, confirming your own scriptures, before we obliterate your faces and turn them backward, or lay our curse on you as we laid it on the Sabbath-breakers.

The Cow 2:81 The Apostle [Mohammed] believes in what has been revealed to him by his Lord, and so do the faithful. They all believe in Allah and His angels, His scriptures, and His apostles: We discriminate against none of His apostles.

The Table 5:44 There is guidance, and there is light, in the Torah which we have revealed...After these prophets we sent forth Jesus, the son of Mary, confirming the Torah already revealed, and gave him the Gospel, in which there is guidance and light, corroborating that which was revealed before it in the Torah...And to you we have revealed the Book with the truth. It confirms the Scriptures which came before it and stands as a guardian over them.

The Table 5:64 If the People of the Book [Jews} accept the true faith and keep from evil, we will pardon them their sins and admit them to the gardens of delight. If they observe the Torah and the Gospel and what is revealed to them from Allah, they shall be given abundance from above and from beneath.

The IMRANS 3:45 The angels said to Mary: "Allah bids you rejoice in a Word from Him. His name is the Messiah, Jesus the son of Mary

Koran advocates violence against unbelievers (kuffar) / enemies:

Repentance 9.20 Those that have embraced the faith and fled their homeland and fought for Allah's cause with their wealth and their persons are held in higher regard by Allah. It is they who shall triumph. Their Lord has promised them joy and mercy, and gardens of eternal bliss where they shall dwell forever. Allah's reward is great indeed.
9.116 ...Allah has purchased of the faithful their lives and worldly goods and in return has promised them the Garden. They will fight for His cause, slay, and be slain. Such is the true pledge which he has made them in the Torah, the Gospel, and the Koran. And who is more true to his promise than Allah? Rejoice then in the bargain you have made. That is the supreme triumph.

Women 4.91 Others you will find who seek security from you as well as from their own people. Whenever they are called back to idol-worship they plunge into it headlong. If these do not keep their distance from you, if they neither offer you peace nor cease their hostilities against you, lay hold of them and kill them wherever you find them. Over such men We give you absolute authority.
4.92 It is unlawful for a believer to kill another believer except by accident.
4.98 He that flies his homeland for the cause of Allah shall find numerous places of refuge in the land and great abundance. He that leaves his dwelling to fight for Allah and His apostle and is then overtaken by death, shall be rewarded by Allah.
4.104 Seek out your enemies relentlessly.

Islamic scholars teachings against unbelievers - "kuffars": In an editorial note of Maravot News 8.08.05, article 8.07.05 Inside the sect that loves terror (a short article on the London Tube bombing worth reading) we referred to an Islamic scholar's website, as follows:

An interesting site by an Islamic scholar defines what "kuffar" (disbelievers) means. His site, renaissance.com.pk – Arguments and Rational – details the Koran's verses and traditional and modern applications of the verses dealing with disbelievers: identifying them, punishing them, preaching to them and "'displaced directives." His argument refers heavily to Old Testament verses that set the foundation for verses of the Koran involving the punishment of disbelievers. The site (Punishing the Disbelievers) says, "In other words, what authorizes a Messenger to punish the Kuffar is that it can be ascertained in this very world that they are guilty of denying the basic truths in spite of being convinced about them. Good and evil are elucidated with ultimate clarity and people who accept evil do so not because of any confusion but because of their own stubbornness.

So it can be concluded that since a Messenger reveals the basic truths in their ultimate form and those who deny it do so because of their stubbornness and even confess their sins, a Messenger has the perfect justification to punish his people after they have denied him." But in other places says, (Misplaced Directives) "In other words, what is construed from this Hadith is that a Muslim will be rewarded with Paradise if he kills a non-Muslim. Consequently, Imam Abu Da¹ud, the celebrated Muslim scholar and compiler of Hadith has placed this Hadith in a chapter entitled: (bab fi fadli man qatala kafiran: Chapter on the Reward of a Muslim who Kills a Kafir). Again, it needs to be appreciated that these words relate to the Idolaters of the Prophet¹s times who had lost their right to live after they had deliberately rejected the truth. These words are not related to later Muslims."

We find it appropriate here to repeat our comment in August 2005: "It is worthwhile for those who are trying to defeat Muslim terrorists to read the arguments listed in renaissance.com.pk." The Koran and the scholastic teachings of Islamic leaders must account to much of the acts of Islamic terrorism. For Islamic leaders to denounce acts of Islamic terrorism a bridge has to be crossed in their understanding of the Koran. An easy bridge that will enable peace is one that has to do with acknowledging these two points: 1) that the Koran claims to confirm the Bible and Jesus as the Messiah and 2) that the Koran, therefore, cannot contradict that which it confirms as its source.

When these two points are admitted by Islamic scholars and leaders worldwide — and acknowledged by Jews and Christian scholars and leaders — then there will be a chance for peace in the world. For then we can all agree that the foundations of Jesus' teachings and Gospel do not support murder and mayhem for any reason. Jesus taught peace and turning the other cheek, forgiveness of your enemies and doing unto others as you would have them do unto you (the Golden Rule). The Koran's verses, such as Women 4.91 and Repentance 9:20, need to be reexamined in this light.

Much of the violent direction in Islam appears to stem from a sect spawned from Saudi Arabia called "Wahhabi Sect." We discussed this, with links to many discussions that relate the sect to terrorism, at Maravot News 11.30.08 "Confusion on Islam." The Wahhabi faith leads us more deeply into the problem of combatting terrorism, since it is the official faith of Saudi Arabia and involves asking the kings who control the world's oil to reexamine the intentions of their faith.

Mel Copeland
---
4.06.09 Italy quake: Fears death toll could pass 100
ROME, Italy, April 6 - The death toll from a massive earthquake which has rocked central Italy is expected to reach more than 100, civil protection chiefs fear. Rescuers are still searching for survivors as dozens of aftershocks continue to plague the area hampering their efforts. TV footage showed rescuers racing away from the rubble of a ruined house as a tremor hit, sending masonry flying. Gianfranco Fini, speaker of Italy's lower house of parliament, said entire towns had been "virtually destroyed" with 15,000 buildings off limits.

The epicenter was close to the city of L'Aquila in the centre of Italy, about 100 miles northeast of Rome. The village of Onna, close to L'Aquila, was "wiped off the map" with no houses left standing, according to one emergency official. In the fields outside, row after row of coffins were lined up and officials said at least 50 of the 400 inhabitants are dead. The tremor struck at just after 3:30am local time and measured 6.3 on the Richter scale. [More>>news.sky.com]
---
4.06.09 Crackdown on housing scams
NEW YORK, April 6 - Treasury chief Geithner leads effort to stop foreclosure and mortgage fraud as Feds worry that mortgage rescue will bring out bad guys. FBI: 2,100 open cases. In the wake of an Obama administration program to rescue troubled homeowners, several federal agencies are teaming up to fight mortgage and foreclosure scams, Treasury Secretary Tim Geithner said Monday. The administration's $75 billion effort to help as many as 9 million mortgage holders get new or refinanced loans is drawing a lot of interest from homeowners, Treasury Department officials explained. "Those who would seek to prey on the most vulnerable also seek to intensify their efforts as well," Treasury Secretary Tim Geithner said. "We will aggressively pursue those involved in mortgage rescue scams."

Treasury, the Department of Justice, the Federal Trade Commission and the Department of Housing and Urban Development will lead the effort from Washington. State attorneys general will also participate. The Treasury's financial crimes investigative unit is sending financial institutions a checklist to help them spot suspicious loan activity and foreclosure rescue scams. Meanwhile, the Federal Trade Commission reviewed online and print advertising for mortgage foreclosure companies nationwide and found "71 distinct companies running suspicious ads," Treasury said. The FTC has filed five civil cases against companies offering loan modification or foreclosure services, including one against a company that spent $9 million on TV and radio ads in less than a year. [More>>cnn.com; See more details,

cbsnews.com, April 6, "US cracking down on mortgage scammers" :Top federal and state officials on Monday announced a broad crackdown on mortgage modification scams, accusing "criminal actors" of preying on desperate borrowers caught up in the nation's housing crisis. Government officials say scammers are seeking to take advantage of borrowers in danger of default by charging them upfront fees of $1,000 to $3,000 for help with loan modifications that rarely, if ever, pay off. The frauds often involve companies with official-sounding names designed to make borrowers think they are using the Obama administration's efforts to help modify or refinance 7 million to 9 million mortgages. Officials say such operations almost always are fraudulent, and that help is available for free from government-approved housing counselors...The FTC last month filed cases against two other companies: Hope Now Modifications LLC and New Hope Modifications LLC..."Stay away from anyone who says they will save your home in return for money up front," Illinois Attorney General Lisa Madigan told reporters in Washington. Such claims, she said, "are almost always scams."...
---
4.06.09 Dow drops back below 8,000
NEW YORK, April 6 - Wall Street pulled back Monday as investors took profits following a four-week rally, fearful of poor earnings reports starting this week and more trouble for banks. Investors were also disappointed that talks for IBM Corp.'s $7 billion deal to buy Sun Microsystems Inc. have stalled — a sign that the market is still not ready to support big mergers. Financial shares plunged after a prominent analyst predicted more losses at banks and said the government's efforts to prop up the ailing industry might not be as effective as hoped...In early afternoon trading, the Dow Jones industrials fell 141.06, or 1.8 percent, to 7,876.53. The Standard & Poor's 500 index fell 18.36, or 2.2 percent, to 824.14, while the Nasdaq composite index fell 39.62, or 2.4 percent, to 1,582.25. On Friday, the Dow surged past 8,000 points in late trading - the first time the index eclipsed that mark since February. [More>>cbsnews.com]
---
4.06.09 Russian oil pipeline to reach Chinese border within weeks: Putin
MOSCOW, April 6 - The Russian state oil pipeline Transneft will finish the laying of the East Siberia-Pacific Ocean(ESPO) oil pipeline to the Chinese border within weeks, said Russian Prime Minister Vladimir Putin Monday when presenting to the State Duma, lower house of parliament, a government report. "In just a few weeks, the phase during which the pipeline will reach the Chinese border will be over and we will go further to the Pacific Ocean," the Interfax news agency quoted Putin as saying. Russia and China signed an intergovernmental agreement on the construction of an ESPO branch toward China and long-term Russian oil supplies in February. Transneft's shares surged more than 12 percent immediately following Putin's statement, according to Interfax.

Putin also said that excluding Russia from world's energy decision making is "counterproductive," apparently referring to the Ukraine-EU declaration on pipeline modernization. "Attempts to exclude Russia from the global decision making process, moreover in the energy sphere, and disregard to its lawful interests are counterproductive," the Interfax quoted him as saying. "We are certain that new energy transportation routes developed by Russia, such as Nord Stream, South Stream, the Caspian Gas Pipeline and the Burgas-Alexandroupolis oil pipeline are economically feasible," he said, adding that Russia "will continue to implement them."

When evaluating the ongoing global financial turmoil and economic downturn, Putin said that Russian economy does not differ in principle from world tendencies, and the economy is in rather "good shape" facing the crisis...Speaking of Russia's gross domestic product (GDP) in 2008, Putin said that it grew by 5.6 percent..Putin also promised that the government would exert to ensure [to reduce] the budget deficit down to 3 percent of the GDP by 2011. [Full story>>xinhuanet.com]
---
4.06.09 Obama vows US is not at war with Islam
ANKARA, Turkey, April 6 - Lawmakers in Turkey's Grand National Assembly applauded Monday, when President Barack Obama declared "The United States is not and will never be at war with Islam." On his first presidential visit to a Muslim country, Obama high-lighted the fact he too had Muslims in his family and had lived in a Muslim-majority country. He was rewarded by another round of enthusiastic applause. Throughout his half-hour long address, the American president laid out the framework for what he hoped would be a "model partnership" between the United States and Turkey. He also called on Turkey, NATO's only Muslim member country, to work side-by-side with the United States to resolve conflicts across the turbulent Middle East. [More>>turkishpress.com; See related story,

jpost.com, April 6, " ' Turkey foils plot to assasinate Obama' " : Turkish security services have arrested a man of Syrian descent who was planning to assassinate US President Barack Obama during his current trip to Turkey, the Saudi daily Al Watan reported Monday. According to the report, the man, who was arrested on Friday, was carrying a press card identifying him as an employee of Al Jazeera. He reportedly confessed to his intention to stab Obama with a knife and said that he was aided by three accomplices. The report stated that Turkish authorities were still unsure as to whether the press card was a fake or whether it had actually been issued the man by the Qatari news network.

Al-Jazeera's Ankara bureau chief, Yussef al-Sharif, told the paper that news of the suspected assassination plot had come as an utter surprise to the network's staff in Turkey, adding that all of Al-Jazeera's employees in the country claimed that they were not acquainted with the suspect. Sharif said that the ID card had "most certainly" been forged. He said that Turkish authorities knew all of the employees of Al-Jazeera's Ankara offices. [>jpost.com]
---
4.06.09 Series of car bombs kill 34 across Baghdad
BAGHDAD, April 6 - Black Monday in Baghdad leaves 34 killed, 140 wounded. A spate of bloody car bombings rocked Shiite neighborhoods of Baghdad on Monday, killing 34 people and wounding at least 140 others in an escalation of violence as the United States prepares to pull combat troops out of cities by a June 30 deadline. Six car bombs shattered the city's fragile security situation just as British business minister Peter Mandelson arrived in Baghdad. Among the dead were at least two women and a baby.

Angry survivors hurled stones at Iraqi soldiers at the site of one of the blasts in Sadr City after troops fired shots in the air to disperse crowds of people trying to care for the injured, witnesses said. During the morning rush hour 10 people were killed and 65 wounded when a booby-trapped car exploded in a market area of the impoverished Shiite district of Sadr City in northeastern Baghdad, an interior ministry official said. Another car bomb in the central Allawi district killed six people and wounded 25 others. Most of the victims were workers waiting for jobs, a defense ministry official said. [More>>alarabiya.net]
---
4.06.09 Iraq official suspected of embezzling 130 million dollars
BAQUBA, Iraq (AFP) April 6 - An arrest warrant has been issued for an outgoing Iraqi provincial council chief for allegedly misappropriating nearly 130 million dollars in public funds, police said on Monday. "The judicial authorities have issued an arrest warrant against Ibrahim Hassan Bajilan, who is suspected of embezzlement," said an official in Baquba, capital of the province of Diyala northeast of Baghdad. However Bajilan, a member of Iraqi President Jalal Talabani's Patriotic Union of Kurdistan (PUK) party, denied the allegation. [More>>khaleejtimes.com]
---
4.06.09 Four blasts rock Assam; 7 killed, more than 60 injured
NEW DELHI, April 6 - Jolted by powerful blasts in Assam on the eve of Prime Minister Manmohan Singh's visit, the Union Home Ministry put the state on maximum alert and asked the administration to be extra vigilant. Home Secretary Madhukar Gupta told reporters that he was in constant touch with Chief Secretary P K Sarma, to whom he had written a few days ago suggesting tight security ahead of the Lok Sabha polls...Preliminary investigations indicated the hands of ULFA in the blasts as the banned outfit carried out such explosion in the past prior to its "Raising Day," which falls tomorrow and around the time of Republic Day and Independence Day to demand sovereignty.

The blasts, including in Dhekiajuli, occurred just a day before the Prime Minister's schedule visit to the state to address election meetings. Early reports confirmed that at least seven people were killed and 61 others injured in two bomb blasts triggered by suspected ULFA militants in Maligaon area and Dhekiajuli on the eve of Prime Minister Manmohan Singh's visit to Assam. Assam DGP J M Srivastav said seven people were killed and 56 injured when a powerful bomb blast went off in Maligaon at around 2:00 p.m., sparking a fire that set ablaze two cars and 20 motorcycles and spread to a three-storey building housing the area police station. [Full story>>indianexpress.com]
---
4.06.09 Have the first Israelite sites built after Exodus been found?
April 6 - A Haifa University archaeologist on Monday said he has unearthed structures in the shape of human feet believed to have been erected by the Israelites upon their initial entry to the Land of Canaan. Prof. Adam Zertal said that the large compounds discovered in the Jordan Valley were "the first sites to have been built by the Israelites upon entering Canaan and manifest the biblical notion of claiming ownership of the land by setting feet on it." Prof. Zertal's excavation team uncovered five large foot-shaped compounds that he identifies as the biblical site of Gilgal.

Most contemporary archaeologists do not consider the Israelite Exodus from Egypt and the conquest of Israel to be verifiable historical events. Zertal is one of the few Israeli archaeologists who claim to have found archaeological evidence supporting the Israelite entrance to Canaan. Zertal's most famous discovery is a compound on Mount Ebal near Nablus, which he identified as the site of the Covenant ceremony depicted in the biblical Book of Joshua. Other archaeologists have identified that site as a watchtower. Zertal has also recently claimed to have found clay markings unique to early Israelites, around the time of the conquest of Canaan described in the Bible. [More>>haaretz.com]
---
4.06.09 Somali pirates seize more vessels
April 6 - Somali pirates have seized a British-owned cargo ship and a Taiwanese ship, maritime officials say, after capturing three other vessels over the weekend. The UK-owned Malaspina Castle was boarded in the Gulf of Aden, while the Taiwanese ship was seized near the Seychelles, according to reports. A French yacht, a Yemeni tugboat and a German ship were also captured in the pirate-plagued waterway at the weekend. The region is heavily patrolled by a growing international naval coalition. But correspondents say the pirates have been venturing further off coastal areas to evade the warships from more than a dozen nations patrolling the area in an attempt to deter the gangs. [More>>bbc.co.uk]
---
4.06.09 Four NGO workers gunned down in Mansehra
MANSEHRA, Pakistan, April 6 - Four people were killed when a vehicle they were riding came under attack by unknown assailants here on Monday. According to sources, the deceased were workers of a local non-government organization (NGO) known as Firing Rice International (FRI). [>thenews.com.pk]
---
4.06.09 Arctic sea ice thinnest ever going into spring
WASHINGTON (AP) April 6 - The Arctic is treading on thinner ice than ever before. Researchers say that as spring approaches, more than 90 percent of the sea ice in the Arctic is only one or two years old. That makes it thinner and more vulnerable than ever before, according to researchers with NASA and the National Snow and Ice Data Center in Colorado. That's the type of ice that is more likely to melt in the summer. Sea ice is important because it reflects sunlight away from Earth. The more it melts, the more heat is absorbed by the ocean, heating up the planet even more. That warming also can change weather patterns worldwide. [>washingtonpost.com]
---
4.05.09 Climate warning as Antarctic ice bridge shatters
April 6 - An ice bridge which held a vast Antarctic ice shelf in place shattered at the weekend and could herald a wider collapse linked to global warming, a leading scientist has warned.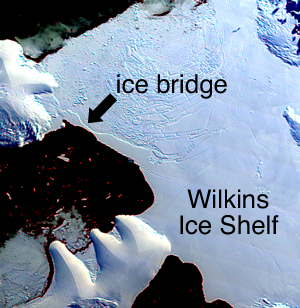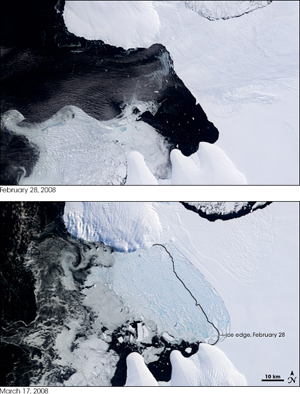 Top: Wilkins satellite photo 4.5.09; Bottom two photos show ice shelf disintigration a year earlier, March 17, 2008. See
earthobservatory.nasa.gov
"It's amazing how the ice has ruptured. Two days ago it was intact," said David Vaughan, a glaciologist with the British Antarctic Survey. A satellite picture from the European Space Agency showed that a 25 mile-long strip of ice believed to pin the Wilkins Ice Shelf in place had splintered at its narrowest point, about 500 metres wide. The Wilkins, now the size of Jamaica, is one of 10 shelves to have shrunk or collapsed in recent years on the Antarctic Peninsula, where temperatures have risen in recent decades apparently because of global warming.

The satellite image showed a jumble of huge flat-topped icebergs in the sea where the ice bridge had been on Friday. Mr. Vaughan, who landed on the flat-topped ice bridge in January in a ski-equipped plane said change in Antarctica was rarely so dramatic. It was his first – and last – visit to the area. In January, the remaining ice bridge had been surrounded by icebergs the size of shopping malls, many of them trapped in sea ice. A few seals were visible lolling on sea ice in the low Antarctic sunshine. The loss of the ice bridge, jutting about 20 metres out of the water and almost 100km (62 miles) wide in 1950, may now allow ocean currents to wash away far more of the Wilkins shelf. "My feeling is that we will lose more of the ice, but there will be a remnant to the south," said Mr. Vaughan. Ice shelves float on the water, and can be hundreds of metres thick.

Nine other shelves have receded or collapsed around the Antarctic Peninsula in the past 50 years, often abruptly like the Larsen A in 1995 or the Larsen B, further north, in 2002. Cores of sediment on the seabed indicate some of these ice shelves had been in place for at least 10,000 years. Temperatures on the Antarctic Peninsula have risen by up to about 3C in the past 50 years, the fastest rate of warming in the southern hemisphere. "We believe the warming on the Antarctic Peninsula is related to global climate change, though the links are not entirely clear," Mr. Vaughan said. Antarctica's response to warming will go a long way to deciding the pace of global sea level rise. [More>>independent.co.uk; See also National Snow & Ice Data Center, nsidc.org for more details and image]
---
4.05.09 24 dead, 35 injured in Chakwal Imambargah suicide blast
CHAKWAL, Pakistan, April 5 - At least 24 persons died and 35 were injured at the Imambargah suicide bombing here. One killer blew himself up with explosives during annual Majlis Aza being held at the Imambargah located in the centre of the town at Mohala Sarpak of City police station area. The blast ripped apart the bodies of the faithful at the Imambargah, leaving a horrific scene of scattered body parts and blood all around the incident site.

Eyewitnesses said that following a Majlis, the faithful had crowded the main gate of the Imambargah, while those entering into the Imambargah were being frisked, when a youth 16/17 year old during checking blew himself up, which resulted in [the] on the spot death of 20 persons, while the other four succumbed to their injuries in hospital. Four children were also included among the dead, they said. [More>>thenews.com.pk; See also:

indianexpress.com, April 5, "Teenage bomber kills 30 in Pakistan, third attack in 24 hours": A teenage suicide bomber today struck a religious gathering of the Shia community, killing at least 30 people and injuring nearly 200 others in the town of Chakwal in Punjab province, hours after security forces were targeted near the UN office in the heart of Islamabad and 17 persons killed in another suicide attack in north Waziristan. The suicide attacker detonated his explosives near the gate of an Imambargah or prayer hall in Chakwal, some 90 km south of Islamabad, when he was barred from entering the complex by persons guarding the entrance...

japantoday.com, April 5, "Taliban threaten 2 attacks per week in Pakistan" : A suicide bombing at a crowded Shiite mosque south of Pakistan's capital killed 22 people Sunday, the latest evidence of how security in the U.S.-allied nation is crumbling well beyond the Afghan border region where al-Qaeda and Taliban fighters thrive. The violence came as a senior Pakistani Taliban commander said his group was behind a deadly suicide bombing Saturday night in Islamabad and promised two more attacks per week in the country if the US does not stop missile strikes on Pakistani territory...

timesofindia.indiatimes.com, April 5, "Qaeda, Taliban present across Pakistan: NWFP police chief" : NEW DElHI - In what will deepen fears about Pakistan's capacity to tackle al-Qaeda-Taliban, a top police official from North-West Frontier Province — where the jihadi groups have entrenched presence — said the Taliban were present in every city and town and hoped to launch more 9/11-type strikes against the West. NWFP police chief Malik Navid told the Pakistan National Assembly's standing committee that the extremist organizations were spreading rapidly through the country and were no longer confined to the mountains of NWFP or Waziristan. He said the terrorists' aims included destabilization of current regimes in the Middle East - a long-term objective of al-Qaeda chief Osama bin Laden.

Pointing to the unchecked progress of jihadi groups, Navid said Taliban were moving towards major cities like Lahore and Karachi. "Their people are present in every city and town. In some places they are active, in others they are dormant. [The] Taliban's philosophy is to create pockets everywhere," he said, adding that jihadi groups were moving through southern Punjab and eventually aimed to reach the financial hub of Karachi...
---
4.05.09 UN hostage John Solecki released in Pakistan as militants attack mosque
ISLAMABAD, April 5 - An American UN official who was kidnapped two months ago in southwestern Pakistan was released after Pakistani authorities freed several separatists held by the security services for the past few years, The Times has learnt. John Solecki, the head of the UN refugee agency's office in the southwestern province of Baluchistan, was found on Saturday night by the side of a road near Quetta, the provincial capital, with his hands and feet bound, pleading: "Help me, help me!"

Ethnic Baluch separatists had earlier claimed responsibility for the abduction and at one point threatened to kill Mr. Solecki — the highest-profile Westerner to be kidnapped in Pakistan since Daniel Pearl, the Wall Street Journal reporter who was beheaded in 2002. News of Mr. Solecki's release came as a suicide bomber attacked a crowded Shia mosque in central Pakistan, killing at least 28 people. Shakil Baloch, a spokesman for the Baluch Liberation United Front (BLUF), one of several separatist groups fighting for greater autonomy in Pakistan, told local journalists that Mr. Solecki was released on humanitarian grounds. "We want to give a message to the international community that Baluch are not terrorist," he said. [More>>timesonline.co.uk]
---
4.05.09 Experts call North Korean missile launch a failure
April 5 - North Korea failed in its highly vaunted effort to fire a satellite into orbit, military and private experts said Sunday after reviewing detailed tracking data that showed the missile and payload fell into the sea. Some said the failure undercut the North Korean campaign to come across as a fearsome adversary able to hurl deadly warheads halfway around the globe. Defying world opinion, North Korea in recent weeks had moved steadily and fairly openly toward launching a long-range rocket that Western experts saw as a major step toward a military weapon.

The launching itself on Sunday, which the North Korean government portrayed as a success — even bragging that the supposed satellite payload was now broadcasting patriotic tunes from space — outraged Japan and South Korea, led to widespread rebuke by President Obama and other leaders, and forced the United Nations Security Council to go into an emergency session. But looking at the launching from a purely technical vantage point, space experts said the failure represented a blow that in all likelihood would seriously delay the missile's debut.

"It's got to be embarrassing," said Geoffrey E. Forden, a missile expert at the Massachusetts Institute of Technology. "I can image heads flying if the 'Dear Leader' finds out the satellite didn't fly into orbit, " he said, referring to the name North Koreans are obliged to use when speaking of Kim Jong-il, North Korea's reclusive leader. [More>>nytimes.com;
---
4.05.09 Obama in Turkey on last stop of Europe tour
ANKARA, Turkey, April 5 - Iran nuke threat obstacle to global peace: Obama. American President Barack Obama arrived in Turkey Sunday on the last stop of his maiden tour to Europe for a two-day visit aimed at revitalizing ties with Washington's long-standing, mainly Muslim ally. The visit marks Obama's first trip to a majority Muslim nation since becoming president in January. Obama will hold talks with President Abdullah Gul and Prime Minister Recep Tayyip Erdogan Monday before addressing the Turkish parliament.

Obama flew in to Ankara after attending a European Union summit in Prague where he endorsed Turkey's accession into the bloc, despite opposition from French President Nicolas Sarkozy and guarded remarks from German Chancellor Angela Merkel. Before the EU summit, he also participated in a NATO gathering jointly hosted by France and Germany, where he was instrumental in winning Turkey's backing to Danish Prime Minister Anders Fogh Rasmussen as the alliance's next leader. [More>>alarabiya.net; See other details, turkishpress.com]
---
4.05.09 Somali pirates seize German container ship
NAIROBI, Kenya (AFP) April 5 - Somali pirates have hijacked a 20,000-tonne German container carrier in the Indian Ocean, a Kenya-based maritime official told AFP on Sunday. "The ship was taken yesterday (Saturday) far out at sea, around 400 nautical miles from the Somali coast, between Kenya and the Seychelles," said Andrew Mwangura, of the East African Seafarers Assistance Programme. He said he believed the ship has a crew of around 24 and may be using a flag of convenience. [>khaleejtimes.com]
---
4.05.09 six gay men shot to death in Iraq by tribe members
BAGHDAD, April 5 - Six gay men were shot dead by members of their tribe in two separate incidents in the past 10 days, an official with Iraq's Interior ministry said. In the most recent attack, two men were killed Thursday in Sadr City area of Baghdad after they were disowned by relatives, the official said. The shootings came after a tribal meeting was held and the members decided to go after the victims. On March 26, four additional men were fatally shot in the same city, the official said, adding that the victims had also been disowned by their relatives. The official declined to be identified because he is not authorized to speak to the media. Witnesses told CNN that a Sadr City cafe, which was a popular gathering spot for gays, was also set on fire. [>cnn.com]
---
---
*Visitor statistics on maravot.com from 1&1. com. 46,153 page views in May 2007; monthly visitors in 2008 range between 40,000-45,0000..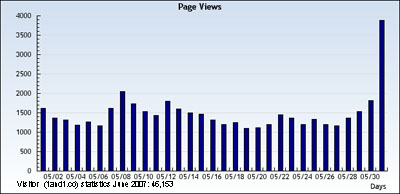 Privacy Policy: We do not store any personal data from you. We have no way of knowing any vital information about you — not even your name. Third-party distribution: We do not distribute information about your site usage to any third party. We are not responsible for the content of links from our site. Usage data: supplied by our Web Hosting service, 1and1.com, which consists of usage reports, such as page views / impressions and web pages visited, visitors' servers and geographical data (ISP's and country of origin).

---
Launched: 10.25.04 / 11.02.04 – | — |
Updated: 4.05.09; 4.06.09; 4.07.09; 4.08.09; 4.09.09
Copyright © 1981-2009 Maravot. All rights reserved
Copyright © 1981-2009 Mel Copeland. All rights reserved
Background: tile from Cicero's villa (Marcus Tullius Cicero 106 B.C. - 43 B.C.)