News Headlines & Trends
---


10.15.07 Al-Qaeda in Iraq reported crippled
October 15 - The US military believes it has dealt devastating and perhaps irreversible blows to al-Qaeda in Iraq in recent months, leading some generals to advocate a declaration of victory over the group, which the Bush administration has long described as the most lethal US adversary in Iraq.
But as the White House and its military commanders plan the next phase of the war, other officials have cautioned against taking what they see as a premature step that could create strategic and political difficulties for the United States. Such a declaration could fuel criticism that the Iraq conflict has become a civil war in which US combat forces should not be involved. At the same time, the intelligence community, and some in the military itself, worry about underestimating an enemy that has shown great resilience in the past.

...There is widespread agreement that AQI has suffered major blows over the past three months. Among the indicators cited is a sharp drop in suicide bombings, the group's signature attack, from more than 60 in January to around 30 a month since July. Captures and interrogations of AQI leaders over the summer had what a senior military intelligence official called a "cascade effect," leading to other killings and captures. The flow of foreign fighters through Syria into Iraq has also diminished, although officials are unsure of the reason and are concerned that the broader al-Qaeda network may be diverting new recruits to Afghanistan and elsewhere. [Full story>>washingtonpost.com ; See related story, timesonline.co.uk, October 15, "Al-Qaeda tells British cells to carry out wave of beheadings."]
---
10.15.07 Britain hit by killer bird flu
October 15 - The most virulent strain of killer avian flu was last night confirmed to have struck one of Britain's biggest poultry producers. Government officials disclosed that the infection, which killed 2,600 birds on a Bernard Matthews plant in Suffolk, was the "highly pathogenic" Asian strain of bird flu. It is one of the biggest outbreaks of H5N1 in Europe and is the first case of the virus in farmed poultry in this country.
The virus, known as H5N1, has killed more than 160 people since 2003, mainly in Asia. But health officials emphasized that there was "negligible" risk to the public. They have set up a six-mile protection zone around the infected farm and processing factory. All 159,000 turkeys are to be slaughtered using argon gas. Up to 60 workers at the farm who came into contact with the poultry are being offered antiviral drugs. Employees were yesterday being treated at an emergency clinic in Halesworth, about one mile from the farm. Birds started dying on the site on Tuesday. [More>>timesonline.co.uk]
---
10.14.07 Unlocking the secrets of cot death
October 14 - Nine out of 10 mothers whose babies suffered cot death smoked during pregnancy, according to a scientific study to be published this week. The study, thought to be one of the most authoritative to date on Sudden Infant Death Syndrome (SIDS), says women who smoke during pregnancy are four times more likely than non-smokers to see their child fall victim to cot death.
The comprehensive report will make a strong case for the Government to increase the scope of anti-smoking legislation. It even suggests a possible move to try to ban pregnant women from getting tobacco altogether. The study, produced by Bristol University's Institute of Child Life and Health, is based on analysis of the evidence of 21 international studies on smoking and cot death. The report, coauthored by Peter Fleming, professor of infant health and developmental physiology, and Dr. Peter Blair, senior research fellow, will be published this week in the medical journal Early Human Development...Speaking about the new report, Dr. Blair said: "If smoking is a cause of SIDS, and the evidence suggests it is, we think that if all parents stopped smoking tomorrow more than 60 per cent of SIDS deaths would be prevented." [Full story>>independent.co.uk]
---
10.14.07 Israel: Goldwasser, Regev not in Iran
October 14 - London-based Asharq Alawsat journalist Ali Nourizadeh on Sunday told Israel Radio that the sources claiming kidnapped reservists Ehud Goldwasser and Eldad Regev were transferred to Iran are very reliable. In an exclusive interview with Israel Radio's Arabic newscast, Nourizadeh also said that in the past, Israel had also denied claims that missing IAF navigator Ron Arad was in Iranian hands, which turned out to be true.
Earlier on Sunday, government officials involved in negotiating their release told Army Radio that Israel knows that Goldwasser and Regev have not been transferred to Iran, denying the report in Asharq Alawsat. According to Asharq Alawsat, the soldiers were moved last July in an operation directed by the Iranian Revolutionary Guard Corps (IRGC), a short time after the two were kidnapped by Hizbullah in a cross border raid.
Recently, the paper reported, a deal involving Iran and Germany has been forming, according to which Germany would release an Iranian intelligence official detained over allegations of killing an Iranian expatriate in Berlin, and Iran, in return, would transfer the captured soldiers to Israel. [More>>jpost.com]
---
10.14.07 Iraq bombs and shootings kill at least 31
BAGHDAD (AFP) October 14 - Bomb attacks this weekend in the Iraqi cities of Baghdad and Samarra and shootings south of the capital have killed at least 31 people and left dozens wounded, officials said on Sunday. Nine people, including three women and two children, were killed when a car bomb exploded next to a minibus full of Shia worshippers on their way to a shrine in northern Baghdad on Sunday, Iraqi military officials told AFP.
More women and children were among 13 wounded by the blast in Aden square, which was then sealed off from vehicles by the security forces. Late on Saturday, a suicide bomber detonated a truck full of explosives in Samarra, killing at least 17 people, including women and children, police said. [More>>khaleejtimes.com]
---
10.13.07 Myanmar government holds Yangon rally, junta arrests prominent activists
YANGON (AP) October 13 - Myanmar's junta held a massive government-orchestrated rally Saturday in Yangon, as security forces kept cracking down on pro-democracy protesters by rounding up some of the country's most prominent political activists. Rights group Amnesty International said four activists, who led pro-democracy marches several weeks ago and then went into hiding, were arrested early Saturday in Yangon, Myanmar's biggest city...The activists arrested were Htay Kywe, Aung Htoo and Thin Thin Aye, also known as Mie Mie - all members of the 88 Generation Students' Group, which comprises student leaders who were active in a 1988 pro-democracy uprising. A fourth activist, Ko Ko, was also arrested. [Full story>>thejakartapost.com]
---
10.13.07 Sanchez: Iraq war 'a nightmare with no end in sight'
WASHINGTON, October 13 - A former commander of coalition forces in Iraq issued a harsh assessment of US management of the war, saying that American political leaders cost American lives on the battlefield with their "lust for power." Retired Lt. Gen. Ricardo Sanchez, coalition commander in 2003 and 2004, called the Iraq war "a nightmare with no end in sight," for which he said the Bush administration, the State Department and Congress all share blame.
Sanchez told a group of military reporters in Arlington, Virginia, on Friday that such dereliction of duty by a military officer would mean immediate dismissal or court martial, but the politicians have not been held accountable. He said the Iraq war plan from the start was "catastrophically flawed, unrealistically optimistic," and the administration has not provided the resources necessary for victory, which he said the military could never achieve on its own. Still, he said, the US cannot pull out of Iraq without causing chaos that would have global implications. [More>>cnn.com]
---
10.13.07 Local Taliban release 30 security abductees in S. Waziristan
MIRANSHAH, October 13 - The local Taliban released Saturday 30 abducted security personnel in South Waziristan on Saturday morning. According to the sources, the local Taliban had arrested forty days ago more than two hundred security officials while they were en route from Wana to Laddah in South Waziristan..Mehsud tribes were making attempts to get these security officials released...[Full story>>thenews.com.pk ; See related stories, khaleejtimes.com, October 13, "Taleban urges to help drive out foreign troops" and aljazeera.net, October 13, "Ramadan bombs rock Afghanistan."]
---
10.13.07 Iraqi fighters form political group
October 13 - Several Iraqi Sunni armed groups have formed an alliance that brings together thousands of fighters from some of the country's largest resistance factions. The Political Council of the Iraqi Resistance could represent a new political force in the country, one with which the US and other forces operating in Iraq could eventually negotiate. Speaking to Al Jazeera on Thursday, Khattab Abdul Rahman al-Jibouri, a spokesman for the newly formed council, said: "What the council seeks is the liberation of Iraq, the protection of its sovereignty and reclaiming its well-known role in the Arab and Islamic worlds."

...The council pledged to "liberate" Iraq and "compel the occupiers to pay the relevant compensations to the Iraqi people"...The newly-created council brings together six groups which have been involved in shifting alliances in the past. The council is made up of four factions of the Jihad and Reform Front, alongside the Islamic Front for Iraqi Resistance, also known as JAMEH, and the Islamic Resistance Movement Hamas of Iraq. [Full story>>aljazeera.net]
---
10.13.07 Shadowy Russian firm seen as conduit for cybercrime
October 13 - An Internet business based in St. Petersburg has become a world hub for Web sites devoted to child pornography, spamming and identity theft, according to computer security experts. They say Russian authorities have provided little help in efforts to shut down the company. The Russian Business Network sells Web site hosting to people engaged in criminal activity, the security experts say.
Groups operating through the company's computers are thought to be responsible for about half of last year's incidents of "phishing" - ID-theft scams in which cybercrooks use e-mail to lure people into entering personal and financial data at fake commerce and banking sites.
One group of phishers, known as the Rock Group, used the company's network to steal about $150 million from bank accounts last year, according to a report by VeriSign of Mountain View, Calif., one of the world's largest Internet security firms. In another recent report, the Cupertino, Calif.-based security firm Symantec said that the Russian Business Network is responsible for hosting Web sites that carry out a major portion of the world's cybercrime and profiteering.
The company "is literally a shelter for all illegal activities, be it child pornography, online scams, piracy or other illicit operations," Symantec analysts wrote in a report. "It is alleged that this organized cyber crime syndicate has strong links with the Russian criminal underground as well as the government, probably accomplished by bribing officials." The Russian Business Network did not respond to requests for comment..[Full story>>washingtonpost.com]
---
10.13.07 Putin on the attack over US missile defence
October 13 - The Russian President has stepped up pressure on the Bush administration to freeze plans for an anti-missile defence shield to be located in Europe, by threatening to pull out of a Cold War-era nuclear treaty and warning that the US determination to press ahead risked harming relations with Moscow.
With the US Secretary of State, Condoleezza Rice, and the US Defence Secretary, Robert Gates, sitting opposite him during a meeting at his dacha at the start of two days of US-Russia negotiations, President Vladimir Putin surprised his guests by embarking on a spirited monologue in which he said, somewhat cryptically: "We may decide some day to put missile defence systems on the moon but, before we get to that, we may lose a chance for agreement because of you implementing your own plans." He also warned that Moscow might pull out of the 1987 Intermediate-range Nuclear Forces (INF) treaty...[More>>independent.co.uk ; See related stories, rian.ru, October 13, "Russia concerned by Japan-US missile shield" and news.com.au, October 14, "Rice criticizes Putin's grip on power."]

Editorial note: While George W. Bush is viewed as a lame duck and increasingly ineffective, world leaders are now taking advantage of the situation, building upon sentiments against the Bush administration's failed policies, statecraft and military campaigns involving Iraq. Putin has already announced his plan to assume the post of Russian premier after his term as president expires. Putin's administration will in effect continue through the decade and no doubt take advantage of the chaos introduced by the Bush administration.

Mel Copeland
---
10.13.07 Update; 10.12.07 Nobel is sweet revenge for Gore, blow to Bush
WASHINGTON (Reuters) October 12 - The Nobel Peace Prize he won on Friday was a blow to US President George W. Bush and his widely criticized environmental policy and will long be savored by the man who lost the bitter 2000 presidential election by a whisker. The honor was bestowed jointly on the former vice president and the UN climate panel for campaigning against the threat of global warming, in a not-so-subtle swipe at Bush, a latecomer to the battle against climate change. 
It may also be interpreted as a part of an international backlash not only against seven years of what many see as environmental backsliding under Bush but also against his Iraq war policy and perceived arrogance in world affairs. "The Nobel Committee's recognition of Vice President Gore shines a bright light on the most inconvenient truth of all - the selection of George Bush as president has endangered the peace and prosperity of the entire planet," said fellow Democrat John Edwards, a 2008 White House contender. [More>>thestar.com.my ; See also timesonline.co.uk, October 13, "Al Gore's Nobel peace prize is a rebuke for the President, claim Democrats."]
---
10.12.07 US air strike kills 15 women and children in Iraq
BAGHDAD (AFP) October 12 - A US air strike north of Baghdad has killed at least 15 women and children, one of the largest losses of civilian life in a single American operation since the war began, the military said Friday. "Nineteen suspected insurgents and 15 women and children were killed in an operation Thursday in the Lake Tharthar region north of Baghdad," a US military spokesman told AFP. A statement from commanders said intelligence reports had indicated that members of Al Qaeda were meeting in the area.

..."We regret that civilians are hurt or killed while Coalition forces search to rid Iraq of terrorism," said military spokesman Major Brad Leighton. "These terrorists chose to deliberately place innocent Iraqi women and children in danger by their actions and presence." [Full story>>khaleejtimes.com]
---
10.12.07 Raids over Anna Nicole's death
October 12 - Search warrants have been served in connection with the death of the ex-Playmate Anna Nicole Smith. A report by the Associated Press said that California Attorney General Jerry Brown is due to make a formal announcement on the case shortly. Smith, 39, died of an accidental drug overdose in February at a Florida hotel.
The raids, being conducted throughout the Los Angeles area, could be the first public signs that friends and associates of the starlet are under investigation. Several people close to the model have fallen under suspicion since her death, including her psychiatrist Dr. Khristine Eroshevich.
The Medical Board of California said in April it was investigating Dr. Eroshevich, who, according to documents, authorised all 11 prescription medications found in Smith's hotel room the day she died. Dr. Eroshevich had travelled with Smith to Florida. The California medical board also opened an inquiry to determine if there was any misconduct by Dr. Sandeep Kapoor, who reportedly prescribed methadone to Smith. [>sky.com ; See more details at latimes.com]
---
10.11.07 Iran police warn 122,000 over unIslamic dress
TEHRAN (Reuters) October 11 - Iranian police have warned 122,000 people, mostly women, about flouting strict Islamic dress codes since April and nearly 7,000 of those attended classes on respecting the rules, a newspaper said on Thursday. 
Such crackdowns, on the women as well as on men deemed to have haircuts considered too Westernized, are an annual event and usually last a few weeks. But this year's measures have been longer and more severe than in recent years. 
Some government critics see the crackdown as part of broader measures to quash dissent in the media and other areas. Others see it as part of President Mahmoud Ahmadinejad's efforts to revive values from the early days after the 1979 revolution. [More>>thestar.com.my]
---
10.11.07 Muslims call for peace with Christians
LONDON (Reuters) October 12 - More than 130 Muslim scholars from around the globe have called for peace and understanding between Islam and Christianity, saying "the very survival of the world itself is perhaps at stake." In an unprecedented letter to Pope Benedict and other Christian leaders, 138 Muslim scholars said finding common ground between the world's biggest faiths was not simply a matter for polite dialogue between religious leaders. "If Muslims and Christians are not at peace, the world cannot be at peace," the scholars wrote. [More>>news.com.au See also timesonline.co.uk and full text of letter.}
---
10.11.07 Myanmar opposition leader tortured to death: group
BANGKOK (Reuters) October 11 - A Myanmar Opposition leader who was arrested during last month's mass protests against the junta died due to torture during interrogation, an activist group said on Wednesday. The Assistance Association for Political Prisoners (AAPP) said that Win Shwe, a 42-year-old member of the National League for Democracy, and four other people were arrested on September 26 because of their active support for and participation in the biggest pro-democracy protests in nearly 20 years.
"He died as a result of torture during interrogation," the Thai-based group said in a statement on its website (www.aappb.org), sourcing its information to authorities in Kyaukpandawn township. "However, his body was not sent to his family and the interrogators indicated that they had cremated it instead."
Official media in Myanmar said 10 people were killed when the junta sent in soldiers to end days of Buddhist monk-led demonstrations in September, although western Governments say the toll is likely to have been much higher. The AAPP said in its statement that "many dead bodies and injured persons were cremated or placed in the river."
In Washington, the United States threatened new sanctions against Myanmar after media reports of the death of Win Shwe. "The junta must stop the brutal treatment of its people and peacefully transition to democracy or face new sanctions from the United States." White House spokesman Gordon Johndroe said in a statement. US First Lady Laura Bush told USA Today in an interview published on Wednesday that the United States would announce further sanctions on Myanmar's military Government "within the next couple of days" if the junta does not take steps toward democracy. [>indianexpress.com ; See related story, independent.co.uk, October 11, "Only now, the full horror of Burmese junta's repression of monks emerges."]

---
10.11.07 Car bomb kills 8 in Iraq's Kirkuk
KIRKUK, October 11 - A car bomb ripped through the convoy of a senior Iraqi police official in the northern city of Kirkuk on Thursday killing at least eight people and wounding dozens more, officials said. [More>>thenews.com.pk]
---
10.10.07 N. Waziristan: 7 wounded in airstrikes succumb to injuries
MIR ALI, October 10 - Seven more persons wounded in airstrikes in North Waziristan yesterday were killed Wednesday while death toll in the fighting in Mir Ali between security forces and militants has reached 72. Security forces continued raid [of] hideouts of suspected attackers the whole night killing 15 more persons at Hurmiz, Asokhel and Hyder Khel areas, while [the] seven wounded in yesterday's airstrikes succumbed to their injuries.

Residents of the war-torn region are still fleeing from the area. Tribal elders [are] holding talks with the officials to achieve a ceasefire and discuss other related issues. The security forces while targeting militants' hideouts in an area adjoining to Mir Ali on Tuesday had killed about 50 militants and wounded over 150 persons. [>thenews.com.pk]
---
10.10.07 Censor's grip tightening on internet in China
HONG KONG (Reuters) October 10 - Internet censors in China are becoming more systematic and sophisticated in how they monitor the Web and eradicate content deemed sensitive, according to a Chinese technician working for an Internet firm. In a report published on Wednesday by Reporters Without Borders and the group China Human Rights Defenders, the unnamed author details the secret workings of a censorship machine that spans the information ministry, the State Council, or cabinet, the Communist Party's propaganda department and the police.
"Prior to 2005, the Beijing authorities had not really organized an Internet control system," the report said. Now it keeps close tabs on online public opinion, reporting daily and weekly to senior leaders, and employs various targeted tactics to keep Web sites in line in the world's second largest Internet market, with over 162 million Web users.
...After a newspaper reported in 2006 that the Taiwanese electronics firm Foxconn, which makes iPods, mistreated workers, some Web sites received SMS messages saying: 'Do not disseminate reports about the Foxconn case so that it is not exploited by those who want independence to advance their cause. Some 400-500 'sensitive' or 'taboo' words are banned, and Web sites self-censor these words to avoid fines, it said. [Full story>>
khaleejtimes.com
]
---
10.10.07 Israel to confiscate West Bank land
October 10 - Israel has said 23 hectares of Palestinian land near East Jerusalem will be confiscated to build a road that the Palestinians say threatens the creation of an independent state in the West Bank. The road will connect Palestinian areas that would have been cut off from each other by Israel's separation barrier. Palestinians say that 110 hectares of land will be seized.

...The 16km road will link Palestinian communities between Jericho and the edge of Jerusalem. According to a government-approved route, the barrier is to cut deep into the West Bank in that area. It is set to incorporate the Maaleh Adumim settlement of 30,000 residents, about 3km from Jerusalem, and outlying Jewish areas, meaning a total of 60sq km would be annexed...Israel says the barrier is necessary to prevent Palestinian attacks. [Full story>>aljazeera.net ; See also metimes.com, October 10, "Jordan slams Israeli land grab."]
---
10.10.07 Bush urges Congress to reject Armenian genocide resolution
October 10 - Just hours before a crucial vote, President George W. Bush strongly urged the US Congress on Wednesday to reject legislation that would declare the World War I-era killings of hundreds of thousands of Armenians a genocide. Bush spoke as the House of Representatives' Foreign Affairs Committee was preparing to vote on the measure that Turkey insists could severely damage US relations with a NATO ally that has been a major portal for US military operations in the region.

"Its passage would do great harm to our relations with a key ally in NATO and in the global war on terror," Bush said. Shortly before the president spoke, US Secretary of State Condoleezza Rice and Defense Secretary Robert Gates stood before microphones on the White House driveway to express the administration's concerns. "The passage of this resolution at this time would be very problematic for everything we are trying to do in the Middle East," Rice said. [More>>haaretz.com]
---
10.09.07 Cassini is on the trail of a runaway mystery
October 8 - NASA scientists are on the trail of Iapetus' mysterious dark side, which seems to be home to a bizarre "runaway" process that is transporting vaporized water ice from the dark areas to the white areas of the Saturnian moon.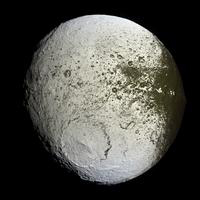 This "thermal segregation" model may explain many details of the moon's strange and dramatically two-toned appearance, which have been revealed exquisitely in images collected during a recent close flyby of Iapetus by NASA's Cassini spacecraft.

Infrared observations from the flyby confirm that the dark material is warm enough (approximately minus 230 degrees Fahrenheit or 127 Kelvin) for very slow release of water vapor from water ice, and this process is probably a major factor in determining the distinct brightness boundaries. "The side of Iapetus that faces forward in its orbit around Saturn is being darkened by some mysterious process," said John Spencer, Cassini scientist with the composite infrared spectrometer team from the Southwest Research Institute, Boulder, Colorado. [More>>saturn.jpl.nasa.gov]
---
10.09.07 Pakistan fighting kills 250 as civilians flee
MIRANSHAH, Pakistan (AFP) October 9 - Pakistani jets pounded militant hideouts in a troubled tribal region Tuesday, taking the death toll to 250 from three-of-the-heaviest days of fighting in the region since 2001.
The clashes have forced thousands to flee from Mir Ali, a town in lawless North Waziristan district that President Pervez Musharraf has previously pinpointed as a den of Osama Bin Laden's al-Qaeda network. Residents said dozens of people, including women and children, were killed in the latest airstrikes in the rugged region bordering Afghanistan, but security officials insisted the dead were all Islamist fighters.
The unrest puts extra pressure on military ruler Musharraf - a key ally in the US-led war on terror - as he waits for the Supreme Court to legitimize his victory in Saturday's presidential election. Chief military spokesman Major General Waheed Arshad said at-least-150 militants and 45 soldiers had been killed in battles that first erupted Sunday after pro-Taliban rebels ambushed an army convoy. [More>>
metimes.com
]
---
10.09.07 White House warns of domestic terror attack
October 9 - The White House warned today that al-Qaeda is likely to intensify efforts to infiltrate terrorist operatives into the United States and expressed heightened concern about the potential use of improvised explosive devices in a domestic attack.
In a report issued today on US national strategy for homeland security, the Bush administration also cautioned that the nation is "not immune" to homegrown Islamic radicalism, and it vowed to combat terrorists' use of the Internet to plan attacks, disseminate propaganda and recruit, train and fund operatives. [More>>washingtonpost.com]
---
10.09.07 Car bombs kill 22 in northern Iraq
BAGHDAD (Reuters) October 9 - Two suicide car bombs killed at least 22 people in northern Iraq on Tuesday in attacks targeting a local police chief as well as a Sunni Arab tribal leader working with US forces to fight al-Qaeda. Al-Qaeda in Iraq had vowed to ramp up attacks during the Muslim holy month of Ramadan, specifically to target government officials and tribal leaders who had joined with the US military to combat the Sunni Islamist group.
The two suicide car bombs hit the town of Baiji, 180 km (110 miles) north of the capital in Salahuddin province, police said. Baiji is a major oil refining centre fed with crude oil and gas from the vast fields under the nearby city of Kirkuk. Police said one bomb targeted a mosque. The other was aimed at Baiji's police chief, Colonel Saad Nifous, who was wounded in a blast at his home. Police did not immediately have a break-up of the 22 dead from the combined attacks, but they earlier said at least 10 civilians had been killed in the mosque attack. [More>>khaleejtimes.com ; See also aljazeera.net and related story, nytimes.com, October 9, "2 Iraqi women killed in security shooting."]
---
10.09.07 'Europe's oldest city' is found
October 9 - Archaeologists in Spain's southern port of Cadiz believe they have found remains which prove that it is Europe's oldest inhabited city – Phoenician Gadir, or Gades in Roman times. Remnants of walls have emerged seven metres deep in a dig beneath Cadiz's old town centre which have been dated to the 8th century BC. Scientists found shards of Phoenician pottery, and pieces of jars, bowls and plates once used in everyday life which all point towards the existence of a town. A well-preserved bronze brooch has also appeared, suggesting a high level of civilization.
...Mariners from Tyre in today's Lebanon established Gadir as a transit point for minerals brought from the Rio Tinto mines further north. The Romans later developed Gades as a naval base, and the poet Martial praised the city's dancing girls. But until now, no one has established exactly where Gadir (meaning "the fortress") was. Scientists in the 1970s uncovered traces of a Phoenician settlement near Santa Maria del Puerto, to the north on the Guadalete river, but not quite the remains of a town. More recently, archaeologists in Chiclana, 16 miles south-east, found remains of Phoenician walls and traces of a temple...[Full story>>independent.co.uk]
---
10.09.07 Woman's death sees RI bird flu toll hit 87
Pekanbaru, Indonesia, October 10 - A 44-year-old woman from Pekanbaru in Riau has died from bird flu, raising the death toll in the country to 87. The Health Ministry's bird flu information center confirmed the woman, identified as LT, had tested positive for the H5N1 virus. "The total number of cumulative avian influenza human cases in Indonesia is 108, with 87 deaths," the center said in the statement, AFP reported Monday. [More>>thejakartapost.com]
---
10.09.07 Saudi wants divorce after husband lifts her veil
October 9 - A 50-year-old Saudi woman asked for divorce after her husband lifted her face veil while she was sleeping, local press reported. For 30 years, the wife said she never showed her face to her husband in conformity with the tradition of her native village near the south western Saudi city of Khamis Mushayt. [More>>alarabiya.net]
---
10.09.07 Deputy Qaeda chief killed in Algeria: paper
ALGIERS (Reuters) October 9 - The deputy chief of al-Qaeda's North Africa wing, believed to be the group's operational leader, was killed along with two other rebels in a gun battle with Algerian troops, local newspapers said on Tuesday. Hareg Zoheir, also known as Sofiane Abu Fasila, was said to be the second-in-command of al-Qaeda in the Islamic Maghreb and suspected of being behind planning most of the suicide bombings in Algeria in the recent months.

He was shot dead on Sunday at a check point in the eastern region of Tzizi Ouzou, the country's leading dailies reported. "Sofiane is a big, big fish. In a way, he was the real boss of the organization in Algeria," Eshorouk's editor and security specialist Anis Rahmani told Reuters, adding that "he was a man of action not a man of religion." Two other rebels were also killed alongside him during a clash with government troops at the check point, El Watan and Eshorouk newspapers added. [More>>alarabiya.net]
---
10.08.07 Sudanese army kills 105 in Darfur town
KHARTOUM (Reuters) October 8 - Darfur rebel figure Suleiman Jamous said 105 people were killed in the former rebel town of Haskanita, which the army occupied last week following a vicious attack on African Union peacekeepers there. Jamous, a respected humanitarian coordinator for the Sudan Liberation Army, said the government and allied militia had razed Haskanita in southeast Darfur over a number of days. The United Nations confirmed the town had been burnt with just the Mosque and school left standing. Most of its 7,000 population had fled. [More>>khaleejtimes.com]
---
10.08.07 Iraq violence kills over 12 people
BAGHDAD, October 8 - Over 12 people were killed and several others were injured included as a result of fresh Iraq violence on Monday, the media reports said. A series of bomb attacks in Iraq, including a second strike near the Polish embassy within a week, left at least six people dead and dozens wounded, Iraqi officials said.

The deadliest was a car bombing in front of computer shops in Al-Sinaa, the technology hub of the capital that killed four people and wounded 10 others including women and children. A second car bomb exploded near the Polish embassy, killing one person, just days after Poland's ambassador was injured in a triple bombing in the same neighbourhood. [More>>thenews.com.pk]
---
10.08.07 Iranian students call president 'dictator,' scuffle
TEHRAN (Reuters) October 8 - More than 100 students scuffled with police and hardline supporters of Mahmoud Ahmadinejad on Monday on Tehran University campus and chanted "Death to the dictator" outside a hall where the Iranian president spoke.
"Revolutionary president, we support you," the hardline students shouted back, pushing and shoving those who were voicing opposition to Ahmadinejad, a Reuters witness said.
Liberal-minded students and academics have criticized the president for clamping down on dissent on Iranian campuses, although the president and his government insist they support free speech and welcome constructive opposition. Monday's protest was the second rowdy reception Ahmadinejad has received at a university in less than a year. In December, students tried to disrupt his speech on another campus by hurling firecrackers, chanting and burning his picture. [More>>
thestar.com.my
]
---
10.08.07 PKK terrorists kill 15 soldiers as Turkey mulls new measures
DIYARBAKIR, October 8 - Turkey's government met Monday to discuss fresh measures to tackle Kurdistan Workers' Party (PKK) after terrorist organization killed 15 soldiers in the past two days. The deaths, 13 of them in an ambush Sunday in the southeast Sirnak province bordering Iraq, were the worst losses the army suffered since 1995 in its 23-year fight against the separatist PKK.
One soldier was killed in a clash with the rebels Saturday in Baskale, near the Iranian border, and another early Monday in a remote-controlled landmine explosion near Lice, in Diyarbakir province. Sunday's attack came after 12 people, mostly civilians but including anti-PKK Kurdish "Village Guard" militiamen, were gunned down in an ambush on a minibus in Sirnak province on September 29. The attack was blamed on PKK terrorists. [More>>turkishpress.com]
---
10.08.07 50 Pakistani soldiers missing after clashes
MIRANSHAH, Pakistan (AFP) October 8 - Around 50 Pakistani troops are missing in a tribal area bordering Afghanistan after fierce battles with Islamic militants that have already claimed 80 lives, the army said Monday. The soldiers have been out of radio contact since early Monday in rugged North Waziristan, where the United States says Osama Bin Laden's al-Qaeda network and its pro-Taliban allies are regrouping. News of the missing troops comes as a fresh blow to the army, with hard-line rebels already holding more-than-200 members of the security forces in another part of the insurgency-plagued ethnic Pashtun tribal belt. [More>>metimes.com]
---
10.07.07 Fierce fighting in Pakistan kills 68
ISLAMABAD (Reuters) October 7 - Pakistani soldiers backed by helicopter gunships killed 48 pro-Taleban militants but lost 20 of their own men during fierce fighting in a tribal area close to the Afghan border, a military official said on Suday. The fighting began when militants ambushed a military convoy near Mir Ali town in North Waziristan on Saturday night, hours after US ally President Pervez Musharraf swept the most votes in a presidential election.
Casualties mounted as the army struck back and fresh clashes broke out in other areas close to Mir Ali, a town known as an Al Qaeda haunt, and the fighting continued into Sunday evening, a military official said. Pakistan has seen a wave of violence since July, when a peace pact with militants broke down in North Waziristan and army commandos stormed a radical mosque in the capital, Islamabad. [More>>khaleejtimes.com ; See also thenews.com.pk, October 7, "50 miscreants killed, 20 soldiers martyred in N. Waziristan gunbattle." ; for earlier reports and google map see Maravot News 8.08.07]
---
10.07.07 Sixteen 'foreign' militants said killed in Afghanistan
KABUL, October 7 - International military planes called in by Afghan security forces killed 16 rebels, apparently all foreigners, suspected of preparing an attack in the country's east, police said Sunday. Six rebels were injured and one was captured following the raid late Saturday in the province of Paktika on Afghanistan's border with Pakistan, provincial deputy police chief Farouq Sangari said.

The captured militant, an Uzbek national, told the authorities the dead were all foreign nationals, from Pakistan, Uzbekistan and Chechnya, the official said. This could not be independently verified. The security forces had acted after intelligence reports that the rebels were preparing to attack the headquarters of the Sarobi district, he said.
Insurgents linked to the Taliban movement and its allies in al-Qaeda are said to have bases in Pakistan from where they launch attacks inside Afghanistan as part of an insurgency against the US-backed government.
The Taliban were removed from the government in a US-led invasion that started exactly six years ago. As part of their campaign, they capture remote districts secured only by poorly armed and undermanned police forces, and are usually easily forced out again. They are also stepping up their use of suicide attacks, which the Afghan government says shows the influence of foreign militants. [>
thenews.com.pk
]
---
10.07.07 'Brown will support strike on Iran'
October 7 - British Premier Gordon Brown has agreed to support US air strikes against Iran if it would decide to carry out large-scale attacks by militant proxies against British or American forces in Iraq, the Sunday Telegraph reported Sunday afternoon, quoting unnamed senior Pentagon officials. Reportedly, Washington sources said Brown has been informed of US plans to launch limited air and special-forces raids against Revolutionary Guard bases.
After talks with President George W. Bush in July, Brown left US officials with the belief that Britain was "on board" for a military response - but only if Iran was proved to be behind a big militant attack or another stunt similar to the kidnapping in March of British sailors, the British daily reported. The paper reported that the US wanted Britain's Special Air Service Regiment to take part in special-forces raids inside Iran and has requested help from the Royal Navy to combat Iranian retaliation in the Gulf. But no decisions have been made.
Brown clarified to Bush that he would not support a campaign to destroy Iran's nuclear program and bring about regime change in Teheran, but Pentagon officials said he did indicate he would be prepared to back strikes in certain circumstances. The threat of action has been passed to the Iranian government and is credited with slowing the flood of Iranian weapons into Iraq, the Telegraph reported. [>jpost.com ; See related story, khaleejtimes.com, October 7, "Iran warns France over nuclear stance' :..Iranian Foreign Minister Manouchehr Mottaki warned France on Sunday over what he labelled its 'illogical' position after Paris urged tough action against Teheran's nuclear programme...French Foreign Minister Bernard Kouchner angered Teheran last month when he said the world had to prepare for war over Iran's atomic drive, and has been pushing fellow European states to adopt their own sanctions on Teheran...]
---
10.07.07 An exit toward soul-searching
October 7 - As Bush Staffers Leave, Questions About Legacy Abound. It had been four days since Meghan O'Sullivan left her job at the White House. Just four days since she gave up her Secret Service pass, her classified hard drive and her entree to the president. Four days since she gave up any day-to-day responsibility for Iraq.
Too soon, evidently, for the dreams to end. "In fact, I was dreaming about Iraq last night," she said. "And I woke up and thought, 'When do you think this will stop?' " ...but the cumulative exodus of so many key people at once has transformed the White House as it heads into the dwindling months of the Bush presidency. Rove and Bartlett are gone, and so are their fellow Texans, Harriet E. Miers and Alberto R. Gonzales. Tony Snow, Sara M. Taylor, Rob Portman, J.D. Crouch, Peter D. Feaver, J. Scott Jennings and a host of others have left.
There is so much turnover that on one recent Friday there were four farewell parties or last-day exits. Bush poses for so many Oval Office photos with departing aides it feels like an assembly line...[More>>washingtonpost.com]
---
10.07.07 British university forced to return 'looted' Iraq treasure
October 7 - One of Britain's leading universities is embroiled in an embarrassing row over hundreds of treasures looted from Iraq. Found scattered around ancient Mesopotamia, the Aramaic incantation or devil bowls were placed upside down in homes during the sixth to eighth centuries to trap evil spirits. The spells, and information such as the names of the home owners, are not found in any other source. One collection contains the earliest examples of the Bible in Hebrew.
Anther collection is at the centre of a legal row that has divided Britain's academic community. Since the first Gulf War in 1990, Iraq has been a looters' paradise. The United Nations introduced a sanction in 2003 making it illegal to handle artefacts from the country. So when University College London came into possession of 654 bowls, the biggest collection in the world, which it loaned from a private collector, suspicions were raised.
The bowls belong to Martin Schoyen, a Norwegian collector of ancient scripts. There is no suggestion that he looted the bowls, or was aware they may have been looted when he bought them in London from a Jordanian who claimed they had been in his family for generations.
UCL set up a committee of inquiry which found that "on the balance of probability" the bowls had, somewhere along the line, been looted from Iraq. [More>>independent.co.uk]
---
10.07.07 Bird flu virus mutates into a strain more infectious to humans
October 7 - The bird flu virus H5N1 has mutated into a form that makes it more infectious to humans, increasing the risk of a human pandemic, researchers have found. The changes, which only affect the virus circulating in Europe and Africa, are worrying although they have not yet transformed it into a pandemic strain, Yoshihiro Kawaoka, of the University of Wisconsin-Madison, who led the research, said.
The outbreak of avian influenza caused by the lethal virus H5N1 began in Asia in 2003 and spread around the world, leading to the slaughter of hundreds of millions of birds. More than 30 countries have reported outbreaks in the last year, mostly in wild birds such as swans. The virus has infected 329 people since 2003, of whom 201 have died, according to the World Health Organization.
Governments have responded to the threat by stockpiling millions of doses of the anti-flu drug, Tamiflu, and preparing emergency plans for dealing with a pandemic. [More>>independent.co.uk]
---
---
*Visitor statistics on maravot.com from 1&1. com. 46,153 page views in May 2007.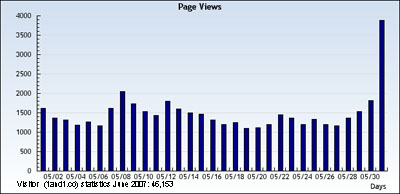 Privacy Policy: We do not store any personal data from you. We have no way of knowing any vital information about you – not even your name. Third-party distribution: We do not distribute information about your site usage to any third party. We are not responsible for the content of links from our site. Usage data: supplied by our Web Hosting service, 1and1.com, which consists of usage reports, such as page views / impressions and web pages visited, visitors' servers and geographical data (ISP's and country of origin).

---
Launched: 10.25.04 / 11.02.04
Updated: 10.07.07; 10.08.07; 10.09.07; 10.10.07; 10.11.07; 10.12.07; 10.13.07; 10.14.07; 10.15.07
Copyright © 1981-2007 Maravot. All rights reserved
Copyright © 1981-2007 Mel Copeland. All rights reserved
Background: tile from Cicero's villa (Marcus Tullius Cicero 106 B.C. - 43 B.C.)