News Headlines & Trends
---
10.15.10 After peace prize, China targets winner's friends
October 15 - In the week after Liu Xiaobo won the Nobel Peace Prize for his decades of promoting democratic change in China, dozens of people who openly agreed with his views say they have been detained, roughed up, harassed or kept from leaving their homes. The latest appears to be a woman who Liu has said should win the prize: Ding Zilin, who has fought for years for China's government to recognize the hundreds killed in the military's crackdown on pro-democracy demonstrators in Tiananmen Square in 1989. Liu's wife sent out an alert late Thursday that said Ding had "disappeared" and urged people to "pay attention" to her case. Specially targeted for harassment after Liu won the peace prize are the first group of signers of Charter 08, the demand for greater freedoms that brought Liu an 11-year prison sentence for subversion and that was cited by the Nobel committee. [More>>indianexpress.com]
---
10.15.10 Iran infuriated by film of woman's stoning
October 15 - A film portraying the real-life stoning of an Iranian woman is opening in London despite protests from the country's government. It depicts a brutal form of punishment still sanctioned by Iran's current hard-line regime. The film's director claims some European governments have been reluctant to support it - fearful of antagonizing Iran's regime, already at loggerheads with the West. The film The Stoning Of Soraya M is based on the true story of a woman brutally killed after being falsely accused of adultery. Soraya is stoned to death in her Iranian village under Islamic Sharia law. The film's director, Cyrus Nowrasteh, has dedicated the screening to Sakineh Mohammadi Ashtiani currently facing execution by stoning or hanging in Iran for adultery. Amnesty International UK director Kate Allen said: "The final scenes of The Stoning Of Soraya M are quite horrific and many viewers might want to turn away. I'd urge them not to. This is the cruel reality of execution by stoning; watch, be enraged, and take action to stop this inhumane practice..." [More>>news.sky.com]
---
10.15.10 'There's no such thing as rape within marriage,' says Muslim leader of sharia law courts in Britian
October 15 - A senior Muslim cleric has been condemned by police and other Muslim leaders for claiming that there is no such thing as rape within marriage. Sheikh Maulana Abu Sayeed, president of the Islamic Sharia Council in Britain, sparked outrage when he said he believed that men who rape their wives should not be prosecuted because "sex is part of marriage." He further claimed, during an interview with the blog The Samosa, that many married women who made accusations of rape were lying. His comments have caused fury among senior police officers, who already face great difficulties in getting women to report rape — a crime that all too often goes under-reported...British law was changed to make rape within marriage illegal in 1991. [Full story>>dailymail.co.uk]
---
10.15.10 British Anti-Islam group seeks ties with Tea Party
LONDON, October 15 - Tentative links are developing between supporters of the Tea Party movement in the United States and right-wing fringe groups in Britain that are opposed to what they call the "Islamification" of Europe. The movements are not formally aligned, but the relatively new English Defense League — which warns that Islamic fundamentalism will soon engulf Britain — is seeking guidance and inspiration from some US figures taking a similar stance. The British activists are less drawn to the anti-tax, anti-big-government Tea Party message and more attracted to elements taking an active stance against the spread of Islam, like Rabbi Nachum Shifren, a long-shot Republican candidate for the California state legislature who plans to visit England next week in a trip sponsored in part by the English Defense League.
 
The trip was organized by Roberta Moore, an English Defense League activist who has formed a "Jewish division" of the group. She said the rabbi will speak at an Oct. 24 rally in London. "He plans to speak about the dangers of Islamification both in this country and in America," Moore told The Associated Press. "He will talk about the issues we have with immigration and the danger of Sharia law coming to the UK. We have the same objectives as the groups in the USA, and we want to exchange information and work with them." [More>>japantoday.com]
---
10.15.10 New species of fish discovered in ocean's deepest depths
October 15 - A new species has been discovered in a part of the ocean previously thought to be entirely free of fish, scientists said yesterday. The new type of snailfish was found living at a depth of 7,000m in the Peru-Chile trench of the South East Pacific Ocean. Mass groupings of cusk-eels and large crustacean scavengers were also discovered living at these depths for the first time, scientists said. The findings, in one of the deepest places on the planet, were made by a team of marine biologists from the University of Aberdeen and experts from Japan and New Zealand. The team took part in a three-week expedition, during which they used deep-sea imaging technology to take 6,000 pictures at depths between 4,500m and 8,000m within the trench. The mission was the seventh to take place as part of HADEEP, a collaborative research project between the University of Aberdeen's Oceanlab and the University of Tokyo's Ocean Research Institute, supported by New Zealand's National Institute of Water and Atmospheric research (NIWA). [More>>independent.co.uk]
---
10.15.10 Drone kills wanted TTP operative in NWA
MIRAMSHAH, October 15 - Qari Hussain, most wanted man associated with banned Tehreek-e-Taliban Pakistan, has been killed in a US drone strike in North Waziristan, intelligence sources confirmed on Friday. Qari Hussain was one of the main TTP operatives who was an expert in preparing explosives-filled suicide jackets besides training men and children to execute suicide attacks. According to intelligence sources, a US drone fired two missiles on a house in Dattakhel area of North Waziristan on October 2. Initially it had been reported that the attack killed German nationals but now the same sources have confirmed that Qari Hussain, a TTP mastermind of suicide attacks, was taken out along with his five Turk companions. Qari Hussain was said to have been involved in 95 percent terrorist activities inside Pakistan. In 2009 a head money of Rs50 million was put on Qari Hussain who has trained terrorists [and] carried out dozens of terrorists acts, unleashing great devastation in Pakistan. [>thenews.com.pk; See related story,

telegraph.co.uk, October 15, "General David Petraeus: special forces elimate 300 Taliban and al-Qaeda" : Special forces have killed or captured more than 300 Taliban leaders in the last three months, says General David Petraeus, the head of NATO forces in Afghanistan. General David Petraeus said al-Qaeda had extended its presence into Kunar and Nuristan in Eastern Afghanistan where three leaders have been killed. Gen. Petraeus said the men were "important figures" and the "so-called jackpot" targets of operations conducted by British and American special forces. The number of such operations has increased by three or four times from its previous level, he said, as a result of more surveillance aircraft and drones that have been able to spot targets and intercept communications. His comments came amid reports that American pilots have pounded the Taliban with 2,100 bombs or missiles in four months, an increase of nearly 50 percent over the same period last year.

Gen. Petraeus said al-Qaeda had extended its presence into Kunar and Nuristan in Eastern Afghanistan where three leaders have been killed. Meanwhile al-Qaeda's senior leaders in Pakistan have been forced to go "very deep underground, figuratively speaking, maybe literally as well," he added. One message from Osama bin Laden had taken four weeks to get out, the general said. "It indicates a considerable inability, certainly to conduct any kind of day-to-day or even week-to-week operational guidance," he said. "Although he has individuals who do that for him." But the US general, who was answering questions at the Royal United Services Institute (RUSI) in London, denied that there had been a change of tactics away from trying to win over the population as part of a "counter-insurgency" strategy and towards a targeted "counter-terrorism" strategy. [More>>telegraph.co.uk]
---
10.15.10 Pakistan says willing to assist Afghan-Taliban talks
BRUSSELS (Reuters) October 15 - Pakistan said on Friday it was willing to assist talks between the Afghan government and the Taliban, and NATO confirmed its forces had helped ensure a senior Taliban commander reached Kabul. NATO and US officials have said they are ready to do more to help Afghan President Hamid Karzai's reconciliation efforts with the Taliban, but Pakistani Foreign Minister Shah Mehmood Qureshi said the talks must be led by Afghanistan itself. "We are there to facilitate. Because we want to see a stable, peaceful Afghanistan. It's in Pakistan's interest to have stability and peace in Afghanistan," Qureshi said in Brussels before talks on Pakistann's economic development. A senior Pakistani official familiar with the contacts between the Afghan government and the Taliban said they had been made possible by the lifting of US opposition. Defense Secretary Robert Gates said this week Washington would do whatever it takes to put peace talks on track. [More>>khaleejtimes.com]
---
10.15.10 Ex-Gitmo Qaeda suspect surrenders to Saudi
RIYADH, Saudi Arabia, October 15 - Al-Faifi returns to Saudi from Qaeda camps in Yemen. A former Guantanamo detainee who rejoined al-Qaeda in Yemen after graduating from Saudi Arabia's rehabilitation programme has turned himself in to Saudi authorities, the government said on Friday. Jaber Jabran al-Faifi, about 35, contacted the Saudi government in recent weeks saying he wanted to return home and a handover was arranged through Yemen's government, interior ministry spokesman General Mansour al-Turki said...Faifi was one of a group of former prisoners at the US Guantanamo prison who had been returned to Saudi Arabia for rehabilitation in December 2006 but then escaped to Yemen two years ago after completing the reform program. The group became a key part of the Yemen-based al-Qaeda in the Arabian Peninsula, or AQAP, and began plotting attacks on Saudi as well as Yemeni targets. In total 11 of 117 Saudi Guantanamo returnees returned to militancy after completing the rehab programme, according to a top Saudi counter-terror official. Several have been killed or captured. [Full story>>alarabiya.net]
---
10.15.10 Swiss complete world's longest tunnel
October 15 - The 10m-diameter drill-head tore through the rock to cheers and applause from watching workers. The 57km (35 mile) Gotthard rail tunnel has taken 14 years to build and is not likely to open before the end of 2016. But it is expected to revolutionise transport across Europe, providing a high-speed link between the north and south of the continent. Eventually, trains will travel through it at speeds of up to 250km/h (155mph). Journey times between Zurich and Milan are likely to be slashed by as much as one-and-a-half hours. The event, which took place shortly after 1415 (1215 GMT), was broadcast live on Swiss TV and watched by transport ministers across Europe. The 9.8bn Swiss franc (£6.4bn; $10.3bn) project will take up to 300 trains each day underneath the Alps. The length of the Gotthard tunnel exceeds the 53.8km Seikan rail tunnel linking the Japanese islands of Honshu and Hokkaido and the 50km Channel Tunnel linking England and France. [More>>bbc.co.uk]
---
10.15.10 The Palestinian state of Ishmael, as envisioned by Rehavam Ze'evi
October 15 - [Editorial note: This story contains a lot of information involving the planning of the 1967 Six-day War.] In the full flush of victory after the Six-Day War, as the Israeli military scrambled to impose its rule on its newly acquired territory its leaders also drew up plans for a Palestinian state. A rare look at slain right-wing leader's plan. Three years ago, in a special Knesset session to mark the sixth anniversary of the assassination of tourism minister Rehavam Ze'evi by Palestinian gunmen, then-prime minister Ehud Olmert related that Ze'evi was actually one of the first to advocate the establishment of a Palestinian state. "Two or three days after the Six Day War," Olmert told the MKs and invited guests, among them Ze'evi's children, "Major-General Rehavam Ze'evi, who was then assistant to the head of the Operations Branch of the IDF General Staff, hurriedly submitted a plan for the creation of a Palestinian State whose capital would be Nablus, and he even gave it a name: "The State of Ishmael." More interestingly: Gandhi [Ze'evi's nickname, owing to his perceived youthful resemblance to the Indian leader] called for the establishment of the Palestinian state as soon as possible and cautioned, and I quote, that: 'Protracted Israeli military rule will expand the hate and the abyss between the residents of the West Bank and Israel, due to the objective steps that will have to be taken in order to ensure order and security.' " [More>>haaretz.com]
---
10.14.10 Ahmadinejad: 'The Zionists will not last long!'
October 14 - Iranian president speaks in front of thousands of Hizbullah supporters in southern Lebanese village, which he calls "capital of freedom, resistance and victory." Iranian President Mahmoud Ahmadinejad gave a speech to a crowd of thousands in the southern Lebanese town of Bint Jbeil on Thursday, telling his audience that "Lebanese resistance is more powerful than the swords of Zionists."

"Resistance is the key to the Lebanese nations and all the nations in the region," he said. "The people of Lebanon, of all religions and all walks of life, have found the secret to victory." Ahmadinejad then called Bint Jbeil, a border village that was bombed by Israel during the Second Lebanon War, "the capital of freedom, the capital of resistance and victory."

"The world knows the Zionists invaded Bint Jbeil to break down the resistance, but today they are nowhere to be found, and Bint Jbeil is still here," Ahmadinejad said. "Bint Jbeil is still alive and standing up against us. Bint Jbeil stands against the enemy to the last minute."

"The Zionists will not last long," Ahmadinejad exclaimed. "Bring defeat to the Zionists." Ahmadinejad also called for Palestine to be "forcefully freed" and for the Zionists to go "back to where they came from." [More>>jpost.com]
---
10.14.10 US lawmakers: Lebanon's embrace of Ahmadinejad may affect military aid
October 14 - US representatives renew opposition to transfer of $100 million in US assistance to Lebanon in wake of visit by Iran President, Lebanese daily reports. The Lebanese daily An-Nahar on Thursday quoted sources in the US Congress as renewing opposition to US military assistance to Lebanon. The renewed opposition comes in the midst of a visit by Iranian President Mahmoud Ahmadinejad to Lebanon. In August, two key Democrats, Representatives Nita Lowey and Howard Berman, announced they were holding up $100 million that had been approved for Lebanon's army but not yet spent. At the time, lawmakers said they were blocking US funding due to a deadly border clash between Lebanon and Israel. According to An-Nahar, Lowey and Berman vehemently oppose the transfer of the funds, scheduled for next month, in light of the warm welcome with which Ahmadinejad was received in Lebanon. [More>>haaretz.com]
---
10.14.10 Miners' rescue among top Web events
October 14 - The rescue of Chile's trapped miners has become one of the most-watched Web events in recent memory, according to an internet monitor. Between 4 and 5pm ET on Tuesday, online news traffic grew to more than 4 million page views per minute, making the miners' rescue the fifth most-read-about online event since Akamai's Net Usage Index for News debuted in 2005. The now-complete rescue of 33 miners trapped more than 2,000 feet below the ground for 69 days is topped in traffic only by World Cup matches, Wimbledon and Barack Obama's presidential election as the top online news event. [More>>cnn.com; See also, abcnews.go.com, video October 14, "Chilean Miners rescued, full episode."
---
10.14.10 Earth is parched where Syrian farms thrived
AR RAQQAH, Syria - The farmlands spreading north and east of this Euphrates River town were once the breadbasket of the region, a vast expanse of golden wheat fields and bucolic sheep herds. Now, after four consecutive years of drought, this heartland of the Fertile Crescent — including much of neighboring Iraq — appears to be turning barren, climate scientists say. Ancient irrigation systems have collapsed, underground water sources have run dry and hundreds of villages have been abandoned as farmlands turn to cracked desert and grazing animals die off. Sandstorms have become far more common, and vast tent cities of dispossessed farmers and their families have risen up around the larger towns and cities of Syria and Iraq. "I had 400 acres of wheat, and now it's all desert," said Ahmed Abdullah, 48, a farmer who is living in a ragged burlap and plastic tent here with his wife and 12 children alongside many other migrants.

"We were forced to flee. Now we are at less than zero — no money, no job, no hope." The collapse of farmlands here — which is as much a matter of human mismanagement as of drought — has become a dire economic challenge and a rising security concern for the Syrian and Iraqi governments, which are growing far more dependent on other countries for food and water. Syria, which once prided itself on its self-sufficiency and even exported wheat, is now quietly importing it in ever larger amounts. The country's total water resources dropped by half between 2002 and 2008, partly through waste and overuse, scientists and water engineers say.

For Syria, which is running out of oil reserves and struggling to draw foreign investment, the farming crisis is an added vulnerability in part because it is taking place in the area where its restive Kurdish minority is centered. Iraq, devastated by war, is now facing a water crisis in both the north and the south that may be unprecedented in its history. Both countries have complained about reduced flow on the Euphrates, thanks to massive upriver dam projects in Turkey that are likely to generate more tension as the water crisis worsens. [More>>nytimes.com]
---
10.14.10 Foreclosure auctions hit record as document crisis unfolds
NEW YORK, October 14 - Bank repossessions and foreclosure auctions hit record levels in the third quarter, RealtyTrac said on Thursday. 372,445 foreclosure auctions were scheduled in July, August and September, while 288,345 properties were repossessed by lenders over the same time period. Overall foreclosure filings edged up to 930,437 in the third quarter, a 4% increase from the previous quarter. One in every 139 homeowners received a foreclosure filing during those three months. Bank repossessions, or REOs, also are on the rise. In September, a record 102,134 homes were taken back by banks. It's the first time repos have topped 100,000 in a single month. [More>>cnn.com]
---
10.14.10 Fatal bomb blast kills NATO soldiers in Afghanistan
(AFP) October 14 - Five NATO soldiers were killed in a bomb attack in Afghanistan on Thursday, bringing the coalition death toll to 586 this year. The Taliban insurgency against NATO troops and the Afghan government is now in its deadliest year. Five NATO soldiers were killed in separate bomb attacks in Afghanistan on Thursday, the alliance announced, bringing to 586 the total number of personnel killed so far this year. The US-led International Security Assistance Force (ISAF) said three soldiers died in a single attack in western Afghanistan while the fourth and fifth died in two separate bomb blasts in the restive south and east. The force released no further details and does not disclose the nationalities of soldiers killed as a matter of policy.

There are American, Spanish, Italian and Lithuanian troops based in NATO contingents in the west. The Taliban insurgency against US-led NATO troops and the Afghan government is now in its deadliest year, having expanded steadily since the 2001 US-led invasion brought down their regime. Six US soldiers were killed in attacks on Wednesday and four Italian soldiers in a single bombing in western Afghanistan last week. Thursday's deaths brought to 586 the number of foreign soldiers killed this year, eclipsing the previous record of 521 in 2009. The AFP tally is based on a count by the independent website icasualties.org. [More>>france24.com]
---
10.14.10 Pakistan arrests 7 militants, foil plot to kill PM
MULTAN, Pakistan (AP) October 14 - Pakistani police arrested a group of Islamist militants who were plotting to kill the Prime Minister and other top government officials, a top officer said Thursday. The conspiracy against Prime Minister Yousaf Raza Gilani was "almost complete," said Abid Qadri, a regional police chief. He said the militants were planning to attack Gilani when he traveled to his hometown of Multan, but gave no more details. Militants in Pakistan have frequently attacked government officials, security officers and political leaders as part of a campaign to destabilize the US-allied government and take over the state. Opposition leader Benazir Bhutto was killed in a gun-and-bomb attack near Islamabad in 2007. Like other top officials, Gilani does not publicize his movements ahead of time and travels with extensive security. Qadri did not offer any evidence to back up his allegations. [More>>timesofindia.indiatimes.com]
---
10.14.10 Six killed in Iraq bomb attacks
BAGHDAD, October 14 - Six people were killed on Thursday in separate bomb attacks in Iraq, one of which targeted an official from the secular Iraqiya bloc of former premier Iyad Allawi, an interior ministry official said. In Jurf al-Nadaf, some 10 kilometres (6 miles) southeast of Baghdad, a bomb targeting the convoy of Iraqiya official Karim Mahud killed his bodyguard and three passers-by, and wounded four other civilians. Two more people including a policeman were killed and one was wounded by magnetic bombs attached to their vehicles in the north and centre of the capital. [>thenews.com.pk]
10.13.10 PLO wants map from US showing Israeli border
RAMALLAH (Reuters) October 13 - Palestinians want to know now what Israel plans to keep. The Palestinians are seeking a map from the United States showing where Israel sees its final borders and making clear whether they include Palestinian land and homes, an official said on Wednesday.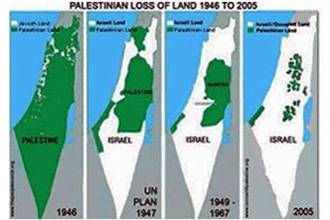 (upper map) Map from alarabiya.net; Compare to historic maps at Maravot News, "
The Allah Controversy.
" Before
UN R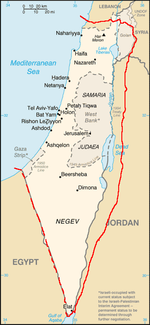 esolution # 181, Partition of Palestine (November 29, 1947
), that created Israel and the "Corpus Separatum of Jerusalem," (the Corpus Separatum of Jerusalem was a UN governed territory), Palestine was part of the
British Mandate of Palestine
, including Transjordan, Palestine, and a portion of Syria. Before this Palestine was part of the
Ottoman Empire
, Eyalet (province) of Egypt, established in 1517, consisting of Egypt, Israel, Jordan and Saudi Arabia. Other divisions of the Ottoman Empire included
sanjaks
, such as the Sanjak of Jerusalem. During the Ottoman Empire an area called "Palestine" did not exist on official maps, though Christian maps of the lands of the Bible, such as the "Partition map of the land of Canaan," show the Gaza Strip with the name of Palestine.
(lower map) Map showing boundaries of the proposed Jewish state, as outlined by the Zionist representatives at the
1919 Paris Peace Conference
, superimposed on modern boundaries (from [
wikepedia.org
] The area claimed on the eastern bank of the Jordan River reflects the traditional area dedicated to the tribes of Ruben, Gad, Manasah, and Neptalim. (See
Maravot News Israel-tribes1.gif
)
Palestine Liberation Organization (PLO) official Yasser Abed Rabbo was responding to a US call for the Palestinians to present their own ideas in response to an Israeli proposal they recognize Israel as a Jewish state in return for curbs on settlement building -- a declaration they have long opposed. "What is required from the American administration and Israel is that they present us with the map of the state of Israel that they want us to recognize," Abed Rabbo told Reuters. "Is this map on the '67 borders or does it include Palestinian land and the homes we live in?" he said, referring to the year when Israel captured the West Bank and Gaza Strip in a Middle East war. [More>>alarabiya.net; See also

jpost.com, October 13, "Palestinians demand Israel present map of its borders." : "If map is based on 1967 lines, then PA will recognize Israel by whatever name it wants," PLO chief Abed Rabbo quoted as saying. A Palestinian official demanded a map of Israel's borders on Wednesday in response to a US State Department statement urging the Palestinians to extend a counter-proposal to Israel's demand that they recognize it as a Jewish state.

The State Department Tuesday urged the sides to come to a compromise and called for Palestinians to make clear what would be acceptable to them in lieu of a declaration that Israel is a Jewish state..."If this map is based on the 1967 borders and provides for the end of the Israeli occupation over all Palestinian lands... then we recognize Israel by whatever name it applies to itself in accordance with international law," Abed Rabbo explained...

See related story, Maravot News 10.04.10, article (updated 9.27.10) 09.26.10 Jewish settlers claim biblical birthright to land and editorial note, "Recent history of the annexed territories of the West Bank and East Jerusalem."
---
10.13.10 Xenophobic attitudes in Germany at high level
October 13 - A new study shows that a worryingly high proportion of Germans agree with statements expressing anti-foreigner positions. Islam and Muslims are met with particular reservations. The study released Wednesday called "Right-wing extremism in Germany 2010" argues that extreme views have penetrated to the heart of German society. But, although between 10 and 20 percent of the population approve of traditional far-right positions such as the need for a dictator, or say that the Nazis weren't so bad after all, policy makers will be more alarmed at the high levels of approval given to statements expressing disapproval of foreigners in Germany. For example, 32 percent approve of the statement that "When there's a shortage of jobs, foreigners should be sent back home;" 34 percent agree or strongly agree with the statement that "Foreigners only come here to exploit its social welfare system;" and 35 percent think that "Germany has a dangerous level of foreign influence as a result of the many foreigners in the country."

In each of these cases, approval was considerably higher in the former East Germany than in the former West. The survey, which was carried out by a team of researchers from the University of Leipzig for the Friedrich Ebert Foundation, which is linked to the Social Democratic party, also found high levels of chauvinism across the board, with some 27 percent of the population thinking that the main task of the German government should be "to ensure that Germany gets the power and influence it is entitled to." But extreme views turned into majority opinions when it came to Islam, with 55 percent saying they could understand that people find Arabs unpleasant, and 58 percent saying that the practice of the Muslim religion should be "considerably restricted." Indeed, an absolute majority of those who otherwise did not hold extremist views agreed with these two statements. [More>>dw-world.de]
---
10.13.10 Fears of Sharia Law in America grow among conservatives
October 13 - The rise of anti-Muslim sentiment in America has brought with it a wave of largely-unsubstantiated suggestions from conservative media commentators and politicians that America is at risk of falling under the sway of Sharia law. First, a definition: Sharia law is strict Islamic law. It is designed to guide devout Muslims in their personal and professional dealings, and has been used by the Taliban and others to justify limits on women's rights and harsh punishments, including amputation and stoning. (It is open to interpretation, however; here's a helpful backgrounder from the Council on Foreign Relations.) Last week, Nevada GOP Senate candidate Sharron Angle invoked Sharia law when asked about "Muslims wanting to take over the United States." "They are building mosques all over the place," the questioner told Angle. "They want to build one near [ground zero]. And they seem to be getting their way.

...The notion that Sharia law is coming to America has been percolating in the conservative media for a while. Fox News' Sean Hannity suggested the arrest of the Christian missionaries in Dearborn reflected the possibility that "Sharia law is taking over in Dearborn," as did Fox News' Brian Kilmeade, who interviewed one of the men who was arrested. At the Values Voters summit in September, Newt Gingrich said — to a standing ovation — that "[w]e should have a federal law that says Sharia law cannot be recognized by any court in the United States." He has also warned that jihadists are trying "to replace Western civilization with a radical imposition of Sharia."...On the Internet, which is awash in warnings about Sharia law, Pamela Geller of the influential conservative blog Atlas Shrugged warns of "creeping Sharia" in the United States. "It's a drip, drip, drip, drip, drip. The mosque-ing of the workplace where you're imposing prayer times on union contracts, non-Muslim workers have to lengthen their day: it's wrong," she told the New York Times. "And in places like Greeley and in Marshall, in Colorado, the media doesn't report on it, but they've come to fisticuffs, there's been rioting." [Full story>>cbsnews.com]
---
10.13.10 Wind could provide 20 percent of world power by 2030
(AFP) October 13 - Wind power could meet about a fifth of the world's electricity demand within 20 years, an industry group and environmental watchdog Greenpeace predicted in a new report released Tuesday. The global market for wind power grew 41.7 percent on year in 2009, beating average annual growth of 28.6 percent over the past 13 years, said Steve Sawyer, secretary general of the Global Wind Energy Council, or GWEC. China ranked second in the world in installed wind generating capacity in 2009 and was the largest buyer of wind technology, Sawyer told reporters at the launch of GWEC and Greenpeace's Global Wind Energy Outlook 2010 report. "We would expect China to continue to be the largest market and perhaps even be the (overall) largest market in the world by the end of this year," he said. The report's "advanced scenario" — its most optimistic outlook — projects the world's combined installed wind turbines would produce 2,600 terawatt hours (TWh) of electricity by 2020 — equal to 11.5 to 12.3 percent of power demand. By 2030, wind energy would produce 5,400 TWh — 18.8 to 21.8 percent of the world's power supply, the report said. [More>>independent.co.uk]
---
10.13.10 Six NATO soldiers killed in Afghanistan
KABUL, October 13 - A total of six NATO soldiers were killed in attacks in Afghanistan on Wednesday, four of them in a bomb explosion in the insurgent-hit south of the country, the alliance said. NATO's International Security Assistance Force (ISAF) gave no further details of the four soldiers' deaths in the blast, saying it was a matter of policy not to identify the nationalities of casualties. The coalition had earlier announced that a soldier was killed in another bomb attack, as military deaths hit new record highs since the war began in 2001. The sixth soldier died fighting rebels in eastern Afghanistan, the force said. [More>>thenews.com.pk; See related story,

france24.com (AFP) October 13, "US troops on patrol stumble upon missing American." : US soldiers on patrol in one of the most dangerous battlefields of Afghanistan stumbled across an American who claimed to have fled his Taliban kidnappers, US officials said Wednesday. The 25-year-old US citizen was reported missing more than two months ago in the war-torn country, the US embassy in Kabul confirmed.
---
10.13.10 Google Earth photos reveal Syrian Scuds
JERUSALEM, October 12 - Israeli defense experts were still sounding alarms this week over Google Earth images made public Friday by the Israeli daily Haaretz. The satellite photos, taken March 22, show Scud missiles ready for deployment at a Syrian base at Adra, where earlier reports suggest Syria is training Hezbollah militants in the use of missiles that threaten large parts of Israel. The photos show five 11-meter-long Scuds at the Adra base. Three are on trucks in a car park. Two others are in a training area where 20 to 25 people can be made out along with about 20 vehicles. One of the two missiles appears to be mounted on a mobile launcher; another is on the ground. Earlier reports have suggested that the Adra base, located in a deep valley surrounded by 400-meter mountains, has concrete tunnels leading deep underground where the missiles are apparently stored in protected silos.

In 2006, Hezbollah rocket fire into Israel precipitated Israeli air strikes and a ground invasion of Lebanon. Hezbollah's month-long barrage of rockets deeply unsettled Israel; with Scud missiles, Hezbollah can strike all the major cities in Israel. In April, the Kuwaiti newspaper Al Rai reported that Syrian President Bashar Assad was arming Hezbollah with Scuds, a report Assad denied but both the US and Israel later confirmed. Hezbollah sources told Al Rai that the group had the capability to launch 15 tons of explosives at Israel every day in the case of another war between the two sides, and went on to claim that Hezbollah possesses a wide range of missiles with a heavy payload, including the 1-ton Zilzal missile and half-ton Fateh 110 and M600 missiles. [More>>aolnews.com via foxnews.com]
---
10.12.10 US bankers set for record pay and bonuses for second year
October 12 - Pay and bonuses at US banks and hedge funds are set to rise 4% this year — outpacing the growth in revenues — study finds. US bankers are set for record compensation for a second consecutive year, shattering both the illusion of pay-reform and the expectation that bank bonuses would be tempered while the US economy remains weak. With third-quarter figures from JP Morgan expected to begin a bumper profit reporting season tomorrow, a study of more than three dozen banks, hedge funds, money-management and securities firms estimates they will pay $144bn (£90bn) in salary and benefits this year, a 4% increase on 2009. The research, by the Wall Street Journal, found pay was rising faster than revenue, which gained 3% to $433bn, despite a slowdown in stock trading. And while profits have fallen from their 2007 peak, the percentage directed to compensation has increased by 23%. [More>>guardian.co.uk; See also,

moneywatch.benet.com, October 12, "Wallstreet pay. Where's the shareholder rage?" : According to the Wall Street Journal, Wall Street pay is back and better than ever. Firms are expected to dole out $144 billion in compensation and benefits this year, a record high and a 4 percent increase from 2009. This will no doubt drive folks on Main Street crazy, because they will rightly feel like banks who survived the financial crisis due to taxpayer largess in the form of TARP, are back on track, while the rest of the country is left grappling with sagging home prices and retirement accounts that are far from their pre-crisis highs.

Sadly, there's little to be done now. The Obama Administration missed its opportunity to push for Wall Street compensation reform when it forked over TARP funds with far-too-few strings attached. At the moment when the President could have stepped on the collective throats of Wall Street execs, he wimped-out. None of us should be surprised that these firms are back to their old ways — as the sagacious Jessica Rabbit said, "I'm not bad, I'm just drawn that way."...
---
10.12.10 Students join workers in largest pension protests yet
October 12 - Students joined workers for a new round of nationwide strikes across France on Tuesday in protest at government plans to overhaul the country's pension system and raise the legal retirement age from 60 to 62. French students and public sector workers turned out in force on Tuesday as protests against pension reforms intensified across France. Unions said as many as 3.5 million people had taken to the streets across France, while police put the estimate at 1.2 million. Either figure would make today's marches the biggest since the start of protests in September. Rail services, flights and sea ports ran below capacity as the unions kept up their battle. Walkouts reduced flights from Paris's main airports by as much as 50 percent.

One in three high-speed TGV trains were running, though international services operated with more frequency. Limited power cuts targeting public buildings were also expected as utility workers joined the strike movement, France's CGT union said in a statement, calling the cuts "symbolic." Secondary school students in France blocked the entrance to many of their own schools on Tuesday. Their participation has swelled the ranks of the union-led anti-reform movement, which the government has tried to minimize. At midday, France's interior ministry had identified 357 schools (out of 4302 in France) that had been blocked or significantly disrupted by striking students. [More>>france24.com]
---
10.12.10 Israel must guarantee equality for all: EU
BRUSSELS / JERUSALEM, October 12 - The European Union on Tuesday urged Israel to guarantee the equality of all its citizens after Prime Minister Benjamin Netanyahu urged Palestinians to recognize Israel's Jewish identity. Asked to comment on Netanyahu's call for the Palestinian leadership to recognize Israel as the national state of the Jewish people, a spokeswoman for EU diplomatic chief Catherine Ashton said: "We support the two democratic states living side by side in peace and security. We also stress that the future states of Palestine and Israel will need to fully guarantee equality to all their citizens," she added. "Basically in the case of Israel this means whether they are Jewish or not," said spokeswoman Maja Kocijancik. Israel's mainly right-wing government voted overwhelmingly on Sunday in favour of controversial legislation requiring non-Jewish citizens to swear allegiance to the country as a Jewish state. [More>>alarabiya.net; See also,
jpost.com, October 12, "Lieberman: PA refusal to accept Jewish State impedes peace" : Foreign Minister shares with Finnish foreign minister fear that Palestinians will use Israeli Arabs to subvert legitimacy of Jewish State. Foreign Minister Avigdor Leader told Finnish Foreign Minister Alexander Stubb on Tuesday that the Palestinian Authority's refusal to recognize Israel as a Jewish State represents a threat to continued peace talks. "The forceful refusal of the Palestinian to recognize Israel as a Jewish State awakens the fear that it will not be possible to reach a final status agreement," Lieberman told Stubb. The two foreign ministers met at the Foreign Ministry building in Jerusalem on Tuesday to discuss recent development in the peace talks. Lieberman added, "The Palestinians will try, through various groups among Israeli Arabs, to overturn the legitimacy of Israel as a Jewish State, and will work to different autonomous areas within the state." The foreign minister's comments joined those made earlier in the day by another senior government minister suggesting that chances were slim for reaching a final status peace agreement with the Palestinians anytime soon...
---
10.12.10 Obama administration lifts deep-water drilling moratorium
WASHINGTON, October 12 - Interior Secretary Ken Salazar announced Tuesday that the Obama administration is lifting the moratorium on deep-water oil drilling it put in place after the Gulf oil spill disaster. Operators must comply with new rules and regulations in order to get permission to resume drilling, Salazar said. "There will always be risks associated with deep-water drilling," Salazar said. "We have reached a point where we have significantly reduced those risks." [More>>cnn.com]
---
10.12.10 Chilling tips in al-Qaeda magazine
October 12 - Yemen offshoot launches second edition of English publication with articles by wanted US cleric Anwar al-Awlaki. Al-Qaeda's offshoot in Yemen has launched the second edition of its online, English-language magazine, with chilling tips to would-be fighters on how to kill Americans. The article is just one of many in the 74-page October issue of Inspire magazine by al-Qaeda in the Arabian Peninsula (AQAP), according to the US-based private monitoring SITE Intelligence Group. "A random hit at a crowded restaurant in Washington, DC, at lunch ... might end up knocking out a few government employees," writes one of the magazine's authors. The first edition of the magazine was launched in July in time for the 10th anniversary of the USS Cole bombing, with articles including "Make a Bomb in the Kitchen of Your Mom." The second edition, released this week, includes "The Ultimate Mowing Machine," which describes how to use a pickup truck "as a mowing machine, not to mow grass, but mow down the enemies of God." "To achieve maximum carnage, you need to pick up as much speed as you can while still retaining good control ... to strike as many people as possible in your first run," it says. [More>>aljazeera.net]
---
10.11.10 Iran arrests two 'fake' foreign journalists
TEHRAN, October 11 - Held after interviewing son of woman sentenced to stoning. Iran's judiciary has arrested two foreign nationals who it said were posing as journalists, the students' news agency ISNA reported Iran's prosecutor general as saying on Monday. "Two foreigners posing as journalists have been arrested in Iran," said Gholamhossein Mohseni-Ejei. "We were informed that ... the two planned to interview the family of Sakineh Ashtiani ... They entered Iran as tourists and conducted an interview with her son." However according to local media, the two detained were both German nationals. Ejehi did not name the two foreigners or give their nationalities. The report quoted him as saying the two suspects did not have documents to prove they were journalists. Sakineh Mohammadi Ashtiani was convicted of adultery, but Iranian officials earlier this month suspended her execution by stoning after weeks of condemnation from around the world. [More>>alarabiya.net; YouTube video via twitter.com:

(MiddleEast Times, feri irani) - Must Watch "Victims in Iran" with English Subs from http://bit.ly/deQ1v2 #HumanRights #Iranelection #Iran
See related stories on Iran repression, Maravot News, 02.20.10 article 02.15.10 West condemns Iran's 'bloody repression', with earlier related Maravot News entries.
---
10.11.10 Joy as Virgin spaceship makes solo flight
October 11 - Cosmic tourism is a step closer after a successful test flight of the first manned commercial spacecraft. Virgin Galactic's suborbital spaceship Enterprise was carried to 45,000ft by a plane above California's Mojave desert before being glided safely to the ground in a time of 11 minutes. It was the first time the craft had flown without being attached to another plane. Designers hope it will soon be taking passengers prepared to splash out £126,000 for a brief hop above the Earth's atmosphere. Sir Richard Branson, the mastermind of the project, said he was delighted by the milestone on Sunday. He said: "It couldn't have gone better. The spaceship flew like a bird." When it enters service, Enterprise will be carried to launch altitude by a carrier plane before its rocket engine is launched mid-air to make the ascent to space. Later test flights will see the rocket being launched, and only when engineers are happy will passengers be able to climb on board. John Gedmark, of the Commercial Spaceflight Federation in the US, said the flight was a "milestone towards opening the space frontier for private individuals, researchers and explorers." The ship — also known as SpaceShipTwo — can carry eight people: two crew and six passengers. [More w/video>>news.sky.com]
---
10.11.10 Netanyahu offers settlement freeze in return for recognition as Jewish state, Palestinians say no
October 11 - Prime minister says Israel will extend settlement freeze if the Palestinians recognize Israel as a Jewish state, Abbas spokesman says "issue of Jewishness of the state has nothing to do with the matter." Prime Minister Benjamin Netanyahu offered Monday to halt settlement construction if the Palestinians were to recognize Israel as a Jewish state, but the Palestinian leadership was prompt to reject the proposal. "If the Palestinian leadership will say unequivocally to its people that it recognizes Israel as the homeland of the Jewish people, I will be ready to convene my government and request a further suspension," Netanyahu said while speaking at the opening of the third session of the 18th Knesset. "Just as the Palestinians expect us to recognize their state, we expect reciprocal treatment," said Netanyahu. "This is not a condition but a trust-building step, which would create wide-ranging trust among the Israeli people, who have lost trust in the Palestinian will for peace over the last 10 years." However, Nabil Abu Rdainah, spokesman for Palestinian President Mahmoud Abbas, said a return to US-backed peace talks required a freeze on settlement building by Israel. "The issue of the Jewishness of the state has nothing to do with the matter," Rdainah said. Netanyahu stressed that Israel is willing to make concessions, and that a peace deal and a Palestinian state could be achieved if the Palestinians would be willing to recognize Israel as the Jewish homeland. [More>>haaretz.com]
---
10.11.10 Al-Qaeda branch demands repeal of French 'burqa ban'
(Reuters) October 11- Al-Qaeda's North African branch demanded Friday that France repeal its ban on full-face veils, release a number of detained militants and pay a ransom of over 7 million euros in exchange for five French hostages currently being held in Mali. Al-Qaeda in North Africa demanded a repeal of France's ban on Muslim face veils, the release of militants and about 7 million euros ($10 million) to free five French hostages, Al Arabiya TV on Monday quoted sources saying. "The abductors have unrealistic demands which Mali and France and could not accept ... including withdrawing a ban on the face veil in France and the release of some of the group's elements detained in France, Mauritania and other countries," the television channel quoted unnamed informed sources saying. Initial contacts with al-Qaeda in the Islamic Maghreb (AQIM) through local chiefs in Mali were "not encouraging" due to the nature of the demands, the sources told Al Arabiya.

The group is also demanding one million euros for the release of each hostage, five French citizens and two Africans, the Dubai-based television quoted the sources as saying. The six men and one Frenchwoman, employees of French firms Areva and Vinci, were kidnapped in mid-September in Niger before being taken to Mali. The kidnapping marked an escalation of tensions between Paris and AQIM, which executed 78-year-old French hostage Michel Germaneau in July after French commandos took part in a failed raid to free him. It vowed to avenge the raid. France has said it has not received any demands from AQIM since the workers were kidnapped but has said it would consider negotiating with the hostage takers for their release. [>france24.com]
---
10.10.10 A glut of fatwas spurs Saudi king to impose curbs
CAIRO (AP) October 10 - The ideology that reigns in Saudi Arabia comes into plain view on the website of the Council of Senior Religious Scholars, where boys and girls sharing a swimming pool causes "mischief and evil" and bringing flowers to a hospital patient is to be discouraged because it's a foreign custom that "imitates Allah's adversaries." And those fatwas, or religious rulings, come from the government-appointed body of clerics who are the guardians of the kingdom's ultraconservative Wahhabi school of Islam. But there's also a whole other world of independent clerics issuing their own interpretations, often contradictory, through the Web, TV stations and text messages.

Now King Abdullah is moving to regain control over this abundance of fatwas. Under a royal decree issued in mid-August, only the official panel may issue the fatwas that answer every question of how pious Saudis should live their lives. The result: In recent weeks, websites and a satellite station where clerics answered questions have been shut down or have voluntarily stopped issuing fatwas. One preacher was publicly reprimanded for urging a boycott of a supermarket chain for employing female cashiers. The question on the minds of some Saudis is whether any of this points the way to a more liberal code. Saad Sowayan, a Saudi historian and columnist, thinks it does. "The state wants to take the lead in shaping public opinion and this serves the issue of secularism and modernity," he said in an interview with The Associated Press.

But many of the powerful clerics on the 21-member council are themselves hard-liners. Beyond strict edicts on morality, they reinforce a worldview whereby non-Muslims and even liberal or Shiite Muslims are considered infidels, and their stances on jihad, or holy war, at times differ only in nuances from al-Qaeda's. The website has thousands of fatwas, some dating back more than a decade, and dozens more are added each month. A far stricter interpretation than is followed in most Muslim countries, Wahhabism is known most for its near obsessive segregation of the sexes, its insistence on ideological purity and its harsh punishments of beheadings and hand amputations for some crimes. It is also the law in Saudi Arabia, where clerics sit as judges in courts, religious police prevent unmarried or unrelated men and women from mixing, and women are banned from driving.

King Abdullah has taken a few incremental steps toward modernization. In a move last year that angered some Wahhabis, for example, he inaugurated the first university where male and female students share classes. But tinkering with the system is risky, because of the grand trade-off that lies at the heart of modern Saudi Arabia: The governing Al Saud family supports the clerics, and the clerics support the family's rule. Theoretically at least, the council's new fatwa monopoly could help Abdullah if his aim is to enact further reforms by seeding the commission with clerics who are more liberal and are willing to give him religious cover. The king seemed to give a hint of that last year when for the first time he appointed four clerics from non-Wahhabi schools of Islam, including one Sufi — a notable step given Wahhabi hatred of the Sufi movement. [More>>thejakartapost.com]
---
10.10.10 Bomb kills two NATO soldiers in Afghan south
KABUL, October 10 - A bomb attack killed two NATO soldiers on Sunday in southern Afghanistan, a Taliban stronghold and the deadliest part of the country for Western troops locked in a nine-year war, the military said. The US-led International Security Assistance Force (ISAF) provided no further details and no longer releases the nationalities of troops when they are killed. The deaths come one day after four Italian soldiers were killed when a bomb blew up their vehicle in western Afghanistan. Sunday's deaths took the number of foreign troops killed in 2010 to 574. This year is already the deadliest so far in the conflict, which has killed more than 2,140 international soldiers since the 2001 US-led invasion to bring down the Taliban regime and replace it with a Western-backed administration. [>thenews.com.pk]
---
10.10.10 British hostage killed during 'incredibly risky' Afghan rescue mission
October 10 - Prime Minister pays tribute to aid-worker Linda Norgrove and defends operation by US troops that ended in her death. A rescue attempt by US special forces, described as "an incredibly risky operation" by military experts, ended tragically with the death of British hostage Linda Norgrove, it emerged last night. Following a tip-off that gave the location where she was being held, a team of American soldiers was sent in to rescue her. During fighting on Friday night, Ms. Norgrove, 36, from Scotland, was killed. It is understood that five insurgents were shot dead. A sixth is understood to have triggered an explosion that killed him and the aid worker. Every effort had been made to carry out a safe rescue of the British aid worker, who was killed "at the hands of her captors," Foreign Secretary William Hague said yesterday. "We received information about where Linda was being held and we decided that, given the danger she was facing, her best chance of safe release was to act on that information." Mr. Hague blamed the kidnappers for her death. "Responsibility for this tragic outcome rests squarely with the hostage-takers," he said. [More>>independent.co.uk]
---
10.10.10 Government restores NATO supplies through Torkham
ISLAMABAD, Pakistan, October 10 - Pakistan will immediately reopen a vital supply route for NATO forces in Afghanistan 10 days after it was shut following a cross-border air strike by NATO forces, the Foreign Ministry said on Saturday. The United States apologized to Pakistan on Wednesday for the September 30 raid that killed two Pakistani soldiers, raising hopes that Pakistan would reopen the Torkham border crossing in the northwest for transporting supplies for NATO-led International Security Assistance Force (ISAF). Militants in Pakistan have attacked convoys of tankers since the incursion to try to disrupt supplies. In the latest such attack, gunmen in the southwest set fire to nearly 30 tankers parked at a roadside restaurant early on Saturday. Pakistan had closed the Torkham route passing through the Khyber Pass soon after the cross-border incursion killed the soldiers. Authorities cited security reasons.

...The helicopter strike that sparked the border row was the most serious of recent cross-border incidents involving NATO-led forces fighting in Afghanistan, which have stoked tensions with Pakistan. The U.S. ambassador described the incursion as a terrible accident. Saturday's attack on the tanker trucks was the sixth in recent days. A second supply route passing through southwestern Pakistan has remained open. Trucking routes through Pakistan bring in around 40 percent of supplies for NATO forces in Afghanistan, according to the United States Transportation Command. Of the remainder, 40 percent come through Afghanistan's neighbors in the north and 20 percent by air. Most of the NATO supplies in Pakistan come through the northwest where Pakistani security forces have been battling a growing insurgency by militants linked to al-Qaeda and Taliban. [>thenews.com.pk; See related story,

xinhuanet.com, October 10, "Who is behind attacks on NATO supplies in Pakistan?" : In spite of Taliban's claims over attacking NATO supply containers in Pakistan, who really attacked NATO supplies in Pakistan is still to be answered as police had registered three cases against contractors and their staff for torching their own containers. Even some owners of oil tankers consider some of attacks on NATO supply lines doubtful. "Some evidence shows that contractors bombed their tankers themselves for some reasons," an owner of vehicles bound for NATO supply told Xinhua, demanding anonymity. Nisar Tanuli, district police officer in Nowshera, a city in northwest Pakistan's Khyber Pakhtunkhwa province, had confirmed two such incidents, in which some people were arrested red-handed while fixing bomb under their own vehicles after selling fuel...
---
10.10.10 7 killed in US drone strike in NW Pakistan
ISLAMABAD, Pakistan, October 10 - At least seven people were killed in a US drone strike launched Sunday morning in Pakistan's northwest tribal area, reported local media. According to the report, the US drone fired two missiles at a house in the Shoh area of North Waziristan, a tribal area bordering Afghanistan, which is believed to be a stronghold of militants in Pakistan. Details about the killed are not immediately available...Sunday's strike is the sixth of its kind since October. Over the last ten days, the US drones have stepped up their strikes at the hideouts of militants in the country's northwest tribal area, killing at least 45 people including eight German nationals who were believed to be trained at the militant's camp in the deep mountain area for terror attacks abroad. [Full story>>xinhuanet.com; See also

bbc.co.uk, October 10, "US drone strike in Pakistan 'kills seven militants' " : At least seven people have been killed in a missile strike in north-west Pakistan, security officials say. Unconfirmed reports said a US drone fired four missiles at a compound in North Waziristan and two cars parked outside were destroyed...
---
10.10.10 Al-Qaeda in North Africa seen as key Europe threat
ALGIERS, Algeria (AP) October 10 - While Europe's latest terror threat stems from militants in Pakistan, a potentially greater menace lies just across the Mediterranean: Well-organised and financed Islamic terrorists from al-Qaeda's North African offshoot. Over the last month alone, the group has been accused of seizing five French nationals and two Africans from a mining town in Niger, part of its effort to make millions by kidnapping Europeans and getting ransoms. It is also blamed for a truck bombing last Saturday in Algeria that left five soldiers dead. Al-Qaeda in the Islamic Maghreb effectively rules a wide, lawless swath of the Sahara and is trying to overthrow Algeria's government. It's active online and media-savvy, and has the globally recognized al-Qaeda brand name. It has also sparked arrests in Spain and France. The question now is how far it has the will and means to turn its anger on Europe. French and US counterintelligence officials suggest AQIM's logistics and networks aren't yet mature enough to stage an attack on a European capital, but say it's a broad and constant threat. France's prime minister said on Friday that the group is in touch with fellow fighters in Afghanistan and Pakistan. [More>>timesofindia.indiatimes.com]
---
10.10.10 Arab summit opens with focus on Palestine
October 10 - Heads of states from various Arab and African countries attended the opening of the second Arab-Afro summit, which will focus on Mideast peace negotiations and the Sudan referendum. Arab League secretary-general Amr Moussa, who gave a short speech at the opening, said the summit would hone in on key issues surrounding Palestinian-Israeli negotiations and the upcoming South Sudan referendum scheduled for January, which could decide the future of a unified Sudan. The summit, which is taking place in the Libyan coastal town of Sirte, was opened by Libyan President Muammar Ghaddafi. [More>>khaleejtimes.com; See also

alarabiya.net, October 10, "Arab League silent on Mideast Peace process" : SIRTE, Libya - Voices support for Sudanese sovereignty. Arab League leaders voiced their support for Sudan Saturday, but made no mention of the troubled Middle East peace process at the end a summit meeting in Libya. The Arab League "affirms its solidarity with Sudan and emphasizes the necessity of respecting its sovereignty, territorial integrity and independence, and supports efforts to achieve peace" in the country, in a final statement read by the League's secretary general Amr Moussa. Sudan's President Omar al-Bashir is wanted by the International Criminal Court (ICC) for alleged genocide and other crimes in Darfur, the first sitting head of state to face a warrant by the (ICC)...
---
10.10.10 UK police arrests 8 in anti-Islamist protest
LONDON (AP) October 10 - Eight held in clashes at British far-right protest. British police arrested eight people Saturday in the central city of Leicester as far-right, anti-Islamist protesters clashed with riot officers and hurled bricks and smoke bombs, officials said. The violence broke out as police tried to keep around 1,000 members of the English Defense League (EDL) away from a rival demonstration by 700 protesters from Unite Against Fascism (UAF), said Leicestershire Police. Police said one of the arrested men was from the Netherlands. [More>>alarabiya.net]
---
10.10.10 Town evacuated on new leak fears as toxic sludge toll rises
(AP) October 10 - The town of Kolontar in Hungary was evacuated Saturday, after fears that the nearby industrial waste reservoir that flooded the area and killed at least seven may leak again. The Hungarian town of Kolontar near that toxic red sludge reservoir that flooded the area and killed at least seven people was evacuated Saturday over fears of a new leak of the dangerous heavy metal waste, officials said. Experts fear the walls of the reservoir may weaken further, disaster management spokesman Tibor Dobson told The Associated Press. No new waste, however, has escaped from the huge container so far, Dobson said. The evacuation of the town of several hundred people began before dawn. In addition to the fatalities, more than 120 were injured when the walls of a reservoir at an alumina plant gave way Monday and up to 700,000 cubic meters (184 million gallons) of toxic waste flooded several towns in western Hungary. The amount was not much less in a few hours than the 200 million gallons (757 million liters) the blown-out BP oil well gushed into the Gulf of Mexico over several months. [More>>france24.com]
---
10.10.10 Bacteria confirmed as culprit in Black Death
PARIS, October 10 - Anthropologists said they had confirmed long-running suspicions that a germ called Yersinia pestis caused the plague that wiped out an estimated third of Europe's population in the Middle Ages. Teeth and bones sampled from 76 skeletons found in "plague pits" in France, Germany, Italy and the Netherlands and sequenced for DNA intrusion are conclusive evidence that Y. pestis was to blame, they said. Y. pestis has been in the dock for more than a century as the source of so-called Black Death, which gripped Europe in successive outbreaks from the 14th to the 18th century. But scientific data to convict the bacterium have until now been sketchy or debatable. As a result, a clutch of rival theories has blossomed, including the contention that an Ebola-style virus or the anthrax germ were to blame. The study, published in the open-access journal PLoS Pathogens, also sheds unexpected light on the geographical route taken by the germ, which is believed to have originated in central or southern Asia before arriving in Europe through trade. [More>>thenews.com.pk]
---
10.07.10 Hungarian chemical sludge spill reaches Danube
October 7 - Hungarian Prime Minister Viktor Orban: "It's a serious ecological catastrophe." Toxic red sludge from a spill at an industrial plant in Hungary has reached the River Danube, officials say. They said alkaline levels that killed all fish in one river were now greatly reduced, but were being monitored. PM Viktor Orban called the spill an "ecological tragedy." There are fears the mud, which burst out of a reservoir on Monday, could poison the Danube. Countries downstream from Hungary, including Croatia, Serbia and Romania, are drawing up emergency plans. A million cubic metres (35m cu ft) of the sludge spilled from a reservoir at an alumina plant in Ajka in western Hungary. Four people were killed and about 100 injured.

The mud also caused massive damage in nearby villages and towns, as well as a wide swath of farmland. Disaster official Tibor Dobson said all life in the Marcal river, which feeds the Danube, had been "extinguished." The BBC's Nick Thorpe in western Hungary says news that the spill has now reached the Danube is worrying. Tests are being carried out for two potential hazards - a powerful alkaline solution and heavy metals. Officials say both are below toxic levels for humans in the Danube and its tributary, the Raba. But Mr. Dobson said this was "by no means a victory declaration." Dead fish have been spotted in both rivers, Mr. Dobson notes. To save their eco-system, he adds, pH levels must be reduced to 8 from about 9 recently recorded at the confluence of the Raba with the Danube. The authorities have been pouring a mixture of clay and acid to reduce alkalinity. [More>>bbc.co.uk]
---
10.07.10 Pakistan ISI pressing Taliban to fight US troops in Afghanistan: Report
NEW YORK, October 7 - Pakistan's powerful ISI is pressing Taliban commanders in Afghanistan to fight the US and allied troops and "kill everyone" so that no peace deal is cut to end the war without Islamabad's involvement, a media report says. "The ISI wants to arrest commanders who are not obeying (ISI) orders," a Taliban commander in Kunar province was quoted as saying by 'The Wall Street Journal.' "The ISI wants us to kill everyone — policemen, soldiers, engineers, teachers, civilians — just to intimidate people," he said. Citing US officials and Afghan militants, the report said the members of Pakistan's spy agency are pressing Taliban field commanders to fight the US and its allies in Afghanistan. "The explosive accusation is the strongest yet in a series of US criticisms of Pakistan, and shows a deteriorating relationship with an essential ally in the Afghan campaign," the paper said.

A senior Pakistani official, however, dismissed the allegation. "Whenever anything goes wrong in Afghanistan, ISI is to be blamed," the official said. "Honestly, they see ISI agents behind every bush in Afghanistan." Now, the ISI's motivation to keep friendly relations with the insurgents is believed to be [the] desire to keep its leverage in Afghanistan when the US eventually leaves, as well as preventing India from getting cosy inside the war-torn country, the report said. The newspaper further pointed out that the suspicions against the ISI are once again renewed at a time when the US is shifting focus to the militants that have found sanctuary in the lawless tribal regions of Pakistan, which border Afghanistan.

The Taliban and Haqqani network are believed to be planning and executing the majority of their attacks from the safe havens in North Waziristan and South Waziristan tribal areas. Earlier, a declassified White House report said that Pakistan is not doing enough to combat terrorists and extremists in its restive tribal belt where some of the most wanted insurgents are hiding. "The Pakistan military continued to avoid military engagements that would put it in direct conflict with Afghan Taliban or al-Qaeda forces in North Waziristan," WSJ had reported citing the 27-page White House report which is to be given to Congress. [>timesofindia.indiatimes.com; See also,

foxnews.com, October 7, "Pentagon: Pakistani intelligence agency is not supporting terror" : The Pentagon acknowledged Thursday that some parts of Pakistan's intelligence agency are cooperating with terrorist groups as a new report suggests Inter-Service Intelligence agents are working to undermine US and NATO forces in Afghanistan. Spokesman Col. Dave Lapan said the Pakistan intelligence service as an organization does not support terrorism, but some elements within the ISI are providing assistance to terrorists. US officials have raised concerns about whether some members of the ISI "might be interacting with terrorist organizations in ways that aren't consistent with what the government and military are doing," Lapan said.

Lapan was responding after a report in The Wall Street Journal that suggested the ISI is pushing the Taliban to keep fighting in Afghanistan, undermining efforts by the Pentagon to end the war.  The Journal quotes an Afghan commander in Kunar province who said the ISI is still urging and paying Taliban to fight NATO soldiers. Pakistan's top military leadership is working to correct the problem, Lapan said, but "like any large organization, change is difficult and comes slowly." "The ISI has done a great deal in fighting terrorism. Some have said they probably have killed more terrorists than any other organization. But we also have some concerns with the strategic focus of the ISI," Lapan said...
---
10.07.10 Interpol notice against 2 Pak army majors in Mumbai attack
October 7 - [The] National Investigation Agency (NIA) has secured an Interpol Red Corner Notice against five accused persons, including two serving Pakistani Army majors, for their alleged role in the Mumbai terror strike of 2008. The Interpol issued the Red Corner Notice after securing a non-bailable warrant from the court Additional Sessions Judge here. The warrants were issued on the basis of disclosures made by American national and Lashker-e-Taiba terrorist David Headley, who was extensively questioned by the NIA officials in June this year. The Red Corner Notice has been issued against Major Sameer Ali, and Major Iqbal, both serving in the Pakistani Army, Illyas Kashmiri, an LeT terrorist, Sajid Majid and Syed Abdur Rehman Hashim. The security agencies have already secured [a] Red Corner notice against Lashker's founder Hafeez Sayeed and his close aide Zaki-ur-Rehman Lakhvi in connection with the 26/11 attacks that left over 160 people dead. These people, according to NIA officials, had worked in close coordination with Headly in executing the nefarious plans of the Lashker for carrying out terror strikes in Mumbai. [>indianexpress.com]
---
10.07.10 Hamburg mosque which links 9/ll to the badlands of Pakistan
October 7 - Ian Traynor reports from Germany on an abandoned prayer hall in the spotlight again after US terror alerts. The most infamous mosque in Europe is a drab, nondescript place. Five minutes from Hamburg's main railway station, above a Vietnamese takeaway and the Olympic Fitness Club, the grimy quarters of the Taiba prayer hall and library occupy mythical status for the jihadists of Europe. It was here at the mosque formerly called the al-Quds that Mohammed Atta and several of his accomplices prayed and plotted the global gamechanger that was 9/11. And it was here, until last year, that another group of 11 German Islamist militants congregated before taking circuitous routes to Pakistan's tribal belt for, it is assumed, terrorist training. Over the past week Washington and London have been issuing scary warnings of Mumbai-style massacres in Europe about to be perpetrated by homegrown terrorists operating to a script written in the Hindu Kush.

The alarms have refocused attention on the mosque in the north German port because the intelligence source for the US warnings is one of the 11 acolytes who left Germany for the lawless Pakistani-Afghan border region of Waziristan last year. And on Monday, when an unmanned CIA Predator struck a farmstead in the same border area, the news was that eight German militants were killed, reinforcing the alleged link with the Hamburg Islamists. A senior security service source in the city, though, is playing down the Hamburg connection: "We don't know if the Taiba people are connected with the [Predator] attack. The IDs of the dead are not known. We would know for sure if any of the victims were Hamburg people, but we have nothing yet."

...Ralf Kunz, spokesman for the Hamburg security services, said: "The Taiba mosque has been drawing people not only from all over Germany, but from all over Europe. It was a place of pilgrimage." The two-storey mosque building lies empty and abandoned. At 6am on a Monday two months ago — almost nine years after the Twin Towers attack — the police and special forces moved in, hauled away computers and documents, and closed the place down. The authorities had repeatedly tried and failed, most recently last spring, to win court approval for the ban. It was the evidence about the 11 who left Hamburg for Pakistan last year, at least two of whom have joined the terrorists of the Islamic Movement of Uzbekistan, that persuaded the magistrates. US intelligence deriving from the same group was also the trigger for the recent US warnings and travel advisories.

Two of the 11 are now in custody. Rami Makanesi, a German national of Syrian origin, is being held by German special branch after being deported from Pakistan this summer. Ahmad Sidiqi, a German national of Afghan origin, is being held by the Americans at Bagram outside Kabul. Both are believed to be talking to their interrogators, although a transatlantic credibility gap has opened up over the value of their testimony. Both men were regulars at the Hamburg mosque, with Makanesi the younger and more influential in militant circles, according to the Germans. [Full story>>guardian.co.uk; See also,

abcnews.go.com, October 7, "German terror connection grows: 45 more suspects being tracked" : US says 'other sources' corroborate claims of German al-Qaeda member in custody. The claims of a captured German al-Qaeda recruit about a multi-city plot against Europe have been bolstered by other "highly reliable" sources of information, US and German intelligence officials said Thursday. The captured German, Ahmed Siddiqui, told American interrogators at the Bagram Airfield in Afghanistan that Osama bin Laden had personally blessed the plan, officials said. Since then, US and German officials said, Siddiqui's claims have been verified by a second captured German terror recruit and "other sources" that officials were reluctant to describe in detail for fear of compromising law enforcement operations."There are several different sources, all confirming that there are plots afoot by al-Qaeda central, that is to say the Osama bin Laden organization in Pakistan, to do attacks in Europe," said Dick Clarke, a former White House national security official and now an ABC News consultant.

"Now they don't have anything that points to the United States yet, but if there were to be simultaneous attacks in Europe, it's at least possible there would be a simultaneous attack in the United States as well." German intelligence officials told ABCNews.com Thursday that about 45 other "potentially dangerous" individuals in Germany are being tracked as officials seek to prevent an attack from taking place. Siddiqui worked as a cleaner at the Hamburg airport and was a "devout member" of the al-Quds mosque in Hamburg, where Mohammed Atta and other 9/11 hijackers gathered prior to their attack. The mosque was closed after Siddiqui's arrest, based on the information he provided. Officials told ABC News that Siddiqui had been under surveillance since 1997 and left the country for Pakistan in 2009. [end]
---
10.07.10 Blasts kill 7 at Sufi shrine in Pakistan: police
KARACHI, October 7 - Twin explosions rocked a famed Sufi shrine in the southern Pakistani city of Karachi on Thursday, killing at least seven people, wounding 65 others, and sending a stark reminder of the threat posed by Islamist militants to this US-allied nation. Security officials responding to the blasts at the Abdullah Shah Ghazi shrine said they had found some suspicious packages and were evacuating people as quickly as possible. Two severed head[s] were discovered, an indication that suicide bombers may have caused the explosions, officials said.

Pakistani shrines and mosques have frequently been the target of Islamist militant groups, whose hardline interpretations of Islam leave no room for the more mystical Sufi practices that are common in this Sunni Muslim-majority nation of 175 million. Earlier this year in the eastern city of Lahore, the nearly 50 people were killed in a similar attack at another major Sufi shrine. The blasts at the Ghazi shrine came on a Thursday evening, the busiest time of the week for Sufi shrines across the country. [More>>indianexpress.com; See also,

thenews.com.pk, October 7, "Twin suicide bombs at Shah Ghazi's shrine leave 7 dead" : ...Two heads, believed to be of the bombers aged between 14 and 16 years, have been recovered from the blasts site where severed limbs and human flesh littered the ground, sources said...
---
10.07.10 US drone kills four in Mir Ali
MIRANSHAH, Pakistan, October 7 - A US drone fired two missiles on a compound in the tribal North Waziristan region of Pakistan Thursday, killing four suspected militants, security officials said. "Two missiles were fired on a compound located in a forest in Khaisoori town of Mir Ali district," a security official said. He said four suspected militants were killed and two others were wounded in the attack that targeted the compound and a vehicle parked nearby, which was destroyed in the strike. The attack was confirmed by two other security officials who spoke on condition of anonymity. Khaisoori is situated about 40 kilometers (25 miles) east of Miranshah, the main town in North Waziristan. [>thenews.com.pk; See also,

aljazeera.net, October 7, "Drone targets Pakistan again" : At least four people have died in a suspected US drone attack in northwest Pakistan's tribal area. Thursday's attack followed US and NATO apologies for a September 30 attack that left two Pakistani soldiers dead. The men were killed when NATO helicopters mistook them for insurgents they were pursuing. Osama bin Javaid, news editor for DawnNews, called the US-Pakistan relationship "very fractured" and told Al Jazeera that the increasing number of drone attacks are "the bone of contention between the two states which are key allies in the war on terror." Bin Javaid also said that military analysts in Pakistan feel that the US is trying to find a "trophy piece" before leaving Afghanistan. Pakistan said on Thursday that there was "no justification nor understanding" for US drone strikes on its soil, which have killed about 150 in the past month.

"We believe that they are counter-productive and also a violation of our sovereignty," Abdul Basit, a foreign ministry spokesman, told reporters. "We hope that the US will revisit its policy." Pakistan has decided not to reopen a key border crossing used by NATO for supplies to Afghanistan, despite the US apology over the soldiers' deaths...Taliban fighters have taken advantage of the impasse to launch attacks against the vehicles. A driver was killed and about 70 fuel tankers were set on fire in attacks on Wednesday...A leaked report from the US state department has criticized Pakistan's military and the president for failing to confront the Taliban and al-Qaeda.  The report also claimed that agents of the Pakistani intelligence agency (ISI) are actively encouraging the Taliban to attack NATO troops...
---
10.07.10 Russia to return $166.8 million prepayemt to Iran for S-300 missile defense system
NICOSIA, Cypres (RIA Novosti) October 7 - Russia owes Tehran only the prepayment of $166.8 million for S-300 air defense missile systems, Rostekhnologii head Sergei Chemezov said on Thursday. The contract to supply Iran with the missile system, one of most effective in existence, was signed at the end of 2007. Russia was to supply five divisions' worth of S-300PMU-1 for $800 million. Russia canceled the contract to supply Tehran with S-300 air defense missile systems because of UN sanctions against the Islamic Republic. "We have received $166.8 million prepayment under the contract and according to a paragraph on force-majeure circumstances, we are obliged to return this amount," Chemezov said. "We are not obliged to return a [cent] more," he added. [More>>en.rian.ru]
---
10.07.10 Growing ties between Turkey, China, Iran worry Israel and US
October 7 - Turkey held military drill with China, after canceling with Israel; cooperation also reflected in weapons deals, with Iran buying from China mainly missile technology. The United States and Israel are watching with concern the growing military cooperation among Turkey, China and Iran, especially following a joint Turkish-Chinese air-force exercise last week. Until two years ago Israel was Turkey's main partner for air combat training. In 2001 the Turkish air force inaugurated a tactical air warfare center in Konya with Israel and the United States.

Until 2008 the Israel Air Force was a frequent guest in Turkey's sky and a regular participant in the country's big annual exercise, Anatolian Eagle. In the wake of Operation Cast Lead and the subsequent deterioration of bilateral relations Turkey last year revoked Israel's participation in the maneuvers. The United States decided not to take part in the exercise this year because of that decision. A number of other NATO members followed suit. Turkey replaced the Israel Air Force with its Chinese counterpart. China sent Sukhoi SU-27 fighter aircraft and pilots to train with Turkey's F-16 fighters. In the past these exercises were held in relatively openness, but last week they were held covertly, with only a brief report appearing in the Turkish media after the exercise.

The West has been watching the changes in the Chinese army's structure, and especially the long-range naval and aerial exercises that indicate Beijing's intention to acquire the ability to conduct warfare far from China's borders. The Chinese are also aggressively pursuing cyber warfare capabilities, employing some 60,000 hackers at it, according to foreign intelligence reports. The Obama administration protested Turkey's military cooperation with Iran after it was reported that the Chinese fighter planes were sent to Turkey via Pakistan and Iran. [More>>haaretz.com]
---
10.07.10 Ahmadinejad plans to throw a stone at Israel
BEIRUT, Lebanon, October 7 - 'You are not welcome' : Lebanese group tells Ahmadinejad. Iranian President Mahmoud Ahmadinejad is planning to throw a rock at Israel during his visit to Lebanon, the New York Times quoted al-Manar TV, Hezbollah's television station in Lebanon. After Ahmadinejad's scheduled meeting with Lebanese officials in Beirut, he plans to tour southern Lebanon. Ahmadinejad will take part in various events during his southern Lebanon visit, and one of the events is the inauguration of a garden where he will perform his symbolic gesture to throw a rock at the direction of Israel. Meanwhile, a Sunni Islamist group in the northern Lebanese city of Tripoli sent a blunt "not welcome" message to Ahmadinejad on Thursday ahead of his visit to the country. Several banners and pictures of the Iranian leader, who is due in Lebanon October 13-14, went up in the mainly Sunni port city expressing discontent at the visit. [More>>alarabiya.net]
---
10.07.10 Iran seeks to export gas to Lebanon, revamp refineries
(Bloomberg) October 7 - Iran offered to rehabilitate Lebanon's refineries and invest in water projects and gas supplies in the east Mediterranean country and officials from the two countries will discuss the offer today, the Lebanese energy minister's senior adviser said. Lebanese Energy Minister Gebran Bassil, a member of a political bloc that is supported by Iran, is due to meet his Iranian counterpart Majid Namjoo in Beirut today to discuss cooperation, Raymond Ghajar said in an interview in Beirut. "They are interested to further investigate what they can do in the water sector, the dams, the electricity sector, gas supplies and the rehabilitation of the refineries," Ghajar said. "These are massive, mega projects," he said, without explaining the nature of the envisaged cooperation. [More>>iranfocus.com; See related story,

mehrnews.com, October 7, "Ahmadinejad wants Iran to play active role in global management" : GORGAN, Iran - President Mahmoud Ahmadinejad has called on the Iranian nation to take an active part in the "management of world affairs" with the aim of reforming the global system. Today Iran bears a heavier responsibility, Ahmadinejad told a gathering of elites in the northern city of Gorgan on Wednesday. He added Iran's progress can be achieved through helping other nations and reforming global management. Elsewhere in his remarks, the president noted that the world needs a model to follow and "Iran is the role model for the world." Just as Communism collapsed Capitalism will come to an end soon, Ahmadinejad noted. The president also delivered a speech in the inauguration ceremony of Tehran International Industry Fair (TIIF 2012) in which he called for promotion of a new world order based on justice. Those who benefit from the unjust management of the world would not easily accept a new order, Ahmadinejad noted, urging all to use any opportunity to change the current global condition. [end]
---
10.07.10 Five killed as gunmen attack Iran police
TEHRAN, October 7 - Five people, including four policemen, were killed and nine others wounded when two gunmen opened fire on a police patrol in Iran's western province of Kordestan on Thursday, Mehr news agency reported. Deputy provincial police commander Ebrahim Kazeminejad was quoted as confirming the toll from the attack on the patrol and passersby in Sanandaj, the capital of the province bordering Iraq. "At 5:10pm two assailants from anti-revolutionary groups fired on a patrol and passersby in Azadi Square of Sanandaj in which four policemen and a passerby were martyred," Kazeminejad said. He said five policemen and four passersby were wounded. [>thenews.com.pk]
---
10.07.10 Twin blasts kill 5 at market south of Baghdad
BAGHDAD (AP) October 7 - Back-to-back bombings at a vegetable market south of Baghdad on Thursday afternoon killed at least five people, an Iraqi medical official said. The blasts in Iskandariyah, about 30 miles (50 kilometers) south of Baghdad, also wounded at least 20 people, according to Dr. Nahid al-Maamouri of the Iskandariyah Hospital. The first explosion came around 4:45pm, during the busy afternoon shopping hours ahead of the Muslim weekend. The second bomb hit about five minutes later, witnesses said, as people rushed to the attack scene to help. The area was once controlled by Sunni insurgents, who have been waging sporadic attacks in an apparent effort to reassert their influence in former strongholds. Nearby, gunmen killed a member of a Sunni militia formed to battle insurgents just hours earlier on Thursday. Police Maj. Muthana Khalid said a member of a so-called Awakening Council unit, or Sahwa, was killed in a drive-by shooting near his house just outside Iskandariyah. Suspected Sunni insurgents often target members of the civilian militias that allied with Iraqi and US forces. [>khaleejtimes.com]
---
10.07.10 French burqa ban passes last legal hurdle
(AFP) October 7 - France's Constitutional Council, the country's top legal authority, has approved a law banning full-face veils in public. The ban will go into effect next year, but will not be enforceable in public places of worship. France's top legal authority Thursday approved a law banning full-face veils in public, the last hurdle for the ban, which has been criticized as stigmatizing Muslim women. The Constitutional Council, which had previously warned that banning the veil may be unconstitutional, said it approved the version of the bill which has been passed by both houses of parliament, after a final review. It ruled however that the ban, due to enter force next year, would be unenforceable in public places of worship, where it may violate religious freedoms. [More>>france24.com]
---
10.07.10 Italy move to ban the burqa
October 7 - Italy is set to become the next country in Europe to issue a burqa ban after the government presented a draft proposal to parliament. A group of MPs from the Northern League, part of Silvio Berlusconi's ruling right wing coalition, proposed the bill, which states that burqas should be banned in Italy, not for "religious reasons but for security reasons." The move comes a month after the French parliament approved a ban on wearing a full-face veil in public. The proposal would amend a 1975 law, introduced amid fears of home-grown terrorism, which punishes with hefty fines and up to two years in jail people who cover their faces with anything preventing their identification by police. Until now an exception has been made for the wearing of the Muslim veil on the grounds of religious freedom. The Northern League said it wanted the law changed so that it included Italy's burgeoning population of 1.2 million Muslim immigrants. [>telegraph.co.uk]
---
NOTES

*Visitor statistics on maravot.com from 1&1. com. monthly visitors between 37,000-45,0000.
Privacy Policy: We do not store any personal data from you. We have no way of knowing any vital information about you — not even your name. Third-party distribution: We do not distribute information about your site usage to any third party. We are not responsible for the content of links from our site. Usage data: supplied by our Web Hosting service, 1and1.com, which consists of usage reports, such as page views / impressions and web pages visited, visitors' servers and geographical data (ISP's and country of origin).



Maravot's Homepage




Launched: 10.25.04 / 11.02.04 – | — | ♦
Updated: 10.07.10; 10.10.10; 10.11.10; 10.12.10; 10.13.10; 10.14.10; 10.15.10