---

12.25.07 Bethlehem sermon calls for peace in the Mideast
BETHLEHEM, West Bank (AFP) December 25 - The Catholic leader in the Holy Land again called for peace in the Middle East on Tuesday as he addressed thousands of Christians gathered at the traditional site of Jesus's birth. "This land of God cannot be for some a land of life and for others a land of death, exclusion, occupation, or political imprisonment," Latin Patriarch Michel Sabbah said in a sermon for the Christmas midnight mass.
Sabbah, who last week said that peace in the Middle East depended on Israel, reiterated that message in a less direct way on Tuesday. "It is not up to the weakest to submit themselves and continue to live a life of deprivation; it is up to the strongest, to those who have everything in hand, to detach themselves and to give to the weakest what is due to them." [More>>khaleejtimes.com ; See an amusing story from Paris, news.com.au, December 25, Christmas spirit takes a battering." The article concludes on a comforting note: "...But it was not all Bah, Humbug this year - the Travelodge hotel chain announced it was offering free accommodation this Christmas to all married couples called Joseph and Mary in Britain, Ireland and Spain. It said husbands and wives providing proof of their identity would get a night's stay on the house, but with more home comforts than the humble stable of the Christian Nativity story. "The phrase 'no room at the inn' is something that resonates with us in the hotel business," said Travelodge operations director Jason Cotta. The offer, appropriately, runs from Christmas Eve (December 24) to Twelfth Night (January 5).
---
12.25.07 US officials say Pakistan used terror funds for arms to counter India
ISLAMABAD, December 25 (New York Times article) - After the United States has spent more than $5 billion in a largely failed effort to bolster the Pakistani military effort against the al-Qaeda and the Taliban, some American officials now acknowledge that there were too few controls over how the money was spent, and that funds were diverted to help finance weapons systems designed to counter India. In interviews in Islamabad and Washington, Bush administration and military officials said they believed that much of the American money was not making its way to frontline Pakistani units but going to weapons systems for countering India, not the al-Qaeda or the Taliban.

..."I don't forecast any noticeable impact," a Defense Department official said. "It's pretty bleak." During a recent visit to the border, an American official found members of the Frontier Corps "standing there in the snow in sandals," according to the official. Several were wearing World War I-era pith helmets and carrying barely functional Kalashnikov rifles with just 10 rounds of ammunition apiece."It is not making its way, for certain, we know, to the broader part of the armed forces which is carrying out the brunt of their operations on the border," the senior American military official said. [Full story>>indianexpress.com]
---
12.25.07 Suicide attacks kill 33 people north of Baghdad
BAIJI, Iraq (Reuters) December 25 - Two suicide bombings targeting US-backed neighbourhood patrols on Tuesday killed 33 people, highlighting the volatile situation north of Baghdad, where the US military says al-Qaeda gunmen are regrouping. In the city of Baiji, Salahuddin province, a suicide bomber driving a vehicle rigged with explosives blew up at a checkpoint near a residential complex.

...In the province of Diyala north of Baghdad, a suicide bomber wearing a vest packed with explosives struck a funeral in the city of Baquba, killing 10 people and wounding five, the US military said. Iraqi police said the blast wounded 21 people and said all casualties were members of the neighbourhood patrols. [Full story>>thestar.com.my]
---
12.24.07 Indonesian churches still cautious during Christmas
JAKARTA, December 24 - With Christmas just around the corner, the city administration and police are beefing up security, deploying 17,690 officers to churches and public places across the capital. City police chief Insp. Gen. Adang Firman said officers were being stationed at 173 locations from Dec. 22 to 29. "Although the number of bomb threats has decreased, we are still receiving terror reports. Besides, some bombing suspects are still out there, so we must anticipate any possibilities," Adang told reporters on Saturday after attending a briefing for officers on duty over Christmas and New Year's Eve.
He also said that Governor Fauzi Bowo had promised to tighten the implementation of the "guest report" regulation, which requires guests to register with neighborhood unit heads over a 24-hour period. Fauzi said the administration had assured safety in the city.
"Jakarta is safe, so please celebrate your day peacefully," he said, adding that he visit some churches during the holiday. Central Jakarta Police chief Heru Winarko said his team had prioritized security at Cathedral Church, Immanuel Church, the Anglican Church, Bethnel Church and several others in Menteng. "We have also prepared two helicopters to monitor the traffic in the city," he added. [More>>thejakartapost.com]
---
12.24.07 Pilgrims flock to most peaceful Bethlehem in years
BETHLEHEM, West Bank (Reuters) December 24 - Pilgrims gathered in Bethlehem on Monday for a Christmas mass promoted by Palestinian President Mahmoud Abbas and Western powers as a chance to highlight the benefits of peacemaking. Ahead of the festivities, Palestinian security forces, many carrying newly-issued rifles, took up positions on the streets of Bethlehem in numbers not seen in years. It was the third major Palestinian deployment in a West Bank city under a Western-backed security push launched after Hamas seized control of the Gaza Strip in June.
Bethlehem was particularly affected when tourism slumped during the early years of a Palestinian uprising – or Intifada – that erupted in 2000. Most residents still cannot work in Jerusalem and travel freely to other Palestinian towns because of Israeli restrictions and the barrier that cuts into West Bank land that Palestinians want for a state. The sound of drums and bagpipes filled Manger Square as religious and political dignitaries arrived in the town where Christians believe Jesus was born...But local leaders remain cautious; tourism numbers still hover at just 60-70 percent of pre-Intifada levels, and many Western governments still warn against non-essential travel. [Full story>>thestar.com.my ; See also:
independent.co.uk, December 24, "All beds booked in Bethlehem for first time in seven years." and
abc.net.au, December 24, AM – Brave Christians celebrate Christmas in the Holy Lands," (Australian Radio broadcast, transcript)]

---
Editorial note: When I was in Israel in 1985 it was fairly safe for this American to travel around Israel and the West Bank. Then West Bank Palestinians were making inroads and working within Israel without too much restriction. I, among many adventurous souls, could get on a bus and visit anywhere I wished in Israel, except Hebron, the burial place of the Jewish patriarchs. People advising me would cringe when I decided to go alone by bus to Bethlehem, and at first I was a bit uncomfortable, being the only 'westerner" on the bus. But I had hitched a ride with a Palestinian and his son who were driving a truck on the road to the ruins of Caesarea, on the coast, and the experience, among many with the Palestinians back then, was quite rewarding for me, and hopefully for the man and his son. They had saved me the effort of a long walk (several miles) on a very desolate road. In any event, despite the warnings about Bethlehem, I went alone on the bus and had a quite enjoyable visit. About a year later, I recall in San Francisco the TV news interviewing the mayor of Bethlehem who complained, "I don't understand why the Palestinians and Jews can get along in Bethlehem, Pennsylvania but they cannot get along in Bethlehem, Israel." Having watched the situation degenerate from there over the past twenty-three years, the question of the mayor rings much louder. Why can't they get along? What is different between Bethlehem, PA and Bethlehem, West Bank? Today, there are great concrete walls separating "Israel" from the Palestinians, so to prevent attacks, particularly from suicide bombers; and Moslems around the world have gotten the reputation of terrorism. Even the Moslems in Bethlehem, PA and other places in the US are being scrutinized. An old tradition, at least 3,000 years old, from the prophets of Israel, says, "as with Jerusalem so with the world." When there is peace in Jerusalem there will finally be peace in the world. It has been a long wait and so we hope...

Mel Copeland
---
12.24.07 Kurdish self-determination 'by all means'
December 24 - (An article by Claude Salhani, Editor, Middle East Times that reviews Kurdish history, the distribution of the Kurdish people across 5 Middle Eastern nations, and a Kurdish diplomat's assessment that the Kurds of Kurdistan, Iraq have no interest in merging with the Kurds of Turkey. The article is well worth reading. Geography, history – and geopolitics – has not been very kind to the Kurdish people. Geography has spread Kurdistan across Turkey, Iran, Iraq, Syria, and Armenia. History has only allowed Kurdistan to exist as an independent nation intermittently throughout the ages.
As a minority in all the lands they ended up in, the Kurds have suffered at the hands of local authorities for refusing to give up their national identity. Possessing a strong sense of nationalism, they have resisted forceful attempts to assimilate into the cultures of the countries they found themselves living in as an accident of history, or rather as a result of Western arrogance and shifting geopolitical alliances...Rejecting notions that the Kurds are looking to reunite by seceding from Iraq and Turkey, in a first step, Zebari told the Middle East Times that "[Iraqi] Kurdistan is part of the Republic of Iraq." [Full story>>metimes.com]
---
12.24.07 Woman caught with bomb under burqa: official
ASADABAD, Afghanistan (AFP) December 24 - Afghan intelligence agents said Monday they had detained a woman hiding a bomb-filled waistcoat of the type used in Taleban suicide attacks under her all-covering burqa. The 55-year-old woman was followed from the eastern province of Kunar after a tip-off and arrested in the town of Jalalabad, an official in Kunar's intelligence department told AFP. "She was carrying the suicide waistcoat for the Taleban. We had intelligence reports that she was working for the Taleban," said the official, who asked not to be identified by name. The woman was being questioned "to find out more about her network," he said.
Most Afghan women still wear the burqa, which was mandatory under the 1996-2001 Taleban government, and cannot be searched by men at security checkposts. The Taleban, the main Islamic militant group behind a bloody insurgency, have stepped up their attacks in recent years, notably their use of suicide bombings. Hundreds of people, most of them civilians, have been killed in about 140 such attacks in Afghanistan this year alone.
In neighboring Pakistan, also facing a wave of Taleban-linked unrest, a woman in a burqa blew herself up at an army checkpost in early December, killing only herself. It was the country's first such attack involving a woman, police said. [>khaleejtimes.com ; See related story, thenews.com.pk, "Three Taliban killed in Afghanistan: police."]
---
12.24.07 Iraqi fighters display new weapons
December 24 - (by Hoda Abdel Hamid) Foreign forces in Iraq are hoping that a much heralded drop in violence in Iraq will continue into the new year. However, in exclusive images obtained by Al Jazeera, it seems fighters from the Islamic Front for Resistance in Iraq (Jami) are merely biding their time and training hard with an array of new weapons in order to drive foreign forces out as soon as possible.
Deep in the groves north of Baghdad, a group of fighters are shown on camera participating in an afternoon workshop on the making and use of weapons. It includes a step-by-step lesson on how to turn an old tank shell into a roadside bomb. It took only 20 minutes to put together a device powerful enough to blow up an armored vehicle. Two will destroy a tank, the instructors say. Countless videos of these devices' devastating effects are shown on military websites.

..."We have experts who are in charge of researching and developing new methods continuously," one of the men says. "We need to find new ways all the time, in case we run out of chemicals." He also says the Americans are now using jamming devices, but their engineers have already managed to crack the code. The fighters are part of Jami and describe themselves as a resistance group.

...The recent announcement that Washington and the Iraqi government are drawing up plans for long-term US military bases is for many Iraqis proof of an open-ended occupation. The fighters have every intention of continuing their operations and in an ever more sophisticated manner. "Our researchers are developing remote-controlled explosive devices," one man says. "Soon we will be able to wage a battle with as little as two fighters - we will minimise our losses." [Full story>>aljazeera.net ; See related stories,
news.com.au, December 24, "Militiamen kidnap 14 passengers in ambush." and
indianexpress.com: hosted.ap.org, "2 die, 6 wounded in Baghdad bombing."
---
12.24.07 "Israel could survive nuclear war"
December 24 - If a nuclear war between Israel and Iran were to break out 16-20 million Iranians would lose their lives - as opposed to 200,000-800,000 Israelis, according to a report recently published by the Washington-based Center for Strategic and International Studies (CSIS), which is headed by Anthony H. Cordesman, formerly an analyst for the US Department of Defense. The document, which is largely theoretical due to the lack of verified knowledge in some areas - specifically in terms of Israel's nuclear capability - paints various scenarios and attempts to predict the strategies of regional powers, as well as the US.

...Even if Iran gained the means and knowledge to create nuclear weapons, according to the report it would still be limited to 100 kiloton weapons, which can cause a far smaller radius of destruction than the 1 megaton bombs Israel allegedly possesses. Possible targets for an Iranian strike are the Tel Aviv metropolitan area and Haifa bay, while the list of possible targets in Iran includes the cities Teheran, Tabriz, Qazvin, Esfahan, Shiraz, Yazd, Kerman, Qom, Ahwaz and Kermanshah. [Full story>>jpost.com]
---
12.24.07 Turkish police arrest potential bomber: Anatolia
ISTANBUL, December 24 - Turkish police on Monday thwarted a bomb attack in the heart of Istanbul and arrested a man carrying a bag filled with explosives and a detonator, the Anatolia news agency reported. The man, who had false identity papers, was arrested near a bus terminus in the city's Mecidiyekoy area. His bag contained 3.5 kilograms (7.7 pounds) of plastic explosives, a detonator connected to a mobile phone and steel balls apparently intended to act as shrapnel. The NTV television station said a further three suspects were later detained by anti-terrorist police. PKK terrorists and various underground left-wing groups are active in Istanbul, where they target both military and civilian locations. [>turkishpress.com]
---
12.24.07 Dollar's fall is felt around the globe
December 24 - The sharp decline of the US dollar since 2000 is affecting a broad swath of the world's population, with its drop on global markets being blamed at least in part for misfortunes as diverse as labor strikes in the Middle East, lost jobs in Europe and the end of an era of globe-trotting rich Americans. It marks a shift for Americans in the global economy. In times of strength, a mightier dollar allowed Americans to feed their insatiable appetite for foreign goods at cheap prices while providing Yankees abroad with virtually unrivaled economic clout. But now, as the United States struggles to fend off a recession, observers say the less lofty dollar is having both a tangible and intangible diminishing effect. [More>>washingtonpost.com]
---
12.24.07 Syria warns Spain not to extradite Kassar: report
MADRID (AFP) December 24 - Syria's secret service has threatened Spanish soldiers in Lebanon in a bid to block the extradition of suspected arms dealer Monzer Al-Kassar to the United States, a Spanish daily reported on Monday. The Spanish intelligence service, according to a memo cited by El Mundo newspaper, fears that troops on UN deployment in south-east Lebanon could be targeted if the Spanish cabinet ratify a judicial verdict and send Kassar to the US...Syrian native Kassar, known colloquially as the "Prince of Marbella" where he has been based for the last decade, is wanted in the US on suspicion of arranging arms deals for leftist FARC rebels in Colombia. [Full story>>alarabiya.net]
---
12.24.07 Musharraf facing life threats from al-Qaeda
ISLAMABAD (Xinhua) December 24 - Pakistani President Pervez Musharraf is facing life threats from al-Qaeda, the Interior Minister Hamid Nawaz Khan said on Monday. "The threat is there," Khan said when asked if Musharraf was facing threats from al-Qaeda in an interview with local TV channel DAWN NEWS. "Previously there was a definite threat from al-Qaeda and they had declared very openly that they would try to attack him," Khan said.

Answering a question about threats to former Prime Minister Benazir Bhutto, he said the government had informed Benazir Bhutto of threats to her life. "I remember we have informed Benazir Bhutto. And we have met all their security requirements," he said...there were many others about whom they had received reports that possibly they could be the target. And in all such cases we are providing security," he said.[Full story>>xinhuanet.com ; See related story:
nytimes.com, December 24, "US aid plan for Tribal Areas in Pakistan is threatened": Weeks before it is to begin, an ambitious American aid plan to counter militancy in Pakistan's tribal areas is threatened by important unresolved questions about who will monitor the money and whether it could fall into the wrong hands, according to American and Pakistani officials and analysts familiar with the plan...Today, the Taliban, Al Qaeda and other foreign militants use the area as a base to fuel violence and instability in Pakistan and neighboring Afghanistan and to plot terrorist attacks abroad...
---
12.23.07 Bhutto says some madrasas groom killers
LAKARNA, Pakistan (Reuters) December 23 - Pakistani opposition leader Benazir Bhutto said on Sunday some religious schools were turning children into killers. Speaking to about 25,000 supporters near her ancestral home in the southern town of Larkana, she also renewed accusations the government had done nothing to stop militant violence.
"They always try to stop democratic forces but don't make any effort to check extremists, terrorists and fanatics," she told a rally at a cricket stadium, two days after a suicide bomber killed nearly 50 worshippers in a mosque.
Bhutto said President Pervez Musharraf had spoken of the need to reform religious schools, or madrasas, but had done nothing. She said she respected genuine religious schools. "Then there are the political madrasas, the political madrasas that teach their pupils how to make bombs, how to use rifles and how to kill women, children and the elderly." [More>>khaleejtimes.com ; See related stories:
thenews.com.pk, December 23, "Six killed in Mingora suicide car bombing."] and
arabnews.com, December 23, "Four Afghans held in Pakistani city bombing." and
indianexpress.com, December 23, "Qaeda's new focus: Pakistan attacks"
---
12.23.07 Saudi says arrests 28 al-Qaeda militants
RYADH, December 23 - Saudi security forces have arrested 28 al-Qaeda militants suspected of planning 'criminal acts' in the kingdom, the official Saudi Press Agency (SPA) reported on Sunday. The suspects were arrested in Mecca, Madina, Riyadh and in an area near the country's northern borders, said SPA quoting an official source at the Ministry of Interior. One of those arrested is a foreign resident while the rest are Saudi nationals, it said without giving further details. "The (public) interest requires that further details be withheld for the time being," it said.
The synchronised operations leading to the arrests began in mid-December, SPA said Saudi-owned Al Arabiya television said on Friday security forces had arrested an unspecified number of al-Qaeda militants suspected of planning attacks in the country during the Muslim haj pilgrimage. [More>>khaleejtimes.com]
---
12.23.07 Iraq vows to disband Sunni groups
December 23 - Iraq's government has declared that it will disband Sunni groups battling al-Qaeda in Iraq after violence-wracked areas are calmed because it does not want them to become a separate military force. The statement on Saturday from Abdul-Qadir al-Obaidi, the Iraqi defence minister, was the government's most explicit declaration yet of its intent. [More>>aljazeera.net]
---
12.23.07 Sea cucumber 'new malaria weapon'
December 23 - Sea cucumbers could provide a potential new weapon to block transmission of the malaria parasite, a study suggests. The slug-like creature produces a protein, lectin, which impairs development of the parasites. An international team genetically engineered mosquitoes - which carry the malaria parasite - to produce the same protein in their gut when feeding. The PLoS Pathogens study found the protein disrupted development of the parasites inside the insects' stomach. [More>>bbc.co.uk]
---
12.22.07 9/11 panel study finds that C.I.A. withheld tapes
WASHINGTON, December 22 - A review of classified documents by former members of the Sept. 11 commission shows that the panel made repeated and detailed requests to the Central Intelligence Agency in 2003 and 2004 for documents and other information about the interrogation of operatives of Al Qaeda, and were told by a top C.I.A. official that the agency had "produced or made available for review" everything that had been requested. The review was conducted earlier this month after the disclosure that in November 2005, the C.I.A. destroyed videotapes documenting the interrogations of two Qaeda operatives.
A seven-page memorandum prepared by Philip D. Zelikow, the panel's former executive director, concluded that "further investigation is needed" to determine whether the C.I.A.'s withholding of the tapes from the commission violated federal law. In interviews this week, the two chairmen of the commission, Lee H. Hamilton and Thomas H. Kean, said their reading of the report had convinced them that the agency had made a conscious decision to impede the Sept. 11 commission's inquiry. [More>>nytimes.com]
---
12.22.07 FBI prepares vast database of biometrics
CLARKSBURG, W. VA., December 22 - The FBI is embarking on a $1 billion effort to build the world's largest computer database of peoples' physical characteristics, a project that would give the government unprecedented abilities to identify individuals in the United States and abroad.
Digital images of faces, fingerprints and palm patterns are already flowing into FBI systems in a climate-controlled, secure basement here. Next month, the FBI intends to award a 10-year contract that would significantly expand the amount and kinds of biometric information it receives. And in the coming years, law enforcement authorities around the world will be able to rely on iris patterns, face-shape data, scars and perhaps even the unique ways people walk and talk, to solve crimes and identify criminals and terrorists. The FBI will also retain, upon request by employers, the fingerprints of employees who have undergone criminal background checks so the employers can be notified if employees have brushes with the law. [More>>washingtonpost.com]
---
12.22.07 Koreas expand cargo rail to passengers
SEOUL, South Korea (AP) December 22 - A cargo rail service between North and South Korea will be expanded to take passengers starting next year, but only South Koreans will be allowed to cross the border by train, the Unification Ministry said Saturday. The service, which is now limited to freight transportation between a joint venture factory park in the North Korean border city of Kaesong and Musan, just across the frontier, will also ferry workers to and from the industrial complex in 2008, the ministry said in a statement.
The ministry said the commuter train service will be only for those working at Kaesong. North Korean workers will be allowed to use the commuter train service, but only within North Korea. South Korean workers currently travel to Kaesong by bus. [More>>indianexpress.com: hosted.ap.org]
---
12.22.07 Expert: Salvaged ancient boat well protected
YANGJIANG, China (Xinhua) December 22 - An 800-year-old merchant boat raised from the South China Sea on Friday is well protected, an expert said here on Saturday. An early examination showed the 30-meter-long vessel, "Nanhai No. 1," wrapped in a huge sealed steel box with tons of seawater and silt, was "perfectly protected" during the lifting process, said Wu Jiancheng, chief of the archaeological project.
...Discovered in the summer of 1987 off the coast near Yangjiang City, Nanhai No.1 was recognized as one of the oldest and biggest Chinese merchant boats sunk at sea. To date, archaeologists had recovered more than 4,000 containers made of gold, silver and porcelain, as well as about 6,000 copper coins from the Song Dynasty (960-1279) when the boat was built. Wu estimated that there were still 60,000 to 80,000 items on board. [Full story>>xinhuanet.com]
---
12.22.07 6 Indonesian family members test negative for bird flu
JAKARTA (AP) December 22 - Six people from an extended family tested negative for bird flu Saturday after being hospitalized with symptoms of the disease in the Indonesian capital, the Health Ministry said. The patients were transferred from the town of Serang to Jakarta on Friday after suffering from heavy breathing, fever and coughing for three days, said Nyoman Kandun, the ministry's director of communicable diseases. [More>>thejakartapost.com See related bird flu stories:
rian.ru, December 22, "New bird flu outbreak reported in Poland." and
metimes.com, December 21, "Avian flu hits Pakistan."]
---
12.22.07 Saudi arrests seven Arabs for Haj attack plot
RIYADH (AFP) December 22 - Saudi security forces arrested seven non-Saudi Arabs on suspicion of plotting attacks during the annual Muslim pilgrimage, the Arabic newspaper Al-Hayat reported on Saturday. The report came a day after the interior ministry said security forces in the oil-rich kingdom, the target of Islamist attacks since 2003, had arrested an al-Qaeda linked group planning a "terrorist act" during the Haj.

Security forces "arrested seven people of two Arab nationalities, but not Saudis, at the entrance to the city of Mecca," Al-Hayat said, quoting sources within the security services. "They were planning acts of sabotage during the Haj period," it said, adding that the arrests were carried on December 16 and 17 but without giving details on the plot. Al-Hayat said the arrests were not announced earlier so as not to create panic among the hundreds of thousands of pilgrims to Islam's holiest sites in and around around Mecca, western Saudi Arabia. [More>>khaleejtimes.com]
---
12.22.07 Turkish warplanes bomb PKK positions in N. Iraq
December 22 - Turkish warplanes bombed positions of the separatist Kurdistan Workers' Party (PKK) in northern Iraq on Saturday, the Turkish army said on its website. "Turkish aircraft attacked between 1:35pm and 2:00pm (1125-1200 GMT) major positions of the terrorist organization PKK, before Turkish artillery then bombarded them," a statement said. The Turkish military said the offensive against the outlawed guerrillas inside Turkey and across the border in northern Iraq would continue. "The PKK will understand through experience that northern Iraq is not a safe place and they will understand once again that they have no chance against the Turkish military," it said. [More>>alarabiya.net]
---
12.22.07 As earth warms, virus from tropics moves to Italy
CASTIGLIONE DI Cervia, Italy, December 22 - Panic was spreading this August through this tidy village of 2,000 as one person after another fell ill with weeks of high fever, exhaustion and excruciating bone pain, just as most of Italy was enjoying Ferragosto, its most important summer holiday...By midmonth, more than 100 people had come down with the same malady. Although the worst symptoms dissipated after a couple of weeks, no doctor could figure out what was wrong.
People blamed pollution in the river. They denounced the government. But most of all they blamed recent immigrants from tropical Africa for bringing the pestilence to their sleepy settlement of pastel stucco homes. "Why immigrants?" asked Rina Ventura, who owns a shop selling shoes and purses. "I kept thinking of these terrible diseases that you see on TV, like malaria. We were terrified. There was no name and no treatment."
Oddly, the villagers were both right and wrong. After a month of investigation, Italian public health officials discovered that the people of Castiglione di Cervia were, in fact, suffering from a tropical disease, chikungunya, a relative of dengue fever normally found in the Indian Ocean region. But the immigrants spreading the disease were not humans but insects: tiger mosquitoes, who can thrive in a warming Europe. [Full story>>nytimes.com]
---
12.22.07 Merrill Lynch looks for $5bn bailout from Singapore fund
December 22 - Merrill Lynch is in advanced talks to sell a $5 billion (£2.5 billion) stake to Singapore as the Wall Street firm seeks to boost its cash reserves in the face of expected losses of $16 billion on high-risk sub-prime mortgage investments this year. The deal with the Singapore Government's Temasek vehicle, which could yet fall apart, would be the first decisive move by John Thain since he took the helm of Merrill Lynch last month.
It comes after multibillion-dollar bailouts of rival banks, such as Citigroup, Morgan Stanley, Bear Stearns and UBS, by governments in Asia and the Middle East, as Wall Street banks reel from America's mortgage meltdown. It also highlights the rising influence of state-backed investment funds, or sovereign wealth funds, from export-rich countries that are taking advantage of the credit crisis to buy stakes in the West's largest banks. There were reports last night that Saudi Arabia is planning to launch a $900 billion fund, the largest ever. [More>>timesonline.co.uk]
---
12.22.07 Airport workers vote for strike
December 22 - Britain's busiest airports are bracing themselves for a new year of crippling strikes after 5,000 workers voted for industrial action, while last night freezing fog disrupted the start of the Christmas getaway. Staff at the British Airports Authority (BAA), which runs seven UK airports including Heathrow, Gatwick and Stansted, will hold two 24-hour strikes and one 48-hour strike in January which will bring chaos for travellers and could spell financial disaster for airlines and BAA. [More>>independent.co.uk]
---
12.21.07 Malaysian Catholic weekly told to drop use of 'Allah'
KUALA LUMPUR (AP) December 22 - A Catholic weekly newspaper in Malaysia has been told to drop the use of the word "Allah" in its Malay language section if it wants to renew its publishing permit, a senior government official said Friday. The Herald, the organ of Malaysia's Catholic Church, has translated the word God as "Allah" but it is erroneous because Allah refers to the Muslim God, said Che Din Yusoff, a senior official at the Internal Security Ministry's publications control unit.
"Christians cannot use the word Allah. It is only applicable to Muslims. Allah is only for the Muslim god. This is a design to confuse the Muslim people," Che Din told The Associated Press. The weekly should instead, use the word "Tuhan" which is the general term for God, he said. [More>>thejakartapost.com]

Editorial note: A message of peace. According to many verses (suras) of the Koran, the Koran (meaning "recital") was dictated by the angels of God to confirm the Jewish Scriptures; i.e.:
The Cow : "And now that a Book confirming their own book has come to them from Allah..";
Women 4.47, "You, to whom the Scriptures were given! Believe in that which we have revealed, confirming your own scriptures;"

and significantly its endorsement of Jesus as the Messiah (meaning in Greek, Christ): IMRANS 3.45 The angels said to Mary: "Allah bids you to rejoice in a word from him. His name is the Messiah, Jesus the son of Mary..."

There is much confusion over the purpose of the Koran as well as its meaning. If it reproves the Jews for not believing a document that confirms the truth of their scriptures (the Old Testament, etc.), then the purpose of the Koran cannot be to establish another god apart from the God of the Bible. "Allah" at most can only be another name of the God of the Bible. (Jewish scholars have counted seventy different names of God, including El, Elohim, Jehovah [YHVH], etc.) In the King James Bible some differences in the names of God can be discerned in the spelling of God, such as Lord and LORD. Jewish scholars also have a tradition of not writing the name of God and often references to God are written as G_d. In contrast, there has been a long-standing tradition among the Jews of including the name of God in the names of their children. Names that have the suffix "el" or "a, ah" tend to reflect names of God, such as: Micah (God-like), Michael (God-like), Joshua (savior; Greek form, Jesus) or Elijah (God is God).

A document that confirms another cannot contradict that which it confirms. In truth the Koran cannot say it confirms the Jewish scriptures (Old Testament) and contradict them. The Jewish scriptures, in fact, had a tradition that they cannot be deleted or added to, since the word of God is eternal, truth. The only exception to this is in the story of Jonah, where he was sent as a messenger of God to warn the people of Nineveh of certain destruction unless they change their ways. Jonah waited upon a hill overlooking Nineveh to witness the destruction but nothing happened. He felt like a fool, having been, as it were, a false messenger. But an angel of God appeared then before him and inquired as to why he was dejected and then explained that the people of Nineveh had repented and there was thus no reason to carry out the destruction. The story illustrates that God can repent of his intention to punish if the people repent of their ways. But he cannot change his "truths." We can see this illustrated in the last book of the Bible, Revelation, which says:
Revelation 22.18 For I testify unto every man that heareth the words of the prophecy of this book, If any man shall add unto these things, God shall add unto him the plagues that are written in this book:
22.19 And if any man shall take away from the words of the book of this prophecy, God shall take away his part of the holy city, and from the things which are written in this book.

The book of Revelation draws from earlier prophecies, such as Daniel, and thus a discredit of such a reference would impugn the earlier prophecy of Daniel, etc. The point being drawn by analogy here is that the Koran recites stories and prophecies from the Bible and the issue of the Koran's ability to add or subtract from the word of the Bible is addressed by Women 4:47 above. In that verse Mohammed complains to the Jews that they are denying a verse(s) that confirm their own scripture(s), presenting, in effect, that a document that confirms another cannot contradict that which it confirms. Taking this issue to the issue of the Messiah (Christ) we must conclude that the Koran endorses Christ (the word from God) and therefore it cannot contradict the teachings of Christ. We can conclude that an argument that suggests that the Koran is from a god other than the God of the Jews and Christians is absurd. Likewise, knowing these truths, in viewing the behavior of Islamists, one must wonder whether they have turned the god of the Koran into the god of murderers, who justifies the killing of innocent people in the marketplace, even calling the suicide bombers "martyrs" of God. I should guess that God must be embarrassed over such. Cannot God employ reasonable men? Is there not a significance in the fact that the Koran claims to not differ from the Jewish scriptures and honors the Messiah Jesus? Is not this an invitation to make peace, rather than war?

I lament this cause, because I search for peace while others search for war, and I cannot find anyone w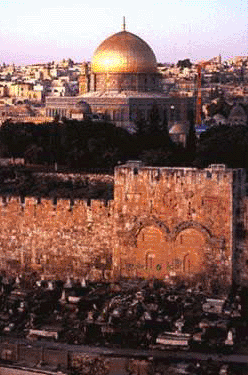 illing to reason on behalf of peace. In simple terms I speak of the Peace of Jersualem, since tradition holds that when we see Jerusalem at peace we will finally see the world at peace. I sent the essence of this article as a message of peace to the independent.co.uk on December 11, 2007 (and have not heard from them). In the article I proposed that the knowledge that the Koran confirms the Bible can be extended to an inquiry into the Golden Gate of Jerusalem which has been closed since the fifteenth century, by the Ottoman Sulieman I. His purpose in closing the main gate to the Temple Mount was to prevent the Messiah from entering the Temple Mount. A reasonable God might ask why the Moslems who control the Temple Mount are blocking the entrance of the Messiah of God – the God in whom the Koran requires its believers to obey. One might think there are reasonable men who might take up these issues that can bring forth peace, for if the Golden Gate can be opened through a peaceful means then such an opening should enable a greater reconciliation among men. Unreasonable men who sit in judgment over God – like Che Din Yusoff of Malaysia – make of me a pessimist, believing that the cause of peace by opening these references is foolish.

I lament at this time so holy to Jews, Christians and Moslems, because all of these people extend their hands offering peace and goodwill, according to their tradition, when we can see, in fact, that peace offerings cannot be served very well through closed gates. I lament that even today Moslems are stoning the devil when, in fact, we know that in many the devil is not in the form of a stone pillar in Mecca but their own hearts of stone. Peace is within you. Rather than throwing stones at a pillar, why don't the Moslems remove the stones blocking this gate so that the righteous may enter? Peace.

Mel Copeland
---
12.21.07 Belgium foils al-Qaeda jailbreak
December 21 - Fourteen people have been arrested in Belgium after authorities foiled a plot to free an al-Qaeda member arrested in September 2001, officials say. The suspects, detained in police raids, were described as Islamic militants. They were seeking to free Tunisian Nizar Trabelsi, jailed in Belgium for planning to attack US targets.
An official said the plot involved explosives and that security was being stepped up in the capital over fears of a "possible attack." Belgium hosts the main European Union institutions and NATO headquarters, as well as a raft of multi-national companies. [More>>bbc.co.uk]
---
12.21.07 Gonzales has rough time tapping young minds for legal defense fund
December 21 (Mary ann Akers Blog) - Buried by legal bills and hard up for cash, former Attorney General Alberto Gonzales hit the college speaking circuit last month hoping to rake in big bucks. Instead, he's been raked over the coals, heckled or flat out turned down by students whose institutions he charges exorbitant fees to tap his amnesiac mind. And things aren't likely to get any easier for Gonzo (as he's known in the tabloids) now that he has been identified as among the top Bush White House officials involved in discussions about the fate of the destroyed interrogation tapes.
Even before the CIA tapes scandal, Gonzales had become the subject of angry editorials and protests on campuses near and far. At the University of Florida last month, he was viciously heckled to the point that two students wearing black hoods and orange jumpsuits blaring the words "civil liberties"- impersonating prisoners at Abu Ghraib - walked on stage and stood next to the former attorney general as he spoke. (Until they were arrested.)
It was a tough way to make $40,000. And it stands to get tougher. Gonzales is scheduled to speak on Feb. 19 at Washington University in St. Louis, where more demonstrations are expected, according to the student body president. [More>>washingtonpost.com]
---
12.21.07 5 Indonesians hospitalized for bird flu
JAKARTA, December 21 - Five people including two children were admitted to a bird flu specialist hospital in Jakarta Friday, raising concerns that human cases of the disease could grow to a record 119 in an individual country. The five patients were transferred to the Persahabatan Hospital here from a small hospital in the town of Serang in Banten province after they showed clear signs of bird flu symptoms, such as respiratory problems, heavy coughs and high fever.

The national Antara news agency said the bird flu suspicions arose after health officials learned that 60 chickens and ducks in their village died from the virus as confirmed by laboratory tests. Contact with infected chickens is the most common cause of bird flu in human in Indonesia, where 92 people died from the H5N1 virus, the highest among bird-flu affected countries. The five patients, aged between 8 and 30, are from the same extended family. [>xinhuanet.com ; See related bird flu story, metimes.com, December 21, "Avian Flu hits Pakistan."]
---
12.21.07 50 dead in Charsadda suicide blast
CHARSADDA, December 21 - At least 50 people were killed and over 200 injured when a suicide blast occurred on Friday in a mosque of Sherpao in District Charsadda, police said, in an attack apparently aimed at former interior minister Aftab Sherpao. The former minister reportedly survived the attack, which took place at a mosque inside his residential compound; five to six kilogram explosive was reportedly used in this disruptive act.

According to police officials, Eid prayers were being offered at Jamia Masjid in the native Sherpao village of Aftab Sherpao; meantime in the second rakat of the prayers, a blast occurred in the eighth row killing several and injured dozens of others. Most of the dead bodies were carried away by their respective family members. Arab Sherpao and his elder son Former MPA Sikandar Khan Sherpao, who were present at the time of blast, escaped the blast unhurt; however, his younger son Mustafa and nephew Dil Aram are also among the injured. [More>>thenews.com.pk]
---
12.21.07 Russian scientists claim if asteroid hits Mars, Earth unaffected
St. PETERSBURG (RIA Novosti) December 21 -  An asteroid, which is believed to be on a collision course with Mars, will not affect the Earth if it hits the "Red" planet in January 2008, a Russian Academy of Science spokesman said on Friday. Sergei Smirnov said the asteroid, which is traveling at 8 miles per second, was discovered in November by American scientists.
He said the explosion could be on a scale equal to the Tunguska event, when a meteorite, which crashed into central Siberia in 1908 caused destruction on a nuclear scale. The enigma still thrills scientists all over the world. "It will not influence the Earth in any way," Smirnov said.
The scientist said that if the collision takes place, it will not be visible without high-definition telescopes, but would still provide valuable scientific data: "The object is sure to change its flight path, and this will considerably enrich our knowledge of the mass and density of asteroids." He also said a large asteroid was expected to pass near Earth in 2028 which could cause a major disaster if it collides with the planet. [>rian.ru ; See more details, timesonline.co, December 21, "Asteroid on collision course with Mars."]
---
12.21.07 Nine more countries join EU's 'passport-free' zone
December 21 - Presidents and prime ministers threw open snowy frontiers across the old Communist Bloc yesterday, as nine countries joined the European Union's area of "passport-free" travel. The so-called Schengen zone now includes some 400 million people living in 24 states, after expanding at midnight to the EU's border with Russia, Belarus and Ukraine, a move that critics fear will increase smuggling, people trafficking and illegal immigration.
"We are standing here at the border between Bratislava and Vienna to take away the most important symbolic barrier," said Robert Fico, the Slovak Prime Minister, who, with the Austrian Chancellor, Alfred Gusenbauer, sawed through a red-and-white frontier post separating their countries.
"From midnight, you can travel 4,000km [2,500 miles] from Tallinn in Estonia to Lisbon in Portugal without any border controls," declared Mr. Fico, who hailed the abolition of passport and customs checks as a major boost to trade and tourism. While most Slovaks and other east Europeans were happy to see travel restrictions lifted, there is less enthusiasm in countries such as Austria and Germany, where many people fear an impending crime wave. [More>>independent.co.uk]
---
12.20.07 Israeli settlers, a hindrance to peace
December 20 - The crowd of Hebron settlers shouted, "Gas the Arabs" and, "Death to the Arabs" as they forced open the door of Hasham al-Azzer's home which borders the neighboring settlement of Tel Rumeida, about 20 miles south of Jerusalem. The water pipes outside had already been destroyed, the grapevines poisoned, olive branches cut, and garbage from the Jewish settlement strewn on the pathway approaching the front door. Once inside they proceeded to wreak havoc, smashing furniture, computers and windows, scribbling graffiti on the walls, upturning personal belongings, and emptying the contents of cupboards and drawers onto the floors.
After a couple of hours of wanton destruction, the settlers left. Azzer, whose family has lived in the same home for generations, eventually returned and tried to salvage what remained of his property. The settlers had warned him over the preceding months that they would drive him out. [More>>metimes.com]
---
12.20.07 Bomber kills 13 Iraq volunteers, 1 US soldier
BAQUBA (Reuters) December 20 – A suicide bomber wearing a vest packed with explosives killed 13 neighbourhood patrol volunteers and a US soldier in a volatile Iraqi province on Thursday. US officials say attacks in Iraq are down by 60 percent since June, but have also warned that violence could return if Iraqi political leaders do not make more progress on reconciling warring sects and ethnic groups. 
President George W. Bush said he was dissatisfied with progress but defended Iraq's political process, saying despite a deadlock on laws in the Baghdad parliament, communities were moving towards reconciliation at the provincial level. [More>>thestar.com.my ; See other details, khaleejtimes.com, December 20, "More than 30 killed in restive Iraqi province" and xinhuanet.com, December 20, "US-led troops find mass graves, torture house in Iraq."]
---
12.20.07 New outbreak of bird flu hits south Russia
ROSTOV-ON-DON, December 20 (RIA Novosti) – A third outbreak of the H5N1 bird flu virus has occurred in south Russia, regional veterinary officials said on Thursday. The fresh outbreak of avian influenza took place in the Rostov Region, in the village of Shosseiny, some 10 km (6 miles) from the poultry farm where the first case of bird flu was registered in the region in late November. "37 dead poultry were found, following which the entire population of 50 birds was culled," the officials said.
Birds started dying at the Gulyai-Borisovskaya poultry farm in the Rostov Region on November 29, and an analysis showed traces of the lethal H5N1 strain. The farm's entire population of 500,000 chickens has since been culled. A bird flu outbreak was later registered at private subsidiary holdings located close to the farm. A second bird flu outbreak in the Rostov Region was later registered at a private farm in the Tselinsky district. [More>>rian.ru]
---
12.20.07 Guantanamo duo face extradition to Spain after release
Deember 20 - Two of the three British residents who returned from Guantanamo Bay yesterday have been arrested in London over Spanish extradition warrants on terrorism-related charges today, while the third was released without charge. Jamil el-Banna, Omar Deghayes and Abdennour Sameur, flew into London under police guard after being held at the American internment camp without being charged.
Mr. el-Banna, who was held for five years after he was seized in Gambia and handed over to US authorities, was arrested this morning after being accused in Spain of belonging to an al-Qaeda terror cell called the Islamic Alliance between 1996 and 2001. [More>>timesonline.co.uk]
---
12.20.07 France holds 'al-Qaeda suspects'
December 20 - French police are questioning five men suspected of links to al-Qaeda's branch in Algeria, reports from France say. They are part of a group of eight held in France earlier this week, reports quoting police officials say. Three other men have since been released. The men are believed to be members of a support network for al-Qaeda in the Land of the Islamic Maghreb (AQLIM).
The AQLIM has said it was behind bomb attacks on UN offices in Algeria on 11 December that killed nearly 40 people. Seventeen UN employees died in the bombings in the Algerian capital, Algiers. It was the deadliest attack on the UN since 2003, when 22 were killed by a bomb in Baghdad. [More>>bbc.co.uk ; See also, lefigaro.fr, December 20, "Coup de filet à Paris contre des islamistes d'al-Quaida."]

---
12.20.07 Imam convicted for promoting jihad
(Reuters) December 21 - A Muslim cleric who preaches at a Milan mosque and 10 other people were convicted overnight of being part of a group that promotes jihad. The Milan court sentenced Abu Imad to three years and eight months in prison under anti-terrorism statutes drafted before September 11 that are weaker than those currently in place. The group was accused of promoting jihad and recruiting potential suicide bombers.
A source at the Milan's prosecutors' office said however investigators did not believe Imad was still a threat and was allowed to remain free pending an appeal. Sentences for the other accused ranged from two to 10 years in prison. Abu Imad preaches at the Viale Jenner mosque in Milan, which the United States once accused of being a European logistics base for al-Qaeda. [More>>news.com.au]
---
12.20.07 Row rumbles on in Australia over Islamic school
SYDNEY (DPA) December 20 - There were no arrests at a rowdy demonstration in a Sydney suburb over a proposal to build an Islamic school for 1,200 pupils, a police spokesman said Thursday. The Wednesday night protest drew around 1,000 people to Camden's civic centre.
"When police appeared, the crowd moved away without any trouble," the police spokesman told Australia's AAP news agency. "We knew of the event in advance, and there were no arrests, no move-on directions issued and no scuffles or injuries."
Local authorities have received 3,500 complaints about the project, saying it would bring 'culture shock' to a mostly white, Anglo-Saxon suburb. New South Wales state member of parliament Fred Nile addressed the meeting, telling the protesters that Islam denied Christianity's right to exist. "All the Aussies that are celebrating carols by candlelight this week all over Australia, millions of Australians, are condemned by the Koran," he said. [More>>khaleejtimes.com]
---
12.20.07 Record-breaking haul from Gaul discovered at farm in Brittany
December 20 - Asterix and Obelix, had they existed, might have paid for their mead and other magic potions with gold-silver-copper coins stamped with elaborate images of men and horses. The largest treasure trove of pre-Roman, Gaulish money ever to be found has been discovered in central Brittany.
The 545 coins – each worth thousands of euros to collectors but priceless to historians and archaeologists – could overturn much of the received wisdom about the complexity, and wealth, of pre-Roman Celtic society in France. Why was such enormous wealth, a king's ransom at the time, buried in the grounds of a large Gaulish farm 40 miles south of Saint-Brieuc in the first century BC? Why was the hoard never recovered?
"Treasure on this scale would only have been used for transactions between aristocratic families," said Yves Menez, an archaeologist specializing in iron-age Brittany. It has always been assumed that the Celtic nobility lived in fortified towns, not in the wild and dangerous countryside. "The reality must have been more complex," Mr. Menez said. Like all Gaulish coins, the 58 "stateres" and 487 quarter "stateres" found near to the village of Laniscat are copies of early Greek money.
Gauls served as mercenaries in the armies of Alexander the Great. The money that they brought home served as the model for home-minted coins. Some of the new treasure trove, rescued from the site of a proposed dual-carriageway, have the familiar Celtic monetary pattern of a horse on one side and a man's head on the reverse. Other coins have hitherto unknown designs, such as horses with human heads. There are also images of riders and wild boars. [More>>independent.co.uk]
---
12.20.07 'Missing link' between whales and land-dwellers is found
December 20 - The puzzle over how the air-breathing ancestors of whales and dolphins took to the sea after millions of years living on land may have been solved with the discovery of a distant relative of marine mammals.
A fossilized, deer-like animal that grew no bigger than a fox and lived 48 million years ago has been identified as the closest ancestral relative of the cetacean group of marine mammals, which includes anything from the smallest porpoise to the largest whale. Since Charles Darwin, biologists have known whales are mammals, suckling their young on milk and breathing through lungs, so they must have originated from terrestrial ancestors. But until now there has been no definite "missing link" between the cetaceans and land mammals.
Scientists have analyzed the anatomy of the fossil and have concluded that Indohyus – an "even-toed ungulate" like modern deer – possesses a bony structure in its auditory system that is shared with only one other group of mammals, the cetaceans. In the journal Nature, the scientists, led by Professor Hans Thewissen of Northeastern Ohio Universities Colleges of Medicine and Pharmacy, said the discovery, "has profound implications".
It had been thought that the ancestor of whales was a carnivore that took to an aquatic life in pursuit of fish and other prey, as do modern-day seals. But Indohyus, which belonged to a group of extinct mammals called the raoellids, was almost certainly a herbivore and probably became semi-aquatic to escape from its predators. [More>>independent.co.uk ; See image and other details bbc.co.uk]