News Headlines & Trends
---

12.18.07 Bangladeshis kill tiger, elephants kill four
KHULNA, Bangladesh (Reuters) December 18 - A female tiger in Bangladesh wandered out of a mangrove forest on Tuesday and was surrounded by villagers and killed, officials said. Four people were injured in the confrontation with the Royal Bengal tiger, an endangered species. Villagers attacked it with weapons as a woman shouted for help in panic when she spotted the animal stalking near her home, officials said. The tigress might have strayed into the village in search of food,' said Sundarbans mangrove forest official Amalendra Shaha.
In a separate incident, four people were killed, 25 others were injured and at least 25 bamboo-made houses were damaged when a herd of elephants strayed into a village near a forest the Cox's Bazar district, 400 km (250 miles) southeast of Dhaka. With these new victims, at least nine people have been killed by wild elephants in southeastern forest regions over the last month, forest officials said.
The Sundarbans, southwest of Dhaka, and other forests were hard hit by Cyclone Sidr, which struck the Bangladesh coast on Nov. 15 with winds of 250 kph (155 mph) and killed about 3,500 people and made millions homeless. The Sundarbans is a UNESCO World Heritage site and home to the Royal Bengal tiger. At least 60 percent of the 6,000 sq km (2,320 sq mile) mangrove swamps that lies within Bangladesh, home for more than 400 Royal Bengal tigers, was devastated by the cyclone. The Sundarbans stretch for a further 4,000 sq km (1,545 sq miles) into India's eastern state of West Bengal. [>khaleejtimes.com ; for background see whc.unesco.org, December 7, "Sundarbans World Heritage site devastated by cyclone.."]
---
12.18.07 Suicide bomber kills 14 in Iraqi village
BAGHDAD (Reuters) December 18 - A suicide bomber killed 14 people when he detonated a vest rigged with explosives in a Shi'ite Muslim village north of Baghdad on Tuesday, police said. Suicide bombers, gunmen and car bombs also killed 14 other people across the country. The violence coincided with an unannounced visit by US Secretary of State Condoleezza Rice who lauded recent security gains in Iraq. 
The worst incident was in the volatile Diyala province when a suicide bomber targeted a coffee shop in the al-Abbara village north of the city of Baquba, 65 km (40 miles) north of Baghdad. Twenty-eight people were also wounded in the blast, police said. Also in Baquba, a suicide car bomber targeting a police checkpoint killed one policeman and one civilian and wounded 15 people including three children, police said. [More>>thestar.com.my]
---
12.18.07 15 Afghan guards killed in attack
KABUL (AP) December 18 - Taliban fighters killed 15 Afghan guards working for a private security company who were guarding a convoy of fuel tankers in western Afghanistan, an official said Tuesday. Six Taliban were killed in the ensuing fight. Several militants also were killed in airstrikes and a subsequent operation by US-led coalition troops in the country's south on Monday, the coalition said. [More>>indianexpress.com : hosted.ap.org]
---
12.17.07 Iraq militants arrested dressed as bride and groom
December 17 - Iraqi security forces who stopped a wedding party at a checkpoint were amazed to find t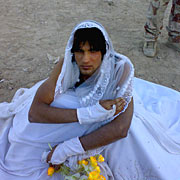 hat both bride and groom were men - and suspected terrorists. The army set up the checkpoint in the al Taji area north of Baghdad. Soldiers manning it became suspicious because the wedding party was completely made up of men - apart from the supposed bride. One of the cars also did not stop when ordered to. [More & video of arrest>>sky.com; image of bride from sky.com]
---
12.17.07 Barriers prevent papal Holy Land visit
December 17 - The Vatican urged Israel Monday to send out the "positive signals" Pope Benedict XVI needs to pave the way for an historic visit to the Holy Land. Israel and the Vatican have been in negotiations since 2004, following a 10-year hiatus, over a bilateral accord on the legal and financial status of the Roman Catholic Church in Israel. In September, Israel's President Shimon Peres indicated after a private audience that the pontiff could make the journey in 2008, but chief Vatican spokesman Federico Lombardi said obstacles remain.
...Centered on the economic element of a heads of agreement signed between the two states in 1993, the negotiations are principally concerned with the legal and tax status of church property and commercial activities of Christian communities in Israel. In a related complaint, the Custos of the Holy Land, Pierbattista Pizzaballa, has bemoaned the difficulties for priests and monks who come from Arab countries in obtaining visas to travel to Israel. [Full story>>metimes.com]
---
12.17.07 Paris police tear down tents for homeless
PARIS, December 17 - An attempt to build a Christmas encampment for the homeless on the banks of the river Seine was swept away by police before the startled eyes of tourists at the weekend. A homelessness action group, which generated worldwide attention a year ago by pitching an encampment of red tents in the centre of Paris, attempted an even more spectacular coup on Saturday morning.

Scores of red, "two second," all-terrain tents were erected along the quays of the left bank of the Seine opposite the Notre Dame cathedral. As tourists looked on, police moved in en masse – using tear gas at one stage – to sweep away the homeless people and their supporters. There were brief scuffles. A protester fell into the freezing water of the Seine and had to be helped out by a police frogman. The tourists booed the police. The protesters sang the Marseillaise. Eventually, the encampment was dismantled.

The protest group – Les Enfants de Don Quichotte (the children of Don Quixote) – insists that the French government has failed to honour the promises made to resolve its protest last Christmas. Of 27,000 new lodgings promised, only 13,000 have been provided. The founder of the group, a 6ft 6in tall actor, Augustin Legrand, boomed an explanation for the renewed protest through a megaphone. Switching to English to accommodate the needs of the tourist bystanders, he shouted: "Two hundred thousand homeless people in France." This claim is disputed by the government. So is M. Legrand's allegation that hundreds of SDFs (sans domicile fixé or homeless people) will have to sleep rough in Paris this Christmas. [More>>independent.co.uk ; See also lefigaro.fr, December 17, "La polémique enfle sur l'accueil des SDF."]
---
12.17.07 66 nations pledge billions in Palestinian aid
PARIS, December 17 - Eighty-seven countries and international organizations pledged $7.4 billion in aid to the Palestinians on Monday, in the most ambitious fund-raising effort to help Palestinians create a viable, peaceful and secure state of their own in more than a decade. The total was pledged over the next three years. The total for 2008 alone, according to the conference's final declaration, was $3.4 billion. [More>>nytimes.com]
---
12.17.07 H5N1 bird flu hits Benin, home of Voodoo ritual
CONTONOU, Benin (Reuters) December 17 - Benin, the home of ritual Voodoo sacrifice, became the latest in a string of West African states to report cases of H5N1 bird flu after laboratory tests confirmed the deadly virus on two poultry farms. Agriculture Minister Robert Dovonou said in a statement late on Sunday test results from a laboratory in Italy confirmed the H5N1 virus in cases discovered this month north of the capital Porto Novo and on a farm in the commercial capital Cotonou.
Benin's immediate neighbors, Nigeria, Togo, Niger and Burkina Faso, have all reported H5N1 cases. Other regional states hit include Ghana, Ivory Coast and Cameroon. Eastern neighbor Nigeria is one of the regional nations worst affected by bird flu. It reported sub-Saharan Africa's first confirmed human death from the disease early this year. Health experts have said they fear Benin's Voodoo priests could be particularly at risk because of their practice of tearing out the throats of live chickens in ritual sacrifices. [More>>khaleejtimes.com]
---
12.17.07 Russia starts delivering nuclear fuel to Iran
MOSCOW (RIA Novosti) December 17 - The first shipment of nuclear fuel has been delivered to Iran's Bushehr nuclear power plant, Russia's state nuclear agency said on Monday. The $1 billion plant in southern Iran is being built by Russia under a contract signed in 1995.
"Containers with fuel sealed by IAEA [International Atomic Energy Agency] inspectors have been delivered to the site and placed in a special storage facility subject to international safety monitoring," Rosatom said. A spokesperson for Russia's nuclear power equipment and service export monopoly, Atomstroyexport, said the first stage of deliveries had started on Sunday and would see 163 main and 17 reserve arrays of uranium, enriched to 3.62% of U-235, delivered to the plant. [More>>rian.ru]
---
12.17.07 Civilians among 30 killed in Afghan unrest
KANDAHAR, Afghanistan (AFP) December 17 - More than 30 people, including a couple and their three children, were killed in the latest surge of violence to hit Afghanistan, officials said Monday. The family of five were killed when a bomb blew up their motorbike in the troubled southcentral province of Uruzgan on Sunday, police said. They were on their way to a local hospital when the device exploded under the motorbike on which they were riding near the provincial capital Trin Kot, Uruzgan police chief Juma Gul Emat told AFP. He said the device had been planted by Taleban rebels.
The incident took place in an area where a similar device ripped through a civilian mini bus and killed six passengers on Thursday. Seven others were injured in the blast, the US-led coalition said Monday. Another civilian was shot dead by security forces after they mistook him for a potential suicide bomber in Kabul Monday, authorities said. A body search afterwards found he was unarmed, they added. [More>>khaleejtimes.com ; See related story, washingtonpost.com, December 17, "Bush faces pressure to shift war priorities."]
---
12.17.07 PKK should watch its steps as their camps are like 'Big Brother' TV show
ANKARA, December 17 - Chief of Turkish General Staff Gen. Yasar Buyukanit said Sunday that terrorist PKK organization should watch its steps "as their camps are like the 'Big Brother' TV show under our constant surveillance." Gen. Buyukanit's remarks were made public on Turkish Channel D on Sunday evening. "We know PKK's geography as well as we know our hands," Gen. Buyukanit noted.
"I must stress that not a single civilian target or village was hit by our fighter jets. We have bombed targets determined ahead of time. A possibility of an accidental bombing is out of question," Gen. Buyukanit underlined. "What is important is that the United States opened the air space over north of Iraq for Turkish jets. By opening the air space, the US gave support to our operation," Buyukanit also said. [More>>turkishpress.com]
---
12.17.07 Kohat suicide attack death toll rises to 11
KOHAT, Pakistan, December 17 - At least 11 people were killed and five others injured when a suicide bomber blew himself up in Kohat here on Monday at 12:30pm, police said. The bomber blew himself up close to the Army Public School and College. The deceased were security personnel and were coming out of the training centre when the suicide bomber blew himself up, police said. The injured were admitted to CMH Kohat where their condition is stated to be serious. Police and security personnel have cordoned off the area and have started investigation. [>thenews.com.pk ; See more details, indianexpress.com: hosted.ap.org]
---
12.16.07 Bush's foreign policy in free fall, says Bolton
BERLIN, December 16 - US President George W. Bush's foreign policy is in free fall and puts the nation's security at risk, former ambassador to the United Nations John Bolton told a German magazine. Mr. Bolton, who was a leading hawk in the US administration and favoured a tough stance against Iran, North Korea and Iraq, told the Der Spiegel weekly that Mr. Bush needed to rein in Secretary of State Condoleezza Rice. "His foreign policy is in free fall. The president is acting against his own judgment and instincts (and is) under the influence of Secretary of State Condoleezza Rice," he was quoted as telling the magazine.
Mr. Bolton said Dr. Rice's was the dominant voice on foreign policy and that she was a channel for the views of liberal career bureaucrats in the foreign ministry. "(Mr. Bush) does not supervise her enough. That is a mistake," he was quoted as saying, adding that a moderate foreign policy was a threat to US security. "North Korea will, for example, now keep its nuclear weapons. And the Iranians have got a signal from our own intelligence services that they can do whatever they want..." [More>>news.com.au]
---
12.16.07 Security forces arrest seven militants in Swat
SWAT, December 16 - The security forces have arrested seven militants from Khozabandey, an area of Swat. According to the ISPR, Abdul Rasheed and his four sons were also included in these arrested persons. Abdul Rasheed had issued a fatwa for beheading the security persons whereas his son Mohammad was preparing for a suicide attack. All the four militants are being interrogated. On the other hand, the Jirga members have assured their complete cooperation with the security forces in operation against the militants. [>thenews.com.pk]
---
12.16.07 Basra handover ends British control in southern Iraq
December 16 - Four-and-a-half years of British military control in southern Iraq came to an end today with the handover of Basra Province in a curiously low-key ceremony at the city's airport. Before an audience of around 100 guests, including David Miliband, the Foreign Secretary, Basra province was handed back to full Iraqi control though the signing of a simple memorandum of understanding. There was little pomp or overblown ceremony, nor even a Union flag on display to mark an event seen as heralding Britain's departure from Iraq after the most contentious military venture of modern times. [More>>timesonline.co.uk]
---
12.16.07 Turkish planes bomb N. Iraq in hunt for PKK
SULAIMANIAY, Iraq (AFP) December 16 - Turkish planes bombed suspected rebel bases in northern Iraq on Sunday, killing one woman, damaging infrastructure and forcing villagers to flee, local officials said. In Ankara, Turkey's general staff said its warplanes had hit the 'regions of Zap, Hakurk and Avasin as well as the Qandil mountains'  -- known to harbour rear bases of the rebel Kurdistan Workers' Party (PKK). [More>>khaleejtimes.com]
---
12.16.07 Bird flu makes Saudi cull 13,500 ostriches
December 16 - Saudi Arabia's agriculture ministry has ordered 13,500 ostriches to be destroyed following a new outbreak of bird flu in the kingdom, the Al-Watan newspaper reported on Saturday. The outbreak of the H5N1 strain of the disease that is dangerous to humans was reported on Thursday evening at a farm in the Al-Kharj region, 80 kilometers (50 miles) south of Riyadh, the Arabic language daily said. Last month, the Saudi authorities ordered nearly four million birds culled in the face of at least 14 separate outbreaks of avian influenza.

There have been no reports of the disease spreading to humans in the oil-rich desert kingdom. The H5N1 strain first emerged in Asia in 2003, and has caused more than 200 deaths in humans, with Indonesia and Vietnam among the worst hit countries, according to World Health Organization figures. Pakistan on Saturday confirmed its first death from the bird flu virus, reported AFP. [>metimes.com]
---
12.16.07 Egypt finds two Gaza smuggling tunnels
EL-ARISH, Egypt (AFP) December 16 - Egyptian authorities have discovered two underground tunnels used for smuggling weapons into the Gaza Strip from the Sinai peninsula, a security source told AFP on Sunday. The two tunnels were found on Saturday near a school in the border town of Rafah, the source said, adding that security forces were immediately deployed to the area and were preparing to destroy the tunnels. [More>>metimes.com]
---
12.15.07 Bali climate 'roadmap' leads to White House and possible new direction
BALI (AP) December 15 - The "Bali Roadmap" for new climate negotiations leads to one address and one date: 1600 Pennsylvania Ave. and Jan. 20, 2009. That's when a new occupant of the White House will be sworn into office, and when a fresh US team, with what many expect to be a new attitude, will take up the negotiating mandate issued here Saturday at the end of the two-week UN climate conference.
For seven years, these annual sessions have witnessed a long-running diplomatic feud between the US administration of President George W. Bush, dead set against international obligations for industrial nations to cut greenhouse-gas emissions, and most of the rest of the world, which favors them. The faceoff played out again here in Bali this past week, when the US delegation blocked an effort to insert into the "roadmap" an ambitious suggested negotiating goal for the next two years - emissions cuts of 25 to 40 percent below 1990 levels by 2020.
The "emissions cutters" were spurned again, in a repeat of what has happened consistently since the 1997 Kyoto Protocol, which mandated relatively small reductions but was rejected by the US. Time now may be on the cutters' side. From California to New England, US state governments are enacting their own mandatory caps on carbon dioxide and other industrial and transportation gases blamed for global warming. Scores of US cities have adopted Kyoto-style targets, trimming emissions via "green" building codes, conversion of municipal fleets to hybrid vehicles, energy-saving lighting and other measures. [more>>thejakartapost.com]
---
12.15.07 Militants strike neighborhood patrols
BAGHDAD (Reuters) December 15 - Gunmen and bombers launched three attacks on US-backed neighbourhood security patrols in Baghdad, killing at least three of the patrol members and wounding 17. US forces in Iraq have increasingly relied on neighbourhood patrols to keep peace in mainly Sunni Arab parts of Iraq as part of a strategy that has helped bring violence levels down dramatically over the past few months.
But the patrol members, who are paid by US forces and not officially part of the Iraqi security forces, have increasingly come under attack by militants. In one incident, bombers killed two patrol members and wounded 10 in a strike on their headquarters in the Adhamiya neighbourhood of northern Baghdad, until recently a Sunni Arab militant stronghold. Gunmen attacked a patrol in another northern area, killing one patrol member and wounding four. In the southern Doura neighbourhood, another former Sunni militant stronghold, gunmen wounded three patrol members manning a checkpoint. [More>>news.com.au]
---
12.15.07 Ecuadoran police find arsenal, Osama bin Laden photos
Quito, Ecuador, December 15 - Ecuadoran police reported Friday they had seized an arsenal and Osama Bin-laden photos in a house in Santa Elena province, some 560 km southwest of Quito, and made one arrest. The police raided a house in Manabi neighborhood of Anconcito in Salinas. They found Osama bin Laden Photos, shooting practice targets, 37 high caliber weapons and 2,680 cartridges.

The police did not say when the operation was carried out, although they confirmed the arrest of Ecuadoran citizen Jacinto Rufino Munoz who allegedly said he was a security guard in charge of the confiscated arsenal. The police seized 2,456 5.56-mm ordinary cartridges and 224 5.56-mm trail cartridges; 19 Uzi machine gun feeders of many sizes, 12 M-16 feeders, two M-16s, an HK sub-machine gun, a Uzi sub-machine gun; a 22-mm rifle and a 38-caliber revolver, among many other military items.   The police reported that the people at the home did not resist arrest at the time of the police operation. [>xinhuanet.com]
---
12.15.07 At least five dead in Pakistan suicide bombing
ISLAMABAD (AFP) December 15 - At least five people were killed and five wounded when a suicide bomber blew himself up outside an army facility in northwest Pakistan on Saturday, the military and police said. The bomber, who was on a bicycle, detonated his explosives at a checkpost outside an army centre in the garrison city of Nowshera, 130 kilometres (80 miles) west of the capital Islamabad, a military spokesman told AFP. [More>>khaleejtimes.com ; See related story, thenews.com.pk, December 15, "President Pervez Musharraf promises to hold free, fair elections."]
---
12.15.07 5 die in blast near Kabul police offices
KABUL, Afghanistan (AP) December 15 - A rocket landed in a crowd of civilians near Kabul's police headquarters Saturday, and a truck full of rockets smuggled into the city under a pile of hay exploded nearby moments later, officials said. At least five people were killed and 24 wounded. The truck contained five 107 mm rockets rigged to explode, said Gen. Mohammad Zahir Azimi, the Defense Ministry spokesman. He said two of the rockets detonated in the explosion but that three did not. The sound of the blast reverberated through Kabul around 8:20am [More>>indianexpress.com: hosted.ap.org]
---
12.14.07 Iran reformists form coalition to end "crisis"
TEHRAN (AFP) December 14 - Iranian reformists on Friday announced a coalition inspired by ex-president Mohammad Khatami to win back parliament and save Iran from the "crisis" they said was created by his successor Mahmoud Ahmadinejad. The coalition brings together 21 moderate parties, including the allies of ex-presidents Khatami and Akbar Hashemi Ranfsanjani, to fight conservatives in the legislative elections on March 14, officials said.
"The country is in serious crisis. All parties agree that they should restore the parliament's position and curb the government's inexpert activities," spokesman Abdollah Naseri said. Officials said the guiding light of the coalition was Khatami, president from 1997-2005, who in recent weeks has broken two years of virtual political silence to lambast Ahmadinejad in a series of speeches. [More>>khaleejtimes.com]
---
12.14.07 Christmas in Bethlehem hits an Israeli barrier
December 14 - Palestinian carpenter Tawfiq Salsaa's olive wood nativity scene looks like thousands of others sold to people at Christmas. Except in his version, a wall separates the baby Jesus from the three wise men. "I wanted to give the world an idea of how we live in the Holy Land," the 65-year-old said in his workshop, his sweater speckled with sawdust. "I was inspired by our own wall," Salsaa winced.

With his carvings, Salsaa aims to chip away at a sentimental image of Bethlehem portrayed in Christmas cards and carols worldwide to show the hardships faced by Palestinians today in the town revered as the birthplace of Jesus 2,000 years ago. Modern Bethlehem is encircled by checkpoints and Israeli walls and fences built on Arab land on a line that Palestinians say obstructs the possibility of them establishing a viable state and stifles the economy. [More>>alarabiya.net]
---
12.14.07 Gas prices spur consumer inflation
December 14 - Consumer prices increased by their fastest pace in more than two years in November, cutting into wages and raising the likelihood that the Federal Reserve will hold off on further interest rate cuts even as the economy slows.
New figures from the Department of Labor showed that overall prices surged 0.8 percent in November on a seasonally adjusted basis, the biggest monthly increase since September 2005. The cost of fuel – driven by crude oil prices the nearly topped $100 a barrel – was the chief culprit. Energy costs increased 5.7 percent in November alone and have increased at a 33 percent annual rate during the past three months. [More>>washingtonpost.com]
---
12.14.07 Bird flu resurfaces in Asia
HANOI, Vietnam (AP) December 15 - Bird flu has resurfaced in parts of Asia, with human deaths reported in Indonesia and China and fresh poultry outbreaks plaguing other countries during the winter months when the virus typically flares. Indonesia, the nation hardest hit by the H5N1 virus, announced its 93rd death on Friday after a 47-year-old man died a day earlier in a Jakarta hospital, said Health Ministry spokesman Joko Suyono. He fell ill on Dec. 2 and was admitted with flu-like symptoms, becoming Indonesia's 115th person infected with the disease.
In China, the military in eastern Nanjing banned the sale of poultry this week after a father and son were sickened by the disease earlier this month. Health officials confirmed the 24-year-old man died from the virus a day before his father, 52, became sick. It was the country's 17th bird flu death. [More>>thejakartapos.com ; See also
xinhuanet.com, December 14, "Nanjing bird flu cases contained." and
thenews.com.pk, December 14, "Bird flu surveillance cell set up in Islamabad."
---
12.13.07 EU threatens to boycott US climate talks
NUSA DUA, Indonesia (Reuters) December 13 - The European Union threatened on Thursday to boycott US talks among top greenhouse gas emitting nations, accusing Washington of blocking goals for fighting climate change at UN talks in Bali. "If we would have a failure in Bali it would be meaningless to have a major economies' meeting" in the United States, Humberto Rosa, Portugal's Secretary of State for Environment, said on the penultimate day of the two-week talks. 
"We're not blackmailing," he said, ratcheting up a war of words with Washington at the 190-nation meeting. "If no Bali, no MEM (major economies' meeting)." Portugal holds the rotating EU presidency and Rosa is the EU's top negotiator in Bali, where delegates are seeking to agree to launch talks on a broad new climate treaty to combat floods, droughts, heatwaves and rising seas from 2012.  [More>>thestar.com.my ; See also khaleejtimes.com (AFP) December 13, "Gore urges divided climate meet to ignore US."]
---
12.13.07 EU leaders sign landmark treaty
December 13 - EU leaders have signed a treaty in the Portuguese capital, Lisbon, that is expected to greatly alter the way the 27-nation body operates. The treaty creates an EU president and a more powerful foreign policy chief. The document, signed at a ceremony at the city's historic Jeronimos Monastery, also scraps veto powers in many policy areas.
It is a replacement for the EU constitution, which was abandoned following French and Dutch opposition. EU leaders insist that the two texts are in no way equivalent. But the Lisbon treaty incorporates some of the draft constitution's key reforms, and several governments face domestic pressure over the document. [More>>bbc.co.uk]
---
12.13.07 Contempt vote in panel for Bush aides
WASHINGTON, December 13 - The Senate Judiciary Committee voted on Thursday to hold a present and a former aide to President Bush in contempt of Congress, but no one expects them to be dragged before the lawmakers anytime soon. By 12 to 7, the committee voted citations against Joshua B. Bolten, the White House chief of staff, and Karl Rove, the president's former chief political adviser, for refusing to comply with subpoenas in a Congressional inquiry into the firings of nine federal prosecutors. [More>>nytimes.com]
---
12.13.07 Train bomb kills 5 in northeast India
GAUHATI, India (AP) December 13 - A bomb tore through a moving train in India's remote northeast Thursday, killing five passengers and wounding four others, officials said. A little-known militant group claimed responsibility for the attack. The New Delhi-bound high-speed Rajdhani Express had started from the eastern town of Dibrugarh in Assam state and had just crossed a station near Chungajan when the bomb exploded, said T. Rabha, an Indian Railway spokesman. "A car near the luggage van took the whole impact of the blast before dawn Thursday. Five passengers were killed and four others wounded," Rabha told The Associated Press.
Dilip Beg, a leader of the Adivasi National Liberation Army (ANLA), said the group was behind the attack. "Our fighters triggered the blast through remote control to force the government to grant special rights to our community," Beg told reporters by telephone. Police did not immediately comment on the ANLA's claim of responsibility. [More>>indianexpress.com: hosted.ap.org ; See also metimes.com, (UPI) December 13, "Indian Maoists blow up trailway train."]
---
12.13.07 Egypt arrests 22 men for corrupting Islam
CAIRO (Reuters) December 13 - Egyptian authorities have arrested 22 men on charges of belonging to a heretical Islamic sect that allows Muslims to pray without ablutions and seek blessings from graves. The men, including three Lebanese and a Kazakh national, have been charged with membership in an illegal organization and contempt for religion, a judicial source said on Wednesday...The source said the men had been attempting to spread their beliefs on the campuses of al-Azhar University, Egypt's prestigious centre of Sunni Islamic learning, and had managed to recruit a number of followers. [Full story>>alarabiya.net]
---
12.13.07 Two suicide attacks at check post in Quetta kill 10
QUETTA, Pakistan, December 13 - The death toll rose to 10 in two suicide attacks [that] took place near [a] military check post at Katch Morr here in cantonment area on Thursday. According to government sources, a man executed a suicide attack near a security forces check post at 4:50 PM, killing two troops and wounding several others.

As more security forces personnel of other posts and people reached the site of the attack, another attack took place with a gap of about seven minutes. This resulted in the killing of five more persons on[the] spot including security forces personnel and citizens while fourteen persons were injured. The injured, four of them critically, were shifted to CMH, sources said. The initial investigations reveal that the two suicide attackers came on foot. The security personnel cordoned the area of attacks and initiated the investigation. Some sources said the number of deaths has crossed ten. [>thenews.com.pk]
---
12.13.07 Hidden shame in Palestinian territories - honor killings
December 13 - Added to the hardships of Palestinians under Israeli occupation is a silently sanctioned form of violence, the so-called "honor killings," or femicide, of women who have allegedly brought sexual shame on their families. The UN Office for the Coordination of Humanitarian Affairs said in its November report that in October alone four women were murdered - three in the northern West Bank and one in Gaza. According to experts and human rights organizations about 60 cases, thought to be only the tip of the iceberg, were reported in recent years in Gaza and the West Bank. Few of the perpetrators were tried before courts, and those who were were let off lightly. [More>>metimes.com;
---
12.12.07 Fed leads drive to strengthen bank system
December 12 - A day after the Federal Reserve disappointed investors with a modest cut in interest rates, central banks in North America and Europe announced on Wednesday the most aggressive infusion of capital into the banking system since the terrorist attacks of September 2001. Stocks initially surged around the world when the coordinated move was announced by the central banks, though markets in the United States gave up nearly all those early gains in afternoon trading. The action is being led by the Fed, which this month will lend $64 billion itself and through banks in Europe, and includes the backing of the Bank of Canada, the European Central Bank, the Bank of England and the Swiss National Bank. [More>>nytimes.com; See also bbc.co.uk, December 12, "Central banks act on credit fears."]
---
12.12.07 Triple car bombing in Iraq kills 40, wonds 125
AMARA, Iraq (Reuters) December 12 - Forty people were killed and more than 125 wounded when three car bombs exploded in quick succession in the Shia city of Amara in southern Iraq on Wednesday, police said. The attacks in the capital of Maysan province were among the deadliest this year in southern Iraq and came as tensions ran high across the region, where rival Shia  factions are competing for influence as Britain reduces its troop levels.
Iraq said the bombings would not affect plans by Britain to hand back security control of neighboring Basra province, the hub for most of the country's oil exports. Government spokesman Ali Al Dabbagh said that handover would take place on Sunday, announcing the transfer date for the first time. [More>>khaleejtimes.com]
---
12.12.07 Bomb strikes at core of Lebanon army
December 12 - A prominent Lebanese army general and his bodyguards were killed in a massive car bomb Wednesday, striking at the core of the institution that the divided Lebanese agree to be the only guardian for peace and security amid the worst political crisis in the country since the end of the civil war. Brigadier General Francois al-Hajj, head of military operations, was killed in the blast as his car drove past the Baabda municipality outside Beirut, near the vacant presidential palace. He was apparently heading to work at the Defense Ministry in nearby Yarze.

Hajj, 54, was tipped to be the next army chief to succeed incumbent General Michel Suleiman, the man set to be the next president as the politicians bicker over amending the constitution to allow a public servant to assume the post that has been vacant since pro-Syrian Emile Lahoud's term expired on Nov. 23. [More>>metimes.com]
---
12.12.07 Candadian dad kills daughter for refusing hijab
OTTAWA (AFP) December 12 - Friends of a 16-year-old girl who was murdered by her devout Muslim father in Toronto said she was killed for not wearing a hijab. Aqsa Parvez died after she was rushed to hospital with life-threatening injuries on Monday. Emergency crews had responded to call from "a man who indicated that he had just killed his daughter." Her father, Muhammad Parvez, 57, was arrested at the scene and will be formally charged with murder when he appears in court Wednesday, said police. The girl's friends, meanwhile, told local media she was having trouble at home because she did not conform to the family's religious beliefs and refused to wear a traditional Islamic head scarf, or hijab. [More>>alarabiya.net ; See also theglobeandmail, December 12, "Father denied bail in daughter's death."]
---
12.12.07 Britain hit by killer bird flu
December 12 - The most virulent strain of killer avian flu was last night confirmed to have struck one of Britain's biggest poultry producers. Government officials disclosed that the infection, which killed 2,600 birds on a Bernard Matthews plant in Suffolk, was the "highly pathogenic" Asian strain of bird flu. It is one of the biggest outbreaks of H5N1 in Europe and is the first case of the virus in farmed poultry in this country.
The virus, known as H5N1, has killed more than 160 people since 2003, mainly in Asia. But health officials emphasised that there was "negligible" risk to the public. They have set up a six-mile protection zone around the infected farm and processing factory. All 159,000 turkeys are to be slaughtered using argon gas. Up to 60 workers at the farm who came into contact with the poultry are being offered antiviral drugs. Employees were yesterday being treated at an emergency clinic in Halesworth, about one mile from the farm. [More>>timesonline.co.uk]
---
12.12.07 Peru courts sentence Fujimori to six years in jail
LIMA, December 11 - A Peruvian court sentenced former president Alberto Fujimori to six years in prison for abuse of power and ordered him to pay a fine of 400,000 new soles (around 132,000 US dollars) to the state. In this first ever sentence handed down to Fujimori, the court also barred him from standing for any kind of political office for two years. [More>>xinhuanet.com]
---
12.12.07 Despair as villagers battle oil
TAEAN, South Korea, December 12 - Some of the nation's most scenic west coast beaches are on the brink of demise, as the slick and the awful stench from the country's worst-ever oil spill continue to wreak havoc on marine life, and keep vacationers far away. The beauty of Mallipo Beach, popular for its soft white sand and crystal-blue waters, is gone. Instead, thousands of soldiers, policemen, civil servants and volunteers, with shovels and buckets blackened by thick oil sludge, have covered a shore that once teemed with oysters, clams and migrating birds.
Watching them working on the beach, Lee Hee-yul, who runs a beachfront seafood restaurant and serves as Mallipo Beach's headman, is almost at a loss for words."Our means of livelihood were completely shattered. What should be an attractive resort suddenly looks like stinking roads covered with asphalt. There are no black-colored snails or seagulls that we have used as a barometer to determine the quality of the beach water," said the 65-year-old man. [More>>koreaherald.co.kr]
---
12.11.07 Koreas open regular train service
December 11 - A regular freight train service between the two Koreas began yesterday for the first time in 56 years. Government officials here described the event as a significant step towards reconciliation and peace. The railway operation between Seoul of South Korea and Gaeseong in North Korea was suspended on June 12, 1951, during the Korean War (1950-1953). The train service will be devoted to transporting raw materials and goods for the inter-Korean joint industrial park in Gaeseong, North Korea's border town. The first test run was carried out in May this year. [More>>koreaherald.co.kr]
---
12.11.07 Iran Focus-Group says Iran resumed weapon program
December 12 - (The Wall Street Journal) The Iranian opposition group that first exposed Iran's nuclear-fuel program said a US intelligence analysis is correct that Tehran shut down its weaponization program in 2003, but claims that the program was relocated and restarted in 2004. The claim, to be made public today by the National Council for Resistance in Iran, joins a broad pushback by conservative hawks who say the US analysis has wrongly given the impression that Iran's nuclear-fuel program doesn't present an urgent threat. [More>>iranfocus.com ; See related story, indianexpress.com: hosted.ap.org, December 11, "Iran says US Nuclear Report a positive step forward."]
---
12.11.07 Twin car bombs kill 67 in Algiers
ALGIERS (Reuters) December 11 - Sixty-seven people were killed when two car bombs exploded in upscale districts of Algiers on Tuesday, a health ministry source said, in the bloodiest attack since an undeclared civil war in the 1990s. There was no immediate claim of responsibility but commentators said it appeared the work of al-Qaeda's north Africa wing, which claimed a similar bombing in downtown Algiers in April and other blasts east of the capital over the summer that have worried foreign investors in the OPEC member state. [More>>thestar.com.my]
---
12.11.07 Kurdistan vows to fight rise in honor killings
December 11 - Almost 125 women died in the past four months. Kurdish authorities said they have launched a public awareness campaign to address the soaring rate of honor killings in the autonomous Kurdistan region of northern Iraq. In the past four months, 27 Kurdish women were killed for being involved in illicit relationships. This is in addition to the 97 women who tried to commit suicide, Human Rights Minister Yusuf Mohamed Aziz was quoted as saying by the London-based Al-Quds Al-Arabi on Tuesday. Aziz said the Kurdistan government formed a committee to combat various forms of violence against women, honor killings – also referred to as "killings to wash disgrace away" – being the most flagrant. [More>>alarabiya.net]
---
12.11.07 Taliban attacks kill 15 in Afghanistan
KANDAHAR, December 11 - Taliban fighters ambushed a convoy supplying NATO forces in Afghanistan Tuesday and separately blew up a car bomb near an alliance convoy in attacks that killed 15 people, police said. The first convoy, guarded by Afghan police, was attacked west of Kandahar city, said the police chief of Kandahar province. "Police fought with the enemies for three hours. Five policemen were martyred, eight Taliban were killed and three were wounded," General Sayed Aqa Saqib added. The road was blocked for traffic for several hours.

In a separate incident in Kandahar province's Panjwayi area, a suicide attacker blew up a bomb-filled car near a NATO convoy, Saqib said. "There were no casualties or damage to NATO forces but two civilians in the area were killed," he said. [>thenews.com.pk]
---
12.11.07 Indonesia woman dies of bird flu, raising country's death toll to 92
JAKARTA (AP) December 12 - An Indonesian woman has died of bird flu, bringing the death toll in the country worst hit by the virus to 92, a Health Ministry official said Tuesday. The 28-year-old mother died Monday at a bird flu clinic in the capital, said spokesman Joko Suyono. Two laboratory tests confirmed she had the deadly H5N1 strain of the disease, he said.
Indonesia has recorded regular deaths from bird flu since the virus began ravaging poultry stocks across Asia in 2003 and its 92 deaths now account for almost half of the recorded fatalities worldwide, according to figures from the World Health Organization. [>thejakartapost.com]
---
12.10.07 Hands off Christmas, say British religious leaders
LONDON (Reuters) December 10 – Hindus, Sikhs and Muslims joined Britain's equality watchdog on Monday in urging Britons to enjoy Christmas without worrying about offending non-Christians. "It's time to stop being daft about Christmas. It's fine to celebrate and it's fine for Christ to be star of the show," said Trevor Phillips, chairman of the Equality and Human Rights Commission.
"Let's stop being silly about a Christian Christmas," he said, referring to a tendency to play down the traditional celebrations of the birth of Christ for fear of offending minorities in multicultural Britain. Suicide bombings by British Islamists in July 2005 which killed 52 people in London have prompted much soul-searching about religion and integration in Britain, a debate that has been echoed across Europe. 
The threat of radical Islam, highlighted by the London attacks, prompted reflection about Britain's attitude to ethnic minorities and debate about whether closer integration was more important than promoting multiculturalism. Phillips, reflecting on media reports of schools scrapping nativity plays and local councils celebrating "Winterval" instead of Christmas, feared there might an underlying agenda – using "this great holiday to fuel community tension."  So he joined forces with leaders of minority faiths to put out a blunt message to the politically correct – Leave Christmas alone. [More>>thestar.com.my]
---
12.10.07 Veil or die: Basra militants tell Christian Iraqis
DUBAI, December 10 – Students with affiliations to armed militias are harassing their Christian colleagues and giving them the choice to veil or be killed in the southern Iraqi city of Basra, press reports said Sunday. A militia student approached three Christian girls on campus on the first day of the academic year, demanding that they wear the veil, The Sunday Times reported. Zeena, one of the three, said they didn't pay attention to him initially, thinking he was just a conservative student expressing his personal opinion. But the next day, a second man wearing the black outfit of a known Shiite militia in the area, stopped them again.
According to the girls, he said to them aggressively: "We asked you yesterday to wear a hijab, so why are you and your friends not covering your hair?" They were frightened, Zeena said, but told him that they were Christians and were not required to wear the veil. He replied, "Outside this university you are Christian and can do what you want; inside you are not. Next time I want to see you wearing a hijab or I swear to God the three of you will be killed immediately." [More>>alarabiya.net ; See related stories,

thenews.com.pk, December 10, "Assailants kill 40 women for "un-Islamic behavior." and
Maravot News 7.06.07 (article dated 6.28.07), "Persecution of indigenous peoples in Iraq."
---
12.10.07 Egypt uncovers 500 kilograms of explosives in northern Sinai
(AP) December 10 - Egyptian security forces have found 500 kilograms of TNT explosives in the northern Sinai desert believed to be destined for the Gaza Strip, a security official said Monday. "It is thought that Islamic militants buried the explosives, but no militants were in the vicinity when the police, acting on a tip-off, uncovered the cache," said the official, who spoke on the customary condition of anonymity.

The explosives were found stashed in plastic bags and hidden in a warehouse near el-Rodha village, about 100 kilometers to the west of the Egypt-Gaza Strip border, the official said. Egyptian investigators believe that Islamist militants were stashing the explosives, which they planned to smuggle into the Gaza Strip. [More>>haaretz.com]
---
12.10.07 Fifty-one immigrants drown off Turkey: official
ANKARA (AFP) December 10 - Rescuers recovered the bodies of 51 people who drowned after a boat believed to be carrying up to 85 migrants sank at the weekend in the Aegean Sea off western Turkey, a local official said Monday. "We have so far found 51 bodies, among them two women," said Orhan Sefik Guldibi, the top administrative official in Seferihisar, near the city of Izmir.

...The nationalities of the immigrants were not immediately clear, but Guldibi said they believed the majority were Palestinians, Somalis and Iraqis. Footage broadcast on the NTV news channel showed at least 15 bodies laid out on the shore in black bags. Most of the victims had washed up on the shore, the channel added.
Turkey, which is aspiring to join the European Union, has long been a staging post for illegal immigrants from poor Asian and African countries trying to sneak into prosperous Europe. Illegal immigrants are detained on an almost daily basis as they attempt to try to cross to Greece by land, or brave sea journeys to Greece or Italy, often aboard unseaworthy vessels. [Full story>>turkishpress.com]
---
12.10.07 Pakistan suicide blast wounds 5 children
KAMRA, Pakistan (AP) December 10 - A suicide car bomber struck near a bus carrying children of Pakistani air force employees to school at a northern army base Monday, the military said. At least five children were wounded. The bomber sped toward the bus and detonated his explosive yards away from it, said Tariq Hanif, the police chief in Kamra, where the army base is located.
"The bus driver has told us that he tried his best to avoid a crash on seeing the suspected speeding car approaching toward him," Hanif said. Police said the children were all under 12. They were in stable condition, said army spokesman Maj. Gen. Waheed Arshad. The bus driver and a guard were also injured. "This barbaric attack shows how cruel the terrorists are," Arshad said. [More>>indianexpress.com: hosted.ap.org]
---
12.10.07 Baghdad oil refinery ablaze after rocket attack
BAGHDAD (AFP) December 10 - Firefighters were on Monday battling a blaze at a south Baghdad oil refinery sparked by a rocket attack, a statement from the Iraqi government said. "Four rockets hit the benzine pipeline in southern Baghdad's Dora refinery," the government said, adding, "the damage from this terrorist attack is still unclear."
Oil ministry spokesman Asim Jihad said a Katyusha-type rocket is believed to have caused the inferno. "A rocket thought to be of the Katyusha type struck a light fuel tank at the refinery, causing fire and material damage," Jihad told AFP. "There were no casualties." [More>>khaleejtimes.com]
---
12.10.07 Gordon Brown visits Afghanistan as Taleban stronghold falls
December 10 - Gordon Brown paid a surprise pre-Christmas visit to British troops in Afghanistan's Helmand province today as the operation to retake the opium-trading bazaar town of Musa Qala reached its climax. The Prime Minister arrived shortly after 7am at Camp Bastion, the main British base in Helmland around 60 miles from Musa Qala – the frontline where approximately 3,000 British troops were today close to capturing the only sizeable town controlled by Taleban insurgents, and where Afghan troops made a reported breakthrough this morning. [More>>timesonline.co.uk]
---
---
*Visitor statistics on maravot.com from 1&1. com. 46,153 page views in May 2007; 41,657 in Nov. 2007.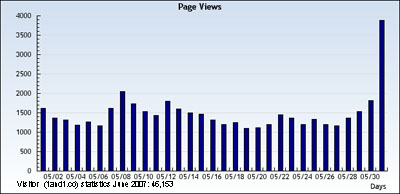 Privacy Policy: We do not store any personal data from you. We have no way of knowing any vital information about you – not even your name. Third-party distribution: We do not distribute information about your site usage to any third party. We are not responsible for the content of links from our site. Usage data: supplied by our Web Hosting service, 1and1.com, which consists of usage reports, such as page views / impressions and web pages visited, visitors' servers and geographical data (ISP's and country of origin).

---
Launched: 10.25.04 / 11.02.04 –
Updated: 12.10.07; 12.11.07; 12.12.07; 12.13.07; 12.14.07; 12.15.07; 12.16.07; 12.17.07; 12.18.07
Copyright © 1981-2008 Maravot. All rights reserved
Copyright © 1981-2008 Mel Copeland. All rights reserved
Background: tile from Cicero's villa (Marcus Tullius Cicero 106 B.C. - 43 B.C.)