Hussain al-Buderi, a member of the Qadisiyah provincial council, said 49 militants from the Sadr group, including four leaders, were arrested since the launch of Operation Lion's Leap. Witnesses said the city of more than one million people was under curfew and US aircraft were dropping leaflets urging locals to cooperate in locating militant hideouts.
Sadr's office in the town of Nafar, south of Diwaniyah, was also raided overnight as part of the crackdown, Mr. Buderi said. Diwaniyah's police chief, Major General Ali Akmoosh, said the assault also led to the dismissal of 70 policemen, including some officers. "They have been dismissed for supporting armed gangs," he said. [More>>news.com.au]
---
11.19.07 Iraq's Kurdistan bans media from PKK bases
BAGHDAD (Reuters) November 19 - Denying charges it has detained several reporters, Iraq's semi-autonomous northern Kurdistan region has banned journalists from traveling to Kurdish rebel bases, officials said on Monday, accusing the media of aggravating the crisis with Turkey.

"We will not allow journalists or the media to send any reporter ... to where the Kurdistan Workers Party (PKK rebels are based), whether on the border or the area of Qandil Mountains," said Kurdistan Regional Government (KRG) spokesman Jamal Abdullah. [More>>alarabiya.net]
---
11.19.07 109 dead in Kurram Agency clashes
KURRAAM AGENCY, November 19 - The death toll of Kurram Agency clashes rose to 109 after four days of violence and 245 injured. The peace jirga members from Hangu said both the factions agreed on cease-fire. According to the sources, both the tribes used automatic weapons and rockets, mortar shells which caused great harm to various houses. At least eight people lost their lives and 18 were injured as mortar shells hit Sadda City. Meantime, four people were killed as the helicopter fired shells in Parachinar and nine were injured. [More>>thenews.com.pk ; See related stories,

thenews.com.pk, November 19, "18 dead in Swat in Security forces action." and
nytimes.com, November 19, "US hopes to use Pakistani tribes against al-Qaeda."}
---
11.19.07 "Killing Fields" court charges Khmer Rouge president
PHNOM PENH (Reuters) November 19 - Cambodia's "Killing Fields" tribunal has charged former Khmer Rouge President Khieu Samphan with crimes against humanity, a spokesman for the court said on Monday. The French-educated guerrilla leader, who has denied knowledge of any atrocities committed by the Pol Pot-led Khmer Rouge during its 1975-79 reign of terror, also stands accused of war crimes, court spokesman Reach Sambath said. 
The tribunal placed Khieu Samphan, who was arrested by rifle-toting Cambodian police earlier on Monday after his release from a Phnom Penh hospital, under provisional detention for one year. His lawyers plan to appeal against the detention. [>thestar.com.my]
---
11.19.07 Suicide bomb kills 6 police, governor's son
KABUL (Reuters) November 19 - A suicide bomber targeting an Afghan provincial governor killed six police bodyguards and the governor's son on Monday, the provincial police chief said. The governor escaped unhurt from the attack, which came as he was on his way to work in the town of Zaranj, next to the Iranian border, in the southwestern Afghan province of Nimruz. Fifteen people were wounded in the attack.
Taliban insurgents have killed more than 200 people in more than 140 suicide attacks this year in a campaign to undermine public confidence in the ability of the Afghan government and its Western backers to provide security. More than six years after US-led and Afghan troops toppled the Taliban for refusing to give up al-Qaeda leaders in the wake of the Sept. 11 attacks, Afghanistan still suffers from daily violence and clashes across much of the south and east. [>khaleejtimes.com]
---
11.19.07 Save the whale. Again
NOVEMBER 19 - The humpback was spared from extinction in 1963, one of the first whales to be protected. Yesterday a fleet set out to start hunting this animal once more. They're the whales that behave like dolphins, leaping right out of the water in one of the most spectacular animal displays on earth. They've enchanted millions. And they're the ones the Japanese are now off to kill. Not content with harpooning minke whales, fin whales, sei whales, Bryde's whales and sperm whales – all unnecessarily, all in the face of hostile world opinion and all in the laughable guise of "scientific research" – the Japanese whaling fleet set off yesterday to hunt the best-loved whale of all, the humpback.
It has been protected for more than 40 years, since long before the current international moratorium on commercial whaling came into force in 1986. It had been hunted so hard in preceding decades that its estimated numbers dropped to little more than a thousand in 1963 – even the whalers agreed to leave it in peace. Since then it has recovered to some extent, and gone on to become the icon of the whale-watching industry in numerous parts of the world. To many people it is the most fascinating and appealing of all the great whale species. [More>>independent.co.uk ; See related story, "japantoday.com, November 19, "Arrest warrant issued for American TV star Panettiere over dolphin clash."]
---
11.19.07 Bangladesh storm toll over 3,000, millions suffer
DHAKA, Bangladesh (Reuters) November 19 - Four days after super cyclone Sidr killed more than 3,000 people in Bangladesh, rescuers struggled on Monday to reach isolated areas along the country's devastated coast and give aid to millions of survivors. "The tragedy unfolds as we walk through one after another devastated village," said relief worker Mohammad Selim in Bagerhat, one of the worst-hit areas. "Often it looks like we are in a valley of death," The confirmed death toll from the cyclone reached 3,113 by Monday, while 3,322 are injured and 1,063 missing, Lieutenant-Colonel Main Ullah Chowdhury told reporters in Dhaka. [More>>khaleejtimes.com ; See also independent.co.uk, November 19, "Cyclone death toll in Bangladesh may top 10,000."]
---
11.19.07 Stocks fall on fresh woes in banking sector
November 19 - Stocks stumbled out of the gate today, led lower by the financial sector, with the Dow Jones industrial average plunging more than 180 points and dropping below 13,000. The retreat started after Citigroup was downgraded to "sell" by a Goldman Sachs analyst, who warned that the company could face an additional $15 billion in write-downs from assets tied to complex debt instruments. The news sent Citi's stock down 5.1 percent in early trading, to $32.26 a share, near a four-year low.
The analyst's report sent ripples through the market, reigniting fears of a credit squeeze as financial giants struggle to dig out from poor bets on securities tied to subprime home loans. Shares of all the top brokerage firms were down, keeping pace with a 17.6 percent plunge for financial companies for the year. [More>>nytimes.com ; See related story, aljazeera.net, November 19, "Opec urged to end use of dollar."]
Editorial note: The subprime crisis is related to the Federal Reserve Prime Rate increases which resulted in home loan variable refinance rate increases to such an extent that many homeowners and businesses have not been able to make their higher mortgages and have gone into default. The subsequent consequences have produced a greater lack of confidence in the economy and this, combined with the extraordinary increases in the price of oil, have produced further economic declines. Ultimately the interest rate increases can be traced to the unconscionable US debt of $9 trillion which is financed through the sales of US Bonds. To sell the bonds the US Treasury sometimes has to increase interest on the bonds. Also related is the interest accrued on the National Debt, since interest on the National Debt exceeds $1billion per day and is "paid off" through the sales of more bonds - adding to the sum of the National Debt. In simple terms the George W. Bush administration, like the Reagan-Bush administrations before him, has run the government using a "credit card" mentality, charging the costs of its excesses "to the future." Through these irresponsible spend and barrow administrations the US economy has been undermined to the extent that world leaders have lost confidence in the dollar. This presents a dilemma, for as confidence in the dollar declines there is an affect upon the bond market that finances the US debt. To attract buyers to the bond market, which is traded in US dollars, the Federal Reserve would have to increase interest rates, again. In truth, the "Deficit Spending" process spawned under Reagan (in his time the process was called "Reaganomics") and perfected by George W. Bush has an immediate affect as well as future affects. The consequences, undermining the economy and security of the US, were both immediate and future, and the cause may be regarded by the future as "criminal."

Mel Copeland
---
11.17.07 The dollar's decline: from symbol of hegemony to shunned currency
November 17 - The decline of the dollar, symbol of US global hegemony for the best part of a century, may have become so entrenched that some experts now fear it is irreversible. After months of huge and sustained turmoil on the money markets, lack of confidence in the world's totemic currency has become so widespread that an increasing number of international traders are transferring their wealth to stronger currencies such as the euro, which recently hit its highest level against the dollar.
"An American businessman over here who is given the choice would take anything but the dollar," David Buik of Cantor Index said yesterday. "I would want to be paid in yen, and if not yen then the euro or sterling." Matthew Osborne, of Armstrong International, added: "The majority would say sterling. There are a few dealers in the City who may take the view that they'll take dollars now, while they're cheap, and hold on to them for 12 months. [More>>independent.co.uk]

Editorial note: The decline in the dollar affects the US ability to finance its National Debt, which is now approaching $9 trillion, since the value of US Treasury Bonds declines with the decline of the dollar. To compensate for the decline, in order to make US bonds more attractive, the Federal Reserve would have to increase interest rates.
---
11.17.07 Gaeseong gets cell phones, internet
November 17 - The two Koreas yesterday agreed to launch internet and phone services at a joint industrial park in Gaeseong next year, and to launch a committee next month to push for a peace zone in the disputed West Sea. A cross-border railway linking to Gaeseong will begin regular freight operations from Dec. 11. South Korea will also begin helping North Korea modernize their outdated railways and highways, and construct shipyards in North Korea's Anbyeon area from next year.
These are part of accords reached at the three-day prime ministers' talks held in Seoul, the first such meeting since 1992. Prime Minister Han Duck-soo and North Korea's Kim Yong-il signed the lengthy Joint Agreement, comprising a total of 49 clauses in eight articles. They also sealed two separate agreements on establishing committees to create a peace zone and expand economic cooperation. [More>>koreaherald.co.kr]
---
11.17.07 Musharraf shuts down Geo TV
ISLAMABAD, November 17 - Geo News, Pakistan's premier Urdu news channel, also seen round the world as the main source of news and current affairs, was shut down at 1 a.m. Pakistan time (12 midnight Dubai time) after President Pervez Musharraf put tremendous pressure to silence a media outlet which had refused to bow down to his dictates.

Sources said President Pervez Musharraf himself intervened to stop all Geo News transmissions from Dubai, after a two-week standoff in Pakistan during which all major news channels were shut down by cable operators, who are directly controlled by the Pakistani authorities. The closure of the Geo News was universally condemned by almost every political party and member of the civil society minutes before the anchors, almost in tears, signed off. [More>>thenews.com.pk ; See related story, khaleejtimes.com, November 17, "59 killed in violence in north-west Pakistan."]
---
11.17.07 US incapable of attacking Iran: Ahmadinejad
DUBAI (AFP) November 17 - Iranian President Mahmoud Ahmadinejad has said that the United States is incapable of launching a military strike against Iran but would "regret" an attack if it carried one out. "America is today incapable of staging a military strike against Iran for several reasons," Ahmadinejad told Dubai-based Al-Arabiya news channel in an interview aired Friday evening, according to an Arabic voice-over of his remarks in Farsi. The ground is not prepared for a strike in economic, political or military terms, he said. [More>>alarabiya.net]
---
11.17.07 2 soldiers, 33 rebels killed in Afghanistan
KABUL (AFP) November 17 - Two NATO soldiers and their interpreter were killed when their vehicle was blown up in Afghanistan Saturday while officials reported that 33 Taleban-linked rebels died in new operations. The two International Security Assistance Force soldiers died with their interpreter when their vehicle struck a bomb in the south, ISAF said.
Another three soldiers were wounded in the blast caused by what the military calls an 'improvised explosive device'—homemade bombs that are among the main threats to security forces here. The 37-nation ISAF usually does not release the nationalities of its casualties or the provinces where troops are killed. Most of its soldiers in the south are British, Dutch and Canadian. [More>>khaleejtimes.com ; See related story, metimes.com, November 17, "British kill car bomb driver."]
---
11.17.07 Dead children found in Sunni mass grave
BAGHDAD (Reuters) November 18 - The bodies of at least 30 people, including women and children, have been found in a mainly Sunni Arab area of Baghdad, police and government officials said. An "Awakening Council" of local leaders, which oversees neighbourhood policing, discovered at least 30 decomposing bodies in the Hay Asia area of Doura in southern Baghdad, an Interior Ministry official said. The notoriously violent neighbourhood of Doura has been a stronghold of Sunni Islamist al-Qaeda militants. The bodies were moved to a mosque and then taken to a police station, the official said. [More>>news.com.au]
---
11.17.07 Update; 11.16.07 Hubble zooms in on heart of mystery comet
November 16 - About this image: NASA's Hubble Space Telescope has probed the bright core of Co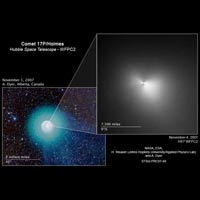 met 17P/Holmes, which, to the delight of sky watchers, mysteriously brightened by nearly a millionfold in a 24-hour period beginning Oct. 23, 2007. Astronomers used Hubble's powerful resolution to study Comet Holmes' core for clues about how the comet brightened. The orbiting observatory's Wide Field Planetary Camera 2 (WFPC2) monitored the comet for several days, snapping images on Oct. 29, Oct. 31, and Nov. 4. Hubble's crisp "eye" can see objects as small as 33 miles (54 kilometers) across, providing the sharpest view yet of the source of the spectacular brightening.
The Hubble image at right, taken Nov. 4, shows the heart of the comet. The central portion of the image has been specially processed to highlight variations in the dust distribution near the nucleus. About twice as much dust lies along the east-west direction (the horizontal direction) as along the north-south direction (the vertical direction), giving the comet a "bow tie" appearance.
The composite color image at left, taken Nov. 1 by an amateur astronomer, shows the complex structure of the entire coma, consisting of concentric shells of dust and a faint tail emanating from the comet's right side. The nucleus-the small solid body that is the ultimate source of all the comet's activity- is still swaddled in bright dust, even 12 days after the spectacular outburst. "Most of what Hubble sees is sunlight scattered from microscopic particles," explained Hal Weaver of The Johns Hopkins University Applied Physics Laboratory in Laurel, Md., who led the Hubble investigation. "But we may finally be starting to detect the emergence of the nucleus itself in this final Hubble image." [More>>hubblesite.org; November 17 Update: The closest approach of the comet to the sun is about the same distance from the sun as Mars; to see an animated orbit of 17P/Holmes go to shadowandsubstance.com]
---
11.16.07 Raid tied to kidnap of US troops in Iraq
BAGHDAD (AP) November 16 - US helicopters dropped 600 troops into two villages south of Baghdad before sunrise Friday, launching an assault on militants believed to be involved in the May kidnapping of three American soldiers, the military said. The raids took place around 4am in the villages of Owesap and Betra, about 12 miles south of the Iraqi capital. "These are areas where we believe al-Qaeda was staging attacks, and we also believe they have ties to the May 12th attack," said Maj. Alayne Conway, spokeswoman for the Army's 3rd Infantry Division.
Three US soldiers were kidnapped after their patrol was ambushed May 12 near Mahmoudiya, also south of Baghdad. Four other Americans and an Iraqi interpreter were killed in the attack, and an al-Qaeda-linked group claimed responsibility. Two soldiers remain missing, and the body of the third was found in the Euphrates River nearly two weeks later. [More>>indianexpress.com:
hosted.ap.org
]
---
11.16.07 War bills from both parties fail in Senate
WASHINGTON, November 16 - Senate Republicans today easily blocked an effort by Democrats to act on a war spending bill that would have provided $50 billion for operations in Iraq and Afghanistan, but would have required that troop withdrawals from Iraq begin within 30 days. The bill had numerous other strings attached a well, including a goal of completing re-deployment from Iraq by mid-December 2008 and a narrowing of the Iraq mission to focus on counter-terrorism and training of Iraqi security forces. [More>>nytimes.com]
---
11.15.07 US military says kills 25 insurgents in Iraq
BAGHDAD (Reuters) November 15 - US forces backed by aircraft killed 25 suspected insurgents in operations targeting al-Qaeda near the Iraqi capital Baghdad, the US military said on Thursday. In a statement, the military said the suspected insurgents were killed during operations late on Tuesday and early on Wednesday west of Tarmiya. It said 21 suspects were detained.
The statement said US forces called in aircraft to attack armed men seen acting with "hostile intent" in the area of the operation. One gunman was killed. Ground forces then moved further into the area, where they came under fire. Troops again called in aircraft, killing 24 suspected insurgents. Troops found a weapons cache that included numerous anti-aircraft guns, surface-to-surface missiles, rifles, pistols, grenades, mortar rounds and artillery shells, the statement added. [More>>
khaleejtimes.com
]
---
11.15.07 Iraq to blacklist firms which signed oil deals with Kurds
RIYADH (AFP) - November 15 - Iraq warned on Thursday that foreign oil companies which signed deals with the autonomous Kurdish regional government will be barred from doing business in the country and from exporting oil. "Any company that has signed contracts without the approval of the federal authority of Iraq will not have any chance of working with the government of Iraq," Oil Minister Hussein Shahristani said. "We warned the companies that there will be consequences... that Iraq will not allow its oil to be exported," Shahristani told reporters on the sidelines of OPEC meetings in the Saudi capital Riyadh.
Last week, the Kurdish authorities signed seven production-sharing contracts with a number of foreign oil companies in defiance of the Iraqi central government and before approving a controversial federal oil law..."Our position is that any company that signs a contract without the approval of the federal authority will compromise their chances of getting business in future in Iraq," he said. The Iraqi hydrocarbons law is stalled before parliament due to bitter differences between warring political factions over the sharing of lucrative revenues from the crude, the third-largest proven reserves in the world.
[Full story>>metimes.com]
---
11.15.07 41 militants killed in two days of fighting in Swat
SWAT, Pakistan, November 15 - Army helicopters and artillery struck pro-Taliban militants in the mountains of northern Pakistan on Thursday, killing at least 41 militants, the military said. At least 33 militants died Wednesday in a series of assaults in Swat, a valley about 160 kilometers (100 miles) northwest of the capital, Islamabad, the army said. Army spokesman Maj. Gen. Waheed Arshad had no confirmation of local media reports that about 60 people, including civilians, died in the army raids.

On Thursday, army helicopters hit near the towns of Kabal and Kuza Bande, and the military said it intercepted militant communications that indicated eight rebels were killed. Two army soldiers were killed in a bomb attack on a military convoy Wednesday, according to the police in the area. However, the army said only that eight soldiers were wounded. Troops were also trying to clear a road passing through Alpurai, a town that had reportedly been the militants' hotbed.

Troops fired artillery and mortars against militants in a mountain gorge near Alpurai and militants were fleeing the town, the army said. Militants on Wednesday fired six mortar rounds at the airport near Mingora, killing two troops and injuring five more, the army said. [>thenews.com.pk]
---
11.15.07 Batasan blast: Raid in Payatas kills 3 'Abus,' 3 others
November 15 - Three suspected Abu Sayyaf bandits were killed while a member of the elite Special Action Force (SAF) police unit was wounded in an encounter in the Payatas area, a few kilometers away from the Batasan Pambansa complex in Quezon City. Chief Superintendent Leocadio Santiago Jr, head of the SAF, said in a text message that he "confirms the death of three Abu Sayyaf members and the wounding of one SAF personnel in an encounter in Payatas."

Lieutenant Col. Ernesto Torres, Army spokesman, said a "raid" was launched by the SAF, the police's Criminal Investigation and Detection Group (CIDG) and the Army's Intelligence Service Group on "a suspected Abu Sayyaf safe house." Three suspects were also arrested in the 4 p.m. encounter, said Senior Superintendent Rhodel Sermonia, public information officer of the National Capital Region Police Office (NCRPO). [More>>gmanews.tv]
---
11.15.07 Doomsday cult start cave sit-in
MOSCOW, November 16 - At least 30 members of a Russian doomsday cult have barricaded themselves in a remote cave to await the end of the world and are threatening to commit suicide if police intervene, officials and media said today. "They have covered the entrance and refuse to come out and are threatening to blow themselves up," an official in the local prosecutor's office told Reuters by telephone. "They threaten to detonate a gas tank and blow themselves up."
The cult members, who include 29 adults and four children, are hidden inside a snow-covered hillside in the Penza region of central Russia. A Penza police spokeswoman said they had moved into the dug-out on Nov. 7. "No one wants to take on the responsibility of provoking them ... because our information is that there are children among them," said the official. They are thought to have taken food and fuel supplies in with them and Russian television pictures from the scene showed smoke or steam coming out of a hole in the snow-covered ravine where it was built. [More>>news.com.au]
---
11.14.07 MP's seek to block Jerusalem deal
November 14 - Israel's parliament has given initial approval to draft legislation making it harder to change Jerusalem's status in any peace deal with the Palestinians. The proposed bill would require a two-thirds majority in the Knesset for any amendments to a law claiming all of the city as Israeli territory. The new legislation still has to pass three more votes in parliament before it can become law. Israel's annexation of east Jerusalem in 1967 has not been recognized abroad. [More>>bbc.co.uk]

Editorial note: Most people don't seem to know that Jerusalem legally belongs to the United Nations, at last check. It was part of a territory set up by the United Nations when it created Israel. There is no evidence that that territory, the Corpus Separatum of Jerusalem, has been surrendered by the UN. The document and other agreements relating to the creation of Israel are in Philistia Triumph thou because of me,"

Mel Copeland
---
11.14.07 Navigator falls from RAF Tornado fighter
November 14 - A navigator who fell from an RAF Tornado fighter plane during a test flight has been found dead in a field. The Ministry of Defence (MoD) said the man left the aircraft during an "inverted roll" over Norfolk at about 4pm on Wednesday..."We cannot speculate on the cause. It's being investigated by the board of inquiry." [Full story>>news.sky.com]
---
11.14.07 Pakistani army attacks militants; up to 10 dead
ISLAMABAD (Reuters) November 14 - Pakistani troops backed by helicopter gunships killed up to 10 militants on Wednesday in a northwestern tourist region where pro-Taleban rebels have been infiltrating and expanding their influence. More than 200 people have been killed in recent weeks in clashes between the security forces and followers of an Islamist cleric, Mullah Fazlullah, in the Swat valley in North West Frontier Province (NWFP).
The army attacked militant positions in a village with helicopters and artillery, killing up to five militants, the military said in a statement. In a separate attack, security forces killed up to five militants in another area, which intelligence officials and police said had been largely captured by the militants. Residents of the area said heavy fighting had broken out near the town of Alpuri which police official Danishwar Khan said the militants had occupied. [More>>khaleejtimes.com]
---
11.14.07 Iraq government shuts down HQ of Sunni group
BAGHDAD, November 14 - Iraqi government soldiers shut down the Baghdad headquarters of one of the most powerful Sunni Muslim groups in Iraq on Wednesday cordoning off the building and accusing the group of supporting al-Qaeda, officials said. Soldiers moved into the Um al-Qura mosque in a Sunni district of western Baghdad where the Committee of Muslim Scholars is based and ordered the occupants out, according to a statement on the group's website.

The committee, which is said to be close to the anti-US insurgency in Iraq, is headed by cleric Harith al-Dhari, one of the most important Sunni Muslim religious figures in Iraq who currently lives in exile in Jordan. The association has long opposed the U.S. military presence in Iraq and has often been at odds with the Shiite-backed government. [More>>alarabiya.net]
---
11.14.07 Iran's former nuclear negotiator charged with 'spying for Britain'
November 14 - Iran has embroiled Britain in an escalating domestic row over the country's nuclear policy by charging Tehran's former senior nuclear negotiator, Hossein Mousavian, with passing classified information to the British Embassy.
"He has been informed of the charges that he has given the British Embassy information contrary to the security of the country," Gholam Hossein Ejehi, Iran's hardline Intelligence Minister, was quoted as saying by the country's official news agency. It did not say when Mr. Mousavian would be put on trial.
By involving the British Embassy in the row, supporters of Mahmoud Ahmadinejad, the firebrand President, appear to be attempting to embarrass Mr. Mousavian's supporters. He was Iran's top nuclear negotiator under Iran's reformist former President, Mohammad Khatami, and spent ten days in jail in May on unspecified charges of espionage before being released on bail. [More>>timesonline.co.uk]
---
11.14.07 F.B.I. says guards killed 14 Iraqis without cause
WASHINGTON, November 14 - Federal agents investigating the Sept. 16 episode in which Blackwater security personnel shot and killed 17 Iraqi civilians have found that at least 14 of the shootings were unjustified and violated deadly-force rules in effect for security contractors in Iraq, according to civilian and military officials briefed on the case. The F.B.I. investigation into the shootings in Baghdad is still under way, but the findings, which indicate that the company's employees recklessly used lethal force, are already under review by the Justice Department. [More>>nytimes.com]
---
11.13.07 US, Iraqi forces kill 15 gunmen big battle
BAGHDAD (Reuters) November 13 - US and Iraqi forces killed an estimated 15 Al Qaeda gunmen during a fierce battle south of Baghdad after the militants launched a major attack on recently formed neighbourhood patrols, the US military said on Tuesday. In a statement, the military said up to 45 Al Qaeda fighters assaulted two checkpoints operated by local security guards on Monday using a mix of small arms and heavy-calibre machine-guns mounted on trucks, sparking a day-long fight.
At one stage, American F-16 warplanes dropped two 500 lb. bombs on routes used by the gunmen to attack the checkpoints in the town of Adwaniya, 20 km (12 miles) southeast of Baghdad near the Tigris River. The area has long been a haven for Al Qaeda in Iraq, which is blamed for most suicide bomb attacks in Iraq. The Al Qaeda raid marked one of the biggest attacks on neighbourhood patrols since a programme to increase their numbers picked up steam in and around Baghdad a few months ago. [More>>khaleejtimes.com]
---
11.13.07 Egypt finds 60 Gaza tunnels in 10 months
(AP) November 13 - Egypt has uncovered 60 tunnels along its borders with the Gaza Strip and seized about 20,000 tons of explosives in the Sinai Peninsula over the past 10 months, said an Egyptian security report obtained by The Associated Press on Tuesday. The report, which provides details about tunnels, weapons smuggling and arrests of would-be suicide bombers, aims at countering Israeli accusations that Egypt is not doing enough to stop Palestinian smugglers, an Egyptian security official said.
...The report describes each tunnel in detail, listing its depth, width, distance from the border and the names of the owners of the land where it was uncovered. Several tunnel entrances were dug inside private houses on Egypt's side of the border, the report says. Besides 20,000 tons of TNT explosives, Egyptian authorities recovered some mines, detonators, hand-grenades and ammunition, along with other goods smuggled into the increasingly isolated Gaza Strip such as cigarettes, car spare-parts, and medicine. [Full story>>jpost.com]
---
11.13.07 Rep. Wahab Akbar, 2 others killed in Philippines - Batasan bomb blast
November 14 - A bomb explosion at an entrance of the House of Representatives in Quezon City on Tuesday evening killed three people, including Basilan Rep. Wahab Akbar, and injured at least seven others. The National Police and the Armed Forces immediately went on full alert.

President Gloria Macapagal Arroyo ordered Director General Avelino Razon, National Police chief, to personally lead the investigation of the explosion. The President said Razon should "submit periodic reports as warranted." [More>>gmanews.tv]
---
11.13.07 Benazir urges Musharraf to quit as president
LAHORE, November 13 - Pakistan People's Party (PPP) Chairperson Benazir Bhutto called on President Pervez Musharraf to quit Tuesday in her most direct challenge yet to his rule, vowing never to serve under him in government. Holed up under house arrest with close aides in Lahore as more than 1,000 police manned barbed wire barricades outside, she urged the world to abandon the president.

"It is over with Musharraf," she said while talking to French news agency in an interview from inside the residence where she has been detained to stop her leading a mass procession against emergency rule. "General Musharraf must quit. He must quit as president and as chief of army staff. I call on the international community to stop backing him - to stop backing the man whose dictatorship threatens to engulf this nuclear-armed state in chaos."

"I would not serve as prime minister under a man who has repeatedly broken his promises, who is a dictator." Bhutto said. "Look what he is giving to the nation - imposing an emergency, suspending the constitution and cracking down on democratic forces. We gave him a roadmap for a peaceful transition but he has flouted that." [>thenews.com.pk]
---
11.12.07 Khmer Rouge ex-foreign minister arrested
PHNOM PENH, Cambodia (AP) November 12 - The ex-foreign minister of the Khmer Rouge regime and his wife were arrested Monday on charges of crimes against humanity, the latest figures from the 1970s government to await trial before Cambodia's UN-backed genocide tribunal. Police detained Ieng Sary and his wife, Ieng Thirith, at their residence at dawn. Officers later brought them to tribunal offices, where they were to make an initial appearance before the judges later in the day, said tribunal spokesman Reach Sambath.
"Today Ieng Sary and Ieng Thirith have been arrested in execution of an arrest warrant, delivered by the co-investigating judges, for crimes against humanity and war crimes as regards Ieng Sary and for crimes against humanity concerning Ieng Thirith," a tribunal statement said. The radical policies of the communist Khmer Rouge, who held power in 1975-79, are widely blamed for the deaths of some 1.7 million people from starvation, disease, overwork and execution. None of the group's leaders has faced trial yet. [More>>indianexpress.com:
hosted.ap.org
]
---
11.12.07 Four dead, as gunships fire at militants in Swat
PESHAWAR, Paksistan, November 12 - Pakistani helicopter gunships pounded militant positions in Swat valley on Monday for the first time since a state of emergency was declared, killing four men and injuring eight others, officials said. The choppers fired on rebel bunkers and [a] check post in the scenic Swat Valley in areas including Bamakhela and Matta, a hospital and a rebel spokesman said. [More>>thenews.com.pk]
---
11.12.07 Russia launches operation to contain oil spill in Black Sea
MOSCOW (Ria Novosti) November 12 - Russia's emergencies ministry announced on Monday the launch of a major operation in a Black Sea strait to contain an oil spill after an oil tanker sank in a storm. An oil tanker with 4,000 metric tons of fuel oil on board and three dry freighters containing sulfur went down on Sunday in the Kerch Strait, which links the Black Sea to the much smaller Sea of Azov. The bodies of three sailors have been found, and at least eight others are still missing, according to the ministry.
"Three teams have started an operation to contain the oil spill caused by the sinking of the Volgoneft-139," Emergency Situations Ministry Spokesman Viktor Beltsov said.
When the oil tanker split in two, about 2,000 metric tons of fuel oil and about 6,800 tons of sulfur spilled into the sea, in one of Russia's worst environmental disasters in recent years. Oleg Mitvol, deputy head of Russia's environmental regulator, said the sinking of the ships in the Kerch Strait was "a very serious environmental disaster," and it would take more than a month to clear up the resulting environmental pollution.
Thousands of dead birds have since washed up along the shore of Russia's southern Krasnodar Territory near the site of the oil spill, a spokesman for the local administration said on Monday. "According to the latest information, about 30,000 birds have died and about the same number are covered in oil. In other words, it is very likely they will die too," he said. [More>>rian.ru]
---
11.12.07 Criminal probe in San Francisco oil spill
SAN FRANCISCO, November 12 - Federal investigators began a criminal investigation into San Francisco Bay's worst oil spill in nearly two decades by questioning crew members of a container ship that struck the Bay Bridge, ripping a gash in its fuel tank. Crew members of the Cosco Busan will be allowed to leave after federal investigators complete interviews that started Sunday, said Capt. William Uberti, the US Coast Guard commander for the bay region.

Uberti said he notified the US attorney's office Saturday about problems involving management and communication between the officers on the ship's bridge at the time of the crash. He declined to elaborate, except to say: "It was just the way that everybody interacted" on the bridge...The ship struck the bridge early Wednesday, causing no structural damage to the span but leaking some 58,000 gallons of fuel oil into the bay. The thick, toxic fuel has fouled miles of coastline, forced the closure of nearly two dozen beaches and piers and killed dozens of seabirds.

Some of the oiled birds have been brought into rescue centers coated in the toxic sludge, reports Blackstone. A careful bath in dish detergent can clean up much of the oil, but many of the birds still won't survive. [Full story>>cbsnews.com]
---
11.12.07 Bird flu outbreak confirmed in Norfolk, England
November 12 - The Government today announced a new case of bird flu in turkeys on a farm in Norfolk, where birds had tested positive for the H5 strain of the disease. It was not yet known, however, whether it is the highly-pathogenic H5NI strain, which has killed more than 200 people worldwide.
The Department for Environment, Food and Rural Affairs (Defra) said a 3 km (2 mile) protection zone had been set up around a farm in Diss, on the Norfolk-Suffolk border, and all birds on the premises would be slaughtered. A Defra spokeswoman said that there were 5,000 turkeys on the farm, plus 500 geese and 1,000 ducks. "The virus has only been found in turkeys, but other birds on the premises will be slaughtered too," she said. [More>>timesonline.co.uk]