News Headlines & Trends
---

12.02.07 US says it has right to kidnap British citizens
December 2 - America has told Britain that it can "kidnap" British citizens if they are wanted for crimes in the United States. A senior lawyer for the American government has told the Court of Appeal in London that kidnapping foreign citizens is permissible under American law because the US Supreme Court has sanctioned it.
The admission will alarm the British business community after the case of the so-called NatWest Three, bankers who were extradited to America on fraud charges. More than a dozen other British executives, including senior managers at British Airways and BAE Systems, are under investigation by the US authorities and could face criminal charges in America. Until now it was commonly assumed that US law permitted kidnapping only in the "extraordinary rendition" of terrorist suspects.

The American government has for the first time made it clear in a British court that the law applies to anyone, British or otherwise, suspected of a crime by Washington. Legal experts confirmed this weekend that America viewed extradition as just one way of getting foreign suspects back to face trial. Rendition, or kidnapping, dates back to 19th-century bounty hunting and Washington believes it is still legitimate. [More>>timesonline.co.uk]
---
12.02.07 20 die as gunmen descend on village
BAGHDAD, December 2 - Dozens of gunmen overran a Shiite village north of Baghdad on Saturday, killing at least 20 people, police said, the latest in a recent spike in attacks in Diyala province, where the U.S. military is rotating some troops out and moving others in. [More>>washingtonpost.com]
---
12.02.07 Afhan, NATO forces kill 40 Taleban fighters
KABUL, December 2 - Afghan and NATO-led troops killed 40 suspected Taleban militants in separate clashes in the southern province of Kandahar, while a bomber was the only casualty in a suicide attack against foreign forces in the same province, Afghan police said Sunday. [More>>khaleejtimes.com ; See also:

thenews.com.pk : ...Around 6,000 people have been killed since January, according to a count based on official reports. Most of them have been rebel fighters, who are said to get reinforcements from training camps across the border in Pakistan.

thenews.com.pk, December 2, "Six killed in action after attack on Miranshah security post."
---
12.02.07 Chinese-made missiles smuggled into Saudi
RIYADH, Saudi Arabia (AP) December 2 - A Saudi Arabian newspaper said Sunday that suspected al-Qaeda terrorists were allegedly able to smuggle eight Chinese-made missiles into the kingdom before they were arrested as part of a terror sweep. The daily Okaz, which is deemed close to the government, quoting unnamed officials as saying militants wanted to use the missiles to allegedly target hotels and other buildings in the kingdom. The newspaper did not further describe the missiles.
The Saudi Interior Ministry last week announced that it made its largest terror sweep to date, arresting 208 al-Qaeda-linked militants in six separate arrests in recent months. One of the alleged terror cells was led by a non-Saudi missile expert, the ministry said. [More>>khaleejtimes.com]
---
12.01.07 Abbas repeats rejection of 'Jewish state' demand
CAIRO (AP) December 1 - Palestinian Authority President Mahmoud Abbas on Saturday reiterated his rejection of Israel's demand to recognize it as a Jewish state. "From a historical perspective, there are two states: Israel and Palestine. In Israel, there are Jews and others living there. This we are willing to recognize, nothing else," Abbas told reporters in Saudi Arabia. [More>>jpost.com; See related story,

jpost.com, December 1, "Syria: Summit 'defeat' for Palestinians" : A Syrian state-run newspaper on Saturday described this week's US-sponsored Mideast peace conference as a "defeat" for the Palestinians and for peace in the region. In a surprise move lauded by participants at the time, Syria took part in the conference in Annapolis last week where Israel and the Palestinians announced that peace talks would resume after a violent seven-year freeze and agreed to try and reach an agreement by the end of 2008.
"The US administration has the right to consider the Annapolis meeting a brilliant victory, but not for the Palestinian people ... only for Israel," said the front page editorial in the Tishrin daily.
"While the Bush administration and Israel may consider what happened and what could happen to destroy the Palestinian cause a victory, we consider it a defeat for a just and comprehensive peace," Tishrin said. That peace, it added, can only be achieved by ending Israel's occupation of Palestinian territories. The newspaper, which reflects government views, criticized US President George W. Bush's statement at the opening session of the Annapolis meeting in which he referred to Israel as a "Jewish state," calling it a "consecration of Israeli racism."

---
Editorial note: The documents behind the formation of the state of Israel provided for a "Jewish" homeland. They provided for the separation of Palestine into two states and the Corpus Separatum of Jerusalem. Jerusalem would be sovereign to, and administered by, the United Nations. People in the two states (i.e., Palestinian and Jewish) would apply for citizenship in one of the two states. The terms of these agreements perhaps need to renegotiated in the United Nations.

The Balfour Declaration of November 2,1917 said: "I have much pleasure in conveying to you, on behalf of His Majesty's Government, the following declaration of sympathy with Jewish Zionist aspirations which has been submitted to and approved by the Cabinet: -

His Majesty's Government view with favor the establishment in Palestine of a national home for the Jewish people, and will use their best endeavors to facilitate the achievement of this object, it being clearly understood that nothing shall be done which may prejudice the civil and religious rights of existing nonJewish communities in Palestine, or the rights and political status enjoyed by Jews in any other country. I should be grateful if you would bring this declaration to the knowledge of the Zionist Federation."

US Congress endorsement of the Balfour Declaration: "Public Resolution No. 73, 67th Congress, Second Session," September 21, 1922: "Resolved by the Senate and the House of Representatives of the United States of America in Congress Assembled. That the United States of America favors the establishment in Palestine of a national home for the Jewish people, it being clearly understood that nothing shall be done which may prejudice the civil and religious rights of Christian and all other non-Jewish communities in Palestine, and that the Holy places and religious buildings and sites in Palestine shall be adequately protected."

The Partition of Palestine: Resolution of the United Nations General Assembly, November 29, 1947 (excerpts): At the 128th plenary meeting of the General Assembly on 29 November 1947, the General Assembly considered the report of the ad hoc Committee and adopted the resolution of the future government of Palestine..

Part I Future Constitution and Government of Palestine:
B.3."On its arrival in Palestine the Commission shall proceed to carry out measures for the establishment of the frontiers of the Arab and Jewish States and the City of Jerusalem in accordance with the general lines of the recommendations of the General Assembly on the partition of Palestine. Nevertheless, the boundaries as described in Part II of this plan are to be modified in such a way that village areas as a rule will not be divided by state boundaries unless pressing reasons make that necessary."
C. Declaration: A declaration shall be made to the United Nations by the provisional government of each proposed State before independence. It shall contain inter alia the following clauses: General Provision The stipulations contained in the declaration are recognized as fundamental laws of the State and no law, regulation or official action shall conflict or interfere with these stipulations, nor shall any law, regulation or official action prevail over them.
Chapter 1 Holy Places, religious buildings and sites, 1. Existing rights in respect of Holy Places and religious buildings or sites shall not be denied or impaired..
Chapter 2, Religious and minority rights 1. No discrimination of any kind shall be made between the inhabitants on the ground of race, religion, language or sex.
Chapter 3, Citizenship, international conventions and financial obligations 1. Citizenship. Palestinian citizens residing in Palestine outside the City of Jerusalem, as well as Arabs and Jews, who, not holding Palestinian citizenship, reside in Palestine outside the City of Jerusalem shall, upon the recognition of independence, become citizens of the State in which they are resident and enjoy full civil and political rights.

Part III, City of Jerusalem A. Special Regime the City of Jerusalem shall be established as a corpus separtum under a special international regime and shall be administered by the United Nations. The Trusteeship Council shall be designated to discharge the responsibilities of the Administering Authority on behalf of the United Nations.

Laws of the State of Israel, Declaration of Independence, May 14, 1948

1.1 Eretz-Israel was the birthplace of the Jewish people. Here their spiritual, religion was shaped. Here they first attained to statehood, created cultural values of national and universal significance and gave to the world the eternal Book of Books.
1.8 On the 29th November, 1947, the United Nations General Assembly passed a resolution calling for the establishment of a Jewish State in Eretz-Israel; the General Assembly required the inhabitants of Eretz-Israel to take such steps as were necessary on their part for the implementation of that resolution. This recognition by the United Nations of the right of the Jewish people to establish their State is irrevocable.
1.10 This right is the natural right of the Jewish people to be masters of their own fate, like other nations, in their own sovereign State.
1.13 The State of Israel will be open for Jewish immigration and for the ingathering of the Exiles; it will foster the development of the country for the benefit of all inhabitants; it will be based on freedom, justice and peace as envisaged by the prophets of Israel; it will ensure complete equality of social and political rights to all its inhabitants irrespective of religion, race or sex; it will guarantee freedom of religion, conscience, language, education and culture; it will safeguard the Holy Places of all religions; and it will be faithful to the principles of the Charter of the United Nations.
1.14 The State of Israel is prepared to cooperate with the agencies and representative of the United Nations in implementing the resolution of the General Assembly of the 29th November, 1947, and will take steps to bring about the economic union of the whole of Eretz-Israel.
1.15 We appeal to the United Nations to assist the Jewish people in the building up of its State and to receive the State of Israel into the community of nations.
We appeal--in the very midst of the onslaught launched against us now for months – to Arab inhabitants of the State of Israel to preserve peace and participate in the upbuilding of the State on the basis of full and equal citizenship and due representation in all its provisional and permanent institutions.

The vision of a homeland for the Jews ultimately comes from the Bible and other Jewish teachings. The Koran repeatedly represents that it was recited to confirm that the Jewish scriptures are true. A document that confirms the truth of another cannot take exception to that which it confirms. In this light we note that Isaiah 62.4 which relates to the restoration of the Jews to their homeland, says: "Thou shalt no more be termed Forsaken; neither shall thy land any more be termed Desolate: but thou shalt be called Hephzibah and thy land Beulah ("married"): for the LORD delighteth in thee, and thy land shall be married." The Biblical conditions may have the best solution, which should be agreeable to all parties. Abbas may be moving in the right direction. The international and Biblical covenants are discussed in more depth in "Philistia triumph thou..."

Mel Copeland
---
12.01.07 Militant raid on Iraqi village kills 13
BAGHDAD (AP) December 1 - Dozens of suspected al-Qaeda militants showered a Shiite village with mortar rounds early Saturday, then stormed the streets, killing at least 13 Iraqis, torching homes and forcing hundreds of families to flee, police said. Some villagers fought back, leaving three gunmen dead in the heart of one of Iraq's most violent regions.
Even with nationwide violence ebbing to the lowest levels since January 2006, American commanders have warned that security is precarious in northern Iraqi regions such as Diyala - where Saturday's attack took place - as al-Qaeda and other militants have moved there to avoid coalition operations. The militant attack on Dwelah, about 45 miles north of Baghdad in Diyala, began about 6:30 a.m. with the mortar rounds, then 50 to 60 suspected al-Qaeda fighters streamed in and opened fire, a police officer said.
Among the 13 dead were three children and two women, the officer said, speaking on condition of anonymity because he was not authorized to release information about the raid. Villagers trying to fight back killed three gunmen, but the militants torched more than two dozen homes and around 500 families took shelter in neighboring towns, police said. Elsewhere in Diyala, Iraqi officials said U.S. and Iraqi troops, police and members of a local tribe freed four villages from al-Qaeda control, killing 10 militants and arresting 15 in a two-day operation that ended Saturday. [More>>indianexpress: hosted.ap.org ; See related story, aljazeera.net, December 1, "Iraq Sunni bloc boycotts parliament."]
---
12.01.07 Turkey attacks PKK terrorists in northern Iraq: army
ANKARA, December 1 - Turkey made good on its threat to strike PKK terrorists in northern Iraq Saturday, saying it inflicted "heavy losses" on the armed PKK terrorists with cross-border airstrikes and artillery. The army said it used artillery and airstrikes against a group of "50 to 60 terrorists ... inside Iraq's borders" southeast of the Turkish town of Cukurca in Hakkari province in the mountainous Turkey-Iraq border region. [More>>turkishpress.com]
---
12.01.07 MI5 alert on China's cyberspace spy threat
December 1 - Exclusive: director-general of MI5 sends letter to British companies warning systems are under attack from China. The Government has openly accused China of carrying out state-sponsored espionage against vital parts of Britain's economy, including the computer systems of big banks and financial services firms.
In an unprecedented alert, the Director-General of MI5 sent a confidential letter to 300 chief executives and security chiefs at banks, accountants and legal firms this week warning them that they were under attack from "Chinese state organizations". It is believed to be the first time that the Government has directly accused China of involvement in web-based espionage. Such a blunt and explicit warning from Jonathan Evans could have serious diplomatic consequences and cast a shadow over Gordon Brown's first official visit to China as Prime Minister early in the new year.
A summary of the MI5 warning, a copy of which has been seen by The Times, was posted on a secure government website. It says that Mr. Evans wrote to business leaders "warning them of the electronic espionage attack".
The summary, on the website of the Centre for the Protection of the National Infrastructure, says: "The contents of the letter highlight the following: the Director-General's concerns about the possible damage to UK business resulting from electronic attack sponsored by Chinese state organizations, and the fact that the attacks are designed to defeat best-practice IT security systems." ...The document gives warning that British companies doing business in China are being targeted by the Chinese Army, which is using the internet to steal confidential commercial information. [Full story>>timesonline.co.uk]
---
12.01.07 Ahead of summit, Indonesia plants 79 million trees to boost its green credentials
December 1 - Indonesia has embarked on a grand scheme to plant 79 million trees in an attempt to boost its green credentials ahead of a United Nations climate change summit it is hosting in Bali next week. President Susilo Bambang Yudhoyono, who was photographed this week planting saplings with government ministers, declared that "illegal logging is our biggest enemy" and added: "We will show Indonesia's strong commitment and action to preserve the environment and save our planet."
Environmentalists, however, were unimpressed. In recent years, Indonesia has been destroying its forests at a faster rate than any other country. As a consequence, it has the dubious distinction of being the world's third-biggest producer of greenhouse gases, behind the US and China. [More>>independent.co.uk]
---
12.01.07 Putin withdraws Russia from major arms treaty
MOSCOW, December 1 - President Vladimir Putin signed a law Friday suspending Russia's participation in a major conventional arms treaty that had limited NATO and Russian military deployments in Europe. The Kremlin had been threatening all year to scrap the Conventional Armed Forces in Europe (CFE) treaty, and on Friday Putin signed a law passed this month by parliament providing for that step. The suspension takes effect Dec. 12. [More>>washingtonpost.com]
---
12.01.07 US credit crisis adds to gloom in Arctic Norway
NARVIK, Norway, December 1 - At this time of year, the sun does not rise at all this far north of the Arctic Circle. But Karen Margrethe Kuvaas says she has not been able to sleep well for days. What is keeping her awake are the far-reaching ripple effects of the troubled housing market in sunny Florida, California and other parts of the United States.
Ms. Kuvaas is the mayor of Narvik, a remote seaport where the season's perpetual gloom deepened even further in recent days after news that the town — along with three other Norwegian municipalities — had lost about $64 million, and potentially much more, in complex securities investments that went sour. "I think about it every minute," Ms. Kuvaas, 60, said in an interview, her manner polite but harried. "Because of this, we can't focus on things that matter, like schools or care for the elderly." [More>>nytimes.com]
---
11.30.07 House price plunge heralds fears of 'double whammy' for investors
LONDON, November 30 - House prices fell at their fastest pace for 12 years in November, Nationwide said yesterday. The 0.8 per cent fall was heralded by City economists as evidence that the downturn in the market had arrived. Every leading survey of the state of the market – Nationwide, Halifax, Rightmove, Hometrack and the Royal Institution of Chartered Surveyors (RICS) – has now reported falls in prices. Experts say that Britons face a "double whammy" of higher bills and sustained falls in the value of their homes.
Many believe that buy-to-let investors are due for a particularly rough ride now that rental incomes are no longer enough to pay for monthly mortgage costs in most cases. Rupert Dickinson, the chief executive of Grainger, Britain's largest quoted residential landlord, said that in recent weeks there had been a marked increase in the number of large buy-to-let portfolios of flats and houses coming on the market, as investors tried to cash in before conditions worsened. [More>>timesonline.co.uk]
---
11.30.07 Turkish government gives authorization to Turkish army for a crossborder operation
ANKARA, November 30 - Turkish PM Recep Tayyip Erdogan said on Friday that Turkish Armed Forces was authorized for a military crossborder operation as of November 28th. PM Erdogan spoke to reporters following his meeting with Hasim Kilic, the Chief Judge of the Constitutional Court. [More>>turkishpress.com]
---
11.30.07 Chad fighters declare war on France
November 30 - Anti-government fighters in Chad have declared a "state of war" against French and foreign military forces in an apparent warning to a European Union (EU) peacekeeping force that plans to deploy in the country soon. French troops and aircraft are currently stationed in Chad under a bilateral defence accord. Asked at a news conference in southeastern France whether the threat compromised the EU force's deployment, Nicolas Sarkozy, France's president, said: "No. And if you want to make me say that the situation in Chad and Darfur is complex, I confirm that." [More>>aljazeera.net]
---
11.30.07 Bush urged to order Saddam cousin's handover
BAGHDAD (Reuters) November 30 -The Iraqi government has asked US President George W. Bush to order the handover of Saddam Hussein's cousin, known as "Chemical Ali," and two other former officials convicted of genocide, so they can be executed. Saddam's cousin Ali Hassan al-Majeed, former Defence Minister Sultan Hashem and former army commander Hussein Rashid Muhammad are being held in US military custody while officials argue over who has the authority to transfer them for execution.
They were convicted of genocide for their roles in a campaign against Iraq's Kurds in 1988, but the US military has said it will not hand them over until it receives what it calls an "authoritative government of Iraq request." [More>>khaleejtimes.com]
---
11.30.07 Dawkins' publisher faces jail over 'atheist manifesto'
November 30 - Richard Dawkins' best-selling atheist manifesto The God Delusion was at the centre of a growing row over religious tolerance yesterday after the Turkish publishers of his book were threatened with legal action by prosecutors who accuse it of "insulting believers." Erol Karaaslan, the founder of the small publishing house Kuzey Publications, could face between six months and a year in jail for "inciting hatred and enmity" if Istanbul prosecutors decide to press charges over the book, which has sold 6000 copies in Turkey since it was published this summer.
"A reader complained, saying that he wanted the book banned and the publishers punished," said Mr. Karaaslan after talks with the Istanbul state prosecutor. Mr. Karaaslan, whose company specializes in self-help books and children's literature, has been given a few days to prepare a written statement of defence.
This is not the first time Dawkins has come up against the wrath of the Turkish authorities. Published here in the mid-1990s, his less confrontational book The Selfish Gene also faced problems, with the Islamist government then in power trying to get it banned from bookshops. The God Delusion, the fourth of Dawkins' books to be published in Turkish, sparked controversy with its damning approach to religion and unashamed avowal of atheism. While some appreciated his frankness, many questioned the book's relevance to Turkish readers. [More>>independent.co.uk ; See related story, timesonline.co.uk, November 30, Pope attacks 'cruel and unjust' atheism in his message of hope."]
---
11.29.07 Pope invites senior Muslims to Vatican meeting
VATICAN CITY (AFP) November 29 - Pope Benedict XVI has invited senior Muslim figures, who signed an appeal for greater dialogue between religions, to a meeting at the Vatican, in a letter released on Thursday. The pope praised the "positive spirit" behind the October 11 message signed by 138 top Muslims from around the world and sent to Christian leaders, said Vatican Secretary of State Cardinal Tarcisio Bertone in the letter sent in Pope Benedict's name.
The pope wanted to meet a representative group of the signatories at the Vatican, he added in the letter sent to Jordan's Prince Ghazi bin Muhammad bin Talal, head of the Institute for Islamic Thought in Amman. "The Pope has asked me to convey his gratitude to Your Royal Highness and to all who signed the letter," Bertone wrote. "He also wishes to express his deep appreciation for this gesture, for the positive spirit which inspired the text and for the call for a common commitment to promoting peace in the world.
"Without ignoring or downplaying our differences as Christians and Muslims, we can and therefore should look to what unites us, namely, belief in the one God, the provident Creator and universal Judge who at the end of time will deal with each person according to his or her actions. We are all called to commit ourselves totally to him and to obey his sacred will." The Muslims' message, which has since been signed by other personalities, underlines that both the Koran and the Bible are calling for the love of God and mankind. [More>>khaleejtimes.com]
---
11.29.07 Major Islamic groups angry over scholar's treatment
JAKARTA, November 30 - The nation's two largest Muslim organizations criticized Wednesday the Religious Affairs Ministry for barring a liberal Egyptian Islamic thinker from addressing an international youth conference in East Java. "We are concerned with the case. It should not have happened," Muhammadiyah chairman Din Syamsuddin told The Jakarta Post. Last Sunday, Nasr Hamid Abu Zayd of Egypt decided to cancel his appearance at an Islamic seminar slated for Tuesday in Malang, East Java, following pressure from the ministry.
The ministry said it had received demands from certain Muslim organizations, believed to be extremist and conservative groups, for the government to ban Abu Zayd from attending...
...On Monday Abu Zayd lashed out at the Indonesian religious ministry for forcing him out of the Malang conference, saying the incident made him worried about the situation of Islam in Indonesia. He warned Indonesians against any "interference" by the government that would hinder intellectual debates and activities. Abu Zayd, a leading liberal theologian known for his famous work on Koranic hermeneutic exegeses, lives in exile in the Netherlands, where he fled to escape persecution in Egypt over his views that the Koran was a religious, mythical and literary work. [Full story>>thejakartapost.com ; See related stories,

alarabiya.net, November 28, "Far right Dutch MP insults Quran in new film"
timesonline.co.uk, November 29, "British teacher sentenced to 15 days in Sudan jail."
independent.co.uk, November 29, "Mosques given code of practice."
---
11.29.07 Malaysia raps Indian state chief for "meddling"
KUALA LUMPUR, November 29 - Malaysia told an Indian state minister on Thursday to mind his own business after the official complained about Malaysia's treatment of its ethnic Indians. Muthuvel Karunanidhi, Chief Minister of the southern Indian state of Tamil Nadu, asked Indian Prime Minister Manmohan Singh on Tuesday to intervene and protect the rights of Tamils.
He made the request after the minority community's biggest anti-government protest in Malaysia at the weekend, sparked by anger over policies they say prevent ethnic Indians from getting decent jobs or a good education for their children. "This is Malaysia, not Tamil Nadu," Malaysia's de-facto justice minister Nazri Aziz told Reuters by telephone. "This has got nothing to do with him ... lay off." [More>>khaleejtimes.com ; See also indianexpress.com, November 29, "Protests shake Malaysia's racial balance," and thestar.com.my, November 29, "88 charged, arrest warrants issued against two who failed to show up in court."]
---
11.29.07 Military sweep kills 30 Taliban: Afghan police
KABUL, November 29 - Afghan and international forces pounded an area of southern Afghanistan overnight, killing around 30 Taliban and capturing 12 others, police said Thursday. The military operation in the province of Kandahar was carried out Wednesday based on intelligence information, provincial police chief Sayed Aqa Saqib told media. "Thirty Taliban were killed and 12 others were arrested alive," he said. NATO's International Security Assistance Force and the separate US-led coalition could not immediately confirm their involvement. [More>>thenews.com.pk]
---
11.29.07 Senator rejects Bush privilege claim
WASHINGTON (AP) November 29 - A Senate chairman acknowledged explicitly on Thursday that President Bush was not involved in the firings of U.S. attorneys last winter and therefore ruled illegal the president's executive privilege claims protecting his chief of staff, Joshua Bolten, and former adviser Karl Rove. Senate Judiciary Committee Chairman Patrick Leahy directed Bolten, Rove, former political director Sara Taylor and her deputy, J. Scott Jennings, to comply "immediately" with their subpoenas for documents and information about the White House's role in the firings of US attorneys. [More>>nytimes.com]
---
11.29.07 Bin Laden urges Europe to quit Afghanistan - TV
DUBAI (Reuters) November 29 - Al Qaeda leader Osama bin Laden urged European countries to end their military participation with US forces in the Afghan conflict, Al Jazeera television said on Thursday. Al-Jazeera aired portions of an audio tape in which a speaker who sounded like bin Laden said his Taliban allies had no knowledge of plans for the Sept. 11, 2001 attacks, a main reason for the US-led invasion of Afghanistan. [>thestar.com.my ; See related al-Qaeda story, news.com.au, November 29, " 'Terrorist plot' on Aussie US base."]
---
11.29.07 Hamas demands UN rescind '47 partition
November 29 - Hamas on Thursday called on the UN to rescind the 1947 decision to partition Palestine into two states, one for Jews and one for Arabs. The group said in a statement, released on the 60th anniversary of the UN vote, that "Palestine is Arab Islamic land, from the river to the sea, including Jerusalem... there is no room in it for the Jews."
Regarding the partition decision, Hamas said that "correcting mistakes is nothing to be ashamed of, but prolonging it is exploitation." Meanwhile, President Shimon Peres told Army Radio that recognition of the 1967 borders began with the Oslo accords. [More>>jpost.com]

Editorial note: See "Philistia triumph thou..." for the background and documents relating to the establishment of the state of Israel. The UN resolution of 1947 also provided for the establishment of the "Corpus Separatum of Jerusalem." That portion of the resolution set aside under UN control a territory of Jerusalem that stretched to the Mediterranean Sea. A main obstacle in establishing two states, of Palestine and Israel, involves the status of Jerusalem. The Palestinians and Israel claim Jerusalem. The UN has not officially relinquished its sovereignty over Jerusalem.
Mel Copeland
---
11.29.07 Arab skepticism persists after Annapolis
November 29 - Official and popular Arab reactions to the Annapolis Middle East conference, which launched long-delayed Palestinian-Israeli peace negotiations and brought the largest number of Arab states together with Israel, highlight a wide Arab-Israeli chasm making peace in the Middle East a distant dream. General skepticism that surrounded the US-sponsored gathering continued to resonate Thursday, a day after US President George W. Bush pledged full support for the Palestinian-Israeli peace process.

...While the Arabs had hoped that the revived Saudi-sponsored peace initiative would constitute a framework for the process, it was hardly mentioned at the conference, raising Arab suspicions that Israel was overly concerned with normalizing ties with the Arabs and its own security rather than with making real peace. The Arab initiative promised Israel full relations in return for its withdrawal from all the territories it has occupied since June 1967, the establishment of a Palestinian state there with East Jerusalem as its capital, and resolving the fate of some 5 million Palestinian refugees. [Full story>>metimes.com]
---
11.28.07 Iranian Navy launches stealth-capable submarine - national TV
TEHRAN (RIA Novosti) November 28 - Iran's Navy commissioned Wednesday a domestically designed and produced light submarine featuring extended stealth capability and strong firepower, state television reported. The submarine, dubbed Ghadir, is reportedly fitted with noise-reduction features and is capable of firing missiles and torpedoes simultaneously.
"This submarine is equipped with advanced weapons and electronics systems. It has been developed in the last decade by [Iranian] scientists and engineers," a TV program quoted Navy commander, Admiral Habib Sayyari, as saying. The admiral also said the Navy commissioned a destroyer and a missile boat. [More>>rian.ru]
---
11.28.07 General Kayani takes Pakistan Army command
RAWALPINDI, November 28 - Pervez Musharraf stepped down Wednesday from the Army Chief post handing over the Army command to Gen. Ashfaq Pervez Kayani, who took charge as 14th Chief of Pakistan Army. Musharraf to take oath as a civilian president on Thursday. Musharraf addressed the change of command ceremony held in this garrison town at Hockey Stadium next to the military General Headquarters.

The ceremony was attended by the caretaker Prime Minister Muhammadmian Soomro, the services chiefs, members of the caretaker cabinet and high military and civil officials. "I'm proud of this army and I was lucky to have commanded the world's best army," Musharraf said. "I will no longer command ...but my heart and my mind will always be with you." He said "I am leaving the Army in a best shape." He said he knows Gen. Ashfaq Pervez Kayani for last 20 years who is an excellent soldier and Army officer. [More>>thenews.com.pk]
---
11.28.07 Arrests in Slovak 'nuclear plot'
November 28 - Police in Slovakia and Hungary have arrested three people for allegedly trying to sell 1kg (2.2lb) of radioactive material, officials said. Slovak police spokesman Martin Korch said the three were planning to sell the unspecified material in Slovakia for $1m (£483,000). He said Slovak and Hungarian police had been working together on the case for several months. Two suspects were picked up in Slovakia and one was arrested in Hungary. Mr. Korch said experts were examining the radioactive material to determine exactly what it was. [More>>bbc.co.uk]
---
11.28.07 NATO airstrike kills 14 Afghans
KABUL, November 28 - A NATO airstrike killed 14 laborers working for an Afghan road construction company that had been contracted by the United States Army Corps of Engineers to build a road in the mountainous province of Nuristan in eastern Afghanistan, officials said. The strike occurred late Monday night in the Norgram district of Nuristan when the Afghan workers of Amerifa Road Construction Company were sleeping in tents after a day's work.
"Fourteen of our mechanics and laborers were killed as they were asleep in their tents," said Nurullah Jalali, the executive director of the construction company. "We just collected pieces of flesh from our tired workers and put them in 14 coffins." [More>>nytimes.com]
---
11.28.07 Saudi holds over 200 militants, foils oil attack
RIYADH (Reuters) November 28 - Saudi Arabia said on Wednesday it had arrested 208 people for involvement in several cells planning attacks on an oil installation as well as clerics and security forces...It also said the arrests included a 'media cell' of 16 in Medina which aimed to promote "takfiri" ideology—the idea that supports violence against Muslims branded as infidels and apostates. [Full story>>khaleejtimes.com]
---
11.27.07 Abbas: We must have East Jerusalem as capital
November 27 - Palestinian Authority President Mahmoud Abbas, speaking after US President George Bush at the Annapolis peace summit, said Israel should end its occupation of all territories captured in the Six Day War, including east Jerusalem the Syrian Golan and certain parts of Lebanon.
Abbas commended the significant participation in the conference of countries from all over the world, including Arab countries and major industrial leaders, in what he called a unique conference in the history of conflict. This, he said, would provide impetus and encouragement for the negotiation process, ending occupation and bringing about the establishment of the state of Palestine side by side with the state of Israel.
"Our region stands at a crossroads that separate two historical phases," Abbas said, adding that such an opportunity might not be repeated. "Let us make peace of the brave, and protect it for the sake of our children and your children."
At the same time, the Palestinian leader gave no indication that his side was willing to concede on any of the flashpoint issues that have derailed previous peace efforts: the status of disputed Jerusalem, refugees, the borders of an independent Palestine and Israeli settlements. [More>>jpost.com]
---
11.27.07 Iran to host militants for 'alternative' Mideast meet
TEHRAN (AFP) November 27 - Iran said on Tuesday that it had invited Palestinian militant factions to a meeting in Tehran aimed at countering a US-hosted Middle East peace conference seeking to kickstart the peace process. "These groups are planning to come to Tehran within the next week or two and they are all the Palestinian groups that are struggling for the freedom of their land," government spokesman Gholam Hossein Elham told reporters.

Iran is one of the most vocal backers of Palestinian militant groups like Hamas and Islamic Jihad and pledged millions of dollars in 2006 to the then Hamas government crippled by a Western aid cut. The Islamic republic does not recognise Israel and its President Mahmoud Ahmadinejad has provoked outrage by calling for the Jewish state to be wiped off the map. [More>>iranfocus.com ; See related story, turkishpress.com (AFP) November 27, "Iran builds new longer range missile: report"]
---
11.27.07 Paris rioters 'criminals' says PM
November 27 - French PM Francois Fillon has said that youths who have rioted for two nights in the Paris suburbs are "criminals." More than 80 police officers were injured, four seriously, during the second night of clashes, police unions have said. President Nicolas Sarkozy has called an emergency meeting for Wednesday on his return from a trip to China.
The youths said they were avenging the two teenagers killed when their motorcycle hit a police car on Sunday. Police say some officers suffered bullet wounds, while others were hurt by stones, fireworks and petrol bombs thrown at them in Villiers-le-Bel. [More>>bbc.co.uk ; See also liberation.fr, November 27, Villiers-le-Bel: huit jeunes hommes écroués]
---
11.27.07 Russian sects in spotlight as doomsday cult refuses to budge
MOSCOW (/RIA Novosti) November 27 - As the drama around the Russian sect awaiting the apocalypse in a cave in the country's Penza Region continues to unfold, media reports of other isolated and extreme Christian groups have begun to emerge. The True Russian Orthodox Church went underground some two weeks ago in order to "save themselves during the time of the apocalypse," which they say will come in May 2008. The group of 29 people, including four children, has threatened to set fire to themselves if any attempt is made to force them to come to the surface.
The story has never been far away from the headlines in Russia since the news first broke, and with a deadlock in negotiations seemingly having been reached in the Penza Region, the media spotlight has now fallen on other such "similar" groups. On Tuesday, the Rossiiskaya Gazeta newspaper reported on a group calling itself the "Oprichnik Brotherhood of Ivan the Terrible," which resides a few hours away from Moscow in the village of Koscsheyevo.
The Oprichniki were a group of merciless killers used by Ivan the Terrible to eliminate with extreme prejudice his enemies in 16th century Russia that lay under direct tsarist rule. The Oprichniki, who dressed all in black and rode black horses, gained notoriety for their brutal attack on the city of Novgorod, which Ivan the Terrible had suspected of wanting to join Poland, in 1570. [More>>rian.ru]
---
11.27.07 US forces kill five civilians, wound four - other killings
BAGHDAD, November 27 - US-led coalition forces killed five civilians and injured four others including women and children, in two separate incidents in Iraq, sources said Tuesday. Two Iraqis were killed and four others injured when US forces opened fire on the bus in which they were travelling in the Shaab suburb of eastern Baghdad, independent Voices of Iraq (VOI) news agency reported quoting a multi-national forces (MN) spokesman as saying.
Initial reports said the bus had been travelling in a lane which was not for buses prompting US forces to open fire, MNF media coordinator Janah Hammoud said. More details were not immediately available.
Separately, US-led coalition forces killed three civilians including a child and two suspected militants in an operation in the northern city of Bayji in Salahaddin province,reports said Tuesday.  'We regret that civilians are hurt or killed,' a spokesman for the Multi-National Force (MNF) in Iraq, Commander Ed Buclatin, reports quoted him as saying in a statement.
The forces killed two 'terrorists' believed to be members of al-Qaeda north of Bayji, 225 kilometers north of Baghdad on Monday, the statement added...Six Iraqis were killed and seven others wounded Tuesday in a suicide attack on the provincial police headquarters in central Baquba, reports said. [Full story>>khaleejtimes.com ; See also nytimes.com, November 27, "At least 35 dead in Iraq violence."]
---
11.27.07 Suicide blast in Kabul kills 2 civilians
KABUL (AP) November 27 - A suicide car bomber triggered a huge blast Tuesday near two armored vehicles used by U.S.-led coalition troops in Kabul, killing at least two civilians and destroying the wall of a nearby house, witnesses and officials said. The bomber damaged the armored vehicles and wounded four people, though none of the troops was injured, said Lt. Col. David Johnson, a coalition spokesman.
At least two civilians were killed in the blast, said Gen. Ali Shah Paktiawal, director of criminal investigations for the Kabul police. Four other people, including two Pakistani road construction workers, were injured in the blast, said Dr. Mohammad Musa, from Kabul's Wazir Akbar Khan hospital. [More>>indianexpress.com: hosted.ap.org]
---
---
*Visitor statistics on maravot.com from 1&1. com. 46,153 page views in May 2007; 41,657 in Nov. 2007.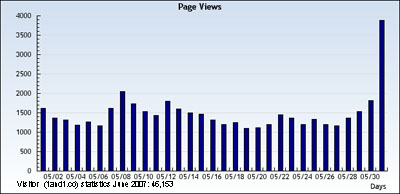 Privacy Policy: We do not store any personal data from you. We have no way of knowing any vital information about you – not even your name. Third-party distribution: We do not distribute information about your site usage to any third party. We are not responsible for the content of links from our site. Usage data: supplied by our Web Hosting service, 1and1.com, which consists of usage reports, such as page views / impressions and web pages visited, visitors' servers and geographical data (ISP's and country of origin).

---
Launched: 10.25.04 / 11.02.04
Updated: 11.27.07; 11.28.07; 11.29.07; 11.30.07; 12.01.07; 12.02.07
Copyright © 1981-2007 Maravot. All rights reserved
Copyright © 1981-2007 Mel Copeland. All rights reserved
Background: tile from Cicero's villa (Marcus Tullius Cicero 106 B.C. - 43 B.C.)