---

05.30.07 Turkey builds up forces on Iraqi border
ANKARA, May 30 - Turkey has sent large contingents of reinforcement soldiers, tanks and armored personnel carriers to its border with Iraq as debate heated up over whether to stage a cross-border offensive to hit Kurdish terrorist bases. Prime Minister Recep Tayyip Erdogan on Tuesday urged the United States and Iraq to destroy bases of the Kurdistan Workers Party, or PKK, in northern Iraq as Turkish military deployed more tanks and soldiers on the border.

The images of military trucks rumbling along the remote border with Iraq's Kurdish zone and tanks being transferred on trains and trucks to beef up an already formidable force there have occupied television screens and front pages of several newspapers in the last few weeks. The Turkish military has said it routinely reinforces the border with Iraq in the summer to prevent infiltrations by the terrorists. [More>>turkishpress.com]
---
05.30.07 In North Iraq, Sunni Arabs drive out Kurds
MOSUL, Iraq, May 30 - The letter tossed into Mustafa Abu Bakr Muhammad's front yard got right to the point. "You will be killed," it read, for collaborating with the Kurdish militias. Then came the bullet through a window at night. A cousin had already been gunned down. So Mr. Muhammad and three generations of his family joined tens of thousands of other Kurds who have fled growing ethnic violence by Sunni Arab insurgents here and moved east, to the safety of Iraqi Kurdistan. [More>>nytimes.com]
---
05.30.07 Six police, guards killed in new Afghan attacks
KANDAHAR, Afghanistan, May 30 - New attacks in Afghanistan left six policemen and guards dead Wednesday while the US-led coalition said that soldiers had killed six Taliban, although a local insisted that they were civilians. In one of the attacks, similar to those carried out regularly by Taliban insurgents, four highway policemen were killed in the south when a bomb exploded underneath their vehicle, the Uruzgan province police chief said.

Another policeman was wounded, Mohammad Qassem said. In the adjoining province of Helmand, a bomb struck Afghan guards with the US private security firm USPI, killing two of them, according to a commander in the group named Rahmatullah. Another was wounded, he said. Four USPI guards were killed in a similar bombing in the southern city of Kandahar nearly two weeks ago. [More>>metimes.com]
---
05.30.07 Malaysia rejects conversion appeal
May 30 - Malaysia's highest civil court has dismissed a Muslim woman's appeal to be officially recognized as having converted to Christianity. In a defining decision for the multi-religious society, the court ruled against Lina Joy's appeal to have her new faith reflected on her identity card, a move rights groups called a "backward step" for Malaysia.
The court had to decide whether the National Registration Department (NRD) was right to require Joy to seek a sharia court's permission to renounce her faith before she could have the word "Islam" removed from her identity card, and whether the civil or sharia courts had jurisdiction in the matter.

Joy's argument was that the sharia court, a parallel legal system governing Muslims on property and family matters, had no jurisdiction over her since she had renounced Islam...Muslims seeking official recognition of their conversion out of Islam risk being hauled up by religious authorities and sent to "faith restoration" camps where they are expected to "repent" and recant. [Full story>>aljazeera.net]
---
05.30.07 Bird flu hits 2 more provinces in northern Vietnam
HANOI, Vietnam (AP) May 30 - Bird flu has hit two more provinces in northern Vietnam as officials call for the country to be vigilant in fighting the spreading virus, according to a posting Wednesday on a government Web site. Bird flu struck several farms in Vinh Phuc and Ha Nam provinces, killing more than 1,100 unvaccinated ducks and geese. Test results showed they were infected with the H5N1 virus, the Department of Animal Health reported on its Web site. Authorities have disinfected and slaughtered the remaining 7,000 birds on the farms, it said. [More>>thestar.com.my]
---
05.29.07 Human antibodies neutralize deadly bird flu
PARIS (AFP) May 29 - Researchers in Switzerland have successfully immunized mice against the H5N1 strain of bird flu using human antibodies taken from survivors of the deadly virus, according to a study released Tuesday. The antibodies, reproduced at the Institute for Research in Biomedicine, also vastly enhanced the survival rate of infected animals, pointing the way to a treatment for people stricken with the often lethal disease, said Antonio Lanzavecchia, coauthor of the study and director of the Institute's immune regulation laboratory. [More>>khaleejtimes.com]
---
05.29.07 Clashes between India police and tribal protestors leave 13 dead
JODHPUR, India, May 29 - At least 13 people were killed Tuesday in clashes between police and thousands of people demanding government aid in the northern Indian state of Rajasthan, officials said. The protesters from the ethnic Gujjar community of shepherds want to be included among the "scheduled castes," India's socially and economically weakest communities who are granted state aid and jobs.

State Home Minister Gulab Chand Kataria said 12 protesters died when police fired at them in the districts of Bundi and Dausa and added a policeman was also bludgeoned to death by rampaging demonstrators. "Two other policemen are missing in Dausa and we fear they too may have been killed," Kataria told reporters and added the protesters torched four police stations and scores of government vehicles across Rajasthan. He said the protest, which initially began with a sit-in on a highway in Dausa, spread to 10 of Rajasthan 32 districts after police opened fire and added federal forces were on their way to try and stem the violence. [More>>thenews.com.pk ; See also expressindia.com]
---
05.29.07 10 cops killed in Maoist violence in central India
NEW DELHI, May 29 - At least nine policemen were killed in landmine blasts detonated by Maoist militants while another policeman was shot dead by the rebels in a separate attack in India's central state of Chhattisgarh, officials and reports said on Tuesday. The rebels blasted 20 landmines targeting a group of policemen who were conducting a search operation on motorcycles in the forests of southern Dantewada district on Monday night. "Nine policemen including an assistant sub-inspector and seven constables were killed while three others were injured in the coordinated landmine blasts," Girdhari Nayak, a senior police official told reporters. "Some members of the patrol party were able to escape and alerted their counterparts about the attack," he added. [More>>khaleejtimes.com]
---
05.29.07 Iran charges three US-Iranians with spying
TEHRAN, May 29 - Iran announced Tuesday that it has charged three US-Iranians with spying in cases that have heightened tensions with Washington, just a day after Iranian and US officials held landmark talks over Iraq. Iran's judiciary spokesman said that US-Iranian scholars Haleh Esfandiari and Kian Tajbakhsh were being held in prison on accusations of spying while journalist Parnaz Azima remained at liberty but faced the same charges.

Esfandiari, a renowned expert on the Middle East, has been formally accused by the intelligence ministry of "acting against the security of the country through propaganda and espionage for foreigners," Ali Reza Jamshidi said. "The same goes for Mr. Tajbakhsh. He is being kept in detention," said Jamshidi, confirming that Esfandiari was also still being held in Tehran's Evin prison. "Ms. Azima is not detained. She is at liberty but bears the same accusations," as the two detained scholars, said Jamshidi. All three suspects have US and Iranian passports but Iran does not recognize dual nationality. [More>>metimes.com]
---
05.29.07 Three Westerners abducted in Iraq; 8 US troops die
BAGHDAD (Reuters) May 29 - Gunmen in police uniforms kidnapped at least three Western lecturers in Baghdad on Tuesday, a witness told Reuters, as eight more US soldiers were reported killed in the deadliest month this year. The gunmen seized the lecturers and several of their bodyguards from a Finance Ministry building in central Baghdad, the witness said. 
The eight US soldiers died in separate attacks across Iraq, the military said, taking the May death toll to 112, the deadliest month since December, when the same number died. At least 38 people were also killed in two separate bombings in Baghdad, the worst such blasts in a busy commercial area of the capital. Police identified the lecturers as German and said up to four were seized when gunmen entered the ministry building. The British embassy declined immediate comment on media reports that the bodyguards were British.

...Tuesday's assault appeared to be the first time Westerners have been kidnapped from inside an Iraqi government building where many foreigners work assisting the government, and as contractors. A German woman, married to an Iraqi doctor, and her son were kidnapped on Feb. 6. Last year two German engineers were captured in Iraq and held for 99 days before they were freed, although it was not clear if a ransom was paid. German archaeologist Susanne Osthoff was also held by an Islamist group. [Full story>>thestar.com.my]
---
05.29.07 Chávez takes on CNN after closing TV station
May 29 - President Hugo Chávez broadened his assault on Venezuela's independent press last night, accusing CNN and another television channel of trying to unsettle the Government while police dispersed thousands of protesters with blockades, water cannons and tear gas.
On a day of already heightened tension surrounding the closure of Radio Caracas Televisión (RCTV), Venezuela's most prominent independent broadcaster, officials turned their sights on Globovisión, a local television network and CNN, the US cable news network, accusing them of plotting against the Government.
The Information Minister, William Lara, showed a press conference what he said was CNN footage of Mr. Chávez juxtaposed with images of Osama bin Laden, saying: "CNN broadcast a lie which linked President Chavez to violence and murder". He also accused CNN of dishonesty for using footage of a Mexican demonstration in a story about the current Venezuelan disturbances. [More>>timesonline.co.uk]
---
05.29.07 Bush tightens fiscal penalties against Sudan
WASHINGTON, May 29 - President Bush announced today that he is imposing stiff economic sanctions against Sudan and that he will press the United Nations for additional action to end the violence in Darfur. "The people of Sudan are crying out for help and they deserve it," he said in a brief statement at the White House. The decision makes good on a threat the president made nearly six weeks ago. Mr. Bush warned then that the United States would act if Sudan's president, Omar Hassan al-Bashir, did not permit a full deployment of United Nations peacekeeping forces, allow aid to reach the Darfur region and end his support for the janjaweed, the militias that have been systematically killing civilians there. [More>>nytimes.com]
---
05.29.07 Russia test-launches new ICBM
MOSCOW, May 29 - Russia on Tuesday test-launched a new intercontinental ballistic missile capable of carrying multiple independent warheads, and a top government official said it could penetrate any defense system, a news agency reported. The new missile would modernize Russia's stockpile at a time of rising tensions with the West. [More>>washingtonpost.com]
---
05.28.07 US presses Iran in landmark talks on Iraq chaos
BAGHDAD (AFP) May 28 - The United States told Iran Monday to stop supporting violent militias in war-ravaged Iraq, during the highest-level direct official talks between the arch-foes in 27 years. US Ambassador to Iraq Ryan Crocker said that he met Iranian Ambassador Hassan Kazemi for four hours in Baghdad in the first such high-level encounter since the countries severed diplomatic relations in 1980. Crocker said that he had insisted that Iran must back up its claimed support for Prime Minister Nuri Al Maliki's beleaguered government by cutting off support for armed factions fighting in Iraq. [More>>metimes.com]
---
05.28.07 Europe's shame
ROME, May 28 - For three days and three nights, these African migrants clung desperately to life. Their means of survival is a tuna net, being towed across the Mediterranean by a Maltese tug that refused to take them on board after their frail boat sank. Malta and Libya, where they had embarked on their perilous journey, washed their hands of them. Eventually, they were rescued by the Italian navy. The astonishing picture shows them hanging on to the buoys that support the narrow runway that runs around the top of the net. They had had practically nothing to eat or drink.
Last night, on the island of Lampedusa, the 27 young men - from Ghana, Nigeria, Cameroon, Sudan and other countries - told of their ordeal. As their flimsy boat from Libya floundered adrift for six days, two fishing boats failed to rescue them. On Wednesday, the Maltese boat, the Budafel, allowed them to mount the walkway but refused to have them on board. [More>>independent.co.uk]
---
05.28.07 Two people arrested for assisting suicide bomber
ISTANBUL, May 28 - Two people were taken under custody in Istanbul, on charges of forging documents in order to help suicide bomber Guven Akkus, to get a fake passport. Akkus carried out a bomb attack against Anafartalar Shopping Mall in Ulus district of Ankara on May 22nd, killing himself and six people and injuring 91 others. Counter-Terrorism Unit in Istanbul stated that these people will be transferred to Ankara. [>turkishpress.com]
---
05.28.07 Police arrest 15 recruiting terrorists for Iraq, Kabul
MADRID (AP) May 28 - Police arrested at least 15 people Monday in Barcelona, Madrid and Malaga on charges of recruiting volunteers for terror training in Afghanistan and Iraq, news reports said. The arrests, which took place in Barcelona and two other northeastern towns, were ordered by National Court investigative magistrate Baltasar Garzon, leading Cadena SER radio reported.
Police seized a substantial amount of computer material in the pre-dawn raids, the radio added. It was not immediately possible to confirm the detentions with police. Spanish police have arrested dozens of Islamic terror suspect since the Sept. 11 attacks in New York and Washington, and again after the 2004 train bombings in Madrid. The latest arrests came as the trial of 29 suspects, mostly Moroccans, in the Madrid train attacks continues in the Spanish capital. [>expatica.com ; See more details, aljazeera.net and related story, nytimes.com, May 28, "Militants widen reach as terror seeps out of Iraq."]
---
05.28.07 Venezuelan TV station goes off the air
CARACAS, Venezuela (AP) May 28 - Venezuela's oldest private television station went off the air following President Hugo Chavez's decision to pull the plug on the popular channel harshly critical of the government, a move that sparked violent clashes between protesters and police.
But the decision not to renew Radio Caracas Television's broadcast license and replace it at midnight Sunday with a public service station was celebrated in the streets by supporters of Chavez, who watched the new channel's first transmission on large TV screens. Others launched fireworks and danced to the classic salsa tune "Todo tiene su final" - "Everything Has Its End." [More>>washingtonpost.com]
---
05.28.07 Truck bombing at revered Baghdad shrine kills 18
BAGHDAD (AFP) May 28 - A truck bomb exploded outside one of Baghdad's most revered Sunni shrines on Monday, killing at least 18 people and damaging the outer walls of the Abdel Qadir Gilani Mosque. The powerful blast, which sent a massive pillar of black smoke into the sky above downtown Baghdad, occurred as US and Iranian representatives were meeting for landmark talks on Iraqi security less than a kilometre (half mile) away.
"I came into the street after the explosion near the mosque, and I found five charred bodies myself, including a pregnant woman," said witness Saed Mohammed, as fire engines arrived to battle the flames. Security sources said 18 people had been killed and another 28 wounded in the blast in Baghdad's Sinak district, revising downwards an earlier toll. [More>>turkishpress.com]
---
05.28.07 Storms cause chaos across Europe
DIYARBAKIR, Turkey, May 29 - Heavy storms, landslides, flash floods and lightning killed at least 23 people in Europe and Turkey, officials said. Nine people died in eastern Turkey, including six killed in severe flooding in mountainous Agri province near the Iranian border, where river waters were swollen by melting snows. Two more people were missing.
In nearby Van province, a two-year-old child died when landslides triggered by heavy rain demolished a house. Two other girls also died and another person was injured after being struck by lightning. Six hikers died in Greece while trying to cross a river in the south. They were in a group of 18 people swept away by a flood wave in the rain-swollen Lousios river. Prosecutors charged the hike's organizers with involuntary manslaughter.
In France, two divers and a yachtsman drowned yesterday off the western coast of Brittany in extreme weather. The yachtsman fell into the sea from his 21-metre boat in heavy seas. The two divers were part of a group of six who were caught up in strong waves. The others made it safely to shore.
In northern Bosnia, two 11-year-old children, a boy and a girl, died after being struck by lightning on Saturday, local media reported. In Germany, three construction workers building a windmill in the eastern state of Brandenburg were killed yesterday when lightning hit a tractor they were sheltering under, police said. In Russia, by contrast, meteorologists said today was the hottest May day in Moscow since records began with temperatures hitting 32.7 degrees Celsius. The city's electricity system shifted into emergency mode to cope with demand, largely from people using air conditioners.
Extreme weather - including drought, heavy storms, flooding and flash frost - have wreaked havoc across Europe this spring. Aside from the human toll, it has also destroyed crops and damaged infrastructure in France, Spain, Poland, Bulgaria, Turkey and other countries. [>theaustralian.news.com.au]
---
05.28.07 More than 12 Afghans killed in protest
MAZAR-I-SHARIF, Aftghanistan (Reuters) May 28 - More than a dozen people were killed and more than 30 wounded in Afghanistan on Monday when police opened fire to break up a violent protest against a provincial governor, witnesses and a doctor said. More than 1,000 people were protesting to demand the removal of Juma Khan Hamdard, governor of the northern province of Jowzjan, and were throwing stones at several government offices in Shiberghan, the provincial capital, witnesses said. Police fired to stop the protesters from raiding the compounds, they said. [>khaleejtimes.com ; See more details at aljazeera.net]
---
05.28.07 Iraqi Kurdish region to take charge of own security
SULAIMANIYAH, Iraq, May 28 - Iraqi Kurdistan's autonomous government will take charge of security in its mountainous northern region this week in a transfer of command from the US-led coalition, officials said. At a ceremony on Wednesday in the regional capital Arbil the commanders of the peshmerga - former anti-Baghdad guerrillas and now staunch US allies - will be handed responsibility for three northern provinces. "This week the responsibility for security in the Kurdistan region will be officially transferred from multinational forces to the peshmerga affiliated with the regional government," said Jabar Yawar, a Kurdish military spokesman.

The peshmerga are former Kurdish rebels who have been incorporated into the Iraqi and Kurdish armed forces in the four years since a US-led invasion toppled Iraq's dictator Saddam Hussein. Yawar said the decision was made during a meeting held in Baghdad between Kurdish regional president Massud Barzani, Iraq's Prime Minister Nuri al-Maliki and senior US military leaders. The US military confirmed the handover in an invitation to the event sent out to local media. "The Kurdish Regional Government will hold a transfer of security ceremony, to highlight the return of the entire region from the coalition force to the government of Iraq," the invitation says. [>thenews.com.pk]
---
05.27.07 US military frees 41 al-Qaeda captives in raid
BAGHDAD, May 27 - US forces raided an al-Qaeda hideout northeast of Baghdad on Sunday and freed 41 Iraqis imprisoned inside, including some who had been tortured and suffered broken bones, a senior US military official said Sunday. The raid was part of a 3-month-old security crackdown that included the deployment of 3,000 more US troops to Diyala, a violence-wracked province north of the capital that has been the site of heavy fighting in recent weeks, said Maj. Gen. William Caldwell, the top US military spokesman in Iraq. Caldwell said Iraqis told US forces about the hideout. He refused to disclose the location of the hideout, citing security concerns, but said the 41 freed Iraqis marked the largest number of captives ever found in a single al-Qaeda prison. [More>>thenews.com.pk]
---
05.26.07 US intelligence agencies predicted problems US now facing in Iraq
May 26 - United States intelligence analysts predicted, in two papers widely circulated before the 2003 Iraq invasion, that al-Qaeda would see US military action as an opportunity to increase its operations and that Iran would try to shape the post-Saddam Hussein era in Iraq. The top analysts in the government had also said that establishing a stable democracy in Iraq would be a long and turbulent challenge. Democrats said the documents, part of a Senate Intelligence committee investigation released Friday, make clear that the Bush administration was warned about the challenges it now faces as it tries to stabilize Iraq. [More>>haaretz.com]
---
05.26.07 Saudi religious police in murder probe
RIYADH (Reuters) May 26 - A Saudi family has accused the conservative kingdom's religious police of beating a 28-year-old man to death in detention and the Interior Ministry has opened an investigation into the case, a newspaper said on Saturday. Al-Watan quoted relatives of Salman al-Huraisy, who was married with one child, as saying he was beaten and dragged from his home by members of the Committee for the Promotion of Virtue and Prevention of Vice last week.
Relatives told the paper that other members of the family who were also seized had seen Huraisy beaten to death in detention in Riyadh. They said the vice squad accused them of dealing with alcohol. Saudi Arabia imposes an austere form of Sunni Islam which prevents unrelated men and women from mixing, bans women from driving and tries to stop alcohol and drug use. The Interior Ministry has rejected calls to disband the group, which has been subject to increased public criticism in recent years for over-zealous efforts to enforce these rules. [More>>khaleejtimes.com]
---
05.26.07 Germany assails human rights in Iran
BERLIN (AP) May 25 - Germany, which holds the European Union presidency, voiced concern Friday over Iran's recent human rights record, citing the imposition by force of stricter dress codes and the "worsening situation" of minorities, among other worries. The 27-nation EU "is particularly troubled by the recent wave of arrests of civil society and women's rights activists," Germany said in a statement on behalf of the bloc.
"Teachers, students, union members, scholars and journalists exercising their right to freely express their opinion are facing constant intimidation, and stricter dress codes for men and women are being imposed by force," it added. Hard-liners in Iran, which is at odds with the West over its nuclear program, have taken advantage of the confrontation to crack down on opponents and launch morality campaigns like one in which women were arrested for not meeting Islamic dress codes.
Germany's statement said that "the EU also wishes to draw attention to the worsening of the situation of ethnic and religious minorities in Iran, in particular to the plight of the Baha'i, who are excluded from public life, discriminated against and harassed." It also urged Teheran to abolish completely the juvenile death penalty, amputations and "other cruel punishments, such as stoning." [More>>Jerusalem Post]
---
05.26.07 Race-hate preacher is deported from Britain
May 26 - Abdullah al-Faisal, who influenced one of the July 7 bombers, has been deported from Britain. The Home Secretary, John Reid, welcomed the removal of the Jamaican convert to Islam, who was placed on a flight to Kingston just after midday yesterday. Mr. Reid said Mr. Al-Faisal would be excluded from the UK. The Government's official account of the 2005 London bombings said the cleric had a strong influence on Germaine Lindsay, who blew up a Tube train at King's Cross, killing 26 people.
Mr. Reid said: "I am pleased Abdullah al-Faisal has been removed and excluded from the UK. We are committed to protecting the public and have made it clear that foreign nationals who abuse our hospitality and break our laws can expect to be deported after they have served a prison sentence. We will not tolerate those who seek to spread hate and fear in our communities." Mr. Al-Faisal was deported after reaching the parole date in a seven-year sentence for soliciting murder and inciting racial hatred. [More>>independent.co.uk]
---
05.26.07 US, British forces battle Mehdi army in Baghdad, Basra
BAGHDAD (Reuters) May 26 - US and British forces battled Mehdi Army fighters in Baghdad and the southern city of Basra after their leader, Shi'ite cleric Moqtada al-Sadr, made a rare public appearance and called on US troops to get out of Iraq. Five gunmen were killed in an air strike during a pre-dawn raid on Saturday in the cleric's Sadr City stronghold in Baghdad to capture a militant leader suspected of ties to Iran's Revolutionary Guards, the US military said in a statement. Five gunmen were killed in an air strike during a pre-dawn raid on Saturday in the cleric's Sadr City stronghold in Baghdad to capture a militant leader suspected of ties to Iran's Revolutionary Guards, the US military said in a statement. 

In the southern oil hub of Basra, the British military said "a number" of militia fighters were killed in an air strike overnight after Mehdi Army militia fighters attacked British troops with rocket-propelled grenades, mortars and machine guns. The attacks were believed to be in retaliation for the killing of the top Mehdi Army commander in the city on Friday by British-backed Iraqi special forces, British military spokesman Major David Gell said in a statement. [More>>thestar.com.my]
---
05.25.07 Russia due to postpone talks in Tehran over nuclear power plant
May 25 - Russia said Friday it was likely to postpone talks in Tehran over the construction of a nuclear power station, a project that has been caught up in an international standoff over Iran's nuclear ambitions. Russia's state-owned nuclear contractor said persistent payment problems lay behind the expected postponement of talks in Iran at the end of May over construction at the Bushehr plant.

"The likelihood is that [Atomstroiexport head Sergei] Shmatko will not go," said an official from the contractor, which is building the plant, who did not want to be identified. Russia says Iran has missed payments for construction work. Iranian officials deny that and say Moscow is delaying the project due to Western pressure to curb Iran's nuclear work. [More>>haaretz.com]
---
05.25.07 Mahdi militia commander Abu Qader killed in Basra
BASRA, May 25 - A joint British-Iraqi force shot dead the commander of the Mahdi Army militia in the main southern city of Basra on Friday, police and the British military said. The local police force, which has been heavily infiltrated by the Mahdi Army, said that it was British troops who killed Osama Abu Qader. "He was killed by the British together with two of his aides," said a police officer in the city. [More>>thenews.com.pk ; See related story, metimes.com (AFP) May 25, "Sadr back in Iraq as US casualties mount."]
---
05.25.07 Sony's new display can show color moving images even when bent
TOKYO, May 25 - Sony Corp. said Thursday it has developed what it claims to be the world's first organic electroluminescence display that can show color moving images even when being bent. The company said its new display is only 0.3 millimeter in thickness and is made with plastic film to give it considerable flexibility, allowing people to crumple the display like a piece of paper. [More>>japantoday.com ; See more detailed report at timesonline.co.uk]
---
05.25.07 Congress passes war funds bill, ending impasse
WASHINGTON, May 25 - Congress voted Thursday to meet President Bush's demand for almost $100 billion to pay for military operations in Iraq and Afghanistan through September, providing a momentary truce in a bitter struggle over war policy. Even before the House and the Senate acted, Mr. Bush welcomed the legislation, which does not set the timetable sought by Democrats for withdrawing troops but requires the Iraqi government to meet a series of benchmarks as a condition of receiving further American reconstruction aid. The measure also calls for reports from Mr. Bush in July and September about how his strategy is unfolding in Iraq and requires independent assessments of the performance of the Iraqi government by Sept. 1 and the abilities of Iraqi military forces within 120 days. [More>>nytimes.com]
---
05.24.07 Titan's coasts and drowned mountains
May 23 - On May 12, 2007, Cassini completed its 31st flyby of Saturn's moon Titan, which the team calls T30. The radar instrument obtained this image showing the coastline and numerous island groups of a portion of a large sea, consistent with the larger sea seen by the Cassini imaging instrument (See Seeing Farther North).
Lik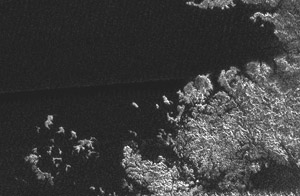 e other bodies of liquid seen on Titan, this feature reveals channels, islands, bays, and other features typical of terrestrial coastlines, and the liquid, most likely a combination of methane and ethane, appears very dark to the radar instrument. What is striking about this portion of the sea compared to other liquid bodies on Titan is the relative absence of brighter regions within it, suggesting that the depth of the liquid here exceeds tens of meters (tens of yards). Of particular note is the presence of isolated islands, which follow the same direction as the peninsula to their lower right, suggesting that they may be part of a mountain ridgeline that has been flooded. This is analogous to, for example, Catalina Island off the coast of Southern California. The image as shown is about 160 kilometers (100 miles) by 270 kilometers (170 miles) at 300-meter (980-foot) resolution. The image is centered near 70 degrees north latitude and 310 west longitude. [More>>saturn.jpl.nasa.gov]
---
05.24.07 Hamas threatens new attacks after IDF arrests 33 top officials
May 24 - Hamas threatened new attacks Thursday after Israel Defense Forces troops arrested 33 senior officials in the organization - including legislators, mayors and one cabinet minister. "Our strikes against the enemy will continue, we have freed the hand of all our cells to strike the enemy everywhere in Palestine," Hamas' armed wing said in a statement. The raid was the latest strike against the Islamic militant group, in the wake of Hamas rocket fire from Gaza on Israeli border towns. [More>>haaretz.com]
---
05.24.07 New York millionaire couple indicted on federal slavery charges
GARDEN CITY, New York (AP) May 24 - A millionaire couple accused of keeping two Indonesian women as slaves in their luxurious New York home for years - viciously inflicting abuse for perceived offenses - have been indicted on federal slavery charges. Varsha Mahender Sabhnani, 35, and her husband, Mahender Murlidhar Sabhnani, 51, who operate a worldwide perfume business out of their home in Long Island, New York, with factories in Singapore and Bahrain, were arrested last week after one of their servants was found wandering outside a doughnut shop.
The indictment, handed up Tuesday night, charges the couple with two counts of forced labor and two counts of harboring illegal residents. The Sabhnanis will be arraigned on the indictment Thursday. The defendants, who are naturalized U.S. citizens from India, had their passports confiscated when they were arrested. [More>>thejakartapost.com]
---
05.24.07 2 Filipino Jemaah Islamiyah affiliates killed in raid
MANILA (AP) May 24 - Soldiers raided an alleged hide-out of local allies of Southeast Asian terror network Jemaah Islamiyah in the southern Philippines, triggering a gun battle that left two suspected Filipino supporters dead, officials said Thursday. Army Scout Rangers, backed by intelligence operatives, swooped on two huts in Compostela Valley province's Pantukan town on Wednesday, and fought a 15-minute battle with 10 local allies of the al-Qaida-linked group, said Brig. Gen. Reynaldo Mapagu. Mapagu identified one of those killed as Abdul Salardi, alias Al-Al. He said another suspect was killed, but troops were still trying to recover his body.[More>>thejakartapost.com]
---
05.24.07 "China stocks may post 'dramatic' drop"
May 24 - Former Federal Reserve Chairman Alan Greenspan said he was concerned Chinese stocks might undergo a "dramatic contraction" after its main stock index jumped more than 90 percent this year. The benchmark CSI 300 Index, which tracks yuan-denominated A shares listed on China's two exchanges, rose to a record 3938.95 Thursday. The index more than doubled last year as investors bet corporate profits would be boosted by the world's fastest-growing major economy.
"It is clearly unsustainable," Greenspan told a conference in Madrid by satellite. "There is going to be a dramatic contraction at some point." China last week increased the amount it lets the yuan move against the dollar and raised interest rates to restrain economic growth and a swelling trade surplus. The changes came ahead of two days of meetings in Washington between Treasury Secretary Henry Paulson and his Chinese counterpart, Vice Premier Wu Yi, aimed at smoothing trade frictions.
Greenspan's comments contributed to the first decline in US stocks in four days. The Dow Jones Industrial Average dropped 14.30, or 0.1 percent, to 13,525.65 after earlier reaching a record. Chinese stocks also declined in US trading. "The strength of the Chinese market has kind of spilled over into the positive sentiment here in the US," said Michael James, senior equity trader at Wedbush Morgan Securities in Los Angeles. "To have someone like Chairman Greenspan calling for a dramatic contraction in the Chinese markets might have made a few people a little nervous." [More>>koreaherald.co.kr] ; See related story, expressindia.com, May 24, "Indian tiger leaps ahead of Chinese dragon."]
---
05.24.07 Bush uses bin Laden to defend war policy
WASHINGTON (Xinhua) May 23 - US President George W. Bush on Wednesday used declassified intelligence about al-Qaeda chief Osama bin Laden to defend his Iraq war policy. During a commencement address at the Coast Guard Academy, New London, Connecticut, Bush mentioned declassified intelligence that said bin Laden discussed sending a top lieutenant in 2005 to Iraq to set up a base from which to launch attacks in the United States.

"There's a reason bin Laden sent one of his most experienced paramilitary leaders to Iraq," he said. "He believes that if al-Qaeda can drive us out, they can establish Iraq as a new terrorist sanctuary," Bush added. The president's address coincided with a push by Democrats in Congress to force an end to the US military presence in the region.

So far this month, 81 US military personnel have died in the Iraq war, bringing the total to 3,432. Bush vetoed a war-spending bill last month that included a timetable for withdrawing troops from Iraq. But timetables have been dropped from revised war-spending legislation, substituting benchmarks with consequences for Iraqi leaders. Both Republicans and Democrats claimed victory Wednesday as the revised war spending legislation moved forward. [>xinhuanet.com ; See related stories:

nytimes.com, May 24, "Poll shows opposition to Iraq War at all time high."

cbsnews.com, May 24, "Bush presses ahead on Iraq plan,"]
---
05.24.07 Over 20 militants killed in Afghanistan
KABUL, May 24 - More than 20 militants, including seven foreign Al-Qaeda insurgents, have been killed in new clashes across Afghanistan, officials said Thursday. Most of the rebels were killed Wednesday by Afghan and foreign forces in southern and eastern parts of the country, which see the worst of the violence. Thirteen were killed in a battle in the southern province of Helmand, the interior ministry said in a statement. Seven of the dead were foreign nationals, believed to be from Osama bin Laden's Al-Qaeda network, it said. The fighting on Wednesday lasted seven hours.

The same day, five more Taliban were killed in separate gunfights in the province's Sangin district, the ministry said. Sangin was brought under government control early last month after being in the hands of rebels. The bodies of the dead "were left at the battlefield." The US-led coalition said it had been involved in the fighting, which erupted after about 25 fighters attacked coalition forces with machine guns and rocket propelled grenades. [More>>thenews.com.pk]
---
05.24.07 Car bomber kills 27 at funeral in Iraq
FALLUJA, Iraq (Reuters) May 24 - At least 27 people were killed and dozens wounded on Thursday when a suicide bomber in a car packed with explosives drove into a crowd of mourners at a funeral in Falluja, west of Baghdad, police said. The US military confirmed that a body pulled from the Euphrates River south of Baghdad on Wednesday was one of three US soldiers missing since their patrol was ambushed on May 12. The military said thousands of troops were continuing to scour farmlands for the other two missing soldiers.
There was no immediate claim of responsibility for the attack in Falluja in Iraq's restive western Anbar province, but police said the funeral was being held for a local businessman opposed to Sunni Islamist Al Qaeda. The group is waging a campaign of bombings and shootings against Sunni Arab tribal leaders, politicians and others in western Anbar province who have formed an alliance against them. [More>>khaleejtimes.com]
---
05.24.07 Turkish soldiers killed in blast
May 24 - Five Turkish soldiers have been killed in a landmine explosion in southeast Turkey, security sources said, blaming the blast on Kurdish rebels. Thursday's attack came at a time of mounting speculation that the army may cross into northern Iraq to launch an operation against rebels based there. Another 11 soldiers were wounded, four of them seriously, in the blast as their vehicle drove over the landmine in Sirnak province, near the Iraqi border. [More>>aljazeera.net ; See also turkishpress.com]
---
05.24.07 Turkish PM would back Iraq incursion after suicide bombing
ANKARA, May 24 - Prime Minister Recep Tayyip Erdogan vowed to support any Turkish military incursion in Iraq to rout Kurdish terrorist bases there after a suicide bombing in Ankara blamed on the militants left seven people dead. Upping the pressure on Baghdad, the Turkish foreign ministry called on Iraqi authorities Thursday to act against the outlawed Kurdistan Workers` Party (PKK) holed up in bases in the north of the conflict-torn country.
"We expect urgent and resolute measures," foreign ministry spokesman Levent Bilman told a news conference here shortly after reports of more violence with a landmine explosion attributed to the PKK killing six soldiers and wounding 10 others in Turkey's southeast. [More>>turkishpress.com]
---
05.24.07 Kyrgyzstan will not allow US to use airbase against Iran - PM
BISHKEK (RIA Novosti) May 24 - Kyrgyzstan will not allow the US to use an airbase on the republic's territory to wage war on Iran or Iraq, the prime minister said Thursday. Located south of Bishkek, the country's capital, Manas airbase is the only US base in post-Soviet Central Asia since Uzbekistan evicted American troops from its territory in 2005. Recent media reports hinted at the possibility of the US using the base in the Central Asian state to deliver air strikes against Iran.
"We will on no account allow the airbase in Manas to be used to launch strikes on Iran or Iraq. Everything must be within the framework of the agreement," Almaz Atambayev told journalists. At the same time, Atambayev said Kyrgyzstan cannot break the agreement with the U.S. on the deployment of the international antiterrorism coalition's airbase at the airport. "That is a very complicated agreement, and it is practically impossible to break," he said.
The United States established a military presence in the region in 2001 using the airbase in Kyrgyzstan as a spearhead for operations in Afghanistan, which US-led coalition forces invaded to topple Taliban rulers who had direct links with the infamous al-Qaeda terrorist organization. The US Ganci airbase, or Manas, located 30 kilometers (17 miles) east of the Kyrgyz capital, accommodates 1,000 U.S. troops along with nine refueling and cargo planes supplying antiterrorism operations in Afghanistan. [More>>rian.ru]
Copyright © 1981-2007 Maravot. All rights reserved
Copyright © 1981-2007 Mel Copeland. All rights reserved
Background: tile from Cicero's villa (Marcus Tullius Cicero 106 B.C. - 43 B.C.)