News Headlines & Trends
---

01.16.09 Some progress toward cease-fire in Gaza conflict
JERUSALEM, January 16 - Efforts to end the three-week-old Gaza war made progress on Friday with Washington pledging to help stop arms smuggling to Hamas and Israeli officials returning from a second trip to Cairo after cease-fire talks. An Israeli government spokesman said, "I think we are heading to the endgame." But problems persisted, especially as portions of the Arab and Muslim worlds took a harder line. At a meeting organized by Qatar, a top exiled Hamas leader rejected Israeli terms for a cease-fire and called for increased resistance.

"Israel will not be able to destroy our resistance, and the United States will not be able to dictate us their rules," the leader, Khaled Meshal, said in defiant remarks broadcast worldwide. "Arab countries should help Hamas to fight against the death of civilian Palestinians." The meeting was boycotted by Egypt, Saudi Arabia and the Palestinian Authority, which held a competing meeting in Kuwait. A day after Israeli forces carried out their most extensive attacks inside Gaza City and killed one of Hamas's most senior men, Friday saw continued but more limited military activity, including about 40 Israeli strikes and 15 Hamas rockets hitting Israel. [More>>nytimes.com; See also:
haaretz.com, January 16, "US, Israel agree on deal to battle Iran arms smuggling to Gaza" : The United States and Israel signed an agreement on Friday aimed at stopping the smuggling of weapons into the Gaza Strip, US Secretary of State Condoleezza Rice said. The deal includes measures to fight arms smuggling from Iran to Gaza, with the policing to take place throughout the route by which the arms reach Gaza, including patrols of the Persian Gulf, Sudan, and neighboring states.

Also on Friday, the Prime Minister's Office reported there has been progress on talks between Israel talks between Egypt and Israel on fighting arms smuggling from Egyptian territory, adding that an agreement could be reached soon. On Saturday evening, the diplomatic-security cabinet will meet to hold a vote on whether to accept the Egyptian proposal. The agreement signed between the US and Israel Friday appears to place much of the blame for recent violence on Hamas, saying "the acquisition and use of arms and related materiel by terrorists against Israel were the direct causes of recent hostilities."...

jpost.com, January 16, " IDF kills at least 20 Hamas gunmen" : Despite predictions of an impending Gaza ceasefire, fighting continued in the Strip on Friday, the 21st day of Operation Cast Lead. The IDF reported killing at least 20 Hamas gunmen in battles throughout the day. Palestinians reported finding 23 bodies in the rubble of buildings bombed by the IAF in Gaza City's Tel el-Hawa neighborhood. They also said that a boy was killed and 10 other people were wounded in IDF operations in Rafah's A-Sha'abura refugee camp. The IAF had bombed some 40 targets overnight, including a Gaza City mosque in which weapons were stored and under which a tunnel had been dug...
---
01.16.09 Bank of America, Citigroup post major losses
January 16 - Two of the country's largest banks posted major fourth-quarter losses today, pushed deep into the red by a weakened economy despite massive infusions of government capital to ensure their stability. The dismal results from Bank of America and Citigroup showed the depth of the recession during the last three months of 2008, and suggested that the economic situation is getting worse. Both companies reported that losses on products such as credit card loans were not just growing but accelerating. Bank of America and Citigroup together have now received $90 billion in taxpayer investments, plus federal guarantees limiting their losses on assets of $424 billion. The federal government now is the largest single shareholder in both institutions.

Citigroup, which reported a fourth-quarter loss of $8.29 billion, announced yet another round of restructuring. The company said it will segregate a number of units it hopes to sell, amounting to about one-third of the company, in a new vehicle called Citi Holdings.

...Bank of America reported a $1.79 billion fourth-quarter loss, plus a $15.31 billion loss at troubled investment bank Merrill Lynch, which it acquired Jan. 1. The report made clear why Bank of America needed additional federal help. The government announced earlier this morning that it would invest another $20 billion and limit the company's losses on a portfolio of troubled loans. Merrill Lynch's losses were larger than expected, and Bank of America faces rising criticism from investors for making the deal, which was encouraged by the federal government. Chief executive Ken Lewis defended the purchase this morning. [Full story>>washingtonpost.com; See related stories,

timesonline.co.uk, January 16, "Barclays shares dive by 25% in final hour" : Barclays shares dived by 25 per cent in the last hour of trading, a day of broad weakness in the banking sector. The company said it didn't know why its stock was falling, and that it hadn't said anything that would require regulatory reporting obligations. Shares in the bank, one of the few not to have asked the Government for more capital, ended down 32 to 98p, leaving the stock down more than 40 per cent on the week. Royal Bank of Scotland's stock sank 13 per cent or 5.2 per cent to close at 347p. Lloyds TSB 5pc to 98.4p and HSBC 2pc to 535p.

The final hour capped a day of fluctuating share prices after the ban on the short-selling of UK financial sector shares was lifted. There had been fears that the midnight expiry of the short-selling ban would put the sector under further pressure. Short-selling is a process whereby investors, typically hedge funds, borrow shares in a company which they then sell in the hope of buying them back later at a lower price. The ban was introduced in the days after the collapse of Lehman Brothers, the US investment bank, to stop shares in UK banks from being battered as fears over the strength of lenders swept trading floors across the globe....

abcnews.go.com, January 16, "Circuit City to liquidate remaining US stores" : Bankrupt Circuit City Stores Inc., unable to work out a sale of the company, said Friday it will go out of business — closing its 567 US stores and cutting 30,000 jobs. The nation's second-biggest consumer electronics retailer is the latest casualty of an unprecedented pullback in consumer spending that has driven other brands such as KB Toys, Mervyns LLC and Linens 'N Things into bankruptcy. Experts believe there will be more to come...
---
01.16.09 Russia hopes US will review missile defense plans - Lavrov
MOSCOW (RIA Novosti) January 16 - Moscow is hoping that US President-elect Barack Obama will review Russia's proposal for a collective Russian-American-European missile defense network, the Russian foreign minister said on Friday. "We have noticed that President-elect Obama is willing to take a break on the issue of missile defense...and to evaluate its effectiveness and cost efficiency," Sergei Lavrov told a news conference in Moscow. Moscow has strongly opposed the possible deployment by the US of 10 interceptor missiles in Poland and a radar in the Czech Republic as a threat to its security and nuclear deterrence.

Washington says the defenses are needed to deter possible strikes from "rogue states." "We hope that while studying the [missile defense] project, he [Obama] will pay attention to the breakthrough proposals made by Russia in 2007 on the collective Russian-American-European network for monitoring the global risks of missile proliferation and joint measures to tackle these risks," the minister said. [More>>en.rian.ru]
---
01.16.09 12 militants killed in Swat: ISPR
ISLAMABAD, January 16 - Twelve militants have been killed in Swat, said Inter Services Public Relations (ISPR) on Friday. [>thenews.com.pk]
---
01.15.09 Banks reel after alerts at HSBC and Deutsche
LONDON, January 15 - Fresh turmoil hit the banking sector as Deutsche Bank issued a profits warning and analysts suggested that HSBC could need a massive injection of fresh capital. Deutsche Bank, Germany's biggest lender, said it would post a net loss of about €3.9bn (£3.5bn) for 2008, compared with net profit of €6.5bn a year earlier – its first annual loss for five decades. The bank suffered a record €4.8bn loss in the fourth quarter as the financial crisis battered its debt and equity trading operations. The news alarmed the market about the prospects for other big banks as Deutsche had been relatively unscathed by the credit crunch. Josef Ackermann, the chief executive, said he was "very disappointed" by the loss, adding that the bank had "scaled back or exited trading strategies most affected by market turbulence."

The bank said its credit trading business and own-account dealing in bonds and shares suffered from "exceptional market conditions." It joins Goldman Sachs, Morgan Stanley and Credit Suisse in reporting fourth-quarter losses after September's bankruptcy of Lehman Brothers shattered confidence in financial markets. Deutsche Bank shares fell 8 per cent, taking this year's fall to 21 per cent. The news hit shares in Royal Bank of Scotland, which fell nearly 15 per cent and was the worst performer in the FTSE 100, closely followed by Barclays. Both UK banks are heavily exposed to the debt markets that helped trigger the shock loss at Deutsche Bank. Confidence in Barclays was also hit by a second day of massive job losses. Barclays said it would slash 2,000 jobs in its retail and commercial banking operations, following Tuesday's announcement of 2,100 redundancies in its investment banking and wealth management businesses. [More>>independent.co.uk; See related stories:

thestar.com.my, January 15, "World stocks drop amid mounting economic gloom" : LONDON - World stock markets dived Thursday, particularly in Asia where investors played catch-up with previous losses in Europe and the US, after dismal US retail sales data and fresh worries about the global banking system. Every market in Asia suffered steep declines, with broad selling seen across industries from energy to financials to exporters. A record 16.2 percent fall in Japanese machinery orders in November from the previous month further hurt sentiment in Asia. The Nikkei 225 plunged 415.14 points, or 4.9%, to 8,023.31, while Hong Kong's Hang Seng Index fell 461.65 points, or 3.4%, to 13,242.96 after earlier sinking about 5%. South Korea's Kospi dropped 6% to 1,111.34, while markets in Australia and Taiwan fell 4% or more. Singapore's benchmark was down 3.4% but Shanghai stocks were only slightly lower...

nytimes.com, January 15, "Markets fall on economic reports" : All sides of the recession were on view Thursday in the latest economic reports, keeping pressures on markets around the world. A sharp fall in machinery orders in Japan provided the latest grim indication that the country's economic contraction is set to be deep and prolonged as exports to other recession-struck regions plunged — notably those to the United States and Europe. The market in Tokyo fell 4.9 percent. In Europe, the central bank lowered its key rate by half a percentage point, to 2 percent, as recent economic data showed that inflation was easing but the recession was deepening. Major markets in Europe were all down in afternoon trading.

In the United States, the producer price index fell 1.9 percent, its fifth consecutive monthly decline, as energy costs continue to drop. The core rate, which excludes volatile food and energy costs, rose 0.2 percent last month. In addition, new jobless claims rose more than expected last week to 524,000 from 470,000 a week earlier. Analysts were expecting 500,000 new claims. Wall Street turned lowered at the open, and the Dow Jones industrial average down about 185 points at midday. The broader Standard & Poor's 500-stock index was down 2.8 percent...
---
01.15.09 Hamas interior minister Said Siam dies in IAF air strike
JERUSA:LEM, January 15 - Hamas's interior minister, Said Siam, was killed along with his brother Iad and his son, as well as another senior Hamas man in an IAF strike on a house in the Jabaliya neighborhood in Gaza City, Israeli defense officials told The Jerusalem Post. Siam was the Hamas political echelon's liaison with the group's military wing, and was responsible for the various security apparatuses in the Strip, including the police and the naval force. Siam was considered a radical and was in contact with Hamas's political leadership in Damascus.

He was also considered close to Iranian officials. Siam was one of the masterminds of Hamas's violent takeover of the Gaza Strip in June 2007. Salah Abu Shrakh, the head of the Hamas general security service, was also killed in the air strike. Siam was the most senior Hamas man to be killed in almost three weeks of fighting. Hamas confirmed that Siam was killed with his brother and son. According to Palestinian reports, Mahmoud Watfa, one of the commanders of the Hamas military wing, was also killed in the strike. [More>>jpost.com]
---
01.15.09 Israelis shell hospitals and UN HQ
January 15 - Three hospitals and a UN compound have been bombed by Israel as troops continue to advance into the densely-populated Gaza City. Around 500 people were sheltering in the Al-Quds hospital in the city's southwestern Tal Al-Hawa district when it was bombed by Israeli jets and set ablaze on Thursday morning. Hospital officials said the fire was sparked by a "phosphorus shell."
"We have been able to control the fire in the hospital but not in the administrative building," one hospital official said. "We hope that the flames don't spread again to the wings of the hospital." Two hospitals east of Gaza City were also hit by Israeli shells as Gazans fled tanks advancing into the city. It was no immediately clear if any casualties following the raids. The Israelis also bombed a UN compound in Gaza City, setting fire to warehouses of badly-needed food and medical aid and prompting international outrage. Around 700 Palestinians were sheltering in the UN complex at the time of the strikes which left two civilians and three staff members injured. [More>>aljazeera.net; See also:

jpost.com, January 15, " Shelled UN building used by Hamas' " : Gunshots and an anti-tank missile were fired at IDF troops near the UN compound that was attacked by the IDF on Thursday, senior defense officials told The Jerusalem Post. According to the officials, the IDF responded by firing artillery shells at the location of the gunmen, causing damage to the UN installations. At least three people were wounded in the attack and the building was set on fire. The IDF's Gaza Coordination and Liaison Administration coordinated the arrival of five fire trucks to the compound to help put out the flames...

abcnews.go.com, January 15, "Olmert defends attack on UN Gaza compound" : UN Secretary-General Outraged by Israel's Bombardment of Gaza Headquarters. Israeli Prime Minister Ehud Olmert says the Israeli army shelled the UN complex in Gaza City today because, he told reporters, soldiers "were attacked from there and the response was harsh." The shelling set a UN warehouse full of food and supplies intended for Palestinians on fire. Olmert's office confirmed to ABC News that Olmert talked with UN Secretary-General Ban Ki-moon and told him, "This was a sad incident for which I am sorry but our troops were attacked from there and the reaction was forceful." The United Nations had already dismissed the self-defense charge. "There were no militants in UNRWA [UN Relief and Works Agency] compound at the time," Johan Eriksson, a UN spokesman, told ABC News earlier today...
---
01.15.09 Pakistan arrests a dozen militants in Karachi
ISLAMABAD, January 15 - Says 124 arrested so far in Mumbai crackdown. Pakistani police arrested more than a dozen Islamist militants in the southern city of Karachi on Thursday after a fierce gun battle following a pre-dawn raid on their hideout, officials said. Two policemen were killed and nine wounded before the militants' resistance was broken after several hours of shooting. The raid came at a time when tensions were running high between Pakistan and India in the wake of a militant attack on the Indian city of Mumbai in November, and there is pressure from the international community for Pakistan to crack down harder on jihad groups.

Pakistan has so far arrested 124 people belonging to banned groups. India has blamed the Pakistan-based Kashmiri militant group, Lashkar-e-Taiba (LeT), for the Mumbai assault in which 179 people were killed. Interior ministry chief Rehman Malik, the country's point man on counterterrorism, said those arrested were members of an Islamic charity linked to Lashkar-e-Taiba. [More>>alarabiya.net]
---
01.15.09 Three international aid workers kidnapped in S. Philippines
MANILA, January 15 - Three international aid workers, including two foreigners, were kidnapped Thursday morning by unidentified gunmen in the restive southern Philippines, officials said. The team from the International Committee of the Red Cross (ICRC), led by Swiss Andreas Notter, were kidnapped in a car on their way to the Jolo airport in Sulu Province, said Estefani Cacho, a spokesperson for the Armed Forces of the Philippines. Notter is the head of ICRC office in Zamboanga City...No organization has claimed responsibility for the incident. But the Jolo Island is known as a stronghold of the al-Qaeda-linked Abu Sayyaf, a 380-member group blamed for a series of kidnappings and terror attacks in the Southeast Asian country, including the bombing of a ferry near Manila Bay in 2004 that killed more than 100 people. [Full story>>xinhuanet.com]
---
01.14.09 Judge orders search of administration appointees' e-mails
WASHINGTON, January 14 - With Bush administration White House aides on their way out the door in coming days, a federal judge this morning ordered the president's executive office to undertake a comprehensive search for millions of senior appointees' e-mails that have been inaccessible and possibly missing since 2005.

The order reflects a continuing effort by outside groups to ensure that the White House transfers historically significant materials to the National Archives on or before next Tuesday, as required by federal law. District Court Judge Henry H. Kennedy Jr. demanded that officials search computer workstations, preserve thumb drives and examine e-mail archives created or retained by White House employees from 2003 to 2005, the period in which a records gap exists.

...An internal White House report noted in 2005 that e-mails appeared to be missing from specific periods, including key moments related to the invasion of Iraq and to a federal probe of the leak of Valerie Plame's employment by the CIA. But White House officials have since said that some of the e-mails from those periods have been retrieved. [Full story>>washingtonpost.com; See related stories:

japantoday.com, January 14, "Democrats seek criminal probe of Bush 'abuses' : : WASHINGTON - The incoming Obama administration should launch a criminal investigation of Bush administration officials to see whether they broke the law in the name of national security, a US House Democratic report said Tuesday. President-elect Barack Obama has been more cautious on the issue and has not endorsed such a recommendation. Along with the criminal probe, the report called for a Sept. 11-style commission with subpoena power, to gather facts and make recommendations on preventing misuse of power, according to the report by the Democratic staff of the House Judiciary Committee. The report covers Bush administration policies that Democrats have protested for some time. Among them: interrogation of foreign detainees, warrantless wiretaps, retribution against critics, manipulation of intelligence and political dismissals of US attorneys...

abcnews.go.com, January 14, "Torture admission triggers call for Special Prosecutor" : A key Democratic congressman demanded today that a special prosecutor look into the admission by a Pentagon official that at least one Guantanamo detainee was tortured. Rep. John Conyers, D-Mich., made his demand after Susan J. Crawford, who was named by Defense Secretary Robert Gates to serve as the convening legal authority of military commissions, told the Washington Post that the treatment of Guantanamo detainee Mohammed al Qahtani "met the legal definition of torture."...

afterdowningstreet.org, January 14, "Ask Obama to arrest Bush as the two of them pass by 40 feet away" (David Swanson press release) - ...We have a permit for an Arrest Bush demonstration on the sidewalk in front of the FBI Building. Bush and Obama will pass by at around 11am on their way from the White House to the Capitol. Obama will pass back by as president at around 3pm Wear your Arrest Bush & Cheney Sweatshirt, other warm clothes, and comfortable shoes. Be patient and arrive very early. Bring all your friends and family and an Arrest Bush sign as your ticket to get into our parade viewing area (everyone with a sign welcome until it fills up). Updates here: http://www.arrestbush2009.com. 3,000 in Front of FBI Building for Inaugural Parade to Demand Bush's Arrest...
---
01.14.09 Markets plunge on record fall in US retail sales
LONDON, January 14 - Markets in London and New York plunged today after American retail sales fell twice as much in December as forecast. Trade over the Christmas and sales season fell 2.7 per cent, far above the 1.2 per cent expected by analysts and, excluding car purchases, dived 3.1 per cent, the worst fall since records began in 1992. In London, the FTSE 100 index of leading UK companies fell 256.93 points to 4,142.22 and, in New York, the Dow Jones industrial average fell 263.87 points to 8,184.69. Tightening credit conditions and rising unemployment contributed to a slowdown in spending by US consumers last month. [More>>timesonline.co.uk; See related story,

independent.co.uk, January 14, "Bernanke tells Obama $775bn fiscal package is not enough." : Ben Bernanke, chairman of the US Federal Reserve, warned yesterday that the economic recovery package planned by the incoming Obama administration will not succeed unless financial stability is restored. Mr. Bernanke used a speech in London to issue a clear challenge to the US president-elect, Barack Obama, who is planning a huge fiscal stimulus — expected to be worth $775bn (£535bn) — to get the US economy going again...
---
01.14.09 Hamas responds 'positively' to Gaza cease-fire proposal
January 14 - Hamas announced on Wednesday that it had responded "positively" to the Egyptian cease-fire proposal, but said there were still some differences between the two parties that needed to be addressed. The Egyptian news agency MENA reported earlier that Hamas had accepted the cease-fire proposal. Egyptian Foreign Minister Ahmed Aboul Gheit confirmed that Hamas had given a "positive response" regarding the initiative. He said he would relay the Hamas position to Israel on Thursday. Salah Bardaweel, member of the Hamas delegation to the talks in Cairo, hinted that his movement has accepted the Egyptian initiative. "The Egyptian initiative is the only one that was presented to Hamas," he told reporters in Cairo.

He said that his movement did not have any dispute with Egypt. "We don't have differences with the Egyptians. They are acting as mediators with the Zionist enemy." Bardaweel, who is a Hamas legislator from the Gaza Strip, said that Hamas did not ask the Egyptians to amend their initiative. "We didn't ask for amendments," he stressed. "We only presented our views and comments on it." Bardaweel added that the Hamas delegation made it clear to the Egyptians that Hamas won't accept anything less than a halt to the "Zionist aggression," "the permanent reopening of all the border crossings and the lifting of the blockade on the Gaza Strip." However, Osama Hamdan, the Hamas representative in Lebanon, said that the Egyptian initiative must be changed so as to serve the national interests of the Palestinians. [More>>jpost.com; See related stories:

alarabiya.net, January 14, "Gaza humanitarian state 'shocking' : Red Cross" : The humanitarian situation in the Gaza Strip is "shocking", the head of the International Committee of the Red Cross said as Human Rights Watch slammed the Israeli blockade of the Strip as well as the Palestinian rockets fired into Israel in a new report...

nytimes.com, January 14, "Israeli rights groups call for War Crimes inquiry" : JERUSALEM - Nine Israeli human rights groups called on Wednesday for an investigation into whether Israeli officials had committed war crimes in Gaza since tens of thousands of civilians there have nowhere to flee, the health system has collapsed, many are without electricity and running water, and some are beyond the reach of rescue teams...

jpost.com, January 14, "Three Grads found in south Lebanon" : Several hours after at least three Katyusha rockets fired from Lebanon landed near Kiryat Shmona, a joint UNIFIL-LAF (Lebanese Armed Forces) patrol discovered three live Grad rockets prepared for launch in the El Hebbariye area, in south Lebanon. Sappers safely deactivated the rockets. UNIFIL said its forces and the Lebanese army were continuing intensive patrols and searches throughout the area. Wednesday morning's Katyusha fire was the second rocket attack from Lebanon in less than a week. While security forces continued to search for the rockets, there were no immediate reports of anyone wounded or damage to property. The army launched a counter strike, firing artillery shells at the assumed location of the Katyusha launchers...
---
01.14.09 HIzb co-founder Mohammad Ahsan Dar arrested in J-K (Jammu & Kashmir)
BARAMULLA, Jammu & Kashmir, January 14 - In a major success, a top militant and one of the founders of Hizbul Mujahideen Mohammad Ahsan Dar was on Wednesday arrested by police in Bandipora district of Jammu and Kashmir. Dar, a close associate of Syed Sallahuddin — chief of Hizbul Mujahideen, was coordinating activities of Lashker-e-Toiba, Hizbul, Jaish-e-Mohammad and Harkat-ul-Mujahideen, Deputy Inspector General of Police, North Kashmir, Abdul Gani Mir said in Baramulla. Acting on specific information that Dar had returned from Pakistan-occupied Kashmir (PoK) and was coordinating the activities of different militant outfits, Jammu and Kashmir Police arrested him in the wee hours while he was trying to sneak into Sumbal area from his home town Pattan, he said

Dar, self-styled chief commander of Muslim Mujahideen, offered no resistance while being arrested, Mir said. The DIG said Dar had parted ways with Hizbul Mujahideen following differences with the top brass of the outfit and founded Muslim Mujahideen in 1992. He, however remained close to Sallahuddin, who also heads the United Jehad Council — an amalgam of militant outfits active in the state. Dar, who is in his 50s, was arrested in 1993 and released in 1999 after six years in detention, Mir said, adding he had also visited Pakistan and has remained in close contact with ISI and other Pakistani agencies. He has been regularly receiving funds from them. [More>>indianexpress.com]
---
01.14.09 Cardinal 'warns Roman Catholic women against marrying Muslim men'
LISBON (AFP) January 14 - A Portuguese cardinal has warned Roman Catholic women against marrying Muslim men. "Be careful with love. Think twice before marrying a Muslim, think seriously because it brings loads of hassle  - and even Allah can't say where all that will end," Jose Policarpo, the Cardinal Patriarch of Lisbon, said during a public debate. "When you recognise what a young European of Christian upbringing is subjected to, given Muslim attitudes to women, the first time she goes to their countries, we can imagine what that entails. You can only dialogue with someone who is willing to dialogue. With our Muslim brothers, for example, dialogue is very difficult," he said. [More>>news.com.au; See related story,
timesofindia.indiatimes.com (AFP) January 14, " 'Girls over 10 or 12 years are eligible for marriage' " : RIYADH - Saudi Arabia's senior-most cleric said girls as young as 10 years old can be married, local media reported on Wednesday. The powerful Grand Mufti Abdul Aziz al-Sheikh said in a speech late on Monday that Islamic Sharia law allows the practice of pre-teen girls getting married, and that critics of the practice were doing the girls "an injustice," reports said. "We hear often in the media about the marriage of minors. We must know that Sharia law is not unjust for women," the cleric is quoted as saying....Saudi human rights groups are fighting the old practice of children being married off to much older men by their parents and seek to establish a legal minimum age for women to be married.
---
01.14.09 Iran, China sign oilfield development contract
TEHRAN, January 14 - Iran and China on Wednesday signed a 1.76 billion dollar contract for the initial development of the North Azadegan oil field in western Iran, an Iranian oil ministry official said. The agreement between China National Petroleum Corporation (CNPC) and the National Iranian Oil Company (NIOC) foresees production from the field reaching 75,000 barrels a day in four years' time, the official said. If that timetable is maintained, Iran may award CNPC the contract for the second phase, when production is scheduled to double.

The north Azadegan field is in Khuzestan province on the border with Iraq and has reserves of about six billion barrels of oil. Western oil companies have refused to invest in Iran because of the controversy over its nuclear energy programme and Tehran has increasingly turned to Asian companies. Outline agreements have been signed with several Asian companies but the deal between CNPC and NIOC is the first major oil sector contract finalized in recent years. CNPC this month began work on developing the Al-Ahdab oil field in Iraq following the signing of a three billon dollar contract. [>thenews.com.pk]
---
01.14.09 US seeks Afghan supply route via Kazakhstan
ALMATY, Kazakhstan (Reuters) January 14 - The United States is talking to Kazakhstan about using the former Soviet republic as a transit point for supplies to NATO troops in Afghanistan, US Central Command chief General David Petraeus said on Wednesday. NATO officials have already said the alliance wants to divert some supplies from the traditional route through Pakistan where insurgent attacks have become more intense. Petraeus met Kazakhstan's President Nursultan Nazarbayev on a visit to the Central Asian country. "We have discussed Kazakhstan's contribution to the so-called Northern transit network which would enable us to supply the Afghanistan troops," he told reporters after the meeting. Kazakhstan, a country roughly the size of Western Europe, does not border Afghanistan, but could serve as a transit hub for the supply route, analysts say. But that would not require the establishment of a military base in the former Soviet republic and the United States has no such plans, Petraeus said. [>khaleejtimes.com; See also en.rian.ru, January 14, "US military denies plans to set up bases in Kazakhstan."
---
01.13.09 North Korea says it won't give up nuclear weapons
SEOUL, South Korea (AP) January 13 - North Korea said Tuesday it will hold onto its nuclear arsenal until it is satisfied the US is not hiding atomic weapons in South Korea and Washington establishes diplomatic relations with the regime. The North has long accused Washington of stationing nuclear weapons on the Korean peninsula for a possible attack on the communist nation. Both the South and the US deny having nuclear weapons in South Korea. Regional powers have been trying for years to rid North Korea of its nuclear program, but negotiations have recently stalled. The foreign ministry indicated it would consider giving up its nuclear weapons if the US threat is removed and diplomatic relations between the two nations are established. [More>>timesofindia.indiatimes.com]
---
01.13.09 Egypt wants Hamas to sign up to truce deal 'now'
CAIRO (AFP) January 13 - Egypt was on Tuesday holding talks with Hamas on Cairo's Gaza truce proposal, with an official calling for the Islamists to sign up "now" in the hope of announcing a ceasefire "before the end of the week." A delegation from Hamas was to hold yet another round of "crucial" talks with Egyptian intelligence chief Omar Suleiman on Tuesday, as Israel's offensive ploughed on for an 18th day and diplomatic efforts to end the bloodshed plodded forward. "We're working seriously with Hamas, we need to end the vagueness and they need to say yes, now, to our plan," a senior Egyptian diplomat told AFP, requesting anonymity. [More.>khaleejtimes.com; See related stories:
timesonline.co.uk, January 13, "War in Gaza: Abbas accuses Israel of trying to 'wipe out' Palestinians": Israeli troops and Hamas fighters fought fierce battles on the streets of Gaza City today as Mahmoud Abbas, the Palestinian President, accused Israel of trying to "wipe out" his people. The most relentless clashes of the 18-day conflict erupted when Israeli special forces, backed by tanks and air strikes, pushed into several neighborhoods in the south of Gaza's main city early this morning. Palestinian fighters fired back with roadside bombs, mortars and anti-tank rockets. Explosions, tank shell thuds and the rattle of gunfire kept terrified residents who had not yet fled the area awake all through the night...

washingtonpost.com, January 13, "Israeli envoy plans decisive talks in Egypt."
haaretz.com, January 13, "12 Gaza rockets hit Negev, one near Ashkelon school."
---
01.13.09 Russian gas to Europe 'blocked'
January 13 - Russian gas giant Gazprom says Ukraine has blocked gas deliveries to Europe, dashing hopes of ending a row which has hit several countries' supplies. Gazprom deputy head Alexander Medvedev said Ukraine had failed to carry the gas onwards to Europe after it resumed pumping it across their border. Ukrainian President Viktor Yushchenko called on Russia to "stop the blackmail" and work out an agreement. Hundreds of thousands of Europeans have been without gas for nearly a week. [More>>bbc.co.uk]
---
01.13.09 Ethiopian troops 'quit Mogadishu'
January 13 - Ethiopian troops supporting Somalia's Western-backed government have vacated their main bases in the Somali capital of Mogadishu, witnesses say. The soldiers began to pull out of the bases on Tuesday as local residents cheered and celebrated the withdrawal. Ethiopia had announced plans to withdraw its estimated 3,000 troops from Somalia last November. [More>>aljazeera.net]
---
01.13.09 Mideast political freedom on the decline: report
DIBAI, January 13 - Iraq only country to move up the freedom scale. Political freedoms declined around the world for a third straight year in 2008, with the Middle East and North Africa (MENA) reversing years of modest gain according to an annual survey of political rights and civil liberties by a US rights organization. The survey by Freedom House found Iraq was the only country in the region to register even a small gain in political freedom. Only Israel was defined as "free" although the report noted that since the Jewish state is an occupying force in the Palestinian territories it is therefore responsible for its "not free" status. [More>>alarabiya.net]
---
01.12.09 Inexplicable wealth of Afghan elite sows bitterness
KABUL, January 12 - Across the street from the Evening in Paris wedding hall, a monument to opulence surrounded by neon-lighted fountains and a five-story replica of the Eiffel Tower, is a little colony of tents where 65 families, mostly returnees from Pakistan, huddle against the winter cold and wish they had never come home. Similar startling contrasts abound across the Afghan capital. Children with pinched faces beg near the mansions of a tiny elite enriched by foreign aid and official corruption. Hundreds of tattered men gather at dawn outside a glittering new office building to compete for 50-cent jobs hauling construction debris.

"I am a farmer with 11 children. Our crops dried up, so I came to the city to find work, but all day I stand here in the cold and no one hires me," said Abdul Ghani, 47. "All the jobs and money go to those who have relatives in power, and corruption is everywhere. How else could they build these big houses? Nobody cares about the poor," he added bitterly. "They just make fun of us." Seven years after the fall of the Taliban and the establishment of a civilian-led, internationally backed government, Afghanistan remains one of the poorest countries in the world, with rates of unemployment, illiteracy, infant mortality and malnutrition on a par with the most impoverished nations in sub-Saharan Africa. Most homes lack light, heat and running water; most babies are born at home and without medical help.

Now, according to U.N. figures, the populace is getting even poorer. A combination of drought, soaring food prices, scarce jobs and meager wages has meant that about 5 million Afghans — far more than in any recent year — are slated to receive emergency food aid. Many families spend up to 80 percent of their income on food. [More>>washingtonpost.com]
---
01.12.09 Taxpayer to own 43% in Lloyds and HBOS merger
LONDON, January 12 - Lloyds TSB marked its transformation into Britain's new "super bank" today by revealing that investors had shunned its merger with HBOS and admitting it has paid £180 million to US regulators after allowing clients to sidestep US sanctions. The UK taxpayer will now own 43.4 per cent of the merged business, which will be known as the Lloyds Banking Group, after investors bought only 0.5 per cent of shares on offer from Lloyds TSB and 0.24 per cent of stock offered by HBOS.

..The banks are expected to gain approval for the merger today as Lloyds TSB attempts to draw a line under a US investigation of its dealings with Sudanese and Iranian clients. Lloyds TSB said that it had paid £180 million after an investigation by the US Department of Justice and the New York County District Attorney's Office which found that the bank had altered clients' details, allowing them to circumvent stringent anti-terror laws in America. Although Lloyds said that it did not expect to have to pay any more in fines, it acknowledged that discussions with the authorities over the terms of the resolution had not yet concluded. [Full story>>timesonline.co.uk]
---
01.12.09 Price of oil drops below $40 a barrel, investor fears over US unemployment, economy...
SINGAPORE, January 12 - Oil prices fell below $40 a barrel Monday in Asia as investors looked to key U.S. corporate results this week for indications of the health of the world's largest economy and demand for crude. Light, sweet crude for February delivery was down 98 cents to $39.85 a barrel by midafternoon in Singapore in electronic trading on the New York Mercantile Exchange. The contract on Friday fell 87 cents to settle at $40.83.

Steel producer Alcoa, chip maker Intel and biotech company Genentech are expected to report fourth quarter results this week, giving investors a gauge of how deep the current recession may be. "Given that we're likely to see quite a few rather poor fourth quarter earnings reports, downward pressure will continue to be exerted on oil," said Victor Shum, an energy analyst with consultancy Purvin & Gertz in Singapore. "Worries about the macroeconomic outlook will continue to constrain oil." Oil prices fell 17 percent last week, weighed down by fears that rising US unemployment will undermine crude demand. [More>>cbsnews.com]
---
01.12.09 IDF finds Hamas arms stockpile in raid on Gaza mosque
January 12 - The Israel Air Force on Monday bombed a mosque in southern Gaza City, on day 17 of its offensive against Hamas' infrastructure in the coastal territory. Israeli ground forces who entered the premises following the attack found a mass stockpile of weapons, including Qassam and Katyusha rockets. The Israel Defense Forces continued its offensive against the Hamas-ruled Gaza Strip before dawn on Monday, attacking dozens of targets across the territory. IDF ground forces — comprising infantry, tanks, combat engineers, artillery and intelligence — were assisted by aerial attacks during the overnight operations. The IAF reported attacking 10 Hamas targets, including five armed operatives, four weapons storehouses, two smuggling tunnels dug under the house of militants, one tunnel dug under Gaza's border with Egypt and one rocket launching position. [More>>haaretz.com; See related stories:

independent.co.uk (AP) January 12, "Israel pounds new Hamas targets" : Israeli warplanes are pounding the homes of Hamas leaders while ground troops edge closer to the Gaza Strip's densely-populated urban centre today, as Israel stepped up the pressure ahead of deciding whether to escalate its devastating two-week offensive. From downtown Gaza City black smoke could be seen rising over the eastern suburbs, where the two sides skirmished throughout the night. At least six Palestinians were killed in the new airstrikes or died from their wounds today, Gaza health officials said. One of the dead was a militant killed in a northern Gaza battle.

Despite the tightening Israeli cordon, however, militants still managed to fire off a rocket this morning which fell near the southern town of Kiryat Gat but caused no casualties, police said. The army announced yesterday that it had begun sending reserve units into Gaza to assist thousands of ground forces already in the territory. The use of reserves is a strong signal that Israel is planning to move the offensive, which already has killed some 870 Palestinians, into a new, more punishing phase...

gulfnews.com, January 12, "Egyptian police hold 21 Islamists after Gaza rally" : CAIRO - Egyptian police detained 21 members of the opposition Muslim Brotherhood after a rally in protest against Israel's offensive in Gaza, the group and security officials said on Sunday. Those detained include members of the provincial leadership of the Brotherhood, which has ties with Hamas, the Islamist group ruling Gaza. The Brotherhood said most of the men were rounded up before dawn in the coastal city of Alexandria. A security official said the detentions were made in response to the Gaza protests and because of suspicion of membership of an illegal organization. [end]
---
01.12.09 Bombs target Iraqi forces across Baghdad
BAGHDAD, January 12 - At least nine killed, over 30 wounded. A series of bombings targeting Iraqi security forces ripped through busy areas in the Iraqi capital Baghdad on Monday, killing at least nine people and wounding more than 30 others, according to police sources. A bomb attached to a car, followed quickly by another blast, killed three people and wounded 10 in the New Baghdad district in the east of the capital, police said. A roadside bomb in the Yarmouk neighborhood struck an Iraqi army lorry carrying ammunition. Three soldiers were burned to death inside the truck and four civilians were wounded. Near Sha'ab stadium in eastern Baghdad a bomb struck a police patrol, wounding seven people, including three policemen. In Ghazaliya district in western Baghdad a roadside bomb struck a police patrol wounding three policemen and a civilian. A roadside bomb struck near a police patrol in the central Karrada district killing one civilian and wounding four policemen, and another roadside bomb in central Baghdad wounded four people. Two other roadside bombs apparently aimed at Iraqi army and police patrols elsewhere in the capital killed two civilians and wounded seven other people, police officials said. Iraq has become far less violent over the past 18 months...[Full story>>alarabiya.net]
---
01.12.09 Fresh sectarian clashes in northwest Pakistan
ISLAMABAD, January 12 - Fresh clashes broke out between rival Shia and Sunni groups in northwest Pakistan as a truce brokered by tribal elders collapsed due to new attacks by Taliban fighters, with the toll reaching 47 in four days. Taliban cadres from the nearby Aurakzai Agency, who are backing the Sunni tribesmen, refused to accept the terms of a ceasefire brokered yesterday by a peace committee in Hangu district comprising local officials and tribal elders. The Taliban then launched attacks, targeting positions of Shia tribesmen with mortars and rockets, and the fresh fighting claimed seven more lives. Forty people died earlier in the clashes that began on Friday. More than 60 people have also been injured.

The Pakistan Army has been ordered to enter Hangu district of the North West Frontier Province and take control of the area, TV channels reported. The security forces have used gunship helicopters to target the positions of the rival tribesmen. The Taliban militants have told tribal elders that they would vacate their positions only if they received orders to do so from their commander Mullah Hakeemullah, who is based in Aurakzai Agency. [>timesofindia.indiatimes.com]
---
01.11.09 IDF confirms: Reservists now participating in Gaza operation
January 11 - For the first time since Operation Cast Lead began over two weeks ago, the IDF released for publication on Sunday that reservists have been sent into the Gaza Strip to participate in the military effort. The army refused to say whether the announcement was an indication that the third phase of the operation had begun. Phase One was the massive aerial assault on Hamas targets throughout Gaza, Phase Two was the entrance of Israeli ground troops, and Phase Three is believed to be an expansion of ground operations, possibly into the densely populated area of Gaza City.

A limited number of reservists have been deployed as of Sunday, the army said. At the beginning of the operation, the cabinet gave the IDF approval to call up tens of thousands of reservists. Earlier on Sunday, IAF planes attacked at least twenty smuggling tunnels along the Philadelphi Corridor, on Gaza's southern border with Egypt. The tunnels were being used to smuggle weaponry into Gaza, according to the IDF.[More>>jpost.com; See related stories:

alarabiya.net, January 11, "Hamas leaders hide in foreign missions: Israel" : Israel accused Hamas leaders in the Gaza Strip on Sunday of hiding in foreign diplomatic missions in an effort to elude Israeli forces, as Hamas officials were in Cairo for talks aimed at brokering a ceasefire in Gaza. "The leaders of Hamas and the armed wing are hiding in bunkers, hospitals and foreign missions," Israeli Cabinet Secretary Oved Yehezkel told reporters, basing his information on an intelligence briefing received by ministers...

news.sky.com, January 11, "Thousands of protestors gather in London and Manchester in support of Israel" : Police had been braced for disruption after an officer was knocked out when yesterday's demonstrations turned violent. Twenty-four people were arrested in London after a pro-Palestinian demonstration got out of control near the Israeli embassy in Kensington. Two hundred protesters from a rally of over 12,000 people began hurling missiles at the embassy and police yesterday afternoon. One officer was knocked unconscious and two others received facial injuries. Today, four thousand people turned up in Trafalgar Square. One person was arrested for a public order offence.

Organizers said they wanted to show "an appreciation" for "the intolerable situation of those who have faced years living in the shadow of relentless Hamas rocket attacks." British politicians have again voiced their calls for an end to the conflict. Respect MP George Galloway told Adam Boulton: "This kind of iron fist has been tried by Israel many times and it always fails. They have got a whole people against them. When we look back across the ashes of the conflict, nothing will have been achieved, nothing will have changed, expect that a new radicalized generation of Muslims will have been born."...

cbsnews.com, January 11, "More rage in rallies against Gaza violence, Tens of thousands march in protests around the world" :Nearly 20,000 people marched through southern Lebanon on Saturday to protest Israel's offensive in the Gaza Strip. Tens of thousands also took to the streets in several European cities to show their anger, with the largest crowds in Germany and England. Similar protests have occurred almost daily in the Middle East and elsewhere since Israel launched its operation more than two weeks ago to stop rocket fire from the militant Palestinian group Hamas. The demonstrations have been fueled by the rising death toll in Gaza, which currently stands at over 800 Palestinians. Thirteen Israelis have also died in the fighting...

xinhuanet.com, January 10, "Tens of thousands rally in France for Gaza peace" : PARIS - Tens of thousands of people rallied in Paris and other cities across France on Saturday to protest the war in Gaza, just a week after 21,000 Palestinian supporters marched in the French capital for Gaza peace, French sources said. Police sources said that some 30,000 people took part in demonstrations across central Paris. The rally organizers, however, claimed that the number of participants reached 100,000....
---
01.11.09 In US, LeT chief's kin raised funds for jihad
NEW DELHI, January 12 - For all the protestations that the Jamaat-ud-Dawa is a charitable organization and Hafiz Mohammed Saeed is an injured innocent, it's clear that the organization and Saeed's family, in particular, have been in the crosshairs of [the] US government for several years and a couple of Saeed's family members are already in US custody. As the Lashkar-e-Taiba grew in stature, profile and links to violent terrorism in Pakistan, curiously, its amir Saeed's family kept making tracks to the US to live and work there over the past decade. Over the years, LeT aka Jamaat-ud-Dawa has morphed from an ISI-sponsored terror outfit against India to become a global jihadist organization with increasing ties to al-Qaeda.

The US has been on its trail for some time now, but could not do much because the JuD had sprouted roots in almost all areas of Pakistani life. The Mumbai attacks resurrected US security agencies' interest in this outfit. And the reason for that, sources said, was that Saeed's family had been making determined tracks to the US -- to live there as imams and preach and raise funds for jihad.

The evidence for that came in bits and pieces. The first to land in the US was Muhammad Masood, Saeed's brother, who arrived in 1987 on a J-1 exchange visitor visa. He lived in the Boston area, working odd jobs until he started teaching at the Islamic Academy of New England at the Islamic Center of New England in Sharon, Massachusetts. Masood was arrested in November 2006 and charged with visa fraud and other unnamed crimes. [More>>timesofindia.indiatimes.com]
---
01.11.09 Pakistan NW Frontier Corps attacked
January 11 - At least 40 fighters have been killed in an attack on an army base in northwestern Pakistan. Hundreds of fighters stormed the Mohammad Ghat military camp in the Mohmand agency north of Peshawar, close to the Afghanistan border, before dawn on Sunday. A military official says the attack on the Frontier Corps began at 2am local time (2100 GMT), and that at least 10 security personnel had been killed, six more injured. More than 25 remain missing. The official said most of the force of about 600 came from Afghanistan and were joined by local Taliban fighters.
The initial attack involved mortars and rocket fire which sparked fierce gun battles at the fort at Mamad Gate, where members of Pakistan's elite Quick Reaction Force are stationed. The security official, who spoke on condition of anonymity, said that most of the attackers eventually fled the scene, but at least 40 were killed and many more surrendered or were arrested. The border region is a key battleground in the so-called "war on terror", with Taliban and al-Qaeda-linked fighters said to be operating bases in northwestern Pakistan's tribal areas from which they send fighters to attack NATO and US forces in Afghanistan. [More>>aljazeera.net; See more details, nytimes.com, January 11, "Clashes as Afghan militants pour over border into Pakistan."]
---
01.11.09 Three policemen killed, four wounded in attacks in Mosul
BAGHDAD (DPA) January 11 - Three policemen were killed and four wounded Sunday in two separate attacks in Mosul. Gunmen fatally shot three policemen in the city centre, a police source said. The policemen were shot in a popular restaurant near their patrol vehicle, the source told Voices Of Iraq (VOI) news agency. A car bomb wounded another four policemen on patrol in southern Mosul, the Iraqi news agency reported.

In a separate incident Saturday night, a roadside bomb killed a US soldier in eastern Baghdad, coalition forces confirmed Sunday. Saturday's bombing was the second in eastern Baghdad in two days. On Friday, a roadside bomb killed one Iraqi civilian and wounded six others in the eastern Baghdad neighbourhood of Kamaliya, Iraqi police said. Saturday's bombing brings the number of US soldiers killed in Iraq this month to three. Some 4,224 US soldiers have been killed in Iraq since the beginning of the US-led invasion in 2003. [>khaleejtimes.com; See related story,

bbc.co.uk, January 11, "Iraqis capture leading militant" : Iraqi security forces say they have captured leading Sunni militant Tha'ir Kadhim Sraiwi. Mr. Sraiwi is thought to be the leader of militant group Ansar al Sunna, believed to be behind a Baghdad market bombing in 2008 which killed 40 people. Mr. Sraiwi is also wanted for the killing of 17 off-duty policemen in 2006, authorities said...
---
01.11.09 Clashes between Somali Islamists kill 29
MOGADISHU (AP) January 11 - Witnesses say clashes between Somali Islamist militias have killed at least 29 people and wounded more than 50 in a central town. The fighting in Guriel between the hardline al-Shabab militia and a local Islamist militia coincides with the gradual evacuation of Ethiopian forces loyal to the shaky government. Somali officials have warned a power vacuum would spark intensified fighting. Witnesses say most of the victims killed Sunday were fighters, but that a mortar shell explosion killed a family of six. Somalia has been beset by two decades of anarchy, violence and an insurgency that has killed thousands of civilians and sent hundreds of thousands fleeing for their lives. [>thejakartapost.com]
---
01.10.09 IDF says at least 300 Hamas operatives killed in ground op
January 10 - IDF troops in the Gaza Strip on Saturday targeted Hamas operative Amir Mansi, a senior member of Izzadin Kassam, the group's military wing. A senior commander of IDF operations in the Strip said that Mansi was the head of the Gaza Strip rocket division, and was Mansi was previously involved in dozens of rocket attacks against Israel in recent weeks. He was also said to be a close associate of Hizbullah, and was known to receive information from the group on a regular basis, including learning how to fire rockets.

Mansi was killed while attempting to fire mortars at Givati troops at Jabal Rice, in the northern Gaza Strip. Two other combatants were also hit. The IDF commander said the fact that Mansi was personally involved in attacking Israeli troops showed that the Hamas military wing was in a serious state of distress, as senior Hamas operatives would not ordinarily venture out into battlefields. The IDF officer also said that entire companies of Hamas had been completely wiped out, and some Hamas fighters had gone AWOL or fled battlefields. "They are afraid to come out and fight, that's why Mansi went out to fire rockets on his own," the officer said.

...Defense officials say they are prepared for a third stage of the offensive, in which ground troops would push much further into Gaza, but are still waiting for approval from the government. The officials, speaking on condition of anonymity as they were discussing classified information, said the army has also planned a fourth stage which calls for a full reoccupation of Gaza and toppling of Hamas. [Full story>>jpost.com; See related stories:

jpost.com, January 10, "IDF: Army didn't fire on UN truck driver.";
alarabiya.net, January 10, "Calls for truce ignored by both Israel and Hamas" :Israeli tanks advanced on Gaza and Hamas militants fired rockets at Israel on Saturday, as both sides rejected international calls to stop the conflict and Israel warned it would escalate its assault on the Gaza Strip...
---
01.10.09 Bomb kills 3 US soldiers in Afghanistan
KABUL, January 9 - Attack Comes on Heels of Another and as U.S. Vice President-Elect Arrives in Region. A homemade bomb killed three US soldiers in the southeastern province of Zabol on Friday, less than 24 hours after two American soldiers died in a suicide bombing at a busy produce market in neighboring Kandahar province, officials said. The five deaths brought to 637 the number of American troops killed in Afghanistan since the US-led invasion that toppled the extremist Taliban government in late 2001, according to various monitoring groups. More than 400 soldiers from other coalition forces have also been killed. The attacks coincided with the arrival in the region of Sen. Joseph R. Biden Jr. (D-Del.), 11 days before he is scheduled to be sworn in as the US vice president[-elect]. Biden, who landed in Islamabad, the Pakistani capital, late Friday, told President Asif Ali Zardari that the United States regards Pakistan as an "important ally and partner" in fighting terrorism. [More>>washingtonpost.com; See related story, news.com.au, January 11, "Diggers kill Taliban leader."]
---
01.10.09 Mumbai attacks an 'internal matter' of India: Gilani
KARACHI, Pakistan, January 10 - Prime Minister Yousuf Raza Gilani on Saturday accused the world of 'double standards' in dealing with the Mumbai attacks and terrorist incidents in Pakistan, saying there was no need for the international community to make 'so much noise' about the strike in India's financial hub. Gilani sought to compare the terrorist attacks in Mumbai to the Israeli strikes in Gaza and what he termed 'atrocities' being committed on innocent people in Jammu and Kashmir and questioned why the world community was silent on such issues. [More>>indianexpress.com]
---
01.10.09 Russia, EU sign gas transit control protocol-2
MOSCOW REGION (RIA Novosti) January 10 - Russia and the European Union have signed a protocol to set up an international commission to control the transit of Russian natural gas through Ukraine. The document was signed by Russian Deputy Prime Minister Igor Sechin, energy giant Gazprom's CEO Alexei Miller as well as Martin Riman, the industry and trade minister of the Czech Republic, which is holding the rotating presidency in the EU. [More>>en.rian.ru]
---
01.10.09 5 Somalis drown with pirate booty
MOGADISHU, Somalia (AP) January 10 - Escape Craft Capsizes In Storm After Ransom Paid; Freed Saudi Tanker En Route Home, Crew Safe.  Five of the Somali pirates who released a hijacked oil-laden Saudi supertanker drowned with their share of a reported $3 million ransom after their small boat capsized, a pirate and port town resident said Saturday. Pirate Daud Nure says the boat with eight people on board overturned in a storm after dozens of pirates left the Sirius Star following a two-month standoff in the Gulf of Aden that ended Friday. He said five people died and three people reached shore after swimming for several hours. Daud Nure was not part of the pirate operation but knew those involved. [More>>cbsnews.com]
---
01.09.09 Unemployment hits 7.2%, a 16-year high
January 9 - With the recession in full swing, the nation's employers shed 524,000 jobs in December, the government reported Friday, and a rapidly deteriorating economy promised more big losses in the months ahead. December's job losses brought the total for 2008 to 2.6 million, spanning a recession that started 12 months ago. The unemployment rate jumped to 7.2 percent in December from 6.8 percent in November and 5 percent last April, when the recession was four months old and just beginning to bite. More than 11 million Americans are now unemployed.

Economists fell over themselves in describing the dire nature of the jobs report, which they said was alarming confirmation that the economy was in the midst of a sharp contraction...On Wall Street, the markets fell on the report, with all three major exchanges down more than one percent. The 7.2 percent was the highest unemployment rate since January 1993, when the country was still shaking off a jobless recovery from the 1990-91 recession. The loss in total jobs for 2008 was the largest since 1945. [Full story>>nytimes.com]
---
01.09.09 Olmert: Gaza op to continue, UNSC resolution not practical
January 9 - Despite the UN Security Council resolution calling for a Gaza cease-fire, Prime Minister Ehud Olmert said Friday afternoon that the IDF operation in the Strip would continue. "Israel has never agreed to external forces determining its right to defend its citizens," Olmert said in a statement issued by the Prime Minister's Office following the Security Cabinet discussion on the UNSC resolution. "The IDF will continue to work to defend Israeli citizens and will carry out all the objectives it was given in the operation," he continued. Olmert said that the rocket fire from Gaza Friday morning "only proves that the UN resolution is not practical and will not be honored by the murderous Palestinian organizations." [More>>jpost.com; See related stories by some Arab media:

aljazeera.net, January 9, "Israel 'shelled Gaza civilians' ":The United Nations has said it has received reports that about 30 Palestinians were killed when Israeli forces shelled a house after they had moved about 110 civilians inside it. "According to several testimonies, on 4 January Israeli foot soldiers evacuated approximately 110 Palestinians into a single-residence house in Zeitun, warning them to stay indoors," the UN report said on Friday. "Twenty-four hours later, Israeli forces shelled the home repeatedly, killing approximately 30." The incident took place on Monday in the Zeitun neighbourhood of Gaza City on Monday, the report said. The UN Office for the Coordination of Humanitarian Affairs (OCHA) called it "one of the gravest incidents since the beginning of operations" by Israeli forces in Gaza on December 27...

alarabiya.net, January 9,
"Israeli tank fire in Gaza despite bombing lull" :
"Global protests as Gaza assault enters day 14" : (Maravot News: Article is about global Moslem protests) DUBAI - More than 50,000 Egyptians rallied in the Egyptian Mediterranean port city of Alexandria after Friday prayers to condemn Israel's ongoing assault against Hamas in the Gaza Strip, in the biggest such protest of the day worldwide. Legislators affiliated with the opposition Muslim Brotherhood led the protest that echoed to such slogans as "Down with Israel and with every collaborator."...In the West Bank city of Ramallah, fist fights broke out between supporters of Hamas and the rival Fatah faction during a "day of wrath" protest, prompting police to intervene with tear gas and baton charges...Some 3,000 demonstrated at the behest of Hamas in Hebron, throwing stones at Israeli soldiers who responded with rubber bullets. Several thousand meanwhile shouted "Death to Israel" in Nablus, while young Palestinians clashed with police in Jerusalem...In Kuwait, around 3,000 gathered outside parliament and the seat of government, shouting "shame, shame" against Arab inaction in Gaza....
"Israel using 'illegal' phosphorus in Gaza" : Israel is illegally using white phosphorus shells in its assault on the Gaza Strip, the UK's Times newspaper reported on Thursday, citing photographic evidence despite Israeli denials...
"Malaysia Muslims begin US boycott over Gaza" : A Malaysian Muslim group began a boycott of some major US products on Friday as Italian politicians joined Jewish groups in condemning a trade union's call to boycott Jewish-owned shops in Rome. The Muslim Consumers Association of Malaysia said Muslims in the Southeast Asian country would not buy goods produced by US toothpaste manufacturer Colgate-Palmolive Co, soft drink maker Coca-Cola and coffee chain Starbucks to protest U.S. inaction against the attacks...
"Israeli soldiers shell house crowded with Gazans":
"Israel intimidates Gazans via text messaging" :Israel and Hamas have opened a new front in the two-week old war in Gaza, using text messages, phone calls and leaflets to intimidate and influence the other side...

middle-east-online.com, January 9 articles:

UN: Israel shelled Gaza house full of civilians
Israel retracts claim of militant fire at UN school
Jimmy Carter: Israeli assault an 'unnecessary war'
Analysts say Gaza conflict seen as boost to Hamas
Gaza offensive traumatises generation of children
Israel accused of using phosphorus shells in Gaza
arabnews.com, January 9 articles:

"Only US can tame Israel": Watching the mind-numbing savagery unleashed on Gaza in utter helplessness with the rest of the world and listening to the statements of Israeli and Western leaders over the past few days, I've often wondered: "Are we all on the same planet?"...
"Brutality, thy name is Israel" : The Israeli war on Gaza and the massacre of innocent Palestinian women and children is a crime against humanity. Obviously Israel does not want peace with its neighbors and its leaders have ignored every diplomatic overture or peace initiative from Arabs. This Israeli brutality and defiance of international law will certainly breed more violence and extremism; it will further radicalize the whole region in a way that will make it impossible to achieve lasting peace and global security. There is an urgent need to mount more pressure on world powers so they do something to end Israeli occupation and aggression.

Qunoot prayers reflect Saudi anger over aggression" : BURAIDAH: With Israeli warplanes, warships and ground troops pounding unarmed civilians in Gaza for the second consecutive week, Muslims in Saudi Arabia expressed their anger and dissatisfaction over the unacceptable situation in Gaza by performing Qunoot prayers almost daily in all mosques of the Kingdom. "Oh God! Support our Muslim brothers in Gaza. Make their hearts and feet firm. Support them over those who show animosity to them. Destroy their enemies and shake the earth beneath their feet" are the words of this special prayer...

"Arab ministers meet Tuesday to address Gaza health crisis" : RIYADH: The Kingdom will host an emergency meeting of Arab health ministers here on Tuesday to discuss how to send urgent medical assistance to thousands of Palestinians who have been wounded and rendered homeless in the continuing Israeli attacks on the Gaza Strip. The ministers will also address the health crisis, especially among women and children who are dying in the poorly equipped and understaffed hospitals of the war-torn region...He said the Kingdom was racing against time to send more relief and medical supplies because of the intensified Israeli attacks on the civilian population of Gaza....
---
01.09.09 Head of al-Qaeda in Pakistan killed, says US counterterrorism official
WASHINGTON (AFP) January 9 - The head of al-Qaeda in Pakistan and his lieutenant are dead, a US counterterrorism official says. The men are believed to be Kenyan national Usama al-Kini, described as al-Qaeda's chief of operations in Pakistan, and his lieutenant Sheikh Ahmed Salim Swedan, said the source, speaking on condition of anonymity. "There is every reason to believe that these two top terrorist figures are dead," said the source, adding that the pair was killed "within the last week." Officials believe al-Kini was behind the September 2008 truck bombing of Islamabad's Marriott Hotel that killed 60 people, and is linked to a failed assassination attempt on late Pakistani prime minister Benazir Bhutto. The counterintelligence source did not say how the men died, but according to the Washington Post, which first broke the story, the al-Qaeda operatives were killed in a January 1 missile attack in northern Pakistan. [More>>news.com.au; See more details,
washingtonpost.com, January 9, "Attack by CIA kllled two leaders of al-Qaeda" : ...The strike took place at a site variously described as a safe house or former girls' school near the town of Karikot in South Waziristan, a region in the rugged autonomous tribal areas of northern Pakistan that has long been a haven for al-Qaeda and Taliban fighters. South Waziristan has been targeted frequently by Predator drones in recent months as part of a controversial and increasingly lethal campaign to destabilize the terrorist group and kill key operatives. The attacks, occurring about once every three days, have drawn protests from Pakistan's government but praise from top intelligence officials who say the strategy is forcing al-Qaeda into the open. CIA Director Michael V. Hayden, alluding to the strategy in a November speech, said the United States had "taken the fight to the enemy."...
---
01.09.09 'Suicide bomber' caught after Lahore blasts
LAHORE, Pakistan, January 9 - Police have told CNN that there has been a fifth blast in Lahore after four earlier explosions rocked Pakistan's second biggest city. Police and rescue workers rushed to the Tamaseel Theater on Ferozpur Road, where the latest explosion occurred. Police say the blast happened beneath a gas pipeline. No injuries have been reported. The initial four explosions were triggered in rapid succession near Lahore's Al-Falah theater around 8:45 p.m. local time (10:45 a.m. ET) in the busy Mall Road district of the city, the officer said. Police said they injured six people but killed no one. Investigators say they are trying to determine the type of the bombs used in the attack. [More>>cnn.com]
---
01.09.09 Gunmen kill government official in Pakistan's tribal region
ISLAMABAD, January 8 - Unidentified gunmen Thursday shot dead a government official and his guard in Pakistan's tribal region, the News Network International news agency reported. The car which seated the administrative officer named Amanullahin North Waziristan tribal region came under attack while heading to the town of Razmak in the area, said the report. Amanullah and his guard died on the spot while another official was injured and taken to the hospital for treatment. The attackers fled after the incident. No group claimed responsibility of the attack. [>xinhuanet.com]
---
01.09.09 Kasab's parents missing from their home: Burney
ISLAMABAD, January 9 - Leading Pakistani rights activist Ansar Burney on Thursday claimed that the parents of Ajmal Amir Kasab, lone terrorist arrested by Indian authorities for the Mumbai attacks, were missing from their home in Faridkot village in Punjab province. The former human rights minister said a team from the Ansar Burney Trust recently visited Faridkot and found that Kasab's parents were missing from the village.

"Where are the parents of Ajmal Kasab and who took them out from the village? This is another question that would create further doubts," said Burney. He added that the team from his Trust had confirmed that Kasab is a Pakistani national. After weeks of denial, the Pakistan Government on Wednesday acknowledged that a preliminary investigation by its security agencies had established that Kasab is a Pakistani national. However, Prime Minister Yousuf Raza Gilani sacked National Security Advisor Mahmud Ali Durrani for speaking to the domestic and international media on the issue. [More>>indianexpress.com]
---
01.09.09 Gazprom wants Ukraine to pay $470 per 1,000 cu m of Russian gas
MOSCOW (RIA Novosti) January 9 - Ukraine should pay a market price for Russian gas, and in the first quarter of 2009 the price for Eastern Europe is about $470 per 1,000 cu m, the Russian energy giant Gazprom said Friday. "If the price for gas Gazprom supplies to Eastern European states neighboring Ukraine is around $470 per 1,000 cu m in the first quarter of 2009, then Ukraine should also pay the market price for gas," Gazprom spokesman Sergei Kupriyanov told journalists...Russia and Ukraine failed to agree on New Year's Eve on how to settle Kiev's gas debts or on a contract for 2009 deliveries. As a result, gas supplies from Russia to European consumers through Ukraine were reduced and then halted. Hungary, Serbia, Macedonia, Croatia, Bulgaria, Turkey, Greece, Bosnia, Italy, Poland, France, Slovenia, Austria, the Czech Republic, Romania and Slovakia were affected by the gas dispute. [Full story>>en.rian.ru]
---
01.08.09 IDF unveils Hamas map seized in Gaza
January 8 - Soldiers from the Paratrooper's Brigade operating in the northern Gaza Strip uncovered a map prepared by Hamas that shows how the terror group prepared for the IDF's incursion by deploying different types of bombs as well as snipers throughout the town of al-Atatra...Halamish said that the map showed how Hamas does not hesitate to use civilian infrastructure for its terrorist activity. On the map, a brown dot is marked next to a mosque representing a nearby sniper position. "This is a civilian area and you can see on the map how Hamas booby-trapped the entrance to homes in order to hit the IDF," Halamish said. In another case, a large explosive device was marked on the map next to a gas station. Had it been detonated it would have likely destroyed the gas station as well, killing and wounding civilians who live in the area. [Full story>>jpost.com]
---
01.08.09 UN aid agency suspends work after Gaza strike
January 8 - The main UN aid agency in the Gaza Strip said today that it was suspending operations after an Israeli tank shell hit one of its convoys during the ceasefire period, killing two drivers. The United Nations Relief and Works Agency (UNRWA) made the announcement as the death toll from Israel's war on Hamas shot up to 763 after new raids and dozens of bodies were found during a suspension in Israel's bombing. "UNRWA decided to suspend all its operations in the Gaza Strip because of the increasing hostile actions against its premises and personnel,"

Adnan Abu Hasna, the agency's Gaza-based spokesman, said. Richard Miron, a UN spokesman, said the Israeli army had been notified in advance about the UNRWA convoy, which was hit as it approached the Erez crossing with Israel. Two Palestinian forklift drivers were killed. With the Czech Republic currently holding the EU presidency, its foreign minister Karel Schwarzenberg said: "After the striking of the UN school, this is another terrible episode, which moreover occurred during the three-hour ceasefire declared by Israel. "This is yet another proof that all wars necessarily mean tragic deaths of innocent people. That is why we reiterate our appeal: a ceasefire must not be further delayed." [More>>timesonline.co.uk; See also
jpost.com, January 8, "Uncertainty shrouds UN driver's death" : Who killed a Palestinian humanitarian aid truck driver and wounded two others as their convoy made its way into the Gaza Strip through the Erez crossing during Thursday's "humanitarian ceasefire?" According to the foreign media, who based their information on UN sources, IDF tank shells blasted the truck. According to the Magen David Adom medic who said he evacuated the Palestinians to an Israeli hospital, the truck came under Hamas sniper fire. The medic, who asked not to be named, said he got his information from soldiers in the field. The IDF Spokesperson's Office has not been able to provide a response or establish contact with the relevant sources in the field.

Adding to the confusion, the Palestinian Red Crescent said it evacuated the Palestinians, but the MDA medic said soldiers told him they went in, with great risk to themselves, and evacuated the wounded Palestinians. What is certain is that there is one dead Palestinian, and two others being treated at Ashkelon's Barzilai Hospital with gunshot wounds to the chest. According to the foreign media, who based their information on UN sources, IDF tank shells blasted the truck. According to the Magen David Adom medic who said he evacuated the Palestinians to an Israeli hospital, the truck came under Hamas sniper fire.

The medic, who asked not to be named, said he got his information from soldiers in the field. The IDF Spokesperson's Office has not been able to provide a response or establish contact with the relevant sources in the field. Adding to the confusion, the Palestinian Red Crescent said it evacuated the Palestinians, but the MDA medic said soldiers told him they went in, with great risk to themselves, and evacuated the wounded Palestinians. What is certain is that there is one dead Palestinian, and two others being treated at Ashkelon's Barzilai Hospital with gunshot wounds to the chest...
---
01.08.09 Iran bans volunteers from fighting Israel
January 8 - Iran's top leader has banned hard-line Iranian volunteers from leaving the country to carry out suicide bombings against Israel. Iran's state television is quoting Ayatollah Ali Khamenei as saying that Iran can't allow volunteers to cross its border and take military action against Israel. But he says Iran won't spare any efforts to assist Hamas in other ways. Hard-line Iranian student groups have asked the government to authorize volunteers to go carry out suicide bombings in Israel in response to the Israeli assault on the Gaza Strip. Iran is Hamas' main backer, though the country denies sending weapons to the Islamic militant movement. Iran considers Israel its archenemy. [>thejakartapost.com]
---
01.08.09 Afghans sign up to fight Israeli troops in Gaza
KABUL (Reuters) January 8 - More than a thousand Afghans signed up on Thursday to say they wanted to go and fight Israel in the Gaza Strip, many of them blaming the United States which has some 30,000 troops in Afghanistan, for supporting the Jewish state. Accusations by Taliban militants and some Muslim clerics that Israel and its main ally, the United States, aim to destroy Islam have a strong impact on public opinion in Afghanistan, where Washington plans to almost double its troop numbers this year. Scores of young men crowded into the library of Kabul's Milad ul-Nabi mosque, lined with banners reading "Death to Israel" and "Death to America," to sign up to fight Israel. "More than a thousand brave Afghans registered their names here to fight Israeli troops in Gaza," said Habibullah Assam, the imam of the mosque and organiser of the campaign. [More>>khaleejtimes.com]
---
01.08.09 At least two Lebanon rockets hit north Israel; Hezbollah denies involvement
January 8 - At least two Katyusha rockets fired from south Lebanon exploded in northern Israel on Thursday morning, leaving two people lightly wounded and a number of others suffering from shock. The rockets struck the Nahariya area at around 8 A.M., one of them scoring a direct hit on the roof a nursing home in the city. A Hezbollah minister in Lebanon's Cabinet has denied any involvement by the militant group in the firing of the rockets. In 2006, Hezbollah guerrillas in Lebanon fired almost 4000 rockets at Israel during the Second Lebanon War. Labor Minister Mohammed Fneish told The Associated Press that Hezbollah was not aware of the rockets targeting Israel Thursday. Israel Defense Forces troops immediately fired five artillery shells at Lebanon in response to the rockets, an Israeli security source said. A military spokesman said Israel aimed "a pinpoint response at the source of fire." [More>>haaretz.com; See also haharnt.com, January 8, "Rockets fired from Lebanon hit Northern Israel, Israel fires back."]
---
01.08.09 US to lead new anti-pirate force
January 8 - A new international force to combat piracy off the coast of Somalia is being formed and will be headed by an American admiral, the US navy says. More than 20 nations are expected to contribute to the force, due to be fully operational later in January. After more than 100 attacks last year, the International Maritime Bureau said increased naval patrols had reduced hijackings in December last year. The EU formed an anti-piracy task force in December. [More>>bbc.co.uk]
---
01.08.09 'Indian Enron' rocks business world
January 8 - The Indian government has vowed to strengthen anti-fraud legislation after the chairman of the country's fourth biggest software firm said he had falsified company accounts. Ramalinga Raju, chairman of Satyam Computer Services, resigned on Wednesday after admitting he had "inflated profits over a period of the last several years." Archana Uttapa, a spokeswoman for Satyam, said the company's balance sheets were riddled with "fictitious" assets and "non-existent" cash. She also said that Raju's current whereabouts was currently unclear. News of the accounting scandal sent Satyam's stocks plummeting by nearly 80 percent and also dragged down the benchmark Sensex stock index by 7.3 percent on Wednesday. [More>>aljazeera.net; See also timesofindia.indiatimes.com, January 8, "Satyam may axe 10,000 employees.']
---
01.08.09 So cold the sea around Britain freezes
January 9 - It is an event as rare as it is spectacular - but yesterday, after a week of sub-zero conditions, the sea around Britain began to freeze. Instead of waves gently lapping the shore, walkers in Sandbanks, Dorset, found swathes of ice stretching up to 20m along the shore. It is highly unusual for Britain's coastline to freeze, but the combination of a sustained cold snap and the protected location of the Dorset peninsula made it possible. At Padstow, in Cornwall, in another sheltered harbour, seagulls skimmed across a layer of ice. And in South Wales, boats were frozen in their moorings on the Monmouthshire and Brecon canal in Pontypool. Because of its salt content, sea water freezes solid at about minus 2C....It is feared the number of deaths caused by the winter chill could exceed last year's figure of 25,000. [Full story>>news.com.au]
---
01.08.09 Roadside bombs kill 6 Iraqi soldiers: Police
BAGHDAD (AP) January 8 - Six Iraqi soldiers were killed Thursday when an Iraqi army patrol was ambushed by two roadside bombs as they were responding to a mortar attack at a police station north of Baghdad, Iraqi police said. The attack comes as Iraqi security forces and the US military said during a joint press conference that there was strong concern of a possible outbreak of violence before and after the Jan. 31 Iraq-wide provincial elections. US troops have been providing security during the transportation of balloting materials and will help provide security during the election but remain most concerned about the postelection violence. [More>>khaleejtimes.com]
---
01.08.09 Congress urged to postpone nation's switch to digital TV
January 8 - Consumers Union is urging Congress to delay the nation's transition to digital television, saying the program to help TV viewers prepare for the switch next month has been underfunded and poorly implemented. In a letter sent last night to President Bush, President-elect Barack Obama, House Commerce Committee Chairman Henry A. Waxman (D-Calif.) and Senate Commerce Committee Chairman John D. Rockefeller (D-W.Va.), the consumer advocacy group said Congress should push back the transition "until a plan is in place to minimize the number of consumers who will lose TV signals." The request comes two days after the federal government said it has run out of money to provide coupons to help offset the cost of converter boxes. Analog television sets that rely on "rabbit ear" or rooftop antennas to receive broadcasts will need a converter box to get a picture after Feb. 17, when all full-powered television stations will stop airing analog signals and move to digital-only broadcasts. [More>>washingtonpost.com]
---
*Visitor statistics on maravot.com from 1&1. com. 46,153 page views in May 2007; monthly visitors in 2008 range between 40,000-45,0000..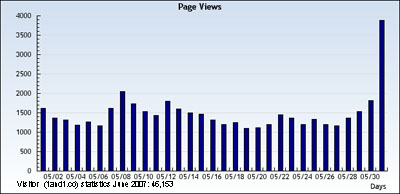 Privacy Policy: We do not store any personal data from you. We have no way of knowing any vital information about you — not even your name. Third-party distribution: We do not distribute information about your site usage to any third party. We are not responsible for the content of links from our site. Usage data: supplied by our Web Hosting service, 1and1.com, which consists of usage reports, such as page views / impressions and web pages visited, visitors' servers and geographical data (ISP's and country of origin).

---
Launched: 10.25.04 / 11.02.04 – | — |
Updated: 1.08.09; 1.09.09; 1.10.09; 1.11.09; 1.12.09; 1.13.09; 1.14.09; 1.15.09; 1.16.09
Copyright © 1981-2009 Maravot. All rights reserved
Copyright © 1981-2009 Mel Copeland. All rights reserved
Background: tile from Cicero's villa (Marcus Tullius Cicero 106 B.C. - 43 B.C.)