News Headlines & Trends
---

12.31.08 Record stock market falls in 2008
December 31 - Global markets saw record falls in 2008 as the financial turmoil and economic slowdown ended the stock market boom. Britain's FTSE 100 had its worst year on record, down 31.3%, with similar falls in Paris and Frankfurt. Shanghai was one of the worst-hit major markets, ending the year 65% lower, which was also a record loss...There were similar losses in Frankfurt and in Paris — which is still trading. In Frankfurt, the Dax-30 ended 2008 down 40%, which was the index's second-worst annual performance in its 20-year history. The index had risen 22% in 2007.

...Shanghai's fall wiped nearly $3 trillion (£2.1 trillion) off share values. Shanghai soared more than 300% in 2006 and 2007. Japanese shares also suffered their biggest yearly decline, with the Nikkei dropping 42% as world's second-largest economy slid into recession. As a meltdown of the US housing market led to a global slump in consumer spending and industrial production, foreign firms withdrew investments from Asia to repay debts back home.

...As demand in overseas markets slowed, Asia's export-driven economies were hard hit. In Hong Kong, which is in recession, the Hang Seng index closed the year 48% lower. This was its second-biggest drop to date and its worst since the global oil shock of the early 1970s. India's main index in Mumbai has more than halved. [Full story>>bbc.co.uk; See also
cnn.com, December 31, "Wall Street: Bring on '09" :Investors scoop up battered shares as Wall Street's worst year since the 1930s draws to a close. NEW YORK - Stocks rallied Wednesday afternoon, as investors breathed a sigh of relief that an abysmal year is over. The Dow Jones industrial average (INDU) rose 1.1% with under three hours left in the session. The Standard & Poor's 500 (SPX) index gained 1% and the Nasdaq composite (COMP) rose 1.4%...For investors, 2008 has been the worst year since the 1930s. As of Tuesday's close, the Dow is down 34.7%, the S&P 500 39% and the Nasdaq 41.5%. (For details, click here)...
---
12.30.08 Israeli leaders to discuss suspending Gaza operations for 48 hours
December 30 - Officials in the defense establishment have recommended to Prime Minister Ehud Olmert to suspend military operations against Hamas in Gaza for 48 hours and during that time to review a number of possible ceasefire solutions for Operation Cast Lead. Senior Israeli ministers were reportedly set to discuss the proposal Tuesday night. According to reports, if the unilateral ceasefire were to fail, Israel would launch a ground offensive. Olmert reportedly opposed suspending the operation while Defense Minister Ehud Barak was weighing the idea.

The recommendation, disclosed by defense sources on Tuesday evening, came after Barak spoke with French Foreign Minister Bernard Kouchner earlier in the day. The IDF issued a statement that it was not recommending a ceasefire. The defense establishment is suggesting that Israel use the suspension of operations to carefully study Hamas's intentions; whether the group was planning to escalate the violence by renewing attacks inside the country or whether it would opt to stop its rocket attacks against the South altogether. [More>>jpost.com; See related stories:

haaretz.com, December 30, "Gaza rocket strikes Be'er Sheva area for first time" : Two rockets fired by militants in the Gaza Strip exploded Tuesday evening in Be'er Sheva region, Channel Two reported. This was the furthest point eastward which a Palestinian projectile has managed to reach...Rockets exploded continuously throughout the day, with a number striking the northern Negev cities of Ashkelon and Ashdod...

haaretz.com, December 30, "Olmert: Gaza offensive to go on until aims achieved" : Prime Minister Ehud Olmert said Tuesday that Israel's military offensive on the Gaza Strip would continue for as long as necessary to achieve the goals of the defense establishment against the ruling Hamas regime. "The Gaza offensive has begun and will not end.... until our goals our reached, we are continuing according to the plan," Olmert said. The prime minister's statement came in response to reports that defense officials intended to recommend a 48-hour truce to abate the war against Hamas and embark on a temporary truce before it became necessary to begin a significant ground invasion of the Gaza Strip...
---
12.30.08 ASEAN Muslim group threatens to join battle in Gaza
December 30 - The ASEAN Muslim Youth association gave an ultimatum to the Israeli government on Tuesday, saying it would launch attacks on Israeli interests if the military offensive against Gaza was not stopped in the next five days. Should the Israeli government disregard its warning, the association would mobilize thousands of alumni troops (from the war against Russia in Afghanistan) to retaliate on behalf of the Palestinian people, association member Suaib Didu told reporters in Jakarta. Didu said the association would establish a command center in Indonesia to respond to the Israeli attacks. "We chose Indonesia because the Indonesian people are the most ready to be mobilized and Indonesia has the clearest political standpoint in regard to Palestinian liberation."

..."We have a total of 2,847 troops, 586 from outside ASEAN and 2,451 from ASEAN countries. At present, those outside ASEAN are most ready to be deployed," he said. Didu added that the association had large amounts of funds to disburse, gained from individual donors across the globe. The association was established by mostly Indonesian and Malaysian Muslims in Kuala Lumpur in 2001. It claims to have territorial command over Muslim groups in various countries in Southeast Asia, the Middle East, Europe and the United States. [Full story>>thejakartapost.com]

Editorial note: Kuala Lumpur was the site of the first al-Qaeda summit, in 2000.
---
12.30.08 Home prices post record 18% drop
NEW YORK, December 30 - The 20-city S&P Case-Shiller index has posted losses for a staggering 27 months in a row. Home prices posted another record decline in October, falling 18% compared with a year earlier, according to a closely watched report released Tuesday. The 20-city S&P Case-Shiller index has posted losses for a staggering 27 months in a row. In October, 14 of the 20 cities set fresh price decline records. "The bear market continues; home prices are back to their March 2004 levels," says David Blitzer, Chairman of the Index Committee at Standard & Poor's. [More>>cnn.com; See related story,

timesonline.co.uk, December 30, "UK: House prices plunge 1.9% in November" : House prices suffered another plunge during November, tumbling by 1.9 per cent, official Land Registry figures confirmed today. The further fall in the plummeting housing market cut the average value of a home in England and Wales by £3,135 last month, leaving it at £161,883, the figures based on completed house sales showed. The official numbers chimed with earlier indications of market conditions in November from key surveys. Last month's decline left the average house price down by 12.2 per cent over 12 months, and on track to register a drop of almost 15 per cent over the calendar year. Survey data show prices down by about 15 per cent in the year to the end of December...
---
12.30.08 Pakistan closes Afghan supply route
December 30 - Pakistan has suspended supplies to US and Nato forces in neighbouring Afghanistan as security forces launch a major offensive against suspected pro-Taliban fighters.m The Khyber Pass supply route in the troubled northwest tribal belt was closed on Tuesday, as Pakistan sent tanks, helicopter gunships and artillery units into the region. Tariq Hayat, the Khyber region's top administrator, said a curfew had been imposed in the region and the main road leading to the Afghan border had been sealed. "Supplies to Nato forces will remain suspended until we clear the area of militants and outlaws who have gone out of control," he said. Hayat confirmed Pakistani security forces had launched "an operation against militants and armed groups in Jamrud" - the gateway to the Khyber Pass. [More>>aljazeera.net; See related story,

nytimes.com, December 30, "US plans alternate supply route to Afghanistan" : WASHINGTON — The United States and NATO are planning to open and expand supply lines through Central Asia to deliver fuel, food and other goods to a military mission in Afghanistan that is expected to grow by tens of thousands of troops in the months ahead, according to American and alliance diplomats and military officials...But the new arrangements could leave the United States more reliant on cooperation from authoritarian countries like Uzbekistan and Tajikistan, which have poor records when it comes to democracy and human rights.
---
12.30.08 Scenic Pakistani valley falls to Taliban militants
ISLAMABAD (AP) December 30 - Taliban militants are beheading and burning their way through Pakistan's picturesque Swat Valley, and residents say the insurgents now control most of the mountainous region far from the lawless tribal areas where jihadists thrive. The deteriorating situation in the former tourist haven comes despite an army offensive that began in 2007 and an attempted peace deal. It is especially worrisome to Pakistani officials because the valley lies outside the areas where al-Qaeda and Taliban militants have traditionally operated and where the military is staging a separate offensive. "You can't imagine how bad it is," said Muzaffar ul-Mulk, a federal lawmaker whose home in Swat was attacked by bomb-toting assailants in mid-December, weeks after he left. "It's worse day by day."

The Taliban activity in northwest Pakistan also comes as the country shifts forces east to the Indian border because of tensions over last month's terrorist attacks in Mumbai, potentially giving insurgents more space to maneuver along the Afghan frontier. Militants began preying on Swat's lush mountain ranges about two years ago, and it is now too dangerous for foreign and Pakistani journalists to visit. Interviews with residents, lawmakers and officials who have fled the region paint a dire picture.

A suicide blast killed 40 people Sunday at a polling station in Buner, an area bordering Swat that had been relatively peaceful. The attack underscored fears that even so-called "settled' regions presumptively under government control are increasingly unsafe...Swat's militants are led by Maulana Fazlullah, a cleric who rose to prominence through radio broadcasts demanding the imposition of a harsh brand of Islamic law. His appeal tapped into widespread frustration with the area's inefficient judicial system. Most of the insurgents are easy to spot with long hair, beards, rifles, camouflage vests and running shoes. They number at most 2,000, according to people who were interviewed. [Full story>>khaleejtimes.com]
---
12.29.08 Moscow says offer to US on joint radar use still stands-2
MOSCOW (RIA Novosti) December 29 - Russia's offer to the US on joint use of the Gabala radar station it leases from Azerbaijan is still on the table, a first Russian deputy foreign minister said on Monday. "Our proposal remains on the table. The new US administration will encounter serious problems with regard to the implementation of its third missile site plan in Europe. We are not exerting any pressure on the US administration here," Andrei Denisov said. He added that Russia's proposal was more "cost effective" than other projects since the radar station was already out there and could operate "for decades to come." Moscow has strongly opposed the possible deployment by the US of 10 interceptor missiles in Poland and a radar in the Czech Republic as a threat to its security and nuclear deterrence. Washington says the defenses are needed to deter possible strikes from "rogue states." [More>>en.rian.ru]
---
12.29.08 Barak: We'll use every resource to stop 'criminal' rocket fire from Gaza
December 29 - Defense Minister Ehud Barak said upon completing his daily briefing that the Israel Defense Forces will use every resource to bring about an end to Palestinian rocket fire. Speaking at the end of the third day of deadly aerial assaults on the Gaza Strip, Barak said "if the criminal rocket fire aimed at Israeli civilians does not stop immediately, Israel will use all its resources and all the legal tools it possesses to force the enemy to stop this aggressive, illegal behavior," Barak declared.

The defense minister reiterated previous calls on the residents of the Gaza Strip to stay away from areas where terrorist activity exists. Barak added that humanitarian aid will continue to be transferred into Gaza even during warfare. Earlier Monday, in the face of catcalls from Arab lawmakers, Barak told a stormy Knesset session that the operation in Gaza will be "widened and deepened as necessary. We have an all-out war against Hamas and its kind," Barak said, using a term he has employed in the past to describe a long-term struggle against Israel's Islamist enemies. [More>>haaretz.com; See also:
independent.co.uk, December 29, "Israel in 'all-out war with Hamas.' " : Israeli air strikes flattened bastions of Hamas rule in the Gaza Strip today in the third day of an offensive that has killed more than 325 Palestinians in the deadliest violence in the territory in decades. "We have an all-out war against Hamas and its kind," Israeli Defence Minister Ehud Barak said in parliament, using a term he has employed in the past to describe a long-term struggle against Israel's Islamist enemies. Broadening their targets to include the Hamas government in the Gaza Strip, Israeli warplanes bombed the Interior Ministry, which supervises 13,000 members of the group's security forces. The building had been evacuated and there were no casualties. Israel also targeted the homes of at least two top commanders in Hamas's armed wing. The commanders were not at home at the time but several family members were killed...

alarabiya.net, December 29, "Iranian students to head to Gaza to fight Israel" : TEHRAN / BEIRUT - Hezbollah chief calls on Palestinians to launch uprising. An Iranian student group announced on Monday that it is recruiting volunteers to fight Israel as the Lebanese Shiite group Hezbollah called on Palestinians to launch a new uprising in the face of Israel's three-day assault on Gaza. The students said that they had started their campaign in response to a religious decree issued by supreme leader Ayatollah Ali Khamenei on Sunday stating that anyone who died in the defense of Gaza would be deemed a martyr.

"In response to the supreme leader's orders for a jihad (holy war), students from the bassij militia are going to register... to go to fight in the occupied Palestinian territories," the Fars news agency quoted one of the students' leaders, Alireza Zahedi, as saying. Fars said that several hundred students had already signed up and that the recruits would soon hold a parade. Khamenei ruled on Sunday that "all... believers in the Islamic world are required to defend in any way they can the defenseless women, children and people of Gaza...

alarabiya.net, December 29, "Indonesian group to recruit fighters for Gaza" : Fighters will be given one-way ticket. JAKARTA (Reuters) - An Islamist group in Indonesia said on Monday it plans to recruit as many as 1,000 volunteers to fight in the Gaza Strip in response to Israeli air strikes that have killed more than 300 Palestinians. "Fighters should be in good physical condition, have a strong faith and be ready to die," Ahmad Soebri Lubis, secretary-general of the Islamist Defenders' Front, told Reuters by telephone. "They will be provided with a one-way ticket until we defeat Israel." Lubis said the group would start recruiting at its Jakarta headquarters in the next few days, and would send volunteers for training at camps in Indonesia to prepare them for the "battleground." He said the group has in the past sent volunteers to Iraq and to Afghanistan...
---
12.29.08 Pound edges closer to euro parity amid rate fears
December 29 - The bleak economic outlook in Britain sent the pound to a record low against the euro today, bringing parity a step closer. The expectation that interest rates in the eurozone are likely to remain above those of Britain in the next few months pushed sterling to a record low of 97.6p against the euro. The return of violence to the Middle East also sent oil and gold prices surging, and had a knock-on effect on natural resources stocks on European and Asian markets. Oil prices rose as much as $2 to more than $41 a barrel in trading in Asia amid fears over the impact on supplies of crude oil. Brent crude later slipped back to be up $1.61 at $39.98. [More>>timesonline.co.uk]
---
12.29.08 Ugandan LRA 'in church massacre'
December 29 - Uganda's army has accused the Lord's Resistance Army rebels of hacking to death 45 civilians in a Catholic church in the Democratic Republic of Congo. Capt. Chris Magezi said the scene was "horrendous... dead bodies of mostly women and children cut in pieces." The attack happened on 26 December. A rebel spokesman has denied responsibility for the killings, which follow a collapse in the peace process. The UN says at least 189 people were killed in several attacks last week. [More>>bbc.co.uk]
---
12.29.08 Experts: Shandong dinosaur fossil field 'world's largest'
JINAN, China, December 29 - A dinosaur fossil field discovered this year in eastern China appears to be the largest in the world, a paleontologist told Xinhua on Monday. More than 7,600 fossils have been discovered so far in Zhucheng City in eastern Shandong Province and the number is climbing, said Zhao Xijin, the paleontologist in charge of the project. Zhao is from the Institute of Vertebrate Paleontology and Paleoanthropology, Chinese Academy of Sciences.

"The discoveries are expected to contribute to research on the mystery of dinosaur extinction," Zhao said. He added that the fossils dated mainly from the Late Cretaceous of the Mesozoic Period, when dinosaurs became extinct. The city has a major field of large hadrosaurus fossils, discovered in the 1960s by a Chinese oil expedition. More than 50 tons of fossils have been discovered since then. [More>>xinhuanet.com]
---
12.29.08 Record deaths from natural disasters
December 29 - Natural disasters killed more than 220,000 people in 2008, making it one of the most devastating years on record. The world's number two reinsurer says the figure confirms a global climate deal is badly needed. Although the number of natural disasters was lower than in 2007, the catastrophes in 2008 were more destructive in terms of the number of victims and the financial cost of the damage caused, Germany-based Munich Re said in its annual assessment. Most devastating was Cyclone Nargis, which battered Burma in May to kill more than 135,000 people, and the earthquake that shook China's Sichuan province the same month which left 70,000 dead, 18,000 missing and almost five million homeless, Munich Re said. [More>>news.com.au]
---
12.28.08 Israeli warplanes pursue Gaza weapons warehouses
GAZA CITY (AP) December 28 - Gazans cowered in their homes Sunday as Israeli warplanes pressing one of Israel's deadliest assaults ever on Palestinian militants unleashed missiles on weapons warehouses, a police station, the homes of militant field commanders and dozens of other targets across the Hamas-ruled Gaza Strip. More than 270 Palestinians — most of them militants — have been killed and more than 600 people wounded since Israel's campaign to quash rocket barrages from Gaza began midday Saturday. Israeli military spokesman Avi Benayahu said some 250 attacks were carried out since the offensive began. Militants, unbowed, kept up the pressure on Israel, firing dozens more rockets and mortars at Israeli border communities early Sunday. One rocket struck close to the largest city in southern Israel, Ashdod, some 38 kilometers (23 miles) from Gaza. It reached almost twice as deep into Israeli territory as ever before and confirmed security officials' concerns that militants are capable of putting major cities within rocket range.
In New York, the UN Security Council expressed serious concern about the escalating situation in Gaza and called on Israel and the Palestinians to immediately halt all violence and military activities. The U.N.'s most powerful body called for a new cease-fire between Israel and Hamas, and for the opening of border crossings into Gaza to enable humanitarian supplies to reach the territory. Many of Israel's Western allies urged restraint on both sides, though the US blamed Hamas for the fighting. [More>>thejakartapost.com; See related stories (sic. This is also an evolving proxy war with Iran):

jpost.com, December 28, "Gaza Palestinians cross Egyptian border" : Hundreds of Palestinians desperate to flee from the situation in the Gaza Strip converged on the Rafah border crossing on Sunday, and, with the help of bulldozers, succeeded in breaching Egyptian defenses and crossing into Egypt. An Egyptian security official said there were at least four breaches along the 9 mile (14 kilometer) border and hundreds of Palestinian residents were pouring in.

The breach came shortly after Israeli aircraft struck the smuggling tunnels running underneath the border, targeting one of the lifelines of the territory's Hamas rulers. At least 300 Egyptian border guards have been rushed to the area to reseal the border, the official added on condition on anonymity because he was not authorized to speak to the press A witness on the Gaza side of the border, Fida Kishta, said residents detonated a land mine along the border and commandeered a bulldozer to create more breaches...

aljazeera.net, December 28, "Abbas blames Hamas for bloodshed" : Mahmoud Abbas, the Palestinian president, has blamed Hamas for triggering Israel's deadly raids on Gaza, by not extending a six-month truce with the Jewish state. He also blamed Hamas, which controls the coastal Gaza Strip territory, for disrupting national unity talks that could have paved the way for general and presidential elections. "We have warned of this grave danger," he said in Cairo, Egypt, on Sunday. "We talked to them [Hamas] and we told them, 'please, we ask you, do not end the truce. Let the truce continue and not stop,' so that we could have avoided what happened."

However, Fawzi Barhoum, a Hamas spokesman, said he was "surprised" by Abbas's claim. "He downplayed the sufferings of our people in Gaza and belittled their pains, providing justification of the holocaust and war waged by Israel," he said. Abbas, whose Fatah movement has been at loggerheads with Hamas, said maintaining the truce could have helped the Palestinians avoid the raids, which have so far killed more than 280 people over the past two days...

thestar.com.my (Reuters) December 28, "Israeli raids deepen rift between Arabs" : CAIRO - Deadly Israeli raids on Gaza have deepened the divide in the Arab world between Islamists with popular appeal and authoritarian governments widely seen as collaborating with Israel and the United States. Especially in Egypt the battle lines are clearer than ever, as members of the ruling party give Egypt's own Islamists, allies of the Palestinian movement Hamas, advice along the lines of "If you don't like it in Egypt, you can go to Gaza." Hussein Megawir, a pro-government Egyptian member of parliament, said in a debate on Gaza on Saturday: "There is an Iranian plan, with Hamas and some of the (Muslim) Brotherhood, to stir up trouble in Palestine and Egypt."
The Muslim Brotherhood, the country's largest opposition group with one fifth of the seats in parliament, is in close alliance with Hamas, which began as a Brotherhood offshoot. In its turn, the Brotherhood says Arabs and Muslims should rise up against "the despicable silence and connivance on the part of most Arab and Islamic regimes and governments."

haaretz.com (DPA) December 9, "Ahmadinejad: Iran will support Hamas until collapse of Israel" : Iranian President Mahmoud Ahmadinejad vowed Friday to keep supporting the Palestinian militant group Hamas until the "collapse of Israel." The Iranian news agency Khabar quoted Ahmadinejad as telling Hamas leader Ismail Haniyeh that Iran views the support of the Palestinian people as part of its religious and national duty and that Iran will stand behind the Palestinian nation "until the big victory feast which is the collapse of the Zionist regime."

alarabiya.net, December 28, "Religious heads call for Muslims to 'punish' Israel" : RIYADH / TEHRAN - Iran deplores Arab 'silence'; Saudi cleric calls for revenge. A Saudi cleric called in a religious edict on Sunday for attacks on Israeli interests everywhere in retaliation for the ongoing Israeli onslaught on the Gaza Strip as Iran's supreme leader urged ' silence. "All (Israeli) interests, and anything else related to Israel, are a permitted target for Muslims everywhere," said Saudi Sheikh Awad al-Qarni in what he described on the internet as a fatwa, or religious edict. Qarni, who has no links to the official Islamic body of Saudi Arabia, said: "They (Israelis) should become targets. Their blood should be shed as the blood of our brothers in Palestine has been shed." "They should feel pain more than our brothers," the cleric added. "This is a fatwa that I am responsible for in front of Allah," Qarni said on the Islam Online website. He also lashed out at Arab governments, mainly Egypt, which he accused of being "part of the conspiracy."

...Meanwhile, Iran's supreme leader Ayatollah Ali Khamenei on Sunday urged Muslim states to punish Israel and deplored what he called some Arab leaders' silence in the face of deadly attacks on the Gaza Strip. "The Zionist regime should be punished by Muslim states. This usurping regime's leaders should also go on trial and be punished for this crime," Khamenei said in a statement quoted by state-run television. "All Palestinian Mujahids (fighters) and believers in the Islamic world are required to defend in any way they can the defenseless women, children and people of Gaza," the all-powerful leader said...
---
12.28.08 As Taliban nears Kabul, shadow government takes hold
WARDAK PROVINCE, Afghanistan, December 28 - Two months ago, Mohammad Anwar recalls, the Taliban paraded accused thieves through his village, tarred their faces with oil and threw them in jail. The public punishment was a clear sign to villagers that the Taliban are now in charge. And the province they took over lies just 48 kms from the Afghan capital of Kabul, right on the main highway. The Taliban has long operated its own shadow government in the most dangerous parts of Afghanistan, but its power is now spreading north to the doorstep of Kabul, according to Associated Press interviews with a dozen government officials, analysts, Taliban commanders and Afghan villagers.

More than seven years after the US-led invasion, the Islamic militia is attempting — at least in name — to reconstitute the government by which it ruled Afghanistan in the late 1990s. Over the past year in Wardak province alone, Taliban fighters have taken over district centers, set up checkpoints on rural highways and captured Afghan soldiers. The Taliban in Wardak has its own governor and military chief, its own pseudo-court system and its own religious leaders who act as judges. Bands of armed militants in beat-up trucks cruise the countryside, dispensing their own justice against accused spies and thieves.

...The increasing "Talibanization" is taking place in wide areas of countryside where the US, NATO and government of Hamid Karzai don't have enough troops for a permanent presence. Recognizing this, the US plans to send its newest influx of troops in January into Wardak and Logar, right next to Kabul. Between 20,000 and 30,000 new American forces are scheduled to arrive by the summer. Some Western officials argue that the rise of a shadow government is nothing more than the return of different emboldened warlords. They suspect militants simply stepped in where they saw a void in areas not reached by the Karzai government, and it is still not clear if they have a coherent strategy. [Full story>>japantoday.com; See related stories:

thenews.com.pk, December 28, "Blasts kill 10 Afghans, two Canadian soldiers" : KHOST: A series of bomb attacks linked to Taliban insurgents have killed 10 Afghans and two Canadian soldiers serving in an international force helping to fight the extremists, officials said Sunday. The most deadly attack was a suicide bombing outside a district government office in eastern Khost province on Sunday that killed seven people and wounded more than 50, including many school students, officials said. The attacker blew up a bomb-filled car in the Ismail Khail district as police opened fire to stop him from reaching the district government headquarters where local leaders were meeting, police said...

khaleejtimes.com (AP) December 28, "14 students die in bombing at Afghan school" : KABUL, Afghanistan - A suicide bomber tried to attack a meeting of tribal elders and blew himself up near an Afghan primary school on Sunday, killing 14 children and wounding 58 people, the US military said. The suicide blast went off near the entrance to a police and army post, said Yacoub Khan, the deputy police chief of the eastern province of Khost. US troops are also stationed inside the outpost, but no troops were wounded or killed in the attack. The US military said that 16 people were killed, including 14 students, an Afghan soldier and another person, who was likely an Afghan security guard that Afghan officials said was killed...
---
12.28.08 Bomb kills 30 at NW Paksitan polling station
PESHAWAR, Pakistan (Reuters) December 28 - At least 30 people were killed in a suicide car bomb blast at a polling station in northwestern Pakistan on Sunday, during a by-election for a provincial assembly seat, police said. "The death toll has reached to 30. It could rise further," Behraman Khan, head of the police station near the Buner town, where the blast took place, told Reuters by telephone. "It was a suicide attack." Khan said the attacker, who was apparently alone, is believed to have driven the car, parked it in front of the school where the polling station was set up and detonated the explosives while polling was underway.

The attack is the latest in a string of blasts in a region where security forces are battling al-Qaeda and Taliban-linked militants who have unleashed a wave of suicide and bomb attacks and target killings in response to operations against them. Another police official said four children were among the dead and their bodies were mutilated beyond recognition. Khan said around a dozen people were wounded. The school building where the polling station was set up collapsed after the blast. The incident took place near Buner, a remote mountainous town in North West Frontier Province and near the Swat Valley. [>Khaleejtimes.com]
---
12.27.08 Israeli Gaza strike kills more than 200
GAZA, December 27 - Waves of Israeli aircraft swooped over the Gaza Strip on Saturday, firing missiles at Hamas's security headquarters and killing more than 200 people, bringing the highest death toll in Gaza in years in a crushing response to rocket fire by Hamas against Israeli towns. After the initial airstrikes, which also wounded about 600 Palestinians, dozens of rockets struck southern Israel. Thousands of Israelis hurried into bomb shelters amid the hail of rockets, including some longer-range models that reached farther north than ever before. One Israeli man was killed in the town of Netivot and four were wounded, one seriously.

A military operation against Hamas, the militant group that controls Gaza, had been forecast and demanded by Israeli officials for weeks, ever since a rocky cease-fire between Israel and Hamas broke down completely in early November and rocket attacks began in large numbers against Israel. Still, there was a shocking quality to Saturday's attacks, in broad daylight on about 100 sites, as police cadets were graduating, women were shopping at the outdoor market and children were emerging from school.

The center of Gaza City instantly became a scene of chaotic horror, with rubble everywhere, sirens wailing, and women shrieking as dozens of mutilated bodies were laid out on the pavement and in the lobby of Shifa Hospital so that family members could identify them. The vast majority of those killed were Hamas police officers and security men, including two senior commanders, but the dead included several construction workers and at least two children in school uniforms. [More>>nytimes.com; See related stories:

turkishpress.com, December 27, Israeli massacre" : GAZA CITY- Relatives wail as the mangled bodies of loved ones are brought into Gaza's Al-Shifa hospital on Saturday following Israeli air strikes that killed nearly 200 people in the Palestinian enclave. Ambulances and private cars rush those wounded or killed in the punishing raids to the hospital, where staff use sheets as makeshift stretchers. In some cases, a single stretcher is used to carry several bodies. Torn limbs fall to the blood-soiled floor. There is no space left in the morgue and bodies are piled up in the emergency room and in the corridors, while many of the severely wounded scream in pain...

IDF amasses forces near Gaza ahead of possible ground operation" : December 27 - The IDF was beefing up forces around the Gaza Strip on Saturday evening in preparation of a possible ground operation following a massive air assault earlier in the day. Defense Minister Ehud Barak and IDF Chief of Staff Lt.-Gen. Gabi Ashkenazi were holding consultations on the army's next course of action. Defense officials estimated that Hamas was capable of firing 150-200 rockets a day, adding that the operation could last for weeks.

Israel's goals, officials added, was to end Hamas rocket fire, end smuggling of arms into Gaza and severely disrupt any Hamas military activity. In a press conference held earlier in Tel Aviv, Barak said the IDF would deepen and widen its offensive against Hamas in the Gaza Strip as much as needed. "There is a time for cease-fires and a time to fight, and now is the time to fight," Barak said. "For months the IDF and security forces have been preparing for the operation that began today."...
---
12.27.08 Reports: Georgia, US to sign strategic partnership treaty
TBILISI, Georgia, December 26 - Georgia and the United States will sign a strategic partnership treaty in Washington on Jan. 4, the Caucasus Press news agency reported Friday. A Georgian delegation led by Foreign Minister Grigol Vashadze will pay a visit to the United States on Jan. 4, when the treaty is expected to be signed, the agency quoted Vashadze as saying. Also on Friday, Georgian Ambassador to the United States Batu Kutelia confirmed in Tbilisi that Georgia and the United States will sign a framework treaty, which will lift their strategic bilateral partnership to a new stage. However, he did not comment on its contents. [More>>xinhuanet.com]
---
12.27.08 Body parts scattered by massive bomb
BAGHDAD (AFP) December 27 - A massive bomb tore through a crowd gathered near a bus station in a Shi'ite neighbourhood of Baghdad on Saturday, killing at least 22 people and wounding 54, security officials said. Army spokesman Major General Qassim Atta said the explosion occurred in a car park used by commuters near a key city bus terminal in Kadhimiyah, north-west Baghdad. Initial Iraqi military reports said the source of the explosion was a car bomb. However, the US military identified the bomb as an improvised explosive device (IED). An AFP photographer at the scene said the charred remains of one vehicle pointed to a car bomb.

The force of the explosion was so powerful body parts were scattered across houses and vehicles surrounding the site. The blast, which occurred about midday, echoed for kilometres across the embattled Iraqi capital. Kadhimiyah, site of an important shrine where two respected Shi'ite Imams are buried, has suffered routine attacks since the 2003 US-led invasion triggered vicious Sunni and Shi'ite sectarianism. The level of violence in Baghdad has dropped in recent months but insurgents still seem able to strike at will despite the tight security measures in the capital of seven million. Today's  bombing was the deadliest in the Iraqi capital since November 10, when at least 28 people were killed, including women and schoolgirls, and dozens wounded in a triple bombing in a market.

The attackers in November detonated a car bomb in the Sunni district of Adhamiyah, then minutes later a suicide bomber ran into the resulting melee and blew himself up. On Thursday, one Iraqi was killed and 14 others injured, including three policemen, in a bombing attack in Kadhimiyah, scene of some of deadliest killings in the Iraqi capital since the invasion. [>news.com.au]
---
12.27.08 I will expose the slayers of Shaheed Bhutto: Zardari
NAU DERO, Pakistan, December 27 - President Asif Ali Zardari Saturday said he knows about the killers of Shaheed Mohtarma Benazir Bhutto and he would go out and expose their names. Addressing a ceremony commemorating the first anniversary of the martyrdom of Ms. Bhutto, President Zardari said: "I know who killed Mohtarma Benazir Bhutto and I will expose them" and asked the 'friends' to come forward and help him instead of putting questions as to who killed Ms. Bhutto. Regarding the investigation into Mohtarma Benazir Bhutto's assassination, he said for this we will have to for [look to?] the United Nations. He said the present democracy in the country is the result of Shaheed Mohtarma Benazir Bhutto's dream. [More>>thenews.com.pk]
---
12.27.08 Thousands demand separate region for Iraq's Basra
BASRA, Iraq (Reuters) December 27 - Thousands of protesters in Iraq's southern oil city of Basra demanded their own federal region on Saturday, akin to minority Kurds' peaceful, prosperous enclave in the country's north. Some three thousand people took to the streets in mainly Shia Basra, demanding a referendum on whether the city and surrounding province might become a semi-autonomous state."Yes, yes for the Basra region," demonstrators shouted. Ahmed Ali, a 27-year-old civil servant, said Basra wanted to "cut the cord with the central government, which has brought us only trouble, poverty and unemployment." While the odds appeared long that such a bid could succeed, it reflects Iraqis' deep discontent with the government in Baghdad and highlights the power struggle unfolding in a nation that is home to a volatile mix of religions and ethnicities. [More>>khaleejtimes.com]
---
12.27.08 Activists attack Japanese whalers with stink bombs
HONG KONG (AFP) December 27 - Militant environmentalists said they had pelted stink bombs at a Japanese whaling ship in Australian waters in their latest bid to disrupt hunting of the protected creatures. The Sea Shepherd Conservation Society said it "pursued and delivered 10 bottles of rotten butter and 15 bottles of a methyl cellulose and indelible dye mixture" to the Kaiko Maru vessel Friday evening. A Japanese government-backed whaling body claimed that the activists' ship rammed into the left side of the Japanese vessel, damaging a bulwark. "We cannot tolerate disruptive activities that threaten the safety of the crew members," Minoru Morimoto, head of the Institute of Cetacean Research, which carries out Japan's whale hunting operations, said in a statement. Sea Sepherd said in an online statement however it was the Japanese ship that "steered hard" and struck the group's ship "Steve Irwin," although neither vessel suffered serious damage. [More>>khaleejtimes.com; See seasheperd.org for press release, "Sea Shepherd clashes with whaling fleet in Australian waters."]
---
12.27.08 Suicide attack kills five Afghanistan
KANDAHAR, Afghanistan, December 27 - A suicide attacker detonated a car bomb near police and Canadian soldiers in southern Afghanistan Saturday, killing three policemen and two civilians, police said. A further five people were hurt in the blast on a road that links the southern city of Kandahar with Herat in the west, local police commander Mohammad Akbar told a foreign news agency."Initial assessments show that three policemen and two civilians are killed. Four police and a civilian are wounded," Akbar said. There was no immediate claim of responsibility for the blast but it was similar to others by extremist Taliban insurgents, who regularly attack Afghan troops and their international counterparts. [More>>thenews.com.pk]
---
12.26.08 Japan factory output has biggest ever monthly fall
TOKYO, December 26 - Japan's contracting economy got more bad news Friday when figures showed that industrial production plunged by its biggest margin ever in November, the jobless rate jumped and household spending fell. Output at the nation's vital manufacturers fell 8.1% from October, the largest drop since Tokyo began measuring such data in 1953, as Japan's automakers and others slashed output to cope with slowing global demand. The decline was worse than analysts' forecasts, and a survey predicted a similar 8% decline in December. [More>>japantoday.com]
---
12.26.08 Bush rewards aides, including Rice, with plush positions
WASHINGTON, December 26 - Most of President George W. Bush's aides and top administration officials have no idea what they'll do when the next president takes over in 28 days. Bush has now given some of them at least a little idea how they will occupy their time. The White House on Wednesday announced Bush's choices of 24 people for spots on a total of 10 boards, councils and committees, and many of those are getting essentially part-time jobs are people who have been prominent in his two terms in office.
Some examples:
— Secretary of State Condoleezza Rice and Nancy Brinker, the chief of protocol for Bush and a long time friend, are among the president's choices for six-year terms on the board of trustees of the John F. Kennedy Center for the Performing Arts in Washington.
— Commerce Secretary Carlos Gutierrez and Bush political affairs director Barry Jackson are being appointed members of the Board of Trustees of the Woodrow Wilson International Center for Scholars, for six-year terms that expire in late 2014.

— Anita McBride, chief of staff to first lady Laura Bush, is being given a three-year term on the J. William Fulbright Foreign Scholarship Board.

— Bush is giving four-year terms on the Advisory Committee for Trade Policy and Negotiations to Maria Cino, the president and CEO of the 2008 Republican National Convention and a former deputy Transportation secretary under Bush, and to Israel Hernandez, a former top aide to Bush political guru Karl Rove and now an assistant commerce secretary. [>indianexpress.com]
---
12.26.08 Diplomatic efforts stepped up to defuse Indo-Pak tensions
ISLAMABAD / NEW DELHI, December 26 - US, China, Saudi Arabia and Iran have mounted diplomatic efforts towards defusing tensions between Pakistan and India. China and Iran have contacted the foreign ministers of Pakistan and India while Saundi foreign minister Saud Al-Faisal is holding meetings with the Indian leadership. [The] US has also stressed on Pakistan and India to avoid actions that increase tensions between them following an attack last month in Mumbai. Saudi Foreign Minister, Saud Al-Faisal arrived in India Friday morning with the aim to ease tension between Pakistan and India. [More>>thenews.com.pk; See related story,
nytimes.com, December 26, "Pakistan moves forces as tensions with India rise" : ISLAMABAD - Pakistan is moving some troops away from its western border with Afghanistan, where the United States has pressed it to combat Taliban militants, and stopping many soldiers from going on leave amid rising tensions with India, senior Pakistani officials said Friday. A senior military official said in an interview that the decision to sharply restrict leave for soldiers was taken "in view of the prevailing environment," namely the deteriorating relations with India since the Mumbai terrorist attacks last month. He added that the Pakistani air force was "vigilant" and "alert" for the same reason. A second Pakistani security official would not say where the forces were being sent, but confirmed the troop movements and the restrictions on leave, saying "there's an obvious reason for that."...
---
12.26.08 Al-Qaeda 'emirs' flee in deadly Iraq jailbreak
RAMADI, Iraq (AFP) December 26 - A local al-Qaeda chief known as 'Imad the killer' escaped in a pre-dawn breakout from an Iraqi police station on Friday, triggering a wild shootout that left 13 militants and policemen dead. Imad Ahmed Farhan, who police say has admitted to murdering at least 100 people, is on the run with two other 'emirs' or local leaders of al-Qaeda who broke out of their cells in a police station in the western city of Ramadi. "During an exchange of fire between prisoners trying to escape and police officers in the station, six policemen and seven prisoners were killed," provincial police chief Tareq al-Dulaimi said.

The three prisoners managed to flee but one was recaptured, Dulaimi said, adding that another four policemen were wounded in the shootout that occurred at 2 am (2300 GMT Thursday) at Forsan police station in the centre of Ramadi...The predominantly Sunni Arab city, which is the capital of Anbar province, was a key al-Qaeda stronghold in the aftermath of the toppling of Saddam Hussein's regime by US-led forces in 2003. [Full story>>khaleejtimes.com]
---
12.26.08 2 Palestinian girls killed in Kassam hit
December 26 - Two Palestinian girls were killed on Friday when a rocket fired by Palestinian terrorists landed short of its Israeli target. According to witnesses, the girls aged five and 13, were immediately killed after sustaining a direct hit. Hamas announced that it planned to investigate the incident which occurred in the northern Gaza Strip town of Beit Lahiya.

Earlier, Israel agreed to treat a 35-year-old Palestinian who was also wounded by a rocket fired from Gaza towards Israel. The man was evacuated to Ichilov Hospital in serious condition after being transferred from a Palestinian ambulance to a Magen David Adom ambulance at the Erez Crossing. The man was wounded in a Kassam attack on Tuesday, and was since then treated in a Gazan hospital before medical officials decided to get him treated in Israel. Twenty-five mortar shells have been fired into Israel since Thursday night. [>jpost.com]
---
12.26.08 Coral reefs recovering quickly from tsunami damage
BANGKOK, Thailand (AP) December 26 - Indonesia's coral reefs damaged by the 2004 tsunami are recovering rapidly, helped by natural colonization and a drop in illegal fishing, scientists said Friday. Surveys taken after the Dec. 26, 2004, disaster showed up to a third of reefs were damaged and experts predicted it would take a decade for full recovery. Scientists from the New York-based Wildlife Conservation Society, working with the Indonesian government and the Australian Research Council Centre of Excellence for Coral Reef Studies, said their examination of 60 sites on 497 miles (800 kilometers) of coastline along Indonesia's Aceh province showed the reefs were bouncing back."

On the 4th anniversary of the tsunami, this is a great story of ecosystem resilience and recovery," said Dr. Stuart Campbell, coordinator of the Wildlife Conservation Society's Indonesia Marine Program. "Our scientific monitoring is showing rapid growth of young corals in areas where the tsunami caused damage, and also the return of new generations of corals in areas previously damaged by destructive fishing," Campbell said in a statement. "These findings provide new insights into coral recovery processes that can help us manage coral reefs in the face of climate change." [More>>thejakartapost.com; See related stories:

bangkokpost.com, December 26, "Victims of killer waves unidentified" : Four years after the disastrous tsunami struck there have been some blessings in disguise — the number of Scandinavian tourists has increased — but also some lingering sorrow. On the negative side there are still 54 Burmese migrants unaccounted for and almost 400 unidentified bodies of tsunami victims, the Thai Tsunami Victim Identification and Repatriation Centre in Phangnga said ahead of the fourth anniversary of the tsunami on Friday. Centre director Nitinai Sornsongkram said 388 bodies of tsunami victims remain unidentified. The centre received 3,696 bodies in February, 2005, and 3,308 were identified and retrieved by their relatives, he said.
He said agency workers are still trying to identify the bodies and return them to their families. At present, 445 have been reported missing by their relatives. Of these, 290 are Thais, 95 are Burmese migrant workers and 60 are Scandinavians. Indonesia, India, Sri Lanka and Thailand were all hit by the 2004 Indian Ocean tsunami, which was triggered by an earthquake registering nine on the Richter scale. More than 5,000 people, mostly international tourists on holiday, were killed when the killer waves struck Thailand's six Andaman coastal provinces...

thejakartapost.com, December 26, "Rally for housing aid taints tsunami commemoration" : Dozens West Aceh citizens staged a rally Friday marking the fourth anniversary of the tsunami to demand the government organize the reconstruction of the devastated areas in the province more equitably. The protesters, who called themselves the Tsunami Housing Fighter Movement (GPRS), staged their rally in Meulaboh, the capital city of Aceh Barat, the region least assisted by the government or by donor-funded reconstruction programs under the Aceh and Nias Rehabilitation and Reconstruction Agency (BRR).

Rally coordinator Adi Chandra told tempointeraktif.com the demonstrators were people who had not received aid in the form of housing from the government even though they had sent numerous proposals and requests. One protester, 28-year-old Ainul Mardhiah, said she had been living with relatives since the tsunami struck four years ago on Dec. 26. "I submitted a proposal. At one time we were told all tsunami victims would get a house," she said. Meanwhile, local officials and other citizens prayed together in Meulaboh the same day to commemorate the disaster and remember the hundreds of family members who perished or vanished in the calamity. [end]
---
12.25.08 Russia to transport natural gas from Kazakhstan, Turkmenistan
MOSCOW (RIA Novosti) December 25 - The head of Russian energy giant Gazprom and a senior Turkmen minister agreed Thursday on the technical aspects of a pipeline to transport Caspian natural gas to Russia, the company said in a press release. Gazprom CEO Alexei Miller and the deputy chairman of the Turkmen Cabinet, Tachberdy Tagyev, set out the conditions for laying the pipeline at a meeting on Thursday in Turkmenistan's capital, Ashgabat. They also discussed the construction of a transportation facility near the South Lolotan gas fields, which have an estimated 7 trillion cubic meters of natural gas.

A joint agreement to construct the natural gas pipeline from the Caspian Sea to Russia was reached between Russia, Kazakhstan and Turkmenistan on December 20, 2007. The pipeline is planned to deliver natural gas from Kazakhstan and Turkmenistan directly to Russia for further transportation to Europe. The pipeline is expected to transport an estimated 30 billion cubic meters of gas from Turkmenistan and up to 10 billion cubic meters from Kazakhstan. [>en.rian.ru; See related stories:

independent.co.uk, December 24, "Russian-led gas producers' group raises fears of cartel" : Russia's Prime Minister, Vladimir Putin, yesterday warned that the era of "cheap gas" was over as the leaders of the world's 12 biggest exporters of natural gas met in Moscow to form a body — to be known as the Gas Exporting Countries Forum (GECF) — which some worry could be dominated by Russia and operate as an Opec-style cartel.
Mr. Putin said that the "cost of exploration, gas production and transportation are going up, meaning that the industry's development costs will skyrocket." He predicted that the financial crisis would also push up the price of natural gas, adding that the new group would co-operate to ensure "predictability" in the market. Russia, as the world's biggest gas producer, is the prime mover behind the formation of the body, which will include Qatar, Iran and Venezuela. Mr. Putin's comments come as Russia is accused of increasingly belligerent behaviour towards Ukraine over gas payments. It has threatened to cut supplies to its neighbour, which it accuses of failing to pay for exports...The row between Moscow and Kiev will reverberate elsewhere: the European Union imports 80 per cent of its gas through pipelines in Ukraine...

Maravot News 8.18.08, article 8.15.08 War casts cloud over pipeline route Any plans to use Georgia as a bridge for more energy supplies to Europe are likely set to gather dust now that the tiny country's fierce armed conflict with Russia has exposed the insecurity of the route, analysts said. Georgia has been a key conduit of oil and gas from Central Asia to the West that bypasses Russia, and Europe has been hoping to build another pipeline to bring more gas from the area. That pipeline project, called Nabucco, has long been on the drawing board, but potential investors had trouble contracting enough gas for it from Azerbaijan or Turkmenistan.

Shipping the gas from Turkmenistan would require building a separate pipeline across the Caspian Sea bed, which has yet to be divided by the sea's five littoral states, Russia, Azerbaijan, Kazakhstan, Turkmenistan and Iran. Now, Georgia's vulnerability may have dealt a lethal blow to Nabucco and plans for a trans-Caspian pipeline...

Maravot News 9.19.08 article with Editorial note, 9.15.08 Turkmenistan not to bypass Russia on oil and gas exports: Russian official ...Editorial note: I discovered this article when checking out the gundogar.org website, as a follow-up to the "Turkmenistan battles drug gang" article. The Nabucco pipeline project was conceived as another pipeline that could supply the European Union through Georgia and Turkey. This article appeared before Georgia's invasion of South Ossetia and the military response by Russia. This information adds a larger scope to the Maravot News assessment on the relationship of the Russian invasion of Georgia. We anticipated that Russia's purpose was to obtain control of the Baku-Cayhan pipeline serving the EU through Turkey...
---
12.25.08 Allow Bible in Bahasa Malaysia: Christian Federation
PETALING JAYA, Malaysia, December 25 - The Christian Federation of Malaysia (CFM) has called on the Government to re-look its restriction on Bibles written in Bahasa Malaysia. CFM vice-chairman Rev Dr. Eu Hong Seng said considering that Bahasa Malaysia is the national language, it was perplexing that the Bible in Bahasa Malaysia was classified under Section 22 of the Internal Security Act as a document "prejudicial to the national interest and security of the Federation. Though special exemption was made for this Bible to be used by Christians in churches, in this modern day and age when almost anything can be accessed on the Internet, it is regrettable that our Holy Scriptures are still seen as 'prejudicial to the security' of the country," Dr. Eu said. [More>>thestar.com.my]
---
12.25.08 Taliban bar girls from schools and threaten to kill violators
ISLAMABAD, December 25 - On the pattern they followed in Afghanistan, Taliban militants in Pakistan's restive north-western Swat valley have banned girls from attending schools, warning that any violators would face death. The move comes in the wake of a terror campaign by Taliban targeting girls' schools in the region with more than 100 such schools being blown up or torched. "You have time till January 15 to stop sending girls to schools after which we will blow up the schools," Shah Dauran, a deputy of Maulana Fazlullah, the Taliban commander in Swat, held out the ultimatum on the militants' clandestine run FM radio channel. Girls can no longer be enrolled by government or private educational institutions, he dictated. [More>>timesofindia.indiatimes.com]
---
12.25.08 Police seizes 400 kg explosives in Islamabad
ISLAMABAD, December 25 - Islamabad police has seized 400 kilograms of explosives along with detonators and arrested 10 persons from a house in Karal area. Interrogation from the arrested is underway, said SP East Islamabad Saqib Sultan while addressing press conference. He termed the recovery of such a large quantity of explosives as a sign of alarm, saying these explosives were to be used in a major act of terror. Saqib Sultan said investigation is being conducted as to how such a big quantity of explosives was transported into the city. [>thenews.com.pk]
---
12.25.08 Car bomb strikes Baghdad restaurant
December 25 - At least four people have been killed by a car bomb in a predominantly Shia district of the Iraqi capital Baghdad. At least 25 other people were wounded, including women and children, in the Thursday morning blast. Police said the attack was outside a restaurant used by police and construction workers in the Shula district. The casualties included both policemen and civilians. The Iraqi government had declared Thursday — Christmas day — a national holiday to show what it said was its solidarity with other religious groups in Iraq. [More>>aljazeera.net]
---
12.25.08 British soldier, 4 Afghan road workers killed in attacks
KABUL (DPA) December 25 - A British soldier was killed in southern Afghanistan on Christmas Eve, while four road construction workers and two militants were killed elsewhere in the country, officials said Thursday. The British soldier was killed by insurgent fire in Nad Ali district in the southern province of Helmand on Wednesday, the British Defence Ministry said in a statement. NATO-led forces in Kabul also confirmed the death of the soldier in a statement. [More>>khaleehtimes.com]
---
12.25.08 Lebanon army: 7 missiles ready to be fired at Israel found in south Lebanon
December 25 - Lebanese authorities discovered seven missiles aimed at Israel in southern Lebanon, an official Lebanese news agency reported Thursday. The missiles are currently under inspection to determine whether they were enabled for launch, and they will subsequently be dismantled, the news agency reported. The missiles were found five kilometers from Lebanon's border with Israel, in an area which is considered a Hezbollah stronghold but is officially under the jurisdiction of the United Nations Interim Force in Lebanon (UNIFIL), in accordance with UN Security Council resolution 1701. Under the terms of the UN resolution, it is forbidden to station weapons in this area. [More>>haaretz.com]
---
12.24.08 Medvedev urges Ukraine to pay gas debt, threatens cutoff
MOSCOW (RIA Novosti) December 24 - President Dmitry Medvedev said on Wednesday Ukraine must pay its natural gas debt to Russia in full or otherwise Kiev could face disruptions in supplies. "The debt should be paid to the last ruble if they do not want the economy to suffer from Russian sanctions. The situation cannot be tolerated any longer," Medvedev said in an interview with leading Russian television channels.

Ukraine was reported to owe Russia more than $2 billion for the supplied gas. Russian energy giant Gazprom earlier threatened to cut off supplies at the start of 2009 as new contracts cannot be signed as long as the debt is outstanding. Gas talks between Russia and Ukraine have been closely watched by European countries, which import a quarter of their gas needs from Russia. Ukraine transits about 80% of Russian gas bound for Europe. [More>>en.rian.ru]
---
12.24.08 Unemployment filings reach 26-year high
December 24 - The number of people filing for unemployment benefits hit a 26-year high last week, as the deepening recession forced more employers to cut jobs. First-time claims for unemployment rose 5.4 percent, to 586,000 for the week ending Dec. 20, the Labor Department reported this morning. The last time claims were that high was Nov. 27, 1982. The four-week moving average, which is a less volatile indicator, rose to 558,000 from 544,250, also a 26-year high. Orders for durable goods, such as appliances and televisions, dropped 1 percent to $186.9 billion, the US Census Bureau said today. It was the fourth consecutive monthly drop but a much smaller decline than the 8.4 percent drop in October, thanks largely to orders for defense-related goods. [More>>washingtonpost.com; See related stories:

gulfnews.com, December 24, " UAE stock markets plunge for fourth straight day" : DUBAI / ABU DHABI - Share prices in the UAE plunged for the fourth straight day, as recent negative sentiment showed no sign of slowing. The Dubai Financial Market shed 4.97 per cent to leave it on 1,609 points while the Abu Dhabi Securities Exchange dropped by 3.47 per cent to end the day on 2,326 points. Property heavyweight Emaar led the slide on the day it was announced that its share buyback plan had been cancelled...

timesofindia.indiatimes.com, December 24, "Oil dips below $37 on US economic data."
---
12.24.08 Afghanistan asks NATO to guard mass grave
KABUL (AFP) December 24 - Packed into shipping containers to suffocate. Afghanistan said Wednesday it wanted NATO troops to help guard a mass grave site thought to contain the remains of up to 2,000 Taliban prisoners killed by pro-US militia in 2001 after attempts to loot it. Presidential spokesman Humayun Hamidzada told AFP Kabul had decided to ask for assistance after armed criminals apparently attempted to remove bodies from the remote desert site in northern Jawzjan province.

"There have been attempts to remove remains from the Dasht-i-Laili site," Hamidzada said. "We are in the process of asking NATO to assist us in protecting the site." NATO spokesman Captain Mark Windsor told AFP the force had not yet received any such request. The site is believed to contain the remains of Taliban prisoners allegedly massacred in late 2001 by fighters loyal to notorious Afghan warlord Abdul Rashid Dostam, who helped US-led forces oust the Taliban regime. [More>>alarabiya.net; See related story, nytimes.com, December 24, "US and Afghans plan to recruit local militias."
---
12.24.08 Gaza rocket fire intensifies
JERUSALEM, December 24 - Palestinian militants from Gaza increased the range and intensity of their rocket fire against Israel on Wednesday as the Israeli security cabinet weighed options that include broader military action or efforts to renew a truce that recently expired. More than 60 rockets and mortars were fired at southern Israel by the afternoon, the Israeli military said. The rockets slammed into the Israeli border town of Sderot, the yard of a house and a water park in the coastal city of Ashkelon, an Israeli factory at Nir Oz near the Gaza border, and hit a house outside the Western Negev town of Netivot. The strikes caused extensive damage and widespread panic among the residents, but no serious injuries. Scores of adults and children were treated for shock, the emergency medical service said. [More>>nytimes.com; See related story:
jpost.com, December 24, "Palestinians report 1 killed, 3 wounded in IAF airstrike" : The IAF struck back at rocket-launching Palestinians late Wednesday, targeting a Kassam-launching cell in Gaza that was preparing to fire on Israeli towns in the western Negev. The IDF confirmed that the target had been hit. Palestinians reported that one person had been killed and three wounded in the attack. It came after the Security Cabinet approved the security establishment's recommendation that Israel respond to rocket attacks at the time and scale of its choosing. A media blackout was placed on the other details of the Security Cabinet discussion...
---
12.24.08 Doctor used 'human fat to power car'
December 24 - A Beverly Hills plastic surgeon who claims to have turned fat, extricated in liposuction, into biofuel for his car has skipped town after US officials raided his surgery in an investigation into his procedures. Dr. Craig Alan Bittner, who runs the Liposculpture clinic on Rodeo Drive, said that he had created "lipodiesel" with his patients' excess subcutaneous fat. The cosmetic surgeon told Forbes.com that he used the blubber to power two cars including his four-wheel-drive Ford. Dr. Bittner is under investigation by the California Department of Public Health because it is illegal in the state to use human medical waste to power vehicles. He reportedly wrote about the practice on his website, lipodiesel.com, which has since been shut down. [More>>timesonline.co.uk]
---
12.24.08 American Express to receive $3.39 billion from US government
WASHINGTON, December 23 - Credit card giant American Express Co. said on Tuesday that it would receive 3.39 billion US dollars from the US government's 700 billion dollar financial rescue program. In exchange for the capital injection, American Express would sell preferred stock and warrants to the US Treasury. The preferred shares will pay dividends at a rate of 5 percent annually for the first five years and thereafter 9 percent annually.

The Federal Reserve last month granted American Express to become a bank holding company, which will allow it to have permanent access to the central bank's emergency loan window. American Express has announced to cut 7,000 jobs, or nearly 10 percent of its global work force after it reported in October that its profit fell 24 percent in the third quarter. [>xinhuanet.com]
---
12.23.08 Where'd the US bank bailout money go? Shhhh, it's a secret
WASHINGTON, December 23 - It's something any bank would demand to know before handing out a loan: Where's the money going? But after receiving billions in aid from US taxpayers, the nation's largest banks say they either can't track exactly how they're spending the money or they simply refuse to discuss it. "We've lent some of it. We've not lent some of it. We've not given any accounting of, 'Here's how we're doing it,' " said Thomas Kelly, a spokesman for JPMorgan Chase, which received $25 billion in emergency bailout money. "We have not disclosed that to the public. We're declining to."

The Associated Press contacted 21 banks that received at least $1 billion in government money and asked four questions: How much has been spent? What was it spent on? How much is being held in savings, and what's the plan for the rest? None of the banks provided specific answers. "We're not providing dollar-in, dollar-out tracking," said Barry Koling, a spokesman for Atlanta, Georgia-based SunTrust Banks Inc, which got $3.5 billion in taxpayer dollars. Some banks said they simply didn't know where the money was going. "We manage our capital in its aggregate," said Regions Financial Corp. spokesman Tim Deighton, who said the Birmingham, Alabama-based company is not tracking how it is spending the $3.5 billion it received as part of the financial bailout.

The answers highlight the secrecy surrounding the Troubled Assets Relief Program, which earmarked $700 billion — about the size of the Netherlands' economy — to help rescue the financial industry. The Treasury Department has been using the money to buy stock in US banks, hoping that the sudden inflow of cash will get banks to start lending money. There has been no accounting of how banks spend that money. Lawmakers summoned bank executives to Capitol Hill last month and implored them to lend the money — not to hoard it or spend it on corporate bonuses, junkets or to buy other banks. But there is no process in place to make sure that's happening and there are no consequences for banks who don't comply. [More>>japantoday.com; See related stories:
washingtonpost.com, December 23, "Regulator let IndyMac Bank falsify report" : A senior federal banking regulator approved a plan by IndyMac Bank to exaggerate its financial health in a May federal filing, allowing the California company to avoid regulatory restrictions only two months before it collapsed, a federal inquiry has found. The same regulatory agency, the Office of Thrift Supervision, allowed similar legerdemain by other banks, according to a letter sent yesterday to members of Congress by the Treasury Department's inspector general, Eric Thorson. The letter did not provide details about the other incidents.

The finding that OTS on several occasions "blessed a fiction," in the words of one congressional staffer, renews questions about the agency's relationship with the companies it regulates and about its complicity in the collapse this year of several of the nation's largest thrifts, including Washington Mutual and Countrywide Financial. The Washington Post reported last month that OTS allowed thrifts to lend massively while reserves against future losses dwindled. Even as problems became apparent, the agency continued to prioritize deregulation. The latest findings underscore that OTS failed to enforce its own rules...
---
news.sky.com, December 23, "UK: Home loans sink to new Low" : The number of mortgage approvals has slumped to a new record low. Just 17,773 loans were approved for people buying a home during November. That is 60% less than in November last year and 14 fewer than in October. There was also a steep drop in the number of people remortgaging last month. There were just 29,798 loans for people switching to a better deal in the pipeline, down from 52,452 the previous month.

The figure, which was the lowest for eight years, was also less than half the level for November last year. David Dooks, BBA director of statistics, said: "The 1.5% November reduction in Bank rate caused lenders to reassess product ranges and borrowers to reconsider future borrowing costs, so consequently there was another drop in market activity. Volumes of mortgage approvals reached new lows and, with house prices still falling, the encouragement of lower costs had not filtered through by the month-end, largely because people remain concerned about the impacts of the rapidly slowing economy on their personal finances."...
---
cnn.com, December 23, "Most mortgage fixes are bad medicine" : More than half of adjusted loans go into default again. The problem: Many workouts don't actually lower payments. NEW YORK - Good news: Lenders are ramping up their attempts to help troubled home borrowers. Now for the bad: Most of the mortgage fixes being deployed are destined to fail. Hope Now, the coalition put together to fight foreclosures, boasts that it has helped 3 million families stay in their homes since the housing crisis began in July 2007. But a recent report issued by the US Comptroller of the Currency (OCC) found that 53% of borrowers who had their mortgages modified in the first half of 2008 were already at least two months delinquent again. The report covered 60% of the outstanding primary mortgages. Meanwhile, foreclosures remain on the rise: More than a million homes have been repossessed since the start of the meltdown.
...Mortgage modifications are meant to be more effective. The problem, Van Zalingen said, is that they too often fail to reduce a borrower's monthly house payment. The lenders often don't change the interest rates but merely freeze them at a high, unaffordable level, and then add missed payments into the balance, which increases it...
---
nytimes.com, December 23, "Home sales fell sharply in November" : Home sales declined dramatically last month and housing prices posted their sharpest decline in four decades as a rapidly slowing economy discouraged many potential buyers from tip-toeing into the market. Sales of existing homes declined 8.6 percent last month, to a seasonally adjusted rate of 4.49 million, according to the National Association of Realtors, a trade association. The median price of a home fell 13 percent in November, to $181,300 from $208,000 a year ago. That was the lowest price since February 2004.
"They're about as god-awful as they can get," said Robert Barbera, chief economist at ITG. "This is pretty breathtaking stuff." The troubles plaguing the housing market, which is at the heart of America's financial crisis, are only multiplying as the broader economy deteriorates. Even though mortgage rates dropped after the Federal Reserve slashed interest rates to record lows near zero percent, economists said that housing would continue to lag as unemployment increases and the spiral of slumping consumer spending and waning industrial growth continues...
---
12.23.08 Home sales take steep plunge
WASHINGTON, December 23 - Existing Home Sales Down 8.6% In November; New Home Sales Fall 2.9%; GDP Shrinks Further. Sales of existing homes plunged far more than expected last month as buyers recoiled from October's financial wreckage on Wall Street. The median sales price fell by the largest amount on record. The National Association of Realtors said Tuesday existing home sales fell 8.6 percent to an annual rate of 4.49 million in November, from a downwardly revised pace of 4.91 million in October. Sales had been expected to fall to a pace of 4.9 million units. according to Thomson Reuters. [More>>cbsnews.com]
---
12.23.08 Korea: Growth forecasts falling to near 1%
December 23 - As pessimism grows about the world economy, major economic forecasters are revising down their estimate for Korea's economic growth next year, with the new consensus appearing to be in the 1-2 percent range. LG Economic Research Institute, a Seoul-based private think tank, is set to revise its forecast to mid-1 percent from 3.6 percent made in October. Exports, which had been driving the Asia's fourth-largest economy amid sluggish domestic consumption, are slowing markedly in the face of a global market slump.
"Plummeting exports is the main concern, while credit crunch is not letting up easily," said Oh Munseok, a senior researcher at LGERI. "Economic growth next year may not reach 2 percent, even with all the support measures in force," he said. Overseas shipments plummeted 18.3 percent in November from a month ago, the sharpest drop in seven years. The country is likely to see exports shrinking for the second straight month in December, as shipments in the first 20 days of this month were 26 percent lower compared to the same period a month earlier. [More>>koreaherald.co.kr]
---
12.23.08 UAE markets fall to fresh four-year low
DUBAI, December 23 - UAE markets close lower for the fourth time this week on Tuesday as fears about the health of the economy and bank credit drive selling in properties and banks. Dubai's index — down more than 70 percent this year — fell 2.22 percent to 1,693 points, its lowest close since September 14, 2004, while Abu Dhabi's 3.69-percent decline to 2,409 points takes the index to its worst finish since November 18, 2004. [More>>gulfnews.com]
---
12.23.08 Looted ancient treasures recovered in Basra 'sting'
BASRA, Iraq, December 23 - Ancient treasures stolen from museums in the anarchic aftermath of the United States-led invasion of Iraq five years ago have been found in Basra, in one of the biggest recoveries of the loot, The Independent can reveal. The priceless artefacts, about 230 of them, were saved as they were about to be smuggled abroad in a "sting" operation organized by investigators. Seven members of the gang, which is said to have specialised in trafficking the country's stolen antiquities, have been arrested and are being questioned. They are also suspected of being involved in the systematic stripping of archaeological sites.

During the investigation, conducted by Iraqi and British security forces, ancient items destined for private collectors in the Middle East and the West were found buried in gardens and hidden under floors in houses in the suburbs of Basra. According to Iraqi authorities they included Sumerian and Babylonian sculpture, intricate gold jewelry, decorative silverware and ceramic bowls. The artefacts have been sent to Baghdad for analysis and to ascertain their origins.
...Some of the stolen artefacts were recovered in Iraq and outside the country. The National Museum has recovered around 3,500 of its 15,000 stolen artefacts. But the ferocious violence in Iraq meant that allied and coalition forces and their Iraqi allies did not have the time or manpower to investigate the thefts. But now more efforts are being put in by the Iraqi government to recover the country's plundered cultural heritage, and it is offering rewards for information.

The Basra investigation began after security forces received intelligence that a haul of the treasures had arrived in the city en route for Kuwait. An informant introduced two undercover officers from the Iraqi Army's Quick Response Force — normally a counter-insurgency unit — to the underworld group as agents of foreign buyers who were keen to see what was on offer. The officers were shown artefacts wrapped in newspaper and stored in cardboard boxes. They persuaded the gang that their clients needed to see photographs of some of the items. [Full story>>independent.co.uk; See related story,

cbsnews.com (AP) December 22, "two 4,300-year-old tombs unveiled near Cairo" : A pair of 4,300-year-old pharaonic tombs discovered at Saqqara indicate that the sprawling necropolis south of Cairo is even larger than previously thought, Egypt's top archaeologist said Monday. The rock-cut tombs were built for high officials — one responsible for the quarries used to build the nearby pyramids and another for a woman in charge of procuring entertainers for the pharaohs. "We announce today a major, important discovery at Saqqara, the discovery of two new tombs dating back to 4,300 years ago," said Zahi Hawass, as he showed reporters around the site Monday. "The discovery of the two tombs are the beginning of a big, large cemetery."

The discovery indicates that there is even more to the vast necropolis of Saqqara, located 12 miles south of the capital, Cairo, he added...Excavations have been going on at Saqqara for about 150 years, uncovering a vast necropolis of pyramids, tombs and funerary complexes mostly from the Old Kingdom, but including sites as recent as the Roman era...According to Hawass, only 30 percent of Egypt's monuments have been uncovered, with the rest still under the sand.

...Hawass also said that a bust of Pharaoh Amenhotep III that has been outside the country for about 15 years was returned to the Egypt on Sunday after a lengthy legal battle with an antiquities dealer in Britain. Hawass said Egypt and the dealer were eventually able to resolve the question of the bust's ownership out of court without Egypt paying the dealer any money. Egypt has been actively trying to recover artifacts stolen or looted over the years. The bust is one of about 5,000 pieces retrieved by Egypt since 2002. Hawass said he also expects the return of four statues from Sweden in the next two weeks...
---
12.23.08 Olmert orders Jerusalem-area separation fence built by 2010
JERUSALEM (Reuters) December 23 - Israel must complete construction of the West Bank separation fence surrounding Jerusalem by 2010, Prime Minister Ehud Olmert said on Tuesday. Of the 490-mile-long network of fences and walls Israel is building in and along the occupied West Bank, a fifth runs around Jerusalem, including key eastern parts of the holy city where Palestinians want a capital for future statehood.

Israel conquered East Jerusalem, along with the West Bank, from Jordan in the 1967 Six-Day War. It began constructing the barrier to deter Palestinian suicide bombers from entering the country. "The fence in the Greater Jerusalem area must be completed by the end of 2009. This is vital to Israel's security," Olmert told Defense Ministry representatives on a tour of construction sites on Tuesday, according to a statement issued by his office. More than two-thirds of the Jerusalem barrier is finished, the statement said. Of the outstanding sections, 4.5 kilometers (1 mile) have been held up by legal challenges, filed for Palestinian residents who fear losing access to farmland or city services.

The World Court in 2004 branded the barrier, which Palestinians consider a land grab, as illegal. The United States, patron of peace talks between Olmert and Palestinian President Mahmoud Abbas, has called the project "unhelpful." Israel says that the project could be rerouted if there is peace. But Israel also says it will keep all of Jerusalem, along with settlement blocs in the West Bank, under any accord. Olmert's term will end after a February 10 ballot. Neither of the leading candidates to replace him — centrist Foreign Minister Tzipi Livni and rightist opposition chief Benjamin Netanyahu — has shown a desire to shift policy on the barrier. [>haaretz.com]
---
12.23.08 Insurgent groups in NE being trained by ISI: Centre
NEW DELHI, India, December 23 - The Centre on Tuesday said insurgent groups in the Northeastern states receive logistics support and training from Pakistan's intelligence organization, ISI. In a written reply to Lok Sabha, Minister of State for Home Affairs Radhika V Selvi said the Centre receives inputs about ISI involvement in the Northeastern states from time to time.
"Inputs received from time to time indicate that some underground/insurgent groups operating in the Northeastern states have links with Pakistan's Inter-Services Intelligence (ISI) and that the ISI is providing assistance to them by way of logistic support and training etc," she said. With regard to the question about the total number of ISI agents arrested in the region during the last three years, she said one ISI operative was arrested for espionage in Assam in 2005 along with five persons suspected to be accomplices. [>indianexpress.com]
---
12.23.08 Syria's Assad eyes direct peace talks with Israel
DAMASCUS, December 22 - Says must be based on Security Council resolutions. Syrian President Bashar al-Assad said on Monday that his country would eventually embark on direct peace talks with Israel, but they must be based on UN Security Council resolutions. The comments by Bashar al-Assad reflect a softer stance of the Syrian leader, who only recently rebuked Israel by claiming the Jewish state is not genuine in its professed desire for peace with its Arab neighbors.

"Peace cannot be achieved through indirect negotiations alone. But if indirect talks succeed then direct negotiations will also, and peace will come naturally," Assad told a news conference with visiting Croatian President Stipe Mesic. He compared the peace process to the construction of a building, and said Syria and Israel are "now laying the foundations" for peace through the Turkey-mediated indirect talks. "We should first lay solid foundations and then construct the building, and not vice versa," he said and added: "If the bases are successful, then direct negotiations will be successful." [More.>alarabiya.net]
---
12.23.08 Russia may place nuclear missiles in Belarus: report
MOSCOW (AFP) December 23 - Russia may place nuclear-capable Topol missiles in neighboring Belarus as a response to a controversial US missile shield in eastern Europe, a Russian defence ministry source was quoted as saying Tuesday. "If the United States continues to bring elements of its strategic forces closer to Russia's borders, including missile-defence sites in Poland and the Czech Republic, which are aimed at the reduction of our nuclear deterrent, mobile Topol complexes could be placed in Belarus," the source told Interfax news agency.

A defence ministry spokesman contacted by AFP declined to comment on the report. Returning nuclear weapons to Belarus would be a major turnaround for Moscow, which removed its last nuclear missiles from the ex-Soviet republic in 1996, several years after the collapse of the Soviet Union. The report came one day after Belarussian President Alexander Lukashenko met his Russian counterpart Dmitry Medvedev in Moscow and reached a deal on the deliveries of Russian gas to Belarus. [More>>khaleejtimes.com]
---
12.23.08 Bangladesh reports bird flu outbreak
DHAKA, Bangladesh, December 23 - Bangladeshi authorities said Tuesday a new outbreak of bird flu had been detected at a village in the north of the country as they struggled to contain the disease. Livestock department spokesman Salahuddin Khan said at least 100 birds were slaughtered on a farm in the northern Kurigram district late Monday after the deadly H5N1 strain of avian influenza was discovered. "This is the fifth district to have been hit by bird flu since it re-emerged in October after a break of four months," Khan said, adding the government had stepped up surveillance.

Bangladesh was hit by bird flu in February 2007, and the virus made another comeback in January. Earlier this year, 50 of the country's 64 districts were affected, and more than a million birds were slaughtered. Industry officials said that that outbreak led to closure of 40 percent of the nation's poultry farms and left half a million workers jobless. Bangladesh's poultry industry is one of the world's largest, producing 220 million chickens and 37 million ducks annually. The country reported its first confirmed human case of bird flu in May, but the government said the 16-month-old baby who contracted the virus had recovered. [>thenews.com.pk]
---
*Visitor statistics on maravot.com from 1&1. com. 46,153 page views in May 2007; monthly visitors in 2008 range between 40,000-45,0000..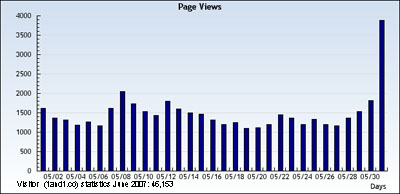 Privacy Policy: We do not store any personal data from you. We have no way of knowing any vital information about you — not even your name. Third-party distribution: We do not distribute information about your site usage to any third party. We are not responsible for the content of links from our site. Usage data: supplied by our Web Hosting service, 1and1.com, which consists of usage reports, such as page views / impressions and web pages visited, visitors' servers and geographical data (ISP's and country of origin).

---
Launched: 10.25.04 / 11.02.04 – | — |
Updated: 12.23.08; 12.24.08; 12.25.08; 12.26.08; 12.27.08; 12.28.08; 12.29.08; 12.30.08; 12.31.08
Copyright © 1981-2008 Maravot. All rights reserved
Copyright © 1981-2008 Mel Copeland. All rights reserved
Background: tile from Cicero's villa (Marcus Tullius Cicero 106 B.C. - 43 B.C.)