News Headlines & Trends
---

12.22.08 Japan exports plunge record amount
TOKYO, December 22 - Japanese exports plunged a record 26.7 percent in November, the Ministry of Finance said Monday, highlighting the drop in global consumer demand for automobiles, electronics parts and other Japanese products. Economists warned that exports - a mainstay of the world's second-largest economy - would tumble further with no recovery in sight for the global economy. Even exports to the rest of Asia are falling sharply. "Demand is rapidly cooling not only in the United States and Europe but also in Russia and the Middle East, and we are expecting a further plunge in exports as the global economy is deteriorating,"' said Hideki Matsumura, a senior economist at the Japan Research Institute in Tokyo. [More>>thestar.com.my]
---
12.22.08 Why are Russia and the US arming the Lebanese army?
December 22 - In an unusual one-two move the Russians then the Americans announced they would deliver new weaponry to the Lebanese army. First Russia said last week it would offer "a gift" of 10 MiG-29s to the Lebanese air force, boosting it considerably, given that Lebanon does not have a force worthy of that name. Now comes the announcement from Washington that the United States said it would give the Lebanese army an unspecified number of M-60 tanks, according to a State Department official.

Several questions need to be asked: Why this sudden generosity from both the United States and the Russians? One thing is certain; the Lebanese army is not being geared up to fight external threats. It never could. The two countries bordering Lebanon — Syria and Israel — are far too powerful, each possessing more than 600 combat planes, thousands of battle tanks and far greater numbers of troops who are better equipped and trained.
What is Lebanon supposed to do with 10 MiGs? What is Lebanon supposed to do with M-60 tanks? The M-60, though now superseded by the Abrams M1-A1, remains widely used by several armed forces around the world. Egypt, for example, has about 1,700 M-60s, as does Turkey (900), and Israel has some 700 upgraded models. Supporting the Lebanese army remains a "pillar of Washington's policy," said US Deputy Assistant Secretary of State for Near East Affairs David Hale. As does of course containing the ever-growing threat of expanding Islamist groups now firmly entrenched in several areas of Lebanon, principally in the dozen Palestinian refugee camps scattered across the country.

The Palestinian refugee camps are populated by 250,000 to 350,000 refugees who live in decrepit shanty towns sprawling alongside almost every major Lebanese city. They have become armed fortresses and no-go zones for the Lebanese security forces. Two agreements, the 1968 Cairo Accords and the 1973 Melkart Understanding signed between the Lebanese government and the Palestine Liberation Organization (PLO), gave the Palestinians in Lebanon autonomy over the refugee camps. However, since the evacuation of the PLO from Lebanon in the aftermath of the 1982 Israeli invasion of that country, a security void enveloped the camps. And that void is being rapidly filled by pro-al-Qaeda elements. These Islamist groups, combined with the very well equipped and trained Hezbollah militia which some observers believe is better equipped than the Lebanese army, is the reason why both the Americans and the Russians are taking this keen interest in arming the Lebanese. [More>>metimes.com]
---
12.22.08 Mugabe unleashes wave of terror with mass abductions
December 22 - Fears are mounting in Zimbabwe for the lives of more than 40 opposition officials and human rights activists who have been abducted as part of a renewed crackdown by the regime in Harare. At least two more members of the opposition Movement for Democratic Change have disappeared in the past week, along with a freelance investigative reporter. "The abductions are increasing and it now seems to be happening nationwide," Nelson Chamisa, an MDC spokesman,said yesterday.

The operation, code named Chimumumu according to sources in the army, aims to eliminate political opponents and remove human rights monitors. The kidnappings follow a pattern familiar from the past two years of political intimidation, where key middle- and lower-ranking officials are "disappeared" in an attempt to terrorize or destabilise opponents of the ruling party. Among those taken in the past month are Chris Dlamini, the head of security for the MDC, and Jestina Mukoko, the director of Zimbabwe Peace Project. The ruling party and security services have denied any part in the abductions. [More>>independent.co.uk]
---
12.22.08 5 convicted of plotting to kill Fort Dix soldiers
CAMDEN, New Jersey (AP) December 22 - Five Muslim immigrants were convicted Monday of plotting to massacre US soldiers at Fort Dix in a case the government said demonstrated its post-Sept. 11 determination to stop terrorist attacks in the planning stages. The defendants were acquitted of attempted murder charges but face life in prison for conspiring to kill military personnel. The federal jury spent about 38 hours deliberating over the past six days. The men lived in and around Philadelphia for years. The government said after their 2007 arrest that an attack had been imminent and that the case underscored the dangers of terrorist plots hatched on US soil. [More>>washingtonpost.com]
---
12.22.08 8 killed in missile strikes in Pakistan's tribal belt
ISLAMABAD, December 22 - Suspected twin missile strikes by US drones killed at least eight persons most of them reported to be Taliban Commanders in Pakistan's restive North West tribal areas, which is believed to be a sanctuary of al-Qaeda militants. The missiles targeted and destroyed two gun-mounted vehicles which were being used by the militants to fire on the Unmanned Aerial Vehicles, local residents said. Four people were killed as one of the missiles blasted away one of the armed vehicles and a fort-like house adjacent to it in Karikot village in South Waziristan.

Minutes later, the other missile hit a house in the adjacent Azam Warsak village and the missile hits caused huge fires which forced panicked residents onto the streets. The residents said that seconds before being hit, militants on one of the gun mounted vehicles had opened fire from an anti-aircraft gun after spotting the drones. It was not immediately known if any senior Taliban or al-Qaeda leaders were killed. But local tribesmen said the people killed were members of Pakistani Taliban group. [>indianexpress.com]
---
12.22.08 'Banned group' blamed for Mumbai attacks
ISLAMABAD (AFP) December 23 - Pakistan says the banned Sunni Muslim extremist group Lashkar-e-Jhangvi was involved in the deadly September bomb attack on the Marriott Hotel in Islamabad, and announced two new arrests. No one has claimed responsibility for the September 20 attack, which killed at least 60 people and wounded more than 260, but officials had pointed the finger at Osama bin Laden's al-Qaeda network. The group (LJ) — which is said to have links to al-Qaeda — is regarded as Pakistan's fiercest Sunni extremist outfit. Former president Pervez Musharraf banned the group in August 2001. [More>>news.com.au]
---
12.22.08 Russia denies supplying S-300 missile systems to Iran
MOSCOW (RIA Novosti) December 22 - Russia is not selling S-300 surface-to-air missile systems to Iran, the Russian federal service for military cooperation said in a statement on Monday. "Reports on deliveries of S-300 systems are untrue," the statement said. Iran's official news agency IRNA, quoting a deputy head of Iran's parliamentary foreign policy and security commission, reported on Sunday that Russia had started supplying components for S-300 surface-to-air missile systems. Russia's state-run arms exporter said earlier on Monday that Moscow only sold defensive weapons to Iran, in strict compliance with the international nonproliferation regime. [More>>en.rian.ru]
---
12.21.08 Cash injections fail to reach citizens
SEOUL, December 21 - Even as the nation's central bank has injected some 20 trillion won ($15 billion) into local banks since the collapse of Lehman Brothers in September, the fresh capital has not benefited firms and households, industry sources reported yesterday. According to the Bank of Korea's data, local banks have neither lowered their interest rates on par with the central bank's key interest rate cut nor expanded lending to firms faltering from a cash shortage.

Corporate loans extended by the nation's commercial lenders in November were put at 3.5 trillion won, down from 7.3 trillion won in October, data at the BOK showed. During the first 18 days of this month, corporate loans issued by the nation's top four commercial lenders grew by 1.8 trillion won, almost the same as 1.9 trillion won in November. Loans extended to small- and medium-sized firms, which carry higher risks, dropped to 148.9 billion won in December, from 1.8 trillion won a month earlier. [More>>koreaherald.co.kr]
---
12.21.08 Property and banking shares drag UAE stock markets down
DUBAI, December 21 - Gulf shares fell, led by real-estate companies, on concern declining crude prices will slow government spending in the region. Emaar Properties PJSC dropped the most in more than a month after Credit Suisse cut its price target to more than half for the Middle East's biggest developer. Sorouh Real Estate Co., Abu Dhabi's second-largest property developer, had its biggest drop since November 10. Global Investment House closed at its lowest level in four years after Al Qabas reported an investor in the company lowered its stake.

The Dubai Financial Market General Index dropped 5.6 per cent to 1,802.77, bringing the slump in 2008 to 70 per cent. Abu Dhabi's gauge lost 3.7 per cent, while the Kuwait Stock Exchange Index retreated 2.7 per cent. "Investors are reacting to the massive fall in crude oil prices," said Chamel Fahmy, senior regional sales trader at Beltone Securities Brokerage in Dubai. "This decline will impact the future growth and government spending." [More>>gulfnews.com]
---
12.21.08 Police break up Russian protests
December 21 - Russian riot police have forcibly broken up a rally being held in the eastern city of Vladivostok. About 500 people had gathered in the city's central square to demonstrate against a new tax on imported cars. Witnesses said police officers kicked protesters, damaged journalists' equipment and made dozens of arrests. Vladivostok, one of several cities holding protests, depends heavily on car imports from Japan and critics say the tax could push prices up by 50%. The tax is intended to help prop up Russia's domestic car industry and prevent people buying cheaper, imported products. Protests against it began a week ago and have also been held in at least nine other cities in far eastern Russia, local Russian media report. [More>>bbc.co.uk]
---
12.21.08 Russia starts S-300 missile supplies to Iran - Iranian MP
TEHRAN (RIA Novosti) December 21 - Russia has started the supplies of components for S-300 air defense systems to Iran, a senior Iranian lawmaker said on Sunday. Esmaeil Kosari, deputy chairman of the parliamentary commission on national security and foreign policy told the Iranian news agency IRNA that Iran and Russia had held negotiations for several years on the purchase of S-300 air defense systems and had finalized a deal. [More>>en.rian.ru]
---
12.21.08 Iran police shut down Nobel laureate's office
TEHRAN(AFP) December 21- Iranian police shut down the office of a human rights group headed by Nobel peace laureate Shirin Ebadi on Sunday, the deputy head of the Human Rights Defenders Centre, Narges Mohammadi, told AFP. "They have sealed off the office and are telling us to leave the premises without resistance," Mohammadi said. "Mrs. Ebadi is there too. We have no choice but to leave." She said dozens of policemen had gathered in front of the group's office in northwest Tehran and that the officials had not "shown a judicial warrant but only provided the number of a warrant."

...Founded by five prominent lawyers and headed by 2003 Nobel winner Ebadi, the group is a vocal critic of the human rights situation in Iran and has defended scores of prisoners of conscience, including high-profile dissidents and student activists. In an annual report in May Ebadi's group complained that "freedom of expression and freedom of circulating information have further declined" since President Mahmoud Ahmadinejad came to office in August 2005. [Full story>>khaleejtimes.com]
---
12.21.08 IAF planes strike Gaza rocket launcher
December 21 - The Israeli Air Force responded to continued rocket attacks from the Gaza Strip with a missile strike Sunday morning. An IAF aircraft targeted a rocket launcher that had been primed and was ready to fire in northern Gaza, the IDF said. Terrorists typically prepare rockets for launch and then fire them from cover a safe distance away...Earlier on Sunday, one person was lightly hurt by shrapnel, and another suffered shock, as Palestinian terrorists fired some 14 Kassam rockets and one mortar shell at the western Negev. A Sderot house was directly hit by one of the rockets, causing damage to the building. [Full story>>jpost.com; See also:

aljazeera.net, December 21, "Gaza rockets hit southern Israel" : ...More than 30 rockets were fired from Gaza into Israel on Saturday, while one Palestinian fighter was killed in an Israeli air raid. Those respective attacks came a day after a six-month-old ceasefire between Israel and Hamas ended. Tel Aviv has said will not take military action if the Palestinian fighters hold their fire, but it has said it will begin a dedicated military operation in Gaza if rocket fire barrages continue...
---
12.21.08 4 militants killed, 5 more arrested in S. Afghanistan
KABUL, December 21 - The US-led Coalition forces killed four armed militants and detained five suspected militants during an operation targeting the Taliban's roadside bomb network in Zabul province of southern Afghanistan, said a Coalition statement released here on Sunday. Coalition forces targeted a Taliban militant known to traffic weapons and coordinate roadside bomb attacks along Highway One in Qalat district of Zabul on Saturday, the statement said. "During the operation, Coalition forces were engaged by multiple militants armed with AK-47s," it said. "The forces returned fire and killed four armed militants." Spiraling conflicts and Taliban-linked insurgency have claimed lives of more than 5,000 people, mostly militants, so far this year, despite over 70,000-strong international troops stationed in strife-torn Afghanistan. [>thenews.com.pk; See related story, thenews.com.pk, December 21, "Militants set ablaze another oil tanker at Pak-Afghan road" : ...So far five tankers supplying oil to Nato forces have been burned during this month.
---
12.21.08 Saudi girl's plea to divorce rejected until puberty
RIYADH (AFP) December 21 - A Saudi court has rejected a plea to divorce an eight-year-old girl married off by her father to a man who is 58, saying the case should wait until the girl reaches puberty, a lawyer involved told AFP. "The judge has dismissed the plea—filed by the mother—because she does not have the right to file such a case, and ordered that the plea should be filed by the girl herself when she reaches puberty," lawyer Abdullah Jtili told AFP in a telephone interview after Saturday's court decision. The divorce plea was filed in August by the girl's divorced mother with a court at Unayzah, 220 kilometers (135 miles) north Riyadh just after the marriage contract was signed by the father and the groom.

"She doesn't know yet that she has been married," Jtili said then of the girl who was about to begin her fourth year at primary school. Relatives who did not wish to be named told AFP that the marriage had not yet been consummated, and that the girl continued to live with her mother. They said that the father had set a verbal condition by which the marriage is not consummated for another 10 years, when the girl turns 18. The father had agreed to marry off his daughter for an advance dowry of 30,000 riyals ($8,000), as he was apparently facing financial problems, they said.

The father was in court and he remained adamant in favor of the marriage, they added. Lawyer Jtili said he was going to appeal the verdict at the court of cassation, the supreme court in the kingdom which applies Islamic Sharia law in its courts. Arranged marriages involving pre-adolescents are occasionally reported in the Arabian Peninsula, including in Saudi Arabia. In Yemen in April, another girl aged eight was granted a divorce after her unemployed father forced her to marry a man of 28, who forced the child to have sex with him. [>alarabiya.net]
---
12.20.08 Stop 'demonizing' Muslims: Islam chief
GENEVA, December 20 - The world's top diplomat for Islam called on Friday for an end to efforts to equate the religion with terrorism and said the 'demonization' of Muslims around the world must be fought. But speaking soon after the UN General Assembly passed an Islamic-sponsored resolution condemning "defamation of religion" for the fourth year in a row, Ekmeleddin Ihsanoglu said his group was committed to respecting freedom of expression. There was a "rising tide of incitement to religious hatred and discrimination and intolerance targeting Muslims," he told a meeting called by the Organization of the Islamic Conference (OIC) at the United Nations in Geneva. The 57-nation OIC, based in Saudi Arabia, represents 1.5 billion Muslims. "Attempts to equate Islam with terrorism should be stopped. Stereotyping and demonization of Muslims should be combated," said Ihsanoglu, a Turkish history professor who became OIC Secretary-General in 2005.

In a statement on Ihsanoglu's remarks, Geneva spokesman for the International Humanist and Ethical Union Roy Brown argued that Islam was often linked to terror because perpetrators of many terrorist acts identify themselves as Muslims. Critics of the OIC — including countries who voted against the "defamation" motion at UN headquarters in New York on Thursday — say many Islamic states use defamation or "blasphemy" laws against minorities and free-thinkers...Meanwhile in other news about Islamophobia a mosque in the southeast city of Lyon was slightly damaged by fire early Saturday in an attack which the French interior ministry in Paris said was arson. [Full story>>alarabiya.net; See related story,

aljazeera.net, December 20, "Swedish city hit by youth riots" : About 100 youths have rioted in overnight clashes in the southern Swedish city of Malmo, setting cars and garbage bins on fire and stoning police. Ewa-Gun Westford, a police spokeswoman, said the clashes on Wednesday and Thursday night were linked to the recent closure of an Islamic cultural centre in Malmo's heavily-immigrant populated neighbourhood of Rosengard. The owner of the building had decided not to renew the centre's lease, which houses a mosque. "We've had a very difficult evening. There's extensive damage to public property and there's been stone-throwing and bomb threats against police," Westford said. He said: "The origin of the riots is the occupation of the building. But that's not really the reason now ... Now other trouble makers have just joined in, taking advantage of the situation."...

---
Editorial note: Islamic scholars need to reexamine the Koran and other Islamic teachings that encourage militant acts — even murder — against non-believers (kafirs). These teachings dominate "Islamist" sermons in mosques around the world. most of which are connected with the Wahabbi sect out of Saudi Arabia. With Islamic migrants to Western nations came the need for mosques and the preaching of the Islamic faith. Among Western societies the free practice of religion is honored, but the connection of Islamic militancy to the mosques and schools (madrassas) has led to a world-wide suspicion of Islam as a peaceful religion.

Islamic teachers must account to the Islamic attacks on Western societies, from the first bombings of the commuter trains in Spain to the London bombings and 9/11. The imams and Islamic preachers of hate that have been connected to the bombings, and their stated purposes for the bombings, need to be addressed by those who are concerned about the reaction called "islamaphobia." They need to search their scriptures to isolate those that are being used by Islamists to justify their crusade against Western societies. The teachings posted in Maravot News, 12.19.08 Somali fighters warn Western powers — "...We will establish Islamic rule from Alaska and Chile to South Africa, Japan, Russia, the Solomon Islands and all the way to Iceland, be warned, we are coming" — are common to those expressed by Osama bin Laden and imams and Islamic preachers of hate from Britain to Australia. Such preachers base their thesis of rejecting Western society, and replacing it with their "conservative" version of Islam, on the following verses of the Koran:

Koran Repentance 9.20 Those that have embraced the faith and fled their homeland and fought for Allah's cause with their wealth and their persons are held in higher regard by Allah. It is they who shall triumph. Their Lord has promised them joy and mercy, and gardens of eternal bliss where they shall dwell forever. Allah's reward is great indeed.
9.116 ...Allah has purchased of the faithful their lives and worldly goods and in return has promised them the Garden. They will fight for His cause, slay, and be slain. Such is the true pledge which he has made them in the Torah, the Gospel, and the Koran. And who is more true to his promise than Allah? Rejoice then in the bargain you have made. That is the supreme triumph.

Koran, Women 4.91 Others you will find who seek security from you as well as from their own people. Whenever they are called back to idol-worship they plunge into it headlong. If these do not keep their distance from you, if they neither offer you peace nor cease their hostilities against you, lay hold of them and kill them wherever you find them. Over such men We give you absolute authority.
4.92 It is unlawful for a believer to kill another believer except by accident.
4.98 He that flies his homeland for the cause of Allah shall find numerous places of refuge in the land and great abundance. He that leaves his dwelling to fight for Allah and His apostle and is then overtaken by death, shall be rewarded by Allah.
4.104 Seek out your enemies relentlessly.

The Byzantine Church, a church that has suffered long persecution in Iraq and Arab lands, posted Islamic teachings that argue the persecution and destruction of non-Islamic peoples. The site is at: http://www.byzantines.net/byzcathculture/islamworldview.html. The teachings complained about in this site must also be addressed by Islamic scholars complaining about "Islamaphobia." Maravot News also recorded other arguments complaining about Islamic persecution, such as Maravot News 8.08.05, article 08.07.05 Inside the sect that loves terror. Links to an Islamic scholars' work, based on the Koran, "Punishing the Disbelievers," are provided here. This edition of Maravot News also contains reports, such as article 08.08.05 Update, 08.07.05 UK to deport 500 Muslim extremists.

There is a basic problem in the application of Islamic rules — such as those involving punishing disbelievers — in Western society. Islamic sharia law, in fact, conflicts with Western laws, such as those involving rape (an Indian girl who was raped by her uncle was forced to divorce her husband and marry the rapist — See Maravot News 7.02.05, article 7.01.05 Update, 6.29.05, 6.28.05 'Woman's marriage dissolves if raped by husband's blood relative' – Islamic Court) or honor killings, where a girl suspected of losing her virginity before marriage is murdered for the honor of her family (See Maravot News 1.13.08 article,1.13.08 Muslim leader says families must help catch honor killers). Such stories as recorded in Maravot News 9.07.08, should be abhorred by all societies: 9.06.08 Married at 9, slain by parents at 17.

Maravot News 9.07.08 recorded this: 9.05.08 Saudi cleric says celebrating birthdays un-Islamic, which is one of several similar stories, from Malaysia's ban against the use of "Allah" by non-believers (See Maravot News 7.08.08 article 7.04.08 Sikh group joins protest against ban on use of word "Allah" in Malaysia) to the confiscation of Christian CDs. Here we discuss the Wahabbi teachings that relate to the persecution of non-believers, found in their textbooks worldwide, as pointed out by Mark Silverberg: "In a region where holy war is explained in public-school textbooks as "consider the infidel your enemy," (advises a Saudi text for 10th-graders), the connection between political Islam of the sort advocated by Osama bin Laden and the education offered to Persian Gulf schoolchildren has been the subject of agonizing dispute.."

While the king of Saudi Arabia and other princes and sheiks of Islam seem sincere in attempts to reconcile Islam with Western society, such a reconciliation cannot be achieved without addressing the teachings and practices in Islam that conflict with Western laws and values. We have argued that there is a way in which such a reconciliation can take place, and that the first step in the way of reconciliation is to approach the Koran through its arguments that it confirms the Bible (See Maravot News, "Why the Crusade and Jihad?").

There are many verses in the Koran that explain that it was written to confirm the Jewish Scriptures and Gospel of Jesus. We argue that a document that confirms another cannot contradict that which it confirms or its source, for in the case of holy scriptures it would be like God arguing against himself or a lawyer in court arguing both to save and take the life of his client. Either one is for life or for death. Jesus argued and taught living with one another, turning the other cheek, forgiving your enemies, doing unto others what you would have them do unto you; and he also argued that He had not come to abrogate the Law or scriptures but to confirm them, that He had violated none of the commandments, etc.

The Koran also recognizes Jesus as the Messiah (Gr. Christ):
The Imrans, 3.45, 47 The angels said to Mary: 'Allah bids you rejoice in a Word from Him. His name is the Messiah, Jesus the son of Mary. He shall be noble in this world and in the next, and shall be favoured by Allah. He shall preach to men in his cradle and in the prime of manhood, and shall lead a righteous life."
We must recognize that the militant verses of the Islamists are not consistent with the authority (the God of the Bible) from whom the Koran says it was sourced. The first step to peace — even the Peace of Jerusalem — is this way.

Mel Copeland
---
12.20.08 Oil price volatility threatens investment, Brown warns
December 20 - Energy ministers from across the world claimed a victory over oil price volatility yesterday by agreeing on the need for better regulation of the global market – but the widely different agendas of producing and consuming nations make cooperation difficult. Delegates at the heavyweight London Energy Meeting — including the UK Prime Minister, the Saudi Oil minister, and the President of the Organization of Petroleum Exporting Countries (OPEC) — met in an effort to combat unpredictable peaks and troughs that hurt consumers and producers alike. The session concluded with an agreement that the International Energy Forum will collect and publish data on annual energy investment plans for the first time, and with plans to create a group to ensure an ongoing dialogue.

The meeting was convened to calm the volatility that has seen crude prices shoot to $147 and crash back under $40 in fewer than 12 months. Although today's lower prices may be a welcome breather for stuttering economies, ongoing unpredictability threatens long-term investment, Gordon Brown said. "The risk now is that investment in oil and other energy sources will once again stagnate, supply capacity will begin to tighten just as demand responds to improved economic conditions."

A global energy market needs a similarly global policy to overcome what Mr. Brown calls "the traditionally adversarial relations between producers and consumers." That means improved information, available worldwide, on everything from demand to supply to investment programmes to financial markets. It also means a rethink of the regulations governing commodity futures trading, to avoid speculation-fuelled bubbles. The International Organization of Securities Commissions task force, which was set up to look at the existing rules and is chaired by the UK, will bring forward proposals in the spring, the Prime Minister said.

Ali al-Naimi, the Saudi Oil minister, echoed the need for producers and consumers to work together. But the holder of the world's biggest reserves is more up-front about what the kingdom sees as a fair price. "The referenced $75-per-barrel price target for oil meets all the stability and predictability criteria, and creates the kind of investment climate conducive to research and development," Mr. al-Naimi said. [More>>independent.co.uk; See related stories:
koreaherald.co.kr, December 20, "Plunging oil is double-edged sword for Korea" : The drastic collapse in oil prices, from nearly $150 in mid-July to $37 a barrel this week, is providing much-needed relief to the Korean economy, which is now struggling to cope with a worldwide and domestic slowdown. But economists warn that falling consumer demand globally could still take a bite out of Korea's economy. But the severity of the drop in prices is a symptom of the dire situation the world economy is in, experts said yesterday...The fall in prices is a double-edged sword for Korea, which imports nearly all of its petroleum needs. Cheaper oil means lower production costs for Korean corporations. But those corporations' export markets have entered recessions, meaning lower demand for Korean products...

japantoday.com, December 20, "Japan calls for tougher regulations to stabilize crude oil prices."
---
12.20.08 Madoff scheme kept rippling outward, across borders
December 20 - By the end, the world itself was too small to support the vast Ponzi scheme constructed by Bernard L. Madoff. Initially, he tapped local money pulled in from country clubs and charity dinners, where investors sought him out to casually plead with him to manage their savings so they could start reaping the steady, solid returns their envied friends were getting...Then, he and his promoters set sights on Europe, again framing the investments as memberships in a select club...Mr. Madoff's agents next cut a cash-gathering swath through the Persian Gulf, then Southeast Asia. Finally, they were hurtling with undignified speed toward China, with invitations to invest that were more desperate, less exclusive.

...While many of the known victims of Bernard L. Madoff Investment Securities are prominent Jewish executives and organizations — Jeffrey Katzenberg, the Spitzers, Yeshiva University, the Elie Wiesel Foundation and charities set up by the publisher Mortimer B. Zuckerman and the Hollywood director Steven Spielberg — it now appears that anyone with money was a potential target. Indeed, at one point, the Abu Dhabi Investment Authority, a large sovereign wealth fund in the Middle East, had entrusted some $400 million to Mr. Madoff's firm. [Full story>>nytimes.com]
---
12.20.08 Inaugural security: Leave chairs, strollers home
WASHINGTON (AP) December 20 - No strollers near the Capitol. No tents on the National Mall. None of that Silly String on the parade route. That's just a sample of the items forbidden from President-elect Barack Obama's inauguration for security reasons. And while many people say the inconvenience is a small price to pay to witness the swearing-in of the nation's first black president, others are scratching their heads, trying to figure out how they will sit, snack, carry diapers or transport tired tots. Some older people are backing out of their inaugural plans, partly because of a no-chair rule for the parade route. Parenting blogs are abuzz with complaints about the less-than-kid-friendly restrictions. [More>>abcnews.go.com]
---
12.20.08 Military: Up to 30,000 new troops to be sent to Afghanistan
KABUL, December 20 - Up to 30,000 additional US troops could be sent to Afghanistan next year, military officials said Saturday. Of those, 20,000 will be comprised of four ground/maneuvering brigades, said Col. Gregory Julian, spokesman for US forces in Afghanistan. That number is consistent with what Gen. David McKiernan, the US commander in Afghanistan, called for in October, he said. The additional 10,000 likely refers to support personnel, Julian said. McKiernan requested the additional 20,000 troops be sent to fight the increasing violence by the resurgent Taliban forces in the southern and eastern parts of the country.

On Friday, military officials said Defense Secretary Robert Gates signed a deployment order to move an additional 3,000 troops to Afghanistan next year. Those troops will be part of a combat aviation brigade, the latest approved by Gates for the expected buildup of US troops in the country in 2009. The brigade will send a number of much-needed helicopters to the region. Helicopters are the main mode of transportation for the US military in Afghanistan, where high mountain roads and passes make it difficult for large transport vehicles to move troops and supplies. The additional troops would nearly double the level of US troops in Afghanistan. [More>>cnn.com]
---
12.19.08 Bush approves $17.4 billion auto bailout
WASHINGTON, December 19 - President Bush announced $13.4 billion in emergency loans on Friday to prevent the collapse of General Motors and Chrysler, and said another $4 billion would be available for the hobbled automakers in February. The entire bailout is conditioned on the companies undertaking sweeping reorganizations to show that they can return to profitability. The loans, as G.M. and Chrysler teeter on the brink of insolvency, essentially throw the companies a lifeline from the taxpayers that will keep them afloat until March 31.

At that point, the Obama administration will determine if the automakers are meeting the conditions of the loans and will continue to receive government aid or must repay the loans and face bankruptcy. The money to aid the automakers will come from the Treasury's $700 billion financial stabilization fund. Shortly after Mr. Bush's announcement, the Treasury secretary, Henry M. Paulson Jr., who will oversee the aid to the auto industry, said Congress would need to release the second $350 billion for that program in short order. [More>>nytimes.com]
---
12.19.08 55 Jamaat leaders under detention: Pakistan
ISLAMABAD, December 19 - Pakistan on Friday said it has detained 55 leaders of the outlawed Jamaat-ud-Dawa as part of the crackdown against the group designated as a terrorist outfit by [the] UN Security Council but claimed that no eveidence linking them to the Mumbai attacks has been found so far. The crackdown on JuD, the front organisation of Lashkar-e-Taiba blamed for the Mumbai attacks, is continuing and 55 of its leaders, including its chief Hafiz Mohammed Saeed, have been detained. Twenty-two JuD leaders have also been barred from travelling abroad, an interior ministry spokesman said. The detained leaders were being interrogated and no clues about links to the Mumbai terror attacks have been found so far, the spokesman told a TV channel.

The Indian government has not provided any "credible evidence" against the JuD, he said. Authorities also had no information on the whereabouts of Jaish-e-Muhammad chief Masood Azhar, the spokesman claimed. Defence minister Chaudhry Ahmed Mukhtar has said the detained JuD leaders, including Saeed, could not be tried in Pakistani courts in the absence of evidence against them. He said the leaders had been detained under the Maintenance of Public Order ordinance, which allows a person to be held for up to 90 days. [More>>timesofindia.indiatimes.com]
---
12.19.08 Somali fighters warn Western powers
December 19 - An armed group battling Ethiopian forces in Somalia has told Al Jazeera it will take its fight beyond the country once it defeats its rivals. "We are fighting to lift the burden of oppression and colonialism from our country ... We are defending ourselves against enemies who attacked us," Abu Mansoor, the leader of al-Shabab, said. "Once we are successful with that we will fight on and finish oppression elsewhere on earth," he said. Al-Shabab, meaning youth, split last year from the Islamic Courts Union which controlled much of Somalia, including the capital Mogadishu, until it was pushed out by government and Ethiopian troops in 2006. It has since retaken large areas of central and southern Somalia and is putting increased pressure of the transitional government, which exercises little control from its base in the town of Baidoa..."We will establish Islamic rule from Alaska and Chile to South Africa, Japan, Russia, the Solomon Islands and all the way to Iceland, be warned, we are coming." [More>>aljazeera.net]
---
12.19.08 Turkish police detain 38 in al-Qaeda raids - agency
ISTANBUL, December 19 - Turkish police have detained 38 people in raids on suspected members of al-Qaeda, state-run Anatolian news agency reported on Friday. The raids were the latest in a series targeting suspected members of the Islamic militant group in recent years. Islamist radicals have carried out bomb attacks in Turkey in the past, most notably in 2003 when al-Qaeda militants killed more than 60 people in a series of bombings in Istanbul. "Thirty-eight people were detained in an operation against a radical right-wing group carried out simultaneously in Istanbul, Izmir and Manisa," the agency reported Istanbul police chief Celalettin Cerrah as telling a news conference. [More>>turkishpress.com]
---
12.19.08 US to supply tanks to Lebanon in spring 2009
BEIRUT (AFP) December 19 - The United States plans to deliver M-60 tanks to Lebanon in spring next year as part of a commitment to help the country's army, a senior US state department official said in Beirut on Friday. David Hale, US deputy assistant secretary of state for Near Eastern affairs, denied the US is in competition with Russia, which announced on Wednesday that it would give Lebanon 10 MiG-29 fighter jets. [More>>khaleejtimes.com]
---
12.19.08 'Russian arms sales could help Iran obliterate Israel'
(AP) December 19 - A senior Defense Ministry envoy has urged Russia not to sell Iran advanced anti-aircraft missiles, saying they could help the Islamic Republic destroy Israel, according to a Russian news agency report. "The deliveries of dangerous armaments to our enemies won't serve the interests of peace and, for instance, can help Iran wipe Israel off the face of earth," the Interfax news agency quoted envoy Amos Gilad was quoted as saying. Gilad also reportedly said Israel believes Russia will respect his country's interests. "So we expect Russia to demonstrate responsibility on the issue." The official, who was visiting Moscow, was responding to a question about possible deliveries of Russian S-300 air defense missiles to Iran.

Some Russian media have claimed that a deal has already been struck to sell the missiles, but Russian officials have denied it. Russia has previously sold Tor-M1 air-defense missiles and other weapons to Iran in deals criticized by the US and Israel. The long-range S-300 is a much more advanced weapon that would make any potential Israeli strike at Iran's nuclear facilities more difficult. [More>>haaretz.com]
---
12.18.08 British Muslim, Rangzieb Ahmed, convicted of being al-Qaeda mastermind in landmark trial
December 18 - A British Muslim, described by counter-terrorism officers as an al-Qaeda mastermind who considered mass murder part of his duty, became the first person to be convicted of a charge of "directing terrorism" today. Rangzieb Ahmed, 33, was part of a three-man active service cell on an unknown terrorist operation in Dubai and Saudi Arabia in December 2005 when it had to be aborted. He was regarded as so important to the organization that a second man, Habib Ahmed, 28, was recruited to carry incriminating documents written in invisible ink that amounted effectively to a "terrorist's contacts book."

Among the names and phone numbers found in the three books or diaries was that of Hamza Rabia, No 3 in al-Qaeda's chain of command. Rangzieb Ahmed, originally of Rochdale, Greater Manchester, was convicted at Manchester Crown Court of directing terrorism at the end of an 11-week trial.

..Senior officers of Greater Manchester Police's counter-terrorism unit claim that their three-year investigation into Rangzieb Ahmed's cell has been instrumental in disrupting and destabilizing the senior levels of al-Qaeda. They are also convinced that Ahmed was involved in planning a terrorist atrocities involving mass murder.

Rangzieb Ahmed travelled to Dubai from Pakistan via China in December 2005 and was set to fly out to South Africa as part of a "major activity" but the plans went awry when Hamza Rabia was blown up in an explosion. He then summoned Habib to collect three diaries and the pair returned separately to Britain shortly after...Rangzieb Ahmed, who admitted to membership of the proscribed Harakat-ul-Mujahideen organization, flew to Pakistan in January 2006 where he was arrested. This forced the hand of counter terrorism officers in England who then arrested Habib before he could flee. [Full story>>timesonline.co.uk; See also independent.co.uk, December 18, "Two guilty of being al-Qaeda members."]
---
12.18.08 Dawood directly involved in mumbai attacks, says Russia
MOSCOW, December 18 - Underworld don Dawood Ibrahim was directly involved in the deadly 26/11 attacks in Mumbai as his clandestine drug trafficking network was used to finance the Terror strikes in India's financial hub, according to a top Russian crime buster. "The gathered inputs testify that infamous regional drug baron Dawood Ibrahim had provided his logistics network for preparing and carrying out the Mumbai terror attacks by the militants," Director of Russia's Federal Anti-narcotics Service, Viktor Ivanov, said.

The Mumbai mayhem is a 'burning example' of the use of illegal drug trafficking network for perpetrating terrorism, he said in an interview to the Government daily 'Rossiskaya Gazeta.' "The super profits of the narco-mafia through Afghan heroin trafficking have become a powerful source of financing organized crime and terrorist networks destabilizing the political systems, including in Central Asia and Caucasus," Ivanov said. Dawood is sought by India for 1993 Mumbai serial blasts and figures in the most wanted persons list sent to Islamabad by New Delhi in the wake of last month's Mumbai terror attacks blamed on the Pakistan-based Lashkar-e-Toiba, 'Rossiskaya Gazeta' noted. [>indianexpress.com; See also timesofindia.indiatimes.com]
---
12.18.08 Over 30 Iraq Interior Ministry officials detained
BAGHDAD (Reuters) December 18 - A number of officers from Iraq's Interior Ministry have been arrested on charges of trying to rebuild former Iraqi leader Saddam Hussein's Baath party, a ministry spokesman said on Thursday. The New York Times reported on Thursday that an elite counterterrorism force, reporting directly to Prime Minister Nuri al-Maliki, arrested up to 35 officials, some of whom were accused of plotting a coup against the government. Major-General Abdul Karim Khalaf said the officers were arrested under suspicion of being part of the Awda ("Return") party, which is seen as a new incarnation of the once omnipotent Baath party...Brigadier-General Alaa al-Taei, the ministry's head of public relations, said those arrested were not accused of plotting a coup, but instead were suspected of planning to burn down the ministry, possibly to destroy evidence against them. [Full story>>khaleejtimes.com; See also:
alarabiya.net, December 18, "Iraq arrests 50 over coup plot: security official" : ..."Fifty interior ministry civil servants, including senior officials, were arrested over the past three days for trying to topple the government of Prime Minister Nuri al-Maliki," the official told reporters on condition of anonymity. The New York Times earlier reported that some of the arrested officials were accused of quietly working to reconstitute Saddam Hussein's Baath Party. The arrests,according to the paper, included four generals, one of whom, Gen. Ahmed Abu Raghif, who is the ministry's director of internal affairs. It reported that the arrests had come at the hand of an elite counterterrorism force that reports directly to the office of Prime Minister Nuri al-Maliki...
---
12.18.08 Modern day slavery flourishes in Lebanon
BEIRUT (Reuters) December 18 - An Ethiopian housemaid lies bandaged in a government hospital after falling from a 12th floor balcony. She says her Lebanese employer pushed her off. "Madam asked me to hang the clothes. Then she came and pushed me from behind," the 25-year-old woman told Reuters. Too frightened to let her name be published, she said her employer had frequently threatened and abused her. "Madam would tell me, 'I will spill hot oil on you,' so I hid the oil. She would take a knife and threaten to kill me. She would beat me with shoes, pull my hair to the floor," the injured woman said, her face still bruised a month later.

According to the New York-based Human Rights Watch (HRW), nearly every week one of an estimated 200,000 migrant domestic workers in Lebanon dies. Suicide, falling while trying to escape their employer and untreated illness are the main causes of death. The employers are rarely prosecuted. HRW says maids in Lebanon, as elsewhere in the Middle East and Asia, are vulnerable to beatings, rape and even murder for lack of national laws to protect them from abusive employers. [More>>alarabiya.net]
---
12.18.08 Pakistan says militant leader Azhar not in custody
ISLAMABAD (Reuters) December 18 - A Pakistani militant leader who is one of the men most wanted by India is not in the custody of Pakistani authorities and is at large, Pakistan's foreign minister said on Thursday. Maulana Masood Azhar is leader of the Jaish-e-Mohammad militant group that for years has battled Indian security forces in its part of the divided Kashmir region. India blamed the group, along with another militant organization, Lashkar-e-Taiba, for a 2001 attack on the Indian parliament. A Pakistani intelligence official told Reuters this month that Azhar had been detained as part of a crackdown that Pakistani authorities launched after the militant attacks on the Indian city of Mumbai last month. [More>>khaleejtimes.com]
---
12.18.08 UN court convicts colonel for Rwanda genocide
(Reuters) December 18 - A UN court sentenced a former army colonel accused of masterminding Rwanda's genocide in 1994 to life in prison today. The Arusha-based International Criminal Tribunal for Rwanda (ICTR) had accused Theoneste Bagosora, 67, of being in charge of the troops and Interahamwe Hutu militia who butchered 800,000 minority Tutsis and moderate Hutus in 100 days. "Colonel Bagosora is guilty of genocide and crimes against humanity and war crimes," the court said.

Prosecutors said Bagosora, then cabinet director in the Defence Ministry, assumed control of military and political affairs in the central African country when President Juvenal Habyarimana's plane was shot down. Canadian General Romeo Dallaire, head of United Nations peacekeepers during the genocide, described Bagosora as the "kingpin" behind the genocide and said the colonel had threatened to kill him with a pistol. In its indictment, the ICTR said that before the killings, Bagosora stormed out of peace talks in Tanzania saying he was returning to Rwanda to "prepare the apocalypse." [More>>independent.co.uk]
---
12.18.08 Oil prices slip below $40 a barrel
December 18 - Wall Street shares were mixed on Thursday as oil prices continued to decline, sliding below $40 a barrel to their lowest levels in more than four years, even after the OPEC cartel said it would cut production by another 2.2 million barrels a day. Crude oil was trading for $38.85 in New York on Thursday morning, down $1.21 a barrel, as the widening global recession showed no signs of relenting anytime soon. Oil and gas consumption has plunged this fall as the economy has deteriorated, dragging oil prices down from their July peak of slightly more than $145 a barrel. [More>>nytimes.com]
---
12.18.08 Bush says he plans to address auto crisis before leaving office
December 18 - President Bush said today he does not intend to leave behind a "major catastrophe" for President-elect  Barack Obama in the auto industry and expressed worry about the impact of a collapse on wider financial markets. The White House also said that it was seriously considering "orderly bankruptcy" as a way to save distressed automakers. Bush, speaking at the conservative American Enterprise Institute in Washington, said he has not yet decided on a course of action to rescue the auto industry. He also said he was "worried about a disorderly bankruptcy and what it would do to the psychology of the markets."

...Bush's remarks followed yesterday's announcement that Chrysler will shut down all of its 30 factories for at least a month. Bush and his aides are scrambling to put together a rescue plan of some kind after a proposal to give General Motors and Chrysler $14 billion in short-term emergency loans died in the Senate last week. [Full story>>washingtonpost.com]
---
12.17.08 OPEC agrees to another cut in production
December 17 - The OPEC cartel agreed on Wednesday to reduce production by 2.2 million barrels a day, the group's largest ever cut, in an effort to put a floor on falling oil prices. It is the third time producers reduced their output in as many months. Since September, members of the Organization of the Petroleum Exporting Countries have pledged cuts totaling 4.2 million barrels a day, or nearly 12 percent of their capacity, a record in such a short time. But oil futures fell more than 3.5 percent to $41.99 a barrel on Wednesday, as the market focused on the dire state of the global economy and many experts doubted that OPEC would manage to carry out its promises, leaving markets oversupplied in the face of falling demand.

"There is still a boatload of people that are hugely skeptical," said Jan Stuart, an energy analyst at UBS. After riding a wave of rising oil prices for nearly a decade, the world's top exporters are struggling amid a weakening global economy, a dizzying slump in oil consumption and a sharp downfall in prices. In a move reminiscent of 1998, when oil fell below $10 a barrel, OPEC asked outside producers to trim their production but seemed to find few takers. [More>>nytimes.com]
---
12.17.08 Chinese ship rescued from pirates in Gulf of Aden
NAIROBI, Kenya (Reuters) December 17 - A multilateral force rescued a Chinese ship from Somali pirates on Wednesday, in a sign foreign navies patrolling the shipping lane linking Europe to Asia are adopting tougher new tactics. The Chinese boat Zhenhua 4 was one of four vessels seized by pirates on Tuesday, the same day the United Nations Security Council took a strong stand against the attacks and authorised countries to pursue the gunmen on land. A Kenyan maritime group said the crew locked themselves in their cabins and radioed for help. A warship and two helicopters came and fired on the pirates, but did not kill them, it said. Chinese state media said a "multilateral" force with helicopters hovered over the ship and successfully fought off the pirates. Rampant piracy off the coast of Somalia this year has earned gunmen millions of dollars in ransom, hiked shipping insurance costs and caused international alarm. [More>>khaleejtimes.com; See related story,
timesofindia.indiatimes.com, December 17, "China to send naval fleet to Somalia" : ...Chinese naval warships would escort their flag carriers while moving through pirate infested Gulf of Aden, the paper quoting high level Chinese military officials said. This will be the first time in over five decades the Chinese naval warships would head to international waters to carry out such mission...
---
12.17.08 Russia to donate 10 MiG-29 fighters to Lebanon
MOSCOW (RIA Novosti) December 17 - Russia will supply Lebanon with 10 used MiG-29 Fulcrum fighter planes free of charge, the head of the federal military cooperation service said on Wednesday. The usual export price for a new MiG-29 is around $30 million. Mikhail Dmitriyev said that before being shipped to Lebanon, all aircraft would be repaired and modernized "to export standards." He also said Russia and Lebanon were holding talks on a deal for the Arab country to buy Russian military hardware. [More>>en.rian.ru]
---
12.17.08 Mideast governments should act against maid abuse: HRW
DUBAI (Reuters) December 17 - Governments in the Middle East should act quickly in 2009 to fulfil promises to protect the rights of migrant women, a U.S.-based rights group said on Wednesday. Millions of women from Indonesia, Sri Lanka, Ethiopia and the Philippines work as maids in Arab states, many of which exclude domestic workers from protection in their labour laws. Several countries including Jordan, Lebanon, Saudi Arabia, Kuwait, the United Arab Emirates, Bahrain and Qatar are in the process of drafting or debating changes to extend protection to domestic workers, but these have yet to be finalized...Human Rights Watch said abuses against domestic workers include 18-hour workdays with no days off, physical confinement in the workplace, denial of food, lack of payment for months or years, physical and sexual abuse. [Full story>>khaleejtimes.com]
---
12.17.08 Malaysia denies any plan to close Catholic paper
KUALA LUMPUR (AP) December 17 - Malaysia's Muslim-majority government denied any plan Wednesday to shut down a Catholic newspaper accused of flouting publication rules by running articles deemed political and insulting to Islam. The Herald, the main Roman Catholic weekly in Malaysia, has received warnings over the past year that it could lose its publishing license, which expires Dec. 31. All Malaysian publications must renew their government license every year. The Rev. Lawrence Andrew, editor of the Herald, said the Home Ministry has not renewed the paper's license even though it submitted an application months ago, while in past years a license was typically issued far in advance...Che Din Yusoh, an official with the Home Ministry's publishing unit, however, said officials were merely bogged down with a large number of license applications. "We will issue it by the end of the month," he told The Associated Press. "There is nothing to worry about."

...The publication is also currently embroiled in a court dispute with the government over a ban on the use of the word "Allah" as a Malay-language translation for "God." The Herald has sought a court order to challenge the government's ban on its use of the word. Hearings have not begun. The government has said the use of the word could confuse Muslims, while the Herald insists "Allah" has been used for centuries to mean "God" in Malay. The Herald's problems underscore the tenuous position of minority religions amid a recent string of interfaith disputes. Many Christians, Buddhists and Hindus fear their rights are being undermined by government efforts to bolster the status of Islam, Malaysia's official religion...[Full story>>thejakartapost.com]

---
Editorial note: There is a fundamental problem among Muslims in understanding the foundations of their Koran. The Koran says in many places that it "confirms" the Jewish Scriptures and Gospel of Christ. (sic. The Bible). When Islamic teachers acknowledge that the confirmation of the Bible precludes any contradiction between the Koran and the Bible, then the Malaysian action on the use of the word "Allah" should be negated. Indeed, with the understanding that the Koran cannot contradict its source (the God of the Bible) reason dictates that many disputes between Muslims and Christians should be reconciled.

Disputes between Islam and other religions that use the Bible as an authority should also be reconciled. The Siekhs, for instance, have filed a lawsuit against the government of Malaysia as well, since their holy documents refer to both the Koran and the Bible as their authorities. They say that denial of the use of the word "Allah" in their documents would be the same as preventing them from practicing their religion. See Maravot News 7.08.08 article and editorial note 7.04.08 Sikh group joins protest against ban on use of word "Allah" in Malaysia. See also Maravot News 8.13.08 article and editorial note 8.11.08 Malaysia warns Christian paper to avoid politics for other confilcts between Islam and other faiths; and for a list of the verses of the Koran that claim it was written "to confirm" the Bible see Maravot News "Why the Crusade and Jihad."
---
12.17.08 Muslims, Vatican aim to prevent youth extremism
VATICAN CITY, December 17 - Pope Benedict XVI received a Muslim delegation on Wednesday that participated in a seminar focused on steering young people away from "religious radicalism." The theme of the talks, involving the Catholic church and the Libya-based World Islamic Call Society, was "Responsibilities of Religious Leaders in Times of Crisis." "Religious leaders have a special responsibility toward youth, who require particular attention so that they do not fall victim to religious fanaticism and radicalism," said a joint statement, issued after three days of talks at the Vatican. [More>>alarabiya.net]
---
12.17.08 18 killed, 53 wounded in Baghdad blasts
BAGHDAD, December 17 - A car bomb and a second explosion killed police and civilians here on Wednesday. Twin bomb blasts have killed 18 people and wounded 53 in central Baghdad as British Prime Minister Gordon Brown made an unannounced visit to Iraq, police said. The car bomb and a second explosion killed police and civilians in the Nahdha neighbourhood of central Baghdad, near a traffic police station and a hospital.

Violence has dropped sharply in Iraq, where the US-led invasion in 2003 unleashed years of sectarian bloodshed and insurgent attacks. But car bombs, assassinations and other violence are still routine. Brown arrived in Baghdad morning on his fourth visit as the British leader. He met Prime Minister Nouri al-Maliki and discussed plans to withdraw the remaining 4,100 British troops from southern Iraq by the end of July 2009. Wednesday's bombings were some distance away, on the other side of the Tigris River from the heavily fortified Green Zone where Brown met Mr. Maliki. [>thenews.com.pk]
---
12.17.08 YU confirms $110 million loss in Madoff scam
December 17 - Yeshiva University has confirmed that it lost $110 million, or about eight percent of its endowment, in the evaporation of the multibillion-dollar investment operation run by Wall Street financier Bernard Madoff. The losses came from an indirect investment in Ascot Partners, a fund run by J. Ezra Merkin that hd its $1.8 billion assets completely wiped out in Madoff's alleged $50 billion Ponzi scheme. Yeshiva president Richard Joel said in a statement that the university had lost half-a-billion dollars since January from its endowment, which now stands at $1.2 billion, according to Joel's statement. He said the losses would be covered by cuts in operating costs and programs, but committed to protecting both student financial aid and faculty pensions. [More>>jpost.com; See related story, news.com.au, December 17, "Madoff's court hearing cancelled." : Disgraced investment baron Bernard Madoff's first court appearance since his arrest was cancelled today after he agreed to stricter new bail conditions...
---
12.16.08 Retail prices fell at record rate in November
December 16 - Consumer prices fell at the fastest rate on record in November while home construction plunged nearly 20 percent in a single month, skidding to its lowest levels in 50 years, according to new government data that shows further weakness in the ailing economy. The reports on Tuesday morning heightened investors' expectations that the Federal Reserve would cut its target overnight interest rate to 0.5 percent, from 1 percent, later in the day. Financial markets in New York opened higher as investors awaited a 2:15 p.m. announcement from the Fed's Open Market Committee.

The Labor Department reported Tuesday morning that consumer prices fell for the second consecutive month, and at the fastest rate since the government began keeping track in 1947. Prices at cash registers and gas pumps across the country were a seasonally adjusted 1.7 percent lower in November from the month before, led downward by tumbling energy prices, which fell 17 percent over one month as the demand for gasoline and oil eclipsed. [More>>nytimes.com]
---
12.16.08 Russia mulls buying Israeli drones
(AP) December 16 - Russia is negotiating with Israel to buy a batch of spy drones, the head of the Russian armed forces said Tuesday, in what would be its first ever purchase of military hardware from the Jewish state. Israel sparked concern in Moscow after it previously sold drones to Georgia that were used successfully before and during its August war with Russia. Russia's weapons industries have failed to supply the military with drones, developing only experimental models that experts have described as outdated. Gen. Nikolai Makarov, the chief of the general staff of the Russian armed forces, said that Russia would like to buy an unspecified number of drones from Israel, the Interfax news agency reported. [>jjpost.com]
---
12.16.08 3 months after Lehman, Korea still struggles
December 16 - Three months after the collapse of Lehman Brothers, the initial shock in Korea's financial markets seems to be easing — albeit slowly — aided by a barrage of government measures to protect local banks and companies, government officials and experts said yesterday. However, fears of a worldwide economic recession have replaced initial financial woes, casting a cloud over Korea's export-driven economy. Companies are struggling to secure funds to repay maturing debts amid dropping sales.

Consumer sentiment is in dire straits, factory output has fallen sharply, and new jobs are getting scarcer. Reflecting the sharp worsening of economic conditions, the Finance Ministry yesterday revised the country's economic growth target for next year to 3 percent. Just a month ago, it said 4 percent growth would be possible. Last week, the Bank of Korea said Korea's economic growth will slow to 2 percent from an estimated 3.7 percent in 2008. In 2007, the nation's gross domestic product expanded 5 percent. [More>>koreaherald.co.kr]
---
12.16.08 US auto industry problems spell trouble for Japan as well
TOKYO, December 16 - Even as General Motors and the entire US auto industry teeters on the edge of collapse, its major rivals are hardly celebrating. Toyota and other Japanese carmakers say the bankruptcy of any of Detroit's Big Three would spell serious trouble for them as well. Should that happen, "the damage to our business is certain to be tremendous," Toyota Motor Corp spokesman Hideaki Homma said Monday. "The conditions for the US auto market are extremely tough right now, and any additional negative is sure to make things worse."

One major problem is that Japanese carmakers in the US share many of the same parts suppliers. If a Detroit automaker were to collapse, suppliers would likely follow, setting off a chain reaction that could would wreak havoc for Japanese production in the US, a vital market. More broadly, the US crisis could lead to huge job losses and further weaken consumer spending, especially for big-ticket items like automobiles. Together, the three big American automakers employ 239,000 workers in the United States. Counting other businesses that depend on the automakers, economists estimate that 2.5 million jobs would be lost if all three companies went out of business. [More>>japantoday.com]
---
12.16.08 Police find explosives in Paris store after warning
PARIS (Reuters) December 16 - Police found explosives hidden in a Paris department store on Tuesday after a tip-off from a group demanding the withdrawal of French troops from Afghanistan. The group called itself the Afghan Revolutionary Front, but French officials said they had never heard of it before and warned it might prove a false lead. Police recovered five sticks of dynamite from the Printemps store. The explosives were not attached to detonators, suggesting that the aim was to spread alarm rather than cause death and destruction.

French President Nicolas Sarkozy, speaking in the eastern French city of Strasbourg, said France would not negotiate with terrorists and urged caution. "At this point in time I would call on everyone to be very prudent and very measured," he said. The tip-off was sent by letter to a French news agency, warning that several bombs had been planted in the Printemps store on the Boulevard Haussmann, which is usually packed with Christmas shoppers at this time of year. Dynamite was found in lavatories on the second and third floors of the men's section of the store, which was allowed to reopen some five hours after the alarm was raised. [More>>thestar.com.my]
---
12.15.08 Iraqis protest for release of journalist
BAGHDAD (AP) December 15 - Thousands of Iraqis took to the streets Monday to demand the release of a reporter who threw his shoes at President George W. Bush, as Arabs across the Middle East hailed the journalist as a hero and praised his insult as a proper send-off to the unpopular US president. The protests came as a suicide truck bomber killed at least five police officers Monday at a checkpoint west of Baghdad, said Iraqi police. Muntadhar al-Zeidi, who was kidnapped by Shiite militants last year, was being held by Iraqi security Monday and interrogated about whether anybody paid him to throw his shoes at Bush during a press conference the previous day in Baghdad, said an Iraqi official.

He was also being tested for alcohol and drugs, and his shoes were being held as evidence, said the official, speaking on condition of anonymity because he was not authorized to talk to the media. Showing the sole of your shoe to someone in the Arab world is a sign of extreme disrespect, and throwing your shoes is even worse. Newspapers across the Arab world on Monday printed front-page photos of Bush ducking the flying shoes, and satellite TV stations repeatedly aired the incident, which provided fodder for jokes and was hailed by the president's many critics in the region.

"Iraq considers Sunday as the international day for shoes," said a joking text message circulating around the Saudi capital Riyadh...Al-Zeid's tirade was echoed by Arabs across the Middle East who are fed up with U.S. policy in the region and still angry over Bush's decision to invade Iraq in 2003 to topple Saddam Hussein. Abdel-Bari Atwan, editor of the influential London-based newspaper Al-Quds Al-Arabi, wrote on the newspaper's Web site that the incident was "a proper goodbye for a war criminal." The response to the incident by Arabs in the street was ecstatic...[Full story>>khaleejtimes.com; See also the BBC report which carries other scenes and commentary on the shoe-throwing incident, bbc.co.uk]
---
12.15.08 Israel frees 224 Palestinian inmates
December 15 - Israel released 224 Palestinian prisoners Monday in a gesture to Palestinian Authority President Mahmoud Abbas, who welcomed the former inmates in Ramallah, but said the "joy won't be complete until Israel frees all Palestinian prisoners." Buses carrying former inmates, most from the Fatah movement, drove from Ofer Prison near Ramallah to the Beitunya checkpoint where hundreds of anxious relatives waited.
As the first bus pulled into sight, some of the released men jumped on the roof of the bus, hopping up and down with joy. Others waved Fatah flags and draped the Palestinian black-and-white scarf around their necks. The buses headed from the checkpoint to Abbas's headquarters in Ramallah, where the president hugged and kissed each former detainee. [More>>jpost.com]
---
12.15.08 Egypt accuses Iran of trying to dominate Mideast
CAIRO / DUBAI, December 15 - Rebukes Iran criticism for refusing to open Rafah crossing. Egyptian Foreign Minister Ahmed Abul Gheit lashed out at the Iranian government on Sunday, accusing the regime of the Islamic Republic of trying to dominate the Middle East. Abul Gheit's statement signaled an escalation in a simmering diplomatic dispute between the two countries, which have both vied for a dominant role in the region. "The Iranians are trying to spread and impose their specific ideology on the region, and they are using some of the Palestinians... for Iranian purposes," he said, in an apparent reference to the Palestinian Islamist group Hamas.

Earlier on Sunday, the foreign ministry rebuked former Iranian president Hashemi Rafsanjani for criticizing Egypt's refusal to permanently open its Rafah border crossing with the Gaza Strip. Rafah is the only crossing into Gaza not controlled by Israel, which imposed a blockade on the impoverished Palestinian coastal strip after Hamas violently seized power there last year. "Egypt's foreign policy will not play into the hands of Iran or the interests of some groups that have lost sight of the true objectives of the Palestinians," Abul Gheit said. [More>>alarabiya.net]
---
12.15.08 US wants Gulf to buy into missile defense system
MANAMA, December 15 - The United States wants to see the oil rich Gulf states purchase, install and join a unified missile defense system that would provide complete aerial coverage to the entire region, from Kuwait in the northern Gulf to Oman on the southern tip of the Arabian Peninsula. "Something not unlike NORAD," said a high-ranking US official who is directly involved in the planning of this project, and who asked not to be named.

NORAD, or the North American Aerospace Defense Command, is a joint Canadian-US early warning tracking system designed to give North America early detection of any airborne object that is intended to strike. The United State places much on these oil-rich Arab states. Several high ranking U.S. military and political officers attending a top-level security conference in Bahrain capital, including U.S. Secretary of Defense Robert Gates, Gen. David Petraeus, the commander of CENTCOM and others promoted the idea, saying that such a project would be primarily aimed at deterring Iran from launching missiles, be they nuclear or conventional ones. [More>>metimes.com]
---
12.15.08 Russia hopes for deal on START-1, missile defense by 2010
MOSCOW (RIA Novosti) December 15 - Russia is hoping to draft a new arms reduction treaty with the U.S. and reach a compromise on the US missile shield in Europe by the end of 2009, a Russian deputy foreign minister said on Monday. Russia and the United States have held a new round of talks in Moscow on a new document to replace the 1991 Strategic Arms Reduction Treaty (START-1), missile defense in Europe and issues of non-proliferation.

Russia is hoping to draft a new arms reduction treaty with the US and reach a compromise on the US missile shield in Europe by the end of 2009, a Russian deputy foreign minister said on Monday. Russia and the United States have held a new round of talks in Moscow on a new document to replace the 1991 Strategic Arms Reduction Treaty (START-1), missile defense in Europe and issues of non-proliferation. [More>>en.rian.ru]
---
12.15.08 Mystery grows over general's slaying in Pakistan
ISLAMABAD (Reuters) December 15 - Pakistani newspapers gave prominent coverage on Monday to a British media report that a retired general gunned down in Islamabad last month planned to blow the whistle on fellow generals' dealings with the Taliban. Jang, Pakistan's biggest selling Urdu-language newspaper, ran a story on its front page headlined: 'Gen. Alavi was against pacts with Taliban, Musharraf had sacked him.' The reports in Jang [thenews.com.pk] and other Pakistani dailies were based on a story published in Britain's Sunday Times, and written by Carey Schofield. [http://www.timesonline.co.uk/tol/news/world/asia/article5337881 .ece]

Major-General Amir Faisal Alavi, a brother-in-law of Nobel prize-winning British novelist V.S. Naipaul, was shot dead along with his driver on the outskirts of the capital on Nov. 19. Suspicion initially fell on Islamist militants linked to al-Qaeda and the Taliban, but an investigation by police and intelligence agencies has yet to come up with hard evidence. "The investigation is going on but so far there has been no progress. We could not identify the murderers or the motive," said Sajid Kiyani, superintendent of police in Islamabad.

Schofield says Alavi, who had commanded the elite Special Services Group, gave her a copy of a letter he had had sent to army chief General Ashfaq Kayani in which he named two generals whose conspiracy resulted in his premature retirement more than two years ago. Western and Pakistani analysts have long harboured suspicion that Pakistan has played a double game by supporting Taliban factions in the years since 2001, despite the heavy casualties suffered by its security forces fighting militants in the tribal region bordering Afghanistan. A copy of the letter, dated July 21, 2008, with the names of the two generals blacked out, was reproduced on the Sunday Times website. In the letter, Alavi asked Kayani to open an inquiry into the reason for his retirement and disciplinary action against the generals who had plotted against him. [More>>arabtimesonline.com]
---
12.15.08 40 Taliban killed in Afghan-NATO operation
KABUL, December 15 - A joint Afghan-NATO operation in Afghanistan's dangerous south has killed 40 militants, including the Taliban's leader in that region, a government official said Monday. The operation in the Nad Ali and Murja districts of Helmand province began on Thursday and continued through Monday, said Dawood Ahmadi, spokesman for Helmand's governor. Ahmadi said that 40 militants were killed in the operation, though he said that government officials had recovered only seven bodies, which were given to tribal elders for burial. Ahmadi said the government knows another 33 fighters were killed through intelligence sources. Among the dead was a Mullah Salim, a Taliban leader who was the head of the militant's council in the two districts, Ahmadi said. The councils, also called shuras, are sometimes referred to as a shadow government structure that operates separately from the Afghan government. [>thenews.com.pk]
---
12.15.08 Red Cross to wind down tsunami projects
GENEVA (AFP) December 15 - The Red Cross says it will have built more than 55,000 houses for people hit by the devastating 2004 South Asian tsunami by the end of 2009, when most major construction work should wind down. "Almost all major construction programs are due to be completed by the end of 2009, when about 90 per cent of funding will have been spent," the International Federation of Red Cross and Red Crescent Societies said in a statement yesterday. As of September this year, some 41,215 permanent houses have been built, while another 12,722 were under construction, it said.

Meanwhile, 279 of 383 planned hospitals and clinics were also completed, with work in progress on another 96. Some 4.1 million people had received aid from the $US2.6 billion Red Cross program. Indonesia was the nation worst hit by the tsunami that struck on December 26, 2004, with some 168,000 lives claimed by the catastrophic walls of water that lashed Aceh province at the northern tip of Sumatra island. [>news.com.au; See full report: the International Federation of the Red Cross and Red Cresdcent Societies, ifrc.org, press release December 15, ""The tsunami after four years: major progress in rebuilding."]
---
12.15.08 Blasphemy suspect Lia detained, refuses lawyers
JAKARTA, Indonesia, December 15 - Cult leader Lia Aminuddin, a.k.a. Lia Eden, has refused legal representation, though the Jakarta Police have charged her with blasphemy, Lia's spokesperson said Monday. Earlier Monday morning, Lia and 23 of her followers, including 10 minors, were taken to Jakarta Police headquarters."She said divine revelation had not permitted her to be accompanied by any lawyer," Lia spokesperson Saor Siagian told reporters at Jakarta Police headquarters, adding Lia would rely on divine support to defend herself. Saor said Lia was charged because she had put out an edict that annulled every religion.

"She broadcast her message to a thousand institutions, including to the head of the National Police and to the President," Saor said. In her message Lia said God wanted every religion annulled. The message was also put on the Internet at www.le2-34-777.info. Under the law, Lia may face up to five years in jail for blasphemy. Lia had been sentenced to two years in jail after being convicted of blasphemy charges in 2006. She was then charged with distributing brochures, books and VCDs about her teachings, which prosecutors said were irreverent toward Islam. Lia claims to be the Holy Spirit, God's messenger Gabriel and the reincarnation of the Virgin Mary. She leads a controversial cult called the Kingdom of Eden. [>thejakartapost.com]
---
12.15.08 Bird flu confirmed in eastern India
CALCUTTA, India (AP) December 15 - The deadly H5N1 strain of bird flu has been found in samples taken from dead chickens in eastern India, authorities said on Monday. It was the second outbreak of bird flu in India's West Bengal state and came as several thousand birds have been slaughtered in the neighboring state of Assam, where authorities have been battling an outbreak for several weeks.

Tests from samples taken from the village of Lorhata, some 220 miles (354 kilometers) northeast of Calcutta, the capital of West Bengal, showed the presence of the H5N1 strain of bird flu, said Sirthar Kumar Ghosh, a local official. Ghosh said authorities will begin slaughtering birds on Tuesday. Some 3,500 birds have died in Lorhata in recent days. India has contained several previous outbreaks of the disease, including in West Bengal in January, when they slaughtered some 4 million birds. No humans in India are known to have caught the disease, which has killed at least 246 people worldwide according to the World Health Organization. Bird flu remains difficult for humans to catch, but experts fear the virus might mutate into a new form that spreads easily among people, potentially sparking a pandemic. [>timesofindia.indiatimes.com]
---
12.15.08 S. Korea's Madoff-linked losses reach $100 million
December 15 - Korean financial firms' losses linked to Bernard Madoff's Ponzi scheme are expected to reach $100 million, the nation's financial watchdog said yesterday. The Financial Supervisory Service said that Madoff-linked losses at six local firms are estimated at $95.1 million. The regulator said that all the victims were institutional investors who invested through hedge funds in private equity funds, causing no losses to individual investors. "No individual investors suffered losses from the fraud, since it was mostly institutional investors who entrusted their money with international hedge funds. Companies involved are looking into ways to recover their entrusted assets and minimize damage," an FSS official said.

The FSS said that Korean financial firms including Korea Life Insurance, one of the nation's top three insurers, pension funds and asset management companies invested through hedge funds such as Pioneer Alternative Investment's Primeo Select Fund and Fairfield Sentry Ltd., which entrusted billions of dollars to New York-based Bernard Madoff LLC, an investment fund owned by Bernard Madoff. Bernard Madoff, former chairman of the Nasdaq Stock Market, was arrested on Dec. 11 by the US Federal Bureau of Investigation on charges that he and his firms allegedly ran securities fraud is what was called "a giant Ponzi scheme," a pyramid-type swindle that promises early investors will earn high returns with money from newcomers. Investor losses are estimated as much as $50 billion, according to Bloomberg. [More>>koreaherald.co.kr: See related stories:

aljazeera.net, December 15, "World banks hit by US fraud case" : Banks and financial groups across the globe have disclosed they may have lost billions of dollars following a suspected $50bn fraud by the former chairman of the Nasdaq stock exchange. HSBC was the latest banking giant to admit its exposure to what is believed to have been a pyramid-style scam, reporting on Monday it may have lost about $1bn...HSBC said its exposure to the scheme arose from loans it had provided to large clients such as hedge funds. Banks in Europe, Asia and the United States have been affected. More than $10bn of potential losses have been reported by firms still reeling from the effect of the US sub-prime mortgage crisis...

timesonline.co.uk, December 15, "Wall Street 'fraud' victims continue to rise" : The list of institutions and individuals set to lose billions of pounds after investing in a fund run by Bernard Madoff, the Wall Street broker and former Nasdaq chairman, is growing by the hour. Royal Bank of Scotland (RBS), the bank majority-owned by the Government, today admitted that it had an exposure of £400 million to the $50 billion alleged fraud. It joins Man Group, the world's largest listed hedge fund manager, HSBC and Santander, the Spanish group that owns Britain's Abbey, Alliance & Leicester and Bradford & Bingley, which are exposed to Mr. Madoff's business.

So far, Santander has emerged as one of the hardest hit after admitting it is sitting on an exposure worth more than €2.33 billion (£2.08 billion) through Optimal, one of its funds. EIM, the hedge fund group which is run by Arpad Busson, the multimillionaire who is engaged to Uma Thurman, the actress, said that it is exposed to products sold by Mr. Madoff for about $220 million...

cnn.com, December 15, "Scam victims: Finace giants count losses" : LONDON - Some of the biggest and best-known names in global finance are calculating they may have lost nearly $3 billion in an alleged $50 billion "pyramid scheme" that led to the arrest of a New York financier last week. HSBC, one of the world's largest banking groups, could lose $1 billion, it announced Monday. The Royal Bank of Scotland (RBS) told CNN its hedge funds had exposure of up to 400 million British pounds ($600 million) to funds managed by securities broker Bernard Madoff.

France's BNP Paribas (BNPQ.Y) said Sunday its maximum potential loss was about 350 million euros ($468 million). Spain's Banco Santander (STD) said it had a direct exposure of 17 million euros ($23 million) while clients of its hedge funds had 2.33 billion euros ($3.1 billion) at risk in Madoff's firm. Spain's second-largest bank, BBVA (BFR), said it could lose up to 300 million euros ($404 million). Japan's Nomura (NMR) on Monday said it had 27.6 billion Japanese yen ($303 million) of exposure, but that the impact on its capital would be limited...
---
*Visitor statistics on maravot.com from 1&1. com. 46,153 page views in May 2007; monthly visitors in 2008 range between 40,000-45,0000..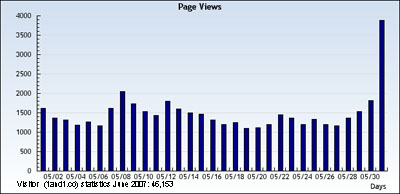 Privacy Policy: We do not store any personal data from you. We have no way of knowing any vital information about you — not even your name. Third-party distribution: We do not distribute information about your site usage to any third party. We are not responsible for the content of links from our site. Usage data: supplied by our Web Hosting service, 1and1.com, which consists of usage reports, such as page views / impressions and web pages visited, visitors' servers and geographical data (ISP's and country of origin).

---
Launched: 10.25.04 / 11.02.04 – | — |
Updated: 12.15.08; 12.16.08; 12.17.08; 12.18.08; 12.19.08; 12.20.08; 12.21.08; 12.22.08
Copyright © 1981-2008 Maravot. All rights reserved
Copyright © 1981-2008 Mel Copeland. All rights reserved
Background: tile from Cicero's villa (Marcus Tullius Cicero 106 B.C. - 43 B.C.)