News Headlines & Trends
---

12.14.08 Iraqi journalist throws shoes at Bush - Casting shoes is the ultimate insult
See also the BBC report which carries other scenes and commentary, bbc.co.uk.
---
12.14.08 Pakistan 'linked to 75% of all UK terror plots,' warns Gordon Brown
December 14 - Gordon Brown demanded "action, not words" from Pakistan today, blaming Pakistani militants for last month's attack on Mumbai and revealing that three quarters of the gravest terror plots under investigation in the UK had links to Pakistan. Winding up a two-day tour of Afghanistan, India and Pakistan, the Prime Minister urged Asif Ali Zardari, Pakistan's President, to "break the chain of terror" linking Islamist militants in Afghanistan and Pakistan to attempted terrorist attacks in Britain.

British military officials believe there are a "handful" of British militants fighting alongside the Taleban in Afghanistan, often entering the country through northern Pakistan, where al-Qaeda and Taleban leaders are thought to be sheltering. Officials also believe that there are currently around 30 major terrorist plots in the United Kingdom with 2,000 suspects being watched by police and the intelligence services. "Three quarters of the most serious plots investigated by the British authorities have links to al-Qaeda in Pakistan," said Mr. Brown in a press conference alongside Mr. Zardari in the presidential palace in Islamabad. "The time has come for action, not words."
Speaking just a few hours after meeting Manmohan Singh, the Indian Prime Minister, in Delhi, Mr. Brown also formally declared for the first time that Britain backs India's assertion that Lashkar-e-Taiba, a Pakistani militant group with links to Pakistan's military-run spy agency, carried out the Mumbai attack. [More>>timesonline.co.uk; See related story:
indianexpress.com, December 14, "LeT behind Mumbai attacks: Gordon Brown" : NEW DELHI - International pressure on Pakistan increased further on Sunday with British Prime Minister Gordon Brown asserting that the outrageous attacks in Mumbai were carried out by Lashkar-e-Taiba and made it clear that Islamabad will have a "great deal to answer for."...Hinting at building pressure on Pakistan, the British Prime Minister told a select group of journalists here that the world community should come together to ensure that there were "no safe havens for terrorists" and "no safe place for those who finance terrorist activities." ...
---
12.14.08 Official history spotlights Iraq rebuilding blunders
BAGHDAD, December 14 - An unpublished 513-page federal history of the American-led reconstruction of Iraq depicts an effort crippled before the invasion by Pentagon planners who were hostile to the idea of rebuilding a foreign country, and then molded into a $100 billion failure by bureaucratic turf wars, spiraling violence and ignorance of the basic elements of Iraqi society and infrastructure. The history, the first official account of its kind, is circulating in draft form here and in Washington among a tight circle of technical reviewers, policy experts and senior officials. It also concludes that when the reconstruction began to lag — particularly in the critical area of rebuilding the Iraqi police and army — the Pentagon simply put out inflated measures of progress to cover up the failures.

In one passage, for example, former Secretary of State Colin L. Powell is quoted as saying that in the months after the 2003 invasion, the Defense Department "kept inventing numbers of Iraqi security forces — the number would jump 20,000 a week! 'We now have 80,000, we now have 100,000, we now have 120,000.' " Mr. Powell's assertion that the Pentagon inflated the number of competent Iraqi security forces is backed up by Lt. Gen. Ricardo S. Sanchez, the former commander of ground troops in Iraq, and L. Paul Bremer III, the top civilian administrator until an Iraqi government took over in June 2004. Among the overarching conclusions of the history is that five years after embarking on its largest foreign reconstruction project since the Marshall Plan in Europe after World War II, the United States government has in place neither the policies and technical capacity nor the organizational structure that would be needed to undertake such a program on anything approaching this scale. [More>>nytimes.com; See also aljazeera.net, December 14, "Iraq reconstruction 'a failure.' "]
---
12.14.08 Carter meets with Hamas leader in Damascus for second time this year
DAMASCUS (AP) December 14 - Former US President Jimmy Carter on Sunday met with exiled Hamas leader Khaled Meshal in Damascus, for the second time this year. The meeting was part of Carter's regional discussions on Middle East conflicts. Officials from the anti-Israel Hamas kept reporters away from the venue and no news conference was scheduled. Carter first met with Meshal, Hamas' political leader, in April. That meeting drew sharp criticism from the Bush administration, which labels Hamas a terrorist group and contends such meetings give credibility to hard-line militants. Carter said on Saturday, however, that he intends to continue meeting with Hamas leaders because peace requires dialogue with all sides. [>haaretz.com; See related chart, sofir.org (via haganah.com) December 11, "Current distribution of Hamas supporters observed online." and related stories:
haaretz.com, December 14, "Mazus considers indicting Arab MK who met Hamas leaders in Syria" : Attorney General Menachem Mazuz on Sunday told Israeli Arab MK Said Naffaa (Balad) that he may face indictment for a trip he took in September 2007 to Syria, where he met with senior members of Palestinian terror organizations. Naffaa could face charges of unlawful travel to an enemy country, contact with a foreign agent, and aiding a visit to a foreign country...Naffaa on Saturday denied having met or spoken with the parties...

jpost.com, December 14, "Mock Schalit paraded in Hamas rally": Tens of thousands of Hamas supporters in Gaza marked 21 years to the terror group's establishment on Sunday with an outdoor rally that included a play featuring a Hamas man as kidnapped IDF soldier Gilad Schalit begging for his freedom...
---
12.14.08 Maliki takes revenge over new mandate
December 14 - The nation's leader, furious at the UK's 'surrender' to Shia militias, is stalling on a deal for Britain's continuing presence. British forces in Iraq are facing a humiliating end to their six-year mission in the country as the Iraqi Prime Minister, Nouri al-Maliki, takes his revenge for what he regards as the British surrender of Basra to hardline Shia Muslim militias. Mr. Maliki, incensed by Britain's perceived failure to deal with the Mahdi Army of his bitter Shia rival, Moqtada al-Sadr, is stalling on a deal on Britain's continuing presence in Iraq, barely a fortnight before the current arrangement expires. Frantic diplomatic efforts are under way to secure a legal framework for British forces after 31 December, when the current United Nations mandate expires. Top-level sources described the situation as "extremely serious". Even if a deal is struck within the next two weeks, the manner in which Iraq has allowed the issue to go right to the wire is a humiliation for Britain's exit strategy. [More>>independent.co.uk]
---
12.14.08 S. Korea: Nation faces worse slump in job market
SEOUL, S. Korea, December 14 - The number of unemployed and part-timers has topped 3.17 million this year, up 167,000 from a year ago, as experts predict the worst of the job market is yet to come. Further unsettling news is that the number of new jobs is steadily declining, totaling 78,000 in November. Experts, however, predict the situation to worsen next year, as job-loss fears spreads rapidly around the globe. The jobless rate among member nations of the Organization of Economic Cooperation and Development has already hit 6 percent. [More>>koreaherald.co.kr]
---
12.14.08 Toyota likely to be in red in fiscal 2nd half
TOKYO, December 14 - Toyota Motor Corp is expected to further revise downward its group earnings projections for the second half of the current fiscal year and to report an operating loss of about 100 billion yen in the October-March period, informed sources said Saturday. The expected downward revisions, to be announced in January or later, stem from continuing declines in global auto sales and the yen's appreciation against the US dollar and the euro, the sources said. [>japantoday.com; See more details, japantimes.co.jp, December 14, "Toyota faces Y100 billion second-half operating loss."]
---
12.14.08 Three Canadian soldiers killed in Afghanistan
TORONTO (Reuters) December 14 - Three Canadian soldiers were killed and one wounded in southern Afghanistan on Saturday when an explosive device detonated near the armored car in which they were riding, military officials said. With the latest casualties, 103 members of the Canadian forces have lost their lives since the country's military mission in Afghanistan started in 2002. One diplomat has also been killed. [More>>timesofindia.indiatimes.com]
---
12.14.08 Acid attack burns 46 shoppers
HONG KONG (AAP) December 14 - Dozens of Christmas shoppers in Hong Kong were burned by bottles of acid hurled from a high-rise building on to one of the city's busiest streets, a report said. Police said 46 people were injured in a deliberate attack as two large plastic bottles of liquid crashed to the ground in the teeming Mong Kok district at about 5:00pm on Saturday, the Sunday Morning Post reported. Witnesses said the victims screamed out and rushed to find water to wash off the liquid, which burned holes in their clothes and damaged their skin, the report said. "A bottle came down," one man told the English-language paper.
"It looked like an ordinary bottle of water, and the crowd began to disperse. Then I saw people with red faces and eyes in pain." All 46 victims had been released from hospital by Saturday evening. Police said they searched the building where the bottles appeared to be thrown from, but had not arrested any suspects. "Traces of caustic liquid were left on the ground," police superintendent Annie Fonda told the newspaper. "Judging by the traces and the positions of the two bottles, this is not an accident. We believe someone intentionally hurled them from a height." [>news.com.au]
---
12.13.08 Auto crisis roils state budgets nationwide
NEW YORK, December 13 - Already cash-strapped states would be hit hard by the collapse of even one of the Big 3. Sales taxes, income taxes would suffer, as unemployment and Medicaid costs rise. The Big Three automakers' troubles are wreaking havoc on state and local budgets far beyond the Rust Belt. And a collapse of even one of Detroit's car manufacturers would hit governments while they are down. States and cities around the nation are already slashing budgets and services as the deepening economic downturn shrinks their coffers. To close their budget gaps, governments are cutting public health programs, reducing aid to public school and universities, and laying off workers.

Problems in the auto industry are only exacerbating this turmoil. Not only have nearly 800,000 people lost car-related jobs this year, accounting for 40% of the increase in unemployment, but auto sales are at a 26-year low and at least 660 dealerships have closed their doors. This means state and local governments are collecting less in personal income taxes, corporate business taxes and sales taxes — all critical to funding their operations. State tax revenue fell 2.6%, when adjusted for inflation, in the third quarter, according to preliminary figures from the Rockefeller Institute of Government. [More>>cnn.com]
---
12.13.08 Indian Navy repulses attack, arrests 23 pirates
NEW DELHI, December 13 - In another successful anti-piracy operation, Navy warship on Saturday repulsed an attack on a merchant vessel in the Gulf of Aden and nabbed 23 Somali and Yemeni sea brigands, in a show of resolve to weed out the menace that affected maritime trade in the region. The pirates on two speed boats had surrounded the merchant vessel flying the Ethiopian flag around noon, when INS Mysore warship intervened and warded off the attack, Navy spokesperson said. The pirates had fired at the merchant vessel with their small arms, when it sent out a rescue call and the Indian warship, which was sailing nearby moved its Marine Commandos on a helicopter to help the distressed cargo vessel, he said.

The attack took place about 150 nautical miles off Aden and INS Mysore was about 13 nautical miles away from the merchant vessel when it picked up the SOS call. The Navy flew its Marine Commandos on helicopters to the scene of the pirate attack and rescued the ship. MV Gibe was later escorted to safety, he added. The Naval commandos also boarded the pirates' boats and seized seven AK-47 assault rifles, two other rifles, a grenade launcher and 13 fully loaded magazines of ammunition from the 12 Somali and 11 Yemeni pirates on board the two pirate boats. [More>>indianexpress.com]
---
12.13.08 Germany wants new sanctions against Iran
BERLIN (AFP) December 13 - Germany wants further sanctions to be imposed against Iran, hitting the banking and transport sectors, according to the weekly Der Spiegel to be published Monday. The magazine says Foreign Minister Frank-Walter Steinmeier's chief-of-staff Volker Stanzel suggested new measures to his French and British counterparts on Thursday. The Europeans would try to reach agreement on extending sanctions on Tehran with the incoming US administration of Barack Obama, as well as Russia and China, which would not require a UN Security Council vote. The aim was to give Obama a means of pressure on Iran in any future dialogue, according to Der Spiegel. [More>>khaleejtimes.com]
---
12.13.08 Militants torch 25 vehicles ferrying supplies to NATO forces
ISLAMABAD, December 13 - Heavily armed Taliban militants stormed a supply depot in Peshawar torching 25 trucks meant to ferry vital supplies for US and NATO forces' operations in Afghanistan on Saturday, raising question marks over whether Washington would be able to use the Khyber pass route. This was the fifth such attack in 10 days in the North West Frontier Province capital on freight terminals, indicating that the Pakistan government agencies appear to be losing control of the area. n these continuing attacks, the Taliban militants have destroyed 300 containers as well as large number of armed escort vehicles.

The attacks are taking place despite paramilitary forces in vehicles fitted with guns and searchlights conducting regular patrols of the area and stationing of special anti-terrorist squads. Supplies for US and NATO forces are brought by sea to the port of Karachi and then ferried overland to Afghanistan via the historic Khyber pass. En route from Peshawar to Jalalabad in Afghanistan, the convoys have to pass through miles of arid wastelands controlled by Taliban militia. [More>>timesofindia.indiatimes.com; See related story,

khaleejtimes.com (AFP) December 13, "Five killed in Pakistan bomb blast" :PESHAWAR, Pakistan - Five people were killed on Saturday when a roadside bomb exploded in an area of northwestern Pakistan rocked by a violent campaign for Islamic law, security officials said. The bomb, planted near a bridge in the scenic Swat valley, went off when it was hit by a car, killing the driver and four others, one security official said...The mountainous, snow-capped Swat region, renowned for its ancient Buddhist relics, used to attract large numbers of foreign and local tourists. But the valley has been turned into a battleground since radical cleric Maulana Fazlullah, who has links to Pakistan's Taliban movement, launched a violent campaign for the introduction of Islamic Sharia law. [end]
---
12.13.08 '12-year-old' Afghan suicide bomber kills three marines
KABUL, December 13 - A suicide bomber who was believed to be just 12 years old killed three Royal Marines in a bloody 24 hours for British forces in which five servicemen died in Afghanistan and Iraq. The bomb in Helmand, detonated by the youngest known suicide attacker against Western forces in the country, was followed by a mine blast that killed another marine. In Basra, a soldier was shot dead. Both the Afghan attacks were in the Sangin district, the first at about 10am [Friday].

Marines from 45 Commando were on foot patrol passing through a village when they were approached by a boy pushing a wheelbarrow containing the bomb, which exploded. An hour later, a Jackal armored vehicle struck a mine, killing the fourth commando. The Jackal, a new type of heavily armored vehicle, is designed to be mine-resistant and had been tested last year by the SAS. But this was the second fatality involving the vehicle, which was recently deployed in Afghanistan, with another marine killed on 12 November, providing evidence that the Taliban are adapting their tactics and using more potent devices. [More>>independent.co.uk; See related story:

en.rian.ru, December 13, "NATO troops fire on bus in Afghanistan, killing 4" : KABUL (RIA Novosti) - NATO forces in Afghanistan have killed four passengers on a bus that failed to stop when driving toward their patrol, the ISAF press service said. The incident occurred on Friday morning 40 km south of Kabul on the road to Kandahar. The International Security and Assistance Force said the bus driver did not heed signals to slow down, warning gestures or shots in the air, so the soldiers were forced to fire on the vehicle. Several other passengers were wounded and were given emergency medical assistance, the press service said, adding that some were flown to a military hospital. Also on Friday, four British soldiers died in two separate explosions in southern Afghanistan, Britain's Ministry of Defense said on Friday...
---
12.13.08 Rwanda and DR Congo in 'proxy war'
December 13 - Rwanda and the Democratic Republic of Congo are engaged in a proxy war with each providing assistance to the other's enemies, a report by a United Nations Security Council panel has said. The report, which was authored by five outside experts, says that Rwanda has been assisting Laurent Nkunda, a Tutsi rebel leader, in his fight against DR Congo government forces in the east of the country. Meanwhile, DR Congo is providing help to ethnic Hutu rebels and other forces against Rwanda, the report says. The panel also said it had evidence that armed groups from both sides of the conflict were using child soldiers and were engaged in illegal mineral trading. [More>>aljazeera.net]
---
12.12.08 Pound plunges to new low against the euro
December 12 - The pound crashed to a record low against the euro and a range of other currencies yesterday after grim statistics on UK factory orders added to a recent stream of negative data showing the state of the British economy deteriorating sharply. Sterling dropped 1.1 per cent against the euro to £0.8899, its fourth straight day of losses after the Confederation of British Industry's Industrial Trends survey showed factory orders at their weakest since 1980.

"Figures for manufacturing continue to make depressing reading, with output still expected to fall rapidly in the coming months," Ian McCafferty, the CBI's chief economic adviser, said. Analysts said the pound's fall against the single European currency was a reflection of the relative weakness of British economic prospects compared with those of the Eurozone. Economists see Britain contracting in 2009 at about twice the rate of the Eurozone. [More>>independent.co.uk; See related stories:

aljazeera.net, December 12, "EU agrees $260bn stimulus plan" : European Union leaders have agreed a $260bn stimulus package designed to dig the continent's troubled economies out of recession. The deal, which see each EU member invest on average the equivalent of 1.5 per cent of gross domestic product (GDP) into their economies in order to temper the impact of a global recession, was reached on Friday at a two-day summit in the Belgian capital Brussels. "What Europe has proved unanimously today is that it is ready to act in a united way to deal with the global downturn," Gordon Brown, Britain's prime minister, said.

thejakartapost.com, December 12, "Euro falls against dollarto $1.3281" : The euro was lower against the dollar in Friday morning European trading after the US Senate failed to pass a bailout plan for struggling US automakers. The 15-nation euro was down slightly at $1.3281 in European morning trading, from $1.3317 late Thursday in New York. A bailout-weary Congress on Thursday killed a $14 billion package to aid struggling US automakers after a partisan dispute over union wage cuts derailed a last-ditch effort to revive the emergency aid before year's end...In other trading the British pound was also lower Friday morning at $1.4936 from $1.4978, while the dollar fell to 89.63 Japanese yen from 91.76 late Thursday in New York...

japantoday.com, December 12, "Japan stocks tumble on failed US auto bailout" : TOKYO - Japan's benchmark stock index shed 5.6% Friday after a bailout of U.S. automakers collapsed in the Senate. The Nikkei 225 stock average lost 484.68 points to close at 8,235.87. The broader Topix index was down 4.2% to 813.37. The $14 billion rescue package, which was approved by the House of Representatives, unraveled in the Senate after bipartisan talks broke down over Republican demands that unions agree to steep wage cuts. "The market was hit 100% by the collapsed bailout plan," said Nagayuki Yamagishi, a strategist at Mitsubishi UFJ Securities. "The automobile sector is a fundamental industry for both the US and Japan, and a failure would be a major blow to Japan as well."...

xinhuanet.com, December 12, "Official: Recession begins in Russia" : MOSCOW, December 12 - A senior Russian economic official said Friday that a recession has begun in the country, Russian news agencies reported. "A recession has started. We will face two quarters (of economic decline)," Deputy Economic Development Minister Andrei Klepach was quoted by RIA Novosti as saying. "I'm afraid, it won't be over in two quarters," he was quoted by Interfax as saying. A recession is defined as at least two consecutive quarters of negative economic growth. Klepach also said the economy will grow by less than the projected 6.8 percent this year, and industrial production will rise about 1.9 percent. Russia's economy recorded a 8.1 percent growth in 2007, fueled by the country's oil and metals sectors. [end]

cnn.com, December 12, "December layoffs exceed 100k" : NEW YORK - Job cuts continue to mount in December as recession deepens. The second week of December was another brutal one for jobs, as Bank of America and at least 20 other companies announced more massive cuts. "The recent news does not bode well," said Rich Yamarone, director of economic research at Argus Research. "This is the reason it's going to be the longest recession we've had in post World War II history." The week got off to a rough start on Monday when Dow Chemical (DOW, Fortune 500) said it would eliminate 5,000 positions and close 20 plants. In addition, Belgian-based brewer Anheuser-Busch InBev said it would reduce 1,400 positions; 3M (MMM, Fortune 500) also reported 1,800 cuts.

On Tuesday Sony (SNE), Danaher Corp. (DHR, Fortune 500), Wyndham Worldwide (WYN), the National Football League and Principal Financial Group (PFG, Fortune 500) announced job cuts totaling another 14,400 positions. Novellus Systems (NVLS) and electronics gaming company EA (ERTS) also announced staff reductions without specifying a number of employees. On Wednesday, Office Depot (ODP, Fortune 500) unveiled its plan to cut about 2,200 jobs; British mining company Rio Tinto said it would cut 14,000 jobs worldwide; and SKF, a Swedish manufacturer of bearings, revealed plans to lay off 2,500 workers globally.

Thursday was particularly bad, thanks to news that Bank of America (BAC, Fortune 500) plans to slash up to 35,000 jobs over the next three years as it absorbs Merrill Lynch and contends with the deepening recession. On Friday came the announcement that specialty chemicals maker Chemtura (CEM) will cut about 500 people, or 20% of its staff, because of declining sales. Fairchild Semiconductor (FCS) said it plans to cut about 1,100 jobs worldwide, or about 12% of its work force, to reduce payroll expenses...In terms of job losses, December could be even worse than November, when 533,000 jobs were lost, according to the Labor Department. That was the largest monthly loss since December 1974.
---
12.12.08 Report on detainee abuse blames top Bush officials
December 12 - A bipartisan panel of senators has concluded that former defense secretary Donald H. Rumsfeld and other top Bush administration officials bear direct responsibility for the harsh treatment of detainees at Guantanamo Bay, and that their decisions led to more serious abuses in Iraq and elsewhere. In the most comprehensive critique by Congress of the military's interrogation practices, the Senate Armed Services Committee issued a report yesterday that accuses Rumsfeld and his deputies of being the authors and chief promoters of harsh interrogation policies that disgraced the nation and undermined US security. The report, released by Sens.  Carl M. Levin (D-Mich.) and  John McCain (R-Ariz.), contends that Pentagon officials later tried to create a false impression that the policies were unrelated to acts of detainee abuse committed by members of the military.

"The abuse of detainees in US custody cannot simply be attributed to the actions of 'a few bad apples' acting on their own," the report states. "The fact is that senior officials in the United States government solicited information on how to use aggressive techniques, redefined the law to create the appearance of their legality, and authorized their use against detainees." ...The administration's policies and the resulting controversies, the panel concluded, "damaged our ability to collect accurate intelligence that could save lives, strengthened the hand of our enemies, and compromised our moral authority." [Full story and pdf of report>>washingtonpost.com; See also:
alarabiya.net, December 12, "Top US officials responsible for torture.": Former defense secretary Donald Rumsfeld and other top administration officials are responsible for abuse of detainees in U.S. custody, a Senate report said Thursday. "Rumsfeld's authorization of aggressive interrogation techniques for use at Guantanamo Bay was a direct cause of detainee abuse there" and "influenced and contributed to the use of abusive techniques... in Afghanistan and Iraq," the report concluded...
---
12.12.08 Iran seen reining in actions in Iraq - officials
WASHINGTON (Reuters) December 12 - Iran has made a conscious effort to restrain Iraqi Shi'ite militias from attacking US and Iraqi forces in recent months, US and Iraqi officials said on Thursday. US Army Lt. Gen. Thomas Metz, who oversees a Pentagon program to combat roadside attacks in Iraq and Afghanistan, said Shi'ite use of munitions known as as explosively formed penetrators, or EFPs, has dropped to as few as 20 incidents per month, from as high as 80 per month, within the past 90 days. Metz told Pentagon reporters the data suggest the elite Qods Force of the Iranian Revolutionary Guards has made a conscious decision to rein in EFP use among Shi'ite militia. [More>>thestar.com.my]
---
12.11.08 Al-Qaeda terror plot fears at EU summit
December 11 - A potential suicide bomber and 13 other terrorist suspects with links to al-Qaeda were arrested as EU leaders arrived for their summit in Brussels, Belgian police said today. Police raids were staged in Brussels and Liege in eastern Belgium after the authorities intercepted information that a suicide attack had been arranged and a man who arrived in the country last Thursday from Afghanistan or Pakistan had left a martyrdom video after saying farewell to his family, according to federal prosecutor Johan Delmulle.

Mr. Delmulle played down suggestions that the gathering of 27 EU leaders in the Belgian capital, including Gordon Brown, was the target but it was clear that the arrests were made to avoid any possibility of a terrorist strike on the summit. "Intelligence showed that the suspect had received the green light to carry out an operation and that he believed he would not come back," said Mr. Delmulle.

...The 14 arrested suspects, men and women, were set to appear before anti-terrorism judges. The inquiry, described as the biggest anti-terrorism operation in Belgium, is linked to a Belgian Islamist group involved in training as well as fighting on the Pakistan-Afghan border, in liaison with "important figures" in al-Qaeda, according to the federal prosecutor's office.
The year-old investigation "probably prevented plans for an attack from being carried out in Brussels," last year, it added. Four Belgian nationals, along with others, had been in Pakistan and Afghanistan since late 2007, according to the authorities. Two of the men returned to Belgium some months ago and were placed under surveillance. A third, the suicide attack suspect, returned only last Thursday. [Full story>>timesonline.co.uk]
---
12.11.08 World markets mostly down as dismal data weighed
December 11 - World markets were mostly lower in choppy trading Thursday, as investors mulled dismal economic data from China and a hefty, recession-fighting interest rate cut by South Korea's central bank. Highlighting signs that the world's fourth biggest economy is weakening much faster than expected, China said Wednesday that its exports fell in November for the first time in seven years, prompting some investors to cash in on recent gains. "This signals that China's economic growth is going to slow down noticeably," said Francis Lun, general manager of Fulbright Securities Ltd. in Hong Kong.

Japan's benchmark Nikkei 225 stock average closed up 0.7 percent, or 60.31 points, at 8,720.55 and Hong Kong's Hang Seng edged up 0.2 percent to 15,613.90. South Korea's Kospi gained 0.8 percent to 1,154.43. But markets in Australia, China, Singapore and India fell while major European bourses opened lower. Britain's FTSE-100 was down 1 percent at 4,325.92, Germany's DAX slipped 1.8 percent to 4,718.05 and France's CAC-40 fell 1.5 percent to 3,270.14. [More>>thejakartapost.com]
---
12.11.08 Government clamps down on JuD, Hafiz Saeed put under house arrest
LAHORE, Pakistan, December 11 - The government has placed the chief of Jamaat-ud-Dawa (JuD) Hafiz Muhammad Saeed under house arrest for a period of three months on Thursday. The government of Pakistan has also started clamping down offices of JuD and other banned outfits across the country. According to well-placed sources, the JuD chief was put under house arrest for three months in Lahore and a contingent of police was deployed at his residence.

Police began closing the offices of Jamaat-ud-Dawa across the country after the UN Security Council on Thursday declared the organization a terrorist group. The assets of JuD and of the nine leaders have been frozen, the senior government official said, and their names will also be placed on the exit control list to prevent them from leaving the country. The regional offices of Jamaat have also been sealed in Karachi, Hyderabad, Islamabad, Rawalpindi and Azad Kashmir. [>thenews.com.pk; See related story:
nytimes.com, December 11,"India wants broad crackdown against militants in Pakistan" : NEW DELHI — Calling Pakistan the epicenter of terrorist attacks against India, the Indian foreign minister on Thursday urged the government there to do more than detain leaders of extremist groups, even as he hinted that India does not "intend to be provoked" into a military conflict. In Pakistan, the government signaled limited moves against a charity widely believed to act as a front for the militant group, Lashkar-e-Taiba, that Indian and American intelligence officials say was behind the Mumbai attacks last month.

The Indian foreign minister, Pranab Mukherjee, speaking to Parliament in its first session since the three-day siege of Mumbai, reiterated India's demand for Pakistan to hand over about 40 fugitives and suspected suspects whom it says are taking shelter in Pakistan. His comments seemed to avoid directly criticizing the president of Pakistan, Asif Ali Zardari, and his democratically elected government. At the same time, he pressed the Zardari administration to close down the "infrastructure" that enables terror strikes against India...
---
12.11.08 N. Korea nuclear inspection should meet IAEA standards - Russia
BEIJING (RIA Novosti) December 11 - Verification of North Korea's nuclear program should be in line with UN nuclear watchdog standards and the nonproliferation regime, the head of the Russian delegation at six-party talks said Thursday. "Russia, as a signatory to the Non-Proliferation Treaty, believes it is responsible for the nonproliferation regime not undergoing any changes," Alexei Borodavkin, a Russian deputy foreign minister, said. Four days of international negotiations in Beijing on North Korea's denuclearization process ended on Thursday with no deal reached. [More>>en.rian.ru]
---
12.11.08 Dreams may no longer be secret with Japan computer
TOKYO (AFP) December 11 - A Japanese research team said Thursday it had created a technology that could eventually display on a computer screen what people have on their minds, such as dreams. Researchers at the ATR Computational Neuroscience Laboratories succeeded in processing and displaying images directly from the human brain, they said in a study unveiled ahead of publication in the US magazine Neuron. While the team for now has managed to reproduce only simple images from the brain, they said the technology could eventually be used to figure out dreams and other secrets inside people's minds. [More.>khaleejtimes.com]
---
12.11.08 Restaurant bomb kills 30 in Iraq
KIRKUK, Iraq (AFP) December 11 - At least 30 people have been killed and 80 were wounded today in a bomb attack on a restaurant in northern Iraq. The blast happened during lunch hour on the final day of the Eid al-Adha (Feast of the Sacrifice) holiday at a roadside restaurant 15km north of Kirkuk and 255km from Baghdad, police officer Salam Zengana said. Women and children were among the victims of the attack on the "Abdullah'' restaurant, an interior ministry official in Baghdad said. A defence ministry source and waiter Abbas Fadhel said a suicide bomber activated a booby-trapped belt in the middle of the restaurant, where families were dining. However, the interior ministry official said the attack was by an explosives-laden car outside the restaurant. [More>>news.com.au]
---
12.10.08 Rapid-fire killer robot passes flight test
December 10 - Rat-tat-tat-tat! That's the sound made by the "Multiple Kill Vehicle," a frightening but fascinatingly cool hovering robot meant to shoot down enemy ballistic missiles. Video of a Dec. 2 flight test conducted at Edwards Air Force Base in California by defense contractor Lockheed Martin has made it onto the Web, and it looks like something out of the "Terminator" movies. Rival defense contractor Raytheon is also working on its own multiple-kill-vehicle program.

Inside a large steel cage, Lockheed's MKV lifts off the ground, moves left and moves right, rapidly firing all the while as flames shoot out of its bottom and sides. The plan is to mount one or more MKVs onto carrier missiles, which would launch into space to engage enemy nuclear-tipped ballistic missiles at the apogees, or peaks, of their trajectory arcs. [>foxnews.com; See more details:

lockheedmartin.com, press release, "Multiple kill vehicle": ..."This test demonstrated the integrated operation of the MKV-L in near-earth flight," said Rick Reginato, Multiple Kill Vehicle program director, Lockheed Martin Space Systems Company. "This represents a major step forward for the earliest operational payload designed to destroy multiple threat objects with a single missile defense interceptor." The test was the first of several to prove MKV readiness for complex flight testing aboard the Ballistic Missile Defense System's ground-based interceptor currently deployed in Alaska and Southern California...
---
12.10.08 Sweden cleanest, Saudi dirtiest: Index
POZNAN, Poland (AFP) December 10 - Sweden does the maximum to tackle greenhouse emissions while Saudi Arabia does the least, according to a barometer published Wednesday by watchdogs at the UN climate talks here. But the annual "Climate Change Performance Index" placed Sweden only fourth on its list, for no prizes were allotted for the top three places. "Not a single country is to be judged as satisfactory with regard to protecting the climate," the NGOs Germanwatch and Climate Action Network (CAN) Europe said.

..Sweden's fourth place was followed by Germany, France, India, Brazil, Britain and Denmark. The bottom 10 were listed in descending order as Greece, Malaysia, Cyprus, Russia, Australia, Kazakhstan, Luxembourg, the United States, Canada and Saudi Arabia. The Climate Change Performance Index compares 57 states that together emit more than 90 percent of the world's annual output of carbon dioxide (CO2), the principal greenhouse gas. [Full story>>timesofindia.indiatimes.com]
---
12.10.08 US forces kill 6 Afghan police officers by mistake
KABUL, Afghanistan, December 10 - United States forces killed six Afghan police officers and one civilian on Wednesday during an assault on the hide-out of a suspected Taliban commander, the authorities said, in what an American military spokesman called a "tragic case of mistaken identity." Thirteen Afghan officers were also wounded in the episode. A statement issued jointly by the American and the Afghan military commands said a contingent of police officers fired on United States forces after the Americans had successfully overrun the hide-out, killing the suspected Taliban commander and detaining another man. The statement said the Americans had already entered the hide-out, a building in Qalat, the capital of the southern province of Zabul, when they came under attack by small-arms fire and rocket-propelled grenades from "a compound nearby." [More>>nytimes.com; See related story:

thenews.com.pk, December 10, " Two killed in S. Afghanistan market blast" : A bomb exploded in a market in southern Afghanistan killing two civilians, including a child aged seven, and wounding nine others, police said Wednesday. The device went off in the centre of a market north of Tarin Kowt, the capital of Oruzgan province, provincial police chief Juma Gul Himat [said].
---
12.10.08 Pakistan arrests Mumbai suspects
December 10 - Pakistan's prime minister has confirmed the arrest of two men that India says had a role in last month's attacks in Mumbai that left at least 171 people dead. Yousuf Raza Gilani said in Multan city on Wednesday that Zaki-ur-Rehman Lakhvi and Zarrar Shah, members of armed group Lashkar-e-Taiba, are being questioned by Pakistani investigators. "They have been detained for investigation," Gilani said. Confirmation of Lakhvi and Shah's arrest came a day after Indian police released the names or aliases of nine suspected attackers killed during the Mumbai assaults. Police said all the men named were from Pakistan. Gilani said he had no fresh information on whether Maulana Masood Azhar, leader of the Jaish-e-Muhammad group, was among those detained. Both Lashkar and Jaish are banned in Pakistan. [More>>aljazeera.net; See related story, i
ndianexpress.com, December 10, "30 fidayeens recruited for Mumbai attack" : NEW YORK - The 10 men who conducted the attacks in Mumbai belonged to a group of 30 recruits selected for suicide missions and the whereabouts of the other 20 are unknown, the 'New York Times' reported. India has no reason to believe the other 20 are in India, but that could be a possibility, the newspaper's website (www.nytimes.com) quoted Mumbai Police Deputy Commissioner Deven Bharti as saying on Tuesday. "Another 20 were ready to die" Bharti said. "This is the very disturbing part of it."

...The 30 recruits were given highly specialised training, including marine combat skills, Bharti said. Once Lashkar leaders had selected Kasab and his nine fellow attackers, they were kept sequestered in a house for three months. They were then divided into two-man teams, each team assigned a different target within Mumbai to attack — information they were forbidden from sharing with one another, Bharti said...

Washingtonpost.com, December 10, Pakistan detains extremist leader" : For the second time in a decade, suspected Pakistani terrorist leader Masood Azhar was placed under house arrest yesterday after being linked to attacks in India. His detention, announced by Pakistan's Defense Ministry, was intended to show the country's resolve in hunting for the organizers of last month's deadly rampage in Mumbai. Yet in the US and Indian capitals, the news of Azhar's arrest drew mostly scoffs. As officials in both countries noted, Pakistan never bothered to charge the Kashmiri extremist when it detained him in connection with a deadly attack on India's Parliament in December 2001. A Pakistani judge freed him 11 months later.

The Azhar saga accounts for some of the skepticism that has surrounded Pakistan's efforts to crack down on extremists in the wake of the Nov. 26 terrorist rampage in Mumbai. Promises by Pakistani leaders to roll up militant groups have been undercut by a history of "catch-and-release" in its dealings with prominent extremists, and also by its past ambivalence — if not outright support — for groups that openly advocate terrorism...
---
12.10.08 Hong Kong begins mass cull of birds at market, screens virus
HONG KONG (Reuters) December 10 - Health workers in masks culled tens of thousands of chickens in Hong Kong on Wednesday, a day after authorities raised the bird flu alert level to "serious" following a H5 bird flu outbreak at a farm. The outbreak near the border with China was the city's first in five years despite mass vaccination of the birds, prompting concerns that the virus might have mutated. "Viruses change and since 1997, it has been changing. If we have been using the same vaccine since 2003, its efficacy would not be the same," Ho Pak-leung, a microbiologist at the University of Hong Kong, told Reuters in an interview. Laboratories in the city were trying to determine the precise identity of the H5 virus that caused the farm outbreak. [More>>thestar.com.my; See related stories:

thejakartapost.com, December 10, "Toddler becomes Indonesia's 113th bird flu victim." and

cnn.com, December 10, "Tracking deadly viruses' spread from animals to humans" : NYABBISAN< Cameroon - Deep in a remote region of Cameroon, we are following two hunters looking for bush meat -- forest animals they can kill to feed their families. They've spent hours in the forest already, but all the traps they've set are empty. They will have to push deeper into the forest and they may be hunting for days. Last year, rising food prices touched off riots around the world, killing dozens of people.

Unable to afford basic supplies, communities in Central Africa are increasingly turning to the forests for food. In doing so, hunters expose themselves to hidden dangers — microscopic pathogens living in the blood of forest animals. Most of the viruses are harmless, but some are potentially deadly when passed to humans. Scientists point out there's nothing new about these viruses. What is new is the frequency of people's contact with them and how easily they can now be spread around the world...

thestar.com.my, December 10, "Zimbabwe cholera toll jumps" : HARARE (Reuters) - The death toll from Zimbabwe's cholera outbreak soared to nearly 800 on Wednesday and a court ordered police to find a missing rights activist, piling more pressure on President Robert Mugabe's government. The spreading cholera, coupled with chronic food shortages, has highlighted the economic collapse of the southern African nation and prompted calls for Mugabe's resignation from Western leaders and some within Africa.

The World Health Organization said 774 Zimbabweans had died from cholera and over 15,000 were likely infected, casting doubt on official assertions it was under control. In Mozambique, officials said four people had died of cholera in a border area near Zimbabwe. Zimbabwe's government accuses foes abroad of using the epidemic to try to oust Mugabe, in power since independence from Britain in 1980, and blames Western sanctions for ruining the once relatively prosperous southern African country...
---
12.10.08 Exports decline hits China first time in seven years
BEIJING, December 10 - China's model of export-led growth suffered a severe blow as exports fell for the first time in seven years, customs data for the month of November has revealed. The latest data also show that predictions about China's ability to act as a counter-force against the world economic slowdown may prove untrue. Exports have fallen 2.2% in November as compared to the same period last year. Chinese businesses were quick to respond by cutting down their dependence on imports, which has resulted in a dramatic 17.9% decline in total imports for the month of November. [More>>timesofindia.indiatimes.com; See related stories,

japantoday.com, December 10, "Japan's recession worse than thought" : TOKYO - Japan fell into a deeper recession in the third quarter than first thought, the government said Tuesday, as exports weakened, domestic demand fell and companies bracing for a prolonged downturn pared inventories. The Cabinet Office said that Japan's economy shrank at an annual pace of 1.8% in the July-September period, compared with its original estimate of a 0.4% contraction. The figure was much worse than market expectations for a 0.9% decline in gross domestic product, underscoring the severity of the slump that the world's second largest economy is mired in....

independent.co.uk, December 10, "Economy shrinks by 1% as downturn worsens" : Britain's economy shrank by 1 percent in the three months to November as the pace of the downturn quickened, a leading think-tank warned today. The National Institute of Economic and Social Research (NIESR) said "there was every reason to believe" the figure would be worse for the last three months of the year. In a further sign of deepening economic woe gripping the country, the organization also revised its output contraction for the three months to October to 0.8 per cent, from 0.5 percent...

news.com.au, December 10, "European markets close mixed" : European stock markets ended with mixed fortunes today, with the London FTSE 100 index shedding 0.32 percent to finish at 4367.28 points. In Paris, the CAC 40 rose 0.68 percent to 3320.31 points, while in Frankfurt the Dax added 0.54 percent to close at 4804.88. [end]

cnn.com, December 10, "Deal on $14 billion auto bailout" : NEW YORK - The White House and leading congressional Democrats have reached an agreement on legislation to provide a stopgap bailout to U.S. automakers, according to officials from the administration and Congress. The next steps were not clear early Wednesday afternoon. A House vote could take place later Wednesday. Opposition in the Senate made prospects there less certain.

The bill could provide the $14 billion cash that General Motors (GM, Fortune 500) and Chrysler LLC would need to avoid filing for bankruptcy later this month or early next year, allowing them to continue operations through the end of March. The $14 billion is $1 billion less than what was being discussed earlier in the week, and less than half the $34 billion in federal loans requested by the automakers last week. Still it may well be enough to stave off the immediate threat of bankruptcy...
---
12.10.08 Praise GPS! Stolen Jesus statues tracked
NEW YORK (AP) December 10 - When Baby Jesus disappeared last year from a Nativity scene on the lawn of the Wellington, Fla., community center, village officials didn't follow a star to locate him. A GPS device mounted inside the life-size ceramic figurine led sheriff's deputies to a nearby apartment, where it was found face down on the carpet. An 18-year-old woman was arrested in the theft.

Giving up on old-fashioned padlocks and trust, a number of churches, synagogues, governments and ordinary citizens are turning to technology to protect holiday displays from pranks or prejudice. GPS, or global positioning system, devices use satellite signals to determine geographic locations on land and at sea. About 70 churches and synagogues eager to avoid the December police blotter jumped at a security company's offer of free use of GPS systems and hidden cameras this month to guard their mangers and menorahs. [More>>cbsnews.com; See related GPS story:

news.com.au, December 10, "Petition to Bombay High Court says Google Earth aided terrorists in Mumbai attacks" : Police released pictures of the Mumbai terrorists yesterday as an Indian court protested that Google Earth should be banned because it aided their rampage. A petition entered at the Bombay High Court alleges that the Google Earth service, "aids terrorists in plotting attacks".

Advocate Amit Karkhanis urged the court to direct Google to blur images of sensitive areas in the country until the case is decided. The gunmen who attacked Mumbai on November 26 appeared to use complex GPS systems to navigate to Mumbai by sea. They communicated by satellite phone, used mobile phones with several different SIM cards and may have monitored events as the siege unfolded via handheld Blackberry web browsers...
---
12.08.08 Pakistan arrests suspected mastermind of Mumbai attacks
ISLAMABAD, Pakistan, December 8 - In a move aimed at diffusing tensions with India, Pakistani authorities arrested a suspected ringleader of last month's deadly attacks in Mumbai, along with rounding up several others in a massive raid on an alleged Pakistani terrorist group in the Himalayan territory of Kashmir, Pakistani officials, witnesses and members of the group said Monday.

Residents in the small Kashmiri town of Shawai Nala said dozens of Pakistani soldiers descended on a camp run by Jamaat-ud-Dawa, a Muslim aid organization suspected of funding the militant Pakistani group Lashkar-i-Taiba, about 3 p.m. Sunday. Mehboob Ahmed, a resident of the nearby city of Muzzaffarabad, the area's capital, said a Pakistani army helicopter gunship swept over the camp several times just before the ground was rocked by rocket fire and a fusillade of bullets fired by Pakistani forces.

According to local residents and a Jamaat-ud-Dawa member, Pakistani security forces arrested 22 people, including Zaki ur-Rehman Lakhwi, one of at least five Lashkar-i-Taiba members named by Indian authorities as the masterminds behind the brutal Mumbai assault. The attack on India's financial capital killed more than 170 people and wounded at least 230.

Police in Mumbai said last week that Lakhwi organized and directed the attacks from the camp near Muzzaffarabad. They said Lakhwi worked in coordination with Lashkar-i-Taiba commander Yousuf Muzammil, who directed part of the operation from a safe house in the southern Pakistani port city of Karachi...Indian police in Mumbai have said the lone gunmen arrested during the attacks, Ajmal Amir Kasab, told investigators that he and the other attackers had received about three months of training in weapons and marine navigational techniques before launching the strikes that destroyed the Taj Mahal Palace and Oberoi hotels in Mumbai. Kasab, a native of the small Pakistani town of Faridkot, also said that a Pakistani army colonel had supervised part of the training, according to reports in several Indian newspapers.

...A day before Pakistan security forces launched the operation in Muzzaffarabad, several Jamaat-ud-Dawa representatives led a tour of the group's main grounds in Muridke. Located about 25 miles north of the eastern city of Lahore, the sprawling, 75-acre complex has been the center of Jamaat-ud-Dawa's operations since 1992, according to Abdullah Muntazir, a top spokesman for the group. The grounds house a hospital, four to five residential hostels, and several schools, including a seminary, a science high school and a university. About 2,000 students, including about 500 girls, are enrolled in the various schools on the campus. Several spots on the complex have also been allocated for residential housing. Muntazir said Jamaat-ud-Dawa operates on a budget of between $750,000 and $1 million annually. [Full story>>washingtonpost.com; See also

independent.co.uk, December 8, " 'Uncle' named as Mumbai terror conspirator" : ...He [Lakhvi] and another senior LeT member, Yusuf Muzammil, are said to have been central to the plotting, maintaining contact with the 10 militants by satellite phone during the attacks. Officials said some of the conversations may have kept the gunmen aware of the movements of police and commandos. They may also have decided which hostages were to be killed. Reports suggest Lakhvi, usually based in Pakistan-administered Kashmir, moved to Karachi in August, the port city from where the militants set off, so he could direct operations. The survivor, named as Ajmal Amir Kasab, apparently told police Lakhvi had helped "indoctrinate all the attackers."
American officials said Lakhvi, 48, born in the Okara district of Pakistan, has directed military actions in Chechnya, Bosnia, Iraq and South-east Asia. They say that in 2006, he sent out word to LeT's members to begin training operatives for suicide bombings. In a previous instruction, he told operatives to mount attacks in well-populated areas. Indian officials say Lakhvi also oversaw Azam Cheema, accused of being a ringleader in the bombing of the Mumbai rail network in 2006 that killed more than 200 and left 700 injured...
---
12.08.08 France arrests 'new Eta leader'
December 8 - Police in France say they have arrested three suspected members of the Basque separatist group Eta. One of those detained has been identified as the group's new military chief, say French officials. The former military head, Mikel Garikoitz Aspiazu Rubina, also known as "Txeroki." was arrested in southern France last month. Eta's four-decade campaign to set up an independent state has led to more than 800 deaths. [>bbc.co.uk; See also lefigaro.fr. December 8, "Un nouveau chef présumé de l'ETA arrêté."
---
12.08.08 Students clash with Greek police
December 8 - Some 300 students have battled police in Greece in the latest unrest sparked by the killing of a 15-year-old boy. State television reports from the northern city of Thessaloniki have shown a third day of clashes following violence in Athens and other cities - including London and Berlin. In the UK, protesters trying to storm the Greek embassy started fighting with police and about 15 young demonstrators occupied the Greek consulate in Berlin. The Thessaloniki disturbances broke out near a police station in the middle of the city and officers did not immediately intervene. Groups of youths from university campuses in Thessaloniki and Athens hurled rocks, petrol bombs and Molotov cocktails at police. The streets filled with tear gas as police chased protesters, detaining two youths. [More>>news.sky.com]
---
12.07.08 Pakistan cracks down on LeT camp: Report
ISLAMABAD, December 8 - Pakistani authorities on Sunday reportedly launched a crackdown on activists on the Lashker-e-Taiba and its front organization Jamaat-ud-Dawah and raided some offices of the two groups in Pakistan-occupied Kashimir. According to reports, security agencies and officials of the PoK administration conducted swoops on several offices of the two groups in Muzaffarabad and its surrounding areas. Local man Nisar Ali told Reuters the operation began in the afternoon in Shawai on the outskirts of Muzaffarabad, the capital of the PoK.

"I don't know details as the entire area was sealed off, but I heard two loud blasts in the evening after a military helicopter landed there," Ali said. Security forces took control of LeT's central office, situated at Shawai Nullah, and captured 20 of its members, including several important commanders while many others succeed to flee, the Pakistani newspaper The Nation reported. The newspaper also said that Pakistani soldiers had cordoned off the entire area and no one was being allowed to go there. Ambulances also rushed to the site of the incident but it could not be ascertained as to how many people were killed or wounded in the operation, said The Nation quoting its sources. [More>>timesofindia.indiatimes.com via bbc.co.uk; See also nation.com.pk]
---
12.07.08 Afghan supplies torched in Pakistan
December 7 - A guard has been killed and scores of lorries set on fire in an attack on a Pakistani supply terminal used by NATO and US forces in Afghanistan. Kashaf Alam, a police official, said around 30 suspected Taliban fighters attacked the terminal with rockets and guns early on Sunday near Peshawar city in the country's northwest. The fire engulfed around 100 lorries and shipping containers. Kifayatullah Khan, the terminal's manager, said 62 of the destroyed containers carried Humvees and other military vehicles for Western forces in Afghanistan. He said his terminal only handled lorries carrying military supplies for Afghanistan. The Taliban has carried out a a series of similar attacks in recent weeks, aimed at disrupting the vital supply route for US and NATO troops into Afghanistan through the Khyber Pass. [More>>aljazeera.net; See related story:

thenews.com.pk, December 7, "12 Taliban, five soldiers killed in Afghanistan" : KABUL - Twelve Taliban militants and five Afghan soldiers were killed in separate violence across the country over the weekend, officials said Sunday. Most the militants died when they attacked a police post in Afghanistan's restive southern Helmand province late Saturday, triggering a gunbattle that also left policemen wounded. Police arrested two militants but another two escaped, Daud Ahmadi, spokesman for the provincial governor, told a foreign news agency. "Nine Taliban were killed and they left their bodies at the battlefield. Four Taliban and three policemen were wounded," he said.

Separately, US-led coalition forces said they killed three insurgents outside the capital Kabul on Saturday. The Afghan army said five of its soldiers died and three others were wounded in two roadside bomb explosions on Saturday. The Taliban, who were in power from 1996 to late 2001, have waged a bloody insurgency against Afghan and international forces under NATO and US command in Afghanistan. The rising insurgency has claimed thousands of lives and has paralysed the internationally backed post-Taliban reconstruction of Afghanistan. [end]
---
12.07.08 Two bomb blasts kill 27 in northwest Pakistan
PESHAWAR, Pakistan (AFP) December 7 - At least 27 people were killed and dozens more wounded when two bomb blasts struck crowded markets in northwest Pakistan Friday as shoppers prepared for the Eid Muslim festival. Most of the victims died when an explosives-laden car blew up in a busy marketplace in the heart of Peshawar, the capital of the violence-hit province bordering Afghanistan. The blast, which killed 21 people and wounded 84, occurred just hours after six people died in a car bomb explosion at a market in the semi-autonomous Orakzai tribal district near Peshawar. No one immediately claimed responsibility for the two attacks, the latest in a wave of suicide and other attacks that have claimed more than 1,500 lives in the past 16 months. [More>>khaleejtimes.com]
---
12.07.08 Iraqi mayor among 35 hurt by roadside bomb
BAQUBA, Iraq, December 7 - The mayor of the Iraqi city of Baquba was among 35 people wounded in a roadside bombing in the restive provincial capital northeast of Baghdad on Sunday, medical and security sources said. General Raghem al-Omairi, head of military operations in the city, was injured along with Mayor Abdullah al-Khayali by the bomb, Baquba General Hospital medic Ahmed Alwan told AFP. Two journalists from local television channel Dijla, eight policemen, six anti-Qaeda militiamen and 17 civilians were also among the wounded, the doctor said. The blast happened when Khayali and Omairi and a heavy escort were visiting the town's old market on the eve of the Eid al-Adha festival, the sources said. [More>>alarabiya.net]
---
12.06.08 Fidel Castro says Cuba open to dialogue with Obama
HAVANA, Cuba, December 5 - Cuba is open to dialogue with US President-elect Barack Obama, but not to "negotiate" over its sovereignty, Fidel Castro, the country's former leader, said in an article published on Friday. Cuba can hold talks with Obama at any place he wants but the president-elect should be aware that "the carrot and the stick" approach will never work with the Latin American nation, Castro wrote in the signed article "Sailing against the tide," which was carried out by the official newspaper Granma. Raul Castro, president of the council of the state of Cuba, said in a November interview with American actor Sean Penn that he was willing to talk with Obama in a "neutral place," such as the US Navy Station at Guantanamo Bay. [>xinhuanet.com]
---
12.06.08 'Massive weapons cache found in Sinai'
December 6 - Egyptian forces found a massive cache of arms in the Sinai peninsula, Israel Radio quoted an Arabic news Website as saying. The report, in Falastin al Youm, said Egyptian troops found in the northern and middle part of the peninsula two weapons caches, one of them, buried deep underground, containing more than 250 kilograms of dynamite. In another cache, 211 anti-aircraft missile shells were discovered. Israel Radio quoted an official as saying Gaza terrorists were planning to extract the remainder of the dynamite found in the rocket shells. The weapons were in all likelihood intended for the Gaza Strip, and the smugglers who hid them in the desert were still at large. [More>>jpost.com]
---
12.06.08 Indian police arrst 2 men in Mumbai investigation
CALCUTTA, India (AP) December 6 - Indian police arrested two men accused of providing mobile phone cards to the gunmen in the Mumbai attacks, the first known arrests in the probe since the siege ended, police said Saturday. The two men allegedly provided SIM cards to the group of 10 gunmen that attacked Mumbai last week, leaving 171 people dead, said Javed Shahim, a senior police official in the eastern city of Calcutta in West Bengal. Shaim said one of the men was from West Bengal and the other was from the Indian portion of Kashmir...The Kashmiri suspect was believed to be a local police officer, according to a police official in Srinagar, the region's biggest city, who declined to be named because the matter was still under investigation. [Full story>>thejakartapost.com; See related stories:

news.com.au,(AFP) December 6, "India arrests two over Mumbai attacks" : ...The men — identified as Tousif Rahaman and Sheikh Muktar — were held "for allegedly providing SIM cards to the terrorists in the Mumbai attacks,'' senior Kolkata police official Javed Shamim said. Rahaman, who was arrested in Kolkata, "bought about 40 SIM cards from the city, two of which are believed to have been given to the terrorists,," he said....

news.sky.com, December 6, "Officer held over Mumbai attacks" :
December 6 - A man arrested in connection with the Mumbai terror attacks is a counter-insurgency police officer, authorities say. Two men were taken in by police for illegally buying mobile phone cards that were used by the gunmen in the recent hotel atrocities. A senior police official has now told the AP news agency that one of the pair is a counter-insurgency officer who may have been on an undercover mission. He named the officer as Mukhtar Ahmed. Ahmed is thought to be part of a counter-insurgency network whose members are usually drawn from former militants.
...Meanwhile, it has been revealed that the lone gunman to survive the attacks was a petty street thug who turned into a highly trained suicide guerrilla. Ajmal Amir Kasab, 21, was one of 10 men allegedly involved in the assault. Under interrogation, Kasab said he was one of five children of a poor street food vendor in the Pakistani town of Farid Kot...

independent.co.uk, December 6, "Schooling of a mountain jihadist" : Former Lashkar-e-Toiba militants in Lahore tell Patrick Cockburn how students are indoctrinated by a "charity." As the snow began to melt in the mountains, Abdul Rahman, a teacher from a school in Lahore, made his way from Pakistan into Indian-controlled Kashmir, moving slowly to avoid Indian army outposts. He lived on packets of cold rice he kept inside his coat. The young man was a member of the Lashkar-e-Toiba, the militant Islamist group which India says trained and directed the 10 gunmen who killed at least 171 people in Mumbai last month.
Rahman's military activities were directed against Indian forces in Kashmir. There, he contacted sympathizers and scouted the terrain so he could give a convincing account of himself when he was stopped by Indian security forces, as happened frequently. He would make himself available to local insurgents to mount generally small-scale attacks, such as throwing a grenade at an officer's house. Weapons, he claims, were supplied from sources in India. After he returned to Pakistan, Rahman would tell the story of his adventures to young students at an Islamic school in Muridke, 15 miles north of Lahore, run by the Jamaat-ud-Dawa charity.

That he was able to move so easily between being a mountain guerrilla of Lashkar-e-Toiba and a teacher of Jamaat-ud-Dawa, discredits the latter's repeated claim that it is a charitable organization involved only in running schools, clinics and providing relief to the victims of earthquakes such as a recent one in Baluchistan. Instead, there is convincing evidence that it is a front group and a servicing organization for the fighters of the Lashkar-e-Toiba militants..."They [Jamaat-ud-Dawa] teach you to become a better human being," he said. "Though they don't engage in jihad themselves, they encourage people to move towards it." Jihad may once only have been in Kashmir but these days it might be directed against anybody in any country such as Afghanistan or Iraq "where Muslims are being oppressed." Of his teachers, Bilal says "they put passion into people." He added that at the school Indians were called "kaffirs" and Westerners "Jews."...
---
12.05.08 Jobless rate soars to 6.7% in November
December 5 - With the economy deteriorating rapidly, the nation's employers shed 533,000 jobs in November, the 11th consecutive monthly decline, the government reported Friday morning, and the unemployment rate rose to 6.7 percent. The decline, the largest one-month loss since December 1974, was fresh evidence that the economic contraction accelerated in November, promising to make the current recession, already 12 months old, the longest since the Great Depression. The previous record was 16 months, in the severe recessions of the mid-1970s and early 1980s. The alarming job decline suggests that consumers and businesses have pulled back sharply on spending in response to the worsening credit crisis. That has put pressure on Congress and the White House to come up with a stimulus package that would substitute for the missing private sector outlays. Over all, the losses since the recession began now total about 1.9 million, with most coming in the last three months. [More>>nytimes.com; See related stories,

news.com.au, December 5, "European markets down sharply" : European markets showed sharp losses on Friday, with the downturn accelerating after figures showed the US lost more than half a million jobs in November. The London FTSE 100 index showed a loss of 2.74 per cent after the data was published before pulling back slightly to show a fall of 2.37 per cent to 4064.97 points. In Paris, the CAC 40 was down 4.46 per cent to 3020.16 points while in Frankfurt the DAX index lost 3.47 per cent to 4406.03 points. The Vienna stock exchange's blue-chip ATX index was showing a loss of 5.07 per cent or 89.39 points to 1673.58 points...

washingtonpost.com, December 5, "Mortgage distress reaches record highs" : The percentage of homeowners either delinquent on their mortgages or already in the foreclosure process reached record highs during the third quarter, according to industry data. About 7 percent of mortgage loans were delinquent, defined as at least 30 days late on a payment, according to the survey from the Mortgage Bankers Association, an industry group. Another 3 percent were somewhere in the foreclosure process. Taken together, about one in 10 home mortgages is now in some form of distress. About two-thirds of American homeowners have mortgages. Nearly two years into a housing slump, the country's delinquency and foreclosure rates have risen steadily as borrowers with risky mortgages failed to make their payments. But the country's rising unemployment rate appears to be becoming a bigger factor...

cnn.com December 5, "Stocks rally despite jobs report" : NEW YORK - Stocks staged a big comeback Friday, erasing big losses after a brutal November employment report, as investors extended the recent trend of buying despite the bad news. The Dow Jones industrial average (INDU) jumped 260 points or 3.1%. The Standard & Poor's 500 (SPX) index added 3.7% and the Nasdaq composite (COMP) gained 4.4%. All three major gauges tumbled through the early afternoon, with the Dow losing as much as 257 points after the government reported the worst monthly job losses in 34 years. But stocks erased losses and pushed higher in the afternoon...
---
12.05.08 US researchers discover new enzyme in cancer growth
WASHINGTON, December 4 - While studying the mechanics of blood clots, researchers at the University of Oklahoma discovered a new enzyme that not only affects the blood, but seems to play a primary role in how cancer tumors expand and spread throughout the body. The research appeared in the latest issue of the journal Blood available here on Thursday. The research team first discovered the enzyme called sFAP in plasma.

After studying the biochemical makeup of the protein and identifying the gene that controlled its function, they began to search gene sequencing databases worldwide to find what it was. They didn't find the enzyme listed for blood, but got a match with a virtually identical protein known to cause cell growth in tissue, including in cancer. With the discovery that the protein also exists in blood, scientists have a new avenue to study the spread of cancer. [More>>xinhuanet.com]
---
12.05.08 Feds scrutinize US LeT cells
WASHINGTON, December 5 - Federal authorities have stepped up scrutiny of suspected members of Lashkar-e-Taiba or LeT "sleeper cells" located in the United States, according to US intelligence officials. Federal officials also emphasized that they knew of no specific threats to American targets posed by LeT. They also pointed out that the recent scare of a terrorist attack against the New York subways "was based on faulty intelligence. It was absolutely wrong," said one former senior US intelligence official.

...But Federal authorities acknowledged that US cities with large Muslim communities are under new scrutiny including New York, Detroit, Bayonne and other cities in New Jersey, Los Angeles, the Virginia area, Florida and cities in North Carolina, such as Charlotte. All are believed to contain such cells made up of young people who are living in rundown sections of those urban areas, the officials said...LeT is a far-flung organization with cells in Australia, the United States as well as the United Kingdom, India, Canada, Saudi Arabia, Bangladesh and Southeast Asia, according to the South Asia Terrorism Portal. The exact numbers of LeT operatives aren't known, federal officials said. A US State Department report earlier this year called LeT "one of the largest and most proficient of the Kashmiri-focused militant groups," with "several thousand" members.

"We have no idea how many are here," a federal official said. "We make educated conjectures." LeT was put on the U.S. government's Terrorist Exclusion List on Dec. 26, 2001. It had been banned in Britain earlier that March and by Pakistan on Jan. 12, 2002. In spite of being unlawful, it has continued to flourish in Pakistan. Its chief agenda began with demanding an end to India's sovereignty over Kashmir. Then, a few years ago, LeT merged with Jaish-e-Muhammad, another Muslim extremist organization, and the new body became a lethal subcontractor of al-Qaeda, its goal is to establish an Islamic Caliphate throughout the world...According to former CIA officials, terrorists pick run-down, seedy neighborhoods and dress shabbily so that they can be invisible. [Full story>>metimes.com]
---
12.05.08 Bomb blast in Peshawar kills 21, injures 90
PESHAWAR, Pakistan, December 5 - At least 21 persons were killed and 90 others injured in a high intensity explosion in Koocha Risaldar located behind Qisa Khawani Bazar in Peshawar on Friday. Police sources confirmed the above casualties which resulted after an explosives-laden car blew up in the narrow and congested ally having shops on both sides. The injured, including women and children, were shifted to different hospitals of the city including Lady Reading Hospital where emergency has been declared. [More>>thenews.com.pk]
---
12.05.08 Troops kill 17 insurgents in Afghanistan: military
KABUL (AFP) December 5 - Seventeen Taliban militants have been killed in clashes with US-led coalition and local forces in Afghanistan in recent days, military officials said Friday. Afghan and US-led troops killed three armed militants and arrested another two during a search operation Friday in western Herat province, general Basir Khan, commander of the local army corps, told AFP.

Afghan security forces and US-led troops also repelled an insurgent attack Thursday in restive Helmand province, killing four militants, a US military statement said. That incident came a day after Afghan and US-led troops killed ten militants in the same district. Coalition forces also said they had detained four suspected militants in an operation in Kapisa province, north of the Afghan capital Kabul. The Taliban, who were in power from 1996 to late 2001, have waged a bloody insurgency against the Afghan and international forces under NATO and US command in Afghanistan. The rising insurgency has claimed thousands of lives and has paralysed the internationally-backed post-Taliban reconstruction of Afghanistan. [More>>khaleejtimes.com]
---
12.05.08 5 killed, 10 police and 2 civilians injured in Narathiwat bomb attack
NARATHIAWAT, Thailand, December 5 - Four people were killed and 10 policemen and two civilians were injured when insurgents detonated a bomb to attack police deployed to inspect a robbery at a grocery store Friday. The attack occurred at 10:40 am at a shop in Moo 1 village in Tambon Dusongyor of Narathiwat's Chanae district. The bomb exploded when police were inspecting the shop after its owner, Wilawan Satikornkul, was robbed. Police said the bomb was assembled inside a cooking gas cylinder and detonated with a mobile phone. The five slain victims were identified as Doloh Haremtabu, 49, village head of the village, Arong Khan, assistant village head, Adul Waeuseng, a teacher, Lersak Chivaroj, a brother of the shop owner and Chumpol Kanwiroj. [>nationmultimedia.com]
---
*Visitor statistics on maravot.com from 1&1. com. 46,153 page views in May 2007; monthly visitors in 2008 range between 40,000-45,0000..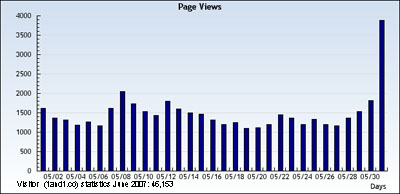 Privacy Policy: We do not store any personal data from you. We have no way of knowing any vital information about you — not even your name. Third-party distribution: We do not distribute information about your site usage to any third party. We are not responsible for the content of links from our site. Usage data: supplied by our Web Hosting service, 1and1.com, which consists of usage reports, such as page views / impressions and web pages visited, visitors' servers and geographical data (ISP's and country of origin).

---
Launched: 10.25.04 / 11.02.04 – | — |
Updated: 12.05.08; 12.06.08; 12.07.08; 12.08.08; 12.10.08; 12.11.08; 12.12.08; 12.13.08; 12.14.08
Copyright © 1981-2008 Maravot. All rights reserved
Copyright © 1981-2008 Mel Copeland. All rights reserved
Background: tile from Cicero's villa (Marcus Tullius Cicero 106 B.C. - 43 B.C.)