02.03.07 Dozens killed in Baghdad bombing
BAGHDAD (AP) February 3 – A suicide truck bomber struck a market in a predominantly Shiite area of Baghdad on Saturday, killing at least 102 people among the crowd buying food for evening meals, the biggest strike in the capital in more than two months. The attacker was driving a truck carrying food when he detonated his explosives, destroying stores and stalls that had been set up in the busy outdoor Sadriyah market, police said. The late-afternoon explosion was the latest in a series of attacks against commercial targets in the capital as insurgents seek to maximize the number of people killed ahead of a planned US-Iraqi security sweep. [More>>nytimes.com ; See also metimes.com (AFP) February 3, "Curfew in three Iraqi cities."]
---
02.03.07 Anger at Kabul's warlord amnesty
February 3 – Human rights groups in Afghanistan expressed outrage yesterday after warlords in the parliament granted an amnesty to all those involved in the past 25 years of conflict, including Taliban leader Mullah Omar. The law was passed by the Wolesi Jirga, the Afghan lower house, despite the bounty of $13million on Mullah Omar and the human rights violations committed while the Taliban were in power. Human rights groups say Afghan warlords either took part in orordered the execution of thousands of people. Witnesses have told how prisoners were beheaded, boiled alive in vats of oil or roasted in shipping containers.

The new law states that anyone who fought against the Soviet army in the 1980s cannot be prosecuted. Some of the worst abuses were committed during the years of civil war that engulfed Afghanistan after the Russians withdrew in 1989. If approved by the upper house, the legislation would trigger a review of international human rights treaties signed recently by Afghanistan. Anyone who described an MP as a warlord would risk prosecution. After the fall of the Taliban, Britain and the US encouraged the Afghan warlords and their followers to lay down their arms and become MPs, to kickstart the democratic process.

Human rights groups claim the new MPs have failed to keep their side of the agreement, and are maintaining their militias and continuing to profit from the opium trade. [More>>theaustralian.news.com.au]
---
02.03.07 Saudi Arabia arrests 10 in crackdown on terror funding
RIYADH, Saudi Arabia (Reuters) February 3 – Saudi anti-terror forces have arrested 10 people suspected of raising and smuggling funds for ²suspicious bodies², the official news agency said on Saturday. The suspects "raised donations illegally and smuggled and transferred funds to suspicious bodies that use them to lure citizens and attract them into turbulent parts," the Saudi Press Agency quoted an interior ministry spokesman as saying. Like other neighbors of Iraq, Saudi Arabia has often said it was working to prevent Islamist militants from crossing its border into Iraq to fight US-led troops. Many nationals of the conservative Muslim kingdom, including Saudi-born Osama bin Laden, funded and joined Afghan fighters in their drive to eject Soviet forces from Afghanistan after the 1979 invasion of the Muslim central Asian country. [More>>khaleejtimes.com]
---
02.03.07 Deadly bird flu virus found in UK
February 3 – The potentially deadly H5N1 strain of bird flu has been found among turkeys in a Bernard Matthews poultry farm in Suffolk, but staff say the risk has been 'contained' and risks to the public are said by government officials to be 'negligible.' Tests for the dangerous form of avian flu were carried out at the European Union laboratory in Weybridge, following an outbreak in which more than 2,000 turkeys have died. The farm at the centre of the outbreak was today identified as the Bernard Matthews site at Holton near Halesworth, Suffolk, by trading standards officials.

...Deputy chief veterinary officer Fred Landeg said all 159,000 turkeys on the affected poultry farm would be slaughtered as a precaution and that he was hopeful the outbreak would be contained. Dr. Landeg said tests were continuing to discover if the strain was the Asian version of H5N1 and where it had originated. This is the first time that H5N1 has been found at a commercial property in the UK. More than 30,000 birds were slaughtered after chickens near Dereham, Norfolk, tested positive in April 2006, but they were found to have the H7 strain of the virus. The same month a wild swan was found washed up in a harbour in the Cellardyke area of Fife, which tested positive for the H5N1 strain, but was an isolated case. [Full story>>observer.guardian.co.uk ; See also:

thestar.com.my (Reuters) February 3, "Britain has first H5N1 bird flu outbreak," ..."We're in new territory," National Farmers' Union Poultry Board chairman Charles Bourns told Reuters. "We've every confidence in Defra but, until we know how this disease arrived, this is a very apprehensive time for all poultry farmers." The outbreak mirrored a similar case where hundreds of turkeys died at a farm in eastern France almost a year ago. That outbreak was contained and there followed a lull in cases of H5N1 in European poultry until last month, when it was found to have killed thousands of geese on a farm in Hungary. The strain tends to be transmitted to poultry by infected migrating wildfowl. It has killed at least 164 people worldwide since 2003, most of them in Asia, and more than 200 million birds have died from it, or been killed to prevent its spread...
---
02.02.07 Pipe bombs found in Kansas City, Chicago
KANSAS CITY, Mo. (AP) February 2 – A pipe bomb was delivered to a Chicago skyscraper a day after a similar device arrived at a Kansas City business, and federal agents were investigating possible connections. Both devices were defused without incident. The FBI said a threatening note accompanied the explosive device that arrived Wednesday at American Century Investments' midtown Kansas City mail facility, a few blocks from the company's national headquarters. A similar explosive was found Thursday at a business in a downtown Chicago office tower, said Wanda Shipp, a Postal Inspection Service spokeswoman. That package also contained a note, though it was not threatening, Shipp said. Authorities did not name the Chicago business. [More>>msnbc.msn.com]
---
02.02.07 UN climate panel says warming is man-made
February 2 – There is no longer any reasonable doubt that human activities are warming the planet at a dangerous rate, according to a new worldwide assessment of climate science released today by the authoritative Intergovernmental Panel on Climate Change.

With at least 90 percent certainty, the IPCC's "Summary For Policymakers" concludes human-generated greenhouse gases account for most of the global rise in temperatures over the past half century. Hundreds of scientists from 113 countries prepared the report, which represents the most comprehensive overview of scientific climate research since 2001. "The observed widespread warming of the atmosphere and ocean, together with ice-mass loss, support the conclusion that it is extremely unlikely that global climate change of the past 50 years can be explained without external forcing, and very likely that is not due to known natural causes alone," the report stated.

The report suggests that it is "very likely" that hot days, heat waves and heavy precipitation will become more frequent in the years to come, and it is "likely" future tropical hurricanes and typhoons will become more intense. Arctic sea ice will disappear "almost entirely" by the end of the century, it says, while snow cover will contract worldwide. [More>>washingtonpost.com ; See related article, xinhuanet.com, February 2, "Yellow-orange snow falls in Siberia of Russia."]
---
02.02.07 Pakistan refuses to take sole responsibility to guard Pak-Afghan border
RAWALPINDI, Pakistan, February 2 – President Pervez Musharraf said on Friday Pakistan could not be blamed for the Taliban resurgence in Afghanistan, although some troops had turned a blind eye to help for insurgents crossing the border. Musharraf dismissed speculation that fugitive Taliban leader Mullah Mohammad Omar was in Pakistan and said suggestions Pakistan's main Inter-Services Intelligence agency or military were helping the Taliban were "preposterous." A growing perception that Pakistan was responsible for a resurgent Taliban was "absolutely wrong", Musharraf said. "Pakistan is contributing the most but we are being blamed. We cannot accept this anymore," he told a news conference. [More>>thenews.com.pk ; See related stories:

khaleejtimes.com, February 2, "Musharraf admits lapses in terror war,"

nytimes.com, February 2, "An Afghan's path from ally to US drug suspect."

aljazeera.net, February 2, "Taliban capture 'peace deal' town" : Taliban fighters have overrun a town where British troops pulled out after a peace deal with local tribal elders, government officials and witnesses have said. The well-armed Taliban fighters took over the district administration office and police headquarters in Musa Qala on Thursday night, witnesses said. British troops pulled out of Musa Qala in southern Helmand province – the poppy heartland of the world's biggest opium producer and a Taliban stronghold – late last year after striking a deal with tribal elders to keep the Taliban out after months of fighting...
---
02.02.07 Senator Clinton: We must not permit Iran to acquire nuclear weapons
February 2 – Calling Iran a danger to the U.S. and one of Israel's greatest threats, U.S. Senator and presidential candidate Hillary Rodham Clinton said Thursday no option can be taken off the table when dealing with that nation. "US policy must be clear and unequivocal: We cannot, we should not, we must not permit Iran to build or acquire nuclear weapons," the Democrat told a crowd of Israel supporters. "In dealing with this threat ... no option can be taken off the table."

Clinton spoke at a Manhattan dinner held by the largest pro-Israel lobbying group in the US, the American Israel Public Affairs Committee. Some 1,700 supporters applauded as she cited her efforts on Israel's behalf and spoke scathingly of Iran's decision to hold a conference last month that questioned whether the Holocaust took place. "To deny the Holocaust places Iran's leadership in company with the most despicable bigots and historical revisionists," Clinton said, criticizing what she called the Iranian administration's pro-terrorist, anti-American, anti-Israeli rhetoric. [More>>haaretz.com ; See related story, mehrnews.ir, February 2, "No restrictions of inspectors' access to nuclear site: official" : Iran denied on Friday it was blocking UN inspectors from a key nuclear site or installing new centrifuges. "Within the framework of Iranıs commitment to the IAEA (International Atomic Energy Agency), there is no and there will be no restriction of inspectorsı access," a high-ranking Iranian official told AFP on condition of anonymity. "We have not begun installing new centrifuges," he added.

Diplomats close to the IAEA in Vienna have claimed that Iran had begun construction of 3,000 centrifuges at its main nuclear facility in Natanz, and that Iran was stopping UN inspectors from installing surveillance cameras at the site. According to AFP, IAEA spokeswoman Melissa Fleming refused to comment on the diplomatsı claims...
---
02.02.07 Ten soldiers killed in attack in Yemen
SANNA, Yemen (AFP) February 2 – Ten Yemeni soldiers were killed and 20 wounded Thursday in an attack on an army roadblock in Saada province in the northwest of the country, a security source said. The assault was presumed to have been carried out by Zaidi rebels, he added. "Violent clashes are taking place in the Rizamat region" where the checkpoint attack was reported said the source, who requested anonymity. Thursday's toll raised to at least 22 the number of soldiers killed in fighting between the army and Zaidi insurgents in Saada province since rebel attacks resumed earlier this week...One rebel leader, Abdel Malak Al Huthi, confirmed Thursday that threats had been made against Jews in the village of Salem in Saada province to make them leave.

"These Jews have a problem with the other inhabitants of the region, who have complained about them," he told the Arabic-language satellite television channel Al Jazeera. "The people have demanded that these Jews leave because they have provoked damage ... by their admitted meddling in regional affairs and their moral corruption," Huthi said. Israel vowed January 22 to investigate reports that Jews in Yemen had received death threats and that an undisclosed number of rabbis had been killed...The Zaidis are an offshoot of Shiite Islam dominant in northwestern Yemen, but form a minority in the mainly Sunni country...[Full story>>metimes.com]
---
02.02.07 US halts China space ventures
February 2 – The Bush administration has suspended plans to develop space ventures with China, including joint exploration of the moon, in reaction to Beijing's Jan. 11 test of an anti-satellite weapon that left orbiting debris threatening US and foreign satellites. National Aeronautics and Space Administration spokesman Jason Sharp said the weapon test undermined an agreement reached between President Bush and Chinese President Hu Jintao during an April summit. "We believe China's development and testing of such weapons is inconsistent with the constructive relationship that our presidents have outlined, including on civil space cooperation," Mr. Sharp said. [More>>washtimes.com]
---
02.02.07 Protein found key to human flu transmission
WASHINGTON (Xinhua) February 1 – Researchers have discovered that influenza hemagglutinin – a type of protein found on the surface of influenza viruses that is used to bind to host cells – appears to play an important role in the virus's ability to transmit efficiently among humans. The findings are published on Thursday on the online early edition of journal Science. Terrence M. Tumpey at US Centers for Disease Control and Prevention and coauthors studied the hemagglutinin protein covering the surface of the 1918 influenza virus that they recreated in 2005. That virus caused a pandemic that claimed the lives of at least 50 million people between 1918 and 1920, and that virus shows genetic sequence similarities to avian influenza viruses.

Researchers changed two amino acids – basic building blocks of protein – in the 1918 virus hemagglutinin from a mammalian configuration to an avian configuration and inoculated ferrets with it. Ferrets are expected to be good predictors of influenza virus transmissibility among humans. Inoculation of ferrets with the 1918 "avian" hemagglutinin virus caused severe disease, but healthy ferrets placed close enough to the sick ferrets to catch it remained healthy. The findings suggest that for an influenza virus to spread efficiently, its hemagglutinin must prefer attaching to host cells that are found in the human upper airway instead of host cells found predominantly in birds.

The transmission ability among humans is an essential property of a pandemic virus. Understanding flu transmission will assist researchers in their challenge to stop the spread of influenza, especially as concerns mount with the current avian flu epidemic in chickens and the possibility that it will spread to humans. [More>>xinhuanet.com]
---
02.01.07 US Senate proposal on Iraq gains support
WASHINGTON (Reuters) February 1 – Top Senate Democrats joined with Republican Sen. John Warner on Wednesday to support a non-binding resolution opposing President George W. Bushıs Iraq strategy, increasing prospects that Bush will face an embarrassing repudiation. As a number of lawmakers sought a vehicle to go on record against Bushıs plan to send 21,500 more US troops to Iraq, Warner of Virginia agreed to changes in his proposal that picked up Democratic support.

"The Warner changes have moved us forward. I believe we have a better chance of drawing together a stronger bipartisan group in support of Warnerıs resolution," Assistant Majority Leader Dick Durbin, an Illinois Democrat, told reporters. He said he would vote for the Warner resolution as now written. Senate Majority Leader Harry Reid, a Nevada Democrat, said he wanted debate to start on Warnerıs resolution on Monday. With the Senate preparing to confront Bush over his Iraq policy, it has been unclear whether any of the proposals circulating could gather the super-majority of 60 votes needed to overcome procedural hurdles in the 100-vote chamber, which has 51 Democrats and 49 Republicans. [More>>khaleejtimes.com]
---
02.01.07 Attacks, bombings kill 62 across Iraq
BAGHDAD, February 1 –Two suicide bombers blew themselves up Thursday in a crowded outdoor market in south of Baghdad, killing 45 people and wounding 150, police said. Capt. Muthanna Khaled, police spokesman in the southern province of Babil, of which Hillah is the capital, reported the casualties. The attackers reportedly strolled into the Maktabat outdoor market in the center of Hillah about 6 p.m. as shoppers were buying food for their evening meals. Police said they thought one of the men appeared suspicious and stopped him. The bomber then detonated his explosives and the second attacker, who was walking behind him, set off his, police added.

Hillah, about 60 miles south of Baghdad, was the scene of one of the deadliest attacks in the war, when a suicide car bomber killed 125 people on Feb. 28, 2005. Violence continued Thursday, with a parked car bomb exploding at a bus stop near a busy shopping area around Rusafi Square on Rashid Street in central Baghdad, killing six people and wounding 12, police said. A bomb also ripped the roof off a minibus in Karradah, another popular capital shopping area, killing six people and wounding eight, police said, adding that the explosive was left in a bag by a passenger who got off the bus just before it detonated. [More>>thenews.com.pk ; See also khaleejtimes.com, February 1, "Two suicide bombers kill 45 in Iraq's Hilla."]
---
02.01.07 Iraqis abandon their homes in Middle East's new refugee exodus
February 1 – Iraq is experiencing the biggest exodus in the Middle East since Palestinians were forced to flee in 1948 upon the creation of Israel. "We were forced to leave our house six months ago and since then we have moved more than eight times," said Abu Mustafa, a 56-year-old man from Baghdad. "Sectarian violence has now even reached the displacement camps but we are tired of running away. Sometimes I have asked myself if it is not better to die than to live like a Bedouin all my life."

Iraqis are on the run inside and outside the country. The United Nations High Commission for Refugees said 50,000 Iraqis a month are abandoning their homes. Stephanie Jaquemet, regional representative of the UNHCR, said that two million Iraqis have fled abroad and another 1.5-2 million are displaced within the country – many of them from before the fall of Saddam Hussein.

They flee because they fear for their lives. Some 3,000 Iraqis are being killed every month according to the UN. Most come from Baghdad and the centre of the country, but all of Iraq outside the three Kurdish provinces in the north is extremely violent. A detailed survey by the International Organisation for Migration on displacement within Iraq said that most people move after direct threats to their lives: "These threats take the form of abductions; assassinations of individuals or their families." [More>>independent.co.uk]
---
02.01.07 Russia will respond effectively to US missile defense in EU
MOSCOW (RIA Novosti) February 1 – Russia will develop an effective response to United States plans to deploy missile defense systems in Poland and the Czech Republic, President Vladimir Putin said Thursday. "We must think, and are thinking, of ways to ensure our national security," Putin said at an annual Kremlin live televised news conference with Russian and foreign journalists. "All our responses will be asymmetric but highly effective," he said.

Washington officially proposed January 20 placing a radar network in the Czech Republic, and two days later announced plans to start formal talks with Poland on the deployment of anti-ballistic missile systems on its territory. The US argued that defenses in Europe could intercept possible intercontinental ballistic missiles from 'rogue' regimes, such as Iran and North Korea. But Putin said Washington's arguments to deploy anti-missile systems closer to Russian borders were not convincing. "Our specialists do not think that missile defense systems being deployed in East European countries are meant to prevent threats from Iran or from terrorists," Putin said. "What kind of terrorists? Do terrorists have ballistic [missile] weapons?" [More>>rian.ru]
---
02.01.07 Libby judge shows doubt on defense's scapgoat argument
February 1 – A federal judge presiding over the perjury trial of Vice President Cheney's former chief of staff expressed doubt this morning about defense arguments that I. Lewis "Scooter" Libby was made a scapegoat by the White House in 2003 as the furor grew over the leak of a CIA officer's identity to the media. On the seventh day of testimony in Libby's trial, US District Judge Reggie B. Walton said that argument was dramatically undercut by a key piece of evidence in the case – that former White House press secretary Scott McClellan, at Cheney's direction, publicly exonerated Libby in the fall of 2003 of any role in leaking information about the officer, Valerie Plame. [More>>washingtonpost.com ; See also cnn.com, February 1, "Libby prosecution uses White House briefing tapes."]
---
02.01.07 Internet spreading dangerous ideology?
February 1 – Yesterdayıs terror raids in Birmingham have prompted much anger among the areaıs Asian community. But they have also made local mosque leaders question the source of the rise in Islamic fundamentalism among Britainıs young Muslims. Shabir Hussain, the imam of a mosque near one of the homes stormed by anti-terror police, believes that the dangerous ideology of radical Islam is coming not from a small number of imams sowing anti-western sentiment at secret meetings, but from the Internet.

"The children are not learning from the mosques, not learning from the parents," he said. "Young kids, they see the news and see the Internet. They think, 'something's happening in Iraq, in Afghanistan, in Palestine, in Kashmir, and Muslims are oppressed everywhere and some injustice is happening in the world.'" The personal — and some might say secretive — nature of Internet use could be creating a sense of paranoia that is being felt inside the homes of British Muslims. [More>>cbsnews.com ; See related stories,

jamestown.org, February 1, "Al-Suri's doctrines for decentralized jihadi training – Part 2" : Training jihadi recruits in the post-9/11 world is increasingly about finding a safe place where training is possible rather than discussing curricula, facilities, selection of recruits, instructors and related tasks [1]. In his voluminous treatise The Call to Global Islamic Resistance, published on the internet in January 2005, the Syrian-born al-Qaeda veteran Mustafa bin Abd al-Qadir Setmariam Nasar, better known as Abu Mus'ab al-Suri and Umar Abd al-Hakim, examines five different methods for jihadi training based on past jihadi practices [2]:

haganah.org, January 30, "Active sites of Palestinian Islamic jihad."

arabnews.com, 1 Februay 2007, "Robbers kill brother-in-law of Bin Laden" and counterterrorismblog.org, January 31, "Top Al-Qaeda financier dead, denied links to Osama to his dying day" : Mohammad Jamal Khalifah, the brother-in-law of Osama bin Laden was killed during a robbery during a business trip to Madagascar, where he had invested in gem mines. Khalifah was a key financier of several Southeast Asian militant groups, particularly those in the Philippines.

He has always denied involvement in supporting terrorist and insurgent groups. For example in an emailed statement to CNN last weekend he wrote: "I have never given any money to any group or persons that include the Abu Sayyaf." "It is common knowledge that the Soviets left Afghanistan in 1989, the same year that Abu Sayyaf came to the news in the Philippines. It means that the Jihad was already over in Afghanistan...The war in Afghanistan became a civil war, between the Afghans. And Osama bin Laden himself was not there and left Afghanistan in 1989...I left Afghanistan in 1986 after my disagreement with him and we became apart from each other...So what volunteers was he [Khadaffy Janjalani] talking about?"

Khalifah got a total whitewash in Lawrence Wrightıs The Looming Towers, where he disavowed any relationship with Osama. Wright should have done his homework on Khalifah. My file on Khalifah is thick, but here is some of the evidence against him:

€ When Khalifah was arrested in the United States, on 16 December 1994, he was arrested with Mohammad Loay Bayazid, a confidante of Osama bin Laden and believed to be one of the founders of Al Qaeda. At the time he was the director of the Benevolence International Foundation, an international charity with an office in Chicago, which was shut down by US government officials in December 2001 for financing terrorism. BIF was very active in Bosnia in the 1990s and became an important conduit for Al Qaeda as well as Chechnyan militants. Bayazid was detained with Khalifah, though released. He subsequently fled the country. In 1993-94 he was charged with procuring fissile material for Al Qaeda...
(washingtonpost.com) and Maravot News editorial May 27, 2006, "Architect of New War on the West" and Maravot News editorial, May 27, 2006, "Bin Laden via As-Sahab website."
---
02.01.07 First bird flu death for Nigeria
January 31 – A Nigerian woman has become the first human to die from bird flu in sub-Saharan Africa. The woman from Lagos was among four Nigerians suspected to have died from the H5N1 strain of bird flu, but tests on the three others proved inconclusive, a senior health official said. The Lagos woman, who died of flu symptoms, tested positive for the H5N1 strain, Frank Nweke, Nigeria's information minister, said on Tuesday. The disease was first found in poultry in Nigeria a year ago. [More>>aljazeera.net]
---
02.01.07 Suspected Al-Qaeda leader in Turkey detained in raid: report
ISTANBUL (AFP) January 30 – A man suspected of running Al-Qaeda's operations in Turkey was among 48 people detained in nationwide raids earlier this week, the Anatolia news agency has reported. Identified only as Ekrem K., the man was allegedly communicating with Al-Qaeda cells abroad and trained new recruits, the report said. Police were also looking for another man who is suspected of establishing contact with Al-Qaeda leaders in Iraq and Afghanistan, the report added. Monday's nationwide crackdown was launched in seven provinces upon intelligence that local Al-Qaeda cells were preparing to carry out attacks in major cities. [More>>turkishpress.com]
---
02.01.07 Oil spill hits Vietnam's central coast, blackens resort beaches
HANOI, Vietnam (AP) February 1 – An oil spill from an unidentified source has hit Vietnam's central coast, blackening popular resort beaches as thousands of local people help with the cleanup, officials said Thursday. Authorities are investigating the source of the spill that reached the coast Tuesday night in Quang Nam province, said Nguyen Ngoc Dung, director of the provincial Natural Resources and Environment Department. "Oil is everywhere at sea," he said. "In some areas it's as far as 20 kilometers (12 miles)." The spill has affected beaches along the coast in the ancient town of Hoi An, a UNESCO recognized site, Dung said. [More>>thestar.com.my]
---
02.01.07 '2006 is most deadly year for reporters in more than a decade'
PARIS (AP) February 2 – Eighty-one journalists and media staffers were killed worldwide in 2006, making it the most deadly year for reporters in more than a decade, Reporters Without Borders said Thursday. Iraq was the most deadly country for journalists last year, with 39 reporters and 26 other media workers killed, the Paris-based media advocacy group said. It was the most dangerous year for journalists since 1994,which was marked by the Rwandan genocide, civil war in Algeria and conflict in the former Yugoslavia. [More>>thejakartapost.com]
---
02.01.07 Cassini images mammoth cloud engulfing Titan's north pole
Fe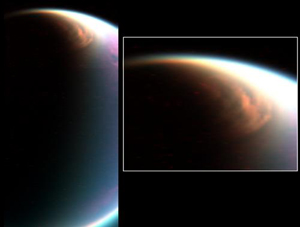 bruary 1 – A giant cloud half the size of the United States has been imaged on Saturn's moon Titan by the Cassini spacecraft. The cloud may be responsible for the material that fills the lakes discovered last year by Cassini's radar instrument. Cloaked by winter's shadow, this cloud has now come into view as winter turns to spring. The cloud extends down to 60 degrees north latitude, is roughly 2,400 kilometers (1,490 miles) in diameter and engulfs almost the entire north pole of Titan. The new image was acquired on Dec. 29, 2006, by Cassini's visual and infrared mapping spectrometer. Scientific models predicted this cloud system, but it had never been imaged in such detail before.

..."We knew this cloud had to be there but were amazed at its size and structure," said Dr. Christophe Sotin of the University of Nantes, France, a member of the visual and infrared mapping spectrometer team and distinguished visiting scientist at NASA's Jet Propulsion Laboratory, Pasadena, Calif. "This cloud system may be a key element in the global formation of organics and their interaction with the surface."

The same cloud system seen on Dec. 29, was still there two weeks later during a Jan. 13, 2007, flyby, even though observing conditions were slightly less favorable than in December.

The Cassini radar team reported last year that the lakes at the north pole are partly filled, and some appear to have evaporated, likely contributing to this cloud formation, which is made up of ethane, methane and other organics. These findings reinforce the idea that methane rains down onto the surface to form lakes and then evaporates to form clouds. Scientists compare this methane cycle to the hydrological cycle on Earth, dubbing it "methane-ologic cycle." [More>>saturn.jpl.nasa.gov]

---
01.31.07 Biden enters race for 2008 presidential bid
January 31 – With a jab at the Iraq policy of New York Sen. Hillary Rodham Clinton, Delaware Sen. Joseph R. Biden Jr. joined the race for the Democratic presidential nomination today, saying he has more experience than any of his prospective rivals to help extricate the United States from Iraq without leaving the Middle East even more destabilized.

...Biden, 62, chairs the Senate Foreign Relations Committee and is recognized as one of the Democratic Party's leading spokesmen on national security issues. He has clashed with President Bush over Iraq for the past four years and did so again in a video posted on his campaign Web site today. "In my view, President Bush has dug America into a very deep hole," said Sen. Biden. "This administration's mishandling of the war in Iraq may be the greatest foreign policy disaster of all time." Biden is the cosponsor of one of the nonbinding resolutions under consideration in the Senate opposing Bush's plan to send an additional 21,500 troops to Iraq. [More>>washingtonpost.com]
---
01.31.07 US Congress can halt Iraq war: experts
WASHINGTON (Reuters) January 31 – The US Congress has the power to end the war in Iraq, a former Bush administration attorney and other high-powered legal experts told a Senate hearing on Tuesday. Facing mounting opposition over his Iraq troop increase plan, President George W. Bush insisted it would be "too extreme" if lawmakers pass a resolution condemning his Iraq policy. Four out of five experts called before the Senate Judiciary Committee said Congress could go even further and restrict or stop US involvement in Iraq if it chose. "I think the constitutional scheme does give Congress broad authority to terminate a war," said Bradford Berenson, a Washington lawyer who was a White House associate counsel under Bush from 2001 to 2003. [More>>khaleejtimes.com]
---
01.31.07 Afghan, NATO operation kills 30 Taliban: police
KANDAHAR, Afghanistan, January 31 – NATO warplanes bombed a Taliban hideout in a volatile part of southern Afghanistan in an operation with Afghan forces that killed 30 rebel fighters, police said Wednesday. Afghan and International Security Assistance Force (ISAF) soldiers struck the hideout in the Kajaki area of Helmand province on Tuesday, Helmand police chief Mohammad Nabi Mullahkhail said. The British military force that serves with ISAF in Helmand confirmed it had been involved in an operation in Kajaki Tuesday but could not say how many people were killed. Helmand last year saw several fierce battles between soldiers and fighters loyal to the extremist Taliban movement that was ousted from government in late 2001. [>thenews.com.pk]
---
01.31.07 British Muslim soldier 'was target of terror plot'
January 31 – Counter-terrorism police in the West Midlands today foiled a suspected plot to kidnap and torture a British Muslim soldier before beheading him live on the internet, Iraqi-style. Police arrested eight men in a series of pre-dawn raids at 12 addresses in Birmingham, including four commercial premises. A ninth suspect was arrested this afternoon on a motorway in the Birmingham area in connection with the alleged plot. No details have officially confirmed about the plot, but security sources said that it appeared to have been in its late stages. If confirmed, it will mark a chilling new tack for Islamic terrorism in Britain. The sources said that the alleged plotters planned to force their victim to plead for his life in online videos before torturing him and executing him much as Ken Bigley, the Liverpool hostage, was killed in Iraq in October 2004. The beheading would have been shown live on an extremist website. [More>>timesonliine.co.uk]
---
01.31.07 Musharraf appeals for unity as sectarian violence rocks Pakistan
ISLAMABAD (AFP) January 31 – President Pervez Musharraf has appealed for Pakistan to stand united as two people died in the latest of a wave of sectarian attacks that has killed 22 in the past few days. Musharraf urged the public Tuesday to stay calm and inform on extremists after violence which has put security forces on high alert as annual Shia religious ceremonies reach their climax. "The entire Pakistani nation needs to face such (extremist) elements and together we can defeat them," Musharraf told reporters before departing for a visit to Indonesia and Malaysia. The military leader said the country should "show patience, expose such elements, stand united to face them and inform the law-enforcing agencies about their activities," according to official media.

Authorities Tuesday imposed an indefinite curfew in the northwestern town of Hangu, where two Afghan refugees died and 15 were wounded in an exchange of mortars and gunfire at a religious procession. "Unknown attackers fired a few mortar rounds that landed near the Shiite procession and then there was an exchange of firing," said police officer Khalid Khan. North West Frontier Province (NWFP) has already seen two suicide blasts and a rocket attack, while a suicide bombing at an upmarket Islamabad hotel killed two people on Friday. [More>>turkishpress.com ; See related story, thenews.com.pk, January 31, "Musharraf-Badawi meeting; regional situation discussed" : KUALA LUMPUR: Pakistani President Pervez Musharraf Wednesday drummed up support for his plan to find an Islamic solution to Middle East violence in talks with the leaders of Indonesia and Malaysia. Musharraf has already met with the leaders of Egypt, Jordan, Saudi Arabia, Syria and the United Arab Emirates to seek support for his initiative to bring peace to the region. Later he flew to Malaysia for talks with Prime Minister Abdullah Ahmad Badawi, the current chairman of the Organization of the Islamic Conference (OIC), the world's largest grouping of Muslim nations...
---
01.31.07 Thousands of dead fishes found in Tabanan beach
DENPASAR, Indonesia, January 31 – Thousands of dead fishes of various kinds were recently found on some beaches of Tabanan district, a local fisheries official said Wednesday. "The beaches along 35 km of coastline has been covered with dead fishes for the past three days," Nyoman Wirna Ariwangsa, head of Tabanan district's fisheries and marine resources office said. "According to the locals, at first only a small number of dea fishes were found lying on the beaches but over the past three weeks their number has risen to thousands," he said. [More>>thejakartapost.com]
---
01.31.07 Japan confirms H5N1 strain in another bird flu outbreak
TOKYO (Xinhua) January 31 – Japan's agriculture ministry confirmed Wednesday that bird flu at a poultry farm in southern Japan was the deadly H5N1 strain, after several similar cases were reported within the month. Some 12,000 birds at the farm in Okayama prefecture will be culled after the determination of the highly virulent strain of avian influenza in the case, Kyodo News said.

Several bird flu outbreaks related with the H5N1 strain have occurred in southern Japan recently. Earlier this month, two cases involving the deadly H5N1 strain were reported in Miyazaki prefecture, where thousands of birds died in two chicken farms, and the rest tens of thousands were culled later. The farm ministry reported on Tuesday another bird flu case near the two farms in Miyazaki prefecture, which is suspected to have been caused by the same virus strain. Bird flu infections hit dozens of farms in central Japan's Ibaraki prefecture in 2005 and 2006, resulting in the killing of at least 5.8 million poultry. [More>>xinhuanet.com]
---
01.31.07 Scientists study unique continental drift
LEEDS, England (UPI) January 31 – A British-led international team of scientists studying recent seismic events in northern Ethiopia are plotting the progress of continental drift. The 28-member team, led by University of Leeds geophysicist Tim Wright, is focusing on the area where the African and Arabian tectonic plates meet. The most dramatic event occurred in September 2005, when hundreds of deep crevices appeared within a few weeks in Ethiopia's Afar Desert, and parts of the ground shifted eight meters (26 feet), nearly overnight. More than 2 billion cubic meters of rising molten rock had seeped into a crack between the African and Arabian tectonic plates, forcing them further apart.

The researchers said that event gave them a unique opportunity to witness plate tectonics - the science of how continents are formed and move. "Much of the activity between the continental shelves takes place deep underwater at the mid-ocean ridges," said Wright. "Ethiopia is the only place on the planet where we can see a continent splitting apart on dry land." The team includes experts from Oxford, Cambridge, Bristol, and Edinburgh universities, as well as scientists from the US, New Zealand, France, and Ethiopia. [>metimes.com]
---
01.30.07 Europe resists US push to curb Iran ties
WASHINGTON, January 30 – European governments are resisting Bush administration demands that they curtail support for exports to Iran and that they block transactions and freeze assets of some Iranian companies, officials on both sides say. The resistance threatens to open a new rift between Europe and the United States over Iran. Administration officials say a new American drive to reduce exports to Iran and cut off its financial transactions is intended to further isolate Iran commercially amid the first signs that global pressure has hurt Iranıs oil production and its economy. There are also reports of rising political dissent in Iran.

In December, Iranıs refusal to give up its nuclear program led the United Nations Security Council to impose economic sanctions. Iranıs rebuff is based on its contention that its nuclear program is civilian in nature, while the United States and other countries believe Iran plans to make weapon. At issue now is how the resolution is to be carried out, with Europeans resisting American appeals for quick action, citing technical and political problems related to the heavy European economic ties to Iran and its oil industry...The main targets are Italy, Germany, France, Spain, Austria, the Netherlands, Sweden and Britain, all with extensive business dealings with Iran, particularly in energy. Administration officials say, however, that Chancellor Angela Merkel of Germany, the current head of the European Union, has been responsive. [Full story>>nytimes.com]

---
01.30.07 Seventy-five killed in violent incidents across Iraq
BAGHDAD, January 30 – More than 60 pilgrims have been killed Tuesday in the violent incidents of firing and bomb blasts in different parts of Iraq, whereas 15 other citizens were found dead and 21 corpses were traced elsewhere. Eleven Kurdish pilgrims were killed in an explosion northeast of Baghdad on Tuesday as they headed to a mosque on the final day of the Ashura mourning rite, police said. The explosion rocked the centre of Khanaqin, a town in the restive province of Diyala, police Colonel Azad Issa was quoted as saying, adding that another 39 people were wounded.

In another incident, a suicide bomber blew himself up in a mosque northeast of Baghdad, killing 23 pilgrims participating in an Ashura mourning ceremony, police said. A local police officer said another 57 people were wounded in the bomb attack in Dur Mandali, close to the town of Bala Druz in Diyala province. According to police sources, a bomb rocked the south-eastern part of capital city when it was detonated near a mourning procession, killing 11 people and wounding 30 others. [>thenews.com.pk] ; See also khaleejtimes.com, January 30, "Ashura pilgrims attacked in Iraq, 40 killed."]
---
01.30.07 Russia urges timetable for pullout of occupation forces from Iraq
MOSCOW (RIA Novosti) January 30 – The head of Russia's Security Council said Tuesday the situation in Iraq is unacceptable, and a timetable for the withdrawal of foreign forces should be worked out as soon as possible. "There is no clear answer to the question of what should be done. But it is perfectly clear that the situation is unacceptable," Igor Ivanov said at a RIA Novosti news conference. "We have always acted on the assumption that there should be negotiations with legitimate representatives of the Iraqi people, which should produce a plan for further action," he said He said the plan should include a timetable for the pullout of occupation forces from Iraq and the transfer of power to legitimate representatives. [>rian.ru]
---
01.30.07 US probes Israel cluster bomb violations
WASHINGTON, January 30 – Investigation finds Israel probably violated US arms export agreements, rights group says US should ban bombs sale. A US investigation has found that Israel probably violated US arms export agreements last year when it dropped US-made cluster bombs among villages in Lebanon, the State Department said Monday. The investigation, summed up in a preliminary State Department report sent to Congress Monday, drew an immediate call from human rights activists for a cutoff of cluster munitions sales to the Jewish state.

"There were likely violations," State Department spokesman Sean McCormack told reporters of Israel's use of cluster bombs during a 34-day war against Lebanon. The cluster munitions spread bomblets over a wide area from a single bomb, rocket or artillery shell, and many of the submunitions fail to explode on impact. More than 30 people have been killed and 180 others been injured in south Lebanon by ordnance left over from the war. [More>>middle-east-online.com]
---
01.30.07 US must abandon Iraqi cities or face nightmare scenario, say experts
January 30 – The US must draw up plans to deal with an all-out Iraqi civil war that would kill hundreds of thousands, create millions of refugees, and could spill over into a regional catastrophe, disrupting oil supplies and setting up a direct confrontation between Washington and Iran. This is the central recommendation of a study by the Brookings Institution here, based on the assumption that President Bush's last-ditch troop increase fails to stabilize the country – but also on the reality that Washington cannot simply walk away from the growing disaster unleashed by the 2003 invasion.

Even the US staying to try to contain the fighting, said Kenneth Pollack, one of the report's authors, "would consign Iraqis to a terrible fate. Even if it works, we will have failed to provide the Iraqis with the better future we promised." But it was the "least bad option" open to the US to protect its national interests in the event of full-scale civil war. US troops, says the study, should withdraw from Iraqi cities. This was "the only rational course of action, horrific though it will be," as America refocused its efforts from preventing civil war to containing its effects.

The unremittingly bleak document, drawing on the experience of civil wars in Lebanon, the former Yugoslavia, Congo and Afghanistan, also offers a remarkably stark assessment of Iraq's "spill-over" potential across the Persian Gulf region...Everywhere looms the shadow of Iran...[Full story>>independent.co.uk] ; See related stories:

(via saudipost.com) contracostatimes, January 30, "Iraq war is like marrying into family from hell" : (Letters to the Valley Times) Like marrying into the family from hell, America will suffer endless grief because of Iraq. And the offspring from this macabre marriage will be monstrous. How long before tens of thousands of Iraqis are granted asylum in the United States, bringing their rage, intolerance and their Middle East mentality with them? The once distant potential terrorist is now right here and the danger so much greater.

It is easy to place all the blame on one man, George W. Bush. Equally guilty are the political elite whose priority is self first, country second. The same political elite who, for the most part, cowardly ignore America's broken borders and self-destructive immigration policy. For it is those political elite who gave Bush what he needed to wage the criminal waste of life and treasure known as the war in Iraq.

Saddam Hussein, Bush's scapegoat for 9/11, paid the price for his evil doings. Who pays the price for the horrible carnage in Iraq? Those who say "support the troops" should realize this means not wasting precious lives to a cause that is unjustified, unwinnable and unappreciated by the Iraqi people. To use troops in a just cause serves the greater good. To sacrifice their lives in a proven fiasco is a gross abuse of power. In Vietnam, the troops died in vain. This was tragic. In Iraq, once again, the troops died in vain. For this, and for allowing the enemy in, those responsible should be damned.

Christopher Hale
Dublin

haaretz.com, January 30, "Report: Iran schools teach 'war curriculum,' show West as foe."

xinhuanet.com, January 29, "Iran: co-op with Russia effective to prevent US unilateralism" : Iran said on Sunday that active cooperation between Tehran and Moscow on regional issues within a defined framework could effectively hold back the US unilateralism, the local Fars news agency reported Monday. "The US has not achieved its goal in the region despite all its efforts, active cooperation between Iran and Russia on regional issues within a defined framework can hinder the US ambitious and unilateral plans," Iran's Supreme Leader Ayatollah Seyed Ali Khamenei was quoted as saying, in a meeting with visiting Russian National Security Council Secretary Igor Ivanov...

iranfocus.com, January 30, "Bush vows to confound Iranian operations in Iraq" : (The Washington Times) President Bush yesterday said he doesn't intend to attack Iran but will "respond firmly" if Iranian agents inside Iraq escalate their attacks or supply materials used to attack U.S. troops or Iraqis. "We will protect our interests in Iraq. That's what the American people expect us to do," Mr. Bush said in an interview with National Public Radio. "That's definitely what our troops want to do, and that's what the families of our troops want us to do. And if we find the Iranians are moving weapons that will end up harming American troops, we'll deal with it." Shi'ite-controlled Iran is arguably the major international problem for Mr. Bush right now – sharing a border with Iraq, being home to the same religious sect as the majority of Iraqis, and at the same time pursuing a nuclear program in defiance of its international commitments...

arabnews.com, January 30, "'Lay down arms or face war,' Saleh tells rebels" : SANAA, Yemen — Yemeni President Ali Abdullah Saleh yesterday warned the Shiite rebels in the countryıs northern Saada province they could face a military campaign if they do not lay down their arms. Saleh made the warning in an address before an annual meeting of top military commanders in the capital Sanaa, one day after six government troops and one rebel fighter were killed in renewed clashes in Saada, about 230 kilometers north of Sanaa. At least 29 people were wounded in two days of fighting, which according to tribal sources broke out after authorities sent armored military patrols to an area dominated by the rebels...

mehrnews.ir, January 30, "Iran's enemies not in good condition: official" : TEHRAN – Iranıs enemies are not in a good condition at this stage, said Hassan Rowhani, the director of the Center for Strategic Studies at the Expediency Council, here on Tuesday. "Once they were thinking of carrying out the Greater Middle East plan, but they found it impossible," Rowhani said in a speech at the mausoleum of Imam Khomeini, the founder of the Islamic Revolution. The West is seeking to prevent Iran from spreading its Islamic Revolutionary beliefs in the Middle East, he noted as carried by ISNA news agency...

iran-daily.com, January 30, "Saudis to help ease Mideast crisis" : RIYADH, Saudi Arabia – US ally Saudi Arabia and the Iran are working together to try to calm the crises in Iraq and Lebanon, the Saudi foreign minister said Tuesday, despite Washingtonıs efforts to isolate Tehran and stem its power in the Middle East. Saud Al-Faisal said Tuesday that Iran had approached his country to ³cooperate in averting strife between Sunnis and Shiites in Iraq and Lebanon³.

"Saudi Arabia wants only peace in the region," Al-Faisal said. "Contacts are ongoing between Riyadh and Tehran."

A Saudi envoy is in Iran studying all the efforts being exerted to calm the situation and defuse the crises in Iraq and Lebanon and "exploring what Iran can contribute," he said. "The initiative will not succeed unless it is followed by action on the ground."

The deputy leader of Lebanonıs Iran-backed Hezbollah movement visited Saudi Arabia in late December and met King Abdullah and Al-Faisal. The next month, Iranıs top national security official, Ali Larijani, also met with the Saudi monarch. At the time, Iranian President Mahmoud Ahmadinejad said he had sent a message to Abdullah offering cooperation and that the Saudi response had been 'positive.' The Shiite Muslim Hezbollah has been waging a campaign of street protests for the past two months in an attempt to bring down the western-backed government of Lebanese Prime Minister Fuad Siniora which is supported also by Saudi kingdom.

Saudi Arabiaıs willingness to work with Iran likely indicates the growing alarm in the kingdomıs leadership over the two simultaneous crises, which have inflamed Sunni-Shiite tensions throughout the Middle East...

Jpost.com, January 30, "Nasrallah slams US, Israel policies" : Hizbullah leader Sheikh Hassan Nasrallah said on Tuesday that Israel and the United States were working to promote civil wars across the Middle East. "George Bush and Israel are trying to overcome the resistance movements in Lebanon, Palestine, and Iraq by means of promoting civil war," Nasrallah said during a speech in Beirut. Nasrallah was addressing crowds of Shiite Muslim men who had gathered to mark Ashoura, the holiday that commemorates the 7th century death of the grandson of Islam's Prophet Muhammad. "The ones who fomented chaos in Lebanon, who destroyed Lebanon, who killed women and children, old and young, in Lebanon, is George Bush and (Secretary of State) Condoleezza Rice, who ordered the Zionists to launch the war on Lebanon," Nasrallah said.

Nasrallah was responding to a statement from Bush on Monday when he deplored last week's riots in Lebanon and said those "responsible for creating chaos must be called to account." Using the Iranian term for the United States, Nasrallah said: "When the Great Satan declares his enmity and war against us, this is a great honor and we are proud."

"Lebanon will be a cemetery for invaders," he added...

washingtonpost.com, January 30, "With Iran ascendant, US is seen at fault" : DUBAI, United Arab Emirates – Kuwait rarely rebuffs its ally, the United States, partly out of gratitude for the 1991 Persian Gulf War. But in October it reneged on a pledge to send three military observers to an American-led naval exercise in the Gulf, according to US officials and Kuwaiti analysts. "We understood," a State Department official said. "The Kuwaitis were being careful not to antagonize the Iranians." Four years after the United States invaded Iraq, in part to transform the Middle East, Iran is ascendant, many in the region view the Americans in retreat, and Arab countries, their own feelings of weakness accentuated, are awash in sharpening sectarian currents that many blame the United States for exacerbating.

Iran has deepened its relationship with Palestinian Islamic groups, assuming a financial role once filled by Gulf Arab states, in moves it sees as defensive and the United States views as aggressive. In Lebanon and Iraq, Iran is fighting proxy battles against the United States with funds, arms and ideology. And in the vacuum created by the US overthrow of Iranian foes in Afghanistan and Iraq, it is exerting a power and prestige that recalls the heady days of the 1979 Islamic revolution, when Iranian clerics led the toppling of a US-backed government...
Copyright © 1981-2007 Maravot. All rights reserved
Copyright © 1981-2007 Mel Copeland. All rights reserved
Background: tile from Cicero's villa (Marcus Tullius Cicero 106 B.C. - 43 B.C.)