News Headlines & Trends
---
03.01.10 'Mossad agents fled to US' after killing in Dubai of Hamas leader
February 26 - There are now thought to be 26 suspects involved in the killing of Mahmoud al-Mabhouh. At least two suspected Israeli agents behind the murder of a senior Hamas official fled to the US during their escape, Dubai police now believe. Police have now cast their net wider in their investigation of Mahmoud al-Mabhouh's killing, which officials in the Gulf state are now certain was carried out by Israel's intelligence agency Mossad. The Wall Street Journal reported today that one of the suspects carrying a British passport entered the US on February 14, while a second arrived on American soil on January 21, two days after the murder, using an Irish passport. There are no records of either man leaving the US, but Dubai's police chief, Lieutenant General Dahi Khalfan told a press conference today that he believed all the suspects named in the case are currently in Israel. [More>>timesonline.co.uk]
---
03.01.10 Iran bans 2 pro-reform newspapers
TEHRAN (AP) March 1 - A pro-reform newspaper editor says the Iranian government has banned his daily until further notice. Also, the semiofficial Fars news agency reports that a pro-reform weekly has been ordered shut. Journalists complain that the Tehran regime has been closing down publications sympathetic to the opposition since Iran's contentious election last June. Editor Behrouz Behzadi of the Etemaad daily said his newspaper was banned by the Press Supervisory Board. The order cites article six of the press law without elaborating. That article allows newspapers to be closed for offenses from security violations to insulting articles. The Fars news agency said Monday that a weekly called Irandokht was also closed down. One of its editors was arrested last month. [>thejakartapost.com]
---
03.01.10 Deadly blasts strike Afghanistan
March 1 - Four NATO soldiers and at least nine Afghans have been killed in separate attacks across Afghanistan, including a car bomb explosion in the southern province of Kandahar. Two members of the NATO-led International Security Assistance Force (ISAF) died in an attack in western Afghanistan, while another service member was killed by small arms fire in the country's south, NATO officials said on Monday. Elsewhere, one Afghan police officer died when a car bomb exploded outside the police headquarters in Kandahar city, Sardar Mohammad Zazai, the provincial police chief, said. He said the blast wounded nine other officers and six civilians. [More>>aljazeera.net]
---
02.28.10 Rescuers search for Chile quake survivors; death toll jumps to 708
BOGOTA, Chile, February 28 - The death toll nearly doubles as rescuers reach isolated and devastated towns. About 2 million people are hurt or without their homes in the aftermath of the 8.8 quake. Rescuers searched for survivors Sunday a day after one of the biggest earthquakes in recorded history rocked Chile, killing more than 700 people while leaving untold numbers missing and 2 million displaced, wounded or otherwise affected. The death toll jumped Sunday to 708, Chilean President Michelle Bachelet said, nearly doubling as rescue crews reached remote and badly damaged towns.

The 8.8 quake, which hit before dawn Saturday, toppled buildings, buckled freeways and set off sirens thousands of miles away as governments scrambled to protect coastal residents from the ensuing tsunami. Authorities lifted tsunami warnings Sunday after smaller-than-feared waves washed shores from Southern California to Hawaii and Japan.

Looting broke out Sunday in some of the most heavily damaged areas of Chile, where residents were without water or electricity. Crowds overran supermarkets in the port city of Concepcion, which sustained widespread damage, and were making off with food, water and diapers but also television sets. Several banks also were hit. Police in armored vehicles sprayed looters with water cannons and made several arrests, mostly of young men. [More>>latimes.com]
---
02.28.10 Iran says can cut energy to Europe, hit enemies
(Reuters) February 28 - Iran could make European countries suffer by cutting off energy supplies and can target any adversary with its missiles, a senior Iranian military official said on Sunday...Iran is one of the world's biggest oil and gas exporters but its economy is suffering amid the global financial crisis and international ostracism over the nuclear dispute. "Iran is standing on 50 percent of the world's energy and should it so decide Europe will have to spend the winter in cold," Hossein Salami, deputy commander of the elite Revolutionary Guards, said in a meeting with war veterans and volunteers in Kerman, according to Fars news agency. "Our missiles are now able to target any spot in which the conspirators are in, and the country is making advances in all fields," he said. [Full story>>khaleejtimes.com]
---
02.28.10 Palestinian protesters dispersed after Temple Mount clashes with police
February 28 - Israel Police forces stormed the most contentious holy site in Jerusalem on Sunday to disperse masked Palestinian protesters hurling objects at a crowd of visitors, authorities said. The incident was over quickly, but the area remained tense afterward. In the past, violence at the site - known to Jews as the Temple Mount and to Muslims as the Noble Sanctuary — has erupted into deadly battles, and Palestinian officials warned Sunday's unrest threatened to undermine new attempts to restart peace talks...Palestinian officials said the youths thought Jewish extremists — not tourists - were entering the compound and would try to take it over. Small groups of masked Palestinians continued to clash with police elsewhere in Jerusalem's Old City and in a nearby neighborhood just outside the walled area. [Full story>>haaretz.com]
---
02.28.10 Afghanistan bomb 'kills 11 civilians'
February 28 - A roadside bomb has killed 11 civilians in southern Afghanistan's Helmand province, officials say. The bomb, blamed on Taliban insurgents, hit a coach in Nawzad district, said a spokesman for the provincial governor. The blast was well to the north of where NATO and Afghan troops are waging a major offensive against the Taliban. Taliban insurgents have increasingly resorted to using roadside bombs as NATO countries have increased their troop numbers in Afghanistan recently. "A newly-planted mine of the Taliban hit a coach bus, killing 11 civilians including two women and two children," said the spokesman, Dawud Ahmedi. [More>>bbc.co.uk]
---
02.27.10 Dictatorial 'cult' rules Iran: Opposition leader
TEHRAN (AP) February 27 - Iran's opposition leader said Saturday that a dictatorial "cult" was ruling Iran in the name of Islam — his strongest attack to date on the country's clerical leadership. Mir Hossein Mousavi also challenged the government to let his supporters take to the streets freely, saying that would allow it to gauge the opposition's true strength. On Thursday, Iran's supreme leader, the Ayatollah Ali Khamenei, charged that the country's opposition had lost its credibility and its right to participate in politics by not accepting the results of June presidential elections. Khamenei's comments suggest that Iran's opposition will be barred from running in any future elections.

"This is the rule of a cult that has hijacked the concept of Iranianism and nationalism," Mousavi said in an interview published on his Web site, kaleme.com. "Our people clearly understand the difference between divine piety and thirst for power in a religious style ... our people can't tolerate that (dictatorial) behaviors are promoted in the name of religion." He said the opposition aims to effect reform by raising the consciousness of the Iranian people. "Spreading awareness is the movement's main strategy," he said. Iran's opposition alleges President Mahmoud Ahmadinejad won the June vote through fraud and that Mousavi was the rightful winner.

A massive wave of protests provoked a bloody government crackdown, during which more than 80 demonstrators were killed and hundreds of rights activists, journalists and pro-reform politicians were arrested. The government, which puts the number of confirmed deaths at 30, has accused opposition leaders of being "stooges of the West" and of seeking to topple the ruling system through street protests. Meanwhile, the country's hardline leaders have put more than 100 people on a mass trial that began in August. Eleven people have been sentenced to death, and more than 80 others have received prison terms ranging from six months to 15 years. [More>>khaleejtimes.com]
---
02.27.10 Catastrophic 8.8-magnitude quake strikes Chile
February 27 - More than 120 dead in worst Pacific-region quake in half-century, felt 1,800 miles away; tsunami warnings for Hawaii. A devastating earthquake struck Chile early Saturday, toppling homes, collapsing bridges and plunging trucks into the fractured earth. A tsunami set off by the magnitude-8.8 quake threatened every nation around the Pacific Ocean — roughly a quarter of the globe. Chileans near the epicenter were tossed about as if shaken by a giant. It was the strongest earthquake to hit Chile in 50 years and one of the strongest ever measured anywhere. President-elect Sebastian Pinera said more than 120 people died, but that number was rising quickly. A US Geological Survey geophysicist told CBS' "The Early Show" that the 8.8-mag. quake released 500 times the energy as last month's 7.0 earthquake in Haiti. The quake shook buildings in Argentina's capital of Buenos Aires, and was felt as far away as Sao Paulo in Brazil — 1,800 miles to the east.

...In the Chilean capital of Santiago, 200 miles northeast of the epicenter, a car dangled from a collapsed overpass, the national Fine Arts Museum was badly damaged and an apartment building's two-story parking lot pancaked, smashing about 50 cars whose alarms rang incessantly. Experts warned that a tsunami could strike anywhere in the Pacific. Emergency officials set off shrieking alarm sirens across parts of Hawaii, which could face its largest waves since 1964 starting at 11:19am (4:19pm EST, 2119 GMT), according to Charles McCreery, director of the Pacific Tsunami Warning Center...Waves 6 feet above normal hit Talcahuano near Concepcion 23 minutes after the quake, and President Michelle Bachelet said a huge wave swept into a populated area in the Robinson Crusoe Islands, 410 miles off the Chilean coast. There were no immediate reports of major damage from the waves. [More>>cbsnews.com; See related stories,

nytimes.com, February 27, "underwater plate cuts 400-mile gash" : The magnitude 8.8 earthquake that struck off the coast of Chile early Saturday morning occurred along the same fault responsible for the biggest quake ever measured, a 1960 tremor that killed thousands in Chile and hundreds more across the Pacific. Both earthquakes took place along a fault line where the Nazca tectonic plate, the section of the earth's crust that lies under much of the Eastern Pacific Ocean south of the Equator, is sliding beneath another section, the South American plate. The two are converging at a rate of about three and a half inches per year. Earthquake experts said the strains built up by that movement, plus the stresses added along the fault line by the 1960 quake and smaller ones in the intervening years, led to the rupture on Saturday along what is estimated to be about 400 miles of the fault.

The quake generated a tsunami, with wave heights of about five feet recorded along the Chilean coast and larger waves forecast for Hawaii and elsewhere in the Pacific. The quake was centered about 140 miles north of the center of the 1960 earthquake, which ruptured more than 650 miles of the fault and was measured at magnitude 9.5. The fault is a thrust fault, in which most of the ground motion during a quake is vertical. Experts said the earthquake appeared to have no connection to a magnitude 6.9 quake that struck off the southern coast of Japan on Saturday. The Chilean event also had no connection to the magnitude 7.0 quake that occurred in Haiti on Jan. 12...

haaretz.com, February 27, "At least 147 dead as huge Chile quake triggers Pacific tsunami waves" : ...On the island of Robinson Crusoe, a huge wave from the tsunami covered half the village of San Juan Batista and three people were missing, said Ivan de la Maza, the superintendent of Chile's principal mainland port, Valparaiso. Waves 6 feet (1.8 meter) above normal hit near Concepcion, Chile, shortly after the quake. A tsunami warning — the highest alert level — was also in effect for Guam, American Samoa, Samoa and dozens of other Pacific islands. A lower-grade tsunami advisory was in effect for covers coastal areas in California, Oregon, Washington state, parts of Alaska, and British Colombia...

en.rian.ru, February 27, "Ecuador starts evacuation from Galapagos Islands" : ...Ecuador announced that it will evacuate the residents of the Galapagos Islands to a hill due to a tsunami threat, Latin American media reported Saturday..

foxnews.com, February 27, "Hawaii governor declares state of emergency" : Hawaii Gov. Linda Lingle has declared a state of emergency as the island chain prepares for possible tsunami damage. A geophysicist at the Pacific Tsunami Warning Center in Hawaii said Saturday that a potential tsunami, generated by a major earthquake in Chile, was approaching Hawaii a bit faster than originally predicted. Victor Sardina says data coming in from buoys and tide gauges across the Pacific indicated the tsunami should arrive in Hawaii at 11:05am (4:05pm ET), instead of 11:19am The tsunami waves are expected to measure roughly 8 feet at Hilo, Hawaii...

bbc.co.uk, February 27, CCTV video: "The moment when the quake hit Chile."

thejakrtapost.com, February 27, "Slide show: 8.8-magnitude earthquake strikes Chile."
---
02.27.10 Suicide car bomber kills four in northwest Pakistan
(Reuters) February 27 - A suicide car bomber killed three policemen and a child today in an attack on a police station in a northwestern Pakistani town, police said. Al-qa'ida-linked Pakistani militants have carried out numerous attacks on members of the security forces over the past couple of years, and they stepped up strikes after the army launched an offensive on their main bastion in October. The blast in the town of Karak, 125 miles southwest of Islamabad, came as police were on the alert for attacks on religious processions to mark the anniversary of the Prophet Mohammad's birth. "The blast destroyed part of police station and a nearby mosque," police official Gul Sadi Khan told Reuters, adding three policmen had been killed. "Thirteen people have been wounded and we fear more people are trapped under the debris." Another police official said a child passer-by had also been killed. [More>>independent.co.uk]
---
02.27.10 10 die in al-Qaeda-linked attack in Philippines: officials
ZAMBOANGA, Philippines (AFP) February 27 - al-Qaeda-linked Muslim militants attacked a town in the southern Philippines on Saturday, killing 10 people, military and police spokesmen said. Members of the Abu Sayyaf extremist group and other gunmen raided the town of Maluso on the island of Basilan before dawn, killing a government militiaman and nine civilians, said Lieutenant Steffani Cacho. Soldiers were sent to secure the area but the attackers fled after burning several houses including the village chairman's, said Cacho. The attack, led by Abu Sayyaf commander Puruji Indama, was motivated by a personal grudge with the village chairman, said Basilan police chief Senior Superintendent Antonio Mendoza. The attack came hours after two men kidnapped by the same Abu Sayyaf band in Maluso over three months ago walked free. Indama kidnapped factory workers Michael Tan, Oscar Lu and Mark Singson on November 10. Singson's severed head was recovered in early December but Tan and Lu were picked up by police late Friday. [>timesofindia.indiatimes.com]
---
02.26.10 Giant iceberg breaks free from Antarctic glacier
(Reuters) February 26 - An iceberg the size of Luxembourg has broken off from a glacier in Antarctica after being rammed by another giant iceberg, scientists said on Friday, in an event that could affect ocean circulation patterns. The 2,500 sq. km (965 sq. mile) iceberg broke off earlier this month from the Mertz Glacier's 160 km (100 miles) floating tongue of ice that sticks out into the Southern Ocean. The collision has since halved the size of the tongue that drains ice from the vast East Antarctic ice sheet.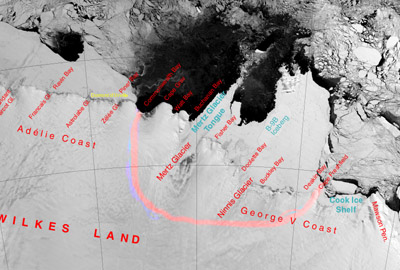 Mertz Glacier and B9B iceberg, Antartica; image: nsidc.org, 26 September 2001. Click on image for larger view.
"The calving itself hasn't been directly linked to climate change but it is related to the natural processes occurring on the ice sheet," said Rob Massom, a senior scientist at the Australian Antarctic Division and the Antarctic Climate and Ecosystems Cooperative Research Centre in Hobart, Tasmania.

Both organizations, along with French scientists, have been studying existing giant cracks in the ice tongue and monitored the bumper-car-like collision by the second iceberg, B-9B. This 97 km long slab of ice is a remnant of an iceberg of more than 5,000 sq. km that broke off, or calved, in 1987, making it one of the largest icebergs ever recorded in Antarctica. The Mertz glacier iceberg is among the largest recorded for several years. In 2002, a iceberg about 200 km long broke off from Antarctica's Ross Ice Shelf. In 2007, a iceberg roughly the size of Singapore broke off from the Pine Island Glacier in West Antarctica. [More>>independent.co.uk; See also cbsnews.com, February 26, "48-mile-long iceberg calves off Antarctica": Related iceberg calvings / melt:

Maravot News 12.10.09 12.09.09 Giant iceberg spotted south of Australia A monster iceberg nearly twice the size of Hong Kong island has been spotted drifting towards Australia in what scientists on Wednesday called a once-in-a-century event. Australian glaciologist Neal Young pinpointed the slab, which is some 19 kilometers (12 miles) long and about 1,700 kilometers south of the country, using satellite imagery. He said he was not aware of such a large iceberg being found in the area since the days when 19th century clipper ships plied the trade route between Britain and Australia.

...The glaciologist said the iceberg carved off the Antarctic about 10 years ago and had been slowly floating round the icy continent before taking the unusual route north. He said the "very, very big" iceberg was originally about 400 square kilometers but then split into two smaller pieces...

Maravot News 4.30.09 4.29.09 Hundreds of miles of ice drop from Antarctic shelf New satellite images from the European Space Agency show massive amounts of ice are breaking away from a shelf on the western side of the Antarctic Peninsula, researchers said today. The Wilkins Ice Shelf had been stable for most of the last century, but began retreating in the 1990s. Researchers believe it was held in place by an ice bridge linking Charcot Island to the Antarctic mainland. But the 127-square-mile (330-square-kilometer) bridge lost two large chunks last year and then shattered completely on 5 April..

Maravot News 4.09.05 4.05.09 Climate warning as Antarctic ice bridge shatters April 6 - An ice bridge which held a vast Antarctic ice shelf in place shattered at the weekend and could herald a wider collapse linked to global warming, a leading scientist has warned. "It's amazing how the ice has ruptured. Two days ago it was intact," said David Vaughan, a glaciologist with the British Antarctic Survey. A satellite picture from the European Space Agency showed that a 25 mile-long strip of ice believed to pin the Wilkins Ice Shelf in place had splintered at its narrowest point, about 500 metres wide. The Wilkins, now the size of Jamaica, is one of 10 shelves to have shrunk or collapsed in recent years on the Antarctic Peninsula, where temperatures have risen in recent decades apparently because of global warming.

Maravot News 11.11.04 11.07.04 Arctic Climate Impact Assessment (ACIA) study predicts Arctic ice melt by 2100
---
02.26.10 Organizer of Darkmarket fraud website jailed
February 26 - A man who created a website trading in stolen financial information linked to tens of millions of pounds in losses has been jailed for nearly five years. Renukanth Subramaniam, 33, founded Darkmarket, a "Facebook for fraudsters" where criminals could buy and sell credit card details and bank log-ins. The site was shut down in 2008 after an FBI agent infiltrated it, leading to more than 60 arrests worldwide. Subramaniam admitted conspiracy to defraud at Blackfriars Crown Court. He also pleaded guilty to mortgage fraud...Suspects linked to the website were arrested in the UK, US, Canada, Germany, France, Turkey and Russia.

...Also sentenced was Darkmarket user John McHugh, 66, of Doncaster, South Yorkshire, who had the sign in "Devilman" and created fake credit cards that were sold through the site..Deputy director Sharon Lemon said: "Subramaniam went to great trouble to hide his activity. He seems to have thought that carrying data around on memory sticks and using internet cafes would somehow protect him from scrutiny. He was wrong." [Full story>>bbc.co.uk]
---
02.26.10 Scientist eyes 39-day voyage to Mars
WASHINGTON (AFP) February 26 - A journey from Earth to Mars could soon take just 39 days — cutting current travel time nearly six times — according to a rocket scientist who has the ear of the US space agency. Franklin Chang-Diaz, a former astronaut and a physicist at the Massachusetts Institute of Technology (MIT), says reaching the Red Planet could be dramatically quicker using his high-tech VASIMR rocket, now on track for liftoff after decades of development. The Variable Specific Impulse Magnetoplasma Rocket — to give its full name — is quick becoming a centerpiece of NASA's future strategy as it looks to private firms to help meet the astronomical costs of space exploration.

NASA, still reeling from a political decision to cancel its Constellation program that would have returned a human to the moon by the end of the decade, has called on firms to provide new technology to power rovers or even future manned missions. Hopes are now pinned on firms like Chang-Diaz's Texas-based Ad Astra Rocket Company....His rocket would use electricity to transform a fuel — likely hydrogen, helium or deuterium — into plasma gas that is heated to 51.8 million degrees Fahrenheit (11 million degrees Celsius). The plasma gas is then channeled into tailpipes using magnetic fields to propel the spacecraft. [Full story>>khaleejtimes.com]
---
02.26.10 Arab source: Mitchell wanted to quit over US bias for Israel
February 26 - An Arab political source said Friday that special US Mideast envoy George Mitchell has requested to resign due to his frustration with the way the Obama administration has been handling the Israeli-Palestinian conflict, according to a Nazareth-based daily. Hadith a-Nass reported that Mitchell's request stemmed partly from to his own failure to advance the resumption of peace negotiations between Israel and the Palestinians and also from his perception that certain elements within the State Department hold biased favor toward Israel. The White House turned down Mitchell's request, according to Hadith a-Nass. No verification of the report was available. Peace talks were halted more than a year ago over the war in the Gaza Strip and have not resumed, due largely to a Palestinian demand that Israel first impose a complete freeze on building in the West Bank and East Jerusalem and Israel's refusal to do so. [More>>haaretz.com]
---
02.26.10 UN condemns Gaddafi jihad call
February 26 - The United Nations and European Union have condemned a call from Libya's leader for Muslims to carry out jihad against Switzerland over a recent vote to ban the construction of minarets in the European country. Sergei Ordzhonikidze, the UN director-general in Geneva, said the call by Muammar Gaddafi on Friday was "inadmissible." "I believe that such declarations on the part of the head of state are inadmissible in international relations," the AFP news agency quoted him as saying. "I'm not even talking about actions," he added. Meanwhile in Brussels, a spokesman for the European Union's foreign affairs chief described Gaddafi's call for jihad as "unfortunate." "If these reports are correct ... [they] come at an unfortunate moment when the European Union is working closely with Switzerland trying to reach a diplomatic solution" to a dispute between the two countries, Lutz Guellner, spokesman for Catherine Ashton, said.

...Gaddafi made the remarks at a ceremony to mark the birthday of the Prophet Mohammed in Libya's Benghazi square on Friday. "It is against unbelieving and apostate Switzerland that jihad ought to be proclaimed by all means," he said, calling Switzerland an "infidel, obscene state which is destroying mosques." His comments come nearly three months after Switzerland voted in a referendum to adopt a ban on the construction of minarets, the towers that are a signature part of mosques. Switzerland — with a population of 400,000 Muslims, mainly of Balkan and Turkish origin — has around 200 mosques, with just four minarets among them. [Full story>>aljazeera.net; See also,

timesofindia.indiatimes.com, February 26, "Libya's Gaddafi urges jihad against Switzerland." :..The Swiss Foreign Ministry said it had no comment on Gaddafi's remarks. Libya's relations with Switzerland broke down in 2008 when a son of Gaddafi was arrested in a Geneva hotel and charged with abusing domestic servants. He was released shortly afterwards and the charges were dropped, but Libya cut oil supplies to Switzerland, withdrew billions of dollars from Swiss bank accounts and arrested two Swiss businessmen working in the North African country. One has been released but the other was forced this week to leave the Swiss embassy in Tripoli where he had been sheltering and move to a prison to serve a four-month sentence, apparently avoiding a major confrontation...
---
02.26.10 Danish newspaper provokes uproar with apology over Muhammad cartoon
February 26 - A leading Danish newspaper was today accused of betraying the freedom of the press after breaking ranks with its rivals to offer an apology to Muslims for publishing a cartoon depicting the prophet Muhammad with a bomb-shaped turban. Politiken issued the apology after settling with a Saudi lawyer representing eight Muslim groups that complained after the cartoon was reprinted by 11 Danish papers in solidarity with the cartoonist Kurt Westergaard, who received death threats last year. Outrage at the move was led by Denmark's Prime Minister and by Mr. Westergaard, 74, who survived an alleged assassination attempt by an Islamic axeman at his home last month. Politiken responded that it was apologizing for the offence caused, not the decision to publish, in an attempt to reduce tensions with the Muslim world.

Lars Loekke Rasmussen, the Prime Minister, expressed surprise at Politiken's move, saying he was worried that the Danish media were no longer "standing shoulder to shoulder" on the issue. Mr. Westergaard, who has round-the-clock security, added: "I fear this is a setback for the freedom of speech." The Danish cartoons controversy began in September 2005 when the Jyllands-Posten newspaper published 12 depictions of the prophet in response to a story that a publisher could not find illustrators for a book on Islam, which prohibits representations of Muhammad. The Muslim world erupted in 2006 following a tour by imams based in Denmark, leading to riots and attacks on Danish embassies and businesses that left around 100 people dead. [More>>timesonline.co.uk]
---
02.26.10 Sixteen killed in Taliban attacks in central Kabul
KABUL, Afghanistan, February 26 - Latest in string of audacious assaults in capital. A suicide bomber killed at least 16 people, including four Indian nationals, and wounded 32 others near an upmarket shopping and hotel complex in the heart of Kabul on Friday, and police shot dead two other would-be attackers, officials said. Witnesses reported at least two smaller blasts around the Safi Landmark complex as police cordoned off the area, ambulances rushed to the scene and sporadic gunfire was heard. Taliban spokesman Zabihullah Mujahid claimed responsibility for the attacks on behalf of the Islamist militants. "Our mujahidi (holy warrior) fighters managed to attack in the heart of Kabul city once again," Mujahid told Reuters by telephone from an undisclosed location. He said at least five Taliban fighters launched the attack. Two suicide bombers detonated explosives-packed vests near the hotel and the City Centre shopping mall. Three fighters were still holed up in the basement of the shopping centre, he said. A police official said there was still sporadic firing from the basement. "The situation is under control," said the police official, who asked not to be identified. [More>>alarabiya.net]
---
02.26.10 US to launch operation in Kandahar City - official
WASHINGTON (Reuters) February 26 - The United States plans to launch a new military operation later this year to seize Kandahar city in southern Afghanistan from Taliban control, a senior Obama administration official said on Friday. "If the goal in Afghanistan is to reverse the momentum of the Taliban ... then we think we have to get to Kandahar this year," the official told reporters. Kandahar is Afghanistan's second largest city. A major offensive there follows the current military operation in the Taliban stronghold of Marjah in neighboring Helmand province. [More>>thestar.com.my]
---
02.25.10 Switzerland to stop undeclared funds into its banks
BERN / NEW DELHI, February 25 - In the backdrop of increased international pressure on its banking secrecy practices, Switzerland said it will prevent the flow of undeclared funds from foreign countries into the Swiss banks. India is among many nations seeking details of their respective citizens who are alleged to have stashed away billions of dollars in secret accounts in Switzerland...Explaining its financial market strategy, Switzerland said it would continue to implement the OECD standards in tax issues and continue to cooperate with other countries in combating tax fraud and tax evasion in the future. [Full story>>timesofindia.indiatimes.com]
---
02.25.10 Microsoft shuts down global spam network
February 25 - Microsoft has won court approval to shut down a global network of computers which it says is responsible for more than 1.5bn spam messages every day. A US judge granted the firm's request to shut down 277 internet domains, which it said were used to "command and control" the so-called Waledac botnet. A botnet is a network of infected computers under the control of hackers. The firm said that closing the domains would mean that up to 90,000 PCs would stop receiving orders to send out spam.

A recent analysis by the firm found that between 3-21 December "approximately 651 million spam e-mails attributable to Waledac were directed to Hotmail accounts alone." It said it was one of the 10 largest botnets in the US. Machines in a botnet have usually been infected by a computer virus or worm. Typically, users do not know their machine has been hijacked. Microsoft said that although it had effectively shut down the network, thousands of computers would still be infected with malware and advised people to run anti-virus software. [More>>bbc.co.uk]
---
02.25.10 China defends move cutting US Treasury securities holdings
BEIJING (Xinhua) February 25 - China defended its move to reduce its holdings of US Treasury securities, saying the United States should take steps to promote confidence in [the] US dollar. Foreign Ministry spokesman Qin Gang made the comment Thursday when responding to questions on China's sale of US Treasury securities last December. Qin said the issue should be viewed from two perspectives.

He said on the one hand, China always followed the principle of "ensuring safety, liquidity and good value" in managing its foreign exchange reserve. And when it came to how much and when China buys the bonds, the decision should be made taking into account the market and China's need, so as to realize rational deployment of China's foreign exchange property, he said. And on the other hand, the United States should take concrete steps to beef up the international market's confidence in the US dollar, Qin said.

The way to view the issue was similar to doing business, he said. China trimmed its holdings of US debt by 34.2 billion US dollars in December 2009, leaving Japan the largest holder of U.S. Treasury securities, the US Treasury Department reported on Feb. 16. As of the end of November last year, China held 789.6 billion US dollars of US Treasury bonds. [>xinhuanet.com]
---
02.25.10 Former Madoff aide accused of helping to hide fraud
February 25 - A senior executive who worked for Bernard L. Madoff for more than 30 years was arrested Thursday on federal fraud and conspiracy charges, including claims that he helped Mr. Madoff survive a cash crisis that almost derailed the gigantic Ponzi scheme five years ago The executive, Daniel Bonventre, 63, joined the Madoff firm in 1968 and served as its director of operations, overseeing the back office record-keeping staff, since at least 1978. He was arrested by federal agents at about 6am Thursday at his apartment on East 79th Street. In a criminal complaint filed on Thursday in Federal District Court in Manhattan,

Mr. Bonventre was accused of doctoring records to conceal for a decade that the firm was being propped up with money illegally siphoned from investor accounts and that money borrowed by the firm was illegally used to cover withdrawals when the Ponzi scheme faced a cash shortage beginning in late 2005. The United States attorney in Manhattan, Preet Bharara, said the phony records "effectively hid the doomed state of an investment firm founded in fraud," adding that his investigation into "this colossal deception" was continuing. In a parallel case, the Securities and Exchange Commission filed a civil fraud complaint against Mr. Bonventre, accusing him of helping "manufacture plausible lies" that concealed the fraud from regulators and investors. [More>>nytimes.com]
---
02.25.10 Fed probing new Wall St. credit swaps
WASHINGTON (AFP) February 25 - Ben Bernanke tells Senate Goldman Sachs, other firms making bets on Greek debt default. Federal Reserve Chairman Ben Bernanke told lawmakers Thursday that the central bank is looking into the use by Goldman Sachs and other Wall Street firms of high-risk financial instruments to make bets that Greece would default on its debt. Bernanke said the Fed is examining companies' use of credit default swaps, a form of insurance against bond defaults. Bernanke made the comments at the start of a Senate Banking Committee hearing. It marked the second day where the Fed chief testified on Capitol Hill about the state of the economy. "Obviously, using these instruments in a way that intentionally destabilizes a company or a country is counterproductive," Bernanke said, adding that the Securities and Exchange Commission probably will be looking into this matter as well. [More>>cbsnews.com]
---
02.25.10 Officials puzzle over millions of dollars leaving Afghanistan by plane for Dubai
KABUL, February 25 - A blizzard of bank notes is flying out of Afghanistan — often in full view of customs officers at the Kabul airport — as part of a cash exodus that is confounding US officials and raising concerns about the money's origin. The cash, estimated to total well over $1 billion a year, flows mostly to the Persian Gulf emirate of Dubai, where many wealthy Afghans now park their families and funds, according to US and Afghan officials. So long as departing cash is declared at the airport here, its transfer is legal.

But at a time when the United States and its allies are spending billions of dollars to prop up the fragile government of President Hamid Karzai, the volume of the outflow has stirred concerns that funds have been diverted from aid. The US Drug Enforcement Administration, for its part, is trying to figure out whether some of the money comes from Afghanistan's thriving opium trade. And officials in neighboring Pakistan think that at least some of the cash leaving Kabul has been smuggled overland from Pakistan.

"All this money magically appears from nowhere," said a US official who monitors Afghanistan's growing role as a hub for cash transfers to Dubai, which has six flights a day to and from Kabul...Last month, a well-dressed Afghan man en route to Dubai was found carrying three briefcases stuffed with $3 million in US currency and $2 million in Saudi currency, according to an American official who was present when the notes were counted. A few days later, the same man was back at the Kabul airport, en route to Dubai again, with about $5 million in US and Saudi bank notes. [Full story>>washingtonpost.com]
---
02.25.10 100 Taliban militants killed in operation
KABUL, Afghanistan (Xinhua) February 25 - One hundred Taliban militants have been killed and 50 others detained since the Operation Moshtarak or Together against Taliban bastion in Marja in Afghanistan's southern Helmand province was launched 13 days ago, Defense Ministry spokesman Zahir Azimi said Thursday. However, the goal of clearing Marja of insurgents and booby- trapped bombs has yet to be achieved as the Taliban militants put up stiff resistance and sporadic gunfire occurred around Marja town, Azimi told a joint press conference with spokesman of NATO- led ISAF (International Security Assistance Force) Eric Tremblay. [More>>xinhuanet.com; See related story,

khaleejtimes.com, February 25, "Taliban snipers pose major threat in Marjah: general" : WASHINGTON - Taliban snipers have emerged as a lethal threat to US troops waging an assault in southern Afghanistan, as their bullets can penetrate American helmets, the US Marine Corps commandant said. Homemade bombs, or improvised explosive devices, have been the number one killer of NATO-led troops in the Afghan war but General James Conway told lawmakers on Wednesday that snipers pose an equally serious threat to coalition troops fighting an offensive in the Marjah area of Helmand province. "Right now, the biggest threat in Marjah is not necessarily the IEDs for our killed in action, it is the sniper that take a long range shot and can penetrate our protective equipment, particularly the helmet," Conway told the House Armed Services Committee. He said the Marine Corps was pressing the defense industry to come up with a better helmet that could withstand a 7.62mm round from the AK-47 assault rifles favored by the insurgents...
---
02.25.10 CIA extends war on terror to Peshawar, Quetta in Pakistan
NEW YORK, February 25 - America's CIA has taken its war against Taliban and al-Qaeda from the mountainous Af-Pak border region to the bases in Pakistan's Peshawar and Quetta cities, a media report said on Thursday. The report by New York Times said that the agencies that have previously shared a "tormented relationship" are now working on the several reconnaissance missions together but their long-term strategies when it comes to the Taliban and Pakistan's role in Afghanistan's future are different...Officials confirmed that relationship has been improving since the summer of 2008 when the CIA's deputy director travelled to Pakistan to confront ISI officials about intercepts that indicated that the ISI was complicit in the bombing of the Indian Embassy in Kabul. [Full story>>indianexpress.com]
---
02.25.10 Iran, Syria shrug off US call to weaken alliance
DAMASCUS, Syria, February 25 - Israel "on the path to disappearing:" Ahmadinejad. Syrian President Bashar al-Assad and his Iranian counterpart President Mahmoud Ahmadinejad on Thursday publicly shrugged off US efforts to drive a wedge between the two Middle East allies. "I am surprised by their call to keep a distance between the countries ... when they raise the issue of stability and peace in the Middle East, and all the other beautiful principles," Assad said. "We need to further reinforce relations if the true objective is stability. We do not want others to give us lessons on our region, our history," the Syrian leader told a joint media conference with Ahmadinejad...Ahmadinejad also renewed his prediction that Israel was "on the path to disappearing," echoing several past controversial forecasts that the Jewish state would be "wiped off the map" that stirred a strong international rebuke. [Full story>>alarabiya.net]
---
02.25.10 Philippines claims third militant scalp with Mujibar Alih Amon arrest
(AFP) The Philippines has announced its third major success against the al-Qaeda-linked Abu Sayyaf group in a week with the arrest of a militant wanted for a series of kidnappings and murders. Mujibar Alih Amon, a trained bomb maker who had a 600,000-peso ($14,500) bounty on his head, was arrested on Saturday on the remote southern island of Jolo that is the Abu Sayyaf's stronghold. "We are glad to present to you another major achievement," national police chief Jesus Verzosa told reporters in Manila as he stood alongside a poster of wanted Abu Sayyaf members with a new cross marked through a photo of Amon.

The 26-year-old was wanted for kidnappings and murders that date back nearly 10 years to when he was a teenager. Police said Amon was part of the Abu Sayyaf group that launched a cross-border kidnapping raid on a Malaysian resort island in 2000 that netted them 21 foreign and Filipino hostages...He was also wanted for the kidnapping of six Christian missionaries in 2002, two of whom were beheaded, as well as a roadside bombing on Jolo the following year that killed two Filipino soldiers. Police chief Verzosa said Umar Patek, a member of the Indonesia-based Jemaah Islamiah network that is blamed for the 2002 bombings on the resort island of Bali, had trained Amon in bomb making. [Full story>>news.com.au]
---
02.25.10 Gunmen kill 13 in southern Mexican town
OAXACA, Mexico, February 25 - The US government warned its citizens Wednesday against traveling to a northern Mexico border state where shootouts killed 19 people the previous three days. The alert came a day after assailants stormed a rural town in southern Mexico and killed 13 people...In the southern state of Oaxaca on Tuesday, hooded assailants kidnapped several police officers at a checkpoint in San Vicente Camalote, state officials said Wednesday. The gunmen then burst into a house where they killed rancher Alfonso Maciel and five other people, including three police officers, before moving on to Maciel's ranch, where they killed four people, including three of his sons. One of the sons was a minor. As they fled, the gunmen killed three local policemen who tried to stop them. [Full story>>japantoday.com]
---
02.25.10 Egypt scholars demand Saudi cleric retract fatwa
CAIRO, February 25 - Cleric said mixing of the sexes is punishable by death. Scholars at Egypt's al-Azhar were outraged at a fatwa issued by Saudi cleric Abdul-Rahman al-Barrak that states that all those who promote the mingling of sexes are apostates that should to be killed. Barrak's fatwa comes in contradiction to earlier statements by al-Azhar, the world's leading institution of Sunni Islam, that claimed that mixing is permitted within limits. Islam allows the mixing of men and women as long as it within the limits of decency and respect, said Sheikh Abdul-Hamid al-Atrash, former head of al-Azhar's Fatwa Committee...Atrash argued that even if the mixing exceeds the limits allowed by Islam, neither those who do it nor those who promote it should be called apostates nor punished by death. [Full story>>alarabiya.net]
---
02.25.10 Cold War: Moscow brushes off record snow
MOSCOW, February 25 - When other countries complain about snow, Russians scoff. Living here it's easy to see why. Moscow has not seen snow like this since the Cold War days of 44 years ago. Four days of blizzards have dumped 67cm of it across the capital. [More>>news.sky.com]
---
02.24.10 Clinton hopes Mideast peace talks will resume soon
WASHINGTON (Reuters) February 24 - US Secretary of State Hillary Clinton said on Wednesday she hoped Israeli-Palestinian peace talks will resume soon, taking a more upbeat tone about efforts to end the conflict than typical for US officials. "We hope that that will commence shortly," Clinton told lawmakers. "We think it's absolutely essential that they begin to talk about the final status issues that divide them ... but we are well aware of the difficulties that confront us." Negotiations to end the six-decade conflict broke down more than a year ago following Israel's military operation in the Gaza Strip and efforts by US special envoy George Mitchell to get them started yet have so far failed. The Obama administration last year appeared to abandon its push for Israel to halt all Jewish settlement construction in advance of a start to talks, something Palestinian President Mahmoud Abbas has demanded. [More>>khaleejtimes.com]
---
02.24.10 '3 Dubai suspects fled through Iran'
February 24 - 15 new names released in connection with mysterious Mabhouh assassination. Dubai police on Wednesday afternoon revealed that fifteen more suspects have been connected to the mysterious assassination of Hamas terror chief Mahmoud al-Mabhouh at a hotel in the emirate last month, and that three of the suspects later fled Dubai through Iran. According to new intelligence cited by the Al Jazeera and Al Arabiya news networks, the suspects — among them five women — came to Dubai from six European countries and from Hong Kong.

Three of them were found to possess Australian passports, while the remaining twelve possessed passports from the UK, Ireland and France. Dubai police on Wednesday afternoon revealed that fifteen more suspects have been connected to the mysterious assassination of Hamas terror chief Mahmoud al-Mabhouh at a hotel in the emirate last month, and that three of the suspects later fled Dubai through Iran.

According to new intelligence cited by the Al Jazeera and Al Arabiya news networks, the suspects — among them five women — came to Dubai from six European countries and from Hong Kong. Three of them were found to possess Australian passports, while the remaining twelve possessed passports from the UK, Ireland and France. Three of the suspects — those holding Australian passports, one of them a woman — apparently fled Dubai following the assassination by boarding a ship to Iran. [More>>jpost.com; See also,

news.com.au, February 24, "Australian passport link to assassination of Mahmud al-Mabhuh" :...It is not known whether the Australian identities were forged or stolen. "The new list of suspects includes people who offered prior logistical support and preparations to facilitate the crime, and others who played a central role," police said...
---
02.24.10 'Ecological disaster' looms as oil spill hits Po, Italy's most important river
ROME (AP) February 24 - An oil spill that fouled a small river in northern Italy reached the Po River on Wednesday, with officials warning of an ecological disaster as they scrambled to contain the spill before it contaminated Italy's longest and most important river. Milan regional officials said the cause of the spill was likely sabotage at a former refinery turned oil depot, since the cisterns were apparently opened and allowed to flow into the Lambro River near Monza. Environmental groups and the ANSA news agency estimated the amount of oil at 600,000 liters (158,500 gallons), down from initial estimates of some 10 million liters.

..Environmentalists warned that several water and bird species were at risk from the spill, since the area is rich in bird and other wildlife. But even after the spill is cleaned up the impact will last as the Po river valley is the most important agricultural region in Italy, with the Po used extensively for irrigation, the World Wildlife Fund for Nature noted. The 130 kilometer (80-mile) Lambro — a tributary to the Po that means "clear" in Latin — had been polluted by years of industrial runoff well before the spill. [Full story>>timesofindia.indiatimes.com]
---
02.24.10 Taliban kill 2 alleged US spies in Pakistan
MIR ALI, Pakistan (AP) February 24 - The bullet-riddled bodies of two alleged US spies were found Wednesday in a Taliban stronghold in northwest Pakistan, the latest victims of an intelligence war that a top American general indicated is tilting in Washington and Islamabad's favor. The men's bodies were found together in Mir Ali town in North Waziristan tribal region. Each had a note attached accusing the victim of spying for the Americans and warning other informants they faced the same fate, area resident Akram Ullah said. Another witness, Sana Ullah, said one man was a local tribal elder and the other was Afghan. [More>>japantoday.com] 
---
02.24.10 Al-Qaeda leader in Yemen threatens new US attacks
CAIRO (AP) February 24 - A senior operative of the al-Qaeda network in Yemen — the group that claimed responsibility for the failed Christmas Day attack on an American passenger jet over Detroit — has threatened more attacks on the United States. The US has become increasingly worried about militants based in Yemen since al-Qaeda groups there and in Saudi Arabia merged last year to become al-Qaeda in the Arabian. The group has openly targeted US and other Western interests in Yemen, and — as demonstrated by the December 25 attack — abroad. Qasim al-Raimi, a top military commander for al-Qaeda in the Arabian Peninsula, warned Americans in an article published in an online militant magazine that the group "will blow up the earth from below your feet." [More>>indianexpress.com]
---
02.24.10 14 terrorists arrested from tribal areas: ISPR report
RAWALPINDI, Pakistan, February 24 - Security forces Wednesday arrested more than a dozen terrorists and seized a cache of arms from their possession during [an] ongoing military operation in the tribal region. According to the ISPR, 14 suspected persons were arrested from Mohmand Agency during the past 24 hours, while five militants were injured in the operation. The ISPR said that forces retaliated [against] a militant attack on security check-post situated in Badamni area of Mohmand Agency. Fourteen militants surrendered to security forces in Bajaur Agency. [>thenews.com.pk]
---
02.24.10 Intel officials: US missiles kill 4 in NW Pakistan
MIR ALI, Pakistan (AP) February 24 - Intel officials say suspected US missile strike kills 4 in Pakistan's North Waziristan region. Suspected US missiles killed four people Wednesday in an al-Qaeda and Taliban stronghold in northwest Pakistan, intelligence officials said, amid signs of greater cooperation between Islamabad and Washington. The three missiles hit a compound and a vehicle in Dargah Mandi area of North Waziristan tribal region. The identities of the dead were not immediately clear, said intelligence officials, who spoke on condition of anonymity because they were not authorized to speak to media. However, the area hit was a stronghold of the Haqqani network, an Afghan Taliban faction that is considered a major threat to US troops across the border in Afghanistan. Authorities recently confirmed that another missile strike had killed Mohammad Haqqani, a son of the network's aging leader, Jalaluddin Haqqani. [More>>abcnews.go.com]
---
02.24.10 Bloom Box energy machine unveiled
February 24 - Following its television debut on CBS News' "60 Minutes" last Sunday, the Bloom Box was formally introduced to the public at eBay's headquarters in San Jose, Calif. Founder and CEO K.R. Sridhar took the stage with Gov. Arnold Schwarzenegger, who touted his state's green jobs initiatives and noted, "160 years ago people flocked to California for the Gold Rush. The same spirit is still alive and can be seen as Bloom Energy." After running through the science behind the machine, Sridhar dropped the curtain on his invention.

"It's the plug-and-play future of electricity," he told the crowd. With an estimated $400 million in venture capital and high profile advisors — famed venture capitalist John Doerr and former Secretary of State Colin Powell are on the board of directors — Bloom Energy hopes to revolutionize the energy industry, ushering in an era of cheap, relatively clean and personalized power plants.

Sridhar said he began developing the technology as part of an effort to make Mars habitable for humans. While the key technologies for sustaining life — oxygen systems, shelter, and power — developed quickly, the rocket technology didn't keep pace. But Sridhar now sees the Bloom Box as important technology in global development — an equalizer for poorer countries with nothing like the energy infrastructures of the United States and Western Europe. The technology is based on solid oxide fuel cells, which works like a battery but has a persistent source of fuel, such as natural gas, to keep the electricity flowing. However, at this juncture the Bloom Box is still pricey compared to cost per kilowatt for wind and solar power. The question is if and when Bloom Energy can drive down the costs to about $3,000 for a shoebox-sized fuel cell to power a house in the United [More>>cbsnews.com; See also,

bloomenergy.com, "What is an Energy Server?":...Our particular type of fuel cell technology is different than legacy "hydrogen" fuel cells in four main ways:
Low cost materials — our cells use a common sand-like powder instead of precious
metals like platinum or corrosive materials like acids.
High electrical efficiency — we can convert fuel into electricity at nearly twice the
rate of some legacy technologies
Fuel flexibility — our systems are capable of using either renewable or fossil fuels
Reversible — our technology is capable of both energy generation and storage
Each Bloom Energy Server provides 100kW of power, enough to meet the baseload needs of 100 average homes or a small office building... day and night, in roughly the footprint of a standard parking space. For more power simply add more energy servers...
---
02.24.10 Plastic rubbish blights Atlantic Ocean
PORTLAND, Oregon, February 24 - Scientists have discovered an area of the North Atlantic Ocean where plastic debris accumulates. The region is said to compare with the well-documented "great Pacific garbage patch." Karen Lavender Law of the Sea Education Association told the BBC that the issue of plastics had been "largely ignored" in the Atlantic. She announced the findings of a two-decade-long study at the Ocean Sciences Meeting in Portland, US The work is the conclusion of the longest and most extensive record of plastic marine debris in any ocean basin. Scientists and students from the SEA collected plastic and marine debris in fine mesh nets that were towed behind a research vessel. The nets dragged along were half-in and half-out of the water, picking up debris and small marine organisms from the sea surface.

The researchers carried out 6,100 tows in areas of the Caribbean and the North Atlantic — off the coast of the US. More than half of these expeditions revealed floating pieces of plastic on the water surface. These were pieces of low-density plastic that are used to make many consumer products, including plastic bags. Dr. Lavender Law said that the pieces of plastic she and her team picked up in the nets were generally very small — up to 1cm across. "We found a region fairly far north in the Atlantic Ocean where this debris appears to be concentrated and remains over long periods of time," she explained. "More than 80% of the plastic pieces we collected in the tows were found between 22 and 38 degrees north. So we have a latitude for [where this] rubbish seems to accumulate," she said. [More>>bbc.co.uk; See related stories, Maravot News 5.09.09 5.02.09 Mission to break up Pacific island of rubbish twice the size of Texas.
---
02.24.10 New home sales hit record low in January
February 24 - Sales of newly built homes unexpectedly plummeted in January to their lowest level in nearly five decades, providing more evidence of the housing market's fragility. Purchases of new single-family homes dropped 11.2 percent in January from December to a seasonally adjusted annual rate of 309,000, the Commerce Department reported. Sales fell in every region of the country except the Midwest, and the raw number of new homes on the market rose for the first time in nearly three years. [More>>washingtonpost.com]
---
02.24.10 Royal Bank of Scotland to pay bonuses totalling £1.3 billion
February 24 - Royal Bank of Scotland is to pay bonuses totalling £1.3 billion to its investment bankers despite expectations of grim annual results tomorrow. The payout is thought to have been given the green light by UK Financial Investments (UKFI), the body set up to manage the Government's stakes in banks. RBS, which is 84% taxpayer-owned after a string of bailouts, is expected to post losses of more than £5 billion for the year to December. But it is the bank's controversial bonus pot that will prompt howls of outrage from the public as it comes despite the deficit and an expected admission that it has not met Government lending targets, which were laid out as part of the terms of its bail-out. [More>>independent.co.uk]
---
02.23.10 Banker bonuses see major comeback
February 23 - New report shows banker bonuses, compensation saw big rebound in 2009. Wall Street profits and pay roared back in 2009 after the worst year on record, according to a new report by New York State Comptroller Thomas DiNapoli. Bonuses rose 17 percent to $20.3 billion in 2009, with compensation at Goldman Sachs, Morgan Stanley and JPMorgan Chase rising as much as 31 percent. Overall, compensation at Wall Street firms rose 27 percent to an average of $340,000. The average taxable bonus rose to $123,850. The annual report only calculates compensation and bonuses paid to employees of Wall Street firms who work in New York City. "For most Americans, these huge bonuses are a bitter pill and hard to comprehend," said DiNapoli in a statement. "There's a lot of resentment against the industry over its role in the global economic meltdown. Taxpayers bailed them out, and now they're back making money while many New York families are still struggling to make ends meet." DiNapoli's office estimates total profits at Wall Street firms will exceed a record $55 billion, compared to a record loss of $42.6 billion in 2008. That would be nearly three times greater than the previous record. [More>>abcnews.go.com]
---
02.23.10 Bank lending plummets by $587B in 2009
February 23 - Lending by the banking industry fell by $587 billion, or 7.5 percent, in 2009, the largest annual decline since the 1940s, the Federal Deposit Insurance Corp. reported Tuesday. FDIC Chairman Sheila Bair said that some small banks have dialed back on lending because of financial weakness, a problem the Obama administration aims to address with a proposal to pump $30 billion in new federal aid into community banks. The number of "troubled" banks — those the FDIC considers at some risk of failure — increased to 702 at the end of 2009, a 64 percent increase over the end of the previous year. But Bair said that the vast majority of the decline was the result of lending cutbacks by the largest banks, which have tightened qualification standards and increased the proportion of money that they hold in reserve against unexpected losses.

"Large banks do need to do a better job of stepping up to the plate here," Bair said. Bair spoke as part of the FDIC's quarterly report on the banking industry. The nation's roughly 8,000 banks posted an aggregate profit of $12.5 billion in 2009, better than the depths of 2008 but essentially a break-even year for the still-troubled industry. More than one in three American banks still was losing money in the fourth quarter of the year, the highest percentage of banks reporting losses in the 26 years of available data. [More>>washingtonpost.com]
---
02.23.10 List of troubled banks at 16-year peak, F.D.I.C. says
February 23 - After weathering the nation's worst run of bank failures in nearly two decades, the Federal Deposit Insurance Corporation announced Tuesday that it had added 450 institutions to its list of challenged lenders in 2009 and warned that the industry was likely to remain under stress. The number of so-called problem banks rose to 702 at the end of 2009, compared to 252 at the beginning of the year. Both the number of troubled institutions and their total assets are at the highest level since 1993, putting enormous strain on the government-administered insurance fund that protects customer deposits. The F.D.I.C. does not disclose which banks it considers at risk. Lenders on its list are not necessarily in imminent danger of failure.

With banks failing in growing numbers, the F.D.I.C. said its insurance fund fell deeper into the red, ending 2009 with a deficit of $20.9 billion. That position was nearly $38.1 billion weaker than a year earlier. The bulk of that decline reflects funds that the F.D.I.C. is setting aside to cope with future losses. In its annual report on the banking industry, the agency suggested that many of the nation's 8,100 lenders essentially broke even during 2009 but that many remained in fragile condition. Many smaller lenders, in particular, are struggling. Bad credit card, mortgage and corporate loans escalated in the final months of 2009 — the 12th consecutive quarterly increase — albeit at a slower pace. Fewer than a third of banks reported a net loss for the fourth quarter, which officials held out as a glimmer of good news. [More>>nytimes.com]
---
02.23.10 We do not want separation from China: Dalai Lama
WASHINGTON / BEIJING, February 23 - Dalai Lama on Tuesday said he did not want separation from China but religious and environment freedom for his people as Beijing today demanded that [the] US "undo the damage" done by a meeting between President Barack Obama and the Tibetan spiritual leader. The Tibetan leader now on a visit to [the] US said in his heart he felt love for China but was concerned about Beijing's cultural suppression in his homeland. The Dalai Lama blamed hardliners in China for avoiding a rapprochement with Beijing. "Sometimes these hardliners' policy irritates you for a short time. But still I've sort of make efforts to keep love," the Tibetan leader said in an interview. "We do not want separation from China because Tibet is a landlocked country needs material benefits. Every Tibetan wants modernisation of his homeland. So for this reason we want to remain within China," he said. [More>>indianexpress.com]
---
02.23.10 Iran says any fuel swap must be on its territory
TEHRAN (Reuters) February 23 - Iran said on Tuesday any exchange of nuclear fuel must take place on its territory, a condition rejected by Western powers seeking to prevent it stockpiling material which could be further enriched to make a bomb. The United States and its allies hope to get new United Nations sanctions imposed on Iran in the coming weeks over its continued uranium enrichment, after failing to reach agreement on the fuel exchange. But China expressed reservations on further sanctions, saying greater diplomatic efforts were needed. Western countries fear Iran wants to stockpile uranium to enrich it to levels that could be used for nuclear weapons. Iran says its sole aim is to run nuclear energy plants to generate electricity and produce medical isotopes. "In order to bring about a constructive interaction, we have declared our readiness for fuel swap, provided it is done within the country (Iran)," foreign ministry spokesman Ramin Mehmanparast said. "We are prepared for a fuel swap even though we do not regard this condition of supplying fuel to the Tehran research reactor through a swap as correct." [More>>thestar.com.my]
---
02.23.10 Iran warns 'we'll chop off attackers hands'
February 23 - The Iranian president has threatened to "chop off the hands" of anyone who attacks his country. Mahmoud Ahmadinejad issued the warning in a televised speech. "No power can harm Iran... The Iranian nation will chop off the hands from the arm of any attacker from any part of the world," he said. The outburst comes as Western countries become increasingly uneasy about Iran's plans to enrich uranium to levels that could be used to make nuclear weapons. President Ahmadinejad has always denied this. However, on Monday the Iranian government said it had earmarked potential sites for 10 new nuclear enrichment plants, with building work possibly starting on two this year. Iran also said it was willing to swap low-grade uranium for high-grade but that the nuclear fuel exchange plan must be carried out on its own territory. [More>>news.sky.com]
---
02.23.10 Netanyahu: Abbas remarks on heritage sites are lies, hypocrisy
February 23 - Prime Minister Benjamin Netanyahu on Tuesday said Israel is obligated to ensure the freedom of religion for all faiths at all holy sites, in a response to allegations from Palestinian leaders that Israel's heritage sites could spark a religious war. "We are talking about a campaign of lies and hypocrisy," read a statement from the Prime Minister's Office, issued after Palestinian Authority President Mahmoud Abbas called Israel's addition of two West Bank sites to its national heritage list a dangerous provocation, and Hamas leader Ismail Haniyeh called for a new uprising against Israel. "Rachel's Tomb and the Cave of the Patriarchs are burial sites dating from more than 3,500 years ago of Israel's forefathers, Abraham, Isaac and Jacob, and the nation's foremothers, Sarah, Rebecca, Leah and Rachel — and are worthy of preservation and renovation," said the statement from Netanyahu's office. In a speech to the parliament in Brussels, Abbas said Israel's attempt to steal the Palestinian heritage is part of a larger scheme to take over religious Muslim sites. [More>>haaretz.com]
---
02.23.10 Saudi cleric backs gender segregation with fatwa
(Reuters) February 23 - A prominent Saudi cleric has issued an edict calling for opponents of the kingdom's strict segregation of men and women to be put to death. Shaikh Abdul-Rahman al-Barrak said in a fatwa the mixing of genders at the workplace or in education "as advocated by modernisers" is prohibited because it allows "sight of what is forbidden, and forbidden talk between men and women." "All of this leads to whatever ensues," he said in the text of the fatwa published on his website (albarrak.islamlight.net). "Whoever allows this mixing ... allows forbidden things, and whoever allows them is an infidel and this means defection from Islam ... Either he retracts or he must be killed ... because he disavows and does not observe the Sharia," Barrak said.

...The Saudi government pays a morals police squad that roams streets and shopping malls to make sure unrelated men and women are kept apart, that women are covered from head to toe and search for alcohol and drugs under the kingdom's austere interpretation of Islam. In 2008, Barrak issued a fatwa that two Saudi writers should be tried for apostasy for their "heretical articles" and put to death if they did not repent after the two wrote articles that questioned the Sunni Muslim view in Saudi Arabia that Christians and Jews should be considered unbelievers. He has also denounced Shi'ite Muslims as "infidels" in another edict that coincided with sectarian tensions in Iraq. [Full story>>khaleejtimes.com]
---
02.23.10 US renews travel alert to Mexico
WASHINGTON, February 23 - The United States has renewed a travel alert to Mexico, citing increased violence in the country. The alert, issued Sunday by the State Department, is in effect until August 20 and supersedes an alert issued August 20, 2009. "Recent violent attacks have caused the US Embassy to urge US citizens to delay unnecessary travel to parts of Michoacan, Durango, Coahuila and Chihuahua ... and to advise US citizens residing or traveling in those areas to exercise extreme caution," the alert says. "Drug cartels and associated criminal elements have retaliated violently against individuals who speak out against them or whom they otherwise view as a threat to their organization. These attacks include the abduction and murder of two resident US citizens in Chihuahua." More than 16,000 people have died in Mexico since President Felipe Calderon declared war on the drug cartels shortly after assuming office in December 2006. Ciudad Juarez, in Chihuahua state across the border from El Paso, Texas, is the most violent city in the nation. [More>>cnn.com]
---
02.23.10 Bomb blasts kill 9 in Afghanistan
KANDAHAR, February 23 - A remote-controlled bomb killed at least nine Afghan civilians and wounded 14 in front of a government building in southern Afghanistan on Tuesday, a government official said. The blast was in Lashkar Gah, capital of Helmand, Afghanistan's most violent province. NATO-led troops are in the10th day of an operation to flush the Taliban out of nearby Marjah district, where the militants had set up their last big stronghold in Helmand. "The blast was caused by explosives attached to a bicycle and was controlled remotely," said Dawud Ahmadi, spokesman for Helmand's provincial government. He said later all the casualties were civilians. "The latest information we have says that nine people have been killed and 14 wounded," Ahmadi said. He said he did not know who the target of the blast was. [>thenews.com.pk]
---
02.23.10 Afghan Taliban commander captured in Pakistan
ISLAMABAD, Pakistan, February 23 - A senior Afghan Taliban commander has been taken into custody in Pakistan, a security official here said Monday, the latest in a recent string of arrests that threaten to weaken the insurgency along the countries' border. Maulavi Abdul Kabir was detained in Pakistan's northwest Nowshera district in recent weeks. One security official in that area said he was arrested in mid-January, but further circumstances of his arrest were not available at press time. By some accounts, Kabir was a member of the Taliban's core leadership, known as the Quetta Shura. One Afghan official said that he was a leader in Jalalabad, in eastern Afghanistan, but not a member of the shura. News of Kabir's arrest came nearly a week after US and Pakistani officials acknowledged the arrest in Pakistan of the Afghan Taliban's No. 2 commander,

Mullah Abdul Ghani Baradar. Two "shadow governors," or Taliban provincial leaders, have also been taken into custody. Mullah Mohammad Younis, a former shadow governor, was also recently arrested in Karachi, caught in the same operation that netted Baradar, said Mohammed Jan Rasoulyar, spokesman for the governor of Zabul province. While Pakistan's armed forces have targeted domestic Taliban militants since last year, they have been reluctant to expand those operations against insurgents who direct attacks toward Afghanistan. Indeed, Pakistani security forces have long supported or turned a blind eye to Afghan Taliban members seeking sanctuary in Pakistan. The recent arrests seem to mark a change in that attitude. [More>>washingtonpost.com]
---
02.23.10 Aceh police arrest suspected terrorists
BANDA ACEH, Indonesia, February 23 - Aceh police on Tuesday arrested three gunmen believed to have links with a terrorist network formerly headed by Imam Samudra and Noordin M. Top. The trio were taken into custody after exchanging gunfire in jungle on the slope of Jantho Mountain in Aceh Besar regency. Zakky Rahmatullah, 27, Ismet Hakiki, 40, both from Pandegelang regency in Banten, and Yudi Zulfahri, 27, of the Aceh capital of Banda Aceh were captured after a 14-hour siege involving around 100 police officers. The police had conducted surveillance on the group since September last year after local residents reported military-style drills in the forest. During the operation a local resident, Kamaruddin, was shot dead and his son Suheri, 14, suffered gunshot wounds. The police opened fire on the pair after Kamaruddin, who was carrying an air rifle, resisted an order to surrender. [More>>thejakartapost.com]
---
02.22.10 Police detain several Turkish military generals in new raids
ISTANBUL, Turkey, February 22 - Turkish police have searched the homes of two retired military generals and detained more than a dozen former and current military commanders for alleged links to the "Balyoz" (Sledgehammer) Operation. The total of detainees nationwide was reported to be 48. Several high-ranking retired military officials have been taken into custody in this new wave of detainments related to the Ergenekon investigation into an suspected gang Ergenekon alleged to have sought to topple the ruling government. Balyoz is an alleged military coup plan against the ruling Justice and Development Party, or AKP, written in 2003. According to Taraf, the military planned for drastic measures to cause unrest in the country in order to remove the AKP from power.

Those measures included bombing two major mosques in Istanbul, an assault on a military museum by people disguised as fundamentalists and the raising of tension with Greece through the usual dogfights between the fighter planes of the two countries over the Aegean Sea. The allegations even include shooting down a Turkish plane and blaming it on Greece. The reason for the detainments was still unclear early Monday evening, but private channel NTV reported that the detainees allegedly had the same signatures as those found on documents related to the Balyoz operation. The retired generals taken into custody include former top Navy Cmdr. Özden Örnek, former top Air Force Cmdr. İbrahim Fırtına, former 1st Army commander Ergin Saygun, former South Seas Navy Cmdr. Lütfi Sancar, and generals Ayhan Poyraz, Engin Alan, Ümit Özcan, Ayhan Taş and Özer Karabulut. Another 10 colonels were also reportedly detained in the same operation. [More>>hurriyetdailynews.com]
---
02.22.10 Family of eight killed, some beheaded
BAGHDAD (AFP) February 22 - Gunmen with silencers have killed a family of eight in Baghdad, beheading some of their victims, amid a spate of deadly attacks less than two weeks before Iraq's general election. Eleven other people were killed in attacks, including three in a suicide car bombing in west Iraq, and a police commando was shot dead by a sniper in Baghdad. Police arrested four men in connection with the brutal killings shortly after announcing the deaths of the eight family members at their Baghdad home, saying the group had confessed to other crimes as well.

"A terrorist group carried out at 7am a brutal crime against a family in Al-Wehdah neighbourhood," the Baghdad Operations Command said. "This gang killed eight members of this family using silencer pistols. The criminals have beheaded some of them." Baghdad police later said that they apprehended four people carrying silencers in connection with the murders. The police did not immediately identify the gunmen and the motive for the killings was not immediately clear. Beheadings have been the trademark of Sunni insurgents in Iraq, particularly al-Qaeda militants in the violence that flared after the 2003 US-led invasion. Al-Wehdah is a predominantly Shi'ite Muslim neighbourhood about 20km south-east of Baghdad. [>news.com.au]
---
02.22.10 11 killed, 32 injured in Swat suicide attack
ISLAMABAD, February 22 - A suicide bomber attacked a military convoy in Pakistan's north-western Swat region on Monday, killing 11 people and injuring 32 others. The dead included four women and three security personnel. Pakistani forces launched a military offensive in Swat valley, a tourist paradise, 130 kilometers northwest of the capital Islamabad, last April in an attempt to retake the region from Taliban control. According to eyewitnesses, the security forces convoy came under attack at Nishat intersection in Swat's main town of Mingora. "The blast took place as two vehicles carrying Pakistani security forces passed through the busy Nishat intersection, which is surrounded by small shops and stalls," said Gul Bacha, an eyewitness. Local television footage showed two cars engulfed in flames and black thick smoke billowing over the area, as casualties and injured lay on the ground. [More>>timesofindia.indiatimes.com]
---
02.22.10 Clashes erupt in West Bank over holy sites
HEBRON (AFP) February 22 - Palestinians clashed with Israeli troops in the West Bank town of Hebron on Monday amid outrage over Israel's plan to restore two flashpoint Jewish holy sites in the occupied territory. Dozens of youths hurled rocks at an Israeli military checkpoint in the city as troops fired tear gas and stun grenades, an AFP correspondent said. A strike closed down shops and schools. "Approximately 100 Palestinians were burning tires and throwing rocks at IDF (Israeli military) soldiers," an army spokeswoman said, adding that one soldier was lightly injured. There were no reports of any Palestinians wounded, and the clashes had largely died down by the afternoon. Israeli Prime Minister Benjamin Netanyahu sparked anger on Sunday when he said he hoped to include the Tomb of the Patriarchs in Hebron and Rachel's Tomb in Bethlehem in a 100-million-dollar plan to restore national heritage sites. [More>>khaleejtimes.com]
---
02.22.10 Bombing kills Afghan tribal leader
February 22 - At least 15 people have died after a suicide bomber blew himself up among a tribal leaders and government officials meeting recently returned Afghan refugees in eastern Nangarhar province. Among the dead in Monday's attack was Haji Zaman Ghamsharik, a local tribal leader and former mujahidin commander, as well as the head of the province's refugee ministry. Al Jazeera's James Bays, reporting from Lashkar gah in Helmand province, said that it appeared that Haji Zaman was the target of the attack. "It's certain, I think, that the Taliban wanted him dead," he said. The bomber, wearing an explosives vest, apparently walked up to the gathering in Khogyani district before detonating his device, police said. Haji Zaman was a local commander in the Tora Bora mountains when US forces launched an operation to capture or kill Osama bin Laden, the al-Qaeda leader, as he attempted to flee after the fall of the Talliban in 2001. "Around that time Haji Zaman was at first the core commander and then the police chief in that area, he was alongside the Americans when they staged that failed operation," Bays said. [More>>aljazeera.net
---
02.22.10 Afghan civilians killed in NATO airstrike
(AP) February 22 - Planes Fired on Vehicles Suspected of Carrying Insurgents. At Least 27 Civilians Reported Dead. The Afghan cabinet says at least 27 civilians are dead as the result of NATO airstrike in southern Afghanistan - an incident that is inflaming already heightened sensitivities over noncombatant casualties in the war. In a statement released on Monday, the Afghanistan Council of Ministers strongly condemned the airstrike, saying it was "unjustifiable." The cabinet says initial reports indicate that NATO fired Sunday on a convoy of three vehicles killing at least 27 civilians, including four women and one child. The ministers say 12 others were injured while they were on their way to Kandahar. The cabinet previously reported 33 civilians had been killed. NATO has confirmed that its planes fired on what it believed was a group of insurgents in southern Uruzgan province, but later discovered that women and children were hurt. The strike hit three minibuses that were driving down a major road in the mountainous province. There were 42 people in the vehicles, all civilians, Bashary said. [More>>cbsnews.com]
---
02.21.10 Scientists create prostate cancer in lab
February 21 - Scientists in the United States have created prostate cancer in a laboratory by genetically altering human stem cells. The ability to produce cancer "from scratch" is expected to boost efforts to find agents that combat the disease, which affects around 35,000 men each year in the UK and causes 10,000 deaths. Scientists believe most cancers are driven by "rogue" stem cells — the immature "mother" cells that develop into different kinds of tissue. Knowing what makes a stem cell turn cancerous can help researchers identify the root causes of cancer.

One of the hallmarks of stem cells is that they self-renew, which also makes their DNA vulnerable to collecting mistakes in the genetic code. When this results in uncontrolled cell growth, it leads to cancer. Scientists have now duplicated this process in the laboratory using human prostate cells. A team led by Dr. Owen Witte, from the University of California at Los Angeles, broke apart prostate tissue to extract stem cells. The scientists then engineered specific genetic changes into the stem cells to generate cancer. The technique could assist the "fine tuning" of new anti-cancer drugs, said Dr. Witte. [More>>news.sky.com]
---
02.21.10 Israel unveils new drone fleet that can reach Iran
TEL NOF AIRFORCE BASE, Israel (AP) February 21 - Israel's air force has introduced a fleet of large unmanned planes that it says can fly as far as Iran. Air force officials say the Heron TP drones have a wingspan of 86 feet (26 meters), making them the size of passenger jets. They say the planes can fly 20 consecutive hours, and are primarily used for surveillance and carrying payloads. The drones, built by state-owned Israel Aerospace Industries, were first used during Israel's Gaza war last year. At an inauguration ceremony Sunday, Israeli officials refused to say how large the new fleet is or whether the planes were designed for use against Iran. Israel believes Tehran is trying to develop nuclear weapons and has repeatedly hinted it could strike Iran if diplomatic efforts to curb the nuclear program fail. [>khaleejtimes.com]
---
02.21.10 Netanyahu: West Bank sites added to national heritage list
February 21 - Prime Minister Benjamin Netanyahu announced on Sunday that the Cave of the Patriarchs in Hebron and Rachel's Tomb in Bethlehem would both be added to the list of national heritage sites that the government plans to promote. Speaking at a special cabinet meeting in the northern town of Tel Hai, Netanyahu said that rightist religious party Shas persuaded him add the two sites to the list. "Our existence depends not only on the IDF or our economic resilience — it is anchored in...the national sentiment that we will bestow upon the coming generations and in our ability to justify our connection to the land," said the premier. [More>>haaretz.com]
---
02.21.10 8 extremists killed in Kohat clash
KOHAT, Pakistan, February 21 - At least eight extremists were killed in clashes in Kohat's semi-tribal areas, Geo News reported Sunday. Also, 175 people have been arrested during the search operation in Khyber and Bajaur Agencies. According to sources, the clash occurred in Khoat area of Turk Ismailkhel, where the security search operation was in progress. There ensued an exchange of fire, where eight extremists were killed and two security personnel were injured. A search operation is in progress also in FR Kohat areas of Jawakai and Sheen Dand. Another search operation was launched in Khyber Agency tehsil Jamrood area of Wazir Dand against miscreants involved in rackets relating kidnapping for ransom and drugs.

At least 75 people were arrested in the action and arms and drugs were recovered from their possession. Two schools were razed to ground when explosives went off in Mohmand Agency of Lakro. The schools include Sandokhel Government High School and Amrai Government Middle School. The local people on self-help basis, shifted the furniture and other goods from under the rubble to other place. Meantime, the political administration and security forces arrested at least 100 suspected people during a search operation in Bajaur Agency's tehsil of Khar. [>thenews.com.pk]
---
02.21.10 Maldives says its youths are waging jihad in Pakistan, seeks India's help
NEW DELHI, India, February 21 - Maldives on Sunday said some youths from the country are being recruited by militant outfits based in Pakistan and Afghanistan to wage "jihad" and sought India's cooperation in preventing "any passage" for these people through the country. Maldivian vice president Mohammaed Waheed Hassan, who is on a visit here, said an increasing number of youths from his country have started "embracing a version of Islam which is more strict than the traditional Islamic values." "Some of these people are going to Pakistan and Afghanistan and are waging jihad. We want these people back... We need them for our development," Hassan said. He said Maldives wants India's cooperation in preventing "any passage for these youngsters through it. [More>>timesofindia.indiatimes.com]
---
02.21.10 Thousands trapped in Afghan assault zone
KABUL, Afghanistan (AFP) February 21 - People have little access to food, medicine: rights group. People living on the front line of a major US-led offensive against Taliban militants in southern Afghanistan are trapped in their homes with little access to food and health care, rights groups say. Hundreds more who fled the area before fighting began over a week ago are receiving little help in harsh winter conditions, they add. "We are seriously worried about the safety of civilians, especially in the Marjah area," said Ajmal Samadi, head of the independent group Afghan Rights Monitor (ARM). "People who are ill cannot get to hospitals, and others cannot bring them medicines. They cannot get food, or even go outside to look after their farms." He added that food prices were rising due to the assault and people with medical needs — from war wounds to pregnancy — were largely unable to get treatment. The assault on the Marjah and Nad Ali districts of Helmand province launched on Feb. 13 is being held up by snipers and innumerable crude bombs planted by Taliban fighters, commanders say. [More>>alarabiya.net; See related story,

foxnews.com, February 21, "Marines corner Taliban holdouts in Afghan town" : MARIJAH, Afghanistan - Marines and Afghan units converged on a dangerous western quarter of the Taliban stronghold of Marjah on Sunday, with NATO forces facing "determined resistance" as their assault on the southern town entered its second week. Fighter jets, drones and attack helicopters hovered overhead, as Marine and Afghan companies moved on a 2-square-mile area of the town where more than 40 insurgents have apparently holed up. "They are squeezed," said Lt. Col. Brian Christmas, commander of 3rd Battalion, 6th Marine Regiment. "It looks like they want to stay and fight but they can always drop their weapons and slip away. That's the nature of this war."

This latest push came simultaneously to news that Afghanistan National Security Forces with International partners captured two Taliban insurgents south of Gheysarakeh village, Kajaki, Helmand on Friday. One of the captured men is suspected of being a Taliban commander involved with the facilitation of IED components and the planning of Taliban attacks. Once ANSF and ISAF forces identified the location and vehicle of the suspected Taliban commander, the combined force stopped the vehicle and one of the two suspects surrendered. When the second suspect displayed hostile intent, aimed shots were fired into the vehicle, wounding the man inside...
---
02.21.10 Abu Sayyaf commander killed in raid
February 21 - Albader Parad, one of the Philippines's most wanted Abu Sayyaf leaders, has been confirmed killed in fighting with the military in the country's south, sources told Al Jazeera. A local official has confirmed that Parad was among six Abu Sayyaf fighters killed on Sunday in an encounter with a unit of Philippine marines in Maimbung town on Jolo island, 1,000km south of Manila. Parad had a $15,000 bounty on his head from the US government as a "wanted terrorist." His remains have now reportedly been brought to a military base, along with those of his fellow fighters. The operation is being seen as a major victory for the Philippine military and a huge blow for Abu Sayyaf. The group had, over the past year, enjoyed a resurgence of activity as it attempted to regain its former strength. Last year, the Abu Sayyaf wing led by Parad held three employees of the International Committee of the Red Cross hostage captive for several months on Jolo. [More>>aljazeera.net]
---
NOTES

*Visitor statistics on maravot.com from 1&1. com. monthly visitors between 37,000-45,0000.
Privacy Policy: We do not store any personal data from you. We have no way of knowing any vital information about you — not even your name. Third-party distribution: We do not distribute information about your site usage to any third party. We are not responsible for the content of links from our site. Usage data: supplied by our Web Hosting service, 1and1.com, which consists of usage reports, such as page views / impressions and web pages visited, visitors' servers and geographical data (ISP's and country of origin).



Maravot's Homepage




Launched: 10.25.04 / 11.02.04 – | — | ♦
Updated: 2.21.10; 2.22.10; 2.23.10; 2.24.10; 2.25.10; 2.26.10; 2.27.10; 2.28.10; 3.01.10