News Headlines & Trends
---
4.30.09 Chrysler files for bankruptcy
NEW YORK, April 30 - Some lenders refuse offer to reduce debt, leading to Chapter 11 bankruptcy filing. But Chrysler will remain in business and completes deal with Fiat. Chrysler LLC filed for bankruptcy Thursday. But a deal has been reached to combine the company with Fiat in order to allow Chrysler to stay in business. The bankruptcy filing, which was made in federal court in New York, comes after some of Chrysler's smaller lenders refused a Treasury Department demand to reduce the amount of money the troubled automaker owed them. In remarks at the White House, President Obama said that the bankruptcy filing is not a failure for the company but "one more step on the path to Chrysler's revival." The president harshly criticized the hedge funds and investment firm creditors that refused to go along with the deal accepted by larger lenders, saying that they had "decided to hold out for the prospect of an unjustified, taxpayer funded bailout." [More>>cnn.com]
---
4.30.09 Alleged top drug hitman arrested
METAMOROS, Mexico (Reuters) April 30 - Mexico captured a suspected leader of the ruthless Gulf cartel who is wanted in the US, the latest arrest in its army-led war against drug gangs, the Government said. Police and soldiers caught Gregorio Sauceda, a former policeman turned drug smuggler who had a $US2 million ($2.7m) reward on his head, in a house in the border city of Matamoros near Texas, along with his wife and an arsenal of weapons that included a rocket launcher, the public security ministry said. Mr. Sauceda, 44, is considered to be a founder of the Gulf cartel's brutal armed wing, the Zetas, which is notorious for beheading rival smugglers. He was flown to the capital, Mexico City, after his arrest.

The capture scores another point for conservative President Felipe Calderon, who has put dozens of traffickers behind bars in a high-stakes war on drug cartels whose turf wars have killed some 2000 people this year. Mexican drug gangs killed some 6300 people, mainly rivals and police, across the country last year and Washington is worried the violence could be spilling over the border. Mr. Sauceda briefly took over the running of the Gulf cartel after soldiers arrested gang leader Osiel Cardenas at a party in Matamoros in 2003 and was one of its most violent hitmen, the ministry said. Cardenas was extradited to the United States in 2007.

In the past few weeks soldiers have also captured Vicente Carrillo Leyva, the 32-year-old son of legendary drug lord Amado Carrillo Fuentes, and Vicente Zambada, the son of Sinaloa cartel boss Ismael "El Mayo" Zambada. US President Barack Obama praised Calderon's drug war in a visit to the Mexican capital this month and has pledged more support in cracking down on the southbound flow of weapons and cash that fuel the cartels in Mexico. [>news.com.au]
---
4.30.09 Oficials take steps as more swine flu cases are reported
April 30 - As the swine flu virus appeared in new locations as far apart as Peru and Switzerland on Thursday, The Centers for Disease Control and Prevention reported 109 confirmed cases from 11 states, up from 91 cases in 10 states on Wednesday. The number of confirmed cases was almost certain to grow as laboratories completed further tests on cases now termed "likely" or "probable." New York City's total of confirmed cases is at 49, and the probable cases at 5. All have links to Mexico or St. Francis Preparatory School in Queens, where the virus first surfaced in New York, health officials said.

The authorities in Fort Worth, Texas announced the temporary closure of all district schools, likely to last until May 12, after one student was confirmed to have the flu and three other cases were suspected. Some 80,000 students will be affected. Dozens of schools elsewhere in the country have also been temporarily shuttered, news services reported. The United States government said it was beginning the process of developing a vaccine against the new viral strain, a process expected to take months to complete. [More>>nytimes.com]
---
4.30.09 Ethnic violence erupts in Karachi
April 30 - At least 34 people have been killed and 50 others injured in clashes in Karachi, Pakistan's biggest city, local hospital officials have said. Calm returned to the city on Thursday, a day after the fighting erupted, with some areas left deserted. "The situation is under control now and we are trying to maintain peace," Rafiq Engineer, provincial minister for special development, said. Waseem Ahmed, the city police chief, said the clashes on Wednesday were the result of a dispute between the city's ethnic groups Mohajirs and Pashtuns. Violence erupted in different parts of the port city after an unidentified man opened fire in a Mohajir neighbourhood in the centre of the city. [More>>aljazeera.net; See related story,
thenews.com.pk, "Buner operation continues successfully" : ISLAMABAD - Director-General Inter Services Public Relations (ISPR) Major General Athar Abbas has said that a new operation against militants has been launched in Buner. Addressing a press briefing here on Thursday, Maj. Gen. Athar Abbas said the army has taken control of Malandari pass from militants and Buner operation continues successfully. He said a security checkpost was ambushed triggering a crossfire in which four militants were killed while one security force official was hurt. Athar said that Swat peace agreement still remains intact but militants are violating the agreement...
---
4.30.09 Thirteen dead in Azeri college shooting
BAKU, Azerbaijan (Reuters) April 30 - Thirteen people were killed at a university in oil-producing Azerbaijan on Thursday when a gunman moving floor to floor opened fire on teachers and students after the bell rang for morning classes. A police source said the gunman was among the dead. The state prosecutor's office said 13 people were killed and 13 wounded in the shooting at the State Oil Academy in Baku, capital of the mainly Muslim former Soviet republic. It said the gunman was a Georgian citizen of Azeri origin. 'He climbed from the first floor to the sixth, shooting people mainly in the head from a Makarov pistol,' a Russian-made semi-automatic pistol, the prosecutor's office said. [More>>khaleejtimes.com]
---
4.29.09 Spanish judge starts Guantanamo torture probe
MADRID, April 29 - Decision based on statements from four former detainees. A Spanish judge started a criminal investigation on Wednesday into alleged torture of detainees in the US base at Guantanamo. Judge Baltasar Garzon, who once tried to extradite former Chilean dictator Augusto Pinochet, will probe the "perpetrators, the instigators, the necessary collaborators and accomplices" to crimes of torture at the prison at the US naval base in southern Cuba, he said in ruling. The judge based his decision on statements by Hamed Abderrahman Ahmed, known as the "Spanish Taliban" and three other former Guantanamo detainees — a Moroccan, a Palestinian and a Libyan — who alleged they had suffered torture at the camp.

"It seems that the documents declassified by the US administration mentioned by the media have revealed what was previously a suspicion — the existence of an authorized and systematic program of torture" at Guantanamo and other prisons including that in Bagram in Afghanistan, Garzon said. The criminal investigation comes just weeks after Spain's most famous judge was forced to give up an attempt to initiate a probe into six former Bush administration officials, including ex-US Attorney General Alberto Gonzales, over Guantanamo. [More>>alarabiya.net]
---
4.29.09 Swine flu spreads in US; claims 1st life
April 29 - Nearly 100 Confirmed Cases In 10 States; Homeland Security Readies For "Marathon"; Mexico Deaths Stabilizing. The US now has 91 confirmed cases of the new swine flu in 10 states and one confirmed death. Dr. Richard Besser, the acting chief of the Centers for Disease Control and Prevention, says thus far only five of those cases needed hospitalization, including a Mexican toddler who became the first death recorded in the US, in Houston, Texas. The increase is not surprising. For days, CDC officials have said they expected to confirm more cases — and more severe illnesses — as they intensively hunt down this new virus. [More>>cbsnews.com; See also:

news.sky.com, April 29, "Global Swine flu spread 'is not slowing': There are no signs of the global spread of swine flu slowing down, a top health official has warned. World Health Organization assistant director-general Keiji Fukuda said researchers on the ground were seeing the infection spread from person-to-person. "It is clear that the virus is spreading and we don't see evidence of it slowing down at this point," he said. Mr. Fukuda explained that the outbreak is moving closer to becoming a pandemic. He said the WHO is moving closer to raising its pandemic alert to phase 5, indicating widespread human-to-human transmission. The alert level is currently at 4, which means it is being passed among people...

khaleejtimes.com (AFP) April 29, "Egypt orders immediate slaughter of all pigs" : CAIRO - Egypt on Wednesday ordered the immediate cull of all pigs in the country to avoid any outbreak of the deadly swine flu, Health Minister Hatem al-Gabali said. "It has been ordered to immediately begin the slaughter of all herds of pigs in Egypt," Gabali told reporters after a meeting with President Hosni Mubarak...
---
4.29.09 Explosion kills soldiers in Turkey
April 29 - At least nine soldiers have been killed and two others injured in a landmine blast in southeastern Turkey, a military commander has said. The landmine, believed to have been planted by Kurdish fighters, exploded as a military vehicle was passing near the village of Abali in Diyarbakir province. "A tank and an armored personnel vehicle were patrolling for road security. An explosion happened after the tanks passed and nine died," said General Ilker while addressing a news conference in Ankara, the capital.

The general did not blame any particular group for the attack which took place at 06:30 (04:30 GMT) on Wednesday. The military launched ground and air operations against members of the Kurdistan Workers Party (PKK) following the blast. The PKK, listed as a "terrorist" organization by the United States and the European Union, began an armed campaign in 1984 to carve out an ethnic homeland in the predominantly Kurdish southeast Turkey. [More>>aljazeera.net]
---
4.29.09 Pakistan says 50 Taliban killed in Buner operation
RAWALPINDI, Pakistan (Reuters) April 29 - Pakistani security forces have killed 50 Taliban and lost one soldier in an operation to drive the militants out of the strategic valley 100 km (60 miles) northwest of Islamabad, a military spokesman said on Wednesday. Major-General Athar Abbas told a news conference in Rawalpindi, the garrison town next door to the capital, that forces in Buner has also freed 18 of some 70 police and militiamen kidnapped by the militants on Tuesday. Pakistani soldiers had earlier occupied the main town of Daggar, but hundreds of Taliban remain in the valley. [>timesofindia.indiatimes.com; See related story,

thenews.com.pk, April 29, "US missile strikes kill 8 in South Waziristan" : WANA - Eight people were killed in two US missile strikes at a house in South Waziristan, sources said on Wednesday. According to initial reports reaching here, American unmanned aircraft fired two missiles at a house situated in Kanigoram area of South Waziristan, killing at least eight people. While the targeted house and a vehicle were also destroyed in the attacks. [end]
---
4.29.09 Over 40 killed in twin car bombs in Baghdad
BAGHDAD (Reuters) April 29 - At least 41 people were killed and 68 wounded on Wednesday when two car bombs ripped through a busy market in Baghdad's Sadr City slum, mowing down families as they crowded around a popular ice cream parlour, police said. A third car bomb was discovered and was being defused, the police said. After the blasts, angry residents threw stones and empty bottles at Iraqi soldiers and accused them of failing to protect people in Sadr City, a sprawling, largely Shi'ite slum. The blasts followed two days of suicide bombings last week in which 150 people died, stirring fears Iraq could descend into a new spiral of sectarian conflict just as it appeared to be emerging from six years of bloodshed. [More>>khaleejtimes.com]
---
4.29.09 North Korea threatens to enrich uranium
SEOUL, South Korea, April 29 - North Korea said Wednesday that it would start an uranium enrichment program, declaring for the first time that it intended to pursue a second project unless the United Nations lifted sanctions. Calling the Security Council "a tool for the US highhanded and arbitrary practices," North Korea also threatened to conduct nuclear and intercontinental ballistic missile tests. It would take North Korea months to prepare a nuclear or ballistic missile test, and some Western intelligence agencies suspect that North Korea has already been pursuing a covert uranium-based nuclear program in parallel to its known plutonium-based program. New nuclear tests would use up some of North Korea's fissile material, but give it more information to improve its technology, as would new missile tests. [More>>nytimes.com]
---
4.29.09 Hundreds of miles of ice drop from Antarctic shelf
(AP) April 29 - New satellite images from the European Space Agency show massive amounts of ice are breaking away from a shelf on the western side of the Antarctic Peninsula, researchers said today. The Wilkins Ice Shelf had been stable for most of the last century, but began retreating in the 1990s. Researchers believe it was held in place by an ice bridge linking Charcot Island to the Antarctic mainland. But the 127-square-mile (330-square-kilometer) bridge lost two large chunks last year and then shattered completely on 5 April.

"As a consequence of the collapse, the rifts, which had already featured along the northern ice front, widened and new cracks formed as the ice adjusted," the European Space Agency said in a statement today on its Web site. The first icebergs started to break away on Friday, and since then some 270 square miles (700 square kilometers) of ice have dropped into the sea, according to the satellite data. [More>>independent.co.uk]
---
4.28.09 The missing sunspots: Is this the big chill?
April 28 - Scientists are baffled by what they're seeing on the Sun's surface — nothing at all. And this lack of activity could have a major impact on global warming. Could the Sun play a greater role in recent climate change than has been believed? Climatologists had dismissed the idea and some solar scientists have been reticent about it because of its connections with those who those who deny climate change. But now the speculation has grown louder because of what is happening to our Sun. No living scientist has seen it behave this way. There are no sunspots.

The disappearance of sunspots happens every few years, but this time it's gone on far longer than anyone expected – and there is no sign of the Sun waking up. "This is the lowest we've ever seen. We thought we'd be out of it by now, but we're not," says Marc Hairston of the University of Texas. And it's not just the sunspots that are causing concern. There is also the so-called solar wind — streams of particles the Sun pours out — that is at its weakest since records began. In addition, the Sun's magnetic axis is tilted to an unusual degree. "This is the quietest Sun we've seen in almost a century," says NASA solar scientist David Hathaway. But this is not just a scientific curiosity. It could affect everyone on Earth and force what for many is the unthinkable: a reappraisal of the science behind recent global warming.

Our Sun is the primary force of the Earth's climate system, driving atmospheric and oceanic circulation patterns. It lies behind every aspect of the Earth's climate and is, of course, a key component of the greenhouse effect. But there is another factor to be considered. When the Sun has gone quiet like this before, it coincided with the earth cooling slightly and there is speculation that a similar thing could happen now. If so, it could alter all our predictions of climate change, and show that our understanding of climate change might not be anywhere near as good as we thought.

Sunspots are dark, cooler patches on the Sun's surface that come and go in a roughly 11-year cycle, first noticed in 1843. They have gone away before. They were absent in the 17th century — a period called the "Maunder Minimum" after the scientist who spotted it. Crucially, it has been observed that the periods when the Sun's activity is high and low are related to warm and cool climatic periods. The weak Sun in the 17th century coincided with the so-called Little Ice Age. The Sun took a dip between 1790 and 1830 and the earth also cooled a little. It was weak during the cold Iron Age, and active during the warm Bronze Age. Recent research suggests that in the past 12,000 years there have been 27 grand minima and 19 grand maxima. [More>>independent.co.uk]

---
Editorial note: "Wet and dry periods recorded by myth, historians and science." A record of solar flare activity by Perry and Hsu of the past 14,000 years shows a period of peak solar activity ~1,200 B.C., accompanied by droughts reported in myths and ancient histories, followed by a cooling down, resulting in the displacement / migration of peoples. Similar affects may be replicated today. Click on chart for larger image.
(From maravot.com/Banquet3.html,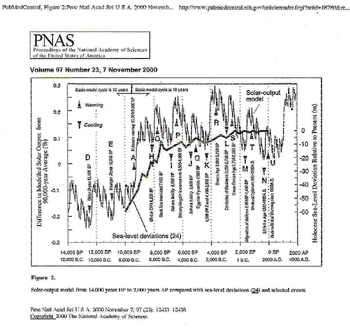 August 2004)
A wonderful article by Charles A. Perry and Kenneth J. Hsu published online before print October 24, 2000 provides a chart that visually describes the environmental changes on the earth from 12,000 B.C. to the present. The title of the article is: Geophysical, archaeological, and historical evidence support a solar-output model for climate change. I highly recommend that you click on Figure 2 of the article, Solar-output model from 14,000 BP (12,000 B.C.) to 2,000 years AP compared with sea-level deviations and selected events. I have included a copy of the chart for those those unable to access the site. Essentially increased solar radiation cycles correspond to warming periods, resulting in sea-level rise. Decreased solar radiation cycles correspond to cooling periods (Ice-ages) and droughts. Two events on the chart are relevant here, which include the 4,000 BP warming event, ending about a 1,500 year cooling cycle, and the "Centuries of Darkness event," 3,250 BP - 2,750 BP (1,250 B.C. - 750 B.C.) which marked the end of a short, 500 year cooling cycle (drought), and the beginning of a warming cycle that has essentially continued. We all know that it is continuing as we speak, and for what it is worth the Caspian Sea level has been rising. In an online article, Caspian Sea-Level Rise: An Environmental Emergency, Dr.A.Tolkatchev, Senior Assistant Secretary, IOC Secretariat, UNESCO, says: "The rapid rise of the Caspian Sea level ( about 2.25 meters since 1978) has caused great concern to all five surrounding countries: Azerbaijan, Iran, Kazakhstan, Russia and Turkmenistan. Endowed with an oil-rich basin and one of the planet's most biologically productive water bodies, the region is characterized by many big cities and other human settlements along the sea coastal line."

It would appear that we are in a dramatic climatic event, just as was experienced about 1,200 B.C. Both droughts and increased moisture can cause people to move for a variety of reasons, depending upon where they are located. In Britain one could possibly — according to myth — walk to the isle of Wight. (The Celts identified their land as including the Island of Britain and its three smaller islands, the island of Anglesey [Mona], Man, and Wight). But when it began to get warmer ~1,200 B.C. lands that were arable turned into bogs, roads could not be used without being cordoned, where the lowlands were excellent for growing wheat the lands had to be abandoned, and in some cases barley became the staple where wheat would not grow. In modern terms we all have witnessed major flooding in Britain and the Eastern seaboard of the United States, the increase of hurricanes in frequency coming from the African coast riding on winds from the Sahara desert; and we all watch the evening news describing the movement of the Sahara desert south, impacting the people of the Sudan. Climatic changes have political effects, where a dominant group having more difficulty sustaining itself due to climatic change may kick out another group from an adjacent territory to take over its land (as appears to be happening in the Sudan). Frequently throughout our archeological past we find areas and cities completely abandoned and later reoccupied. Some cities never are reoccupied...

Mel Copeland
---
4.28.09 Cosmic blast sets distance mark
April 28 - The cataclysmic explosion of a giant star early in the history of the Universe is the most distant single object ever detected by telescopes. The colossal blast was picked up first by Nasa's Swift space observatory which is tuned to see the high-energy gamma-rays emitted from extreme events. Other telescopes then followed up the signal, confirming the source to be more than 13 billion light-years away. Scientists say the star's destruction probably resulted in a black hole. "This gets us into a realm where we've never been before," said Nial Tanvir, of the University of Leicester, UK. "This is the most remote gamma-ray burst (GRB) ever detected, and also the most distant object ever discovered." [More>>bbc.co.uk]
---
4.28.09 7 countries have confirmed cases of Swine Flu
April 28 - Two new swine flu cases were confirmed in Israel and as many as 11 in New Zealand, bringing the number of countries with confirmed cases to at least seven on Tuesday. But all, with the exception of Mexico, said the patients were recovering or had been hospitalized with only mild symptoms, leaving health officials struggling to determine why the disease has killed only in Mexico.
Twenty fatalities have been confirmed in Mexico, and the number of deaths considered likely to have been caused by the flu rose to 152, up from 149 on Monday, according to Mexico's health minister. The number of people believed to be infected surpassed 1,600.
In the United States, the number of infections stood at 50. Preliminary tests by health officials in New Jersey had identified five "probable" cases — four people who were recently in Mexico and one who had been in California, The Associated Press reported. Other cases have been reported in Ohio, Kansas, Texas and California. Most of the cases were concentrated in New York, at a high school in Queens where a group of students had recently traveled to Mexico. At least 28 students at the school tested positive, and another 17 were suspected of having the flu, with testing underway. Investigators were also examining between 10 and 15 possible new cases in three counties in upstate New York, all involving people who had recently traveled to Mexico or the southwest United States. [More>>nytimes.com]

---
Editorial note: While experts comment on the World War I era "Spanish flu" killing ~50 million worldwide, we need to keep in mind that 10% of those infected by the Spanish flu" died. We can compare this to the much more lethal "Bird flu" that has so far experienced a 50% kill ratio. Health experts compare the health risk of the Swine flu to that of the Spanish flu.

Mel Copeland
---
4.28.09 Detained man is Qaeda-linked group leader: Iraq
BAGHDAD, April 28 - Pakistan president believes bin Laden is dead. Iraq confirmed the identity of a suspect captured last week as Abu Omar al-Baghdadi, believed to be head of the Islamic State of Iraq, an al-Qaeda-linked group, as Pakistan's President Zardari said he suspected Osama bin Laden was dead. The arrest of al-Baghdadi could deal a blow to a weakened, yet still potent, insurgency in Iraq at a time when a rash of major bombings has cast a shadow over recent security gains.

"As someone who works at the Defense Ministry and in the security field, I affirm that this is Abu Omar al-Baghdadi," Mohammed al-Askari, spokesman for the Iraqi Defense Ministry, told al-Iraqiya state television. He said the arrest was carried out without American military assistance. "The operation was totally successful." Baghdadi is said to be the head of the Islamic State of Iraq, close to al-Qaeda's main organization in Iraq, which is led by Abu Ayyub al-Masri, also known as Abu Hamza al-Muhajir. [More>>alarabiya.net]
---
4.28.09 Scientists step closer to diabetes vaccine
April 28 - Australian scientists are a major step closer to developing a vaccine which could stop people at risk of Type 1 diabetes from developing the debilitating condition. Dr. Shane Grey and his colleagues have found a way to stop the genetic condition from occurring in mice bred to spontaneously develop it and, he says, it appeared the protection was life-long.

The technique also had a 100 per cent success rate for the mice involved in the study, undertaken at Sydney's The Garvan Institute. "It does sound too good to be true," Dr. Grey said. "We helped the immune system to re-educate itself, and it was tolerant again of the (mice's) insulin producing cells. That then gives very strong support to the idea that our drug treatment would give life-long protection." [More>>news.com.au]
---
4.28.09 Thailand: Muslim family killed by suspected separatis militants
April 28 - Ten people have been killed by suspected separatist militants in the far south of Thailand over the past two days. Four of the 10 victims were members of a Muslim family whose home in Yala province was attacked by heavily armed gunmen on Monday night, army colonel Prinya Chaidilok said. Another two Muslims were shot dead while they were preparing to enter a mosque for prayers about 100 yards from the family's home, he said. Their deaths came around the fifth anniversary of a bloody government raid on a Muslim mosque. On April 28, 2004, troops and police killed 106 Muslim militants armed with machetes and guns who launched coordinated early morning raids on more than a dozen security posts. Among the dead were 32 militants killed during a three-hour shoot-out at Pattani's historic Krue Se mosque. More than 3,000 people have been killed in three southern provinces since 2004. [More>>news.sky.com]
---
4.28.09 Palestinian gets death sentence for selling land to Israel
(AP) April 28 - A Palestinian military court has sentenced a man to death by hanging for selling land to an Israeli company. Land sales are considered treason by the Palestinians because of their long-running dispute with the Israelis, however the sentence is unlikely to be implemented. Palestinian President Mahmoud Abbas routinely withholds the required approval for executions. Several others are on death row as suspected informants for Israel. The sentence was handed down Tuesday in a military court in the West Bank city of Hebron after two days of closed-door hearings. Prosecutor Issa Amer said the defendant sold land that didn't belong to him in the village of Beit Ummar using forged documents. [>haaretz.com]
---
4.28.09 Mideast arms import increased sharply: report
DUBAI, April 28 - The UAE top importer followed by Israel, Egypt. Arms transfers to the Middle East increased sharply in the past four years with the United Arab Emirates becoming the third-largest arms importer worldwide in a "worrying trend" in the region, a leading defense think tank said Monday. A report by the Stockholm International Peace Research Institute (SIPRI) showed a 38 percent increase in arms imports in the Middle East in 2004-2008 compared to the four years prior. "During the past five years, we have seen the re-emergence of the Middle East as a major recipient of conventional weapons systems," SIPRI Researcher Pieter Wezeman said in a statement. "While we are a long way from the levels reached in the early to mid-1980s, this is still a worrying trend in a region beset by multiple sources of potential conflict and limited intergovernmental trust and transparency," Wezeman added. [More>>alarabiya.net]
---
4.28.09 Greek Cypriots 'can reclaim land'
April 28 - The European Court of Justice has backed the right of Greek Cypriots to reclaim land they were forced to abandon in the north of the island when it became divided in 1974. The Luxembourg-based court supported the claim of Meletis Apostolides, a Greek Cypriot who challenged a British couple who built a home on land he had owned before the Turkish occupation. The ruling could set a precedent for other Greek Cypriots seeking legal action against foreigners living in disputed properties in the island's north.

It may also impact peace talks between the south and north, which are aimed at reunifying the ethnically-divided island. Apostolides took his case to the European Union's top court after a series of legal battles against Linda and David Oram, a British couple. The Greek Cypriot, who currently lives in the island's south, was forced to leave his land in the north after the Turkish intervention, which saw some 170,000 Greek Cypriots flee their homes. [More>>aljazeera.net; See background involving the divided island, wikipedia.org]
---
4.28.09 Pakistan jets bomb Taliban hideouts in Buner
PESHAWAR, Pakistan (AP) April 28 - Fighter jets began bombing Taliban hideouts in a district near the Pakistani capital on Tuesday, a military spokesman said, signalling an expansion of an offensive against a controversial peace deal. Ground troops also are preparing to enter Buner district, said Maj. Nasir Khan, adding there were no immediate reports of casualties. Taliban from the neighboring Swat Valley alarmed the world this month when they entered Buner by the hundreds and began setting up checkpoints, patrolling streets and warning locals to abide by strict interpretations of Islam.

Buner lies about 60 miles (100 kilometers) from Islamabad, and the Taliban's foray prompted major concern from the US, which urged Pakistani officials to tackle the threat head-on. Though they denied they were responding to outside pressure, Pakistani officials in recent days issued stern warnings against the Buner infiltrators, while launching a separate offensive against militants in Lower Dir, another district covered by the peace deal.

The deal imposes Islamic law in those areas in exchange for peace with militants who have waged a violent two-year campaign in the Swat Valley. It apparently emboldened the Swat militants to go beyond the valley's borders, at least under the guise of enforcing Islamic law. Many of the Taliban were reported to have left Buner starting on Friday. But Interior Minister Rehman Malik said earlier on Tuesday that around 450 militants remained there and he warned them to get out or the government would take action. [>timesofindia.indiatimes.com; See also,
indianexpress.com, April 28, "Pakistan launches air, ground offensive in Buner; Dir fighting kills 85" : Succumbing to international pressure to contain the advancing Taliban, Pakistan mounted a major offensive against them in Buner, using fighter jets to pound their hideouts, even as 75 militants and 10 soldiers were killed in fighting in a nearby district...

thenews.com.pk, April 28, "Five policemen kidnapped, 11 suspects arrested in Swat" : SWAT - Five policemen have been kidnapped while security forces arrested 11 suspects here on Tuesday. According to sources, militants attacked a police checkpost located in the outskirts of Mingora and kidnapped three policemen. Earlier, unidentified gunmen fired on a police party in Bahrain area injuring one while another policeman was abducted. Security forces arrested 11 suspected militants from Fizzaghat checkpost and shifted them to an undisclosed location. [end]
---
4.28.09 Three cleared of helping July 7 London bombers
April 28 - Three men - Mohammed Shakil, Sadeer Saleem and Waheed Ali — have been cleared of helping the July 7 bombers plan their attacks. The three men, all from Beeston in Leeds, who have been acquitted by a jury, were the only people ever to be charged in relation to the bombings of July 2005. They had been accused of conducting a "hostile reconnaissance" mission for the bombers seven months before the attacks. They were joined by two of the bombers as they travelled to King's Cross, along with the London Eye and Natural History Museum, eight days before Christmas in December 2004. [More>>telegraph.co.uk]
---
4.28.09 More Palembang jihadists jailed for murder, terror attack
JAKARTA, April 28 - The South Jakarta District Court has sentenced two Palembang jihadists, Ali Mashudi and Wahyudi, to serve 10 and 12 years in jail respectively for the killing of a clergyman and another terror attack. At Tuesday's court trial, presiding judge Aswardi said both defendants had violated article 15 of the Law No. 12/2003 on antiterrorism attack. "Both Ali and Wahyudi were involved in the murder of clergyman Dago Simamora and plotted an attack to explode a cafe in Bukittinggi, South Sumatera in June 2007," Aswardi said.

He said the defendants had conducted surveys to decide when and where they would kill the clergyman and explode the cafe.. Aswardi further said that both defendants had then reported their findings to mastermind Fajar Taslim who had determined the exact times of the execution. "But they failed to bomb the cafe after noticing a headscarved woman at the targeted place," he said. In July last year, the National Police Anti Terror 88 had arrested the terror suspects in Bukittinggi. Both defendants said they would need a week to consider the verdict before deciding whether or not they would file for appeals. [>thejakartapost.com]
---
4.26.09 Ahmadinejad supports two state solution if Palestinians vote for agreement with Israel..
April 26 - (Interview by George Stephanopoulos) During our exclusive "This Week" interview, Iranian President Mahmoud Ahmadinejad said Iran would support a two-state solution in the Middle East if Palestinians voted to approve a peace agreement with Israel.
I pressed him repeatedly on the issue, culminating in this exchange:
Stephanopoulos: "If the Palestinians sign an agreement with Israel, will Iran support it?"
Ahmadinejad: "Whatever decision they take is fine with us. We are not going to determine anything. Whatever decision they take, we will support that. We think that is the right of the Palestinian people, however we fully expect other states to do so as well."
The Iranian president signaled that Iran could accept the existence of Israel, in stark contrast to both his previously reported statement that Israel must be "wiped off the map" and the position of Iran's Supreme Leader, Ayatollah Ali Khamenei. [More>>abcnews.com; See also the Israeli take on the discussion:
haaretz.com, April 26, "Obama support of 'Gaza massacre' was big mistake" : In a rare interview with American television, Iranian President Mahmoud Ahmadinejad criticized US President Barack Obama for his "support of the massacre of Gazans" during Israel's offensive on the Hamas-ruled coastal territory earlier this year. "The gentleman's [Obama] support of the massacre of Gazans in support for the criminals who were responsible for that atrocity was a major mistake on the part of the gentleman," Ahmadinejad told ABC reporter George Stephanopoulous during an interview aired Sunday on "This Week."

"I think that if Mr. Obama wants to help with the Palestinian issue, he has to move in accordance with justice, fair play and also, again, I am calling for the right for the Palestinians to determine their own fate," said the Iranian leader. Ahmadinejad also used the interview to defend again his speech at the United Nations anti-racism conference last week, in which he called Israel a "racist" state, and to slam the American leader for boycotting the summit.

"When I was talking against the Zionist regime in the racism conference, the first proviso for successful talks would be to give the other party the freedom to speak," said the Iranian leader. "Mr. Obama has the right to have his own opinion, obviously. He is ready to express his points of view. But the Geneva conference had been organized to combat racism, to oppose racism," said Ahmadinejad. "My point of view is that the Zionist regime is the manifestation of racism."

When asked whether Iran would support a two-state solution should such a settlement be reached by Israel and the Palestinians, Ahmadinejad said: "Nobody should interfere, allow the Palestinian people to decide for themselves. Whatever they decide."

A vocal denier of the Holocaust, Ahmadinejad also told ABC that he still had two questions regarding the historical accuracy of the Nazis' delieberate murder of six million Jews during World War II. "If the Holocaust happened," Ahmadinejad said, then Palestinians should not be held to pay the price.

"My first question was, if the Holocaust happened, where did it take place? In Europe. Why should they make amends in Palestine?" he said, adding: "The Palestinian people had no role to play in the Holocaust. They had no role, for that matter, in the Second World War. Racism happened in Europe, the amends are made in Palestine?" The Iranian leader also said that more questions and research must be done to prove that the event actually occurred.

"My second question about the Holocaust, if this is indeed a historical event, why do they want to turn it into a holy thing? And nobody should be allowed to ask any questions about that? Nobody study it, research it, permit it to research it. Why?" [end]
---
Editorial note: "Redemption of the diaspora and the holy." See Maravot News article below: 4.25.09 'Jordan's King Abdullah: Israel must choose integration or isolation for a discussion on how the state of Israel came to be created. It essentially boils down to a bargain accepted by Middle East leaders involving the granting of independence to Saudi Arabia, Syria, Iraq, Lebanon and Jordan, the establishment of the state of Israel and provision for a separate Palestinian state and, most importantly, the Corpus Separatum of Jerusalem. Jerusalem would be governed by the UN. The holy things attendant to the bargains encompass Biblical promises involving the restoration of the Jews from their diaspora. Since the Koran was written to confirm the Bible, presumably Mohammed would have honored the Bible's plan of restoration and redemption.

See Maravot News 12.04.08 article, 12.01.08 Muslims condemn Mumbai attacks, worry about image and editorial note, "Confusion over the teachings of the Koran." Here we discuss:

—Koran's Confirmation of the Bible
—Koran advocates violence against unbelievers (kuffar) / enemies:
—Islamic scholars teachings against unbelievers - "kuffars"
See Maravot News 1.30.09 article 01.28.09 'Jerusalem division wil lead to Iran base' and editorial note, "A solution bringing peace..." Links to the various legal documents forming Israel are in this article.

The Biblical plan included a recognition of everyone living in the land at the time of the redemption of Israel as holy, even everyone living in Jerusalem at that time. Also, the land itself is given a new name.

Mel Copeland
KUALA LUMPUR, Malaysia (AFP) April 26 - A Malay-language Bible that does not use the word "Allah" has caused controversy among Malaysian Catholics, as the church fights a court case to guarantee its right to use the word, according to press reports on Sunday. The Catholic Herald newspaper, in its Sunday edition, criticized the release this week at an international book fair of the new Bible, which uses the Hebrew word "Elohim" instead of "Allah" for God. "The Catholic bible that the church uses has the word 'Allah' for God whereas in comparison, this one does not," the paper's editor Father Lawrence Andrew told AFP.

"The new Malay bible weakens the argument for using the word Allah because some groups are trying to substitute God with a foreign name, whereas Allah is the Malay word for God and has been the accepted translation for centuries," he said...The Catholic Church has taken legal action against the government after it was ordered not to use the disputed word under threat of having its paper's publishing permit revoked. Malaysian authorities argue the word should be used only by Muslims, who form the bulk of the country's multicultural population...A court is expected to decide on May 28 whether the Church has the right to use the word. [Full story>>alarabiya.net]

---
Editorial note: "Allah and the Bible." See related story Maravot News 7.08.08 7.04.08 Sikh group joins protest against ban on use of word "Allah" in Malaysia and editorial note on the Koran's confirmation of the scriptures (Bible) and its relationship to the use of "Allah" as a name of God. This article also contains a link to the original Catholic lawsuit. There is much confusion among Moslems and Christians over the Koran, as noted in Maravot News 12.04.08 article, 12.01.08 Muslims condemn Mumbai attacks, worry about image and editorial note, "Confusion over the teachings of the Koran."

Mel Copeland
---
4.26.09 As nations try to contain flu, NY cases are confirmed
NEW YORK, April 26 - American health officials announced Sunday they had confirmed 20 cases of swine flu across the United States, and they said the number of infections was likely to grow as investigators fan out to track down the path of the outbreak. "We are seeing more cases of swine flu," said Richard Besser, acting director of the Centers for Disease Control, in a news conference in Washington. "We expect to see more cases of swine flu. As we continue to look for cases, I expect we're going to find them."

Officials said they had confirmed eight cases in New York, seven in California, two in Kansas, two in Texas and one in Ohio, and that the cases looked to be similar to the deadly strain of swine flu that has killed more than 80 people in Mexico and infected 1,300 more. So far, there have been no deaths from swine flu in the United States, and only one of the people who tested positive for the disease has been hospitalized, officials said.

Even though most of the cases have been mild, officials said they expect reports of more severe infections, and said the government had declared a public health emergency over swine flu. The declaration came as countries around the world raced to contain the outbreak of swine flu amid reports of potential new cases from New Zealand to Hong Kong to Spain, raising concerns about the potential for a global pandemic. [More>>nytimes.com]
---
4.26.09 Italian cruise ship beats off pirate attack
NAIROBI, Kenya (Reuters) April 26 - An Italian cruise ship used guns and a firehose to beat off an attack by pirates off the east African coast, the vessel's captain said on Sunday. Commander Ciro Pinto of the MSC Melody, which has a capacity of 1,500 passengers and crew, said the ship was slightly damaged by firing from the pirates. The ship came under attack when it was 200 miles (320 km) north of the Seychelles and 600 miles (960 km) off the Somali coast. "They started firing like crazy at the ship," he told Italian television Skytg24. Pinto said pistols were handed out to security staff and they opened fire on the pirates when they tried to clamber up the sides of the ship.
"They tried to put up a ladder with hooks. They were climbing up, so we reacted. We started firing. When they saw us firing -- we even sprayed them with water with the firehose -- they gave up and went off," Pinto said. [More>>thestar.com.my; See more details and related story:

jpost.com (AP) April 26, "Israeli guards drive off Somali pirates" : Israeli private security guards exchanged fire with pirates who attacked an Italian cruise ship with 1,500 people on board far off the coast of Somalia, and drove them away, the ship's commander said Sunday...Domenico Pellegrino, head of the Italian cruise line, said Msc hired the Israelis because they were the best trained security agents, the ANSA news agency reported. Civilian shipping and passenger ships have generally avoided arming crewmen or hiring armed security for reasons of safety, liability and compliance with the rules of the different countries where they dock...Saturday's attack occurred about 325 kilometers north of the Seychelles, and about 800 kilometers east of Somalia, according to the anti-piracy flotilla headquarters of the Maritime Security Center Horn of Africa...

xinhuanet.com, April 26, "Yemeni oil tanker taken by Somali pirates" : NAIROBI - Somali pirates took a Yemeni tanker in their latest attack on Sunday in the Gulf of Aden off the coast of the Arabian Peninsula, according to reports monitored here. The tanker, identified as Qana, was seized in the fight between Yemeni coast guards and the assailants. At least three Somali pirates and two Yemeni guards were wounded. The attack was the second reported within hours after Somali pirates opened fired at an Italian cruise ship with nearly 1,000 passengers on board on Saturday night north of the Seychelles...On Saturday, Andrew Mwangura of the East Africa's Coordinator of Seafarers Assistance Program (SAP) said Somali pirates hijacked a German ship overnight with 17 crew members on board...The Buccaneer was seized by pirates in the Gulf of Aden on April 11 with a crew of 16 on board, including 10 Italians, five Romanians and one Croat...
---
4.26.09 Scores of militants killed in Dir operation
Dir, Pakistan, April 26 - The Frontier Corps on Sunday seized control of Lal Qila following an intense battle with militants. In a statement issued here today, ISPR said that scores of militants were killed in the operation. Ten dead bodies were recovered from Lal Qila, it said. Besides, one security personnel was martyred and four others wounded in the fresh offensive. The local people had a sigh of relief over successful operation. They celebrated the victory and chanted slogans in favor of Frontier Corps Jawans. The ISPR said that people praised the courageous action of FC troops and assured their full support. [>thenews.com.pk; See more details and related stories:

khaleejtimes.com (Reuters) April 26, "Pakistan begins military offensive against militants" : ISLAMABAD - Pakistani security forces began an offensive on Sunday to stop the Taliban's creeping advances in a troubled northwestern region, the military said. The operation in the North West Frontier Province came amid growing worries in the United States about the stability of its nuclear-armed ally after militants began extending their clout. "Intense exchange of fire is going on in Lower Dir," a military spokesman told Reuters. He said scores of militants, including a commander, and a soldier had been killed in the operation. A military official said the security forces captured the Lal Qila area from the militants after a fierce battle.

The operation began after militants opened fire on a convoy of paramilitary Frontier Corps in the region, wounding four soldiers. Lower Dir is part of Malakand division where President Asif Ali Zardari reluctantly sanctioned the imposition of Islamic sharia law aimed at ending militant violence. Emboldened after winning that concession, Taliban fighters moved into the Buner district of Malakand — just 100 km (60 miles) northwest of the Pakistani capital — from the neighboring Swat valley. The Taliban's creeping advance towards Islamabad has heightened concern in Washington that its crucial ally is in danger of sliding into chaos...

timesofindia.indiatimes.com, April 26, "Taliban chief despatches 300 terrorists to attack Pakistan cities" : ISLAMABAD - Pakistani Taliban chief Baitullah Mehsud plans to carry out terror attacks in major cities, including Islamabad, Rawalpindi and Lahore, and has despatched his top five commanders along with 300 terrorists and suicide bombers to execute the mission .(Watch)

The five Taliban commanders will supervise the terrorist operations planned by Mehsud and the Taliban Himayat Tehrik in these cities, interior ministry sources told The News daily. The Taliban commanders who had left North Waziristan on the mission were identified by intelligence agencies as Shikaari, Inayatullah, Walid, Mujahid and Abdali, sources said. A security official said the Taliban commanders had left North Waziristan Agency for Islamabad on April 11 along with an explosives-laden Toyota Corolla car with the registration number IDG-8720.

The sources, quoting an intelligence report, said about 300 terrorists and suicide bombers would reach Islamabad with the five commanders. However, law enforcement agencies are unaware whether the militants have reached their destination or postponed their operation, the official said. Interior Secretary Kamal Shah confirmed the report and said foolproof security measures have been adopted to thwart the threats. "The law enforcement agencies have chalked out counter strategies to deal with the situation," he said. [end]
---
4.26.09 Taliban shave men for listening to music
PESHAWAR, Pakistan (AFP) April 26 - Taliban militants in northwest Buner district shaved the heads and moustaches of four Pakistani men as punishment for listening to music, one of the men said. Buner has been subject to huge US concern after hundreds of Taliban fighters advanced into the area from the neighboring Swat, where the hardliners fought a brutal, nearly two-year insurgency to enforce Islamic law. "I was with three other friends in my car, listening to music when armed Taliban stopped us and, after smashing cassettes and the cassette player, they shaved half our heads and moustaches," he said. "The Taliban also beat us and asked us not to listen to music ever again," said the terrified man. [More>>news.com.au]
---
4.26.09 Al-Qaeda group in threat to kill British hostage unless Abu Qatada freed
April 26 - Al-Qaeda in North Africa has threatened to kill a British hostage unless the UK government releases Abu Qatada, a radical Muslim preacher in custody in a British jail. The terror group said in a statement posted on an Islamist Web site today that it will execute the tourist, who has been held by the group since late January, if Abu Qatada is not freed within 20 days. Abu Qatada, a Palestinian-Jordanian, was jailed in Britain in 2002 accused of links with militant groups but was released in 2005. He was re-arrested and is pending deportation to Jordan where he was sentenced to life in prison in absentia.

Four tourists, including two Swiss, a German woman and a British man, were kidnapped by gunmen on January 22 in Niger, their tour operator said. It is understood that they was seized near the border between Niger and Mali while they were returning from a music festival in the Sahara desert. Al-Qaeda in North Africa grew out of an earlier Islamist organization based in Algeria called the Salafist Group for Preaching and Combat. It has been praised by Ayman al-Zawahiri, Osama bin Laden's deputy, but appears to operate independent of bin Laden's control. [>timesonline.co.uk]
---
4.26.09 Iraqi militias use brutal torture against gays
BAGHDAD, April 26 - Glue buttocks together and feed them laxatives. Iraqi militias have been using a particularly brutal form of torture against homosexual men that involves gluing the buttocks together and feeding them laxatives, an Iraqi human rights activist revealed last week. "An anti-gay group uses a very strong form of glue that if applied, sticks to the skin so tight that it can only be removed surgically" Yenar Mohamed, the first human rights activist to reveal this issue, told AlArabiya.net. "After the buttocks have been glued together, the victim is given a laxative," Mohamed added. Because they are not able to defecate, the diarrhea eventually leads to death.

The painful torture process was filmed on mobile phones and distributed all over Iraq. The campaign on gays, Mohamed said, was launched three weeks ago after fatwas, religious decrees, calling for their killing, were issued by clerics. Mohamed attributed the rise of homosexuality in Iraq to the growing conservatism in society which makes mingling between sexes increasingly difficult. He pointed out that gays were targeted by both Sunni and Shiite militias and that the fatwas calling for their killing have been broadcast on satellite channels for thousands to hear.

According to earlier press reports, a group called Ahl al-Haq (The Righteous) is targeting gays in the Bagdad slum of Sadr City and has managed to kill several people. The group allegedly published a list with the names of 10 gay men and wrote: "We will kill you, sinners." Bodies of three homosexual men were found in the area shortly after. Hassan, from the London-based Iraqi Lesbians, Gays, Bisexuals and Transgender organization (LGBT), confirmed reports that glue was used to torture homosexuals and said some survivors were even denied treatment in Iraqi hospitals. "Sixty-three people have been tortured so far," Hassan told AlArabiya.net.

Although estimating the number homosexuals in Iraq is a challenge, Hassan noted that international studies estimate that homosexuals make up to 10 percent of any society. Shiites may be more supportive of the anti-gay campaign since the majority of the torturing and killing has taken place in predominantly Shiite areas, said Hassan. The Iraqi defense ministry reported that in April six gay men were shot to death in a Shiite-controlled part of Baghdad. Two of them had pieces of paper attached to them with the word "pervert" written on it.

"I tell them all that homosexuality is not a choice. It is something we are born with," Hassan added. He also criticized the American and British governments for not condemning the killings and attributed their silence to not wanting to antagonize the Iraqi government. [>alarabiya.net]
---
4.26.09 Top militant 'arrested in Iraq'
April 26 - Iraqi Prime Minister Nouri Maliki has said that a man arrested in Baghdad last week is a top figure in the al-Qaeda-related insurgency. Mr. Maliki told the BBC Abu Omar al-Baghdadi had been tracked for more than two months by Iraqi security services. His arrest was reported last Thursday but the reports were not confirmed. Baghdadi is a nom de guerre for a shadowy figure thought to lead the Islamic State in Iraq, an umbrella group of radical Sunni factions. In an exclusive interview with the BBC's Jim Muir in Baghdad, Mr. Maliki disclosed that a purely Iraqi intelligence operation had tracked the wanted man's movements from the inside. [More>>bbc.co.uk]
---
4.25.09 'Jordan's King Abdullah: Israel must choose integration or isolation
April 25 - Jordan's King Abdullah on Friday said that Israel must choose between integrating into the region or remaining isolated, and warned that delaying a two-state solution would be disastrous for Israelis and Palestinians.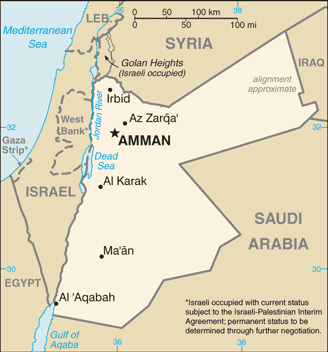 The Jewish state can "integrate into the region...or to remain fortress Israel, isolated, holding itself and the entire region hostage to continued confrontation," Abdullah said during his visit to Washington. Abdullah urged American leaders to back a two-state solution as outlined in the Arab Peace Initiative, which offers Israel normalized ties with all Arab states in return for a full withdrawal from the lands it seized in the 1967 war, the creation of a Palestinian state and a "just solution" for Palestinian refugees. [More>>haaretz.com; map from wikipedia.org]

---
Editorial note: In the restoration of the lands seized in the 1967 war, Jordan would be the greatest benificiary, since the West Bank and East Jerusalem (the Old City) were part of Jordan, established under King Abdullah's great-grandfather, King Abdullah I. Wikipedia.org offers a good summary on the creation of the state of Jordan:
With the break-up of the Ottoman Empire at the end of World War I, the League of Nations and the occupying powers chose to redraw the borders of the Middle East. The ensuing decisions, most notably the Sykes–Picot Agreement gave birth to the French Mandate of Syria and British Mandate of Palestine. More than 76% of the British Mandate of Palestine was east of the Jordan river and was known as "Transjordan."

The country was called "Transjordan," under British supervision until after World War II. In 1946, the British requested that the United Nations approve an end to British Mandate rule in Transjordan. Following this approval, the Transjordanian Parliament proclaimed King Abdullah as the first ruler of the Hashemite Kingdom of Transjordan. Abdullah I continued to rule until a Palestinian Arab assassinated him in 1951 as he was departing from the al-Aqsa Mosque in Jerusalem.

During the 1948 Arab-Israeli war, Jordan captured the area of Cisjordan now called the West Bank (also referred to by Israelis as Judea and Samaria), which it continued to controlled in accordance with the 1949 Armistice Agreements. Abdullah thereupon took the title King of Jordan, and he officially changed the country's name to the Hashemite Kingdom of Jordan in April 1949. The following year he annexed the West Bank, but only two countries recognized this annexation: Britain and Pakistan.

In 1965, there was an exchange of land between Saudi Arabia and Jordan. Jordan gave up a relatively large area of inland desert in return for a small piece of sea-shore near Aqaba.

Jordan signed a military pact with Egypt in May 1967, and together in June 1967 waged the Six Day War against Israel along with Syria, Egypt and Iraq, launching attacks against west Jerusalem. During the war, Jordan lost the West Bank and east Jerusalem to Israel.


...King Abdullah I ruled Jordan after independence from Britain. After the assassination of King Abdullah I in 1951, his son King Talal ruled briefly. King Talal's major accomplishment was the Jordanian constitution. King Talal was removed from the throne in 1952 due to mental illness. At that time his son, Hussein, was too young to rule, and hence a committee ruled over Jordan. After Hussein reached 18, he ruled Jordan as king from 1953 to 1999, surviving a number of challenges to his rule, drawing on the loyalty of his military, and serving as a symbol of unity and stability for both the Bedouin-related and Palestinian communities in Jordan...King Abdullah II succeeded his father Hussein following the latter's death in February 1999. Abdullah moved quickly to reaffirm Jordan's peace treaty with Israel and its relations with the United States. Abdullah, during the first year in power, refocused the government's agenda on economic reform.

Prior to the establishment of Jordan, the area had been partitioned under the various empires that occupied the lands generally known in history as Palestine, including the Babylonian, Assyrian, Egyptian, Greek, Persian and Roman empires. In 1,000 B.C. much of the area was under King David and his son, King Solomon (See map, figure 2 in sidebar). Under the Ottoman Empire the area was called Transjordan, featuring the following demographics,summarized from wikipedia.org:

Under the Ottoman empire, Transjordan did not correspond to any previous historical, cultural or political division, though most of it belonged to the Vilayet of Syria and a strategically important southern section with an outlet to the Red Sea were incorporated into Transjordan by Abdullah, the provinces of Ma'an and Aqaba from the Vilayet of Hejaz.[5] The inhabitants of northern Jordan had traditionally associated with Syria, those of southern Jordan with the Arabian Peninsula, and those of western Jordan with the administrative districts west of the Jordan River.
A discussion on the applicable laws and motives for the creation of Israel and the modern, independent states of Jordan, Iraq, Syria and Saudi Arabia is in "Phylistia triumph thou because of me."

The laws discussed in "Phylistia triumph thou.." — including the separate status of Jerusalem — must be considered in establishing what the Bible envisioned as "The Peace of Jerusalem."

Mel Copeland
---
4.25.09 'Lieberman: Syria not a peace partner as it supports terrorism'
April 25 - Syria is supporting Palestinian and Lebanese terror groups and therefore, is not a partner for peace, Foreign Minister Avigdor Lieberman said in an interview published on Saturday. "We need to look at the reality. Until today, Syria is hosting the headquarters of terror organizations such as Hamas and the (Islamic) Jihad," AFP cited Lieberman as telling the German Zeitung newspaper. "Syria supports Hizbullah and its arms trafficking into southern Lebanon. Syria supports Iran's nuclear program. That is why I cannot see in Syria a real partner for any type of agreement," Lieberman was quoted as saying. The Jerusalem Post could not independently confirm the report. Indirect peace talks between Syria and Israel were suspended following the launch of Operation Cast Lead in the Gaza Strip. Earlier this month, Lieberman said he opposed any withdrawal from the Golan Heights in exchange for a peace deal with Syria. [More>>jpost.com]
---
4.25.09 Reporter on 'hunger strike' in Iran
April 25 - A US-Iranian reporter jailed by Tehran for espionage has gone on hunger strike, her father has said. Reza Saberi said his daughter Roxana, 31, had called from prison to say she was on her fifth day of hunger strike and would continue to refuse food until she was released from jail. "She's not eating anything ... I'm very worried," he said. Judging by her voice over the telephone, "she seems to be weak." The freelance journalist was sentenced to eight years in jail on April 18 on charges of spying for the the US in a verdict that could complicate Washington's efforts towards reconciliation with Iran after three decades of mutual mistrust. Her father told the Reuters news agency in an interview last Tuesday he believed she would starve herself to death if the verdict was upheld by an appeal court. [More>>aljazeera.net]
---
4.25.09 Clinton in Baghdad: Attacks won't derail stability
BAGHDAD, April 25 - US Secretary of State Hillary Clinton on Saturday deplored the recent bombings in Iraq, but said the "terrible and tragic events" haven't stopped the nation from making strides in security...Iranian religious pilgrims were targeted in a couple of the incidents — one at a Diyala restaurant and another at a Shiite shrine in Baghdad. The attacks have raised concerns in Iran, where the supreme leader, Ayatollah Ali Khamenei, on Saturday indicated that the United States was ultimately to blame for the attacks, Iranian news reports said. "The main accused in this crime and other crimes are the US security and military forces that have occupied an Islamic state under the pretext of a campaign against terrorism and have killed or wounded tens of thousands of people so far and have intensified insecurity there," the ayatollah said.

Iran said it expects Iraq to confront such attacks and provide security for the pilgrims. Iran is predominantly Shiite Muslim and Iraq is majority Shiite, and religious faithful travel between the countries on pilgrimages. Clinton said she was unaware of Khamenei's remarks, but said, "It is disappointing for anyone to make such a claim since it is clearly traced to the al-Qaeda remnants and other violent groups who wish to disrupt progress of Iraq." [Full story>>cnn.com]
---
4.25.09 'Suicide bombers strike Afghan governor's compound
(Reuters) April 25 - Three suicide bombers blew themselves up inside the governor's compound of Afghanistan's southern Kandahar province today, killing five policemen, provincial council head Ahmad Wali Karzai said. Karzai, who is the brother of President Hamid Karzai, said three policemen were also wounded. Earlier, a police source had said one bomber blew himself up at the gate and the other two were believed to be inside the compound. Canadian troops in a NATO-led security force cordoned off the road leading to the compound. There was no immediate claim of responsibility for the attack, but Taliban militants frequently deploy multiple suicide bombers against government targets. Kandahar, birthplace of the Taliban movement in the 1990s, is in a part of the country that has seen escalating attacks by the militants who were driven from the capital Kabul by US-backed Afghan forces in 2001. [>independent.co.uk]
---
4.25.09 Fear grips Pakistan district despite Taliban 'retreat'
PESHAWAR, Pakistan (AFP) April 25 - "I have resigned. I will never go to my job as I don't want my parents to be sent my body," said a woman in a northwest Pakistan district from which the Taliban claimed to have withdrawn. The woman, who called herself only Hafsa, said she worked for a charity until the Taliban advanced into Buner, just 100 kilometres (62 miles) from Islamabad, from the neighboring district of Swat, which was torn apart by a nearly two-year Islamist insurgency.

Fear and uncertainty reigned in Buner on Saturday despite what the hardline movement trumpeted as a withdrawal to Swat — just the other side of the mountains — to shore up a deal to enforce Islamic law there. "People are scared," said local resident Nisar Khan. "We used to see women going to their offices before the Taliban arrived in the area, but today they did not go to their jobs," he added. "Shops are open and there are no signs of armed Taliban patrolling streets in Buner but people face uncertainty and fear that they may come back," Khan told AFP by telephone from the district..."The Taliban from Swat have left and there is no patrolling going on but we still have local Taliban members from Buner present..." [Full story>>khaleejtimes.com; See related story,
thenews.com.pk, April 25, "Petreaeus for military, civilian aid for Pakistan" : WASHINGTON - General David Petraeus, chief of the US Central Command, warned the House Appropriations Committee that Afghanistan and Pakistan are home to the "most pressing transnational extremist threat in the world." Lawmakers were generally open to the testimony, although some expressed the desire for public benchmarks in Afghanistan and Pakistan. Gen. Petraeus stressed the need of not only military assistance but also civilian aid for eradication of terrorism from Pakistan and Afghanistan..."Afghanistan and Pakistan comprise a single theater," he said. "Achieving objectives in Afghanistan requires a comprehensive approach."...
---
4.25.09 Surrendered terrorist 'sings,' says he was trained in Pakistan
SRINIGAR, India, April 25 - Militant groups operating in Jammu and Kashmir have set up their own separate training centres across the line of control but the Taliban do not operate in the Kashmir valley, a surrendered Pakistani militant said. "Every group has its own training mechanism. Each 'Tanjeem' (group) has its own character and agenda," Syed Moinullah Shah, a Hizbul Mujahideen militant who was part of the group of 31 militants who crossed over to Indian side of Kashmir told the media in Srinagar. Giving graphic details of the training imparted to militants in Pakistan, Shah said the recruits undergo training of three separate durations — 21 days, 40 days and three months.

Even after being trained at the camps across LoC these militants are not given any details about any specific mission or targets in Kashmir. "We are not given any specific target to hit. Once we come to this side of LoC we are given missions by Commanders who are already located here. They tell us where to go and what to do," he said. During his brief interaction with media in presence of Brigadier General Staff of 15 corps Gurmeet Singh, Shah ruled out role of Taliban in the Kashmir. "Taliban do not operate here. They are separate and have different set up. They are involved in Afghanistan and certain parts of Pakistan," Shah said. Shah was produced before the media by Army came waving hands at reporters. During his 10 minutes of appearance before the media, he only answered some basic questions about himself, training and his group. [>indianexpress.com]
---
4.25.09 Ex- Louisiana KKK chief David Duke arrested in Prague
PRAGUE, Czech Republic, April 25 - A former US Ku Klux Klan chief was arrested Friday in a Prague restaurant while he was on a speaking tour here, Czech police said. Former Grand Wizard of the Louisiana-founded Knights of the Ku Klux Klan, David Duke, was arrested on suspicion of promoting movements seeking the suppression of human rights, police spokesman Jan Mikulovsky told local media. The arrest, in a tourist area of picturesque old Prague, took place in "quite confused" circumstances, said David Janda, the head of an anti-extremism unit of the city's police force.

Janda said Duke — who had been due to give three lectures in the Czech Republic — was guarded at the restaurant's entrance by militants belonging to a known far-right group "Narodni Odpor," which means national resistance. Duke, a US citizen, is suspected of denying or approving of the Holocaust and other Nazi crimes, according to the CTK news agency. This crime is punishable by up to three years in prison in the Czech Republic. [More>>japantoday.com]
---
4.25.09 Ban petrol cars from 2015, says Norway's Finance Minister Kristin Halvorsen
(Reuters) April 25 - A proposal to ban sales of new petrol-powered cars in Norway from 2015 could help spur struggling carmakers to shift to greener models, Finance Minister Kristin Halvorsen said. "This is much more realistic than people think when they first hear about this proposal," she said, defending a plan by her Socialist Left Party to outlaw sales of cars that run solely on fossil fuels in six years' time. "The financial crisis also means that a lot of those car producers that now have big problems ... know that they have to develop their technology because we also have to solve the climate crisis when this financial crisis is over," she said...Under her proposal, carmakers could only sell new cars from 2015 that run fully or partly on fuels such as electricity, biofuels or hydrogen. Hybrids using fossil fuels and electricity, for instance, would still be permitted. [Full story>>news.com.au]
---
4.25.09 Three more banks fail, lifting this year's tally in US to 28
CHARLOTTE, North Carolina (AP) April 25 - Regulators on Friday shut down three more banks, boosting the number of failures this year to 28 — more bank closures than in all of last year. The latest banks seized were American Southern Bank in Georgia, Michigan Heritage Bank, and First Bank of Beverly Hills in California. The Federal Deposit Insurance Corp. will continue to insure deposits at both American Southern Bank and Michigan Heritage Bank. The FDIC will payout the insured deposits of First Bank of Beverly Hills...The 28 bank collapses this year follow 25 failures in 2008..The FDIC had 252 banks and thrifts on its list of troubled institutions at the end of 2008, up from 171 in the third quarter. [Full story>>thestar.com.my]
---
4.25.09 North Korea says it has restarted nuclear facilities
SEOUL, South Korea (AP) April 25 - Defiant North Korea says it has begun harvesting plutonium for nuclear weapons. North Korea said Saturday it has begun harvesting plutonium from spent fuel rods at its main nuclear plant to build up its atomic arsenal. The move, in defiance of tightening UN sanctions, threatened to further damage efforts to dismantle the communist nation's rogue program. "This will contribute to bolstering the nuclear deterrence for self-defense in every way to cope with the increasing military threats from hostile forces," the official Korean Central News Agency quoted a North Korean Foreign Ministry spokesman as saying Saturday.
North Korea carried out a nuclear test in 2006 and is thought to have enough weaponized plutonium to make more than half a dozen atomic bombs. Five nations — Russia, China, South Korea, Japan and the US — have been negotiating for years on disarming it, but North Korea has walked away from the talks. [More>>abcnews.go.com; See also story and related links, xinhuanet.com, April 25, "DPRK confirms reprocessing of spent fuel rods."]
---
---
*Visitor statistics on maravot.com from 1&1. com. 46,153 page views in May 2007; monthly visitors in 2008 range between 40,000-45,0000..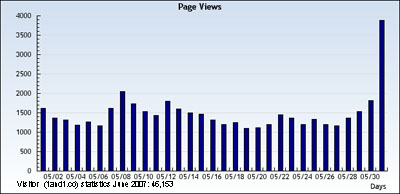 Privacy Policy: We do not store any personal data from you. We have no way of knowing any vital information about you — not even your name. Third-party distribution: We do not distribute information about your site usage to any third party. We are not responsible for the content of links from our site. Usage data: supplied by our Web Hosting service, 1and1.com, which consists of usage reports, such as page views / impressions and web pages visited, visitors' servers and geographical data (ISP's and country of origin).

---
Launched: 10.25.04 / 11.02.04 – | — |
Updated: 4.25.09; 4.26.09; 4.28.09; 4.29.09; 4.30.09
Copyright © 1981-2009 Maravot. All rights reserved
Copyright © 1981-2009 Mel Copeland. All rights reserved
Background: tile from Cicero's villa (Marcus Tullius Cicero 106 B.C. - 43 B.C.)