News Headlines & Trends
---

03.08.10 Ecologists turn exterminators in the great rat hunt
March 8 - Helicopters bombard South Atlantic island with poison to save rare birds. The world's biggest rat-hunt is being mounted to rid a South Atlantic island of the rodents eating their way through millions of endangered seabirds. The first phase of the eradication programme will start next February on South Georgia in the hope of returning the island to its previous state as a globally important breeding site for seabirds. Over the centuries, the rats arrived on South Georgia off whaling ships and sealers. Since then, their population has grown to several million, feeding on the eggs and live chicks of the ground-nesting birds that breed on the island, nearly 950 miles east of the Falklands.

Invasive rodents have been successfully removed from more than 300 islands worldwide but the South Georgia operation is by far the biggest and most ambitious, involving two helicopters spreading poisoned bait over every square metre of ice-free land on the 170km-long island, with the precision of GPS navigation. But the hunters have to make sure every rat is killed. They reproduce so swiftly that leaving even one pair alive means 15,500 more within a year. "It's easily the largest rat-eradication effort in the world, at least seven times bigger than anything anyone has tackled before," said Tony Martin, professor of animal conservation at the University of Dundee who is in charge of the multi-million pound project.

"My job is to nail every last rat and to make sure we don't poison too many non-target species. It's no good if we end up missing the last couple of rats because they reproduce so quickly and within a few years their numbers will be back up to present levels." South Georgia, a British-dependent territory, is home to about 30 million birds. Some 31 species breed on the island, including grey-headed albatrosses, northern giant petrels, white-chinned petrels, Antarctic prions, half of the world's entire population of macaroni penguins and the South Georgia blue-eyed shag. A further 50 species are known to visit the island. [More>>independent.co.uk]
---
03.08.10 Bomb attack on Pakistani police kills 13
LAHORE, Pakistan (Reutes) March 8 - Pakistan's Taliban claimed responsibility for a suicide car bomb attack on a police intelligence unit in the eastern city of Lahore that killed at least 13 people during Monday's morning rush hour. The al-Qaeda-backed group threatened more violence unless US drone aircraft strikes and Pakistani government offensives against its fighters stop. Lahore's top administrator, Sajjad Bhutta, said up to 600 kg (1,320 lb) of explosives were used in the attack, which targeted a federal police office. The violence may be a psychological setback for Pakistani authorities, who have won praise from Washington after capturing high-profile Afghan Taliban figures and made gains against homegrown militants in their ethnic Pashtun tribal bastions..."Such attacks will continue as long as drone strikes and military operations go on in tribal areas," Taliban spokesman Azam Tariq told Reuters by telephone from an undisclosed location. [Full story>>thestar.com.my]
---
03.08.10 Arrests made over Nigeria attacks
March 8 - Nigerian authorities say they have arrested scores of people in connection with attacks near the central city of Jos that left more than 200 people dead. "We have been able to make 95 arrests but at the same time over 500 people have been killed in this heinous act," Dan Manjang, an adviser to the Plateau State government told the AFP news agency. State radio also reported that 500 people had been slaughtered in Sunday's raid on three villages on the fringes of Jos, although there has been no independent verification of the death toll. Yvonne Ndege, Al Jazeera's correspondent in Abuja, Nigeria's capital, said at least 19 Muslim Hausa-Fulani men had been arrested 30km from Jos, where Sunday's three-hour systematic orgy of violence took place.

...The reported arrests come as security officials faced criticism for failing to prevent another outburst of sectarian violence only weeks after hundreds died in Muslim-Christian clashes. Troops have been deployed in the volatile region to rein in gangs that rampaged across villages near the flashpoint central city, slaughtering women and children, including a four-day-old infant. The violence in three mostly Christian villages Sunday appeared to be reprisal attacks following the January unrest in Jos when most of the victims were Muslims, Robin Waubo, a Red Cross spokesman, said. Our correspondent quoted police as saying that the attackers were Muslim Hausa-Fulani herders while the victims were mainly predominantly Christians from the Borom community. [Full story>>aljazeera.net]
---
03.08.10 Germany arrests Kurdish Iranian dissident leader
DUBAI, March 8 - PJAK demands group leader's release, warns of action. Germany security forces arrested Abdul Rahman Haji Ahmadi, the leader of Iranian Kurdish opposition group, the Free Life Party of Kurdistan (PJAK), at his apartment near Cologne, the group confirmed Sunday. Nooroz news, the satellite channel affiliated to PJAK, said the Iraq-based militant group warned that actions will be taken against Germany and other European countries if Haji Ahmadi is not released, without elaborating on the type of action. "Abdul Rahman Haji Ahmadi is a hero in both Kurdistan and Iran and his arrest is a blatant violation of rights" said a PJAK statement aired on Norooz. "The arrest is not an action against a certain person or a specific trend or group," the statement added. "It rather constitutes a conspiracy against the free will of the people." According to the statement, Haji Ahmadi has been the leader of PJAK since the group was created in 2004 and neither he nor the group has ever been involved in any "undemocratic activities." [More>>alarabiya.net]
---
03.07.10 Iran unveils new cruise missile
March 7 - Iran's defence minister has announced a new production line of short-range cruise missiles which he says are highly accurate and capable of evading radar. General Ahmad Vahidi told state news agency IRNA on Sunday that the Nasr 1 would be capable of destroying targets such as warships. "The Nasr-1 missile is able to destroy 3,000-tonne targets," he said. The missile is launched from the ground but will eventually be modified to fire from helicopters and submarines, he said...Vahidi last month opened two other missile production plants, one making ground-to-air missiles dubbed Qaem and the other turning out surface-to-surface missiles named Toofan 5. [Full story>>aljazeera.net]
---
03.07.10 'Rachel's Tomb was never Jewish'
March 7 - Speaking to Saudi paper, Turkish PM criticizes Israel's nat'l heritage list. Turkish Prime Minister Recep Tayyip Erdogan on Sunday continued his verbal assault on Israel, according to Saudi paper Al Wattan, which quoted him as saying that that al Aksa Mosque, the Cave of the Patriarchs and Rachel's Tomb "were not and never will be Jewish sites, but Islamic sites." Erdogan was referring to Israel's recent inclusion of the Cave of the Patriarchs and Rachel's Tomb on its national heritage list, but it was unclear why he mentioned the Aksa Mosque, since that site was not included.

Speaking to Palestinian journalists, Erdogan reportedly said, "Palestine [was] always at the top of Turkey's priorities." He expressed his support for the renewal of indirect talks between Israel and the Palestinians. Donning a cloak of pan-Islamic identity, Erdogan told Al Wattan that he "loves my brothers in Fatah and my brothers in Hamas to the same degree, because they are my Muslim brothers and I cannot distinguish between them."

Turkey's prime minister began criticizing Israel in the wake of Operation Cast Lead last year, and has been punctilious in voicing his opinion on Israel's actions since. In the recent past, he sharply criticized Israel during press conferences with the Lebanese prime minister and with Iranian President Mahmoud Ahmadinejad. Turkey also recently distanced itself from the United States, withdrawing the ambassador from Washington after a congressional committee decided to recognize the killing of Armenians during World War I as a genocide. In a sign of tensions between Israel and Turkey, Ankara did not seek the help of Jewish lobbies in Washington, and these groups, which have traditionally advocated on behalf of Turkey, refrained this time from pressing Congress not to accept the resolution. [>jpost.com; See background article, , Maravot News article 03.05.10 15 cops, dozens of Palestinians hurt in Temple Mount clashes and Editorial note, "Understanding the deep divide between the Jews and Palestinians."]
---
03.07.10 Army launches investigation: Corrupt Afghans stealing millions from aid funds
March 7 Money that is supposed to help impoverished civilians and farmers is ending up in the hands of the Taliban, drug lords and profiteers. A major investigation has been launched into contracts awarded by coalition forces in Afghanistan that are worth hundreds of millions of pounds. The probe into construction and logistics contracts of the International Security Assistance Force (ISAF) has been ordered by Major General Nick Carter, commander of ISAF forces in the south of the country. It is prompted by mounting concerns that the very money supposed to win over the hearts and minds of Afghans is ending up in the hands of the Taliban, drug lords or profiteers.

The British commander's concern is part of a wider crackdown on corruption, with General Stanley McChrystal having declared war on those making millions out of what has become a billion-dollar black hole for aid funds, in an anti-corruption directive issued last month. A third of the costs of supplying the armed forces in Afghanistan is spent on paying protection, bribery and safe passage fees, and everybody is complicit, claim Afghan experts, who spoke under condition of anonymity.

Trucks pay a "Taliban tax" of up to $1,500 each time they venture out from Karachi to Camp Bastion. And millions are being made by a clique around Afghanistan's President, Hamid Karzai, many of whom have interests in transportation and private security. Members of prominent Afghan families, including Hashmat and Ahmed Wali Karzai, brothers of President Karzai, and Hamed Wardak, the son of the Defence Minister, Rahim Wardak, are among those accused of controlling private security firms benefiting from lucrative security contracts by paying off the Taliban. Up to $600m of aid for reconstruction projects goes on security each year, according to Afghan government sources.

The US Congress is investigating allegations of a massive protection racket in which private security companies paid to protect routes for coalition forces are involved in paying off local warlords and the Taliban...As little as a quarter of the aid money pumped into the country actually stays in Afghanistan, according to aid organizations in Afghanistan. Of the money that is spent on aid, about a third goes on bribes and protection money, claims Sayed Javed, president of the NGO Kabul Group Consulting. [Full story>>independent.co.uk; See related story,

thejakartapost.com, March 7, "Afghan president gets an earful in seized town" : MARJAH, Afghanistan - Aghan President Hamid Karzai heard a litany of complaints Sunday from residents of Marjah, the southern town that thousands of U.S., NATO and Afghan troops just seized from the Taliban. "Today, I'm here to listen to you and hear your problems," Karzai told about 300 elders in a mosque in the central part of the town.

The elders didn't hold back.

They complained — sometimes shouting — about corruption among former Afghan government officials. They lamented how schools in Marjah were turned into military posts by international forces. They said shops were looted during the military offensive, and alleged that innocent civilians were detained by international forces...
---
03.07.10 Al-Qaeda calls on US Muslims to attack America
CAIRO (AP) March 7 - Al-Qaeda's American-born spokesman on Sunday called on Muslims serving in the US armed forces to emulate the Army major charged with killing 13 people in Fort Hood. In a 25-minute video posted on militant Web sites, Adam Gadahn described Maj. Nidal Hasan as a pioneer who should serve as a role model for other Muslims, especially those serving Western militaries. "Brother Nidal is the ideal role-model for every repentant Muslim in the armies of the unbelievers and apostate regimes," he said. Gadahn, also known as Azzam al-Amriki, was dressed in white robes and wearing a white turban as he called for attacks on what he described as "high-value targets."

Gadahn grew up on a goat farm in Riverside County, California, and converted to Islam at a mosque in nearby Orange County. "You shouldn't make the mistake of thinking that military bases are the only high-value targets in America and the West. On the contrary, there are countless other strategic places, institutions and installations which, by striking, the Muslim can do major damage," he said, an assault rifle leaning up against a wall next to him. Gadahn has been wanted by the FBI since 2004 and two years later was charged with treason. There is a $1 million reward for information leading to his arrest or conviction. He has in the past posted videos and messages calling for the destruction of the West and for strikes against targets in the United States. His location is unknown, but he is believed to be somewhere along the border between Afghanistan and Pakistan. [More>>khaleejtimes.com; See related stories,

thenews.com.pk, March 7, "Al-Qaeda most wanted Adam Yahiye Gadahn held in Karachi" : KARACHI - US most wanted Adam Yahiye Gadahn, a key al-Qaeda operative, has been arrested in Karachi, Geo News reported Sunday. The intelligence agencies arrested Adam Yahiye Gadahn from Super Highway here. Official sources have not yet confirmed the arrest of the Gadahn, the US national who also remained spokesman and media adviser of al-Qaeda. [end]

thenews.com.pk, March 7, "Al-Qaeda man among two held in Karachi" : KARACHI - Two terrorists, including a key al-Qaeda commander, were arrested from Karachi, sources told Geo Sunday. According to sources, security agencies raided a house located at Super Highway in Karachi, in which two people, including a commander linked with the al-Qaeda network, were arrested. The arrested men include Commander Abu Yahya Azam, a close accomplice of Usama bin Laden. They were later shifted to some undisclosed location for further interrogation. [end]

timesofindia.indiatimes.com, March 7, "Pakistan arrests US-born al-Qaeda spokesman."]
---
03.07.10 Kane Gorny died for want of a glass of water
March 8 - A 22-YEAR-OLD man died of dehydration after three days in a leading teaching hospital during which time he was so desperate for a drink that he rang police begging for help. Officers arrived on the ward only to be told by doctors that everything was under control. The next day Kane Gorny's mother Rita Cronin found him delirious and he died within hours. She said nurses had failed to give him vital drugs which controlled fluid levels in his body. "He was totally dependent on the nurses to help him and they totally betrayed him," Ms Cronin said. A coroner has referred the case to police, who said they were investigating the possibility of a manslaughter charge against St George's Hospital in South London...Although he had stressed to staff how important his medication was no one gave him the drugs, Ms Cronin said.She said that two days after his hip operation, while she was at work, he became severely dehydrated but his requests for water were refused. [Full story>>news.com.au]
---
03.07.10 Explosions kill at least 24 as Iraqis go to polls
(Reuters) March 7 - Explosions killed at least 24 people as Iraqis voted today in an election that Sunni Islamist militants have vowed to disrupt, in one of many challenges to efforts to stabilise Iraq before US troops leave. Scores of mortar rounds, rockets and roadside bombs exploded near polling stations in Baghdad, and some elsewhere, in a coordinated campaign to wreck the voting for Iraq's second full-term parliament since the 2003 US-led invasion. Iraq's political course will be decisive for President Barack Obama's plans to halve US troop levels over the next five months and withdraw entirely by end-2011. It will also be watched by oil companies planning to invest billions in Iraq. In the deadliest attacks, 12 people died when a bomb blew up a Baghdad apartment block and four were killed in a similar explosion at another residential building. A Katyusha rocket killed four people elsewhere in the capital of seven million. At least 65 people were wounded around the country. The Baghdad security spokesman, Major General Qassim al-Moussawi, said most of the rockets and mortar bombs had been fired from mainly Sunni districts in and around the city. [More>>independent.co.uk; See also khaleejtimes.com, March 7, " Iraq holds landmark vote, attacks kill 38."]
---
03.06.10 'Temple Mount clashes may spark religious war'
March 6 - The Organization of the Islamic Conference on Saturday called the fighting one day earlier between Israel Police officers and Muslim worshippers on the Temple Mount "a sacrilegious act of profanation of the holy Islamic site," according to French news agency AFP. Ekmeleddin Ihsanoglu, secretary-general of the Jeddah-based pan-Islamic body, called for international intervention to end what he described as "Israeli aggression." Clashes broke out between Israeli police officers and Muslim rock throwers at the end of Friday prayers on the Temple Mount in Jerusalem following a sermon on a recent Israeli decision to include two West Bank shrines on a list of national heritage sites.

Rocks were thrown from the direction of the mosques above toward Jews praying below at the Western Wall plaza. Israeli police entered the Temple Mount compound to quell the rock throwing. The stone throwers eventually retreated to inside the Al-Aqsa mosque. Fifteen police officers were lightly hurt in the incident; three were transported to Hadassah Hospital on Mount Scopus, two to Shaare Zedek and the rest were treated at the scene. Palestinians reported that dozens were injured by Israeli security forces.

The pan-Islamic body on Saturday said Israel's police action was "a violation of international law and a flagrant attack on the freedom of religion of the nature that could take the region into a war between religions," reported French news agency AFP. The UN Security Council on Friday voiced concern over the fighting between Israeli forces and Palestinians in Jerusalem and the West Bank and urged both sides to resume peace talks. [More>>haaretz.com; See background, Maravot News article 03.05.10 15 cops, dozens of Palestinians hurt in Temple Mount clashes and Editorial note, "Understanding the deep divide between the Jews and Palestinians."]
---
03.06.10 Malaysian magazine apologizes to Christians
KUALA LUMPUR, Malaysia, March 6 - A Malaysian magazine apologized on Saturday for upsetting Christians after it published an article researched by two Muslims who pretended to be Roman Catholics and took Communion in a church. The apology is likely to soothe frustrations among religious minorities who feel that overzealous government authorities and clerics are trying too hard to champion the interests of Islam and ignoring the rights of non-Muslims.."The Al Islam magazine apologizes in connection with the publication of the article," the statement said, adding that its two writers were also sorry and had been unaware that their actions would offend Christians.

The men had spat out Communion wafers and took a photograph of a partially bitten one. Catholics believe the Communion wafer is transformed into the body of Christ by the priest during Mass. Non-baptized persons are not allowed to receive Communion in the Catholic church. While the church allows non-Catholics to attend Mass, many Catholics in this case were unhappy the two men entered the church under false pretenses...the government has tried to enforce a ban on the use of the word "Allah'' by non-Muslims as a translation for "God," Court rulings in many inter-religious disputes involving child custody and religious conversion issues have also favored Muslims. [Full story>>timesofindia.indiatimes.com; See background story on "Allah" controversy, Maravot News 1.11.10, article 01.08.10 3 Malaysian churches firebombed in 'Allah' dispute and links.
---
03.06.10 Leading Pakistani Taliban deputy believed killed
ISLAMABAD, March 6 - A top Pakistani Taliban commander close to al-Qaeda is believed to have been killed in an army airstrike, officials said Saturday, in the latest apparent blow to insurgents who have attacked Pakistan and threatened US forces in neighboring Afghanistan. Maulvi Faqir Mohammed was believed to be among some two dozen insurgents killed Friday at a sprawling compound in the northwest Mohmand tribal region, two intelligence officials said. Interior Minister Rehman Malik said authorities had not identified the bodies of Mohammed or his fellow commander Qari Ziaur Rehman, but all the militants hiding at the site were killed after the helicopter gunships were dispatched on "real-time" intelligence. ...Mohammed was a deputy commander in the Tehrik-e-Taliban Pakistan — Pakistan's Taliban Movement — leading the network's operations in the Bajur and Mohmand tribal regions. He also was close to al-Qaeda No. 2 leader Ayman al-Zawahri, who along with Osama bin Laden is suspected of using Pakistan's tribal badlands as a hide-out. [Full story>>japantoday.com]
---
03.06.10 New Afghan chief in Marjah has criminal record
(AP) March 6 - The man chosen to be the fresh face of good Afghan governance in a town just seized from the Taliban has a violent criminal record in Germany, but Western officials said today they are not pushing to oust him. Court records and news reports in Germany show that Abdul Zahir, the man appointed as the new civilian chief in Marjah, served part of a more than four-year prison sentence for stabbing his son in 1998. A US official confirmed that he did serve time in Germany, though Zahir denies he committed any crime.

"I was not a killer. I was not a smuggler. ... I didn't commit any crime," Zahir told The Associated Press in a telephone interview last night. He said allegations of a criminal record were "all a lie." Zahir's integrity is an issue because his job is to convince residents of the town in Helmand province that the Afghan government can provide them with a better life than the Taliban, which were routed during a three-week offensive by thousands of US, NATO and Afghan troops. Marjah is the first major test of NATO's counterinsurgency strategy since President Barack Obama ordered 30,000 new American troops to try to reverse the Taliban's momentum. [More>>independent.co.uk]
---
03.06.10 Bomb kills 4 near Shi'ite shrine before Iraq poll
NAJAF, Iraq (Reuters) March 6 - A car bomb killed four Iranian pilgrims near Iraq's holiest Shi'ite shrine on Saturday, a day before a parliamentary election that Sunni Islamist insurgents have vowed to wreck. The blast gutted two tour buses parked near the Imam Ali shrine in Najaf, which draws millions of pilgrims from Iraq and Iran each year. Salim Nema, a Najaf health official, said the attack wounded 54 people, including 17 Iraqis and 37 Iranians. At least 49 people have been killed in the last few days of campaigning, some of them soldiers and police voting early. Sunday's election is a test for Iraq's young democracy, and will help decide whether the country can avoid relapsing into violence as US forces prepare to withdraw by the end of 2011. [More>>thestar.com.my; See related stories,

news.com.au, (AFP) March 6, "Al-Qaeda declares Iraq 'curfew' to stop elections - SITE" : Al-Qaeda has declared a nationwide "curfew" in Iraq to try to stop Sunday's elections, warning Iraqis they risked death if they voted, the SITE monitoring agency said. The Islamic State of Iraq, an al-Qaeda-led umbrella organization of insurgent groups, set the curfew from 6:00am to 6:00pm "throughout Iraq and especially in Sunni areas" in a message posted on its website, SITE said...The group added that anyone who defies the curfew will "unfortunately expose himself to the anger of Allah and then to all kinds of weapons of the mujahedeen." Sunnis are expected to cast ballots in large numbers this weekend, in stark contrast to a 2005 boycott of the poll, despite fresh memories of bloodshed with the majority Shiites that has killed tens of thousands of people...

cbsnews.com, March 6, "Anti-US cleric urges Iraqis to vote" : BAGHDAD - Muqtada al-Sadr calls on followers to participate in election; many Iraqis fear renewed sectarian violence. In a surprise news conference on the eve of the Iraqi election, anti-American cleric Muqtada al-Sadr has urged his followers to turn out and vote. The Shiite leader spoke from the capital of neighboring Iran, and the press conference was broadcast on al-Alam television, Iranian state TV's Arabic-language station.

Al-Sadr is believed to be living in Iran and studying in the city of Qom, Iran's foremost seat of Shiite learning. This is believed to be al-Sadr's first public appearance in two years. But he retains a large following in Iraq which is expected to turn out in large numbers in Sunday parliamentary vote. Al-Sadr, who considered past elections illegitimate, has joined a Shiite alliance led by an Iranian-backed party - the Supreme Islamic Iraqi Council. He has endorsed this election as a means of "political resistance," raising the likelihood of a large turnout by Sadrists and the possibility that the alliance could emerge as Iraq's strongest political force after Sunday's vote...
---
03.06.10 Riot in Belgium: Kurds in Brussels clash with police
March 6 - Fresh rioting has erupted in Brussels, as more than 5,000 demonstrators protested against a police crackdown on organizations accused of having links to Kurdish separatists. Sporadic fighting broke out on the streets during the second day of demonstrations in the European capital. Kurdish youths smashed a Turkish kebab shop front with wooden bats in one skirmish. However, police reported no major security incidents. Eight people were detained last week after hundreds of police officers swooped on addresses throughout Belgium.

The raids followed a three-year investigation into the activities of Belgians accused of having links to the Kurdistan Workers' Party (PKK). ROJ, a TV station which broadcasts to European Kurds, was also raided for its alleged links to the group. The Belgian authorities detained people on suspicion of falsifying passports and providing funds to aid the recruitment of guerrillas for the PKK's activities. The pro-Kurdish Peace and Democracy Party accused Belgium of acting on the orders of Turkey. It also claimed that the authorities had searched its offices. The PKK took up arms in 1984 to wage a violent campaign for an independent Kurdish state in Turkey, where the group is outlawed. The group is listed as a terrorist organization by the EU and the US. [>news.sky.com]
---
03.06.10 US 'may back Somali offensive'
March 6 - US special operations forces could help the Somali government with an offensive to dislodge al-Shabab fighters from the capital, Mogadishu, a US newspaper report says. Citing an unnamed US official on Saturday, the New York Times website said the offensive could begin in a few weeks. Washington believes al-Shabab has links to al-Qaeda, which has expanded its influence in Yemen across the Red Sea. "What you are likely to see is air strikes and Special Ops moving in, hitting and getting out," the official is quoted as saying. American advisers have helped supervise the training of the Somali forces to be deployed in the offensive, the paper said. [More>>aljazeera.net]
---
03.06.10 Iran president calls Sept. 11 'big fabrication'
TEHRAN (Reuters) March 6 - Says attacks used to justify US war on terrorism. Iranian President Mahmoud Ahmadinejad on Saturday called the Sept. 11 attacks on the United States a "big fabrication" that was used to justify the US war on terrorism, the official IRNA news agency reported. Ahmadinejad, who often rails against the West and Israel, made the comment in a meeting with Intelligence Ministry personnel. It came amid escalating tension in the long-running dispute between Iran and the West over Tehran's nuclear program, with the United States pushing for new UN sanctions against the major oil producer. Ahmadinejad described the destruction of the twin towers in New York on Sept. 11, 2001 as a "complicated intelligence scenario and act," IRNA reported. He added: "The Sept. 11 incident was a big fabrication as a pretext for the campaign against terrorism and a prelude for staging an invasion against Afghanistan." He did not elaborate. [More>>alarabiya.net]
---
03.06.10 US enriches companies defying its policy on Iran
March 6 - The federal government has awarded more than $107 billion in contract payments, grants and other benefits over the past decade to foreign and multinational American companies while they were doing business in Iran, despite Washington's efforts to discourage investment there, records show. That includes nearly $15 billion paid to companies that defied American sanctions law by making large investments that helped Iran develop its vast oil and gas reserves. For years, the United States has been pressing other nations to join its efforts to squeeze the Iranian economy, in hopes of reining in Tehran's nuclear ambitions. Now, with the nuclear standoff hardening and Iran rebuffing American diplomatic outreach, the Obama administration is trying to win a tough new round of United Nations sanctions.

But a New York Times analysis of federal records, company reports and other documents shows that both the Obama and Bush administrations have sent mixed messages to the corporate world when it comes to doing business in Iran, rewarding companies whose commercial interests conflict with American security goals. Many of those companies are enmeshed in the most vital elements of Iran's economy. More than two-thirds of the government money went to companies doing business in Iran's energy industry — a huge source of revenue for the Iranian government and a stronghold of the increasingly powerful Islamic Revolutionary Guards Corps, a primary focus of the Obama administration's proposed sanctions because it oversees Iran's nuclear and missile programs.

Other companies are involved in auto manufacturing and distribution, another important sector of the Iranian economy with links to the Revolutionary Guards. One supplied container ship motors to IRISL, a government-owned shipping line that was subsequently blacklisted by the United States for concealing military cargo...Indeed, of the 74 companies The Times identified as doing business with both the United States government and Iran, 49 continue to do business there with no announced plans to leave. [Full story>>nytimes.com]
---
03.05.10 BP boss receives 41% pay rise despite profit fall
March 5 - Tony Hayward, the chief executive of BP, was granted a 41 per cent pay rise last year despite profits at the oil giant sliding to the lowest level in six years during 2009. Mr. Hayward was awarded a total of £4.01 million in cash and shares, up from £2.85 million in 2008, according to the group's annual report which was published today. Byron Grote, BP's chief financial officer, Andy Inglis, the head of exploration and production, and Iain Conn, the head of refining and marketing, also benefited from sharp increases in their pay last year. Last month, BP revealed its lowest profits since 2003 after a collapse in world crude oil prices. [More>>timesonline.co.uk]
---
03.05.10 15 cops, dozens of Palestinians hurt in Temple Mount clashes
March 5 - Clashes broke out between Israeli police officers and Muslim rock throwers at the end of Friday prayers on the Temple Mount in Jerusalem following a sermon on a recent Israeli decision to include two West Bank shrines on a list of national heritage sites. Rocks were thrown from the direction of the mosques above toward Jews praying below at the Western Wall plaza. Israeli police entered the Temple Mount compound to quell the rock throwing. The stone throwers eventually retreated to inside the Al-Aqsa mosque. After talks with the Muslim Waqf, which administers the Temple Mount compound, police withdrew to the Mughrabim Gate and allowed adult worshippers to exit the compound.

Fifteen police officers were lightly hurt; three were transported to Hadassah Hospital on Mount Scopus, two to Shaare Zedek and the rest were treated at the scene. Palestinians reported that dozens were injured by Israeli security forces. Rocks were also thrown at police by young Arabs at several locations in East Jerusalem and the West Bank. Police have arrested three stone throwers. Israeli Public Security Minister Yitzhak Aharonovitch blamed Palestinians for the outbreak of clashes. "I accuse the Palestinians, including Hamas operatives, of inciting the situation," he said after arriving at the Temple Mount.

Palestinian President Mahmoud Abbas' spokesman, Nabil Abu Rudeineh, condemned police for entering the compound and said that "Israel continues to place obstacles in front of (US Middle East envoy George) Mitchell's efforts to revive long-stalled peace negotiations. The Palestinian Authority president's office released a statement saying that "Israel has crossed a red line along the path to renew the peace talks, which have been supported by the Arab league," Abbas' Bureau said in a statement

Always tense, the Temple Mount has recently seen sporadic clashes linked at least in part to the Israeli government decision to include the West Bank shrines on the heritage site list. The move's practical ramifications are unclear, but Palestinians see it as a provocation.

Najeh Btirat, a Waqf official, said the clash followed a mosque sermon on the issue. The Friday sermon focused on the Islamic sites that are being targeted by Israel and the need to preserve them, he said. About 300 young men threw stones at police after prayers, he said. In Hebron, a group of about 100 Palestinians protested outside the Cave of the Patriarchs. The Temple Mount is under Israeli security control, but day-to-day administration has been left in the hands of the Waqf. Jews are not allowed to pray at the site. [>haaretz.com]

---
Editorial note: "Understanding the deep divide between the Jews and Palestinians." This report pretty well sums up the deep divide between Israel and Palestinians, and hopes for a future Palestinian state. The ob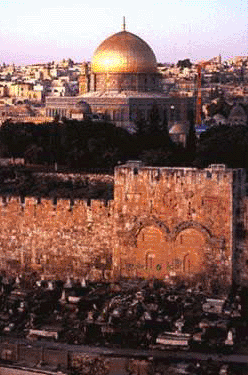 stacles preventing peace involve deep religious roots, political realities and economic consequences. Religious sermons turn political, demanding violent actions, among the Muslims. Israeli patriarchal tombs in the West Bank, from Nablus to Hebron, involve not only the desire to honor the tombs but also invoke religious sentiment among the Jews to protect their historic and religious artifacts. Included in the argument are the Dead Sea Scrolls claimed by Jordan (because they were found on the West Bank, at Qumran on the Dead Sea). The Dead Sea Scrolls are religious documents hidden away 2,000 years ago in caves. They confirm many Old Testament scriptures and commentaries found in the Talmud and as such are important to Biblical scholars and historians.

Other issues forming a wall between Israel and Palestinians involve walls themselves: the Wailing Wall, which is the only visible remnant of the Temple of Jerusalem destroyed in 70 A.D. when the Roman General Titus — and future emperor — sacked the city. Jews worship at the Wailing Wall and avoid going up on the Temple Mount because it is their belief that they must wait until the Messiah (Gr. Christ) comes and, according to prophecy, restores the Temple of Jerusalem. Associated with this is the Golden Gate of the wall of the Old City of Jerusalem. The Golden Gate was the main gate of entry to the Temple Mount and many rabbis, including Jesus Christ, would minister at the gate.

Today, such a practice cannot prevail, since the Golden Gate has been sealed, it also has a wrought iron fence in front of it as well as a Moslem cemetery. The Ottoman Sultan Suleiman I sealed off the Golden Gate to prevent the Jewish Messiah from entering the mount. They believed that the Jewish Messiah would destroy the (Moslem) Dome of the Rock to rebuild the Temple that had been destroyed during the siege of the Roman General Titus in 70 A.D.

In confronting these perceptions, we can see that the Wailing Wall and Sealed Golden Gate are a symbol of a people's holiness and hopes in the Holy Land. Jerusalem is the City of David described in the Old Testament, it is the city of peace where the patriarch Abraham is believed to have sacrificed his son (but was prevented from committing the act). It is a city more sacred to the Jews / Israelis, perhaps, than the city of Washington D.C. is to Americans. Jerusalem is both Israel's national heritage and traditional capitol. In addition, the prophesies of the Old Testament prophets (particularly Isaiah) proclaim the restoration of the Jews from the nations whence they were scattered (called the diaspora) to the Holy Land and its city Jerusalem. The prophesies repeat the promise given to the patriarch Abraham, that his heirs (through his son Jacob (renamed Israel, meaning 'who prevails with God') would possess all of the land from the Egyptian River (current boundary of Israel) to the Euphrates. In effect it involves restoration of the old Kingdom of David.

The Promise to Abraham, of course, would be disturbing to anyone living in the Holy Land at the time of the restoration of Israel. Sadaam Hussein declared his fears that Israel wanted to occupy Iraq (as far as the Euphrates). Muslims fear that when the Jewish Messiah attempts to enter the mount he will first destroy the Dome of the Rock to make way for the temple (Some Jews also believe this).

Do the scriptures also say that when Israel is restored all of the inhabitants (Palestinians) would be dispossessed from the land? They are not dispossessed, according to Isaiah. The idea promoted in the book of Isaiah is that the restoration of Israel to the Holy Land and Jerusalem would bring about a day of peace, when all the inhabitants of the land live together in peace. In fact, all of them that live in Jerusalem at the time shall be called "holy." (See Isaiah 56, 62.1-62.5.) Here the thesis of the restoration involving the children of Israel and the Messiah involves the marriage of the land to God, renaming the restored "no longer forsaken" and blessing the city and the land with the joining of strangers to his holy mountain (Jerusalem) where "mine house shall be called an house of prayer for all people."

It so happens that the Koran — the holy book of Muslims — claims that it confirms the Jewish Scriptures and Gospel (of Christ). In so doing, one should think that it obliges all Muslims to honor those scriptures. (The Koran also acknowledges Jesus as the Messiah.) Unfortunately, Muslim teachers seem to read all of the verses of the Koran except the many verses that refer to the confirmation of the Bible (Jewish Scriptures, Gospel). If they were to focus on the merits of agreeing with the Old Testament and Gospel, they would adopt an entirely different view: of being joined with Israel in holiness. This is in deep contrast to the prevailing teachings — most pronounced by Iranian leaders — committed to the destruction of Israel. Since the blessings and curses pronounced upon the children of Israel during the Exodus and reentry into the Holy Land, including the blessing, "I will bless those who bless thee and curse them that curse thee," the prophets have repeated this point, as recited also by Isaiah:49.25 "...I will contend with him that contendeth with thee, and I will save thy children. (Isaiah 49.26 And I will feed them that oppress thee with their own flesh; and they shall be drunken with their own blood, as with sweet wine: and all flesh shall know that I the LORD am thy Savior and they Redeemer, the mighty One of Jacob."

There is an irony to the situation on the ground in Israel. The Declaration of Independence of the State of Israel promotes a united people in the Holy Land and Jerusalem and the protection and honor of their precious monuments. It's not a bad basic law of the land, honoring all people on the land as anticipated by the book of Isaiah. Unfortunately, even the basic law of the land of Israel is not being honored either by the Palestinians or the Jews.

For more background on this discussion see Maravot News 9.27.09, article 9.27.09 Israeli police, protesters clash at holy site and Editorial note:"Confusion on the mount." When all is said and done and the final reading of the Koran and the Bible is done, all men should wonder why on earth the Golden Gate was sealed, when the facts establish that the Messiah described throughout the Bible is the Messiah (Christ) of all men, not just the Jews. Also, the prayer that Jesus the Messiah (Christ) taught should be better appreciated: "for a kingdom of God on earth as it is in heaven." The Kingdom of God in Heaven has always been understood to be a kingdom of peace. How could it be otherwise, something to fear?

Peace.

Mel Copeland
---
03.05.10 Azerbaijan's ruling party condemns US Armenian genocide vote
BAKU, Azerbaijan (RIA Novosti) March 5 - Azerbaijani MPs condemned on Friday the decision by the U.S. House Foreign Affairs Committee to approve a bill on the killing of Armenians by the Ottoman Empire during World War I. Yerevan describes the massacre of ethnic Armenians as "genocide" and says nearly 1.5 million people were killed. Turkey rejects the accusations. Ali Ahmadov, deputy head of the ruling New Azerbaijan Party, told News.az the resolution was the "falsification of history," and added that the decision targeted not only Turkey, but also Azerbaijan.

Azerbaijan, populated mainly with Turks' ethnic kin, enjoys crucial support from Ankara in its stand-off with Armenia over Nagorno-Karabakh — a predominantly Armenian-populated region in Azerbaijan which broke away from Baku in the dying years of the Soviet Union. Turkey, a key NATO ally and a crucial U.S. partner in operations in Iraq, is currently considering the suspension of military cooperation with Washington over the genocide ruling. "The issue of the so-called 'Armenian genocide' is a lever of pressure on Turkey.

This is a 'golden bullet' in the arsenal of the United States against Turkey," the New Azerbaijan party MP Mubariz Gurbanli told the Azerbaijani Trend news agency. On March 4, the Foreign Affairs Committee of the US House of Representatives voted 23-22 in support of the resolution following almost six hours of heated debates. Azerbaijan, which has own rich oil reserves, is viewed in the West as a crucial link in an energy corridor which could deliver gas from Central Asia to Europe bypassing Russia. [More>>en.rian.ru; See related story,

alarabiya.net, March 5, "Turkey committed to Armenia peace despite vote" : WASHINGTON - Turkey recalls its ambassador to US for consultations. Turkey said on Friday it was determined to press ahead with efforts to normalize ties with Armenia despite a US congressional panel vote terming as genocide the 1915 mass killings of Armenians by Ottoman Turks. "We are determined to press ahead with normalization of relations with Armenia," Turkey's Foreign Minister Ahmet Davutoglu told a news conference. However, he said parliamentary ratification of peace accords with Armenia were at risk...
---
03.05.10 Suicide bomber kills 12 in Pakistan
(Reuters) March 5 - A suicide bomber attacked a convoy of civilians guarded by security forces in Pakistan's northwest on Friday, killing at least 12 people and wounding 30. Suicide bombings have eased in recent weeks but it is not clear whether that is because security has improved after military gains against the Taliban, or if the insurgents are merely regrouping for more attacks. "Our convoy was hit by a big explosion," said witness Javed Hussain, who was in the convoy of vehicles carrying Shi'ite Muslims to the city of Peshawar. "It's all chaos here. I myself have seen four dead, two of them are children. I have seen four wounded women." Pakistan's Taliban militants, who are Sunni Muslims, have carried out waves of bombings, killing hundreds of people and hitting everything from crowded markets to mosques to military and police facilities in their drive to topple the US-backed government. [More>>khaleejtimes.com; See related story,

timesofindia.indiatimes.com, March 5, "Taliban calls Pakistan army 'impure force' " : PESHAWAR - The Taliban on Friday responded to the military's allegations that the militants were being backed by India and Israel by distributing pamphlets that described the Pakistan Army as an "impure force" working at the behest of the CIA and FBI. The local Taliban distributed the pamphlets at mosques after Friday prayers in Miranshah and other areas of the Waziristan tribal region, local residents said...Children standing at the main gates of mosques distributed the two-page pamphlets to people, local residents said. On March 2, Pakistani planes had dropped pamphlets in North Waziristan that claimed India, Israel and al-Qaeda were funding Taliban fighters in the region...
---
03.05.10 Global jihad creeping into Russia's insurgency
MOSCOW (Reuters) March 5 - Russian insurgency has links to Muslim world. The Islamist insurgency in Russia's North Caucasus region appears to be mutating from a grassroots separatist movement towards global jihad or holy war, whose goals, propaganda and patronage point abroad. n February Russia's most wanted guerrilla, Chechen-born Doku Umarov, vowed on Islamist websites to spread his attacks from the Muslim-dominated North Caucasus into the nation's heartland, wreaking havoc through jihad. His pledge follows escalating violence in the form of shootings and suicide bombs targeting authorities over the last year in the mountainous North Caucasus, particularly Chechnya, site of two separatist wars since the mid-1990s, and the provinces flanking it, Ingushetia and Dagestan.

Regional Muslim leaders and rebels revile each other as blasphemous and criminal. But after years of the Soviet Union suppressing religion, both welcome a Muslim revival that has brought elaborate new mosques, government-sponsored hajj trips to Mecca and a bubbling interest in Arabic. Alexander Cherkasov, who has closely followed the North Caucasus for 15 years for rights group Memorial, said whereas in the past rebels wanted freedom from Russia, a struggle that dates back over 200 years, now they are influenced by jihadism, a global fight against alleged enemies of Islam. "Part of it is homegrown. Corruption leads many to seek out what they call true Islam, but political Islam, by way of foreign financing and insurgents, is certainly playing a role," he told Reuters.

Al-Qaeda operative and Egyptian militant Makhmoud Mokhammed Shaaban in Dagestan, who the FSB security service said had masterminded several bombings. A myriad of web sites that have come to characterize the insurgency show videos of "martyrs," something unheard of in the region five years ago. They feature mostly local men, framed by Caucasus flags, chanting in Arabic ahead of suicide missions. Over the last year, public statements of support for Doku Umarov and other Caucasus rebel leaders have come from a leading al-Qaeda mentor, Jordanian Sheikh Abu Mohammad al-Maqdisi. [More>>alarabiya.net]
---
03.05.10 French warship team destroys pirate boats
March 5 - Twenty-eight suspected pirates were taken into custody Friday by the European Union Naval Force after a handful of failed attacks on fishing vessels in the Indian Ocean, the EU mission said. In the first incident, the mission intercepted the a mother ship and two skiffs early Friday in the southern Indian Ocean between the Seycelles and Mombasa, Kenya. The mission said the suspected pirates were in an area where an earlier attack had occurred. A helicopter from the French warship FS Nivose then tracked the vessels and saw the suspects throwing things overboard, the mission said.

When a French team arrived at the scene, it found 11 suspected pirates and "pirate paraphernalia" in the skiffs: a rocket launcher, grappling hooks and several fuel barrels. The forces destroyed the pirate ship and a skiff and took the suspected pirates into custody. The fate of the second skiff was not immediately known. Soon after, pirates tried to attack a French fishing vessel near two other fishing boats, said Cmdr. John Harbour, spokesman for the EU Naval Force. The French fishing vessel collided with the suspected pirates' vessel and sank it...[More>>cnn.com; See related story,

bbc.co.uk, March 5, "Pirates hijack Norwegian tanker off Madagascar" : Pirates have seized a tanker off Madagascar in the Indian Ocean and are sailing it towards the Somali coast, the ship's Norwegian owners have said. The UBT Ocean was carrying oil from the United Arab Emirates to Tanzania, Svenn Pedersen, of owners Brovigtank, told Reuters...
---
03.04.10 Baltic Sea ice traps passenger and cargo ships
March 4 - A number of ships, including ferries with thousands of passengers on board, have become stuck in ice in the Baltic Sea, officials say. The vessels are grounded in the waters between Stockholm and the Alan Islands, Radio Sweden reports. Many of the vessels are not likely to be freed for hours, Swedish maritime authorities were quoted as saying by the AFP news agency. It is reportedly the worst Baltic freeze for 15 years. "The ice wouldn't usually be a problem for the merchant ships, the problem now is that it's very windy, about 20 metres per second," Jonas Lindvall, controller of the ice breaking unit at the Swedish maritime authorities, told Radio Sweden. "That means that the ice is moving rapidly, there are lots of ridges with ice that's making it problematic for the ships, so they need help from the ice breakers," the controller said. [More>>bbc.co.uk]
---
03.04.10 17 killed in Baghdad blasts targeting voters
bAGHDAD (AP) March 4 - A string of blasts ripped through Baghdad targeting early voters and killing 17 people Thursday, authorities said, raising tensions in an already nervous city as early ballots are cast for Sunday's parliamentary elections. Insurgents have repeatedly threatened to use violence to disrupt the elections, which will help determine who will oversee the country as US forces go home. It is also a test over whether the country can overcome its deep sectarian divides. Two of the blasts hit voters outside polling stations. Baghdad was a tense city Thursday as thousands of troops deployed across the capital, and convoys of army trucks and minibuses ferried soldiers and security personnel to and from polling stations. Many stores were shuttered, and normally crowded streets were near empty as people appeared to be staying home on what was a holiday across the country. [More>>khaleejtimes.com]
---
03.04.10 Laborers killed in Afghan attack
March 4 - Five people have been killed in Afghanistan after armed men opened fire at a group of Pakistani construction workers on their way to work. The interior ministry said four Pakistani nationals and one Afghan were killed in the attack on Thursday morning in the Panjwayi district in Kandahar province. The ministry identified the attackers only as "terrorists" and said the labourers were attacked on their way to a building site operated by the SAITA road construction company. "They were going to work when this incident took place. We are arranging transportation of their bodies back to Pakistan," Ajmal Farooqi, a company executive, said. [More>>aljazeera.net]
---
03.04.10 Yemen says 11 Qaeda suspects arrested in Sanaa
SANAA (AFP) March 4 -Intensifies attacks on Qaeda as US pressure mounts. Yemeni security forces arrested 11 al-Qaeda suspects in a residential area of the capital Sanaa, killing one man during the operation, the defense ministry's 26sep.net news website reported on Thursday. The man killed, who was the father of one of the suspects, opened fire on security forces, wounding one of them, before being shot dead, the website reported. One of the suspects also tried to resist but "all members of the cell were arrested," it added. Yemen began an intensified campaign against al-Qaeda in late December as international pressure mounted after a failed attempt to blow up a US airliner on Dec.25 was claimed by the militant network's Yemeni arm. [More>>alarabiya.net]
---
03.04.10 No mention of Hafiz Saeed, Masood Azhar in Pakistan's terror list of 119
ISLAMABAD, March 4 - Twenty men who allegedly helped plan and carry out the Mumbai attacks, including several Lashker-e-Taiba operatives, figure among the 119 "most wanted" terrorists in Pakistan but the list excludes top leaders of Pakistani Taliban and Jaish-e-Mohammed. The 20 men are wanted in connection with a case registered by the Federal Investigation Agency (FIA) and have been booked under provisions of the Anti-Terrorism Act, Pakistan Penal Code and a cyber crimes law. They figure in the "Red Book" or list of 119 "most wanted terrorists" that was drawn up by the FIA in October last year with help from provincial police forces.

However, the name of JeM chief Maulana Masood Azhar or that of the top leaders of Tehrik-e-Taliban Pakistan do not figure in the list. Pakistani authorities have also refused to arrest LeT founder Hafiz Muhammad Saeed in connection with 26/11 attacks, saying there is no evidence against him. Heading the list of 20 Pakistani nationals wanted for the Mumbai attacks is Muhammad Amjad Khan, a shadowy LeT organiser and facilitator based in Karachi. Khan hails from Multan in Punjab province and his name has figured prominently in information provided by Pakistan to India in several dossiers.

Others on the list are Iftikhar Ali of Faisalabad, who deposited USD 250 for a Voice over Internet Protocol connection that was used for communications by the Mumbai attackers, and LeT financiers Sufyan Zafar of Gujranwala, Muhammad Usman Zia of Rawalpindi, Muhammad Abbas Nasir of Khanewal, Javed Iqbal of Kasur, Mukhtar Ahmad of Mandi Bahauddin and Ahmed Saeed of Batagram.

Also included in the list of most wanted terrorists are crew members of Al-Hussaini and Al-Fouz, the two boats used by the attackers. They are Shahid Ghafoor of Bhawalpur (captain of the boats) and crew members Abdul Rehman of Bahawalnagar, Muhammad Usman of Chicha Watni in Sahiwal, Ateeq-ur-Rehman of Lahore, Riaz Ahmad of Jharianwala, Muhammad Mushtaq of Gujranwala, Muhammad Naeem of Dera Ghazi Khan, Abdul Shakoor of Sargodha, Muhammad Sabir Salfi of Multan, Muhammad Usman of Lodhran and Shakil Ahmad of Rahimyar Khan. Another person in the list is Muhammad Khan of Turbat in Balochistan, who provided the boat Al-Hussaini to terrorists. Seven men, including LeT operations commander Zakiur Rehman Lakhvi, are currently being tried by an anti-terrorism court in Rawalpindi for planning and helping execute the Mumbai attacks. Thirty-three of the terrorists on the list are wanted by the FIA and the rest by provincial police forces.

They are wanted for various terrorist attacks, including the 2007 assassination for former premier Benazir Bhutto, the 2008 bombing of the Marriott Hotel in Islamabad, and attempts on the life of former President Pervez Musharraf. The wanted terrorists are affiliated with groups like the Harkat-ul-Jihad al-Islami, Sipah-e-Sahaba, Lashkar-e-Jhangvi, Qari Saifullah Akhtar group of Waziristan, Jundullah and Baloch Liberation Army. Some of the wanted men have fought and were trained in Afghanistan. One of the men on the list — Qari Zafar — was killed in a US drone attack in North Waziristan last month. [More>>timesofindia.indiatimes.com; See earlier reports on Hafiz Muhammad Saeed, etc.:

Maravot News 9.27.09 9.21.09 Hafiz Saeed under house arrest: Pakistan media

Maravot News 6.28.09 6.25.09 We'll not hand over 'any individual to India' : Pakistan and
Maravot News 6.28.09 6.23.09 India issues warrants for 22 more Mumbai suspects : ...Among those sought for arrest were Hafiz Mohammed Saeed, founder of the Pakistan-based Islamist militant group Lashkar-e-Taiba — which India blames for the launching attacks — and Zaki-ur-Rahman Lakhvi and Zarar Shah, two leaders of the group. Pakistan arrested all three in December after Indian diplomats provided a dossier of evidence in a rare sharing of intelligence between the nuclear-armed rivals...
---
03.04.10 30 militants, 1 soldier killed in Pakistan battle
KHAR, Pakistan, March 4 - Dozens of militants armed with assault rifles attacked a security checkpoint in Pakistan's volatile northwest, sparking a gunbattle that left 30 insurgents and one soldier dead, officials said Thursday. The battle occurred overnight in the Chamarkand area of the Mohmand tribal region near the Afghan border, said government and military officials, speaking on condition of anonymity because they were not authorized to talk to the media.
 
Chamarkand borders the Bajur tribal region, where the army said Tuesday it had finally defeated Taliban and al-Qaeda militants after more than a year and a half of fighting. But the army made a similar declaration of victory in Bajur a year ago only to see violence continue, and officials acknowledged some of the militants may have fled to other areas. [More>>japantoday.com]
---
03.04.10 German terror cell sentenced for up to 12 years
March 4 - A German court has sentenced four Islamic militants for a failed plot to attack US targets in Germany. The attacks were planned to punish Germany for its involvement in Afghanistan. A German court has sentenced four self-confessed Islamic militants to up to 12 years in jail for a failed plot to attack US targets in Germany. In the country's biggest terror trial in decades, a higher regional court in Duesseldorf sentenced the two German converts, Fritz Gelowicz and Daniel Schneider, to 12 years each. Turkish national Adem Yilmaz was sentenced to 11 years, while German-Turkish citizen Attila Selek will go to jail for five years. "You were planning a monstrous bloodbath that would have killed an unfathomable number of people," Judge Ottmar Breidling said at the end of the trial, adding that their goal was to kill at least 150 American soldiers stationed in Germany. "You were blinded by a strange, hate-filled notion of jihad and you turned yourselves into angels of death in the name of Islam," Breidling said. [More>>dw-world.de]
---
03.03.10 Chandrayaan finds ice on moon
MUMBAI, India, March 3 - First water, then vapor, now ice. India's Chandrayaan-1, in its most recent lunar mark, has discovered ice in the Moon's craters — a finding that indicates the presence of as much as 600 million metric tones of water ice on the Moon's north pole. The announcement on the breakthrough, with far-reaching consequences for space travel, was made late Monday at the 41st Lunar and Planetary Science Congress organized by the Houston-based Lunar and Planetary Institute. The discovery was made by a NASA payload on board Chandrayaan-1 called Mini-Sar (miniature synthetic aperture radar), a lightweight instrument that weighs 10 kg. It found more than 40 craters with water ice, the size of the craters ranging between two and 15 kilometers in diameter.

Scientists say the discovery of water ice anywhere on the Moon is extremely important because it can serve as a natural resource for astronauts on future lunar landing missions. The ice could be melted into drinking water or be separated into its components of oxygen and hydrogen to provide breathing air and rocket fuel for launching interplanetary missions from the moon. In September 2009, Isro's moon impact probe and the hyper spectral imaging camera (Hysi) along with NASA's moon mineralogy mapper announced the discovery of water molecules on the moon. But these were not large deposits. In contrast, the Mini-Sar is stated to found huge quantities of water ice. [More>>timesofindia.indiatimes.com]
---
03.03.10 China to launch module for future space station in 2011
MOSCOW (RIA Novosti) March 3 - China is planning to launch in 2011 a spacecraft equipped with two docking ports to serve as a basis for the country's future space station, the Xinhua news agency said on Wednesday. The 8.5-ton Tiangong-1 spacecraft will be put into orbit by a modified CZ-2F/G carrier rocket and will mark the first stage of China's three-stage Project 921 human spaceflight program. The launch will most likely be carried out from the new Wenchang space center on Hainan Island. Xinhua cited Qi Faren, former chief designer of China's Shenzhou spaceships, as saying that the country planned to launch the unmanned Shenzhou-8, and the manned Shenzhou-9 and Shenzhou-10 spacecraft within two years to dock with Tiangong-1, which will be later used as a space laboratory module. According to Chinese space officials, Tiangong-1 is designed to provide a "safe room" for Chinese astronauts to live in and conduct scientific research in zero gravity. The Tiangong-1 design will also be used to develop a cargo spacecraft, which will be fitted with a docking port and used for resupplying the future space station. [>en.rian.ru]
---
03.03.10 Afghan heroin traffic increasing
March 3 - The Federal Drug Control Service complained Wednesday that a decline in efforts by the West to eliminate Afghanistan's poppy fields was leading to an increase in heroin trafficking into Russia. "The UN has distanced itself from running its programs in the field, handing it over to NATO, while NATO passed the responsibility of fighting drug production in Afghanistan to the national or even provincial levels of that country," drug service head Viktor Ivanov said at a meeting of the State Anti-Drug Committee, according to a transcript on the service's web site. Ivanov said the flow of heroin from Afghanistan has been intensifying in recent years, especially in the North Caucasus. Afghanistan produces more than 90 percent of the opium for heroin consumed worldwide. Almost half of the 5 million drug addicts in Russia consume heroin trafficked from Afghanistan. Ivanov added that the US decision to change its policy regarding the elimination of poppy fields in Afghanistan will make the situation worse. On Monday, David Johnson, assistant secretary of the Bureau of International Narcotics and Law Enforcement Affairs, said the United States is shifting its strategy to move away from eradication and develop an alternative program "with a very strong emphasis on subsistence agriculture." [>themoscowtimes.com]
---
03.03.10 US to offer smart-bomb kits, drones to Pakistan: Report
WASHINGTON, March 3 - The Pentagon will transfer sophisticated laser-guided-bomb kits to Pakistan, escalating the Obama administration's recent push to better arm Islamabad for its military campaign against Islamic militants, according to a report in "Wall Street Journal." The laser-guided-bomb kits could spark some unease in India, where officials have been warily watching the expanded US military aid to Pakistan and wondering if the weapons would one day be turned against them. India lobbied against recent US legislation giving Pakistan billions of dollars in new non-military aid, though the measure passed anyway. US military officials said Pakistan would soon receive equipment capable of converting 1,000 traditional munitions into "smart bombs" that can more precisely strike targets on the ground. According to WSJ, Pakistan will also soon take possession of a dozen US-made surveillance drones and 18 late-model F-16 fighter jets, sharply expanding the Pak military's ability to track and strike targets in remote, insurgent-controlled parts of the country, especially in the insurgent stronghold of South Waziristan. [>indianexpress.com]
---
03.03.10 EU concerned about Iran's nuclear activities
VIENNA (AP) March 3 - The European Union said Wednesday it shares UN fears that Teheran may be secretly working on developing nuclear missiles and expressed support for new sanctions if Teheran continues to defy Security Council demands meant to ease fears about its atomic ambitions. An unusually strongly worded statement delivered by Spain on behalf of the EU to the International Atomic Energy Agency's 35-nation board criticized Teheran on a wide range of issues linked to concerns that its nuclear program may be a front for clandestine efforts to make atomic warheads. The EU shares the agency's concerns about the possible existence in Iran of past or current undisclosed activities related to the development of a nuclear payload for a missile,' said the statement. The comments reflected the change in tone of IAEA in its assessment of Iran's nuclear strivings under Yukiya Amano, the agency's new director general. Amano, in a recent report prepared for this week's board meeting, expressed the possibility that Iran may currently be working on making a nuclear warhead, with the IAEA suggesting for the first time that Teheran had either resumed such work or never stopped three years ago, as thought by US intelligence agencies. [More>>khaleejtimes.com]
---
03.03.10 Italy arrests 'Iran arms smugglers'
March 3 - Seven people have been arrested in Italy on suspicion of trafficking weapons to Iran, despite an international ban on trading arms with the Islamic Republic. Five Italians and two Iranians, including "some who are believed to belong to the Iranian secret service" were among those detained, police said on Wednesday. Arrest warrants have also been issued for two other Iranians currently living in their homeland. Authorities believe the arrests, which took place on Tuesday in several Italian cities, disrupted an operation which would have shifted large quantities of hi-tech gear including bullets, guns and explosives, to Iran.

...Sabina Castelfranco, Al Jazeera's correspondent in Milan, said one of the arrested Iranians was a journalist who had been working for Iranian state television in the country for around 17 years. Colonel Vincenzo Andreone of the financial police, who led the operation, said some of the Italians arrested were "entrepreneurs, the heads of various import-export or communications businesses." "They had set up a triangular system to cover their tracks. The trafficking was taking place at least since 2007." Andreone said they bought weapons in Europe, mainly in Europe, then transported the arms through third countries such as Britain, Switzerland and Romania before shipping them to Iran. The scheme fell apart during a check by Romanian customs officials, who confiscated 200 gunsights. Another 100 were seized in London, he said. [Full story>>aljazeera.net]
---
03.03.10 Iraq suicide bomber targets hospital in triple attack
BAGHDAD, March 3 - A suicide bomber ended a series of deadly attacks in central Iraq by detonating explosives in a hospital emergency ward where victims of two earlier blasts were being treated. At least 29 people were killed and 42 wounded in the triple bombing attack in Baquba, northeast of the capital Baghdad. The first car bomb attack targeted a government office near a police checkpoint. Two minutes later, a second suicide car bomb went off near the party headquarters of former Prime Minister Ibrahim al-Jaafari in [the] central part of the city. About an hour later, as the victims of the first two explosions were being rushed to Baquba general hospital, a third suicide bomber walked into the hospital's emergency room and detonated a bomb. The blasts took place just four days before the country is set to hold parliamentary elections — its second since the ouster of former President Saddam Hussein. [More>>cnn.com]
---
03.02.10 Alleged masterminds of Botnet arrested
SAN FRANCISCO (AP) March 2 - Authorities say 3 in Spain were behind infection of as many as 12.7M computers at major companies, banks in 190 countries. Authorities have smashed one of the world's biggest networks of virus-infected computers, a data vacuum that stole credit cards and online banking credentials from as many as 12.7 million poisoned PCs. The "botnet" of infected computers included PCs inside more than half of the Fortune 1,000 companies and more than 40 major banks, according to investigators. Spanish investigators, working with private computer-security firms, have arrested the three alleged ringleaders of the so-called Mariposa botnet, which appeared in December 2008 and grew into one of the biggest weapons of cybercrime. More arrests are expected soon in other countries. Spanish authorities have planned a news conference for Wednesday in Madrid. The arrests are significant because the masterminds behind the biggest botnets aren't often taken down. And the story of investigators' hunt for them offers a rare glimpse at the tactics used to trace the origin of computer crimes.

Also, the suspects go against the stereotype of genius programmers often associated with cyber crime. The suspects weren't brilliant hackers but had underworld contacts who helped them build and operate the botnet, Cesar Lorenza, a captain with Spain's Guardia Civil, which is investigating the case, told The Associated Press. Investigators were examining bank records and seized computers to determine how much money the criminals made. "They're not like these people from the Russian mafia or Eastern European mafia who like to have sports cars and good watches and good suits — the most frightening thing is they are normal people who are earning a lot of money with cybercrime," Lorenza said. The three suspects were described as Spanish citizens with no criminal records. They weren't named and their mug shots weren't released, which Lorenza said is standard in Spain to protect the privacy of defendants. They face up to six years in prison if convicted of hacking charges. [More>>cbsnews.com]
---
03.02.10 Fossils of snake eating dino eggs found in India
BANGKOK, Thailand, March 2 - The fossilized remains of a snake that lived 67 million years ago and was found coiled around a dinosaur egg offers rare incite into the ancient reptile's dining habits and provides some important clues to its evolution, scientists said Tuesday. The findings, which appeared in this Tuesday's issue of the peer-reviewed journal of PLoS Biology, for the first time offer evidence that an ancient, 3.5-metre- (11.48-foot-) long snake fed on the eggs and hatchlings of saurapods — making these reptiles one of its few predators of this giant mammal. It also offers evidence that snakes as early as 100 million years ago during the Upper Cretaceous period were developing mobile jaws that had some similarities to large-mouthed snakes like vipers and boas that roam the earth today. "This is an early, well preserved snake and it is doing something. We are capturing it's behavior," said University of Michigan paleontologist Jeff Wilson, who is credited with discovering the snake bones amid the crushed dinosaur eggs and bones of hatchlings. [More>>gulfnews.com]
---
03.02.10 Afghans ban live coverage of Taliban attacks
KABUL, Afghanistan (AFP) March 2 - Attempt to prevent militants from exploiting TV news. The Afghan government has banned live coverage of militant attacks in a bid to prevent the Taliban from exploiting television news, after one of the deadliest days for NATO troops this year. The ban appears to apply to domestic and international news organizations, although the country's intelligence agency refused to provide details. Afghanistan's constitution guarantees freedom of speech and media. A spokesman said live television coverage of attacks — such as that in Kabul last Friday which killed 16 people — could alert militant organizations to police actions against their operatives on the ground. "While journalists are going to the scene of ongoing attacks, they endanger themselves and also they help inform the enemy with their live broadcasts or reporting of the progress of (police) operations," Hakim Ashir, the head of the Government Media and Information Centre, told AFP. [More>>alarabiya.net]
---
03.02.10 Second UK soldier shot dead in two days
March 2 - A British soldier has been killed in the same area of Afghanistan where another UK serviceman was shot dead on Monday. In the latest incident, the soldier from 3rd Battalion The Rifles lost his life at a vehicle checkpoint in Sangin, Helmand Province. The serviceman was shot dead after coming under fire while working in a team which was partnering Afghan soldiers at the checkpoint. His family has been told of the death, the Ministry of Defence said. On Monday, a soldier from 4th Battalion The Rifles, serving as part of the 3 Rifles Battle Group, was shot dead on a foot patrol northeast of Sangin. Neither death was connected to the ongoing Operation Moshtarak to clear Taliban militants out of strongholds in Helmand. A total of 268 British troops have died since military operations in Afghanistan began in 2001. [More>>news.sky.com]
---
03.02.10 Pakistani army kills Chechen fighters at Taliban, al-Qaeda base
NEW DELHI, India (RIA Novosti) March 2 - The Pakistani army said on Tuesday it had seized a key Taliban and al-Qaeda complex and killed 75 militants, including fighters from Chechnya and Uzbekistan. "There were Afghans, Chechens, Egyptians, and Uzbeks killed in the operation," Major General Tariq Khan told journalists during a guided tour of the base, which numbered around 150 caves. The base is situated in Damadola, in the Bajaur tribal region. Khan said the operation to take it had begun in January. Pakistan has been under pressure from Washington to do more to root out militants in its northwestern tribal belt. Khan also said the operation was a serious blow to the Taliban and al-Qaeda. Violence surged in the country in 2009, with Taliban militants staging regular attacks on provincial government officials, police and civilians and planting roadside devices as part of its fight against US and NATO troops. [>en.rian.ru; See other details,

thenews.com.pk, March 2, "Troops regain full control of Bajaur" : KHAR - Inspector General Frontier Corps Major General Tariq Khan has said that security forces have regained full control of Bajaur besides killing 54 more militants, including seven key Taliban commanders, while ongoing operations in Orakzai Agency and Teerah will also be completed soon, he announced. Meanwhile, Director General Inter-Services Public Relation (ISPR) Maj-Gen Athar Abbas announced new offensive will not be launched in South Waziristan until the situation returns to normal.

Speaking to newsmen along with DG ISPR, the FC IG said a key militant commander Orangzaib, who was allegedly behind 21 suicide bombings in Punjab, is also among the dead. To a question, Khan said the house of former MNA Haroon Rashid had become the hub of militants. It was destroyed under the FCR law. While Rashid's brother was arrested in connection with supporting militants, Khan said. The FC IG said that Khan of Kunar is supporting militants in Afghan province of Kunar. [end]

khaleejtimes.com, March 2, "Pakistani army wraps up operations in Bajur" : DAMADOLA, Pakistan - Pakistan's army said Tuesday that it has wrapped up military operations in a former Taliban and al-Qaeda stronghold in northwestern Pakistan that it declared free of militants a year ago only to see violence continue. The second declaration of victory in the Bajur tribal region along the Afghan border showed the difficulty of fully pacifying the country's volatile northwest, even with the deployment of thousands of troops. Maj. Gen. Tariq Khan, commander of the paramilitary Frontier Corps, said the latest offensive launched in late January meant that militants in Bajur were no longer able to cross over into Afghanistan to join the fight against US and NATO forces and would find it more difficult to stage attacks inside Pakistan. "We think the Bajur operations have now more or less ended as dedicated military operations. We will switch our posture to policing operations," Khan told reporters in Bajur's Damadola area, a key Taliban and al-Qaeda base that the army seized at the beginning of February.

The army took reporters on a tour of the extensive cave complex in Damadola, which Khan said militants used as a refuge. He displayed a large number of rockets, mines, rifles and other weapons that troops seized in the latest offensive launched in late January. The paramilitary commander made a similar declaration of victory last February, saying the insurgency in Bajur had been "dismantled." But the key area of Damadola was never invaded during the initial six-month operation launched in late 2008 because the dominant tribe in the area had promised to expel the militants. The tribe failed, but Khan said the army had to wait to launch a new offensive until it wrapped up a massive operation in the South Waziristan tribal region. Major combat operations ended in South Waziristan late last year, but analysts believe many of the militants simply fled the area before the fighting began — a danger Khan said exists in Bajur as well. He estimated that up to 25 percent of the militants had fled to Afghanistan, and another 15 percent to other areas in Pakistan...

Related story, timesofindia.indiatimes.com, March 2, "US drone attack kills al-Qaeda-linked top Chinese militant in Pakistan" : ISLAMABAD - The leader of an al-Qaeda-linked Chinese militant group has been killed in a US drone attack in Pakistan's restive tribal region, an official said on Monday. Abdul Haq al-Turkistani, the leader of the Eastern Turkistan Islamic Party, and two comrades died when a missile fired from a CIA-operated pilotless aircraft struck a vehicle in North Waziristan district Feb. 15. "It has been confirmed now, through our local sources, that Abdul Haq al-Turkistani has been killed," claimed an intelligence official who spoke on condition of anonymity.

Al-Turkistani hails from Uighur in China's eastern province of Xianjiang. He became the leader of the al-Qaeda-linked Eastern Turkistan Islamic Party in October 2003 after the Pakistani army killed the group's former leader, Hassan Mahsum, in a security action in a tribal district of South Waziristan. The US treasury department designated al-Turkistani as a global terrorist in April 2009, saying that he was involved in the planning and execution of terror attacks, recruiting and propaganda efforts in China. In August 2009, al-Turkistani appeared in a video on an Islamic website threatening to attack Chinese interests around the world to avenge the deaths of predominantly Muslim Uighurs in their clashes with the ethnic Chinese Hans...
---
03.02.10 American Muslims face Pakistan court
ISLAMABAD, Pakistan, March 2 - Prosecutors presented their case Tuesday against five Americans arrested in Pakistan on suspicion of plotting terror attacks. The charges include waging war on Pakistan and funding banned terrorist groups, said defense attorney Dastgir Katchela. The five could face up to life in prison if convicted, he said. Ninety percent of the prosecution documents are in the Urdu language, which his clients cannot read, Katchela said. "I raised this issue before the court, but the court ordered me to translate these documents for my clients," he said. That will take more than a week, he added. The five men worshipped together at a mosque in Alexandria, Virginia, till they went missing in November and turned up in Pakistan. They were arrested in December in the small city of Sargodha, about 120 miles south of Islamabad. [More>>cnn.com]
---
03.02.10 Karadzic: Sarajevo and Srebrenica crimes are myths
March 2 - Ex-Bosnian Serb leader Radovan Karadzic has dismissed as myths the alleged two worst atrocities of the 1992-95 Bosnian war and denied his involvement. Mr. Karadzic told his trial at The Hague that Sarajevo, where some 12,000 people died in 44 months, was "not a city under siege" by Bosnian Serb forces. He said claims of the 1995 Srebrenica massacre of more than 7,000 Muslim men and boys were based on "false myths." He is accused of genocide and war crimes committed during the conflict. The 64-year-old insists he is innocent of all 11 charges. [More>>bbc.co.uk; See related story,

news.com.au (AFP) March 2, "Serbian 'war criminal' arrested" : MADRID - Spanish police have arrested an alleged Serbian war criminal - known as the "Monster of Grbavica" — wanted for the murders of more than 100 people during the Bosnian war. Veselin Vlahovic was detained yesterday near his home in the eastern town of Altea as part of an investigation into a gang which was carrying out burglaries in Spain, the interior ministry said today. He is the subject of three international arrest warrants, including for genocide for "more than 100 killings in Bosnia, as well as for rapes and acts of torture committed" during the 1992-95 war. The interior ministry also said he was carrying fake Bulgarian identity documents at the time of his arrest. Known as the "Monster of Grbavica", after the Sarajevo suburb where he committed his alleged war crimes, Vlahovic was born in Montenegro in 1969. He escaped from a prison near the Montenegrin capital of Podgorica on June 18, 2001 where he was serving a three-year sentence for robbery and other crimes. Just three days later, he shot dead a man outside a bar in Serbia, for which he received a 15-year sentence in absentia. He is also wanted for a series of other violent crimes carried out after the Bosnian war...
---
03.02.10 Four-star Turkish general charged over coup plot
ANKARA, Turkey, March 2 - Prosecutor investigating Islamic groups also to be tried. Turkish prosecutors have charged the highest-ranking serving officer yet, a four-star general, in a widening circle of arrests of officers in a nation that has hitherto regarded its military as virtually untouchable. The charges against General Saldiray Berk follow the detention of scores of officers last week over an alleged conspiracy to overthrow the government of Prime Minister Tayyip Erdogan, which has its roots in political Islam. Last week's detentions were related to an alleged plan for a military coup in 2003, but the case against Berk is more recent. Charges laid late on Monday, according to the Anatolia news agency, accused the commander of the 3rd Army of leading "an illegal group which was working to implement the anti-Islamist plan" in the eastern province of Erzincan. Turkish media reported that the charges brought against Berk and 15 others, including a state prosecutor, involved "Ergenekon," a suspected ultra-nationalist network said to be plotting to sow chaos in order to justify a military takeover. More than 200 people, including retired generals, lawyers and journalists, have been charged in connection with Ergenekon. Critics accuse the AK Party government of using the investigation to hound secularist opponents. [More>>alarabiya.net]
---
03.02.10 Cleric issues anti-terror fatwa
March 2 - A leading Islamic scholar has issued a fatwa in Britain condemning "terrorists" as the enemies of Islam, in a bid to deter young Muslims from extremism. Muhammad Tahir ul-Qadri, head of the Minhaj ul-Quran religious and educational organization, said suicide bombers were destined for hell as he released his 600-page edict in London on Tuesday. "They can't claim that their suicide bombings are martyrdom operations and that they become the heroes of the Muslim Umma [the wider Muslim community], no, they become heroes of hellfire, and they are leading towards hellfire," he said. There is no place for any martyrdom and their act is never, ever to be considered Jihad," he said. At a news conference, ul-Qadri said Islam was a religion of peace that promotes beauty, "betterment," goodness and "negates all form of mischief and strife." "Terrorism is terrorism, violence is violence and it has no place in Islamic teaching and no justification can be provided for it, or any kind of excuses or ifs or buts," he said. A number of edicts condemning extremism have been made by Islamic groups since the September 11 attacks on the United States, but ul-Qadri insists his is the most wide-reaching. "This is the first, most comprehensive fatwa on the subject of terrorism ever written," he told the Reuters news agency. [More>>aljazeera.net]
---
03.02.10 Mexican drug gangs taking over US public lands
SEQUOIA NATIONAL FOREST, California, March 2 - Not far from Yosemite's waterfalls and in the middle of California's redwood forests, Mexican drug gangs are quietly commandeering US public land to grow millions of marijuana plants and using smuggled immigrants to cultivate them. Pot has been grown on public lands for decades, but Mexican traffickers have taken it to a whole new level: using armed guards and trip wires to safeguard sprawling plots that in some cases contain tens of thousands of plants offering a potential yield of more than 30 tons of pot a year. "Just like the Mexicans took over the methamphetamine trade, they'eve gone to mega, monster gardens," said Brent Wood, a supervisor for the California Department of Justice's Bureau of Narcotics Enforcement. He said Mexican traffickers have "supersized" the marijuana trade.
 
Interviews conducted by The Associated Press with law enforcement officials across the country showed that Mexican gangs are largely responsible for a spike in large-scale marijuana farms over the last several years. Local, state and federal agents found about a million more pot plants each year between 2004 and 2008, and authorities say an estimated 75% to 90% of the new marijuana farms can be linked to Mexican gangs. In 2008 alone, according to the Drug Enforcement Administration, police across the country confiscated or destroyed 7.6 million plants from about 20,000 outdoor plots. [More>>japantoday.com]
---
NOTES

*Visitor statistics on maravot.com from 1&1. com. monthly visitors between 37,000-45,0000.
Privacy Policy: We do not store any personal data from you. We have no way of knowing any vital information about you — not even your name. Third-party distribution: We do not distribute information about your site usage to any third party. We are not responsible for the content of links from our site. Usage data: supplied by our Web Hosting service, 1and1.com, which consists of usage reports, such as page views / impressions and web pages visited, visitors' servers and geographical data (ISP's and country of origin).



Maravot's Homepage




Launched: 10.25.04 / 11.02.04 – | — | ♦
Updated: 3.02.10; 3.03.10; 3.04.10; 3.05.10; 3.06.10; 3.07.10; 3.08.10