News Headlines & Trends
---
6.28.09 EU threatens 'strong response' to Iranian harassment of EU staff
June 28 - European Union foreign ministers agreed on Sunday the bloc would
meet any Iranian intimidation of European diplomatic staff in Tehran with a "strong and collective response," Britain said. British Foreign Secretary David Miliband said the ministers at a meeting on the Greek island of Corfu unanimously called for the immediate release of British embassy local staff detained by Iranian authorities. "There was also a commitment that harassment and intimidation of (Tehran) diplomatic staff of European countries will be met with a strong and collective response," he told reporters. [More>>haaretz.com; See related story,

abcnews.go.com, June 28, "Iranian police clash with up to 3,000 protesters" : EDITOR'S NOTE: Iranian authorities have barred journalists for international news organizations from reporting on the streets and ordered them to stay in their offices. This report is based on the accounts of witnesses reached in Iran and official statements carried on Iranian media.

Riot police clashed with up to 3,000 protesters near a mosque in north Tehran on Sunday, using tear gas and truncheons to break up Iran's first post-election demonstration in five days, witnesses said. Witnesses told The Associated Press that some protesters fought back, chanting: "Where is my vote?" They said others described scenes of brutality — including the alleged police beating of an elderly woman — in the clashes around the Ghoba Mosque. The reports could not immediately be independently verified because of tight restrictions imposed on journalists in Iran. [end]

---
twitter reports, June 28, 2009, "Iran.":
(tweeters' names removed)
[via twitter.com - #IranElection] http://tinyurl.com/mfp58b More videos coming out from today - ppl marching!!

[via twitter.com - #IranElection] RT Watch a leading cleric join today's march in. #iranelection http://bit.ly/13OcOc

[via twitter.com - #IranElection] From CNN: Thousands demonstrate silently in Tehran: 5,000 protesters marched on Sunday Plz RT #iranelection http://bit.ly/2ln7ks

[via twitter.com - #IranElection] unrest in tehran 28/06/09 http://bit.ly/2t23YT

[via twitter.com - #IranElection] Check this video out -- Riot in Iran streets تظاهرات http://bit.ly/CZ9eJ

[via twitter.com - #IranElection] [Cleric] Karoubi at Ghoba Mosque today June 28. http://bit.ly/13OcOc

[via twitter.com - #IranElection] RT// Mehdi Karoubi, Morteza Malekian, Faezeh Hashemi & Effat Mar'eshi (Rafsanjani's wife) were among protesters today.

[via twitter.com - #IranElection] RT Photo: Near Mirdamad St. 19.30 Local Time, Hard Clashes in the Steets http://twitpic.com/8om6d #iranelection
---
6.28.09 Pakistan offers bounty for Taliban head
(AFP) June 28 - Pakistan has offered a $US615,000 ($765,000) reward for information leading to the capture, dead or alive, of Taliban head Baitullah Mehsud, currently holed up in the northwest tribal belt. Two national Urdu-language newspapers and local papers in the northwest city of Peshawar carried an advert offering the 50-million-rupee ($A765,000) reward on Sunday for Mehsud, and other amounts for 10 of his senior militants. "The government has announced a cash reward for anybody providing authentic information leading to the capture of these (11), dead or alive," said the advertisement.

It then goes on to list the 11 men, along with their bounties. Fayyaz Tooro, home secretary of the North West Frontier Province, confirmed to AFP that the government had taken out the advert. Mehsud already has a $US5 million ($A6.2 million) bounty on his head offered by the United States, with the US State Department branding the warlord "a key al-Qaeda facilitator in the tribal areas of South Waziristan." [>news.com.au]
---
6.27.09 Pakistan police in Karachi gunfight
June 27 - Pakistani police say they have killed five suspected anti-government fighters linked to a Taliban leader in the city of Karachi. The police chief said the gunfight took place after officers raided an apartment in the west of the city on Saturday. The armed men were loyal to Baitullah Mehsud, the Pakistani Taliban leader, and were planning attacks, Waseem Ahmed said. The raid comes as the military is set to launch an assault against Mehsud's group in the South Waziristan region, on the Afghan border.  "We raided the house on a tip-off that militants were planning attacks in the city," Ahmed said. "As we reached near the house, they opened fire.

Our force returned the fire and five militants were killed." Al Jazeera's Imran Khan, reporting from Karachi, said the gun battle took place in a dangerous neighbourhood of Karachi...Fears have been growing over the past few months that Taliban fighters fleeing an army offensive in the country's the northwest are infiltrating into Karachi, the country's commercial capital. The Pakistani military has in recent days expanded an operation against fighters in the North West Frontier Province to neighboring South Waziristan, targeting bases reportedly used by Mehsud. [Full story>>aljazeera.net; See related stories:

nytimes.com, June 27, "Taliban losses no sure gain for Pakistanis" : MARDAN - For the past month and a half, the Pakistani military has claimed success in retaking the Swat Valley from the Taliban, clawing back its own territory from insurgents who only a short time ago were extending their reach toward the heartland of the country. Yet from a helicopter flying low over the valley last week, the low-rise buildings of Mingora, the largest city in Swat that is now deserted and under a 24-hour curfew, appeared unscathed. In the surrounding countryside, farmers had harvested wheat and red onions on their unscarred land.

All that is testament to the fact that the Taliban mostly melted away without a major fight, possibly to return when the military withdraws or to fight elsewhere, military analysts say. About two million people have been displaced in Swat and the surrounding area as the military has carried out its campaign. The reassertion of control over Swat has at least temporarily denied the militants a haven they coveted inside Pakistan proper. The offensive has also won strong support from the United States, which has urged Pakistan to engage the militants. But the Taliban's decision to scatter leaves the future of Swat, and of Pakistan's overall stability, under continued threat, military analysts and some politicians say...

timesofindia.indiatimes.com, June 27, "Pakistan fighters strike Taliban bases, 22 killed" : ISLAMABAD - Pakistani war planes on Saturday pounded the bases of Tehrik-e-Taliban chief Baitullah Mehsud in restive Waziristan, killing at least 22 militants and wounding several others, while police shot dead five other radicals in the port city of karachi. "Two Pakistani jets strafed bases run by commanders closely linked to Baitullah Mehsud in Birmal, Ladha and Makeen, killing 12 to 15 militants and wounding another 17," an army statement said. Pakistan air force jets have been carrying out heavy air raids on major towns and on Taliban concentrations in South Waziristan as a softening of tactics before unleashing a major ground offensive targeted to get Mehsud and other high-value militants of Taliban and al-Qaeda, dead or alive...
---
6.27.09 Iran militia raids 'target homes'
June 27 - Human Rights Watch has accused Iran's volunteer Basij militia of carrying out night-time raids, destroying property in private homes and beating civilians. The New York-based group says the raids are an attempt to stop the nightly rooftop chants against the government. It also says satellite dishes are being confiscated to stop people from watching foreign news. Meanwhile, on state TV, President Mahmoud Ahmadinejad again attacked what he said was US and European meddling. And Iranian media reported that the public relations chief of opposition candidate Mir Hossein Mousavi had been banned from leaving the country. Abolfazl Fateh, who was preparing to travel to the UK to work on his doctorate, told Reuters news agency that he was restricted for his role in post-election developments.
After being banned from taking to the streets, opposition protesters in Tehran have been chanting anti-government slogans from their rooftops and balconies in the last few days, starting every evening at 2200 local time. But Human Rights Watch has now complained that members of the Basij militia have been raiding houses to stop the protests. "Witnesses are telling us that the Basijis are trashing entire streets and even neighborhoods as well as individual homes trying to stop the nightly rooftop protest chants," said Sarah Leah Whitson, Middle East director, in a statement posted on the group's website. [More>>bbc.co.uk; See related link received via twitter:

newsweek.com, June 25, 2009, "Was there fraud in Iran Election/" Why gurus smell a rat in Iran. ...Vote-rigging often leaves taces in the results. here's what experts look for...
---
6.27.09 World Bank approves Dead Sea canal plan: Israel
JERUSALEM (AFP) June 27 - The World Bank has approved a pilot plan for a canal linking the Red Sea to the rapidly shrinking Dead Sea, Israeli Development Minister Sylvan Shalom announced on Saturday. Israeli public radio said the bank will provide 1.25 billion dollars in finance for the project. The initial proposal is for a 180 kilometer (110 miles) channel to transport 200 cubic metres of water, of which half would gush into the Dead Sea and half would feed a giant desalination plant jointly run by Israel, Jordan and the Palestinian Authority, Shalom's ministry said. The next stage would see the construction of a canal to supply two billion m3 of water a year to maintain and increase water levels in the Dead Sea, which is on course to dry out completely by 2050 if nothing is done. [More>>khaleejtimes.com]
---
6.27.09 House passes bill to address threat of climate change
WASHINGTON, June 26 - The House passed legislation on Friday intended to address global warming and transform the way the nation produces and uses energy. The vote was the first time either house of Congress had approved a bill meant to curb the heat-trapping gases scientists have linked to climate change. The legislation, which passed despite deep divisions among Democrats, could lead to profound changes in many sectors of the economy, including electric power generation, agriculture, manufacturing and construction. The bill's passage, by 219 to 212, with 44 Democrats voting against it, also established a marker for the United States when international negotiations on a new climate change treaty begin later this year.

At the heart of the legislation is a cap-and-trade system that sets a limit on overall emissions of heat-trapping gases while allowing utilities, manufacturers and other emitters to trade pollution permits, or allowances, among themselves. The cap would grow tighter over the years, pushing up the price of emissions and presumably driving industry to find cleaner ways of making energy. President Obama hailed the House passage of the bill as "a bold and necessary step." He said in a statement that he looked forward to Senate action that would send a bill to his desk "so that we can say, at long last, that this was the moment when we decided to confront America's energy challenge and reclaim America's future." [More>>nytimes.com]
---
6.27.09 Canadian software helps Iran dissidents connect
OTTAWA, Canada, June 27 - Western governments may not be interfering in Iranian internal affairs, but western technology certainly is, the latest case being a Software developed by a Canadian lab to circumvent online censorship which has been downloaded by more than 18,000 Iranians in the last 10 days, according to its developeri. A thirst for online freedom in Iran, as well as in China, Myanmar and other authoritarian hotspots, has led to a sudden proliferation of all technologies designed to overcome curbs on news and social networking Internet sites. "This speaks to the hunger for access to information when it's being denied," Rafal Rohozinsk, developer of the new "human rights" software Psiphon, told AFP.

Iranians angered by the results of the country's presidential election that returned hardline incumbent President Mahmoud Ahmadinejad to power have been using social and media sites such as Facebook, Flickr and Twitter to communicate and organize. They have also been posting videos of violent post-election protests and clashes to video-sharing sites such as YouTube. But more and more, Tehran has fought back by blocking access to news and social networking Internet sites. Psiphon overcomes this by punching thousands of tiny holes in computer firewalls and opening new pathways in order to access blocked content. If a user wishes to view a blocked BBC News website, for example, Psiphon enables them to link to a proxy to view the content. If censors shut down this access, a new access window opens up, and so on. [More>>alarabiya.net; See related link received via twitter:

information.is-the-coolest.com : Tor (The Onion Router) is a free software implementation of second-generation onion routing — a system which claims to enable its users to communicate anonymously on the Internet. Roger Dingledine, Nick Mathewson, and Paul Syverson presented "Tor: The Second-Generation Onion Router" at the 13th USENIX Security Symposium...
---
6.27.09 Feds shut 5 banks in Calif., Ga., Minn.
(AP) June 27 - FDIC Appointed Receiver; Number Of Failures This Year Now 45. Regulators on Friday shut down five small banks, boosting to 45 the number of failures this year of federally insured banks. More are expected to succumb in the prolonged recession. The Federal Deposit Insurance Corp. was appointed receiver of the failed banks: Community Bank of West Georgia, based in Villa Rica, Ga.; Neighborhood Community Bank, located in Newnan, Ga.; Horizon Bank in Pine City, Minn.; MetroPacific Bank in Irvine, Calif.; and Mirae Bank in Los Angeles.

Community Bank of West Georgia had $199.4 million in assets and $182.5 million in deposits as of May 15. Neighborhood Community Bank had $221.6 million in assets and $191.3 million in deposits as of March 31. Horizon Bank had $87.6 million in assets and $69.4 million in deposits as of March 31. MetroPacific Bank had $80 million in assets and deposits of $73 million as of June 8. Mirae Bank had $456 million in assets and $362 million in deposits as of May 29. [More>>cbsnews.com]
---
6.26.09 Police tow car belonging to Jackson's doctor
LOS ANGELES, June 26 - Authorities want to speak to physician, stress he's not under investigation. Police towed a BMW belonging to a doctor from Michael Jackson's home Friday and said it could contain drugs or other evidence offering clues in the pop star's death. Los Angeles police spokeswoman Karen Rayner said coroner's investigators were seeking to interview the doctor but stressed that he was not under criminal investigation.
"His car was impounded because it may contain medications or other evidence that may assist the coroner in determining the cause of death," Rayner said. Meanwhile the Los Angeles Fire Department released the 911 call from Michael Jackson's home on Friday. The unidentified caller says the singer wasn't breathing or responding to efforts to revive him. The caller said Jackson was with his personal doctor at the time. The Los Angeles Times has identified the physician as Dr. Conrad Murray, 51, a Las Vegas cardiologist, and reports that Murray was administering CPR to Jackson when paramedics arrived. The newspaper cites other published reports saying Jackson had received a shot of Demerol before going into cardiac arrest. [More>>msnbc.msn.com]
---
6.26.09 G8 'deplore' Iran poll violence
June 26 - The Group of Eight leading  powers meeting in Italy have said they "deplore" the post-election violence in Iran  and urged the Islamic republic to "respect fundamental human rights." "We deplore post-electoral violence which led to the loss of  lives of Iranian civilians," the G8 foreign ministers said in a draft statement on Friday. The ministers meeting in the northeastern city of Trieste urged Iran "to respect fundamental human rights including freedom of expression as ensured by the international treaties it has ratified." They said the crisis in Iran "should be settled soon through democratic dialogue and peaceful means." "We call on the Iranian government to guarantee that the will of the Iranian people is reflected in the electoral process," the statement said..."There is a crisis of credibility not between Iran and the West, but between the Iranian counting of the votes and the Iranian people." [Full story>>aljazeera.net; See related stories,

thestar.com.my (Reuters) June 26, "Iranian cleric says ' rioters' should be executed" : TEHRAN - A hardline Iranian cleric called on Friday for the execution of leading "rioters" to teach a lesson to the tens of thousands who have protested against the result of the presidential election two weeks ago. Iran's top legislative body, the Guardian Council, said it had found no major violations in the election, which it described as the "healthiest" since the 1979 Islamic Revolution, but said 10 percent of ballot boxes would be recounted. The council has rejected a call for the annulment of the vote by moderate former Prime Minister Mirhossein Mousavi, who has led mass protests since he was declared a distant second in the election behind incumbent President Mahmoud Ahmadinejad.

"I want the judiciary to ... punish leading rioters firmly and without showing any mercy to teach everyone a lesson," Ahmad Khatami told worshippers at Tehran University...Khatami, a member of the Assembly of Experts, said the judiciary should charge the leading "rioters" as "mohareb" or one who wages war against God. "They should be punished ruthlessly and savagely," he said. Under Iran's Islamic law, punishment for people convicted as "mohareb" is execution...

cbsnews.com, June 26, "Obama: Ahmadinejad should answer to victims' kin" : President Obama today dismissed Iranian president Mahmoud Ahmadinejad's call for him to apologize for criticizing the Iranian government's violent crackdown on protesters allied with reformist politician Mir-Hossein Mousavi. "I don't take Mr. Ahmadinejad's statements seriously about apologies, particularly given the fact that the United States has gone out of its way not to interfere with the election process in Iran," he said.

"I would suggest that Mr. Ahmadinejad think carefully about the obligations he owes to his own people," Mr. Obama continued. "And he might want to consider looking at the families of those who've been beaten or shot or detained. And, you know, that's where I think Mr. Ahmadinejad and others need to answer their questions."

In a press conference following a meeting with German Chancellor Angela Merkel Friday afternoon, Mr. Obama continued to offer stronger rhetoric concerning government violence against protesters in Iran, referencing the government's "ruthlessness" and saying "the violence perpetrated against [protestors] is outrageous." "And despite the government's efforts to keep the world from bearing witness to that violence, we see it and we condemn it," he said. "As I've said before, the Iranian people will be the ultimate judge of their government's actions. But if the Iranian government desires the respect of the international community, then it must respect the rights and heed the will of its people." ...
---
6.26.09 Trickling Jordan River threatens to dry up
WEST BANK (Reuters) June 26 - Pilgrims might think twice about baptism in the brackish waters after walking in the footsteps of Jesus down to the Jordan River. The stream that watered "the garden of the Lord," where Moses led the Jewish people to the Promised Land, is a sickly trickle through a closed military zone, kept alive by sewage water. Assessments over the past two or three years speak of a river "low in quality and low in quantity." low in oxygen, low in biodiversity and high in salts...Israel, Syria, Lebanon and Jordan all draw water from the catchment area feeding the Jordan and Sea of Galilee, from the snows of Mount Hermon to the streams east of the Golan Heights... [Full story>>alarabiya.net]
---
6.26.09 Six suspects named in alleged terrorist activities
JAKARTA, Indonesia, June 26 - The National Police have named six people, including two Singaporeans, suspects for their alleged involvement in terrorist activities, tempointeraktif.com reported Friday. National Police chief of detectives Comr. Gen. Susno Duadji said the six were arrested earlier last week in an operation by the police's Densus 88 crack counterterrorism unit. The team netted eight people in total during the operations in Lampung and Central Java. The Singaporeans were identified as Husaini and Samad bin Sobari. Police caught Samad in Lampung on June 21, while Husaini was arrested while heading for Sragen in Central Java. Another suspect was reported to be Husaini's wife. She is accused of aiding and abetting her husband as he fled the police. [>thejakartapost.com]
---
6.26.09 Bomb kills 13, wounds 45 in Baghdad
BAGHDAD (Reuters) June 26 - A bomb killed at least 13 people at a Baghdad market selling motorbikes and furniture on Friday, the latest in a series of attacks that have intensified ahead of the withdrawal of US combat troops from Iraqi cities. One police source said as many as 19 people had been killed after the bomb, planted on a motorcycle, exploded in the market in the industrial area of Bab al-Sheikh, a mixed but majority Shi'ite Muslim part of central Baghdad. Forty-five people were wounded, police said. [More>>khaleejtimes.com]
---
6.26.09 Militants blow up girls' school
PESHAWAR, Pakistan (AFP) June 26 - Militants bombed a girls' primary school on the outskirts of Pakistan's Peshawar city today, the latest in a series of such attacks blighting the northwest of the country, police said. The school was badly damaged during the attack in Mattni village, local police official Abdul Ghafoor Afridi said...Pakistan has used schools to shelter some of the roughly two million people displaced by a blistering military operation against armed Taliban hardliners since late April...Militants have destroyed at least 191 schools in the valley, including 122 girls' schools, leaving 62,000 pupils without classrooms, local officials said. [Full story>>news.com.au]
---
6.26.09 92 Mexican police arrested in drug cartel investigation
MEXICO CITY, June 26 - Federal agents arrested 92 municipal police officers accused of providing information and security to one of Mexico's most ruthless drug cartels, the state-run Notimex news agency reported. The arrests occurred Wednesday in the city of Hidalgo in central Mexico after an investigation that started in October, Notimex said Thursday. So far, the news agency said, the investigation has led to the arrests of 124 suspects and the discovery of 12 safe houses in which 14 secret graves were found. Officials say the Zeta drug cartel is responsible for many of the kidnappings, extortion and drug trafficking in Hidalgo. The Zetas were paying the Hidalgo police officers 3,000 to 5,000 pesos ($228 to $380) every two weeks, Notimex said. [>cnn.com]
---
6.25.09 Top cleric warns unrest may uproot Iran government
TEHRAN, June 25 - MPs snub Ahmadinejad inauguration, Mousavi vows to fight. Turmoil continued in Iran on Thursday as a top cleric warned the Islamic Republic's rulers that their continued suppression of opposition protests could destabilize the government and defeated reformist Mir Hossein Mousavi said he was determined to continue fighting against "major" election rigging. In the harshest criticism yet from an Iranian cleric, Grand Ayatollah Hossein Ali Montazeri, said: "If Iranians cannot talk about their legitimate rights at peaceful gatherings and are instead suppressed, complexities will build up which could possibly uproot the foundations of the government, no matter how powerful."

Montazeri, once tipped as a possible successor to revolutionary leader Ayatollah Ruhollah Khomeini, also called for an "impartial" committee to be set up to resolve the worst crisis since the 1979 that ousted the US-backed Shah. Meanwhile President Mahmoud Ahmadinejad called on US President Barack Obama to apologize for interfering in Iran's affairs as several members of parliament refused to attend a victory dinner party hosted by the incumbent. More than 100 MPs, including parliament speaker Ali Larijani, were notably absent at Ahmadinejad's inauguration ceremony.

"Apart from 70 members of the (Islamic) revolution faction, which backs Ahmadinejad, only 30 other principalists (conservatives) turned up," the reformist Etemad Melli newspaper said, adding that 290 boycotted the event...In comments about Obama's recent statement in which he said he was "appalled and outraged" by Iran's post-election crackdown, Ahmadinejad likened the president to his predecessor George W. Bush and demanded an apology. "Mr. Obama made a mistake to say those things ... our question is why he fell into this trap and said things that previously Bush used to say," the semi-official Fars News Agency quoted Ahmadinejad as saying. [More>>alarabiya.net; See related stories:

independent.co.uk, June 25, "Now Mousavi's family feels force of crackdown" : June 25 - Fears grow that opposition leader's outspoken wife is among the hundreds of protesters who have been detained. There were fears last night that the wife of Iran's opposition leader Mirhossein Mousavi had been arrested after a defiant statement that protesters should not buckle despite being in a situation she likened to martial law. Zahra Rahnavard, who came to prominence by campaigning alongside her husband (a double act unprecedented in Iranian politics), criticized the presence of armed forces in the street and insisted that the opposition had a constitutional right to hold demonstrations. The regime should not suppress it "as if martial law had been imposed", she said. In the message posted on her husband's website, she also demanded the immediate release of people detained since the election. But before the day was out, there were reports — which could not be confirmed because of the media clampdown — that she herself had been detained...

nytimes.com, June 25, "Ahmadinejad assails Obama as opposition urges defiance" : TEHRAN - As Iran's embattled opposition leader said he would "not back down for a second" in challenging the disputed elections, President Mahmoud Ahmadinejad told President Obama on Thursday to avoid interfering in Iran's affairs and demanded an apology from the American leader for striking the same critical tone as his predecessor, George W. Bush. The sharp words offered no prospect of eased tensions between Washington and Tehran at a time of profound differences over issues such as Iran's nuclear program and its support for Hezbollah in Lebanon and Hamas in Gaza, which the United States calls terrorist organizations.

Mr. Ahmadinejad's comments, quoted on the semi-official Fars news agency, came as at least three Iranian newspapers reported that only 105 of 290 members of the Iranian Parliament invited to a victory party for him Wednesday night actually attended the event, suggesting a deep divide within the political elite over the election and its aftermath. Neither the speaker of Parliament, Ali Larijani, nor the deputy speaker, Mohammed Reza Bahonar, an erstwhile ally of Mr. Ahmadinejad, made an appearance...

thestar.com.my, June 25, "Iran's Mousavi: Election protests people's right" : TEHRAN (Reuters) - Iranian opposition leader Mirhossein Mousavi said on Thursday he was determined to continue fighting against "major" presidential election rigging despite pressure to stop, his website reported. Mousavi, who says he won the June 12 election, said the nation had the right to protest over the vote.

"I am pressured to abandon my demand for the vote annulment ... a major rigging has happened ... I am prepared to prove that those behind the rigging are responsible for the bloodshed ... Continuation of legal and calm protests will guarantee achieving our goals," he said.

"I insist on the nation's constitutional right to protest against the election result and its aftermath ... I strongly criticise the closure of the Kalameh-ye Sabz daily and arrest of those who worked there...The illegal confrontation with the media opens the way for foreign interference," he said in a statement. Mousavi was the managing-director of the Kalameh-ye Sabz daily, which was closed earlier this week...

news.com.au (AFP) June 25, "140 arrested in Iran crackdown" : TEHRAN - Iran has jailed more than 140 political activists, journalists and university lecturers since the disputed election which returned President Mahmoud Ahmadinejad to power, reports said today. A list published by Etemad newspaper carried the names of 71 prominent reformist leaders, journalists and campaign workers of defeated candidate Mir Hossein Mousavi, who has dismissed the election as a "shameful fraud." Mr. Mousavi's website Kalemeh said another 70 academics and members of Islamic associations at various universities were arrested after meeting him yesterday.

Iran has also arrested two reporters working for US publications amid stepped-up restrictions on foreign media which are banned from covering street protests. Iranian officials have vowed to crack down on the "masterminds" of riots and protests unleashed in the wake of the election. At least 17 people have been killed and hundreds have been arrested in clashes between protesters and security forces since the protests over the election erupted, according to state media. [end]
---
twitter reports, June 25, 2009, "Iran.":
(tweeters' names removed)
(via #IranElection) Sign petition to UN: "Iranian government's barbaric conduct towards the Iranian people," petitiononline.com/12June/

(via #IranElection) RT SPREAD THIS LIKE FIRE TO US, UK, AND FOREIGN MEDIA!! PLEASE SPREAD NOW. LATEST VIDEO FROM IRAN: [http://bit.ly/qmGy3 [video "Tehran Baharestan" dated June 24, 2009]

(via #IranElection) Now this is hilarious. http://bit.ly/5fw3I 20 ballot boxes all have either 65 or 211 votes. Can copy paste get more blatant?

(via #IranElection) citizen tube and other reports from iran: "Basij shooting from rooftops" http://bit.ly/TqC6D

(via #IranElection) No Slowdown of Basij Home Invasions & Beatings Tonight. They Are Beating Everyone In The Homes (Confirmed)

(via #IranElection) Hezbollah of Lebanon in massacre of Iranian people http://www.goftaniha.org/ PLZ RT RT

(via #IranElection) Fascinating Q&A with a Basij http://bit.ly/ewXTH [in English]

(via IranRiggedElect) New video released by AlJazira, shows new footage of shootings of Jun20th http://bit.ly/5nwsy
---
6.25.09 N. Korea warns of nuclear "fire shower"
June 25 - Isolated Regime Says If US Attacks, South Korea Can Expect A Retaliatory Nuclear Attack. North Korea vowed Thursday to enlarge its atomic arsenal and warned of a "fire shower of nuclear retaliation" in the event of a US attack, as the regime marked the 1950 outbreak of the Korean War. The anniversary came as the US Navy trailed a North Korean ship suspected of carrying weapons in violation of a UN resolution punishing Pyongyang's May 25 nuclear test, and as anticipation mounted that the North might test-fire short- or mid-range missiles in the coming days. "North Korea is upping the ante with each nuclear and missile test, and appears to be rejecting efforts to return to the Six-Party talks," said CBS News foreign affairs analyst Pamela Falk at the United Nations. [More>>cbsnews.com]
---
6.25.09 We'll not hand over 'any individual to India' : Pakistan
ISLAMABAD, June 25 - Pakistan has ruled out the possibility of handing over to India any of its nationals linked to Mumbai terror attacks and made it clear that such persons would be brought to justice within Pakistan. Asked about warrants issued for the arrest of 22 Pakistanis by a special court in Mumbai, Interior Minister Rehman Malik made it clear that Pakistan would not hand over "any individual to India" simply on the basis of such warrants.

Minister of State for Foreign Affairs Malik Amad Khan too has said, "no Pakistani national would be handed over" to India. He said Pakistan would bring people involved in the Mumbai attacks "to justice but in our own country" provided India gave more evidence on the terror strikes. The comments by the two ministers came in the wake of a court in Mumbai issuing warrants on Tuesday for the arrest of 22 Pakistanis in connection with the terrorist attacks. [More>>indianexpress.com]
---
6.25.09 Nine killed, over 40 wounded in new bombings in Iraq
BAGHDAD (DPA) June 25 - Nine people, including four civilians, were killed in two bombings in Iraq on Thursday, a day after a devastating bomb attack in Sadr City that killed 74. In Baghdad's Shiite district Bayaa, a bomb blast killed four persons and wounded another 32 at a bus station, police said. In the western Iraqi city of Falluja, five Iraqi soldiers were killed when an explosive device blew up while they were on patrol, security sources said. Nine further soldiers were wounded in the attack. Meanwhile the death toll in Wednesday's massive terror bombing in a market of eastern Baghdad's Shiite district of Sadr City rose to 74, a security forces spokesman said. Another 150 persons were wounded. [More>>khaleejtimes.com; See related story,

khaleejtimes.com (AFP) June 25, "Iraq PM criticizes Muslim 'silence' on cleric's death calls" :Iraqi Prime Minister Nuri al-Maliki on Thursday criticized Arab and Muslim countries for their silence on calls by a senior Saudi cleric for Shiite scholars to be killed. The Iraqi leader made the remarks a day after a massive bomb in the predominantly Shiite neighbourhood of Sadr City in northeastern Baghdad killed 62 people and wounded 150...
---
6.25.09 US says will help settle Kashmir issue
ISLAMABAD, June 25 - The Obama administration will help "every possible way" to settle the Kashmir problem and to resume the stalled Indo-Pak dialogue, a top US official said here today responding to Islamabad's request for assistance in resolving the "cofre issue" with New Delhi. [More>>timesofindia.indiatimes.com]
---
6.25.09 Kazakhstan to tighten internet law
June 25 - Kazakhstan's parliament has approved a law tightening state control of the internet, which, media rights activists say, will limit freedom of speech in the former Soviet state. The bill would subject blogs, chat rooms and social networking sites to possible criminal prosecution, enabling the courts to block all websites considered in breach of Kazakh law. Media rights activists say the law is designed to allow arbitrary crackdowns on anyone opposing Nursultan Nazarbayev, Kazakhstan's president. But authorities say the legislation aims to curb the distribution of child pornography, extremist literature and other unsuitable material. "This law is not a regulation of the internet. The amendments introduced to the law are aimed at stopping the dissemination of illegal information on the internet," the government's state information agency said. [More>>aljazeera.net]
---
6.24.09 Mehsud has a brush with death in US drone attacks
ISLAMABAD, June 24 - US predator drones kept up the hunt for Taliban fighters as they prowled over their stronghold of Waziristan, a day after Pakistan's most wanted terrorist Baitullah Mehsud reported narrowly escaped death in hurricane missile strikes which killed up to 70 militants. The prowl by the predators continued in the sky as Pakistani Army continued to mass tanks and armored carriers for a major ground offensive against Baitullah's men in Pakistan's restive northwest.

In continuing operations in adjacent Swat, security forces gunned down seven militants in fresh fighting while six army personnel, including two officers, fell in a Taliban ambush in the same region, raising questions about official claims that the region had largely been cleared of rebels. Militants ambushed troops returning from a search operation at Charbagh, considered a stronghold of the Taliban, last night. A major, a captain and four soldiers were killed in the exchange of fire while three others were injured, the army said.

Though the Pakistan Army put the death toll at up to 30 militants in the drone attack, close aide of Mehsud, Wali ur Rehman said 65-70 militants had been killed when drones rained seven missiles on a funeral procession which was attended by 150 top Taliban and foreign fighters on Tuesday. US drones on Tuesday fired three missiles at a Taliban training centre near village Makeen, 60 kms from Waziristan's chief town of Wanna, killing seven militants. Another barrage of seven missiles rained down on the same area at a funeral procession for some of those killed in the first attack...Local officials later said one of the Mehsud's top commanders Sangeen Khan was killed in yesterday's first drone attack. [Full story>>indianexpress.com; See related stories;

timesofindia.indiatimes.com, June 24, "Swat cleared of Taliban: Pakistan." ISLAMABAD - The Pakistan government on Wednesday claimed that the entire Malakand division, including Swat, in the country's restive northwest had been cleared of the Taliban, but this seemed to be at variance with the military that indicated that its operations against the militants were far from over...

thenews.com.pk, June 24, "57 PAF officials arrested over links with terrorists" : ISLAMABAD - Over 50 Pakistan Air Force (PAF) officials have been court marshaled following arrest on charges of having links with terrorists while an important PAF official who is also wanted is at large. According to information gathered from Geo News source, action against some of the PAF officials over links with terrorists began in former president Pervez Musharraf's regime. More arrests were undertaken after a PAF official Mushtaq was apprehended.

As many as 57 officials were arrested from Kamra, Lahore, Sargodha, Mianwali and Karachi. Of these, 26 had to face court marshal who were awarded [a] three and half to 17 year imprisonment while six were awarded capital punishment on involvement in serious crimes. Those awarded [the]death sentence are: senior technicians, Karamdin, Khalid Mehmood; carpool technician Nawazish; junior technicians, Niaz, Nasrullah and Adnan. A wanted carpool technician Amir is still at large whose photos have been affixed at all the air bases. [end]
---
6.24.09 Iran riot police clash with protesters near parliament
June 24 - Armed Iranian security forces clashed with some 200 pro-reform demonstrators outside the parliament building in Tehran on Wednesday, but no casualties were reported. Riot police and militia volunteers gathered near the parliament armed with batons and tear gas to deter the protesters from their planned to protest. According to an Iranian blogger who witnessed the event, police bearing guns and riot gear attacked unarmed demonstrators. The New York Times quoted his post as saying: "They were waiting for us — they all have guns and riot uniforms — it was like a mouse trap — ppl [sic] being shot like animals."

Amateur videos posted on YouTube by people saying it was taken at protests on Wednesday showed groups of young people chanting on a Tehran street. One showed men and women throwing rocks and pushing barricades, one blazing, in the street. Others shouted: "Death to the dictator!" The time and place the videos were taken could not be immediately confirmed due to restrictions on foreign media in Iran. [More>>haaretz.com; See also
nytimes.com, June 24, "Fresh clashes as ruling cleric says Iran will not yield" : TEHRAN - Hundreds of protesters clashed with waves of riot police and paramilitary militia in Tehran on Wednesday, witnesses said, as Iran's supreme leader, Ayatollah Ali Khamenei, insisted that the authorities would not yield to pressure from opponents demanding a new election following allegations of electoral fraud. It was impossible to confirm the extent of the new violence in the capital because of draconian new press restrictions on coverage of the post-election mayhem. But the witnesses reached by telephone said the confrontation, in the streets near the national Parliament building, was bloody, with police using live ammunition.

Defying government warnings, hundreds, if not thousands of protesters, had attempted to gather in front of the parliament on Baharestan Square, witnesses said. They were met with riot police and paramilitary militia, who struck at them with truncheons, tear gas and guns. One witness said he saw a 19-year-old woman shot in the neck. Others said the police had shot in the air, not directly at demonstrators. Some opposition supporters said that presidential candidate and opposition leader Mir Hussein Moussavi had been scheduled to address the crowd, but initial reports indicated that he had not appeared...

cbsnews.com, June 24, "Tehran protests turn into 'bloodbath' " : A demonstration near Iran's parliament turned into a "bloodbath" Wednesday, a source in Tehran told CBSNews.com. Thousands gathered at the parliament building for a silent protest, reported the unnamed source. But scene took a violent turn when more than 1,000 police and Basij militia arrived to disperse the crowd. "It turned into a bloodbath ... they threw some people off the bridges...after the Basijis came, they began to use tear gas, sticks and shooting," he said. Earlier Wednesday, Iran's supreme leader said that the government would not give in to pressure over the disputed presidential election, effectively closing the door to compromise with the opposition...
---
twitter reports, June 24, 2009:
(tweeters' names removed)
(via #IranElection) Sign petition to have Supreme Leader investigated by International Court of Justice http://bit.ly/Xpjgi

(via #IranElection) check this link [telegraph.co.uk, June 24, "Briish reporter held as diplomatic feud with Iran deepens"] - http://bit.ly/lW3Jm --- Unconfirmed:

(via #IranElection) Unconfirmed: Jason Fowden, who works for Washington Times, was among UK passport holders who had been detained

(via #IranElection) RT Iran: They were waiting for us. They all have guns and riot uniforms. It was like a mouse trap. ppl being shot like animals

(via #IranElection) Overwhelmed Iranian hopsital staff, Iranian police confiscating bodies http://tinyurl.com/lqye8x

(via #IranElection) RT they are beating people severely. helicopters all over the city finding protesters & telling guards so they go attack

(via #IranElection) CNN: Massacre today at Baharestan square in Tehran http://bit.ly/9RvzC

(via #IranElection) ALL NEW VIDEOS OF TODAY PROTESTS !! & TWITS RESUME

(via #IranElection) Tonight in Shahrak-e-Gharb while people were chanting from rooftops, plain clothes put trees on fire.

(via #IranElection) Rafsanjani poised to step in, possibly to make statement On Friday as Khamenei tales Friday Prayers again.

(via #IranElection) RT @persiankiwi is in trouble! Please read: http://cli.gs/ussh9 (http://reportages.spiritofsirius.com)

(via persiankiwi) we must go - dont know when we can get internet - they take 1 of us, they will torture and get names - now we must move fast - #Iranelection
...Everybody is under arrest & cant move - Mousavi - Karroubi even rumour Khatami is in house guard
..they pull away the dead into trucks - like factory - no human can do this - we beg Allah for save us[Note:
...Lalezar Sq is same as Baharestan - unbelevable - ppls murdered everywhere
......in Baharestan we saw militia with axe choping ppl like meat - blood everywhere - like butcher - Allah Akbar
...reports of street fighting in Vanak Sq, Tajrish sq, Azadi Sq - now
...rumour they are tracking high use of phone lines to find internet users - must move from here now
...they catch ppl with mobile - so many killed today - so many injured - Allah Akbar - they take one of us
[These were the last posts received from persiankiwi]

(via #IranElection 6.23.09) "Clerics join Iran's anti-government protests" http://www.cnn.com/2009/WORLD/meast/06/23/iran.protest.faces/index.html

(via #IranElection 6.24.09, 6:00pm SF):

(via #IranElection) (VID_**gRAPHIC**jUN 24_Youth killed while erecting barricades) http://bit.ly/NiquR

(via #IranElection) RT Take down regime website (from Daily Kos)  http://bit.ly/M2S2f

(via #IranElection) read under the heading "Arrest": http://bit.ly/iWeB look @ what tech. has brought since 03 - truth (Zahra Kazemi, wikipedia)

(via #IranElection) Neda's famly banned from mourning and funeral is cancelled, neighbours say http://tinyurl.com/lxjw5p

(via #IranElection) Graphic Photo showing proof of axes being used. #IranElection http://bit.ly/nCJyD
See also Picture: Brutal image of a protestor wounded by an axle

(via #IranElection) Iran Revolution coverage with videos & Twitter news updates!!! http://bit.ly/10yzkh

(via #IranElection) Very promising. Revolutionary Guard Commanders are on People's Side http://bit.ly/BwmlF

(via #IranElection) http://bit.ly/e9E3m NEW VIDEO

(via #IranElection) Short amateur video from tonight's Iran vigil in New York City -Union Square June 24 2009 http://bit.ly/TaBse

(via #IranElection) Family members wait and worry outside Iran prison: Iranians seeking the release of rel..(re: latimes.com story)   http://bit.ly/U7z3O

(via IranRiggedElect) 70 Univ. Profs are reporetedly arrested. Their whereabouts remains unknown

(via IranRiggedElect) Anyone outside #Iran organizing a demonstration/protest, please register on this world list: http://bit.ly/cvXKL

(via IranRiggedElect) Iran has its own Tiananmen Square now, people are being massacred now. Here is a news aggregator - http://bit.ly/14RwZC

(via IranRiggedElect) Best article Ive read on Iran's internal struggle, main players,history & goals: http://bit.ly/wvBaY (tehranburau.com): ...This is a pivotal moment in Iran's history. If the reformists and the Iranian people cannot reverse the outcome of Iran's rigged elections, Iran will enter a dark period of dictatorship, with no light at the end of the tunnel. The country will be controlled completely by the military/security forces, with an unelected Supreme Leader as its titular head, and no elections (or extremely meaningless ones). This would be a terrible development for the rest of the world as well.

(via #IranElection) SIGN "Ltr 2 Ki-Moon/UNSecGn" petition! http://petol.org/12June
---
6.24.09 Baghdad market bombing kills at least 60
BAGHDAD, June 24 - At least 60 people were killed Wednesday evening in a powerful bombing in the eastern Baghdad district of Sadr City, police and hospital officials said, casting doubt on the readiness of Iraq's security forces to keep a latent insurgency in check as US troops withdraw from cities. The blast at the Mredi market, where merchants sell birds, happened shortly after sundown, when it was crowded with residents who do their shopping after the summer's scorching temperature drops. Officials at the Imam Ali and Sadr City hospitals, the main ones in the vast Shiite district, said they received a total of 60 bodies and dozens of wounded patients.

The attack comes days after US troops moved out of their two bases on the edge of Sadr City to comply with a June 30 deadline that calls for the withdrawal of US troops from urban areas. Car bombings killed roughly as many people in an attack in April in Sadr City. US and Iraqi officials have said that as the US troops withdraw from the urban areas, extremists are likely to step up attacks in order to embarrass Prime Minister Nouri al-Maliki's government. Maliki has trumpeted the readiness of his troops and has said the US withdrawal should proceed as charted out in a security agreement that became effective Jan. 1 — even if attacks rise. [More>>washingtonpost.com]
---
6.24.09 US moves to isolate Iran with full Syria embassy
June 24 - The United States is to appoint a new ambassador to Syria after a gap of four years, the strongest sign yet of President Obama's desire to re-engage the pariah state and draw it away from the influence of Iran. The move to a fully staffed embassy will be an important boost to Syria, which has suffered years of diplomatic isolation because of its strong trade and strategic ties with Iran. The US Administration hopes that engaging with Damascus will encourage it to further pursue peace talks with Israel, most recently held under the previous Israeli Government of Ehud Olmert. George Mitchell, the US Middle East envoy, has described Syria as playing and "integral role" in the peace process. Syria has called for America to act as mediator in any future direct talks between it and Israel, in which it is demanding a return of the Golan Heights, a strategic border plateau captured by Israel in 1967. [More>>timesonline.co.uk]
---
6.24.09 Ex-footballer faces trial in US for links to al-Qaeda
CAIRO, June 24 - Nizar Trabelsi to be tried in US for planning terror attacks. A Belgian appeals court decided Tuesday to hand over a Tunisian- Belgian former footballer to US authorities to stand trial for his alleged ties to the al-Qaeda terror organization. American authorities want the 39 year-old Nizar Trabelsi extradited for cooperating with al-Qaeda in plotting attacks [on] US and NATO air bases in northern Belgium in 2001. Trabelsi, played for several German teams before he was arrested in 2001, two days after the Sept. 11 attacks in the United States.

In 2003, he was sentenced to eight years in jail for plotting to attack American soldiers and planning to bomb a US airbase in Belgium. He was found guilty of arms possession and his membership in a terror organization. Confessional reports show Trabelsi, who tried to escape several times from prison in 2007, intended to blow himself up in front of a restaurant near the base located about 160 km (100 miles) from Brussels. The ex-footballer is reported to have met with al-Qaeda leader Osama bin Laden on many occasions. [>alarabiya.net]
---
6.24.09 Kyrgyz parliament approves US Manas base deal
BISHKEK, Kyrgyzstan (RIA Novosti) June 24 - The Kyrgyz parliament approved on Wednesday a deal allowing the US to continue using its Manas airbase for supply and troop transits to Afghanistan. In February, the ex-Soviet Central Asian state ordered the shutdown of the base, which has been used to support US-led operations in Afghanistan since 2001. The decision was widely seen as being influenced by Russia, which had just granted Kyrgyzstan a large financial aid package. However, Kyrgyzstan and the US signed on Monday an agreement to establish a transit center at Manas international airport "to address the situation in and around Afghanistan, which is beginning to present a real threat to Central Asia, and Kyrgyzstan in particular." Rental charges for the base have more than tripled under the new deal.

The decision provoked an angry reaction from Moscow. Business daily Kommersant quoted a Russian Foreign Ministry source as saying Kyrgyzstan had played a "mean trick" in deciding to let the United States keep using the airbase. He warned there would be "an appropriate response" from Moscow. The new agreement has been signed for a 1-year term and envisions annual US payments of $60 million to the Kyrgyz budget for the use of the center. Washington will also allocate $36 million for the construction of additional aircraft parking and storage facilities. The two countries also agreed to take joint measures to ensure the security of the airport perimeter and to form checkpoints.

President Kurmanbek Bakiyev's decision in February to close the base, which is staffed by about 1,500 personnel, was seen as a victory for Russia in its rivalry with the West for influence in the region. Bakiyev said the closure was due to Washington's refusal to pay higher rent charges for the base and public discontent over the conduct of US military personnel. He denied a link between the decision and the Russian aid package. [>en.rian.ru]
---
6.24.09 Kuwait's democracy troubles Gulf Arab rulers
DUBAI (Reuters) June 24 - The ups and downs of parliamentary democracy in Kuwait are being used by Gulf Arab rulers to discredit the idea of representative government that dilutes their immense powers, analysts say. A new episode in the soap opera of Kuwait's system began this week with an attempt by parliamentarians to force out the interior minister, who is a member of the ruling family.
The Sabah family that dominates the cabinet is expected to remove him rather than see one of its own face a public thumbs-down in a no-confidence vote set for July 1. Last month the former British protectorate of 3.2 million — one of the world's largest oil exporters — held its third elections in three years, part of a protracted tussle for power between the ruling-family and elected parliamentarians. [More>>khaleejtimes.com]
---
6.24.09 Muslim imams say burka not obligatory in Islam
PARIS/CAIRO, June 24 - Tantawi says French president is free to ban burka. Days after President Nicolas Sarkozy slammed the burka, or face veil, as "not welcome" in France, Islamic scholars said the burka was not obligatory in Islam and said every state had a right to ban the face veil. The burka debate has been raging for a while in Europe with countries like the Netherlands banning it in universities and the British press reporting that Muslims and non-Muslims alike are calling for a ban on the face covering attire. As for the Islamic reaction Egypt's Grand Imam, Sheikh Mohammad Tantawi, said the face veil was not compulsory in Islam and said every head of state had the right to accept or prohibit it. [More>>alarabiya.net]
---
6.24.09 Nissan to mass produce electric cars in 2012
YOKOHAMA, Japan, June 24 - Nissan Motor Co. said Tuesday its electric vehicles will be affordable, setting sights on the potentially lucrative market with a plan to mass produce zero-emission cars globally from 2012. Japan's No. 3 automaker said it would unveil its first electric vehicle in Japan on Aug. 2 and begin sales next year. [More>>japantoday.com; See related story,

cnn.com, June 24, "Feds lend Tesla $465 million to build electric car" : The Obama Administration will lend Tesla Motors $465 million to build an electric sedan and the battery packs needed to propel it. It's one of three loans totaling almost $8 billion that the Department of Energy awarded Tuesday to spur the development of fuel-efficient vehicles. Energy Secretary Steven Chu announced that the Department of Energy is also lending $5.9 billion to Ford to retool factories in five states. Nissan will receive $1.6 billion to refurbish a factory in Tennessee to produce electric cars. The loans are the first awarded under the $25 billion Advanced Technology Vehicle Manufacturing Program to help automakers offset the cost of retooling to build eco-friendlier cars that are at least 25 percent more fuel-efficient than 2005 models. [More>>cnn.com]
---
6.24.09 21 Afghan illegal immigrants arrested in West Lombok
WEST LOMBOK, Indonesia, June 24 - West Lombok Police have arrested 21 Afghan illegal immigrants and two locals who had attempted to smuggle them to Australia. West Lombok Police chief Adj. Sr. Comr. Agus Supriyanto said Wednesday his officers had detained the immigrants during an operation on Tuesday at a hotel in Lingsar district, Mataram. "They did not have any passports or visas. They showed only some notes from the United Nations High Commissioner for Refugees (UNHCR) saying they were still under the organization's supervision," Agus said. The immigrants had planned to pass through Flores, East Nusa Tenggara and Rote Island before reaching their final destination in Australia, Agus added. [More>>thejakartapost.com]
---
6.24.09 Wallabies get high in poppy fields, make crop circles
June 24 - Wallabies are breaking into Tasmania's poppy fields and getting high. The strange occurrence that was revealed in a State Government Budget Estimates hearing, has also solved what some growers say has spurred a campfire legend about mysterious crop circles that appear in northern Tasmania's poppy paddocks. In true X-Files-style, Attorney-General Lara Giddings said the drugged out wallabies had been found hopping around in circles squashing the poppies, creating the formations — and hence solving the mystery. The wallabies are increasingly entering the fields and eating the poppy heads, The Advertiser reports. That causes them to get high and run around in circles creating "crop circles." [More>>news.com.au]
---
6.24.09 Stone Age flutes are window into early music
June 24 - At least 35,000 years ago, in the depths of the last ice age, the sound of music filled a cave in what is now southwestern Germany, the same place and time early Homo sapiens were also carving the oldest known examples of figurative art in the world. Music and sculpture — expressions of artistic creativity, it seems — were emerging in tandem among some of the first modern humans when they first began spreading through Europe or soon after. Archaeologists reported Wednesday the discovery last fall of a bone flute and two fragments of ivory flutes that they said represent the earliest known flowering of music-making in Stone Age culture. They said the bone flute with five finger holes, found at Hohle Fels Cave in the hills west of Ulm, was "by far the most complete of the musical instruments so far recovered from the caves" in a region where pieces of other flutes have been turning up in recent years.

A three-hole flute carved from mammoth ivory was uncovered a few years ago at another cave, as well as two flutes made from wing bones of a mute swan. In the same cave, archaeologists also found beautiful carvings of animals. But until now the artifacts appeared to be too rare and not as precisely dated to support wider interpretations of the early rise of music. The earliest solid evidence of music instruments had previously come from France and Austria, but dated well after 30,000 years ago. In an article published online by the journal Nature, Nicholas J. Conard of the University of Tübingen, in Germany, and colleagues wrote, "These finds demonstrate the presence of a well-established musical tradition at the time when modern humans colonized Europe." [More>>nytimes.com]
---
6.23.09 Mousavi 'under 24-hour guard'
PARIS, June 23 - The Iranian opposition leader Mirhossein Mousavi is under 24-hour guard by secret police and no longer able to speak freely to supporters, according to the film director Mohsen Makhmalbaf. Mr. Makhmalbaf, 52, an informal spokesman abroad for the protest in Iran, said that Mr Mousavi was not under arrest but "he has security agents, secret police with him all the time. He has to be careful what he says." In a telephone interview, Mr. Makhmalbaf, the director of the 2001 film Kandaha, denied suggestions that the protests against the re-election of President Mahmoud Ahmadinejad were losing steam. "The regime, arguably, is losing ground, not the protests," he said. "Ordinary Iranians are openly rejecting the legitimacy and power of Ayatollah Khamanei. That is entirely new, unheard of."
Mr. Makhmalbaf, a friend of Mr. Mousavi for 20 years, said that there were reports from Iran that some of the militia deployed to suppress protest were "speaking Arabic." "That is unconfirmed but it suggests that the regime is unable to trust its own security forces to repress the Iranian people," he said. "It suggests that people are being used from abroad." Mr. Makhmalbaf is touring Europe to try to explain events in Iran to the media. He denied reports that he had been formally appointed as a spokesman for Mr. Mousavi outside Iran. "I am simply speaking on behalf of all the people who are protesting and dying on the streets of Iran," he said.

Mr. Mousasvi's means of communication had been cut off, or confiscated, just after the disputed election, Mr. Makhmalbaf said. He had therefore been asked informally to make sure that a true picture of what was happening in Iran reached the outside world. Asked to explain where the protests might go from here, he said that Mr. Mousavi had urged his supporters not to confront the regime directly but to "adopt the tactics of Gandhi, the tactics of non-violent protest and civil disobedience." "The problem is that the more people that are killed, the more angry people will be, the more protesters will want to come out onto the streets." [More>>independent.co.uk; See related stories:

alarabiya.net, June 23, "Iran says courts will teach proteesters a lesson" : TEHRAN, June 23 - Turmoil continues as top council refuses to annul vote. Iranian authorities said they would teach an exemplary lesson to "rioters" held in the worst unrest since the birth of the Islamic Republic and pressed accusations that violence was being incited by Western powers. "Those arrested in recent events will be dealt with in a way that will teach them a lesson," the official IRNA news agency quoted senior judiciary official Ebrahim Raisi as saying on state television late on Monday. He said a special court was studying the cases.

Ten days of protest against elections that confirmed hard-line anti-Western President Mahmoud Ahmadinejad in office have produced unprecedented protests and a public split in the Islamic establishment. Defeated candidates accuse the authorities of rigging the election and have demanded a rerun. Iranian state television, in broadcasts clearly intended to discredit opponents defying a ban on protests, paraded people it said had been arrested during weekend violence. "I think we were provoked by networks like the BBC and the VOA (Voice of America) to take such immoral actions," one young man said. His face was shown but his name not given...

haaretz.com, June 23, " 'Iran charges slain man's family $3,000 for bullets that killed him' " : The family of an Iranian man killed in a demonstration against the country's contested presidential election has been ordered to pay the equivalent of $3,000 for the bullets that took his life, according to The Wall Street Journal. Kaveh Alipour, 19, was shot in the head in downtown Tehran on Saturday during one of the most violent clashes between protesters and security forces since the riots began last week. Iranian authorities later told the family they would not turn over the slain man's body for burial until they received compensation for the bullets security forces used to shoot him. Officials finally surrendered the request after the family argued it did not have that much money in possession, but said that the man could not be buried within the city limits...

aljazeera.net, June 23, "Obama condemns 'unjust' Iran" : Barack Obama, the US president, has condemned the Iranian government as "unjust" over its treatment of protesters disputing the results of recent presidential polls. Obama said the international community was "appalled and outraged" by what he said were the "threats, beatings, and imprisonments" of demonstrators. "I have made it clear that the United States respects the sovereignty of the Islamic Republic of Iran, and is not interfering in Iran's affairs," he said at the White House on Tuesday.

"But we must also bear witness to the courage and dignity of the Iranian people, and to a remarkable opening within Iranian society. And we deplore violence against innocent civilians anywhere that it takes place."...Obama said again that the world was watching events in Iran, and that how Tehran handles dissent from its own people "will help shape the tone not only for Iran's future but also its relationship to other countries."...

nytimes.com, June 23, "President Obama's Press Briefing [text]."

Previous Maravot News records:

Maravot News 6.22.09 (Daily reports filed 6-18-09 through 6-22-09)

Maravot News 6.17.09 (Daily reports filed 6-12-09 through 6-17.09)
---
twitter reports, June 23, 2009:
(tweeters' names removed)
(via #IranElection) President Obama's Remarks on Iran at his Press Conference, with Persian Translation: http://bit.ly/p9A4K
(via #IranElection) Ironic how the denier of Holocaust is now torturing and killing his OWN people!

(via #IranElection) RT: Photo: Iran: Little kid standing his ground. WOW! http://tiny.cc/qnOtF

(via #IranElection) Amir Nejad, 23, Aerospace engineering student of SRBIAU was one of the martyrs of Saturday.

(via #IranElection) Ashkan Sohrabi was a 18 years old student who was killed last week in Tehran by Basij force

(via #IranElection) The complete staff of Mr. Mousavi's official Newsagency (Newspaper, Websites!) are arrested !!!!!

(via #IranElection) Unconfirmed: Mousavi's entire staff arrested: Here is Mousavi's FaceBook Acct http://www.facebook.com/mousavi
(via #IranElection) right now it's 12:30 am and we can hear scattered gunshots and allah o akbar [Posted at 1pm, SF time]

(via #IranElection) Another clip rpted to be from Tues Jun 23 http://bit.ly/ESDpW

(via #IranElection) Mohammad Mehdi Zaboli, Photographer for Hamshahri-Javan, injured in recent clashes, was arrested in hospital...
(via #IranElection) RT 22 June, Kermanshah city http://bit.ly/hN8c
---
6.23.09 SWA drone attack toll rises to 17
DERA ISMAIL KHAN, Pakistan, June 23 - Witnesses and officials said suspected U.S. missiles have hit the funeral of purported Pakistan militants killed earlier in a similar strike. Sohail Mehsud from the town of Makeen in the South Waziristan tribal region said he saw three unmanned drones fire missiles on Tuesday afternoon at the funeral procession for suspected militants killed by a similar strike earlier in the day. At least two missiles were fired at the funeral prayers, killing at least 17 people and injuring several others. The missile attack targeted the hideouts of Baitullah Mehsud, where Commander Sangeen is reported to have been killed. Commander Sangeen belongs to Afghanistan. US officials concede missiles fired from drones have targeted suspected militant leaders in the tribal zone for months, but they do not comment on individual strikes. [>thenews.com.pk; See related stories,

thenews.com.pk, June 23, "Baitullah's 5 operatives arrested from Mangopir" : KARACHI - At least five operatives of outlawed Tehreek-e-Taliban have been arrested on Tuesday from [the] Karachi area of Mangopir. The arrested are believed to be the close friends of Baitullah Mehsud. SSP Special Investigation Unit Raja Omar Khattab said police conducted a sting operation on a tip-off in [the] Mangopir area of Kanwari Colony and [an] exchange of fire ensued. Later on, Faiz Rasool, Saeed Muhammed Mehsud, Farooq Khan Mehsud, Pervaiz alias Azeem and Rehmat Gul were arrested; however, their six accomplices including Shah Hussain, Shahid alias Sher Muhammed, Jawwad Ahmed alias Ahmed Ali Baloch, Ali alias Irfan and Muhammed Khan alias Adil managed to flee the site. Also, police recovered from their possession 2 klashinikovs, 3 TT Pistols and booty. SSP Raja Omar said the arrested accused are involved in the bank robberies and highway loot incidents and used to send money to Baitullah Mehsud. Their group was led by Qari Hussain. [end]

thenews.com.pk, June 23, "3 terrorists apprehended in Bajaur: ISPR" : ISLAMABAD - The security forces have apprehended three terrorists and recovered arms and ammunition, while 5 soldiers were injured in Bajur, an update issued on Operation Rah-e-Raast said here Tuesday. According to ISPR, the security forces are in the final phase of search and clearance operation in Swat while 45,000 Internally Displaced Persons (IDPs) from South Waziristan Agency were Registered at various host places in DI Khan and Tank...

japantoday.com, June 23, "Taliban commander shot dead in northwest Pakistan" : ISLAMABAD - A Taliban faction leader who criticized the militant group's Pakistani head over attacks that killed civilians was fatally shot Tuesday, reportedly by one of his own guards. The attack on Qari Zainuddin appeared to be a sign that divisions within the Taliban have broken into the open as they come under military assault. The army is clearing out militants from the Swat Valley and has been pounding strongholds of Pakistani Taliban leader Baitullah Mehsud in the South Waziristan tribal region bordering Afghanistan in apparent preparation for a major offensive...[See background story:

Maravot News 6.17.09 article 6.14.09 Pakistan tribal warlord vows to take on Baitllah Mehsud - A top Pakistani tribal leader has vowed to wipe out the feared warlord Baitullah Mehsud, who has pushed Pakistan close to collapse. 30-year-old Qari Zainuddin, the leader of Taliban tribesmen opposed to Baitullah, said he had mobilised 3,000 armed followers and will attempt to wipe out the Pakistani Taliban chief and drive his al-Qaeda supporters from the country...
---
6.23.09 India issues warrants for 22 more Mumbai suspects
MUMBAI, India (AP) June 23 - An Indian court issued arrest warrants Tuesday for 22 Pakistani nationals accused of masterminding last year's deadly Mumbai terrorist attacks, including the founder of an Islamist militant group recently freed by a Pakistani court. An Indian prosecutor demanded that Islamabad extradite all the suspects, though Pakistan has vowed that it will not transfer any Mumbai suspects to longtime rival India, saying instead it will try them in its own courts. The warrants were issued in response to a prosecutors' motion in the ongoing trial of Mohammed Ajmal Kasab, the only surviving suspected gunman in last year's attacks that left some 166 dead in a three-day siege.

Among those sought for arrest were Hafiz Mohammed Saeed, founder of the Pakistan-based Islamist militant group Lashkar-e-Taiba — which India blames for the launching attacks — and Zaki-ur-Rahman Lakhvi and Zarar Shah, two leaders of the group. Pakistan arrested all three in December after Indian diplomats provided a dossier of evidence in a rare sharing of intelligence between the nuclear-armed rivals, who have fought three wars since independence. However, a court in the eastern Pakistani city of Lahore earlier this month freed Saeed, a hard-line Islamic cleric, saying there was no evidence against him. Indian officials heatedly condemned the move. The Indian's court's issuance of arrest warrants Tuesday had been expected, since New Delhi has long identified the 22 suspects as terrorists. Still, the demand for extradition — which Pakistan is unlikely to meet — emphasized the animosity that has smoldered between the neighbors since teams of gunmen rampaged through Mumbai last November. [More>>khaleejtimes.com; See also

timesofindia.indiatimes.com, June 23, "26/11 court issues warrants against 22 Pakistanis" : ...The list of absconders submitted by Nikam mentioned Hafeez Saeed as a resident of Johar Town in Lahore, and Zaki-ur-Rehman Lakhvi as a resident of Markaz LeT, Bait-ul-Mujahideen Camp, Showai Nallah, near Chewlabandi bridge, Muzaffarabad, Pakistan-occupied Kashmir...Besides Sayed and Lakhvi, other absconders are Abu Hamza, Abu al Qama, Abu Kaahfa, Muzammil alias Abu Mohammed, Zarar Shah, Abu Fahadullah, Abu Abdul Rehman, Abu Anas, Abu Bashir, Abu Imran, Abu Mufti Saeed, Abu Umar Saeed, Mohammed Ishfak, Javid Iqbal, Sajid Iftekar, Col R Sadaat Ullah, Khurram Shahdad, Abu Abdur Rehman, Abu Mavia and Abu Hanila Pathan. The prosecution had asked for warrants for five more absconders but the court did not issue warrants as their names and addresses were not complete. They are Abu Anis, Abu Bashir, Abu Saria, Abu Saif-ur-Rehman and Abu Imran.

---
6.23.09 German troops die in Afghanistan
June 23 - Three German soldiers have been killed during a clash with insurgents in Afghanistan, the German defence ministry has said. The soldiers were on a joint operation with Afghan forces when the attack took place near the northern city of Kunduz, a ministry spokesman said. The German military base in Kunduz is a frequent target of attacks. Some 3,700 German troops are serving in Afghanistan with Nato's International Security Assistance Force (ISAF). The BBC's Bilal Sarwary recently travelled to the Char Dara district in Kunduz province. He said there was no obvious government presence but he did see plenty of Taliban fighters driving on their motorbikes. According to the area's Governor, Enginner Omaar, there have been problems in the area because of a lack of police officers. [More>>bbc.co.uk]
---
6.23.09 Minister's Temple Mt. visit irks Arabs
JERUSALEM, June 23 - Public Security Minister Yitzhak Aharonovitch on Tuesday made a rare visit to Jerusalem's Temple Mount, drawing condemnations from the Islamic Waqf, who charged that the tour was a "provocation." Waqf Director Azzam el-Ahmed told the Palestinian Ma'an news agency that the visit had not been coordinated in advance and that he did not know the reason for the tour. The visit is "a dangerous, pathetic provocation," said MK Taleb A-Sanaa (United Arab List). "Aharonovitch is unwelcome at the Al-Aksa Mosque, and his purpose was to incense the Muslims and try to show them who's in charge." A-Sanaa asserted that the tour was only intended to "inflame the area" and warned that the minister would "suffer the consequences of the visit."

However, according to Aharonovitch's media adviser, Tal Harel, the visit was routine, lasting some two hours, during which the minister was briefed by officials charged with securing the compound. Aharonovitch was accompanied by Police Commissioner Insp.-Gen. David Cohen and Jerusalem police chief Cmdr. Aharon Franco. Harel rejected charges that the tour was intended to create a provocation, saying that it had not only been coordinated in advance with the Waqf, but that representatives of the Islamic supervisors of the site actually escorted Aharonovitch and his entourage. [More>>jpost.com]
---
6.23.09 Five militants killed in special operation in south Kyrgyzstan
BISHEK, Kyrgyzstan (RIA Novosti) June 23 - Five militants have been killed in a special operation conducted by law enforcement agencies in southern Kyrgyzstan, a republican state committee for national security said on Tuesday. Police tracked the militants, who were believed to be members of a terrorist and extremist organization called the Islamic Movement of Uzbekistan, down to a one-storey residential building near the town of Dzhalal-Abad. The committee said that one officer was killed and another hospitalized during the operation. According to preliminary information, the militants were trained at international terrorist centers and made their way to Kyrgyzstan from abroad. "During the special operation, the militants from the Islamic Movement of Uzbekistan put up fierce resistance using automatic rifles, hand grenades and other explosives," the committee said. [en.rian.ru]
---
6.23.09 Pregnant whales in mass slaughter in the Antarctic
June 24 - [The Daily Telegraph] - Almost a third of the whales Japan harpooned in the Antarctic last summer were pregnant, it was claimed yesterday. Conservation group Humane Society International (HSI) said Japan's own figures, revealed in secret documents discovered at the International Whaling Commission meeting being held this week, showed the "true, disgusting nature" of the country's whale hunting. Japan's annual hunt, which it claims is a scientific study, took a horrific toll on female whales, the HSI said. The HSI said data from Japan's 2008/2009 hunt showed of 679 whales it reported killing, 304 were female. The data showed 192 of the whales were pregnant. Four were lactating. "The four lactating females would each have had a calf that would have starved to death," HSI Australia's director Michael Kennedy said. [More>>news.com.au]
---
6.23.09 US to lend billions to Ford, Nissan for fuel-efficient vehicles
June 23 - The Energy Department announced this morning that it would lend Ford $5.9 billion to retool plants in five states for fuel-efficient vehicles. The department also awarded Nissan $1.6 billion and Tesla Motors $465 million to ramp up electric car production. The loans are the first wave of commitments from a $25 billion fund to help automakers and parts suppliers offset the costs of retooling factories and building more fuel-efficient vehicles. Congress authorized the program in the 2007 energy bill, but didn't appropriate the money until last year. "These loans help auto industry meet and even exceed the president's new fuel standards," said Energy Secretary Steven Chu, addressing a crowd at Ford's Research and Innovation Center in Dearborn, Mich. [More>>
washingtonpost.com
]
---
6.23.09 Can wind power get up to speed?
June 23 - Pop quiz: what source of power doesn't come out of the ground, doesn't burn and isn't radioactive? Hint: it contributed the most new electricity generation to the US grid in 2008. The answer is wind power, the technology that has become synonymous with going green. Companies that started out small, like Denmark's Vestas and India's Suzlon Energy, have become multinational giants selling steel and fiberglass wind turbines; even blue chippers like General Electric have identified wind power as a major revenue source for the future, while the construction and installation of wind turbines will employ workers here in the US Investing in wind power, said President Barack Obama at a turbine factory in Iowa on Earth Day, "is a win-win. It's good for the environment; it's great for the economy." But for all the green talk and growth in wind power — it accounted for 42% of all new electricity generation added to the US grid last year — wind still makes up less than 3% of America's total electricity generation. Even at current rates of growth, that figure is unlikely to change soon. The question is, Will wind ever produce enough power to satisfy America's energy needs? [More>>time.com (via cnn.com)]
---
---
*Visitor statistics on maravot.com from 1&1. com. 46,153 page views in May 2007; monthly visitors in 2008 range between 40,000-45,0000..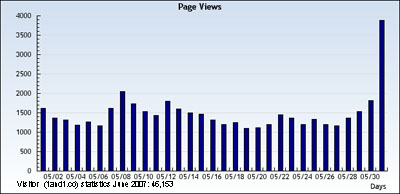 Privacy Policy: We do not store any personal data from you. We have no way of knowing any vital information about you — not even your name. Third-party distribution: We do not distribute information about your site usage to any third party. We are not responsible for the content of links from our site. Usage data: supplied by our Web Hosting service, 1and1.com, which consists of usage reports, such as page views / impressions and web pages visited, visitors' servers and geographical data (ISP's and country of origin).

---
Launched: 10.25.04 / 11.02.04 – | — | —
Updated: 6.23.09; 6.24.09; 6.25.09; 6.26.09; 6.27.09; 6.28.09
Copyright © 1981-2009 Maravot. All rights reserved
Copyright © 1981-2009 Mel Copeland. All rights reserved
Background: tile from Cicero's villa (Marcus Tullius Cicero 106 B.C. - 43 B.C.)