---
6.30.05 Update; 6.29.05 Photo claimed to show Iran President with hostage
June 29 – Sam Knight, Times Online, reports: A photo has emerged which it is claimed links the President-elect of Iran, Mahmoud Ahmadinejad, with the taking of 60 American hostages during the US embassy siege in Tehran in 1979.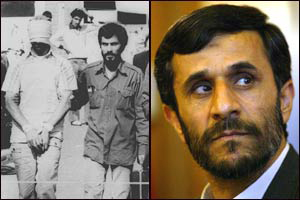 Opponents claim that the man with a US hostage is the new Iran President-elect, Mahmoud Ahmadinejad; (right) Mr Ahmadinejad after his election [Image:
timesonline.co.uk
; See
iranfocus.com
for full AP image]
A London-based Iranian news agency which opposes Mr. Ahmadinejad is circulating the photograph, which it says was taken by the Associated Press news agency on the first day of the hostage crisis. In the picture, a man which the Iran Focus agency claims it has identified as Mr. Ahmadinejad, is seen holding the arm of a blindfolded US hostage.
The possible role of Mr. Ahmadinejad in the embassy takeover, which lasted 444 days and remains a significant sore between America and Iran, came to light in the run-up to the presidential elections on June 17. Mr. Ahmadinejad is known to have been member of the "Office for Strengthening of Unity Between Universities and Theological Seminaries" or the OSU, the main student group behind the takeover, but his precise role in the hostage-taking was unclear. [More>>
timesonline.co.uk
; See also
iranfocus.com
story, "AP photo shows Iran's new President as 1979 US hostage-taker" : LONDON, Jun. 29 - Iran Focus has learnt that the photograph of Iranıs newly-elected president, Mahmoud Ahmadinejad, holding the arm of a blindfolded American hostage on the premises of the United States embassy in Tehran was taken by an Associated Press photographer in November 1979.
Prior to the first round of the presidential elections on June 17, Iran Focus was the first news service to reveal Ahmadinejadıs role in the seizure of the U.S. embassy in Tehran. The identity of Ahmadinejad in the photograph was revealed to Iran Focus by a source in Tehran, whose identity could not be revealed for fear of persecution;

Fox News
posted its version of the story June 30,
"Ex-hostages say Iran's new president was captor in 1979
;"

The
Washington Post June 30 article, "Iran leader linked to '79 embassy crisis"
: Americans held in the 1979 seizure of the U.S. Embassy in Iran said yesterday they clearly recall Iranian President-elect Mahmoud Ahmadinejad playing a central role in the takeover, interrogating captives and demanding harsher treatment for the hostages.
"As soon as I saw his picture in the paper, I knew that was the bastard," said retired Army Col. Charles Scott, 73, a former hostage who lives in Jonesboro, Ga. "He was one of the top two or three leaders," Col. Scott said in a telephone interview. "The new president of Iran is a terrorist." The new president's hard-line political views and his background as a student radical in the Iranian Revolution are well known.
See related story by iranfocus.com
, "Iran's new President has a past mired in controversy" : ...According to other OSU officials, when the idea of storming the US embassy in Tehran was raised in the OSU central committee by Mirdamadi and Abdi, Ahmadinejad suggested storming the Soviet embassy at the same time. A decade later, most OSU leaders re-grouped around Khatami but Ahmadinejad remained loyal to the ultra-conservatives.
...In the early 1980s, Ahmadinejad worked in the "Internal Security" department of the IRGC and earned notoriety as a ruthless interrogator and torturer. According to the state-run website Baztab, allies of outgoing President Mohammad Khatami have revealed that Ahmadinejad worked for some time as an executioner in the notorious Evin Prison, where thousands of political prisoners were executed in the bloody purges of the 1980s.
In 1986, Ahmadinejad became a senior officer in the Special Brigade of the Revolutionary Guards and was stationed in Ramazan Garrison near Kermanshah in western Iran. Ramazan Garrison was the headquarters of the Revolutionary Guards' "extra-territorial operations," a euphemism for terrorist attacks beyond Iranıs borders.
In Kermanshah, Ahmadinejad became involved in the clerical regimeıs terrorist operations abroad and led many ³extra-territorial operations of the IRGC." With the formation of the elite Qods (Jerusalem) Force of the IRGC, Ahmadinejad became one of its senior commanders. He was the mastermind of a series of assassinations in the Middle East and Europe, including the assassination of Iranian Kurdish leader Abdorrahman Qassemlou, who was shot dead by senior officers of the Revolutionary Guards in a Vienna flat in July 1989. Ahmadinejad was a key planner of the attack, according to sources in the Revolutionary Guards...;

Iranfocus June 30 update, of reports by press covering the topic, "Iran leader linked to 1979 hostage crisis
" ;

Aljazeera.net covers the story with its June 30 article, "Abductors deny Iran leader siege role"
: Iranian veterans of the 1979 seizure of hostages at the US embassy in Tehran have denied claims that President-elect Mahmoud Ahmadinejad played a role in the siege. Their comments come after several former US hostages who were held for 444 days by student followers of revolutionary leader Ayat Allah Ruhollah Khomeini said they were sure Ahmadinejad was a key player in the abduction.
"Mr Ahmadinejad was never one of students following the path of the imam that took the spy den (US embassy). He was never there," said Mohsen Mirdamadi, a former hostage-taker who went on to become a member of parliament. He said a picture circulating on the internet and the printed media portraying a thickly bearded hostage-taker leading out a blindfolded American hostage did not show Ahmadinejad
...Abbas Abdi, who like Mirdamadi is regarded as one of the instigators of the embassy seizure, also denied that Ahmadinejad had anything to do with the operation. "I say again: No Sir, he was not one of them. What I say is very clear. If you ask me if I know somebody and I say 'no' that is all I can say."
Hashem Aghajari, another veteran of the siege and leading political dissident, said: "Ahmadinejad was a member of the OCU but as far as I know he was not involved in the US embassy [takeover]."
...The BBC's World Affairs editor John Simpson had added to the speculation when he wrote on the BBC's website earlier this week that he instantly recognized the new president from his role in the siege. "When I read a profile of him in the English-language Tehran Times, I realized where I must have seen him: in the former American embassy in Tehran," Simpson said...



jang.com.pk report, "Era of oppression ended, says Ahmadinejad" : TEHRAN, June 30 – Iran's president-elect Mahmood Ahmadinejad hailed his election win as a new Islamic revolution, which he said he hoped, would now spread its way throughout the world.

"Thanks to the blood of the martyrs, a new Islamic revolution has arisen and the Islamic revolution of 1384 (the current Iranian year) will, if God wills, cut off the roots of injustice in the world," the local news agency quoted.

"The era of oppression, hegemonic regimes, tyranny and injustice has reached its end," he said, in an apparent reference to Iran's arch-foe the United States. "The wave of the Islamic revolution will soon reach the entire world," he added.



The Daily Star, Lebanon, June 30 report, "Iran's Ahmadinejad looks to export 'new Islamic revolution,'" carries this comment as an AFP report.



The Washington Post filed this AP report by Nedra Pickler, "Some ex-hostages say Iran leader-elect a captor" : WASHINGTON, June 30, 11:51am – The White House said Thursday it is taking seriously the allegations of some former American hostages who say they believe that Iran's president-elect was one of their captors in the late 1970s.

"I think the news reports and statements from several former American hostages raise many questions about his past," White House press secretary Scott McClellan said of the Iranian president-elect Mahmoud Ahmadinejad. "We take them very seriously and we are looking into them to better understand the facts."

Former hostages Chuck Scott, David Roeder, William J. Daugherty and Don A. Sharer told The Associated Press that after seeing Ahmadinejad on television, they have no doubt he was one of the hostage-takers. A fifth ex-hostage, Kevin Hermening, said he reached the same conclusion after looking at photos. A close aide to Ahmadinejad denied the president-elect took part in the seizure of the embassy or in holding Americans hostage...



An AP report filed by msnbc.msn.com June 30, 2:38pm, "White House 'looking into' Iranian leader" : ...At the State Department, spokesman Sean McCormack said, "We are now seeking to establish all the facts." He said the U.S. hostages had not been forgotten and "the Iranians have an obligation to speak definitively." McCormack would not say whether the United States would attempt to discuss the situation directly with Iran. There are no direct U.S. relations with Iran, but diplomats from the two countries have participated in joint meetings involving other nations.

...Several of the former hostages insisted they were certain that the president-elect was among their captors. Daugherty said it's further evidence that the State Department should stop defending Iran's immunity from lawsuits filed by the former hostages seeking reparations. In April 2002, a federal judge threw out a lawsuit by the hostages seeking $33 billion in damages. The State Department intervened, arguing the lawsuit would violate the U.S.-Iranian agreements that freed the hostages and would damage U.S. credibility. "This puts the Bush administration in an interesting position," Daugherty said. "You know how he said, 'You're either for us or you're for the terrorists.' Well, now the leader of Iran is a terrorist."

...Rowhani, the aide to Ahmadinejad, said Ahmadinejad said during the recent meeting that he stopped opposing the embassy seizure after the revolution's leader, Ayatollah Ruhollah Khomeini, expressed support for it. But the president-elect said he never took part.



---
Editorial note: To read about the hostage crisis, go to
http://www.jimmycarterlibrary.org/documents/hostages.phtml
. A list of the hostages taken by Ahmadinejad and his fellow terrorists is at:
http://www.jimmycarterlibrary.org/documents/list_of_hostages.phtml.


What is the Bush administration's response to this news? Is a US-Iran war looming on the horizon?
George W. Bush couched his speech on June 29 in the context of World War III, building from words he quoted from Osama binLaden. Right wing Christian zealots – often described as "born again Christians" – believe that the Biblical "Last Days" are here now, that Jesus will appear in the clouds of heaven and take up the saved to heaven, leaving the world in a final apocalyptic battle (described in Malachi chapter 4.0, the last book of the Old Testament and the Book of Revelation, chapters 19-21). The Koran – which endorses both the Old and New Testaments of the Bible – refers to this event as the "Day of Judgment." Because Bush began his invasion of Iraq with reference to the word, "Crusade," a greater conflict than that of invading Iraq is implied. The extent of his "crusade" may soon be unveiled in light of his and Ahmadinejad's speeches. See below, June 30 reports, "Bush says war is worth sacrifice" and Pakistan's newspaper, jang.com.pk, "Bush terms Iraq war as World War III."
The language used by Ahmadinejad appears to reflect "Baathist" ideals, a view similar to that expressed by Osama binLaden.
Aljazeera.net June 23, "The Iraqi Baath party" describes the history and goals of the "pan-Arab revolution"
: " ...The three men, Fayiz Ismail, Wasfi al-Ghanim and Sulayman al-Eisa - returned to Syria and joined political scientist Zaki al-Arsoozi, who was intent on founding al-Baath (renaissance) party. Al-Arsoozi's desire was to restore Arab pride. The men joined the party and pledged to carry the Baathist name back to Baghdad. Upon their return to Baghdad in 1949, they established the Iraqi Baath Party.
...The party promoted its ideology of pan-Arab secular nationalism with socialist leanings. In early 1988, the Baath Party began calling for parallelism between regional (qutri) and national (qawmi) goals. Territorially and politically divided Arab countries were merely regions of a collective entity - The Arab Nation, according to party rationale. The Baath movement in one country was considered merely an aspect of, or a phase leading to, "a unified democratic socialist Arab nation".
The crucial test of legitimacy for any Baath government would be whether or not their policies and actions were compatible with the basic aims of the revolution. The Baath party embraced the principles of "unity, freedom, and socialism". Although the party's efforts to create a unified Arab nation faced many problems, it did not abandon its goal of Arab unity. But Arab unity was to become a long-term ideal rather than a short term objective..."
The terms, "pan-Arab revolution" and "crusade" are disquieting terms to say the least. That President Bush has had recent inquiries, with regard to the Downing Street Memos, accusing him of lying to the US Congress (an impeachable offense) is interesting in the perspective that Iran may have a president-elect who appears to be denying his participation in the terrorist hostage taking. If inquiries should reveal that both George W. Bush and Ahmadinejad are liars, the world would certainly be in a quandary.
Mel Copeland
---
6.30.05 Update, 6.29.05 Bush says war is worth sacrifice
FORT BRAGG, N.C. June 28 – President Bush appealed to the American public Tuesday night to remember "the lessons of September 11th" and not lose faith in the Iraq war effort despite unremitting violence, declaring in a prime-time address that "the proper response is not retreat."

Surrounding himself with uniformed soldiers and standing before a backdrop emblazoned with American flags, Bush portrayed the two-year-old war in Iraq as the logical extension of a larger struggle that began when hijackers slammed passenger jets into the World Trade Center and the Pentagon in 2001. But with the public support wavering in recent polls, Bush spoke in blunt terms about the trauma in Iraq and the desire to bring troops home.

..."We fight today because terrorists want to attack our country and kill our citizens, and Iraq is where they are making their stand. So we will fight them there, we will fight them across the world, and we will stay in the fight until the fight is won," Bush said in the only moment when the audience of 750 soldiers and airmen in dress uniforms interrupted him with applause.

Bush invoked Sept. 11 five times in his speech and referred to it by implication several more times. Although he has previously agreed with investigators that there is "no evidence" of a link between Saddam Hussein's government and the attacks masterminded by Osama bin Laden's al Qaeda, he used much of his speech to depict the militants in Iraq as the same breed of Islamic terrorist who struck the United States. The White House titled his remarks a discussion on the "War on Terror," not Iraq. [Full story>>washingtonpost.com; See related story, khaleejtimes.com, "Bush 'wasted an opportunity' to be honest about Iraq: US press." See the full address by George W. Bush at theaustralian.news.com.au; 6.30.05 report jang.com.pk, " Bush terms Iraq war as World War III."
---
6.29.05 India, US sign 10-year defence pact
WASHINGTON (PTI) June 29 – India and the United States have signed a "new framework for the US-India defence relationship for the next 10 years" which includes "new opportunities for technology transfer, collaboration, co-production and research and development." The agreement, signed in Washington by visiting Defence Minister Pranab Mukherjee and American Defence Secretary Donald Rumsfeld, defined the goals as strengthening "our countries' security, reinforce our strategic partnership, and build greater understanding between our defence establishments."

"Both sides agreed that US-India defence relations are an important pillar of their transforming bilateral relationship," a statement said. The framework stated that both India and the US were entering a new era, "transforming our relationships to reflect our common principles and shared national interests." [More>>hindustantimes.com; See related story, expressindia.ocm, "India to displace Pakistan as US ally?"]
---
6.29.05 Update; 6.28.05 'Woman's marriage dissolves if raped by husband's blood relative' – Islamic Court
LUCKNOW, India June 26 – The All India Muslim Personal Law Board (AIMPLB) on Monday ordered a woman raped by a relative to separate from her husband and marry the rapist. The victim, Imrana, 28, wife of Noor Ilahi, was allegedly raped by her father-in-law, Ali Muhammad in Muzaffarnagar district of Uttar Pradesh. AIMPLB, set up in 1972 to protect the rights of Muslim women in the country, said the marriage would have to come to an end. Member AIMPLB Begum Naseem Iqtedar Ali said, "According to the rulings of the Qurıaan, Imranaıs conjugal relationship with her husband stood dissolved since she has been raped by the latterıs blood relative." Speaking to reporters, she said, "Here a sacred relationship had been violated, the consequences of which have to be borne by Imrana and her husband," she said. The ruling are binding on all Muslims in the country, but it was a ruling by a group of local Muslim clerics that Imrana, should marry her rapist and treat her husband as her son. [jang.com.pk; See expressindia.com story, June 29, 2005, "'Maulana' Mulayam defends Imrana's fatwa" : Despite the hue and cry by several womenıs organizations, Uttar Pradesh Chief Minister Mulayam Singh on Wednesday supported the edict in the Imrana case, saying the decision taken by the Muslim religious leaders must have been well-thought.]
---
6.29.05 Insults fly on Nixon tapes
June 29 – Former US president Richard Nixon called then-Indian prime minister Indira Gandhi an "old witch" and Indians a "slippery treacherous people", according to recently released transcripts of Oval Office tapes. The comments were made during a private conversation between Nixon and his national security adviser, Henry Kissinger, on November 5 1971, and Mr Kissinger appeared to support his views. "We really slobbered over the old witch," Nixon told Mr Kissinger of his meeting with Gandhi the previous day. [More>>guardian.co.uk]
---
6.29.05 Taliban claims downing US helicopter
June 29 – The US army says a military helicopter which crashed in eastern Afghanistan on Tuesday may have been downed by enemy fire, and the fate of the 17 men on board is still unknown. The Taliban have said they brought down the aircraft. Initial reports indicated the helicopter, which had been on an anti-rebel mission, may have been brought down by hostile fire, the US statement said on Wednesday. The CH-47 Chinook crashed west of Asadabad in Afghanistan's Kunar province bordering Pakistan. Afghan officials said it was hit by a rocket, which the Taliban claimed to have fired. Sources told Aljazeera's Afghanistan correspondent Wali Allah Shahin that the Taliban fired rocket-propelled grenades at the helicopter, causing it to crash. [More>>aljazeera.net]
---
6.29.05 America foundering Iraq's economic recovery
June 28 – Khatoun Haidar, Special to The Daily Star, offers a different view of the situation in Iraq: The debate over American policy in Iraq is again taking center stage in international venues, political circles, and the press. There are enough valid arguments for both sides, whether pro or against, to corroborate both positions. However, when one looks at the economic side of the equation, it becomes clear that there is a definite letdown. Irrespective of anyone's position on the war in Iraq, we have to recognize that something went terribly wrong.

Iraq's Gross Domestic Product – per capita purchasing power parity has been constantly eroding, and unemployment is on the rise. One out of six Iraqis depends on a food rationing system and a third of the population is malnourished.

The oil sector, representing 95 percent of Iraq's national income, has failed to cash in on the high oil prices. Production is staggering at a humble 1.45 million barrels per day instead of Baghdad's modest target of 1.75 million barrels per day...The $2 billion invested in the oil sector by RIO (US restoration of Iraqi oil) seem to have been badly spent. The water injection system put into place to increase the recovery of crude oil by an overall average of at least 33 percent has proven flawed if not to say defective.

Furthermore, corruption inside the Oil Ministry seems endemic, the central commercialization organization is accused of illegally depositing $100 million into Iraqi and Jordanian banks.

...In fact the health sector is the most poignant example of how mismanagement is eroding the patience of Iraqis. There is ample testimony about shortages of most hospital supplies, but most critically of clean water and electricity needed to insure proper surgical sterilization. Dr. Al-Khuzaie, the Iraqi deputy health minister, blames these shortages on the U.S.-led coalition's failure to provide funds requested by his ministry. "We have requested over $500 million for equipment. Only $300 million of this amount were promised and none of these promises kept." This at a time when Condoleezza Rice confirmed last week that out of the $18.6 billion voted by the U.S. Congress for the reconstruction of Iraq, only $7 billion was spent.

To make matter worse, the military, faced with daily attacks, has increasingly been outsourcing services to private contractors. Between them the logistics giant Halliburton and numerous armed security companies, private military contractors now comprise the second largest force in Iraq, far outnumbering the non-US allied troops.

These soldiers of fortune are paid inflated wages and benefits. In the meantime an Iraqi soldier is paid $300 per month with few other benefits to mention and, being badly equipped, is a lame duck for terrorists and insurgents. To ordinary Iraqis contracting foreigners is an insult to their abilities and a crime against their families when estimates put unemployment rate at 50 percent. To most economists this is reconstruction money that is fleeing the country, never entering the economic cycle. [Full story>>dailystar.com.lb]

---
6.29.05 US intelligence firm says bomb that killed Lebanese politician Hawi unlikely to have come from Syria
June 29 – A leading U.S. private intelligence firm said in a recent report the bomb that killed former Lebanese anti-Syrian politician George Hawi this month is unlikely to have emanated from Damascus. Texas-based Statfor, which specializes in intelligence and counterterrorism analysis, believes the blast was "so sophisticated that few in the world could have done it." It adds the "complex nature" of the remote-control technology used in the attack narrows the list of suspects considerably.

In an interview last week with press agency UPI, Fred Burton, vice president of Statfor and author of the report, said: "This type of technology is only available to government agencies." [More>>dailystar.com.lb]
---
6.29.05 Thousands riot in China, attack police, burn cars
BEIJING (Reuters) June 29 – Thousands of Chinese rioted in a dispute sparked by a lopsided roadside brawl, set fire to cars and wounded six police officers in an outburst likely to worry communist leaders in Beijing desperate to cling on to power. The official Xinhua news agency, in a rare report on a local disturbance, blamed Sunday's riot in Chizhou in dirt-poor eastern Anhui province on a few criminals who led the "unwitting masses" astray. The violence was the latest in a series of protests which the Communist Party, in power since 1949, fears could spin out of control and become a channel for anger over corruption and a growing gap between rich and poor.

It started before 3 pm when a Toyota sedan grazed a middle school student crossing the street and the teen and the driver quarrelled. A few men emerged from the car and set on the student, a local store manager surnamed Wu who saw the clash told Reuters by telephone. The men were taken to a police station and a crowd that had been watching the fight swarmed around the building, Wu said, demanding that the men be handed over to them as their numbers swelled by the minute...Around 7.30 p.m., power to the police station was cut and "criminals" started throwing fireworks inside, the Chizhou Daily report said. The crowd, now numbering as many as 10,000, also flipped three parked police cars and set them ablaze. The mob crashed through the windows of Wu's store, located just down the street from the police station, and began grabbing anything they could get their hands on.
...Protests have become increasingly common in China, fuelled by corruption and the widening wealth gap, but authorities are keen to quickly quash dissent and preserve stability. There were more than 58,000 protests, many of them over land rights disputes, across the country in 2003, a Communist Party-backed magazine, Outlook, has reported. This month, villagers in northern Hebei province protesting to keep their land were attacked by a group of armed hired toughs. Six farmers were killed and 48 injured in the ensuing battle. [Full story>>expressindia.com]
---
6.29.05 China has 100 million internet users – 2nd to US
BEIJING (Xinhuanet) June 28 – Chinese Vice Minister of Information Industry Xie Guohua said here on Tuesday that China now has over 100 million Internet users and that over 30.1 million users have broadband Internet services. At the opening ceremony of the 6th China (Beijing) Mobile Telecommunications International Forum, Xie also said over the past years, China's telephone users increased by 100 million each year, and its on-line population ranks second in the world after the United States. [More>>xinhuanet.com]
---
6.29.05 Venezuelan President Chavez congratulates Iran's president-elect
CARACAS (Xinhuanet) June 28 – Venezuelan President Hugo Chavez has congratulated Iran's Mahmoud Ahmadinejad on his election as new president of the Islamic Republic. Chavez himself broke the news on Monday when he presented awards to journalists, local reports said Tuesday. He described Ahmadinejad as a "man who is committed to his nation and the struggle for sovereignty and self-determination."

Chavez said he told Ahmadinejad in a television conversation that nobody could demand Iran adopt another democratic system, like that of the United States. Ahmadinejad, mayor of Tehran, defeated former President Akbar Hashemi Rafsanjani in Friday's presidential run-off. He will be sworn in on August 4. [xinhuanet.com]
---
6.29.05 Indonesia plans to ban American beef imports
JAKARTA (AP) June 29 – Indonesia will ban imports of American beef and beef products starting Thursday after the U.S. Department of Agriculture confirmed a second case of mad cow disease there last week, the Agriculture Ministry said on Wednesday. Tri Satya Naipospos, the director of animal health at the ministry, said beef product imports approved before June 30 will still be allowed into Indonesia. She said around 500 metric tons of U.S. beef products are currently en route to Indonesia. [More>>thejakartapost.com]
---
6.29.05 Turkmenistan could become Ukraine's main natural gas supplier
KIEV (RIA Novosti, Taras Burnos) June 29 – In September 2005, Ukraine and Turkmenistan might sign a 25-year contract on supplies of Turkmen natural gas to Ukraine, which will turn the Central Asian republic into Ukraine's main gas supplier.

"I have handed over Ukrainian President Viktor Yushchenko's invitation to President Saparmurat Niyazov of Turkmenistan to visit our country and sign the contract on natural gas deliveries to Ukraine for the period of 25 years," Alexei Ivchenko, the board chairman of Naftogaz, Ukraine's national oil and gas company, told a news briefing on Wednesday... Turkmenistan supplies natural gas to Ukraine via Russia and satisfies about 50% of the country's demand for the fuel...Turkmenistan has been energetically developing its natural gas exports. It has signed a contract on gas exports to Iran for the period 'till 2018...Even if Turkmenistan continues intensive gas production, its reserves will last for a long time, as its proven reserves are estimated at 22.5 trillion cubic meters. [Full story>>rian.ru]

---
6.29.05 Iran's proven oil reserves put at over 132b barrels
TEHRAN (MNA) June 28 – Exploratory operations have been performed on only some 30 percent of the oil deposits in the country, thus, more exploratory works should be carried out in this regard, noted vice chairman of the National Iranian Oil Company (NIOC). NIOC has the required potentials and abilities to explore oil and other hydrocarbonaceous resources in the 1,000,000 square kilometers of the oil deposits in the country, Iranian Students News Agency quoted Mehdi Hosseini as saying.

He said, ³Iranıs proven oil deposits have officially been put at over 132 billion barrels, 102 billion barrels of crude oil plus 30 billion barrels of liquids, and the figure has been registered by OPEC (Organization of Petroleum Exporting Countries) too.² [More>>mehrnews.ir]
---
6.29.05 US military says can defeat nuclear-armed North Korea
SEOUL (Reuters), June 29 – US and South Korean forces can deter and defeat North Korea even if the reclusive communist state has several nuclear weapons, a senior US military officer said in an interview broadcast on Wednesday...The commander of the US forces in South Korea, General Leon LaPorte, said the US military believed North Korea had one to two nuclear weapons at a minimum, and was also working to advance its missile programme.

"Whether North Korea has one or several nuclear weapons does not change the balance on the peninsula," LaPorte told South Korea's PBC radio in an interview taped on Tuesday, according to a transcript provided by the station...LaPorte also said the US military believed the North had a substantial missile programme, which included long-range intercontinental ballistic missiles that could hit the mainland United States if the North succeeded in increasing their power. [Full story>>thestar.com.my]
---
6.28.05 From memos, insights into ally's doubts on Iraq War
LONDON, June 28 – Glenn Frankel, Washington Post Foreign Service, provides more analysis and interviews on the Downing Street Memos: In the spring of 2002, two weeks before British Prime Minister Tony Blair journeyed to Crawford, Tex., to meet with President Bush at his ranch about the escalating confrontation with Iraq, Foreign Secretary Jack Straw sounded a prescient warning.

"The rewards from your visit to Crawford will be few," Straw wrote in a March 25 memo to Blair stamped "Secret and Personal." "The risks are high, both for you and for the Government."

In public, British officials were declaring their solidarity with the Bush administration's calls for elimination of Iraq's weapons of mass destruction. But Straw's memo and seven other secret documents disclosed in recent months by British journalist Michael Smith together reveal a much different picture. Behind the scenes, British officials believed the U.S. administration was already committed to a war that they feared was ill-conceived and illegal and could lead to disaster. The documents indicate that the officials foresaw a host of problems that later would haunt both governments...

...But beyond the question of whether they constitute a so-called smoking gun of evidence against the White House, the memos offer an intriguing look at what the top officials of the United States' chief ally were thinking, doing and fearing in the months before the war.

This article is based on those memos, supplemented by interviews with officials on both sides of the Atlantic...[More>>washingtonpost.com]
---
6.28.05 Israel wants Russian PM to explain probe into Jewish text
June 28 – Amiram Barkat reports: Deputy Prime Minister Ehud Olmert is to meet Tuesday in Moscow with Russian Prime Minister Mikhail Fradkov, and will ask him to explain the decision by the Moscow District Prosecutor to investigate claims that a 19th-century abridged code of Jewish law (halakha) contains possible incitement against non-Jews.

Olmert was to tell Fradkov that relations with Russia are important to Israel but some issues cannot be left unresolved. He will also stress that Israel won't tolerate any manifestation of anti-Semitism.

Israeli and Jewish officials, human rights activists and Russian journalists have spent the last few days trying to understand what has caused the prosecutor to order a preliminary investigation of a Jewish umbrella organization for distributing a Russian translation of the Kitzur Shulhan Arukh. They want to know whether it is an expression of anti-Semitism in the Russian prosecution or an investigation ordered by the Kremlin.

The Shulhan Arukh was compiled by Sephardi Rabbi Joseph Caro in the mid-16th century and is considered to be the authoritative text on Jewish law. [More>>haaretzdaily.com]
---
6.28.05 Special Orders in House of Representatives on Downing Street Memos
WASHINGTON , June 28 – Congressman John Conyers, Congresswoman Maxine Waters, and Congresswoman Barbara Lee are scheduled the evening of June 28 to discuss the Downing Street Minutes on the floor of the House. Their letter to other members of the House set the following agenda: "The Democratic hour for these remarks is scheduled for the second hour of the Special Orders, which will commence immediately after votes for the day have ended

Over the past month, 128 Members of Congress, along with some 560,000 citizens have sent letters to the President demanding a response to reports of a pre-war deal between Great Britain and the United States and to evidence that pre-war intelligence was intentionally manipulated. All of these letters have gone unanswered.

Given the importance of these matters, we believe it is incumbent upon Congress to discuss these issues in a public and forthright manner. We hope you will join us in this hour of Special Orders."

Editorial note: See Maravot News "British lawmaker: Iraq war was for oil" for links and background information. Follow-up events for further inquiry into the Downing Street Minutes are scheduled July 23, 2005 by afterdowningstreet.org.
---
6.28.05 Iran bourse recovers as Ahmadinejad soothes fears
June 28 – The Tehran stock market clawed back some losses after Iran's president-elect moved to reassure traders that his brand of religious conservatism was not at odds with the bourse. On Saturday, the market took fright and shed 1 percent after Tehran's hard line mayor, Mahmoud Ahmadinejad, won presidential election, as investors had been banking heavily on a win for business-minded Akbar Hashemi Rafsanjani. [More>>dailystar.com.lb]
---
6.28.05 Russian freed from Guantanamo tells of Quran abuse
MOSCOW (Reuters) June 28 – A Russian citizen released last year from Guantanamo Bay prison said on Tuesday US guards at the camp regularly threw copies of the Quran into toilets. Earlier this month, the US military described cases of ³mishandling² of a Quran by US personnel at the naval base in Guantanamo Bay, Cuba, including splashing it with urine and kicking it.

³In Cuba, they used to take them (the Quran) and throw them, take them and throw them, into lavatories or elsewhere. It happened regularly and this was to provoke protests,² Airat Vakhitov, released from Guantanamo a year ago after 18 months in the camp, told reporters.

In May, Newsweek magazine retracted a story that said interrogators at Guantanamo Bay had flushed at least one copy of the Quran down a toilet to make detainees talk. The story sparked violent protests in some Muslim countries. The magazine said it could not substantiate the report that an internal military inquiry found that the Quran had been abused at the jail. [khaleejtimes.com; See also rian.ru story, "Russian who was kept at Guatanamo sues US government."
---
6.28.05 Iraq lawmaker killed as Bush readies speech
BAGHDAD (Reuters) June 28 – Insurgents assassinated a prominent member of the Iraqi parliament on Tuesday, marking with violence the first anniversary since US occupiers handed sovereignty to Iraqis. US President George W. Bush was due to give a keynote speech on Iraq amid mixed messages from Washington about the prospects for peace. Marines launched a major operation against suspected insurgents in the western Euphrates valley.

Dhari Ali al-Fayadh, a member of parliament from the ruling Shiıite-dominated political alliance, was killed along with his son and three bodyguards by a suicide car bomb that struck his convoy on a road in Baghdadıs northern outskirts. The oldest member of parliament, he had served as its speaker on the first day it gathered after elections in January. He was the second parliamentarian killed since the government took office in April. A Shiıite himself, he led a tribe many of whose members are Sunnis and was respected in both communities. [More>>khaleejtimes.com]

---
6.28.05 India to displace Pakistan as US ally?
WASHINGTON (PTI) June 28 – Dangling carrots before the US, Defence Minister Pranab Mukherjee offered a partnership that would be more than favourable for both and allow India to play a major regional role. India should be allowed to access all the technologies and defence equipment it needs, Defence Minister Pranab Mukherjee said today, pointing out that the US is yet to develop a partnership in the defence-industrial sector with New Delhi. "India should justifiably be allowed to access all the technologies and defence equipment it needs" given its security problems in the conventional and non-conventional fields, Mukherjee told representatives of commerce, industry and banking at Indo-US Business Council here. [More>>expressindia.com]

Editorial note: This is an interesting report, showing a strong trend in India to shift US interests away from Pakistan and China to India, speculating that India would become the dominant nation in the Far East.
Mel Copeland

---
6.28.05 Eleven killed, twenty-three wounded in clan war in Philippines
ZAMBOANGA CITY, Philippines (AFP) June 28 – Eleven people were confirmed killed in a clan war that erupted in a coastal village in Alicia town, Zamboanga Sibugay province, a military official said Tuesday. Major General Gabriel Habacon of the Army's 1st infantry division said only one male was among the dead victims. "Most of them are women and children," he said. Habacon said soldiers who helped in the evacuation of the victims counted 23 injured.

An Agence France-Presse report said three women and eight children were shot dead in the attack on Tubig Sina, a coastal village of palm-roofed huts on Mindanao island some 800 kilometers (500 miles) south of Manila, Senior Superintendent Roseller Arrieta, the police chief of Zamboanga Sibugay, province said. Twenty-three other people were taken to a nearby hospital, where four died of their wounds, the same Agence France-Presse report said. The attackers had not been identified and there had been no arrests, said Arrieta. Police had monitored a "rido" or blood feud in the village and believe the attackers were motivated by a clan war..The two unidentified families had quarreled over the ownership of a seaweed farm, he said. The village is made up of Muslims and Christians and the victims were from both religions, he said. [Full story>>inq7.net]
---